Fashion is fun, no matter your age. It is certainly possible to look and feel good when you are over 60! Because we change and evolve as human beings, we get to evolve our wardrobe with us and our style become more classy and elegant as we go through life.
Since I have a petite clothing line, I constantly receive feedback from thousands of my customers of all age groups, many of whom are over 60. Based on their feedback, I'm putting together this comprehensive guide to help you age gracefully and select age appropriate dresses for women over 60.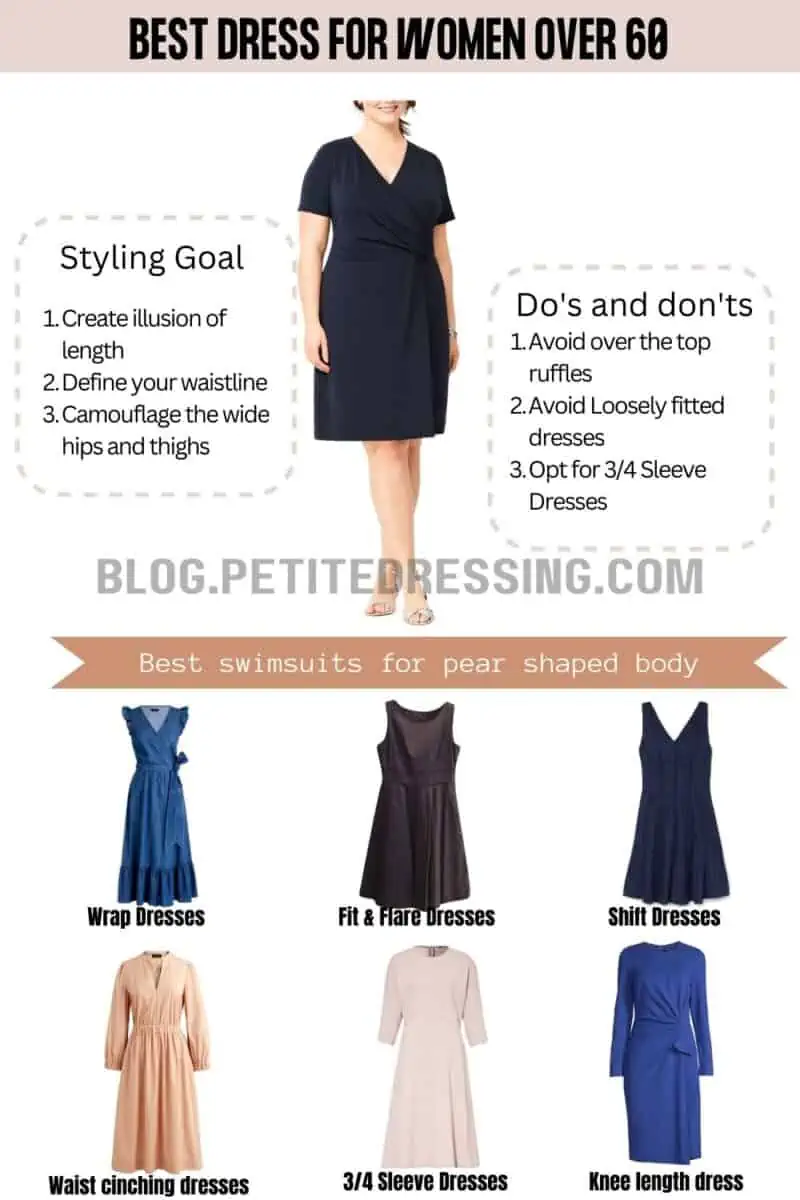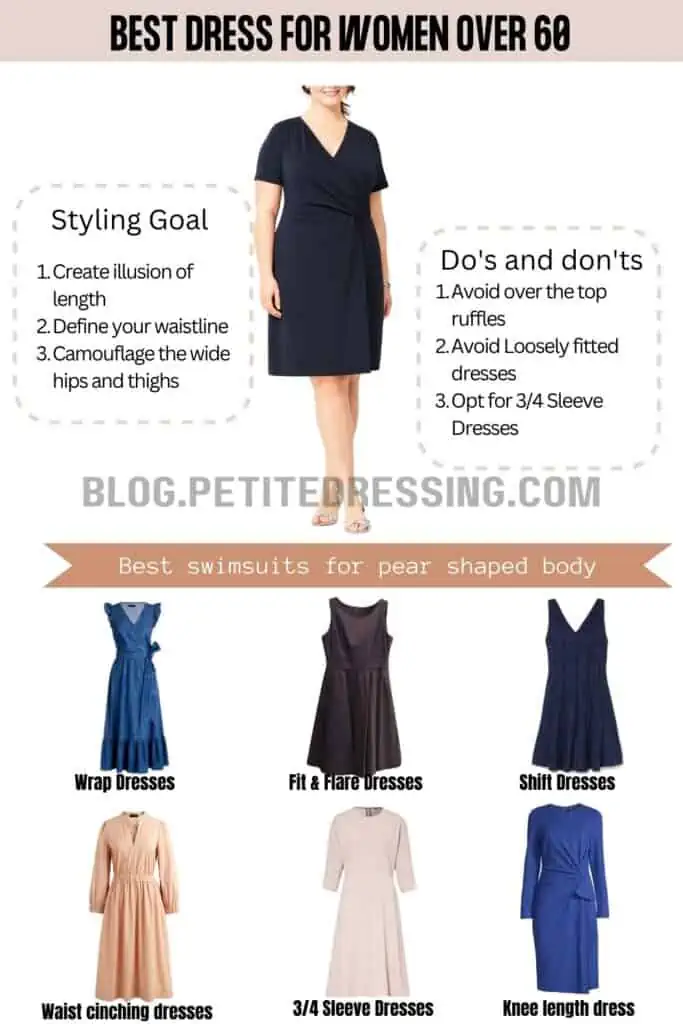 The Best Types of Dresses
I always think the silhouette is one of the most important things to look for in any garment because it determines if the dress is flattering for your particular body type.
When you are over 60, this is especially critical, as the wrong silhouette could really look unflattering on you.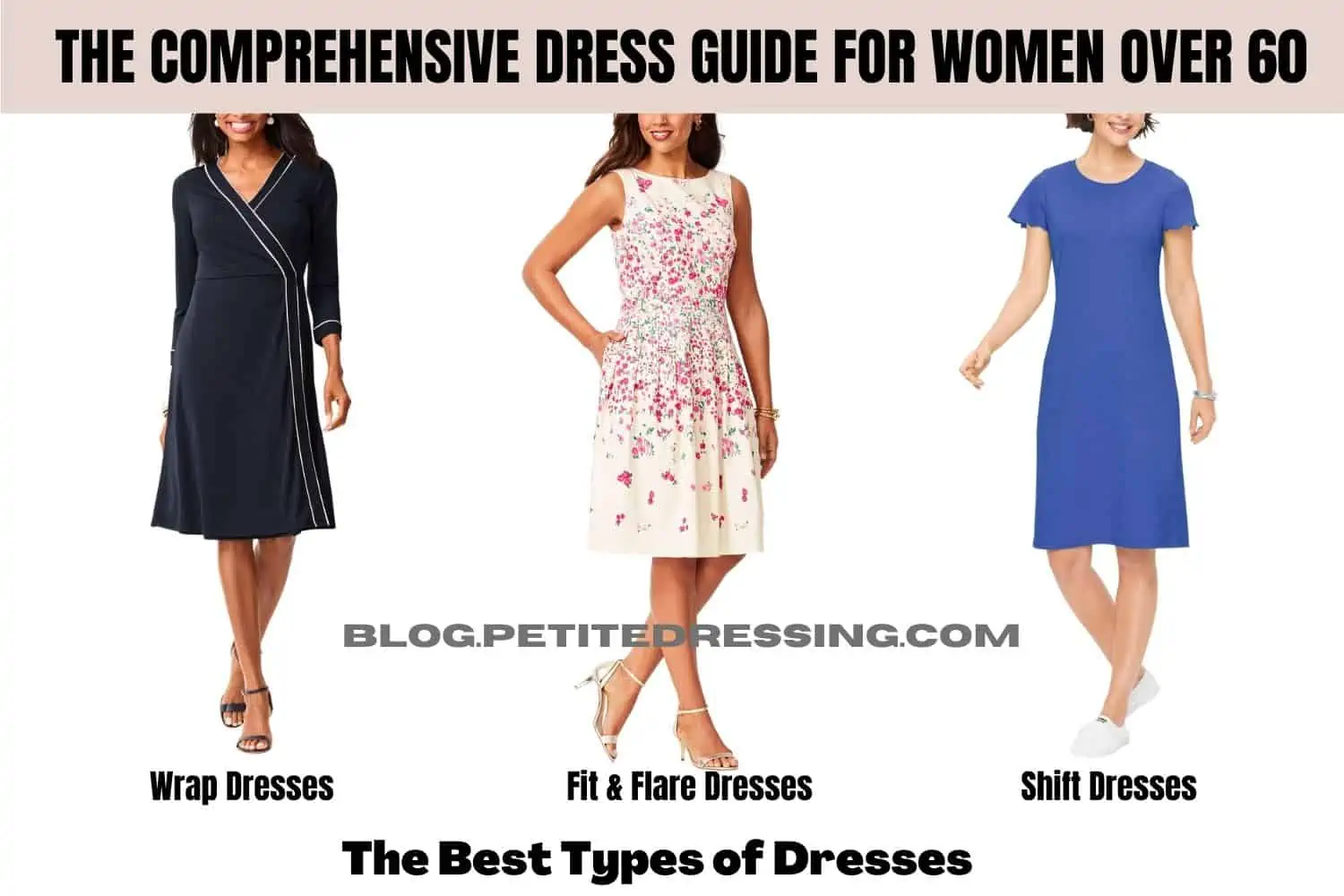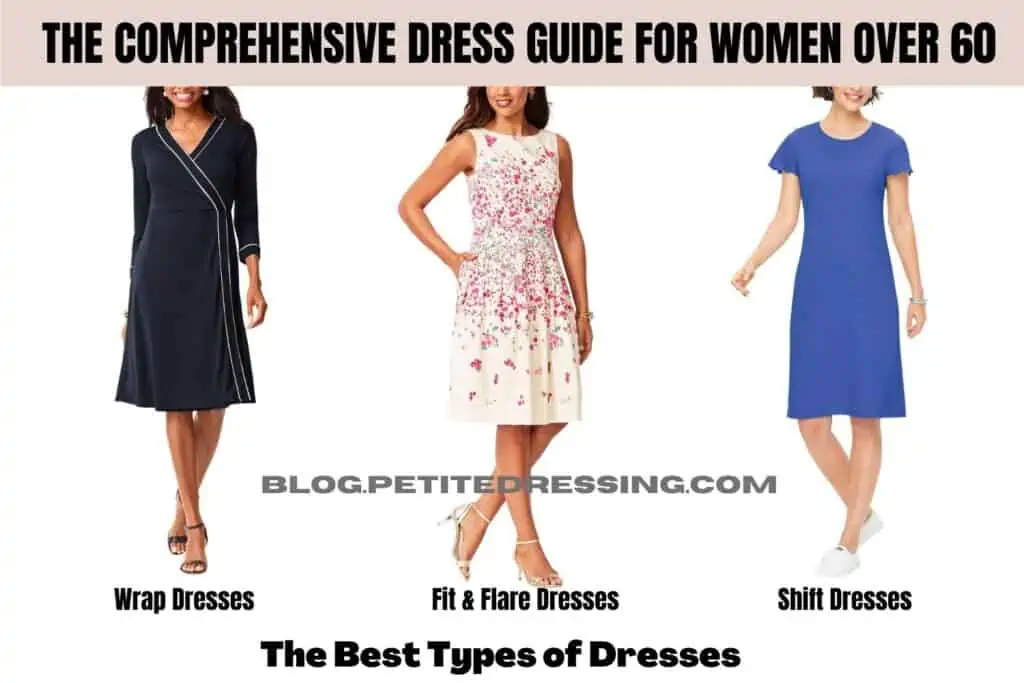 What is a silhouette, first of all?
To put it simply, it is the shape of the dress.
Now, let's look at what silhouettes work the best for women over 60.
Wrap Dresses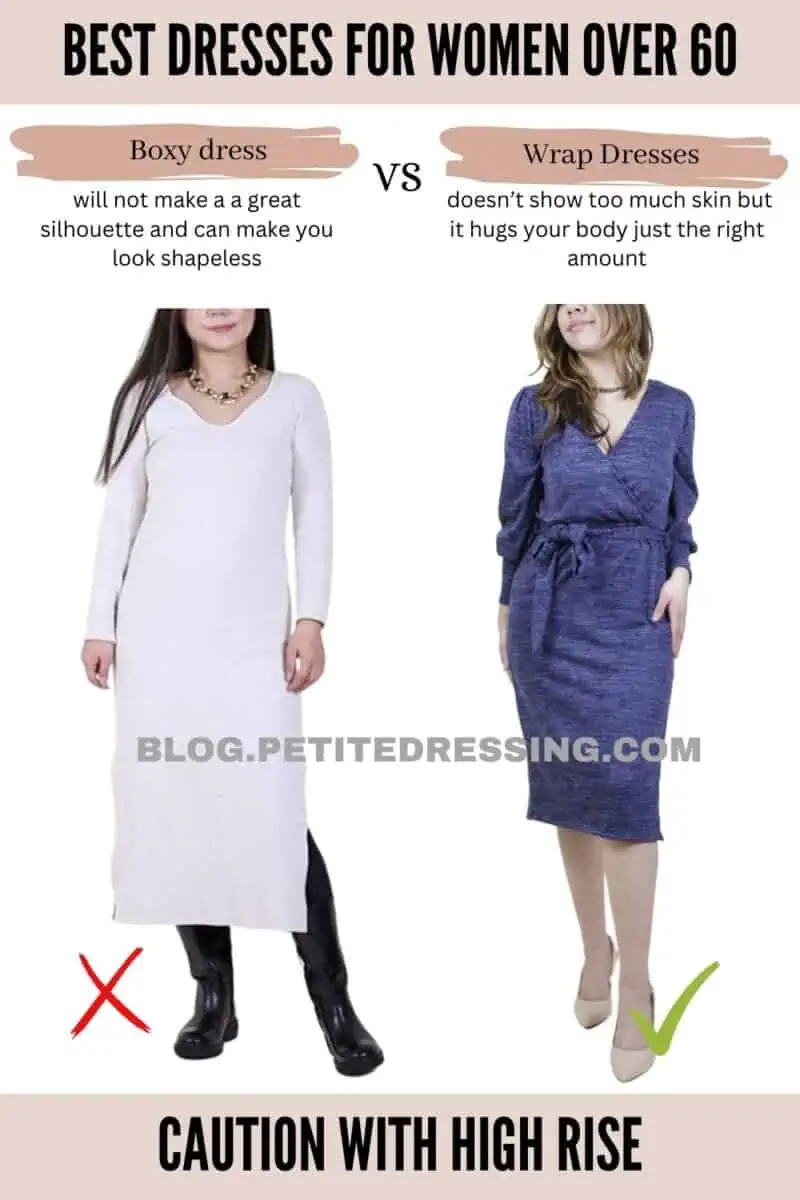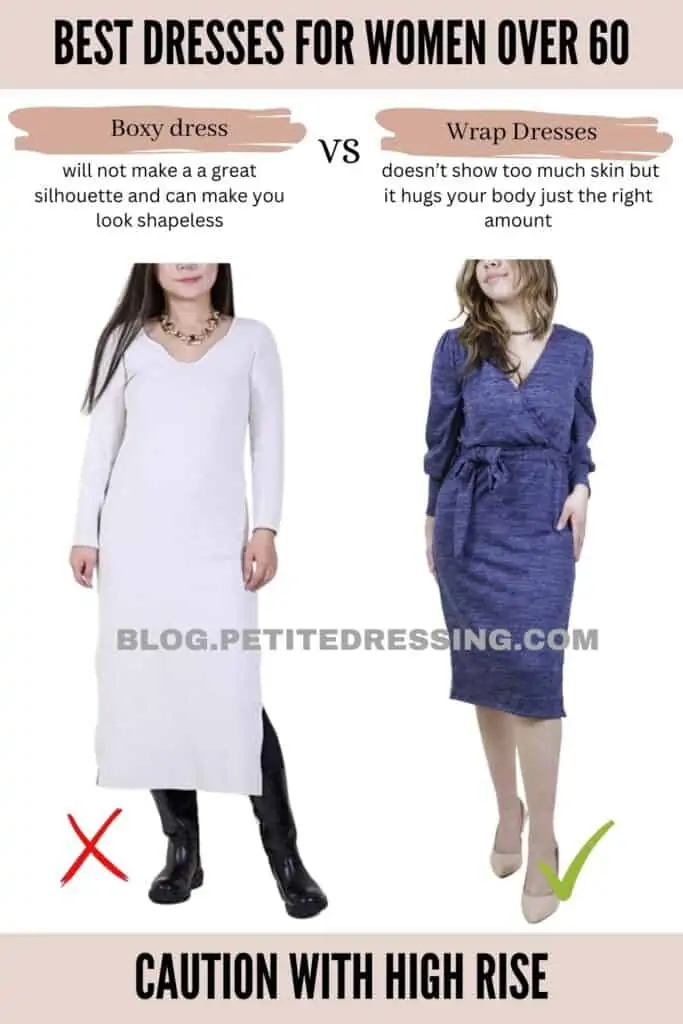 Ahhh the wrap dress. It's classic, flattering, and incredibly versatile!
This is exactly why wrap dresses are perfect for women over 60. The silhouette doesn't show too much skin but doesn't completely hide your shape. It hugs your body just the right amount. This will be a much more figure-flattering route and avoid that frumpy look so many women fall into as we get older.
Another benefit of a wrap dress is that you can adjust how tight or loose according to your body shape, which makes it one of the most forgiving dresses for women over 60.
In addition, to wrap dresses, there are other silhouette styles you can wear well as a mature woman. I don't want you to feel limited, so I wanted to mention a couple of other classic silhouettes to look for.
Fit & Flare Dresses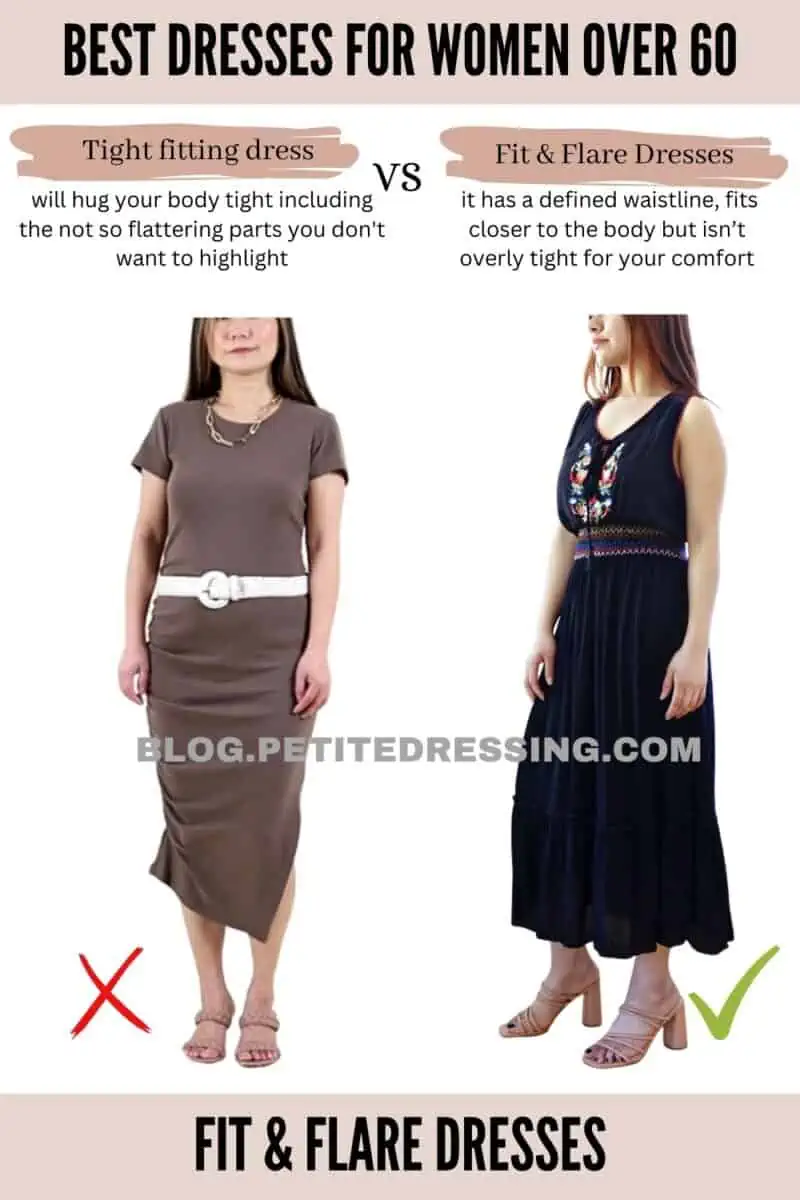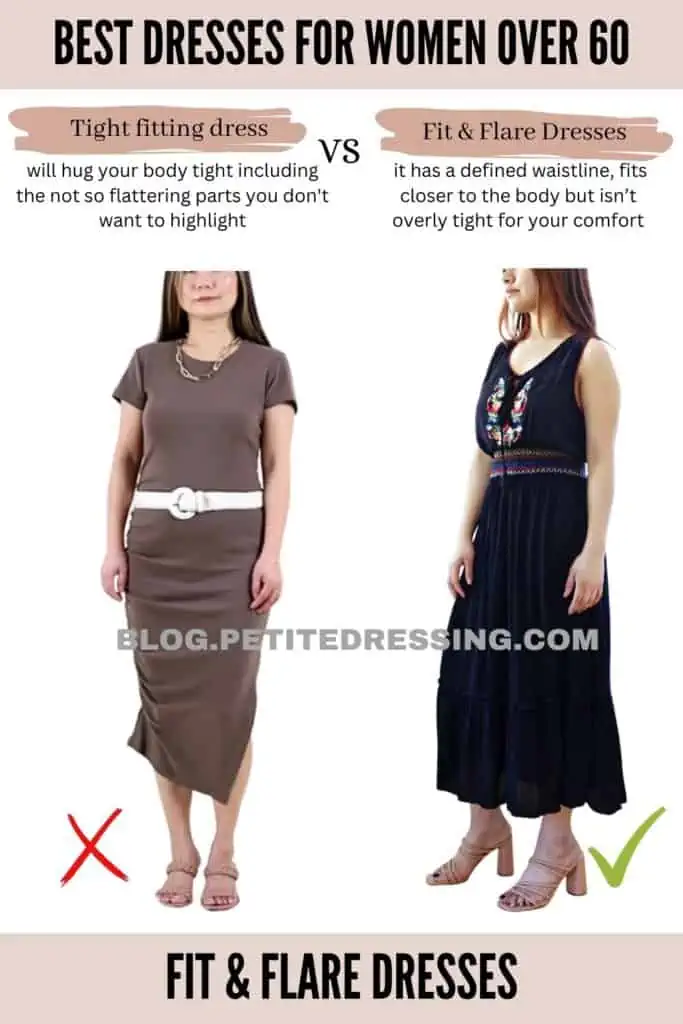 These are another great option for women over 60. This dress silhouette is going to provide similar benefits to the wrap dress in that it has a defined waistline, fits closer to the body but isn't overly tight for your comfort. Fit and flare are incredibly figured flattering and come in a variety of different colors, sleeve styles, necklines, etc.
This is a universally flattering silhouette, no matter what body type you are. If you happen to be pear shape, this is heaven-sent, because it smartly camouflages your wider hips and thighs. If you are an apple shape, this dress also works very well on you, because the flared-out skirt draws less attention to your mid section.
Shift Dresses
My other go-to dress silhouette for women over 60 is the shift dress.
If you're not familiar with shift dresses, they're essentially a straight fit that fits the body (not skin tight, just fitted).
It's a rather simple dress style which is what makes it perfect for mature women to dress age appropriately.
Waist cinching dresses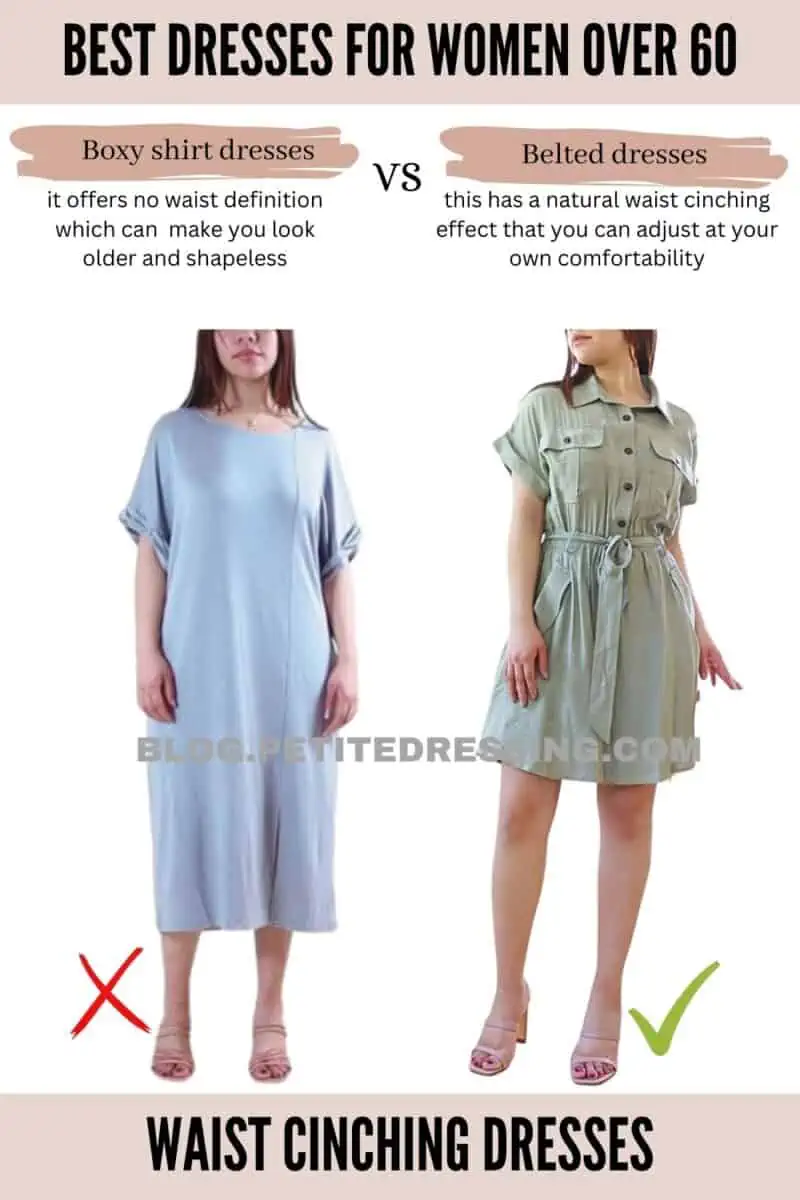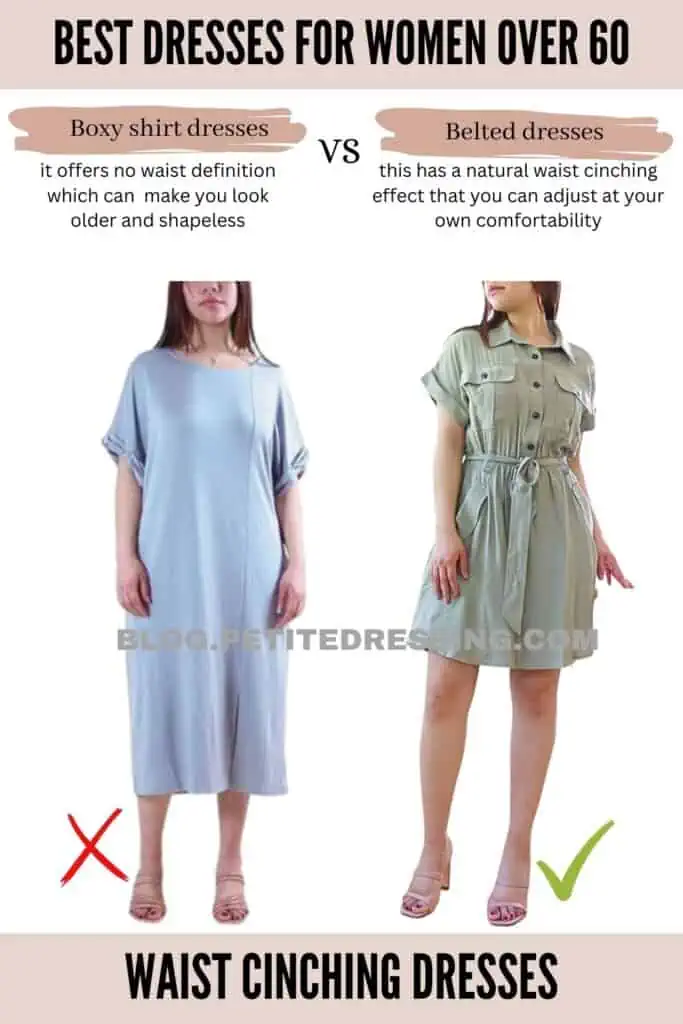 Technically speaking, this is not a particular dress silhouette, but a feature for the dress best for ladies over 60.
No matter what kind of dress shape to go for, make sure they cinch your waist!
The reason this is so important is as we age, we tend to gain weight in our upper body and lose our natural waist definition. That means we need to rely on the shape of the dress to give the eye the illusion that we have a waist.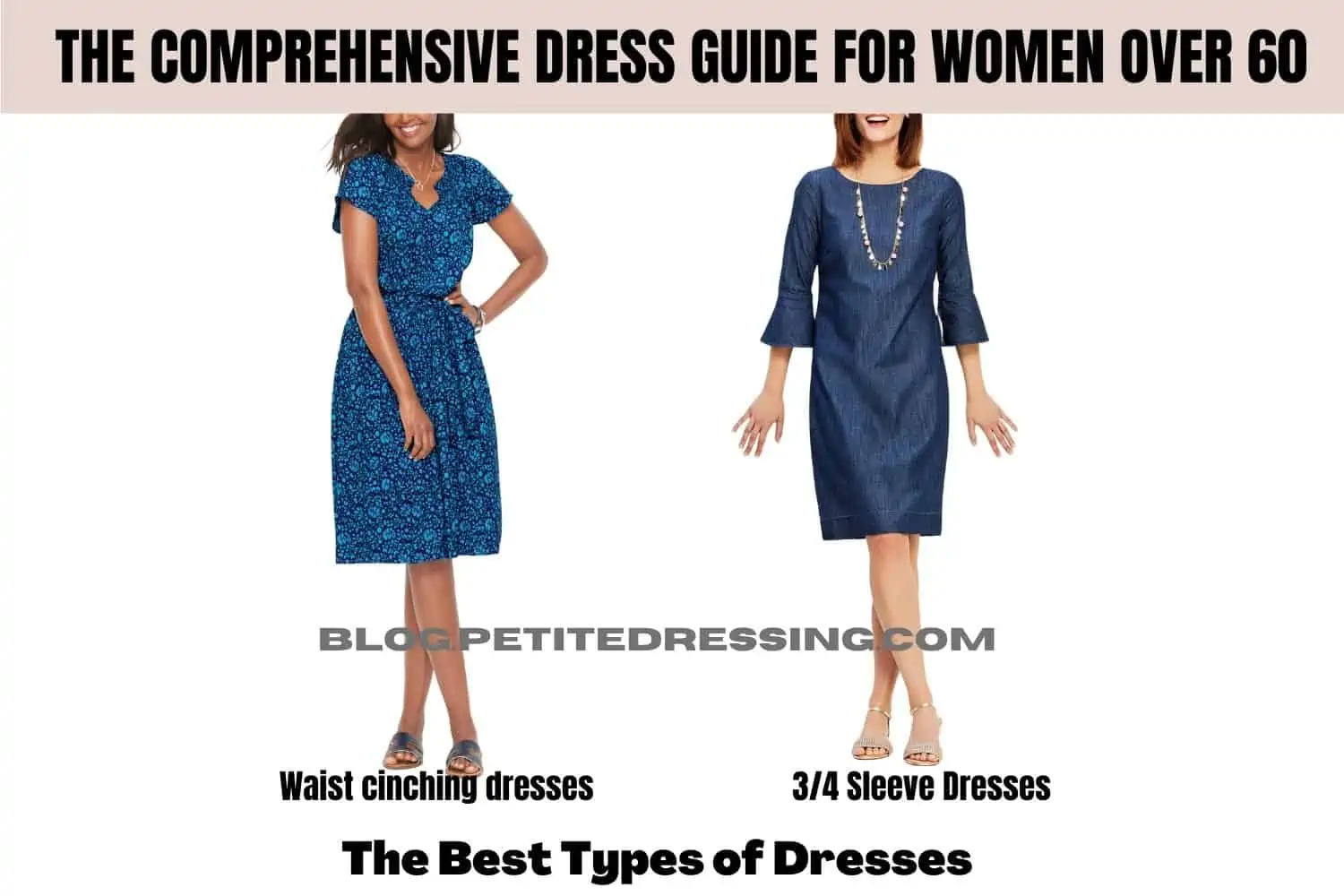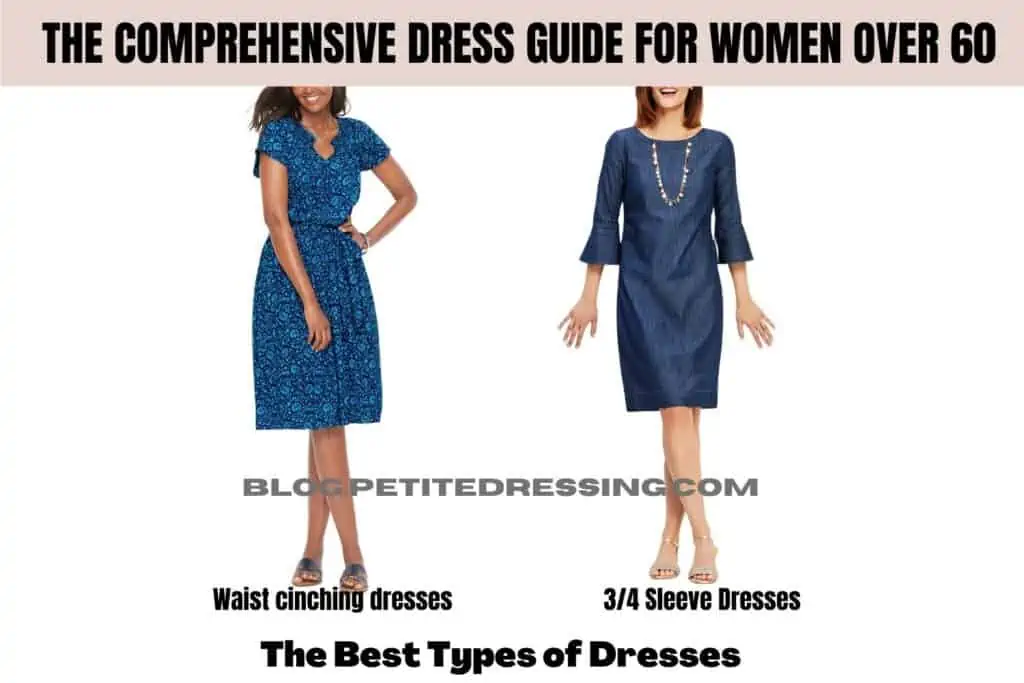 3/4 Sleeve Dresses
When you are over 60, the sleeves for the dresses matter a lot.
One of the main concerns for many ladies over 60 is flabby arms, which is why they do not want to leave their arms uncovered. There can be many reasons for that, but no matter what reason you have, going for a 3/4 sleeve dress is going to achieve a fine balance of covering your arms and also flatter your shape.
The reason is 3/4 sleeve length ends on your wrist, drawing attention to the smallest part of your arms, which is a very feminine way to dress over 60, without being revealing at all.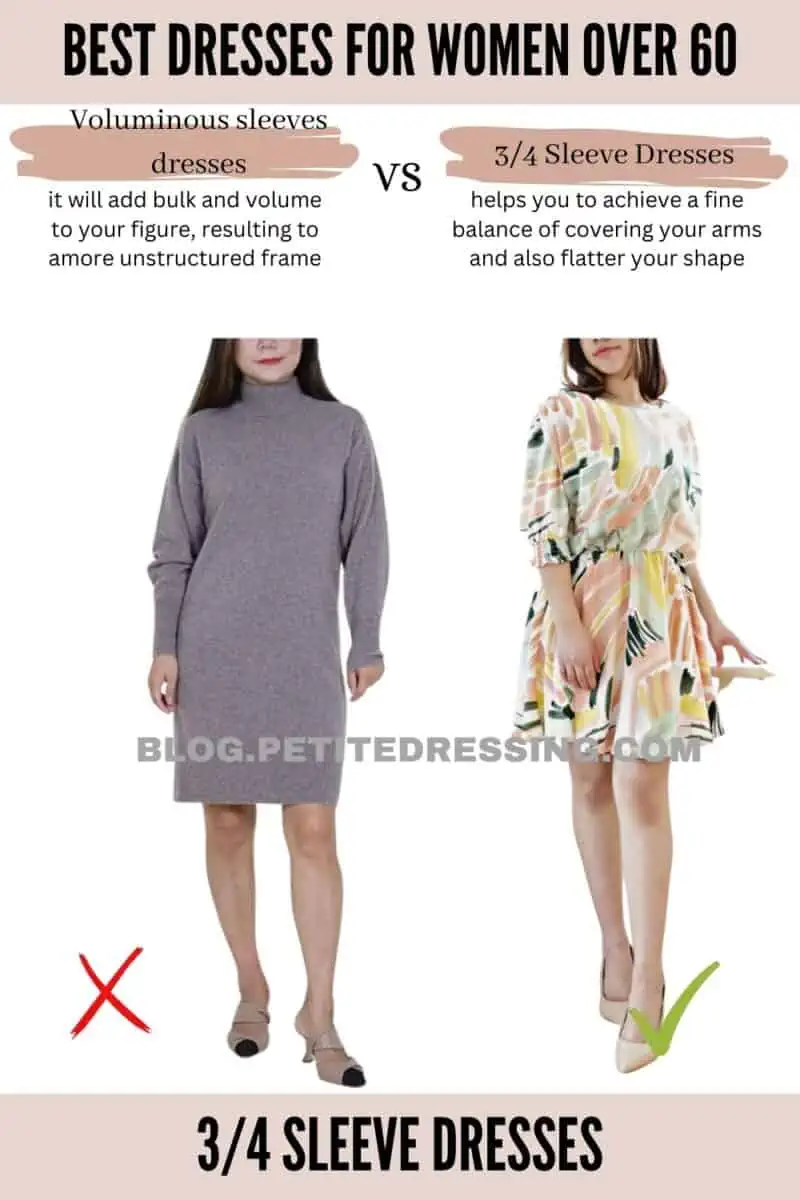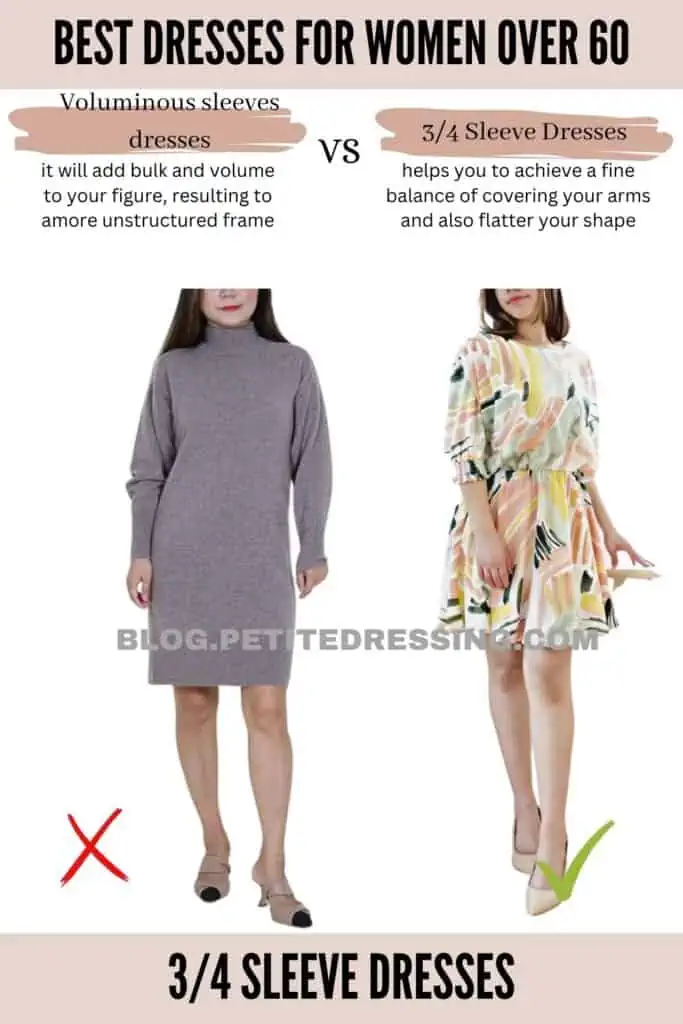 Best Dress Length
Dress length is tricky for every woman, regardless of age. When you're over 60, it begins to cause even more confusion.
Traditionally speaking, when you're over 60, you want to make sure you're dressed age appropriately.
Knee length
Right at the knee is typically the most flattering dress length for women over 60.
I suggest opting for a dress that's either JUST above the knee (just enough so you can see your knee) or just below. This will create the illusion of length on your frame while keeping it age-appropriate!
Midi length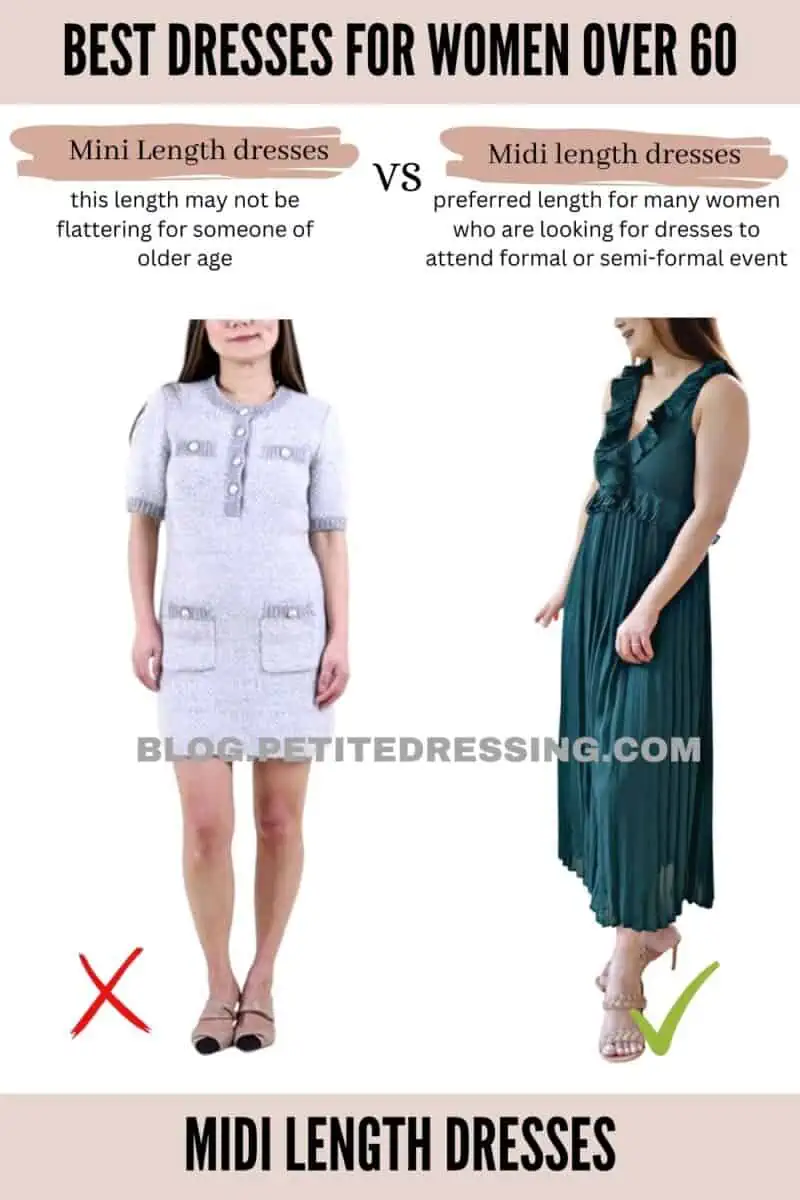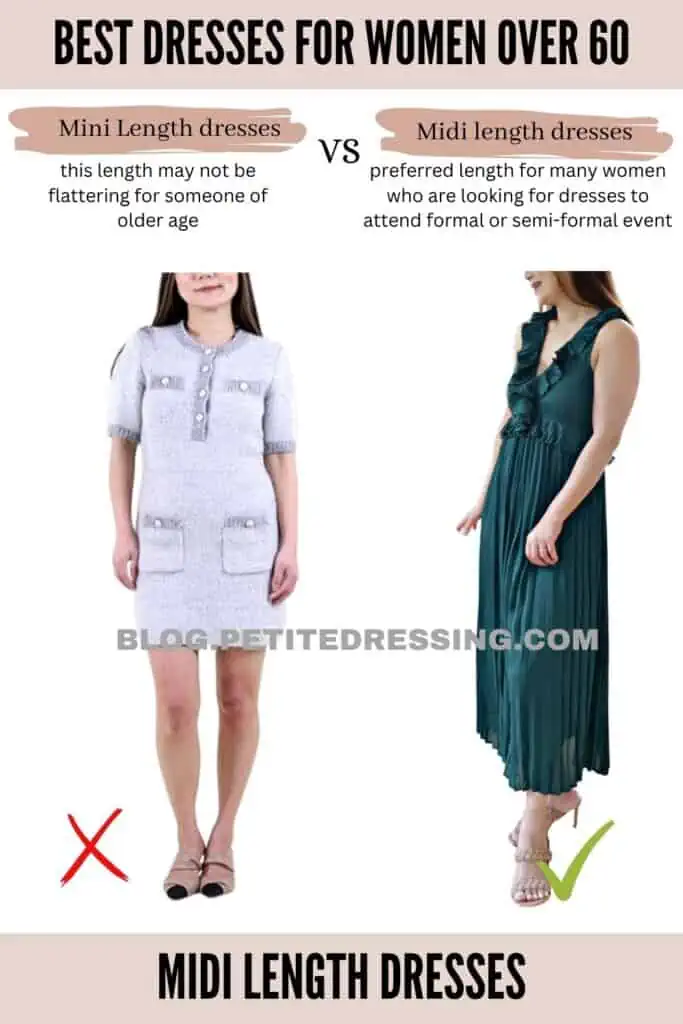 This is the best length if you are over 60 and prefer not to show your knee.
Midi length can end any point below your knee to above your ankle. This is the preferred length for many women who are looking for dresses to attend formal or semi-formal event such as a wedding guest ,or being mother-of-the-bride.
Maxi Length
Maxi dresses can be very flattering when you are over 60, because it certainly makes sure everything you want to cover is safely covered.
Besides, maxi length is always elegant, especially suitable for fancier occasions where you want to look more dressed up.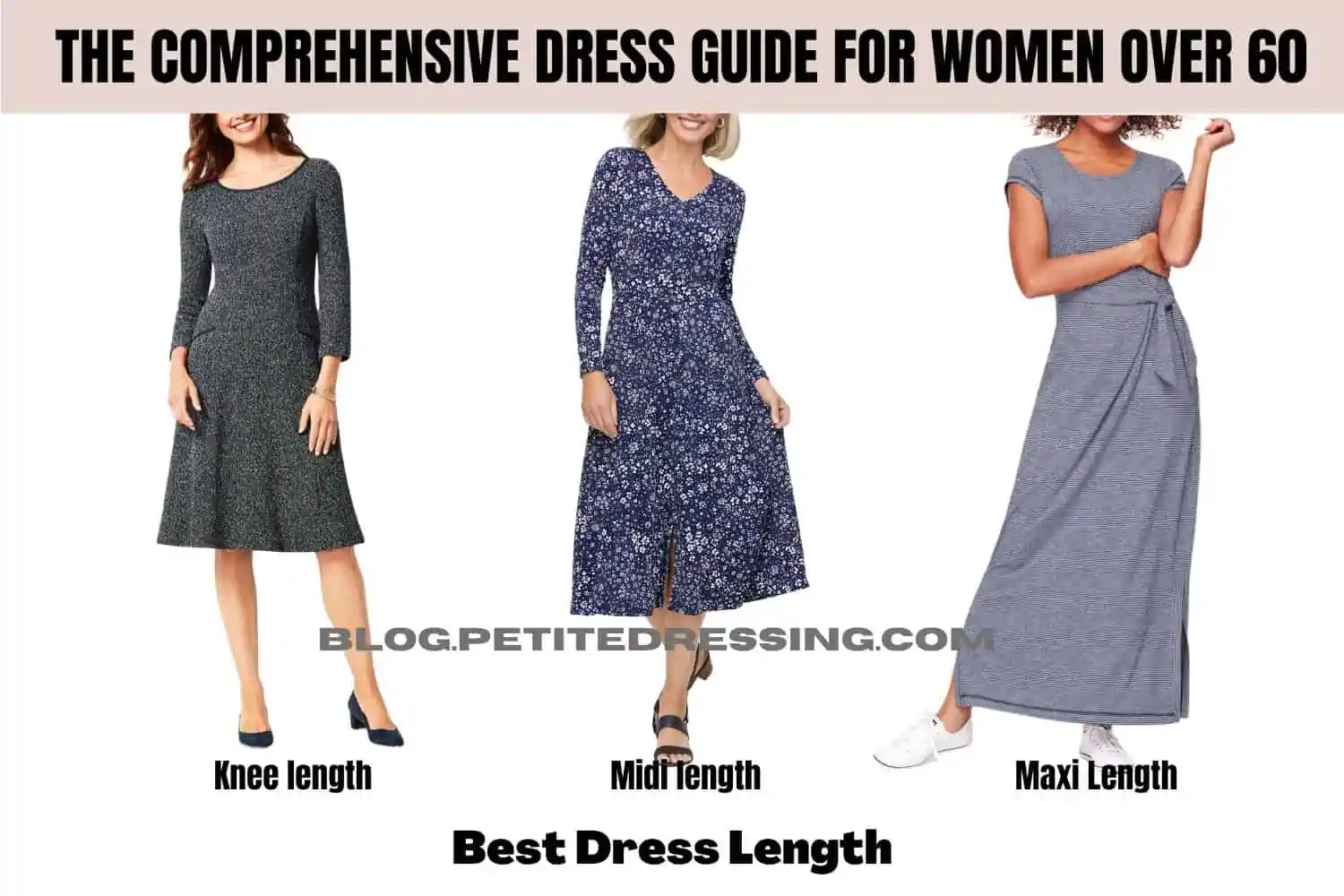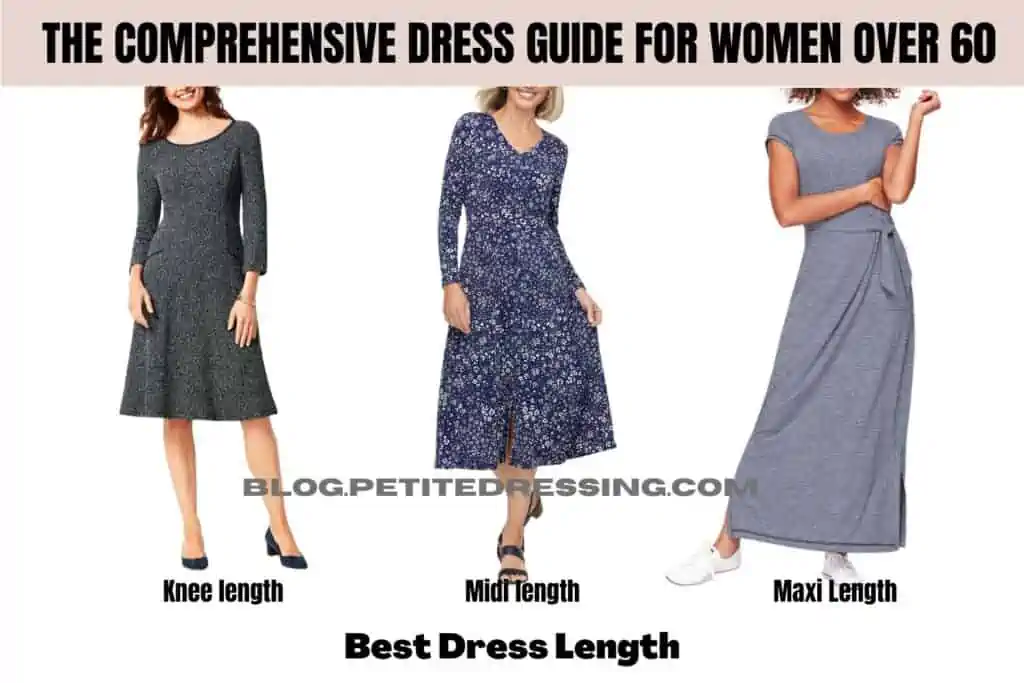 What to Avoid
Even though I am a big believer that women of all age should wear what make them truly happy, I have to say it is wise to always be selective, especially when you are over 60. Not all the dresses will look the same on you, no matter what age you are. Here's some of the dresses you should avoid to better flatter your shape over 60.
Dresses with complicated details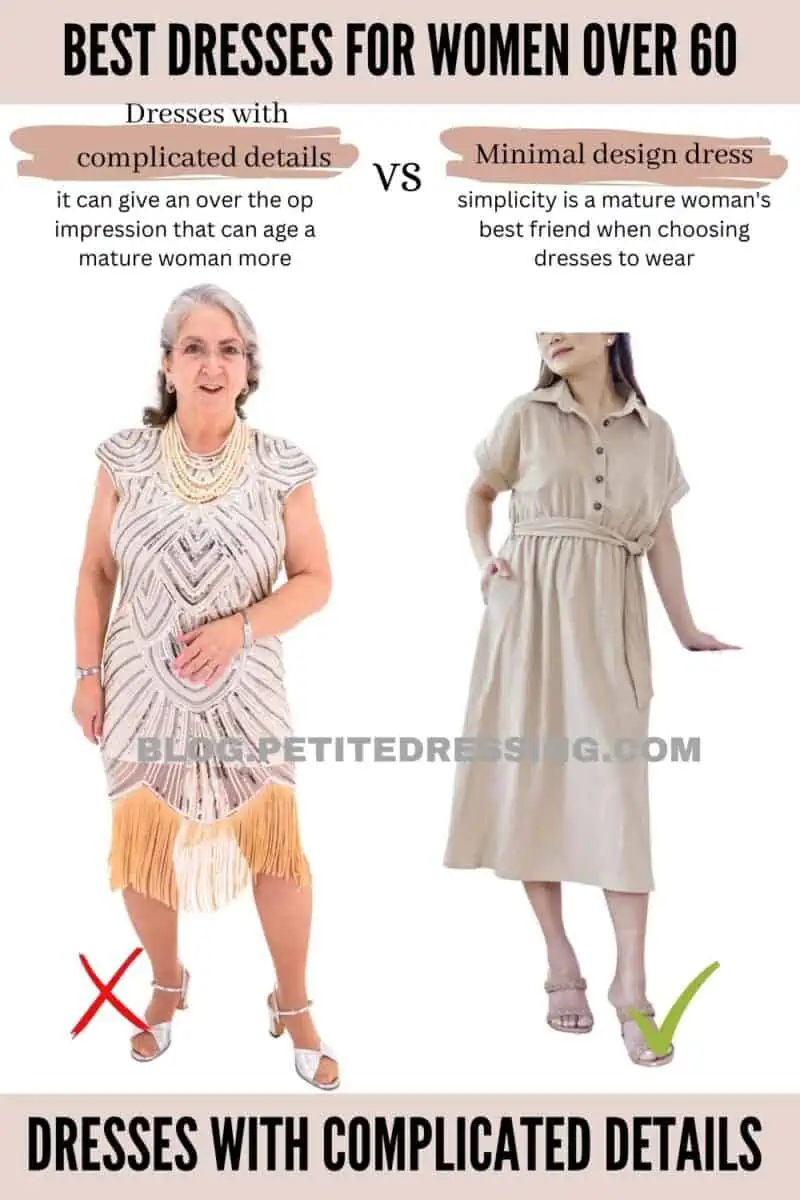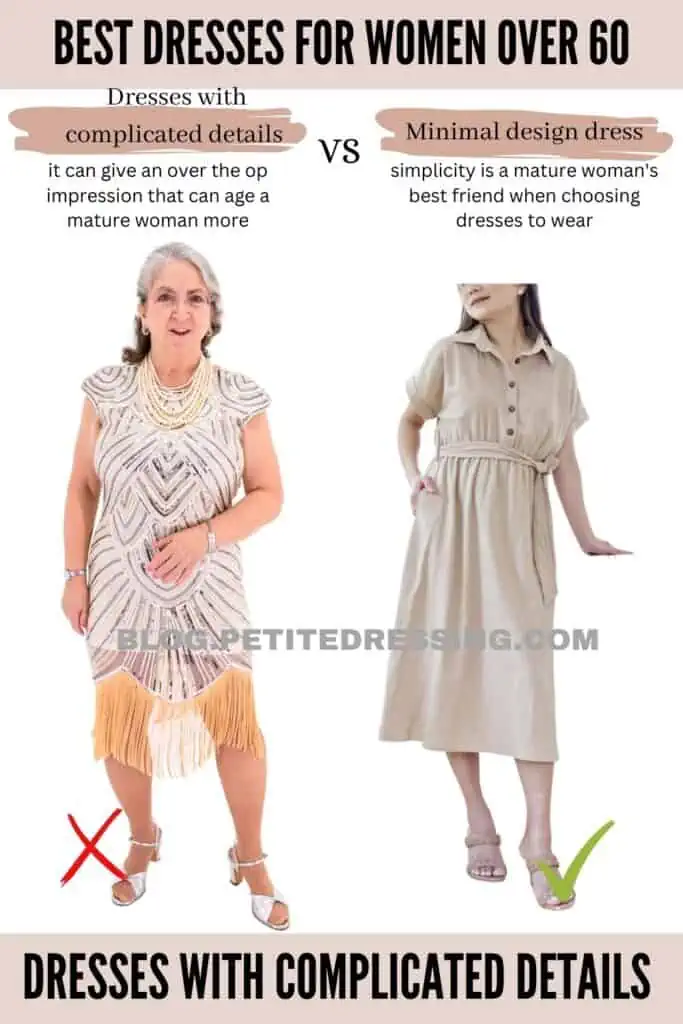 Over the years, I've found that simplicity is a mature woman's best friend when choosing dresses to wear, and therefore it is wise to avoid anything too complicated.
This doesn't mean you can't have fun with dresses by any means! What I mean by keeping it minimal with your dress choices is carefully selecting how many details, prints, and patterns are going on in a particular dress. The thing about an over-the-top dress is it can age us, especially when we're women over 60.
Avoid dresses with a lot of embellishments, over-the-top ruffles, etc. In essence, less is more when selecting dresses for women over 60.
Loud prints
I always encourage women to have fun with their fashion choices, no matter their age, but loud prints are one of the least flattering for women over 60.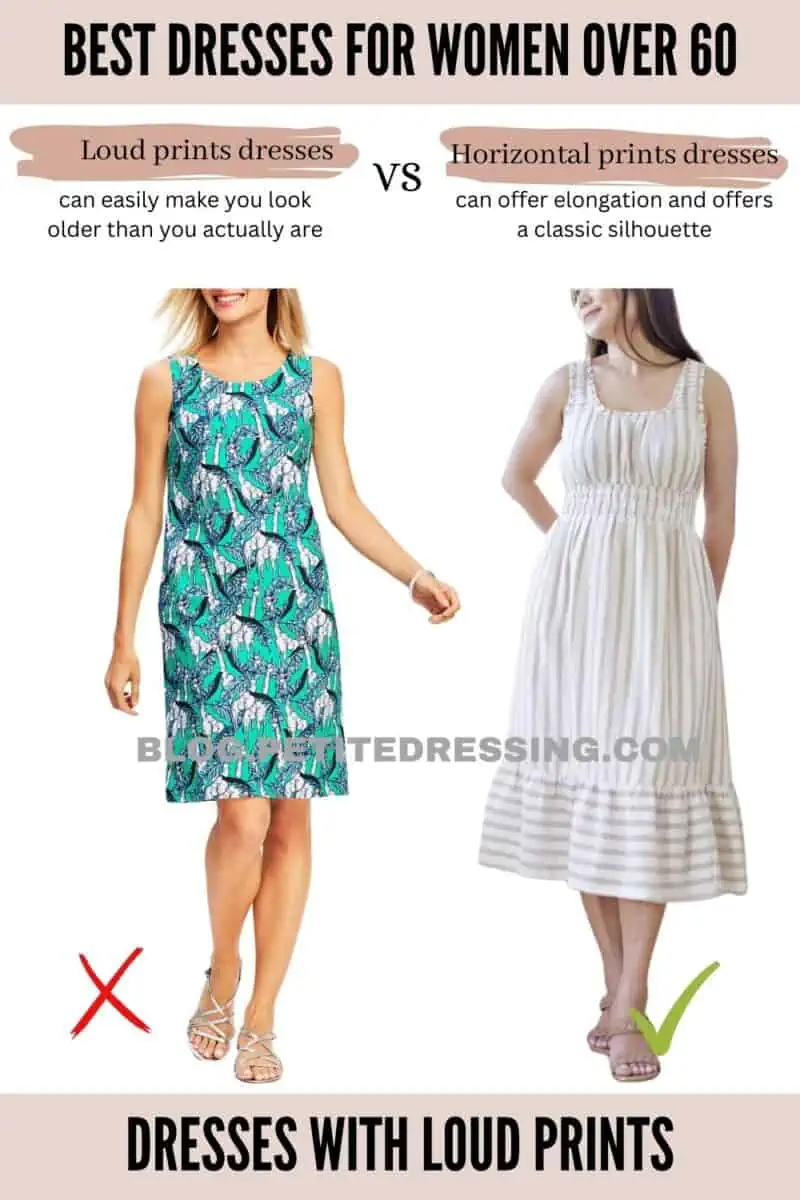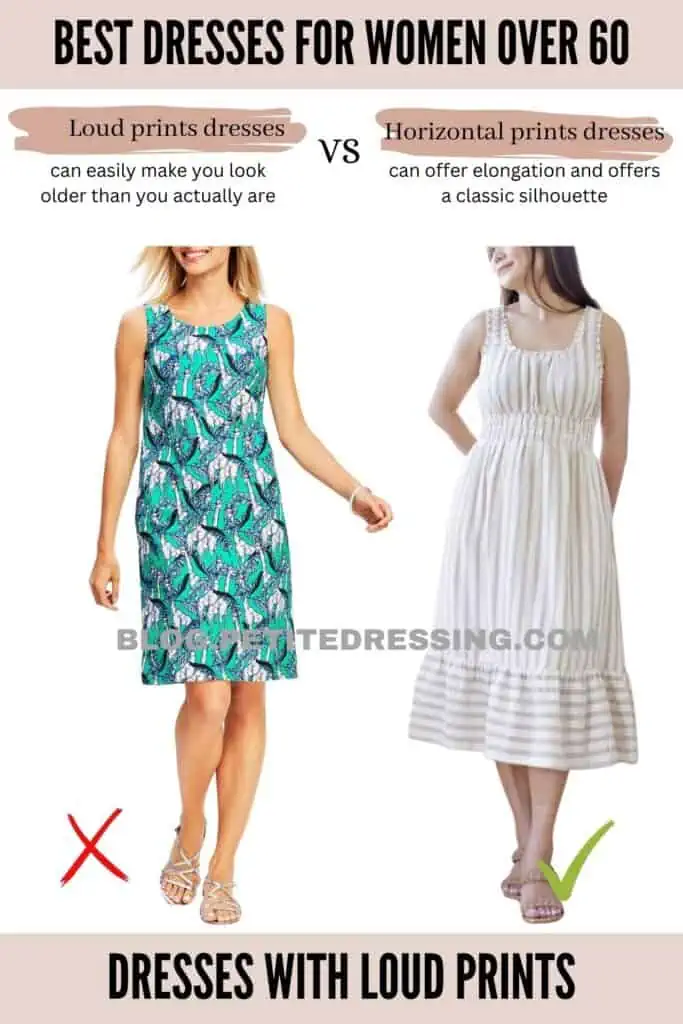 Generally speaking, mature women look best (and more youthful!) when opting for more classic clothing choices, dresses included. Think solid colors, classic prints, patterns, and dresses that offer classic silhouettes.
Loud prints tend to make you look dated, and can easily make you look older than you actually are.
Loosely fitted dresses
What I have seen the mistake a lot of women make when they're over 60 is that they begin wearing clothing that is so loose that they seem to 'hide" their body entirely. The main reason is they are concerned their figure no longer looks like what it used to be, so, it might seem like loosely fitted clothes are the better bet.
If that is you, I think you have a very good reason to avoid skin-tight clothing. However, you should still look for dresses that fit your body and show where your shape is at. As we age, it is natural for our curves to change, but that actually makes it more important for us to wear dresses with structure and shape. If you are concerned about your mid-section, use something subtle to flatter your curves.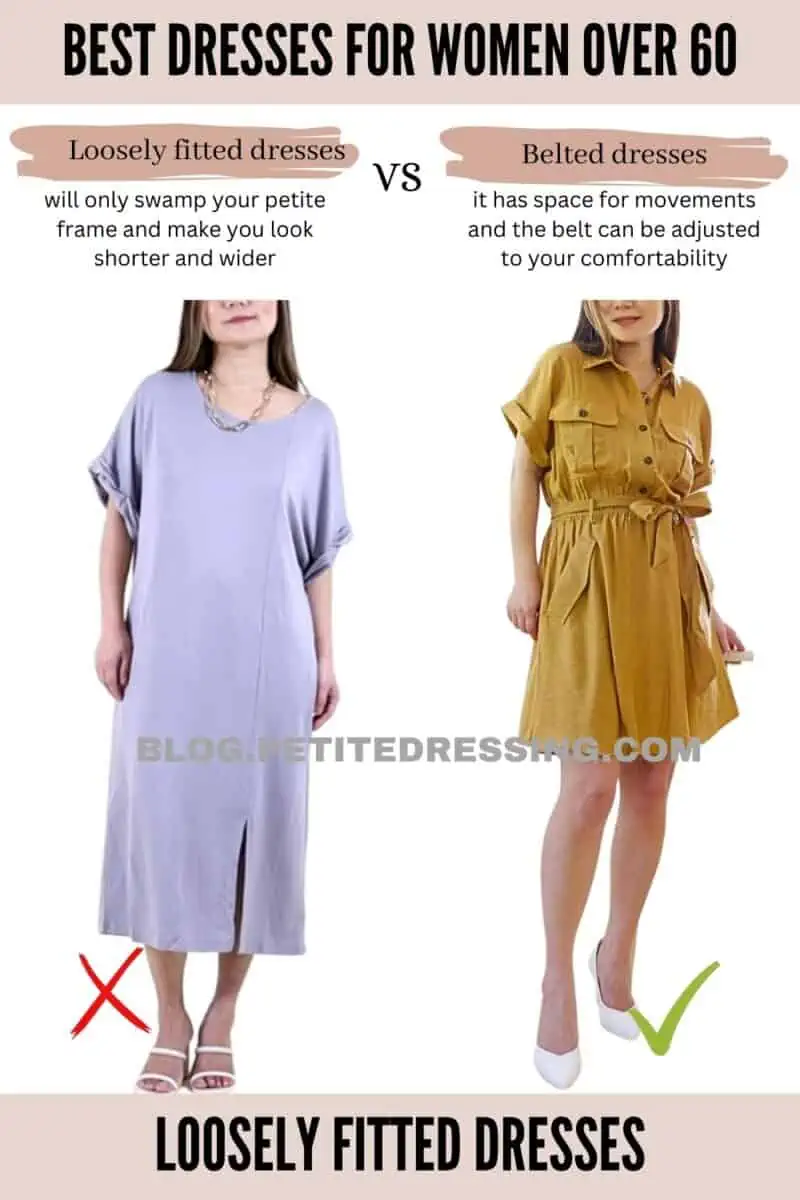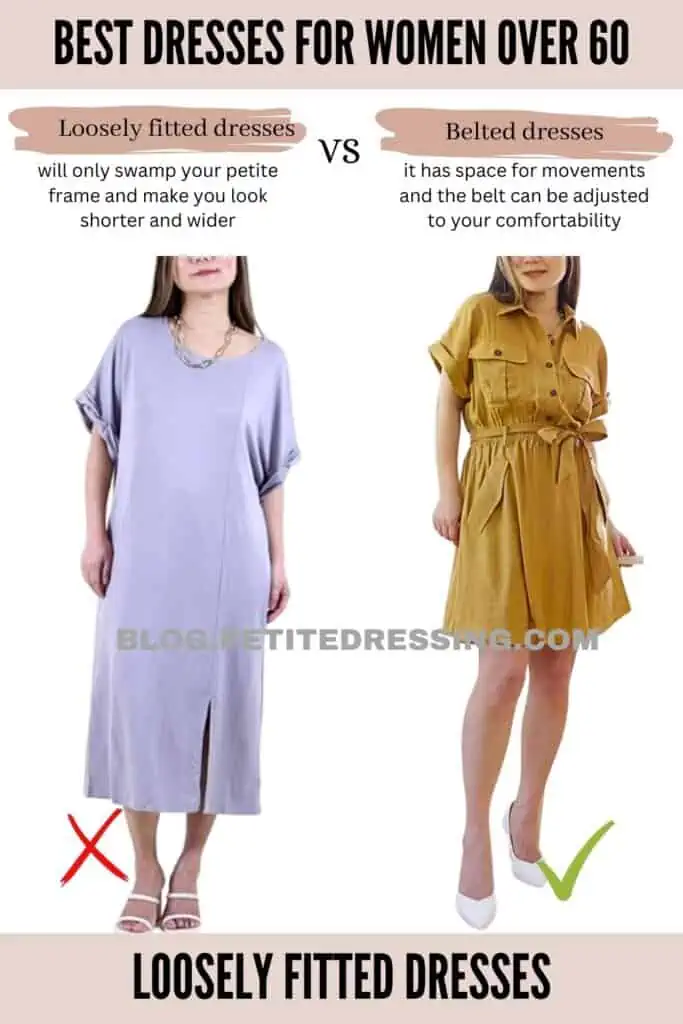 If you are petite, you should especially avoid oversized dresses, no matter what age. If the dress is too loose, it will only swamp your petite frame and make you look shorter and wider.
Compare the two dresses on Kathy Bates, 5'2″, 71. The white floral dress has a belt that defines her waistline, which makes her proportion look better instantly! The multi-print dress on the right is straight up and down with fabrics that lack structure, and it only makes her midsection look more obvious.
Revealing dresses
Building off of the dress length chat we mentioned, another tip to keep in mind for dressing over 60 is avoiding clothing that's too revealing. Of course length of the dress plays a role in this, but don't forget about the top half of the dress! I often recommend skipping anything that's too low-cut when you're over 60. It tends to age us when we show too much skin after a certain age. Not to mention, the neck/chest area is often one of the first places to show signs of age!
Although you shouldn't wear clothes that are too revealing, you don't have to be covered from head to toe either. It's really all about finding a healthy balance when you're over 60. Selecting dresses with v or scoop necklines can be incredibly flattering, as long as they're not TOO low.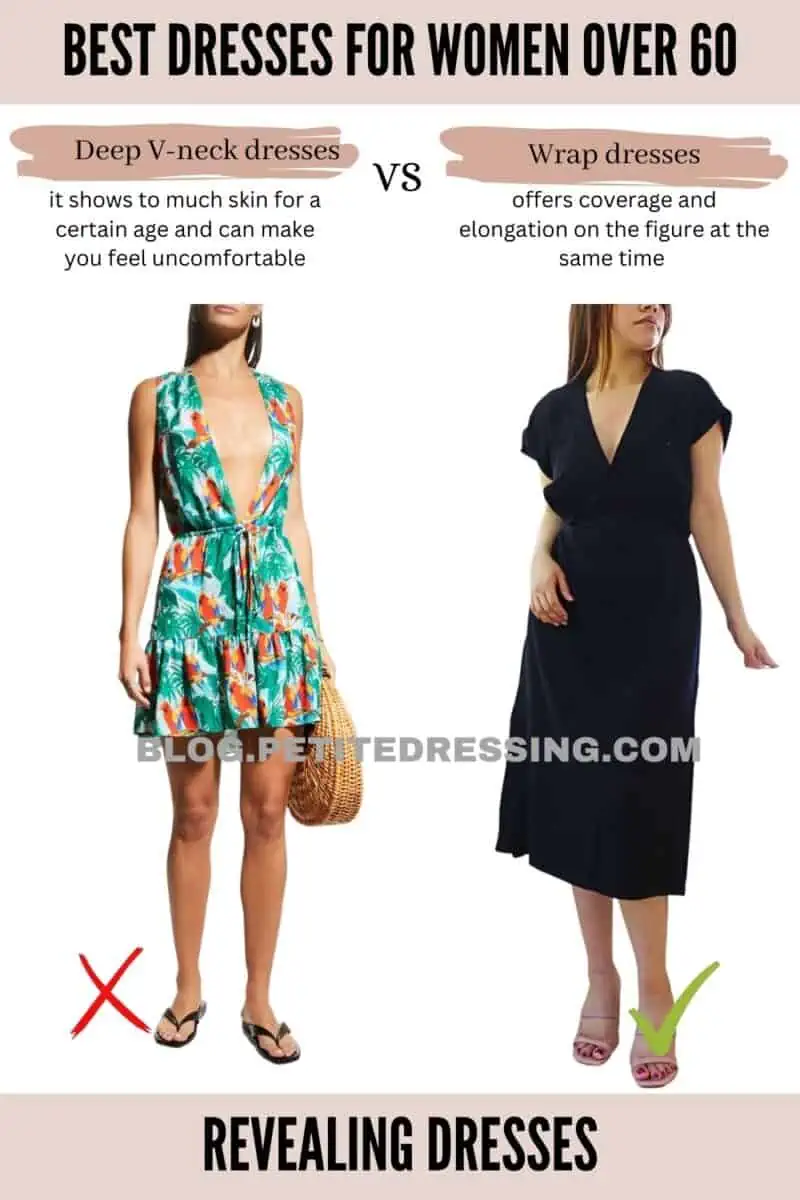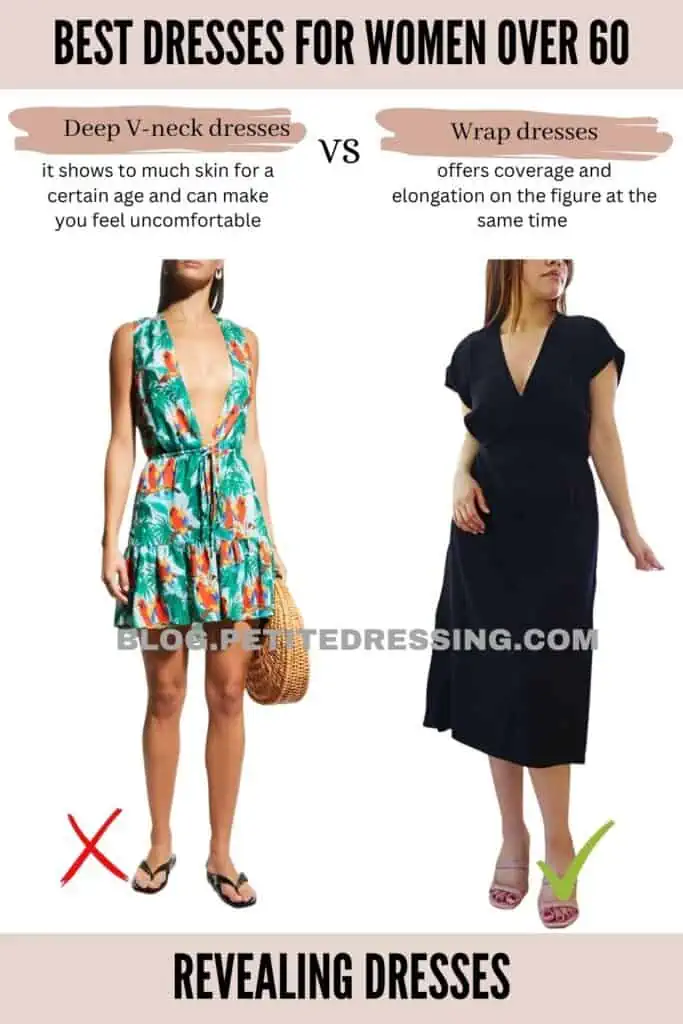 Over accessorizing
It's easy to get caught up in piling on all your statement piece jewelry, but over-accessorizing can do the same thing over-the-top dresses can do – age us!
Instead, opt for 1-2 pieces to wear at a time.
This will give you a great balance to express yourself and add a fun touch of personality to your classic dress selections without doing too much and dating yourself.
To give you an example of what I mean, say you have a classic black dress you want to wear. Accessorize the black dress with a red belt at the waist and a statement earring.
This gives you a pop of color and texture mixed with the classic elements of a black dress. If you've got a classic wrap dress in a subtle pattern to wear, try accessorizing that with a great necklace and a bracelet to achieve a similar result. You get where I'm going here.