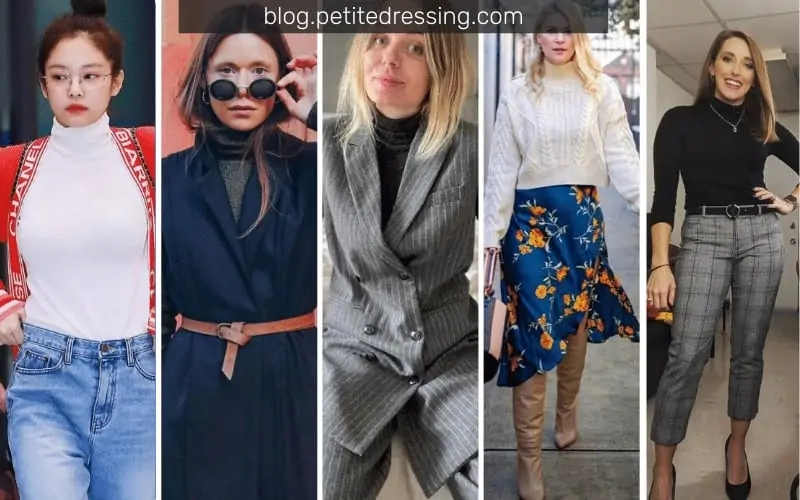 Turtlenecks are one of the staples of the fall and winter. Turtlenecks can be short sleeve, sleeveless, and in a cut out design, not to mention they are available in different fabrics. Cable knit turtle neck sweater, for instance, is one of the most popular knitwear in the colder weather.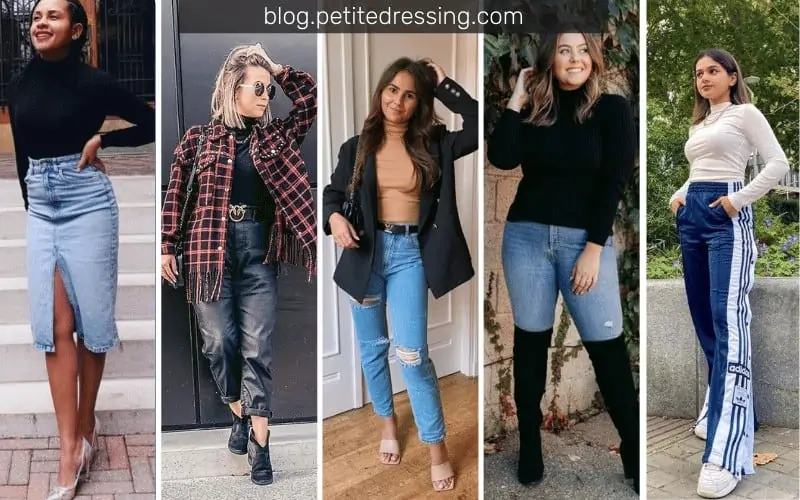 Turtlenecks are great mostly during cooler months, and can be worn with a number of wardrobe pieces. Here are some of the best outfit ideas on what to wear with a turtleneck: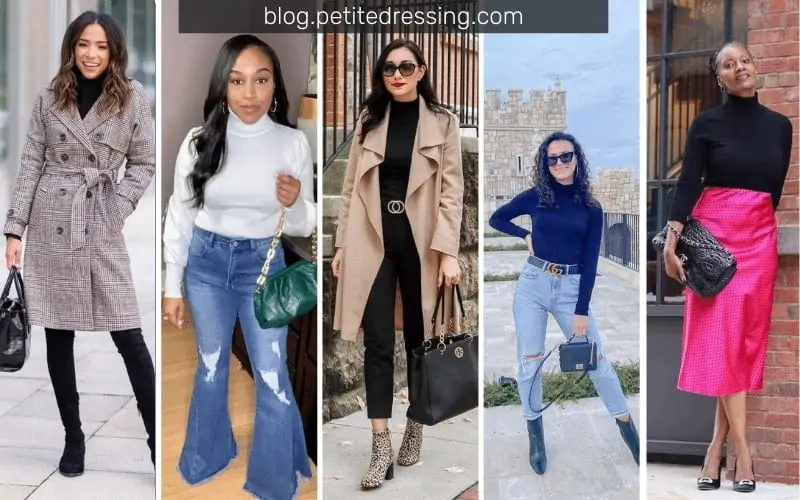 With a midi skirt
This is one of the easiest turtleneck outfit in transitioning weather.
Midi skirts are classy and timeless. While sometimes styling them could be just a tad challenging because of the length, this is not always the case. One of the tops you could style with your midi skirts is a turtleneck.
If your turtleneck is in neutral color, it leaves you many options for the skirt. For a feminine look, you can wear a midi skirt in floral prints made of satin,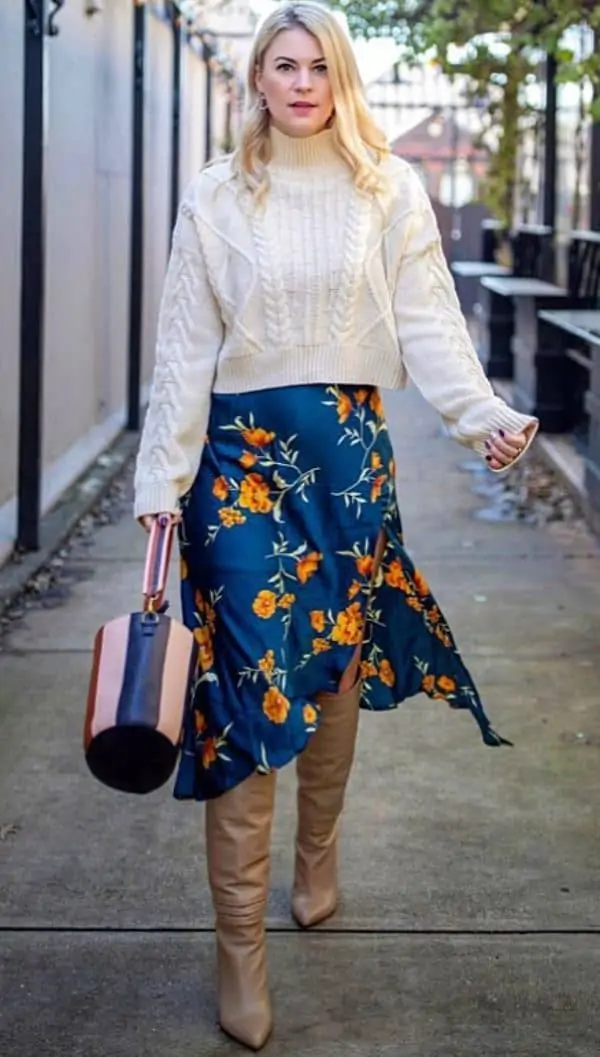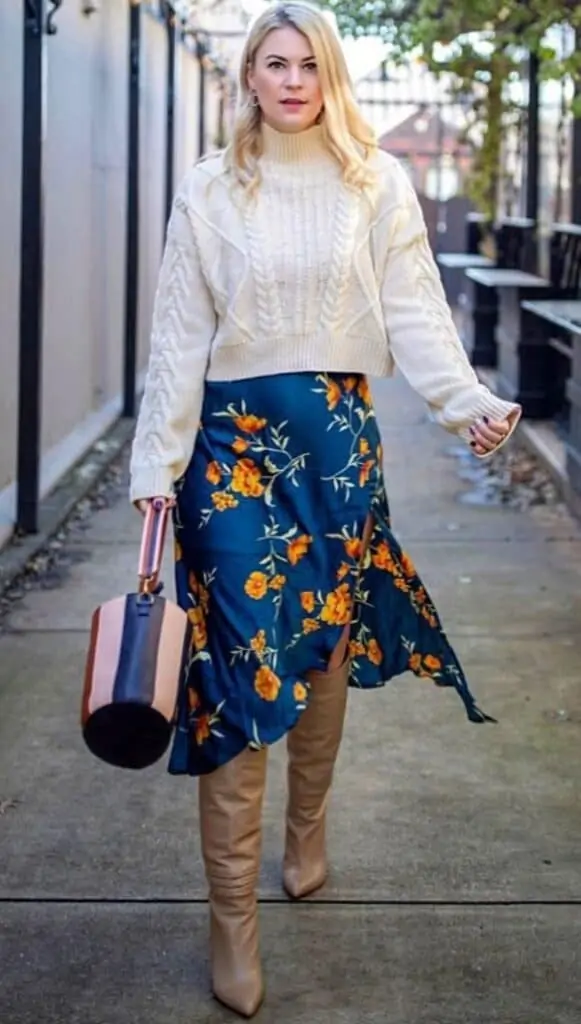 Whitney (above) styled her floral asymmetrical midi skirt with a knitted turtleneck and finished the look off with some boots.
With this look you can also go for a turtleneck that isn't a knit, just in case you feel the need to tuck in the turtleneck.
With mom jeans
For a laid back turtle neck outfit, wear it with a pair of mom jeans for the most comfort.
Mom jeans were popular especially in the 90s but have stolen the hearts of fashionistas in recent years. They're functional and easy to style, and you can wear them with a variety of tops including turtlenecks. You can tuck in for a cleaner look, or leave untucked for the casual feel.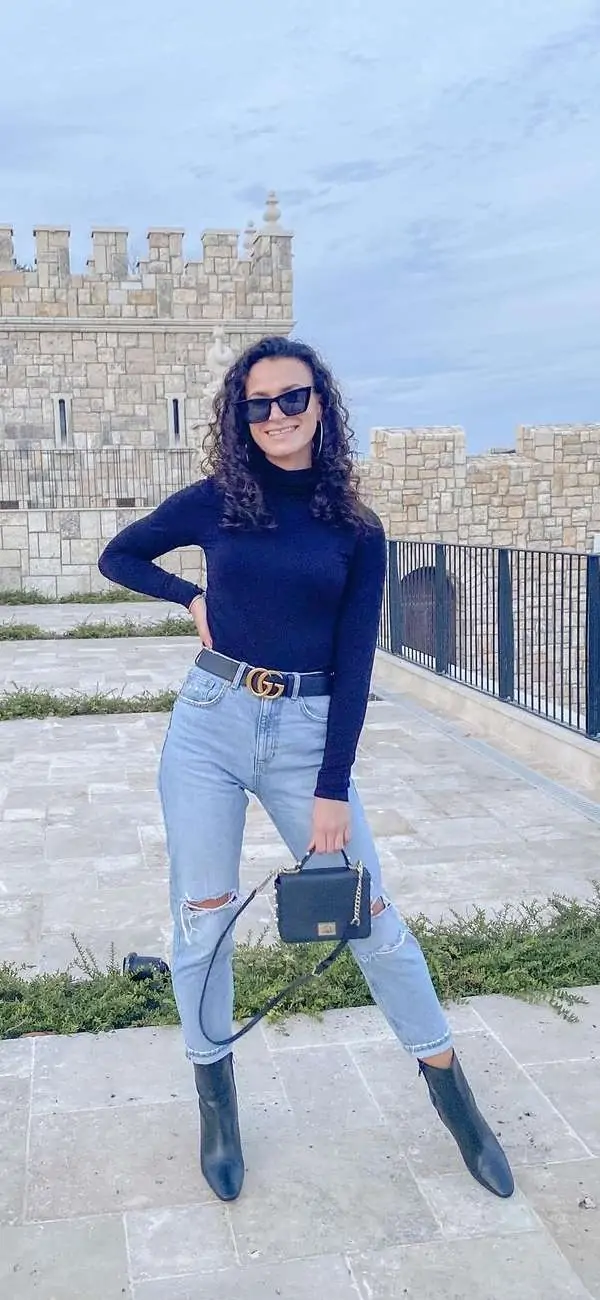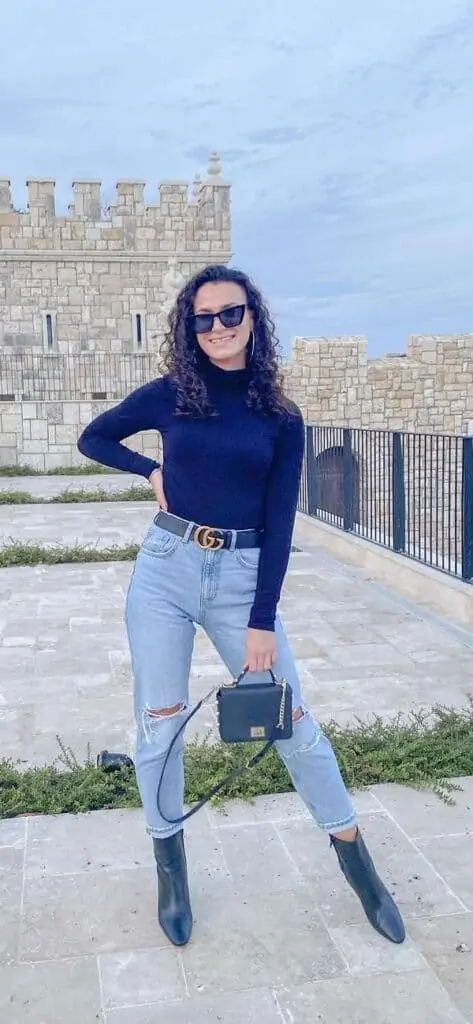 Nicole (above) styled her turtleneck pullover with a pair of mom jeans and some converse. This is an easy-to-wear look that is great for those who prefer loose-fitting pants.
With skinny jeans
Amongst the different types of denim, skinny jeans is one of the most popular, and they can certainly make great casual outfits for turtleneck.
Skinny jeans are the favorite of all women, regardless of their figure or even age. Skinny jeans go well with turtlenecks, whether you pick a lighter fabric for the turtleneck or a knit.
It's a combination that works for very cold weather, when you want to remain stylish. If you pick a turtleneck that matches color of your boots, this outfit will look even more put together.
You can wear a black turtleneck with some skinny jeans and thigh high boots, one of the best shoes to wear with skinny jeans.
With a blazer
If you want to turn a turtleneck outfit into a more polished look, then put on a blazer.
Blazers are great outerwear pieces that flatter all women of different shapes and sizes. They are easy to wear and layer over pieces such as turtlenecks.
Regardless of the type of turtleneck you go for, wearing your blazer over a turtleneck will keep you even warmer and will make your outfit look classier.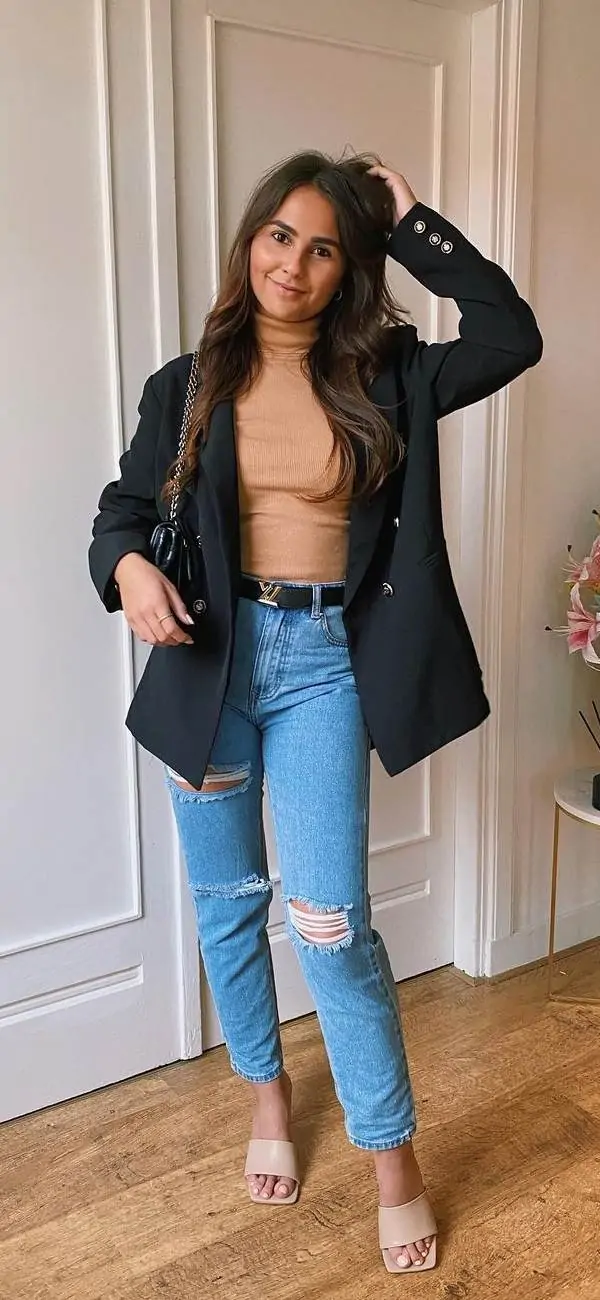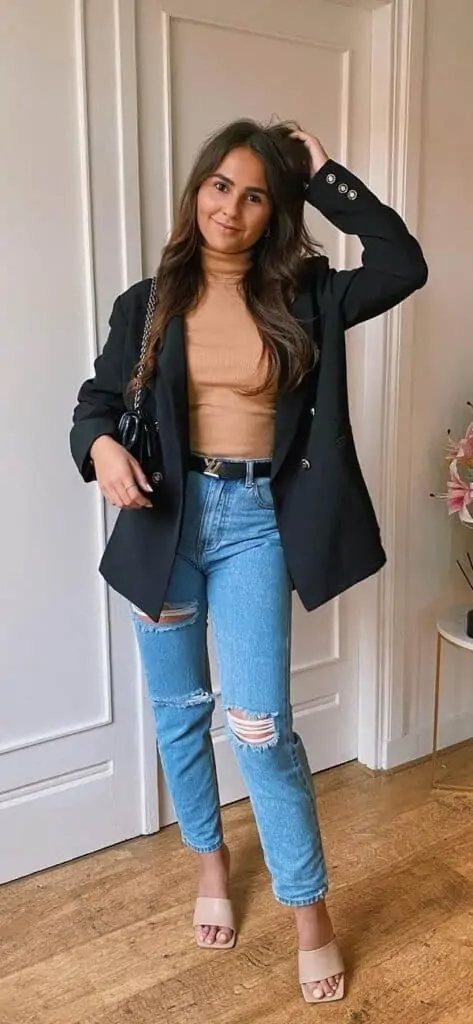 Claire (above) styled her turtleneck with some jeans then layered a blazer over the turtleneck.
This look would still work with a different choice of bottoms, for example a pencil skirt or tailored pants in place of the jeans.
With a coat
Layering a coat over your turtleneck can be your go-to look in the fall and winter, especially for the office.
Coats are the easiest ways to make your look chic and to stand out in the crowd. Pairing them with turtlenecks is common, especially when it's cold outside. This is a look that just never goes wrong.
Going all monochromatic with your turtleneck look under the coat is the easiest way to look classy, although you are not limited to that. You could just go for colors that coordinate well for the coat, turtleneck, pants and shoes.
With a duster
Wearing a duster on top of the turtleneck is one of the most forgiving outfits suitable for women of all body shape.
If it's not as cold outside and you prefer something a little lighter but still chic, then a duster will serve you right. They are nice and flowy, and you can throw them over your turtleneck.
In case your turtleneck is figure-hugging, it's possible they can make you feel a little conscious about revealing some parts of your body (like bulging stomach). In that case, a duster will have you covered and can prevent drawing attention to where you do not want to.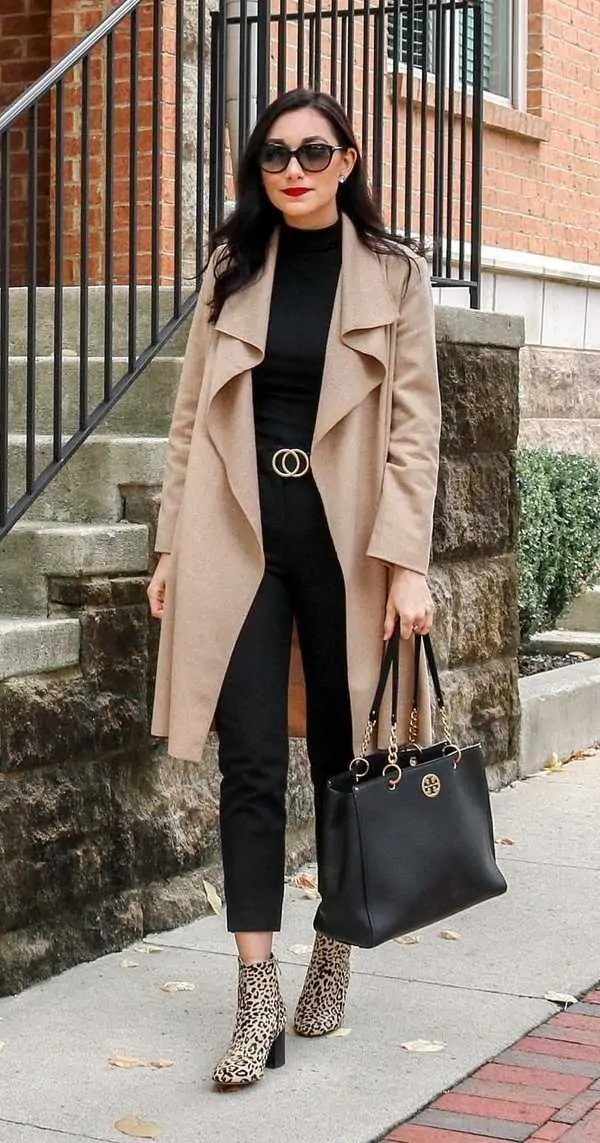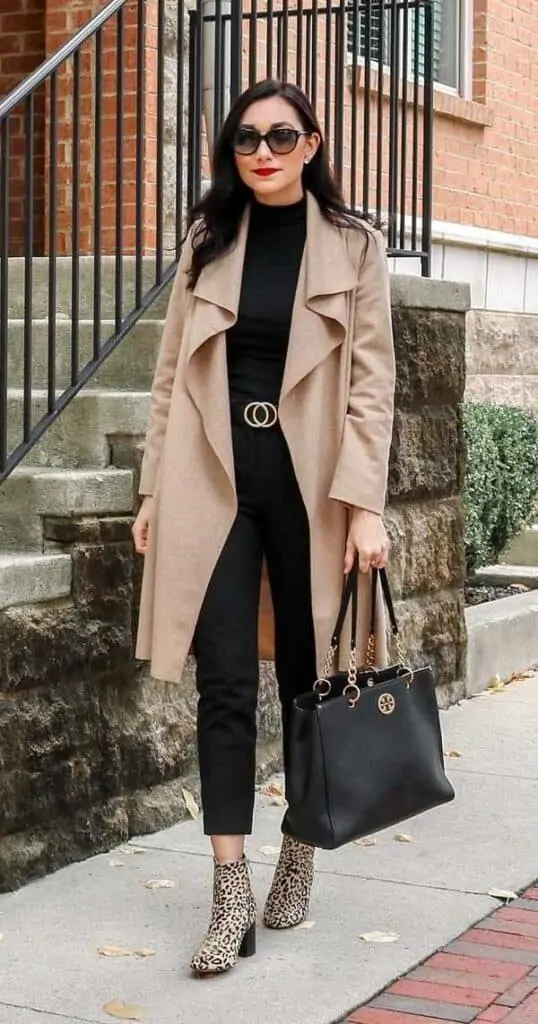 Taryn (above) also went monochromatic with her outfit, that's a black turtleneck tucked into her black jeans then went for a brown duster and an animal print pair of ankle boots.
You can always pick a floor length duster but if you prefer a shorter one, the knee-length or calf length will work.
With a suit
Wearing a turtleneck with a suit is one of the most simple yet classy combination for women of all age. If you are rushing to go to the office or a client meeting, you can never go wrong with this outfit.
A suit is a must-have for any woman who loves a look that gives out a sense of power and class. They come in different styles, all of which can accommodate a turtleneck.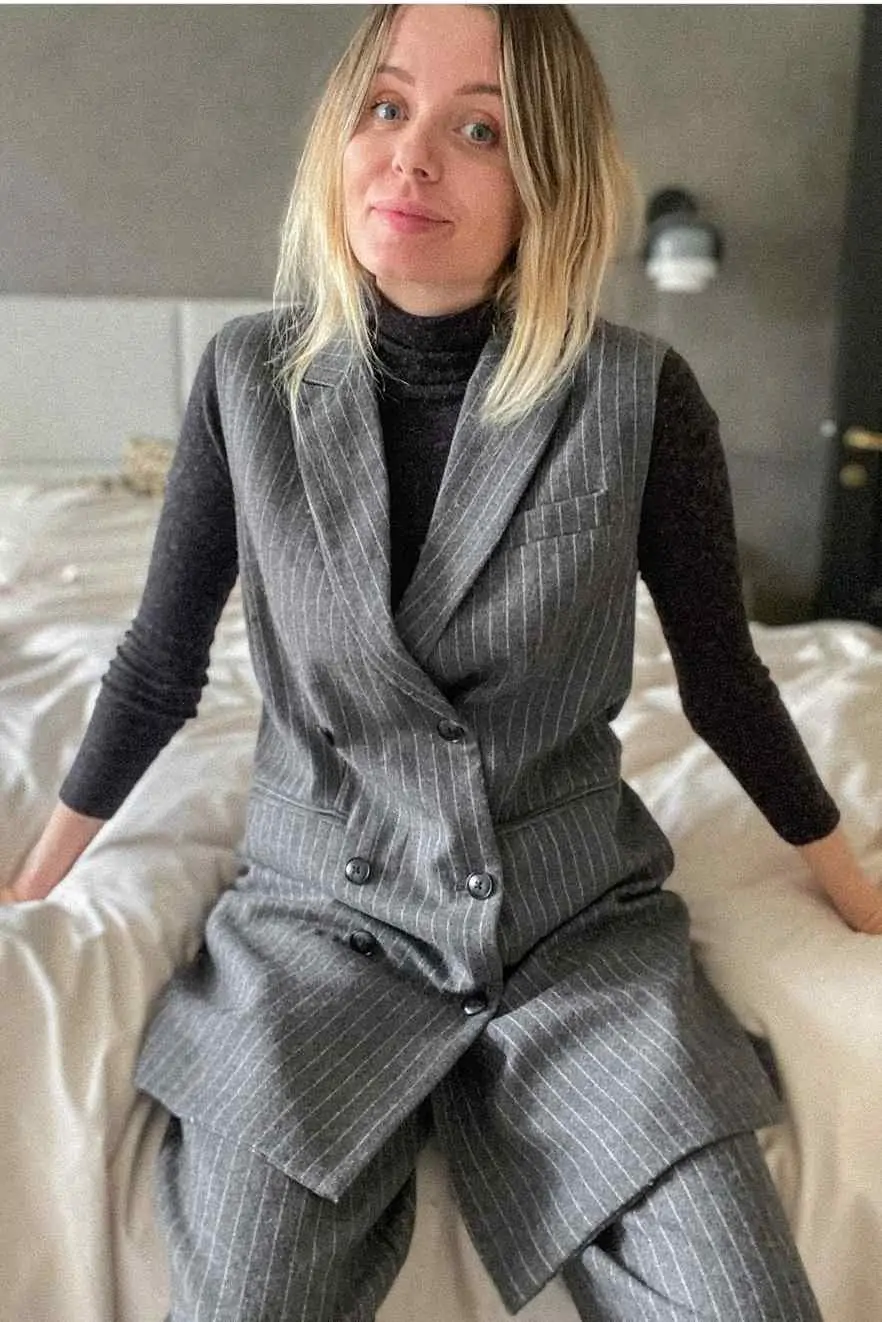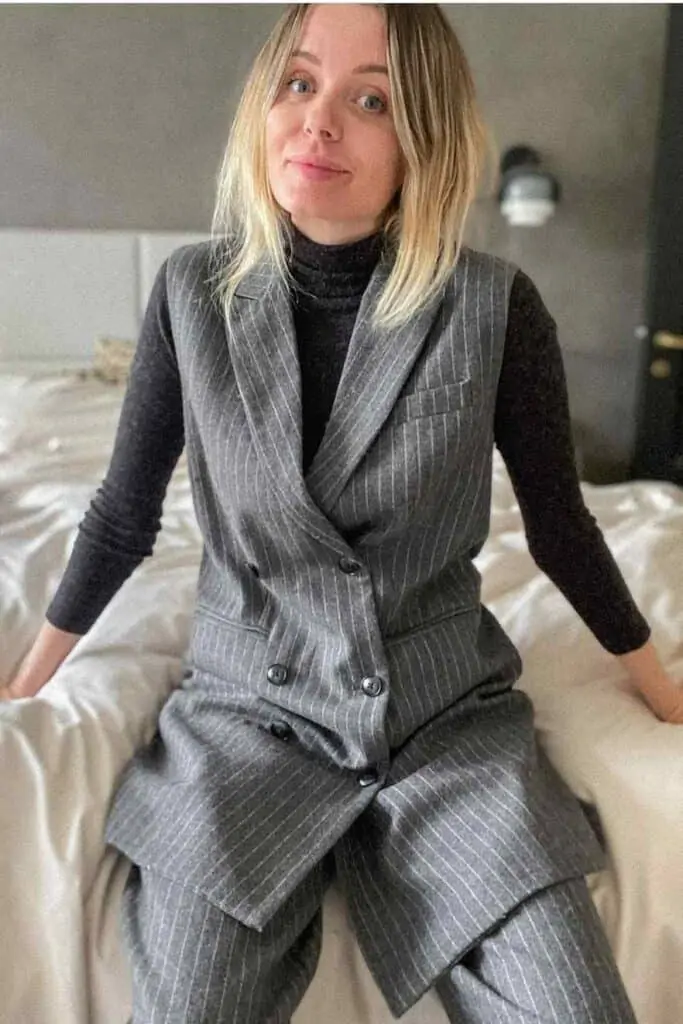 Simone (above) layered a black turtleneck under her striped grey suit. It's a minimalist look that oozes class.
You don't always have to pick the conventional suits, as one with a vest instead of a long sleeved blazer will also do the trick.
With a vest
A vest, just like a duster, is that final piece of outerwear you can layer over your outfit to make it look classier, especially if it's in the design of a coat. You can layer it over your turtleneck if you want to elevate an otherwise very simple turtleneck outfit.
With cropped pants
You can tuck a turtleneck top into the cropped pants for a nice dressed up look.
Cropped pants look young and fun but can actually work for different places including the office. It all depends on the design you choose to go for.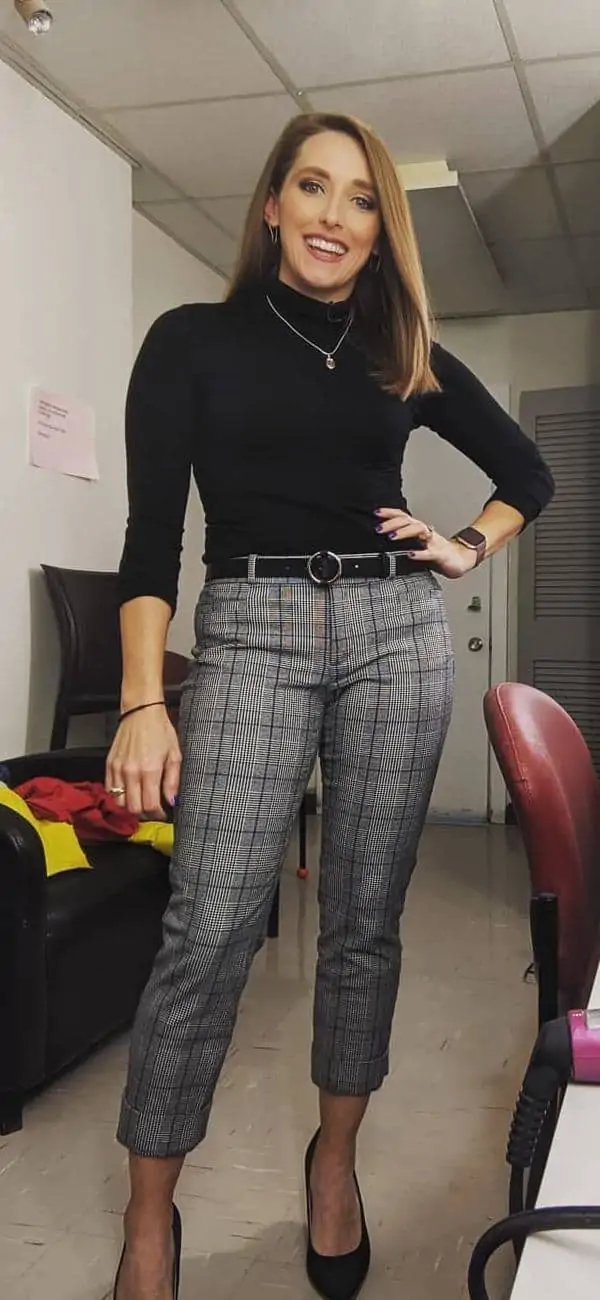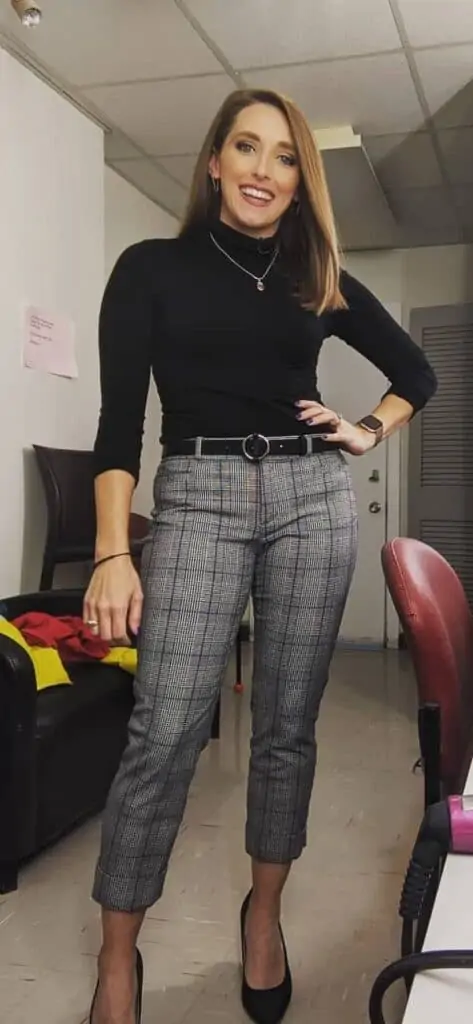 Chelsea (above) wore a plaid pair of cropped pants with a black turtleneck and some closed black shoes.
It's an office-ready outfit and well, in a case where you prefer going casual, all you need to do is switch the heels with some sneakers, preferably white.
With a denim skirt
A denim skirt is an easy-to-wear casual piece that works for different women and comes in different styles. They also come in different shades and can be worn with a turtleneck for that easy, yet classy casual look, especially if you choose a knee length denim skirt.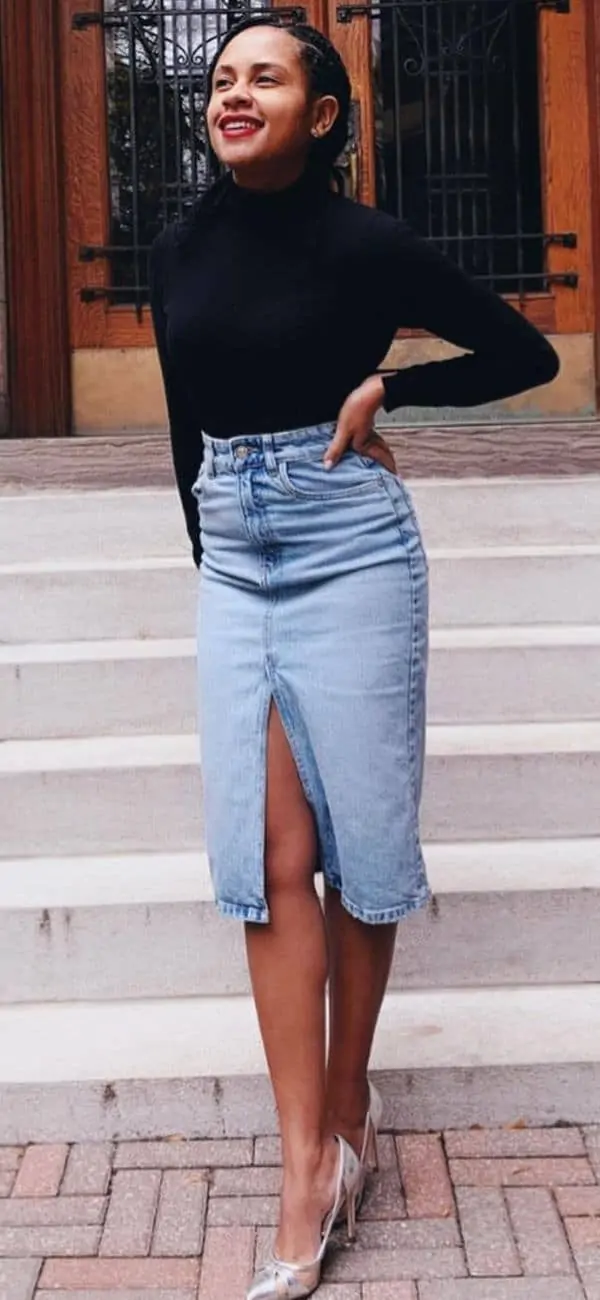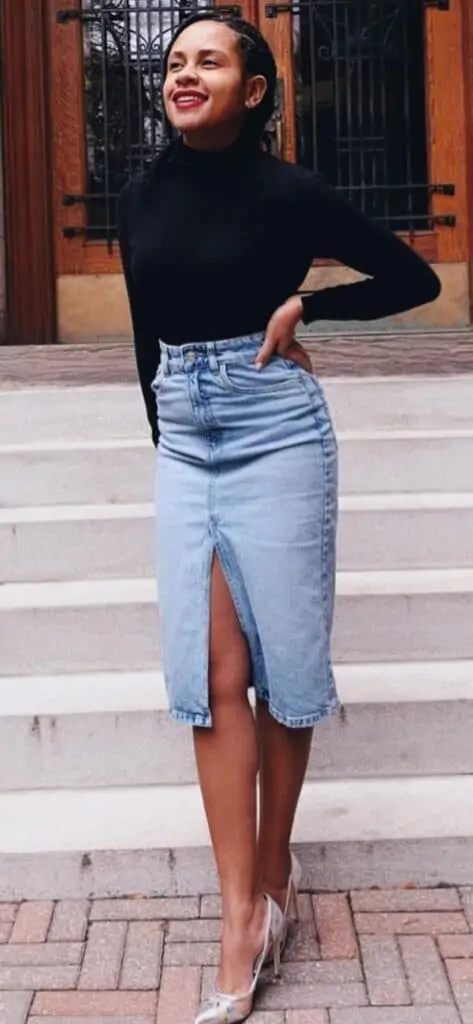 Soamaeva (above) styled her denim skirt with a black turtleneck top and some heels. It's also a casual but chic look that allows you to swap the heels for some sneakers.
With a slip skirt
Slip skirts are delicate and fabulous. They're feminine and easy to wear. While they are light, one of the best ways to wear them during colder months is to go for a turtleneck top as it will keep you warmer.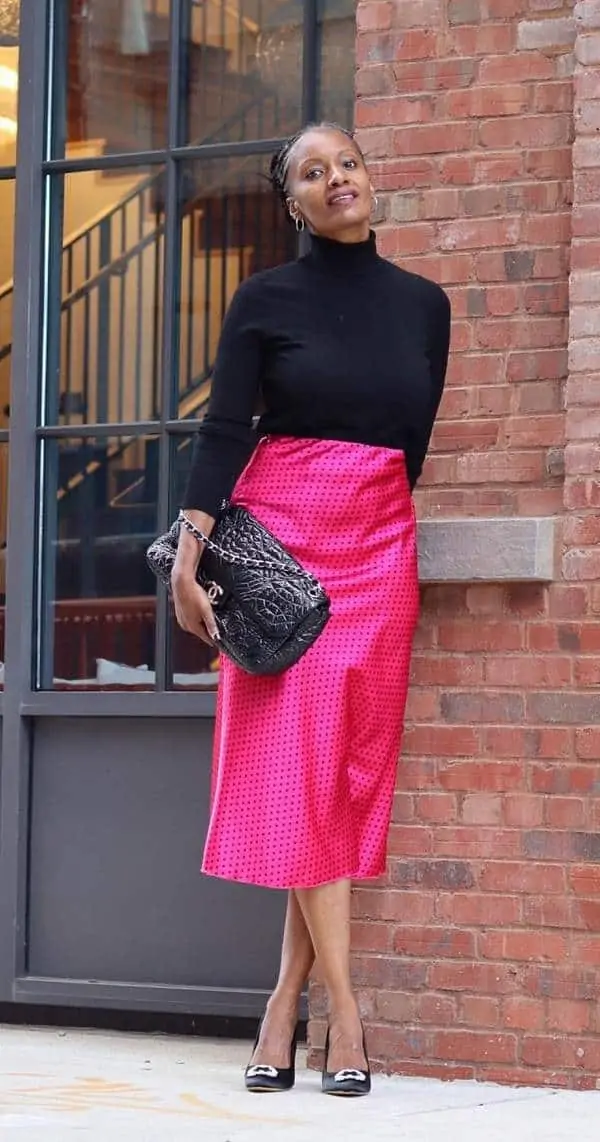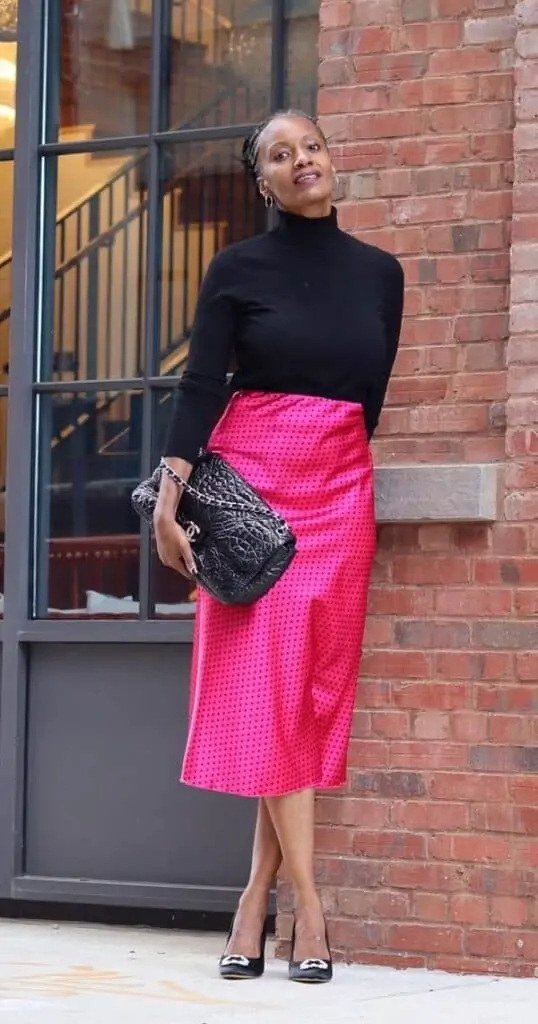 Mrs. Coy (above) styled her slip skirt with a black turtleneck and kept the look minimal by wearing a pair of black closed-toe heels. The look would also work with some ankle boots. With this pairing, you only need to coordinate the colors you're wearing in order to look great.
With a cardigan
You can style your cardigan with your turtleneck for an extra cute and cozy outfit. This look is great if you prefer laid back outerwear to structured ones like blazers.
Cardigans are not only cute and comfortable, but can also make a fashion statemen, especially seeing that they are nowadays available in different designs.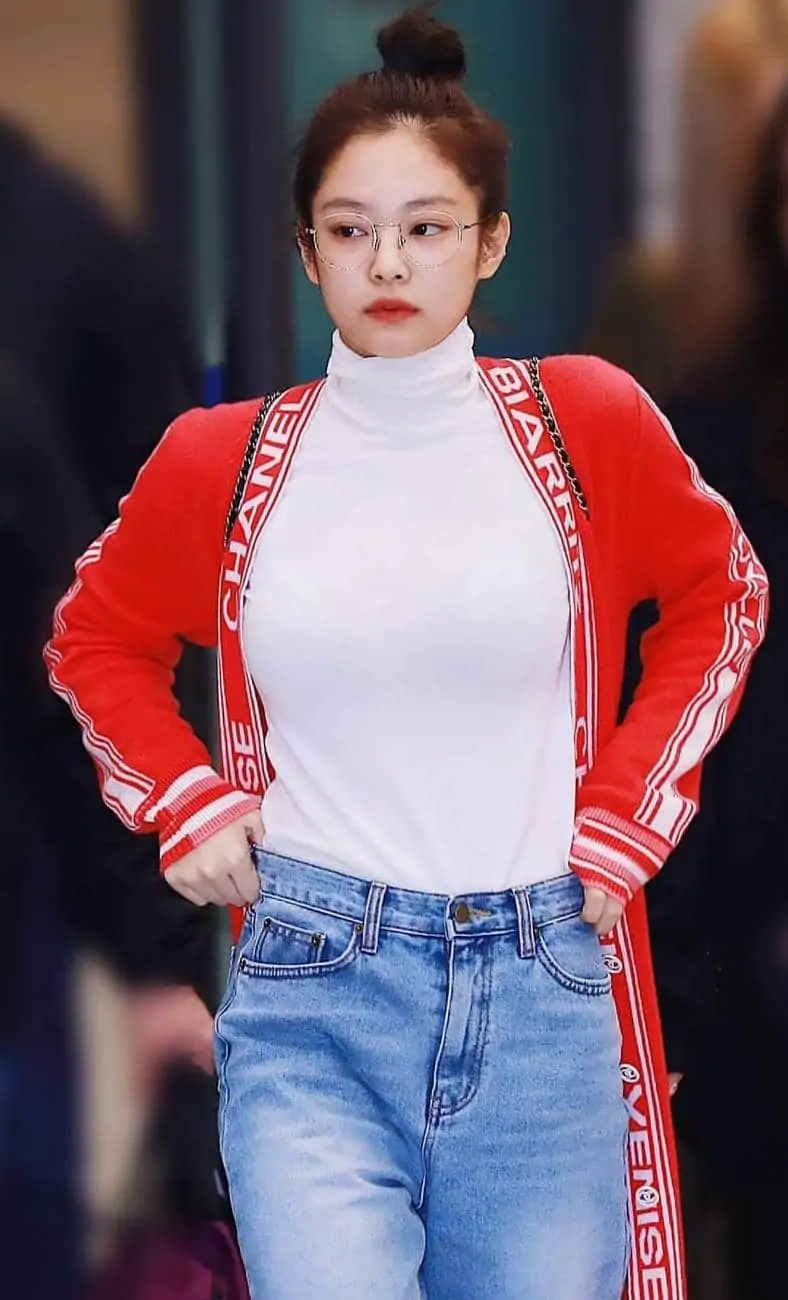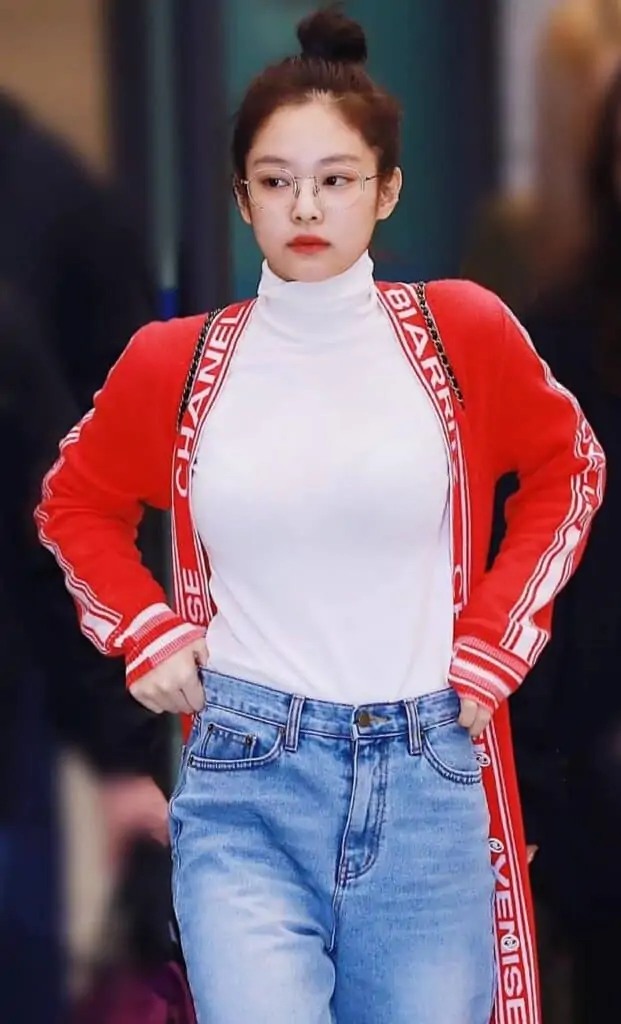 Jennie (above) wore a white turtleneck with a red cardigan and a pair of jeans. It's a classy look considering the minimalist color combination.
With a plaid shirt
Since turtleneck is a minimalist design, it gives you many options to wear with popular prints such as the plaid.
Plaid shirts are great for fall and go with a lot of bottoms, but can also be worn as outerwear over your turtleneck. When you do so, you can button down your shirt so that the turtleneck can peak a bit from the top, or you could leave it unbuttoned.
Magdalena (above) wore a black turtleneck with some black, slightly baggy pants, and then styled the look with some casual shoes.
You don't always have to go for the common black and red plaid shirts. If your turtleneck is in a neutral color, feel free to be creative with the color of the shirt, since they come in a number of other different colors.
With flared jeans
Flared jeans were a favorite in the 80s. Just like mom jeans, they have found their place in modern day fashion and are both elongating and figure flattering. They actually give you an illusion of an hourglass figure. Besides, they are one of the best jeans for women with shorter legs.
If you go for a pair of jeans in a simple blue wash, you can try a different color for your turtleneck.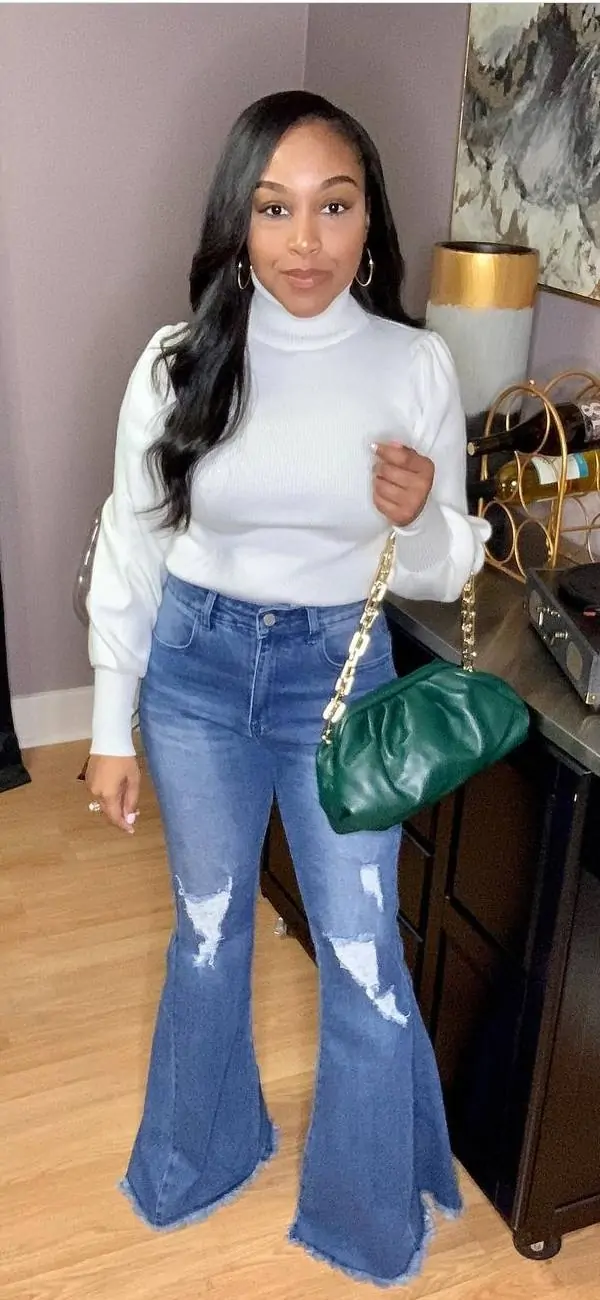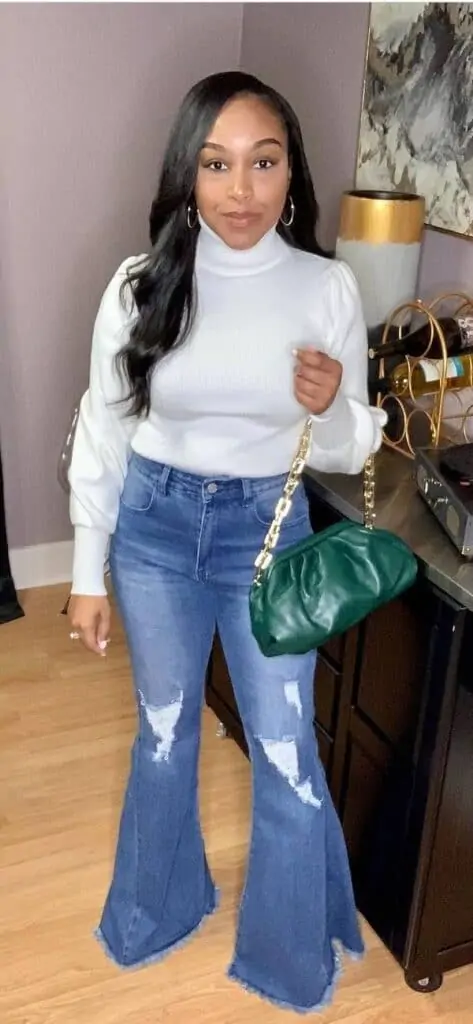 Stacy (above) wore her white turtleneck with a pair of flared jeans that are floor length. The wide leg of the jeans balances well with the design on her turtleneck sleeves.
With track pants
Track pants may be sporty for the most part, but that does not mean they can't be looked at as everyday wear and be dressed up. Wearing your track pants with a turtleneck top tucked into it will give you a casual chic outfit.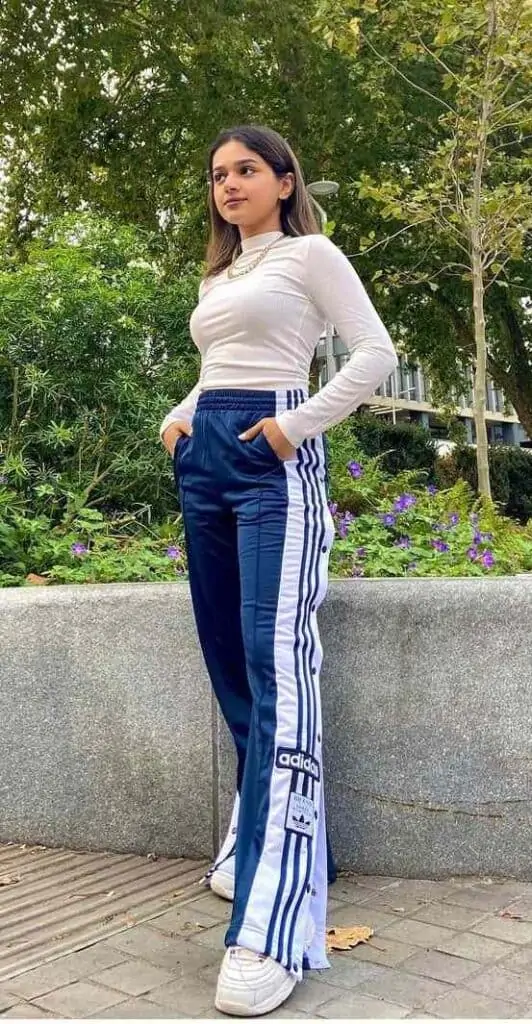 Haya (above) styled her track pants with a white turtleneck and a pair of sneakers. If you would like to make such a combination more feminine, you could swap the sneakers for a pair of strappy heels.
These 15 different outfit ideas for styling a turtleneck are great especially if you're trying to stay warm and look great at the same time. Try them out sometime.