Are you interested in Emilia Clarke height? How tall is she? What is her weight? What about her body type? Her shoe size? How can you dress impeccably like her? You have come to the right place.
If you are curious about Emilia Clarke height, we presume you are a fan of Game of Thrones. As GOT became THE hottest show on TV, Emilia Clarke, the English actress with dreamy eyes and full lips, has also conquered the heart of numerous fans around the globe. What we love about her is not just her flame-breathing dragon babies, stunning hair and gorgeous curves on the show, but also her charming smile, ferocious ambition, and impeccable style.
Today we will take a look at some of the most searched questions about
Emilia Clarke Height, Emilia Clarke Style and Fashion Inspiration for Petite Women
Before we talk about Emilia Clarke height, weight and body type here is some basic facts about her background based on Wiki.
Emilia is an English actress who was born as Emilia Isabelle Euphemia Rose Clarke on October 23, 1986. Her father was a theater sound engineer while her mother Jennifer Clarke was a business woman. She grew up in Berkshire with her brother.
Emilia's father's job is where it all began…With the nature of her father's job, Emilia frequented the theater and fell in love with acting and musical. After her graduation from St. Edward's in Oxford stage performances while studying at the Drama Centre London, Emilia started going for auditions.
Like other aspiring actors and actresses, she took up multiple jobs to make ends meet. Emilia worked as licensed real estate agent, bar-tender, waitress, call center person amongst other jobs.Now, let's look at Emilia Clarke height.
In the picture above. She looks really tall, doesn't she? So, how tall is Emilia?
She is 5'2″, or 158cm. Since she is under 5'4″, by definition, she is a petite size.
One of the common questions of petite women is how to look authoritative in the office or client meeting, when you look shorter than other people. Well, Emilia Clark height gives you the best answer! In Game of Thrones, she is the charming dragon queen who commands the army, unchains slaves and fights off the enemy. She is absolutely the authoritative leader that everyone looks up to, even though she is only 5'2″.
Now that you know about Emilia Clarke height, are you curious about her weight and body type?
Her weight is 114 Lbs (52 kg), and shoe size is 6. Even though there is no public information about her clothing size, she comes across as a petite size 0 or petite size 2 in US petite sizing.
Besides Emilia Clarke height, what defines her body shape is her measurements.
In Game of Thrones, she looked skinny but not bony. You can definitely see she has healthy curves in the dragon queen costumes.
Her measurements are 34-26-34. She comes across as a typical petite hourglass figure.
Emilia Clarke height is typical of petite women, but she somehow always look much taller than she actually is. What is her secret? What can you learn from Emilia Clarke style? Even if you might not be interested in looking taller, you can still find inspiration from Emilia Clarke style if you want to make your proportions look better and your legs look longer.
First of all, short girls of Emilia Clarke height can all learn how to style petite formal long dresses, inspired by her stunning red carpet looks. If you are petite, you might be eyeing the full length ball gown for the formal event you are invited to but could be wondering whether you can pull that off.
Emilia Clarke style got the answers for you. Her choices of formal dresses are often times elegant floor length, but she doesn't look swamped in the fabrics or overwhelmed by the length. The secret? The dresses have simple silhouette of modest A line or sheath shape, which forms an unbroken vertical line to flatter her petite body frame. Also, she frequently wears light colors, which make her beautiful eyes really stand out, and of course, also adds more emphasis to her petite figure.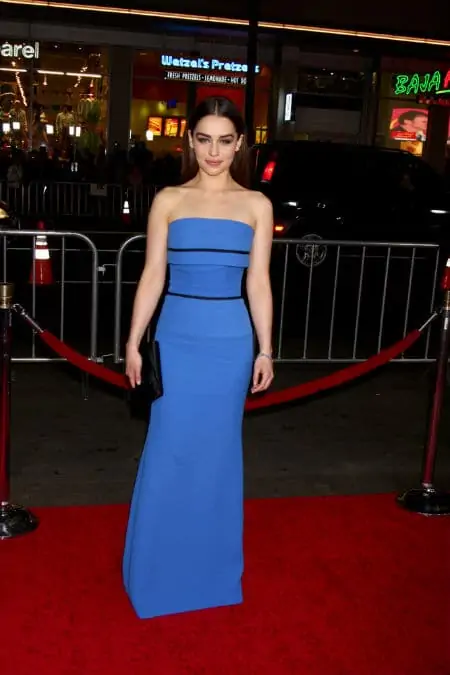 Secondly, Emilia also loves midi dresses! Who said girl of Emilia Clark height cannot rock midi dresses? At 5'2, she sets a perfect example for petite girls on how to wear them. Many petite girls are afraid midi dress will make them look even shorter. However, if you learn from Emilia Clarke style, you'll find it pretty easy to rock midi dresses. The key is to focus on how to create best proportion, and pick pastel colors and pair them with pointed nude heels.
Thirdly, our dragon queen has a wardrobe full of lace dresses. From pink to white and from midi to formal, Emilia Clarke style rocks lace dresses at different red carpet occasions or walking down the street. Lace dresses are always a good choice for "girly" girls, as it is the ultra feminine and fits almost any occasion.
Fourthly, petite girls of Emilia Clarke height would also love her looks of mini dresses and mini skirts! The little white skirt is so flattering, they make her legs look mile long, especially when paired with stiletto or pointed heels. This seems to be one of her favorite styles off red carpet, and we have seen her wearing similar style in various street style pictures. We suggest all petite girls learn from her on how to fake longer legs.
If you are wondering how girls of Emilia Clarke height can wear petite dress pants and pant suits, you will find many inspirational fashion moments from Emilia style as well. She is a master of pant suits. If you want to copy her style, the key is to make sure everything is well fitted and made of fine fabrics with enough weight.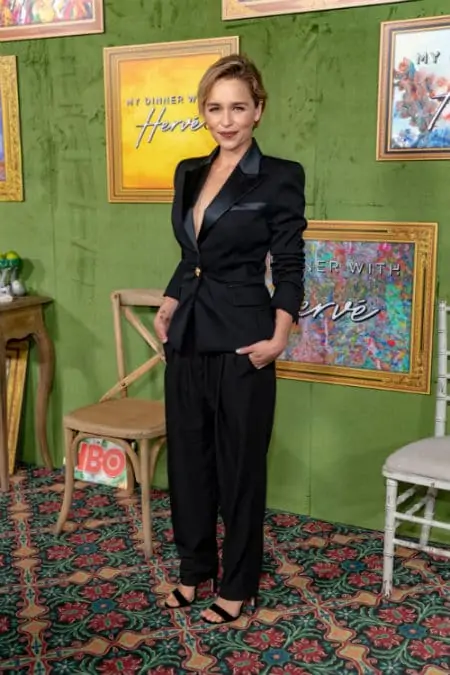 Given Emilia Clark height, she is quite smart with her choices of hair style. We have another post about the best hairstyles for petite women, where you can read more tips. You can see that Emilia often had her hair up on the red carpets, which is a great way for petite women to look taller. She has also switched to short hair, which is another great choice for petite women. Of course, we also love when she has the long and sleek hair down.