If you have a short torso, finding the RIGHT style is important. I know this from first hand experience because I am 5'2″ myself, which means my torso is shorter than taller girls. Besides, I also have a petite clothing line for women 5'4″ and under, so I work with petite model Wendy, who is 5'2″ with a typical hourglass shape.
Based on my experience of styling her on a weekly basis for our product fitting as well as photo session, I've put together this guide to help you find the most flattering styles to your shape.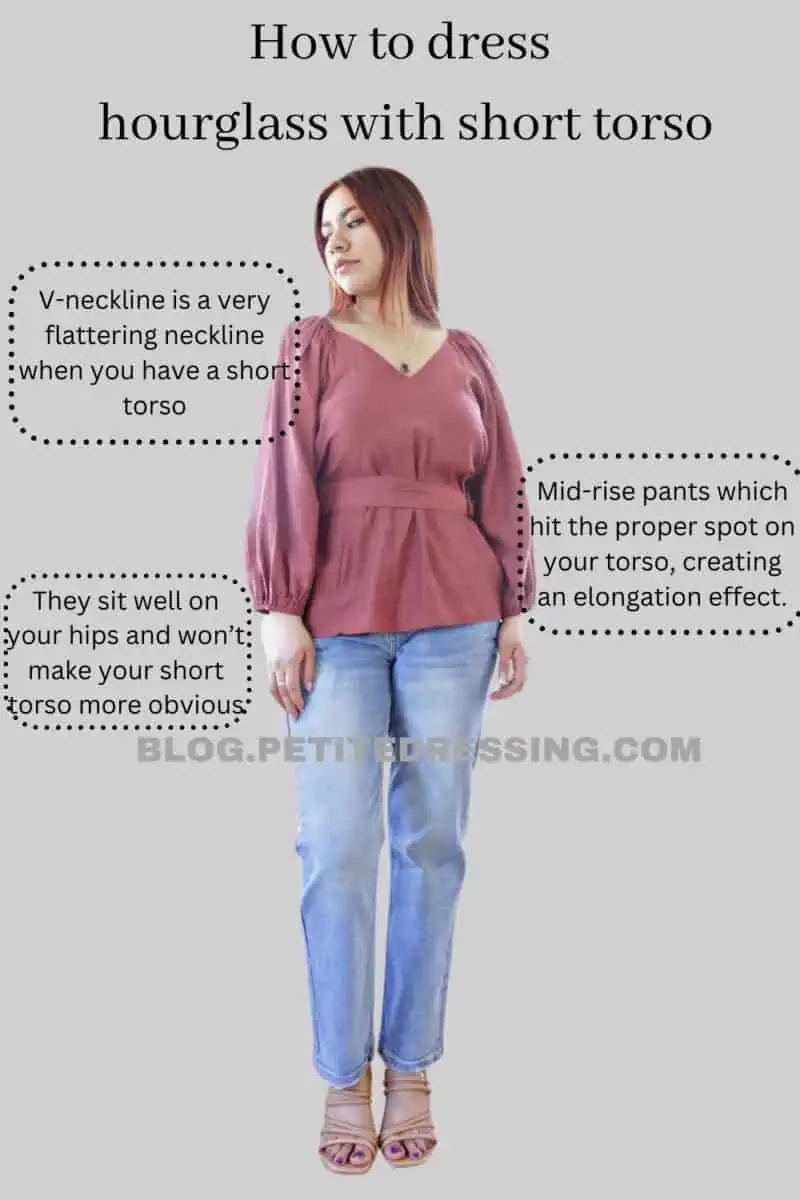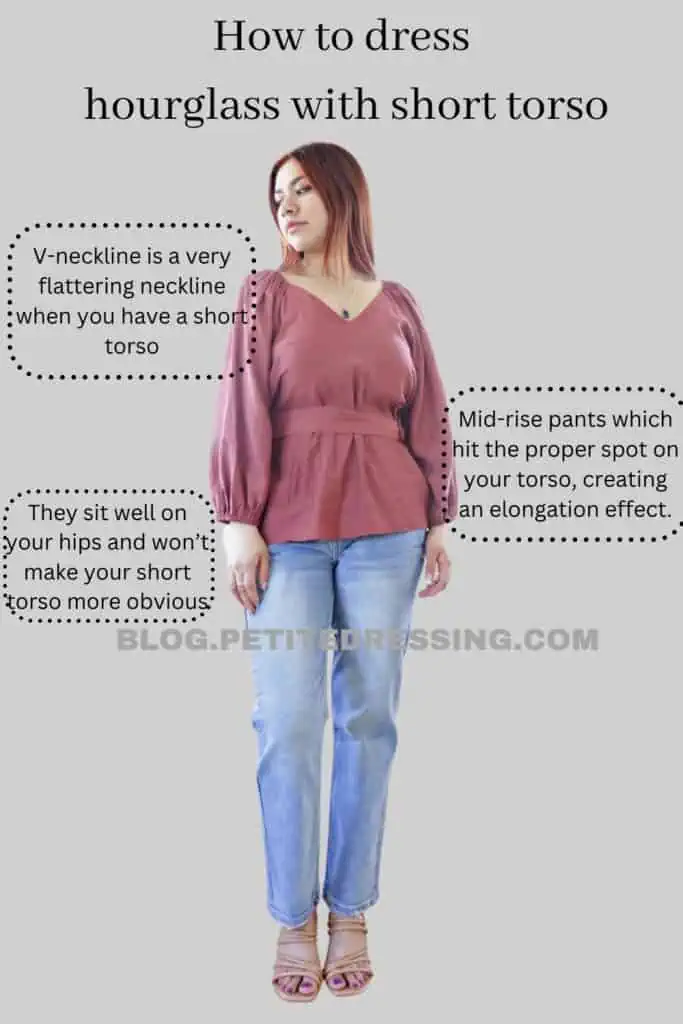 V-neck tops
For the hourglass with short torso, the goal is to wear clothes that create vertical lines on your upper body. This is one of the best ways to visually elongate your torso, such that it appears longer than it actually is.
V-neck tops are an amazing example of tops that help to create an elongation effect on your torso. This is because they portray a lot of vertical space on the upper half of your body. Compared to horizontal lines, vertical spaces are good for creating the illusion of being taller.
The trick here is that the V-neckline draws the eyes up and down, so anyone looking will be more inclined to believe that your torso is longer. What if you have a small bust? Well, the v-neck top works for you too.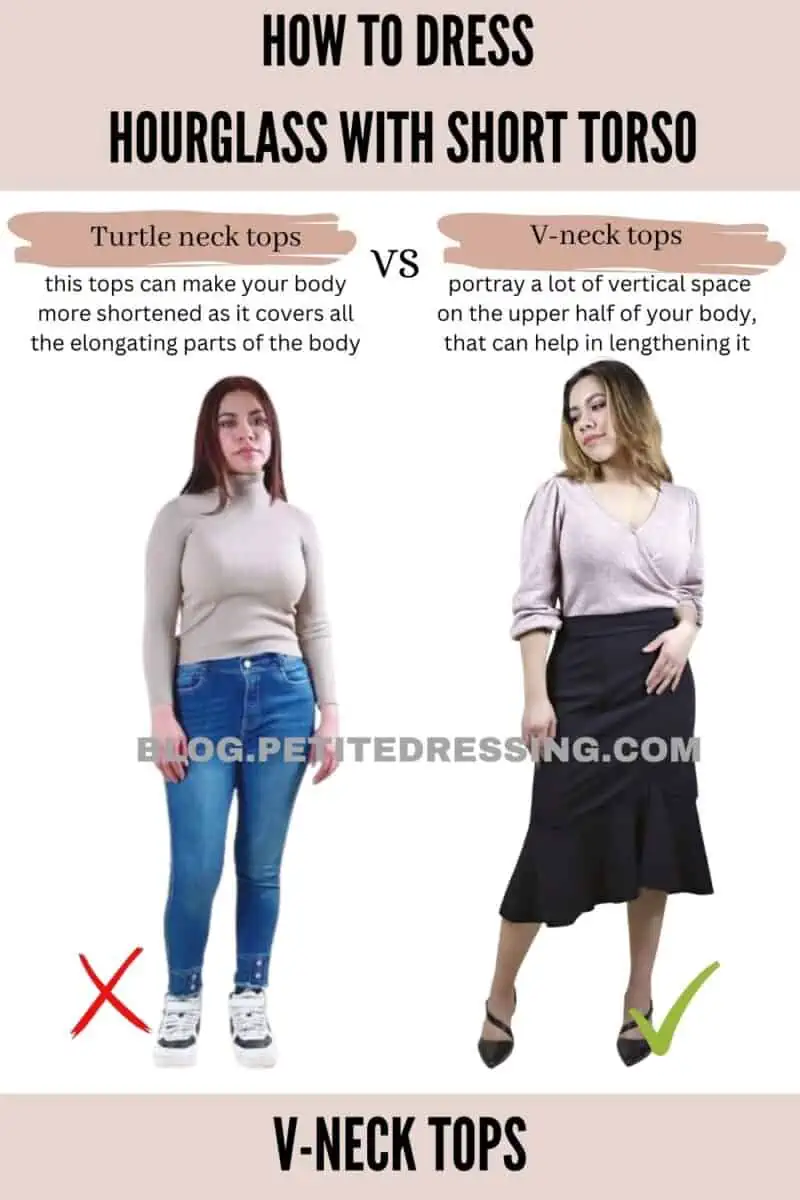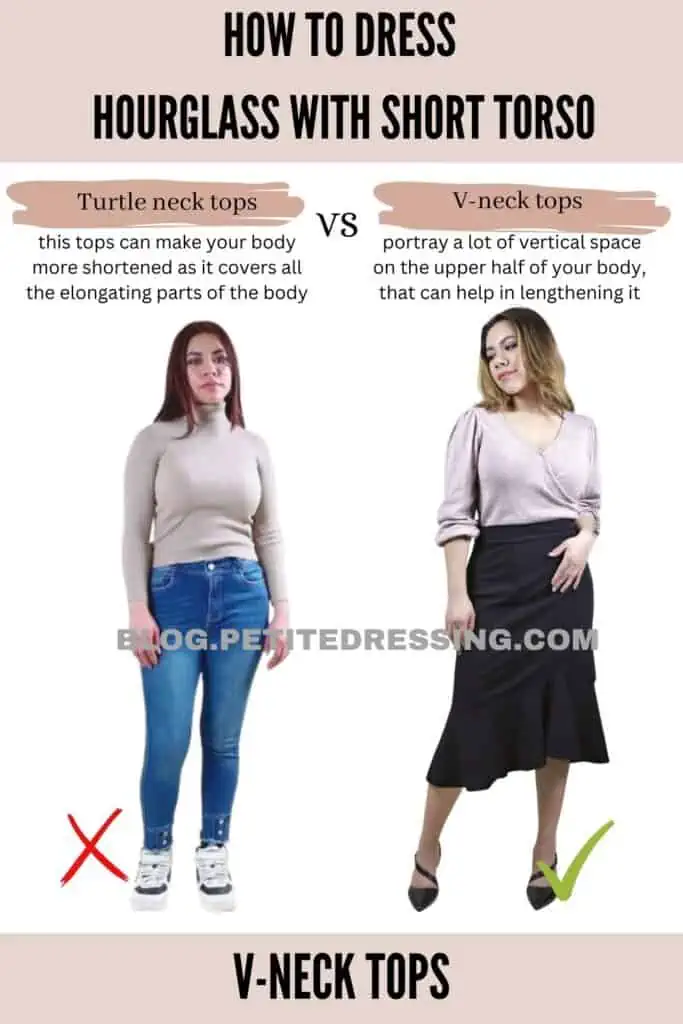 It's a good idea to go for more plunging v-necklines, but you don't have to be extreme with this if you're not a fan of revealing clothing. Meanwhile, the length of your v-neck top should hit a little over your hip bone as this adds to the illusion of a longer torso.
Off-the-shoulder tops
When choosing necklines for your top as an hourglass with short torso, you need to go for tops with necklines that can create vertical lines on your upper body. Therefore, it will be a bad idea to choose necklines that create an unbalanced silhouette on your hourglass body.
Some necklines are famous for adding more volume to your shoulders through excessive ruffles or visually widening your shoulder line. Therefore, a great choice is an off-the-shoulder top that has a feminine finish on your shoulders.
This is not an extremely wide style, but it is just enough to slightly show off your bust area while visually elongating your short torso. Some other great neckline choices are rounded or deep oval necklines.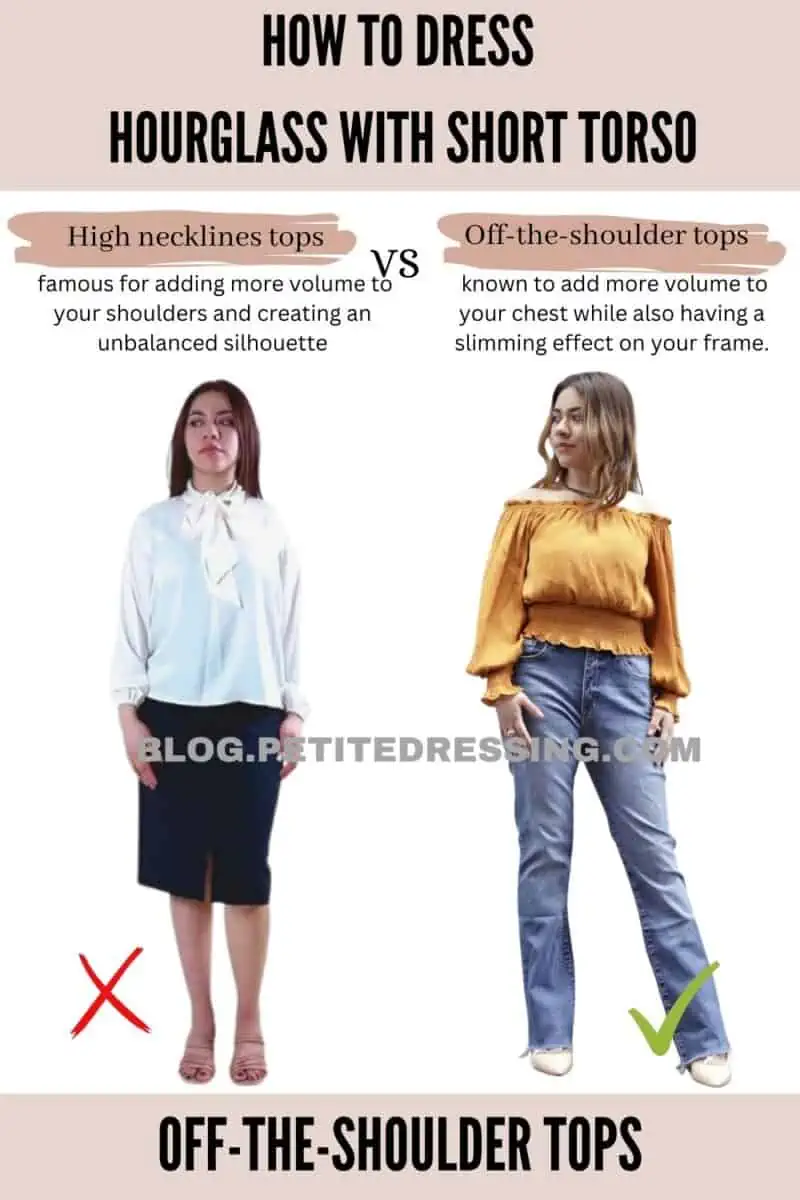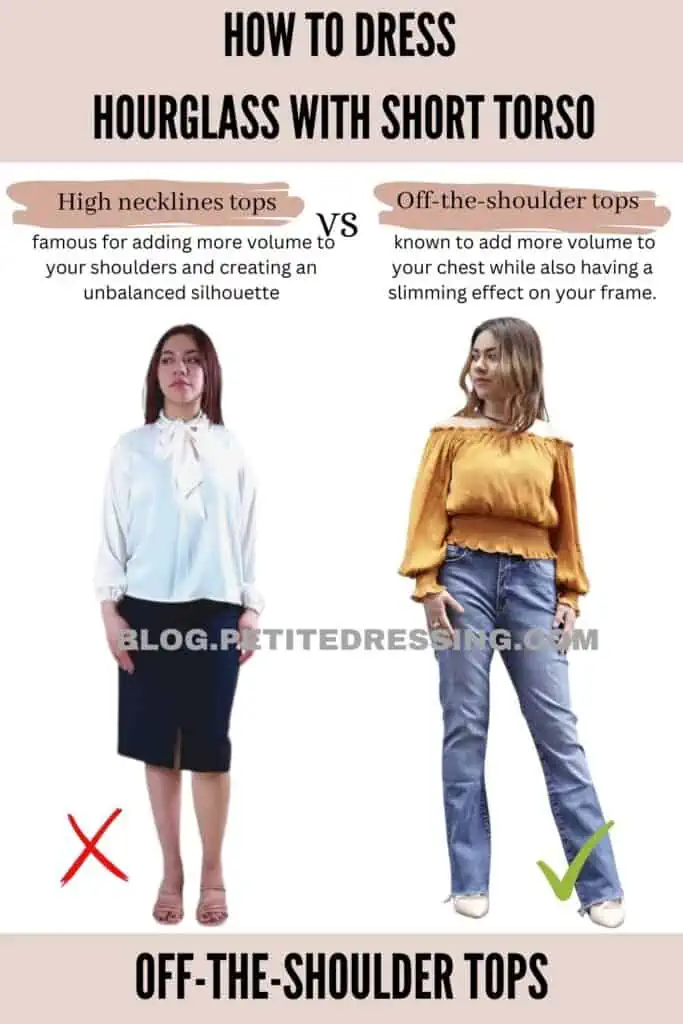 Regardless, off-the-shoulder tops are flattering for your short torso as they are known to add more volume to your chest region while also having a slimming effect on your overall frame.
Avoid oversized tops
Hourglass women with short torso should aim to wear clothes that make their body proportions appear more balanced. Oversized clothing is not flattering to your body as it can emphasize your short torso and conceal your hourglass shape.
This style of clothing will be overwhelming on your body frame, making you look shorter. A better choice is to opt for medium-sized tops that will create the illusion of a longer torso rather than making you shorter, like oversized clothes.
So, rather than oversized tops, choose tops that hit just a little over your hip bone so that it's at the right spot to elongate your body frame. If you're concerned about your short torso, you shouldn't border with trying so much to hide your body frame.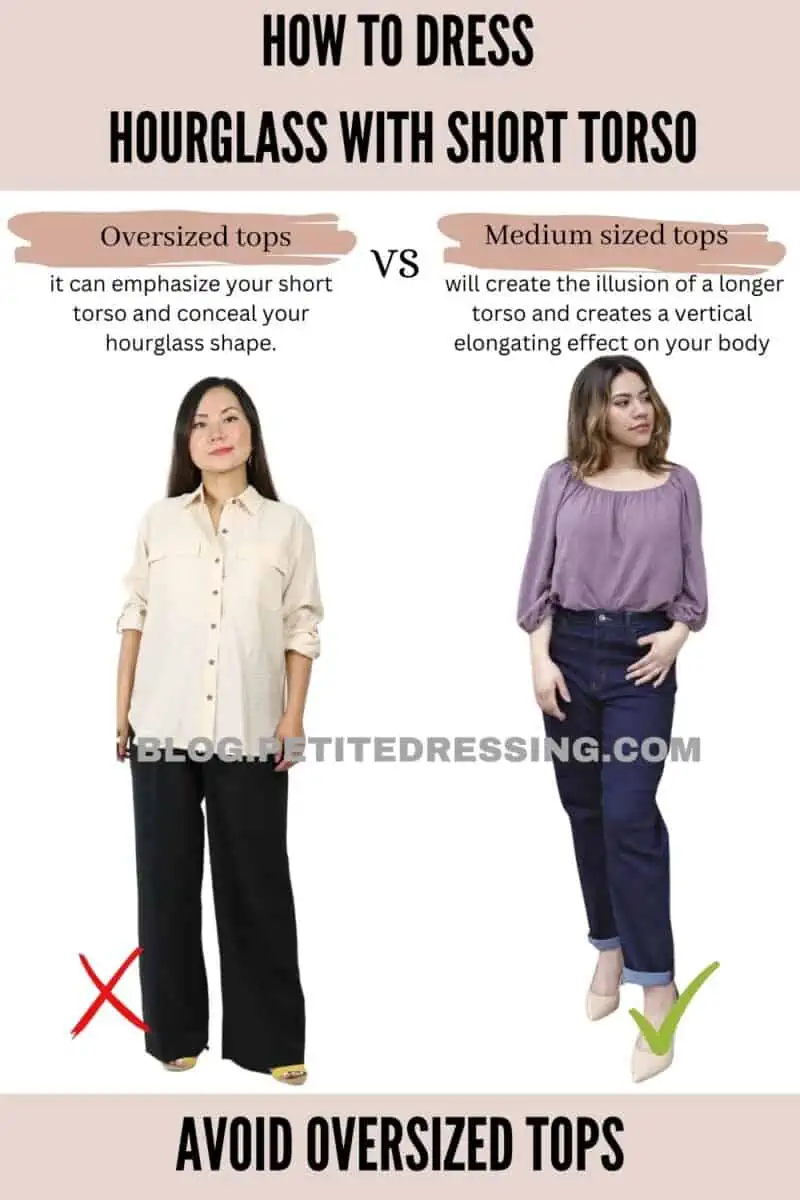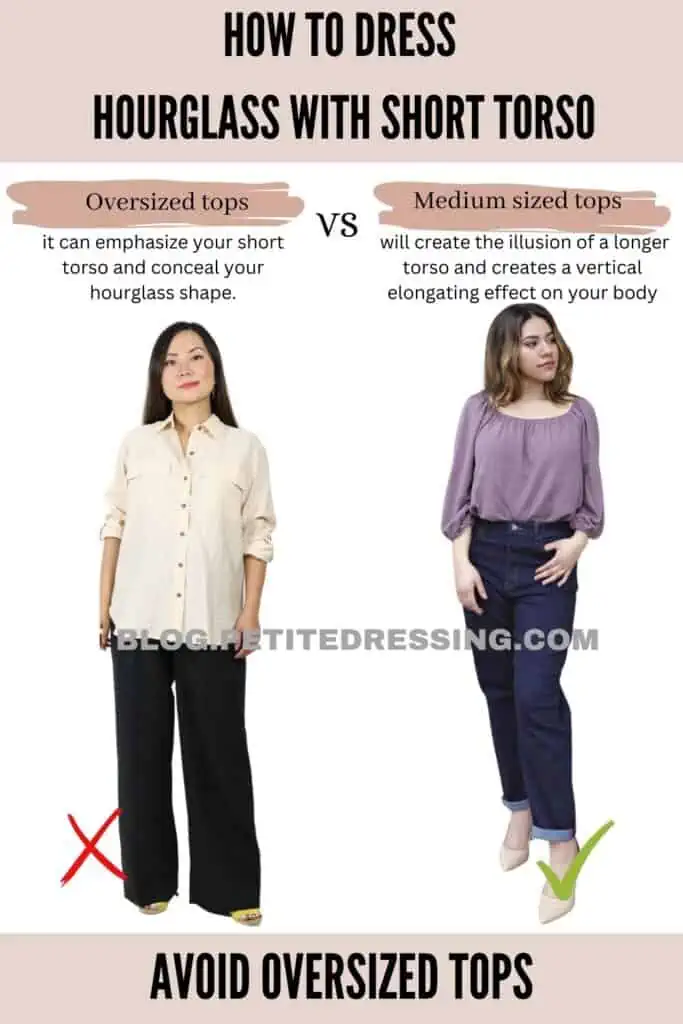 Instead, you should wear fitted clothing with vertical lines that have an appealing effect on your body. Avoid oversized tops and stick with those that have a snug fit on your body without being too tight on your frame.
Mid-rise pants
Most women with short torso have a shorter rise, and the best way to complement this is with mid-rise pants. However, I've seen more than a few hourglass-shaped women with short torso wear low-rise pants, and the results are not pleasant.
Low-rise pants usually create a horizontal line, and I mentioned earlier why you need to wear clothes that create a vertical line on your body instead. This horizontal line highlights your waist in a way that shortens your torso.
This is similar to the effect you get with high-waisted styles, which shorten the torso drastically. The best bet for hourglass with short torso is mid-rise pants which hits the proper spot on your torso, creating an elongation effect.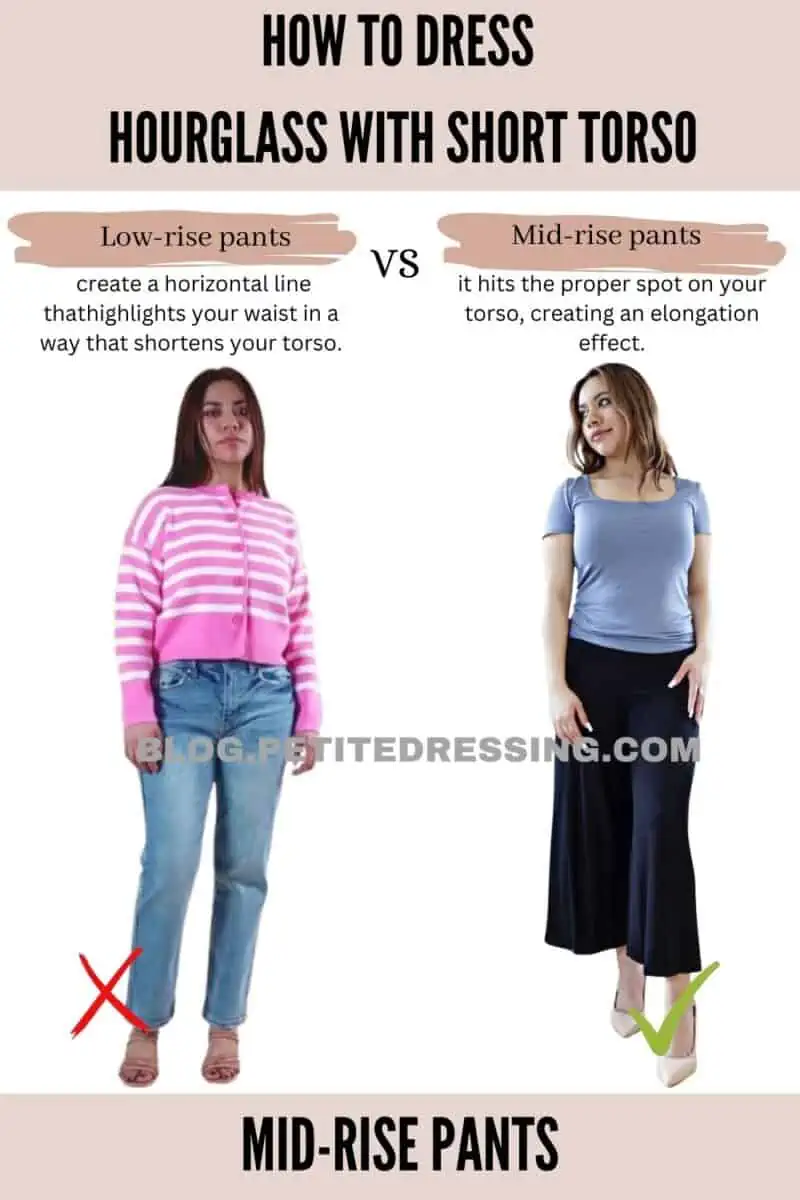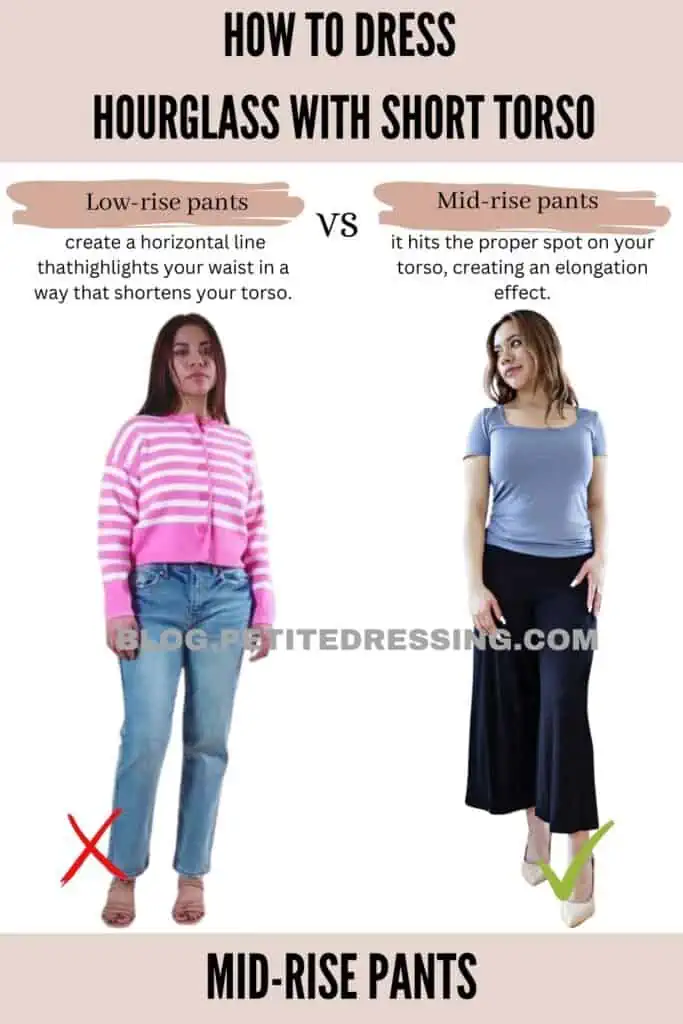 Apart from the elongation effect, mid-rise pants on women with shorter torso are extremely comfortable. They sit well on your hips and won't make your short torso more obvious. So, there's no doubt that this is your go-to for comfortable pants.
Straight-leg pants
It's always a great idea to wear pants that balance your hourglass shape with the rest of your body. The right outfit will draw less attention to your short torso, and even visually lengthen them.
So, apart from coordinating your pants such that they don't have contrasting colors with your top, you should consider wearing straight-leg pants. They don't have to be extremely tight-fitting, but those that go straight down to the floor won't visually cut-off at the legs abruptly.
This should be mid-waisted, of course, as you don't want to overly widen your hips. Pick straight-leg styles that have no pleats or ruffles around your hips, as they can visually widen your hips as well and further shorten your torso.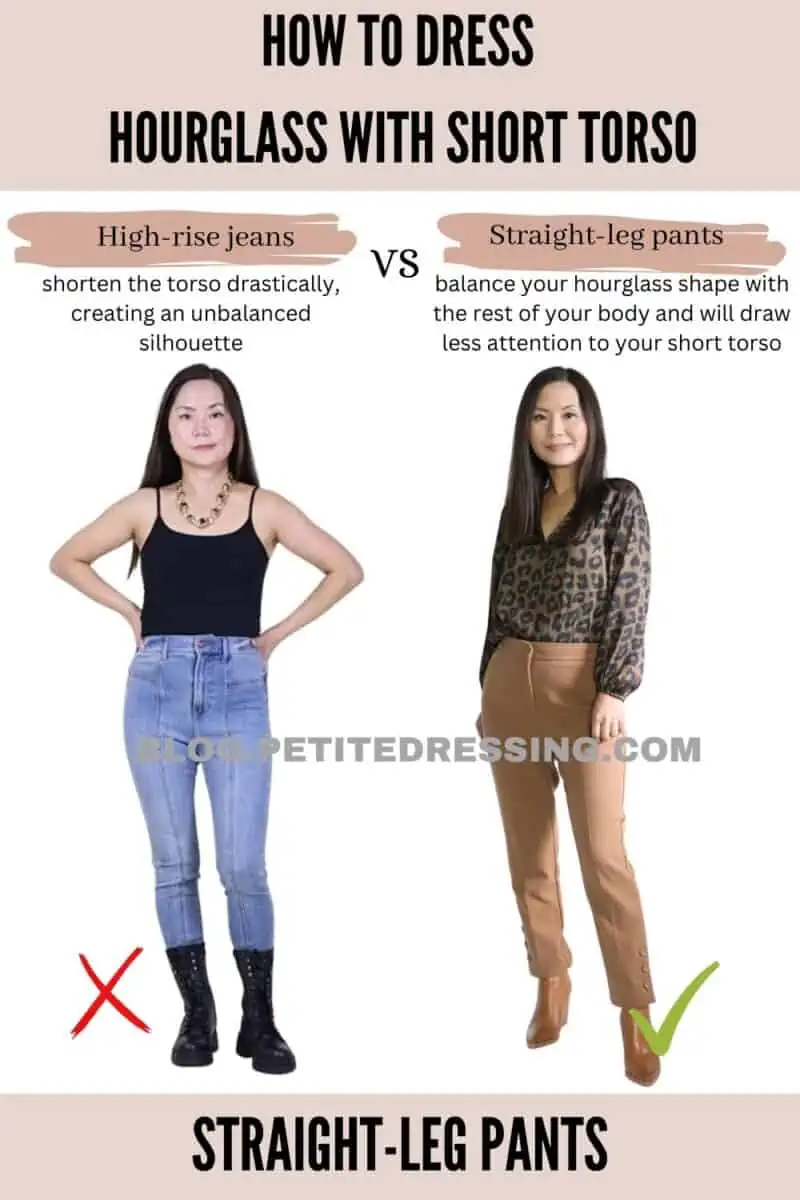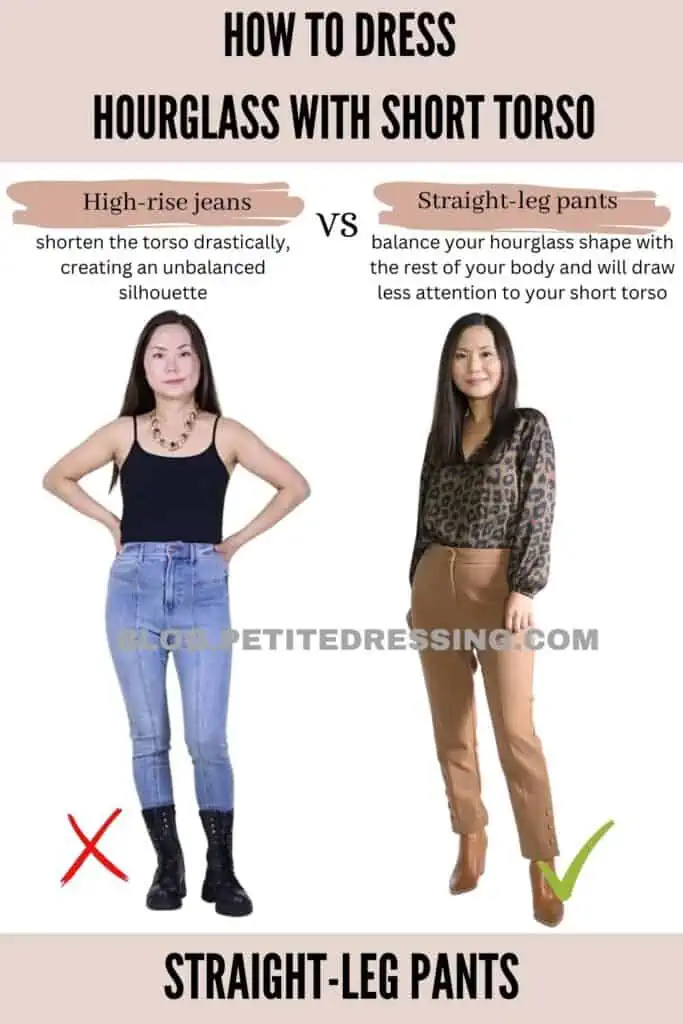 So, it's always best to keep your pants on the slim side without excessive ruffles, as straight-leg pants are flattering for hourglass with short torso. Another great way to lengthen your torso with straight-leg pants is to pair them with an untucked top, possibly with a v-neckline.
Avoid high-waisted pants
You should generally avoid high-waisted styles, as this will only make it more obvious that you have a short torso. Try to imagine how you would look in high-waisted pants that hit above your belly button.
As you can guess, this will cover up a huge chunk of your torso, which is the perfect way to shorten that area of your body. High-waisted pants do nothing to elongate your torso. Rather than choosing high-waisted pants, you should move towards mid-rise pants.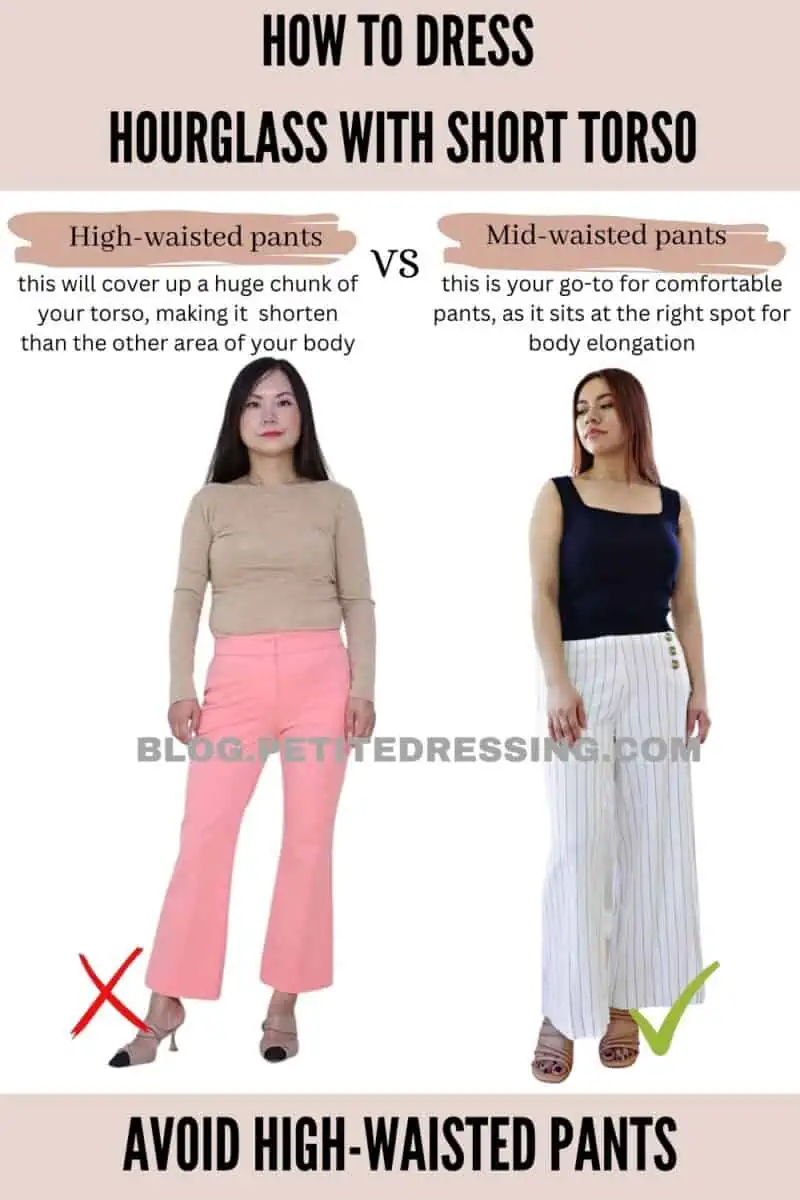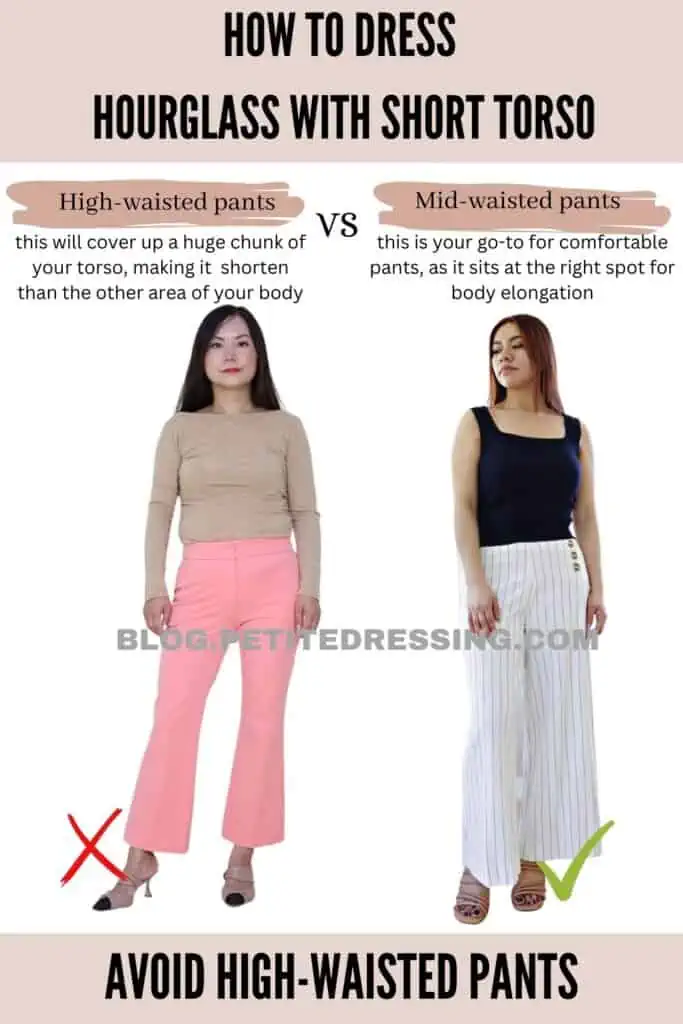 As mentioned earlier, mid-rise pants hit the right spot on your torso, which is great for elongating your body frame. Avoid pants that are higher than your hip region since this conceals more of your torso than it should.
Avoid empire-waist dress
Empire waist dresses have a high waistline that sits right below the bust area. This style of dress also has a long-flowing skirt that is loose towards the hemline. However, this dress isn't great for hourglass-shaped women with short torso.
This is because it draws attention to the narrowest part of your body and makes the distance between your waistline and neckline very short. Shortening the distance between your neckline and waistline creates the illusion of a shorter torso.
Therefore, this creates an unbalance in the overall proportion of your body. The biggest disadvantage of empire waist dresses for hourglass with short torso is that where it falls on the waistline can cut you off in an unflattering way.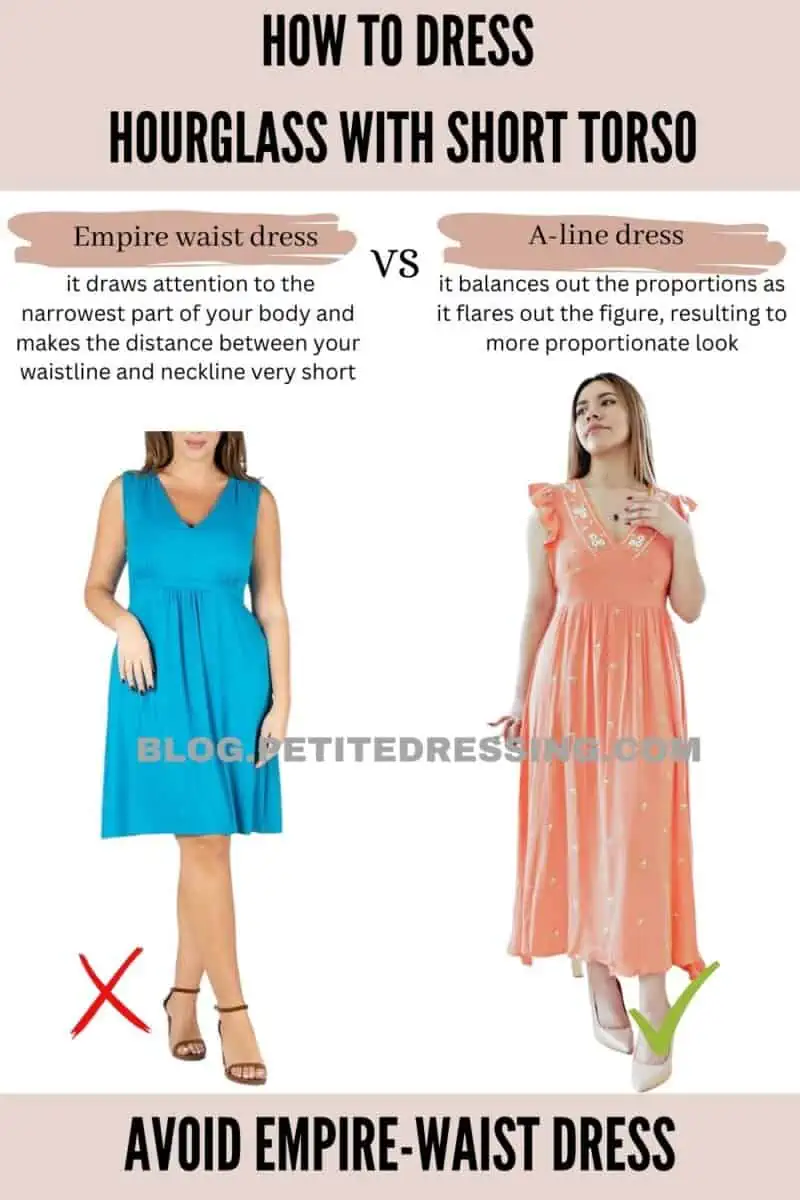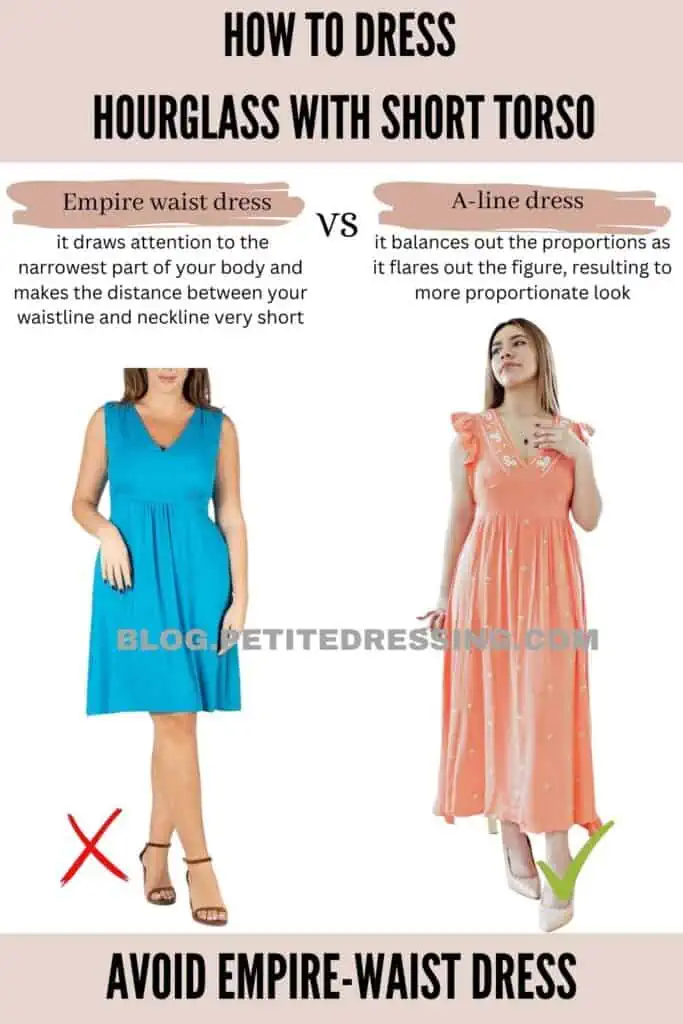 If you must wear empire waist dresses, you need to be sure that it doesn't hit you further above your waistline. However, since it's difficult to find this style of dress that doesn't do this, then it's best to avoid empire waist dresses completely.
Wrap dress
A wrap dress is another amazing piece of clothing that works well for the hourglass with short torso. This is a stress-free style that's incredibly versatile, meaning that you can rock your wrap dress to numerous occasions, whether formal or informal.
Most wrap dresses emphasize your natural waist and draw attention to your curves. This helps to make your torso appear longer. You can take this up a notch by wearing a faux wrap dress as well.
Usually, this style has a gathered fabric on one side. You can't adjust this, unlike how easily adjustable the wrap dress is. However, this option is perfect for faking a longer torso as well. The gathered fabric helps to mask the actual length of your torso which makes you appear visually taller.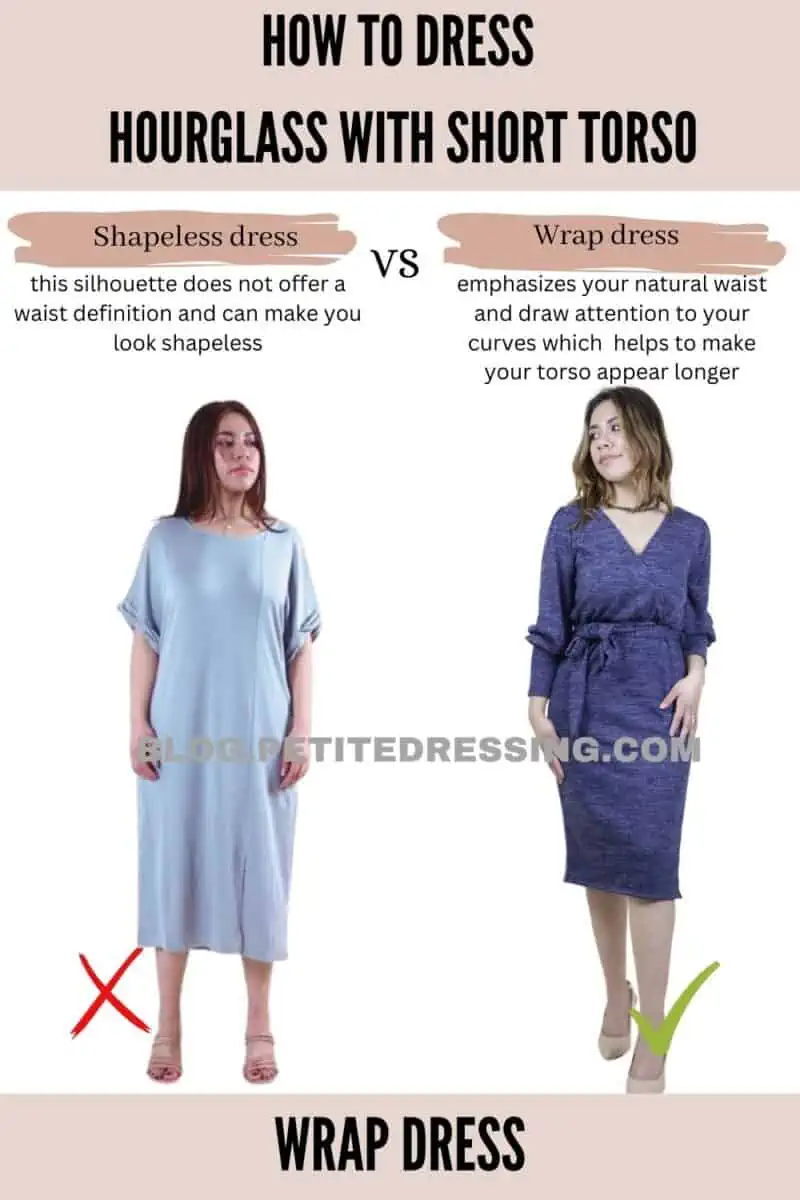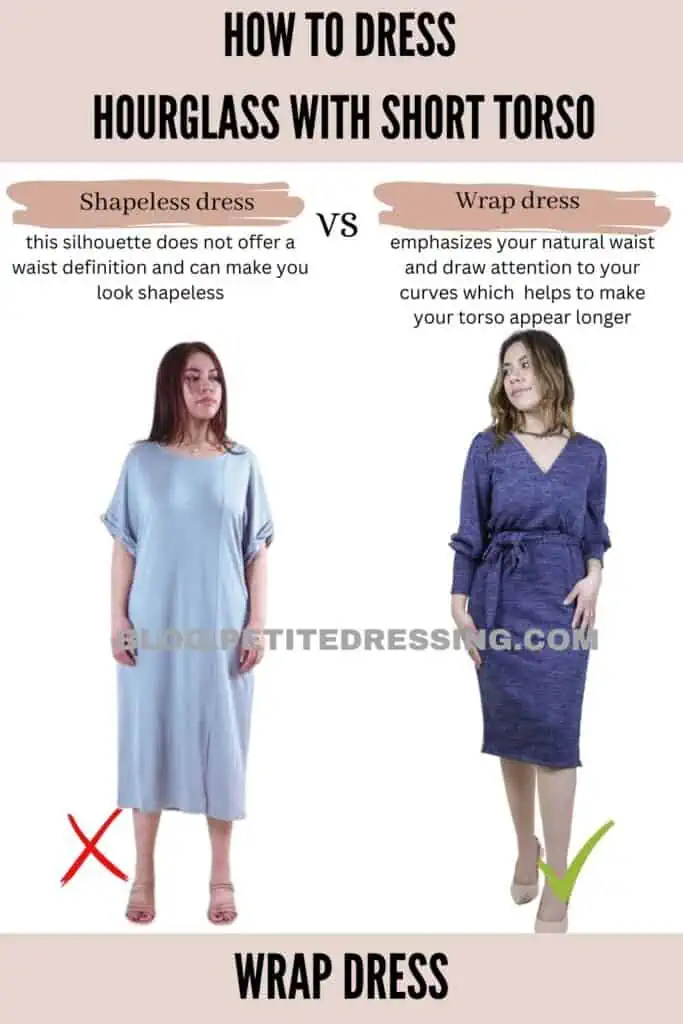 Wrap dresses come in numerous necklines, but of course, my favorite for hourglass with a short torso will always be the v-neckline. This is an incredible neckline that you can take advantage of when looking for ways to elongate your frame.