Petite women often struggle to find the most flattering outfits for their short frames. Clothing doesn't always fit the same on you as it does other women. It can feel questionable to choose a maxi dress since the length is so intimidating for a shorter woman. Here are some pros and cons that will help you decide whether or not you can wear a maxi dress as a petite woman.
Pros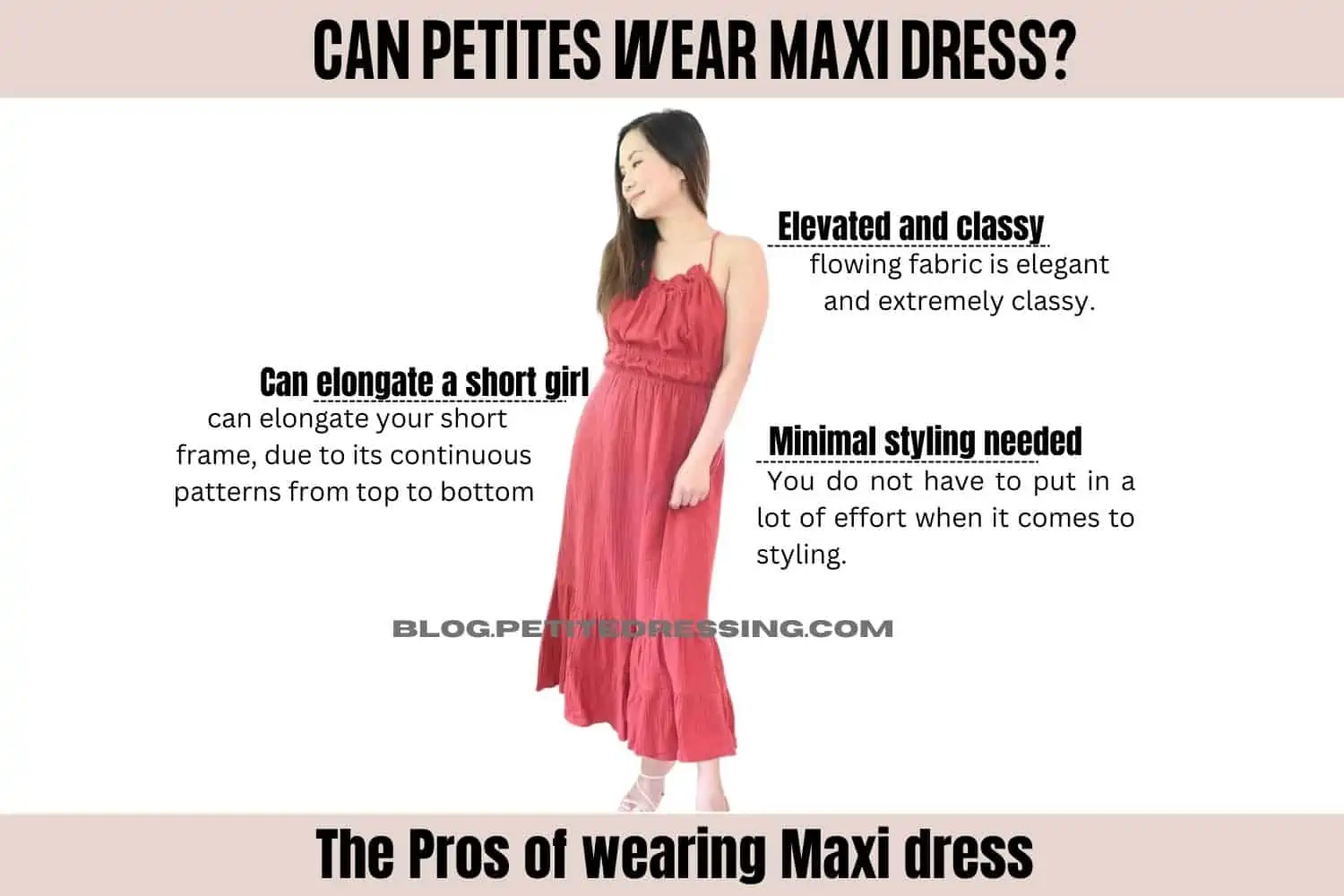 Can elongate a short girl
One of the biggest benefits for Petites is maxi dresses can elongate your short frame, due to its continuous patterns from top to bottom
When you choose the right design and color, maxi dresses can be the most flattering piece for a petite woman
Elevated and classy
Maxi dresses are the most formal length of dresses you can choose from. The long,  flowing fabric is elegant and extremely classy. Maxi dresses will make you feel feminine and elegant at the same time.
You can find maxi dresses that are more casual but are still beautiful and always elevate any look.
Minimal styling needed
Since a maxi dress will cover almost all of your body, you do not have to put in a lot of effort when it comes to styling. You simply choose some shoes, a few accessories, possibly a coat or jacket, and then go on your way.
Of course, you can still add other clothing and layer with a maxi dress, but sometimes taking the simpler route is the best option when it comes to such a long piece of clothing.
Cons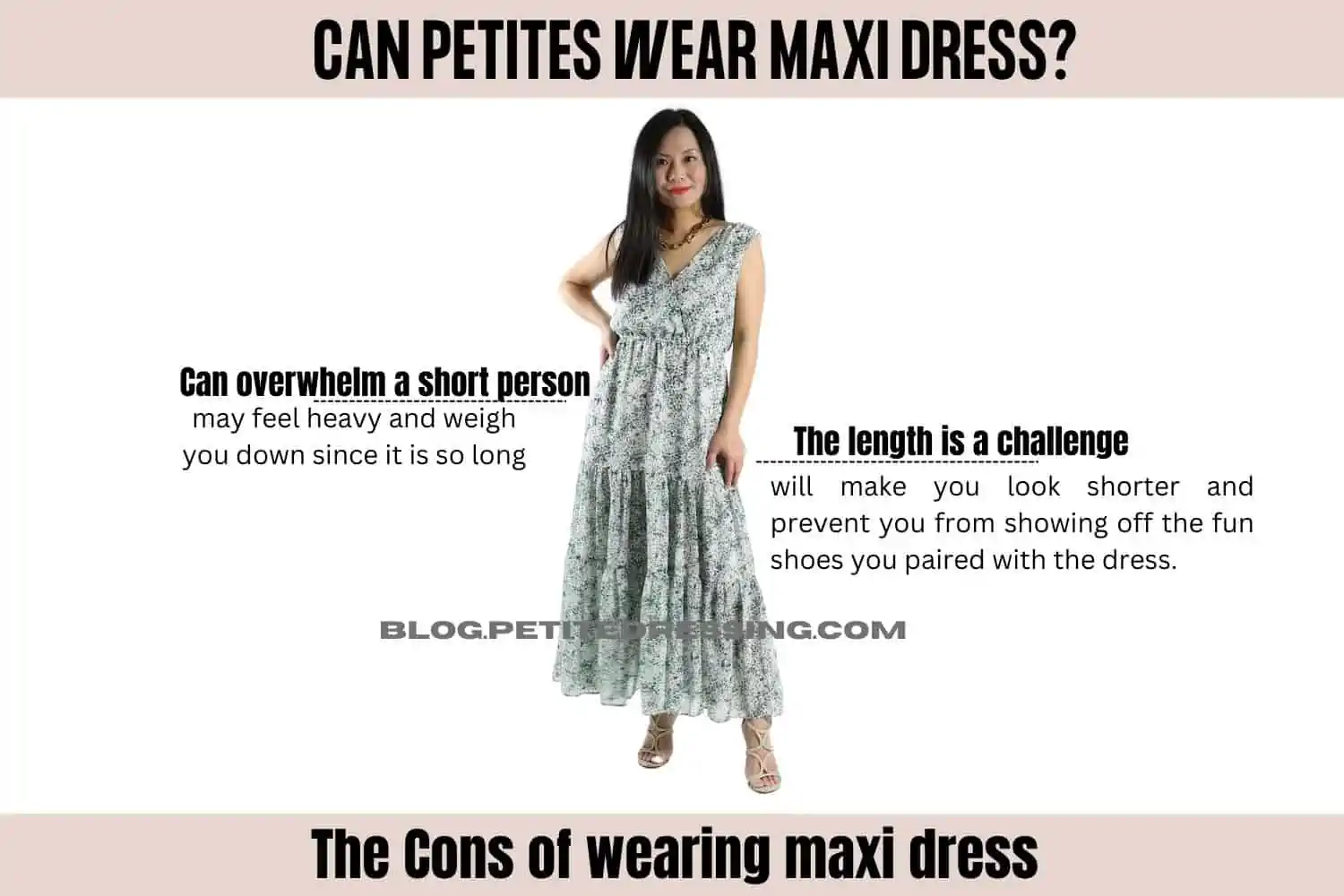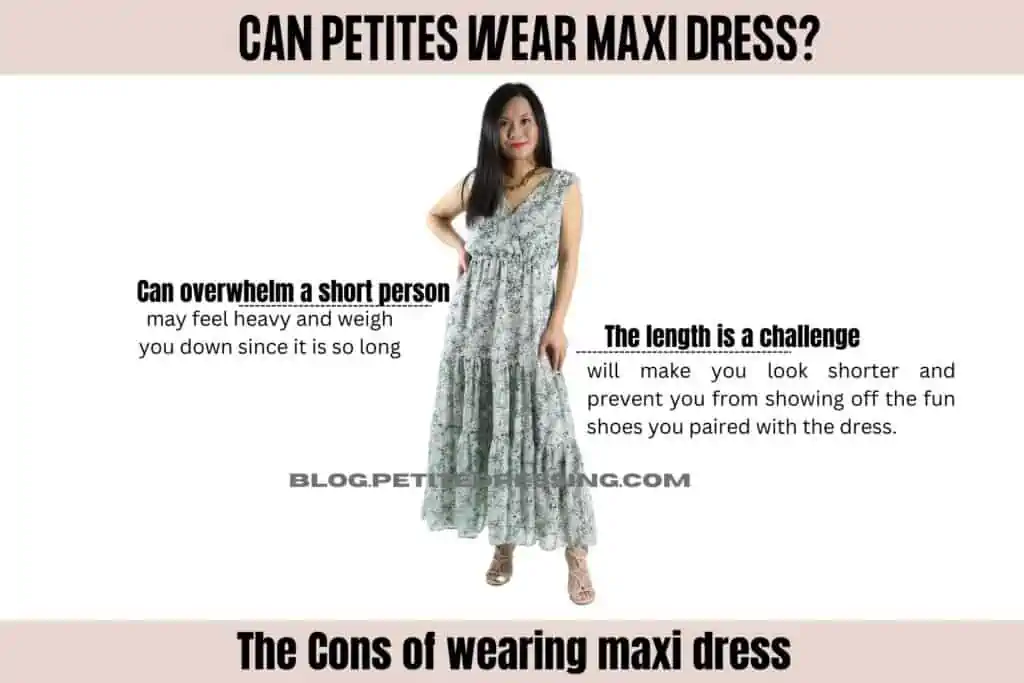 Can overwhelm a short person
Maxi dresses are the longest type of dress and may contain the most fabric out of any other clothing item that you own. With so much fabric, it can get easy to get lost in it all, especially as a petite woman. Such a high quantity of fabric can also make your shape appear bulkier, which may be something you are trying to avoid.
A maxi dress may feel heavy and weigh you down since it is so long. This may also make this style of dress unwanted during warmer weather since it covers so much of your body.
The length is a challenge
The length of a maxi dress may drape past your feet, concealing them and your shoes.
Since the dress can end up too long, it will make you look shorter and prevent you from showing off the fun shoes you paired with the dress.
The two main cons of maxi dresses for petite women can be combatted. This means that maxi dresses are more than okay for petite women to try out. The styling tips below will help you with your battle against the cons so that you can look elegant and beautiful in a maxi dress.
Tips on How to Style a Maxi Dress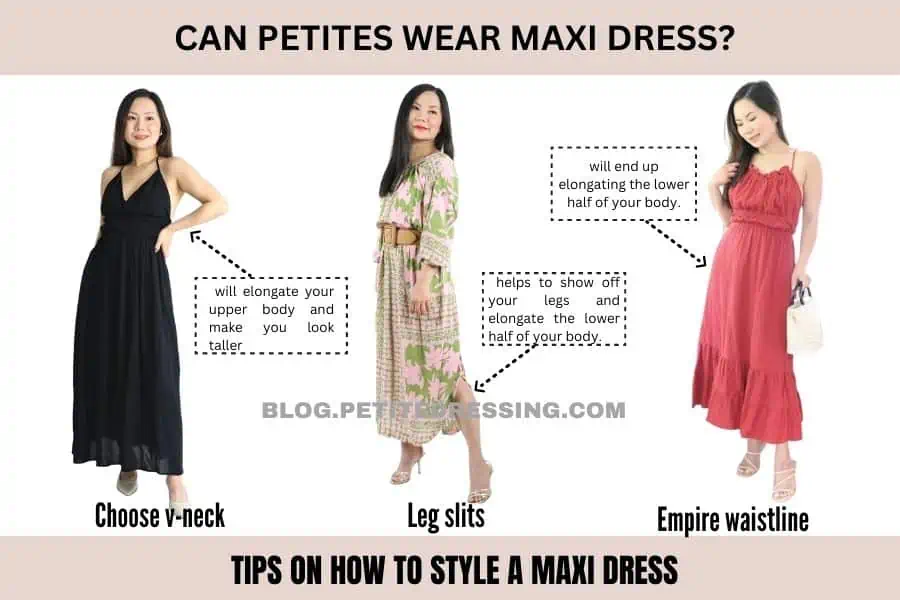 Choose v-neck
Since a maxi dress will cover up so much of your body, showing a little skin is not necessarily a bad thing. Adding a v-neck will draw attention to your collarbone, neck, and chest area (depending on how deep the v-neck is).
The v-neckline also creates vertical lines throughout your outfit, which will elongate your upper body and make you look taller. This will help break up a large amount of fabric and draw focus elsewhere.
Leg slits
Another way to break up the block of fabric would be a dramatic leg slit. Depending on what you are comfortable and confident with, the slit can go as high as the middle of your thighs. This helps to show off your legs and elongate the lower half of your body.
The high slit will also create vertical line and make you look taller, which is always the goal.
Empire waistline
Due to the flowing fabric of a maxi dress, a petite woman may end up looking like she has no shape. This issue can be fixed with an empire waistline. Maxi dresses with empire waistlines will cinch directly under the bust. This places your waistline at a higher place on your torso, which will end up elongating the lower half of your body.
An empire waistline will flare out after the cinch, which is very flattering for dresses with long skirts.
Avoid heavy fabrics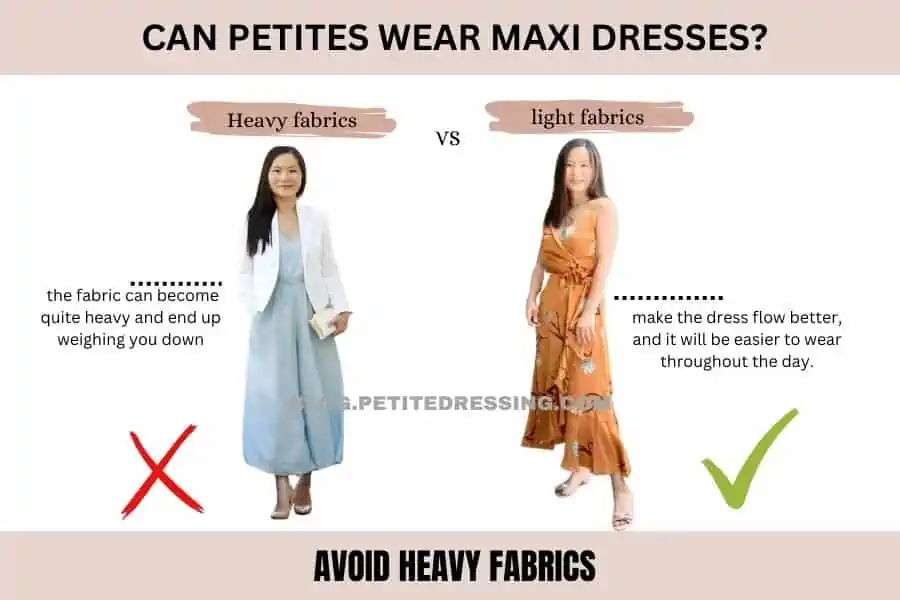 Since so much fabric goes into making a maxi dress, the fabric can become quite heavy and end up weighing you down. Since you are short, it is important to go for maxi dresses made of light and breathable fabrics. This will make the dress flow better, and it will be easier to wear throughout the day.
Get your maxi dress tailored
Since petite women are often not considered during the creation process of a maxi dress, it is up to them to find a tailor who can fix any issues they may have with the length. A tailor can hem the dress and place the hemline at the perfect height so that you finally get to show off those fashionable heels.