Are you struggling to find the right boots for petites? As a 5'2″ petite woman, I go through this every year, and I am sure you probably understand the pain of shopping for boots if you are short.
I have recently published a post on "Boots for Short Legs: 5 Tips Every Petite Girl Should Know". After that, I received questions from readers asking about my recommendation for brands and where to buy them. In today's post, I want to share with you my personal faves after years of buying (and returning, since most of them didn't work) boots online.
Before we dive into the list of recommended brands and retailers, let's look at together the criteria that makes a shop ideal for us petite women to find the right boots.
Ranking criteria
Offer Small sizes
When I was compiling this list, the first thing that comes to mind is they should carry enough small size boots for us short girls to choose from. Ideally, they should start from at least size 4 and should have plenty of choices for size 5 and 5.5.
There are some brands I personally love but they only start with size 6. I include some of them on this list, because some petite women do wear size 6 and 7.
Tall Boots Fit Short Legs
When it comes to knee high boots, the shaft is the tricky part. Do you often feel the shaft is too long for you? You are not alone.
A lot of brands make their knee high boots starting from 16″ shaft, which is understandable as they are catering to the regular size market for women of 5'5″ and above. However, that makes everything harder for us short girls.
If you are petite, shaft height under 15.5″ for knee high boots would normally work. If you have exceptionally long legs for your height, you can try 16″ inch shaft. I am 5'2″ with 25.5″ inseam and I have found 15.5″ my sweet spot for knee high boots.
So, the best place to shop boots for petites should have great selection of knee high boots with shaft 14″ to 16″.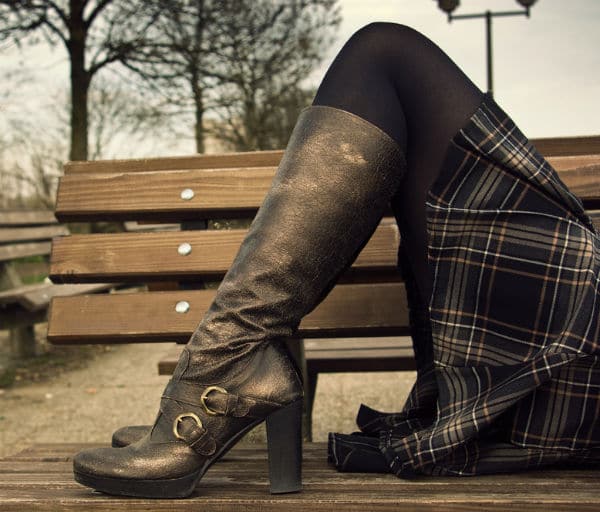 Wide Calf Boots and Narrow Calf Boots
This is a divided issue. Are you a narrow calf girl or wide calf girl?
I have slender legs, so I always need narrow calf boots so that they won't look too loose when I wear leggings.
But the frustration can also go both ways. I know some of you have muscular calves and need wide calf boots, so the challenge for you is to find the boots wide enough for you.
Some brands carry wide calf and extra wide calf boots. Wide calf needs to be at least 15.5″ wide, and extra wide calf should be at least 17 1/8″ wide. Those are ideal for petite women who need more width in their boots.
The best shopping places should have all these choices for petite women who need either narrow calf boots or wide calf boots.
Comfortable Heels
If I had a choice, I would wear heels all day every day. But I can't! Why? Because they start to hurt after a while…While there is plenty of high heel boots on the market, what I have felt difficult is to find the comfortable ones. So, comfort is an important criteria for my list. The more comfortable, the longer you will want to wear your boots!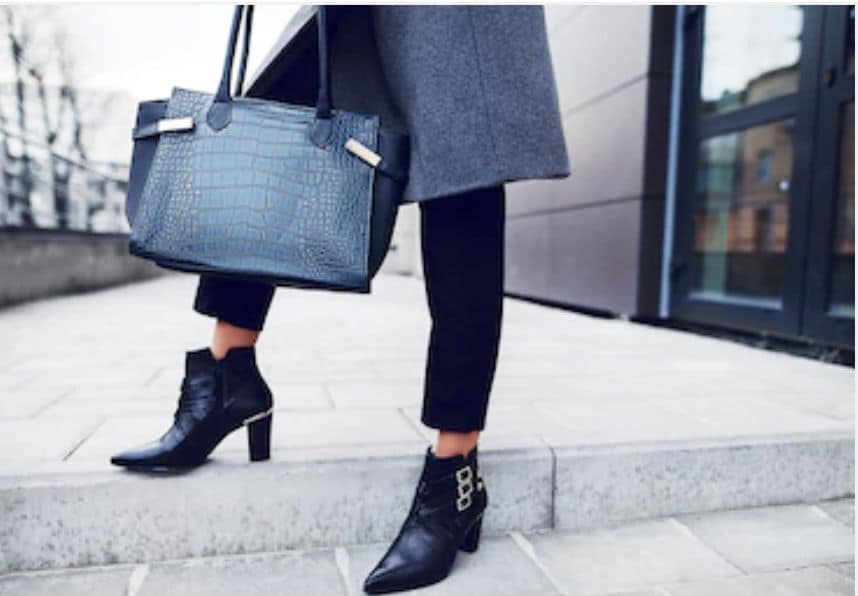 Now that we have talked about our criteria for best brands and retailers from the perspective of us short women, let's look at the list. First, I have listed my top choices of shoe brands that make boots suitable for petite women with short legs. Then, I'll talk about my recommendation on where to buy them.
Taryn Rose
Taryn Rose is my top choice in very regard. This brand is known for comfort and luxury. I have purchased their knee high boots and booties for multiple years, and I still love them as much as when I first discovered this brand. I owned a pair of water proof wedge boots from this brand, which were so convenient for the rainy and stormy days of New York, especially when I do not feel like wearing bulky rain boots or snow boots.
They were so comfortable and stylish at the same time that I literally was wearing them every time it rained or snowed last winter- until I completely wore them out and had to look for replacement.
If you have never tried this brand, here's the reason you should definitely try them:
Their high boots are perfect for girls with short legs-most of them are 15″ shaft height- ideal for petite women.
2. They are the best combination of comfort and style. If you like polished style, this is for you
Geox
Geox is another great brand I love for comfort in style. I mentioned how I have to walk a long time every day for my commute, and this brand is one of the few that have past my commute test in terms of comfortable heels. When I do not feel like wearing flats, this brand is my fave for walking boots.
I purchased a pair of knee high wedge boots, which fit perfectly from the shaft height to calf circumferences. Last year's style is already sold out, but they make another similar style this year called "Inspiration". These tall boots are 15″ shaft height, which should fit most petite women.
Le Canadienne
This is my fave for stylish water proof boots, especially knee high boots. Living in New York area means I need several pairs of tall boots to last the long and stormy winter every year. Since I am petite, I prefer to wear slender boots vs bulky ones like Ugg. I also need them to be water proof so that I can wear with my long wool coats in the winter.
That was not easy to find.
Since majority of the cold weather boots are bulky, it took me a while to find slender water proof boots. That's how I found out this brand. I purchased a pair 5 years ago, and I am still wearing them to this day. What I love about them
Waterproof without being bulky! Believe me, I haven't found a second brand that meets this criteria.
The shaft height (15″) and calf circumference are perfect for petite girls with slender calves
Easy to walk in
If you feel like the original prices are above your budget, you can look for them at discounted shops like 6pm. If you are lucky, you can find them at 50%, which is a great deal, considering you will wear them for many years to come.
Nine West
Nine West is probably my favorite brand for narrow calf dress boots.  I purchased the Jaen leather OTK boots and it quickly became my fave.  At first I got a pair in black, then I went back and got another pair in grey.  They are the most comfortable OTK boots I have owned and they can last my long distance walking commute every day without any discomfort!Here is why I think Nine West shoes are great for petite girls:
First, I love their feminine and fashionable designs. Majority of their boots have pointed toes and slender heels, the most flattering design for petite women.
Second, their knee high boots are most petite friendly, i.e. suitable for girls with shorter legs like myself. You can find many choices with shaft height between 14″ and 15.5″, which work for most petite girls.
If you have narrow calf like me, you should definitely check out their tall boots. The calf circumferences are mostly around 14-14.5″, which are ideal if you have slender calves. Almost every pair I got from them fits like a glove in the calves, which is quite rare.
Third, among the high heel brands for this price range, Nine West is one of the best with their incline design, which makes it comfortable to walk and stand a long time in their high heel boots. Lots of their styles are 3.5″ heel height, not too high and not too low.
Last but not the least, their tall boots start from size 4, and majority of their styles are available for size 5 and above. If you are size 5 like me, you can almost always find your size in Nine West.
Aerosoles
I started wearing Aerosoles during my business school years. I had a pair of tall black sued wedge boots from this brand, which was so comfortable that I was walking in them every day in winter from my apartment on Union Square to NYU on Washington Square.
I like this brand because it is known for comfort. Most of their heels are low to medium height, and I have found their heels very walkable.
The way they explain it is 1) they use memory foam insole to provide comfort foam footbed and sumptuous padded insole to soothe and pamper your feet. and 2) they have a patent pending technology found only in Aerosoles. This custom design distributes your body weight toward your heel, and away from the ball of your foot. The result, comfort in both high heels and wedges so you look and feel great.
They don't necessarily specialize in short shaft boots, but I can always find some style to wear without worrying about shaft being too long.
They start from size 5.
Nordstrom
Nordstrom fits all of our criteria and we think they are hands down one of the best online shoe shops for shorter girls.
First, size 5 & under is listed as an option in the shoe section, making it really easy for women with small feet. They have plenty of choices for small sizes. If you wear size 5 and under and are into designer names, this is the paradise for you. Christian Louboutin, D&G, Jimmy Choo and Gucci start from size 4, and Fendi start from size 4.5.
Second, finding the calf circumference for your legs is made easy on their website. They list out narrow (13 3/4″ and under), medium (14″ to 15 3/4″) and wide (16″ and over).
Third, they also list out shaft height in 4 categories: ankle, mid calf, knee, over the knee and thigh high. However, as I mentioned earlier, you do have to click into each boot to see the shaft measurements and find the ones that work for you.
Last but not the least, they have a category of "Comfort" under shoes, which includes boots, sneakers, flats, pumps, sandals and slippers. There you can find many choices from shoe brands that specialize in comfortable walking shoes. That's a big plus for petite girls who need to walk a lot.
Zappos
Zappos is another shoe shop I highly recommend for petite girls.
First, they start from size 3 in women's shoes and their knee high boots start from size 4. What a great news for women who need small shoes!
Second, which is my favorite part of Zappos, is that they have a "Toe Style" category, where you can easily find "pointed toe" style boots! Pointed toe is the most flattering type of toe style for short women, because it elongates your legs and make you look taller. For more tips on what styles of shoes work for short women and what don't, read my post on "Best and Worst Shoes for Petite Feet"
Third, they carry a wide range of brands at various price levels to fit every budget. Whether you are looking for something under $100 or in the mood to splurge, they got something for you.
Lastly, you can also find boot shaft from narrow, wide to extra wide under their "Boot Shaft" categories.
Amazon
I'm not trying to waste your time here. Of course, you already know Amazon is the most comprehensive online shoe mall. What I want to share with you is my strategy of finding the right boots on Amazon.
Their boots start from size 3 (great for girls with small feet) and they probably have the most choices for boots of any style. However, if you just navigating through their shoe department, it's like trying to find a needle in the hay…They are too big and the products are overwhelming.
My tips for shopping for boots on Amazon is to come here when you have a particular brand or style in mind, otherwise you might get lost with their massive shoe selection. They carry so many different designers and brands that I often find myself distracted, unless I already know specifically what I am searching for.
If you find a style elsewhere but they don't have your size, Amazon is the place to search. Also, if you see something a pair of boots above your budget at Nordstrom or Barney's, you can try your luck on Amazon. Chances are you may be able to find a better price here.
I also have another post about "The Best Places to find Shoes for Small Feet", which talks about the best places to shop small sizes in general, not necessarily boots.