Having a short waist means your natural waistline sits higher on your body, in other words, the distance between your shoulders and your natural waist is shorter than those with a balanced (average) waist.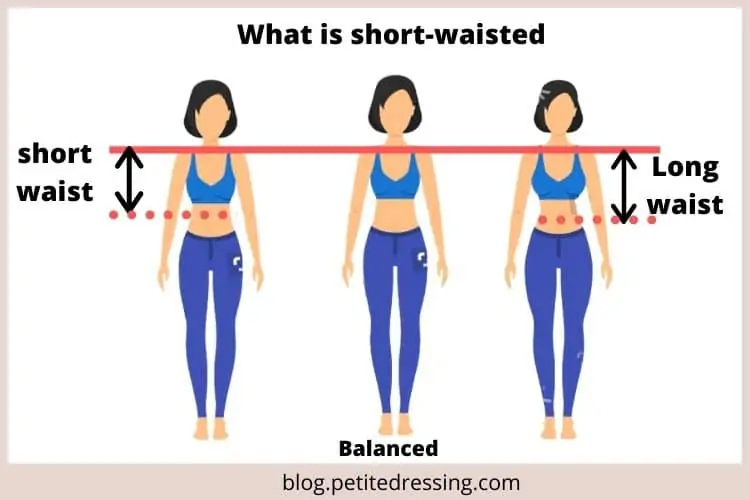 Whether you have short or long waist is relative to your own body proportion, and it does not depend on your height. Even though many petite women tend to have a short waist, taller women can very possibly have a short waist as well.
Short or long waist can also happen to women of any body types, but the hourglass body type tend to have shorter waist, while the pear shaped women tend to have longer waist.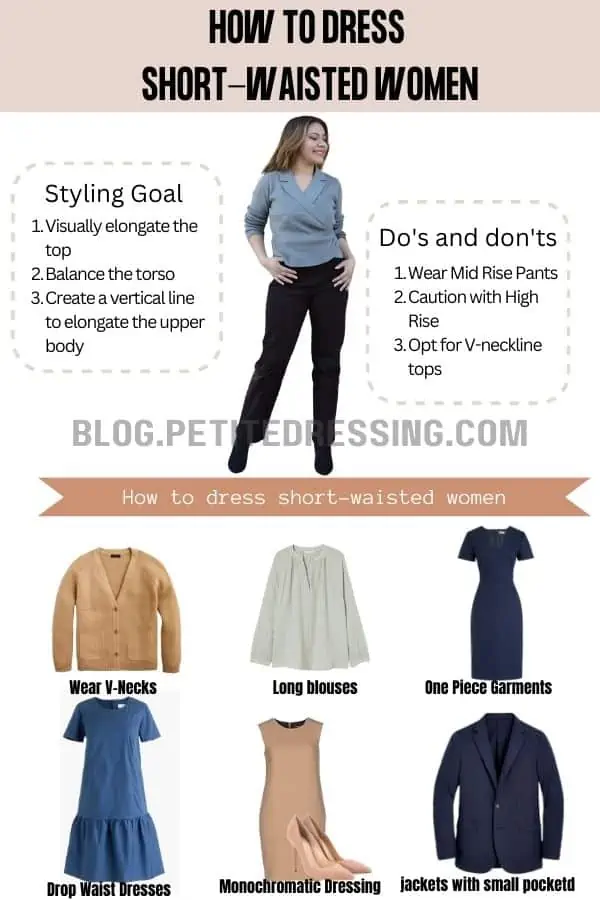 Although most women with a short waist also have a short torso, "short waist" is not the exactly the same concept as "short torso". Because our torso length is the length from our shoulders to crotch, having short waist alone doesn't necessarily mean you have a short torso if you happen to have a longer rise.
STYLING GOAL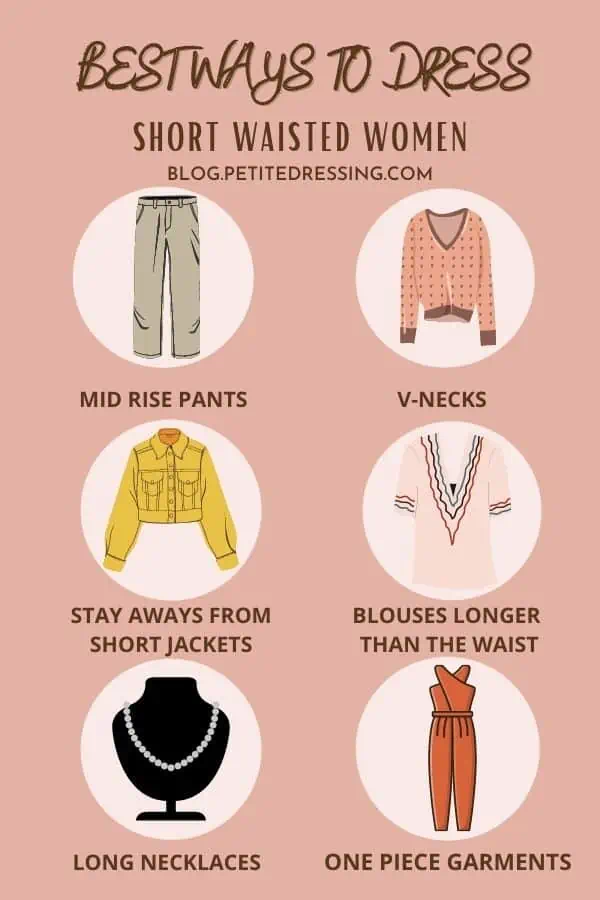 The key to dress the short-waisted women is to change the perceived waistline to balance it out your body proportion.
Wear elongating neckline like the V-neck to make your torso appear more balanced.
Wear longer jackets can visually extend your upper body and make your proportion appear more balanced.
Mid rise bottoms are most flattering and comfortable to most women with short waist.
Any one piece clothes such as dresses, jumpsuits or rompers can make your short waist less noticeable.
If you wear separate top and bottom, it is important to avoid high contrast in colors because they will bring attention to your short waist.
You should stay away from wide belts, which is not flattering to you because they will further shorten your waist visually.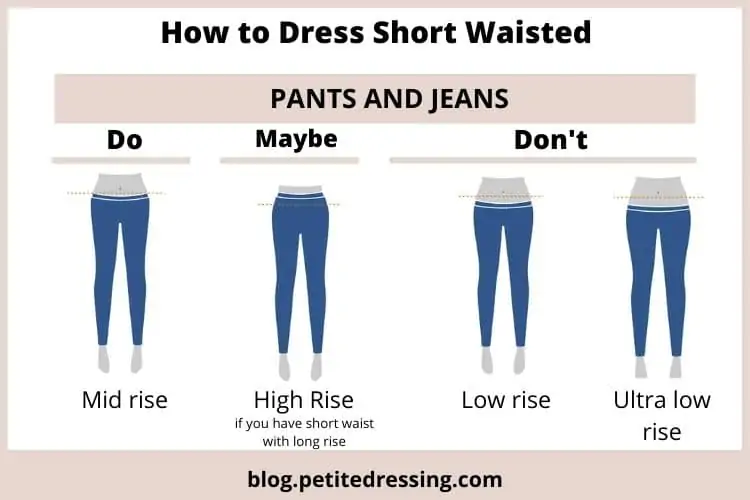 Wear Mid Rise Pants
Mid-rise pants work well on short-waisted women generally, especially those who also have a short rise. When the waistline of pants is brought down closer to your hip area it automatically lengthens the appearance of the torso.
Caution with High Rise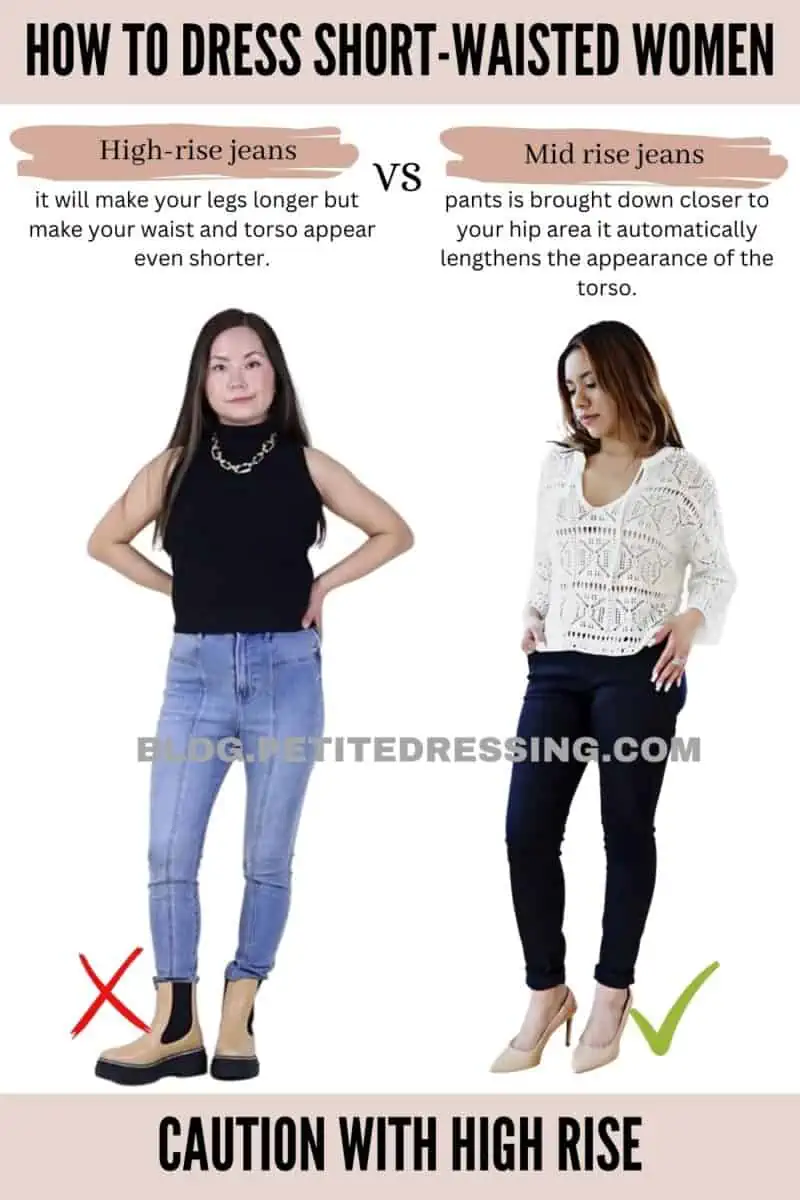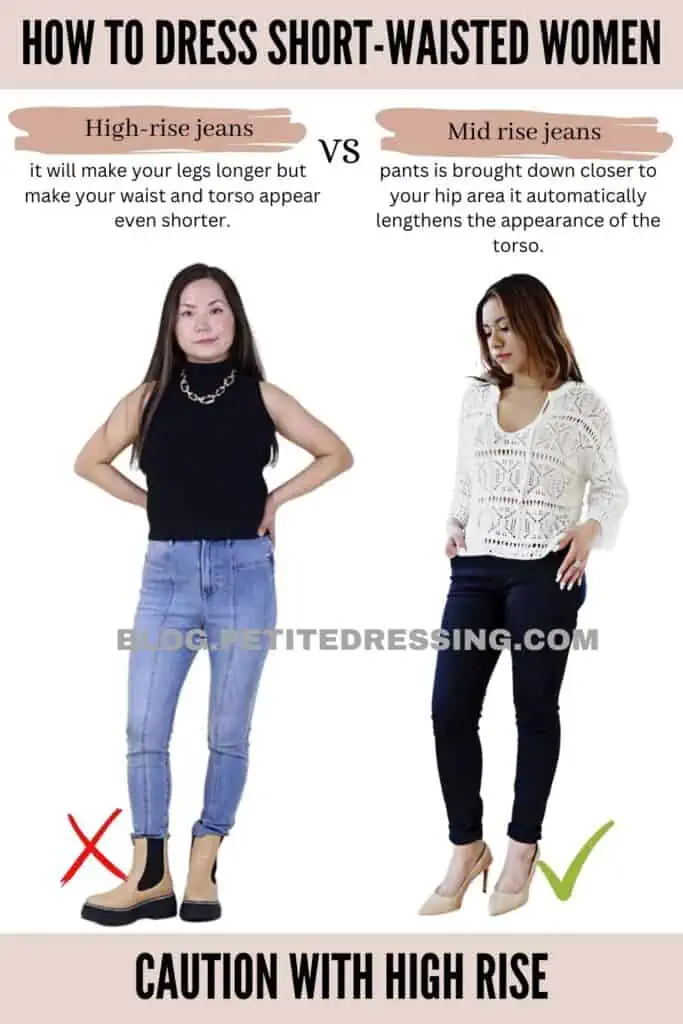 Whether women with short waists should wear high-rise pants depends on if they have short or long rise.
If you have a short waist and short rise, you probably will not find high-rise pants comfortable, because they simply ride up too much on your body. They are also not flattering in that case, since they make your waist and torso appear even shorter.
For those with a short waist but long rise (I am one of them), then you are very likely to find high-rise pants the most comfortable because they suit your rise length better than a mid-rise. High-rise pants can also effectively elevate your waistline and make your legs appear longer in that case.
Avoid low rise
Low-rise pants are not flattering or comfortable for most women with a short waist unless your rise is also very short. When you sit down in low-rise pants, it looks like your belly is spilling over, which is what we all want to avoid.
Wear V-Necks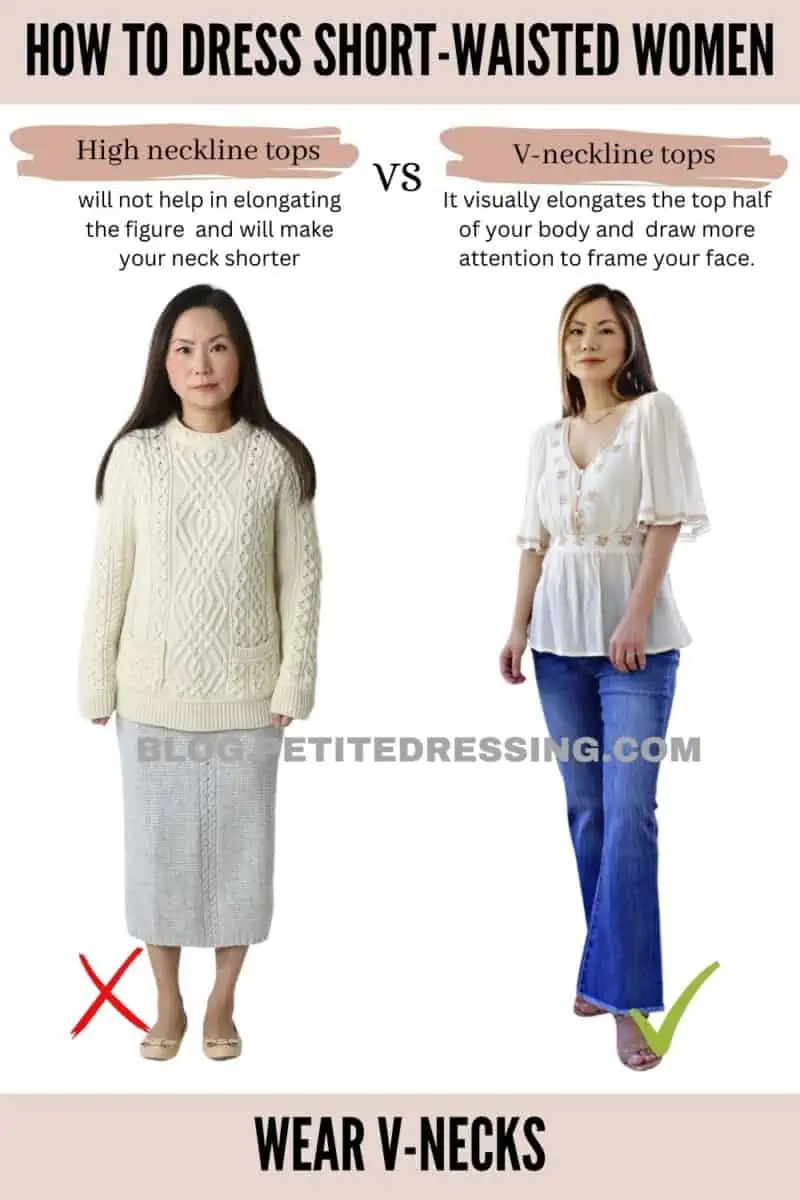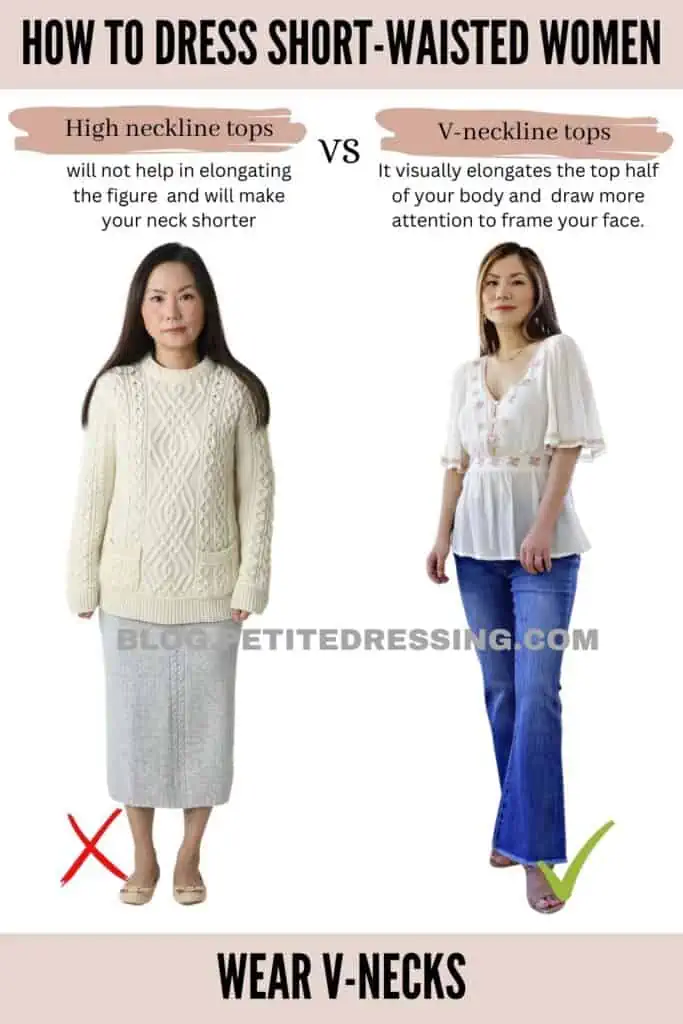 V-necklines are incredibly flattering for women with short torsos.
It visually elongates the top half of your body thanks to the open neck and vertically shaped v-neckline. Furthermore, v-necks draw more attention to frame your face.
Stay away from Short Jackets
Short + short = short.
Unfortunately, short jackets or coats will only bring more attention to a short waist.
Any jackets that are right around your waist or shorter should be avoided.
The longer the jacket the more it lengthens your waist.
Choose Blouses Longer Than the Waist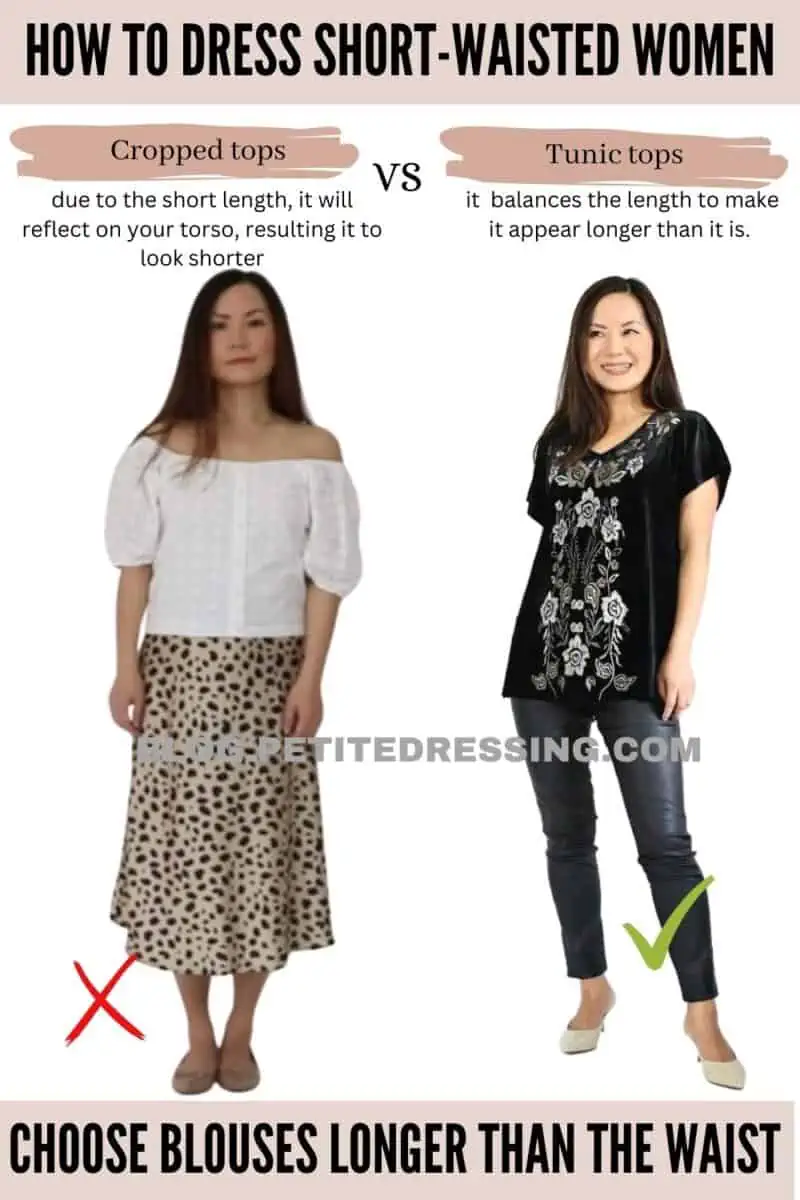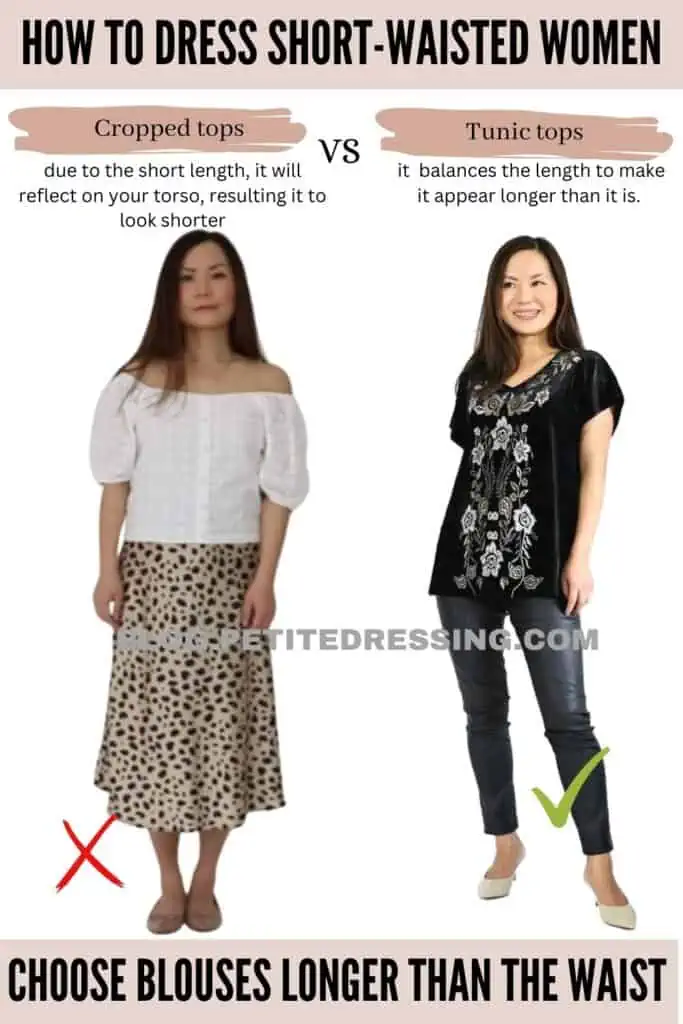 The goal when dressing a short torso is to balance the length to make it appear longer than it is. When selecting blouses always ensure they rest below (at least) your natural waistline.
Similar to jackets, blouses should be on the longer side.
While crop tops are "in" right now, they don't suit short waists.
Wear One Piece Garments
Separates break up the body, something that can draw attention to a short waist. One-piece garments have a built-in lengthening effect because they create one straight line on the body.
In addition, it's hard to tell where waists start and stop in one-piece garments making even them even more ideal.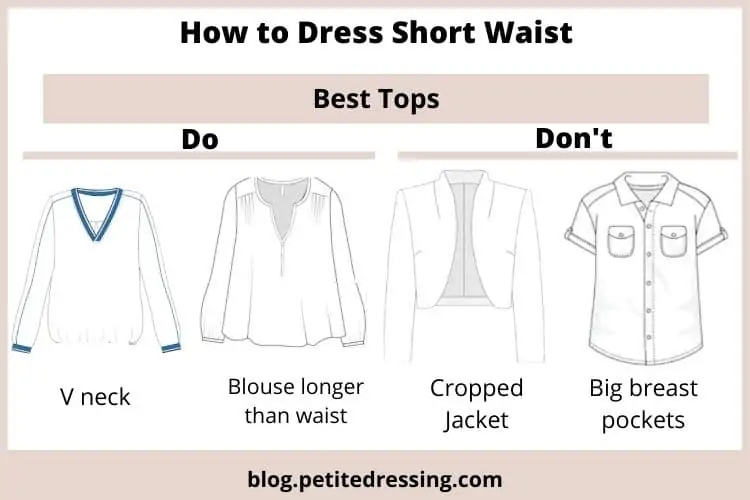 Wear Long Necklaces
Elongate the top half of your body, very subtly, with long necklaces.
Opting for a long necklace adds a vertical line element to the body that flatters a short torso. Add a long necklace to any outfit to reap the benefits.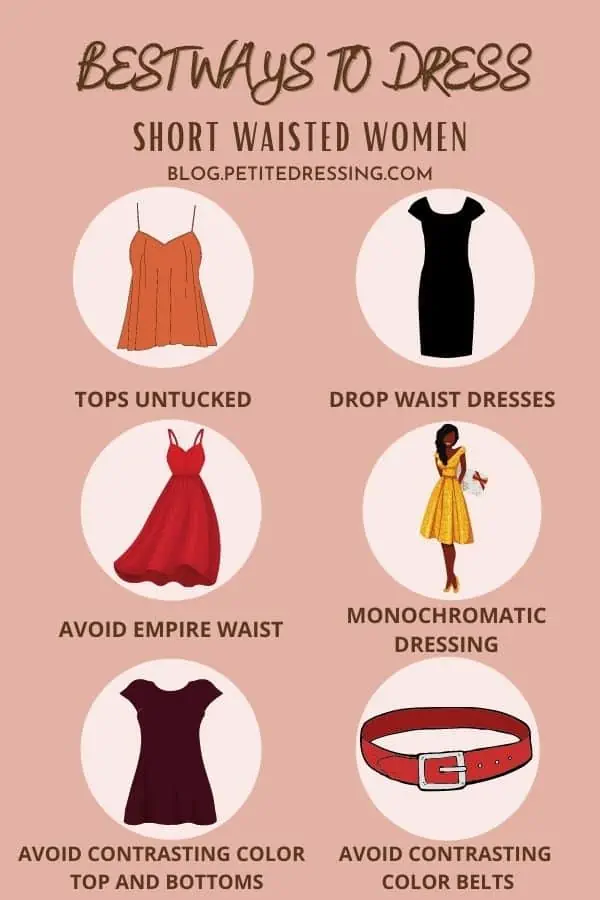 Wear Tops Untucked
Short waists need lengthening and untucked shirts are a simple way to achieve that.
Tucking a shirt in cuts off the waistline and brings attention to that area, which often leads to it appearing shorter.
Be cautious of how long a top is on your body, tops that are too long can overwhelm your body so stick to tops that rest between your natural waist and hip area.
Wear Drop Waist Dresses
Draw the eye down, away from your natural waist, with drop waist dresses.
The drop waisted dresses are designed with a waistline lower than your natural waist. This is an ideal design for someone who wants to make your waist appear longer. Thanks to the silhouette this style is extremely flattering to lengthen a torso and make your waist look much less obvious.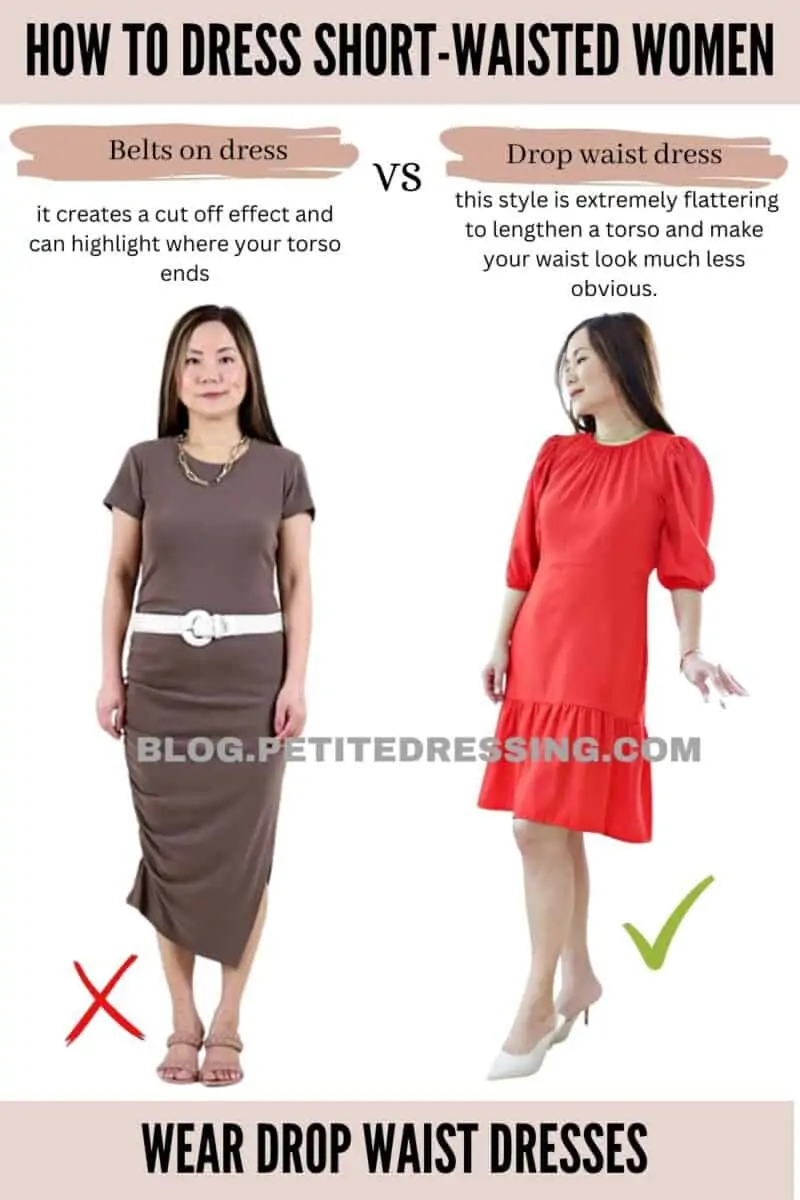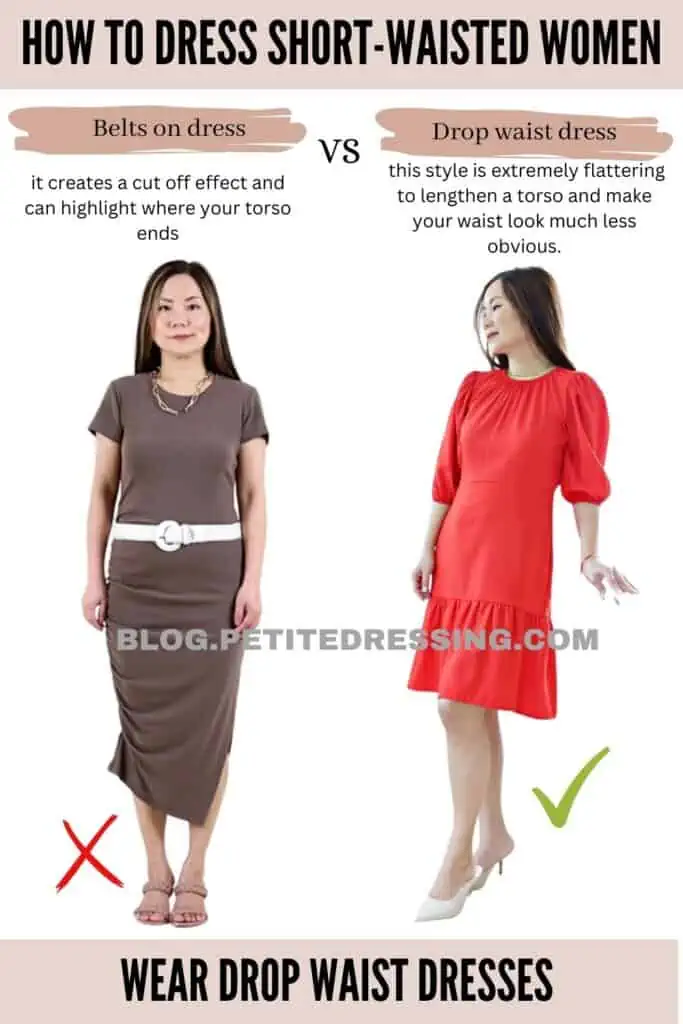 Avoid Empire Waist
Unlike the drop waist concept which is designed to lower the perceived waistline, the empire waist does exactly the opposite. Empire waist lifts your waistline and makes it appear even higher than your natural waist.
If you are short-waisted already, you will find empire waist tops or dresses accentuates that further. Therefore, steer clear from dress silhouettes like an empire and anything with a high waistline definition.
Monochromatic Dressing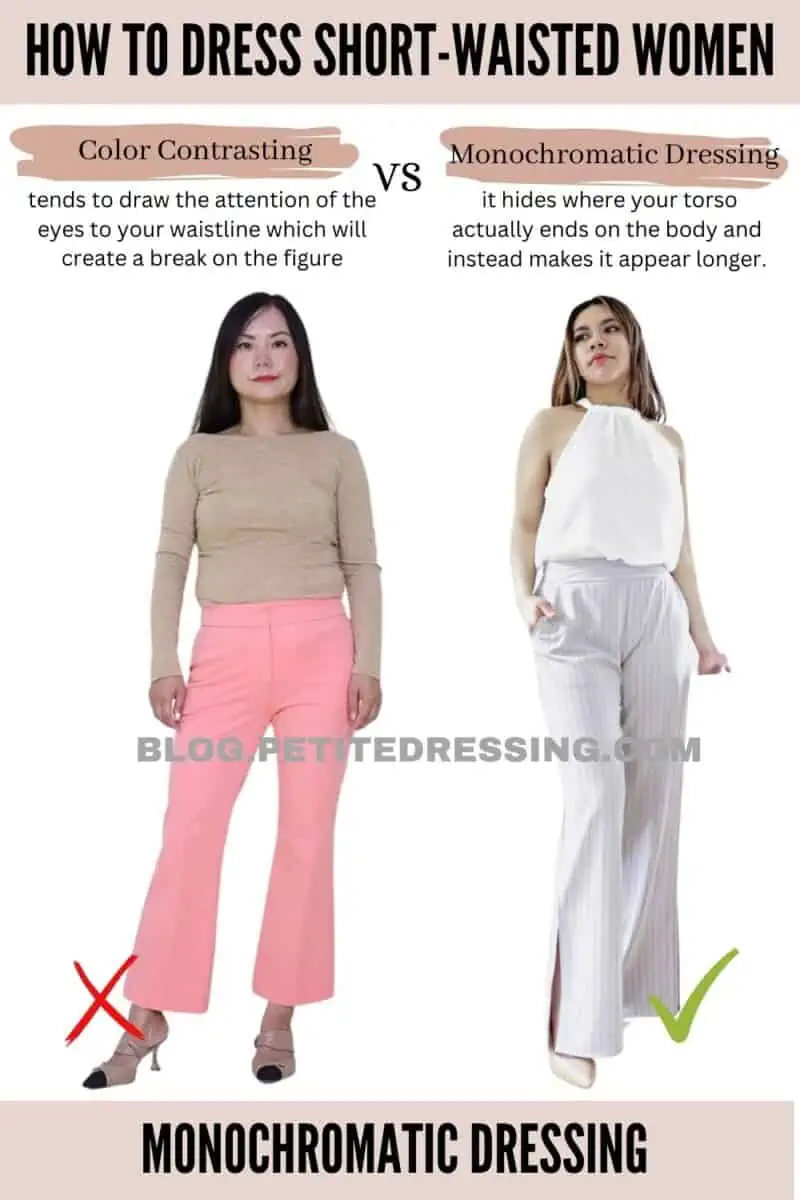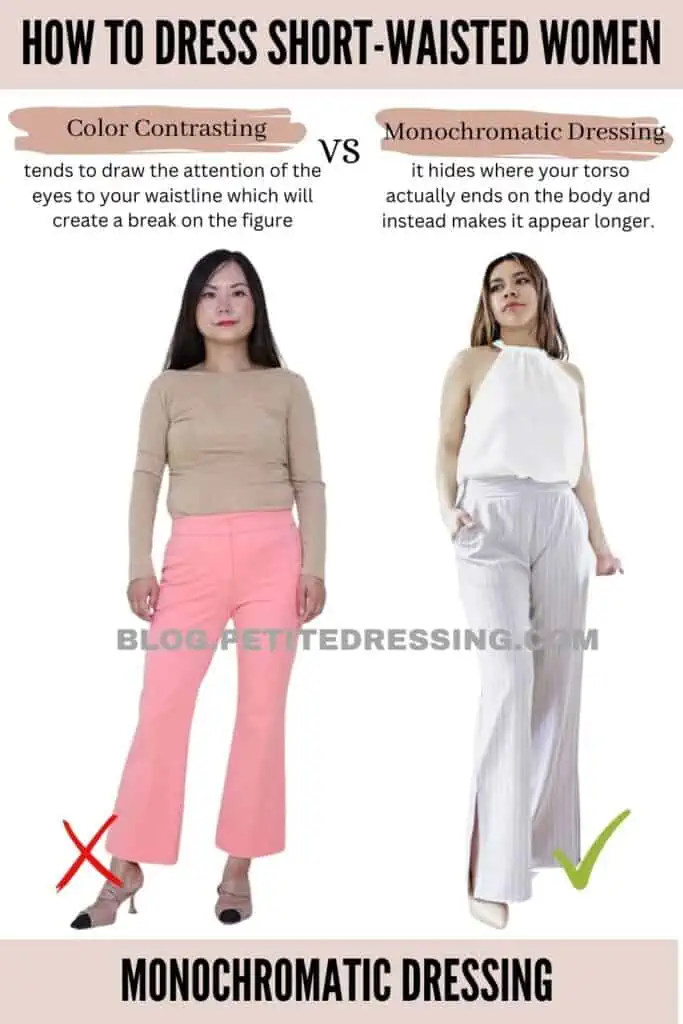 Dressing monochromatic doesn't necessarily mean wearing one color from head to toe. You can also wear colors of different shades as long as they are from the same color scheme. For instance, beige and camel.
It's a subtle style hack to elongate your body shape. Because you have one color scheme down the body, it hides where your torso actually ends on the body and instead makes it appear longer.
Avoid Contrasting Color Top and Bottom
When your top and bottom has high contrast, such as black and white, red and navy, they draw attention to your waistline more than otherwise.
If you have a short waist, you probably do not want the eye to notice how high your waist is and that is why you should avoid high-contrast color combinations.
Avoid Contrasting Color Belts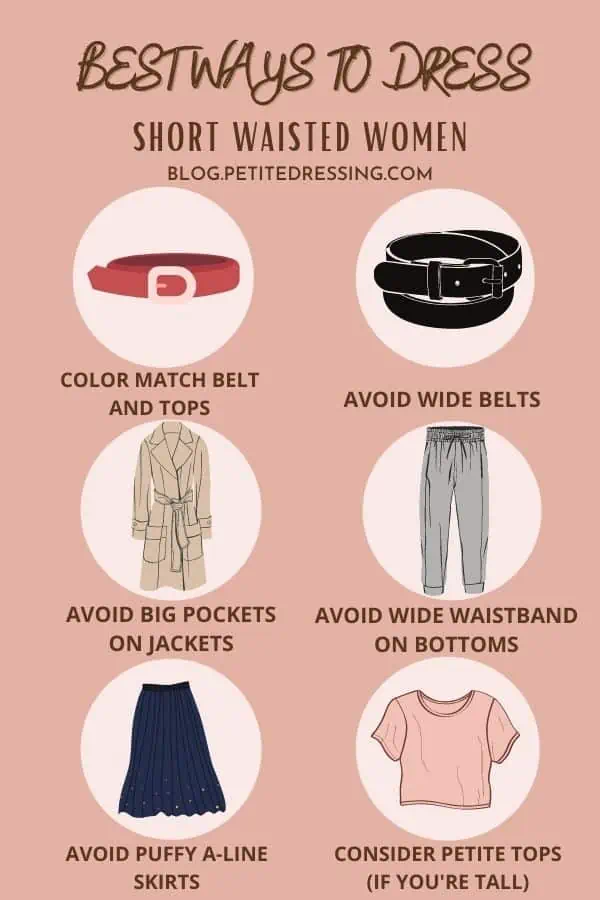 Anytime you bring a lot of attention to the waist you run the risk of the short length being in focus. Wearing a belt in a color that's contrasting with the rest of the outfit will do exactly that, which is why it should be avoided.
Instead, wear belts that closely match the rest of your outfit so it blends in to elongate your shape.
Color Match Belts with your Top
When you belt is the same color as your top, it will make your waistline look much less noticeable.
The eye will count the belt as part of your torso, which will in turn make your waist appear longer.
Avoid Wide Belts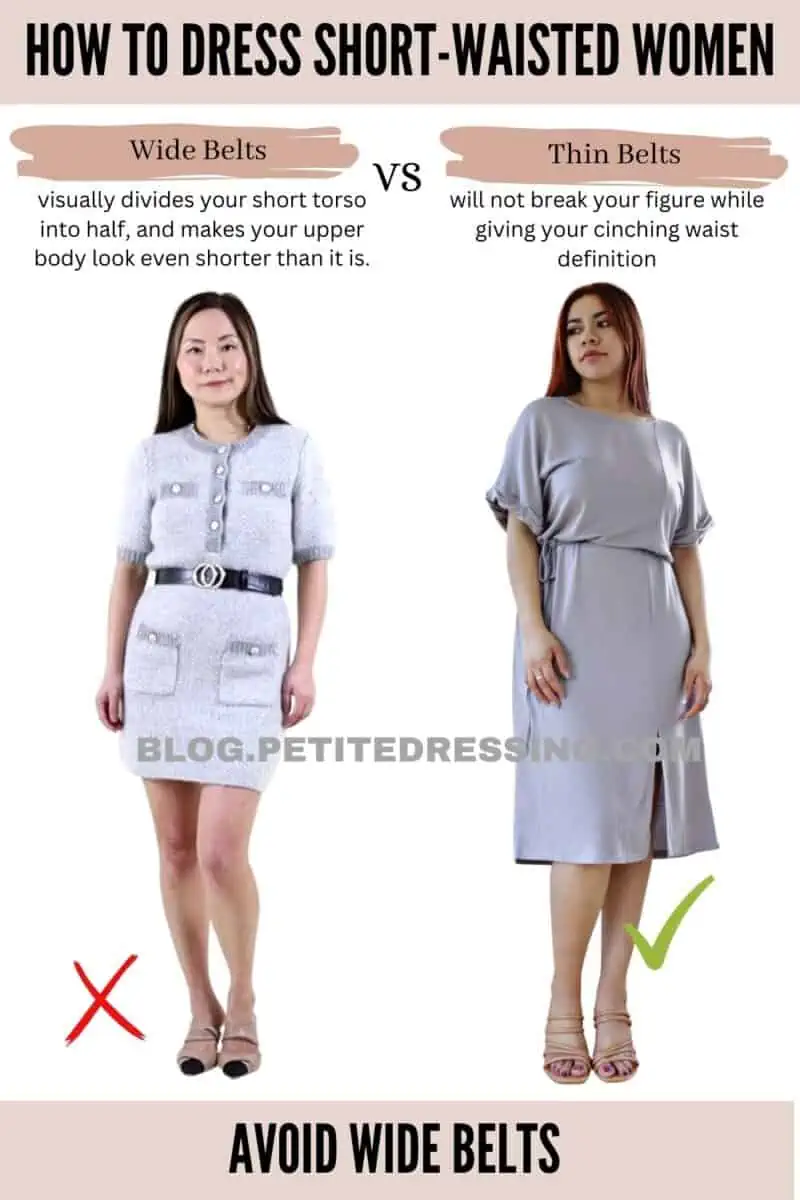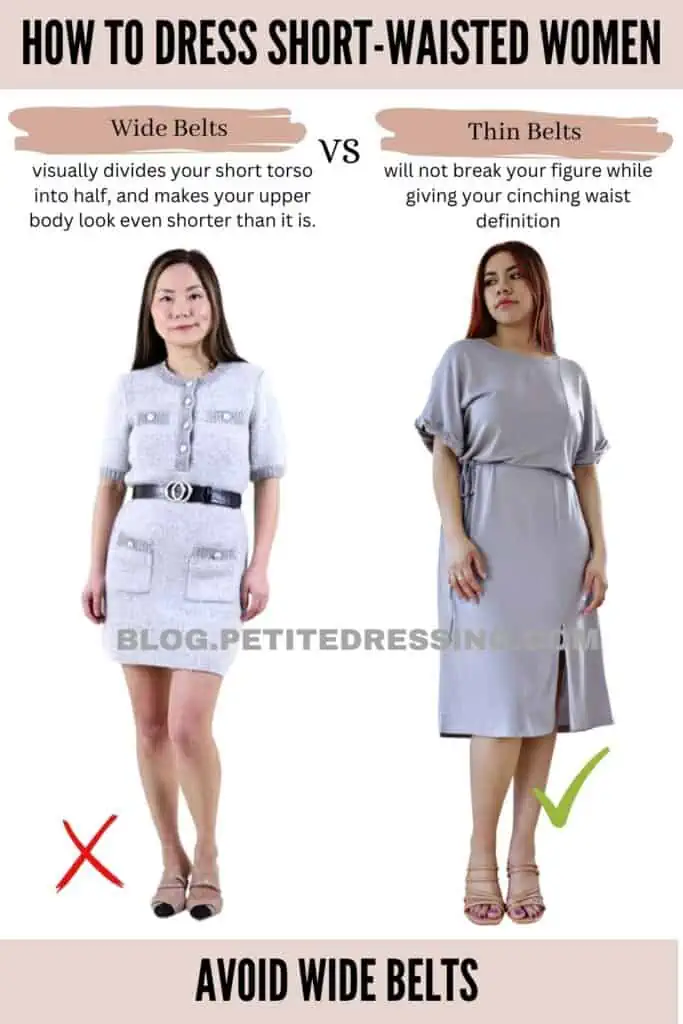 Due to the space, they take up on the waist, wide belts shorten an already short waist.
Even though they are quite on trend, they can be a nightmare for women who have short waists. They can visually divide your already short torso into half, and make your upper body look even shorter than it is.
It's best to choose belts on the slimmer side, around 2" in width max so that you are able to play up your figure without belts taking over too much space on your body.
Avoid Big Pockets on Jackets
Big pockets add volume and dimension to the top half of the body, around the waist.
Something that doesn't do short-waisted women any favors. Details like big pockets often lead to short waist appearing shorter and bigger. Keep jackets simple and streamlined to get an elongated shape.
Avoid Wide Waist Bands on Bottoms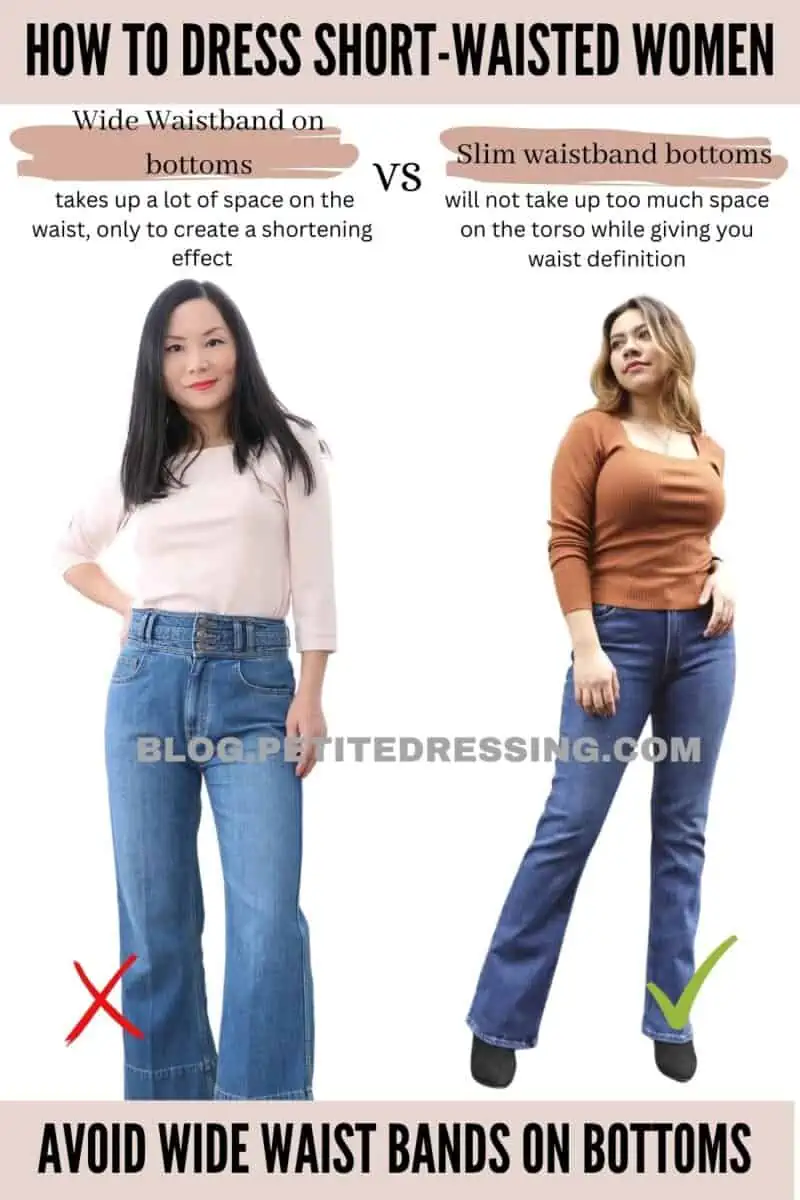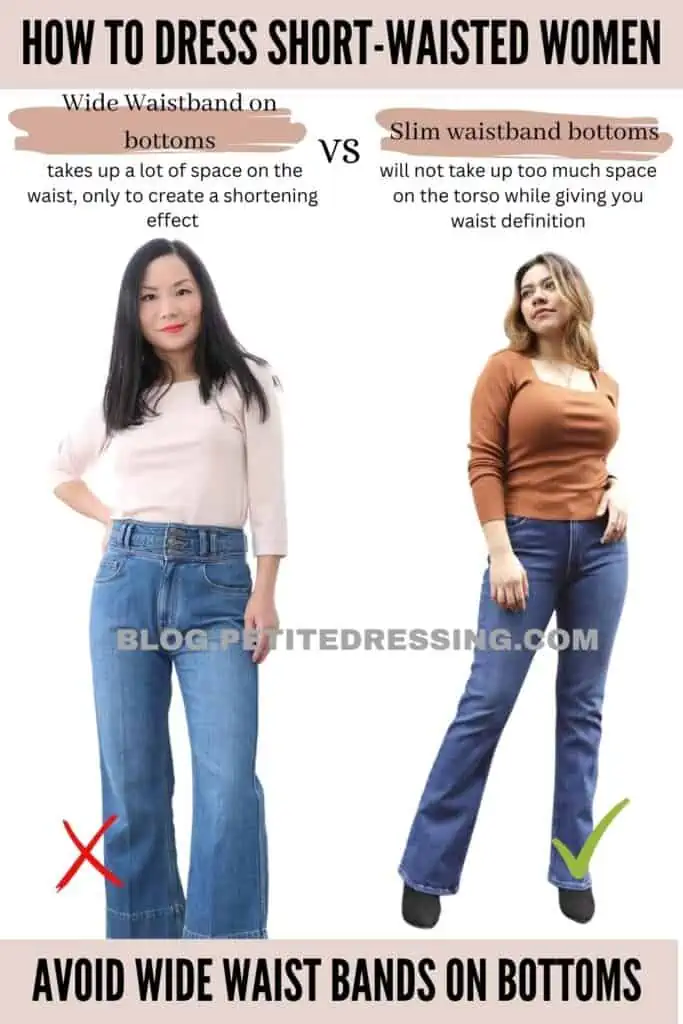 Just like wide belts, any pants or bottoms with wide waistbands aren't flattering for a short waist. Wide waist bands take up a lot of space on the waist, only to create a shortening effect. Slim waistband bottoms are the optimal choice.
Avoid Puffy A-Line Skirts
Garments that have a lot of volume to them, like puffy a-line skirts, shorten and widen the areas they lay on.
Because a-line skirts bring so much of the focus towards the waist and hip area that is the part of the body they emphasize.
To create a lengthening illusion wear skirts that fit close to the body and offer a low-mid rise fit.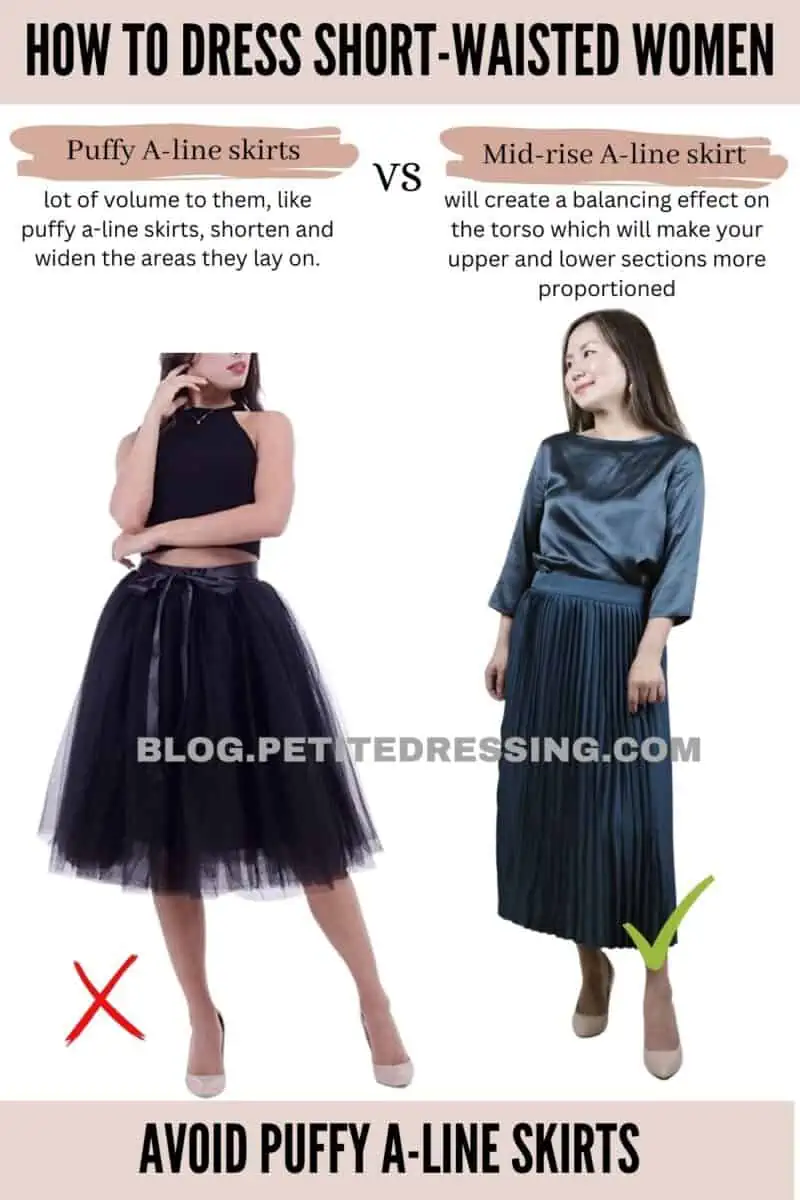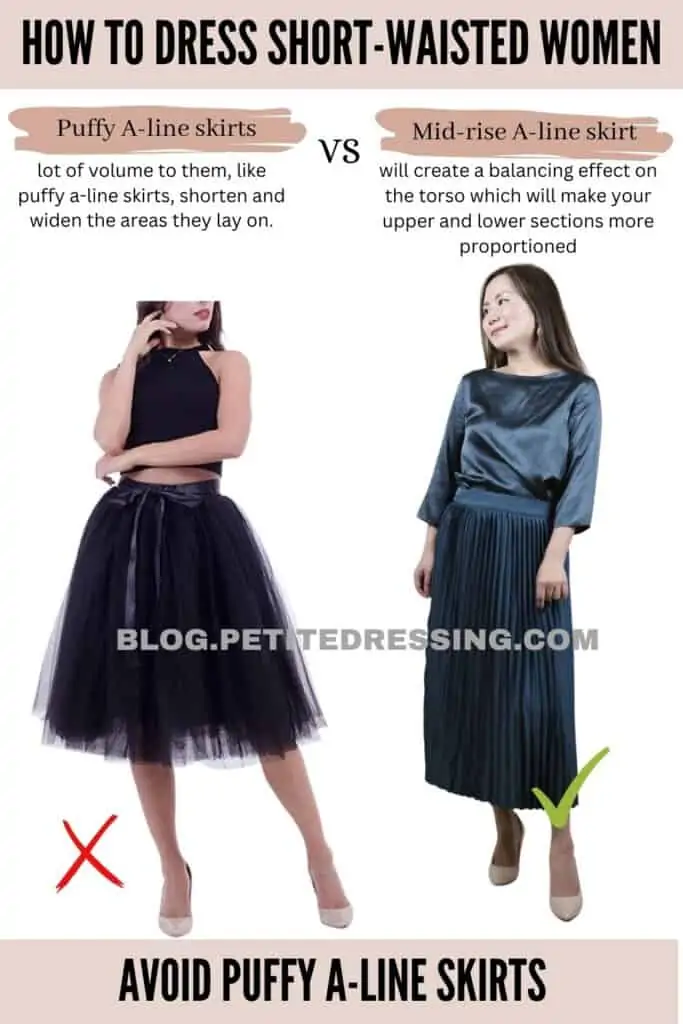 If you are tall but short-waisted, consider buying petite tops
Even if you aren't of traditional 'petite' height, you can benefit from shopping in the department because the petite size tops can fit you better than the regular size. If you find it difficult to find tops that fit you properly in length this is the style hack to try. Petite tops are cut to fit a short waist naturally, which can make them the ideal length for you.