I'm 5'2″, and shoes are one of the most important things for petite women like me. The right shoe style can make your legs appear longer, while the wrong style shoes do completely the opposite.
After years of trial and error, I've put together this complete shoe guide to help other women like myself to feel more confident when getting dressed. Based on my first-hand experience, below are the 6 best shoe styles and 6 worst shoe styles for shorter women.
Stiletto heels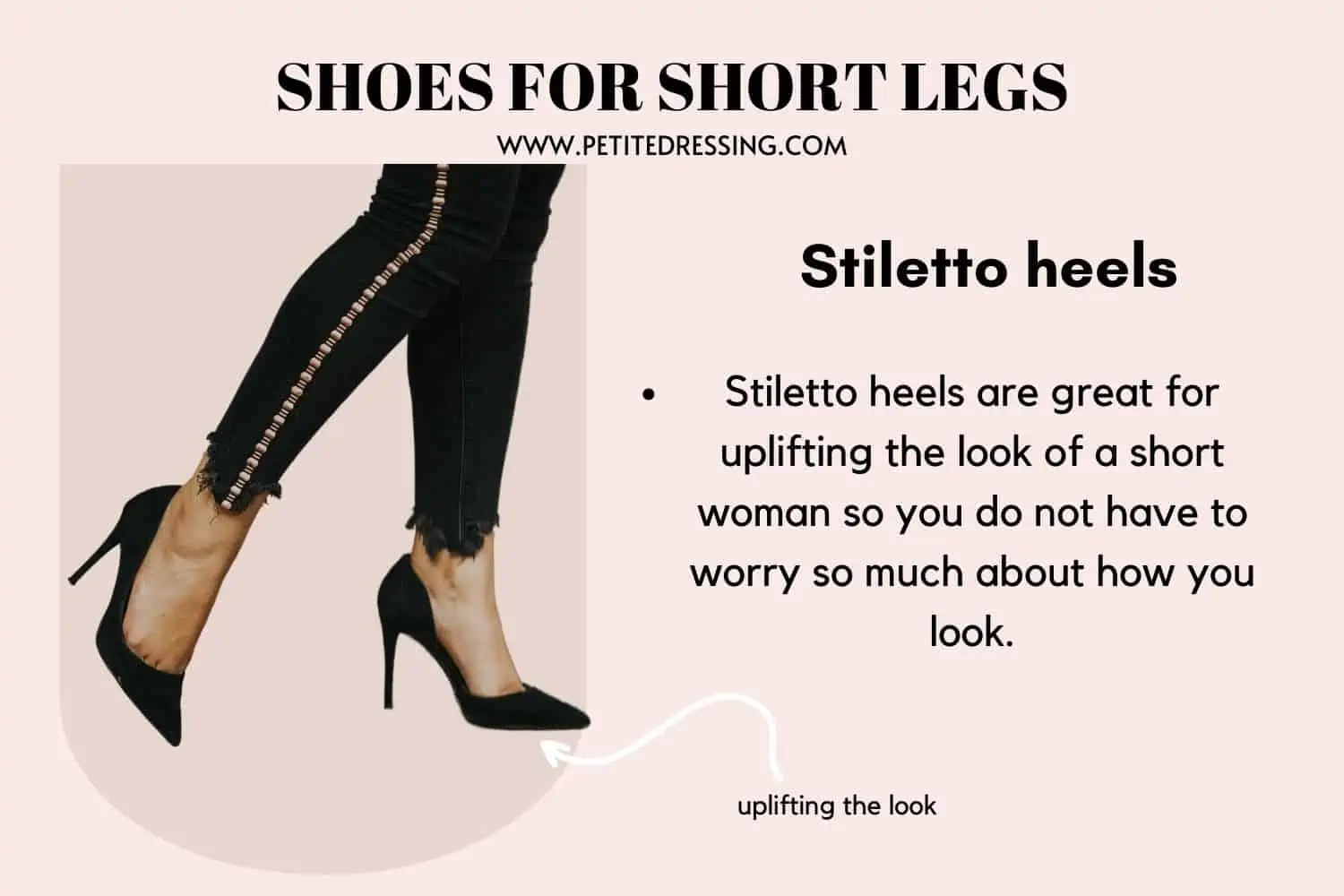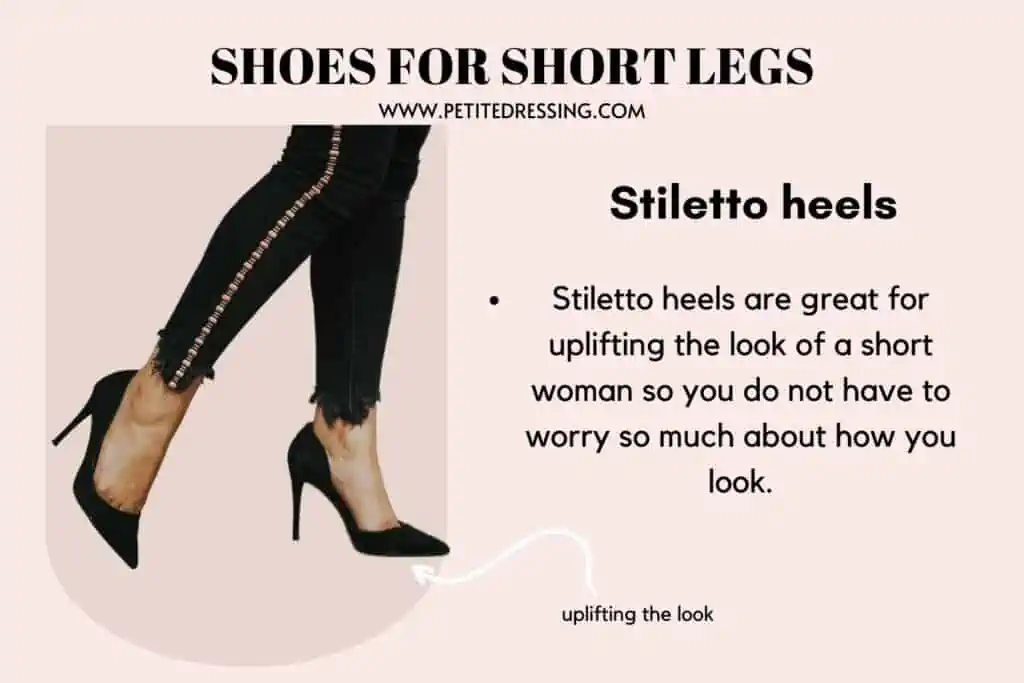 The stiletto heel is a great way to heighten your short legs and seems to be one of the most flattering for your figure. Though recommended for shorter ladies, the best stiletto heels for you should be about four inches or less.
This is because sky-high stilettos are not the most comfortable designs for your legs and could make you appear wobbly and unbalanced. Stiletto heels are great for uplifting the look of a short woman so you do not have to worry so much about how you look.
Stiletto heels have a feature that works excellently well for a woman with short legs by giving the legs the illusion of height. They are shoes perfect for special occasions necessary to make you feel attractive and confident.
Sling back heels
The slingback heel is a perfect shoe design for shorter ladies and they seem light on the legs without causing discomfort in the legs. They are the best strappy shoe design because the straps are behind the feet and do not create any horizontal line in the short legs.
The strap of the sling back heel should not be too long as more conventional straps are the best suitable type for petites. Select designs that you can comfortably walk with for a better summer appeal in your appearance.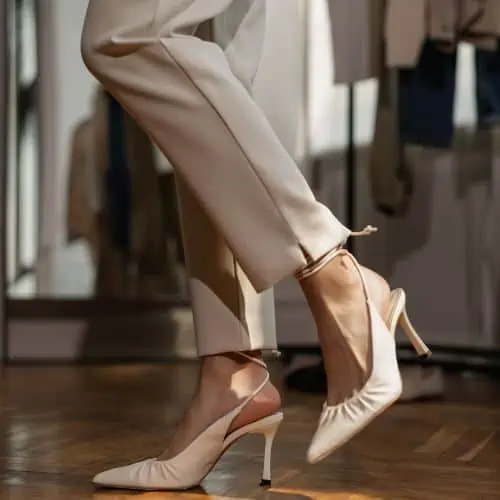 Why you should opt for Sling back heels
Sling back heels are a great choice of shoe for petite women because they are necessary to elongate the legs and provide comfort for your figure.
They do not add a heavy feel to your figure and they are more in proportion to your general outlook.
Pointed toe shoes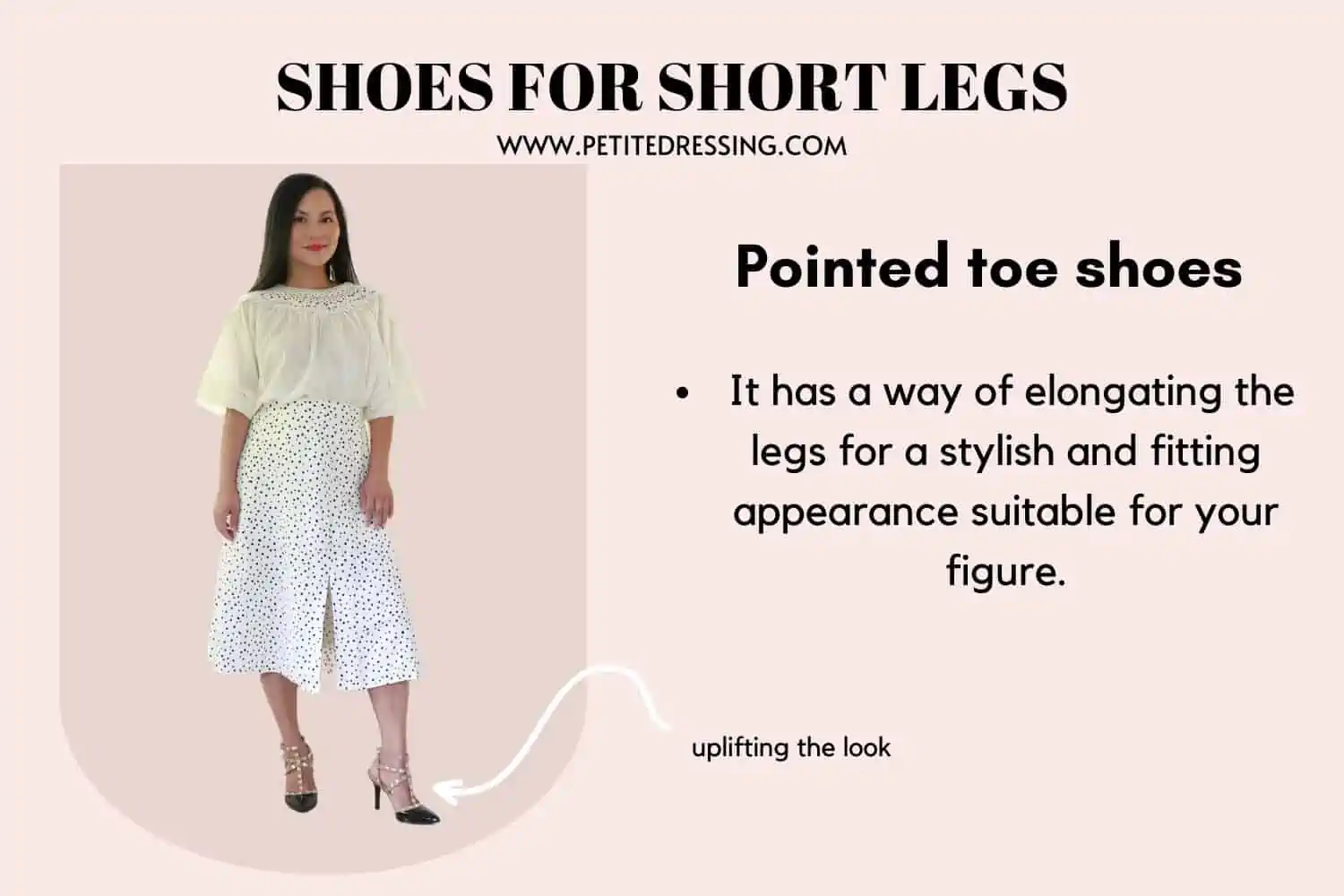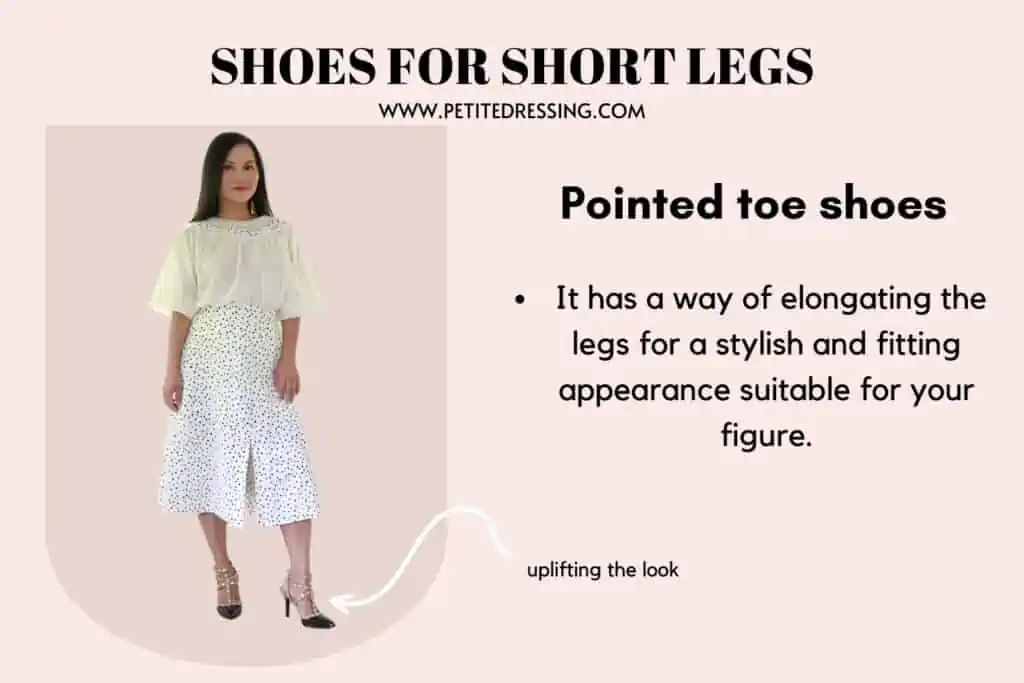 It is advisable to invest in pointed-toe heels if you have short legs because it creates a long vertical line that extends from your legs to your toes. It has a way of elongating the legs for a stylish and fitting appearance suitable for your figure.
Choose low-vamp pointed shoes because they have less coverage and the lower the vamp, the slimmer and more elongated your legs would appear. High-vamp shoes would offer more coverage to the legs and this would make them appear smaller.
Pointed-toe shoes are very classy but preferably opt for those that are wide enough at the front to accommodate the widest part of your legs. This way it would allow your feet to stretch properly and give you comfort when in motion.
Over-the-knee boots
Almost similar to the knee-high boot is the over-the-knee boot that extends above your knee to give the eyes the illusion of length to your legs. It increases the length in your lower half by creating a balance in your body proportion.
Over-the-knee boots are very simple and beautifully designed shoes for a petite woman. Make sure you style them properly for a better fit to properly eliminate any form of a horizontal line that runs along your figure.
They shape the legs properly and give the shorter woman the comfort she desires.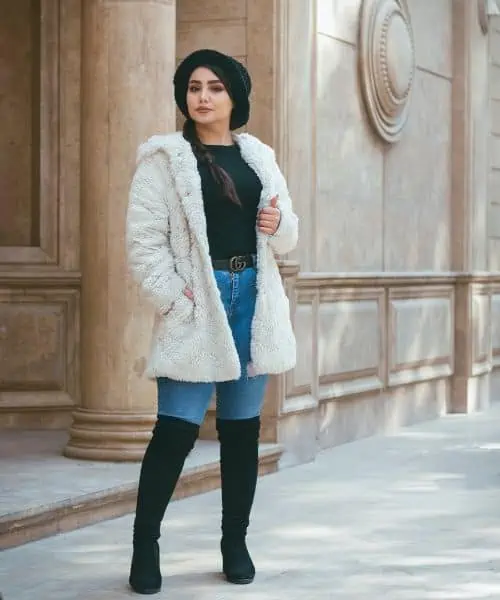 Over-the-knee boots are a must-have
The common myth is that over-the-knee boots are only for those who are tall or with long legs.
From my own experience, I actually feel finding a pair of OTK boots are way easier than finding a pair of knee high boots!
The reason is that over-the-knee boots are designed to fit the legs properly without giving you a reason to bother about the shaft and calf circumference of the boot.
On the other hand, many knee-high boots can be too high for our short legs!
Low vamp pumps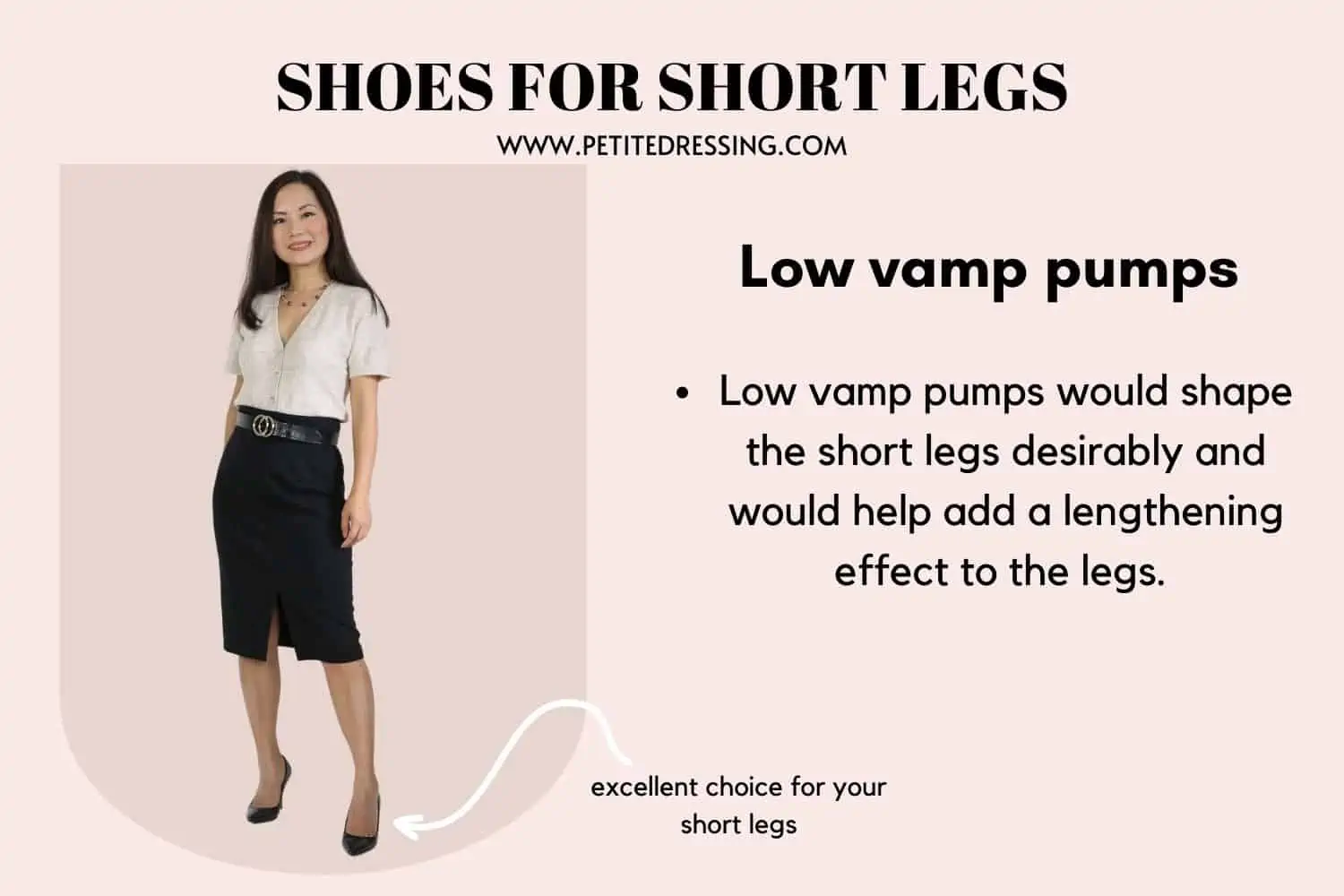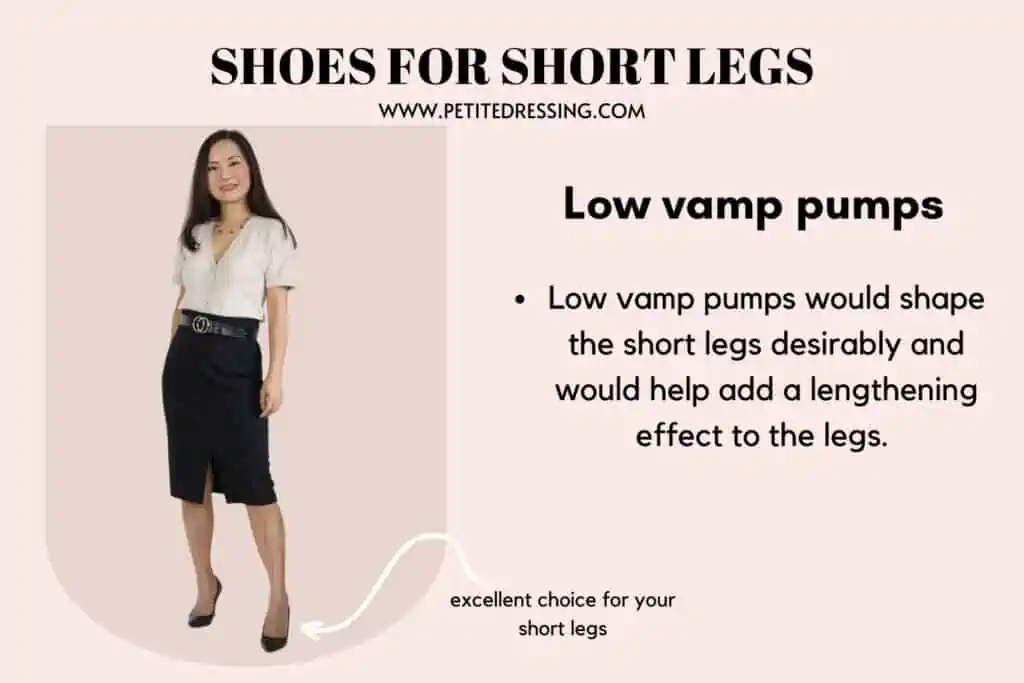 Another advantageous shoe recommended for a petite woman is the low vamp pumps suitable to boost her fashion outlook. They do not have straps and that makes them an even better fit for the woman.
Low vamp pumps would shape your legs desirably and would help add a lengthening effect to the legs. They also balance the proportion of a short woman and comfortably give her the height necessary to make her elegant.
Having the low vamp pumps as a part of your wardrobe is an excellent choice for your short legs. Make sure the low vamp pumps you choose are comfortable for your figure as those with pointed toes remain the best fit for petites.
Nude colored shoes
One amazing way to visually elongate your legs is to opt for nude-colored shoes that are close to the tone of your skin. This way the eyes would not easily notice the length of your legs but rather give them the illusion of height.
They are the best way to achieve a sleek and contemporary look in your figure. They are also good confidence boosters that allow you to rock your clothes elegantly on any occasion.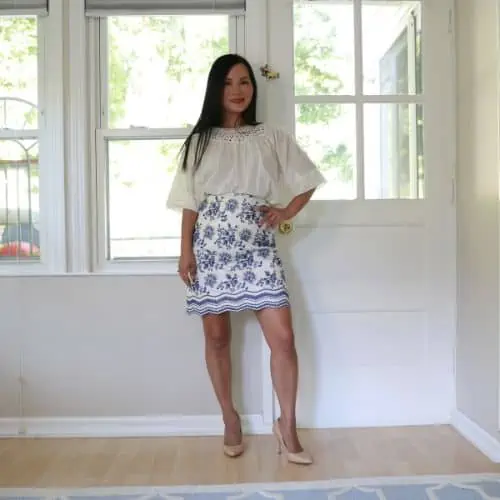 Why you should opt for nude-colored shoes
Nude-colored shoes are designed to be simple and flattering on a petite girl.
Shoes with color contrast to your skin are not recommended for short legs because they would eliminate the lengthening effect on the legs.
Avoid cowboy boots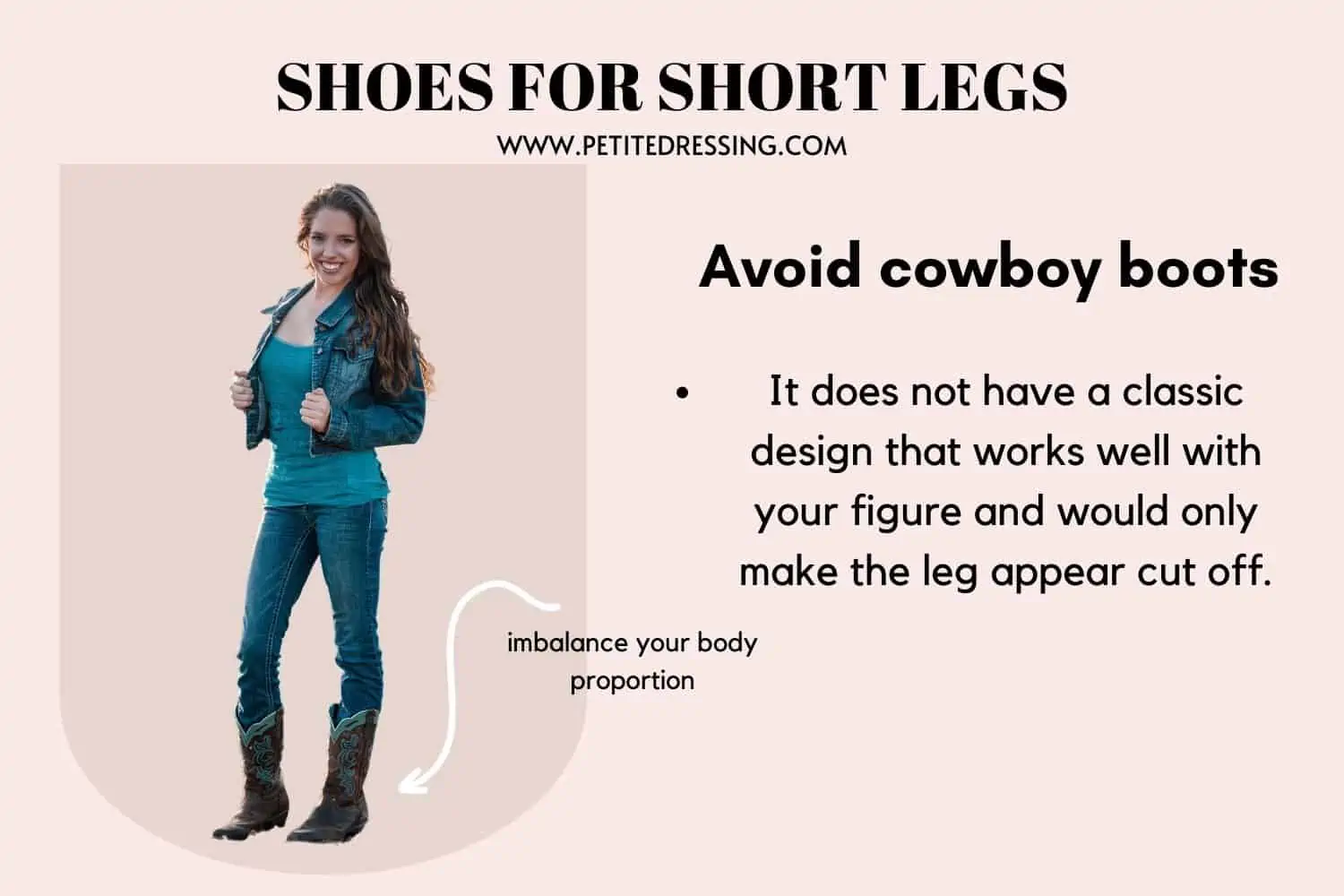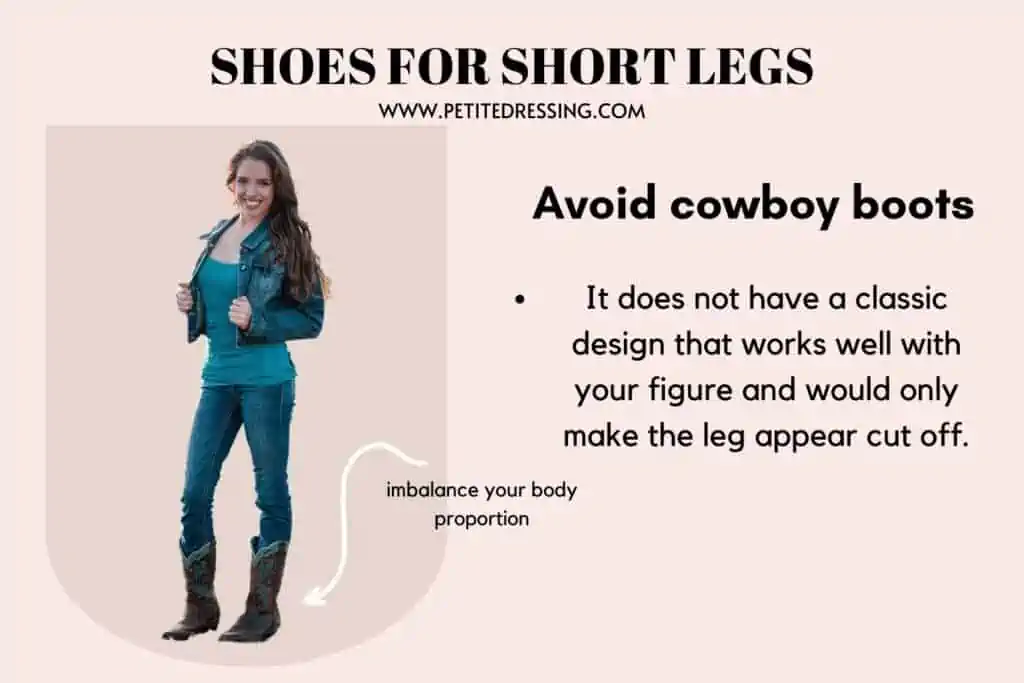 The cowboy boot features a tall boot shaft that goes to at least mid-calf with a thick heel and decorative design on the upper section of the boot. The length of the cowboy boot hits mostly at the thickest part of the leg to emphasize the length of the leg.
It does not have a classic design that works well with your figure and would only make the leg appear cut off. Cowboy boots are not for shorter women, so avoid wearing them on your figure because they wouldn't help to balance your body proportion.
Stay off square-toe shoes
Square-toe shoes are on trend but not elegant for a petite woman because they would add width instead of height to your figure. Short legs need an effect of extension and not expansion, so stay off square-toe shoes because they would not flatter your legs.
They are like the opposite designs of pointed-toe shoes and do not make up a perfect choice for short legs. For a better fit, stay away from square-toe shoes if you are petite.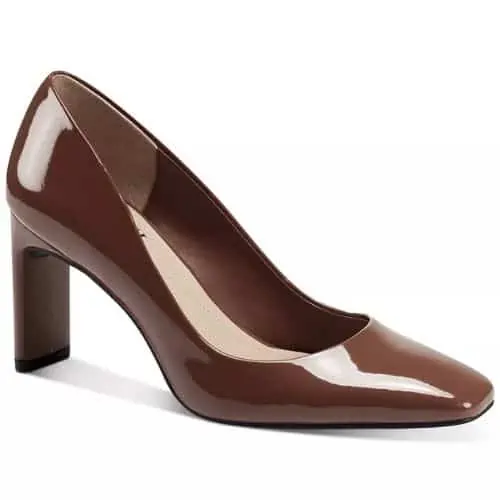 Why Square-toe shoes are a No-no
They are not incredibly stylish on petites and would only make your legs appear shorter and noticeable to the eyes.
Compared with pointy toe, or round toe, shoes with square toe are very easy to make your legs look cut off.
Caution with wedges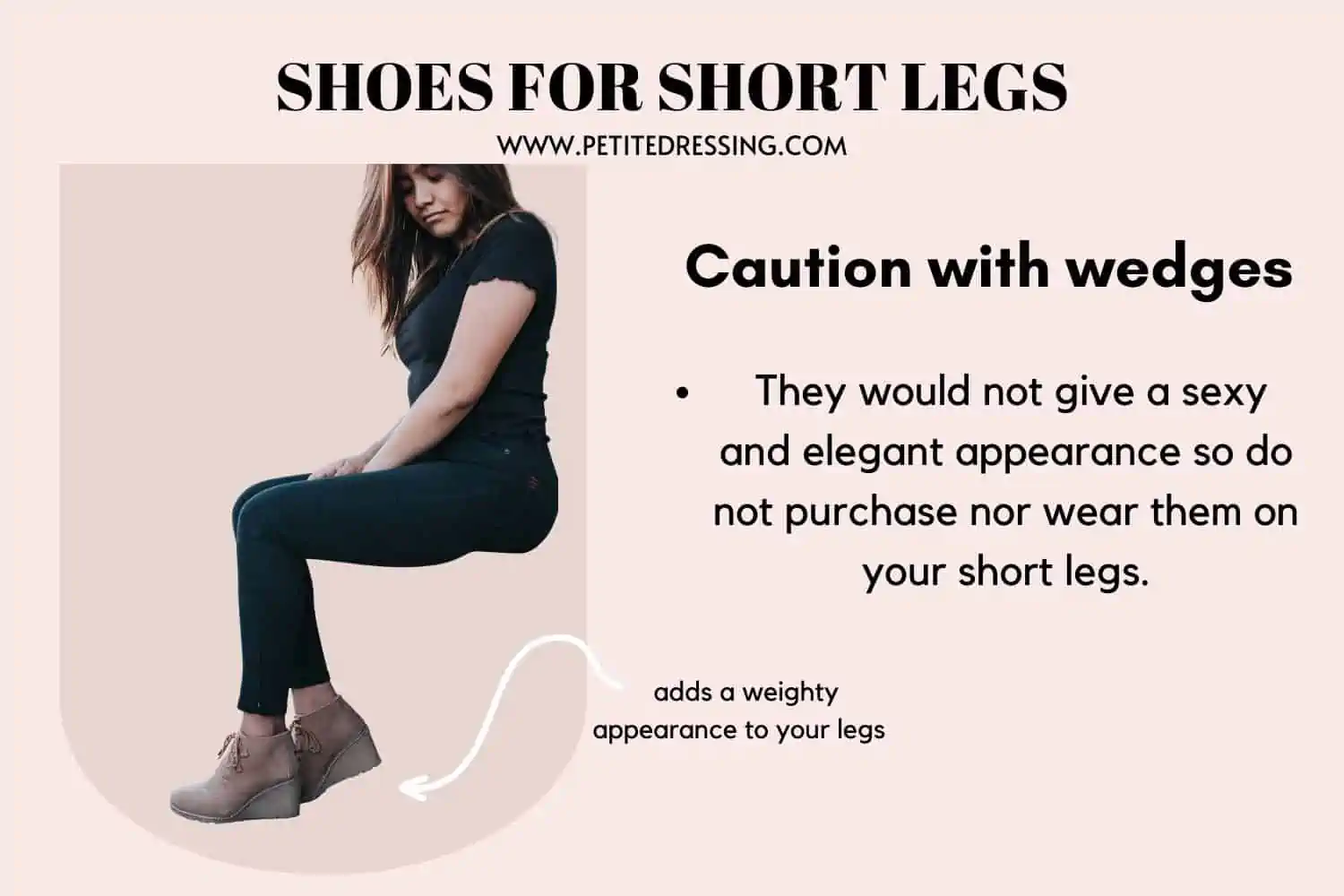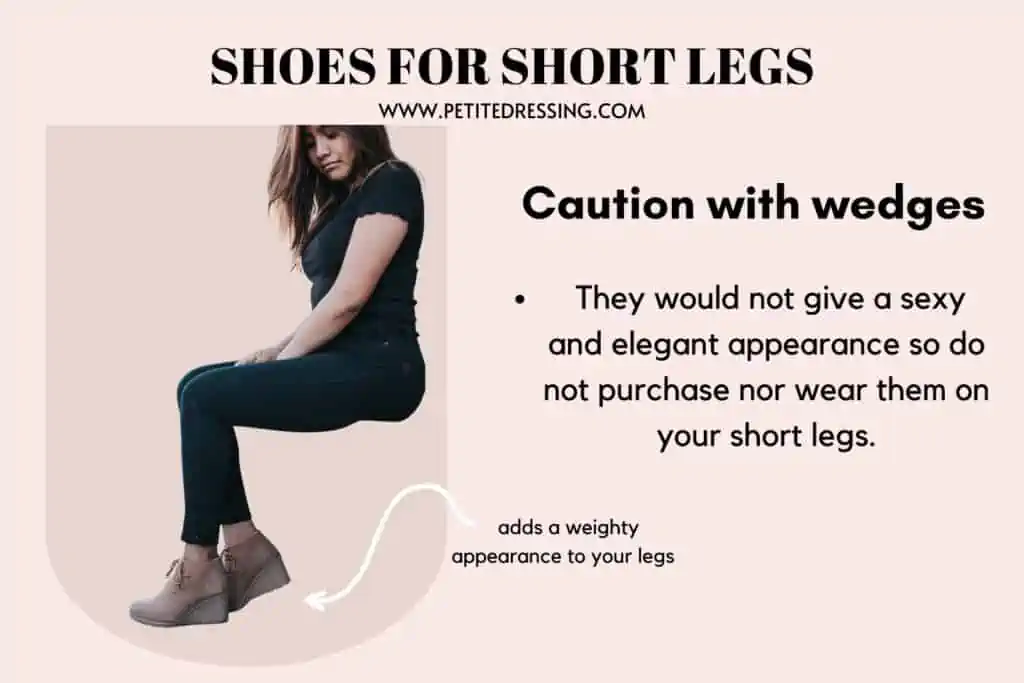 Wedges may seem to provide stability while walking but are not a good choice of shoe for a petite woman. They rate among the wrong shoe styles for your legs so wearing them should not be an option for your figure.
The heel of a wedge shoe adds a weighty appearance to your legs and would not give the height essential to make you keep a good stance. Caution with wedges because they are not the best fit for short girls.
Wedges do not work well with short legs so no matter how trendy they may seem to appear; your legs are better without them. They would not give a sexy and elegant appearance so do not purchase nor wear them on your short legs.
Avoid lug soles
Lug soles have enough traction to keep you from falling but for a shorter woman, they are undesirable. No matter how trendy shoes with lug soles may appear to be, you should avoid wearing them.
They are structured to draw the attention of the eyes towards them and this feature is a simple way to make the actual length of the legs noticeable. Shoes with lug soles are too heavy for the feet and are not the perfect choice for short legs.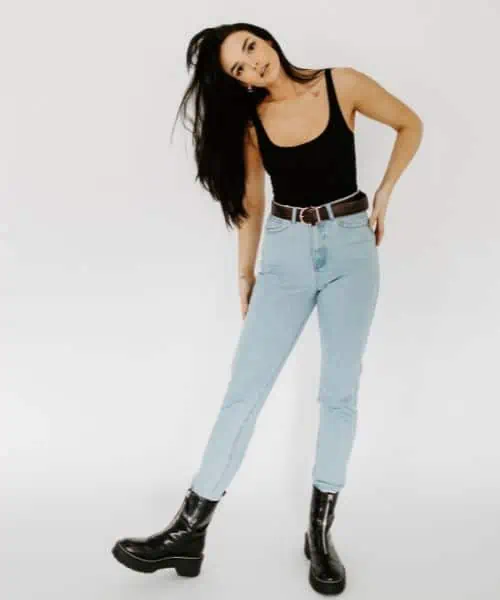 Lug soles shoes are not the best
The look lug soles give to your feet is not pleasing and would not give your figure the desired proportion it needs to attain balance.
They are not the best sole designs to give you the best grip and elegant appearance that your short legs need.
Avoid ankle straps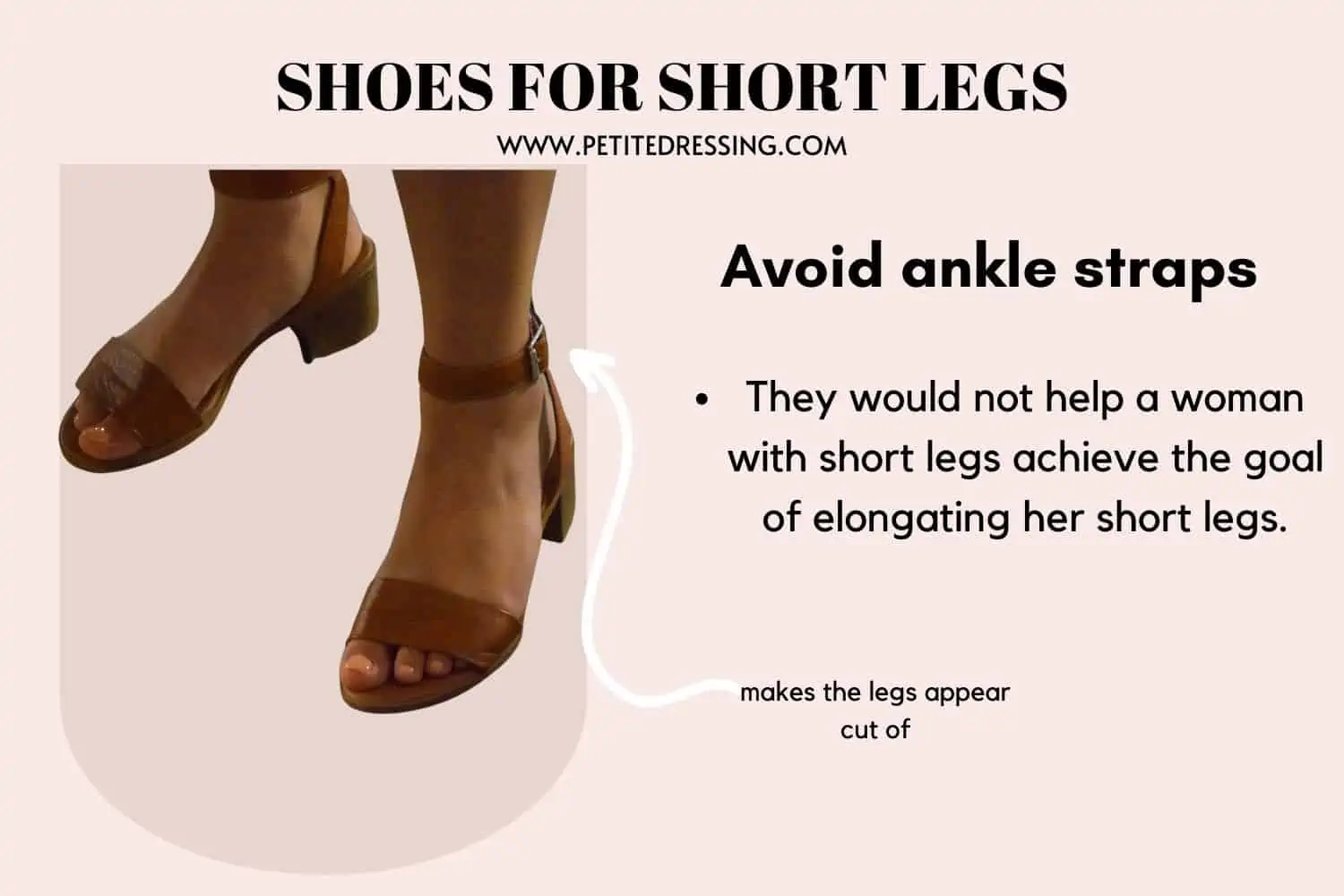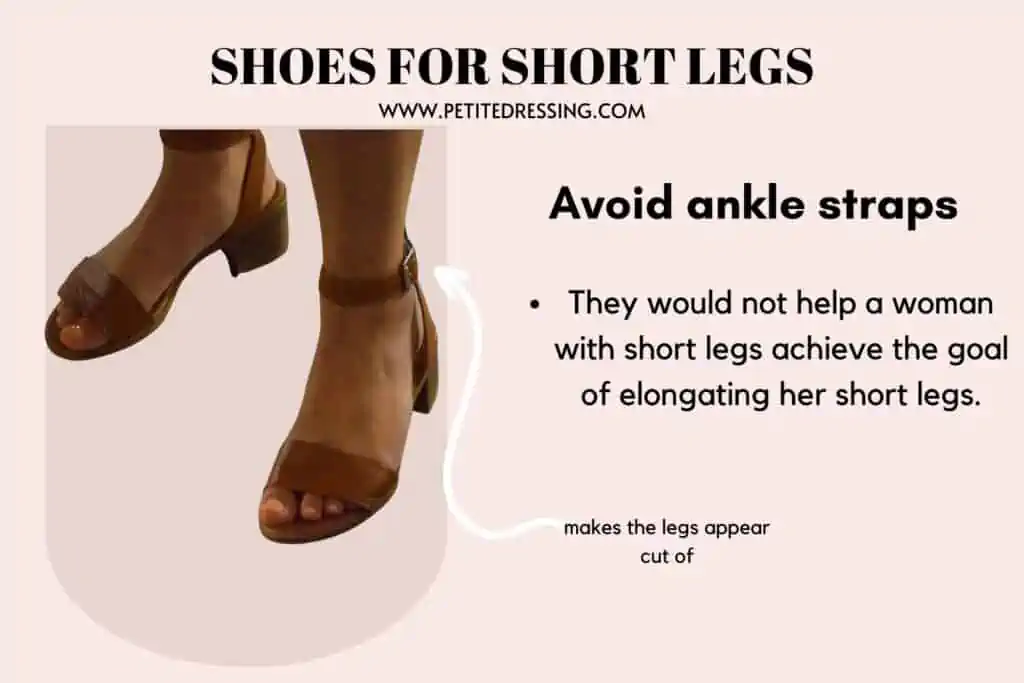 This shoe design does not match the physique of a shorter woman and they would make the legs appear cut off. Ankle strap shoes create a visual imbalance in your overall figure that would not be pleasing to you.
If you desire a balanced proportion in your figure, then keep shoes with ankle straps away. They would not help a woman with short legs achieve the goal of elongating her short legs.
Avoid Mary Jane Style
The Mary Jane shoe style is not one designed to complement a petite woman because of its patterns. It is a high vamp shoe that covers so much of the feet and has a strap that cuts across to give a horizontal line.
Though some have heels but the heels don't give the best lift to the short legs and could make the woman appear weighty in her bottom half. The Mary Jane style of shoe should not be worn by a woman with short legs and it's best to avoid them.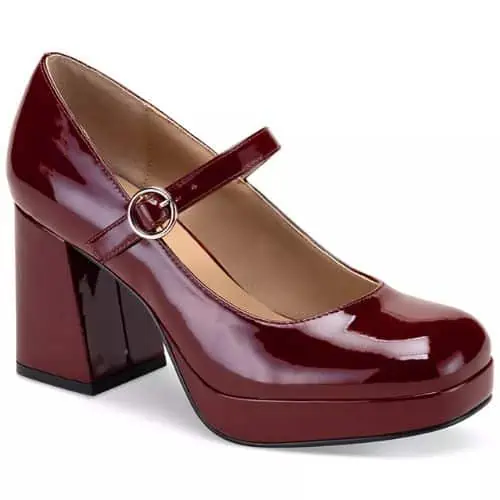 Why you should not opt for Mary Jane style shoes
The Mary Jane style is flat and rounded in shape with no feature that could give an elongating effect to the legs.
They would rather make the legs appear shorter without having to flatter the shape of the woman.