Being a busty petite is quite tricky to style and it can be a real struggle to choose flattering wardrobe pieces for you. Petite women have short torsos so having a large bust at the same time can take so much space in your upper body!
Of course, your gorgeous petite and busty figure is something to be absolutely proud of!  However, there are some types of garment styles that you should avoid to prevent yourself from committing a fashion crime!
Styling Goal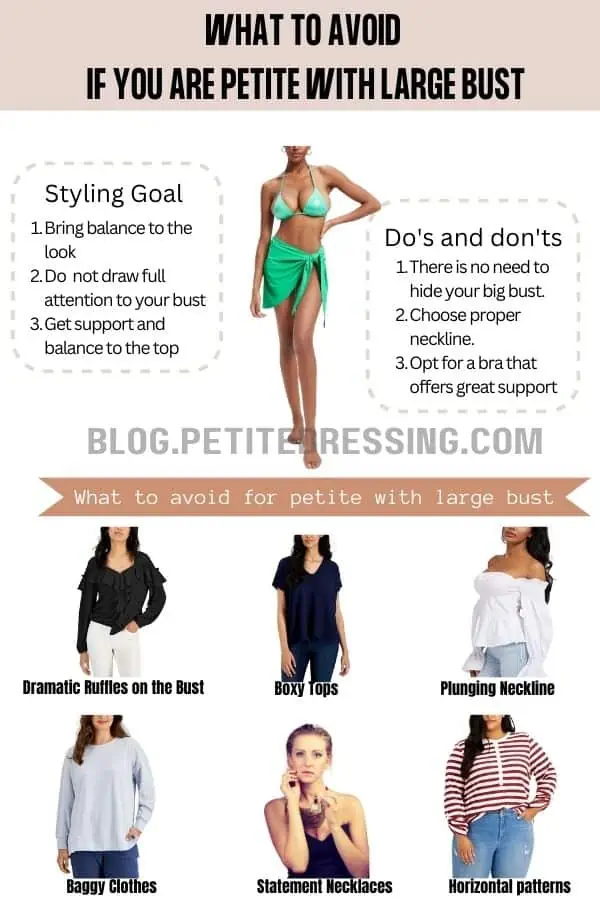 Before we go to the types of clothes you should avoid, here are some styling principles to take into great consideration when choosing a wardrobe piece for petite girls with a large bust.
There is no need to hide your big bust. There are many ways to enhance your beautiful bustline and while we have nothing against showing them off, going for extremely revealing necklines might actually be unflattering. The key is to bring balance to the look and not draw full attention solely to your large bust.
Choosing the proper neckline is the key – For busty ladies, the upper half of your body will always be the focal point regardless of whatever it is that you wear. So to efficiently make the most out of this situation, go for flattering necklines that embrace the natural beauty of your bust area.
Opt for a bra that offers great support – The most important of them all is to choose a bra that will give your breasts better support. Not only will this bring you comfort but will also make the shape of your bust more balanced and flattering.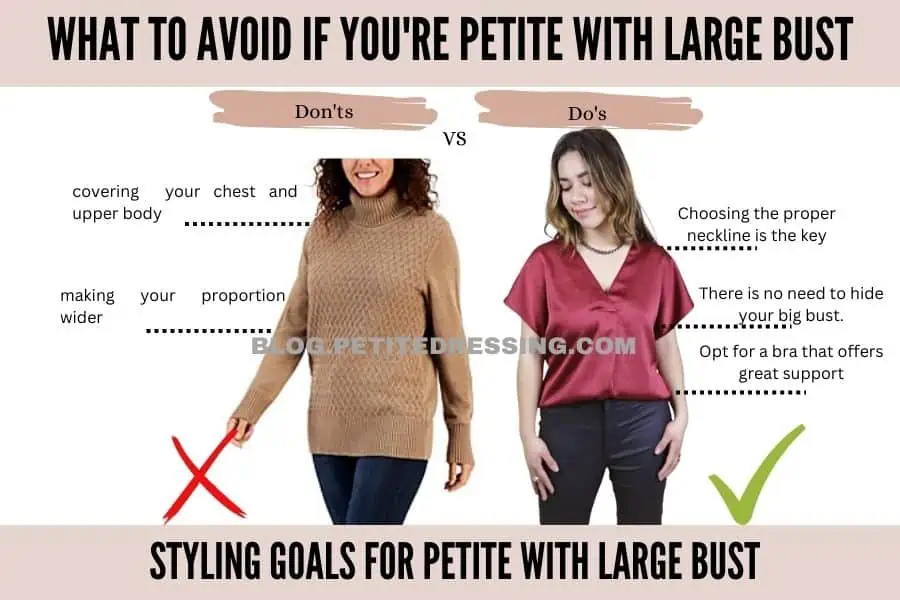 So now that we have briefly tackled these styling tips to go by when styling petite women with large busts, here are the exact types of clothing styles you should avoid at all costs.
Dramatic Ruffles on the Bust
Any type of fabric flounce such as a ruffle will always add volume to wherever it is placed. Considering that your bust size is already big, then it's only rational to not add more volume to it.
Dramatic or exaggerated ruffles will attract too much attention and can possibly drown the rest of your figure as there are too many things happening on your upper half body. For this reason alone, ruffles placed on the bust line aren't really for your figure.
Instead, you can go for simpler designs or subtle fabric detailing that doesn't protrude too much from the clothing itself. Lace attachments are one alternative style to go for instead of voluminous ruffles.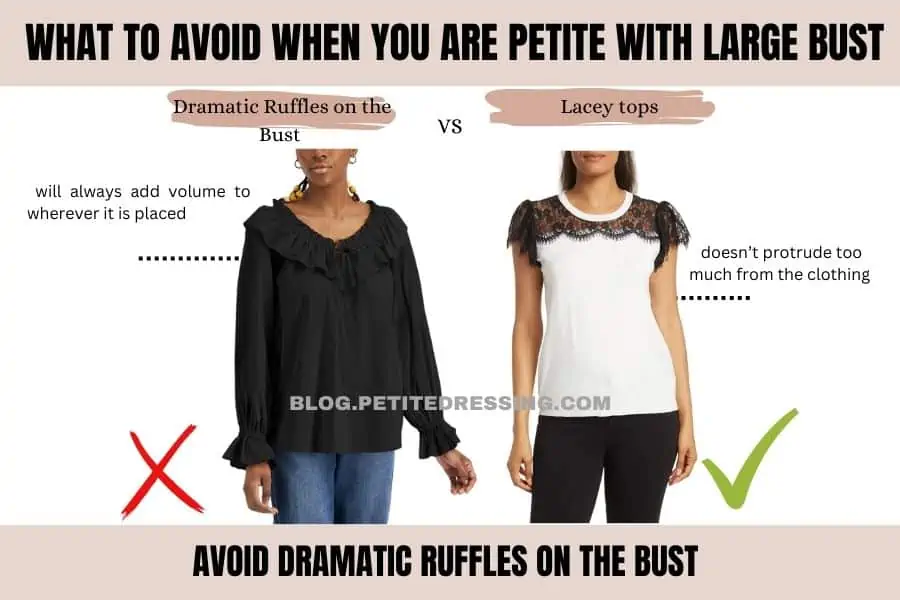 Boxy Tops
You would want something to enhance your curvy upper half by choosing a silhouette that gently embraces your figure. Boxy tops are without a doubt very comfortable because it gives your body some space but they won't really go well with your petite and busty frame.
Boxy tops are basically shapeless and they also tend to stretch you out horizontally so wearing one will make your figure disappear. It will also take some inches off your height as it visually constricts the length of your body.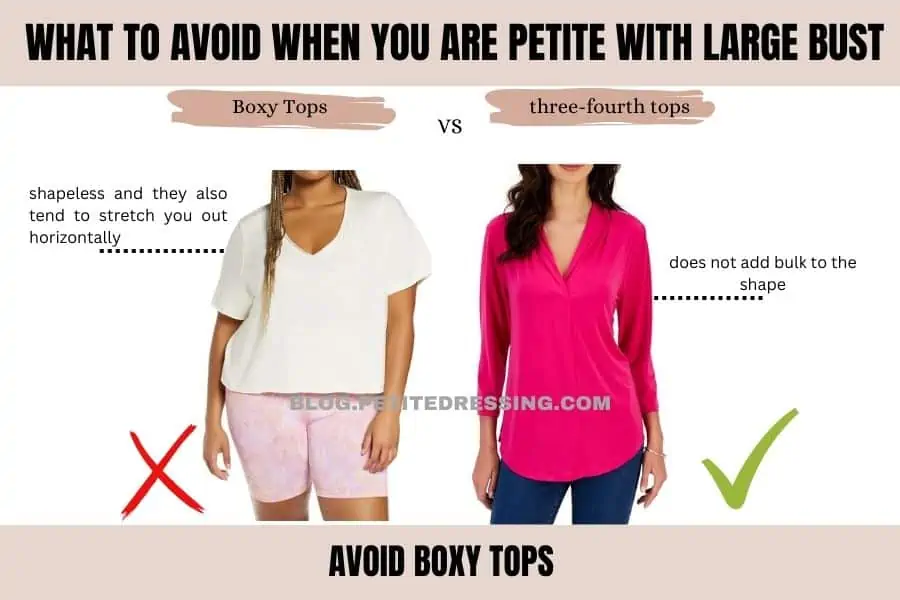 Plunging Neckline
It's always nice to show off your gorgeous-looking bust as it is one of your body type's best features after all! However, plunging necklines, especially those that go past the underboob level might limit your movements as you are more prone to expose yourself due to the size of your breasts.
Apart from this, revealing too much of your bust area can draw too much attention and therefore create more bulk in your upper body. Adding volume to a petite girl's upper body is a big no-no because they have shorter torsos.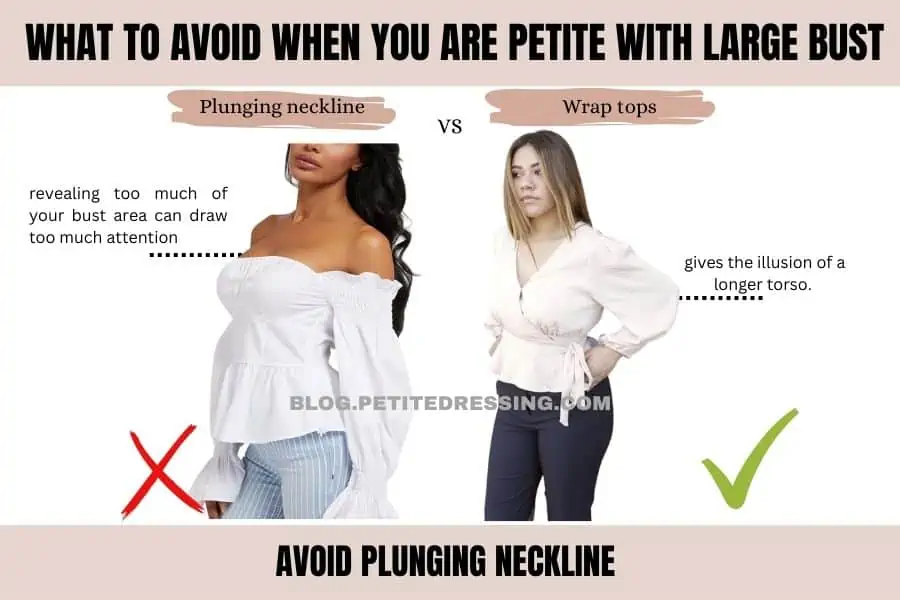 Turtleneck Tops and Dresses
This is what we meant by "trying to hide your large bust". Some women tend to feel quite conscious of their big bust size and so they resort to hiding them by fully covering up.
But then doing so will only make your upper body shorter and heavier. Turtleneck tops will cover the entirety of your upper body which is quite critical for petite women wherein elongating your figure also means showing some skin (especially around the neck, shoulders, and chest area).
Instead, go for necklines that feature these areas we mentioned. Ideally, V-neck, square neck, and boat neck clothing pieces are deemed very flattering for petite ladies with a large bust.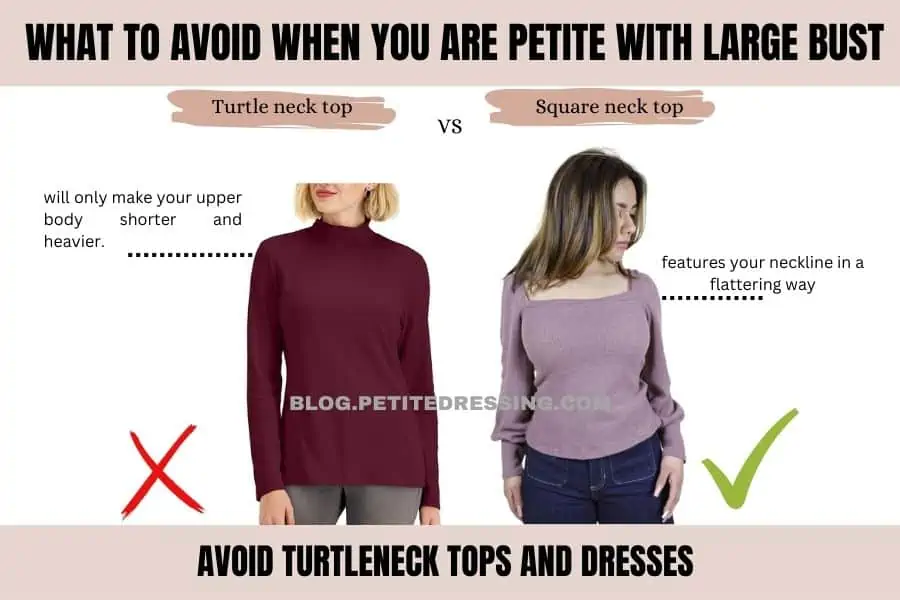 Crop Length Blouse
Crop-length blouses usually cover only the part where your bust line is at. This type of style breaks the straight line of your figure by focusing on your bust size and therefore makes your torso look heavier and shorter.
This type of top will also make your bust appear larger which can totally make your frame look unproportioned. The key to flattering your body shape is to visually create a continuous line that will elongate your frame while also giving your bust line some definition.
Go for tops that offer a bit more length, ideally pieces that are around the length level of your belly button or hip bone.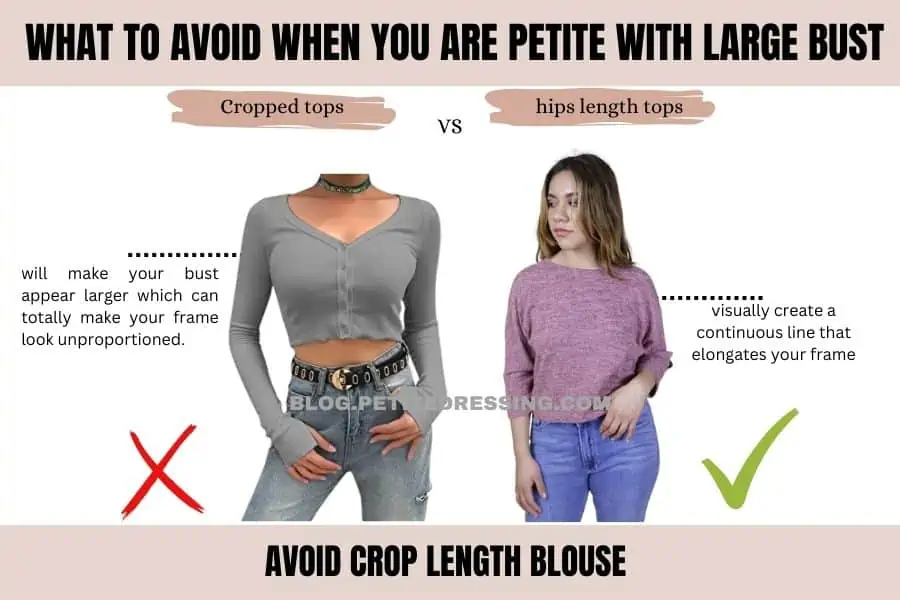 Double-Breasted Jackets, Coats, and Blazers
Double-breasted wardrobe pieces are surely chic and edgy but if you're dealing with a bust petite's figure, then this is something to stay away from. The placement of the buttons creates a line that extends you horizontally which can most likely make your upper body seem heavier.
Any type of detail, especially large buttons which all double-breasted jackets, coats, and blazers have, visibly add bulk to your upper body. This will not just make your bust appear bigger but will also potentially drown your overall figure.
Instead, go for single-breasted pieces or basically any other jacket, coat, or blazer that features a more tailored silhouette. The ones that cinch the waist nicely should look visually pleasing for busty petites!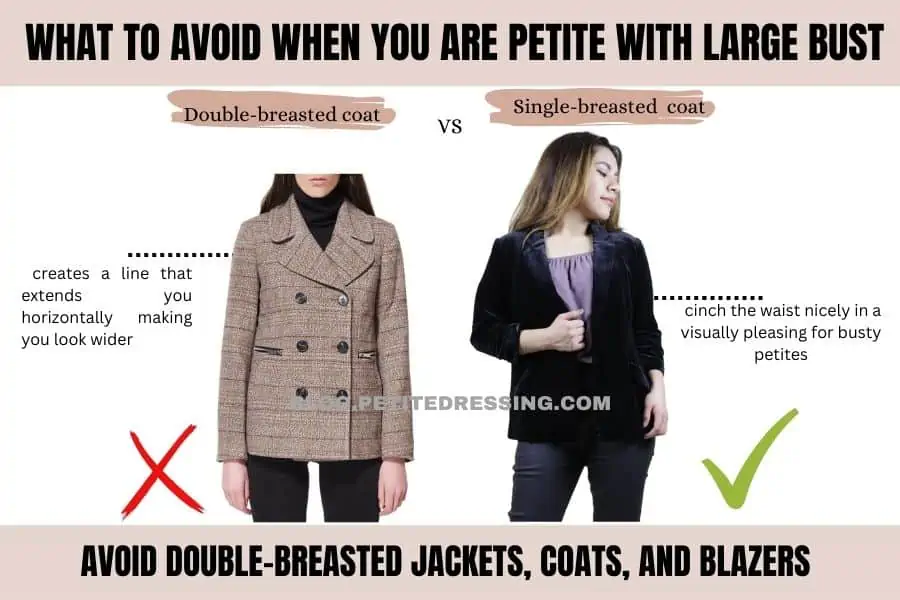 Baggy Clothes
As someone who's petite and busty, you should always bring your natural figure out in full confidence! Hiding it in baggy clothes will only drown your silhouette and make you appear shorter and bigger.
If you go for too much fabric and lose fit, this will overwhelm your figure and prevent your curves from showing. Opt for form-fitting clothes instead to give your frame a nice fit.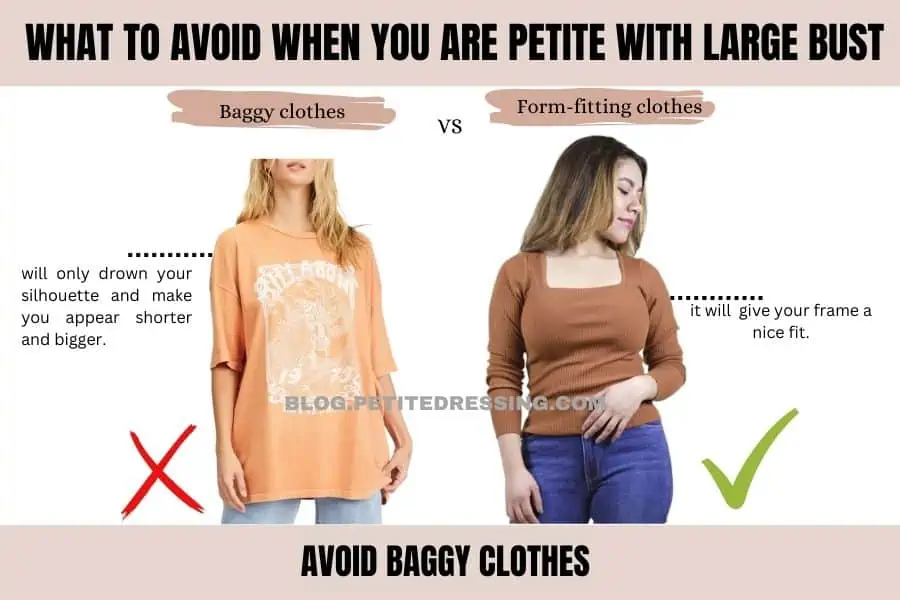 Statement Necklaces
Another thing to avoid if you're petite with a large bust would be chunky statement necklaces. This is also another example of adding too much volume on the upper half body for it creates confusion on where the focal point of your ensemble is.
Since your large bust already draws attention by default, having a necklace that has a very elaborate design would also take the spotlight. This may look over-the-top and can definitely make your upper body look heavier than the rest of your figure.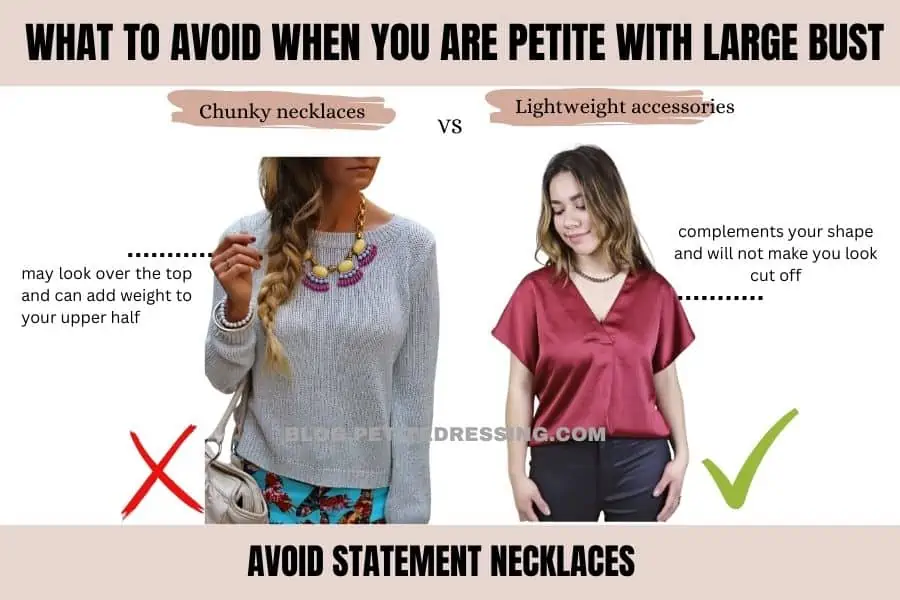 Horizontal patterns
It is key to avoid length-constricting clothes if you are short and have big busts.
Horizontal patterns are just some examples of clothing styles that make you look shorter.
If you go for clothes that constrict your body length, you're creating a smaller space for your large bust.
Too much frills
If you are short and busty, don't hide your big boobs with overwhelming details such as frills in from of your chest.
Some girls feel conscious of their large breasts so they tend to opt for overwhelming fabrics to try to hide them.
However, too much fabric won't really fully conceal your large bust but rather drown your natural figure and make you look bigger.