The woman's body is beautiful and something to be celebrated. Having a large bust can be a blessing, but it also means dressing your curvy shape comes with unique challenges.
Necklines change with trends, but because they can make such a huge impact on dressing your unique body type it's important to understand which options are the best choose.
Keep some of these tips in mind as you go through your wardrobe, or head out on a shopping trip to help make flattering neckline choices.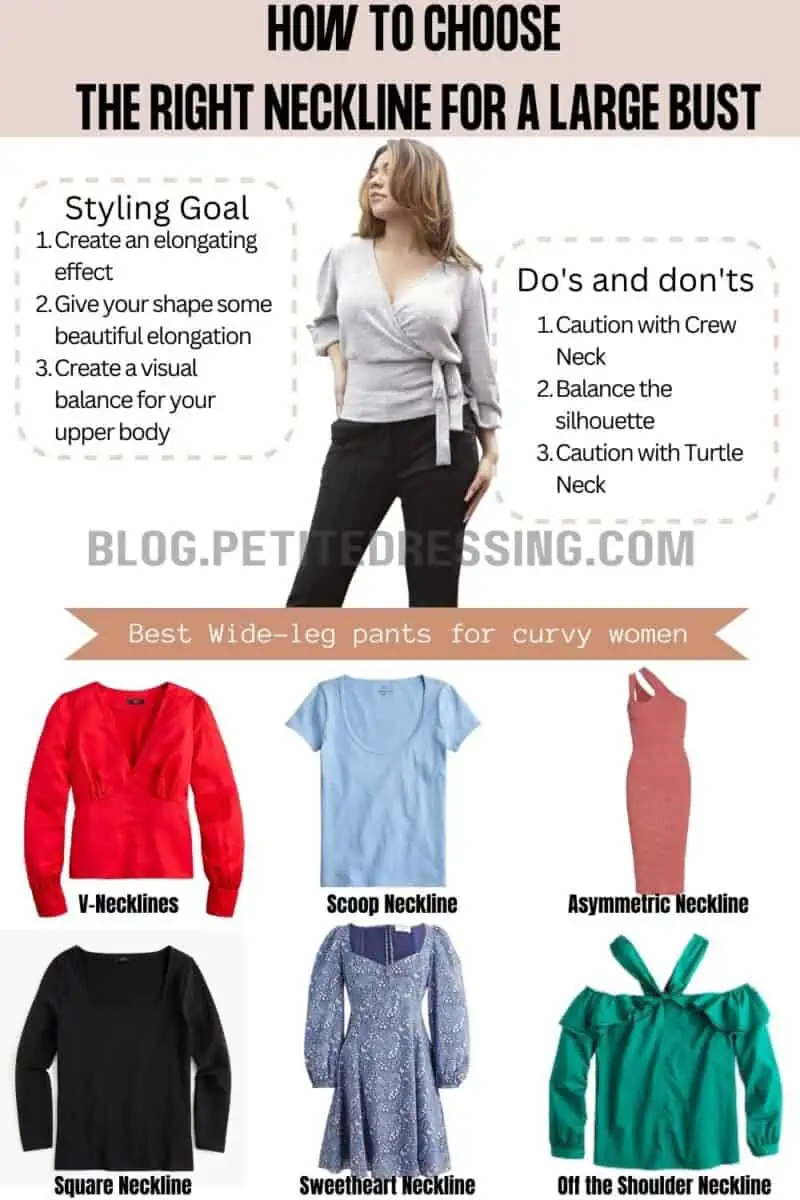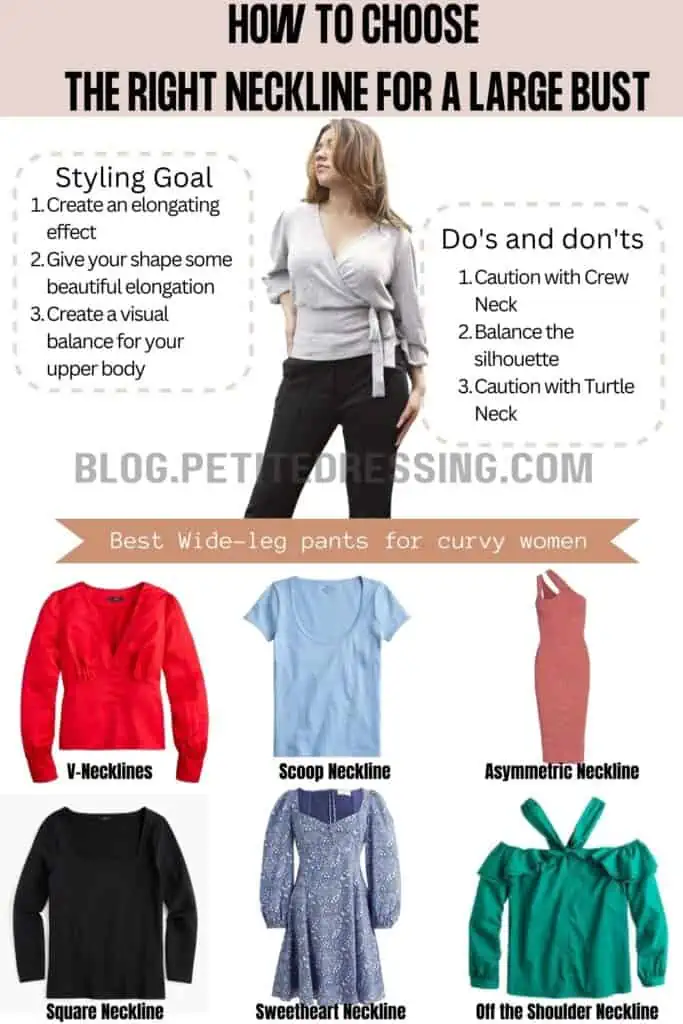 V-Necklines
Kicking off the list with a classic and a neckline you can ALWAYS count on to look great with a large bust.
More open necklines, like a v-neckline, is more flattering for women with full bust. Not only does it break up that space around the chest but the vertical line that is created by the v shape lengthens that area of the body, this is something that gives the illusion of a slimmer aesthetic.
It's not that you need to focus on making a large chest look smaller but lengthening and slimming are ways to avoid adding bulk to the body.
Another bonus of the v-neckline, particularly with a large bust, is the 'lifted' effect that it creates. Once again, the vertical lines and shape of the v draws the eye up. When the eyes are drawn upwards it gives this natural, subtle lifted effect to the bust.
If you happen to be a petite woman with large bust, a v-neckline also serves the purpose of elongating your neck, as many shorter women tend to have shorter neck.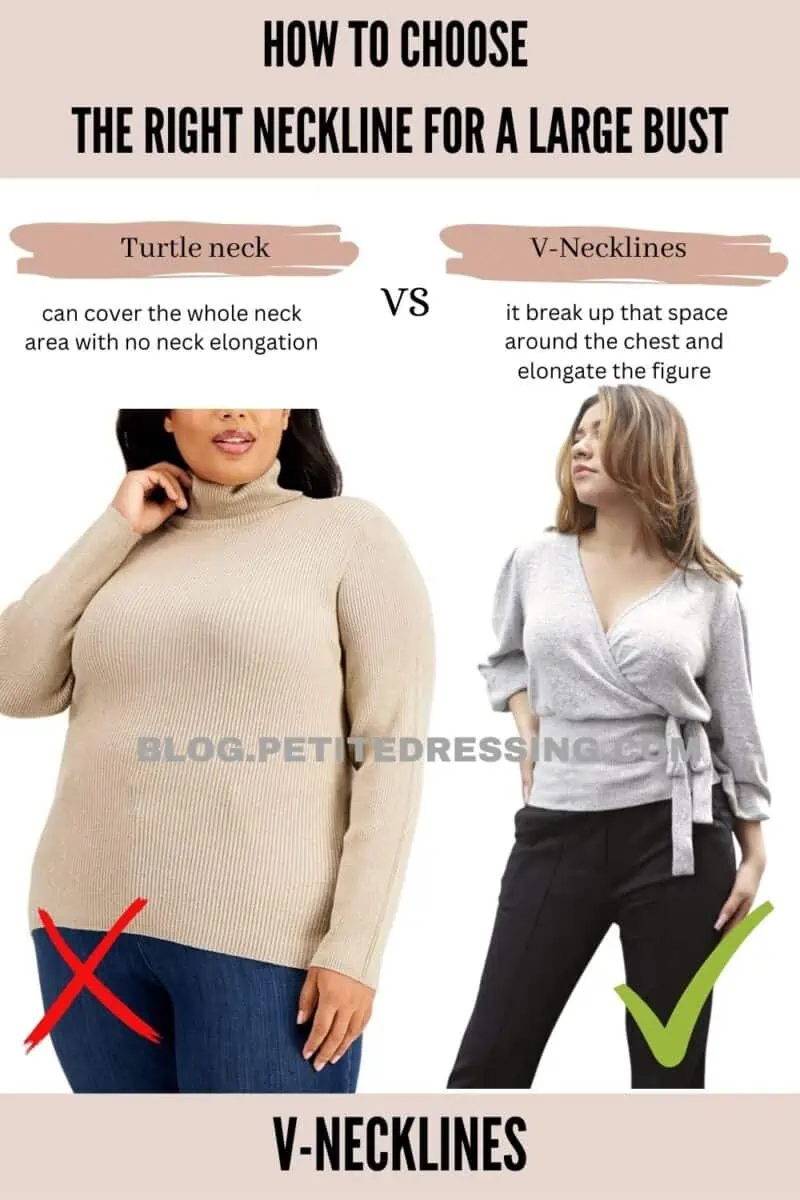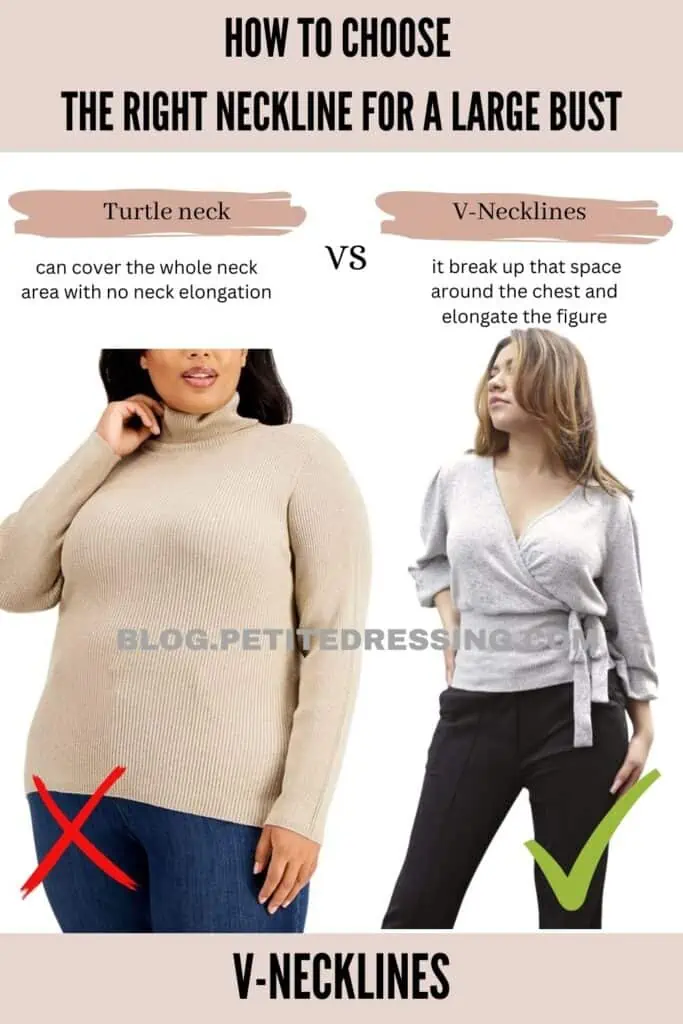 Scoop Neckline
Much like the v-neckline, the scoop neckline is a classic within the fashion world. It's not uncommon to see a scoop neckline present throughout retailers at any given time. More than that, it's another classic neckline that's a fan favorite for women with a larger bust.
The scoop neck is an option that offers a soft, feminine aesthetic that perfectly compliments a large bust. The subtlety of this neckline is what really helps to accomplish this.
A flattering scoop neckline is going to break up the space between the bust and neck, which. Avoid an extremely deep, or exaggerated, scoop neckline though as this can sometimes cause a larger bust to appear lower on the body.
Keep the scoop in the middle area between your bust and neck to get a more lifted, elongated feel from the neckline. The main difference you will find with a scoop neckline compared to a v-neckline is a scoop gives more of a soft, rounded feel while the sharper lines of a v-neck slim with the angling of the shape.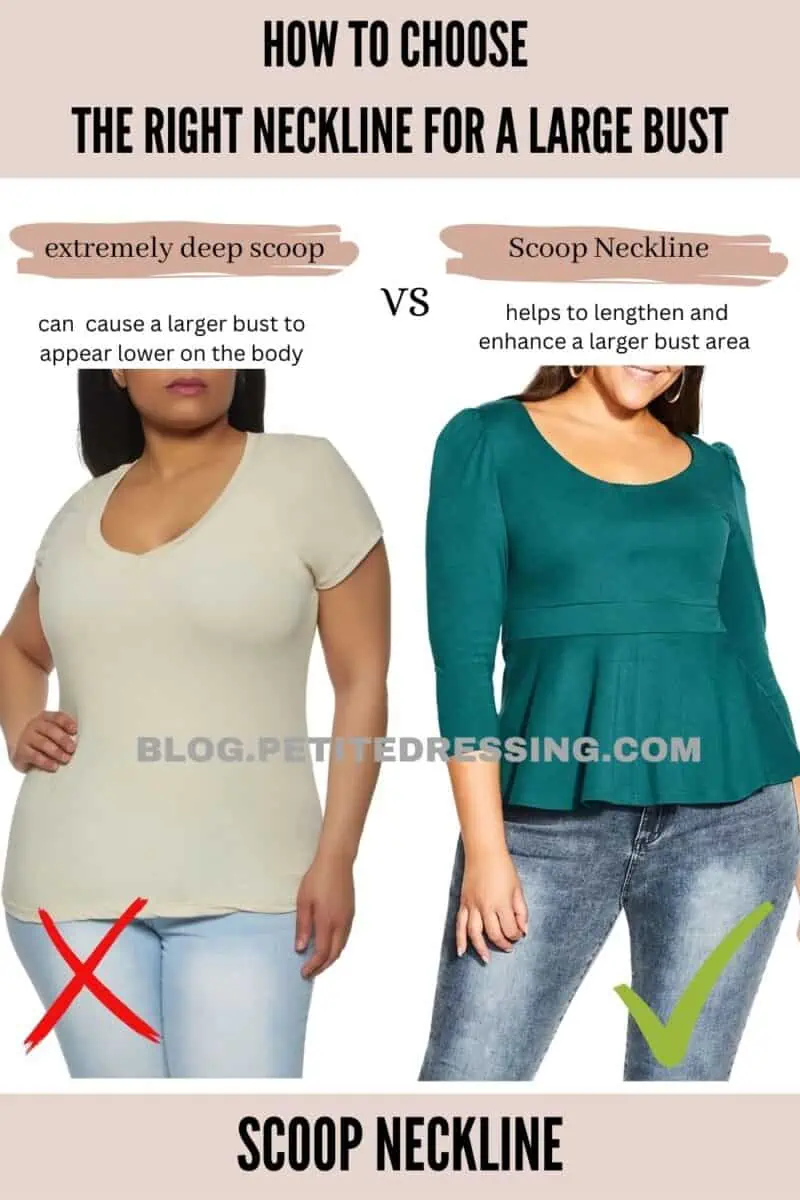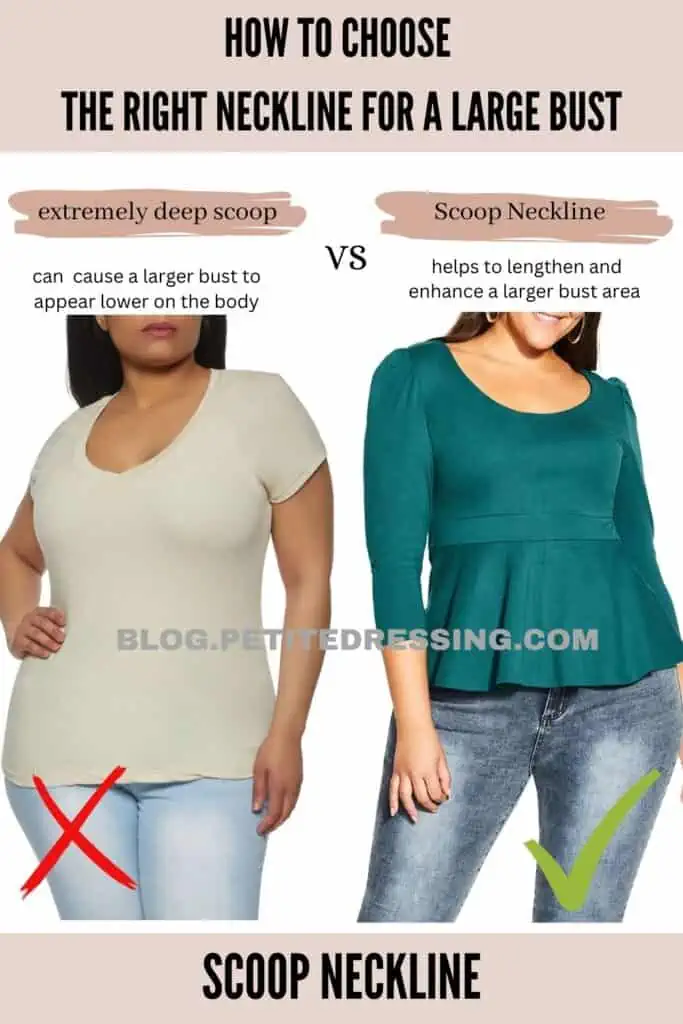 Asymmetric Neckline
A neckline that may come as a surprise that works wonders to flattering a large bust is the asymmetric neckline. If this neckline is missing from your current wardrobe now is a great time to invest and add some into your collection.
Women with a large bust can count on an asymmetrical neckline for a couple of reasons. First, the diagonal line that rests across the body with this neckline draws the eye up and down in a way that lengthens the body. Not just that, but because of that line, it also makes the shoulders and bust appear a bit slimmer than they are naturally. This is particularly due to the fact that the asymmetric element takes the focus away from the bust a bit.
One of the most exciting elements of the asymmetric neckline is the variety of styles you will find in this. If you thought asymmetric necklines were a one size fits all, that's simply not the case. You will find asymmetric necklines that vary from having just one sleeve to the neck opening being the only asymmetric element of the garment.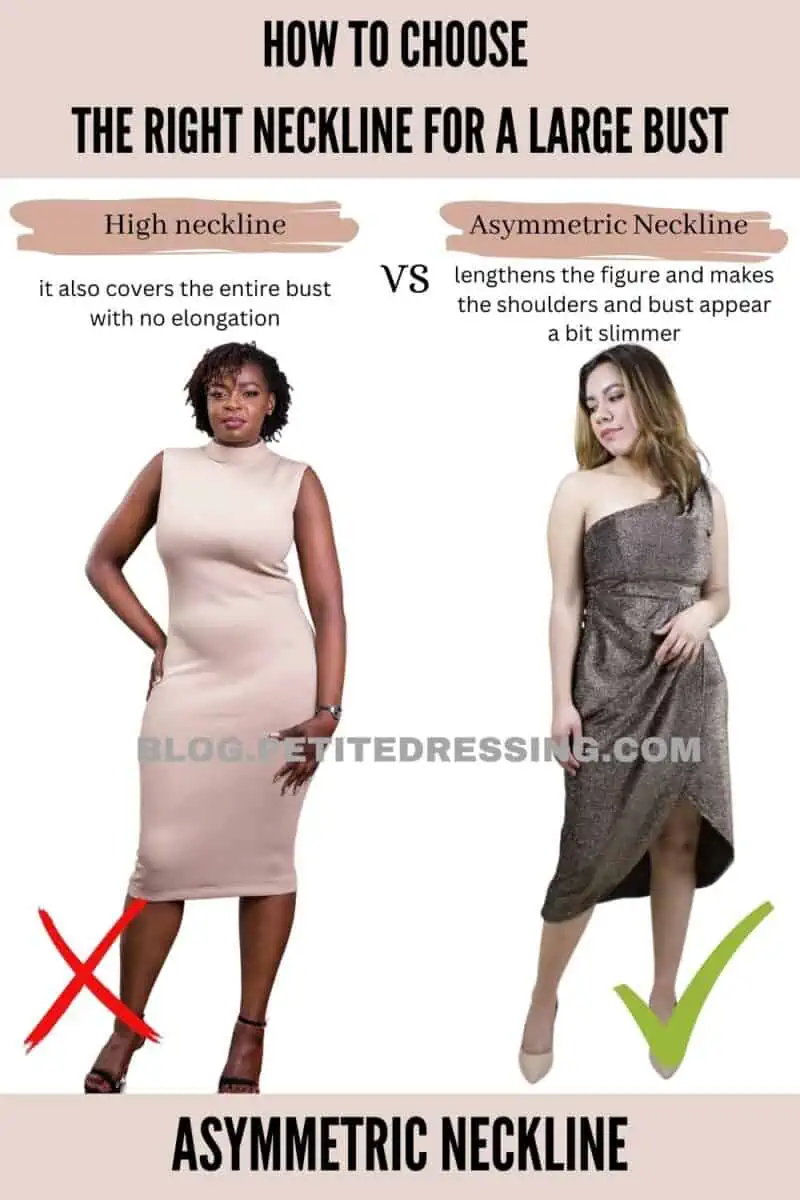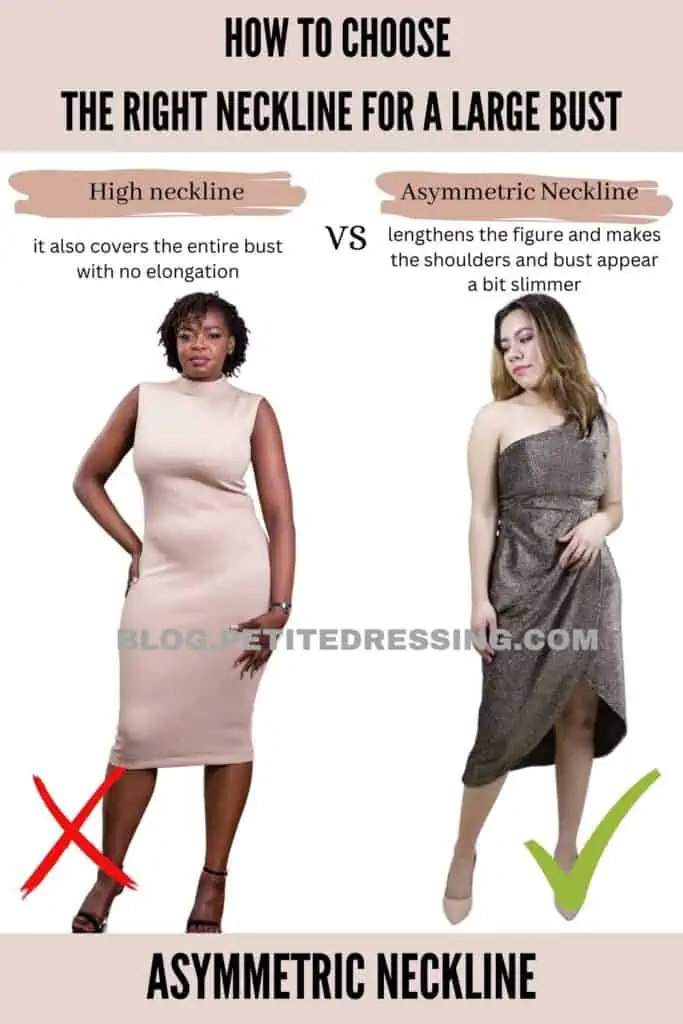 Square Neckline
A neckline style you don't hear of as often is likely the square neckline. If you're not familiar and you have a large bust you're going to want to start familiarizing yourself with this neckline shape because it's really flattering.
Just like the scoop and v-necklines, the square opens up that space around the bust to give your shape some beautiful elongation. The main difference is really the squared off shape.
While this can be a really flattering neckline with a large bust, most stylists suggest it should be avoided if you have very broad shoulders and/or a squared face shape.
Due to the sharpness of the square neckline, it can widen the appearance of the shoulder area so if your shoulders are already broad – they'll likely look even broader. This option is best for women who have a large bust and shoulders that are narrower.
If your face shape is square this should be avoided as well because it can lend to a more masculine, sharper feel to the face and shape overall. Square face + square neckline = not the most flattering option.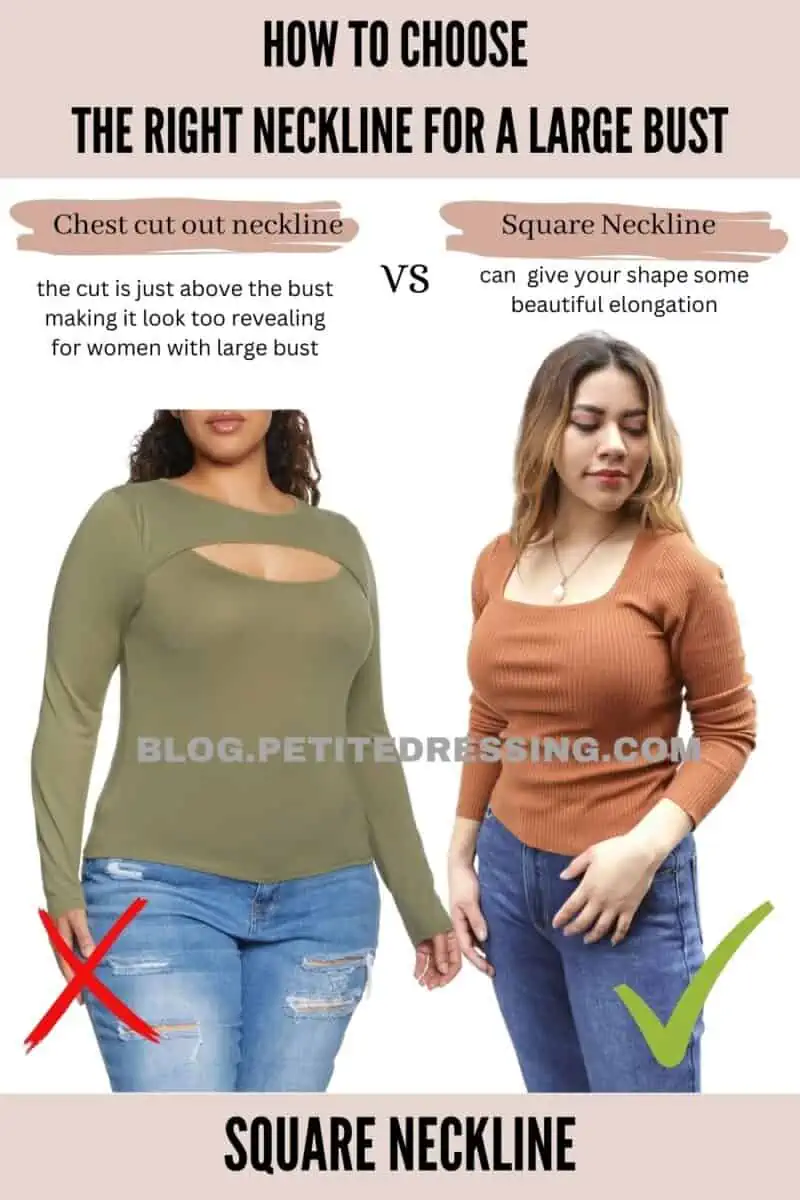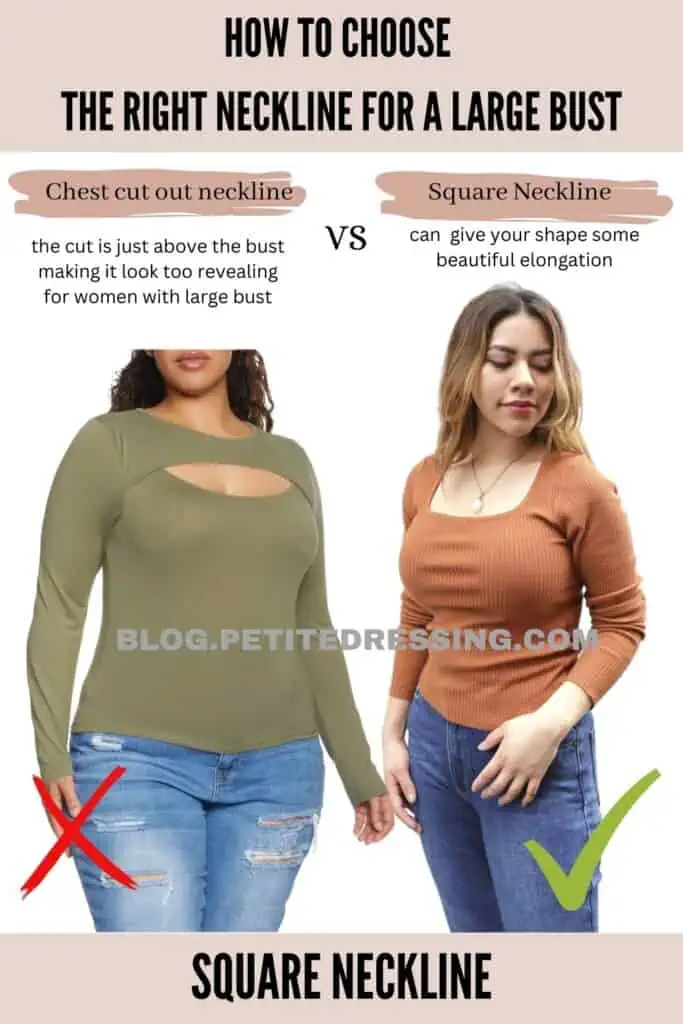 Sweetheart Neckline
If you've ever shopped for a formal dress chances are you've seen a sweetheart neckline a time or two. However, it's not just found in formalwear! The sweetheart neckline makes its way into everyday clothing as well.
Not only that, it's a stylish and flattering option for women with a large bust. It's one of the best options because it combines some of the elements found in a v-neckline, with a bit of a more feminine twist to it.
If you're not familiar, a sweetheart neckline is often mistaken for a v-neckline because they do look quite similar. The difference is the "v" shape isn't extended all the way throughout and instead is rounded a bit as it gets closer to the shoulders.
Because of this rounding, you're getting the best of a v-neckline and a scoop neckline shape wrapped into one. This is a great choice if you want to add a more feminine aesthetic to an outfit that also flatters a large bust.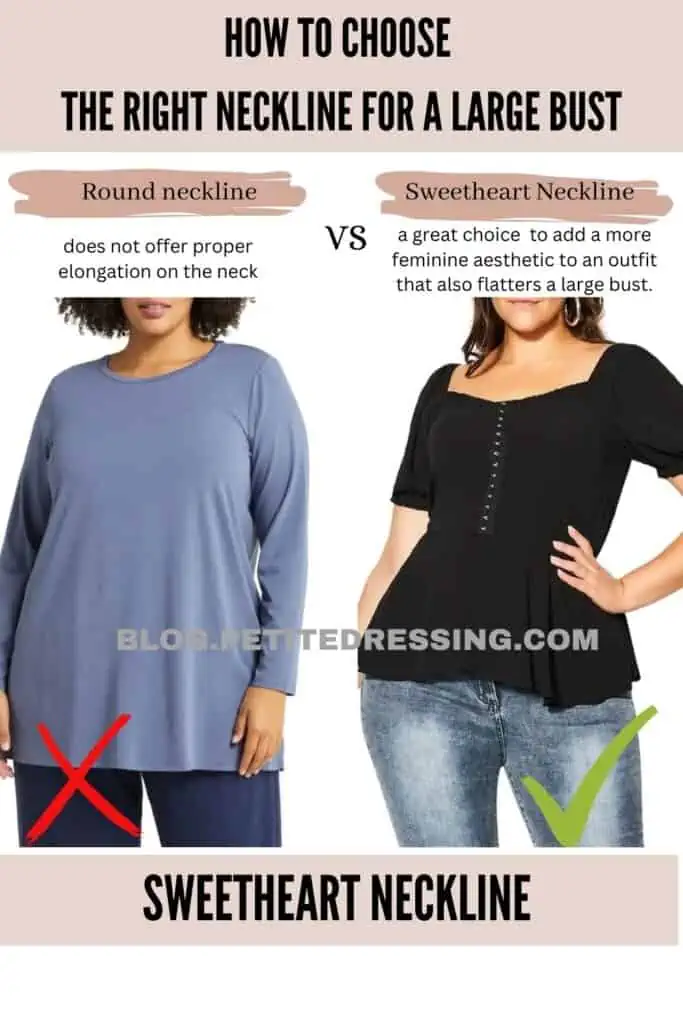 Off the Shoulder Neckline
Off-the-shoulder is one of the most flattering necklines ever invented, and it looks good on almost anyone.
For women with bigger chests, off-the-shoulder dresses or tops create a visual balance for your upper body, as it give so much space around your neck and your chest.
This can create a perfect balance for your full bust.
The only exception is for women who already have broad shoulders, you may want to err on the side or caution as they indeed can make broad shoulders even "broader".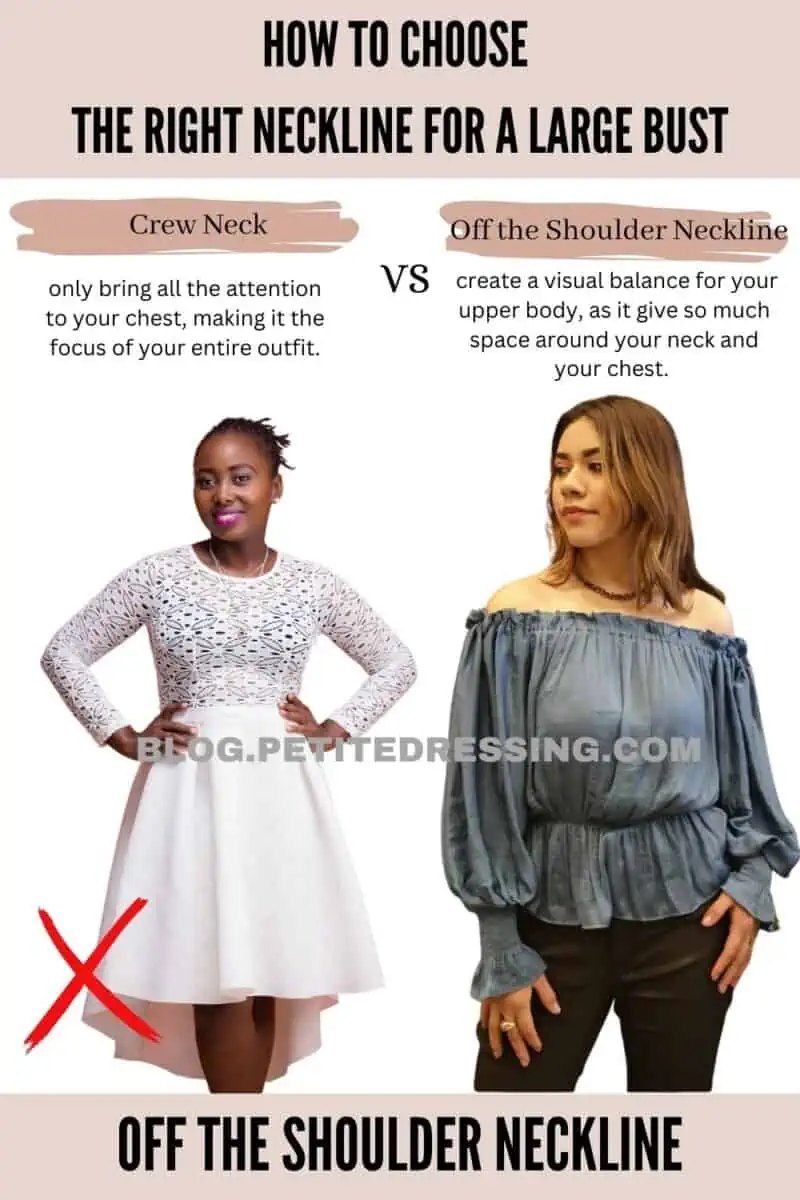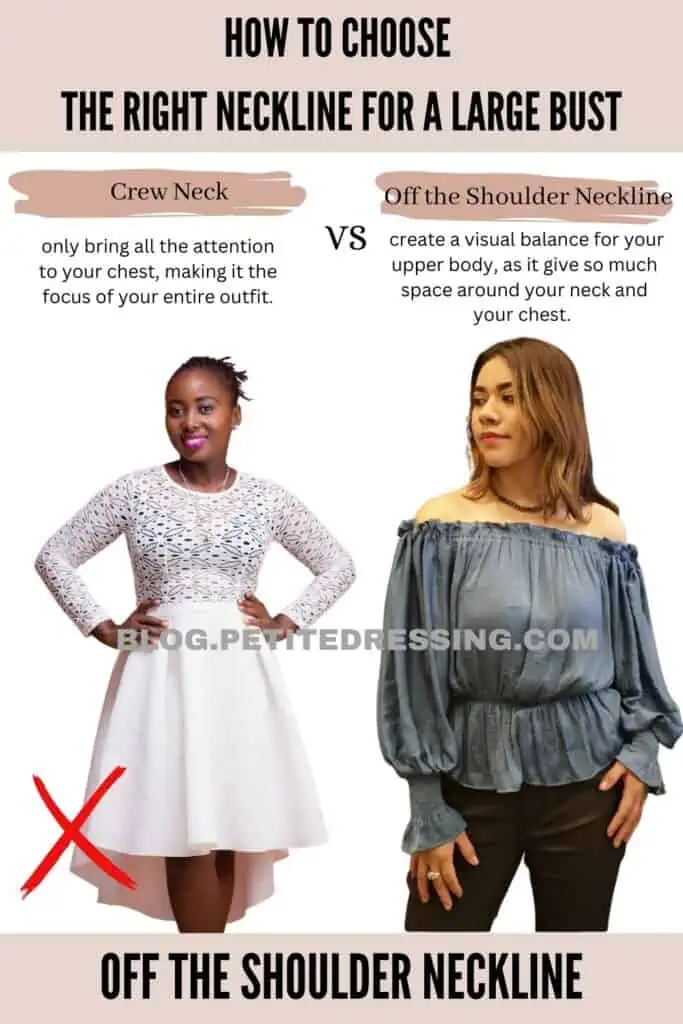 Caution with Turtle Neck
A mistake many women with large busts make with necklines is often opting for high neck choices, such as a turtle neck, that cover the chest area of the body.
You might be thinking a turtle neck is a good option since it shows no cleavage, but the truth is, breaking up that space around the chest is a much more flattering route to go when choosing necklines.
What happens with closed off necklines like the turtle neck, is they cut off the body and make the chest look larger.
Instead, when you wear an open neckline that sits lower, they actually balance out your big chest much better than the turtle neck.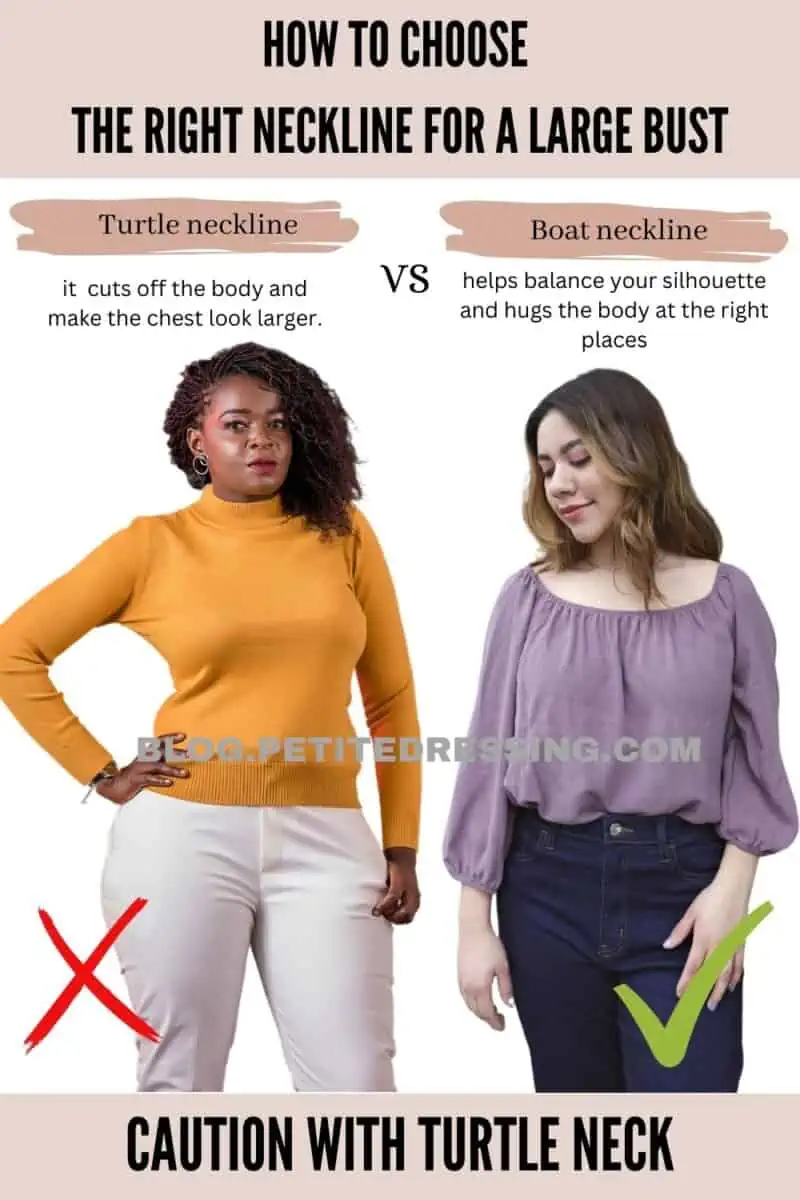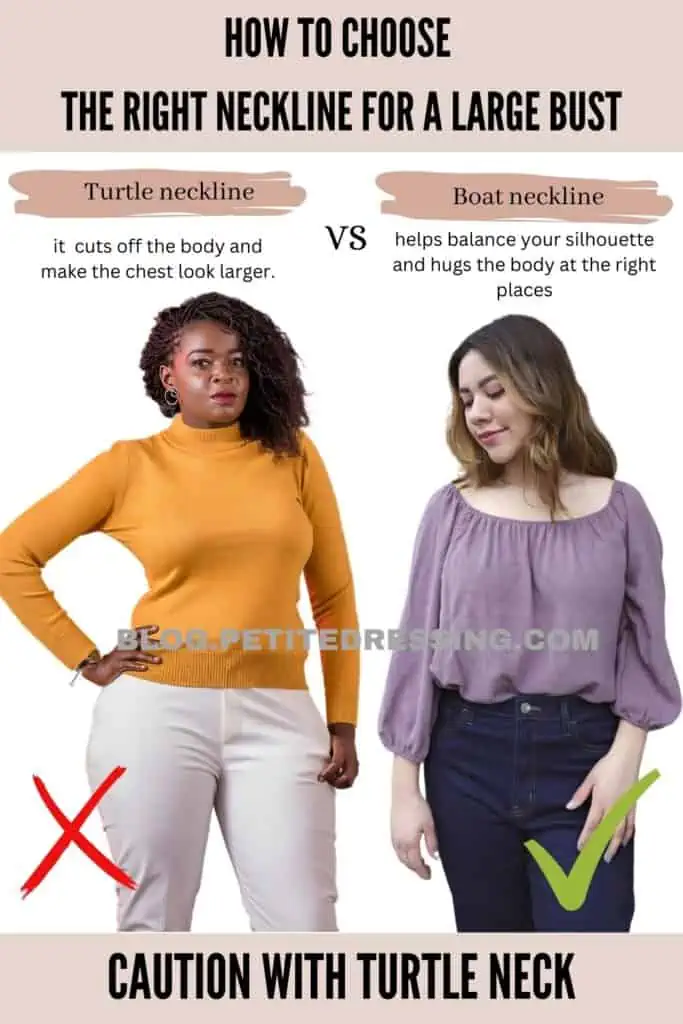 Caution with Crew Neck
Crewneck is quite popular, especially when it comes to t-shirts or colder weather sweaters. However, if you have a big bust, then you want to use caution with them.
Whenever you wear crew neckline, they only bring all the attention to your chest, making it the focus of your entire outfit.
If that is not your goal, then be careful when you wear crew necklines.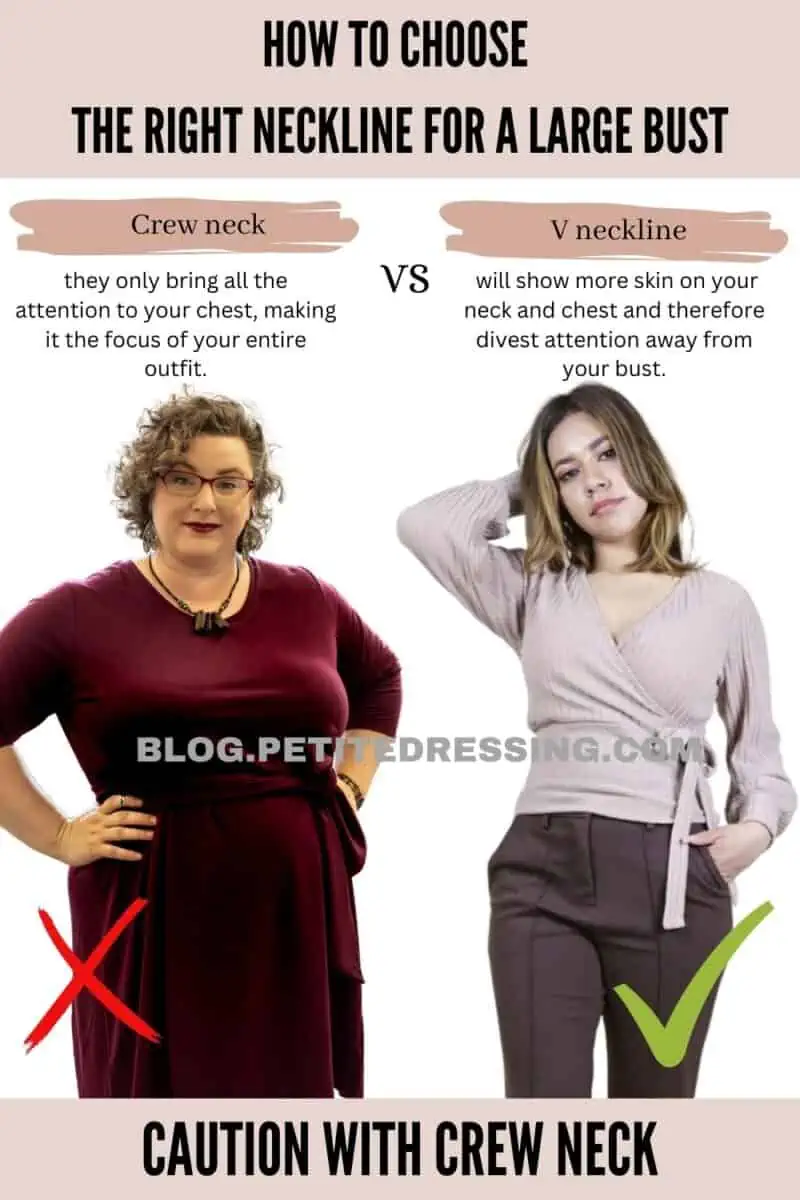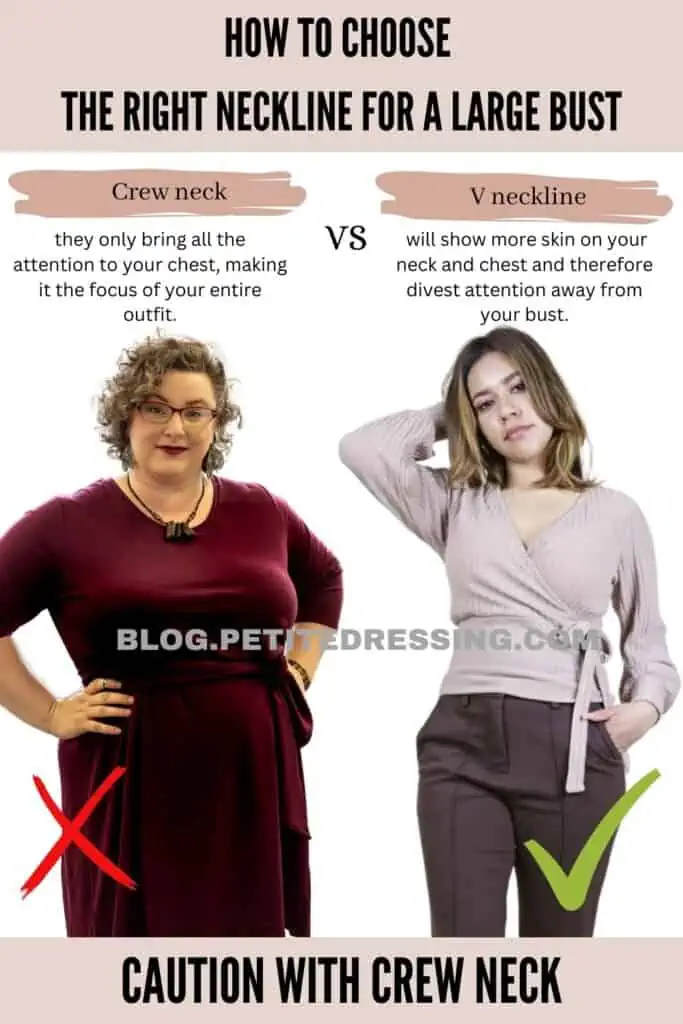 Instead, opt for a wider round neck, or narrow V neck, for your T-shirts or casual sweaters, as these will show more skin on your neck and chest and therefore divest attention away from your bust.