One of the most classic dress silhouettes around in fashion is the A-line dress. Even if you haven't realized it, you may have worn an A-line silhouette a time or two throughout your life, because it's such a popular style. It isn't just popular because of trends, however.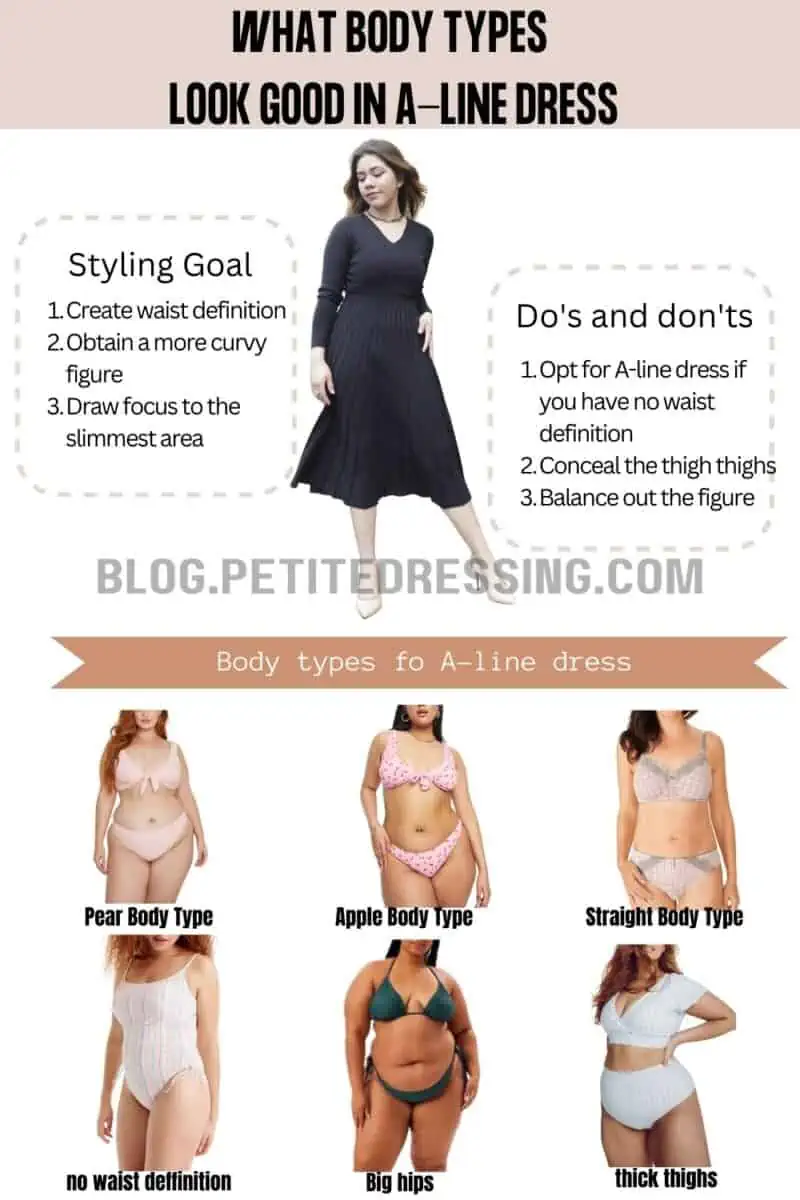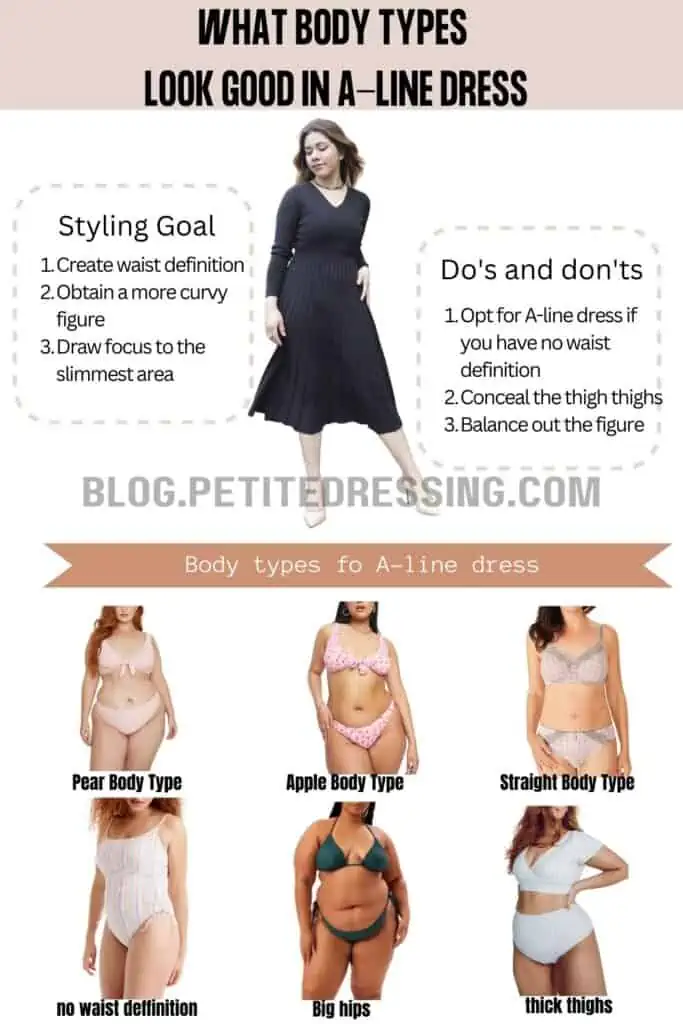 The a-line silhouette is popular because it's also one of the most flattering shapes on many different women's body types. While many style experts suggest the a-line shape is one of the most universally flattering like anything, there are some body types that benefit even more from the shape than others.
This is a breakdown of the body types that look best in a-line dresses so you can find out if your shape is one of them.
Keep in mind, a-line dresses refers to the silhouette (or shape, rather) of the dress. This means an a-line dress can be found, and worn, in various lengths and styles. More often than not, the shape itself plays the biggest role in how flattering (or not) a dress is on the body and how it will enhance your shape.
Pear Body Type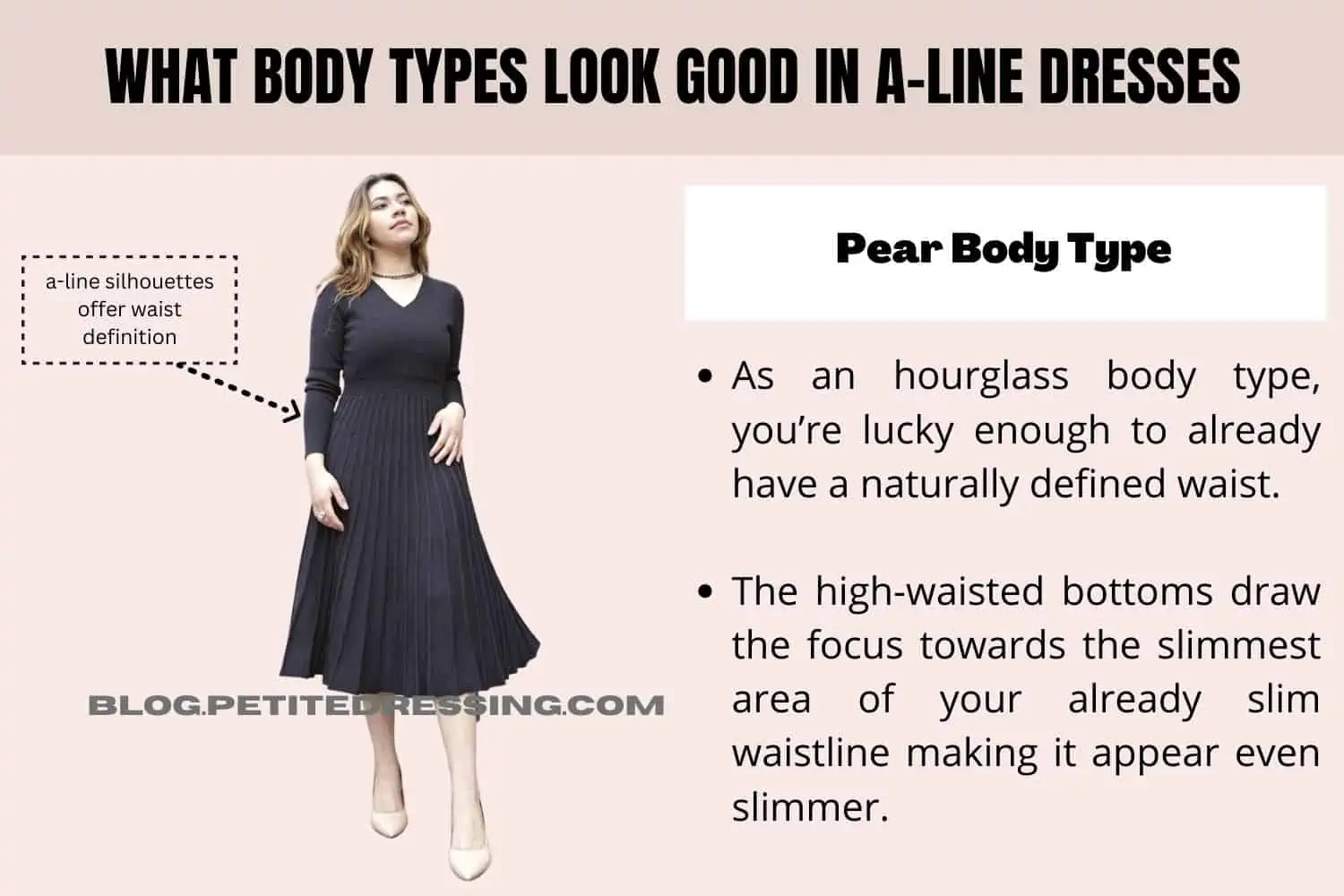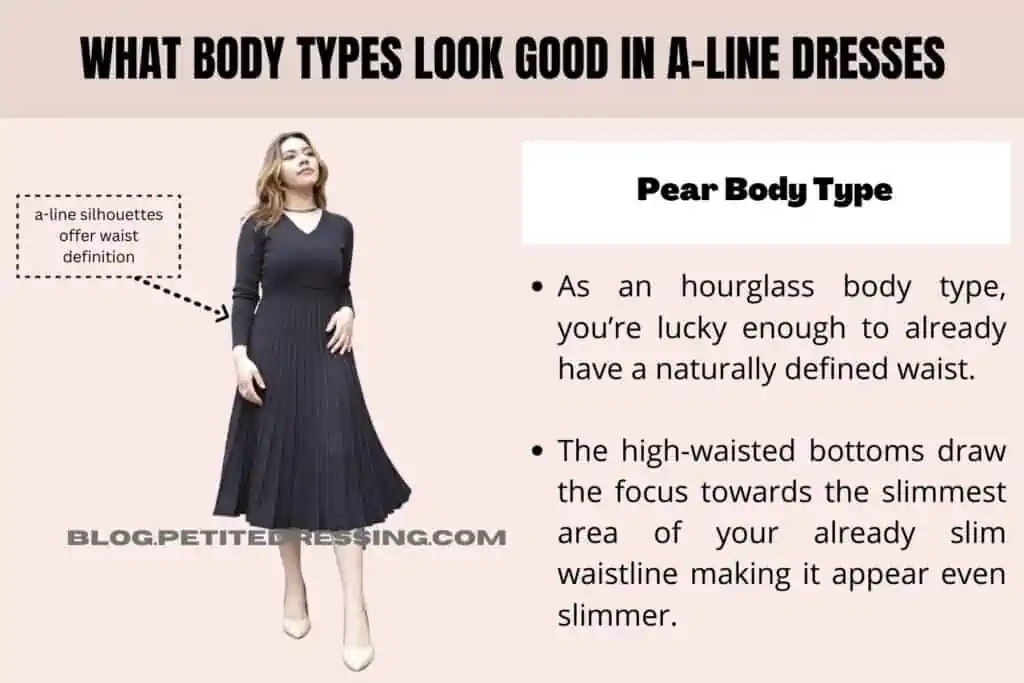 Kicking off the list with the pear shape. If you don't know already, a pear shape is quickly identified by the hip measurement being the curviest compared the waist and bust.
The subtle flare around the hip area of the body is incredibly flattering for the pear shape.
Because a-line silhouettes offer waist definition, this is also an attribute that works well to the assets of a pear shape. Generally, a pear shape has a narrower waist compared to the hips which is something to highlight!
The nice thing about an a-line shape for your body type is also the fact that it's just a slightly flared shape around the curviest part of the body which helps to flatter but not hide that area of the body. A common mistake many pear shapes make is feeling the need to wear silhouettes that are overly flowy around the bottom half which just adds bulk to the body.
The a-line silhouette shows where your shape is at while providing some structure that helps to lengthen and slim the body entirely. Two major bonuses!
As a pear shape, you'll want to favor a-line dresses that are more minimal in their design on the bottom half of the dress. This is going to further help balance the curvy area of your body and draw more attention towards the top half.
That also means, you'll want to look out for dresses that have some interested details on the top. This can be anything from a bold color, interesting neckline, fun print, or anything else you're drawn to.
Apple Body Type
If you're an apple body type, A-line dresses are a major style win for your wardrobe.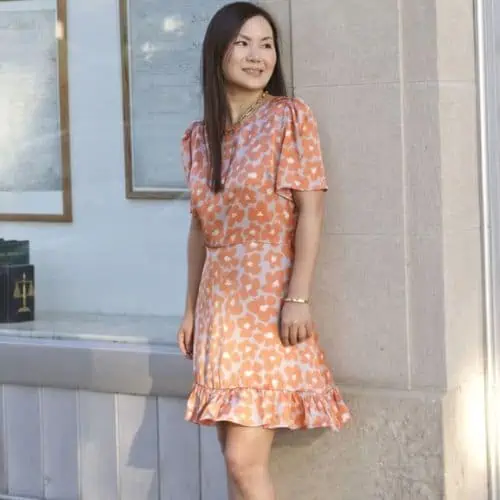 Why do A-line dresses look good in apple shape?
This is because an apple shape doesn't naturally have a defined waist. Fortunately, clothing allows you to give the illusion of a waist.
One of the main keys to dressing an apple shape, according to style experts, is to create waist definition.
Because of this major style hack to flatter an apple shape, the a-line silhouette is the perfect choice. The shape of an a-line as is highlights the waist area of the body that helps to either to define or create a slimmer looking waistline.
A-line dresses also flatter apple body types because they help to distribute the attention throughout the body evenly. With an apple shape it's likely your waist/tummy area is where you carry weight, by opting for clothing that draws attention to other parts of the body it helps create a slimming effect.
The subtle flare and form fitting torso are the attributes that help to give this balanced effect on the body. Those things paired with waist definition give curves in all the right places.
That being said, keep you're a-line dresses fitted so that your body isn't lost in too much material – which is a common mistake apple shapes make with dresses.
Whatever a-line dresses you choose just ensure that they offer similar detailing on the top and bottom of the dress. This is what's going to continue helping to distribute the attention evenly, helping your shape to look balanced.
Rectangle, or Straight Body Type
One of the main things you have likely noticed if you have a rectangular body shape is the, well…straightness within your body's shape overall. While that can be frustrating for some women, it's quite easy to give the illusion of curves to your body with clothing.
A-line dresses are one of the best silhouettes to achieve the appearance of curves to a rectangle body type. Between the waist definition and the soft flared shape at the bottom, it's just enough to give your body more of a curvy look.
Because your body doesn't have curves naturally, you can opt for a-line dresses that are a bit more dramatic in their detail and design because they will just further help flatter your figure. For example, enjoy a-line dresses with interesting necklines, ruffles at the bottom, or some bold prints.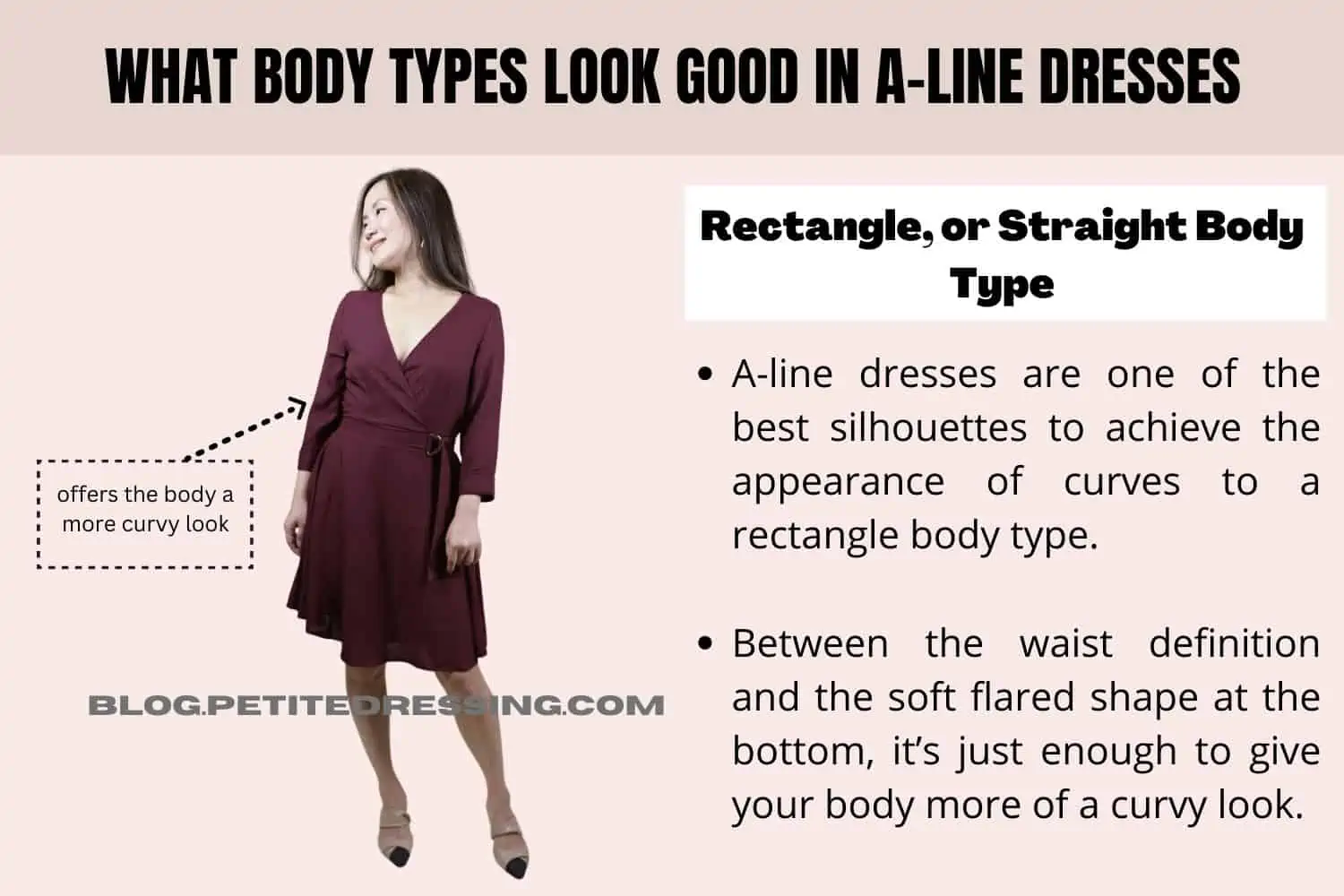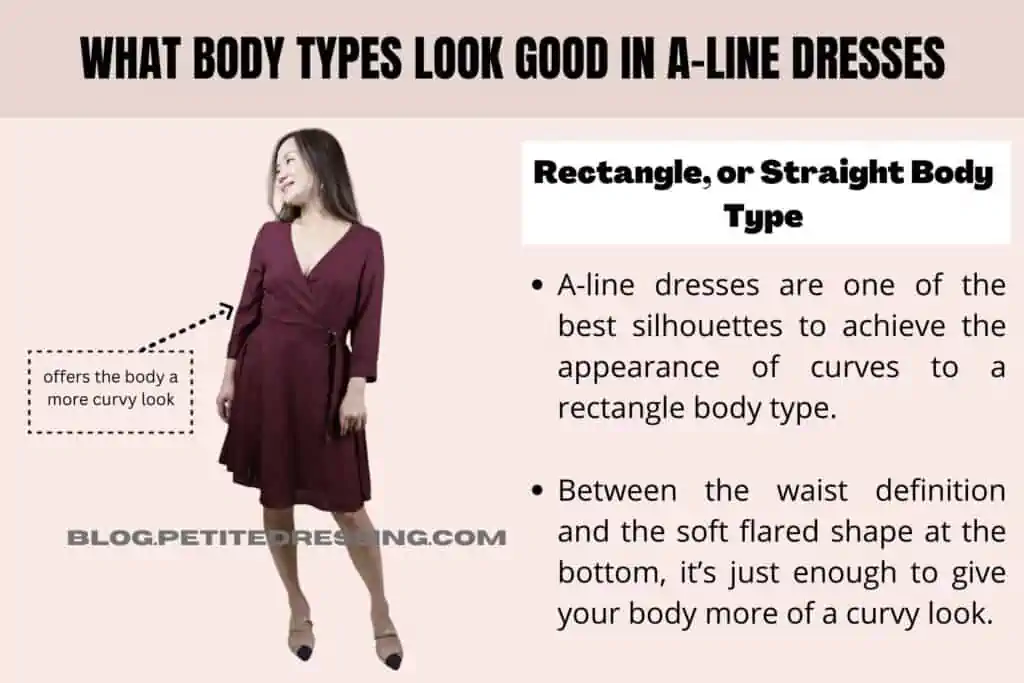 With a straight body type, it's generally suggested to opt for a-line dresses that have a similar aesthetic from top to bottom. Similar to an apple shape, because it helps to ensure the body looks proportioned.
Regardless of body type, it's always wise to choose a-line dresses that are flattering in length for your height and shape. Length is something most women, unless you're petite, don't pay that much attention to but it can impact your look quite tremendously.
A good rule of thumb is to choose a length that hits the thinnest part of the leg – whatever part of the leg it lays. For example, if you're going for a midi-length dress make sure the length rests at the thinnest part of your calf. This helps prevent a shortening effect on the body – which is something that happens quite often.
If you have no waist
For women who lacks natural waist definition, A line dresses are great options because the dress silhouette can create the illusion that you have a waist.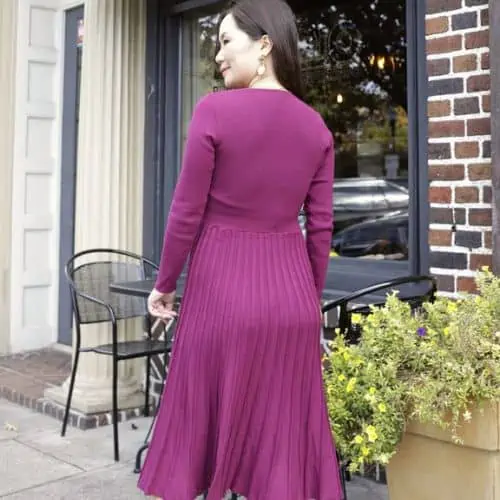 Why should you opt for A-line dresses?
Because the dress fits your top and then flares out under your waistline,
The contrast in volume is going to trick the eye into believing you have a more slender waist than you actually do!
If you have big hips
If you have a bigger bum, A-line dresses are heaven-sent for you, as it can strategically distract the eye from noticing your wide hips. (That is, if your goal is to camouflage instead of showing off your curvy hips.)
Not only it is going to balance out your overall curves, but also this is also one of the most comfortable dress styles for you.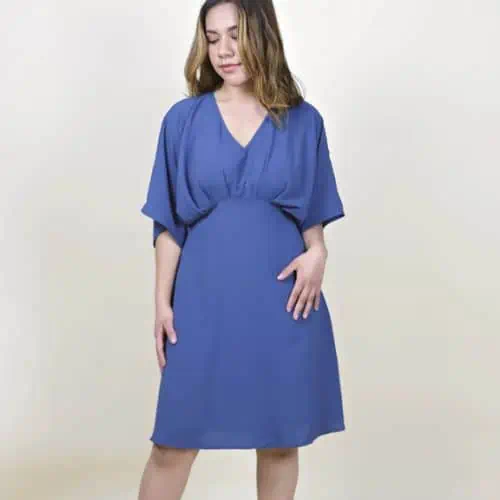 A-line dresses are the best when you have big hips, here's why
Because A-line dresses flare out in the bottom half, it does not cling to your hips like body con dresses, this is a much more accommodating dress design for women with bigger hips.
If you have thick thighs
A-line dresses can be very flattering for women with thicker thighs because it has so much more space in the thigh area compared with any other types of dresses.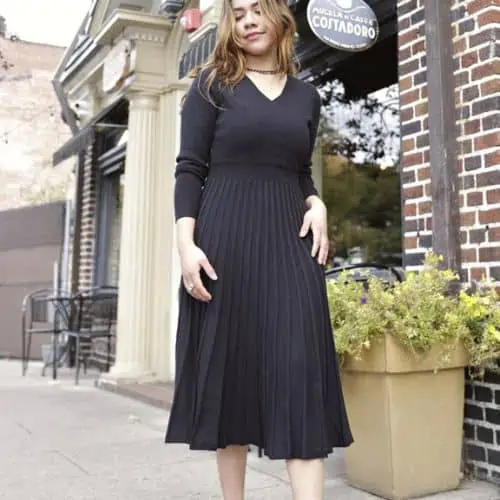 Why opt for an A-line dress when you have thick thighs
If your goal is to make your thighs look less noticeable, A-line dresses can easily serve that purpose, since it does not cling to your thighs.
Bottom heavy
If you have a bottom-heavy body type, A-line dresses are one of the best styles for your shape.
Since the skirt part of the dress skims your bottom half instead of clinging to it, this is going to make your overall silhouette look much more balanced.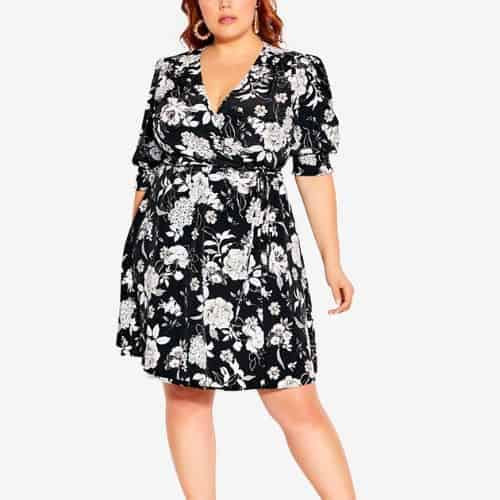 Dress fabrics to consider
You can go with any kind of A-line dress, but those with more structured fabrics look the best on you as they can hold their shape on their own.