High waisted jeans and pants have been a hot trend for many years. They look effortlessly chic, and provides extra comfort. If you happen to have mid section concerns, high waist design is one of the best ways to hide a bigger belly .
Typically, high waisted jeans or pants are the preferred style of women with long torso and short legs. If you happen to have a short torso and want to wear high waisted pants, here's the best ways for you to wear them and look flattering.
Wear Straight Leg Silhouettes
One of the best tricks to wearing high waisted pants when you have a short torso is to play around with the silhouette of the pants you wear. The most flattering is going to be a straight leg silhouette. Pant legs that are skinny fit will draw too much attention to the long leg appearance, and make the torso look even shorter. The same goes for a wide leg pant. This is why straight leg, which meets in the middle, is ideal. It gives your shape this really great lengthening effect, while still giving a short torso some balance.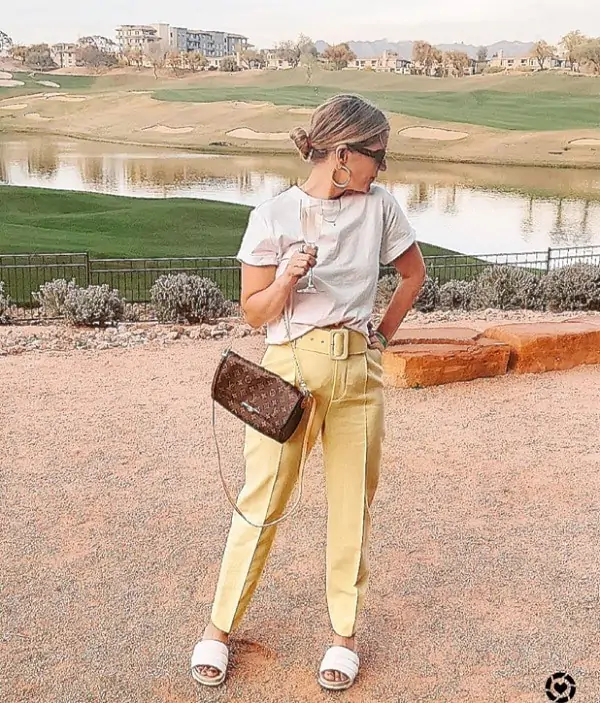 Natalie's straight leg, high rise pants elongate her leg enough to allow her to wear flats with ease.
Choose Tops with Volume
Because high waisted pants bring so much focus to the bottom half of the body, it's essential to create balance – especially with a short torso. An easy way to achieve that balance is by styling a top that offers some added volume to the outfit. This doesn't have to be extreme or exaggerated in volume, even something that's just a little flowy will do the trick.
Voluminous tops bring attention back to the torso area, to flatter a short torso. Just be sure to tuck in the shirt! This helps create the illusion of an hourglass figure while getting the look of super long, lean legs from high waisted pants. Achieve this effect with tops that have any other types of details to them, like ruffles, patterns, etc.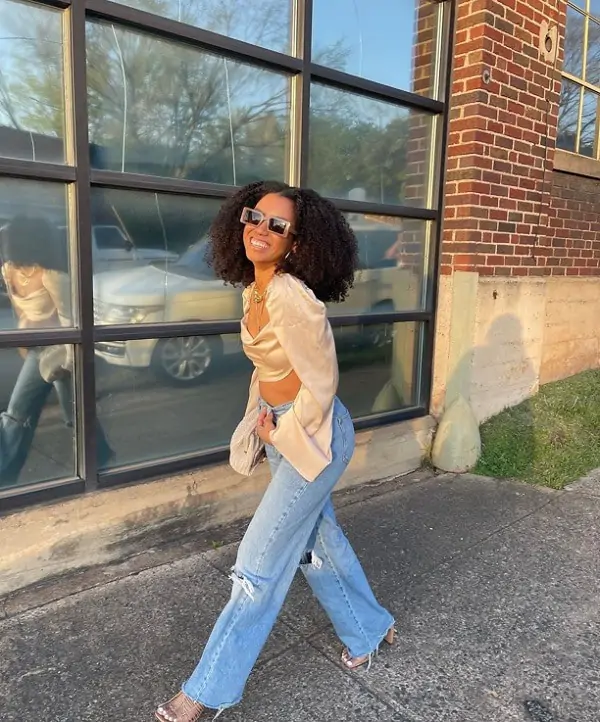 Cam styled her high rise pants with this adorable voluminous top to add just the right amount of balance to her look.
V-Necklines are an Easy Choice
When you have a short torso and want to wear the high rise pants, it is important to balance it out with the right neckline. This may sound surprising to you, as neckline doesn't seem to have much to do with pants rise. It is quite common that necklines is one of the things many of us tend to overlook. However, they play a big role in how we look.
Giving your torso the illusion of being longer than it is comes easy with open necklines, especially v-necklines. Because of the very defined lines that create the 'v' shape, it draws the eye down while creating that open space around the chest. All of this is why v-necklines are a great option to style with high rise pants. They bring just enough attention to the top half of the body to add balance to the bottom half of high rise pants. Of course, don't forget to tuck in the shirt!
Wear high neckline
The 'v-neckline' isn't the only option, though! Another really flattering style choice is a high neckline, which may seem strange but sometimes opposites can both work. High necklines work well for short torsos when wearing high waisted pants because it brings the line of the torso up higher on the body, which then makes the middle of the body look much longer than it actually is. High necklines are anything that rest, well…higher on the neck. Think necklines like turtlenecks, crew necks, and boatnecks – just to give you a few examples.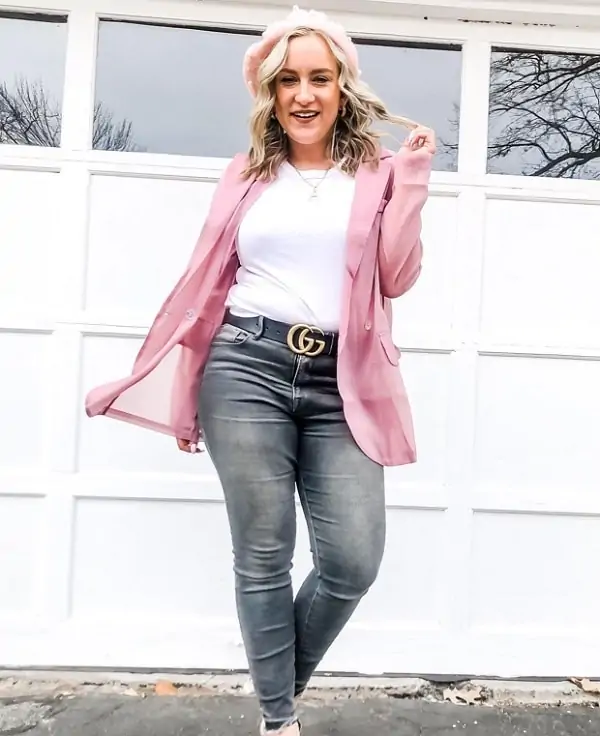 Don't Go TOO High
High rise pants come in a variety of styles, shapes, etc. and some are more flattering than others. When you have a short torso, it's best to avoid any pants that are TOO high in their rise. Yes, you can wear high rise pants, but just be sure the highest it rests on your body is at your natural waistline an no higher. The pants shouldn't be too close to your bust, as this can make it appear like you have no torso at all.
This is especially important if you happen to be a petite woman with big bust. The reason is shorter woman with full chest tend to have limited space under the bust and above the waist. Therefore, you want to be very selective with what kind of high rise pants to wear.
It is wise to try on different styles of high rise pants, and choose what looks the best on you. Make sure there is some space between your bust and the waistline of the pants for the most flattering option that's still proportional on your body type.
Style Them Monochromatically
Dressing in a monochromatic color scheme is a styling trick used by many famous celebrity stylists, because it's so flattering. It's even more flattering on petite women, when you want to create a longer shape. With a short torso, wearing a top that is in the same color as the high rise pants is going to give a column like aesthetic to the body that lengthens the entire body and allows you to wear high waisted pants with ease.
Here, Amanda's crew neck shirt lengthens the appearance of her torso with high rise pants.
Wear Vertical Line Tops
Give your torso length with vertical stripes! Horizontal stripes have been known to make the body appear wider, but vertical stripes have the incredible benefit of make the body appear slimmer and longer. This means, when wearing high waisted pants adding a vertically striped top will balance out the shape so your short torso doesn't look even shorter (which can be a common struggle).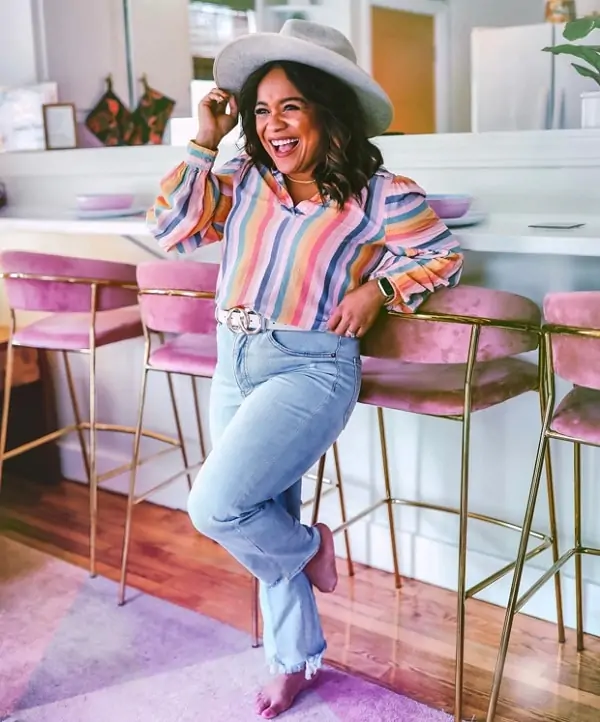 Jordyn's top is the perfect pairing for high rise pants to give her a longer looking torso.
Untuck It
Doing something as simple as leaving your top untucked in high waisted pants is going to lengthen a short torso. This is a great hack to utilize anytime you feel like the high waisted pants are just too much, and creating more of a shortening effect to the torso. Because you have a short torso you can get away with longer tops and still look really great so have fun with this. Tunics, long sweaters, you name it. Just be sure the longer tops aren't overwhelming your body and adding bulk – look for options that still have some shape to them instead.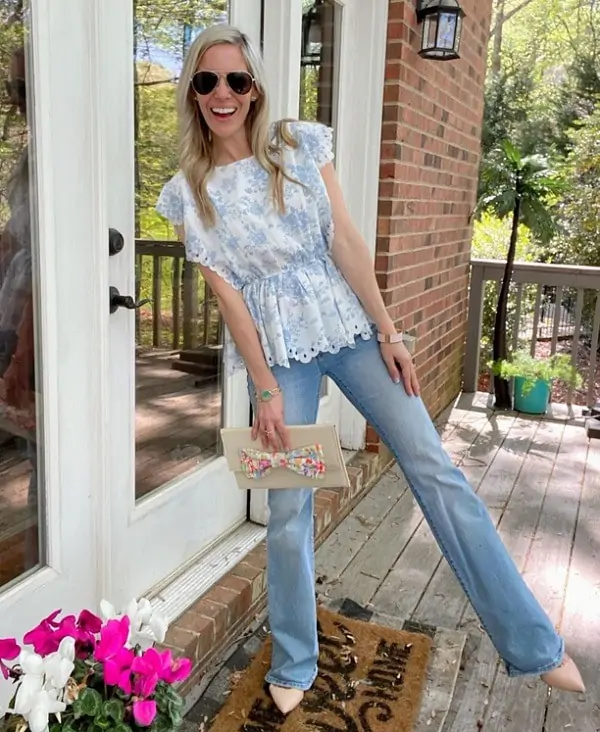 Ashley's long peplum top balances her body type and makes her torso look longer and leaner.
Add a Longer Layer
Add a little trick length to an outfit with a longer layer worn over the top and pants. This can be anything from a long cardigan to a longer style blazer, whatever you need to complete the look. What the long layer does is it tricks the eye into the torso being much longer than it is, while still allowing the short torso women of the world to have fun in high waisted pants. This is best worn with the shirt tucked in underneath – notice a theme here. The tucked in shirt will ensure that your waist is still highlighted and your shape isn't lost in a longer layer worn over.
Pop on a Long Scarf
Accessories are a great tool to utilize when styling looks, they play a much larger roll in flattering your body shape than you may realize. One accessory that can really enhance a short torso, when wearing high waisted pants, is a long thin scarf. Truly! Because of the added length of a scarf, when worn wrapped around the neck and left to hang in front of the body it brings the eye in and down to give the torso this longer illusion. To really reap the benefits of this accessory, opt for a long scarf that's on the thinner side (nothing too bulky) and lightweight so it flows effortlessly with your body. Silk scarves are wonderful for this.