If you are wondering how to get longer legs, I'm about to tell you the easiest way to achieve that!
Getting longer legs might have been what you always wanted, but we all know after certain age our body stops growing. Although there's plenty of exercises that claim to make your legs longer, I personally have never tried those and don't know how effective they are. Plus, it takes time and the results can vary by individuals.
The fastest, and most painless way, to get longer legs? Achieve that through what you wear! I am about to share with you some of the best styling tips to elongate your legs, and they will make a difference right away!
Before I start with the tips, I want you to realize that how long your legs look is a relative thing. No one is ever going to measure your legs! So, the only person who would actually know the length of your legs is probably just yourself and perhaps your tailor.
What then determine how long your legs look?
It is the proportion of your body. Generally, the shorter your torso appears, the longer your legs will look. Improving proportion is the foundation of the styling tips I am about to share with you.
I have summarized the tips in this video. I suggest you watch this video and then also read the full article for all the tips. Once you follow these tips, you proportion will look better which will naturally make your legs appear longer.
Now let's dive right in.
To get longer legs, wear high waisted style
High waisted style is a heaven sent for girls who want their legs to look longer. Since I am 5'2" and I have longer rise and shorter legs, I have all things high waisted in my wardrobe.
Because high waist design reaches higher than your natural waist, they make your torso appear shorter and your legs look longer.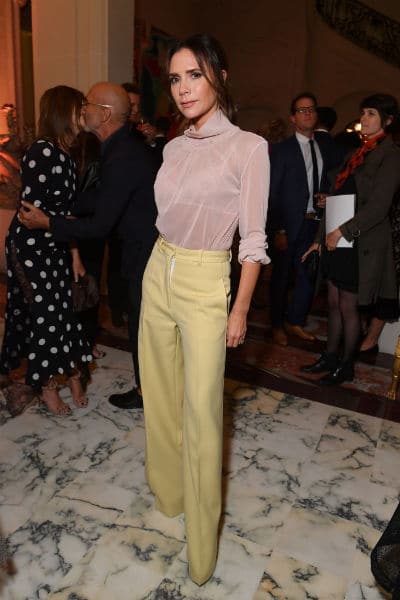 Additionally, if you have a heavier mid section, high waisted pants and jeans can help smooth it out for you nicely.
Whether it's high waisted pants, jeans or skirts, they all serve the same purpose of elongating your legs. So, make high waisted bottoms the staple of your closet!
Wear nude shoes
If you should only own one pair of shoes, that would have to be a pair of nude heels! These are the most flattering shoes ever, for girls looking to make their legs look longer. I think the reason is quite obvious- they blend with the color of your skin, so they make your shoes look like the extension of your legs!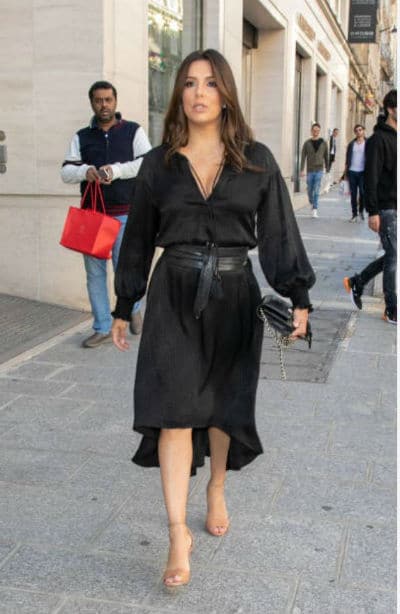 The celebs have all figured this out, and that's why you see them on every one, especially petite celebs like Eva Longoria (5'2"), Kim Kardashian (5'3") etc.
Wear same color shoes as your pants
When you match the color of shoes with color of your pants, you creat an unbroken vertical line in your bottom half. That immediately make your legs appear longer!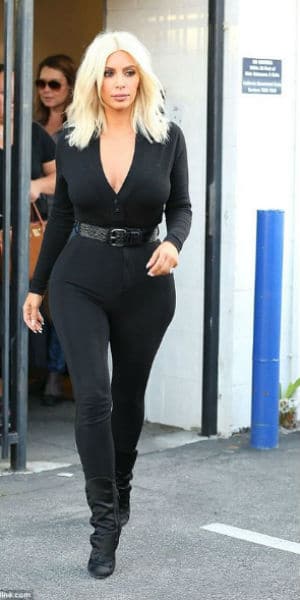 This is especially true in the winter, when you wear black leggings or jeans with black high hero boots. That is the most flattering outfit for women looking to elongate their legs.
Wear a crop jacket
Ok, I mentioned earlier there's two ways to change your proportion, and this tip is to focus on making your torso appear shorter which also achieves the purpose of making your legs appear longer.
A crop jacket is the best top to visually improve your proportion. Your crop jacket should reach above your hip bone, creating the illusion of shorter torso and longer legs for petites.
Additionally, crop jacket divides your body into the ratio of 1/3 on top and 2/3 at bottom, and that is most aesthetically pleasing ratio to the eye!
Wear vertical straps
The reason that vertical strap pants can make your legs look longer is that they draw eyes up and down. So, visually that tricks into the eyes to believe your legs are longer!
I suggest you go with full length pants and pair them with heels, so that you get the most benefit of elongating your legs.
Wear pointed toe shoes
Did you know the shape of the toe for your shoes can make a big difference?
Pointed toe is the most flattering shape of shoes that will instantly make your legs look longer! Round toe shoes are the runner up, and square toe is the least flattering in my opinion.
If you are wearing heels, go with pointed toe heels and that one inch difference in the heel shape works wonders on making your legs look longer.
Not only heels, but also pointed toe flats will make your legs look extended! So, whenever you want to take a break from heels and wondering how to make your legs look longer in flats, wear a part of pointed toe and your legs will look instantly elongated.
Wear short skirts
If you are like short skirts, the best length to make your legs look longer is around 5 inches above your knee.
I learned this technique at a boutique in Miami, when I was trying on a skirt. The shop assistant is an older lady who used to be a runway model. When I was trying on a knee length skirt, she insisted me try a shorter one several inches above my knees. The difference is huge!
By showing your knees instead of covering your knees, your legs look much longer! In general, mini skirts are a lot more flattering for girls looking to make legs longer.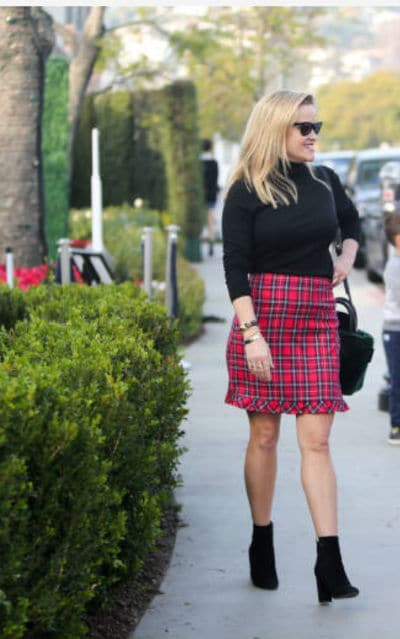 I'm not saying you should only opt for mini skirts. I realize there's many different reasons why some of us are concerned about showing that much legs. That's totally understandable. But for ladies who do feel comfortable with showing legs, skirts 5 inches above the knee are a great choice!
Wear maxi dresses
I just talked about how a shorter length can really flatter girls with shorter legs, does it sound counter intuitive why a maxi dress could also make your legs look long?
Maxi dresses work in a different way to lengthen your legs. Since the dress reaches past your ankle, it creates an unbroken vertical line. That is one of the best ways to lengthen our body and give you the illusion of longer legs.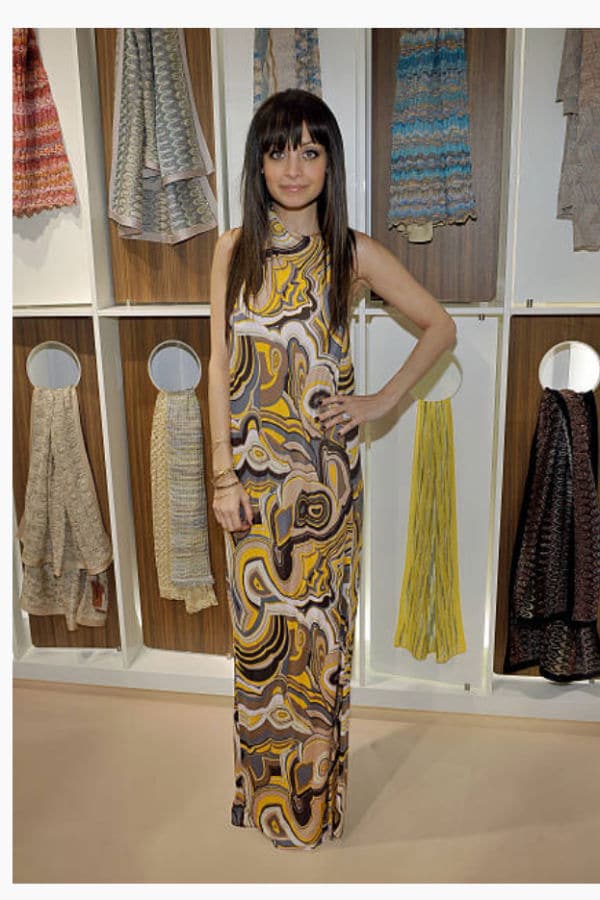 This works especially well when you wear maxi dresses which heels and let the dress cover the shoes. In that case, since no one can tell how high heels are under the dress, the eyes are tricked into believing your bottom half is all legs!
Wear ¾ sleeves
Finally, a styling secret to have longer legs very few people knew about.
When you wear ¾ sleeves, your legs look longer! It's hard to explain the science behind this, but it really works!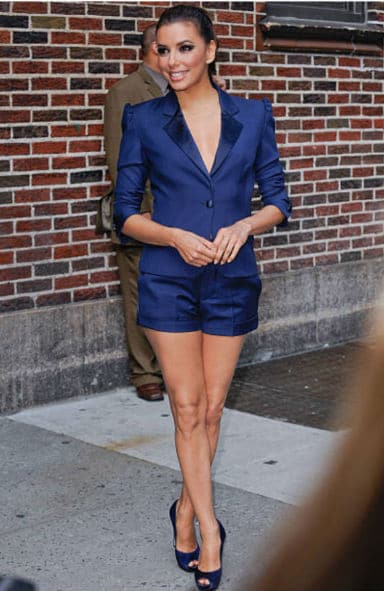 The ¾ sleeves creates space on your arms, which in turn also make your legs look elongated. I know this doesn't sound very logical, but you will see it when you put on a dress or shirt with ¾ sleeves.
These are the best tips if you want to have longer legs instantly. I hope you find this helpful! Have you tried these and how do they work on you? Did I miss out some tips you know about? Please leave a comment below and share with me and other readers!