If you are short and curvy, finding flattering outfits can be a challenge. I know this first hand, as I am 5'2″, and I have a clothing line for petite women.
This is Wendy, one of the models for my clothing line. She is 5'2″, 34D bust, with a typical hourglass figure. A lot of my knowledge for dressing a petite curvy figure comes from firsthand styling her for our bi-weekly new product fitting and photo shoot.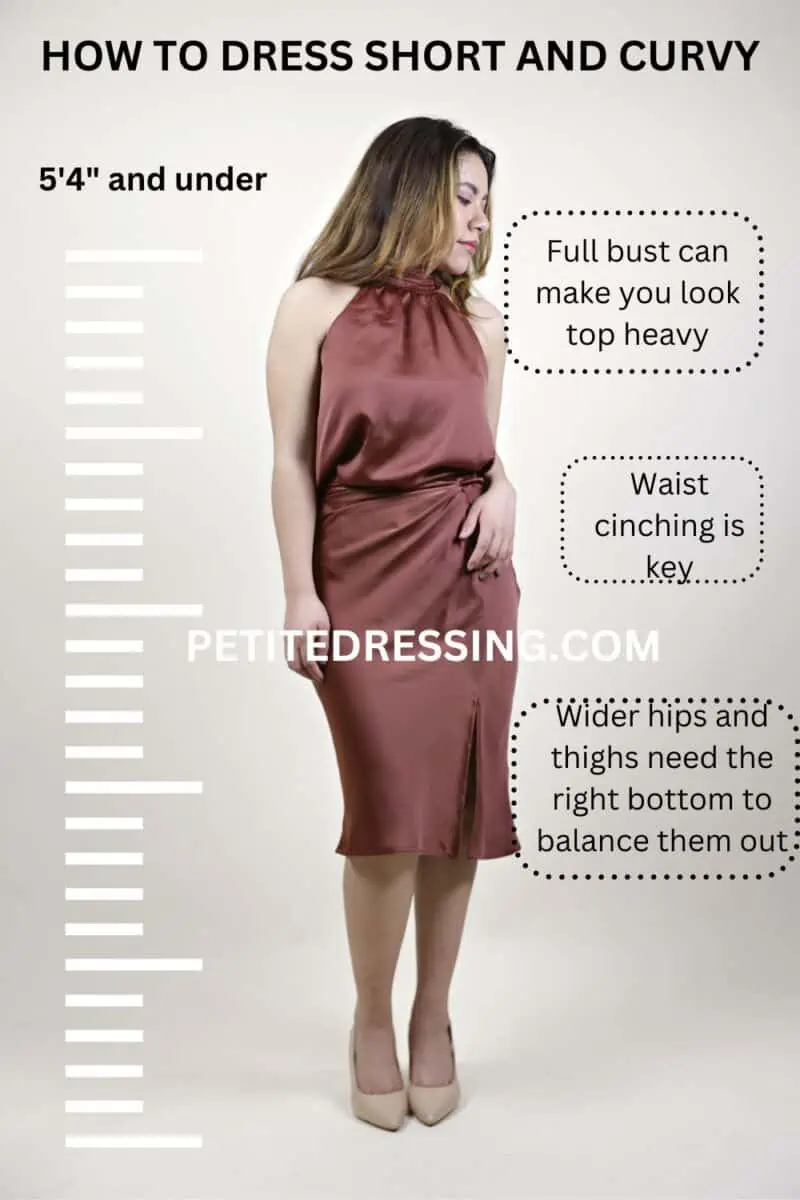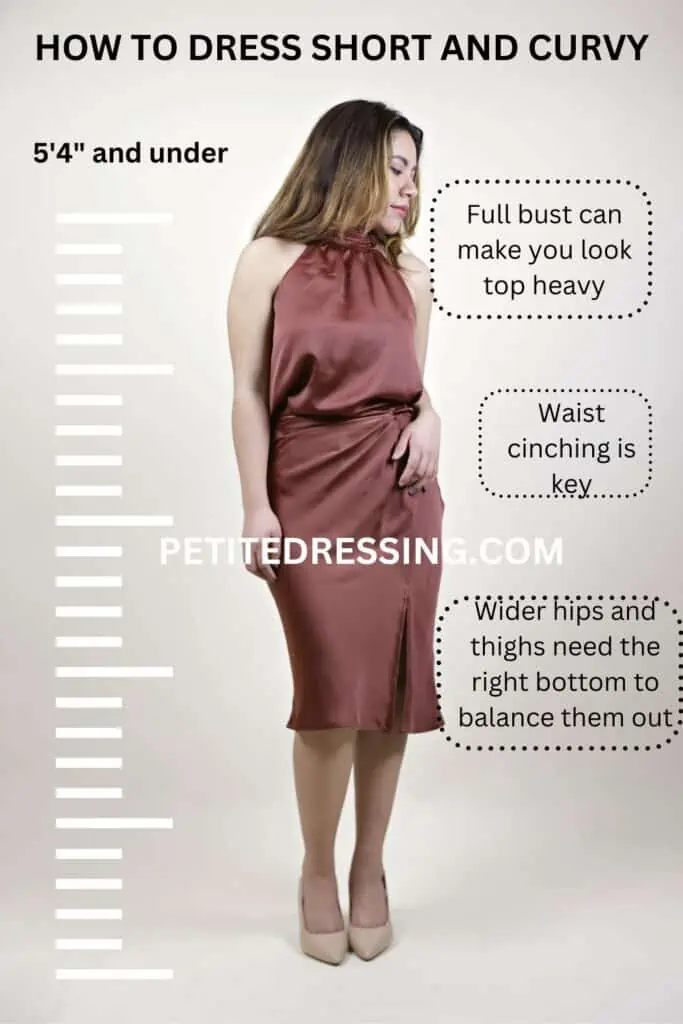 The two primary goals of styling a petite and curvy woman are to elongate your short frame and wear clothes that can make you look taller and leaner.
Your best assets are your full bust, and, if you happen to have an hourglass shape, you may also have a slender waist, compared to your hips.
The best way to dress a curvy girl is to draw attention to your face and highlight your assets (your beautiful bustline) in a tasteful way while distracting from anything you do not want the eye to focus on (heavier midsection, bigger hips, and bigger thighs.)
Wear Dresses with Defined Waistlines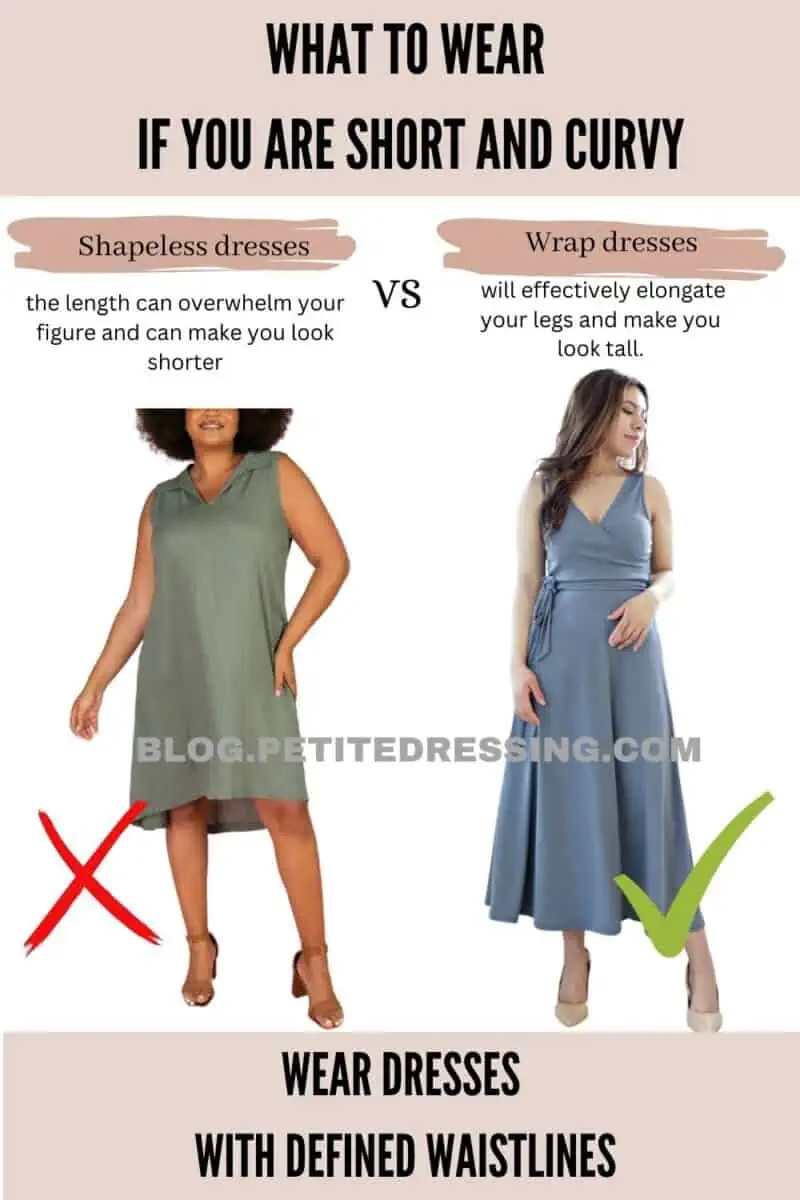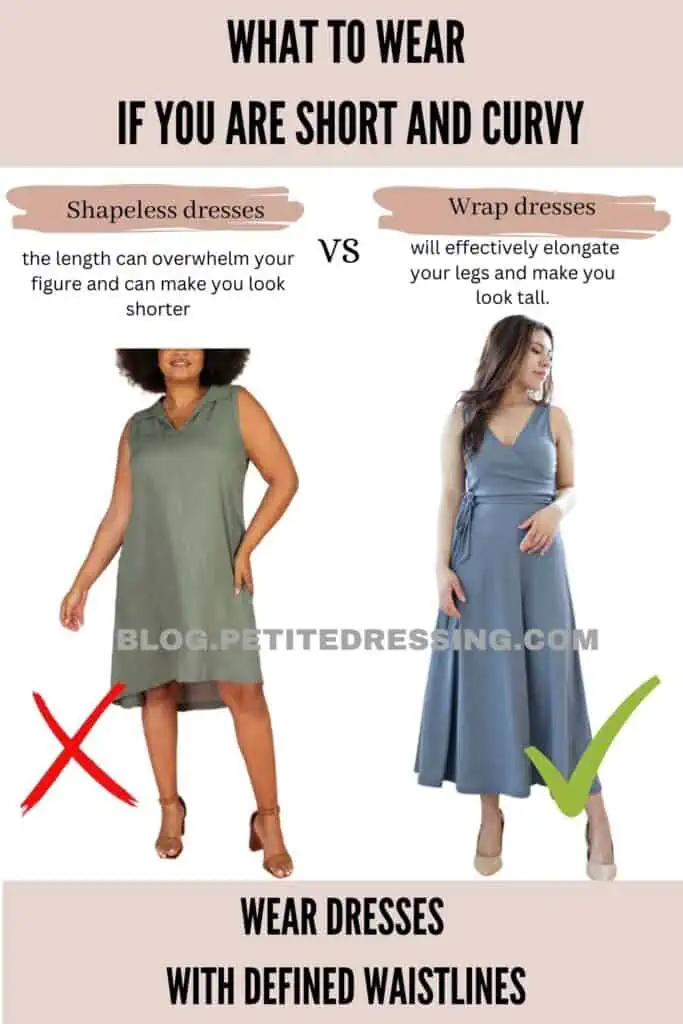 As trendy (and fun) as oversized dresses and silhouettes are right now, they aren't the best option to wear when you're short and curvy.
The reason being is those oversized shapes hide your natural curves and more often than not, that creates a shapeless figure that looks even shorter.
That's why dresses that have a defined waistline are always the best sellers in my petite dress collection!
When your waist is defined in the clothing you wear, especially a dress, it draws the eye to your natural waistline which gives this really subtle slimming and elongating effect to the body.
Anytime you're trying on dresses, try to look for options that have some detailing around the waistline to make the most of it.
Wear High Rise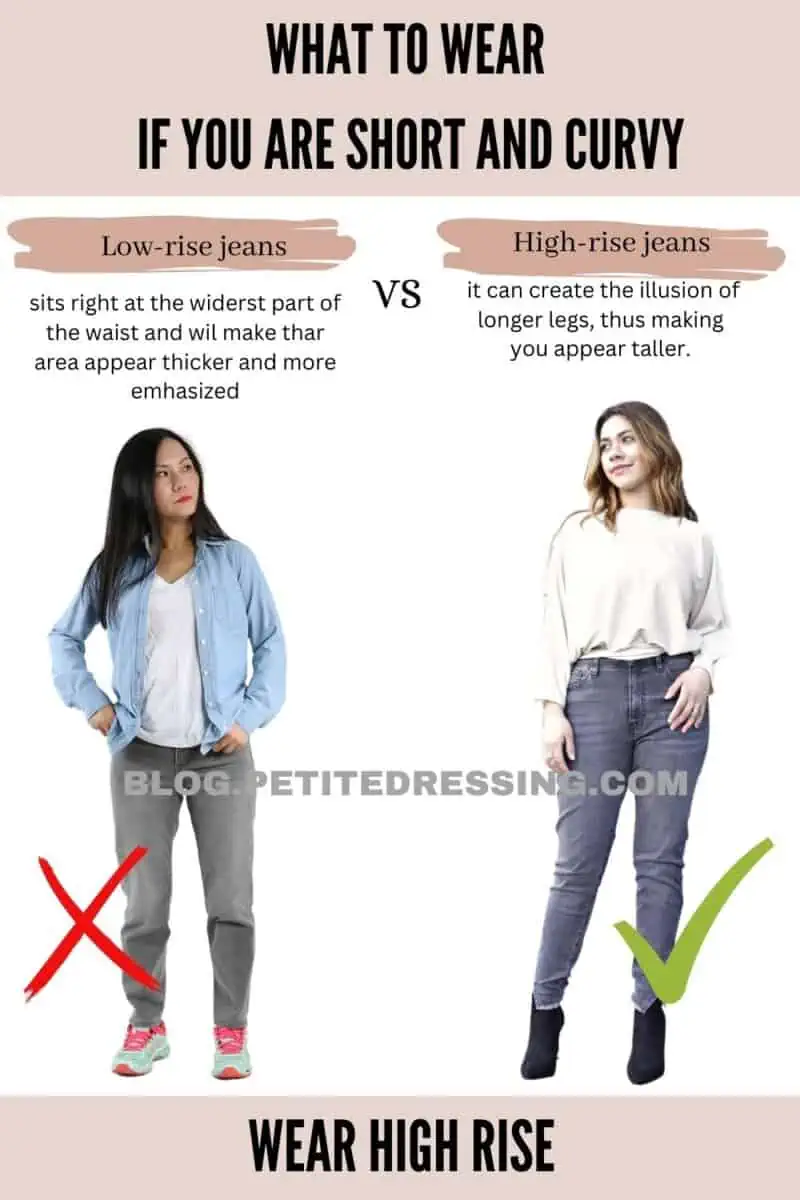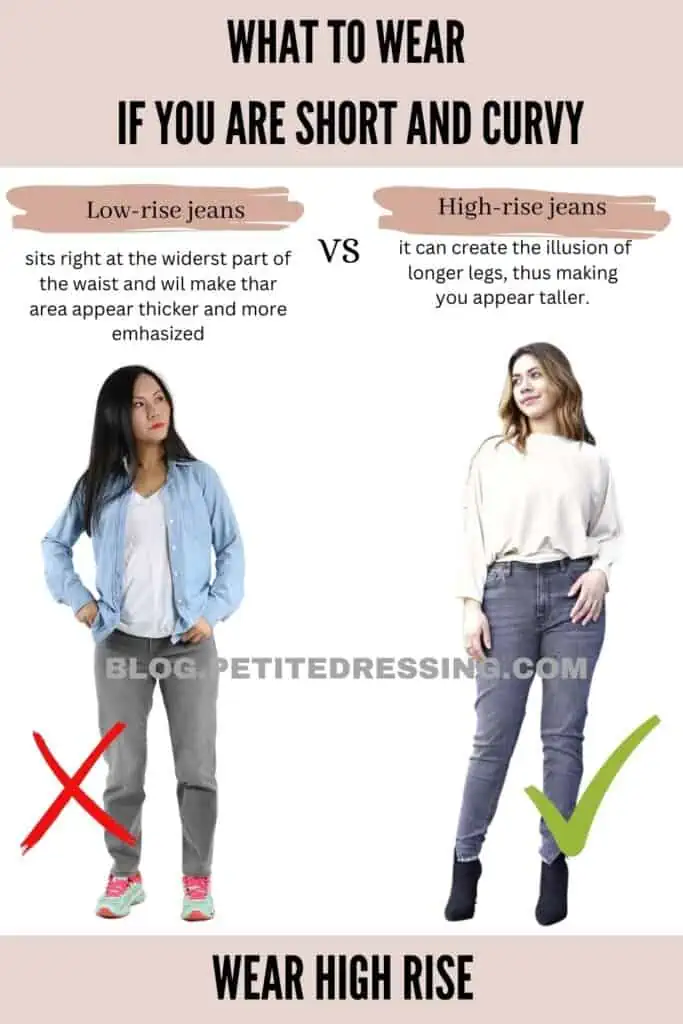 If you are a curvy petite woman, one of the most flattering styles for you is high rise. Actually, whether you are curvy or not, high rise anything is generally one of the best styles for short girls.
This includes high rise jeans, high rise pants, and high rise skirts.
There are two reasons high rise is so flattering for someone who is curvy and short.
First, since the waistline extends well above your natural waist, it can create the illusion of longer legs, thus making you appear taller.
Not only are the one of the best jeans to make you look taller, high rise pants or jeans can hold it all in at your tummy (i.e. that stubborn muffin top) and make you appear more slender.
A bulging stomach is one of the biggest concerns for most curvy women, regardless of their height.
If you happen to have a midriff concern like most curvy girls, then the high rise design is one of the best jeans for curvy figure.
Use color blocking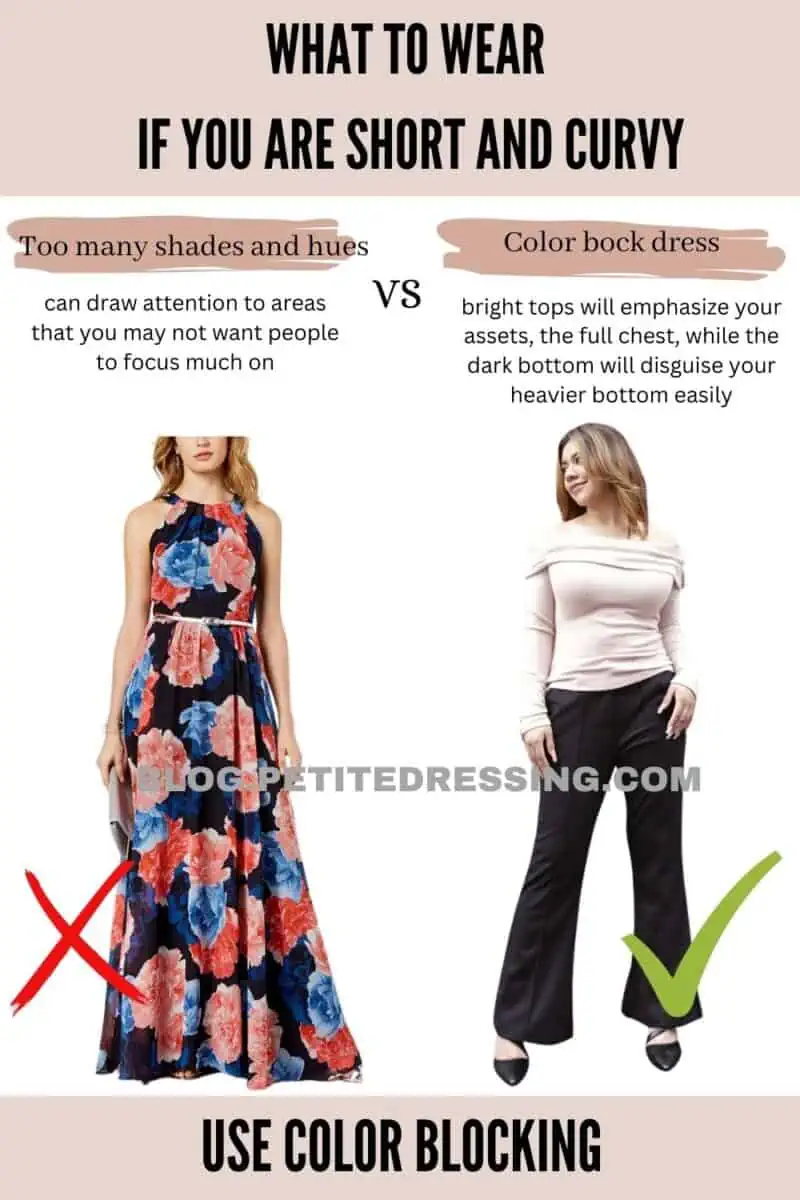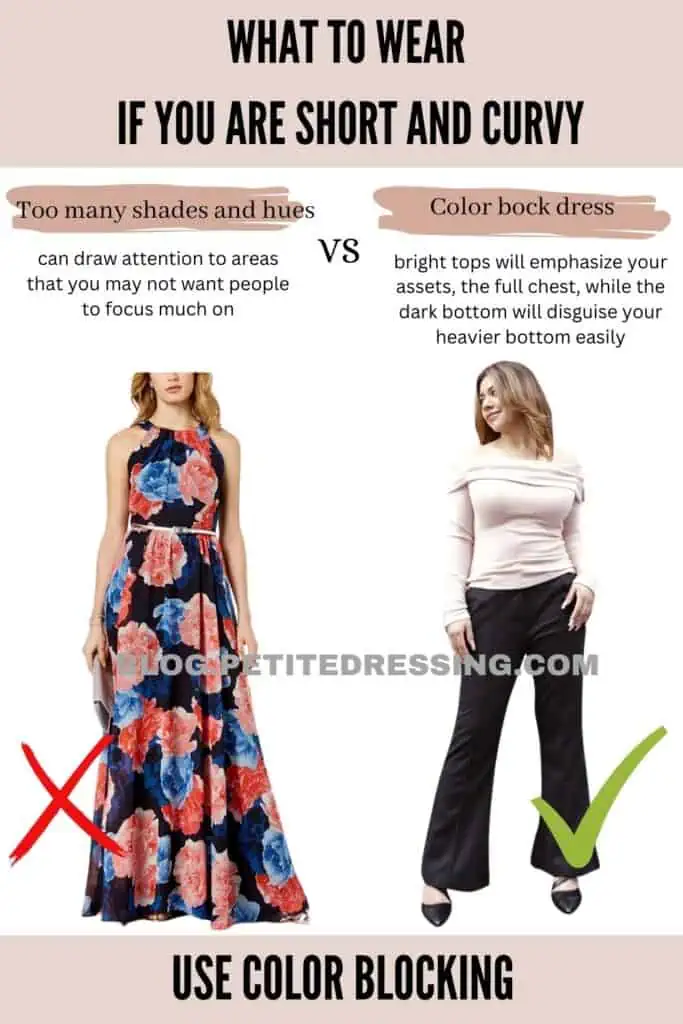 If you are petite and curvy, then one of the smartest ways for you to look taller and leaner is to wear color blocking outfits. This could be separates, or even one piece like dresses or jumpsuits.
When you wear separates, i.e. a top and bottom, opt for a dark color bottom and a bright color top, if your concern is in the bottom half. Since bright color draws attention to your face and upper body, that will emphasize your assets, the full chest, while the dark bottom will disguise your heavier bottom easily.
The same applies to dresses and jumpsuits. Choose a color-blocking design with a combination of two strongly contrasting colors, ideally with a black bottom and a light top. That will serve the purpose of disguising anything you do not want the eye to focus on, while making you look longer and leaner.
Wear Petite-Size Clothing
For anyone who is under 5'4″, your better clothing choices are petite size.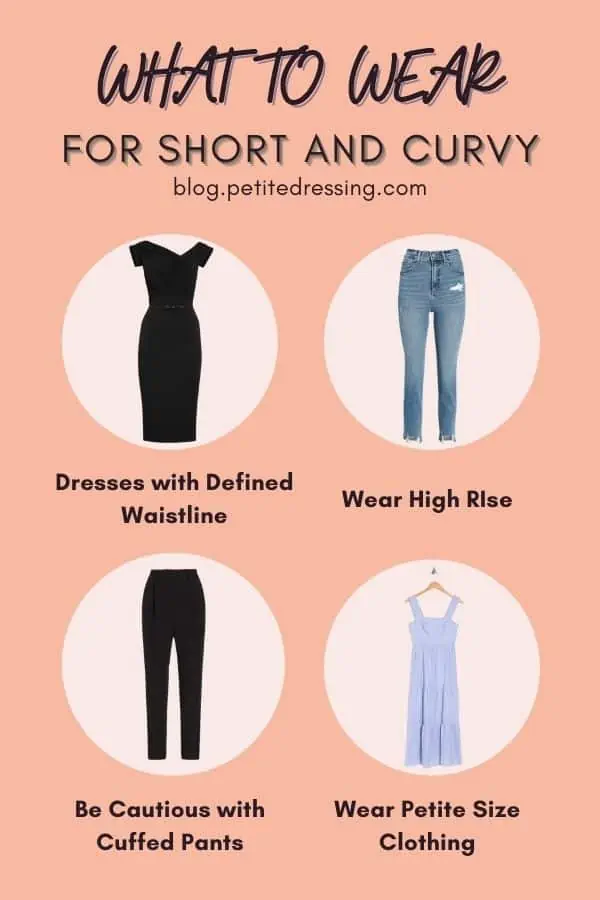 There is a common misconception about what is petite. It is a popular belief that petite refers to someone who is thin.
So, if you happen to be short and curvy, you may not realize you are also a petite woman, according to the clothing industry's sizing standards.
If you are a curvy girl, you need to make sure all your clothes fit you just right, not too baggy and not too long, Anything that is too bulky will just look sloppy and will add even more volume to your body.
That is why your first choice should always be to look in the petite department.
This is not to say you should stop wearing regular size clothing- chances are you might be able to find certain styles that suit you and that you happen to be able to fit ok.
However, when it comes to anything with a long inseam, such as denim or pants, petite sizes are going to fit you much better than the regular sizes without you having to worry about taking them to the tailor-to hem. The same applies to anything with long sleeves, such as blazers, sweaters, or long sleeve shirts.
Be Cautious with Cuffed Pants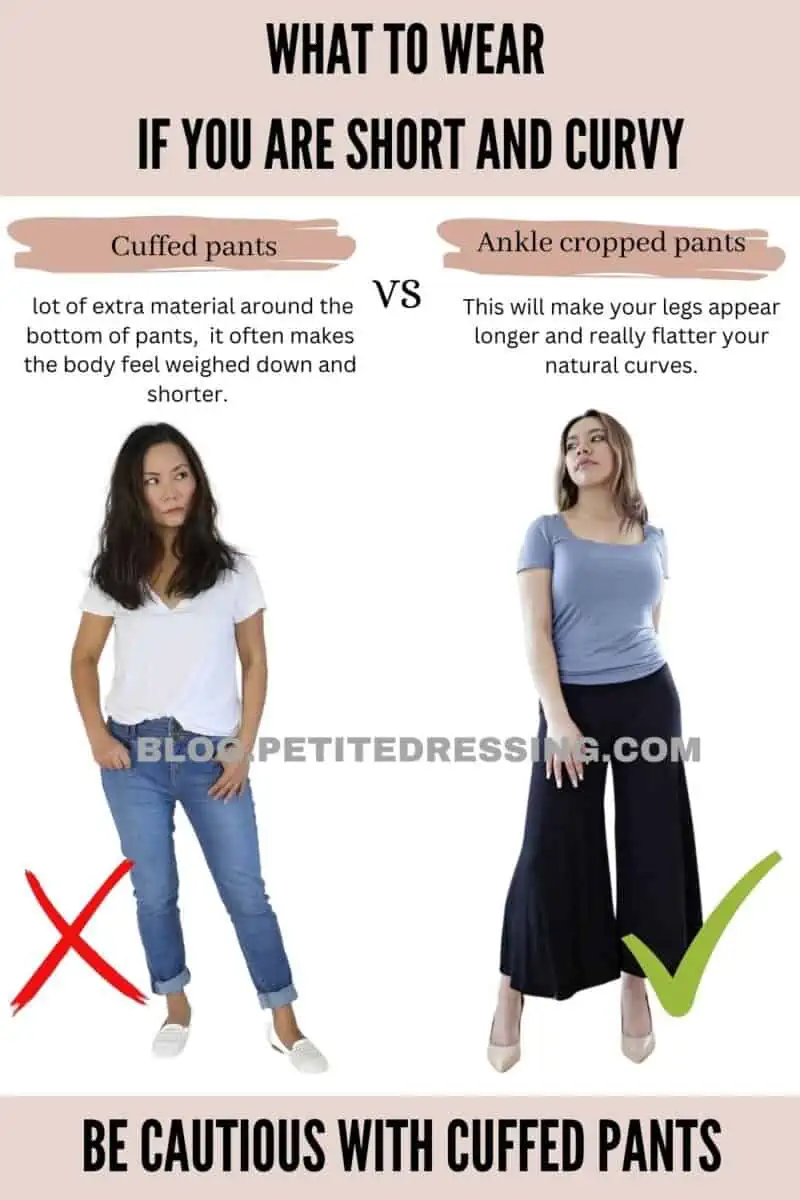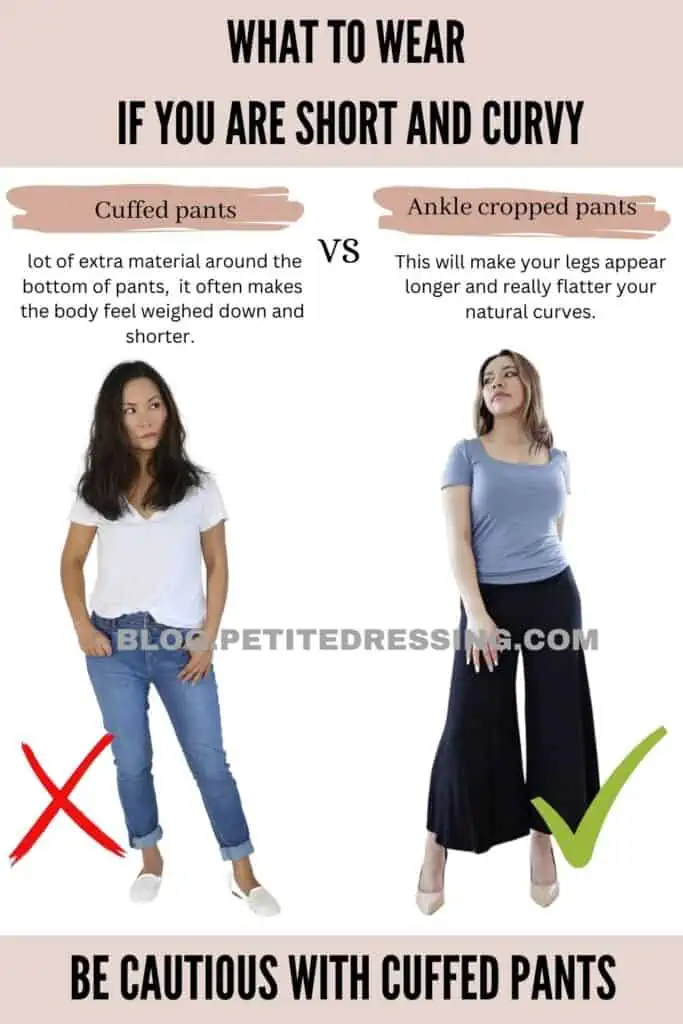 This applies to any sort of pants that are baggy, loose, etc. around the ankle and calf area.
When there is a lot of extra material around the bottom of pants, particularly that ankle/calf area, it often makes the body feel weighed down and shorter.
Contrary to popular belief, however, petite women can certainly wear cropped pants it's just about doing so strategically and in a way that flatters.
Skip the exaggerated cuffing and baggy shape and opt for pants that are cropped right at the thinnest part of your ankle, with no 'extras.'
This will make your legs appear longer and really flatter your natural curves.
Add a Belt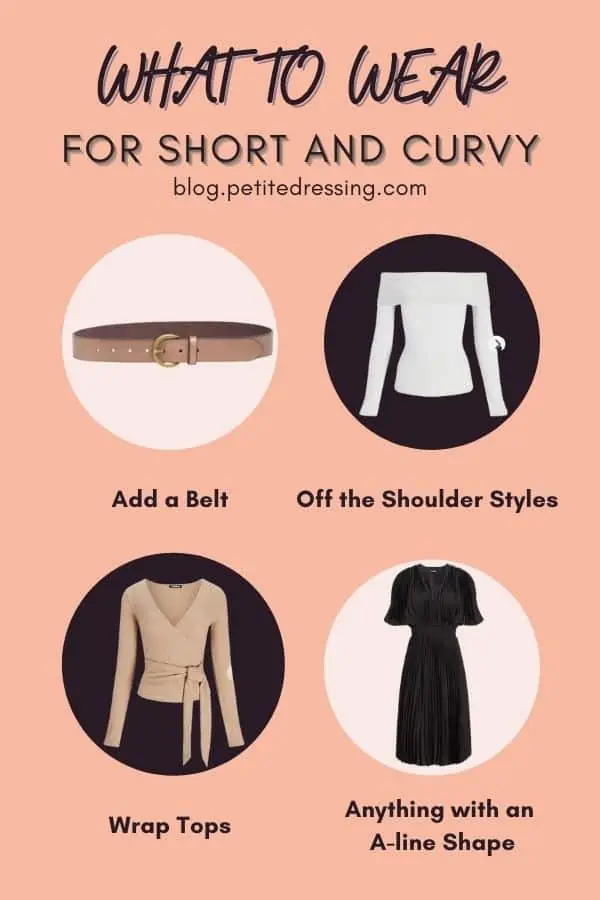 Belts, as well as wearing anything that highlights your waist, are one of the best styling tricks when dressing as a short, curvy woman. Just like dresses that offer a defined waistline, belts can add beautiful waist definition to just about any look.
Anytime you're not sure what's missing in your look, try adding a belt to the mix.
A lot of times adding a simple belt can completely transform an outfit and add major figure flattery.
Belts have a way of instantly elongating legs, which is a wonderful benefit as a short woman. One key factor to keep in mind when utilizing belts is choosing the belts themselves, with strategy.
Essentially, avoid belts that are very wide as they can have the opposite effect when you are petite.
Stick to belt options and styles that are no wider than about 2-3", of course, you can go thinner as well.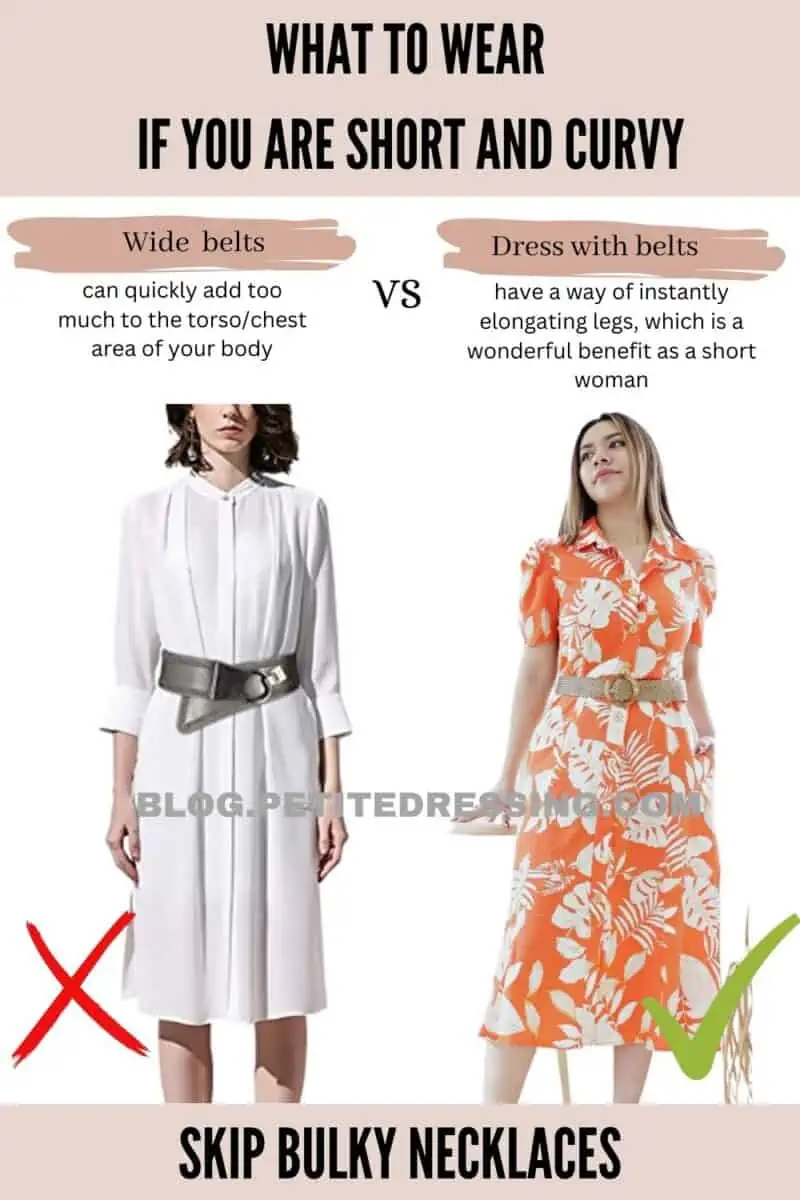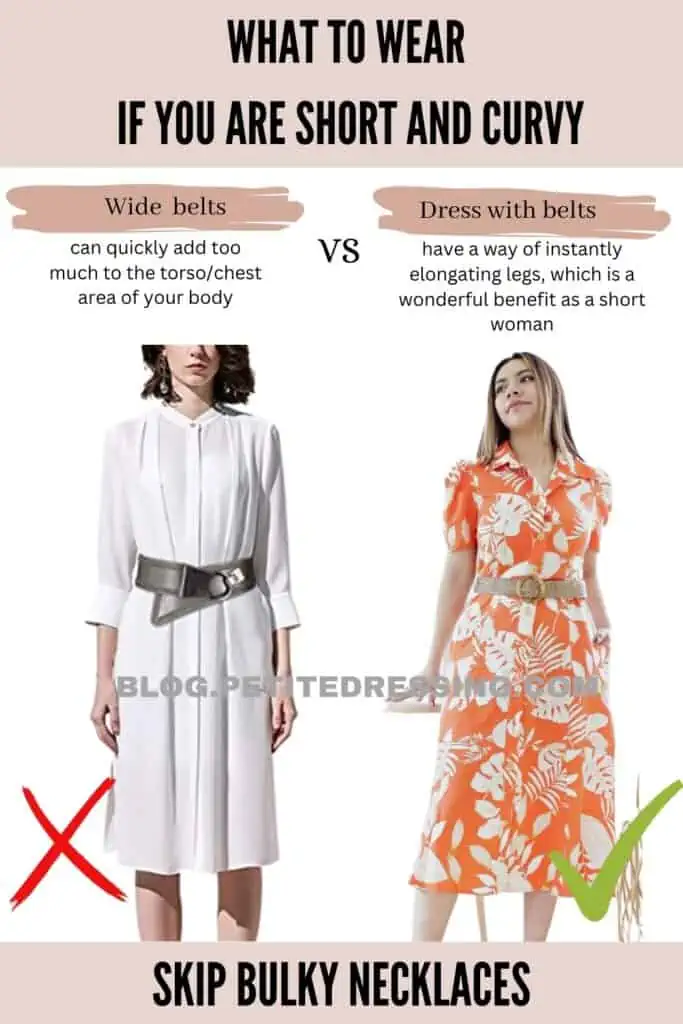 Skip Exaggerated Sleeves
Exaggerated sleeves can be anything from what's known as bat sleeves to bell sleeves, think of any type of sleeve that has a lot of volume and 'flow' to it.
While these can be really fun to add to your wardrobe, they're best to be skipped as a curvy petite woman. The added volume, even to sleeves, adds extra bulk to the body and tends to cause you to lose sight of natural curves.
Focus instead on clothes that have sleeves that fit closer to your arm so your curves can be shown off.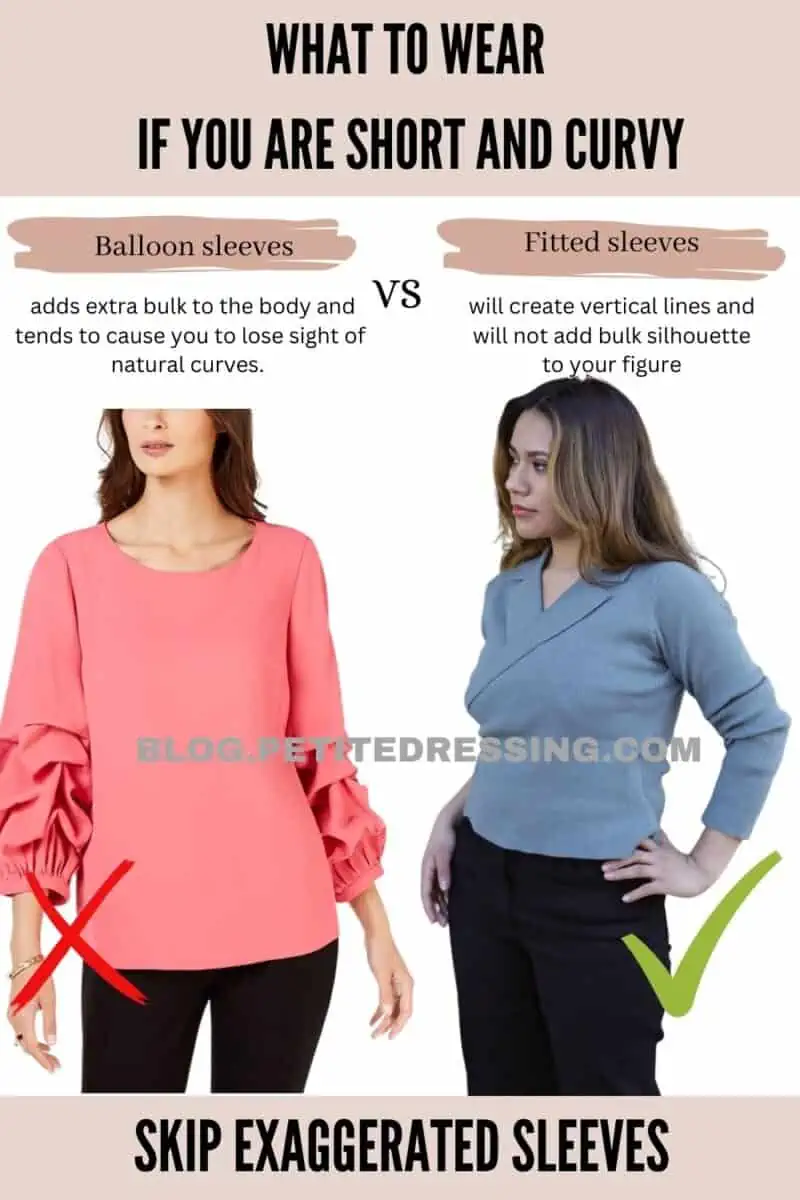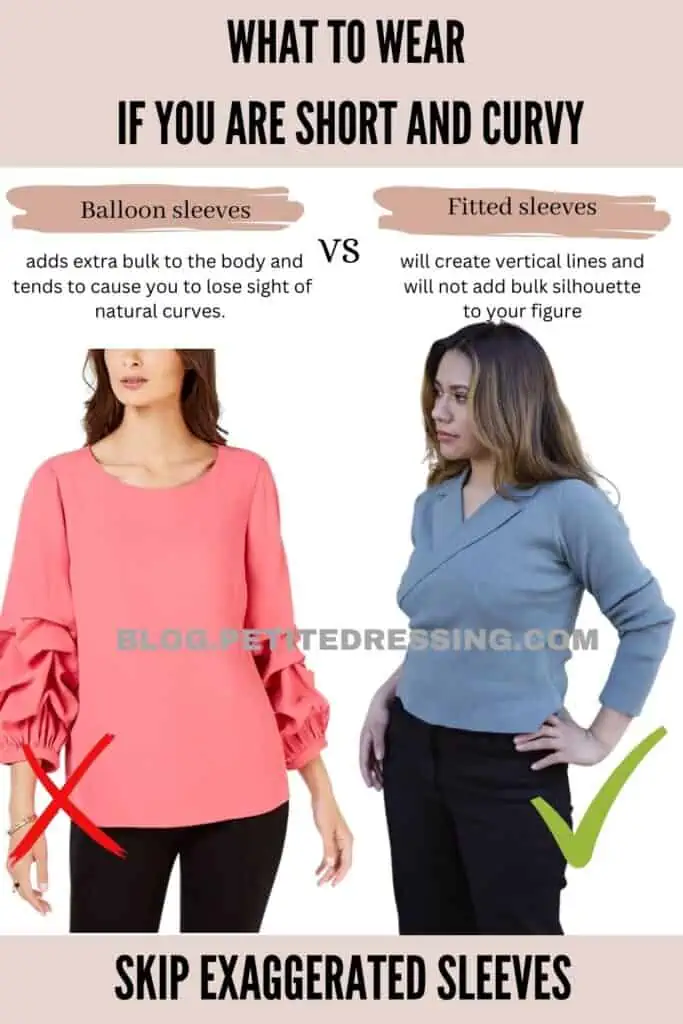 Off-The-Shoulder Styles are Great
Adding length to bottoms and dresses isn't the only way to elongate a petite frame.
Give your petite frame some extra length with open necklines like off-the-shoulder styles. Anytime you can expose a bit of skin (not that you have to show it all off), it gives length to your body.
This applies to tops as well. With an off-the-shoulder style, you're able to give the illusion of length to the top half of your body, which also happens to be a great benefit for curvy Petites, like this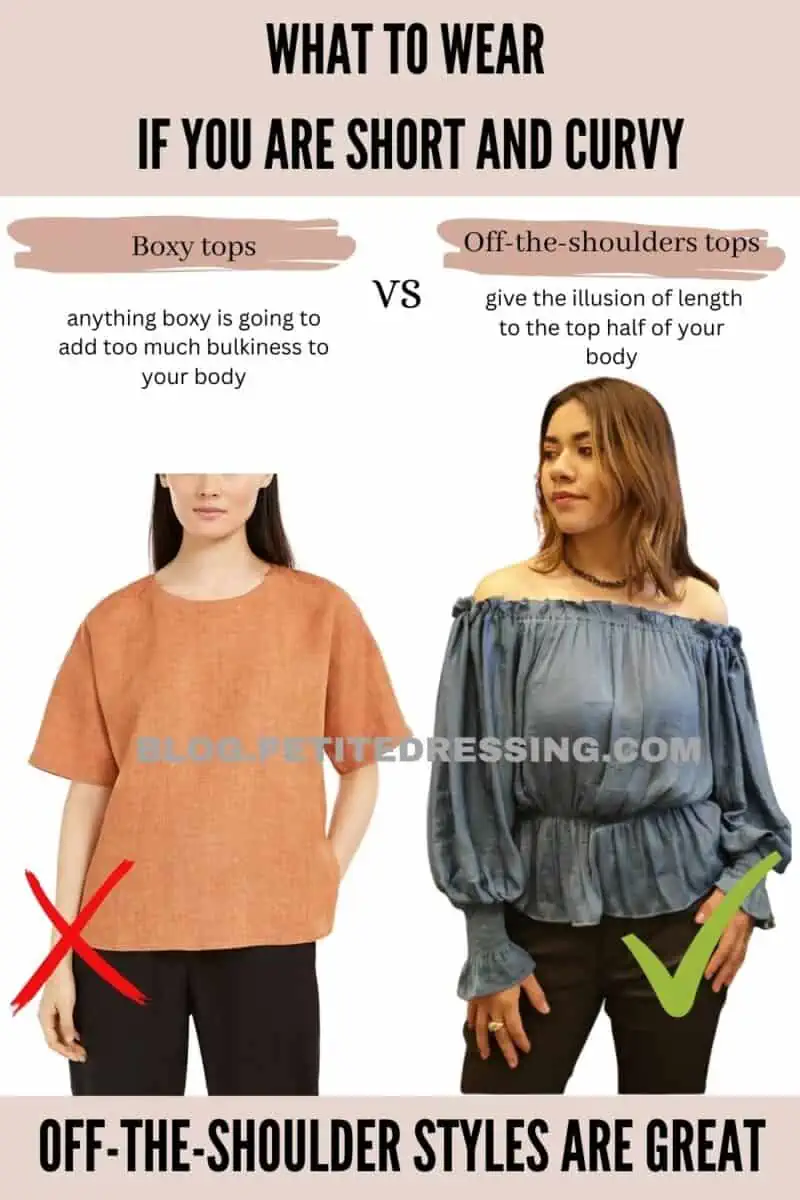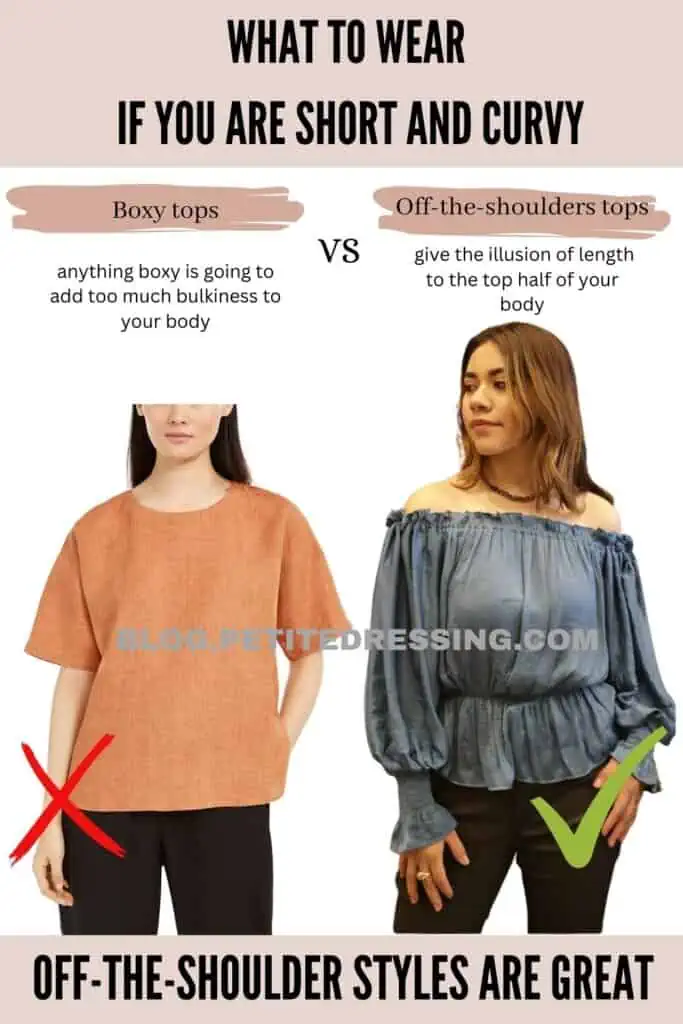 Give your petite frame some extra length with open necklines like off-the-shoulder styles. Anytime you can expose a bit of skin (not that you have to show it all off), it gives length to your body.
Wrap Tops for Petites
One of the most flattering styles for curvy petite women to wear? Wrap tops!
This applies to really anything 'wrap' styled. The wrap silhouette is perfect for a few reasons.
First, the v-neck that comes with wrap silhouettes adds just enough length to the neck/torso area of the body that also enhances curves.
Second, the wrap detailing brings some extra focus to the waistline that both slims and elongates a petite frame.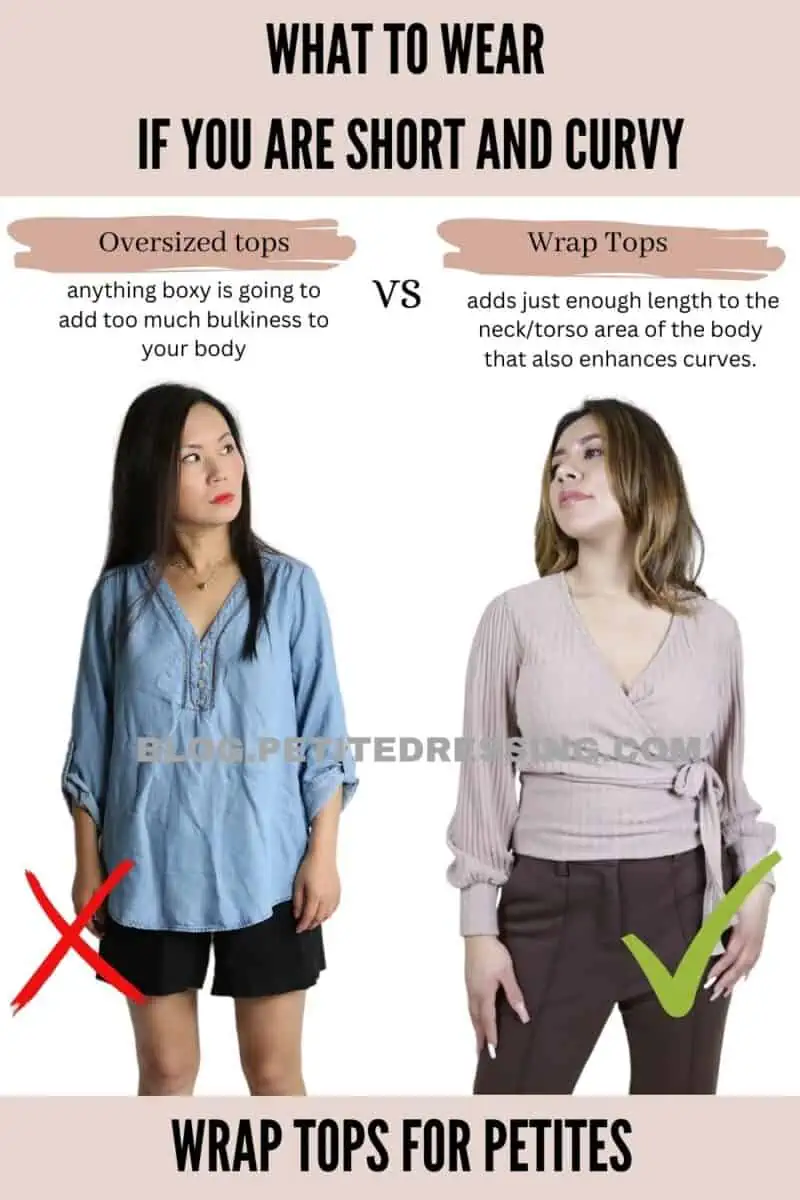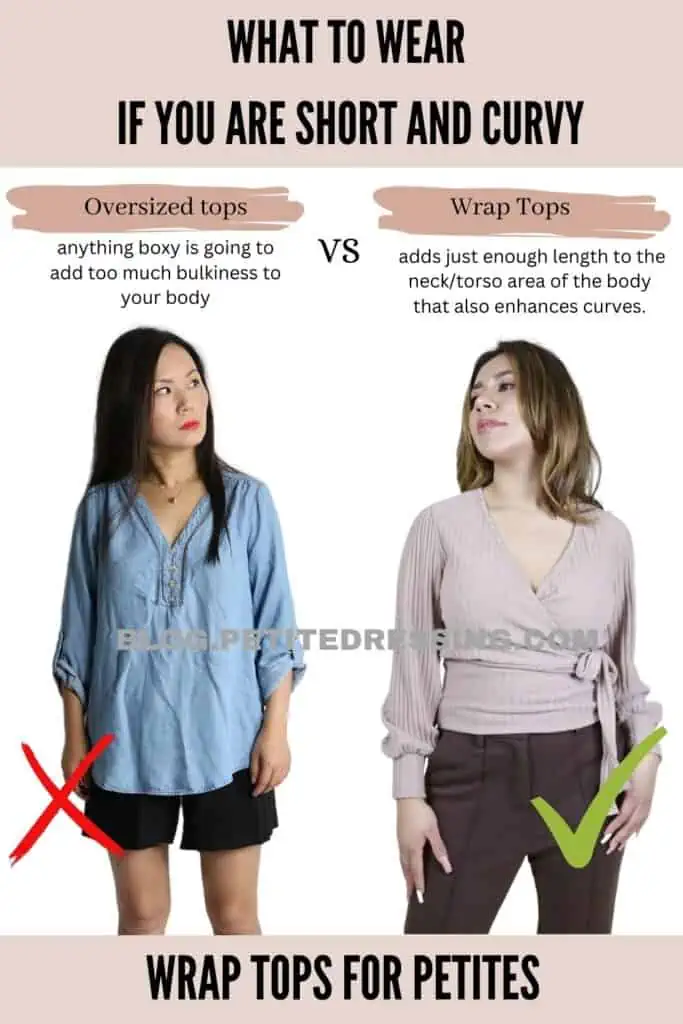 Tuck in Your Shirt(s)
This may be obvious as some of the other tips have been about focusing on highlighting your waistline.
Long shirts, which are classified as anything that hides the zipper of your pants/bottoms, aren't the best choice for short curvy women.
Anything that's on the longer side drags down the body and makes legs appear much shorter than they (already) are.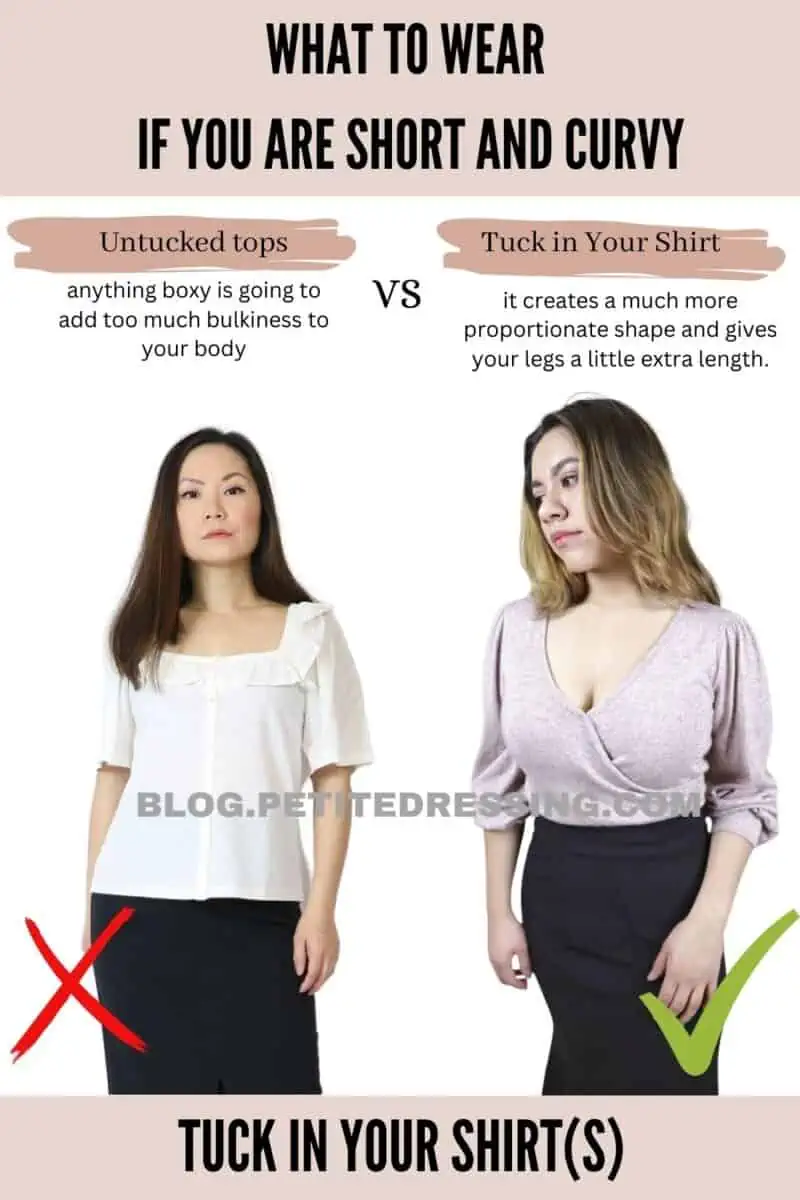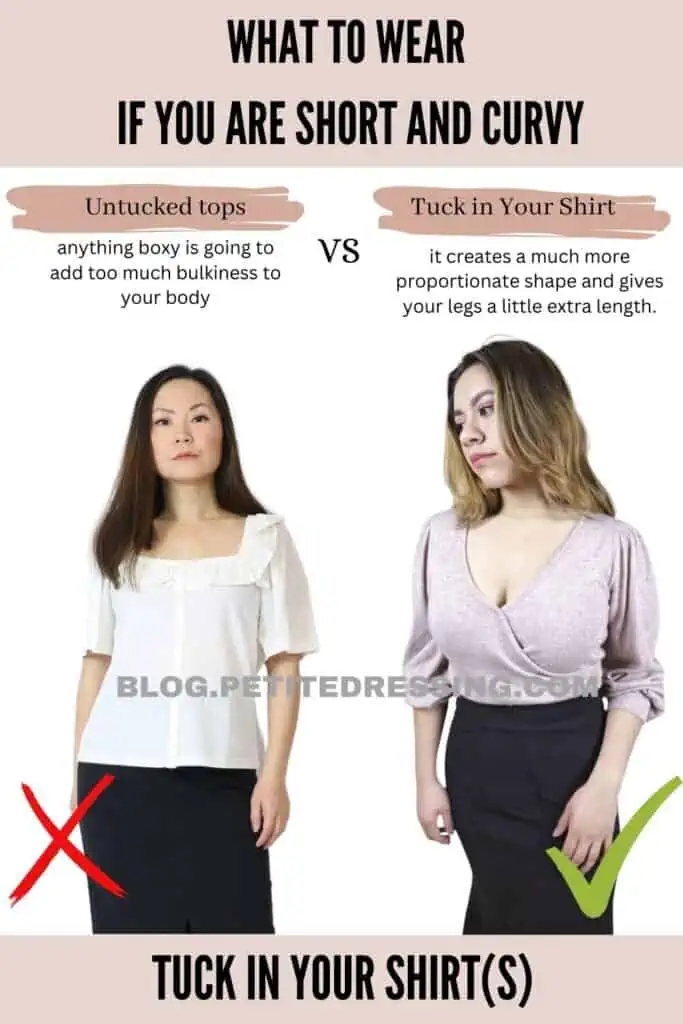 This is why doing something as simple as tucking in your shirt can make a major difference to your shape. When you do a little tuck, even a half-tuck will suffice, it creates a much more proportionate shape and gives your legs a little extra length.
Anything with an "A-line" Shape
The best shape in dresses and skirts has to be anything with an a-line.
It doesn't have to be overly exaggerated in order for a curvy petite woman to reap the benefits of this shape either. Even a subtle a-line will give your body great emphasis around the waist and longer-looking legs.
If wearing an a-line skirt, make sure to tuck it in so you get the most out of the silhouette and the shirt doesn't take away from it at all.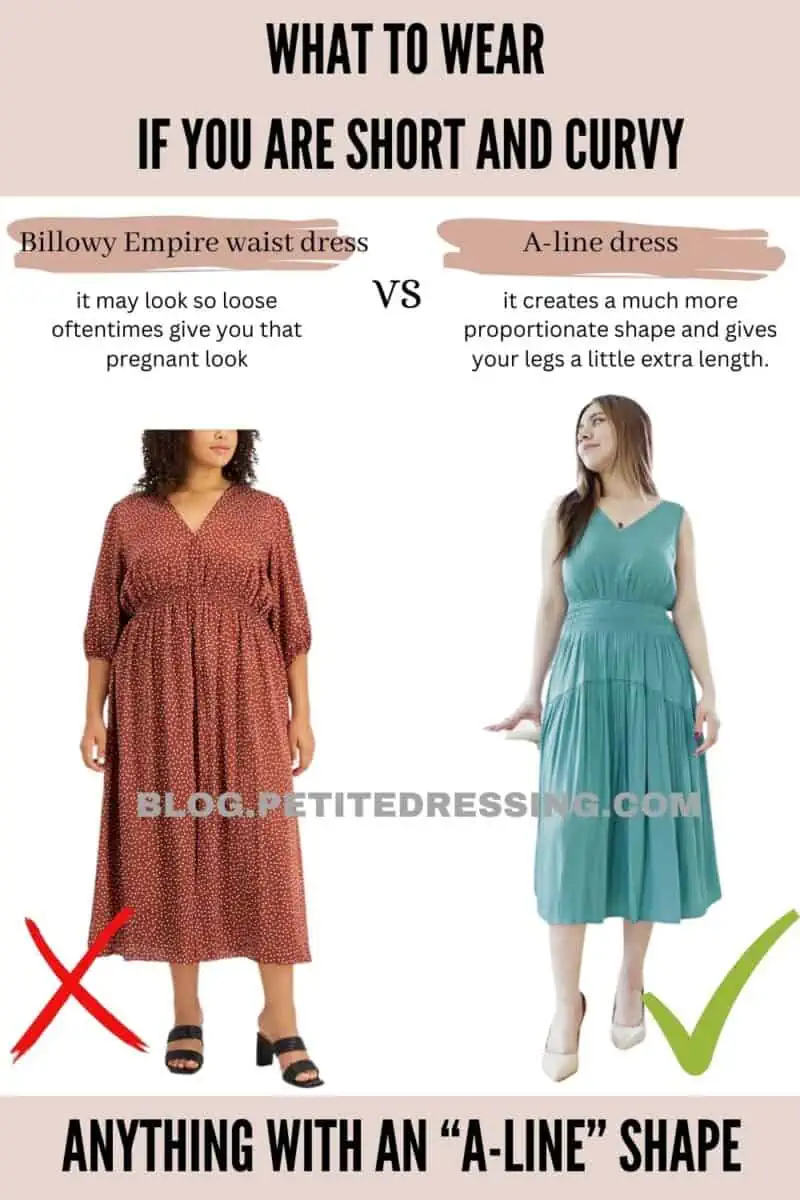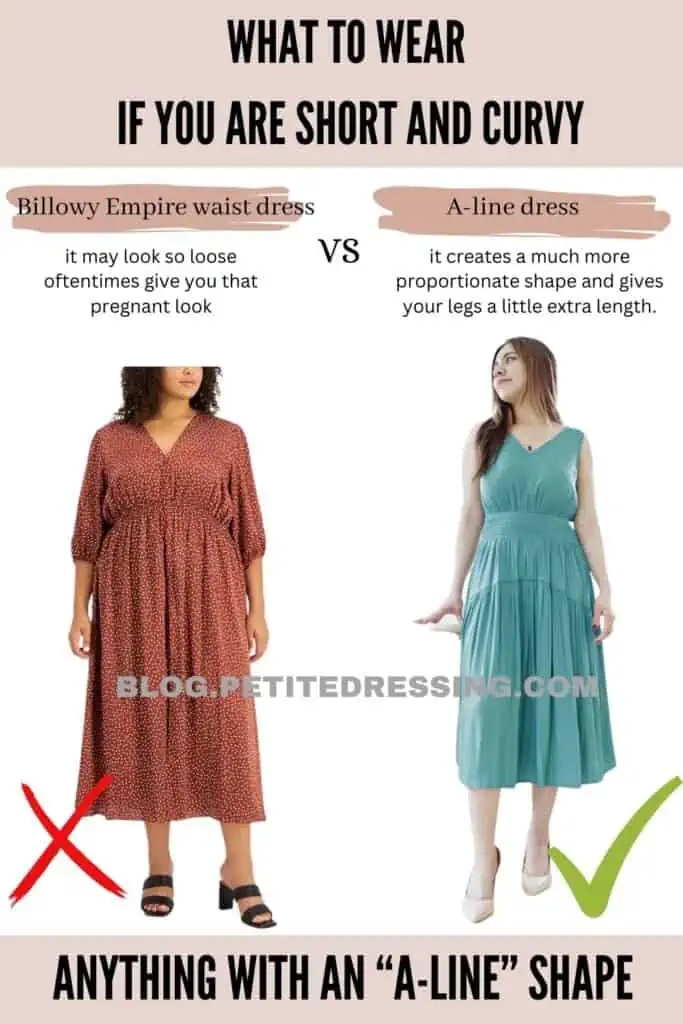 Rolling Your Sleeves
As mentioned above, long voluminous sleeves aren't your friend as a petite curvy woman.
Circling back around to sleeves, there is one little styling trick to use that can be really impactful to flattering your body type.
That is: to simply roll them! It may sound like a silly little detail but it has major benefits.
As a petite woman, anytime you can visually create longer lines on your body, even your arms, it gives your shape an overall longer look.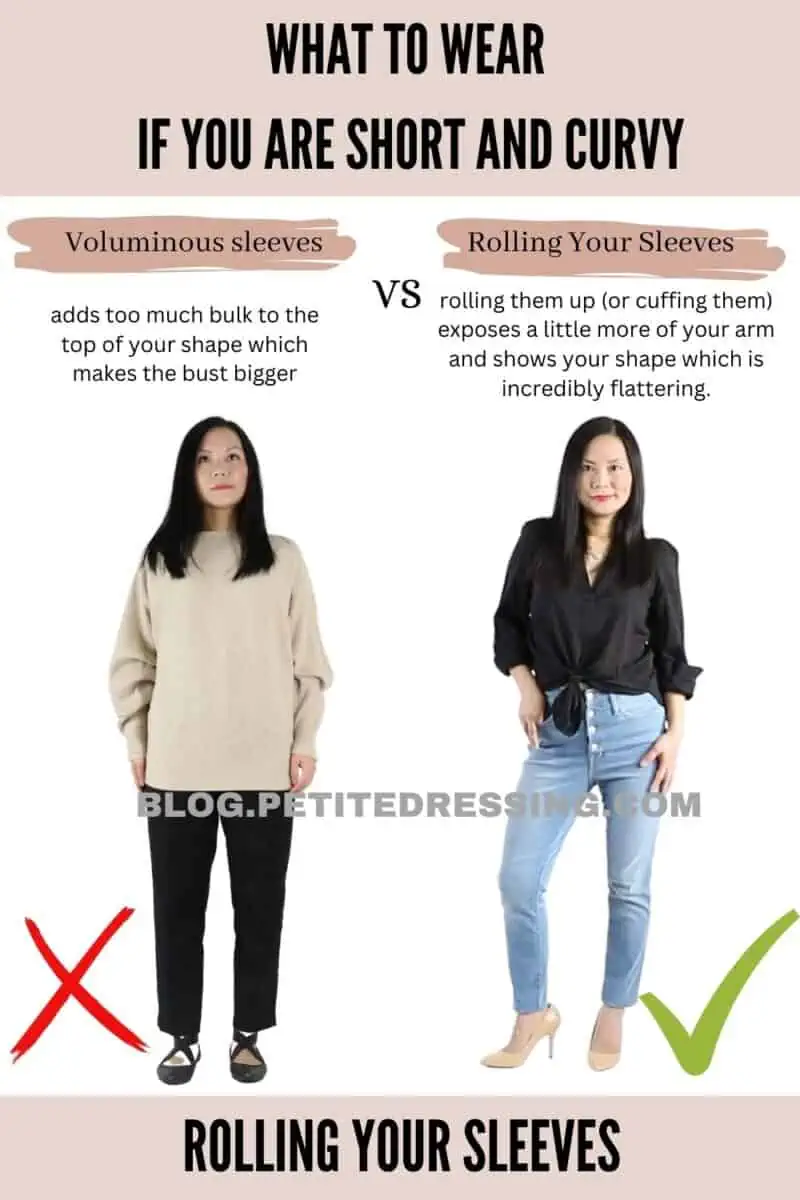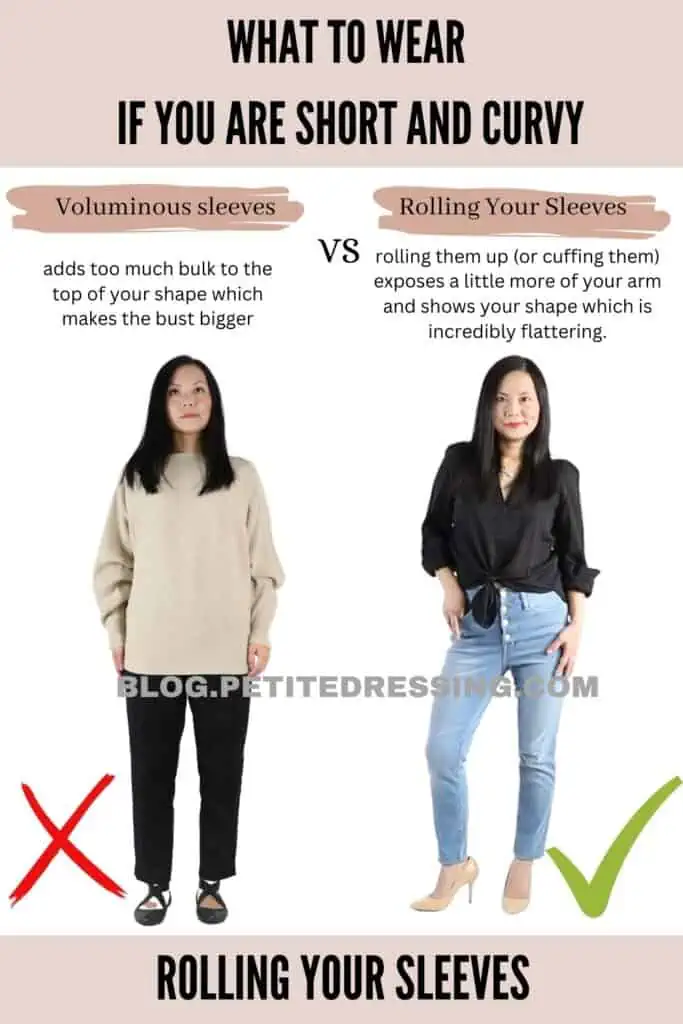 Because sleeves can be overwhelming, even if they aren't overly voluminous, rolling them up (or cuffing them) exposes a little more of your arm and shows your shape which is incredibly flattering.
Wear Heels When You Can
This is a trick you have probably noticed as a petite woman.
Wearing heels is an instant game-changer to an outfit, especially when you are short and petite. Heels are one of the more commonly known styling tricks that quite literally add length and height to the body.
If you are able to comfortably, throw on a pair of high heels when you want to give your shape a little extra length.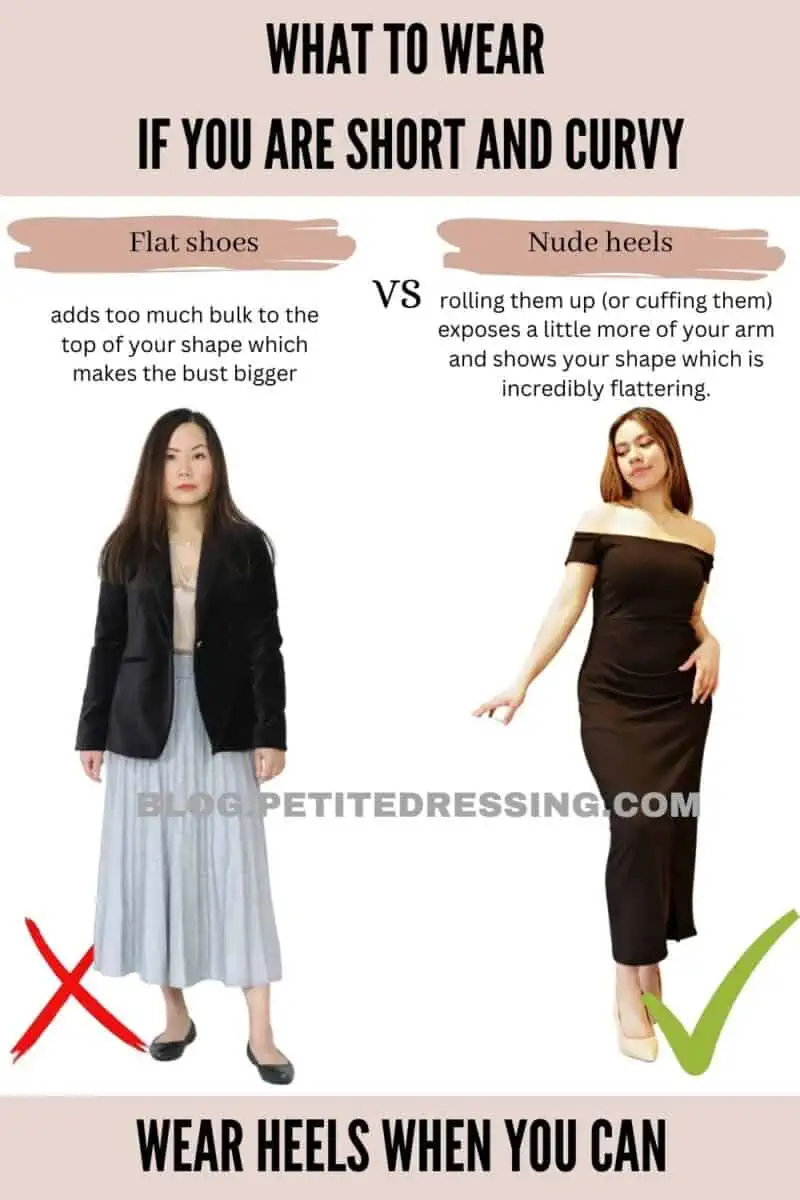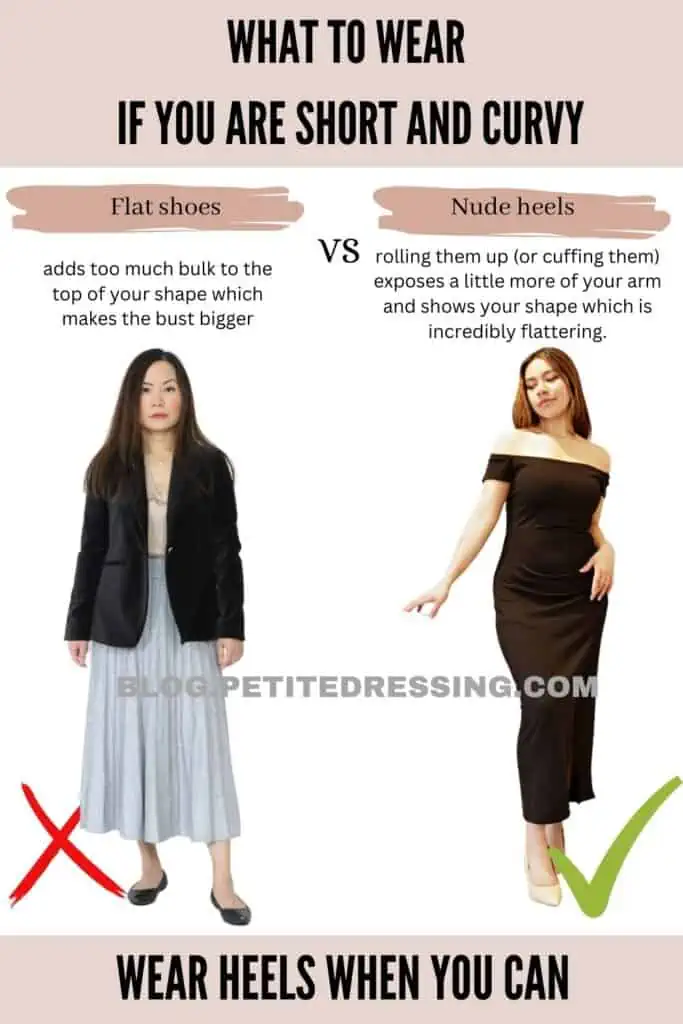 The only thing to really keep in mind with high heels is to avoid (as much as possible) heels with ankle straps. While they're adorable and fun, they tend to cut the leg off in a way that shortens it – which is giving you the opposite effect heels provide to petite frames.
Steer Clear of Anything Low Rise
Whatever the trends are, low-rise anything isn't the best for curvy petites.
The issue with low rise is, well…the rise. Because of the placement of low rise, it brings the waist down, which often brings your body shape down with it and makes your legs appear much shorter – while the torso looks even longer.
Worse yet, low rise can also expose your tummy, making you look heavier than you are.
When dressing a petite curvy frame, it's best to do the opposite which is to make legs look longer so you can see the problem here.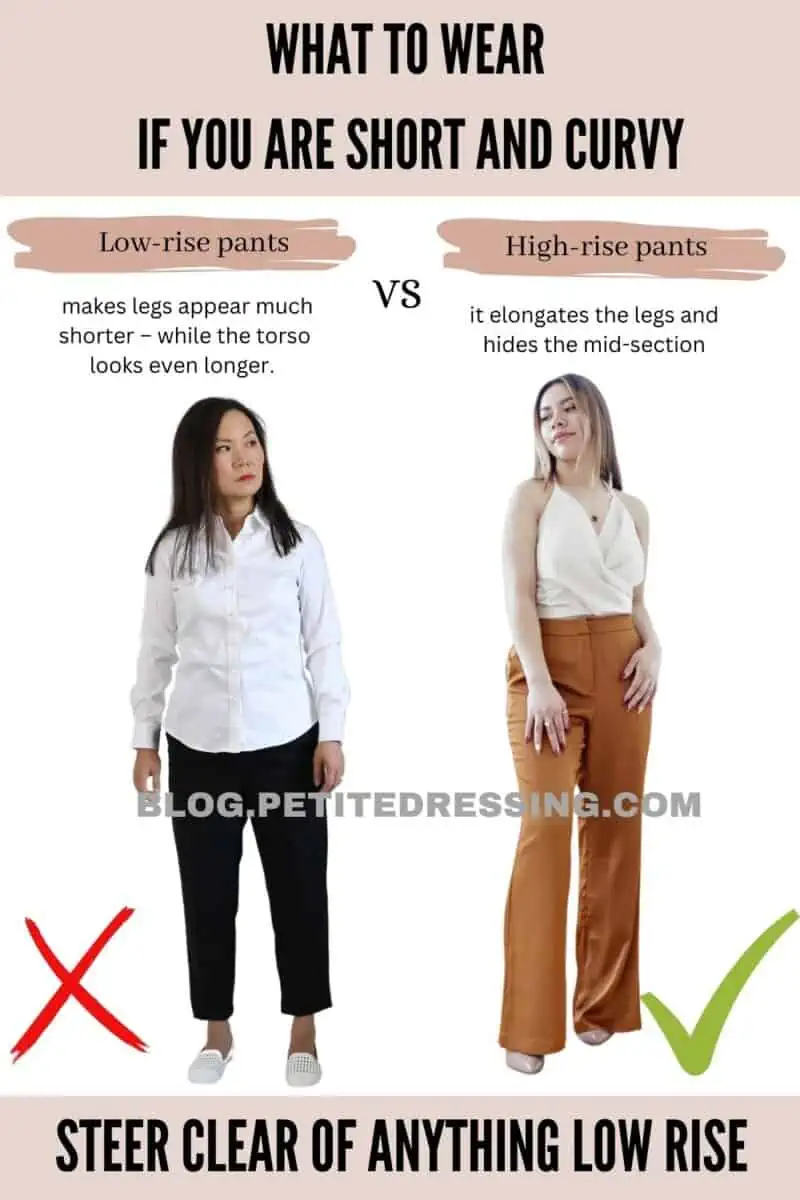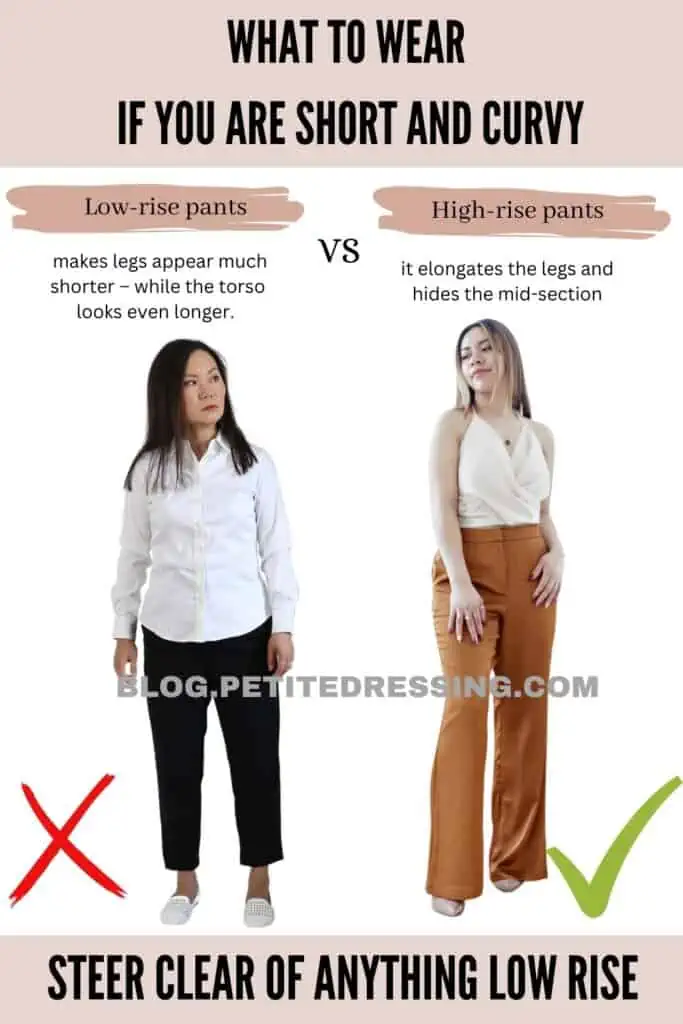 Not really a fan of high rise? Mid-rise is just fine as well. As long as you avoid anything that's super low in the rise you will get some great figure-flattering elements built into your bottoms.
Add Length with Asymmetric Silhouettes
Believe it or not, wearing just about anything that offers an asymmetric line to it is a great choice for curvy petites. For starters, the asymmetric line gives this really gorgeous elongation to the body. In addition, it helps to flatter and even naturally enhance curves. Double win! Try asymmetric dresses, skirts, and even pieces like bodysuits that have asymmetric necklines.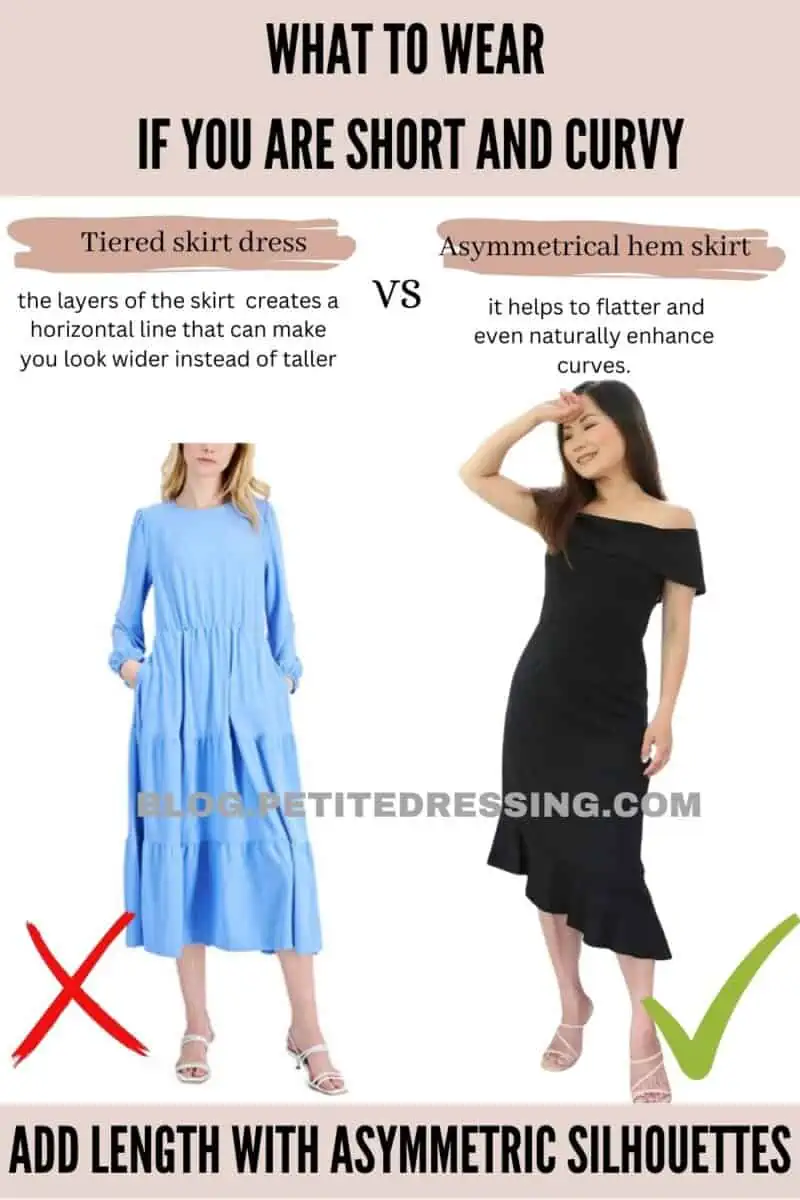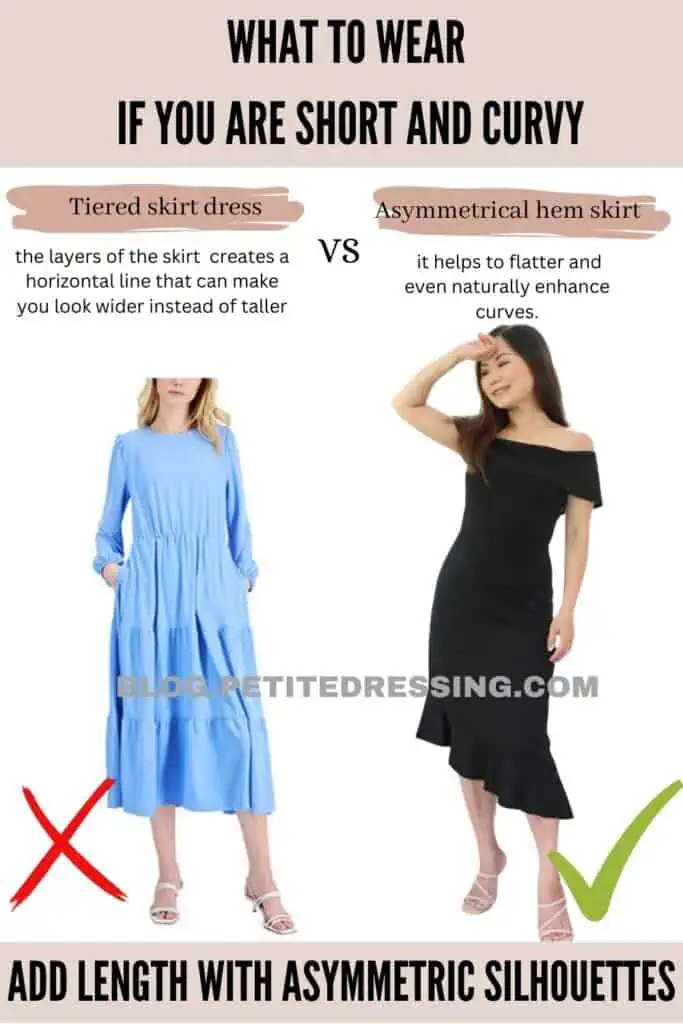 Wear Clothes that Fit to Your Body
Whether this is obvious or not, it's essential to dress a short and curvy body.
As mentioned above, wearing clothing that is shapeless adds too much bulk and weight to the body.
This is exactly why it's so important that clothing fits your body. Not to be confused with super tight-fitting clothing!
Just make it a point that whatever clothes you wear, your body isn't hidden. Have a dress that doesn't fit that closely?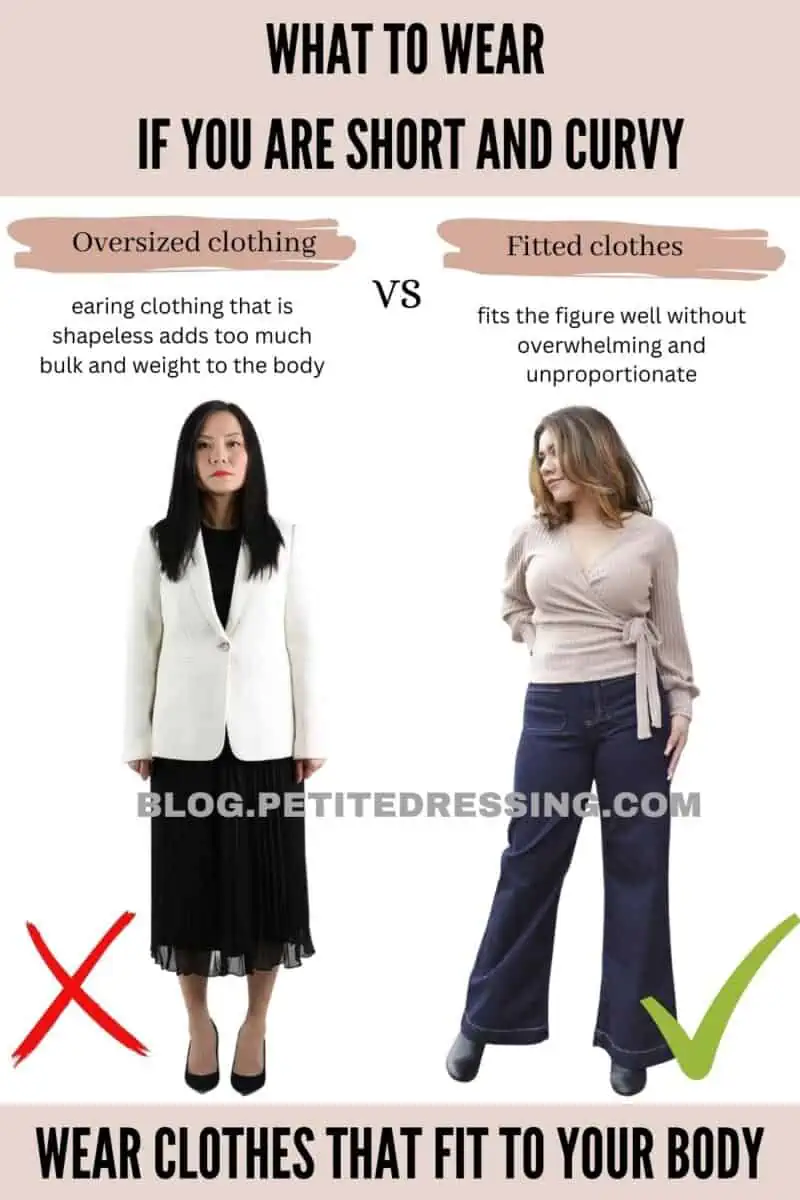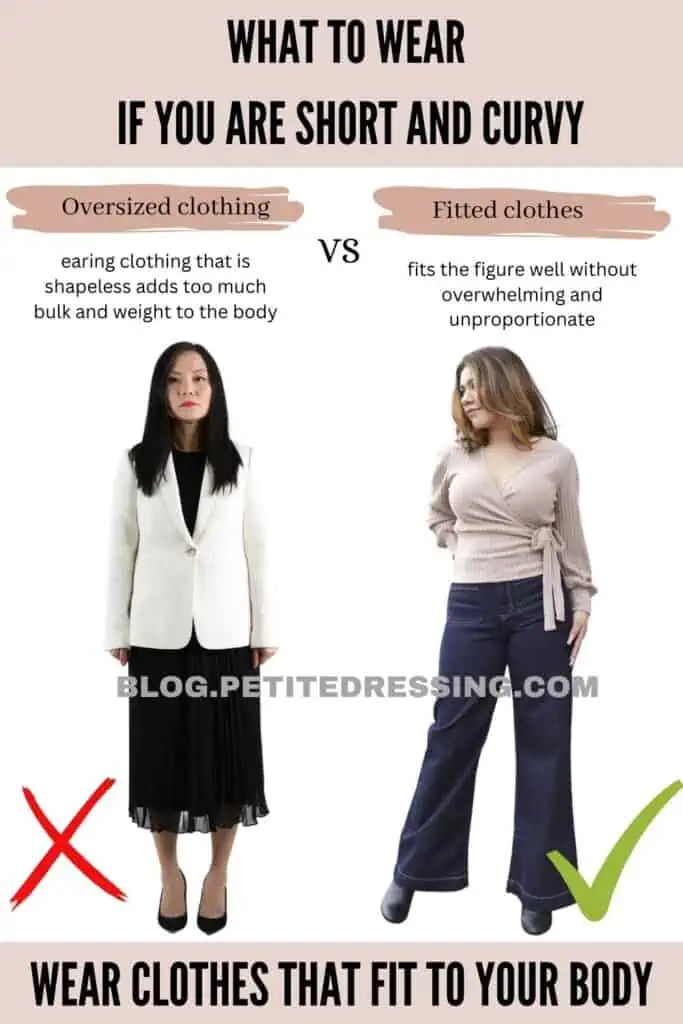 Throw a belt on around the waist, or add a structured blazer to achieve a more fitted aesthetic with your clothing.
Skip Bulky Necklaces
Statement accessories, and accessories in general, are a fun way to add a little extra pop to an outfit. Have all the fun you want, but chose necklaces cautiously.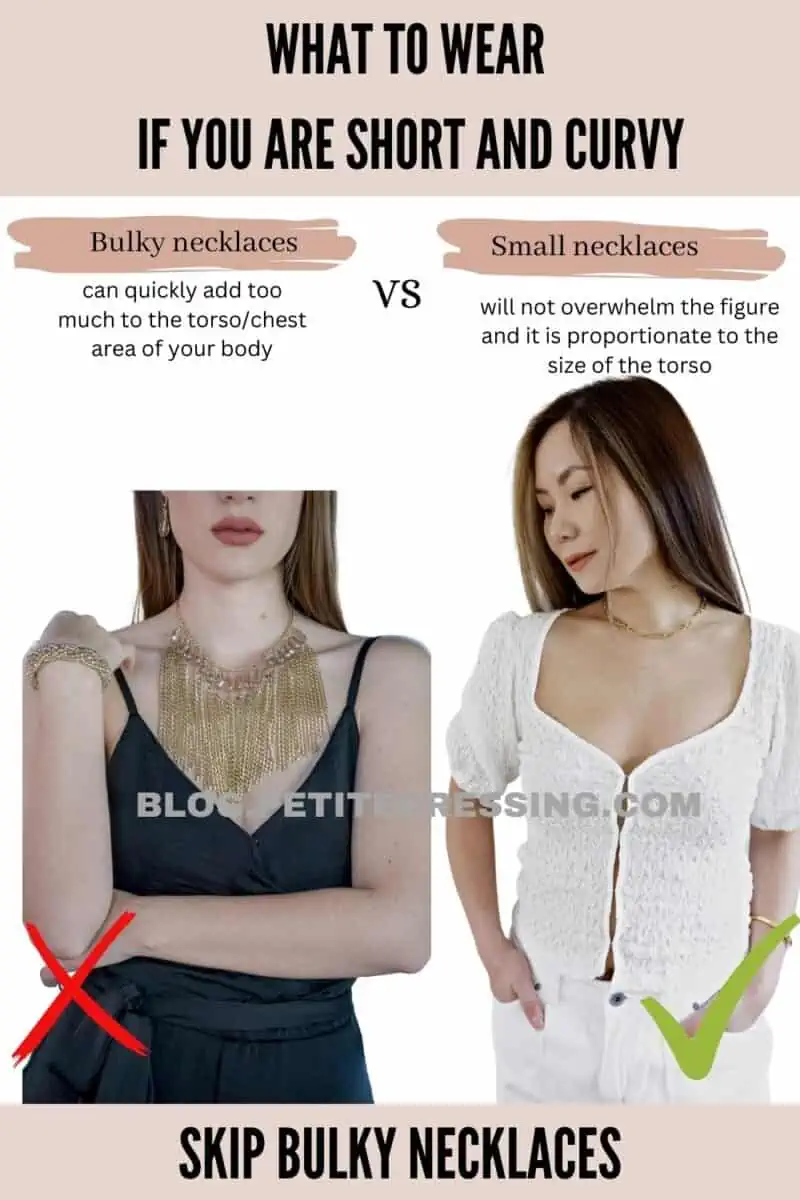 When you are short and curvy, necklaces can quickly add too much to the torso/chest area of your body. Anything that's too bulky will, in fact, add bulk. It's best to select necklaces that are a bit on the dainty side to look more streamlined with your petite frame.