As a petite woman, you may need help finding the most flattering pants for your height, and how to combat looking too short.
Determining whether or not wide-leg pants can be pulled off by a petite woman comes down to a few pros and cons.
Pros:
The comfort
This style of pants provides plenty of space for your thighs and calves, so you won't have to worry about a tight fit. This is also useful if you have thick thighs and want to camouflage them under the pants.
When you wear pants that are extremely fitting, the fabric clings to your body. If you are walking around or find yourself active, you will feel warm very quickly. Even if the fabric is breathable, it will still fall tightly against your legs and leave no room for air.
The leg elongating effect
The RIGHT style of wide-leg pants can actually elongate your legs, which can make them very flattering for petite women
Since wide-leg pants cover the shoes you wear, you can wear higher heels such as wedges, which will make shorter women appear taller than otherwise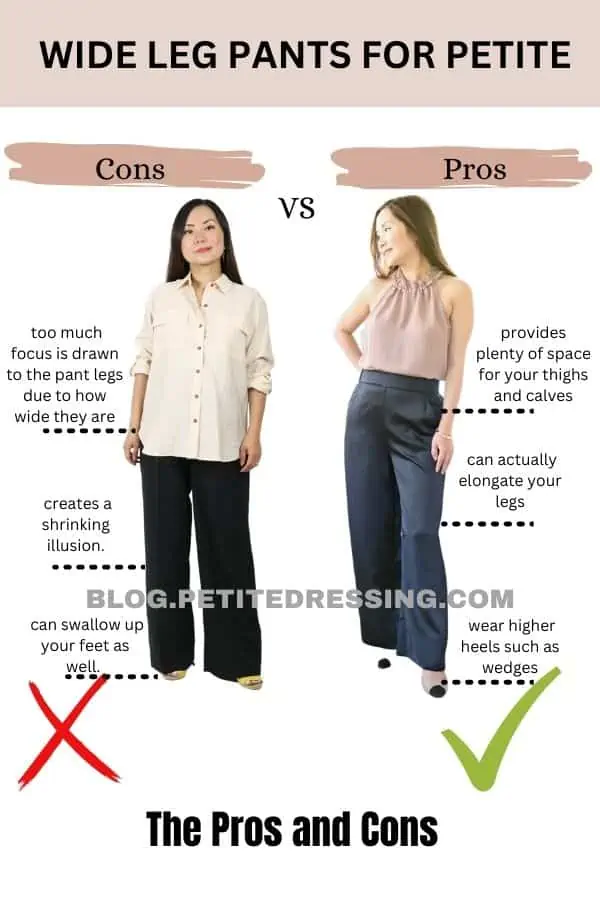 Cons:
The volume
If the pant leg of wide-leg pants is too flared, it can shrink you and make you look wider than you are.
You may end up creating too many horizontal lines throughout your outfit instead of vertical ones.
If too much focus is drawn to the pant legs due to how wide they are, then it will lead people to look side to side instead of up and down.
The length
As a petite woman, you already know that the challenge of finding pants that are the proper length for your body is something you face on every shopping trip. Since wide-leg pants don't fit tightly against your legs, they can swallow up your feet as well. 
This will then lead to you looking shorter. When pants cover up your feet or your shoes, it can be difficult to imagine where your legs end and your feet begin, which creates a shrinking illusion.
Ultimately, yes, you can wear wide-leg pants as a petite woman!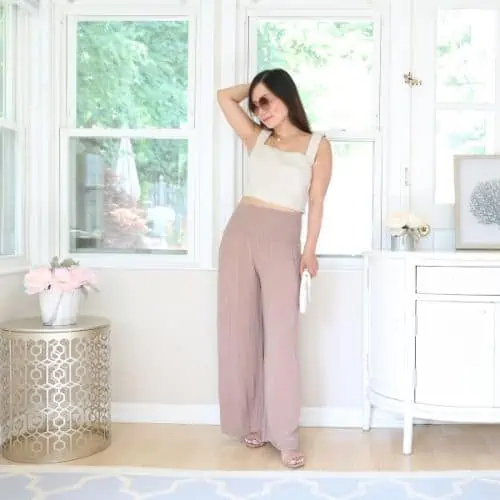 How about the cons?
The cons are something that you can work around and get creative with. The pros are ideal for a chic spring, fall, or winter outfit.
In order to make the most of this style of pants and avoid any cons that you may be worried about, here are some tips that will help you style a pair of wide-leg pants.
Tips for Petites When Styling Wide-Leg Pants
Avoid a dramatic flare
If the wide-leg pants are too wide, they might swallow you up and make you look even more petite. Adding too much width to an outfit will also start to make your frame appear wider as well. If you are trying to look taller, you will not be able to do that if the flare is too extreme.
Wear with heels
To ensure that you can prevent the length and width of wide-leg pants from being too overwhelming, you can add some height with a pair of heels. The heels will lift up your height and allow others to actually see your shoes, as some wide-leg pants may cover up a petite woman's shoes.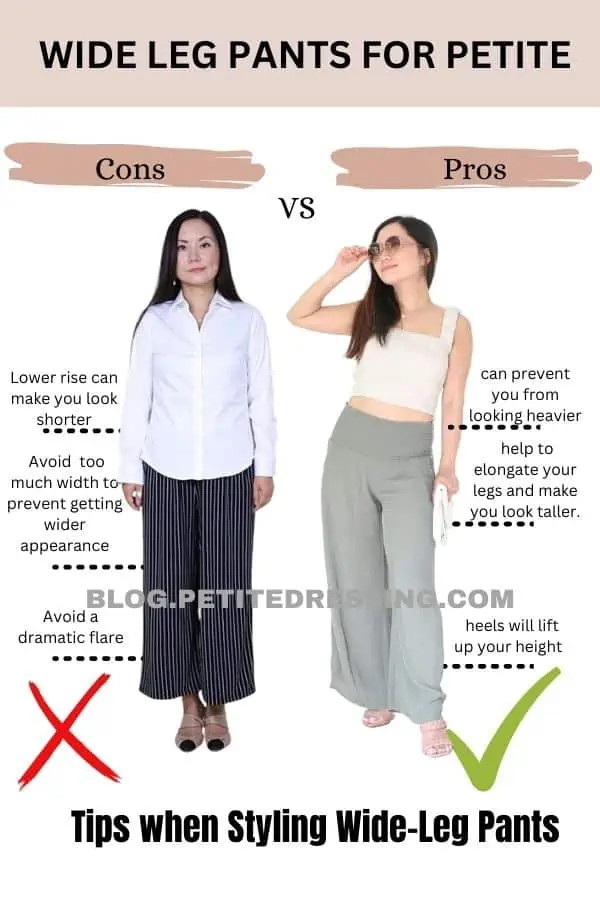 Wear high-waisted
In order to prevent the wide-leg pants from making you look heavier than you are, try to find a pair of wide-leg pants that is high-waisted. The high waistline will fall at the thinnest part of your waist, drawing focus to that part of your body. A high waistline will also help to elongate your legs and make you look taller.
Tailor the length
Since you are a petite woman, regular length for wide-leg pants may be too long. The length of the pants could end up covering your shoes and making it obvious that you are a shorter woman.
Why need a good tailoring of length?
Even though the wide-leg pants may be too long, a tailor can make the length perfectly fall around or above your feet.
This will ensure that you can show off your shoe choice and avoid looking shorter.
To prevent this issue, find a tailor who can always fix any hemline in order to achieve a more flattering look.
Define your waist
Wide-leg pants have the con of potentially making you look wider than you are. In order to combat this and still pull off wide-leg pants as a petite woman, make sure you define your waistline. Find a pair of wide-leg pants that hug your hips and flatter your waist, so that that part of your body becomes a larger focus.