As someone who is 5'2″ and has shorter legs, I've spent a lot of time experimenting with different ways to make short girls look good. Besides, I also have a full petite clothing line for women 5'4″ and under, so I receive feedback from thousands of my petite customers every day on what looks good and what doesn't.
Based on my first-hand experience as well as my customers' feedback, here are my best styling tips for my fellow petites who have short legs.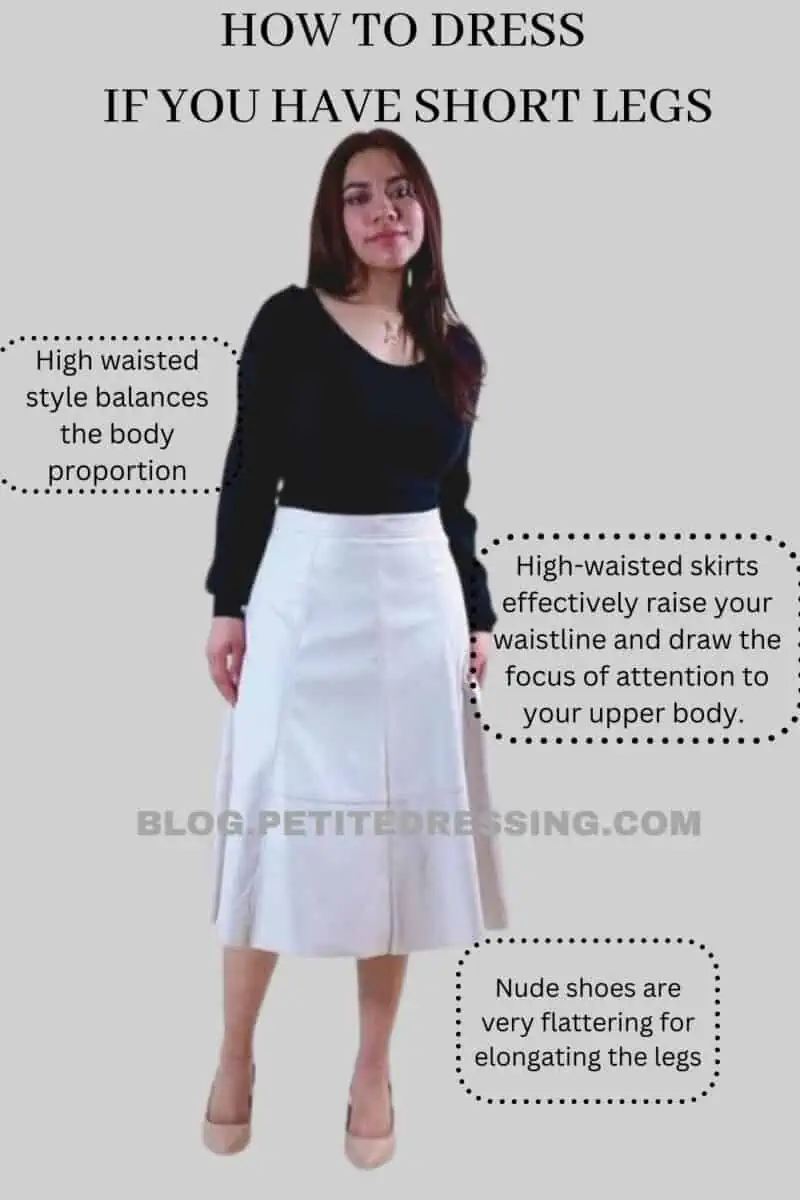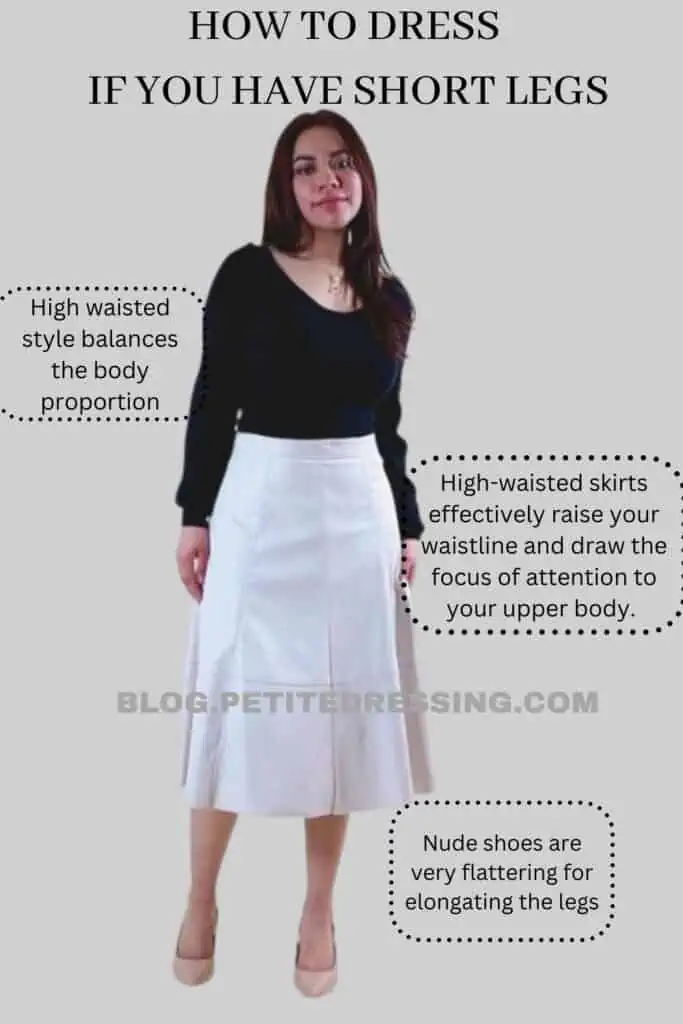 Wear high waisted style
If you have short legs, high-rise style is your best friend.
Whether it's petite rise petite jeans, skirts, or dresses, they draw people's attention above your natural waistline and make your legs look longer.  Petite celebrity Kim Kardashian is the master of wearing high waisted style to flatter her petite body frame.  In one interview, Kim mentioned high-waisted pants as one of her top 7 secret fashion weapons she cannot live without.
You can wear a pair of high-waisted pants with a crop top, or simply tuck your shirt under high-waisted jeans.  High-waisted skirts have the same magic to effectively raise your waistline and draw the focus of attention to your upper body.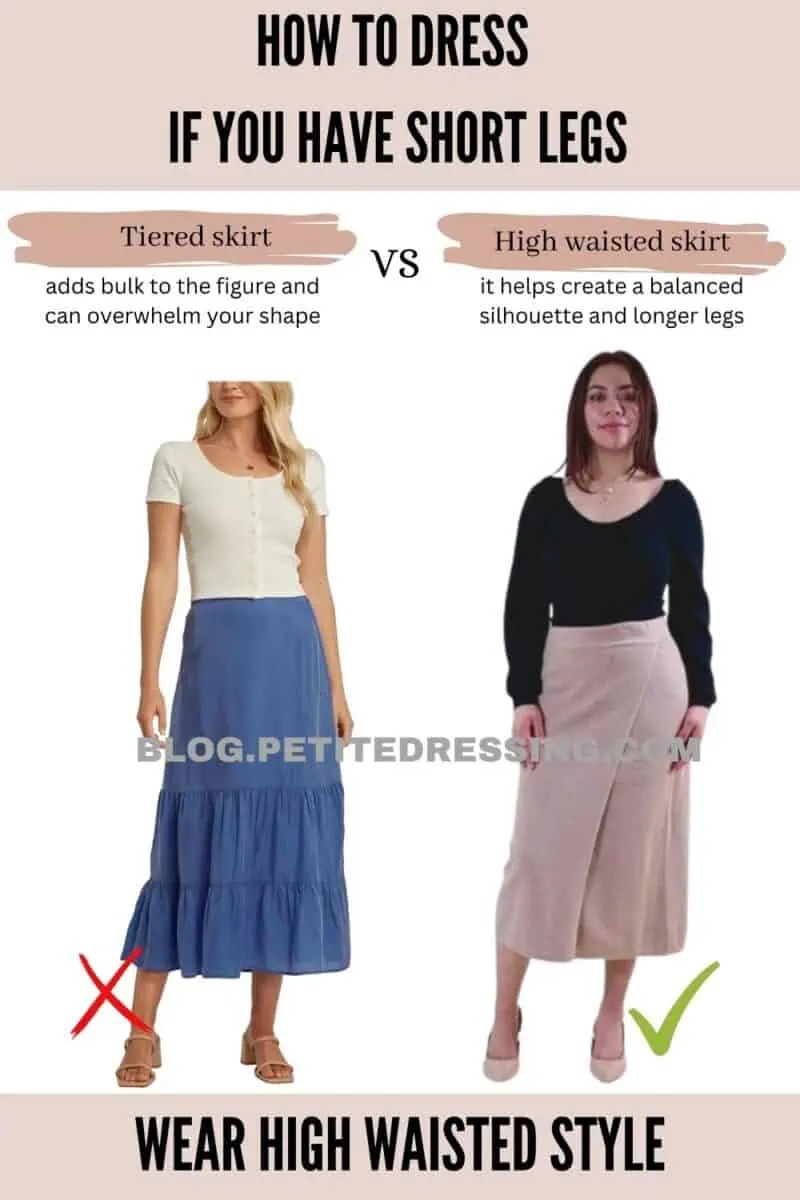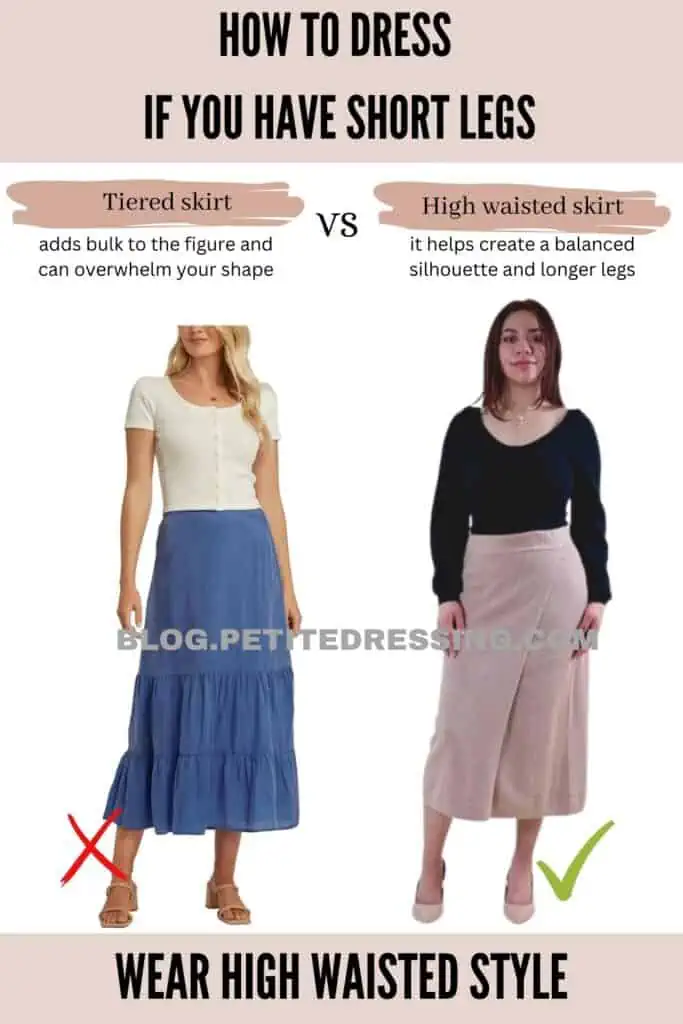 A fitted high-waisted pencil skirt goes with everything, and you can wear it with a bottom-down shirt for an office-appropriate outfit, or wear it with a curve-hugging off-the-shoulder top for a date night outfit.  For those of you with short legs and also worry about your bottom is on the heavy side, opt for high-waisted A-line skirts.  Since they flare at your waist, they work wonders to camouflage your thighs and butt if those are your areas of concern.
If you happen to have short torso, then we have to caution you that high rise style is not for you and you should consider mid-rise jeans and pants.
Color blend your pants and your shoes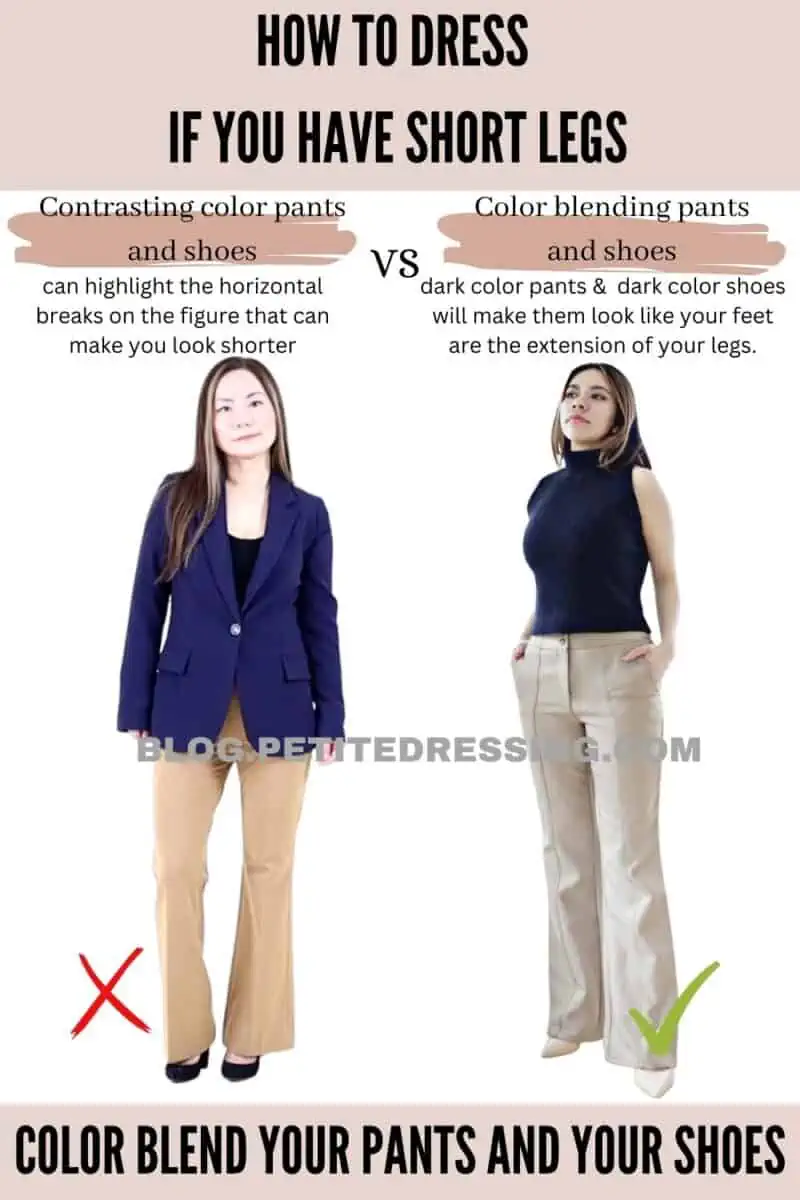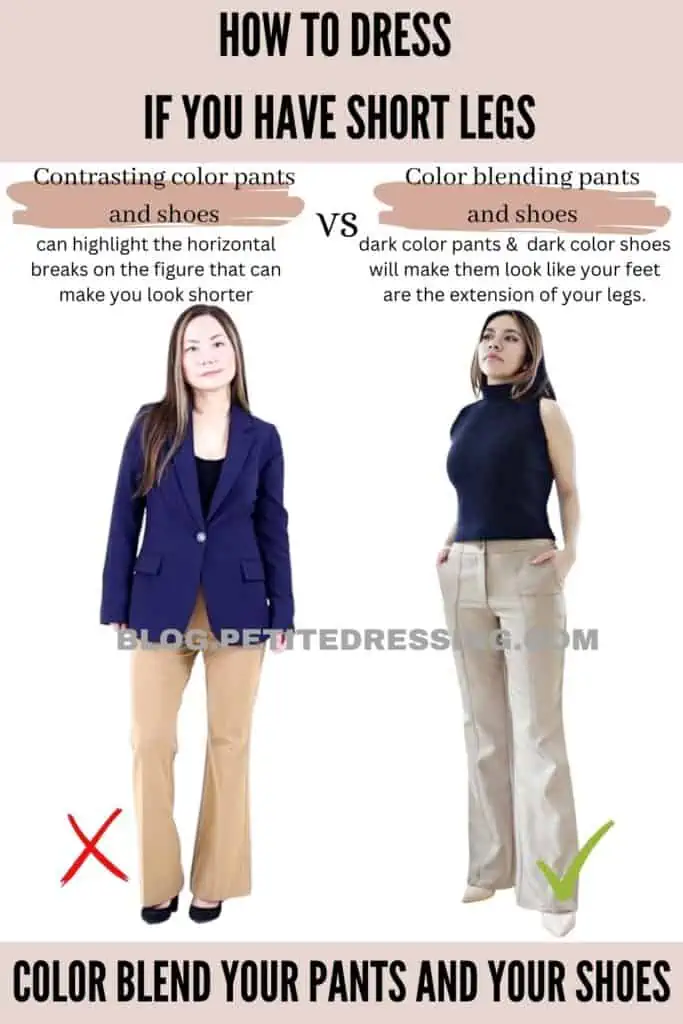 Women with short legs should always color blend the pants and the shoes.
If you are wearing dark colored pants, then dark colored shoes will make them look like your feet are the extension of your legs. This works best if you are wearing long pants that reach the back of your feet and pair them with skinny heels.
Wear a wrap dress or belt
If you have short legs, the best way to make them appear longer is to make your torso look shorter.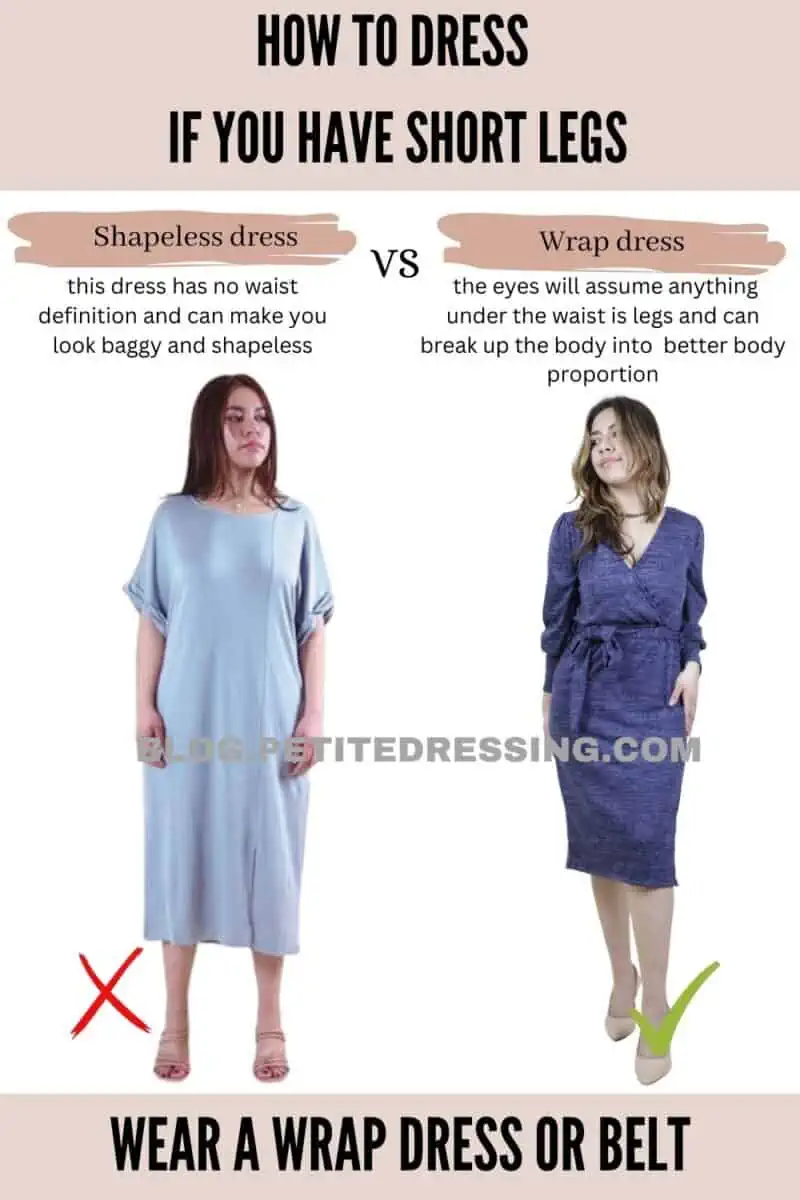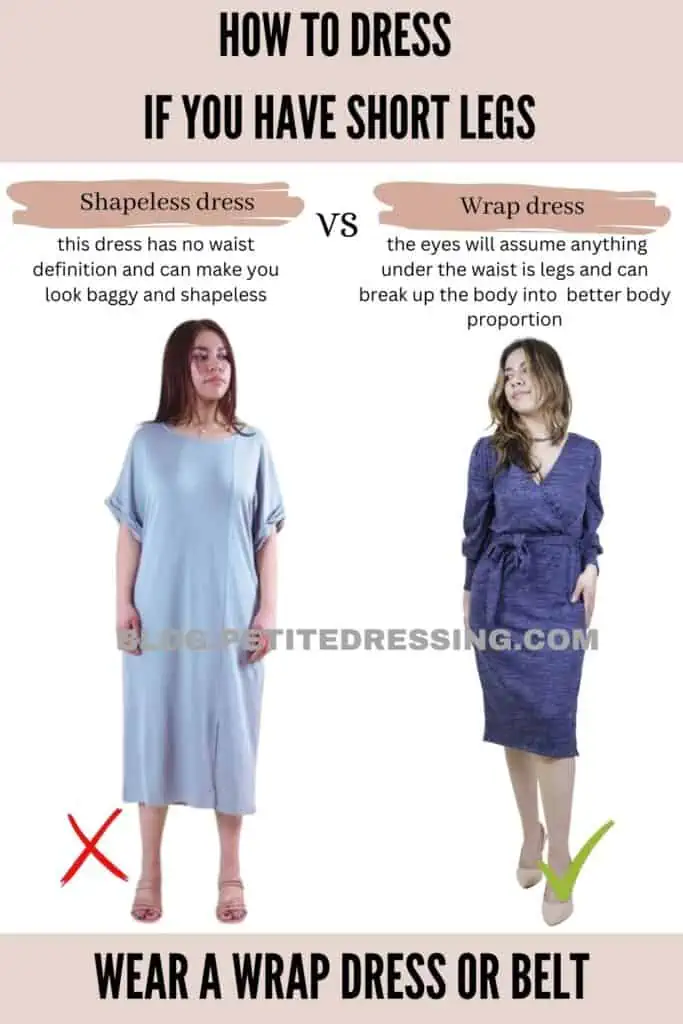 Since the eyes will assume anything under the waist is legs, then you can use a belt to break up your body into better proportions by wearing it higher than your natural waistline. 
This trick works on dresses as well as sweaters and jackets.  A wrap sweater with a strap higher than your natural waistline will make your legs look longer instantly.
Wear cropped jackets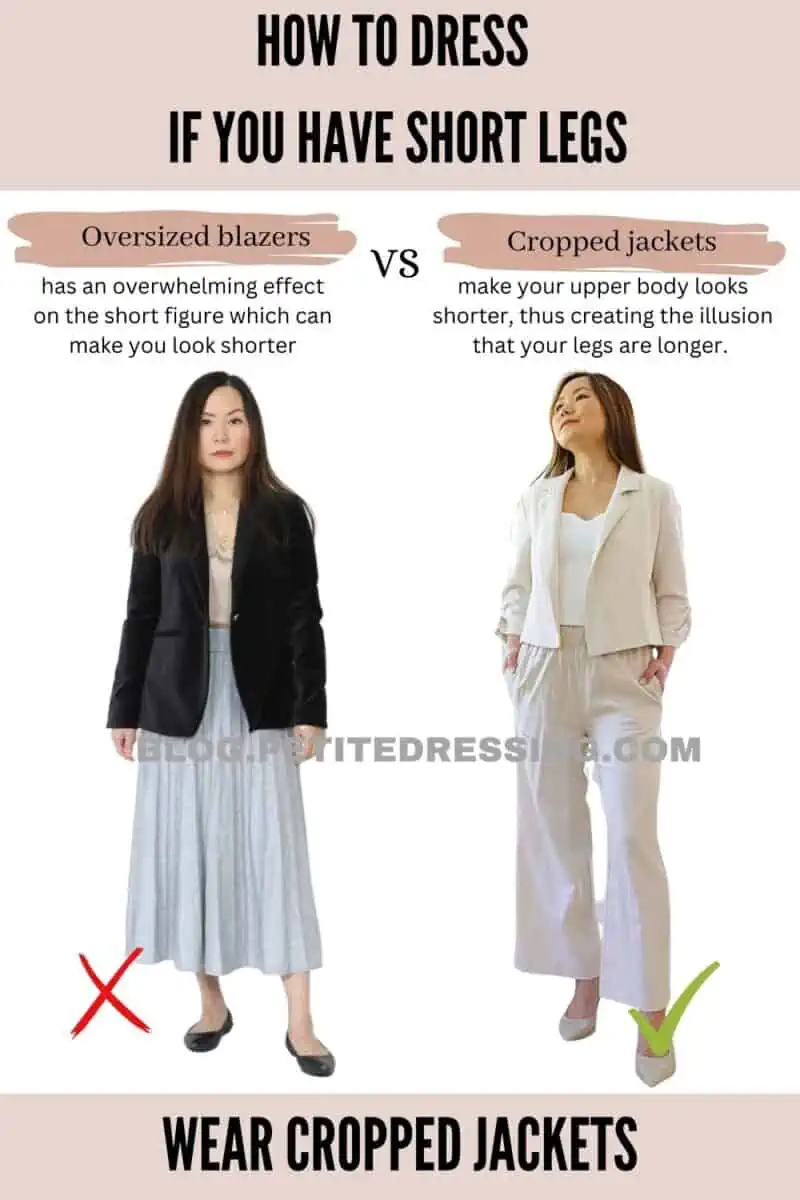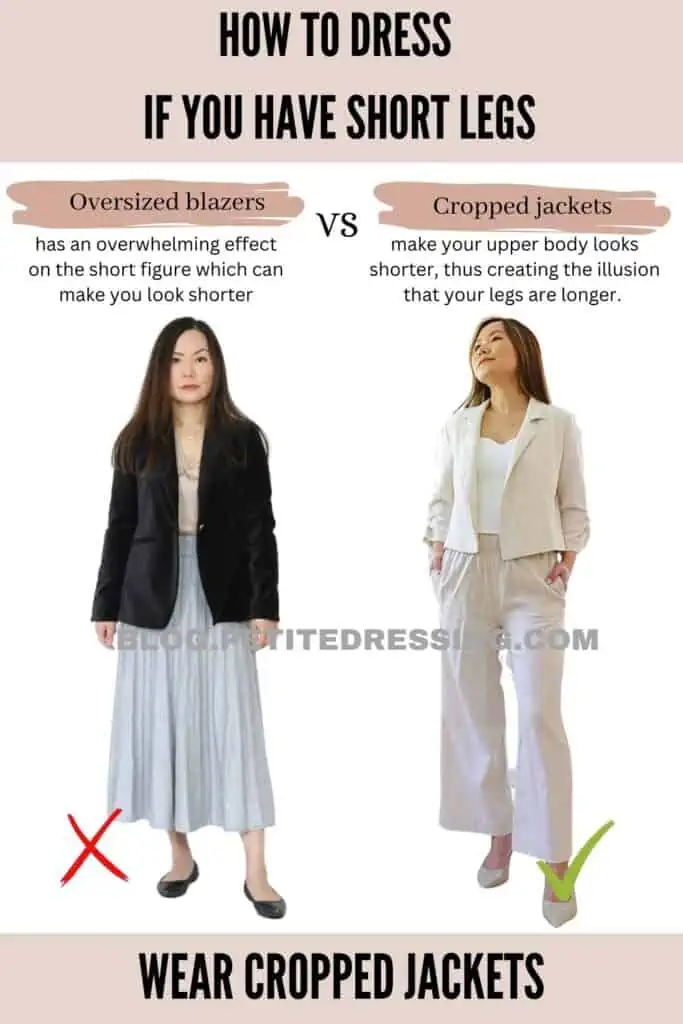 Cropped jackets make your upper body looks shorter, thus creating the illusion that your legs are longer. Remember to pair cropped jackets with:
Longer skirts (at least hit the knees)
Pants (at least hit the ankles)
Instead of mini skirts or cropped pants to balance it out.
Vertical details in pants or jeans
Vertical details make your legs look longer. Now, there are different things that could count as vertical details.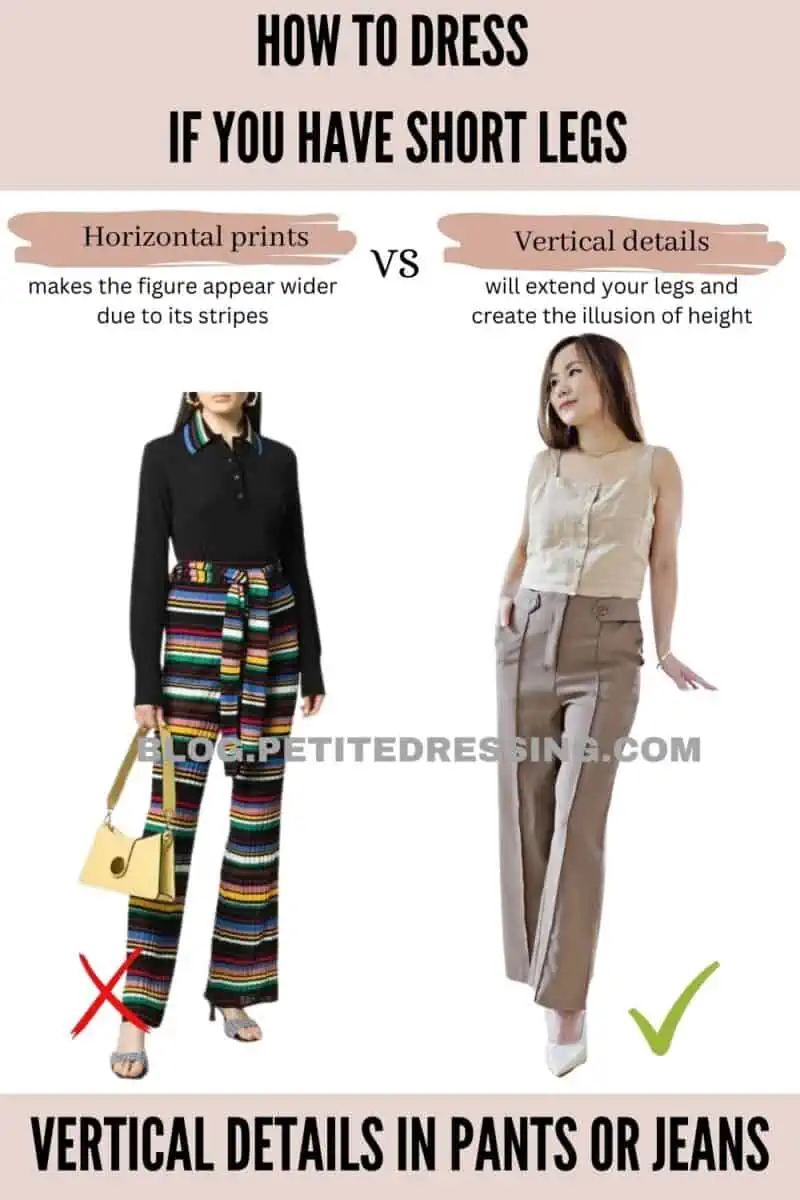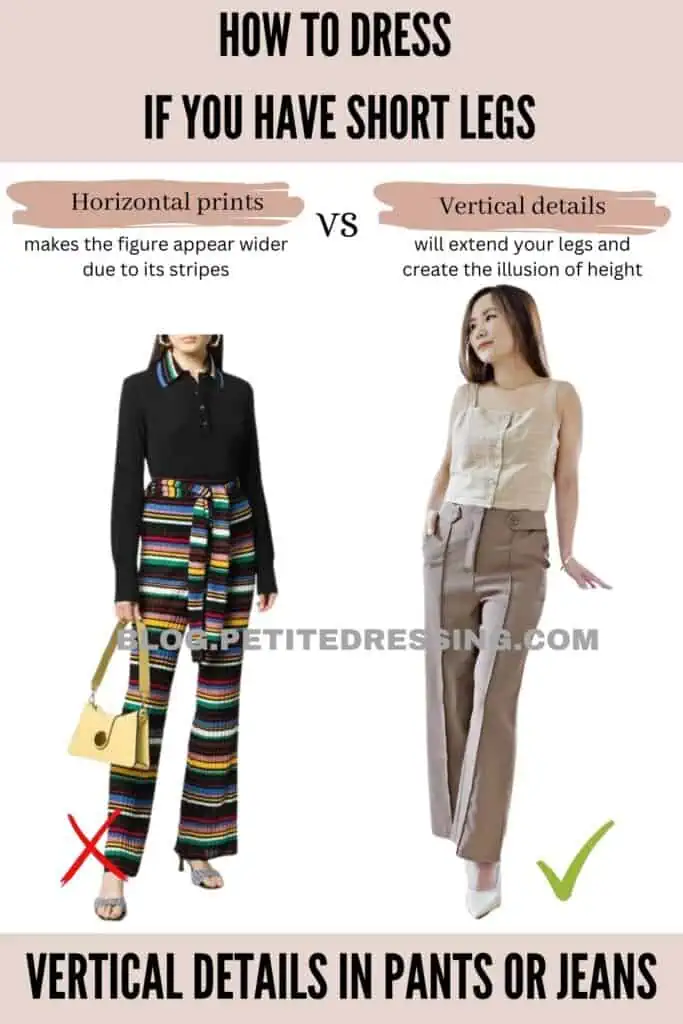 For example, jeans with a vertical hemline will extend your legs and create the illusion of height. Jeans with piping on the sides of the legs will also make you look taller. 
The most obvious is to go for vertical prints- if you are not a big fan of the black and white zebra-looking stripes all the time, you could opt for vertical prints that are more subtle.
Wear one piece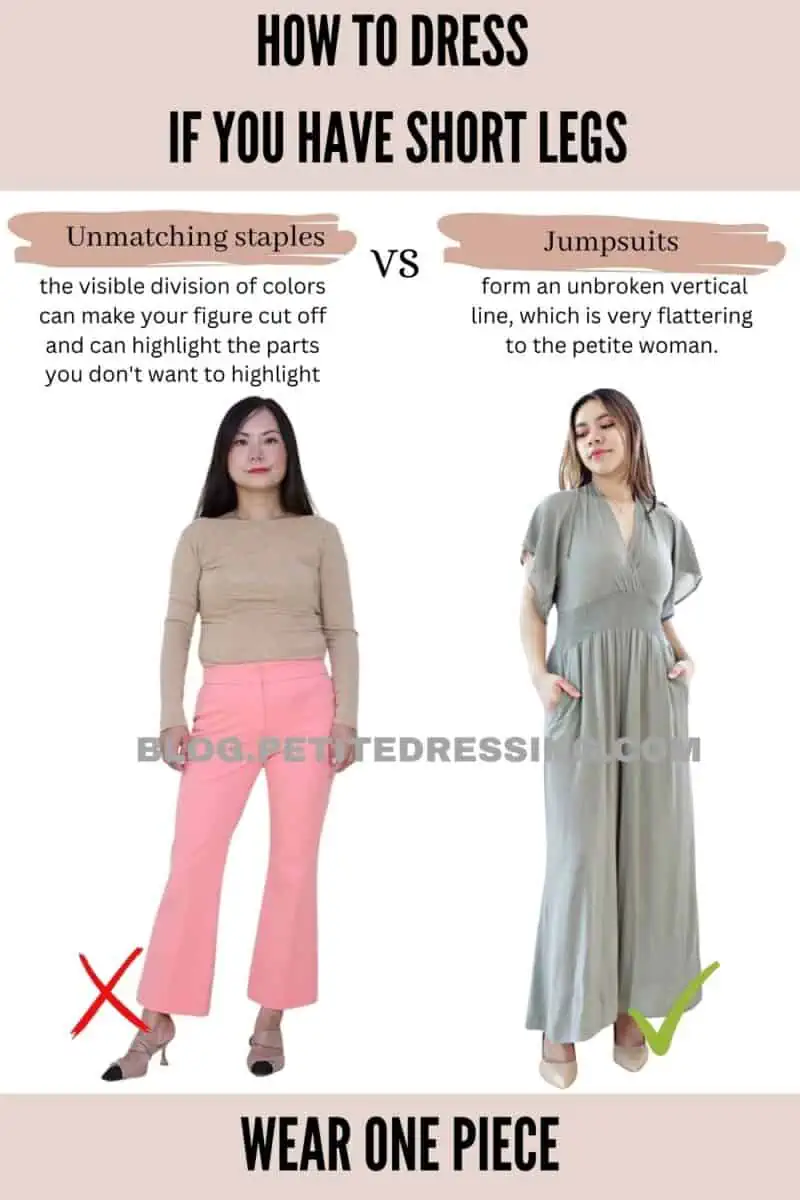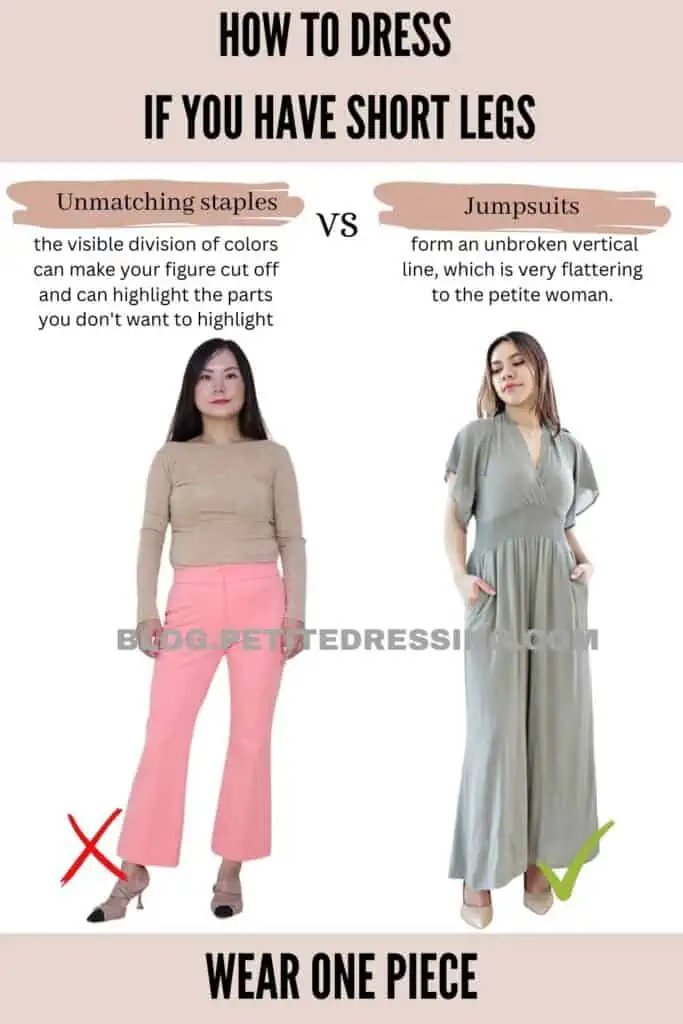 For short girls, the easiest way to look taller is to wear one piece such as a petite dress or petite jumpsuit.
Dresses (especially petite maxi dresses) or jumpsuits form an unbroken vertical line, which is very flattering to the petite woman. If you wear them with heels, they can easily make your legs appear longer.
Avoid heels with a heavy bottom
I'm referring to platform shoes or chunky heels.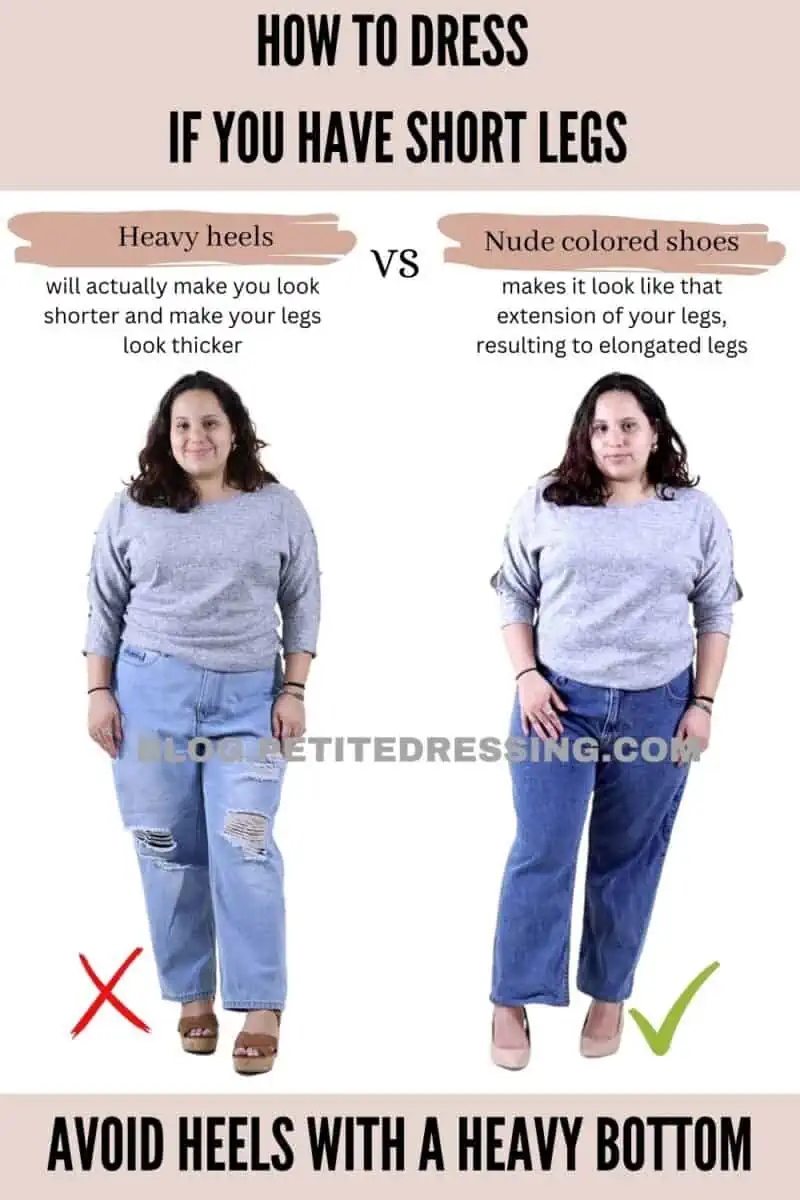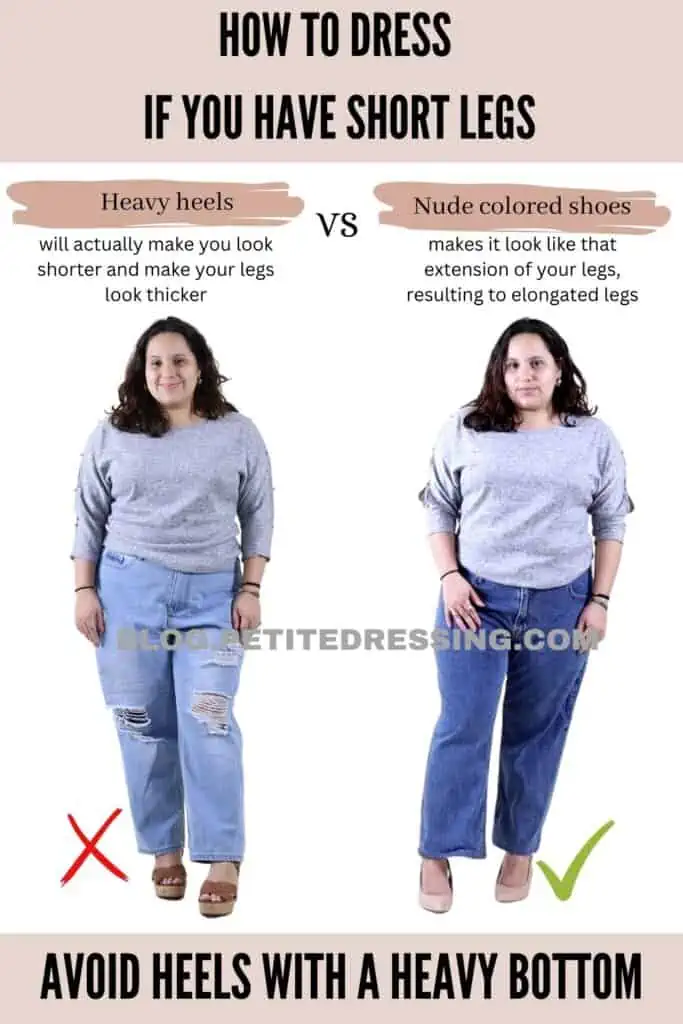 Women with short legs would love to add a few inches to their height, so high heels shoes without a doubt is the most obvious choice.  You may think platform shoes or chunky heels are the easiest options to achieve that, but it is quite the opposite.  It is true they provide a lot more stability for standing or walking, and you will not have the sense of teetering like in skinny heels. 
However, the bulkiness of the platform and the chunky heels has a weighty appearance, and they will actually make you look shorter and make your legs look thicker.  Women with short legs should avoid platform looks in general. 
Now, wedge shoes with a pointed toe could be a good substitute if you are looking for heels you can stand or walk in for a long time.  The pointy toe extends your legs, while the wedge provides the comfort you need.  Read more about The Best and Worst Shoes for Petite Feet.
Avoid cropped wide-leg pants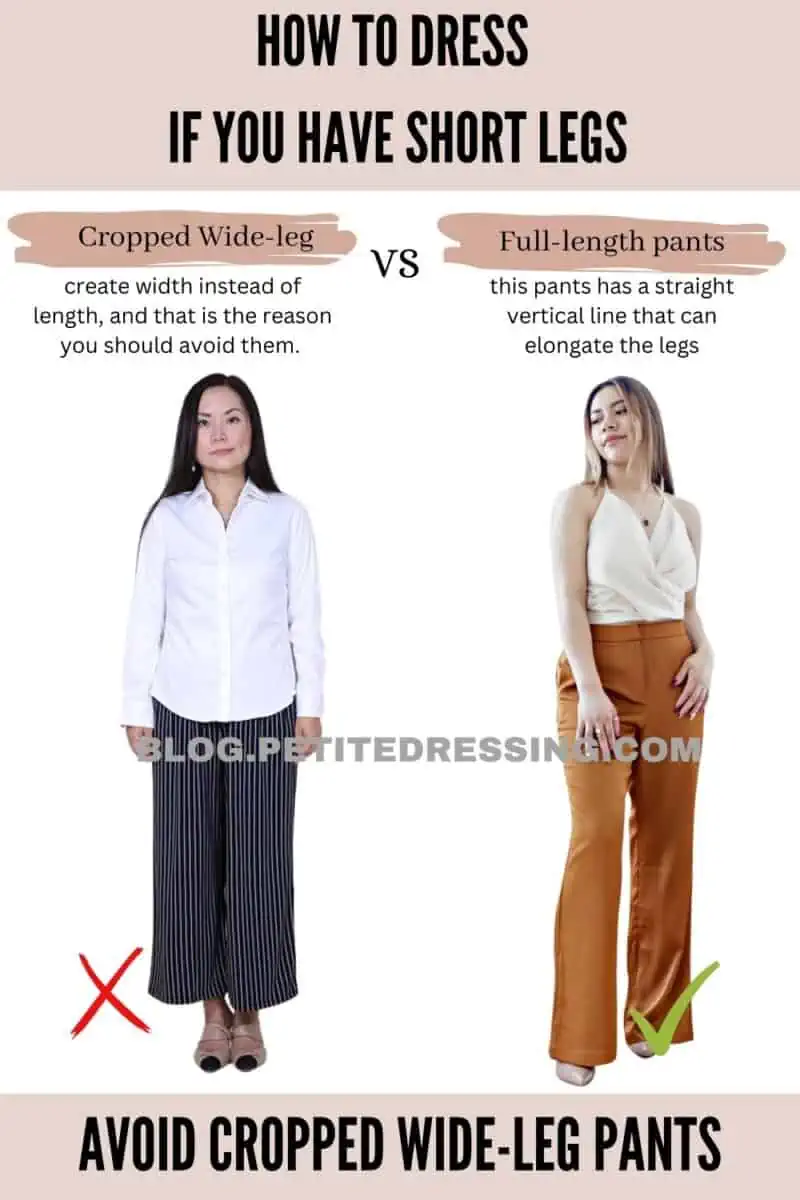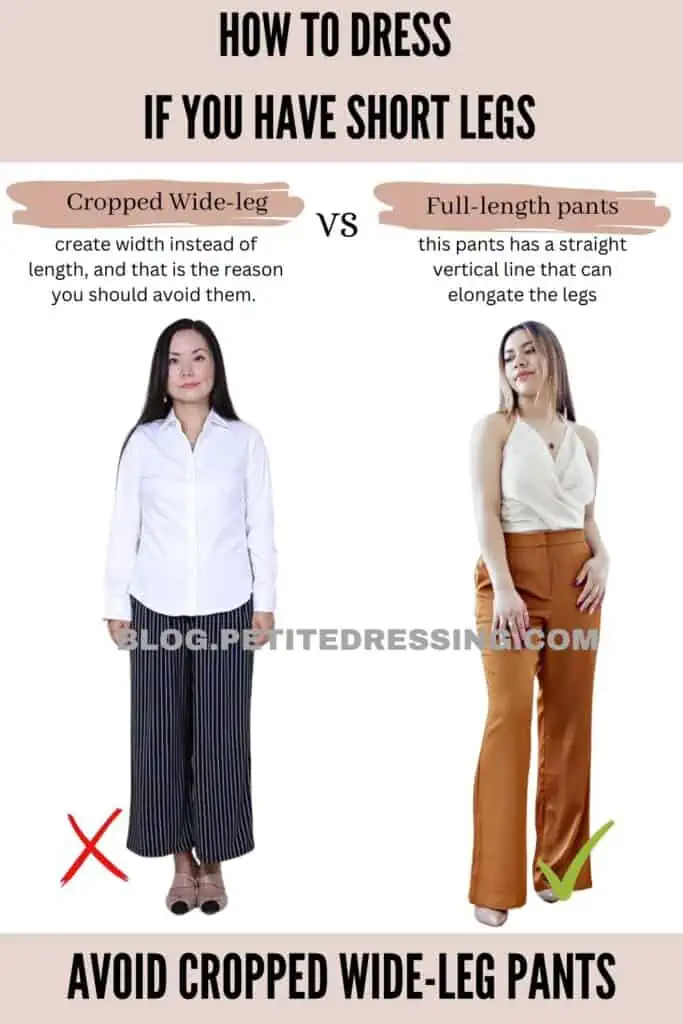 For women with short legs, it is important to create length, so you should always think vertical. 
Anything that goes horizontal will make your legs look shorter.
Wide-legged pants create width instead of length, and that is the reason you should avoid them. If you are under 5'4", it is hard to pull off the wide-legged pants without visually looking shorter.
Of course, nothing is absolute, you may have noticed them on some petite celebrities such as Victoria Beckham and Nicol Riche or bloggers such as Extrapetite's Jean Wang, however, that does not mean it will look just as good on you. Victoria Beckham, Nicole Riche, and Jean Wang are very skinny and their body has very easy-to-style proportion. Even though their height is under 5'4", I would not consider them to have short legs, at least not proportionally.
For most petite women, a pair of well-fitted narrow-leg pants will look much more flattering on you.
f you absolutely love wide-leg pants, wearing them long is the key and it is critical that you pair them with high heels of similar color.(Read more about Short Girls How to Rock Petite Palazzo Pants.)
Avoid horizontal prints
This one seems obvious. Horizontal prints are not flattering to women with short legs, because they just visually make your legs look wider and shorter.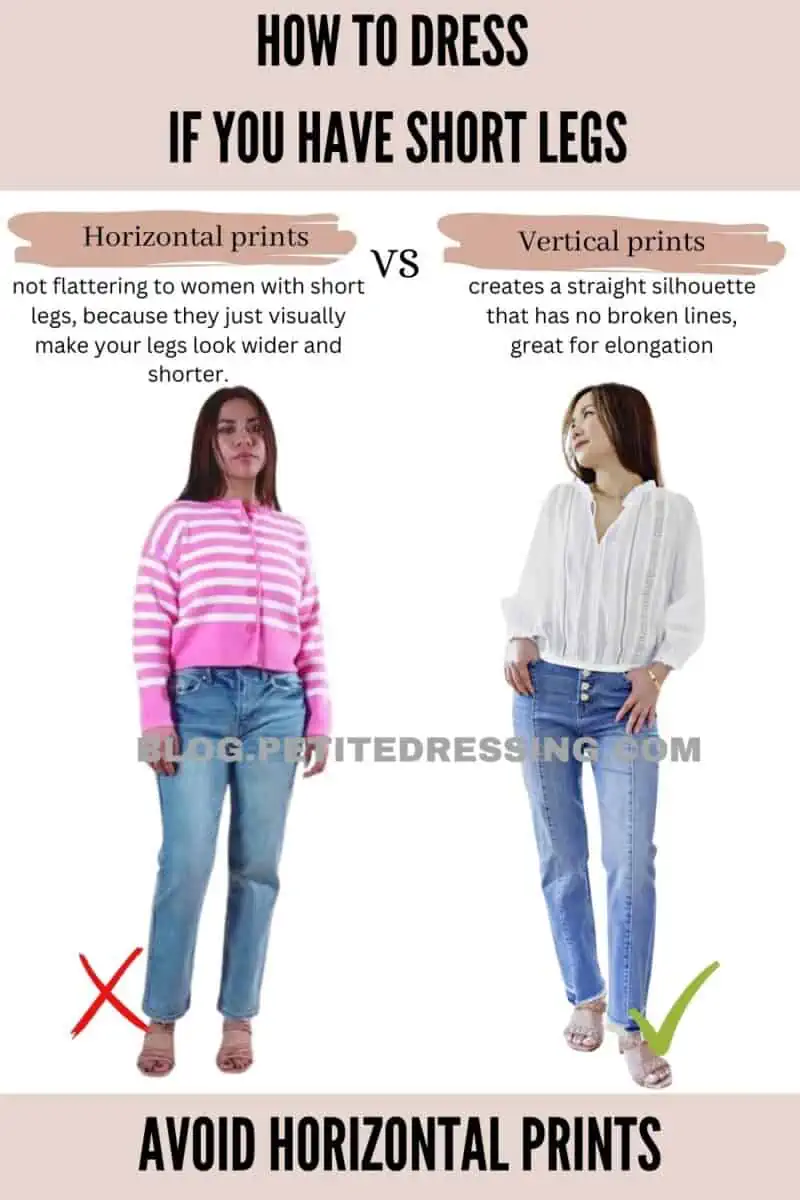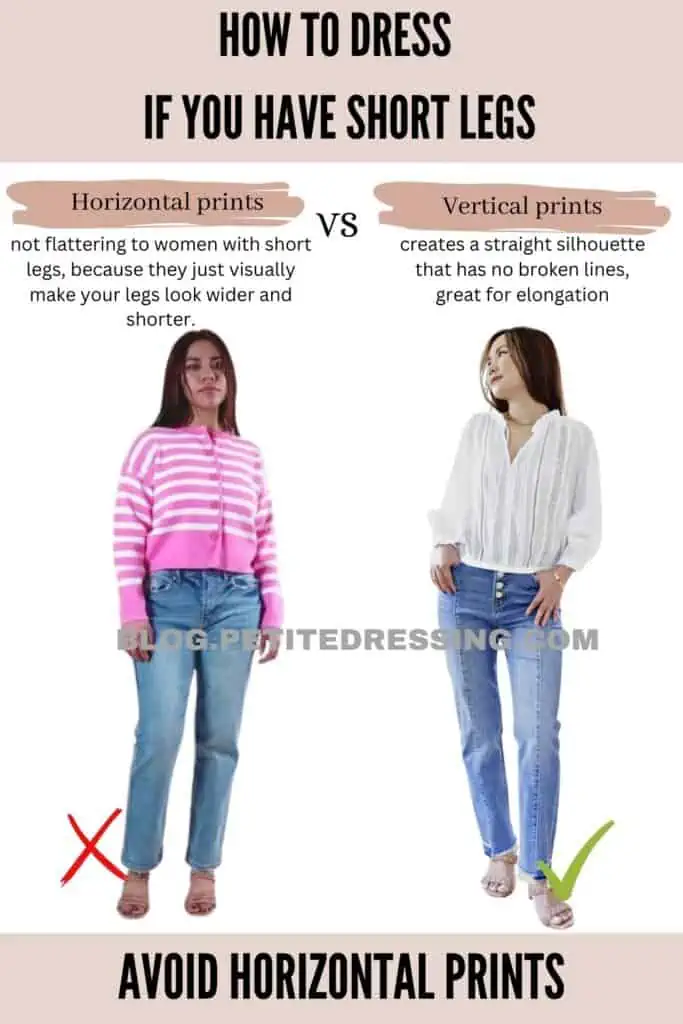 Avoid oversized boyfriend jeans
If you have short legs, anything oversized will not look good on you.  For quite some time, boyfriend jeans have become a trendy style, but they are not really flattering for short women. The slouchy fit may be comfortable to wear, but they just make your bottom half look heavy and your legs look shorter.
If you really love the casual and cool girl look of boyfriend jeans, opt for a revised version of the so-called "girlfriend jeans" which is not overly baggy and will fit petite women better.
Avoid carrying crossbody bags too low
Did you know that crossbody bags with long shoulder straps will make you look shorter?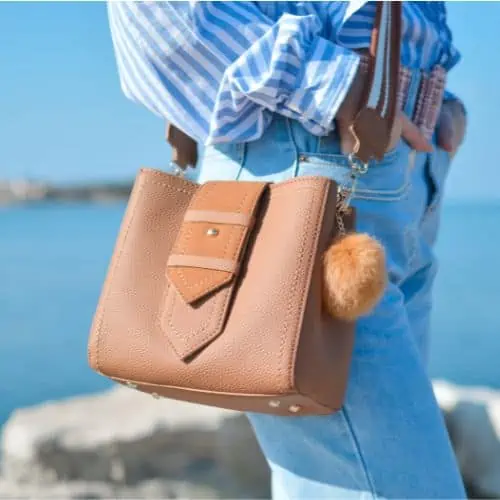 How do these make you look Shorter?
The reason is wherever the strap ends will become the focal point of the eyes, and if that point is low, it will drag the focus point down, thus making your legs look shorter.
It makes things double worse if the cross-shoulder bag is oversized.
If you are petite, try to carry your bag higher. The best is to carry your bag on your shoulder, or you could hold it in your hand. If you love crossbody bags, make sure to check out the strap length and go with adjustable straps. The best way to find out is to carry them in front of the mirror and see where the bag ends. If it is way below your hips, then that is not flattering for women with short legs. (Read more about Girls of Petite Height: 7 Smart Ways to Style Accessories)