Finding the best pants for petite women is like the hardest task on earth, for as long as I can remember.  I am 5'2″, and for years and years I have been struggling with pants shopping. I understand that is the common frustration shared by a lot of customers of Petite Dressing, as well as my fellow petite bloggers.
Watch my Youtube video that summarize my points in this article, and I highly recommend you read the full blog post after you watch the video!
Standard sizes in the US are made for women 5'5″ and above, with standard inseam of 32 inches, which is why it is not going to work for the short gals. (Read my post on The Truth about Petite Sizing).
I do not remember the last time of shopping at a regular department and actually finding a pair of pants that didn't need alteration. Being petite and having shorter legs means even the ankle length pants in the regular department (normally 28 to 28.5 inch inseam) could be dragging on the floor.
Normally, pants with inseam longer than 27 inches hardly look good on petite women, unless you wear them with heels.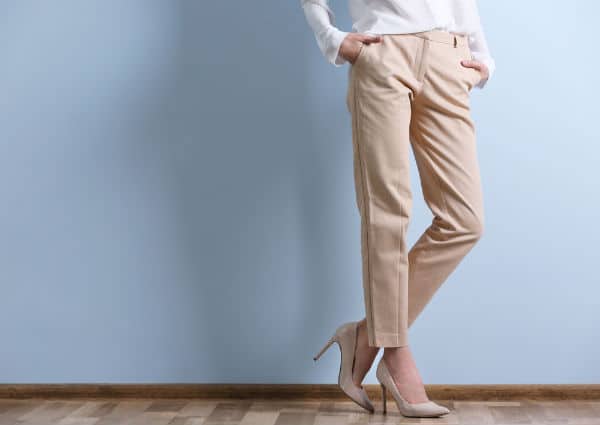 Most of us short girls are very used to sending the pants to tailors. Can they solve your problem?
The issue is, hemming can definitely make it shorter, but you could lose something you paid for. If you bought a pair of jeans with scissor cut hem, it will be chopped off by the tailor! If you get a pair of ripped jeans of regular sizes, cutting it shorter doesn't change the fact the ripped parts are at the wrong places for girls with short legs. Don't even mention biker jeans or jeans with ankle zipper.
It is a good thing that more and more brands are realizing that close to half of the female population is actually under 5'4″, thus starting to make pants and jeans for us short girls. That gives us a lot more choices than before to find the best pants for petite women.
Here I also want to clarify a key concept. A lot of people are under the impression that petite clothing is just the shorter or smaller version of regular size clothing. What I want to stress here is, given our height, we also have to be more selective with styles to colors. Not all pants and jeans are created equally, and the truth is certain styles only work on taller people. We should not expect anything that looks great on Gigi Hadid or Rihanna will look just as good on us.
I have put together this guide for shorter girls to find the best pants for petites that work for your height. (Read The Best Petite Jeans for Your Body Type).
Sailor Pants
These are high waisted pants with decorative buttons on the waist. The reason they are so flattering to petite women is they draw people's attention above your natural waist line and make your legs look longer.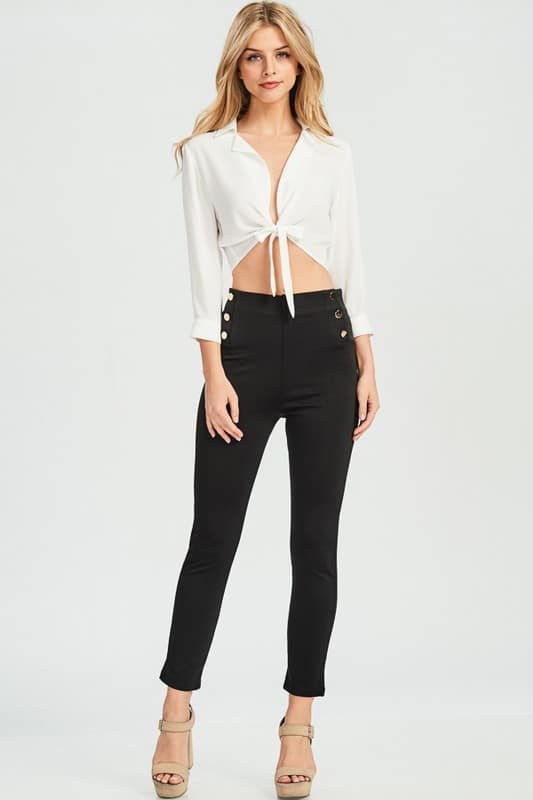 Most sailor pants are full length, but you can also find some at ankle length. Whether you wear ankle length or full length, they will make your legs appear to be longer.
Wearing them with heels will give you the sexy vibe as well as double the leg elongating effect. If you want to wear them with flats, no problem, just make sure you wear flats with pointy toes so that you maximize your leg length.
The exception, however, is if you have short torso. If you are petite and have short torso, high waisted pants will not work for you because they only make your torso look even shorter.
The best pants for petite women with short torso are mid rise pants, which balances out your short torso and do not reduce your leg length like low rise pants do. Since shorter torso normally implies longer legs, you don't have to worry about your legs looking too short, which is great news for petite girls! If you have larger bust, you may not want to wear high waisted jeans with a crop top because that will probably draw all the attention to your chest area.
Flare Pants
The key to wear flared pants is the pair them with the right shoes. In other words, you should pick the inseam for the shoes you have in mind to wear them with. For shorter women, it is best to wear flared pants with heels, if you want to benefit from the leg lengthening effect to the maximum.
In terms of the inseam, you should avoid going too short or too long. The ideal length of flared jeans should hit at the perfect mid point of your heels, and that way your legs will look mile long. If you wear it with heels, you should avoid inseam that is too short, otherwise there is a potential risk your legs might look cut off at the ankle because of the flare. If you wear it too long, you could possibly trip on the fabrics.
If you want to wear flared pants with flats, the best is to pair them with those with pointy toes. Even without heels, pointy toe flats can still make your legs look longer and make you look taller.
Cigarette Pants
Cigarette pants is a classic wardrobe staple that you should definitely own, because it goes with almost any outfit (casual or formal) and it works on most petite body types. The key word here is "fitted", because short women should stay away from loose or slouch pants of any kind.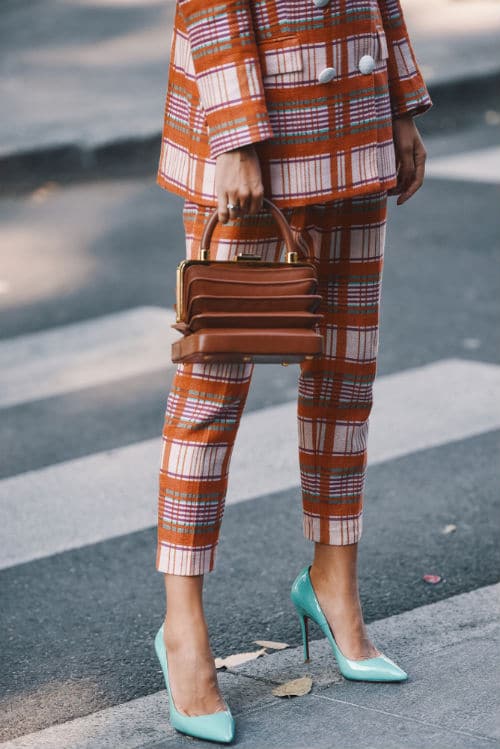 Photo: Shutterstock
To find the best pants for petite, picking out the right length is important too. Ankle length will look good with almost any top, and it works with either flats or heels. In the fall or winter, ankle pants are best paired with ankle boots of the same color. That will make them look like an extension of your legs.
If you want extra leg lengthening effect, wear them with heels and go with a pair of straight leg pants that brushes off the middle of the heels.
Anything shorter than ankle length can potentially make your legs look cut off, so I wouldn't recommend shorter than this.
Of all the petite celebrities, Victoria Beckham is the master of the straight leg style, and long pants is one of her most famous signature looks. Most of the time, she wears really long pants and occasionally she wears them at ankle length. We have found the fitted long pants paired with stilettos most flattering to her. If she is wearing straight leg pants with high heels, people may not notice if the extra height is coming from her shoes or if it's just her legs!
Pants with Vertical Details
Pants with vertical stripes are on our list of best pants for petite women as well.
The reason is quite simple. Short women need to create length through what they wear in order to improve their proportion and make their legs look longer. Vertical stripes can achieve the lengthening purpose because they draw people's eyes up and down.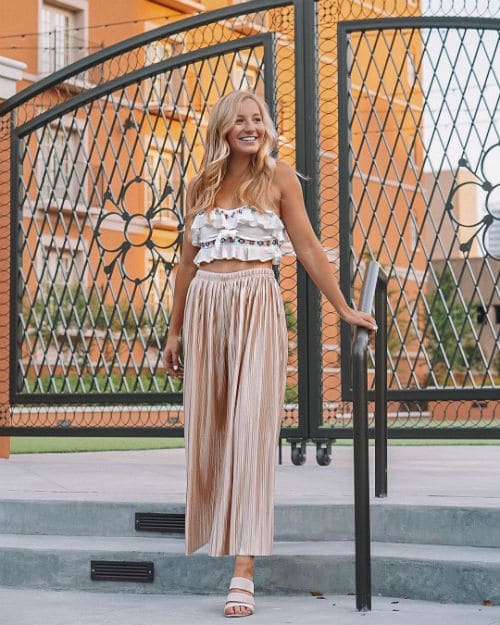 Wearing vertical stripes doesn't mean you should look like a zebra. Instead, it's recommended to go for more subtle stripes such as beige and white in the spring and summer, or navy and black for the winter. Loud patterns normally do not suit petite women, and simpler prints are generally preferred.
Since vertical stripes make short people look taller, then vice versa, horizontal stripes could make a short person even shorter because they draw people's eyes from left to right. There is no absolute rules in fashion and everything is relative, but you should use your best judgement with the common knowledge in mind when looking for the best pants for petites.
When we say that vertical line is our choice of best pants for petite girls, we are not just referring to the pattern. Similar to vertical stripes, pants and jeans with vertical designs also have the leg lengthening effect and are one of the best style of pants for petites. Examples are vertical hems in the front or pipping on the side, or pants with slits. The designs are subtle enough to not to distract people from your upper body, but they work the same way in terms of creating length in your petite body frame and make you look taller.
Full length pants
Talking about the best pants for petite women, one question that constantly pops up and is widely debated about is if short women should wear wide leg pants (also known as palazzo pants, a very popular search term in recent years). It is one of the top trends right now that you see it on lots of celebrities and many of your favorite petite bloggers.
The answer is yes, of course wide leg pants can work if you are petite, as long as you pay attention to two most important things.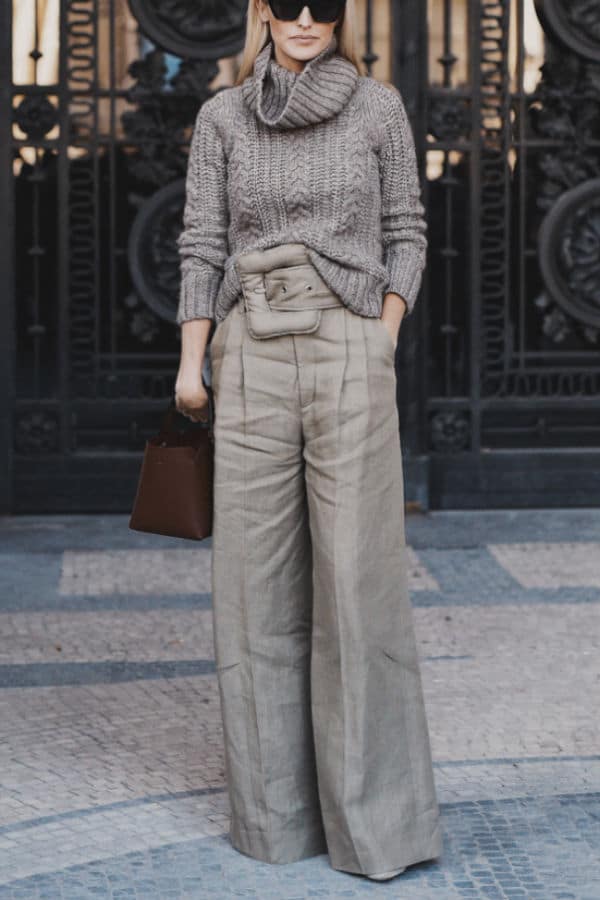 Number one is the length of the pants. Anything wide will expand you horizontally, and (sadly) make you look shorter. Sorry, that's just a fact and how our eyes work. But, what you can do to counter that is by going vertical. That means if possible, go with the longest inseam you feel comfortable with. Ideally, the palazzo pants should cover part of the heels so that your legs look extended by a few inches.
Wear the right shoes
It is not mandatory but wearing them with heels will make your legs look longer. Block heels or stilettos can both work well with wide leg pants. If you want to wear them with flats, the best choice is flats with pointy toes. Wearing them with flip flops will not look flattering on a short person.
It is in your best interest to stay away from wide leg pants that only reach your mid calves, no matter how fashionable they are and how cool they look on your favorite instagramers! Mid calf is the most awkward length for pants, and especially for wide leg pants. They draw attention to the widest part of your calf and double the horizontal expansion effect of wide leg pants. Petite women should in general avoid this length.
Read more tips about How to Wear Petite Palazzo Pants.