Wondering how to make boobs look smaller? You are at the right place!
If you have large chest, it can be tricky! I'm sure I don't have to tell you that, because you probably already feel the pain from time to time. In fact, having big boobs is one of the main reasons that make causal wear for hourglass shaped women so hard to find.
We are bombarded with social media or commercials modeled by women with extremely feminine curves. Nothing wrong with models who have those curves, but it seems so many people (especially men), and our society, think that having a large bust is something to be admired. Since having big boobs in many cultures is viewed as the most desirable and feminine shape, not everyone understands that a lot of women who actually HAVE a larger chest can struggle with dressing their shape.
The Challenge of having large breasts
For starters, having big chest makes it so much harder to find certain clothing that fits you, such as button down shirt, or a blouse.
Secondly, if you ever want to wear a shift dress or any dress that goes up and down, the fabrics will just hang straight down from your boobs, which gives you a bit of maternity dress look!
Thirdly, having large chest can also make you look chubbier than you are. That is especially obvious if you happen to be petite. The reason is shorter women tend to have shorter torso and shorter waist. Therefore, if you are short AND have large breasts, then you could look a bit "hunched". It almost look like under the boobs, there's not much space left for your waist…
Finally, certain styles that looks so chic on flat-chested women, such as the tube tops, could look totally…different (to say the least) on someone with big boobs. Do you ever feel that way?
I know, I know, the list can go on and on, and I totally understand. Even though I don't personally have this problem, I know many women (some of them are my readers) who strive to dress in a way that makes their boobs look smaller.
That is why I'm dishing out some easy to follow style tips on how to make your boobs look smaller. Keep reading to get all the stylish details!
Get the Right Bra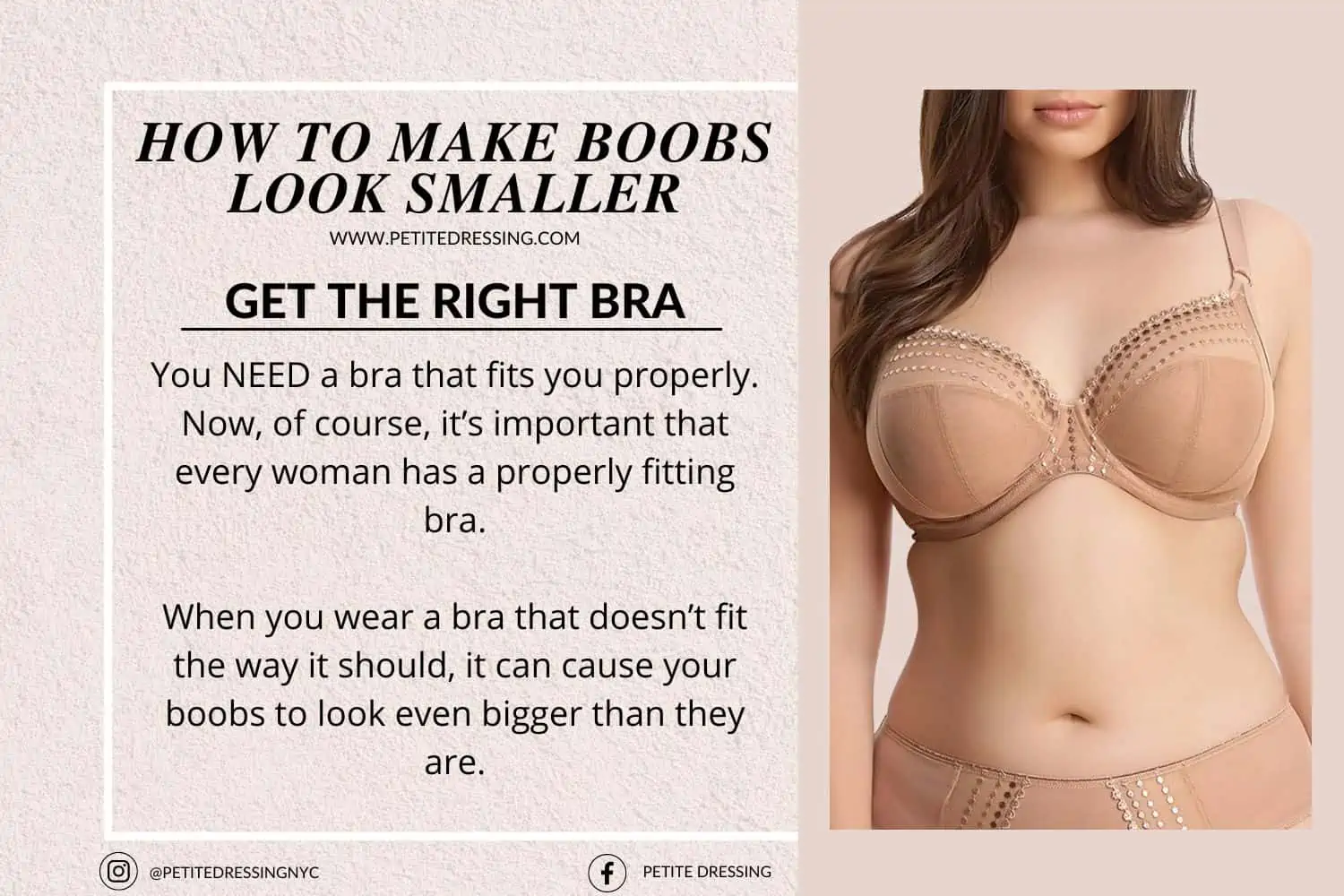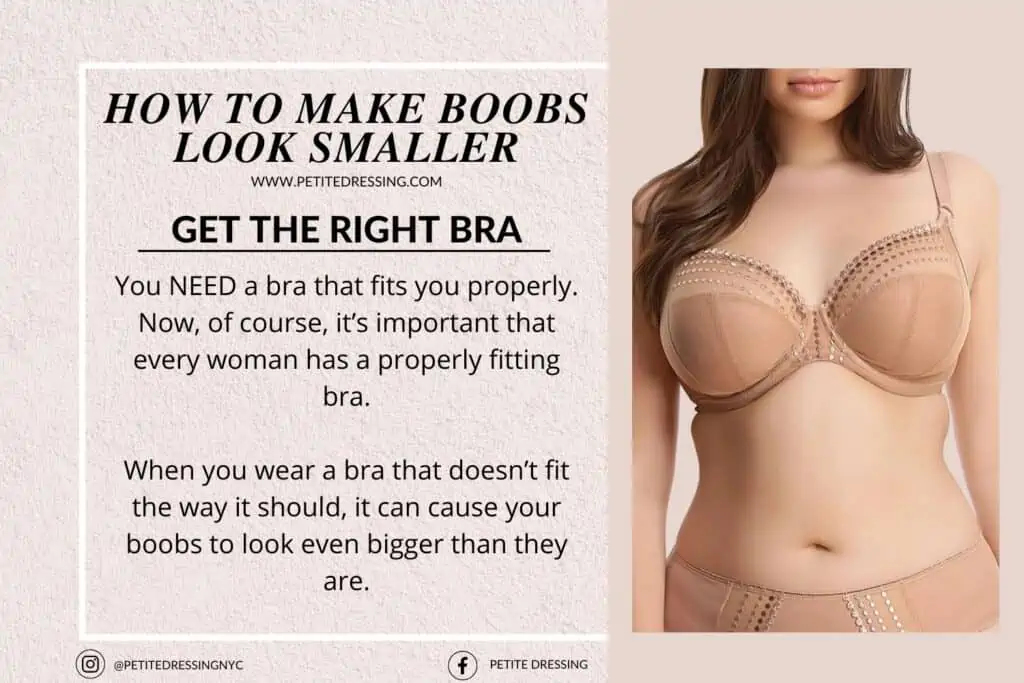 Ladies, I really can't stress this enough. You NEED a bra that fits you properly. Now, of course, it's important that every woman has a proper fitting bra. However, when you're striving to make your boobs look smaller, it's even more essential.
You've probably heard it before, but the number of women who are wearing the wrong size bra is pretty astounding! It may seem like a catch 22 at first, because you're probably thinking "I want my boobs to look SMALLER, so why does my bra need to fit perfectly?"
Well…that's exactly why you need your bra to fit properly. When you wear a bra that doesn't fit the way it should, it can cause your boobs to look even bigger than they are, much like the rest of the clothes we wear!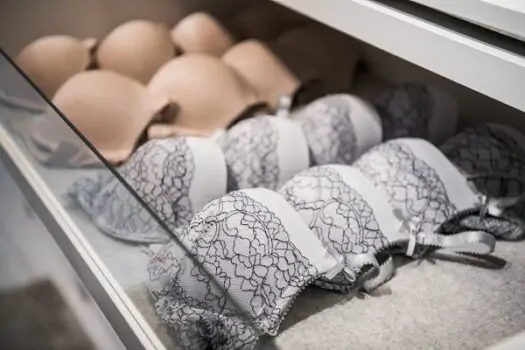 Get the Right Fitting
Now I have to tell you, it's not enough to just walk into a department or bra store and try on one or two bras. Unfortunately, getting properly fitted doesn't quite work like that. For your style goal it's crucial you take your bra fitting experience a bit further.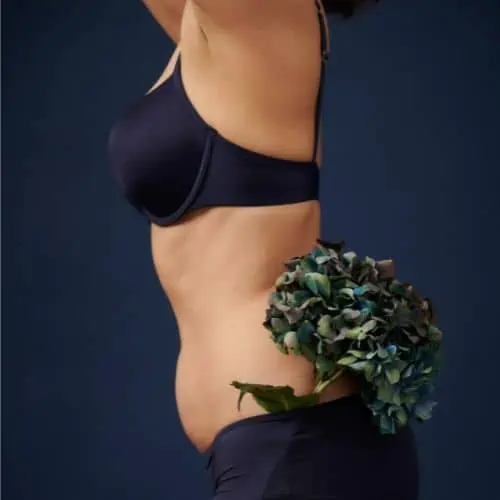 How to Get the Right Fitting?
Going to a bra fitting specialist is going to be the best bet here.
These individuals are, well…experts on fitting bras properly. That means they're able to help you find the absolute best bra options to fit your body and goals.
Honestly, if you take nothing else away from these tips I hope you understand just how transformational the right-fitting bra can be for you.
Wear Supportive Bras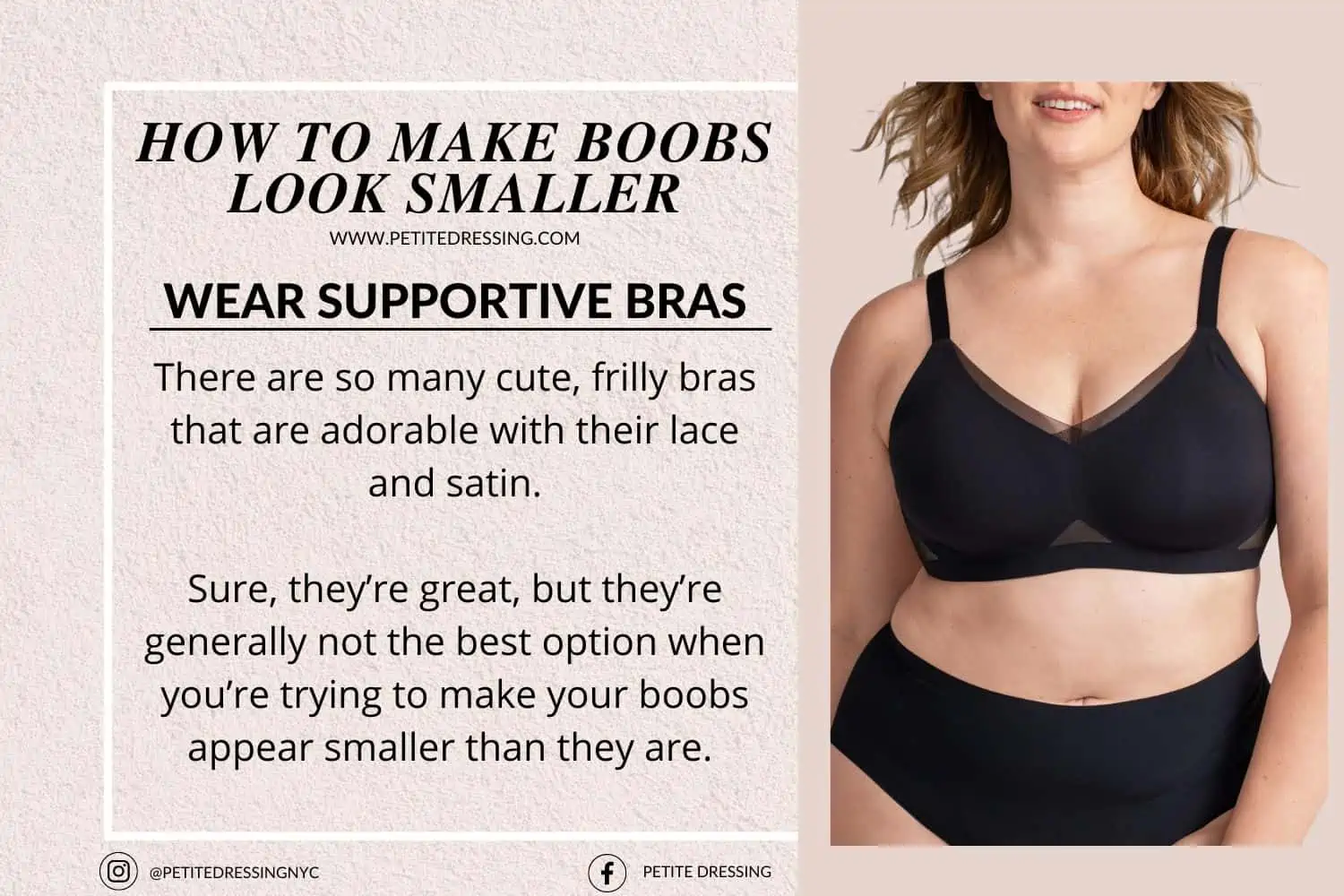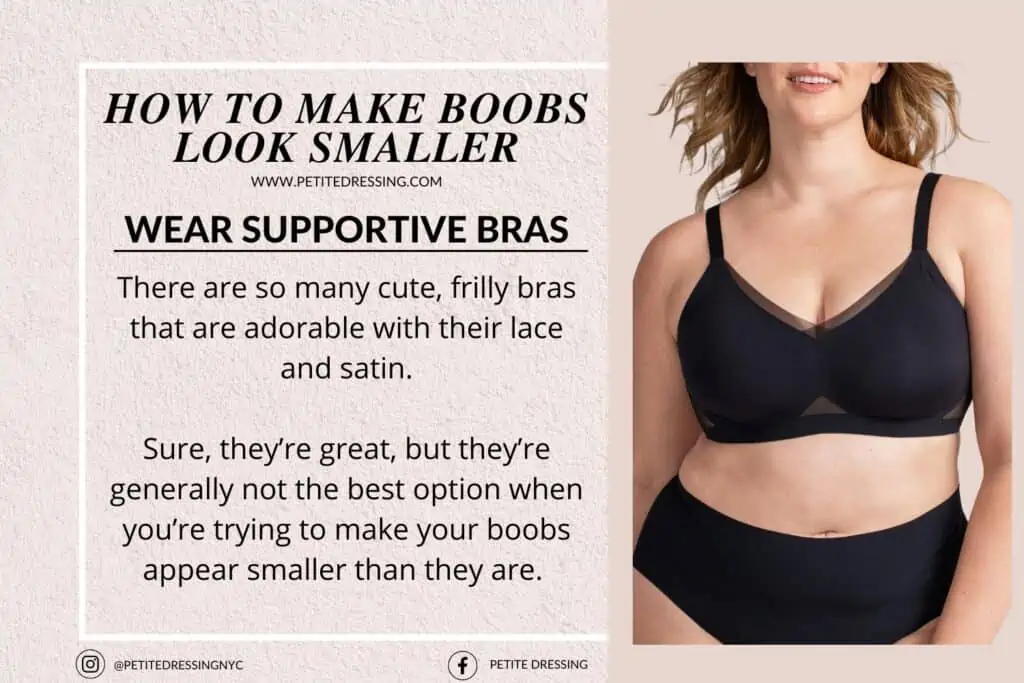 I know I don't have to tell you how many different types of bra styles and fabrics are available in the world. There are so many cute, frilly bras that are adorable with their lace and satin. Sure, they're great, but they're generally not the best option when you're trying to make your boobs appear smaller than they are.
Most often, those bras that are sexy or pretty don't provide a lot of coverage. Meanwhile, because they use really thin fabrics such as lace, they do not provide much support for your boobs.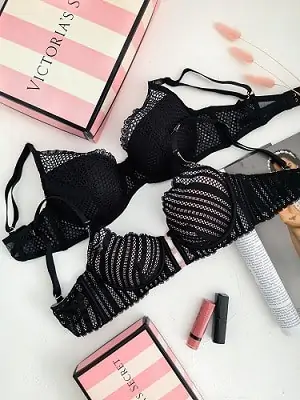 No Push-up
Of course, this also includes push-up bras or bras with a lot of padding in them.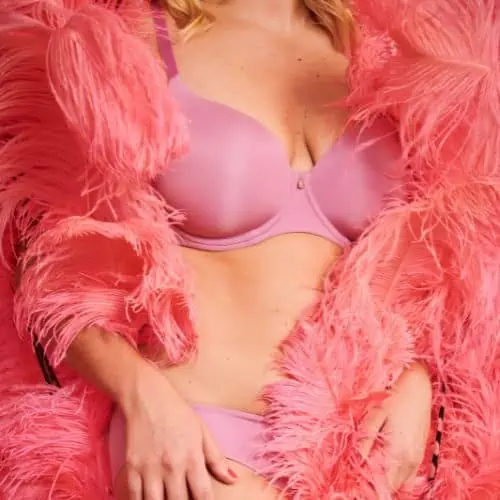 Why you should Avoid Push Up Bras
It probably goes without saying the additional padding is going to make your boobs look bigger, rather than smaller.
When you don't have a lot of coverage from your bra, you're not going to have boobs that look smaller, instead, your boobs will likely look bigger.
Wear Minimizer Bra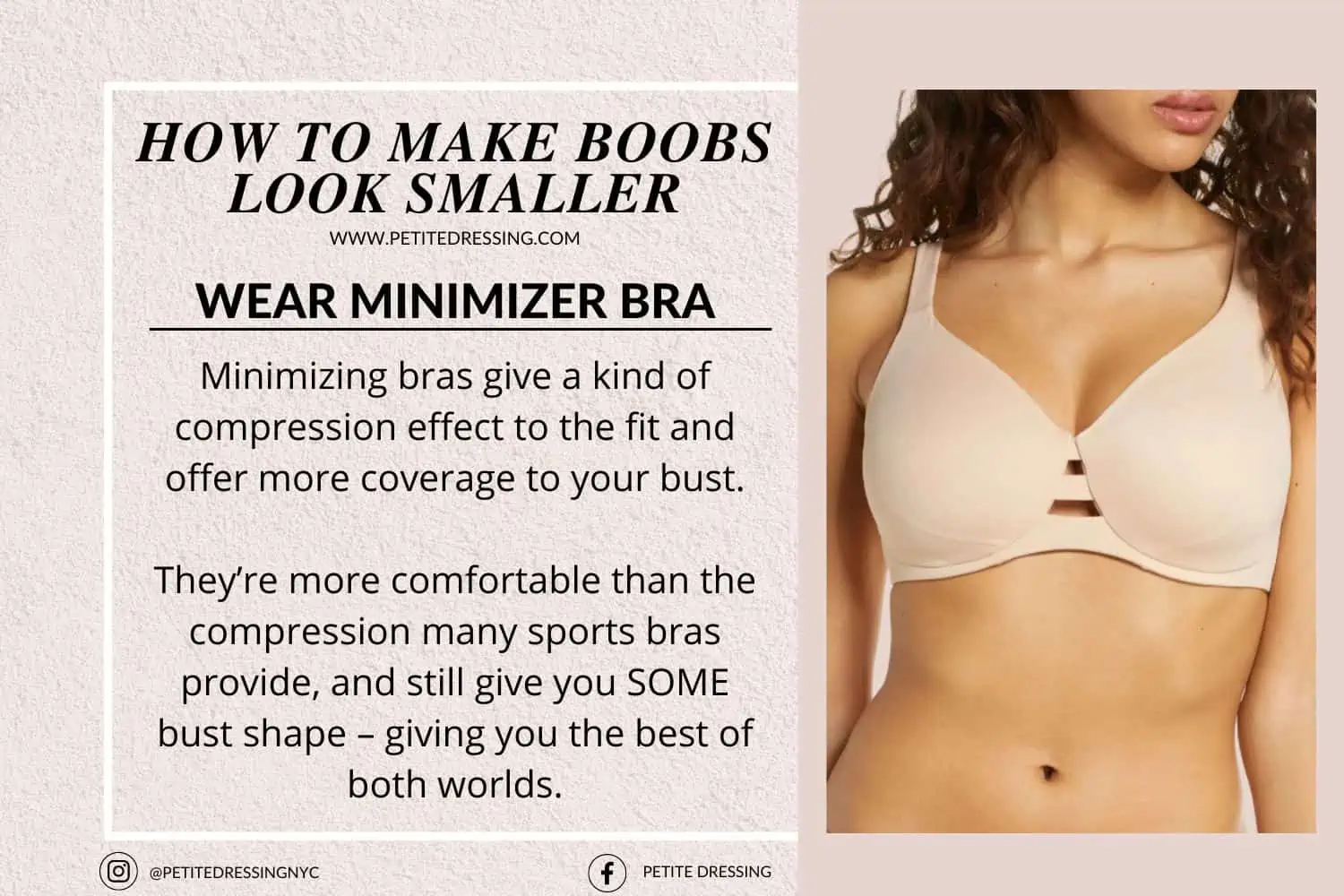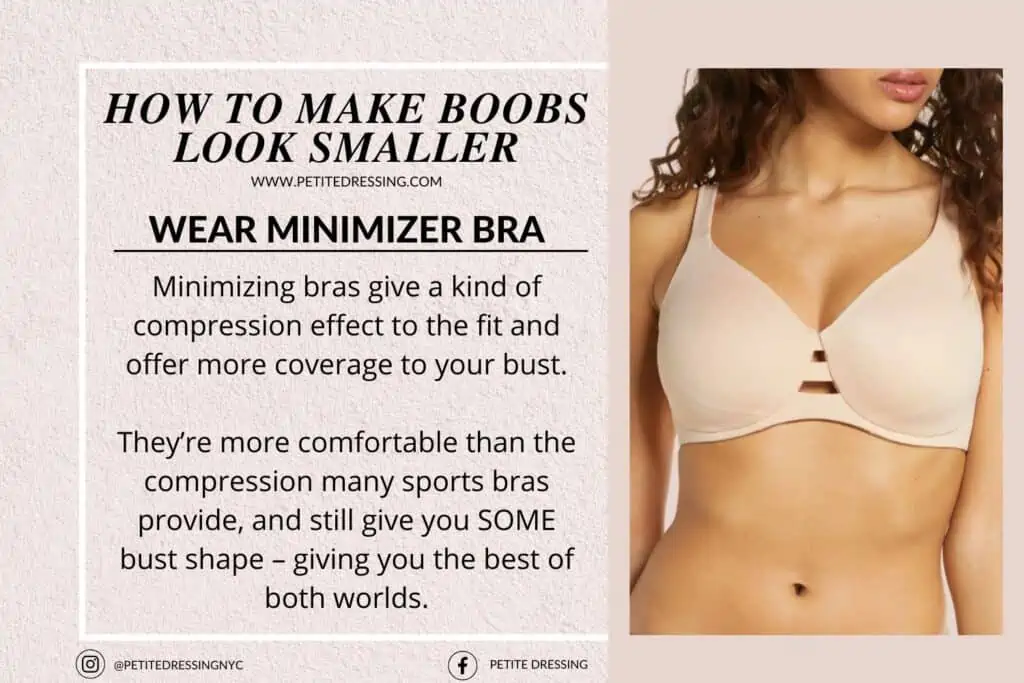 I've found that opting for a minimizing bra is a great route for women who want their boobs to look smaller. Minimizing bras give a kind of compression effect to the fit and offer more coverage to your bust. They're more comfortable than the compression many sports bras provide, and still give you SOME bust shape – giving you the best of both worlds. Now, just like any other bra, there are quite a few different minimizing bra options available so you will want to try at least a few different options to find the option that feels most comfortable for you.
There are many places to get minimizing bras from. Plenty of retailers carry them online or in local store. Of course, it's ideal to be able to try them on at local stores, which can also provide you with the expert fitting services as I mentioned. If you don't happen to find one near you, then shopping online could also work as most retailers make it pretty easy to return things you don't want.
Here is the list of bra brands who make minimizer bras and you can find them with major retailers such as Bare Necessities , Herroom
Wacoal
Chantelle
Simone Perele
Vanity Fair
Triumph
Lilyette
Bali
Bra Specialist
A popular bra brand for women with the full chests is the UK brand Fantasie Row. Their full cup bra size starts with UK Size D (the equivalent to US size D) and goes all the way up to UK Size F (the equivalent to UK size G)
They make not just bras, but also swimsuits, great news for women with full chest! You can shop their brand not only on their own website, but at major US retailers such as
If you happen to be in the UK, Bravissimo is a great brand that specializes in bras for women with big bust. If you are in the US, they can ship to you. I have not found a US retailer who carries Bravissimo, so it will need to be international shipping.
Opt for Fitted, Not Tight
Now that we've established the foundation pieces (aka your bras!) to make your boobs look smaller, let's chat about the way your clothes should fit to accomplish this goal.
Most women immediately go to thinking that the best way to do this is by wearing oversized clothing, but that's NOT the case here. Contrary to popular belief, if you put on an oversized top it's going to make your boobs look bigger.
More fabric = illusion of a larger shape.
Unfortunately, that's just the way it works. Instead, you want to wear clothes that are fitted.
Now, let me clarify just a bit here because I'm not saying to wear TIGHT fitting clothes.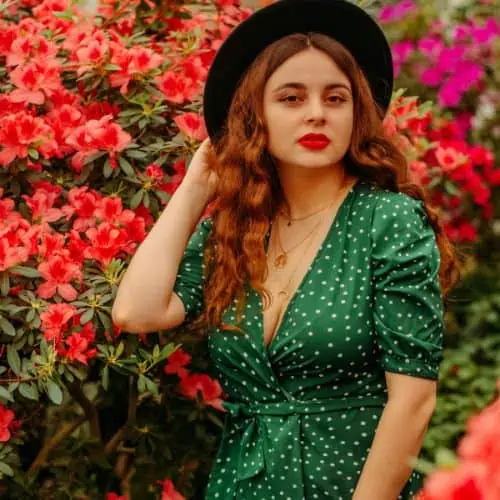 What to Wear Instead
I'm sure you've put on a tight-fitting top before and found that your boobs looked bigger than you'd really like.
That's why the goal really needs to be fitted instead of tight.
In other words, you really need a nice happy balance between loose and tight – where the clothes curve against your body shape and show where your body actually is.
This is especially if you happen to be short, because clothing with no shape tends to shorten us as well.
Take this advice into consideration for any garment that you're wearing on your top half. So, this includes not only your shirts and blouses, but also one piece such as dresses and jumpsuits. Don't forget that outerwear is included here! If you want your boobs to look smaller, tight fitting cardigans and very fitted blazer/jackets aren't going to help you achieve that.
Swap those tight fitting outwear pieces for something that has more of a straight fit. You will likely find pieces like denim jackets, bombers, etc. are great options for that straight fit that's flattering and gives your boobs a smaller look.
Avoid High Necklines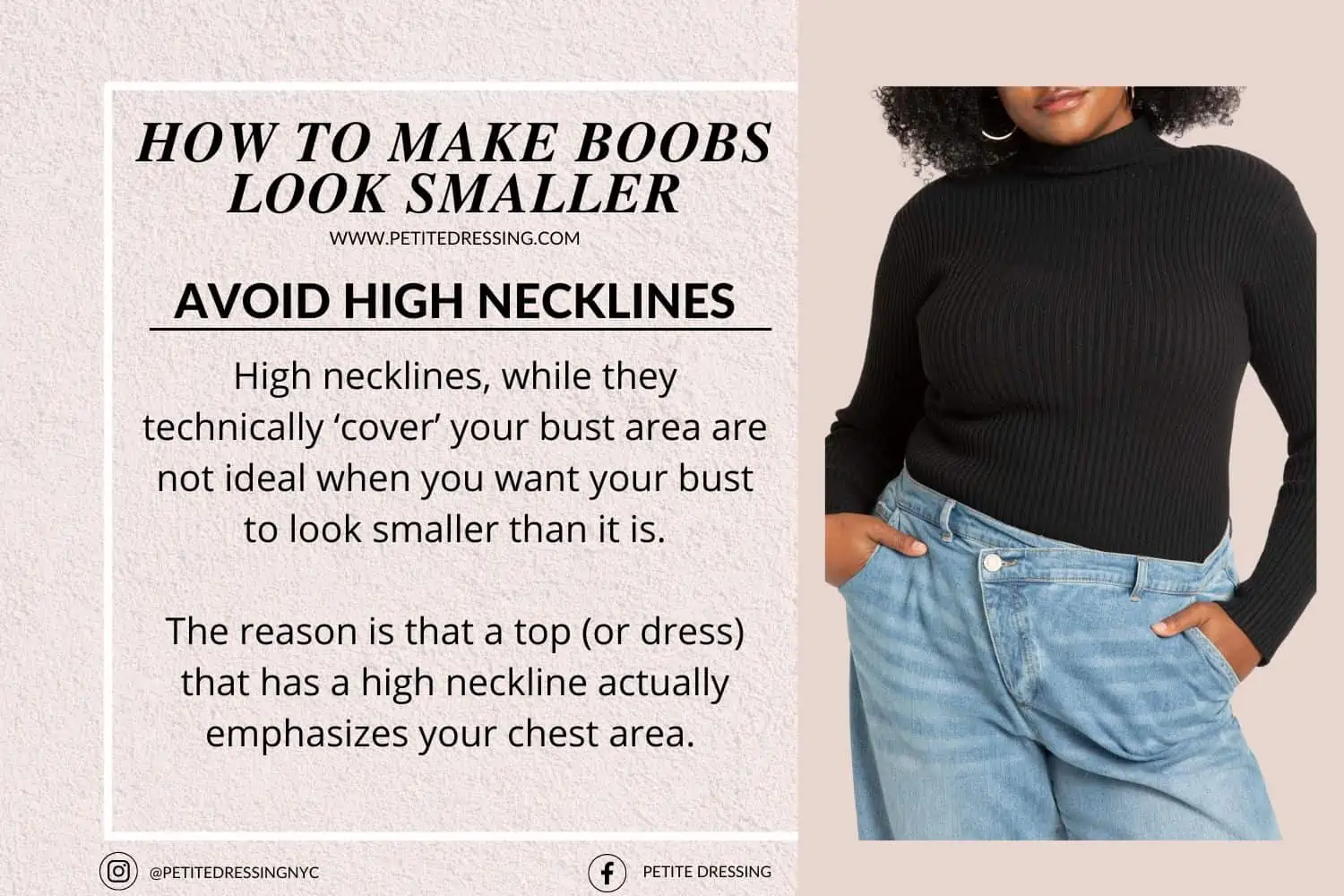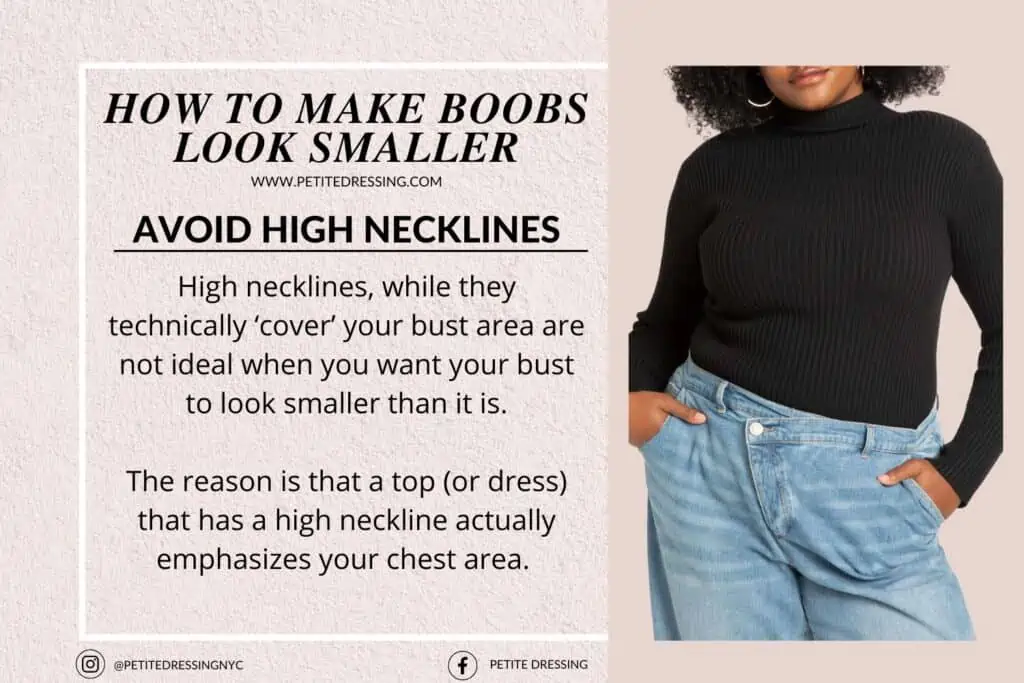 Another tip you may be confused about, so let me explain.
High necklines, while they technically 'cover' your bust area are not ideal when you want your bust to look smaller than it is. The reason is that a top (or dress) that has a high neckline actually emphasizes your chest area.
Here is an example of Sofia Vergara, who is an hourglass shape with full chest. By wearing a crew neckline, which covers the chest fully, it actually emphasizes her big breasts.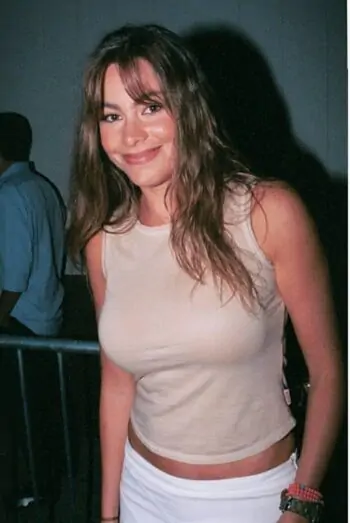 This is why it's better to stick with a neckline that has some open space, like a v-neck or scoop neck. These types of necklines break up the space around your bust and make your boobs much less of the focus.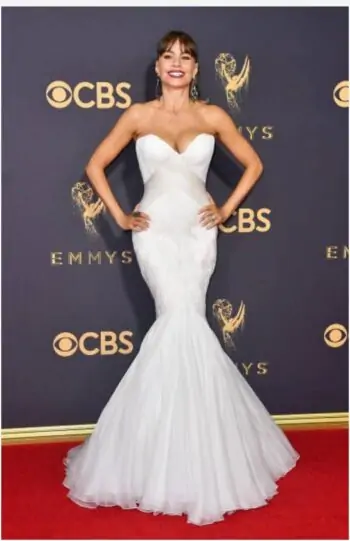 The key here is to be cautious of how deep the necklines lay though. I'm sure you've worn deep v-necklines and felt like your boobs were the ONLY focus of what you were wearing. Similar to the way your clothes need to fit your body, you need to find a middle ground with the neckline.
Yes, a deep neckline will cause your chest to be a major focus. So, just make sure you're being cautious of how low it lays on your body.
Another way to "distract" a bit from your chest when you are wearing the lower neckline is to wear one with puffed sleeves. The combination tend to draw more attention side ways, i.e. towards your shoulders and upwards to your face, instead of strictly focusing on your girls.
Notice Necklace Placement
Accessories can be such a fun way to express yourself and take your outfit to the next level. When your goal is to make your breasts look smaller, you're going to want to take the length of your necklace into consideration.
This is SO important! Anytime you wear a necklace that rests right at your boobs, it's going to bring a lot of attention to them, which can then give them the illusion of being bigger. Since that isn't your goal, I suggest sticking with necklaces that rest around the collarbone area OR are long enough to stop below your boobs. Each length is going to give you a different aesthetic for you to consider.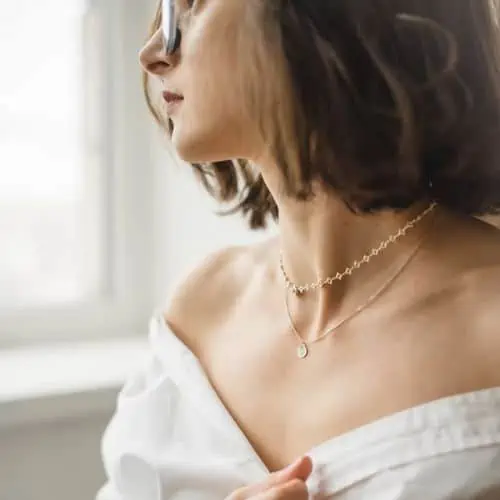 How to Choose the Right Necklace?
Opting for a necklace that rests at the collarbone area is going to bring the eye UP and away from your boobs, giving them a lot less attention and giving the illusion of a smaller chest.
If short necklaces aren't really your thing or you just want some more variety in your accessorizing long necklaces are also a great option to consider.
The key, as I mentioned before, is that the long necklace is long enough to rest below your boobs. This long length creates an elongated effect to your chest/upper body area which can help aide in your boobs looking smaller.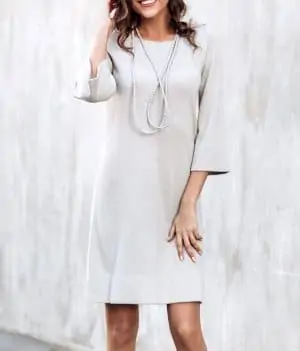 Now I will say its best, if you're going to go with the long necklace option, that you stick with necklaces that are on the delicate side. Throwing on a very chunky long necklace won't be the best option for you.
Wear Darker Colors On Top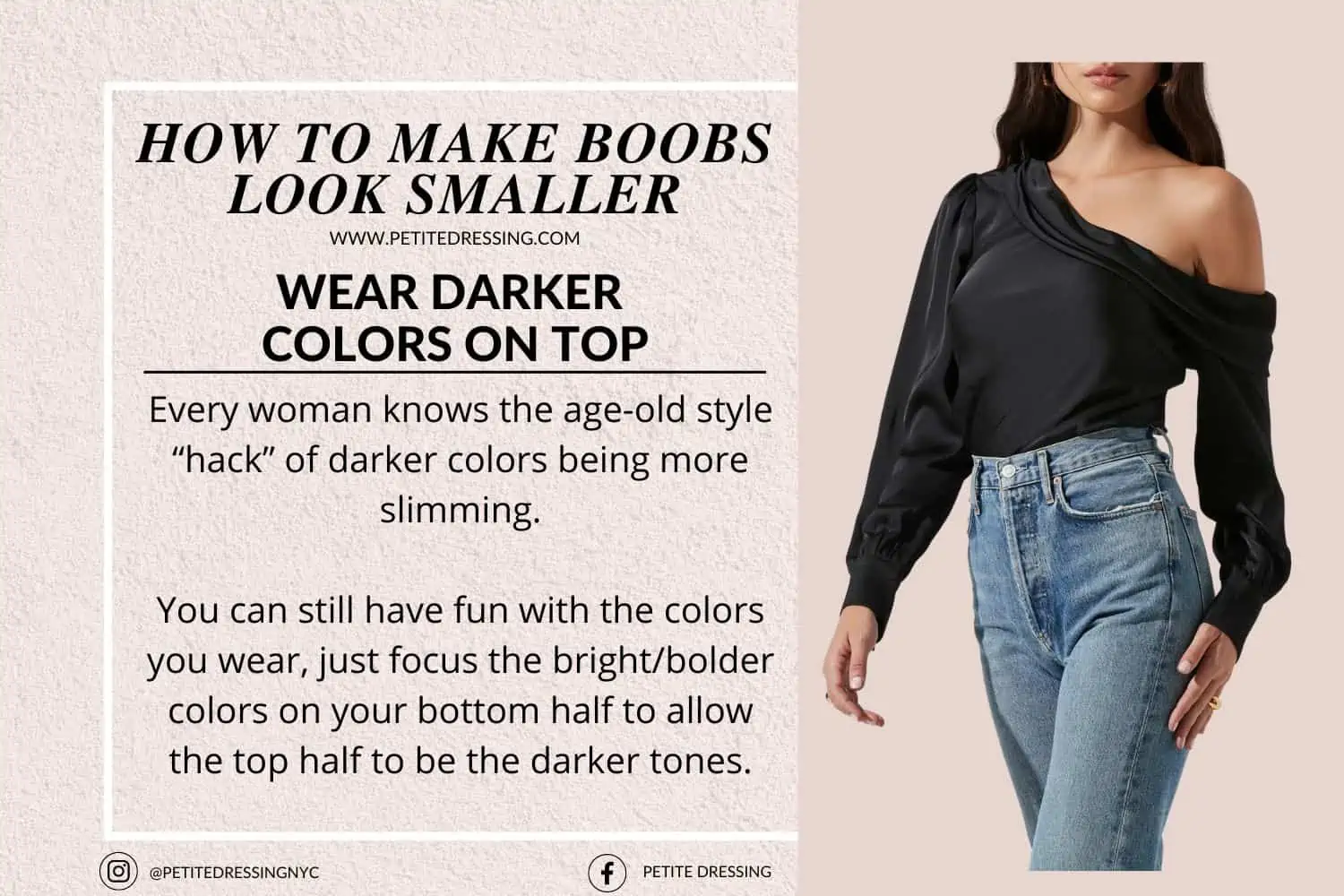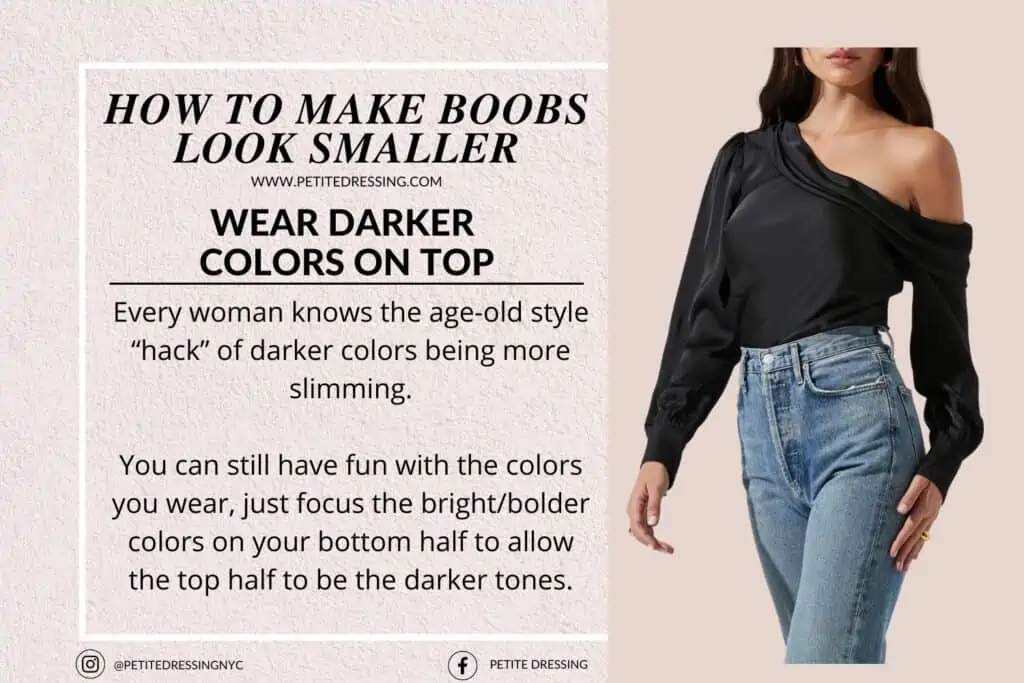 Don't worry, I didn't forget about color! A really easy way to make your boobs look smaller? Wear darker colors on the top half of your body. Every woman knows the age-old style "hack" of darker colors being more slimming. You can still have fun with the colors you wear, just focus the bright/bolder colors on your bottom half to allow the top half to be the darker tones.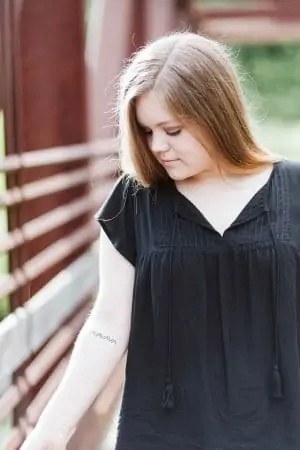 Avoid Heavy Fabric
Not all fabric lays on the body the same way. The same shirt can be made of cotton and a chunky knit and look COMPLETELY different when worn. This is why you'll want to avoid those heavy fabrics when selecting clothes that fit on the top half of your body.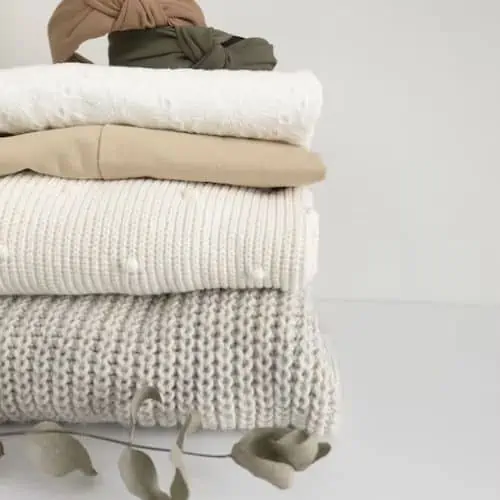 Why you Should Avoid Heavy Fabrics
Heavy fabrics will make your chest appear larger, so it's best to stay away from them when you want to dress so they look smaller than they are.
Anytime you're getting dressed or shopping make sure you're paying attention not just to the way the garment fits but the types of fabric it's made of.