Choosing the best dresses to flatter your body type is a key attribute to making the most of dresses within your wardrobe.
Women's Body Shapes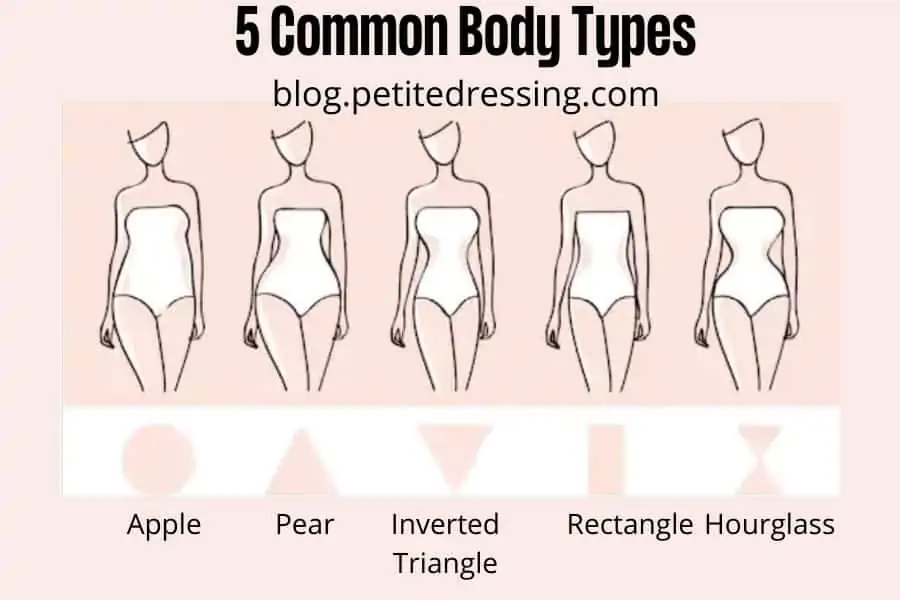 Women's body shapes are all unique and different, which is what makes women so great but also getting dressed a little more complex.
The 5 common body types include:
Below is a breakdown of how to choose the best dresses for every woman's body type to make the search a little simpler.
Apple Body Shape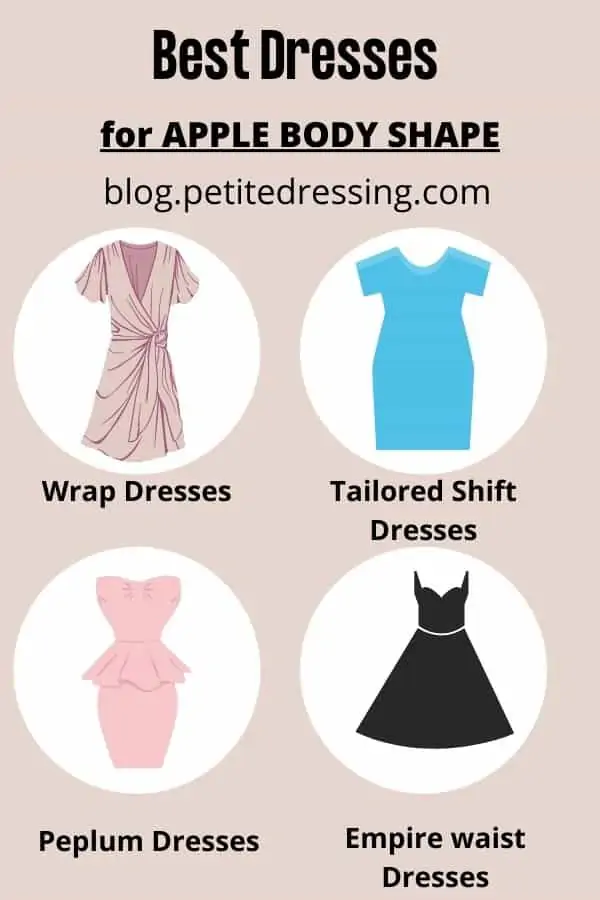 What to look for
The apple body shape is also often referred to as a round shape, which is what differentiates the shape from a rectangle.
With this particular body type, there are a couple of goals to focus on when selecting dresses, or anything really, that will help to enhance your shape beautifully.
First and foremost, your goal to focus on with dresses that can hide a belly, and find ways to define and/or create (really) a waist.
Silhouette
The four best dress silhouettes for apple-shaped women are:
Wrap dresses
Tailored shift dresses
Peplum dresses
Empire waist dresses.
All of these silhouettes offer waist definition and because of the waist definition, they also help to elongate the body – giving you kind of a two for one benefit to them.
Besides, it's important to add length to the body.
Adding length isn't just for shorter women, although it is a major focus, elongating the body can work wonders for an apple shape as well.
Since an apple shape doesn't naturally have waist definition (and many apple women tend to have a muffin top), selecting dresses that offer this to the body is incredibly flattering.
Keeping these goals, if you will, in mind there are a few tried and true dress styles that are going to help achieve these.
Hourglass Shape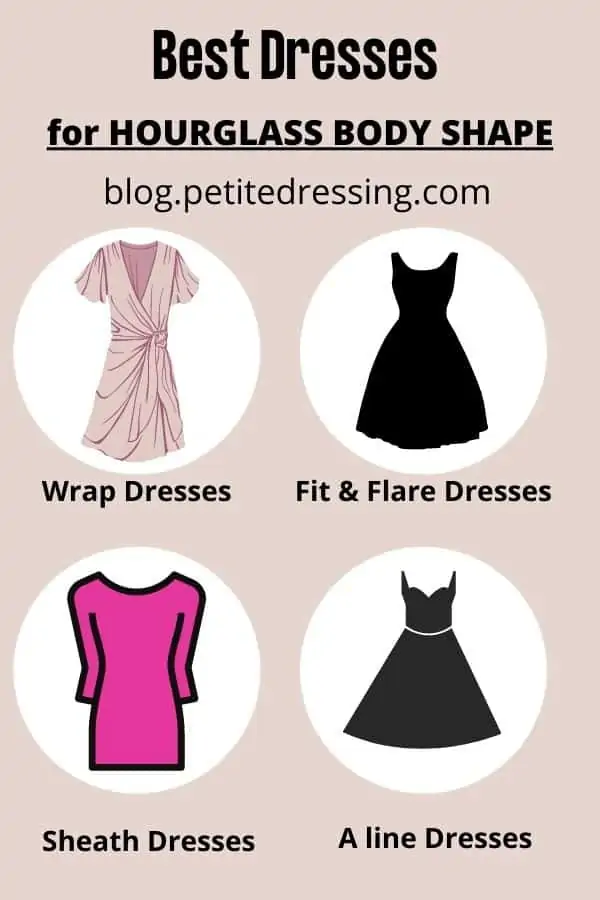 What to look for
Do you have an hourglass shape?
Lucky you, your shape is naturally proportioned and balanced which means just about any style dress is going to look great.
Of course, there are some styles that are going to flatter a little better (and easier).
Most style experts recommend always maintaining focus around the naturally defined waistline with an hourglass figure, to further enhance the natural balance of the body.
For this reason dress styles like:
Wrap dresses
Fit and flare dresses
Sheath dresses
A line dresses
These are options you can easily count on to make the waistline the focal point of the look.
Pear Body Shape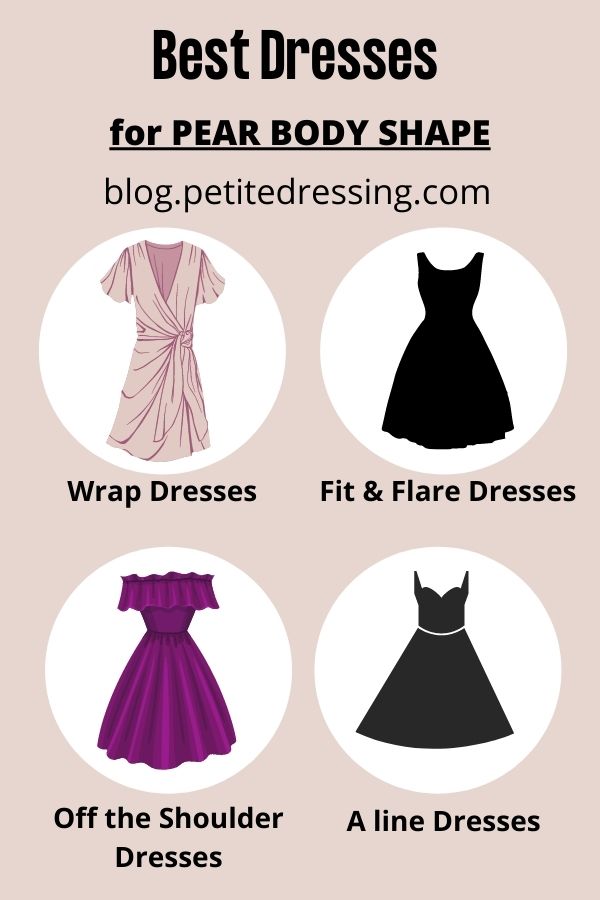 A pear shape is typically defined by broad thighs and hips, with shoulders and waist being on the narrower side.
With this curvy figure creating balance to the top half of the body, elongating the shape overall, and giving the waist some extra attention are three of the major elements to focus on in regards to choosing the best dress for your shape.
Fortunately, there are quite a few incredibly flattering dress options to help achieve all of these things.
Some of the favored dress options include
wrap dresses,
Fit and flare dresses
Off-the-shoulder dress
one shoulder dress
voluminous sleeves dress
dress with ruffles around the neck
Besides, any dress that offers some interesting details around the top is another route to take the dress search and trust it will flatter a pear shape.
Rectangle Body Shape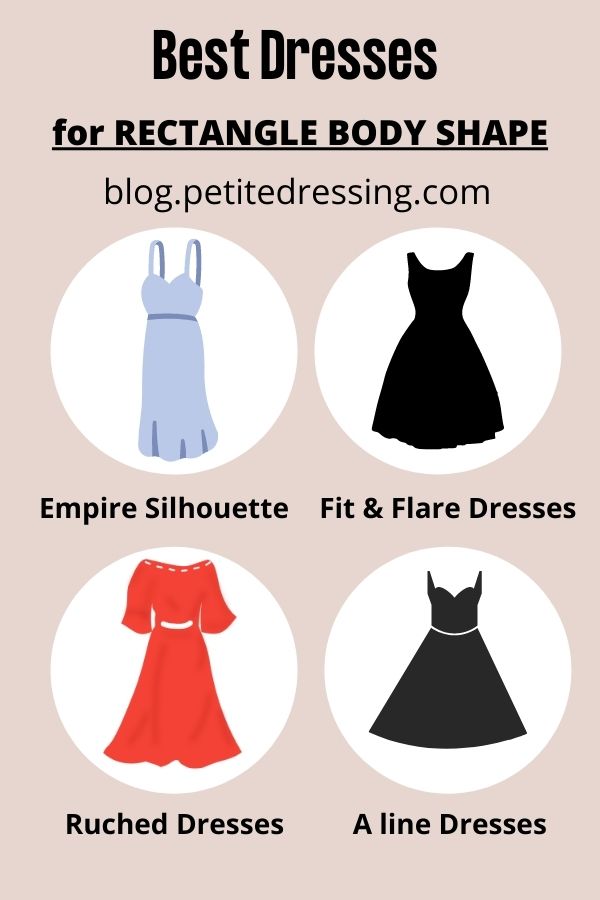 Creating the illusion of a defined waist and curves is typically the way style experts suggest to choose dresses with a rectangle body shape.
Because this particular shape has a straighter look, without much waist definition, creating curves with clothing is a flattering route to go.
Luckily, it's fairly simple to create the illusion of curves with dresses.
This is especially true when opting for dresses styles like:
Fit and flare dress
Empire silhouette
A line dresses
Ruched dresses
The list could go on and on.
Inverted Triangle Shape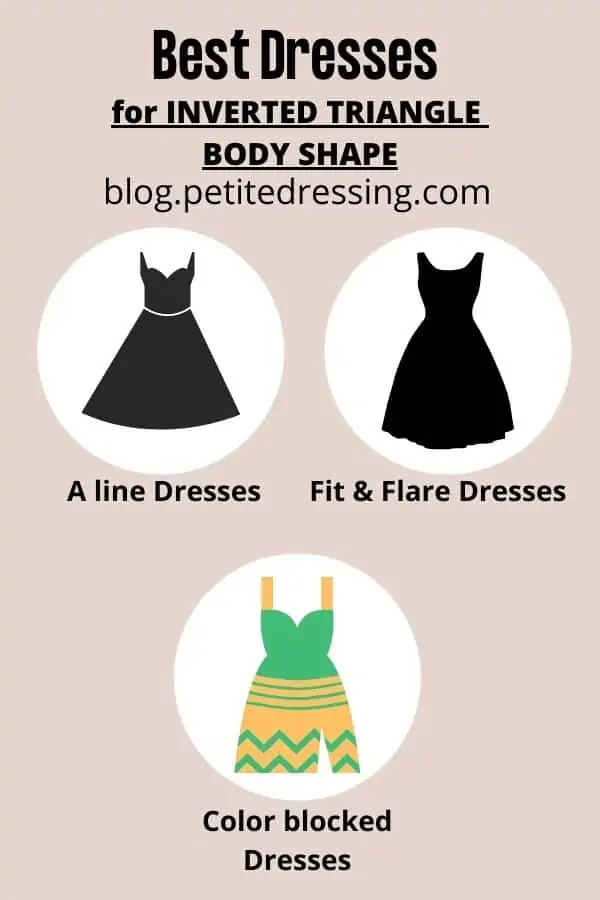 The inverted triangle shape is exactly as it sounds, the shoulders and chest are broader than the waist and hips.
Because of this, creating balance with more focus around the bottom half of the body with visual interest is a guaranteed way to flatter the body.
This means keeping the top half detailing and silhouette on the minimal side is best.
Dresses with below silhouette tend to be the best bet for the inverted triangle body shape.
A-line dresses
Fit and flare dresses
Color blocked dresses
But really, opting for dresses that offer more attention around the skirt section is a good rule of thumb.
Petite Women
If you are short like me, (I'm 5'2″), there are two areas that need extra attention when choosing best dresses for short ladies, these two areas are:
Truth be told fit is essential for every body type, but the main fit factor to keep watch of in dresses is ensuring that the shape isn't too oversized, flowy and shapeless.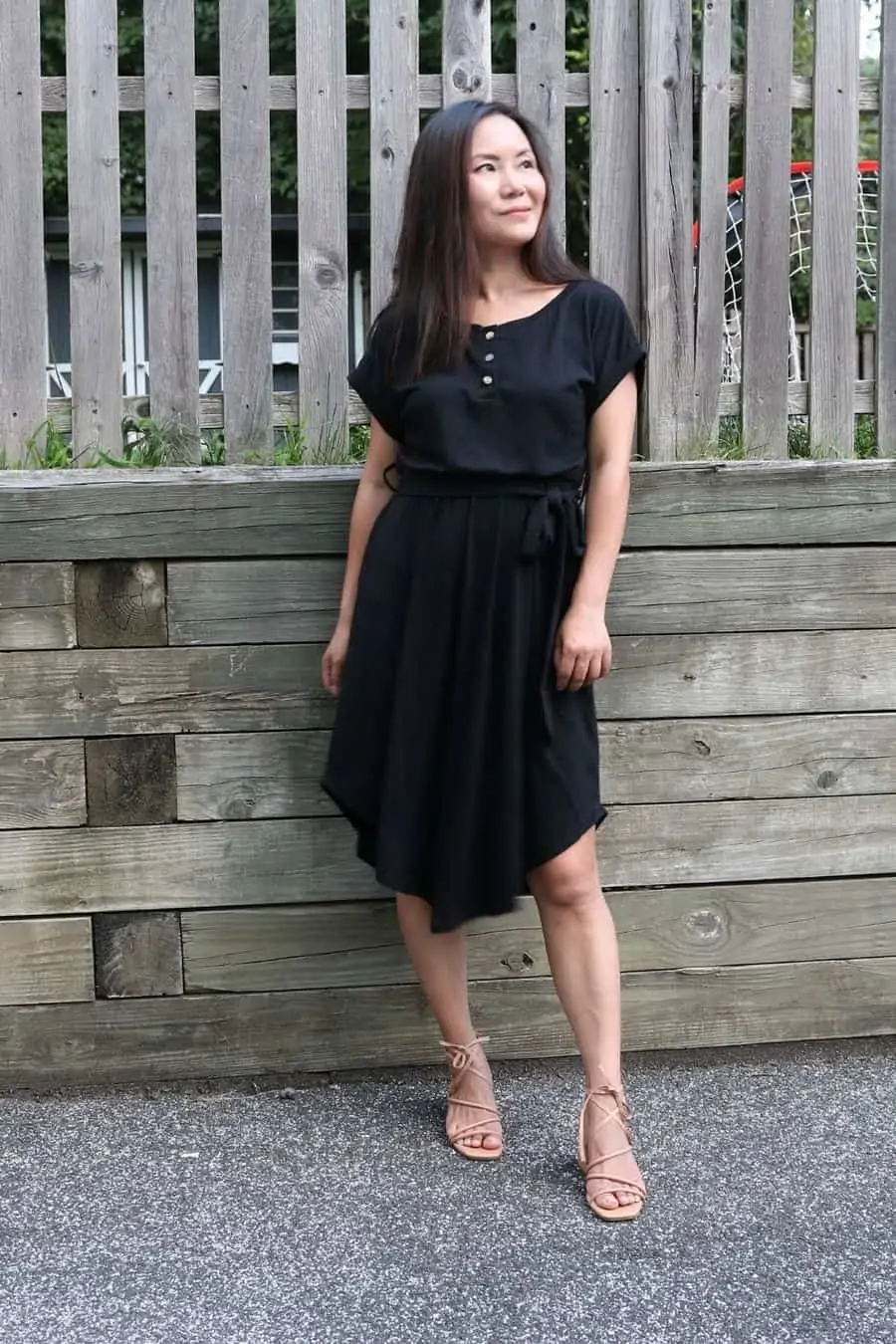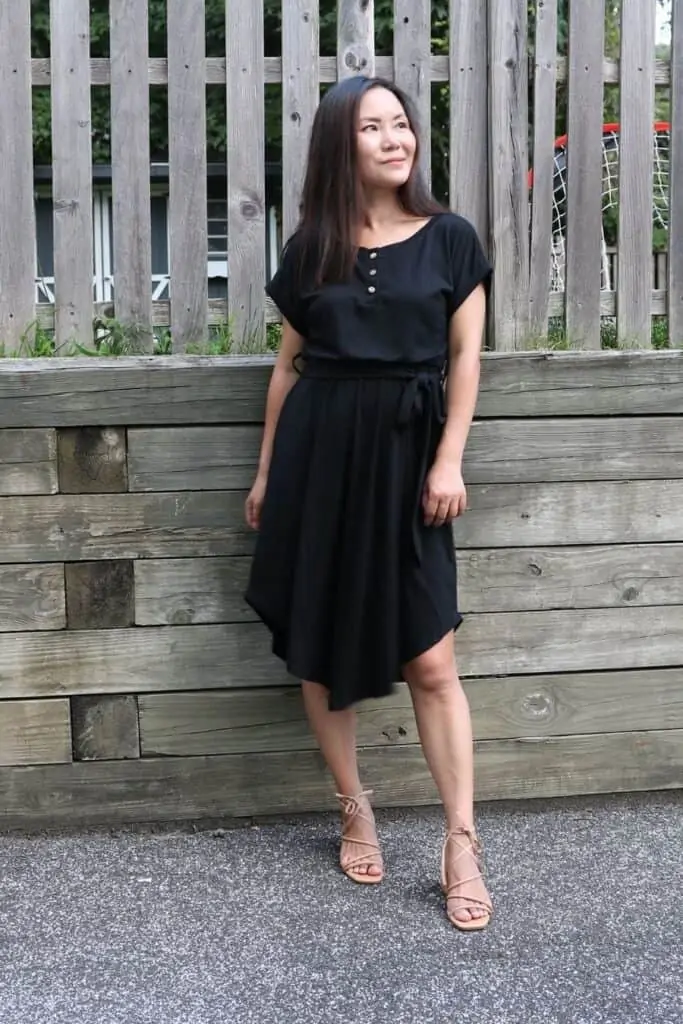 These fitments, on a petite body type, are often way too much on a smaller frame.
This is why instead it's best to stick with dresses that, at the very least, show the outline of the body.
Doing this will keep from your body appearing shorter and wider than it naturally is and will often lengthen instead.
Moving on to length, this is every petite woman's struggle.
The good news? Length is an easy fix, particularly in dresses.
When chooses dress as a petite woman keep this trick in the back of your mind:
Avoid any dress length that rests at the widest part of the leg.
This can mean the calf, thigh, etc and it's incredibly important.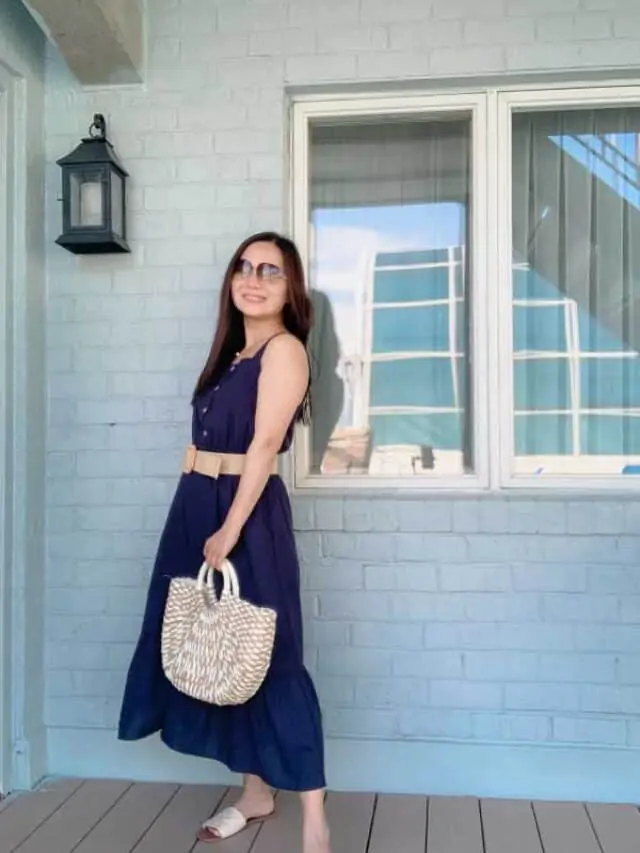 The truth is petite women can wear dresses that vary in length from minis to maxis, as long as the length lays in its proper place (i.e. not the widest area of the leg).
To break this down a bit further, here's an example.
Say you have a midi length dress, this can be super flatter as long as the midi length doesn't rest at the widest area of the calf and instead is just above or below it.
If You Have a Belly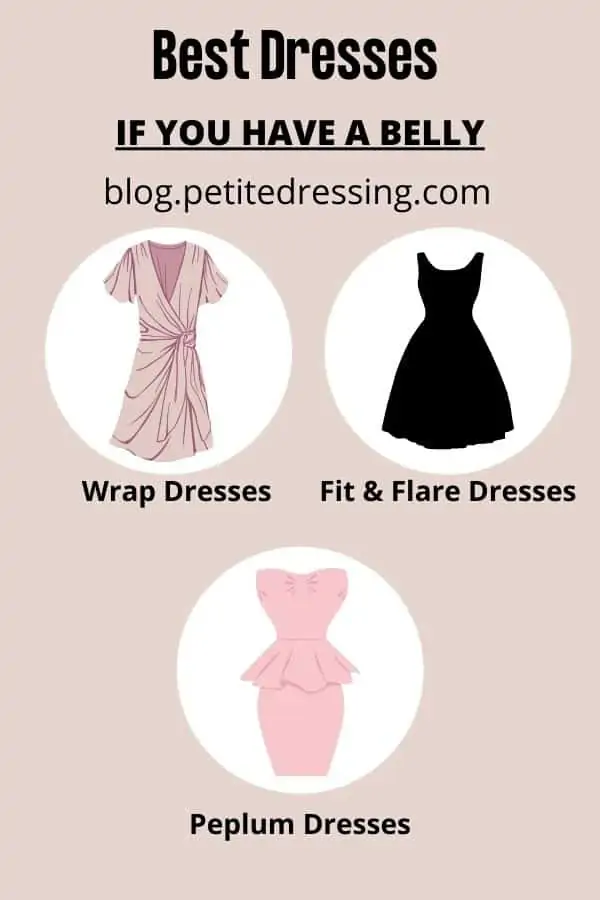 Many women struggle to feel confident with their bulging midsections. If you have a midsection you want to camouflage, it's common to get discouraged in the dress search.
However, there are a few options and tips that can help make the search a little easier.
First, look for dresses that skim the belly without being too flowy/loose or too tight.
When fabric skims past the body, even the belly area, it gives the illusion of your shape without bringing all the focus there AND without adding weight.
The opposite is what happens with the fabric is too loose around that area.
Shift dresses tend to be one of the best options to achieve this, they offer structure in all the right places.
Another tip is to choose dresses that bring more of the focus to other parts of the body.
For example, if you want to take away from the midsection but love your legs, opt for a dress that shows off those legs and keeps the rest minimal.
Next, peplum dresses can also be quite flattering to women who want to camouflage the muffin top.
The key is to make sure the ruffles of the peplum dress are long enough to cover the fullest part of your belly!
Finally, when in doubt choose a wrap style!
Wrap style dresses are one of the most universally flattering but they also happen to help take some of the attention away from the midsection while creating the illusion of a more defined waist and balance shape overall.
Big Bust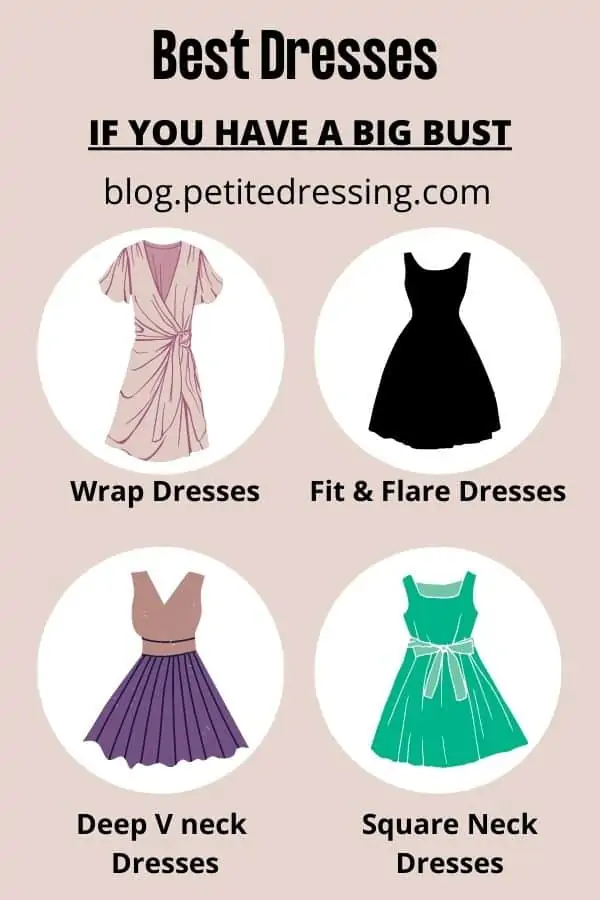 Whether your goal is to minimize the appearance of a big bust or just ensure the dresses flatter your figure, finding dresses you feel confident in with a larger bust can be a task.
The most important tip to keep in mind is to avoid any dress that is oversized or loose around the top half of the body.
With a big bust, these styles often add bulk to the body and aren't very flattering.
Instead, keep things minimal in their aesthetic around the chest.
It may or may not come as a surprise to learn the most flattering dress styles for a big bust include the:
wrap style
fit + flare silhouette
Deep V neck dress
Square neck dress
Both of these enhance the natural body shape, add waist definition, and will prevent from your bust being the only focal point of the look.