Nothing beats the comfort level of wide-leg pants. But can petite women look good in them? Yes, why not! We have a detailed styling guide for wide-leg pants for petites.
No matter what your size is,  you can rock wide-leg pants and look mesmerizing. Go through our guide and learn what styles are suitable for Petites and what to avoid. This way, you will get alluring outfits effortlessly. So, let's dive right in!
How to Style if you are short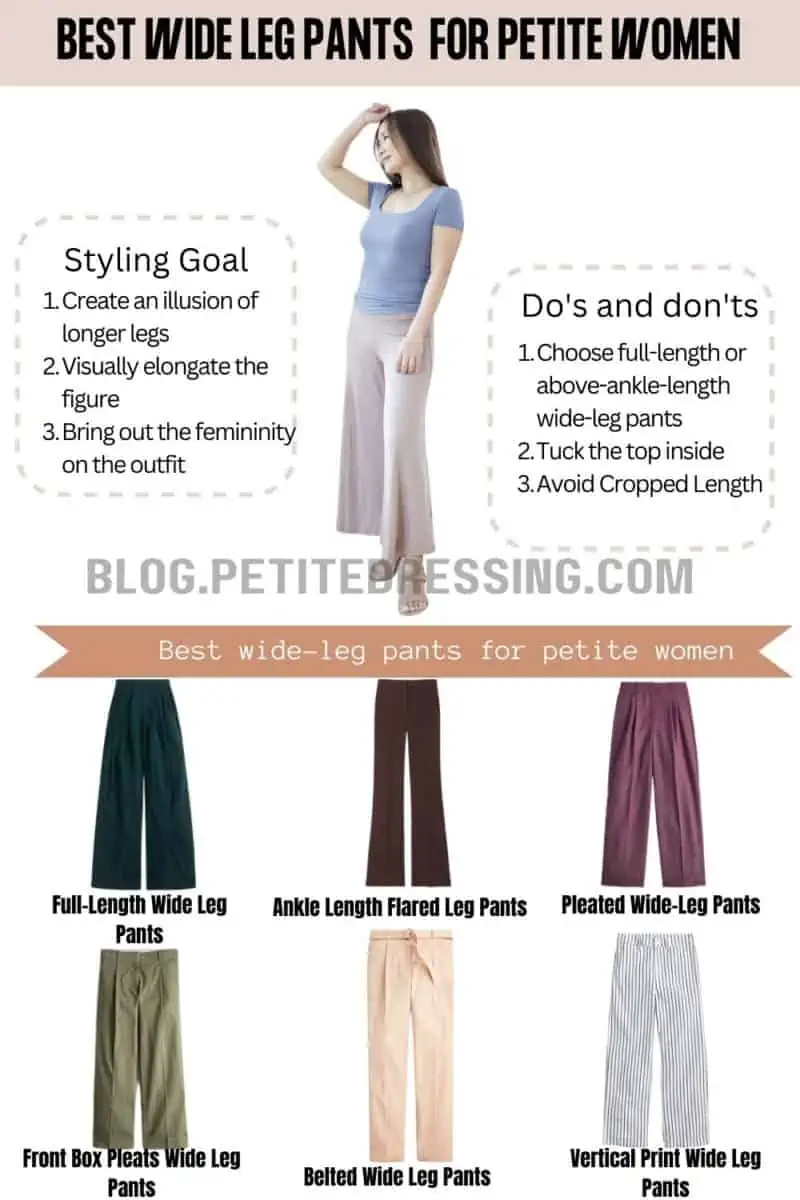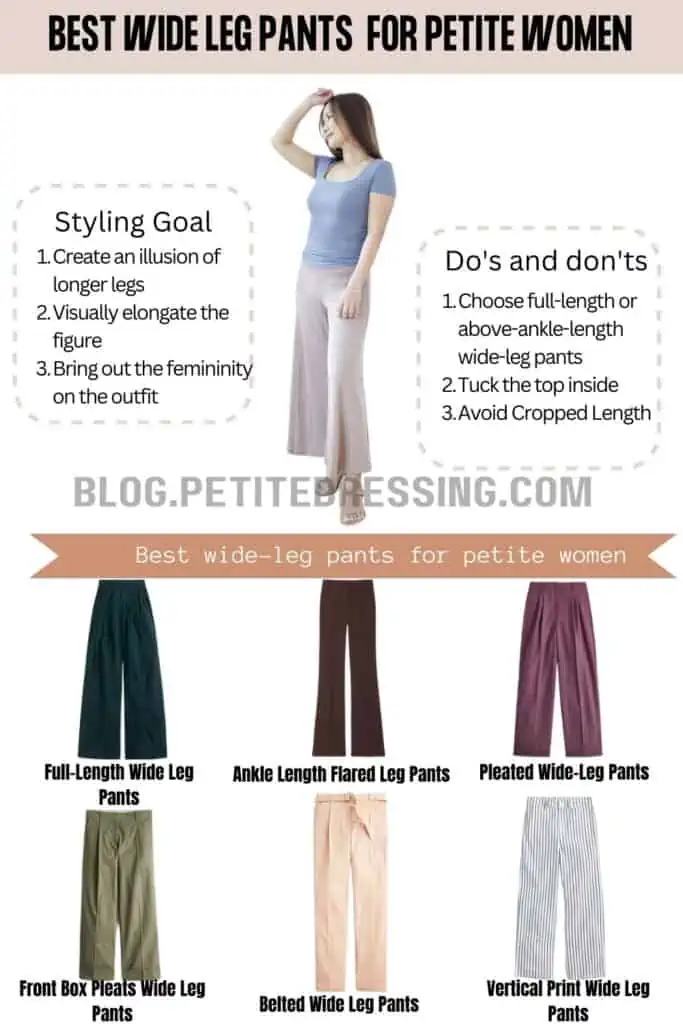 Wide-leg pants are all the hype nowadays. So, should you wear wide-leg pants as a petite woman? We have answers to all your questions and some amazing tips to style wide-leg pants for petite women!
Choose full-length or above-ankle-length wide-leg pants to get the illusion of long legs.
High-waisted style in wide-leg pants is your best friend as it makes your legs look longer.
Pair fitted tops with wide-leg pants for a leaner effect.
Full-Length Wide Leg Pants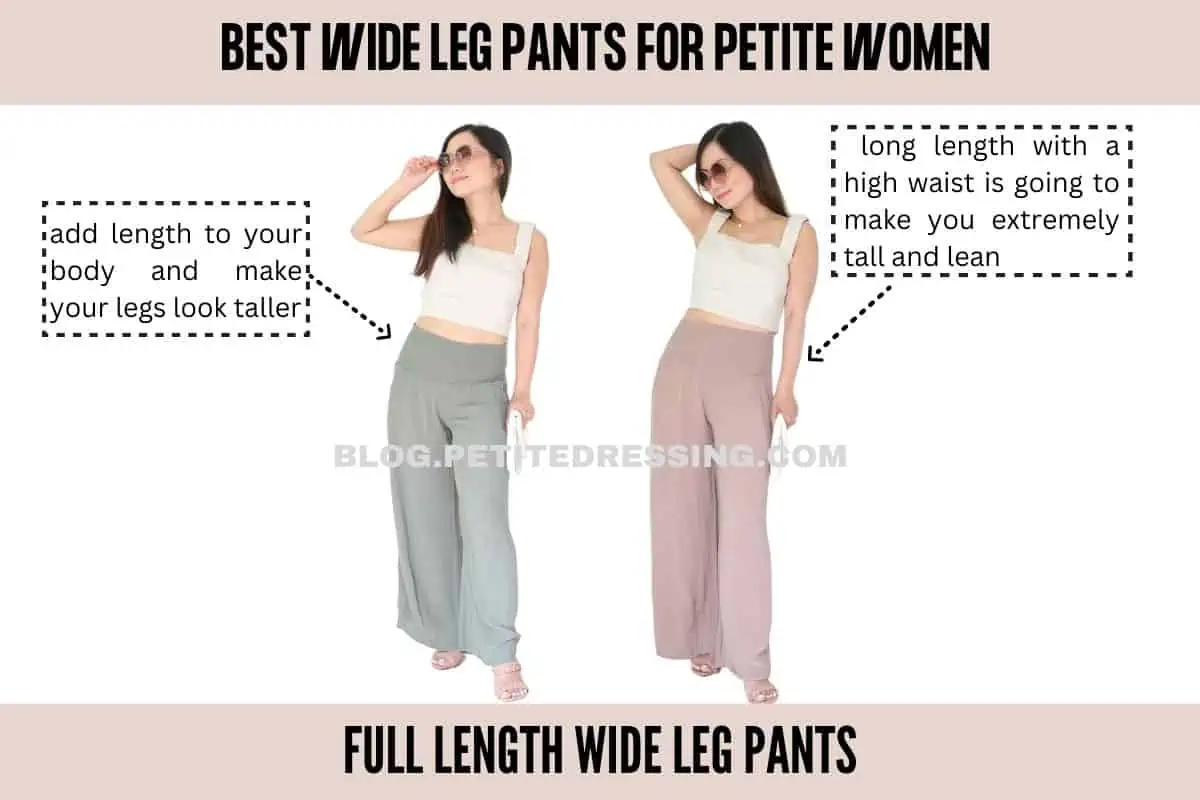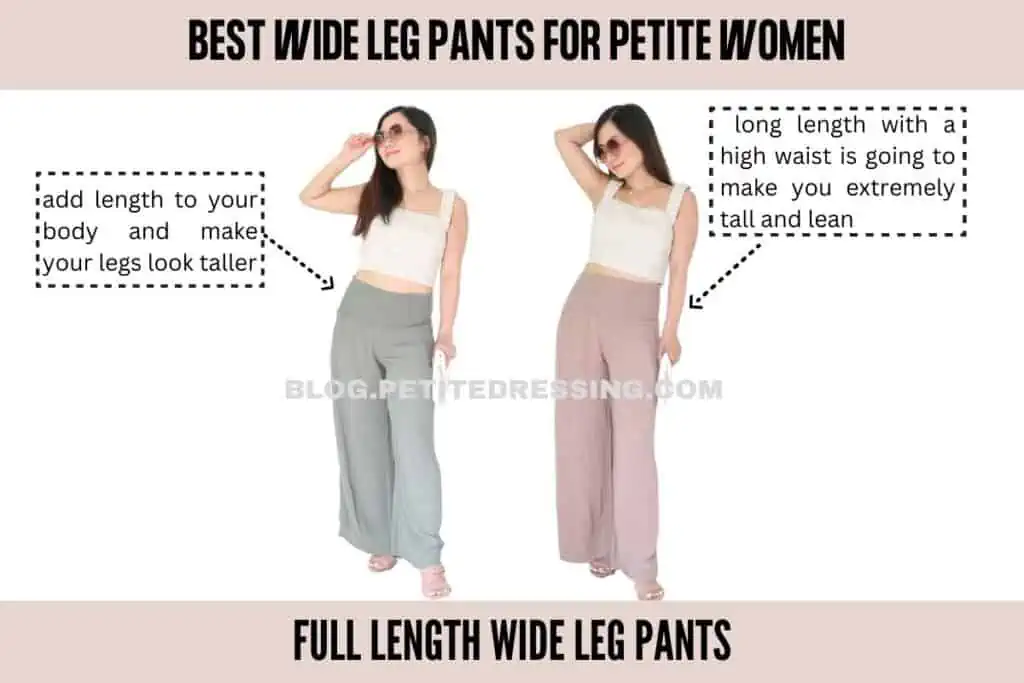 Long (full-length) wide-leg pants work like magic for petite women. They add length to your body and make your legs look taller. Going for a long length with a high waist is going to make you extremely tall and lean. 
This style is perfect for petite women and you will feel super confident in it. The high waist also makes your waist look smaller so it is perfect for any body type (chubby, medium, or skinny).
You can pair different heel styles with high-waisted wide-leg pants such as pointy-toe pumps or nude high heels.
Go for a fitted button-down shirt with pants and don't forget to tuck it inside. Tucking the blouse inside will further accentuate your legs and make you look taller. 
Ankle Length Flared Leg Pants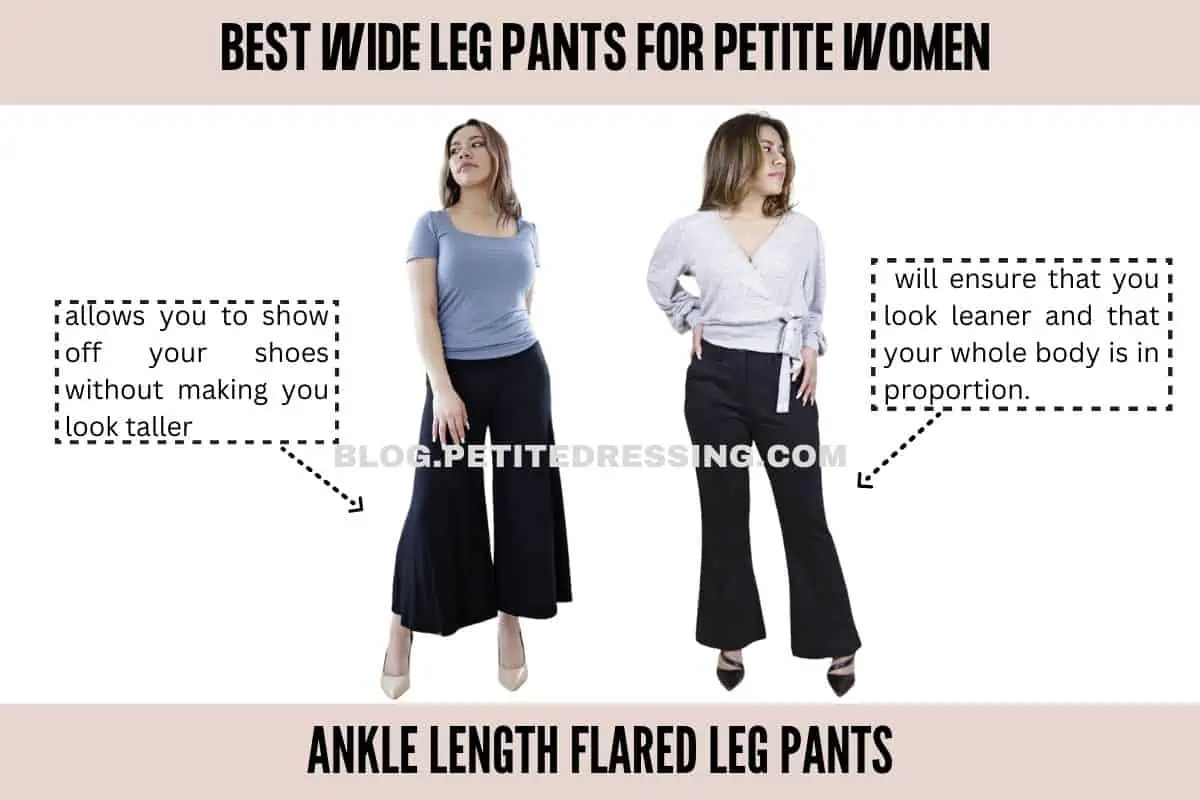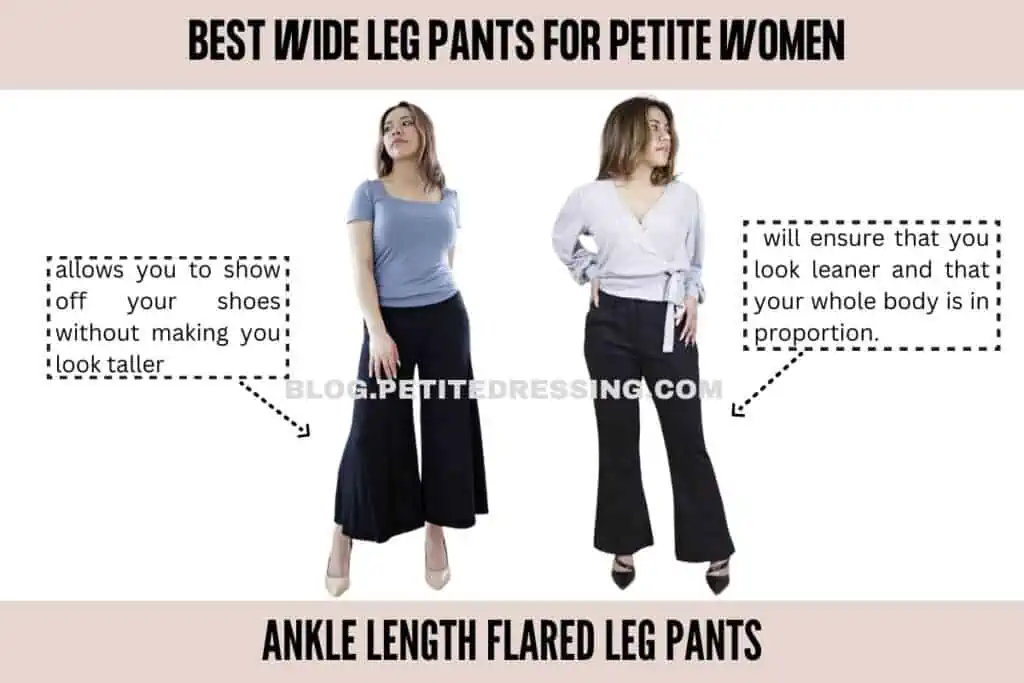 Flared-leg pants are slightly tighter above your knees and have a flare in the bottom. The ankle length is also suitable for petite women. You can wear the same colored ankle boots with this style too. The best kind is those with pointy toes. 
Ankle length allows you to show off your shoes without making you look taller. If you go for ankle-length flare pants, choose a high-waisted style. This will ensure that you look leaner and that your whole body is in proportion.
The flared-leg pants provide a flattering silhouette to your body as compared to the normal wide-leg pants. They are great if you want to flaunt your curves while adding height to your body.
Pair the pants with a plain ribbed t-shirt and tuck it inside. A small baguette bag would look great with this look.
Pleated Wide-Leg Pants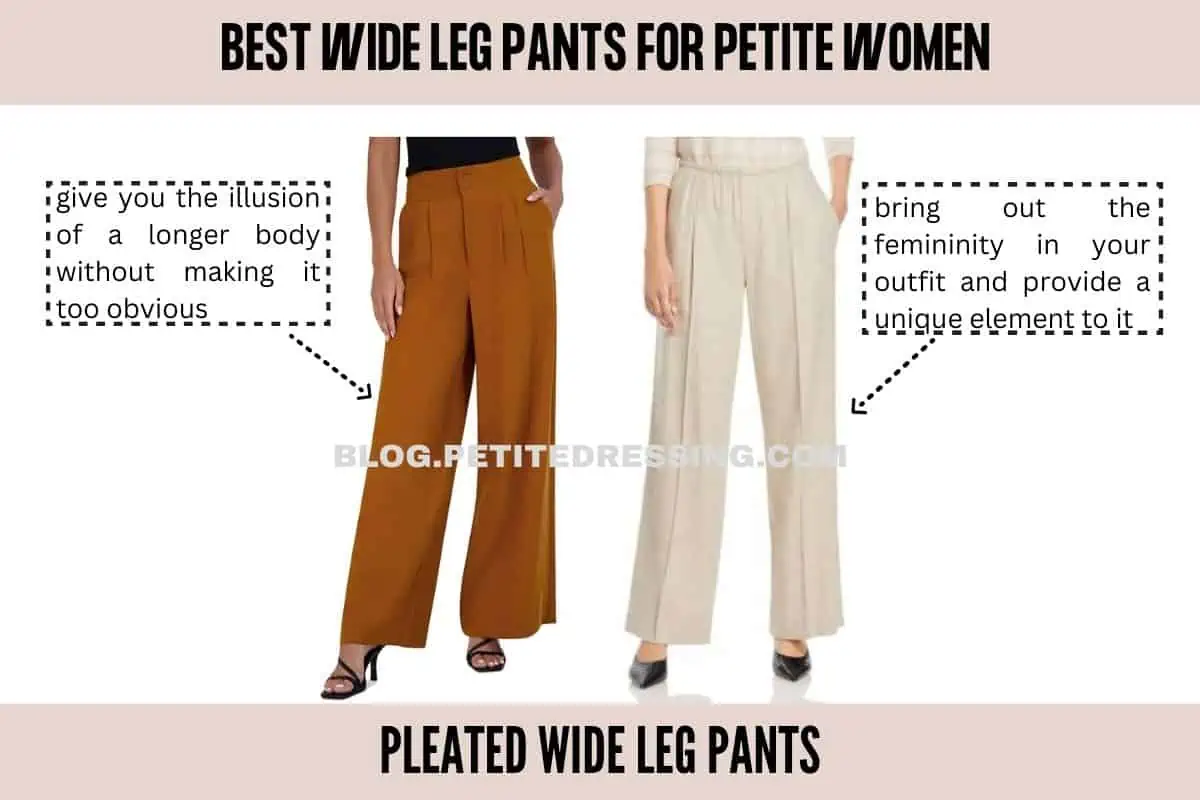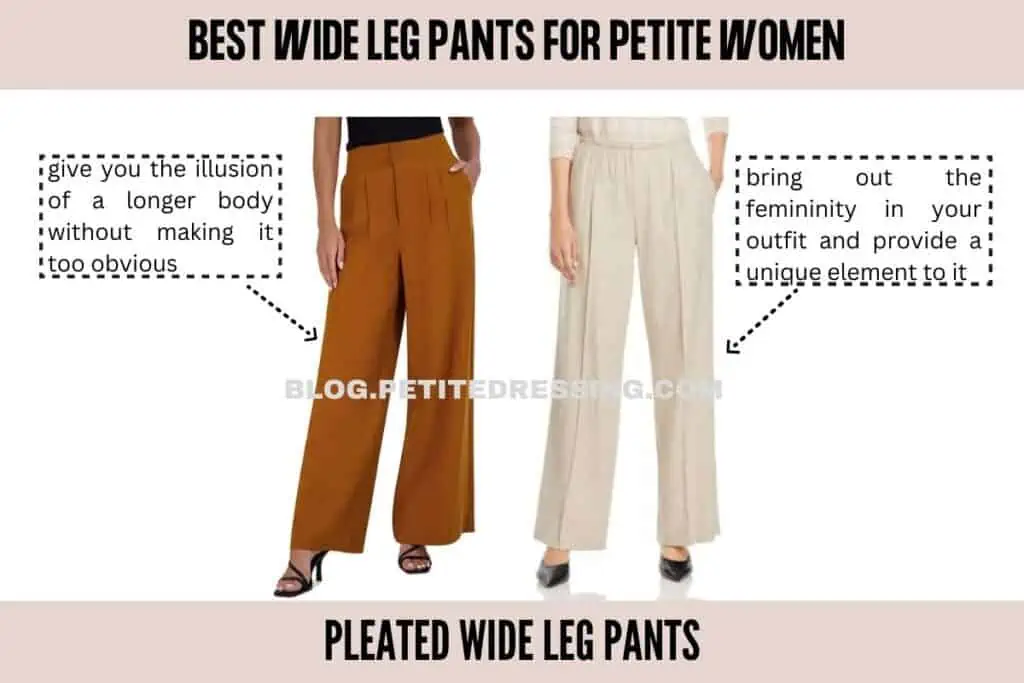 Overall pleats in wide-leg pants work the same way as vertical stripes but they look more elegant. Pleated wide-leg pants give you the illusion of a longer body without making it too obvious. They are also easier to style as compared to vertical stripes.
Pleated wide-leg pants bring out the femininity in your outfit and provide a unique element to it. So, what's better than an elegant outfit that makes you look leaner?
Another advantage of pleated wide-leg pants is you can easily dress them up. Pair high heels and a fancy top with the pants and you are ready for a date night. Pair chunky white sneakers and a simple t-shirt and you can go and run some errands. It is suitable in all situations.
Front Box Pleats Wide Leg Pants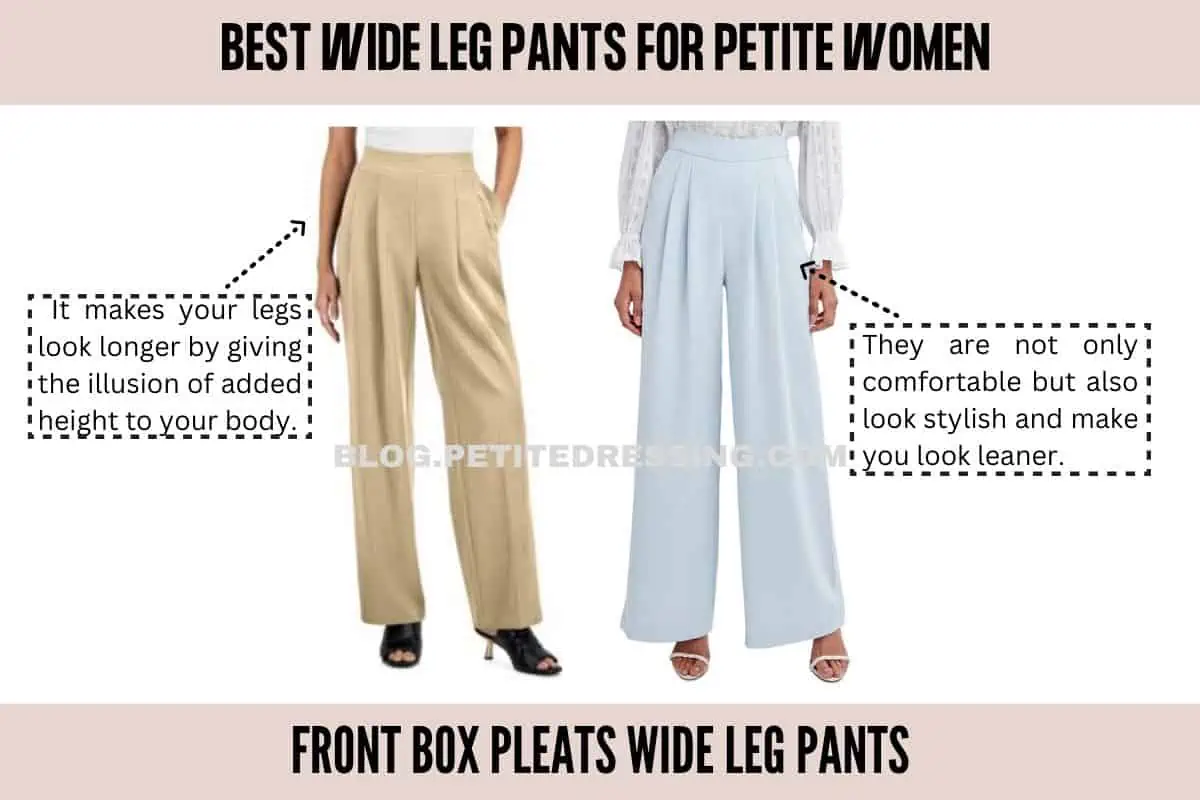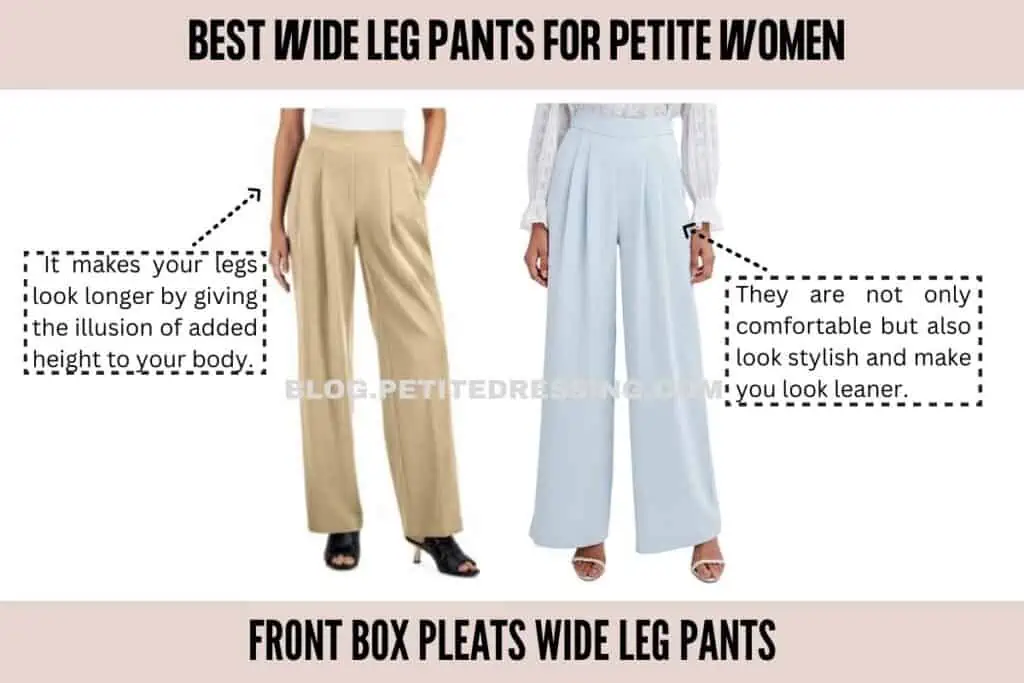 Front box pleats don't run all the way through the length of the wide-leg pants. So, they are more subtle than pleated wide-leg pants. However, you pretty much get the same advantage. It makes your legs look longer by giving the illusion of added height to your body.
Front-pleated wide-leg pants are suitable for a work outfit as well. If you are bored of your regular work wear, you can spice it up a bit and go for front-pleated wide-leg pants. They are not only comfortable but also look stylish and make you look leaner.
Pair a satin button-down shirt with the pants and wear a short blazer over it to complete the look. Pointy-toe pumps are great to go with front box pleated wide-leg pants.
Belted Wide Leg Pants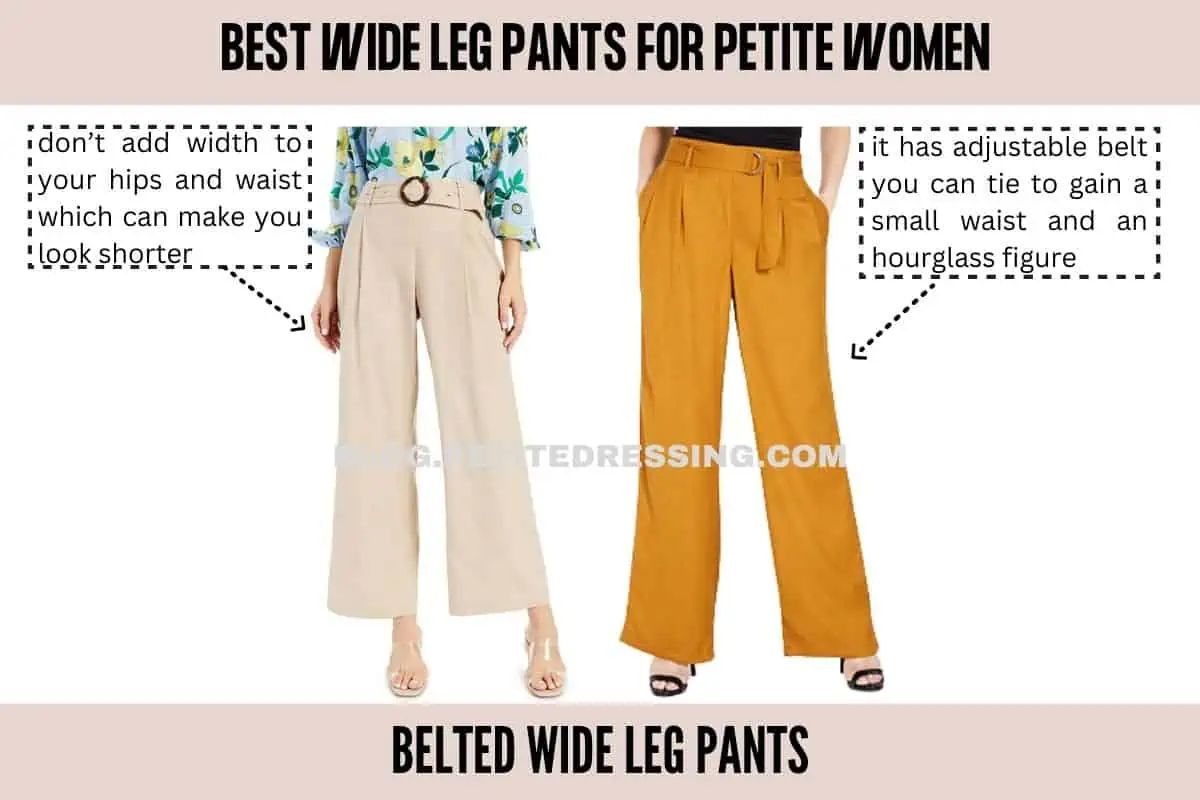 Belted wide-leg pants are great for all body types in the petite section. They make your waist look smaller so whether you are a skinny woman or a chubby woman, they are going to look flattering on you.
You can tie the belt as tight as you want and gain a small waist and an hourglass figure. This way, your body looks leaner automatically. These pants don't add width to your hips and waist which can make you look shorter. Therefore, these are suitable for petite women of all body types.
Pair crop tops or wide-strap tops with belted wide-leg pants. Choose sneakers for a casual look and you are ready to fascinate everyone around you.
Side Buttons Wide Leg Pants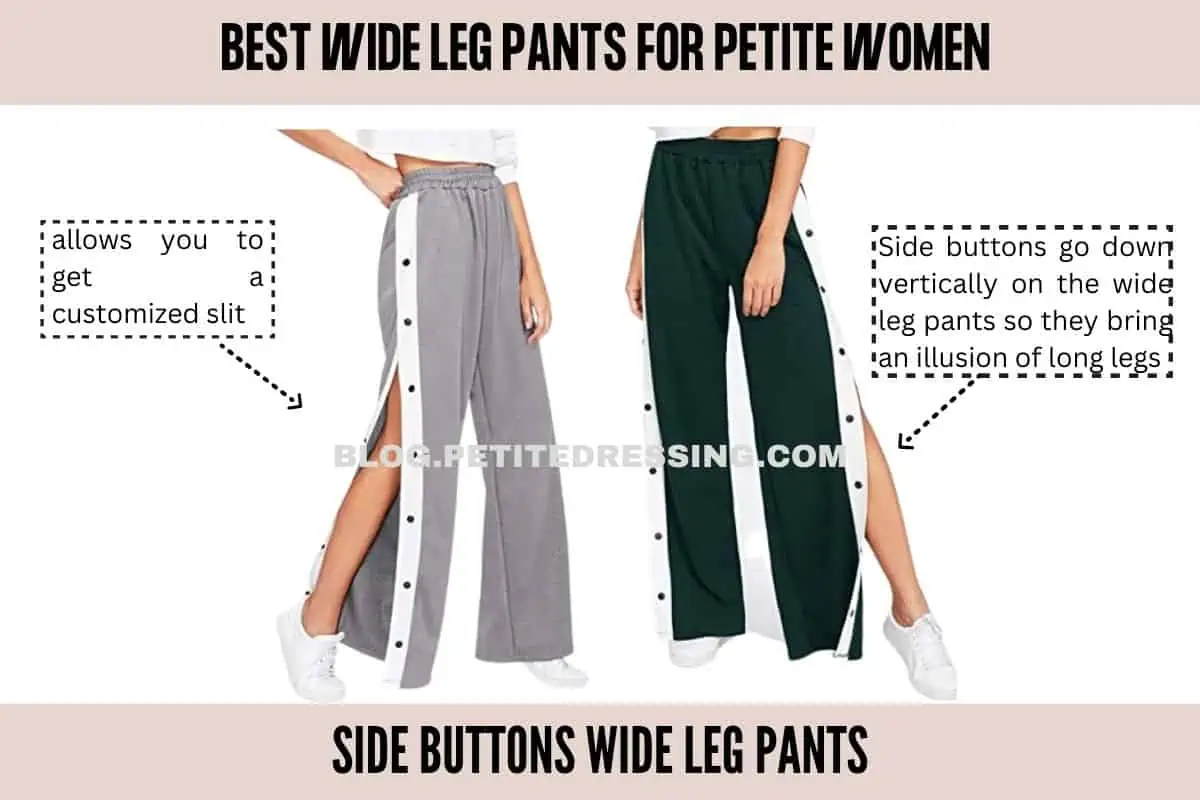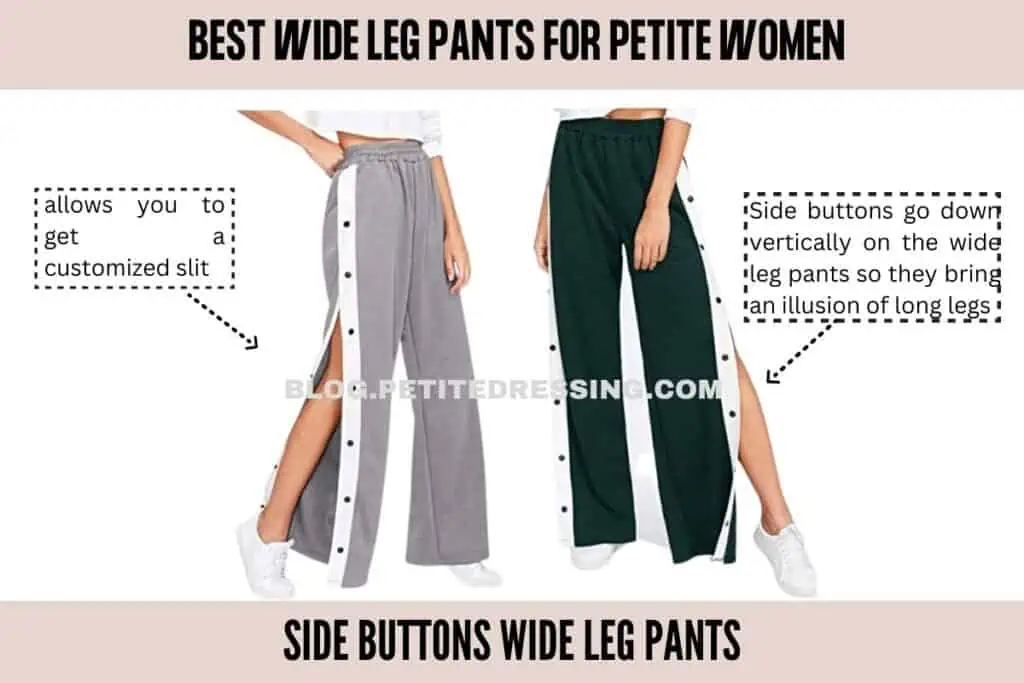 Side buttons on wide-leg pants allow you to get a customized slit. You can keep the buttons closed or open some to show off your legs. These are great for making you look fashionable and chic.
Side buttons go down vertically on the wide-leg pants so they bring an illusion of long legs. Going for side-slit pants is better than cropped ones as they won't make you look shorter.
Pair the side button wide-leg pants with a cami top for a casual yet alluring look.
Bright Color Wide Leg Pants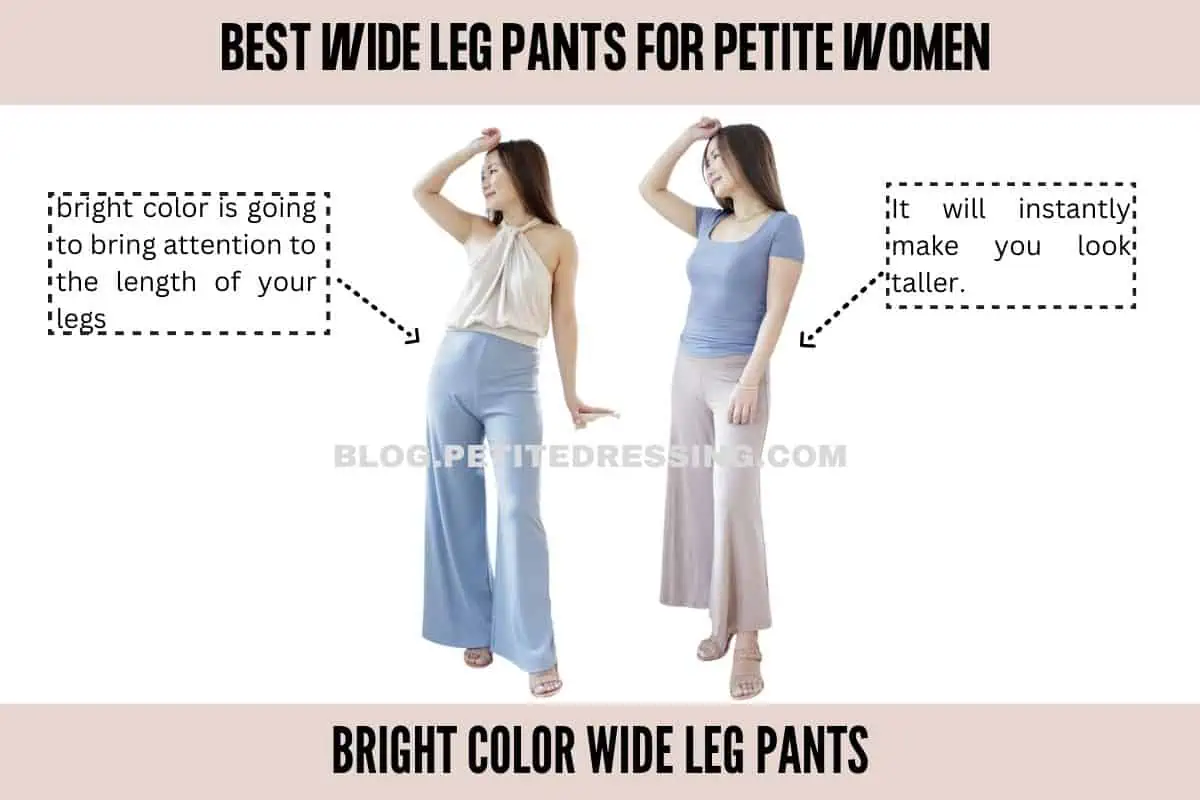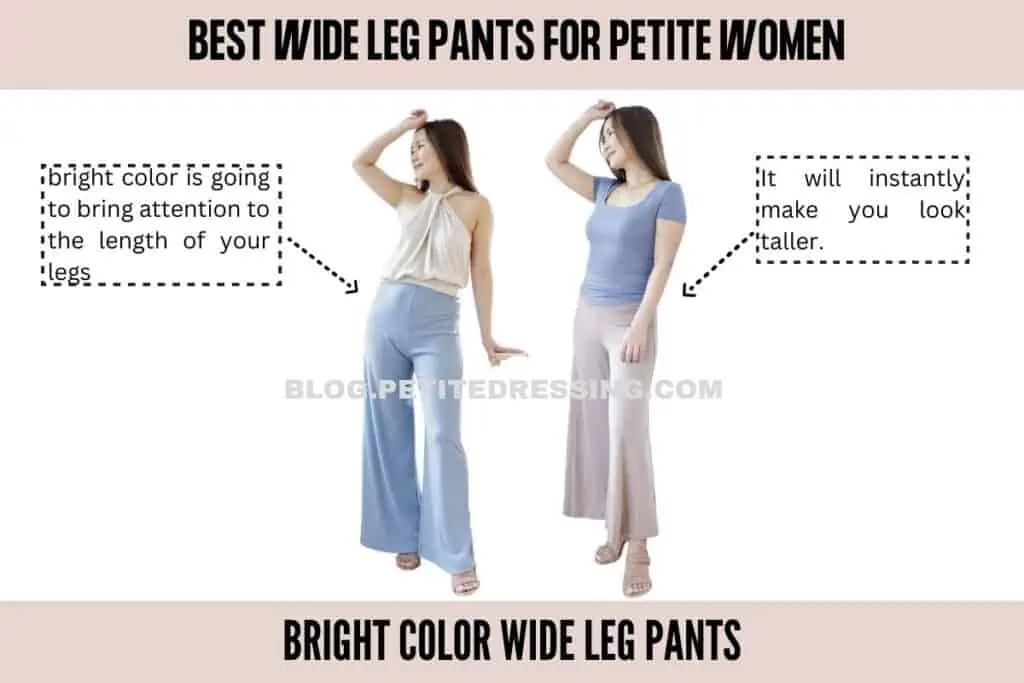 You don't have to wear light and common colors while dressing up. Spice up your wardrobe with some bright-colored high-waisted wide-leg pants. The bright color is going to bring attention to the length of your legs. It will instantly make you look taller.
Bright colors like pink, neon green, yellow, blue, etc are all great, especially in the summertime. But make sure you go for a high-waisted design so that you can accentuate the length of your legs.
Vertical Print Wide Leg Pants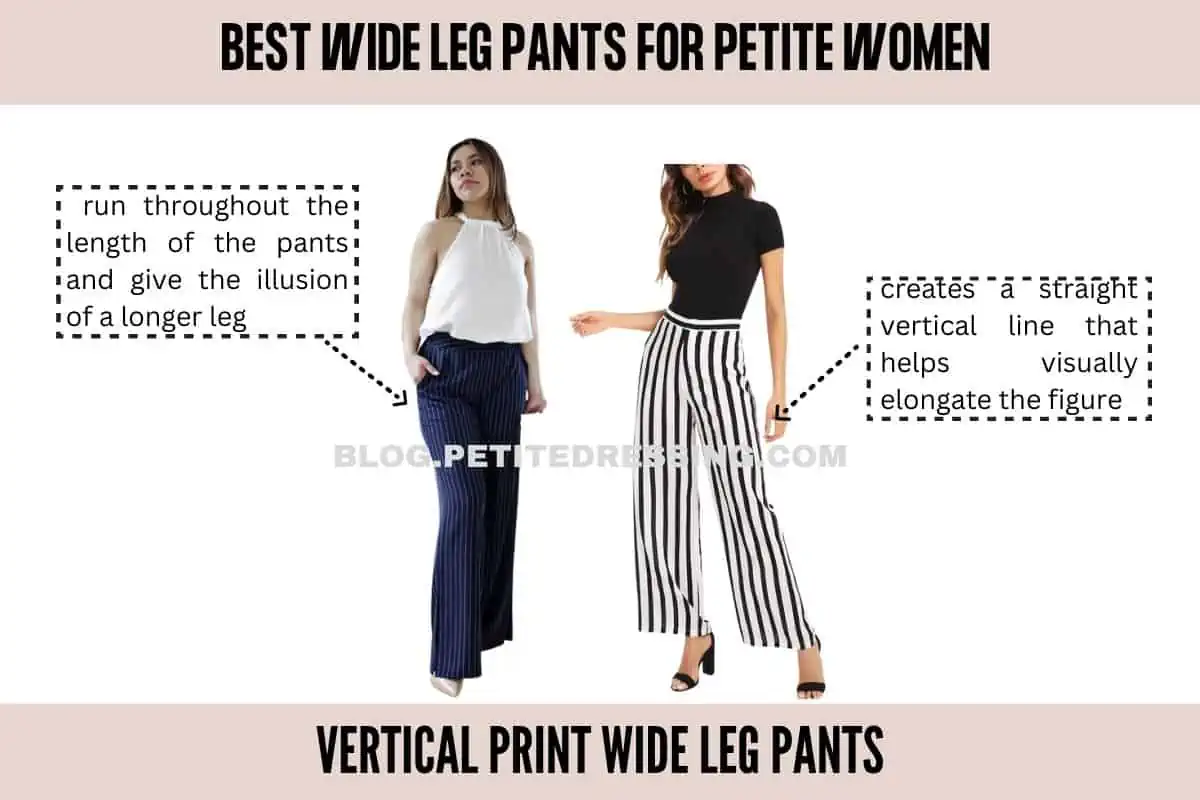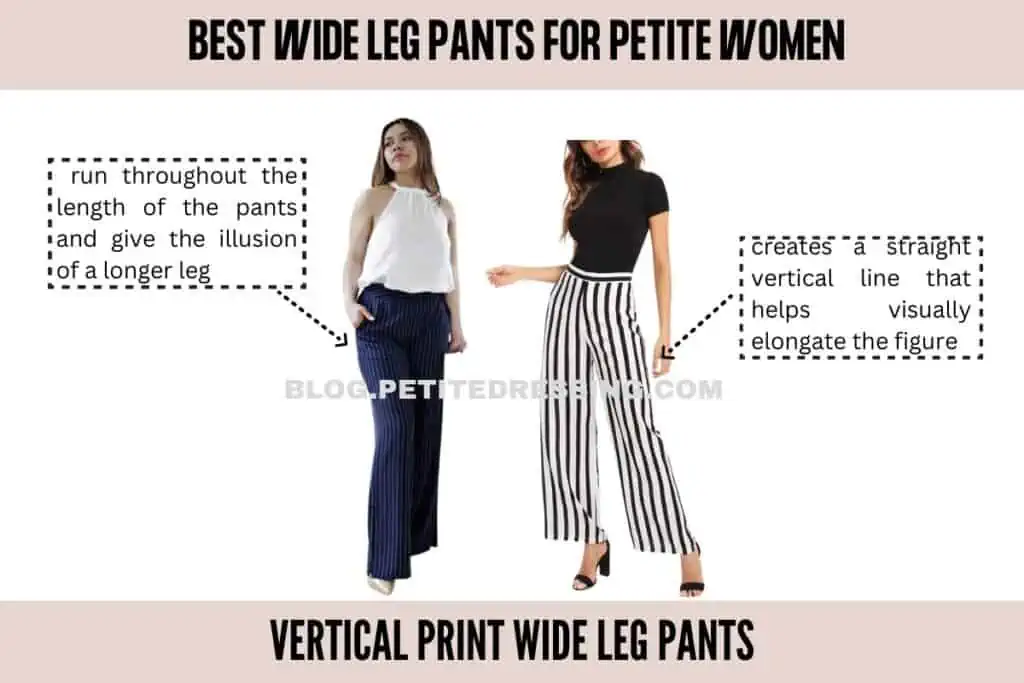 Printed pants are extremely trendy nowadays, especially among Gen Z. They look beautiful and make you look fashionable in no time. Vertical prints are especially great for petite women, as they run throughout the length of the pants and give the illusion of a longer leg.
Go for high-waisted printed pants to get the full effect. This trend is great for petite women of all sizes.
Styling printed wide-leg pants can be hard as you have to choose something that goes well with the print. Plain white t-shirts, ribbed tops, or the same colored top looks good with ripple print wide-leg pants. The print comes in various colors so you can match the top with the pants as you like.
Avoid Low Waisted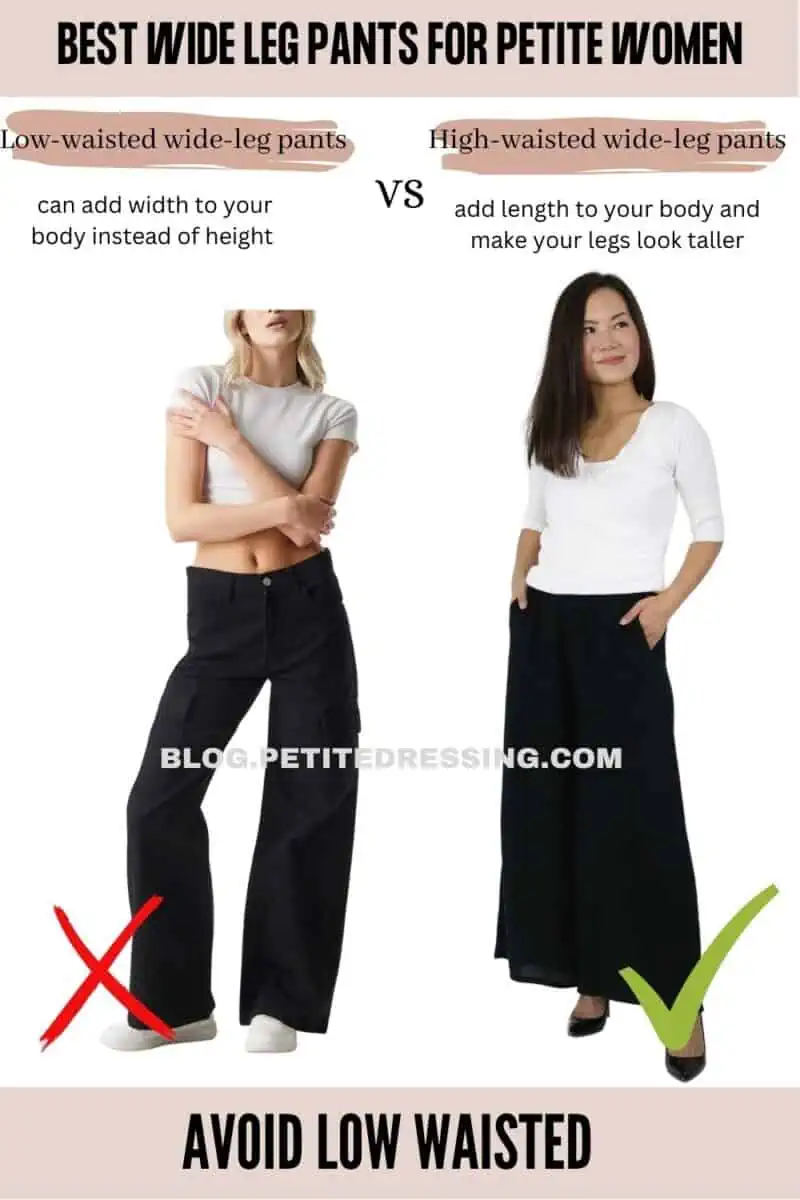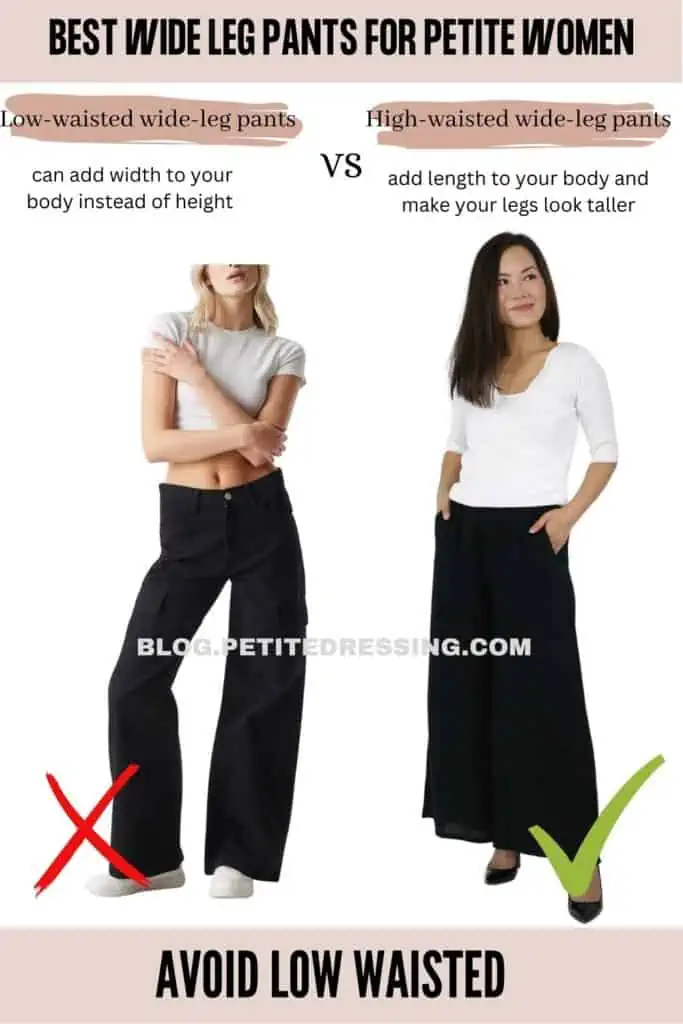 Low-waisted wide-leg pants can add width to your body instead of height. This isn't suitable for petite women as it will make you look shorter. So, low-waisted wide-leg pants should stay away from your shopping list. Go for medium-waist or high-waist instead. They are more flattering on petite women and make you look leaner instantly.
Avoid Cropped Length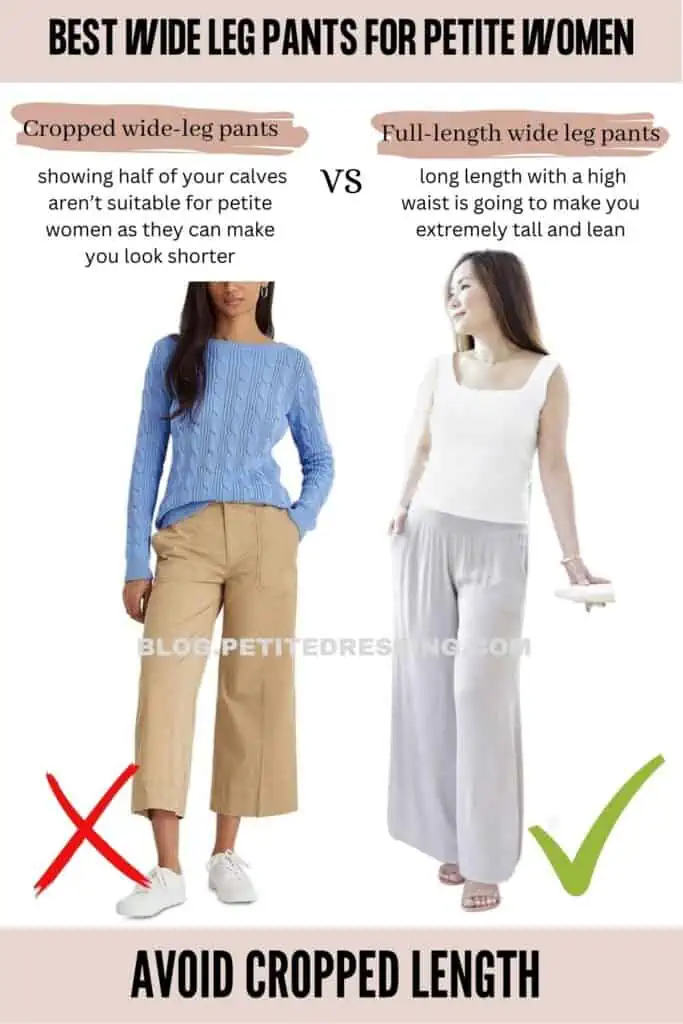 Wide leg pants showing half of your calves might seem good for the summer but they aren't suitable for petite women. This style will make your legs shorter. This is something petite women shouldn't go for due to the shortening effect. A better option is to go for ankle-length or full-length wide-legged pants. They look more elegant and complement petite body types as well.
Avoid Wearing with Loose Blouses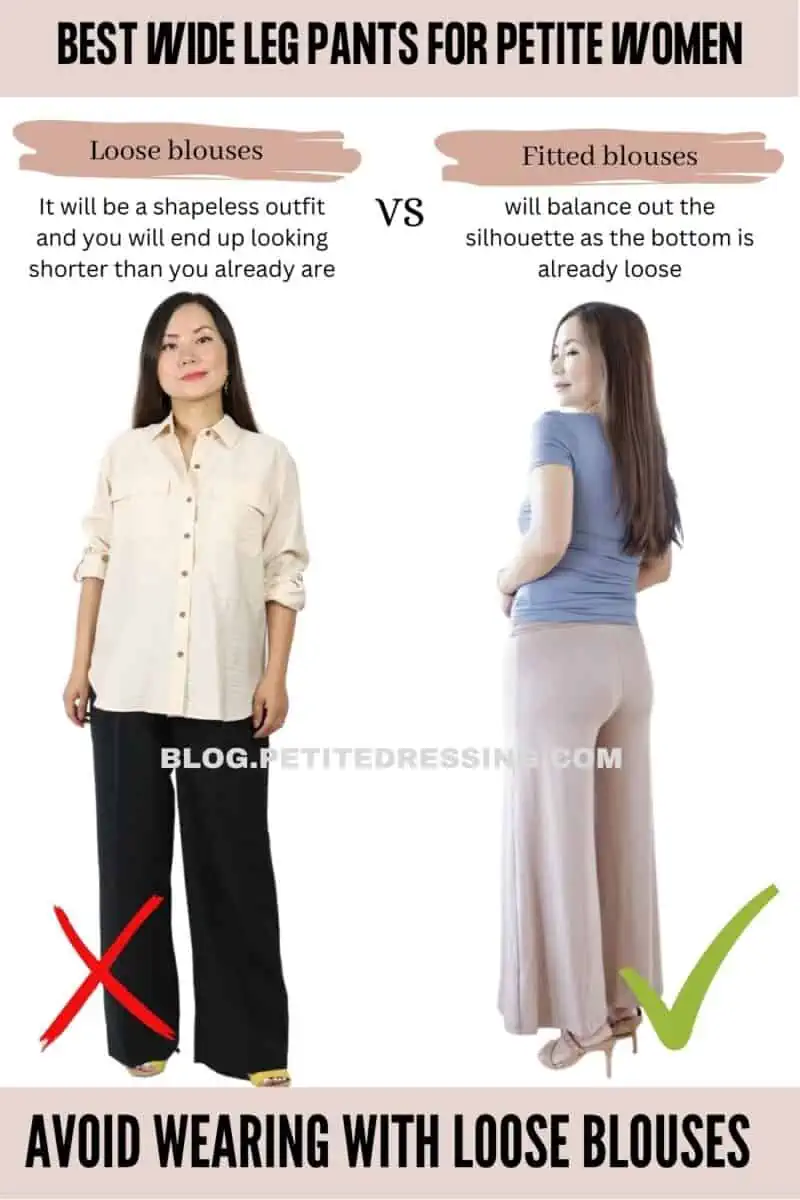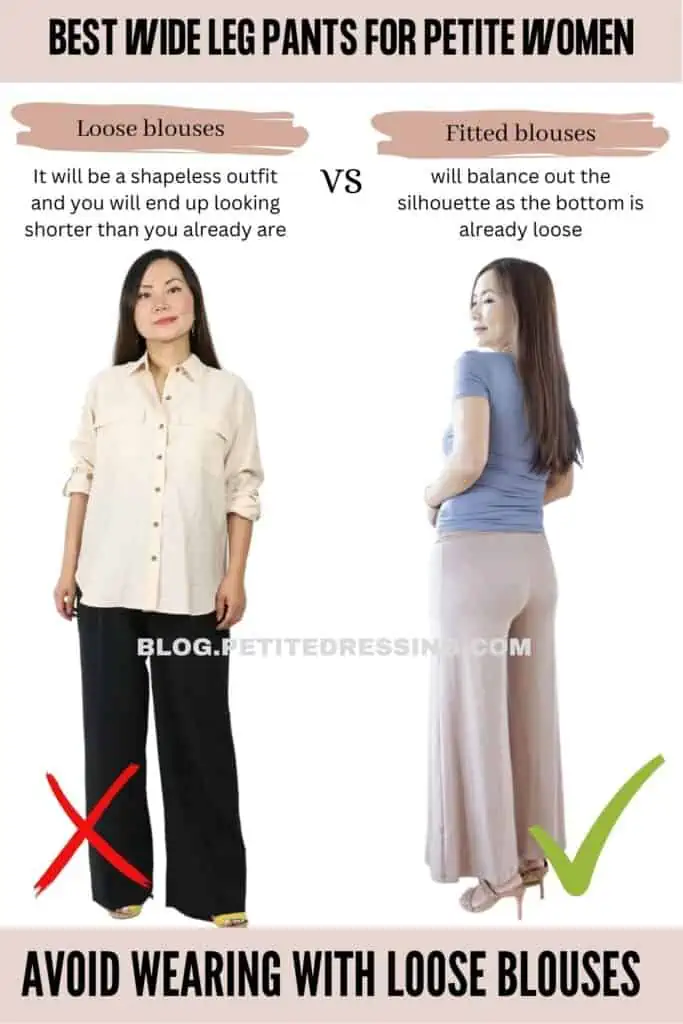 Wide-leg pants paired with loose blouses will only make you look like a bean bag. It will be a shapeless outfit and you will end up looking shorter than you already are. Some of the elements of your outfits should have certain shapes and be tight in some areas. This is the trick to getting a leaner silhouette. Go for fitted or cropped tops with wide-leg pants. Don't forget to tuck the tops inside the pants especially if you are wearing high-waisted wide-leg pants.
Final Thoughts
Now you know how to style wide leg pants as a petite woman. You can rock wide leg pants and make yourself look leaner. This will bring confidence to your personality. Wide leg pants are extremely comfortable so why shouldn't you get that advantage? Styling wide leg pants is all about choosing the right length, a suitable top, and a flattering waist. High and mid-waisted pants with full-length should be your go-to as a petite woman. Pair fitted or cropped tops with wide leg pants to keep everything in balance.