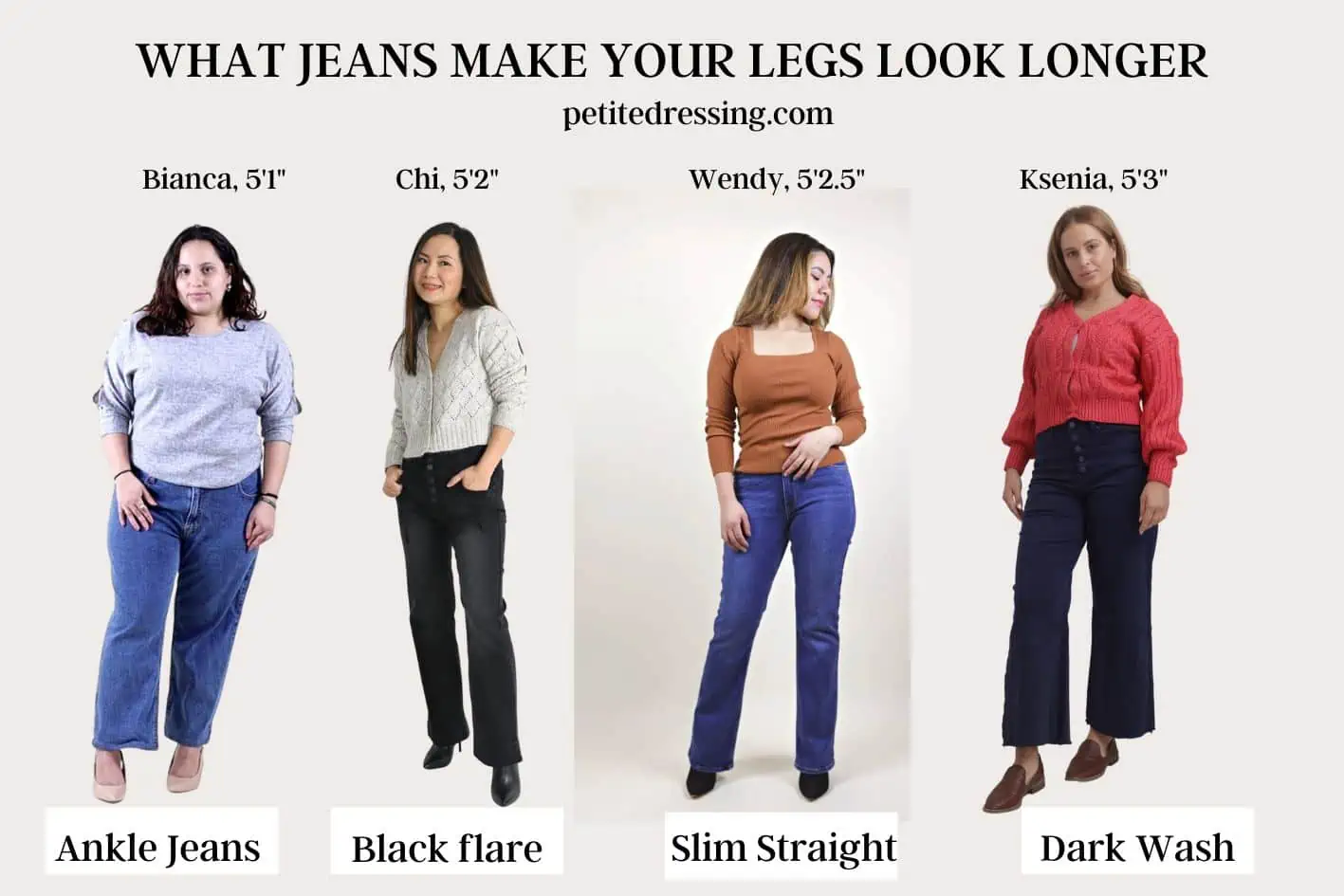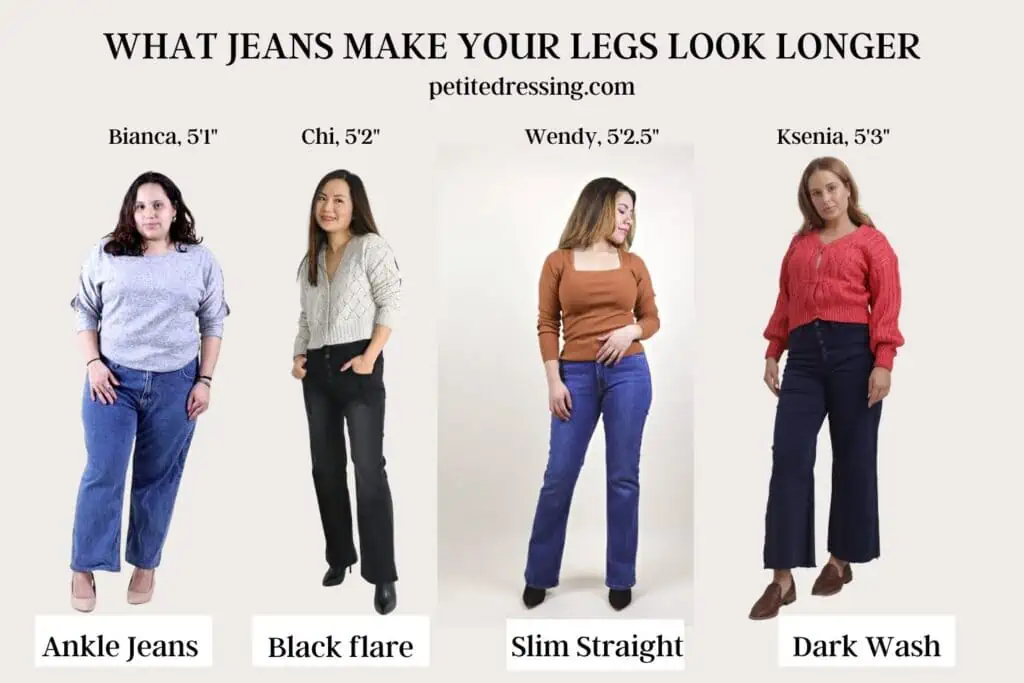 Women all over the world, petite or not, are eager to find ways to make their legs appear longer than they are naturally. Whether you are a short girl, or not, one of the main benefits of longer looking legs is making your body look slimmer. Two birds, one stone!
Even if you are like me, born with shorter legs, that doesn't mean you can't create the illusion of longer legs with clothing. Jeans, in particular, are a great garment to utilize to make your legs look a mile long. Below is a breakdown of some of the best jeans to wear to give your legs that added length.
Side note: while these tips are specific to jeans, they can definitely be applied to other types of pants!
Straight Leg Jeans
The ever-classic straight-leg jeans aren't just a wardrobe staple, they offer a lot of figure flattery benefits – especially when you want your legs to look long. If you're ever in doubt when selecting a pair of flattering denim jeans, straight leg is a silhouette you can always count on regardless of your body type.
One of the main reasons straight-leg jeans are such a great choice for longer-looking legs is because of the, quite literal, straight line that is established down the body. The silhouette is pretty self-explanatory in that way.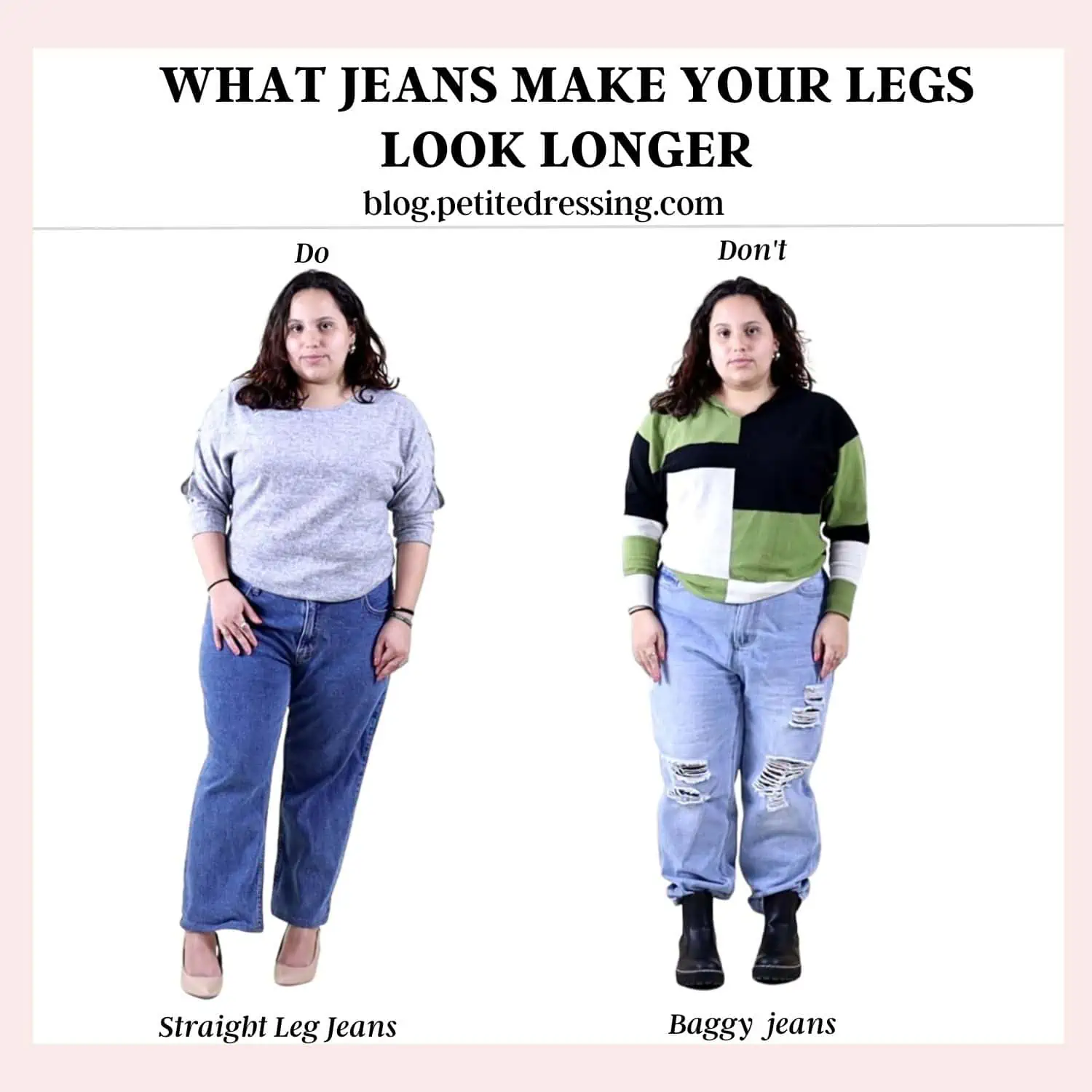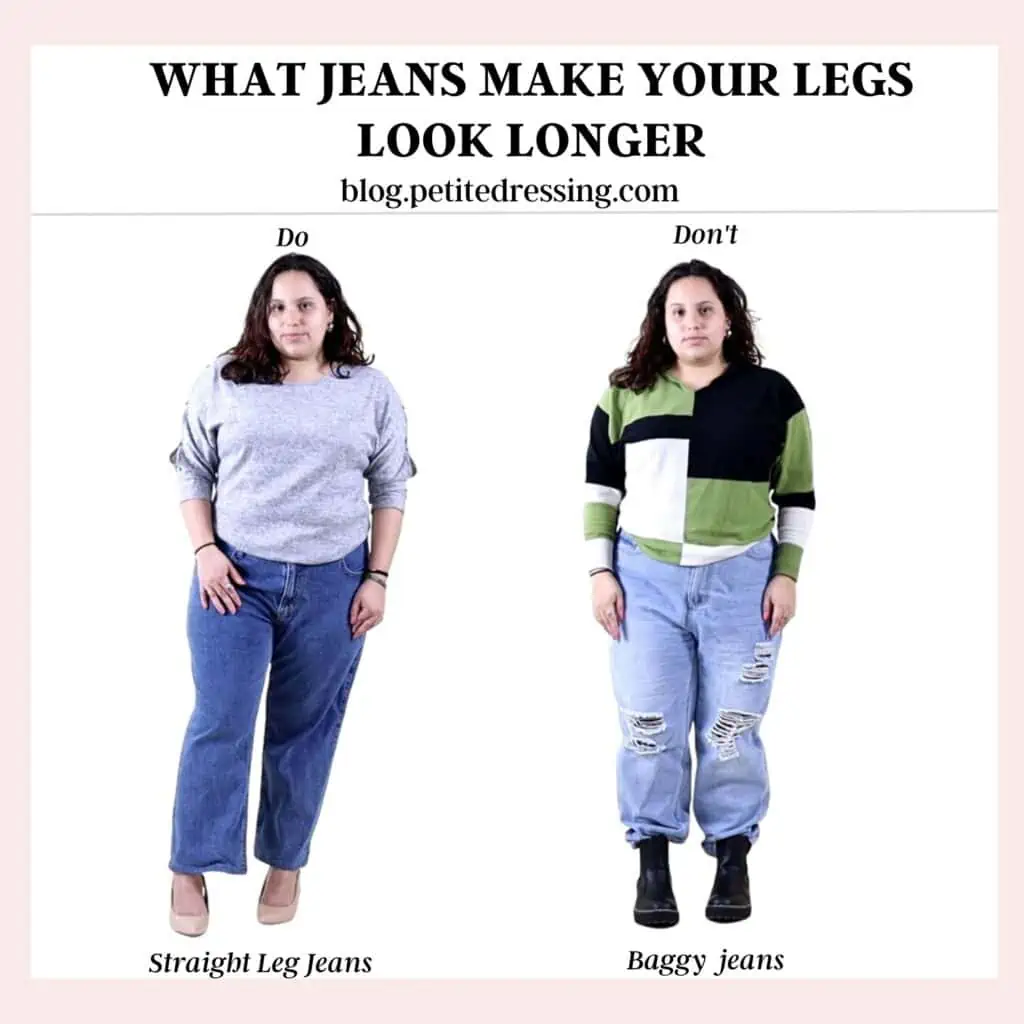 Thanks to the unbroken straight line from this style of denim, it creates this great vertical line that gives the illusion of incredibly long legs.
Pair straight-leg jeans with pointed-toe shoes or shoes that match your skin tone to add even more length to the look.
Dark Colored Skinny Jeans
In general skinny jeans are a pretty good style choice to make legs look longer, especially when they're high-waisted. However, most style experts suggest sticking with black or dark wash-colored skinny jeans to really make the most of this silhouette.
The darker hues create a more streamlined look to the body, helping to add length and slim the legs in a really beautiful way. Just make sure the skinny jeans you wear aren't too tight in their fit!
These types of jeans should be snug, but still, allow you to move around freely and comfortably. If there's a lot of pulling or puckering in areas that's a pretty good sign they're too tight.
When styling skinny jeans, to add even more length to your legs, tuck in your shirts to expose the waistline. This can also be replaced by wearing a cropped shirt. The point is to opt for shirts that allow you to show off the waistline and lift the leg line.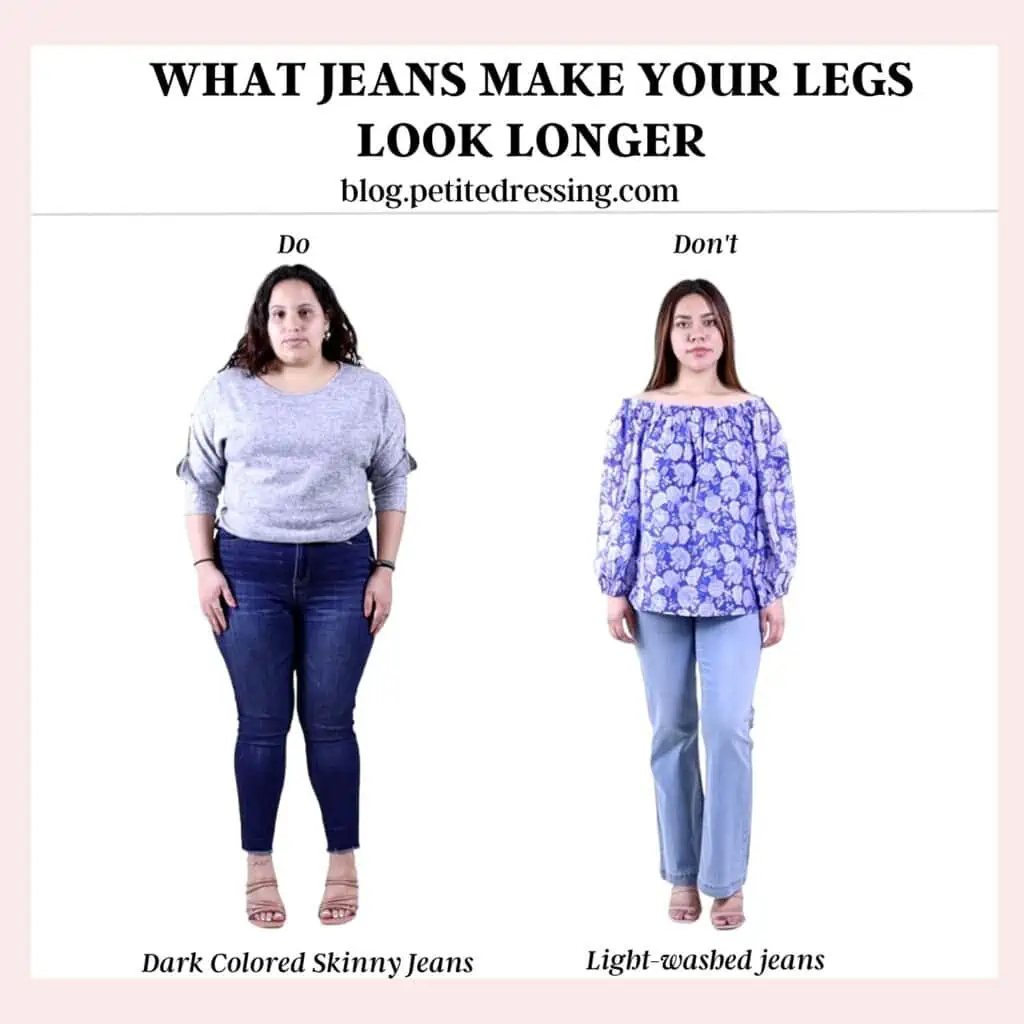 Another easy styling trick is to wear shoes that match the color of the jeans. For example, if the skinny jeans are black style them with black shoes. This creates a monochromatic look that lengthens the legs even more.
Flare Leg Jeans
Flare leg jeans aren't just a throwback style, they're also a great option to give a try to lengthen those legs. Even if you're petite a flare leg can do wonders for leg lengthening benefits.
Opting for full-length flare-leg jeans is going to establish that long line down the body. The key with flare-leg jeans, especially for petite women, is to ensure the hemline is right. They shouldn't be too short or too long as both can deflect from the leg lengthening characteristics. These types of jeans should 'graze' the floor.
Of course, high-rise flare-leg jeans are going to be the optimal choice here. If a high rise feels too high for your liking, a mid-rise will also be a flattering option to take with this style.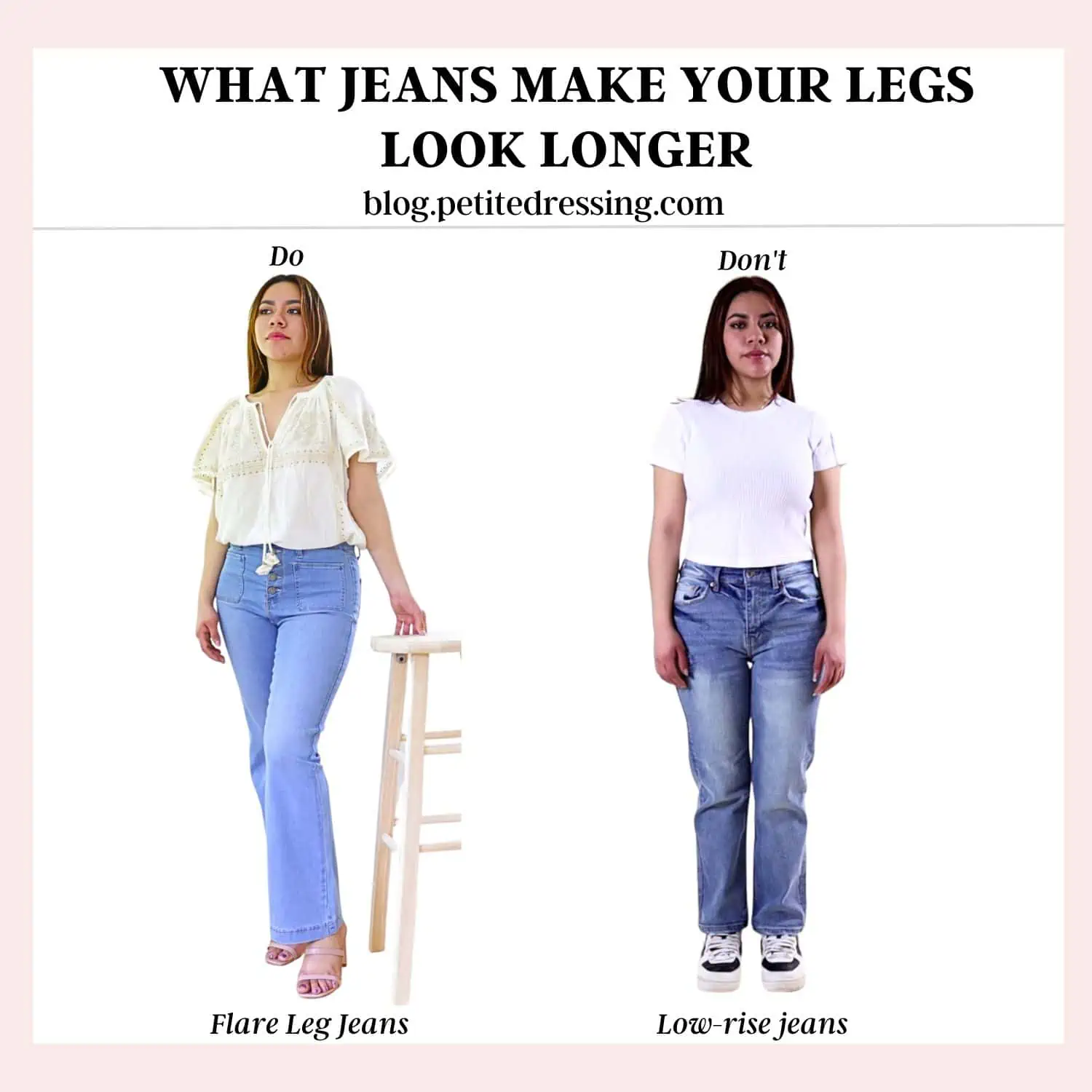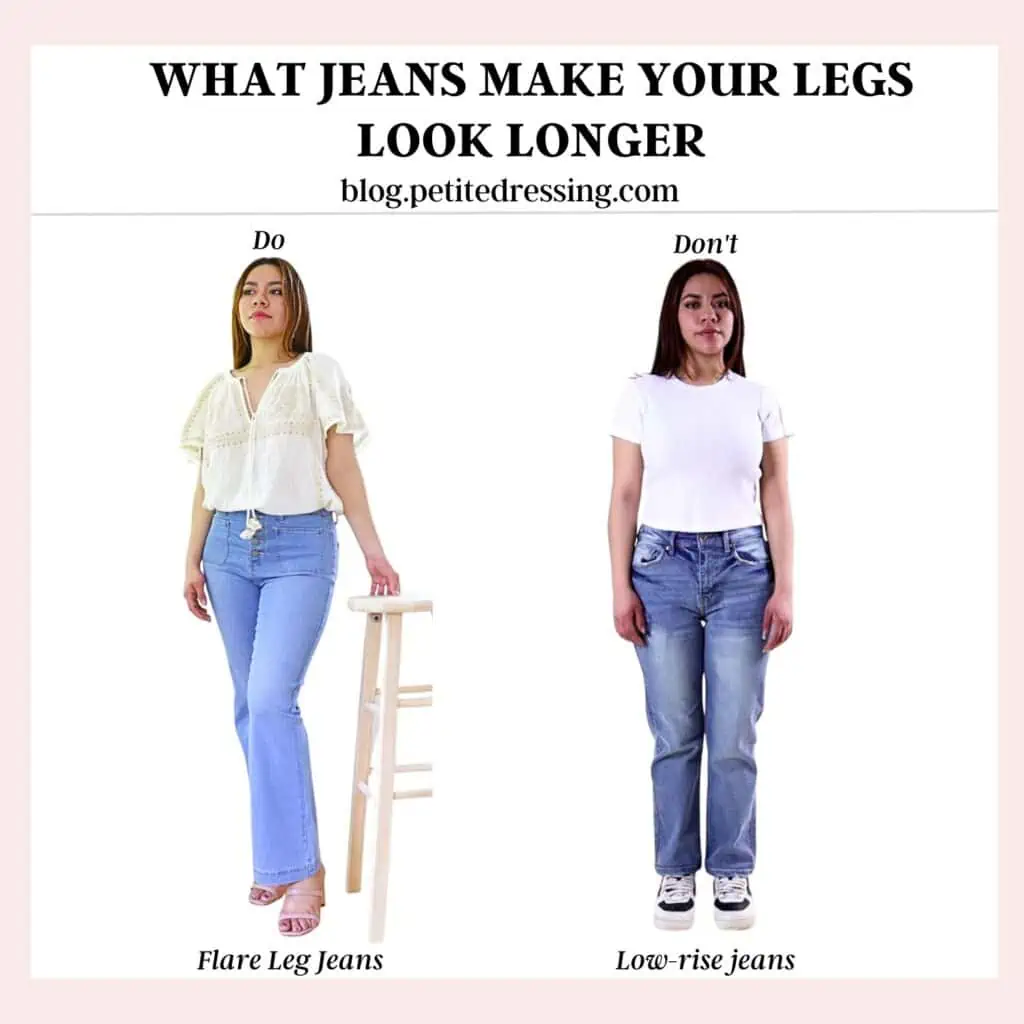 Similar to skinny jeans it's best to wear flare-leg jeans with a shorter-length shirt.
Even if cropped tops aren't for you, wear a shirt tucked into the jeans or at least rests above the widest area of your hips. Avoid long-length tops as this will shorten the appearance of legs.
Full-length Wide Leg Jeans
Believe it or not, wide-leg jeans can make your legs look very long, if you know how to style it!
Many of us many shy away from wide-leg anything because they seem to be overwhelming, especially for someone who has short legs, to begin with.
This is critical.
Remember, your legs are only as long as the jeans you wear!
So when you wear full-length wide-leg pants, it gives the eye the illusion that your legs are longer.
You MUST wear heels, when you wear wide leg jeans, in order balance out the leg volume. Wide-leg jeans can totally be a challenge, but here is how you can turn it around: Wear full-length and wear them with heels!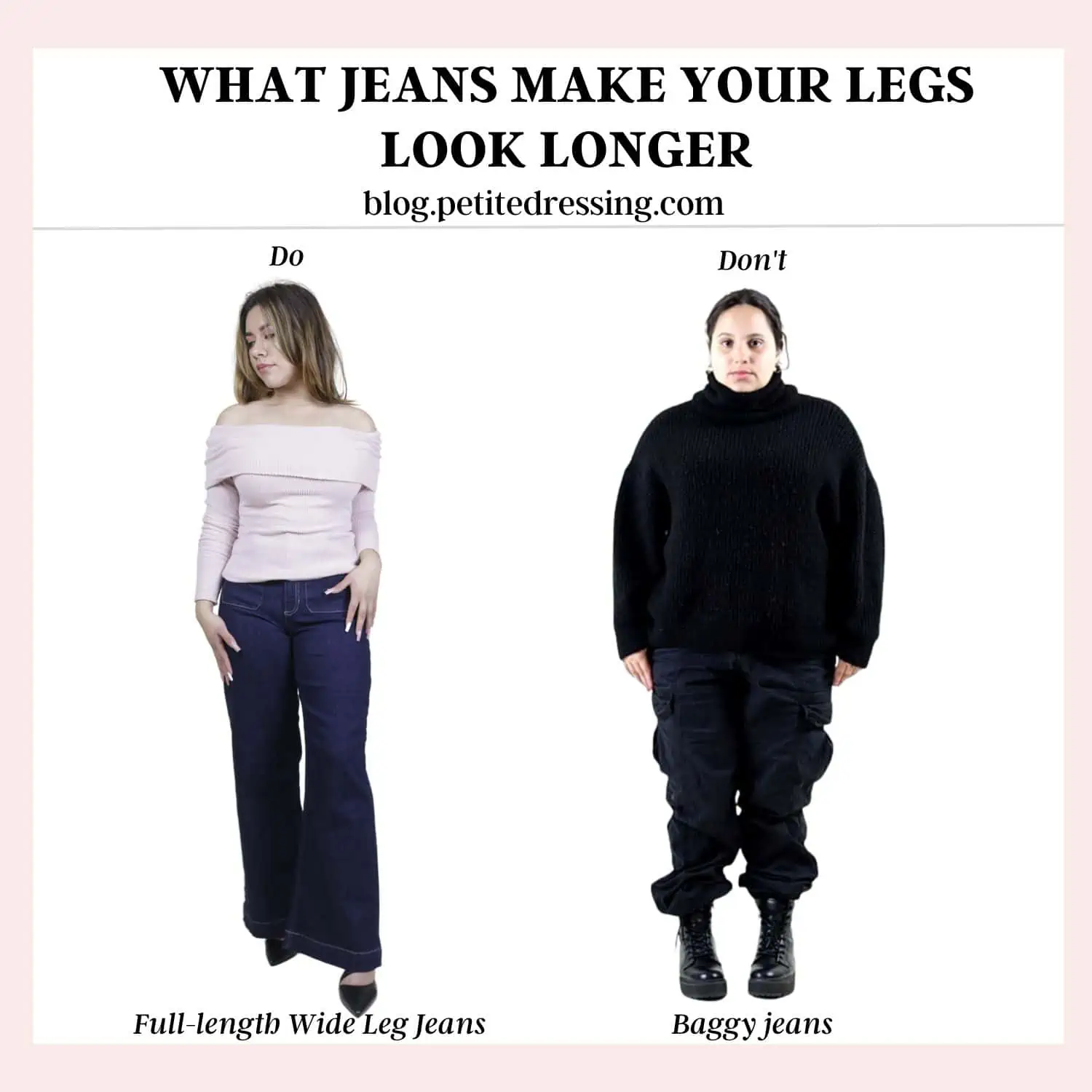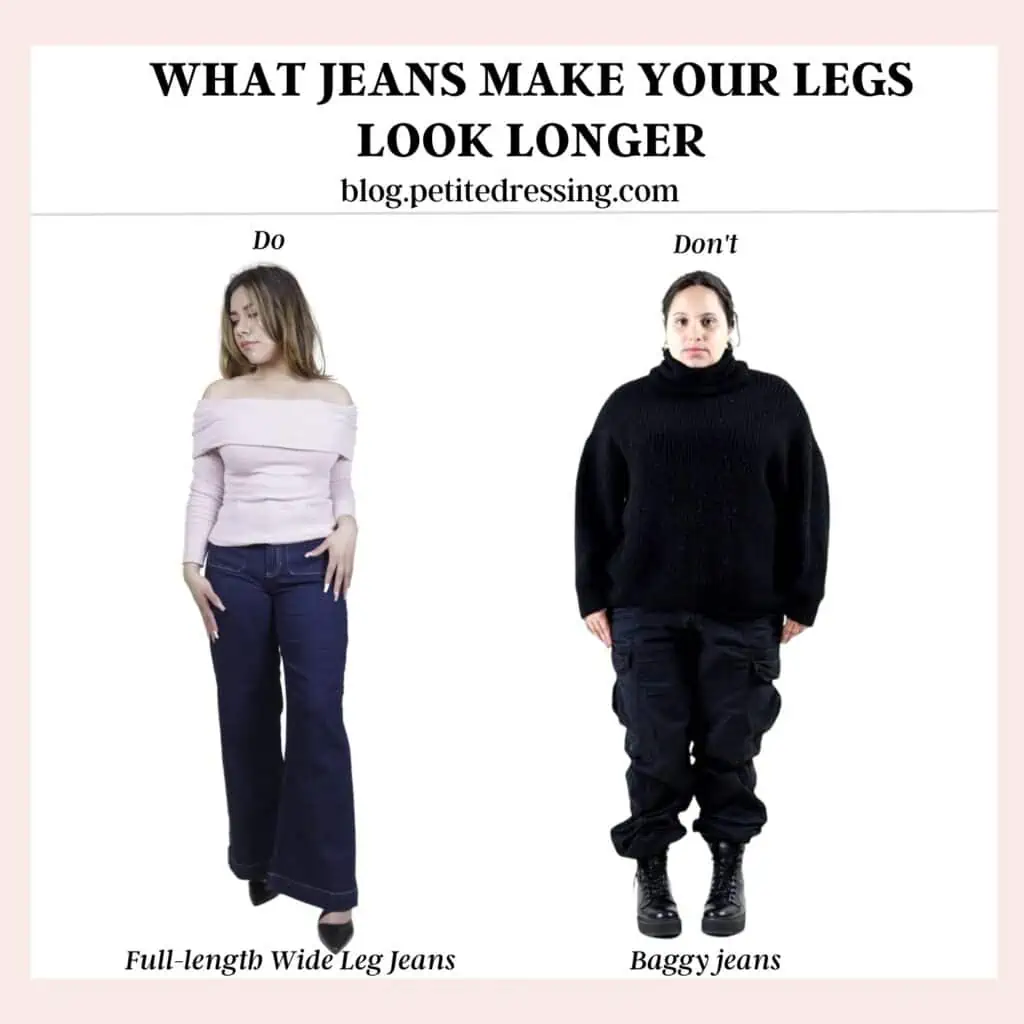 Besides, heels are going to double the leg-lengthening effect, as they are covered under the jeans and appear to be an extension of your legs!
High Rise Jeans
Most style experts will agree, high rise jeans are an absolute must in your wardrobe when you want your legs to look longer. High-rise jeans, or any type of bottom really, are going to instantly add length to your legs.
This is all due to the fact that the waistline of the jeans sits higher up on the body, visually drawing the eye up and making it look as if your legs begin higher than they naturally do. Those extra couple of inches mean your legs look a couple of inches longer.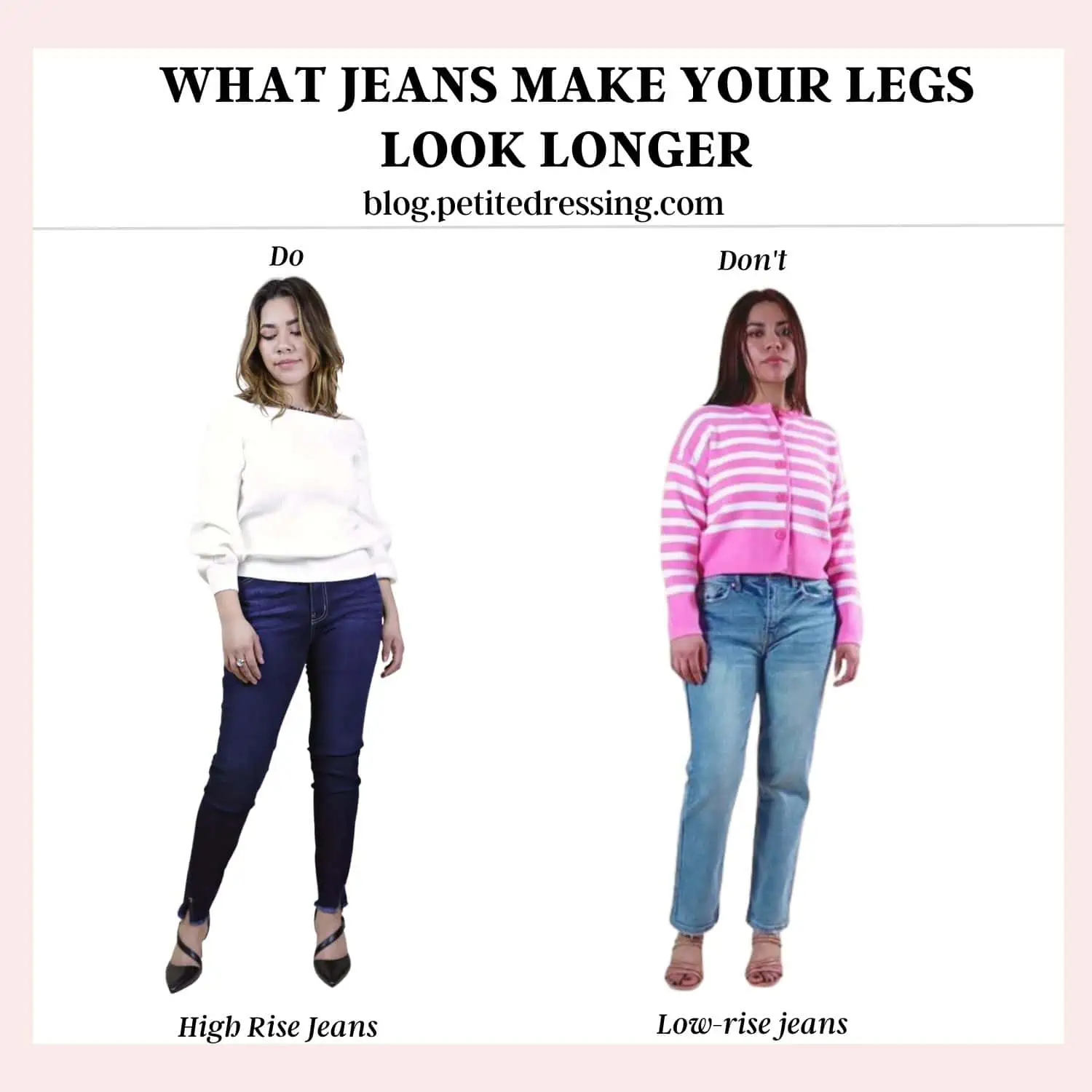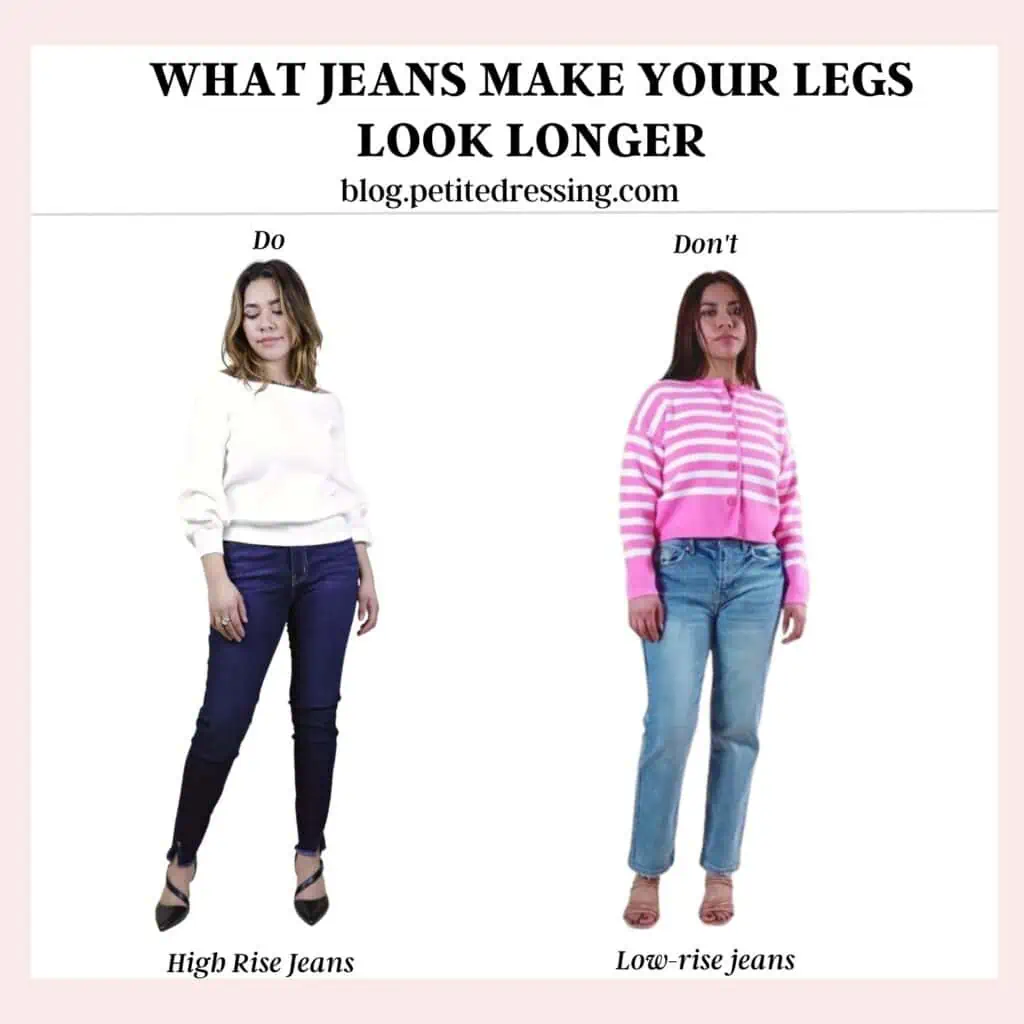 When selecting high-rise jeans make sure the waistline isn't too snug. A common mistake women make is feeling as though high-rise jeans need to fit really snugly. Not only does this make them uncomfortable to wear, but it pinches the body in an unflattering manner.
Dark Wash Slim Fit Jeans
Slim-fit jeans are a recent trend.
This is a hybrid of straight-leg jeans and skinny jeans. They are cut with straight leg shapes, but they fit closer to the body than the traditional straight jeans.
These jeans give you the best of two worlds.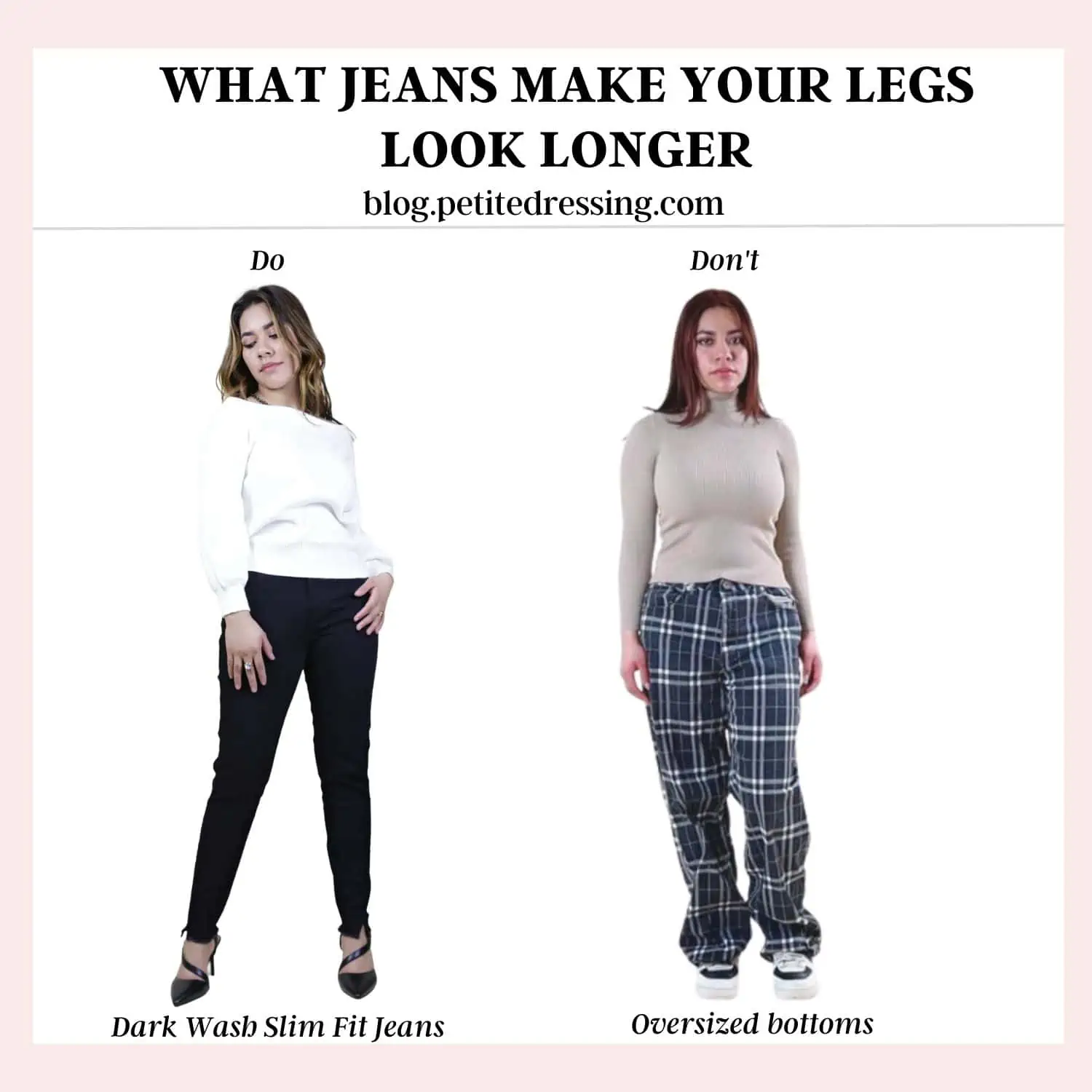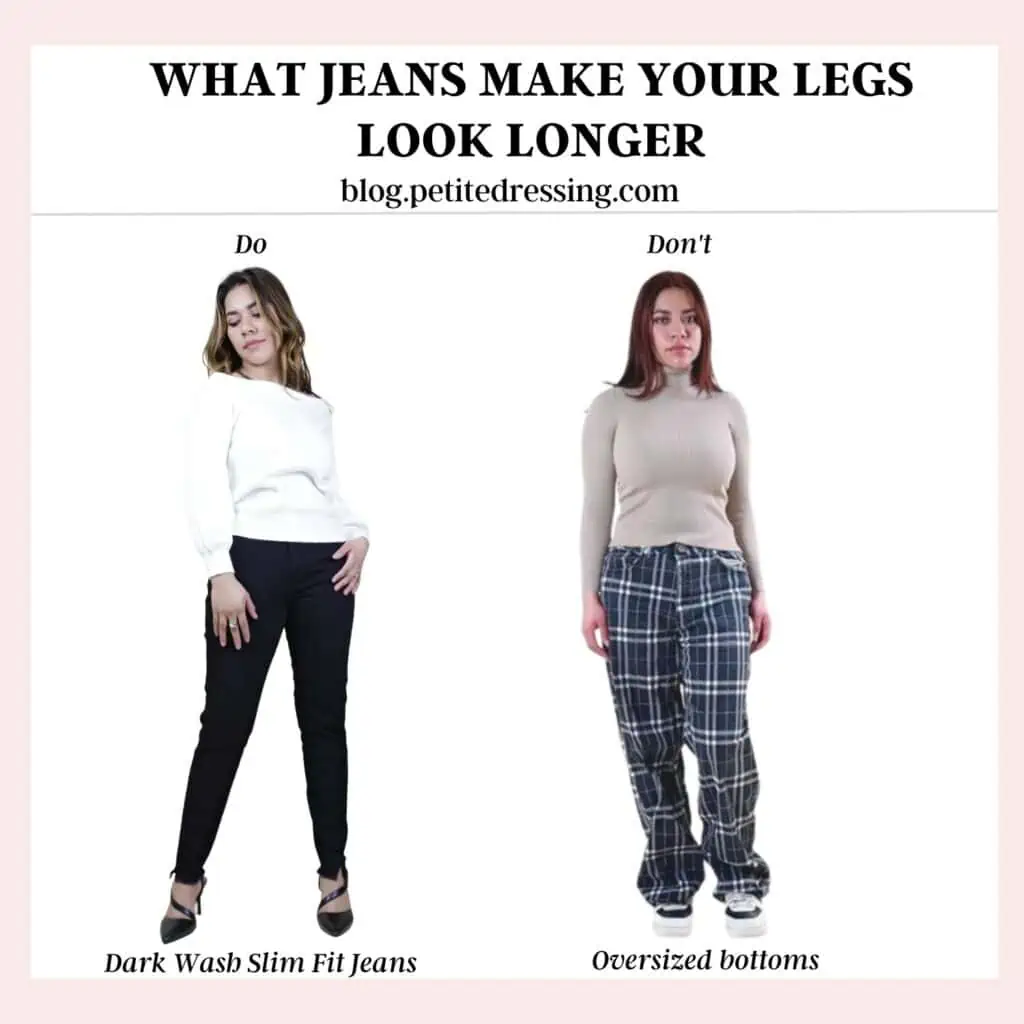 They can lengthen your legs, but they are not clinging to your hips and thighs like the traditional skinny jeans, making them a popular choice for women who have generous thighs or wider hips.
Regardless of any leg shape, whenever you go with dark wash jeans, they are going to give you the best slimming effect, therefore making your legs appear not only longer, but also leaner.
Avoid Baggy Jeans
If your goal is to elongate your legs, you should stay away from any baggy jeans.
The reason is obvious. Because they add so much volume to your legs, they expand you horizontally, which is the opposite of what you want.
Instead of lengthening your legs, they actually make you look bulkier and bigger than you are.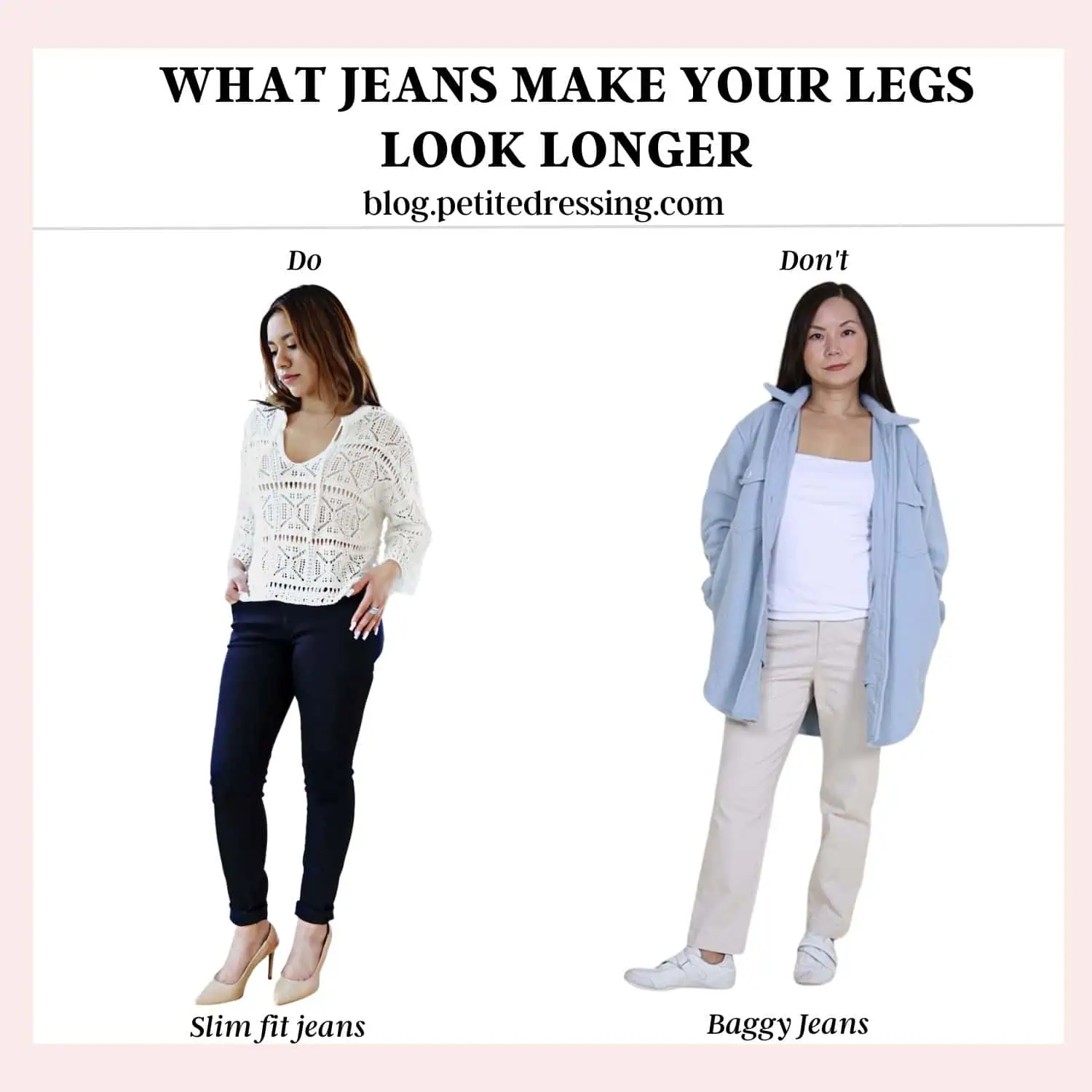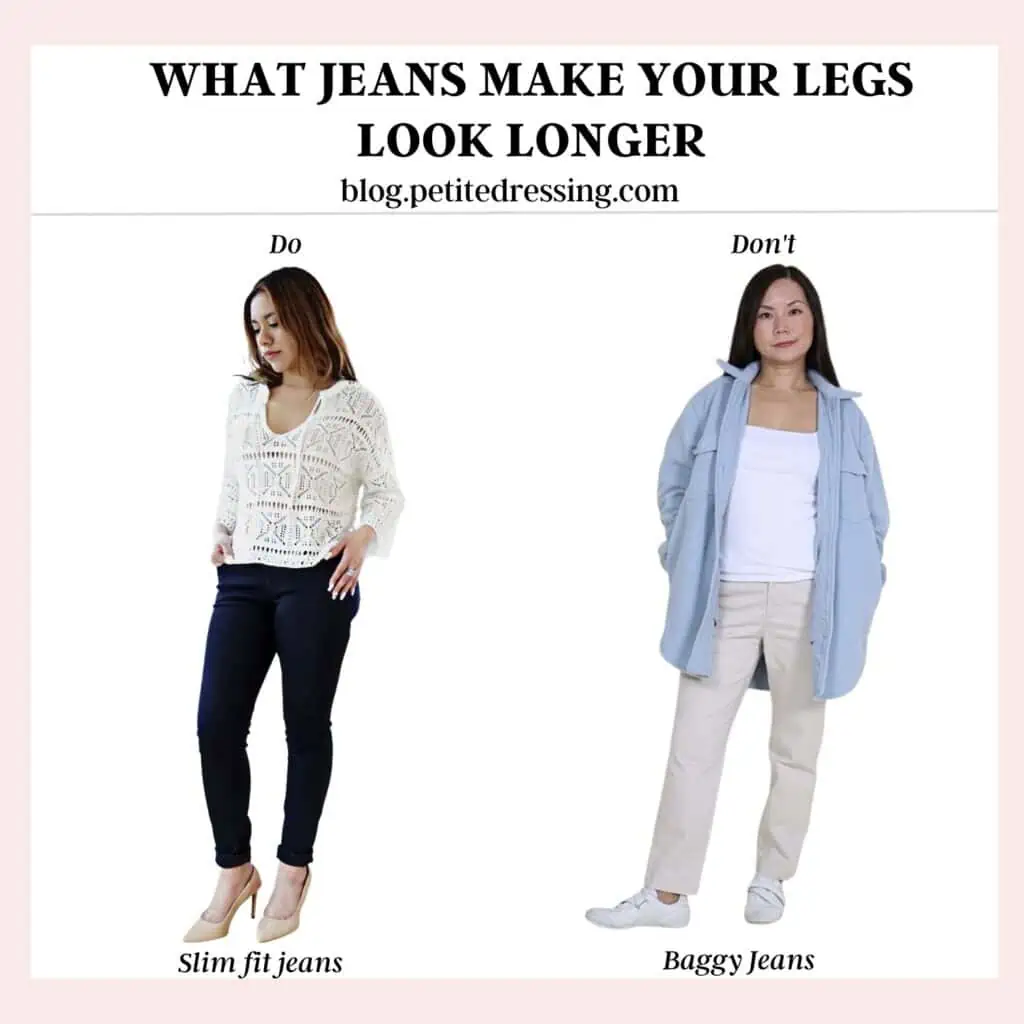 Even though we are hearing more and more trend reports that the skinny fit might be phasing out and the current trends are loosely fitted jeans, always keep in mind that the best jeans for you are always the type of jeans that flatter your shape.