If you are top heavy, this could mean you have a full bust and carry most of your weight above your waist.
It could also be because you have broad shoulders (or have the inverted triangle shape), which makes your upper body appear broader compared to your hips and legs.
When dressing as a top heavy woman, the main focus is finding little ways to create balance to the body. Even if your body isn't naturally balanced, you can dress in a way that gives the illusion of balance which allows your shape to be enhanced beautifully.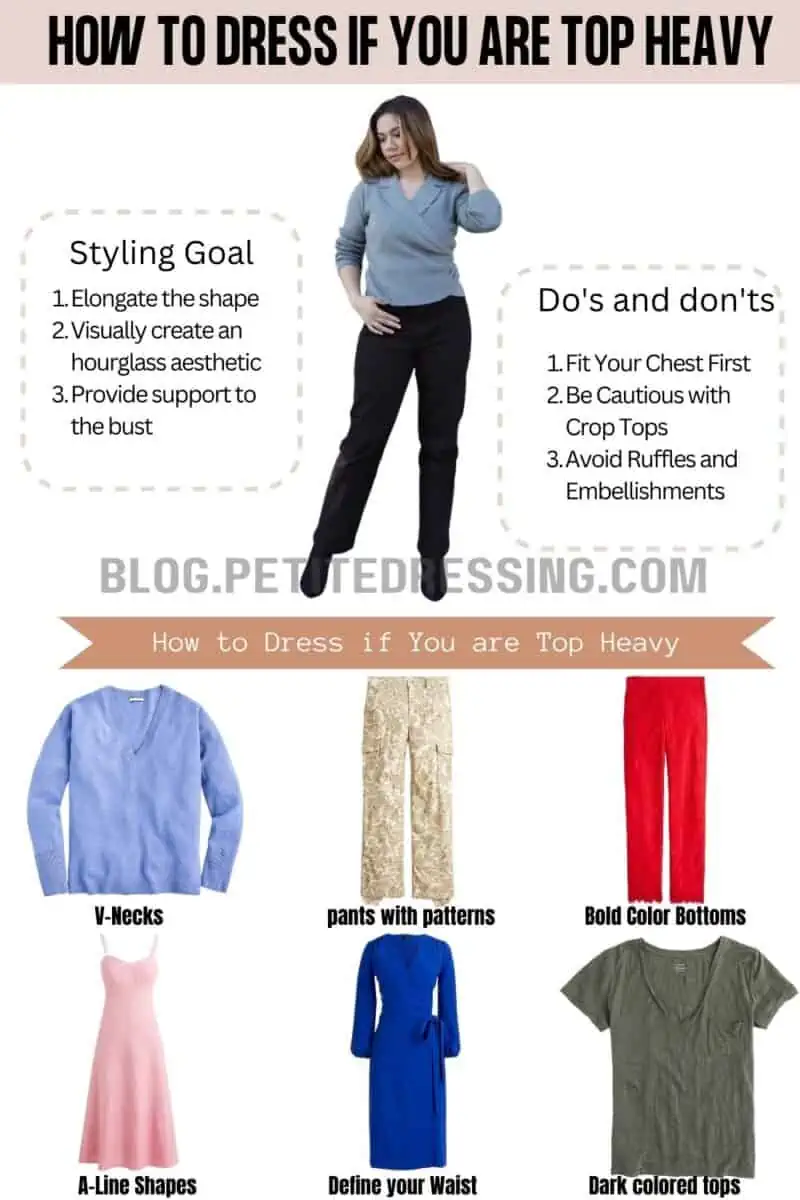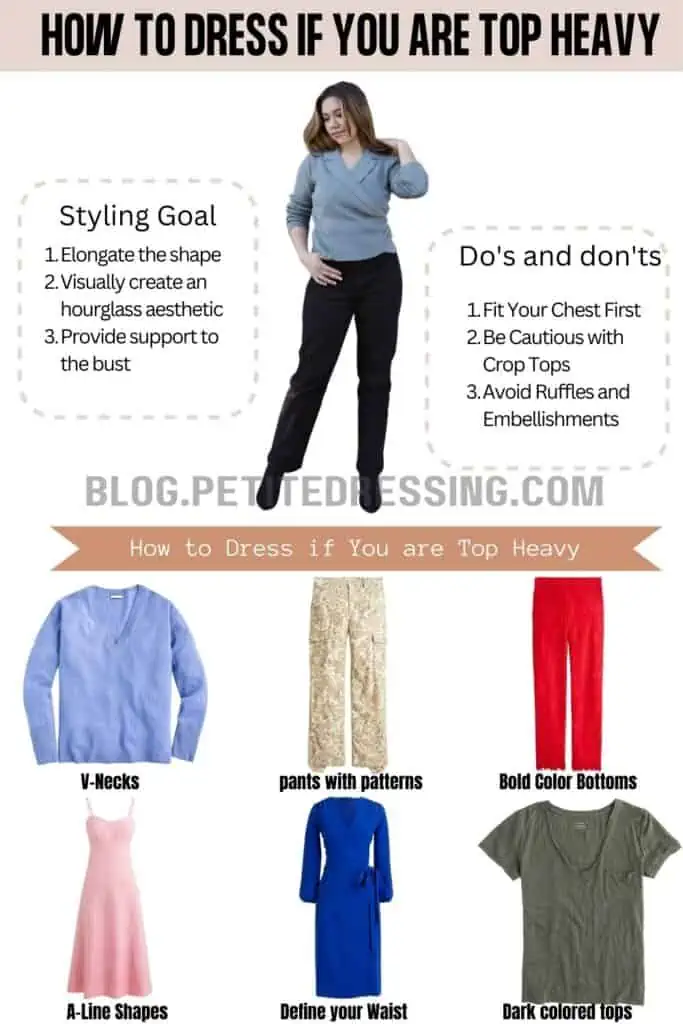 V-Necks
Necklines play a big role in how we look. They are especially critical for women who want to make their top to appear more slender. It's common for top heavy women to want to stay away from open necklines like a v-neck, in fear that it may show their chest too much.
Of course this is a valid concern, but the truth is v-necklines are one of (if not THE) best and most flattering style for a top heavy body type. As tempting as it may be to wear crewnecks to "cover up", those styles tend to accentuate a top heavy figure, bringing ALL of the focus to that area of the body.
Instead, when you opt for a more open neckline like the ever flattering v-neck, it breaks up that space around the neck, elongating the shape and drawing the eye up towards the face.
Now, if you don't want to show too much cleavage or fear the necklines may be too low, just air on the side of caution when adapting v-necklines into your wardrobe. The 'v' doesn't have to be really low in order for you to achieve the benefits from the silhouette.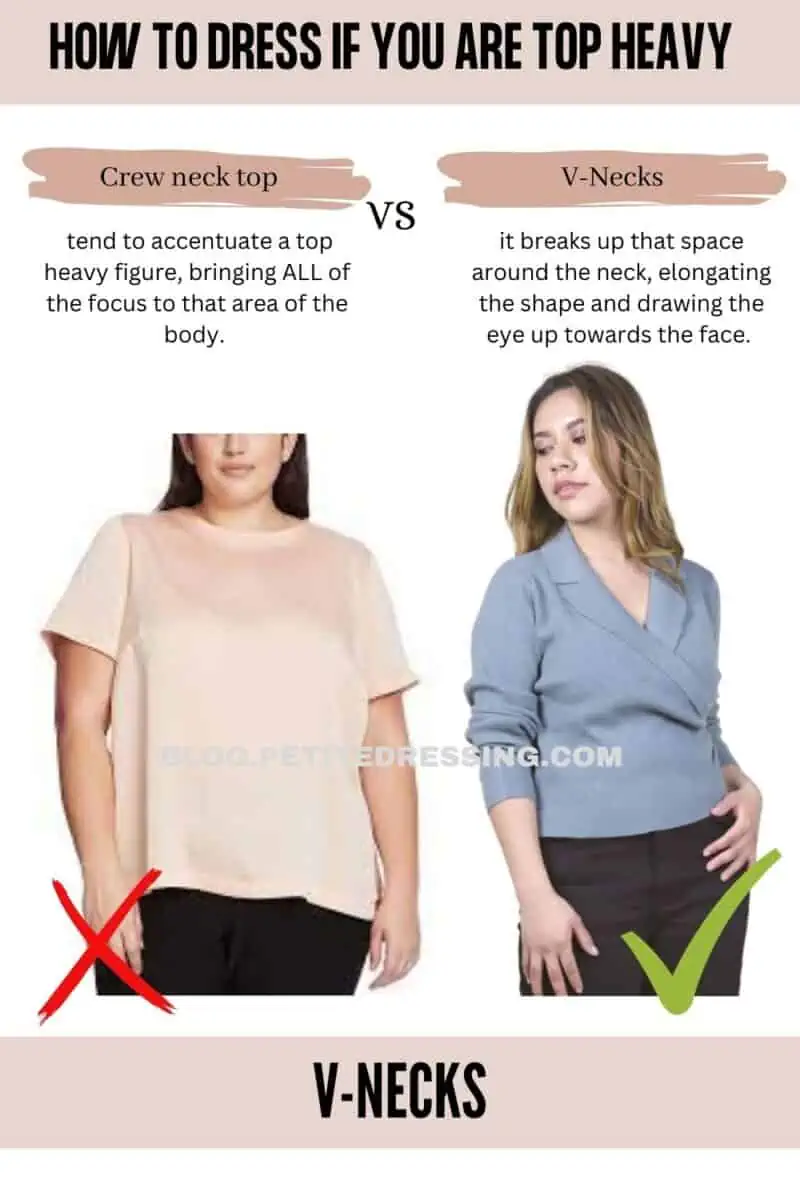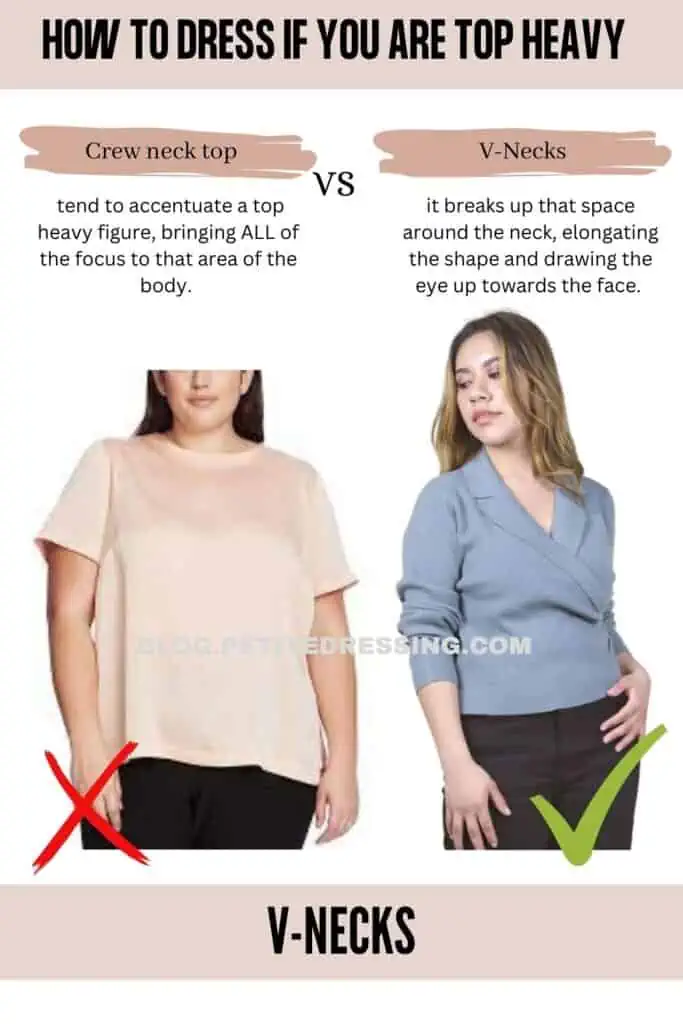 The pattern on the Bottom
One really simple way to achieve balance to the top heavy shape is by wearing any prints or patterns on the bottom half of the body and keeping the top half more neutral.
Doing this brings more of a pop to the bottom half, which is what will visually create more of an hourglass aesthetic to a top heavy woman.
This can be applied with skirts, pants, shorts, and even dresses. Don't hesitate to adapt this styling hack into just about every outfit you style – if you so choose to do so.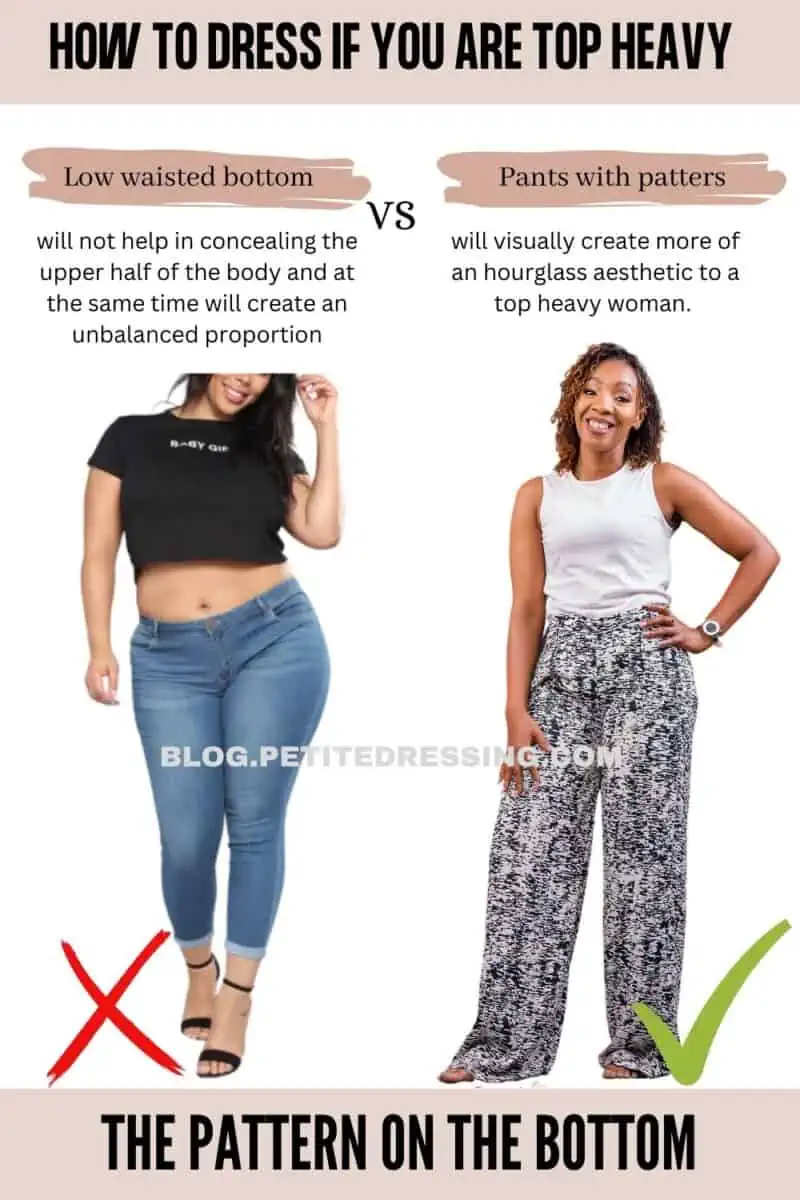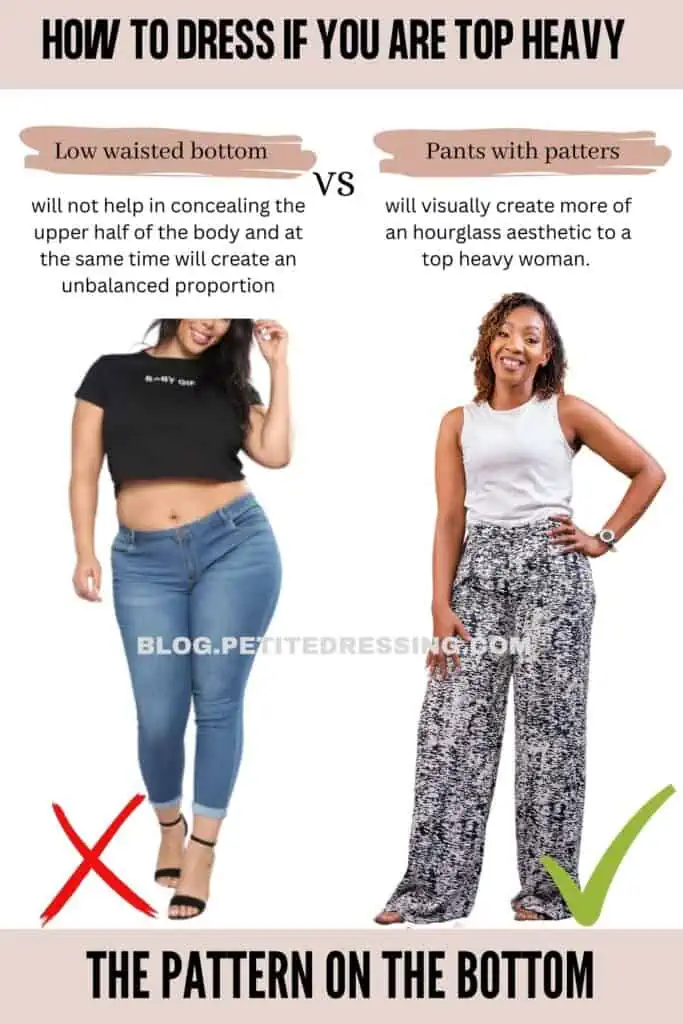 Bold Color Bottoms
Drawing attention to your bottom will distract the eye away from your heavier top, a smart strategy for women who are self-conscious of the top heavy shape. The easiest way to do so is to wear a bold color bottom. If you are into bright colors such as red, yellow or orange, wearing them in your skirts or pants will for sure draw the attention to your bottom, instead of your top.
If you are not a big fan of bold and bright colors, you can still use this strategy by wearing a bottom which is lighter than your top. This will serve the same purpose to make your bottom the focus of the outfit, thus camouflaging the heavier top.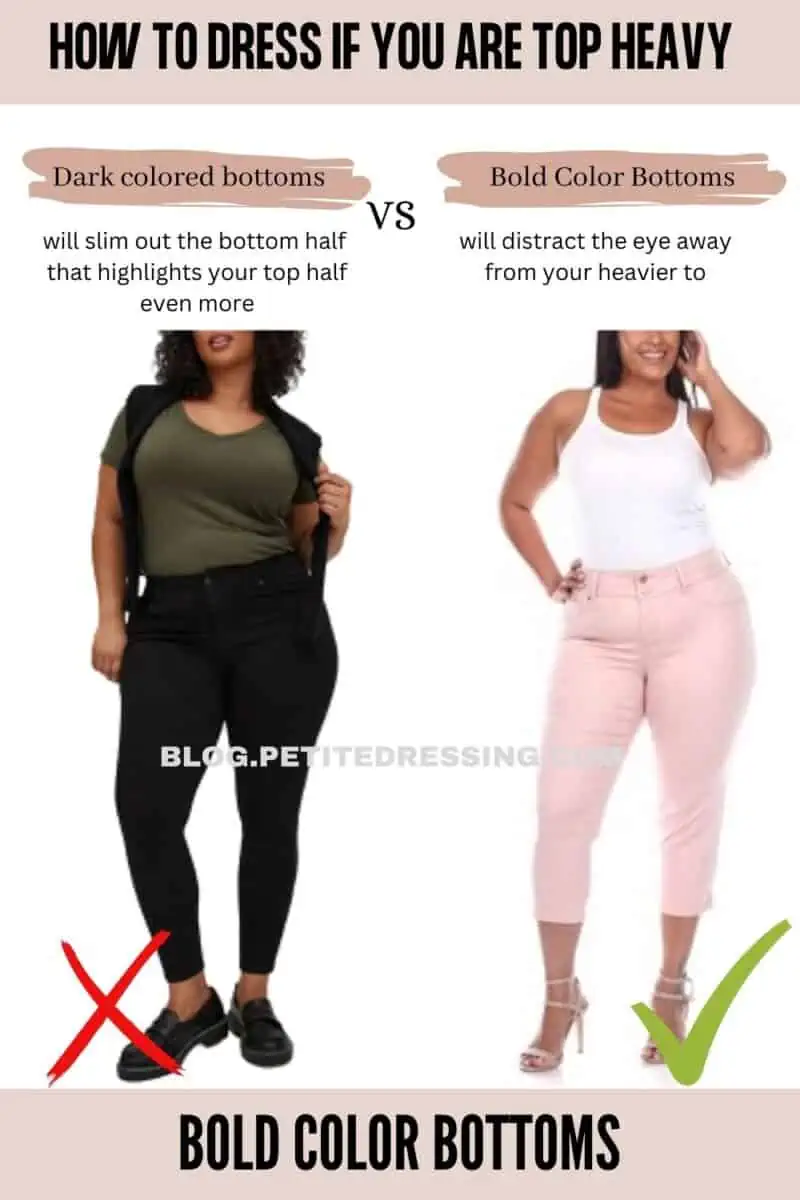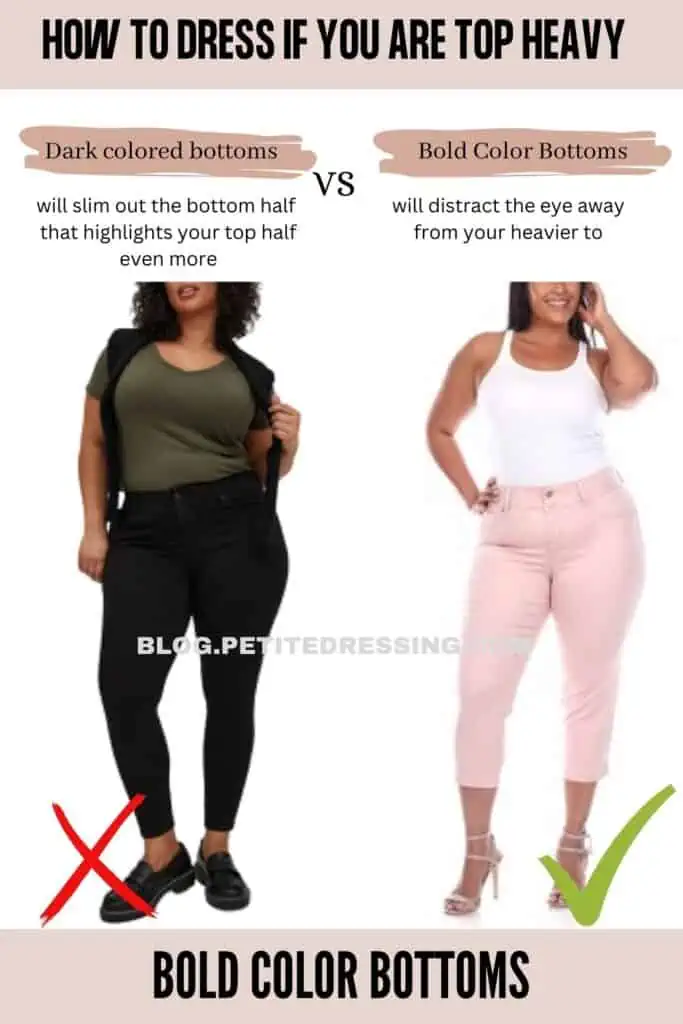 Supportive Undergarments
Everyone has heard time and time again that proper fitting clothing and bras is important, but when you're top heavy, it's something that should be even more of a focus in regards to your wardrobe.
Because your chest is a more predominant part of your body, the foundation pieces you wear play a major role in how the rest of the outfit looks and lays on your figure.
Always get properly fitted for any bras you own and wear, and remember that the sizing can (and does) change often so it's important to get re-sized and fitted fairly frequently.
If you want to make your boobs look smaller , then it is critical to wear proper bras that can smooth out your chest to balance out the top-heavy impression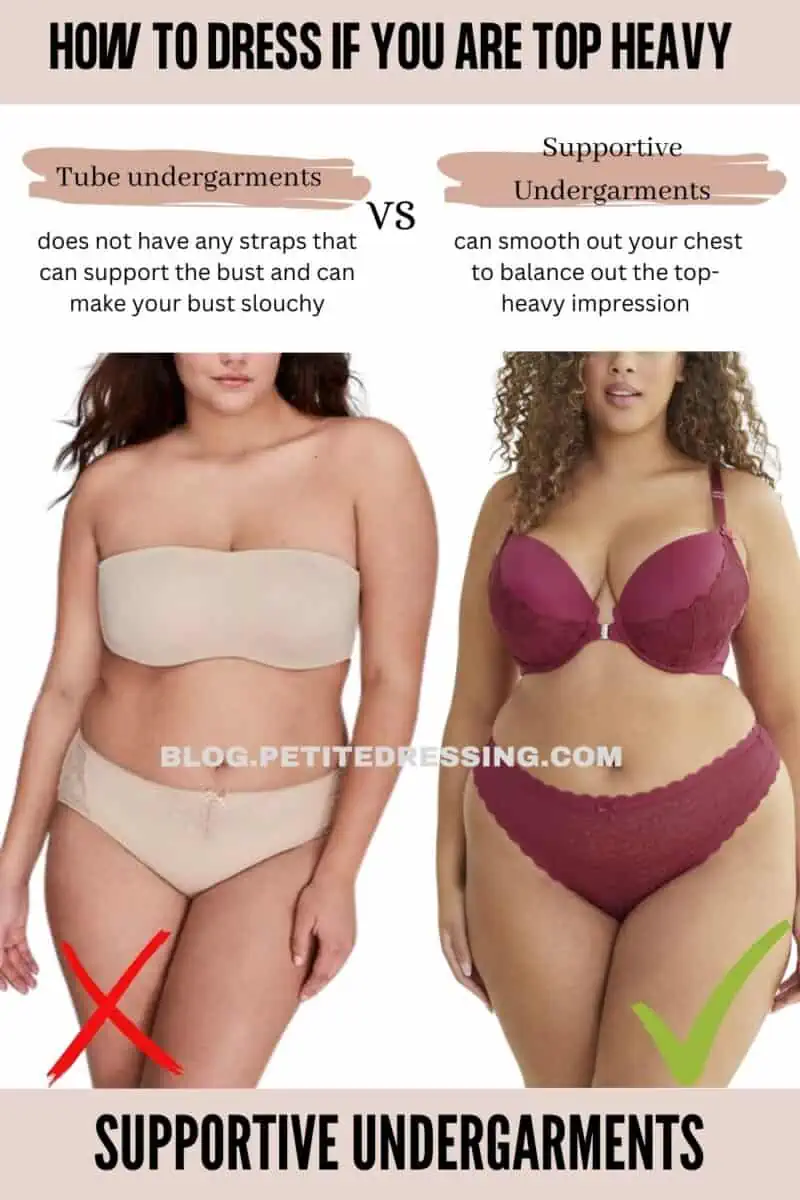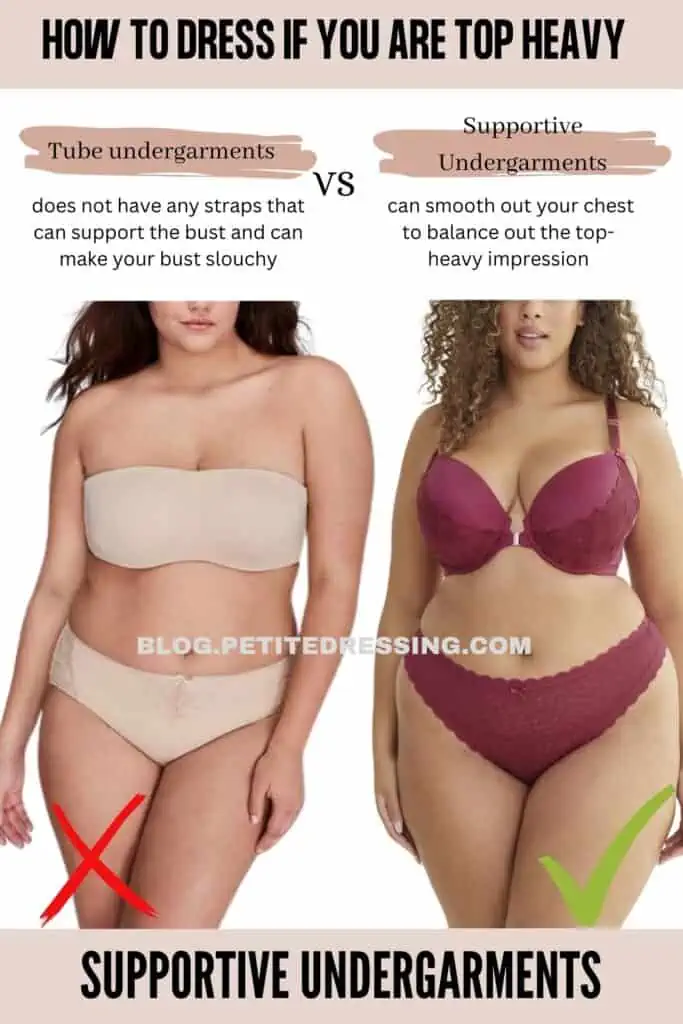 A-Line Shapes
Another simple, effortless way to achieve balance to a top heavy body type is by choosing different silhouettes to wear.
One of the best silhouettes for a top heavy shape is the a-line.
Not only is it a classic and easy go-to choice, it's guaranteed to add just enough volume to the bottom half of the body to visually balance the top half.
Begin to favor a-line dresses and skirts to adapt this figure flattery shape to your own personal style.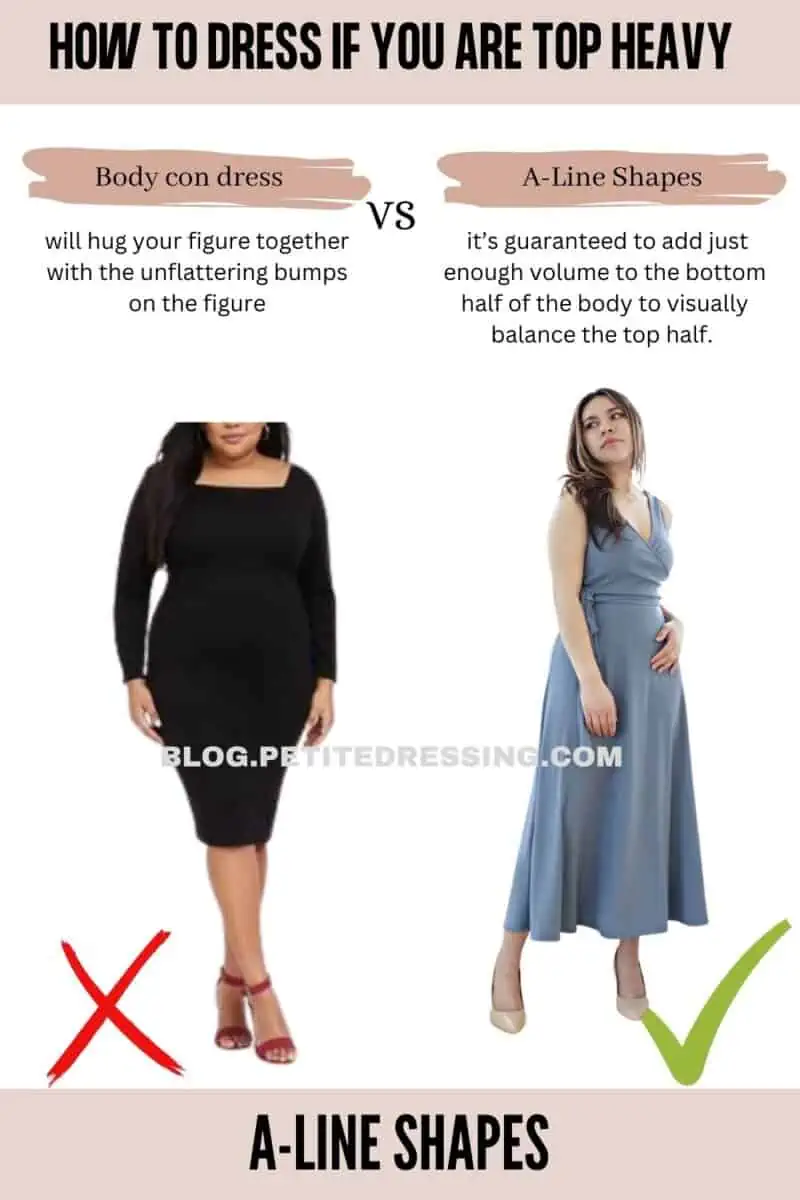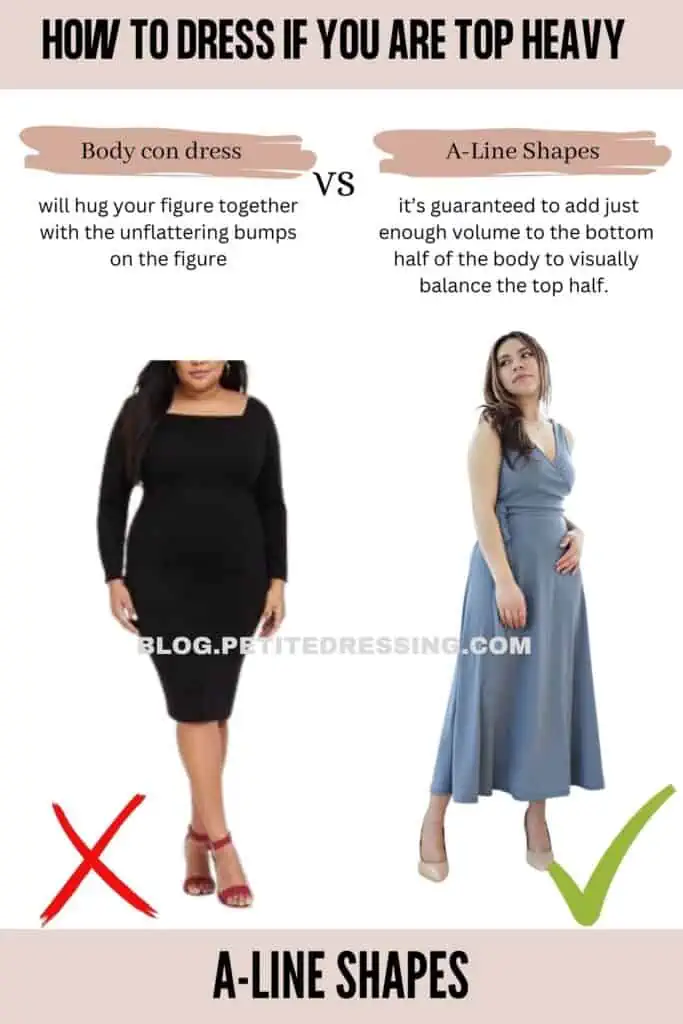 Fit Your Chest First
Women of all shapes and sizes struggle finding clothes that fit them perfectly right off the rack, tops and dresses are an area that tend to be of particular struggle for those with a top heavy shape.
Many style experts suggest one trick to getting the fit right in your clothes.
The trick is to choose pieces that fit to the hardest (or largest) part of the body FIRST, and then get anything else tailored as needed.
So in the case of being top heavy, if your chest is the hardest to fit area as you begin trying clothes on focus on the fit there.
This will make it much easier for clothes to be tailored and lay on your body the right way.
Define your Waist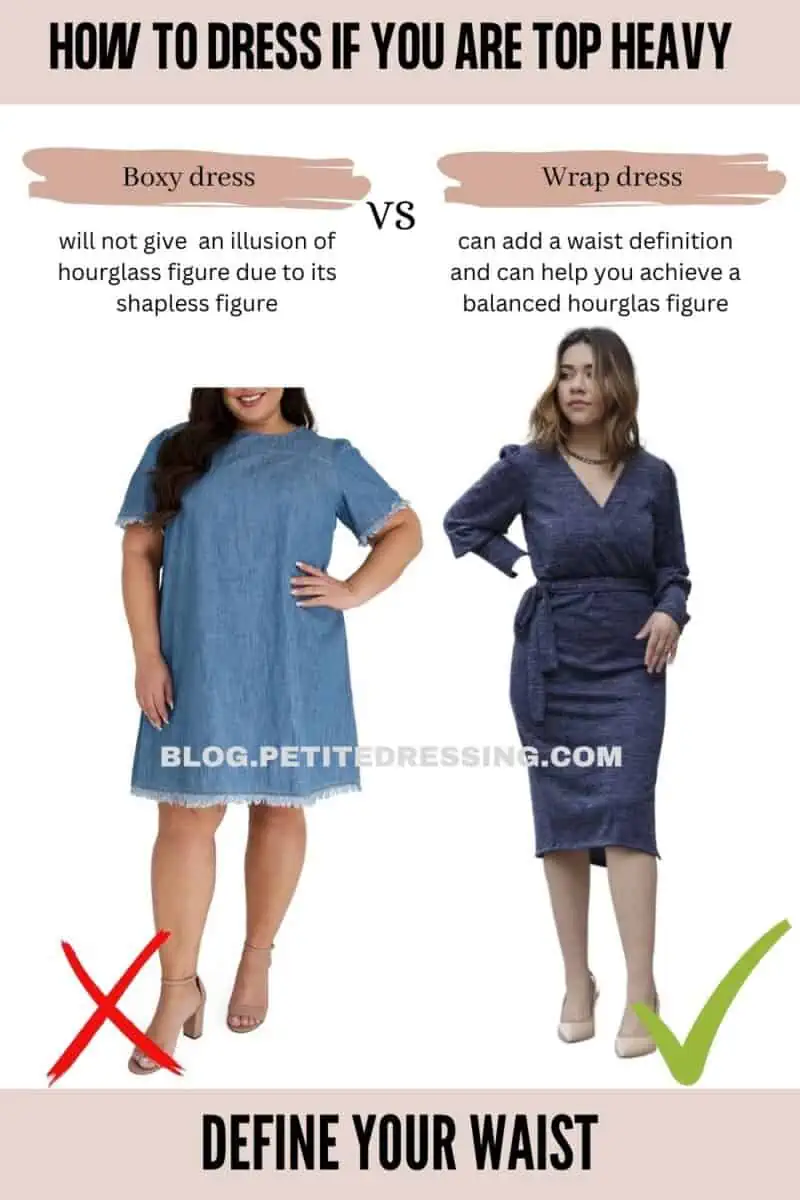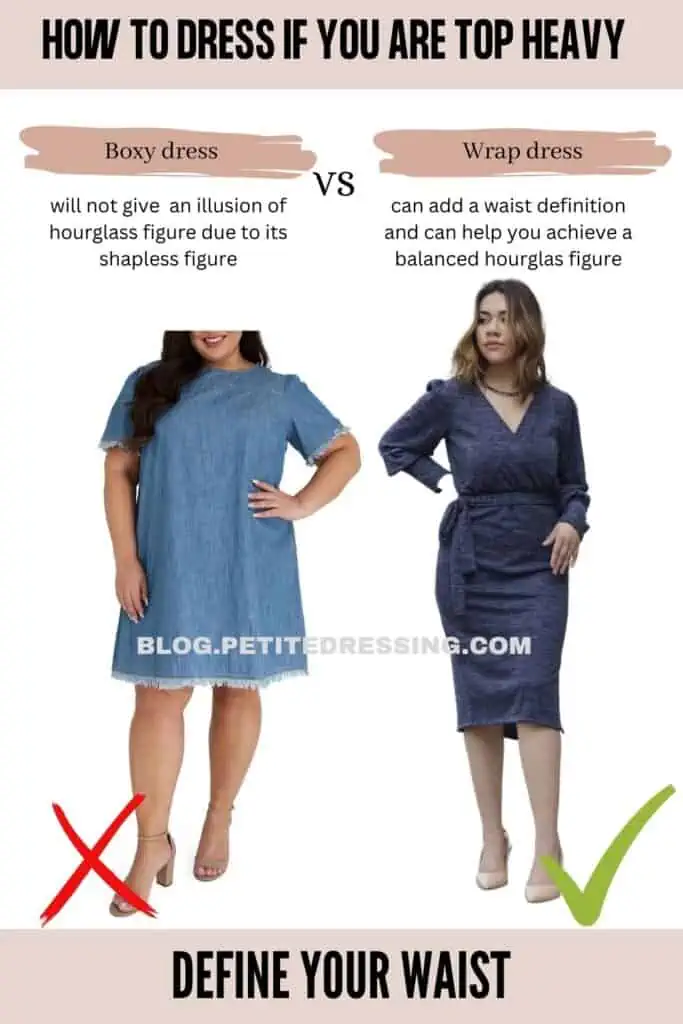 The top heavy often leads to many tops and dresses that fit around the chest and are extremely loose and baggy around the waist area.
The problem with that fit is it tends to emphasize a top heavy figure and adds a lot of bulk to the waist.
This is why finding ways to define the waist is really important.
Not only will adding waist definition avoid adding bulk to the waist, it helps to give your shape more balance and ensures you're not drowning in fabric.
Much like any other style tip, there's a variety of ways to add definition around the waist – it really depends on the look you are trying to achieve, and the rest of the outfit.
A few simple examples include: adding a belt, tucking in a shirt to bottoms, favoring clothes with clearly defined waistlines, and wearing high waisted bottoms. Just to name a few!
Be Cautious with Crop Tops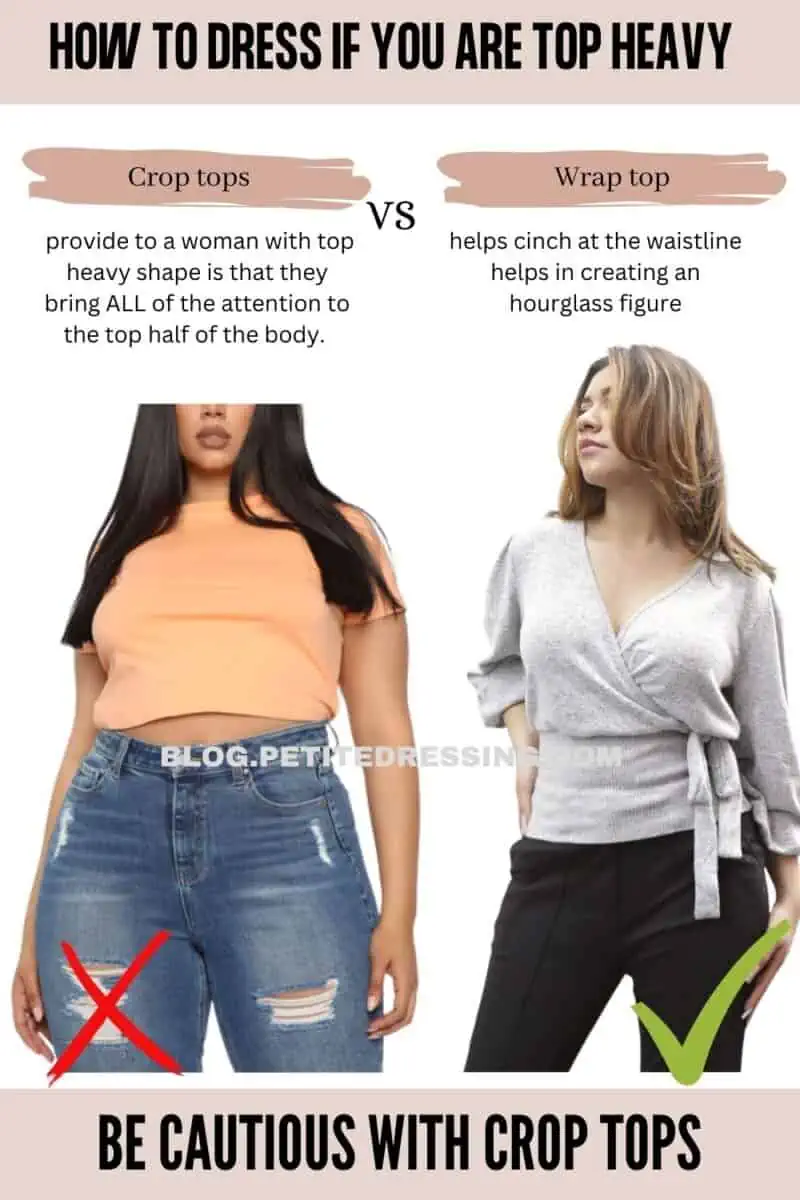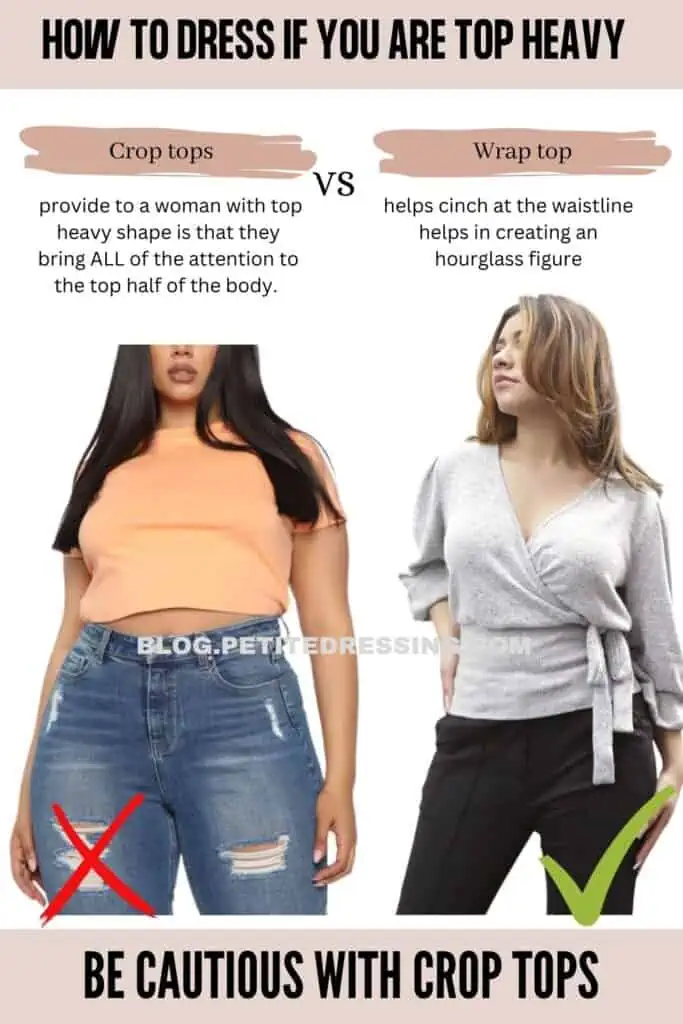 It's obvious crop tops are a major trend right now, and while it can be fun to try out different trends of the times – crop tops aren't the best style choice for a top heavy figure.
The problem crop tops provide to a woman with top heavy shape is that they bring ALL of the attention to the top half of the body.
Not only that but they shorten the torso which has a tendency of making the top half appear wider and larger than it already is.
Longer, traditional length tops are a much more flattering choice for this body type. Anytime you can add a bit of extra length to the torso area, you're on the right track to enhance the body.
Avoid Ruffles and Embellishments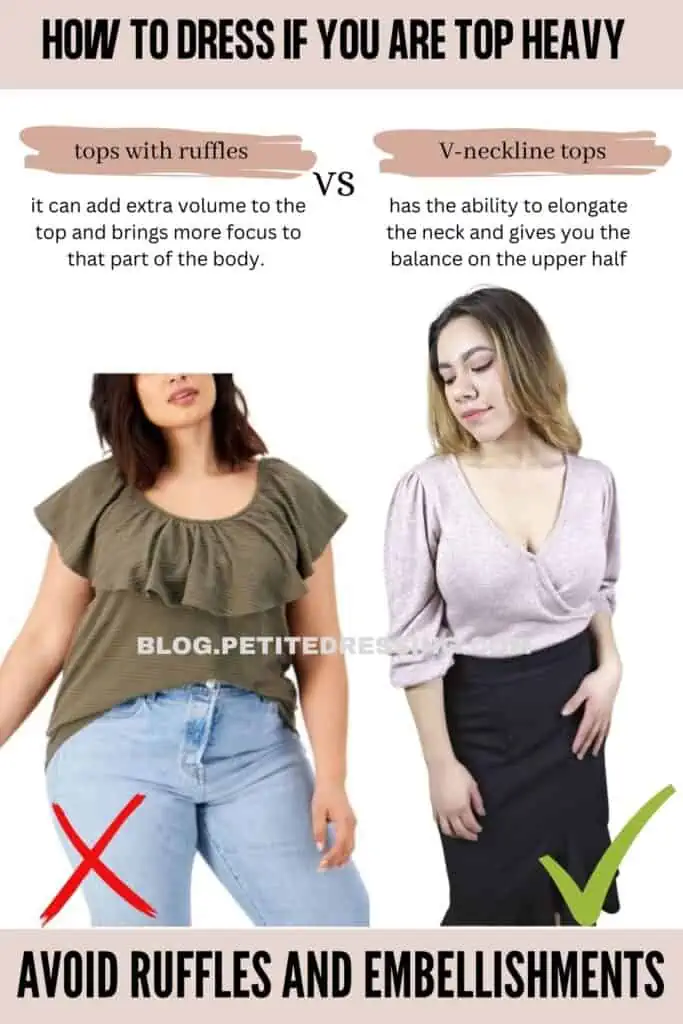 Anytime you wear something that has 'extra' detailing to it – it brings more focus to that part of the body.
In the case of a top heavy body, it's wise to avoid a lot of detailing in garments that rest around the chest and shoulder area for that reason.
In many cases, details like ruffles only add bulk and weight to the top half.
However, that doesn't mean you have to avoid fun embellishments and ruffling details altogether.
In fact, if you wear these things on the bottom half of the body it can create the illusion of balance to the body.
It's really all about placement when it comes to these types of things on clothing. So if ruffles are one of your favorite things to wear, swap a ruffle top for a skirt (for example) with ruffles.
Go Easy with Oversized Top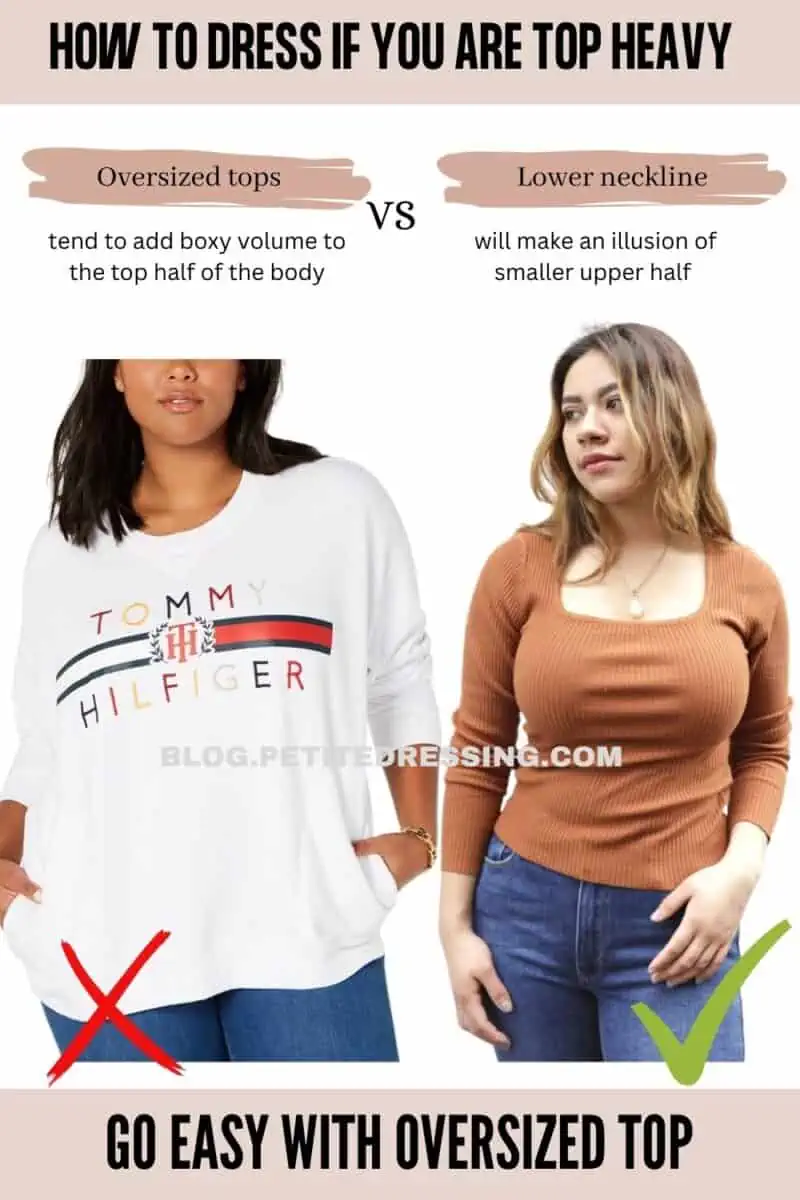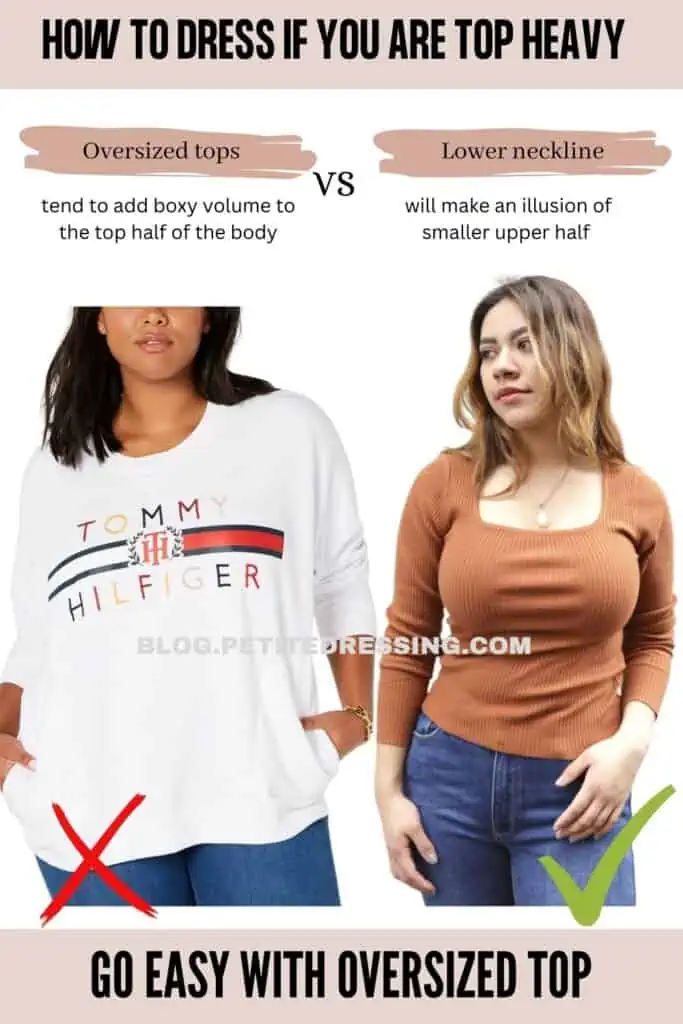 This may be obvious at this point in the list, but because oversized silhouettes are such a trend right now it was worth mention how it relates to a top heavy figure.
In short: it's not the most flattering silhouette. And this is primarily because oversized shapes tend to add boxy volume to the top half of the body, which only further emphasizes a top heavy body type.
Of course, if the oversized look is something you enjoy you can certainly wear it an enjoy doing so.
One way to flatter your shape in the shape is to add some structure to it, whether with a belt or structured blazer worn over.