Hoodies are undoubtedly some of the coolest pieces of clothing out there. They are a symbol of youth, or, will make you feel more youthful. Another great thing about a hoodie is that you never really have to worry about how to or how not to wear them. The hoodie itself is a wardrobe staple for women of all age and body shape.
If you're wondering how to put together an outfit with a hoodie, here are 25 ideas on how to style your hoodie so that you get some interesting looks from them:
With a leather jacket
One of the ways you can wear your leather jacket is by pairing it with a hoodie.
Leather jackets are classic pieces and are also timeless. They can work for different occasions and will instantly elevate any look they are layered over. A longer leather jacket works for this, but you can also wear a cropped one depending on the type of hoodie you are wearing.
Remember that leather doesn't only come in black as you can find it in other different colors such as browns and whites. You can also go even brighter.
Hoodies are mostly worn by those in school, or people who just want to lounge around in something comfortable, and the likes. Adding a leather jacket will make a casual outfit look much more chic.
With a blazer
Blazers are mostly great for the office environment but fortunately, they can also elevate your casual outfits, for example, when worn over a hoodie.
A blazer is always a great way to add structure and a touch of sophistication to your outfits. They work for women of all ages and different body sizes. Not only will you be warm, but you will also look very classy even if what you're wearing underneath it is just a hoodie.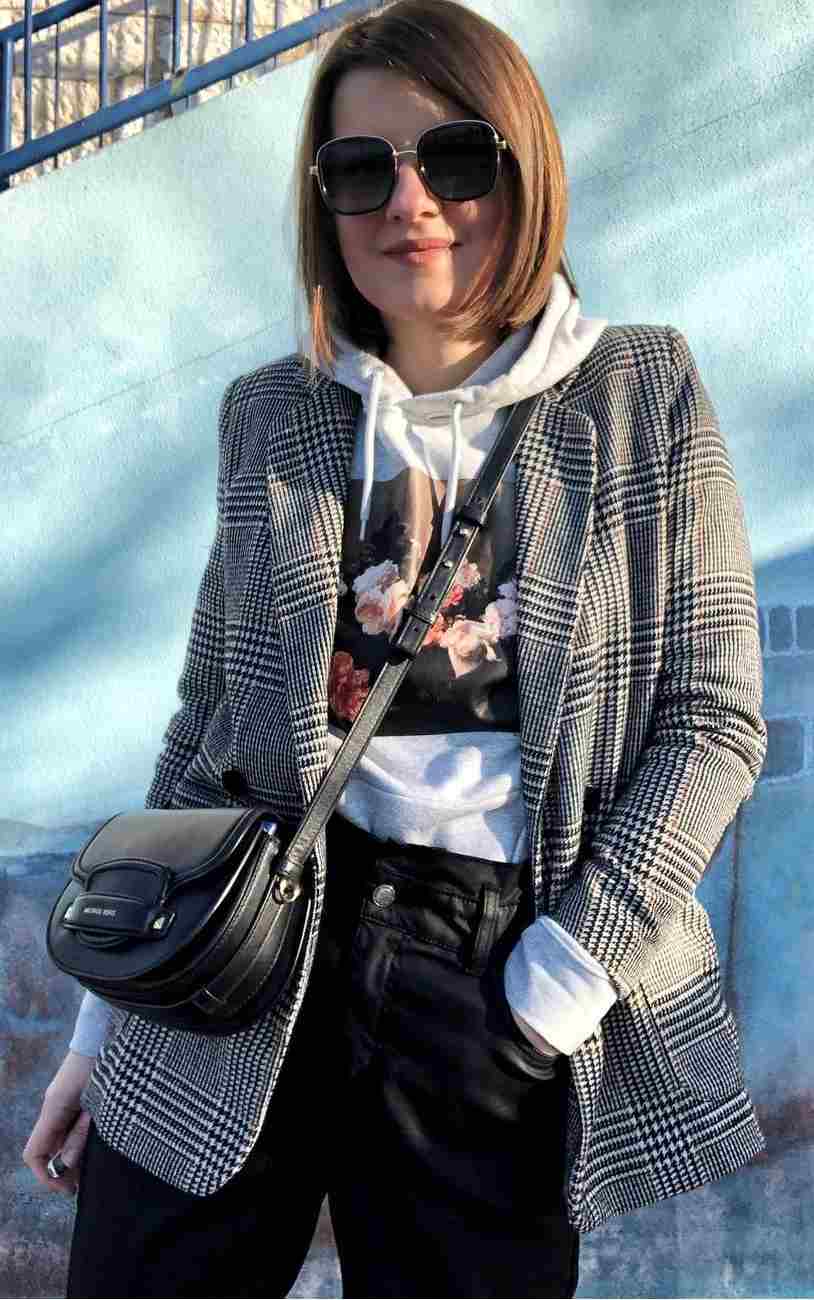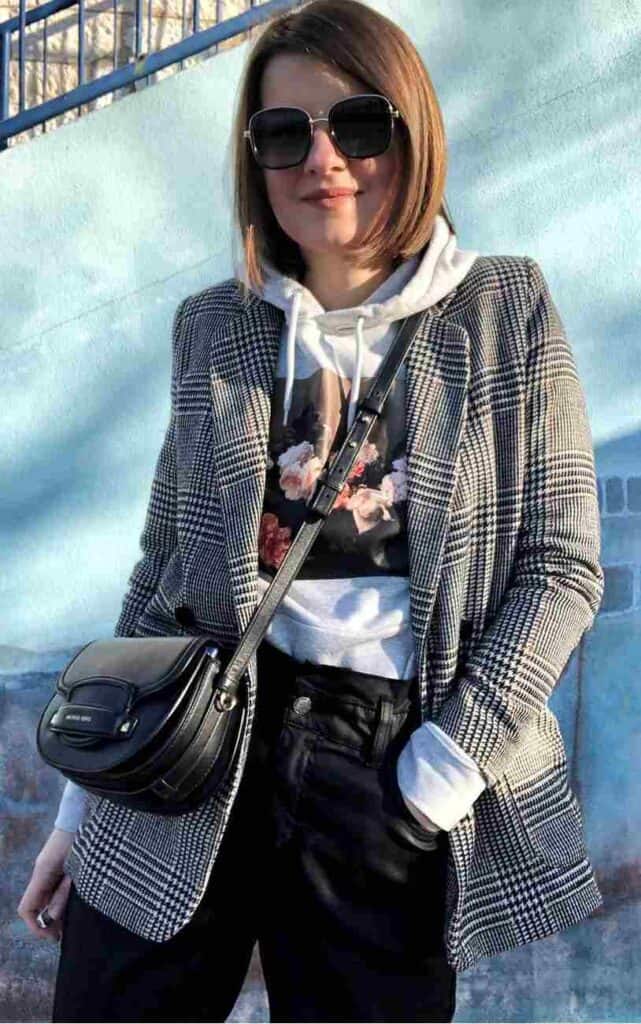 Silvija (above) styled her hoodie with a plaid blazer, a black pair of pants, and a structured bag. Dark-colored blazers will make you look even more sophisticated while brighter ones are more fun, understandably because of their color.
Typically we think hoodies are great for jogging and general exercising. When you top it over with a blazer like this, your outfit becomes suitable for not just for the gym, but also when you grab lunch with your girlfriends.
With a denim jacket
Wearing a denim jacket over a hoodie is one of the easiest way to style the two most worn pieces in our wardrobe.
Denim jackets are great casual pieces that never run out of style and can be worn throughout the year regardless of the season. The denim jackets are also long lasting, regardless of your size and age. You can always wear one for a great casual look over under layer.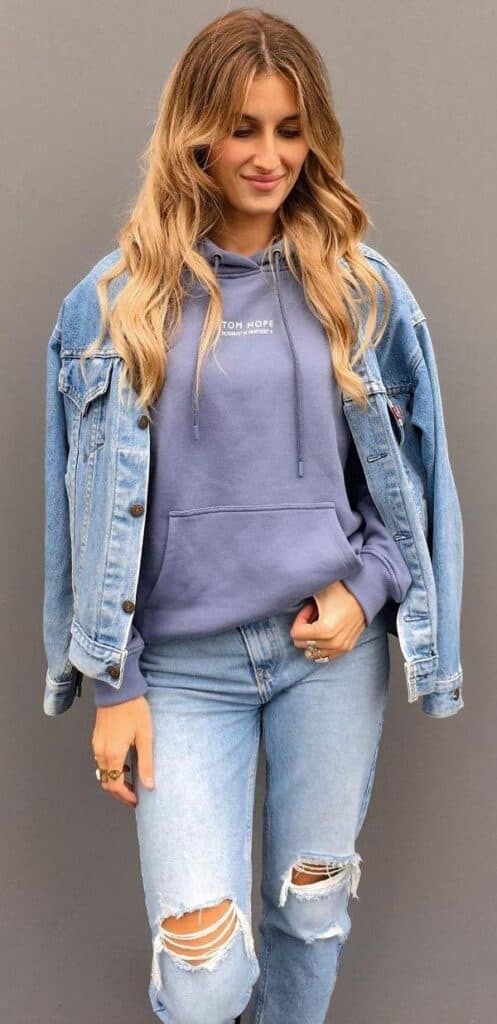 Julie (above) styled her denim jacket over a purple hoodie and wore this look with some jeans. Thankfully, a blue hoodie will go with most hoodie colors.
Denim jackets can have extra embellishments like studs and can also be ripped just like pants. It depends with the look you prefer to go for.
With a pleated skirt
Pleated skirts are known to be very classy. They are your go-to, if you like to look very feminine. You don't always have to wear your pleated skirt with just blouses and blazers, you can go casual with a hoodie.
Since this look has you covered up completely, there is need to get the right sizes of all the pieces so that your outfit doesn't look too overwhelming. You can also go for different hats such as berets.
With cargo pants
You can also wear your cargo pants with a hoodie.
Cargo pants are also comfortable and sometimes slouchy. They're a great cut and come in different materials such as denim, and khaki, to mention a few. They can be worn with your hoodie for a classic casual outfit.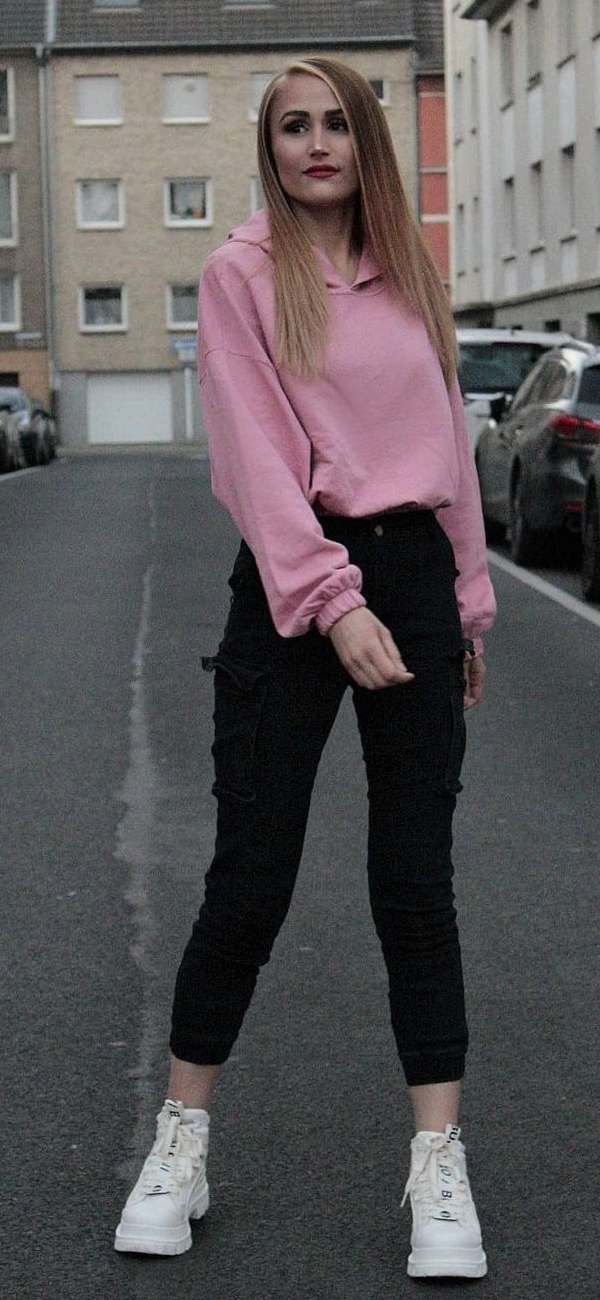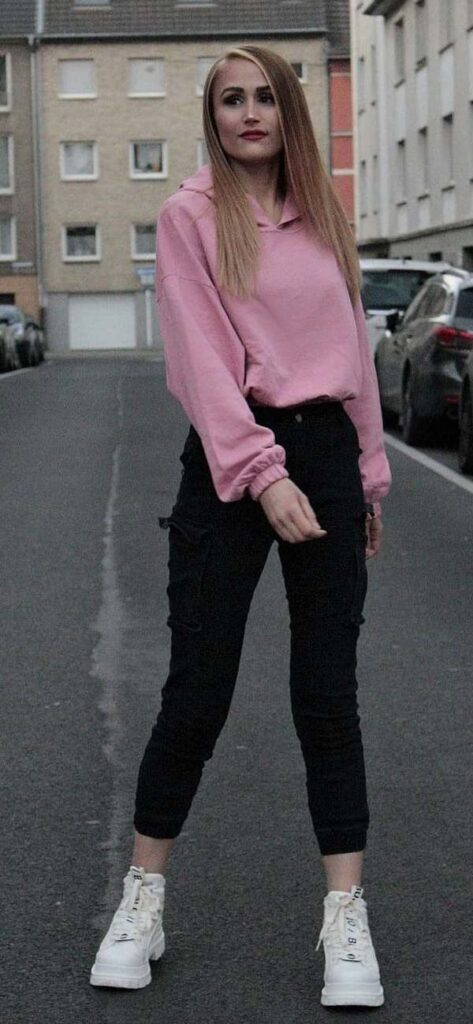 Ellikat (above) styled her cargo pants with a pink hoodie and some sneakers.
Some ankle boots would also look great with this outfit and would give it an edgy finish. Cargo pants are meant to be casual, so wearing them with your hoodies is one of the most natural combination that you cannot go wrong with.
With a trench coat
If it's colder outside, you can wear your trench coat over a hoodie.
Trench coats is the wardrobe staple for women of all age. A trench coat can be worn over t-shirts, button-downs, blouses, and tanks, and of course hoodies.
They were designed to shield you from rain and the wind, but above all, trench coats can make any casual outfit look much more chic, even when worn over pieces like hoodies.
If you are going for a classy look, go with the traditional beige or black trench coat. Since they are the neutrals you can never go wrong with, these colors will give you plenty of freedom to choose your hoodie and jeans in any color combination of your preference.
In terms of the length, you can choose a short trench or a longer trench. A shorter trench works the best if you are petite, because it allows more legs to be seen. Of course, you can also go with a longer trench, even if you are petite.
With an over coat
In the fall or winter when temperature drops, you can add a wool overcoat to your hoodie outfit, if it's too cold outside.
Wool over coats are even warmer compared to trench coats, and they are really comfortable too. Aside from their functionality, they are available in amazing and stylish designs to elevate a casual outfit.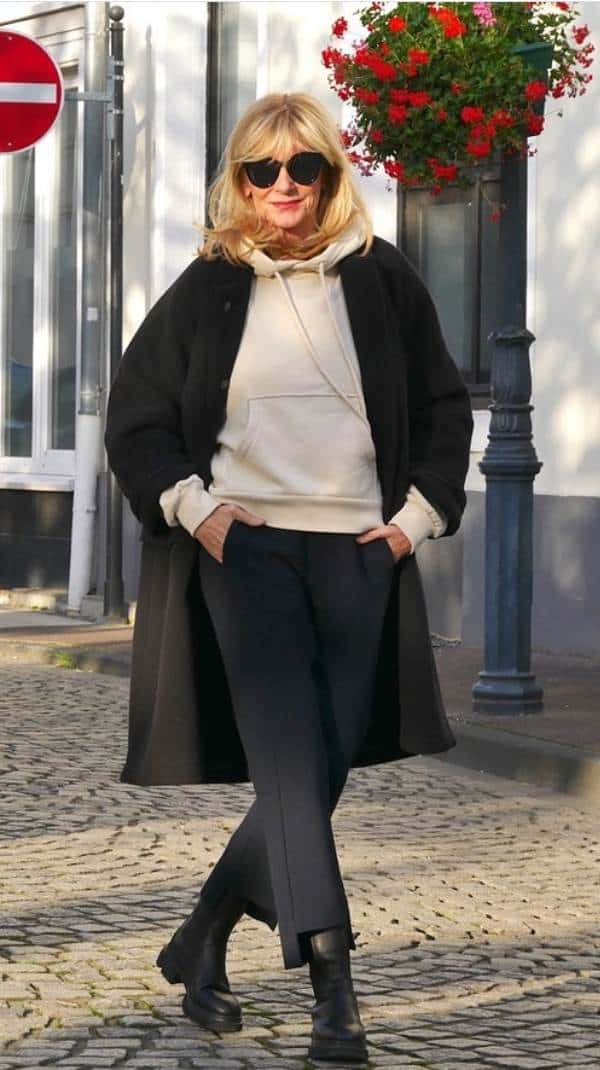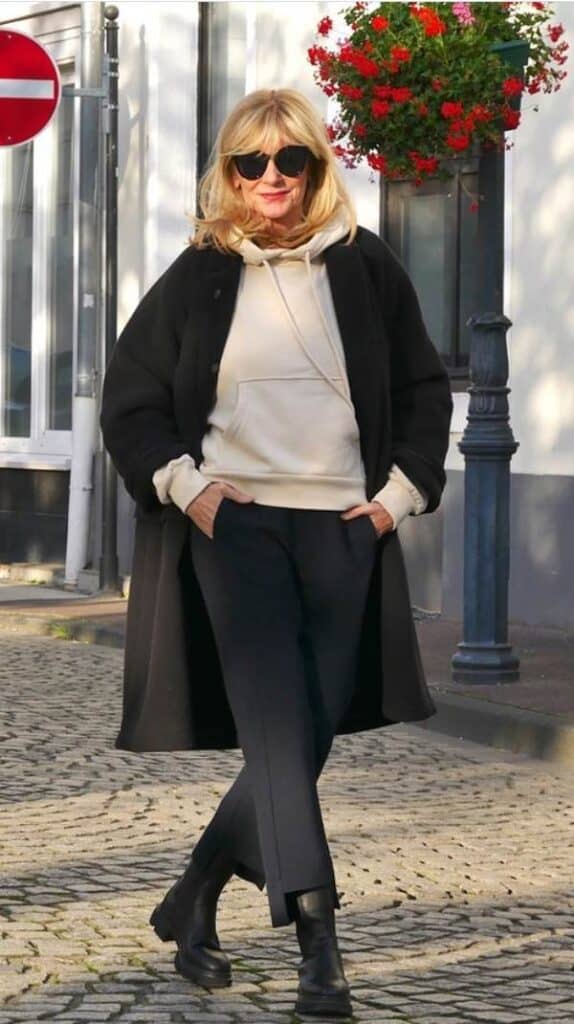 Tina (above) styled a hoodie with a pair of black pants and a long black coat.
If you would love to look even more stylish, you can also wear this combination with a pair of pumps or strappy heels. The wool coat gives the hoodie outfit a much more elevated look, making it possible to look dressed up even when you are out and about. Depending on your work environment, this can also go well on a casual Friday, provided your office encourage laid back outfits before the weekend.
The fact that wool is breathable allows you to feel comfortable, while keeping you warm. The last thing you need is to start feeling like your clothes are getting drenched in sweat.
With a pair of black leggings
For extra comfort, you can wear your leggings with a hoodie.
Black leggings are a must-have for anyone, which would explain why most of us will stock up several pairs of black leggings in our closet. Remember, there's a different pair of black leggings for different occasions. So, having them around can be a lifesaver.
The advantage of black leggings is they allow you to wear a hoodie of any color whether bright or dark.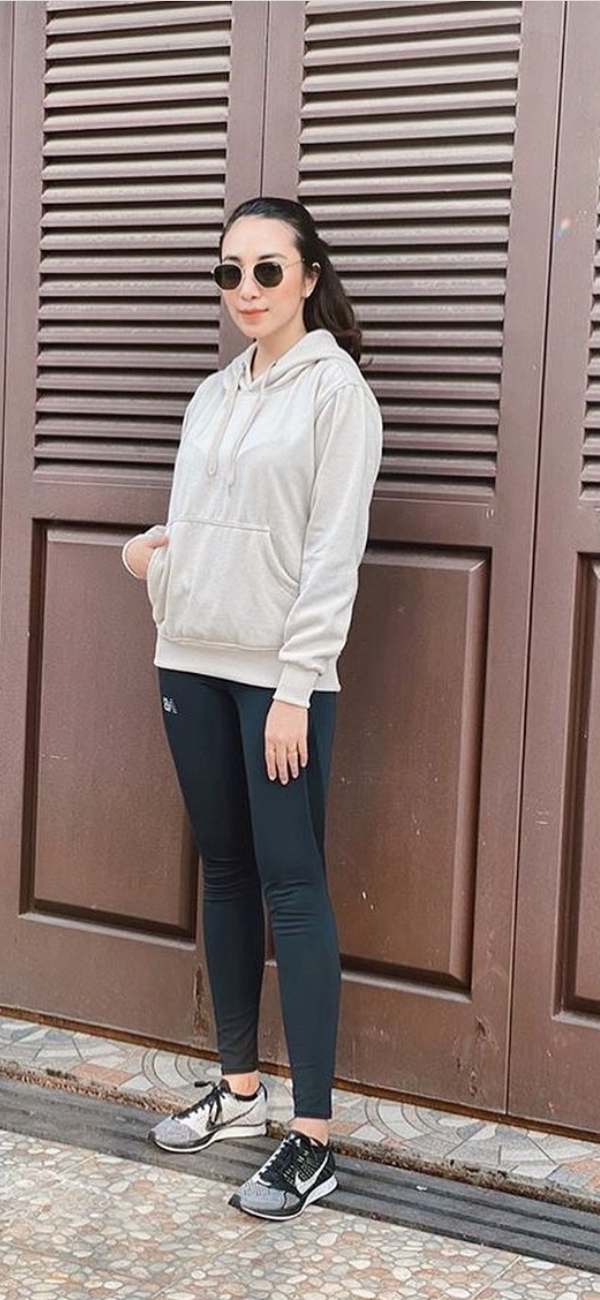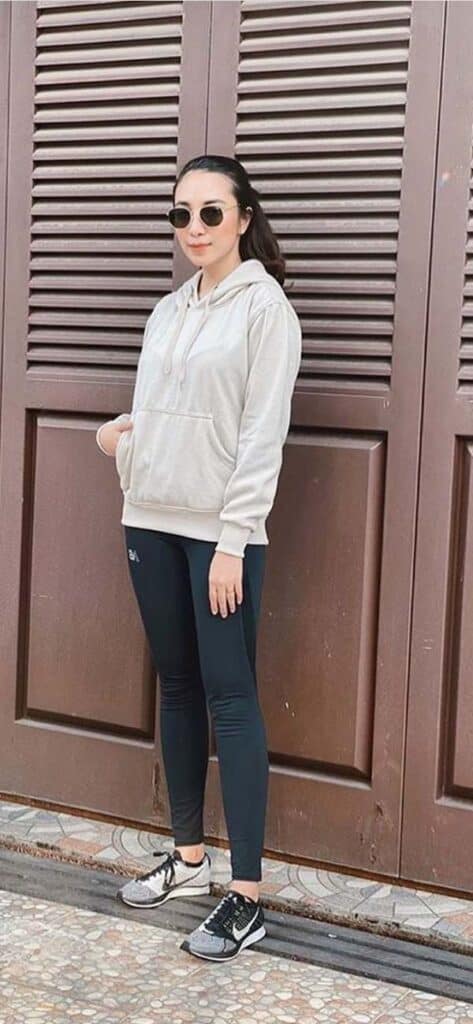 Nadya (above) styled her hoodie with a sporty pair of leggings. To finish off this casual and sporty look, she went for a pair of sneakers.
If you want to elevate this classic gym-going outfit, wear pointed toe loafers instead of sneakers, or wear simple sandals.
Since leggings are quite tight, you can choose a slightly longer hoodie length which covers your hips.
With olive green sweat pants
The olive green sweatpants can be worn with hoodies of different types, great for hanging around in and also for lounging.
Olive green pants have become very trendy, as the color is so appealing and goes with different other shades. These pants are available in different styles including sweatpants that are ever so cozy.
You can go for cropped sweatpants like she did, or opt for normal length olive green sweatpants for this look.
With simple joggers
Wearing joggers with your hoodie gives you a more athletic appearance.
Joggers always come through for those days when you just want to relax. They are comfortable and come in different lengths and colors. These casual pants also look great when styled with your hoodies, a great athleisure outfit that is a big trend these days.
This is a simple combination that can be worn by just about anyone, regardless of their age or body size, as both joggers and hoodies come in a variety of sizes.
This outfit works not just for going to the gym. Depending on your shoes and the style of your joggers, you can totally feel dressed up enough to run errands in the outfit. For a more polished look, try the ever-so-trendy faux leather joggers. You can also switch the shoes to mules or loafers, for a more chic look.
With a matching skirt
A matching skirt is a great way to look all dressed up and feminine, when you're wearing a hoodie. A feminine piece such as a skirt perfectly balance out a more boyish piece like the hoodie.
Now you have a very versatile look that can be dressed up with heels or boots. On the flip side, you can of course still keep it super laid back by wearing the set with some sneakers.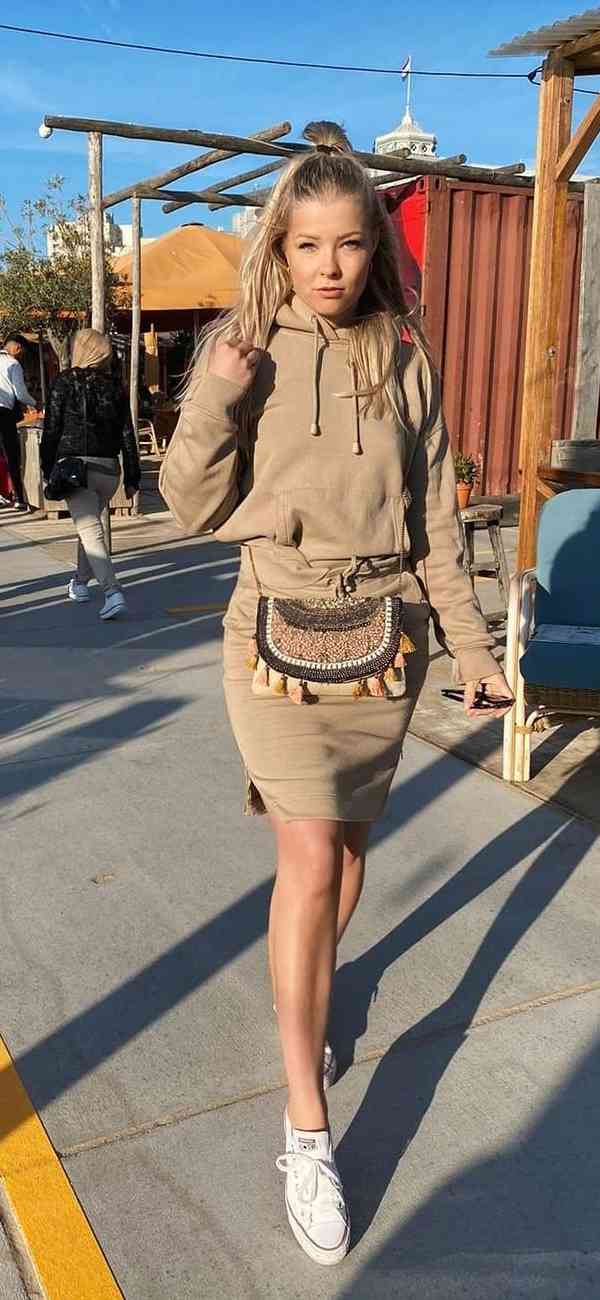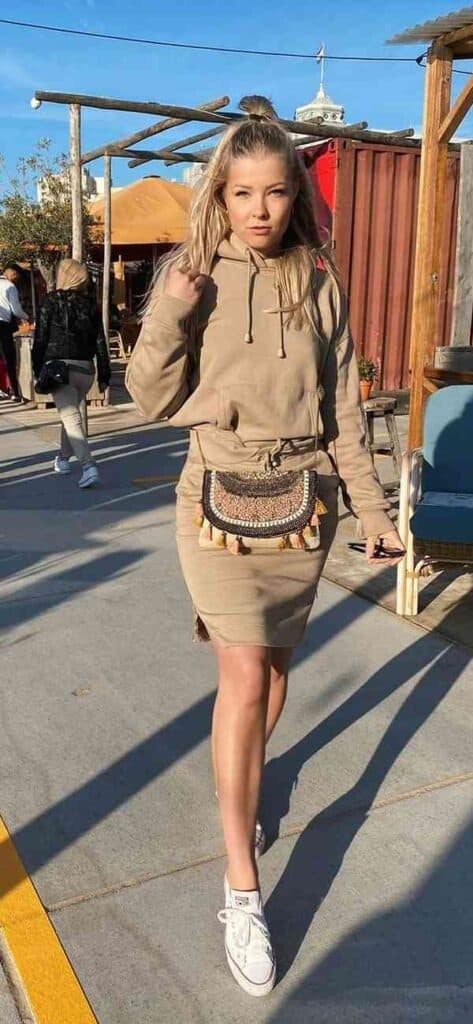 Sara (above) wore her brown hoodie with a matching set and a pair of white sneakers for a casual chic look.
You can choose a matching skirt of midi length, maxi or even a shorter one, depending on your age, figure or where you're going.
With straight-leg pants
You can make your straight-leg pants outfit casual by wearing the pants with a hoodie.
Straight-leg pants have a way of hiding larger hips and thicker thighs and can make you look leaner, giving a more balanced look. They can be worn to the office, as they can look very formal. If you want a more relaxed look, then wearing them with a hoodie is a great choice.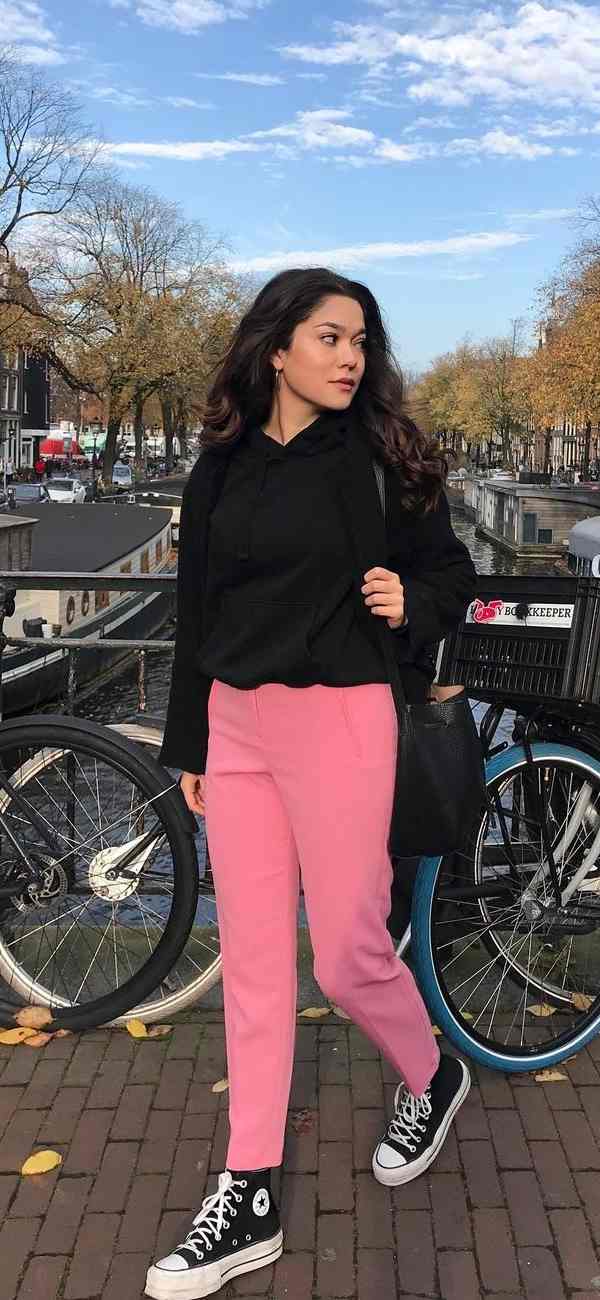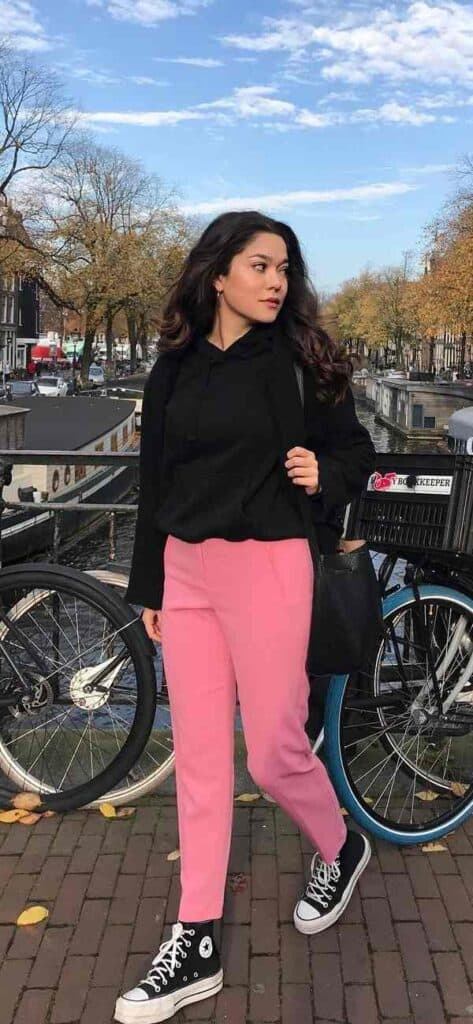 Selin (above) wore a black hoodie with a pink pair of straight-leg pants. The bright color of the pants is well balanced by the dark color of the hoodie. While she wore some converse, this look can actually be dressed further with a pair of heels or boots.
With a flirty A-line skirt
An A-line skirt is a forgiving silhouette as it cinches you around the waist then flares out beautifully at the bottom. You can wear them with more casual pieces but a hoodie to give your outfit a relaxed vibe.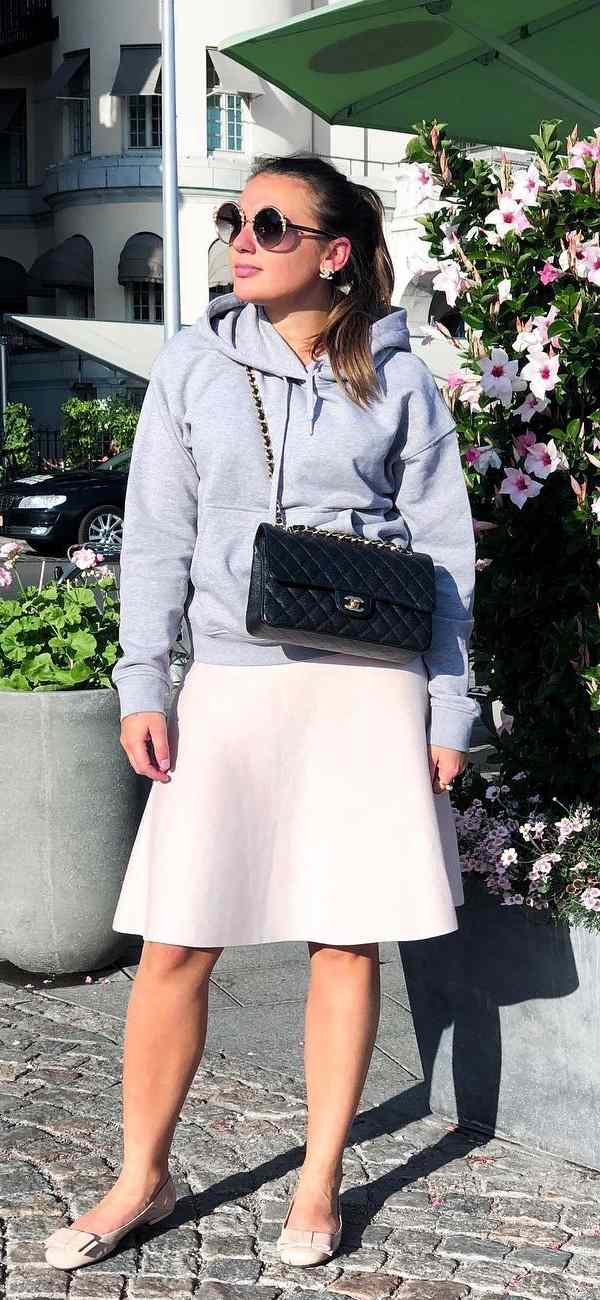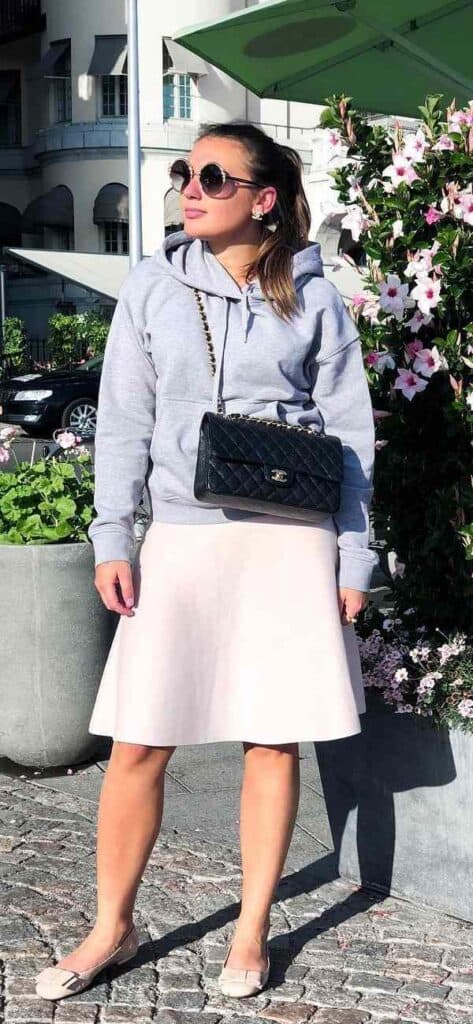 Sustainable Luxury (above) styled her flirty A-line skirt with a light blue hoodie for a warm casual outfit.
Despite the fact that hoodies have a tendency to look all loungy, this combination makes them look more dressed up. The best thing about A-line skirts is that they can be worn by women of different ages and even sizes.
With matching pants
Just like with a matching skirt, a hoodie will look great when worn with a pair of matching sweat pants to form a matching set. With this combination you get a lot of comfort, as both your top and bottom are soft and cozy.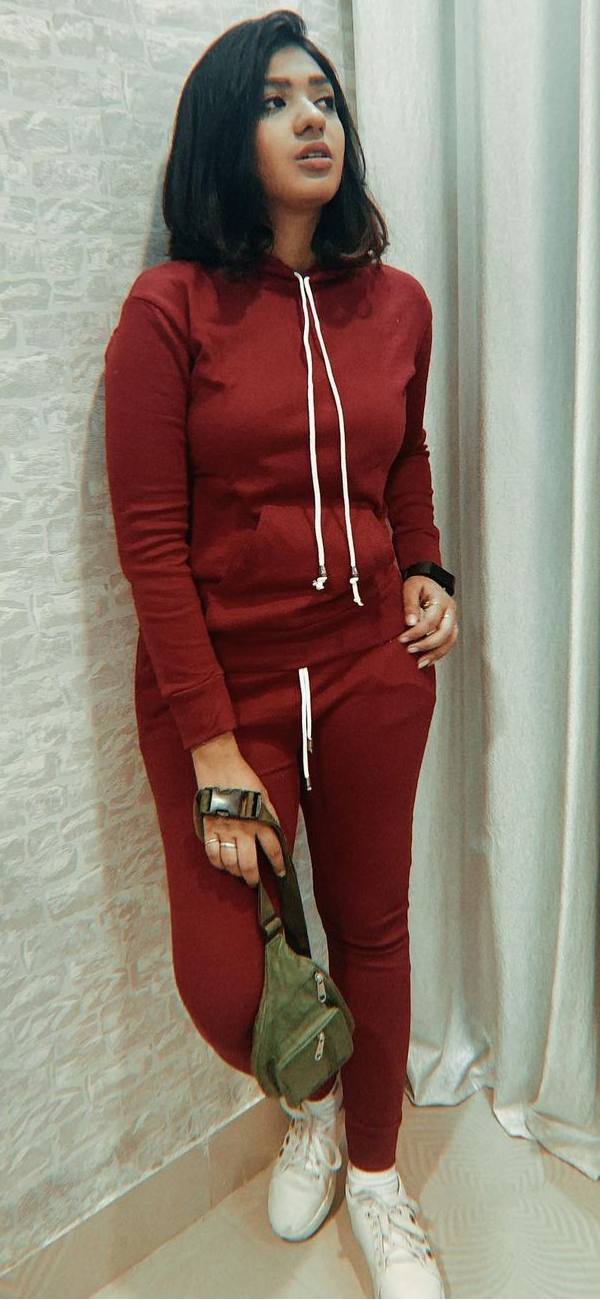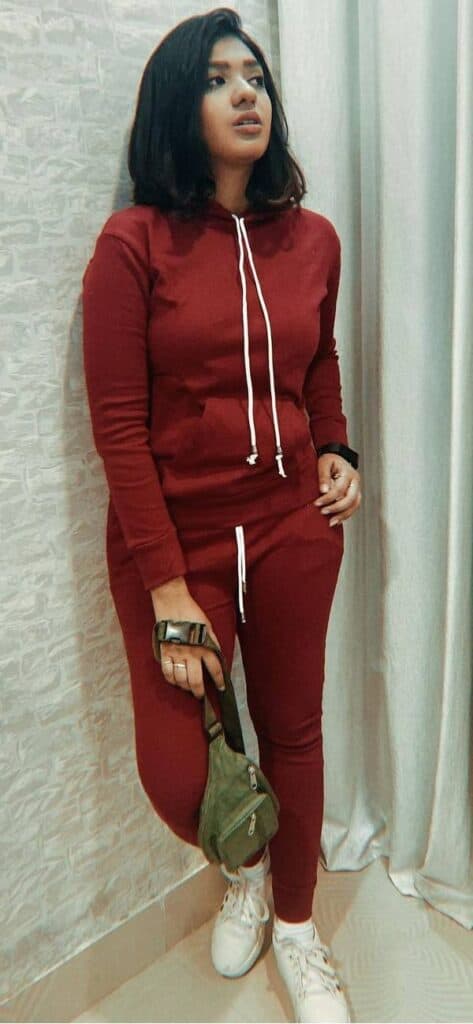 Chandrayee (above) styled her burgundy hoodie with some matching burgundy pants and sneakers. It's a simple look to pull off, and you can switch the sneakers up with a pair of sandals instead.
This look, aside from being great for a casual day running errands, also works well for lounging around your home. They are a great alternative to pajamas.
With a puffer jacket
If it's too cold outside, you can wear puffer jackets with hoodies.
A puffer jacket may seem like the toughest thing to wear, considering just how bulky it is. Puffer jackets can actually be very stylish, and can go with several wardrobe pieces out there. The coat will keep you even warmer in any underlayers, and, it's a cool look to have on.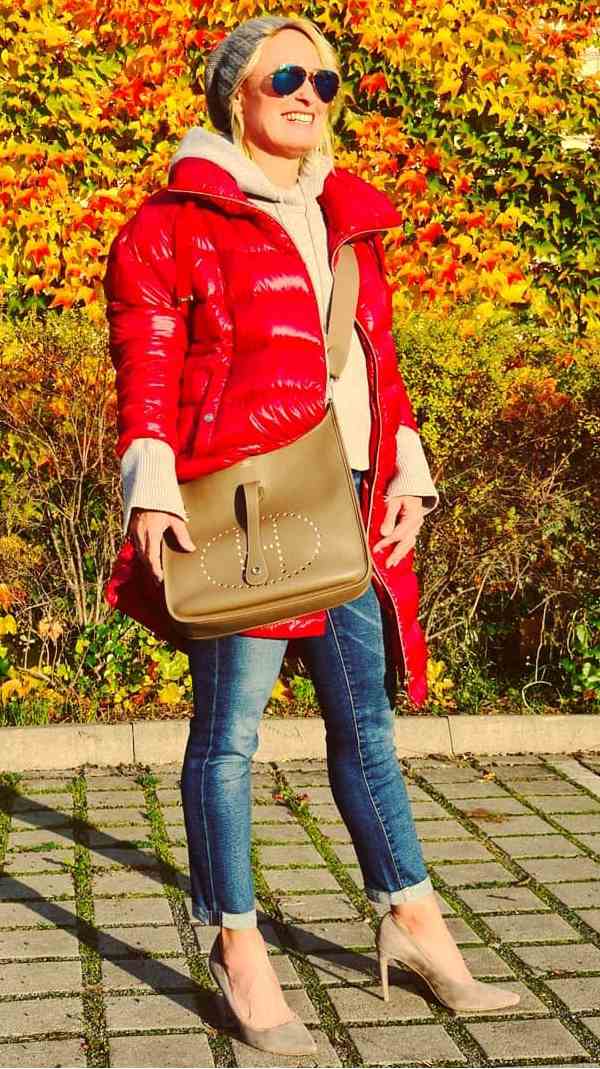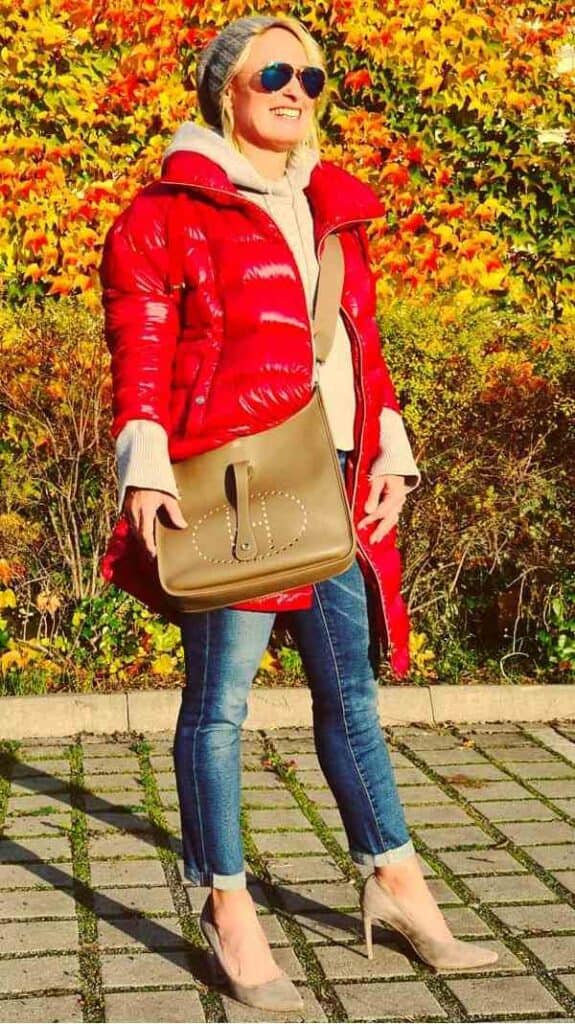 Pia (above) wore a pair of jeans with a hoodie then layered a puffer jacket over the look. While the outfit could easily be completely laid back, she dressed it up by wearing a pair of heels.
Some sneakers or boots would be a great option, if you want a completely casual outfit. So with this combination, think of beating the cold in style.
With a pencil skirt
You can wear your pencil skirt casually with a hoodie for a creative combination.
Pencil skirts are some of the most flattering pieces you can have in your closet. Aside from the silhouette following the shape of your body, it gives you some extra confidence as it gives a smart look. However, as much as it looks like the most formal piece, it is possible to dress it down with casual pieces. Even with a hoodie, the pencil skirt will elongate your body more, which will give you a slimmer appearance but will at the same time play up your curves.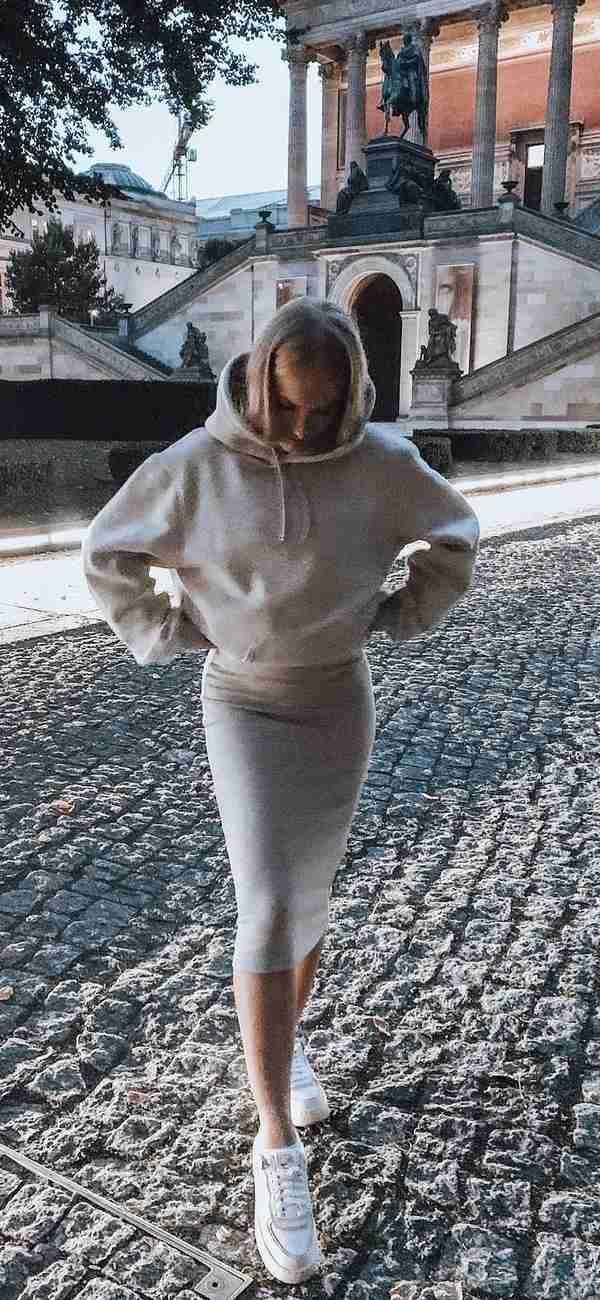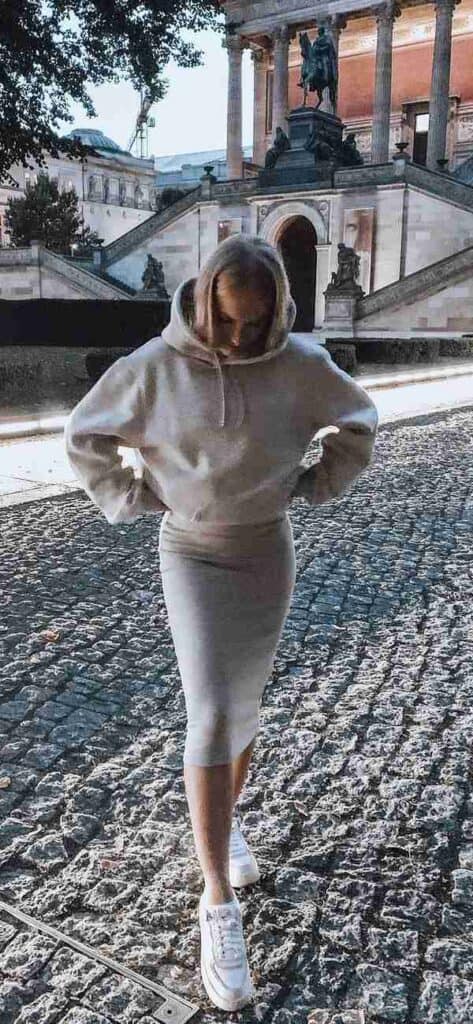 Michelle (above) styled her pencil skirt with a hoodie and a pair of sneakers for a laid back look.
For the monochromatic outfit, get the pencil skirt in the same or similar color to the hoodie. Alternatively, you can go for two completely different colors that go well together. If you still want a classier look, you could go for a pair of heels, or boots for an edgier look.
With printed leggings
You can wear printed leggings with a solid color hoodie.
While black leggings are pretty common and easy to style, getting yourself a pair of printed leggings is a great idea. It allows you to come up with a more interesting look, while you still get the comfort of basic leggings.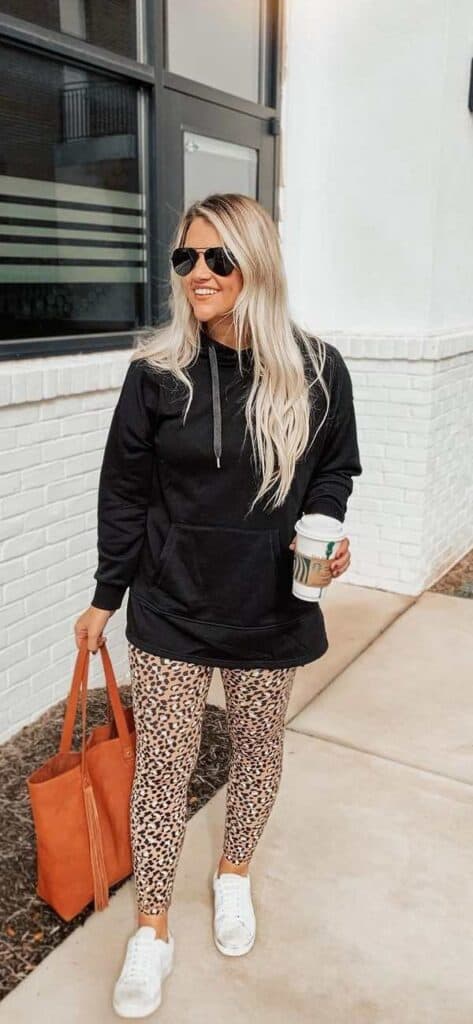 Liz (above) styled her leopard print leggings with a hoodie and a pair of converse. She went for a simple brown bag.
If you choose to wear printed leggings, it's best to go for everything else simple. This is to allow the leggings to stand out. If you feel like your printed leggings are a bit light, you can wear a longer hoodie so that you don't feel too exposed. You want to keep feeling comfortable even when you're around people.
With some shorts
You can style your shorts with a hoodie among other things.
If you love showing off your legs, then wearing a pair of shorts is a great idea. Shorts come in different materials from denim to leather, just to mention a few. The key to feeling great in them is to wear the one you're most comfortable in.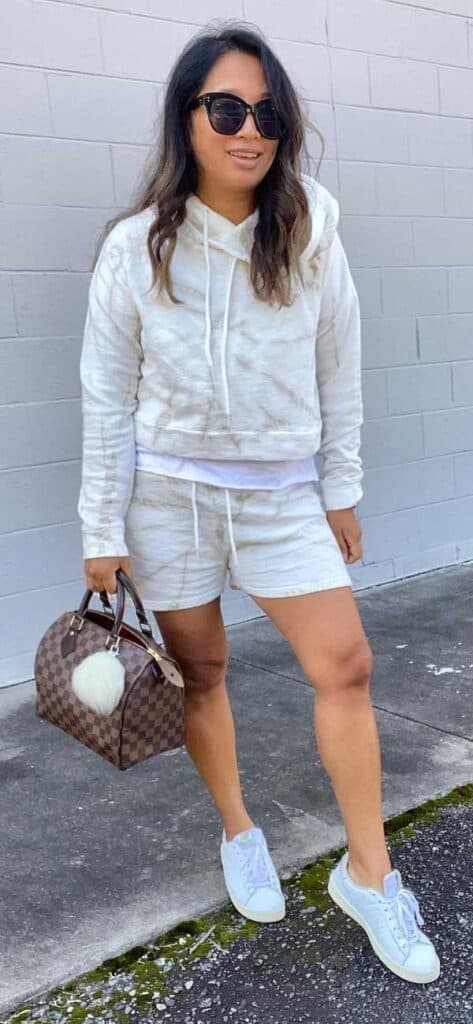 Chau (above) styled her shorts with a hoodie. The two pieces actually match, but you can wear a hoodie in a different color.
For a bolder look, go for leather shorts, denim shorts, and shorts in khaki or any other fabric you feel is best for the day you're having. If it isn't summertime, it makes more sense to wear your shorts with some tights, if it's colder outside. You can also wear longer shorts during fall.
With some ripped jeans
One way to get a comfortable outfit is by pairing your ripped jeans with a hoodie.
Ripped jeans are great if you're a fan of that nice, edgy look. They give you that feeling of youth and can work with lot of the pieces you have in your closet. Going for a blue pair of the jeans in particular allows you to wear hoodies of different colors.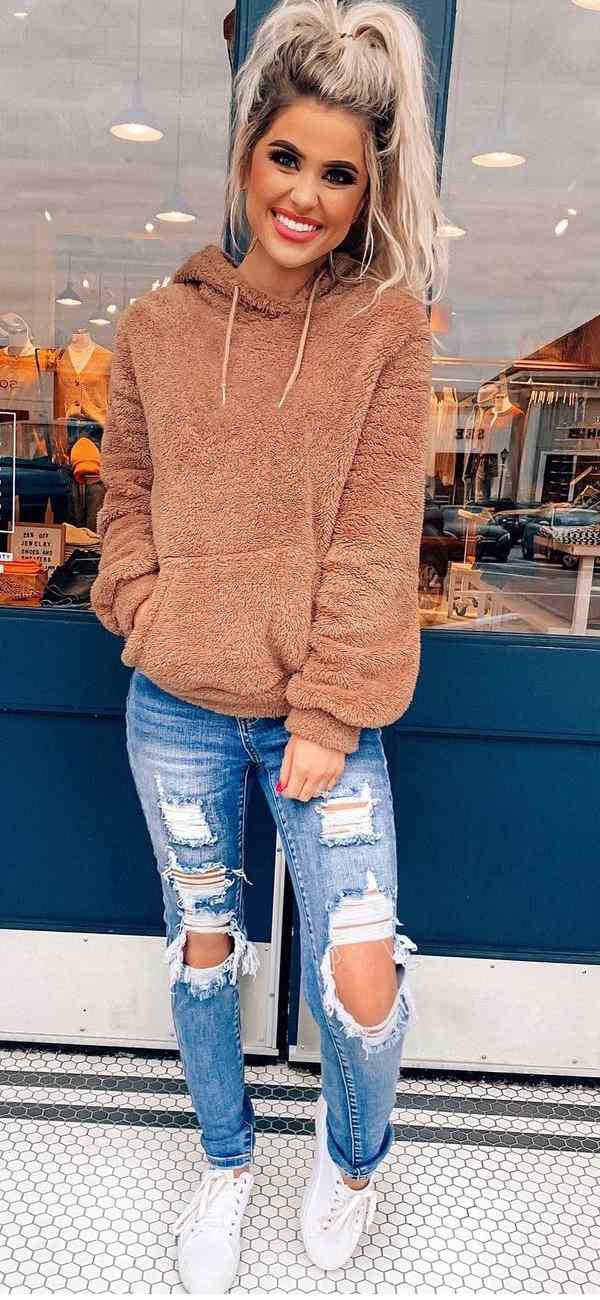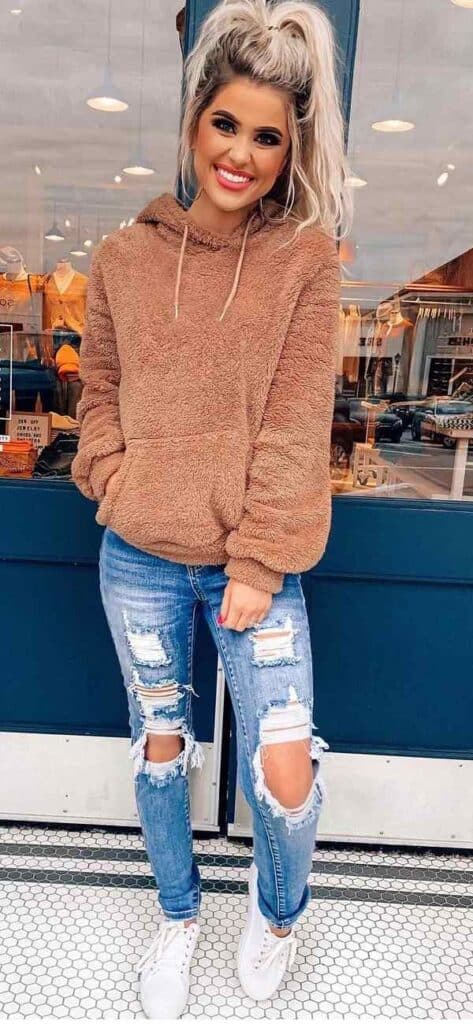 Paige (above) styled her blue ripped jeans with a brown hoodie and a pair of white sneakers. If you're not the biggest fan of ripped jeans but would still love to try this outfit, you can choose a pair of jeans that isn't too ripped.
With camouflage pants
Camouflage pants are great for everyday casual outfits. They can be worn with a hoodie for a more laid back outfit.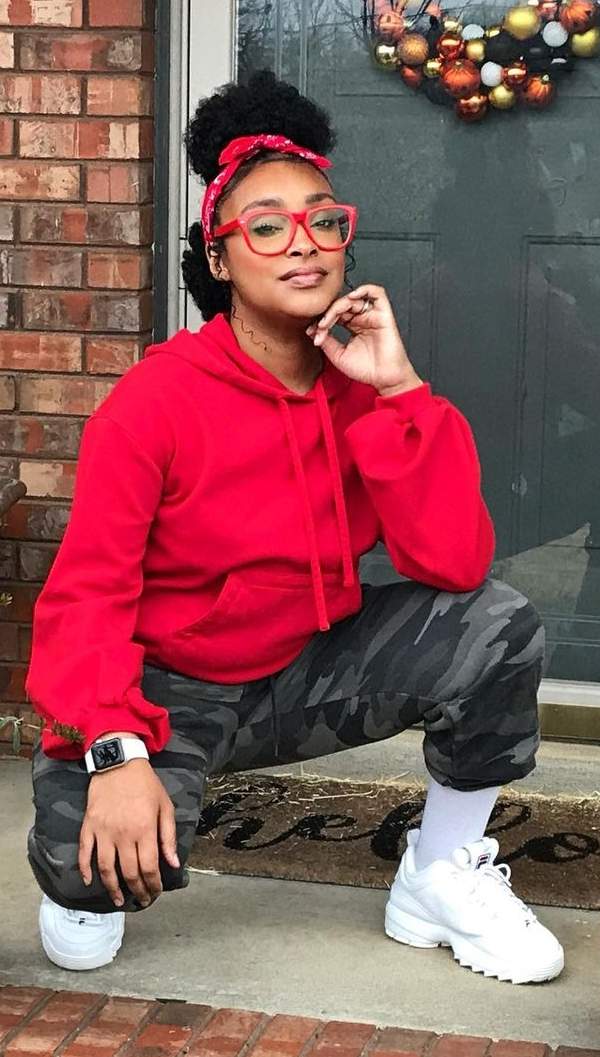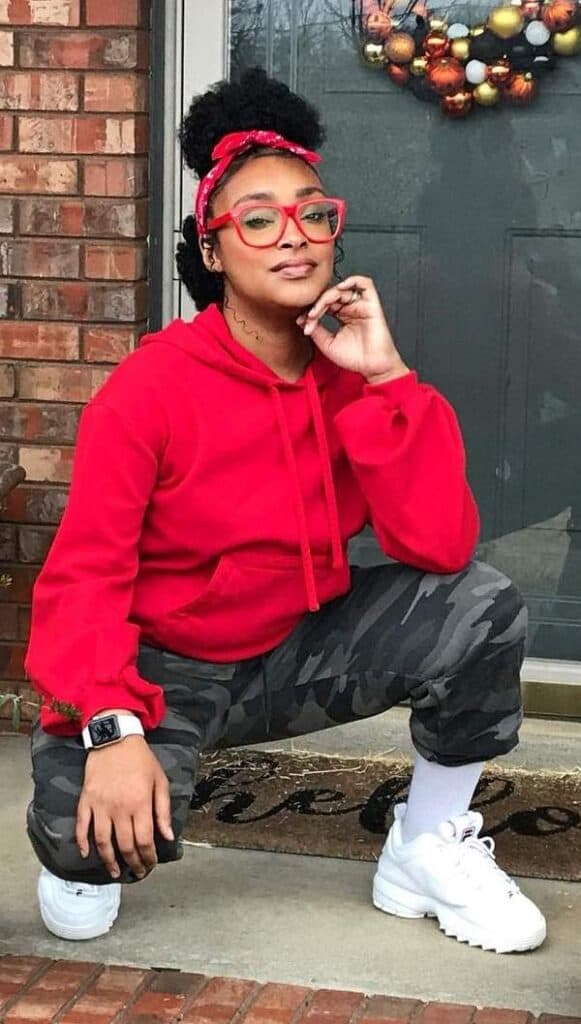 Rinata(above) shows how to wear camouflage pants with a hoodie in red and some white sneakers. It's a simple look to pull together and the red color is a great alternative to the obvious black or white hoodie options. Colors like red and orange contrast well with the mostly green camouflage print.
With a midi skirt
Trends come and go, but midi skirts remain classy. For a more unexpected fun look, you could wear your midi skirt with a hoodie.
Midi skirts are usually so chic and give you a sense of class, especially if you go for the simple ones which are easy to style. They can be worn with different tops and outerwear. Hoodie with midi skirt may sound like an uncommon combination, but it actually works and you will always look stylish in a midi skirt.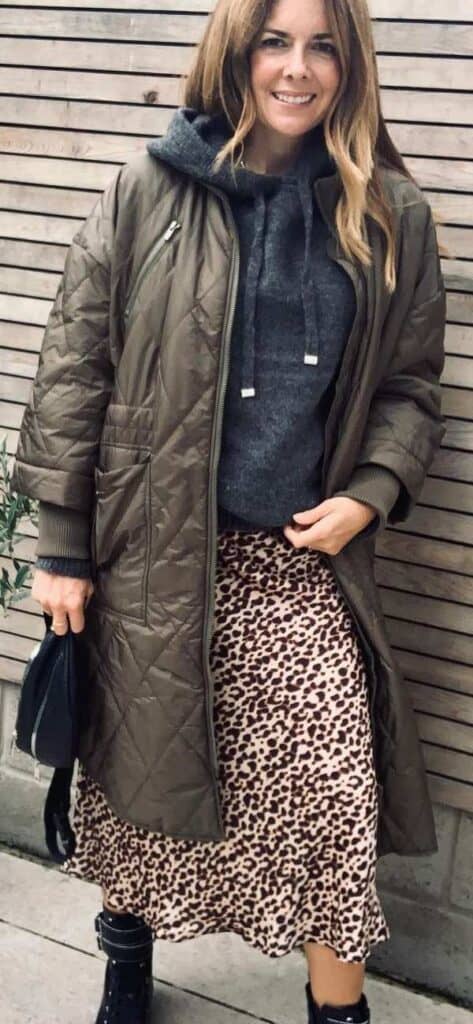 Annabel (above) styled a leopard print skirt with a grey hoodie and a puffer jacket. The skirt adds the most feminine touch to the look.
Midi skirts are available in different designs, so, whichever you go for, just make sure the color goes well with the color of the hoodie. You should also get the fit right otherwise you might end up looking tacky.
With paperbag waist pants
You could wear your hoodie with your paperbag pants for a blogger like look.
Paperbag waist pants are one of the hottest trends right now. They make your casual look more dressed up, and they allow your top to be easily tucked in. Paperbag waist pants are also very comfortable, as they come in a loose fit.
Hers is a monochromatic look, but you can go for different colors that go well together. You also don't need to layer a jacket over the hoodie.
With tailored pants
Tailored pants often look very smart and dressed up, understandably because they are meant for the office. However, you can also make them casual by wearing them with a hoodie, and of course pair with some sneakers instead of heels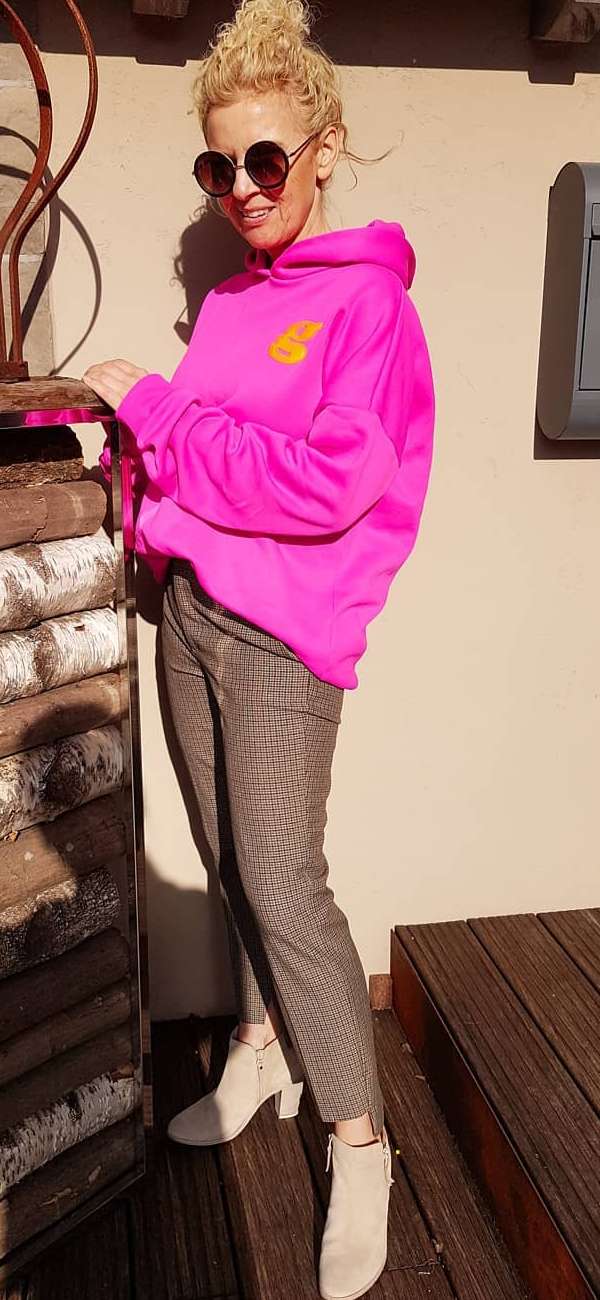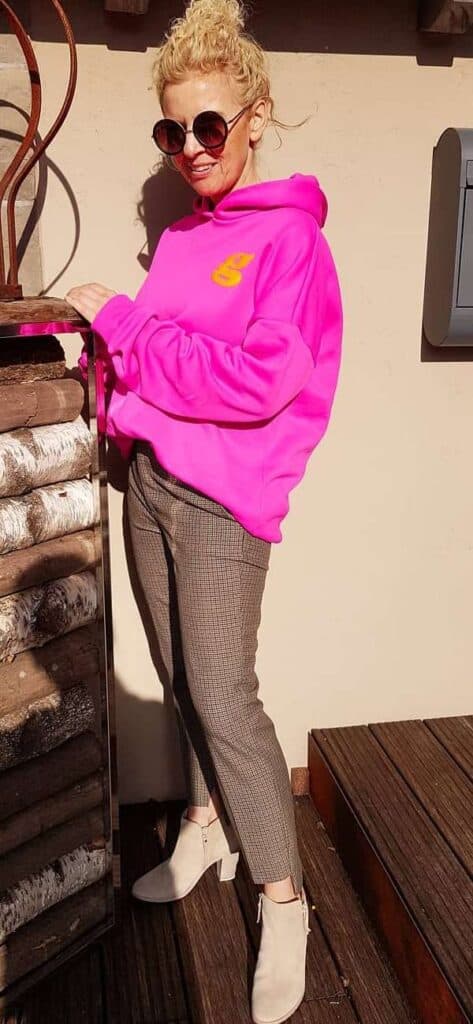 Stefanie (above) wore a pair of plaid tailored pants with a pink hoodie and some ankle boots to make the whole look more casual.
You can always go for a darker hoodie if you're not so much into bright colors. Tailored pants are such a great option because the material always feels great on the skin as the pants are meant to fit you perfectly.
With overalls
One of the best ways to style your hoodie is to wear it with an overall, especially if it's cold.
Overalls were popular during the pre-2000 era and they're a fun to wear, just like jumpsuits. The difference with jumpsuit is that you always need to wear some kind of top piece underneath an overall. That allows you to create many different outfits from your closet.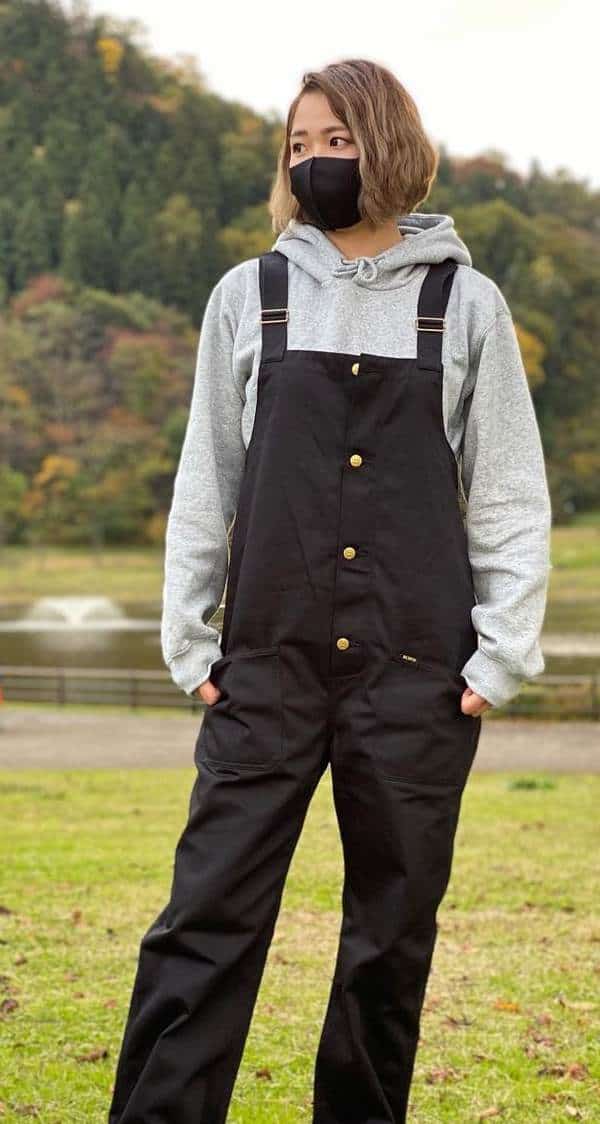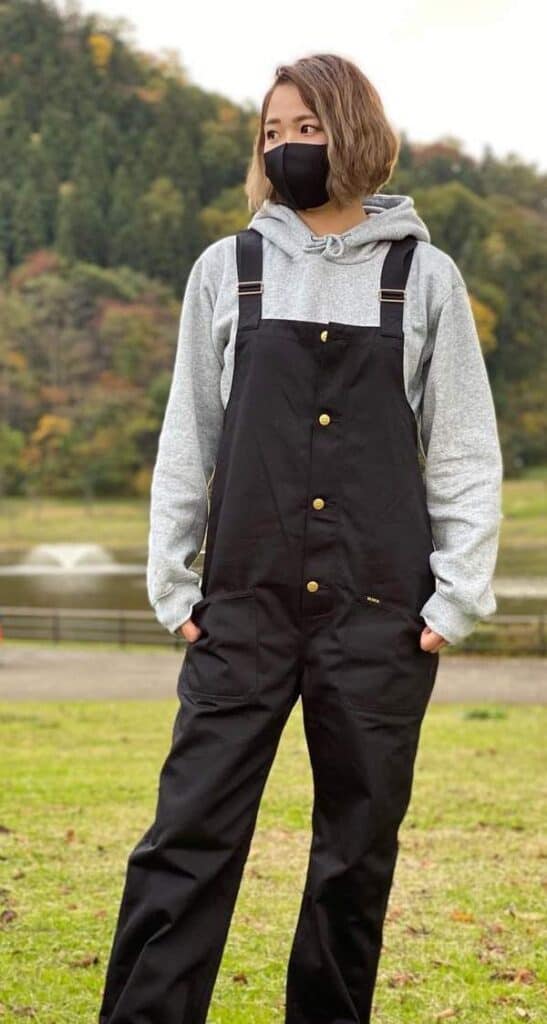 Mei(above) wore a gray hoodie with some black overalls. . If you like to keep things casual, sneakers and a pair of booties will do just fine for this outfit.
With plain skinny jeans
Everybody loves skinny jeans . These are easy to find and can be worn by women of all age and body shapes. You can wear your skinny jeans with a hoodie for a more girly look.
This is an easy look to run your errands in. You can also hang around your home in this look as the hoodie is great for lounging around, but you would just need to keep the shoes comfortable.
If you're a fan of layering, hoodies also give you lots of freedom to do just that. You can wear t-shirts or even sweaters underneath them but at the same time, you can wear different jackets or coats over them.
As can be seen, hoodies don't only have to be worn with your pair of jeans or leggings and sweatpants, even though that's the common way to go about it.
You can achieve a sporty chic look, a casual chic one and so much more. So if you have several you use for lounging around, you should start trying out new ways to wear them. You'll have fun in the process.