Ugg boots are cute and cozy, great for the cold weather. Since they are chunkier than most boots around, styling them can be a challenge for many. They really are fun to style and can make great casual outfits. In case you're wondering how to go about it, here are some of the best outfit ideas on what to wear with ugg boots:
With a pair of leggings
For the ultimate comfortable casual look, you can wear your leggings with some ugg boots.
Leggings are some of the most comfortable bottoms you can find. They are great for lounging around. Fortunately, there's a pair of leggings for every occasion so you can definitely wear your leggings outdoors too.
Since the leggings follow the shape of your leg, they look great when worn with the ugg boots as they give you a clean look.
With skinny jeans
Skinny jeans can also be worn with ugg boots for a simple casual look.
It's difficult to spot a lady that does not own any pair of skinny jeans, but many of us are always wondering what shoes to wear with skinny jeans. Since they are flattering on different body shapes, sizes and for any age, most women have lots of them. Wearing them with uggs are one of the easiest choices, especially when the weather starts to get cold.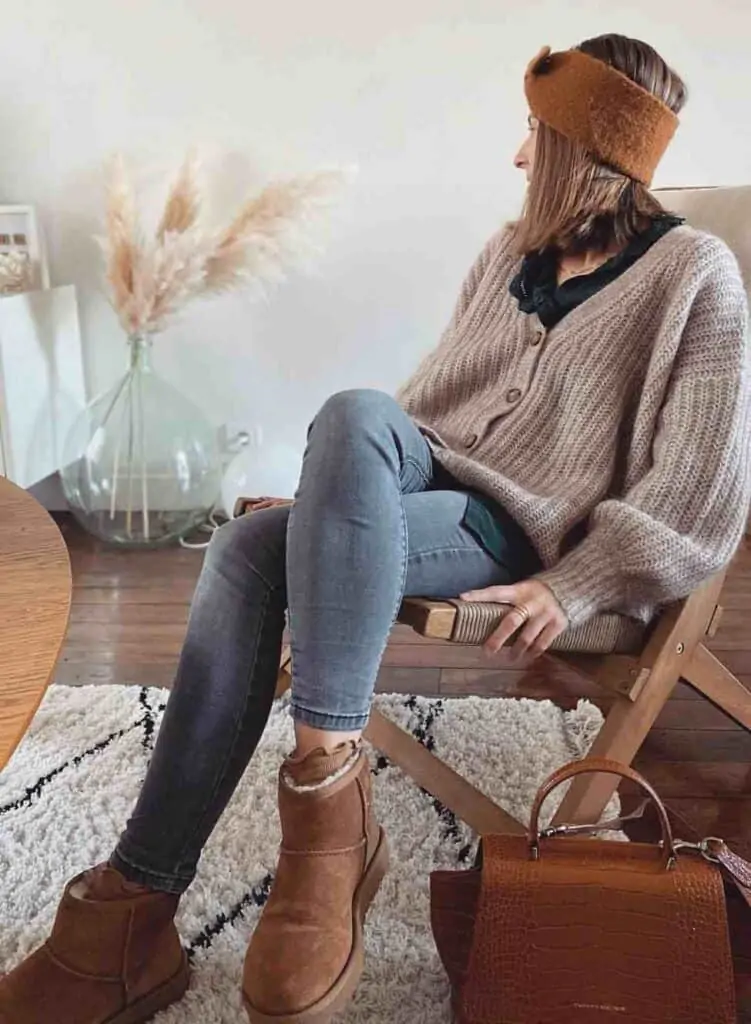 Anais (above) wore a pair of skinny jeans with a cardigan and finished off her look with some ugg boots.
With skinny jeans, you get a minimalist outfit and this look can be worn by anyone regardless of their age. Skinny jeans also allow you to wear less fitted tops and you always have the option of sizing up with your outerwear.
With sweatpants
Sweatpants are great for lounging around, but they can also be styled for a casual day outdoors. They are cozy and also warm for colder days. To get even more warmth, you can style your sweatpants with some ugg boots.
You can go for a monochromatic, one of the best ways to make your legs appear longer and make you look taller.
Of course you can go for different colors for yours, just as long as the pieces go well together. Should you go for a light-colored pair of sweatpants, the ugg boots will keep them cleaner.
With a sweater dress
Styling your sweater dress with some ugg boots is undeniably a great way to ensure you get an even cozier dress outfit.
Sweater dresses are the best dresses to wear on those very cold days, as they not only feel snuggly, but are also stylish. They come in different designs, so you have a variety of options.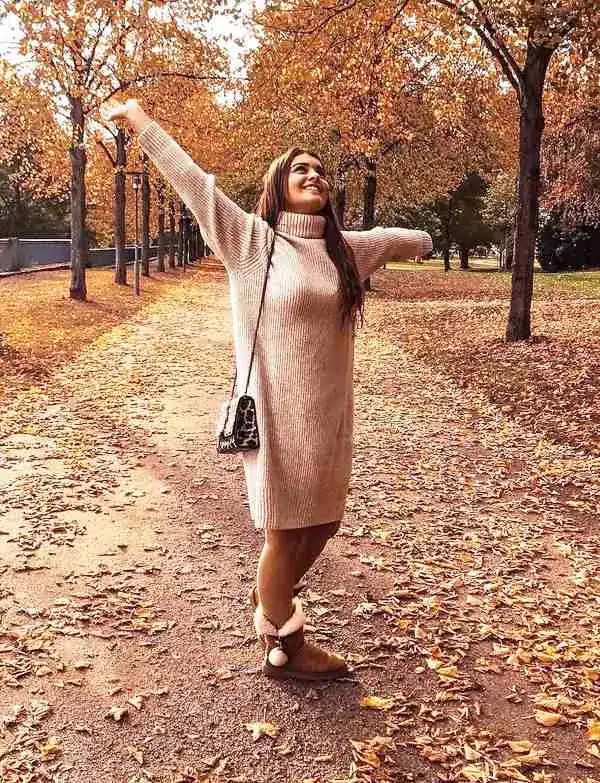 Jasmin (above) styled her turtleneck sweater dress with a pair of ugg boots. Her sweater dress is loose fitting but you can choose a more fitted design to style with your boots.
With mom jeans
You can style your mom jeans with a pair of ugg boots for a more creative outfit.
Mom jeans were the star casual piece back in the 90s, but have managed to win the hearts of fashion lovers today. They can often be spotted on celebrities, supermodels, bloggers, and other trendsetters. It's really worth owning a few of them as they can be dressed in different ways.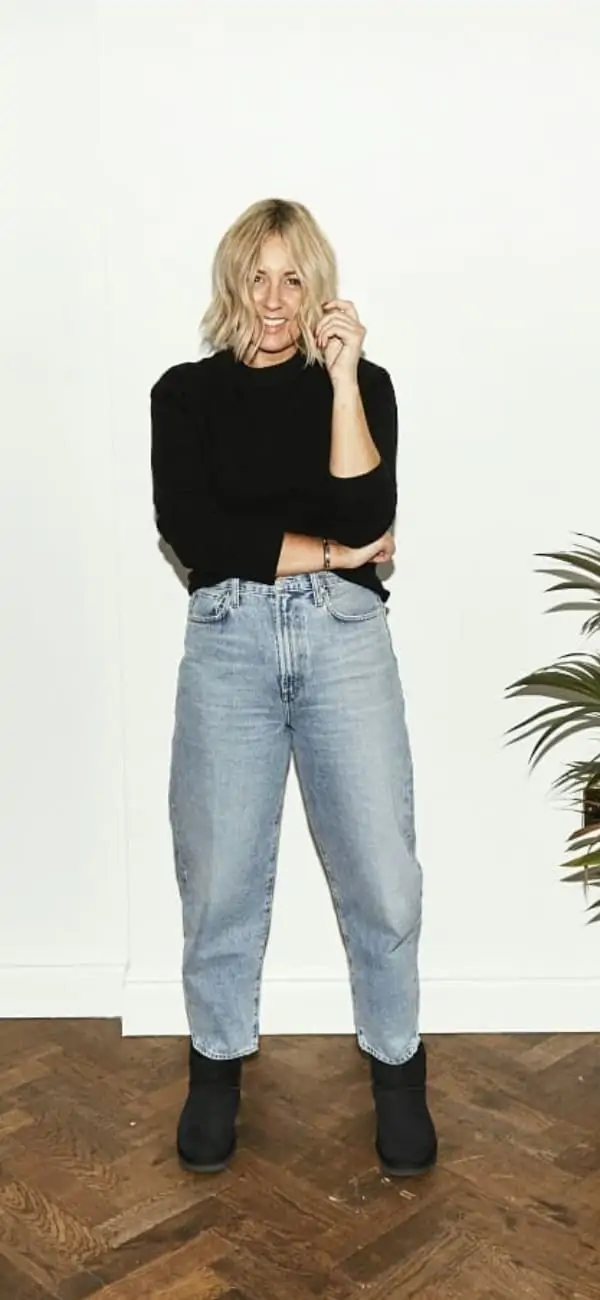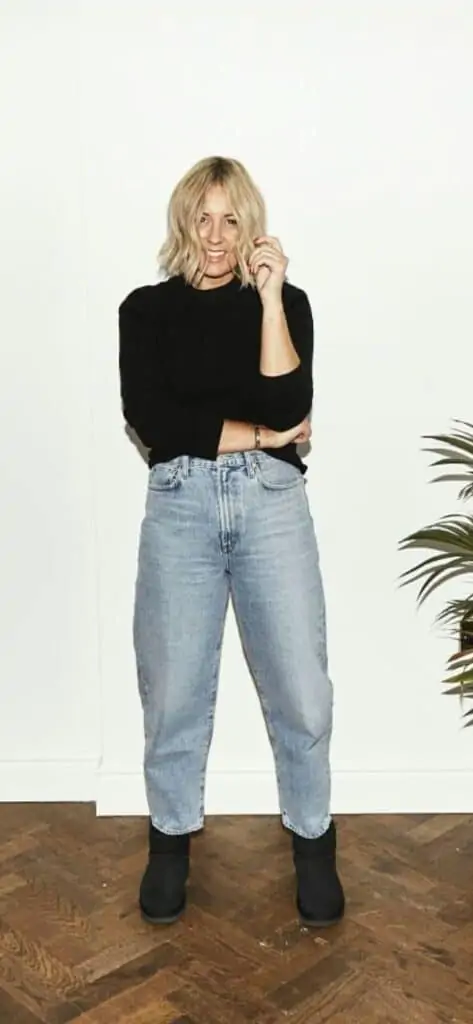 Emma (above) styled her blue mom jeans with a black sweater and a pair of black ugg boots. This is a combination you will feel very comfortable in as it's really laid back and the fit of the jeans is loose.
With joggers
Picking a pair of ugg boots to wear with joggers ensures you get even more enhanced comfort.
Just like sweatpants, joggers are great for lounging around and are a great alternative to your pajamas, if you want to feel comfortable during the day. They are also wearable outdoors, just as long as you style them with the right pieces so that they no longer look too loungy.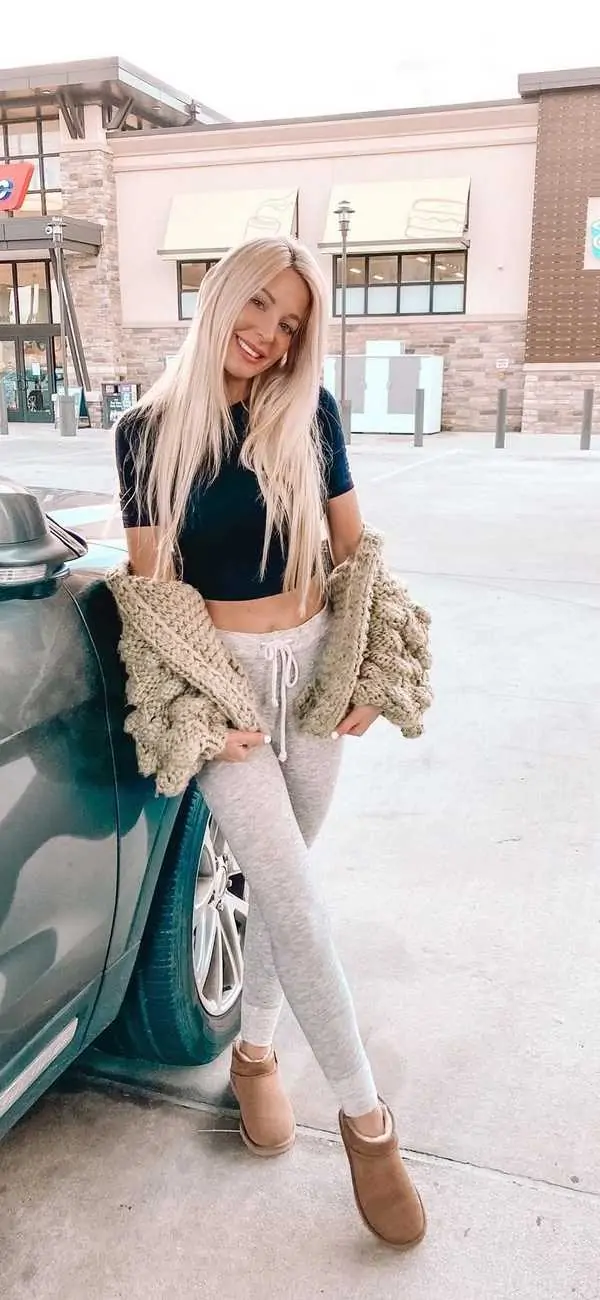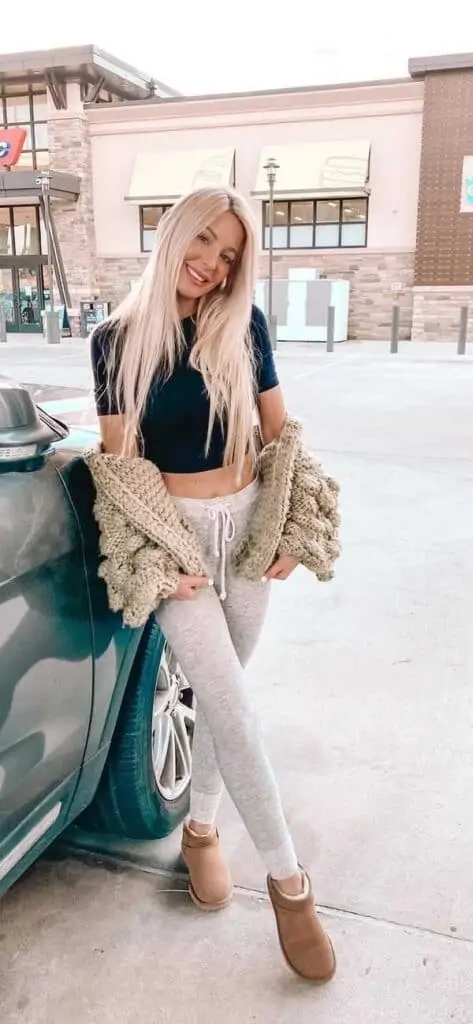 Jennifer (above) styled a pair of joggers with a cropped shirt, a cardigan and a pair of ugg boots. You can choose a normal size t-shirt if you're not a big fan of crop tops for this outfit combination. You will also feel warmer in it.
With a shift dress
A shift dress is ever so comfortable, as it's meant to be worn loose anyway. These dresses hide any bulges you don't like and are available in different lengths, so all you have to do is pick the one you prefer most. They can also be worn with your ugg boots.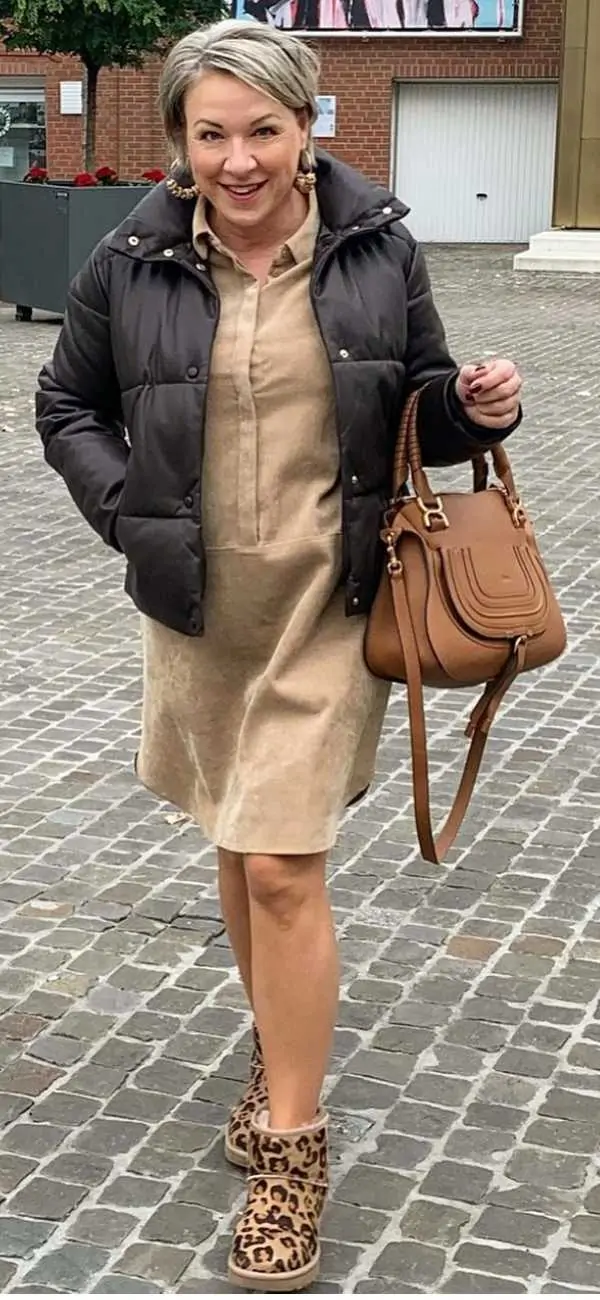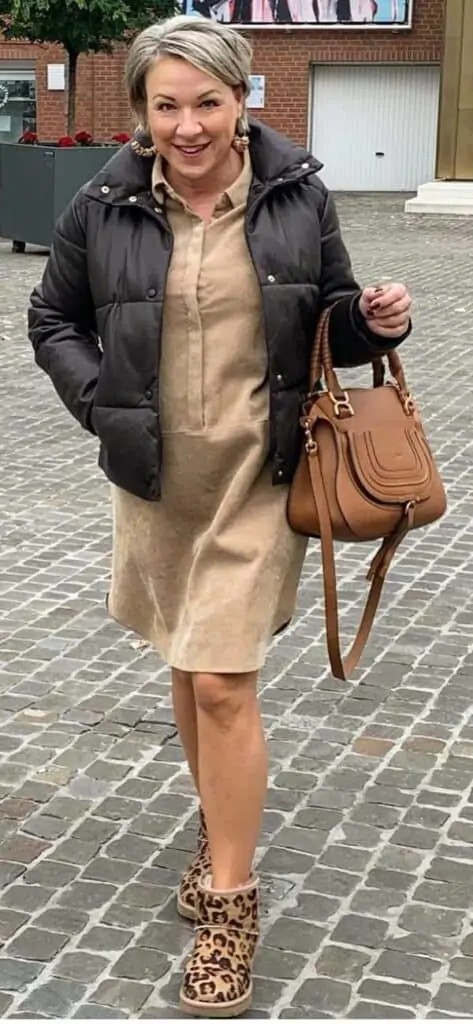 Nikola (above) styled her shift dress with a puffer jacket and a pair of leopard print ugg boots. Plain boots also work well for this look especially if you choose to go for a printed or patterned shift dress.
With flared pants
A pair of flared jeans or flared pants can be paired with your ugg boots too. The flare legs easily go over the boots, because skinnier pants would have to be tucked in or rolled up to look good with ugg boots.
You can finish this look off with a fancy bag and some sunglasses just to elevate the look, since it's so laid back. Alternatively, you could just keep it casual with a crossbody bag.
With cargo pants
Cargo pants come slouchy and are so comfortable to wear. They come in different colors and give you the ultimate casual look that you will definitely love. Cargo pants can also be tucked into your ugg boots on a cold day.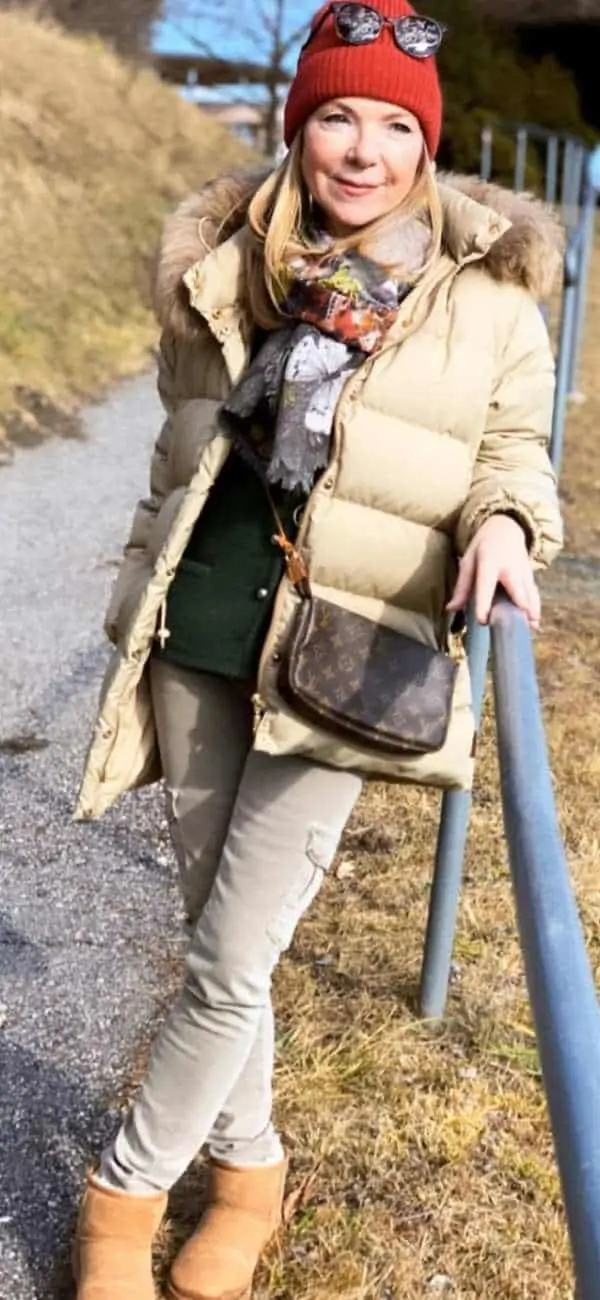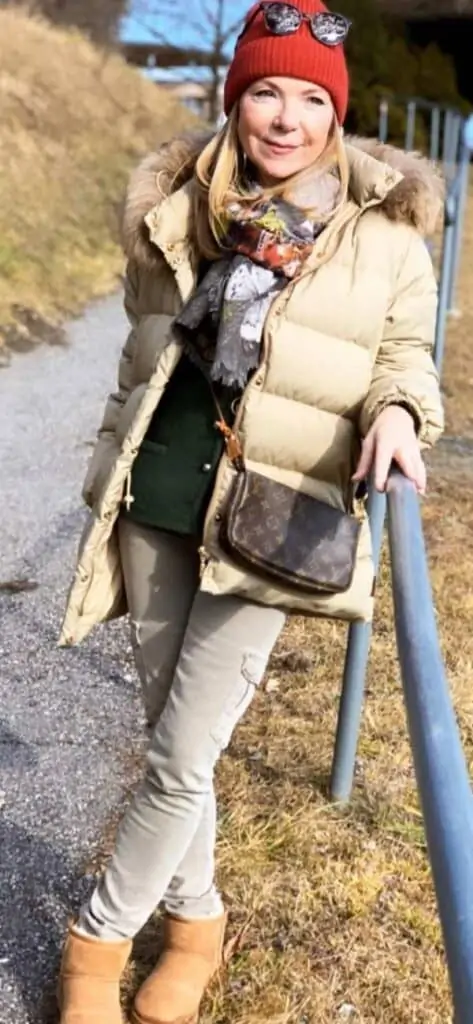 Margit (above) styled her cargo pants with a t-shirt, puffer jacket and some brown ugg boots for extra warmth on a seemingly cold day. Skinny cargo pants are best for this combination.
With camouflage pants
Camouflage pants may have a military style appearance, but they can also be really fashion forward. They can be worn in different ways, mostly casual although there are other ways of dressing up your camouflage pants. You can achieve a comfortable casual look by wearing your camouflage pants with some ugg boots.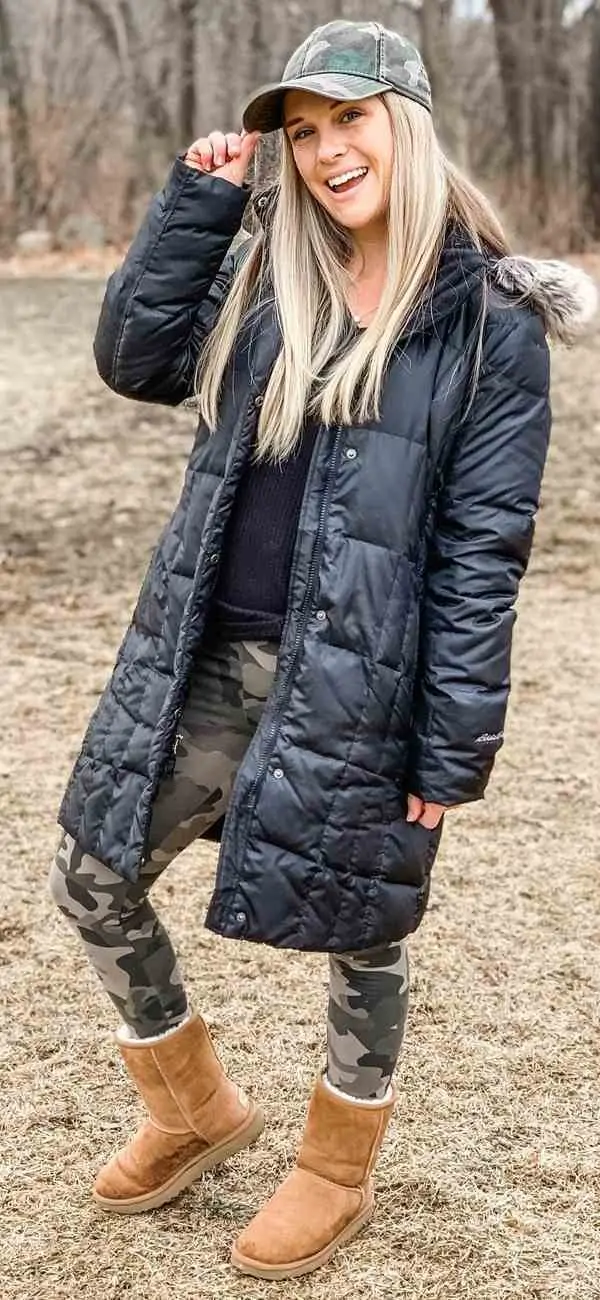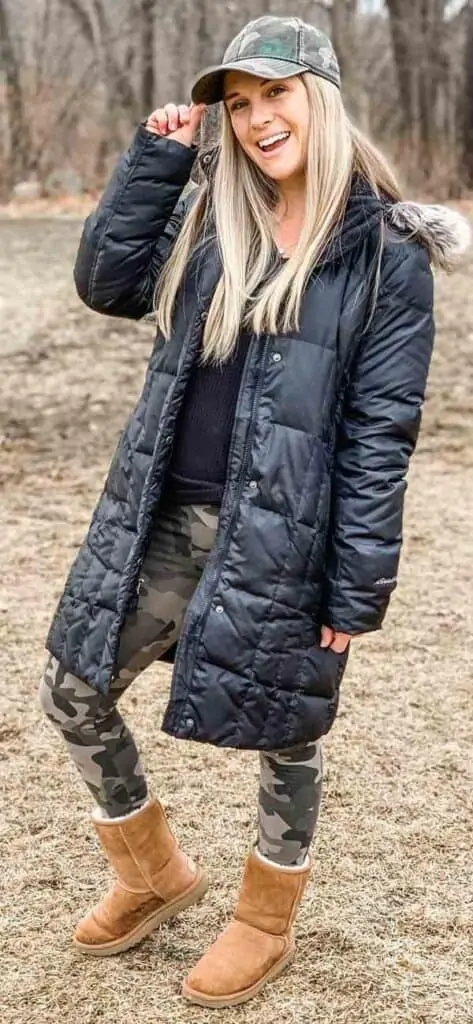 Steph (above) wore a pair of camouflage pants with a t-shirt, a puffer jacket and some ugg boots in brown, although black ones would also work well.
With high-waisted pants
If you're looking to dress up your ugg boots outfit or to achieve an even cleaner and flattering look then you might want to go for a pair of high-waisted jeans or pants. They cinch your waist and make your legs look longer. They also give you a great figure.
There are different styles of high-waisted pants and the best way to style them with boots is to go for those with narrower legs as they are easy to tuck in.
With a maxi coat
A maxi coat is great, especially if you want to have your coat as the statement in your outfit. Long coats are chic, and can be worn by women of all age, body shape and height. You can wear them with ugg boots too just as you would wear the boots with a dress.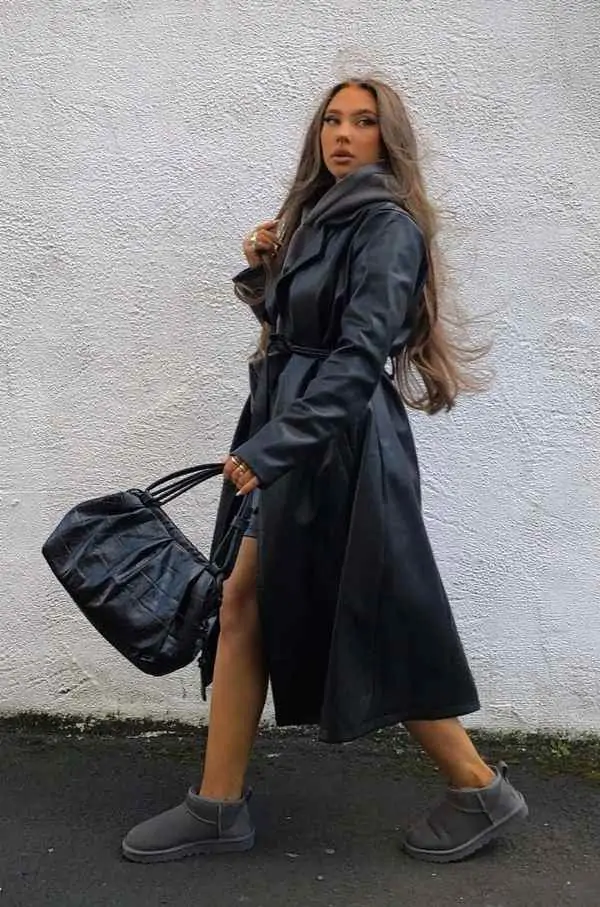 Ellie (above) styled her long black coat outfit with a pair of grey ugg boots. It's a great combination that is easy to pull off. With a black coat, your ugg boots can be in any color you like.
With wide-leg pants
Wide-leg pants are great if you just want to feel comfortable as they are not fitting. There are different types of them. You can actually style some of them with some ugg boots for a casual look.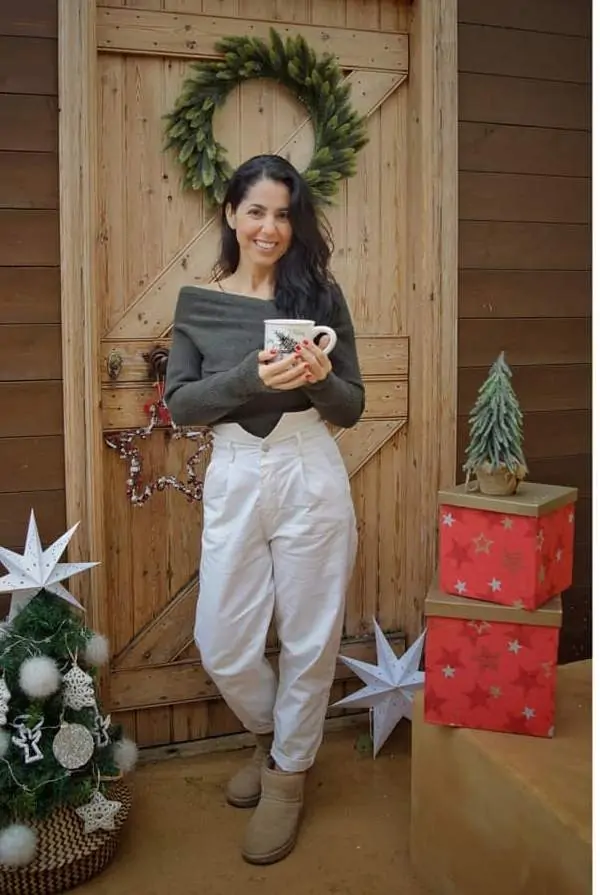 Anastacia (above) styled a white pair of wide-leg pants with an off-shoulder top and some ugg boots. If the legs are too wide you could roll up the bottom for a more stylish look.
With printed pants
While you can always wear plain pants, you don't always have to. Printed pants allow you to have more fun with your dressing. They can also be styled with some plain and simple ugg boots.
Picking black ugg boots for your printed pants outfit is a great idea because black is a universal color that goes with every print or color you go for. Other neutral colors that would be great are brown and grey.
With a skater dress
You will love wearing a skater dress, if you love to have your waist cinched, or if you're generally just a girlie girl. Skater dresses flatter different figures, which means you can very confidently step out in one. They can also be worn with your favorite pair of ugg boots.
It's a simple look to put together, and is so cute. It's also a great option if you feel like ugg boots are too chunky as it allows you to show off your legs.
With a sweatsuit
Instead of going for a sweatshirt or sweatpants and pairing these with other pieces, how about just going for the whole suit instead. A sweatsuit is even cozier and saves you time in case you need to step out quickly for something. A pair of ugg boots is a great example of shoes you could complete your sweatsuit outfit with.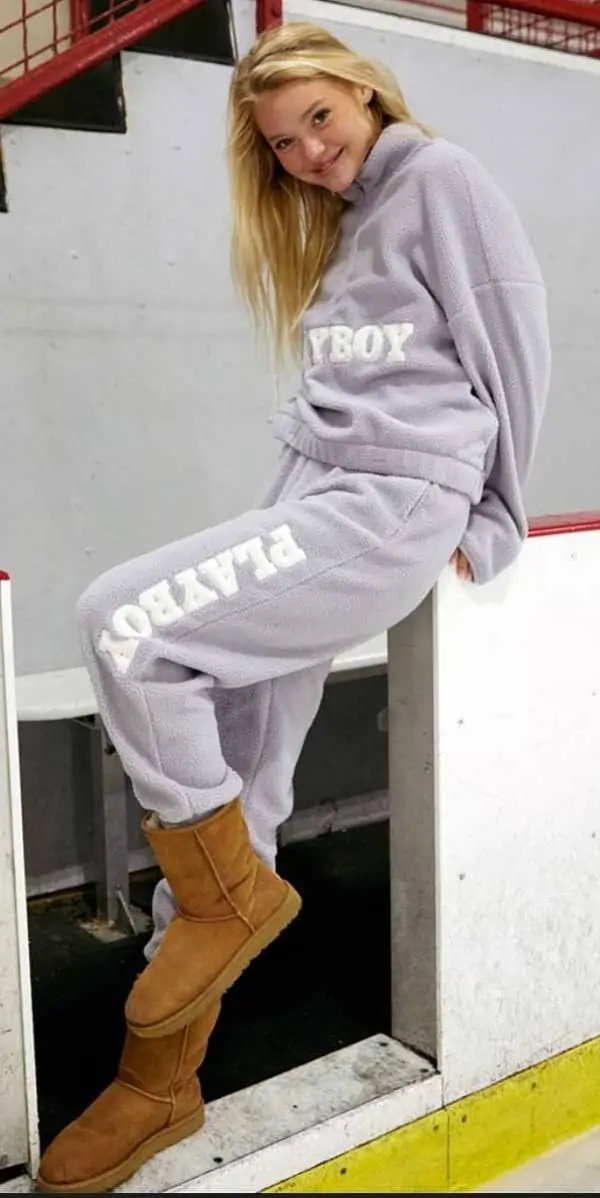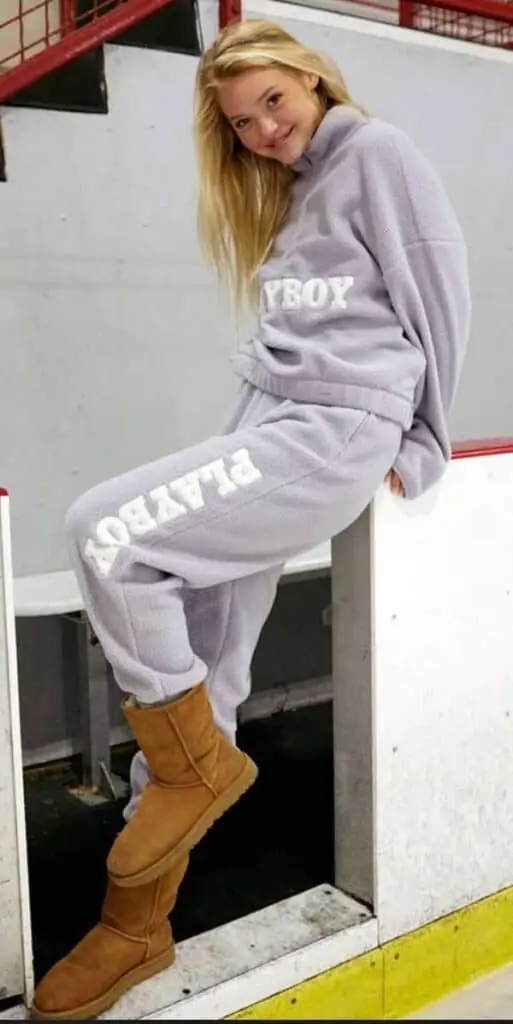 Simplysoft (above) shows how to look great in a sweatsuit paired with ugg boots. This combination will also make you look younger as it's somehow very sporty.
With a midi skirt
While a shorter skirt is an easier option to pull off with a pair of ugg boots, you can also wear a midi skirt with them. This in particular makes a good fall outfit since the skirt has you covered up.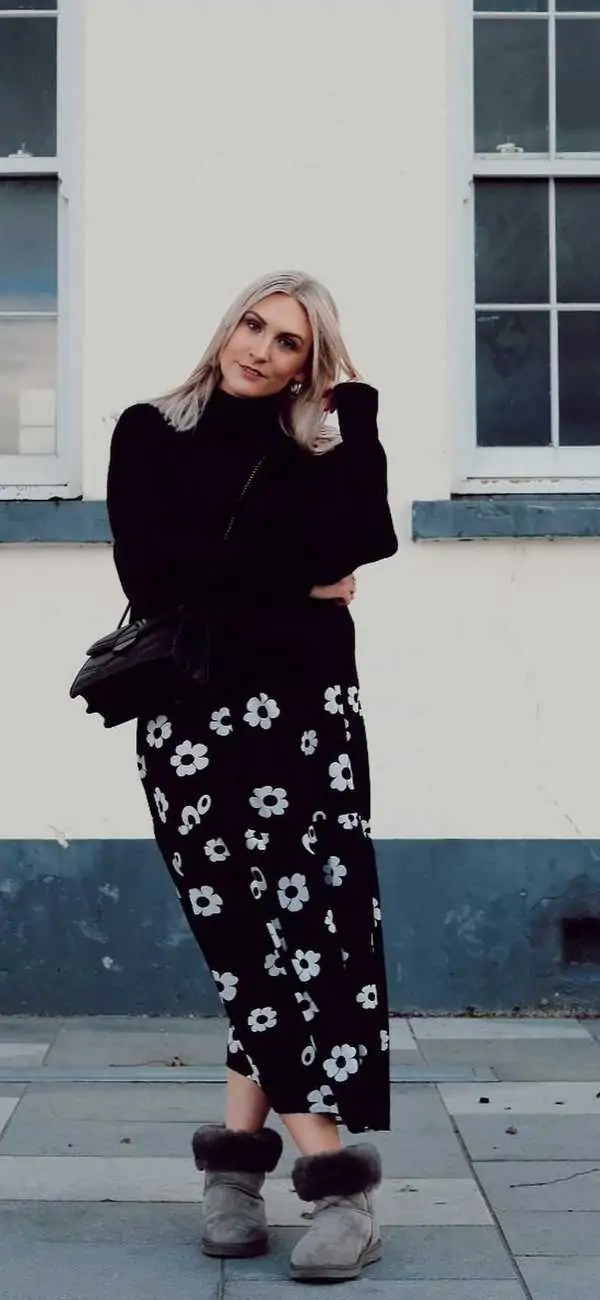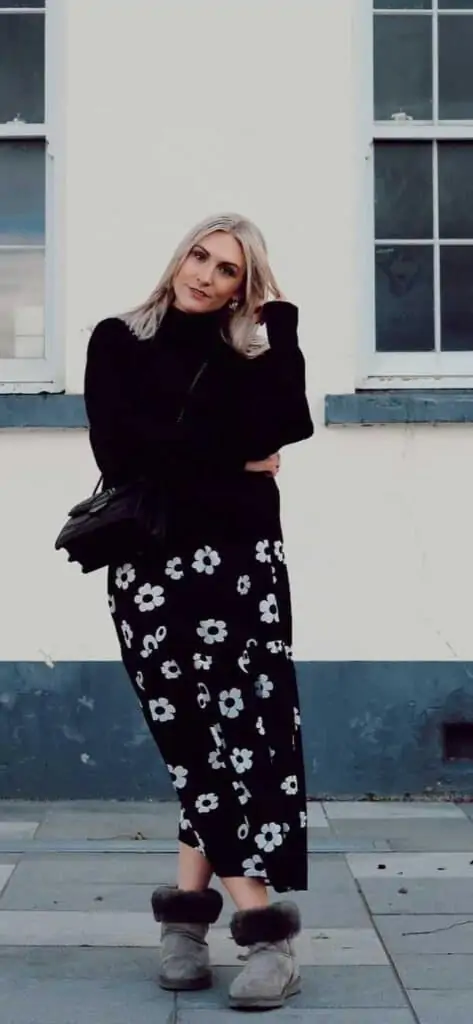 Yasmin (above) styled her floral midi skirt with a black turtleneck sweater and then wore a pair of ugg boots in grey. If you're not too sure about the color of boots to go for, then the safest color of ugg boots to pick is black. You can have fun with your midi skirt by going for florals and other fun prints.
With dark tights
A lot of women wear dark tights when it's cold to keep them warm, considering dark tights will go with any footwear or dress. These dark tights also make your legs look leaner and can actually make your outfit look more sophisticated. Since they are tight, they can also be worn with your pair of uggs.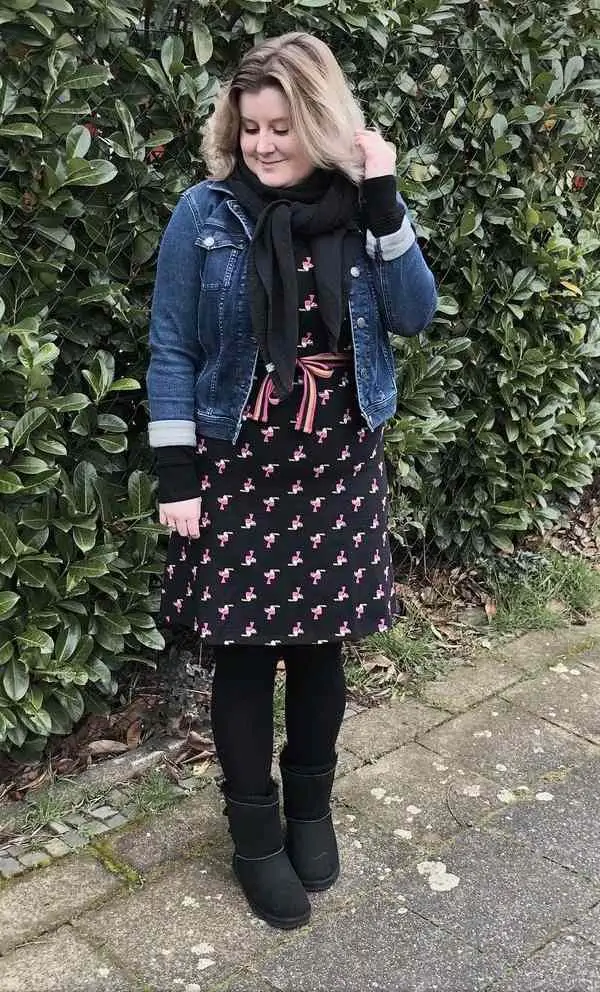 Anna (above) wore a casual floral dress outfit with a pair of dark tights and some black ugg boots. Pairing some black ugg boots with dark tights makes your legs look even longer.
With tailored pants
Tailored pants always look so smart when worn with just about anything. However, they can be dressed down too. You can style your pair of tailored pants with some ugg boots for a casual look.
The best way to go for this look is to pick the right pant length to go with the shaft height of your ugg boots. You don't want the pants to be too long or too short.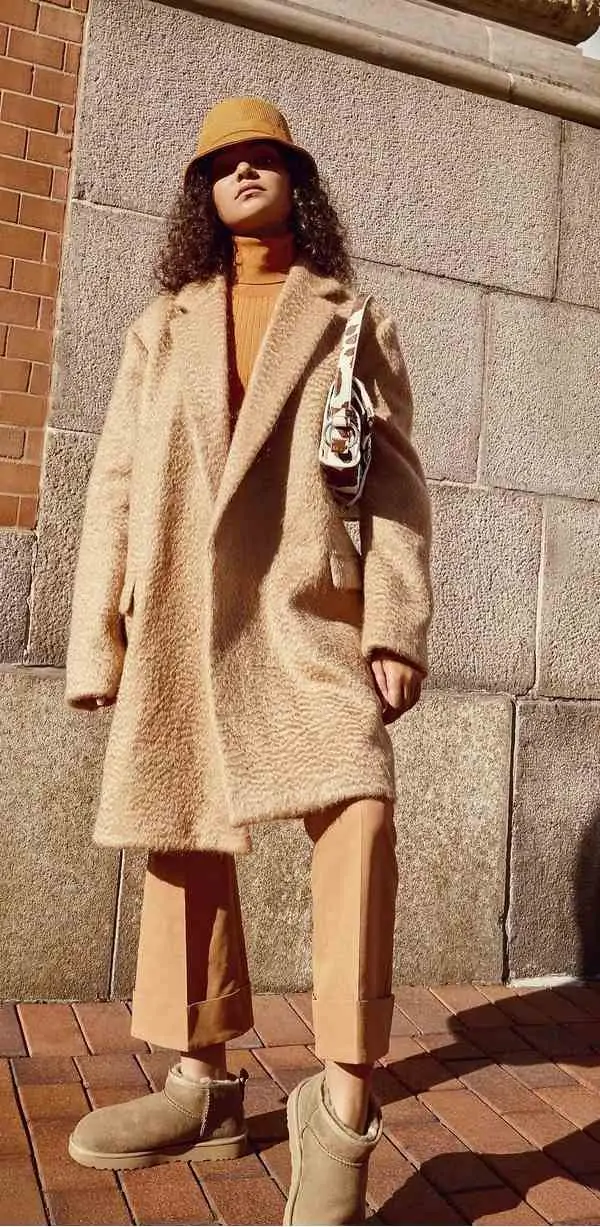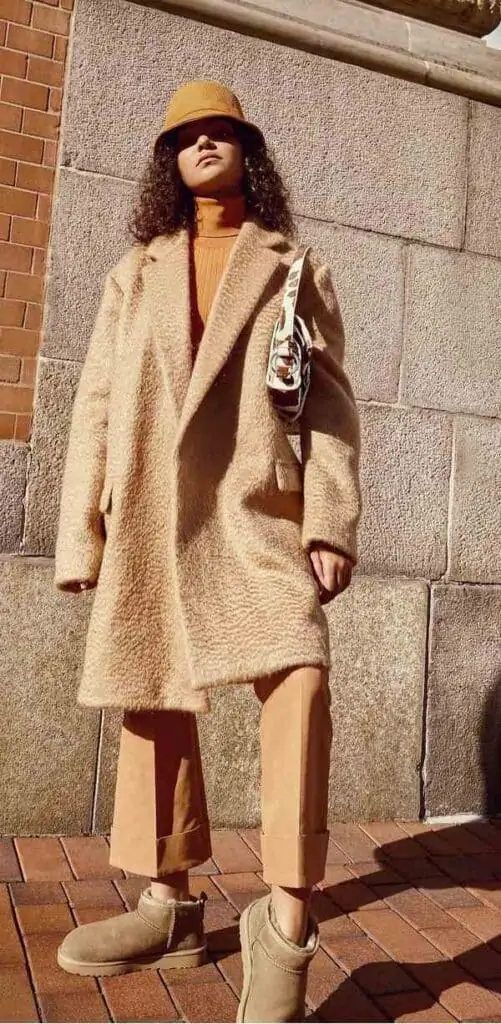 Jessie (above) styled a brown pair of tailored pants with a turtleneck top and a pair of uggs. This combination is a great way to get a casual chic outfit, especially if you pick a monochromatic look. If you go for different colors, make sure they go well together.
With frayed pants
If you want a more interesting and edgy look without going for ripped jeans, then why not go for a pair of frayed pants. These look great and are a nice way to make a switch from your ordinary pants. They can be worn with different shoes for example ugg boots to get that unexpected look.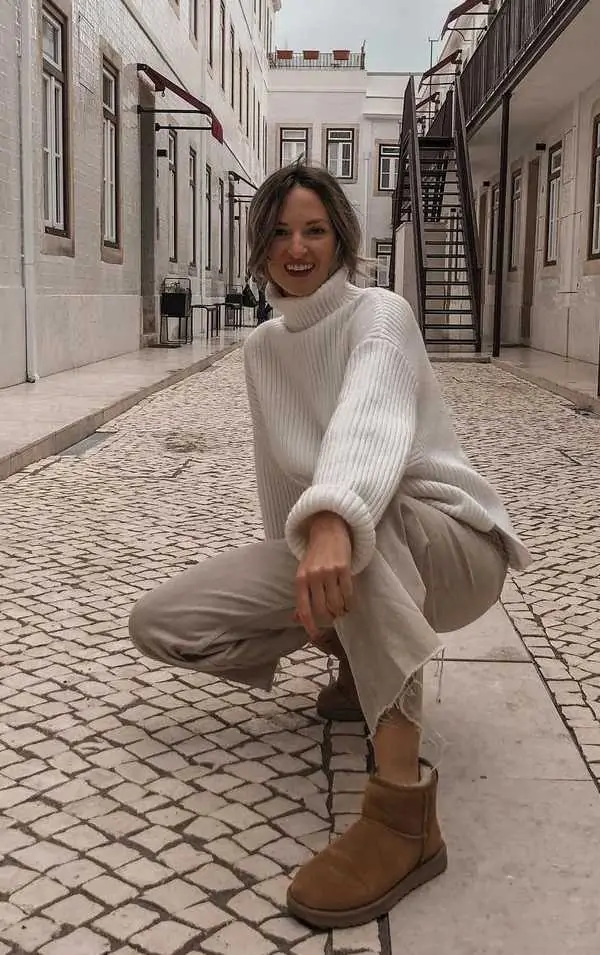 May (above) styled a turtleneck with some frayed hem pants and a pair of brown ugg boots. An ankle boot style is the best for such pants as it allows for the frayed hem to be seen.
With overalls
Overalls were big in the 90s and to date, they remain fun pieces you could add to your closet. They are mostly worn casually and are great for days when you just want to go out and run your errands. Overalls can also be worn with ugg boots for those errand-running days.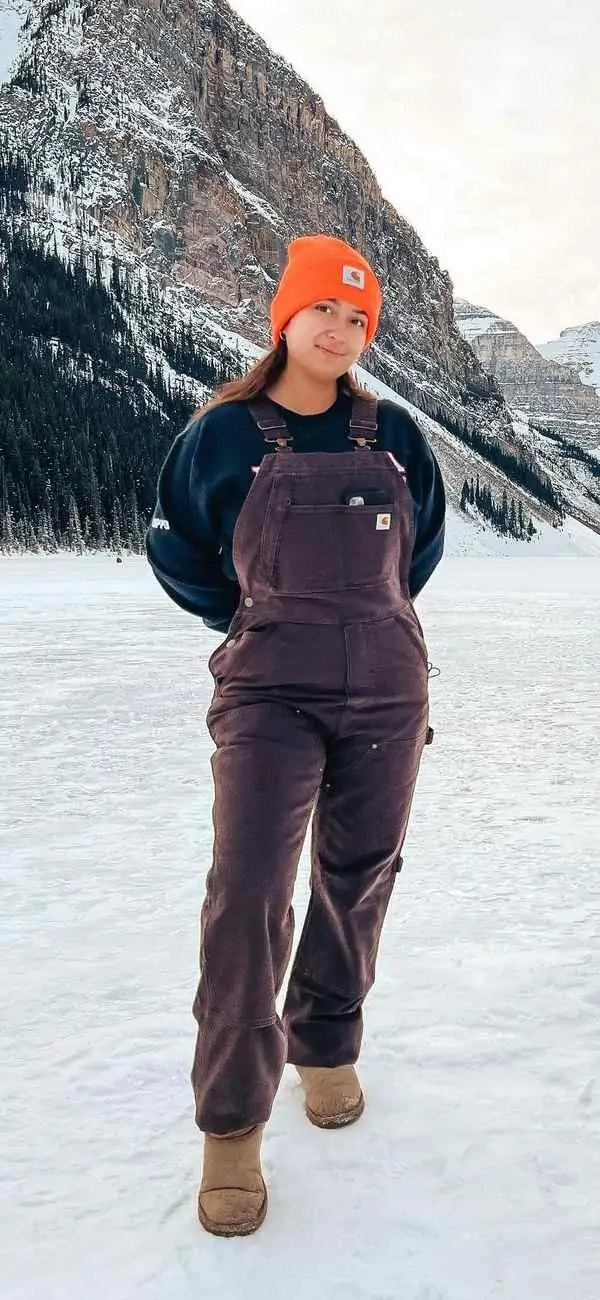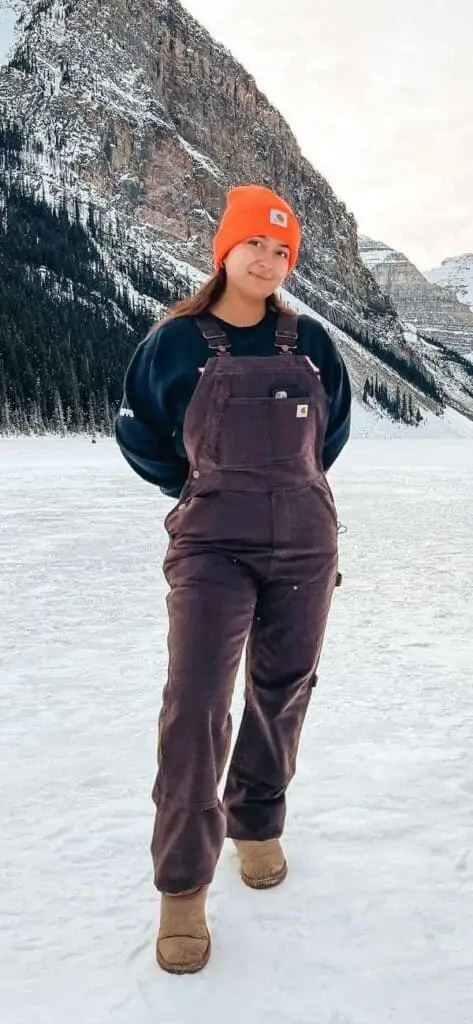 Gina (above) wore some overalls with a jumper and some brown ugg boots. It's a simple look that can work for people of different ages just as long as you're into overalls. Ensure the jumper or whatever top you pick is well tucked into your overalls.
With a matching set
A matching set always saves you time when you're dressing up in the morning. This is because you don't have to think much about what to pair the top or the bottom with, afterall, they come as a pair. You only have to think of the shoes and you could try out some ugg boots.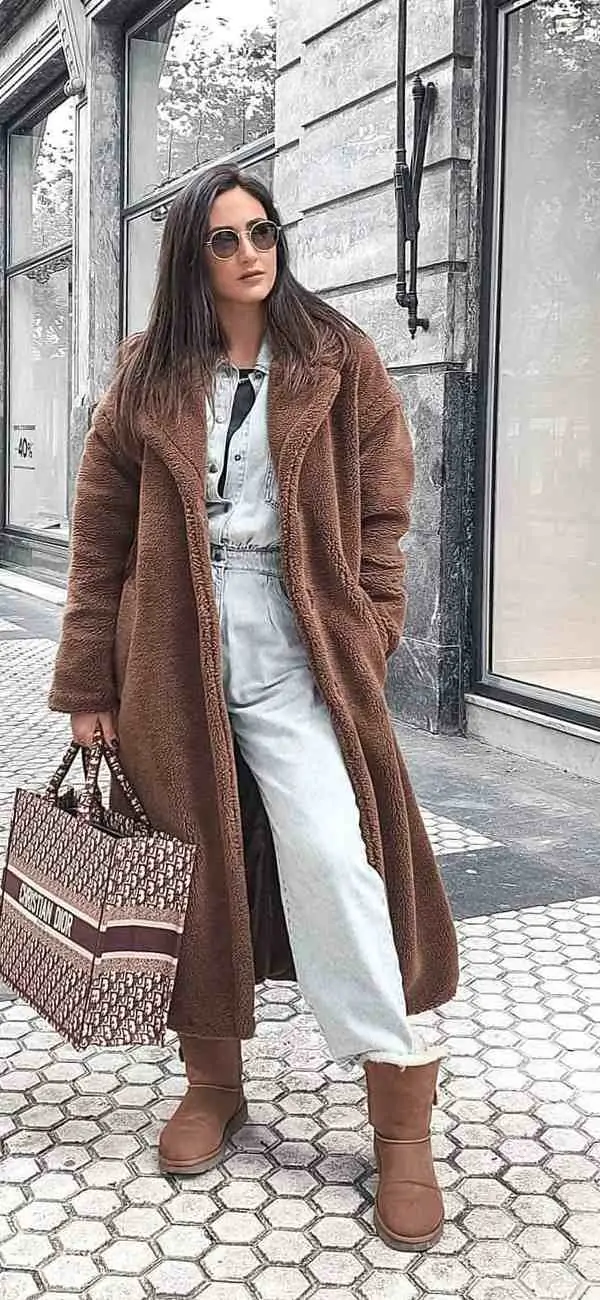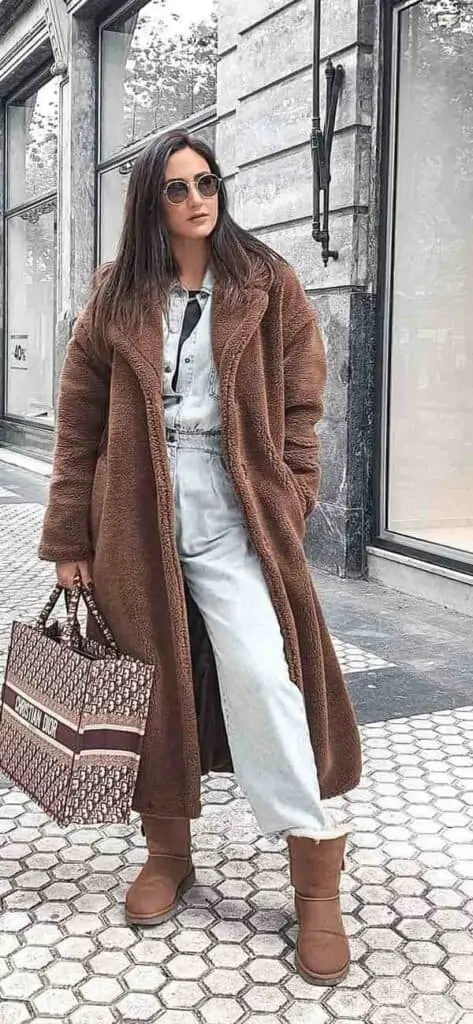 Miren (above) styled a denim matching set with a pair of brown ugg boots that match her brown furry coat. Different sets will work for this so it doesn't just have to be denim.
With a midi dress
Midi dresses are ever so chic and just have a way of making you look so ladylike. They are available in a variety of styles and you can pick one that you love most. You can wear your midi dress with some ugg boots too.
With colors such as white, black or neutral for midi dresses, you can play around with ugg boots in different colors.
With a button-down skirt
Button-down skirts are great if you like a skirt that has some extra embellishments or decorations. They come in different lengths that are maxis, midis, and even knee-length ones. Wearing them is a nice way to dress up your ugg boots.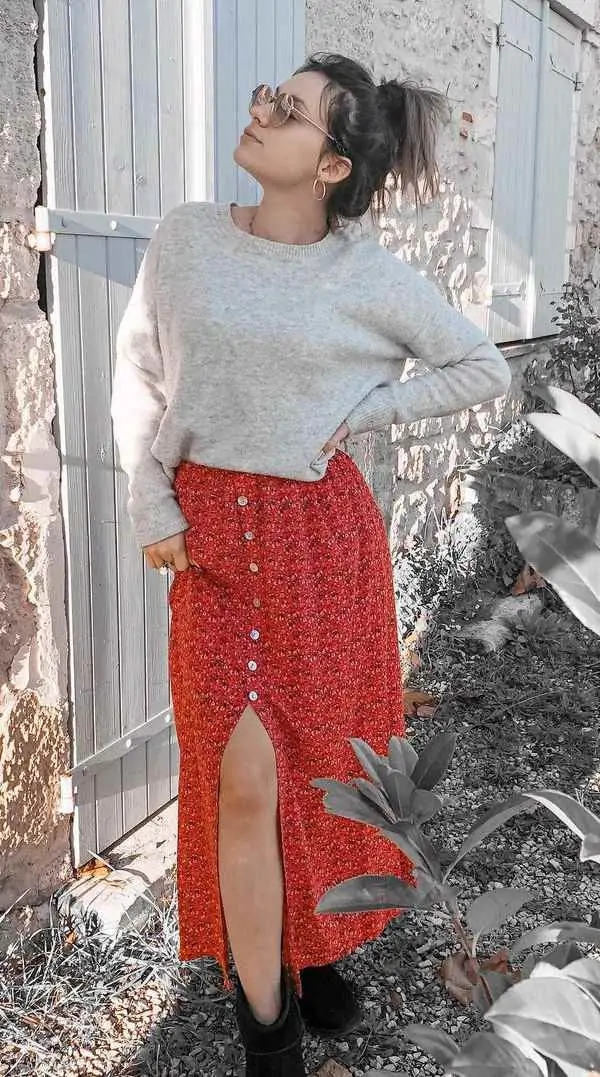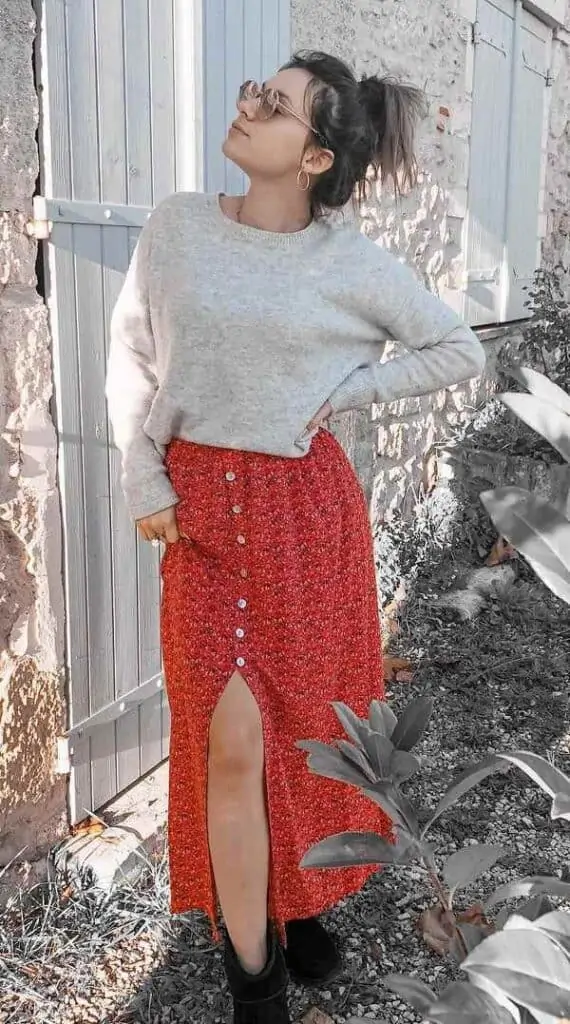 Cindy (above) styled her long button-down skirt with a sweater and a pair of ugg boots. The button-down design makes this ugg boots look more feminine.
With a camel coat
If you're looking for a great way to dress up your ugg boots and make your look chicer, then wear a camel coat. These coats can be thrown over some jeans or leggings to give you a casual chic outfit, or over a pencil skirt, dress or tailored pants for a more elegant outfit, even if you're in ugg boots.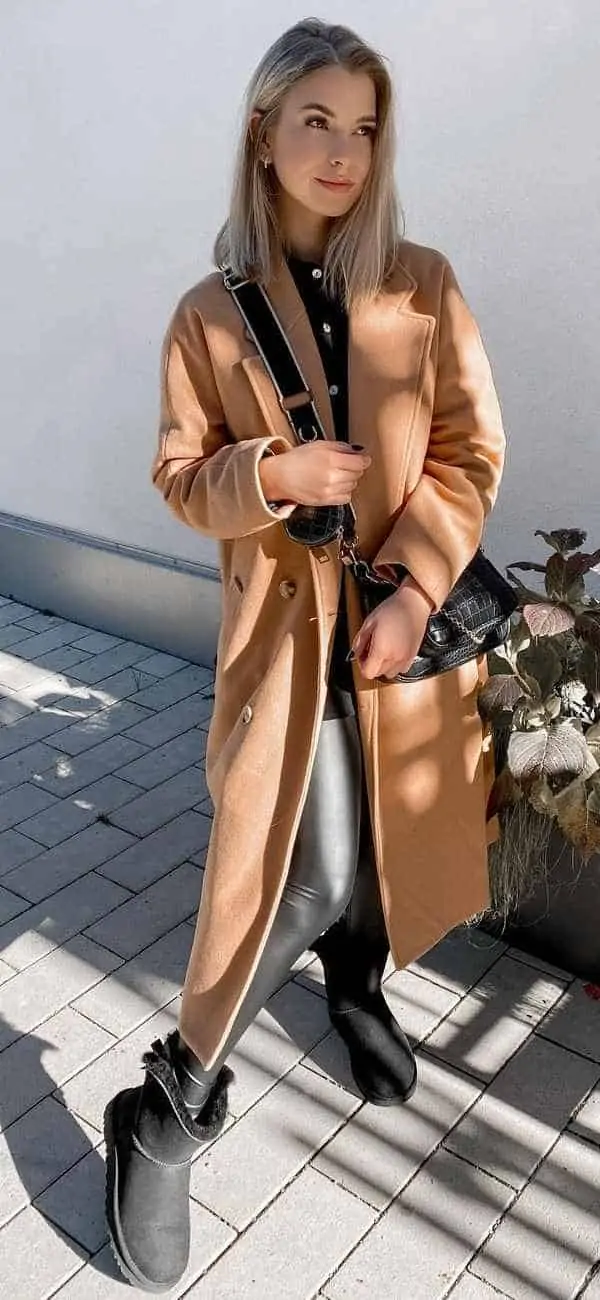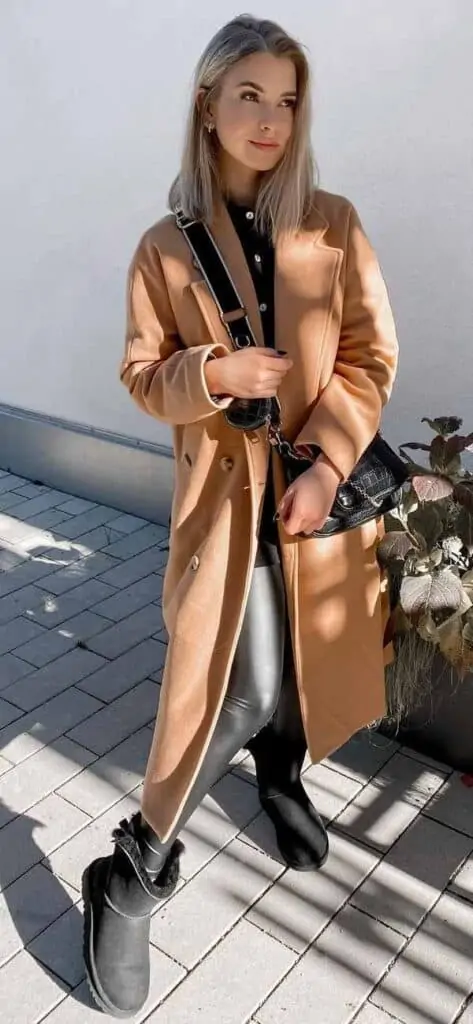 Sofia (above) styled her long camel coat over a casual outfit and finished off the look with a pair of black ugg boots. Since the coat and the boots are both statement pieces, you might want to keep everything else well fitted so that you get a cleaner look.
From these ideas, you should be able to style your cozy ugg boots differently and step out looking stylish each time you wear them.