Saddle bags refer to the extra fat on the outer area of your thighs and right under your butt. This is a common concern for many women when they gain weight, and it is especially common among women with pear shape or the spoon body type, because they tend to accumulate fat on hips and thighs.
Even though it is possible to improve the appearance of saddle bags with exercise to lose some of the fat on the legs, the shape of your thigh is largely genetic.
Therefore, the most effective way to hide the saddle bags is to dress properly to camouflage your big thighs.
Since I have a petite clothing line, I received feedback from thousands of my customers. Based on their feedback, I've put together this detailed guide to help you find what looks the best for your shape.
Styling Goal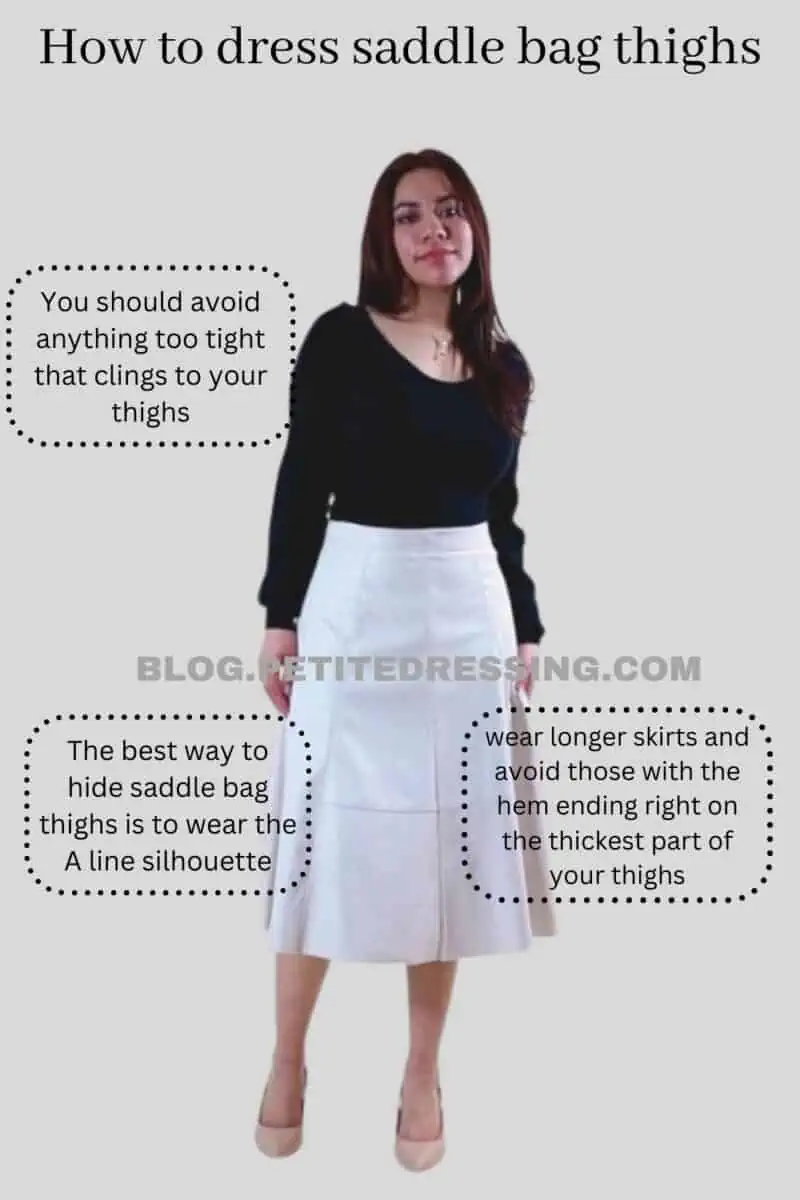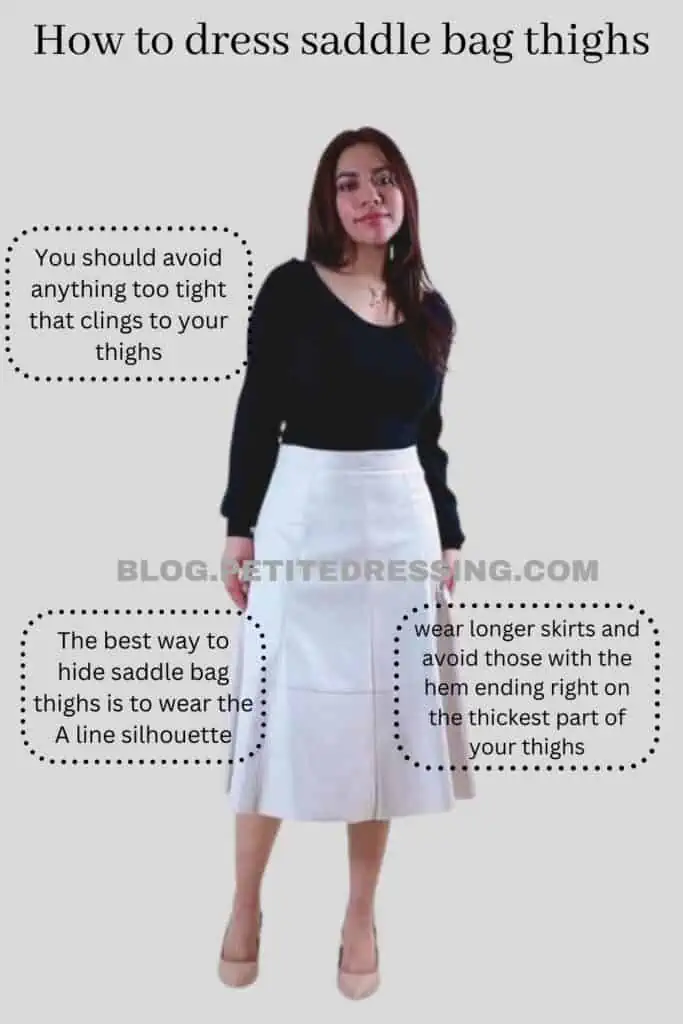 The best way to hide saddle bag thighs is to wear the A line silhouette, whether it's A line dress, skirts or coats, because the flare shape can cover up the thighs and make the saddle bags much less noticeable.
You also should avoid anything too tight that clings to your thighs, such as bodycon dresses or pencil skirts.
The best pants for women with saddle bag thighs is the wide leg, because they skim over your hips and drape down from there to balance out the wide thighs.
If you have thick thighs, you should avoid skinny jeans because they highlight the saddle bags instead of hiding them.
If you are wearing skirts, be sure to wear longer skirts and avoid those with the hem ending right on the thickest part of your thighs to avoid drawing attention to that area.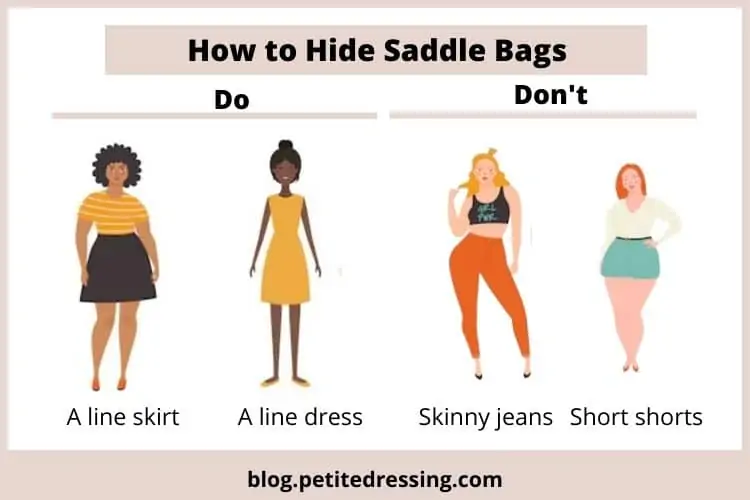 Now we will go into full details of the best ways for you to camouflage the saddle bag thighs. If you indeed have a pear shape, you should also watch this video.
Wear A line skirts
An a-line silhouette lays on the hips without bringing all of the attention to that part of the body. Thanks to the gentle angle of an a-line it masks saddle bag thighs creating an elongated effect to the area. Choose a-line skirts with a mid to high rise to draw the higher on the torso giving even more length to the bottom half of your body, hiding saddle bags.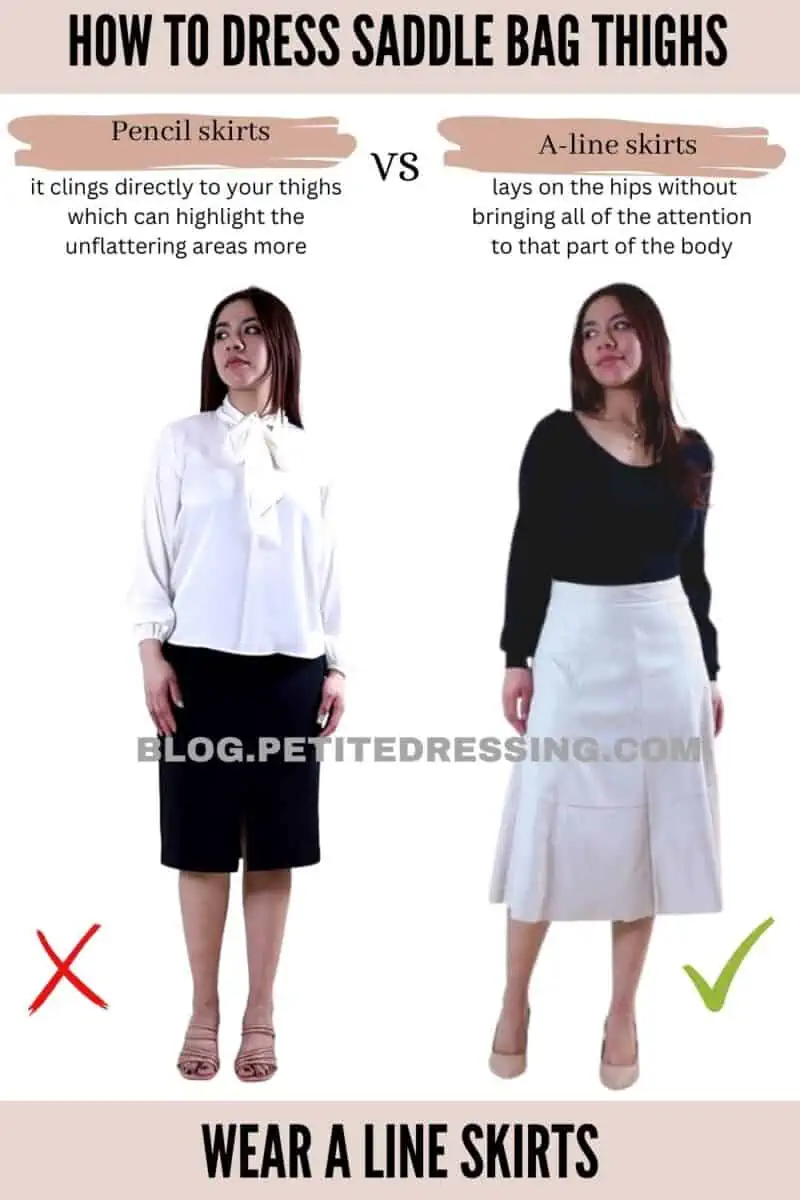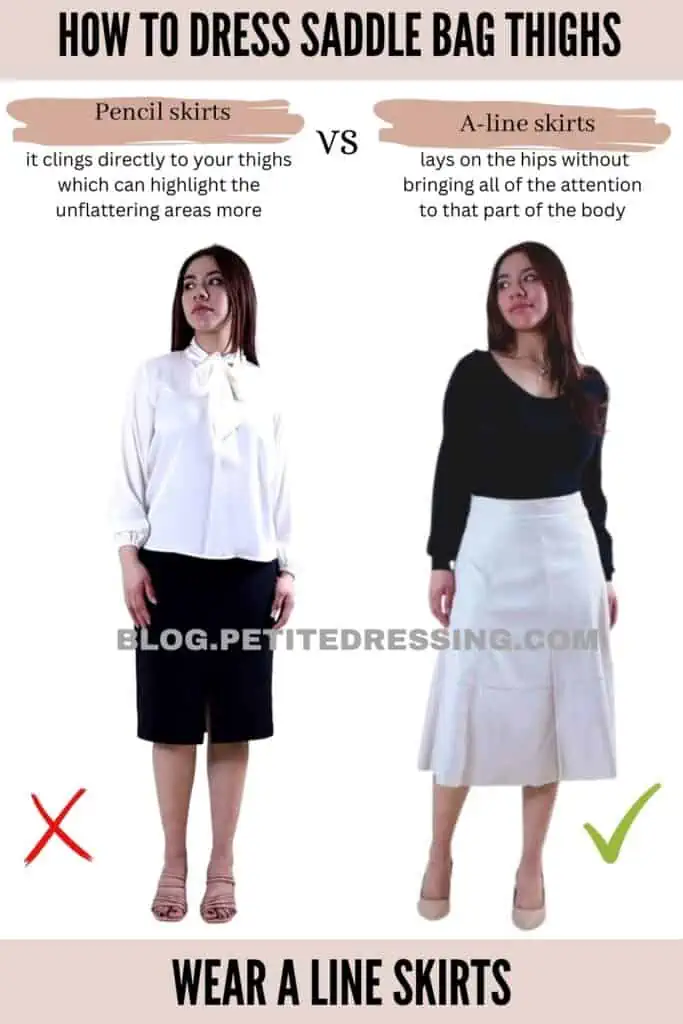 Wear A-line dress
Dresses with an a-line silhouette are the best option when hiding saddle bag thighs. It provides all the benefits of an a-line skirt, lengthening and hiding your trouble area.
Of all the dress shapes, A line is the most universally flattering, to women of any body types, and especially a heaven sent to women with saddle bags. The reason is they are fitted on the top through the waist and flare out under your hips, creating the shape of a capital letter A. This is the most forgiving shape for women with heavier bottom such as wide hips and prominent thighs.
Keep dress length in mind, just above the knee is the most universally flattering.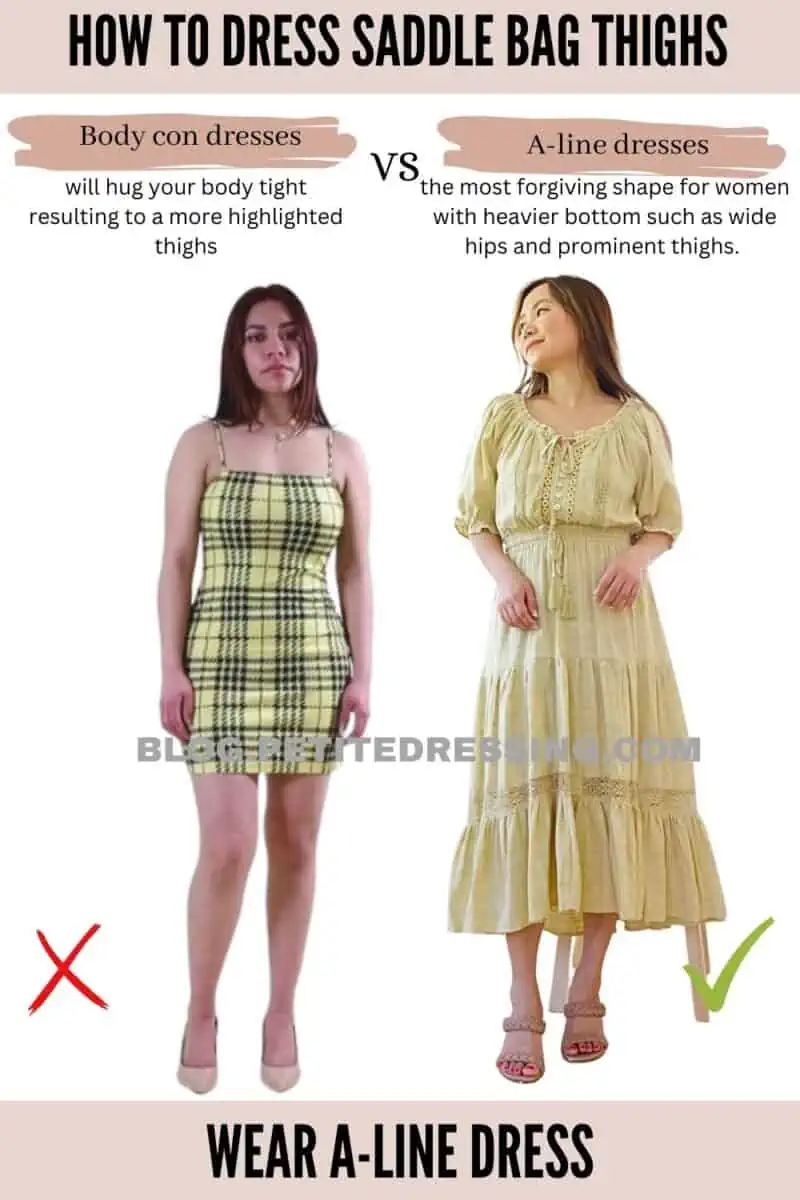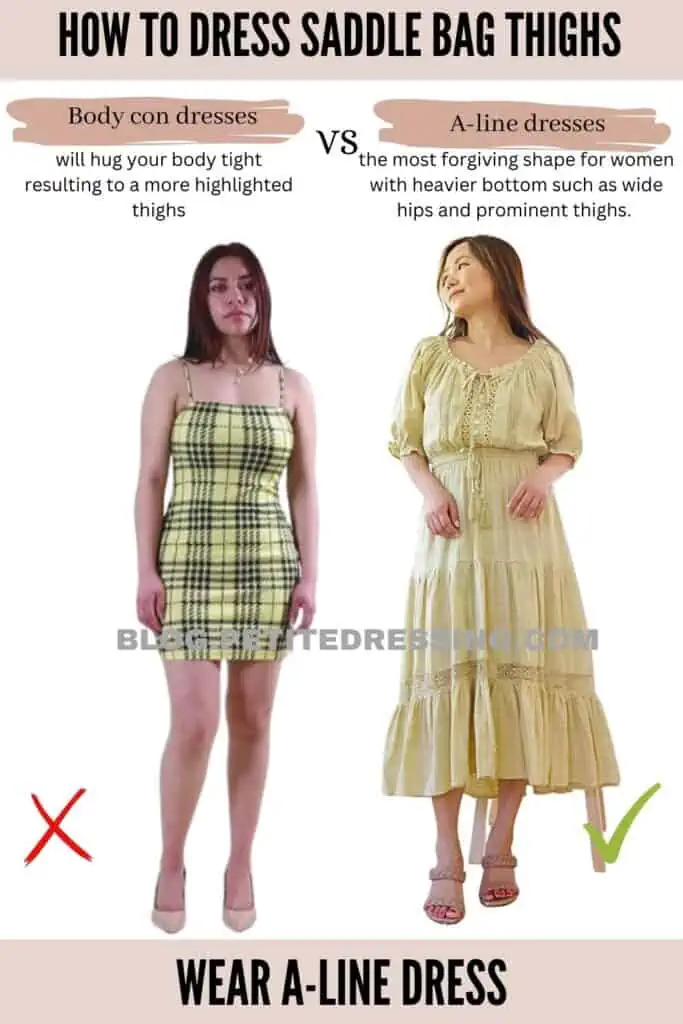 Wear long cardigan
Wearing garments that add length to your body is a styling trick that hides saddle bag thighs instantly.
Long cardigans are the perfect piece to lengthen your shape.
Because a long cardigan creates a long vertical line down the center of your body it gives the illusion of a slim, long body shape.
Not only that, but the strong vertical line distracts from saddle bag thighs.
Wear tunic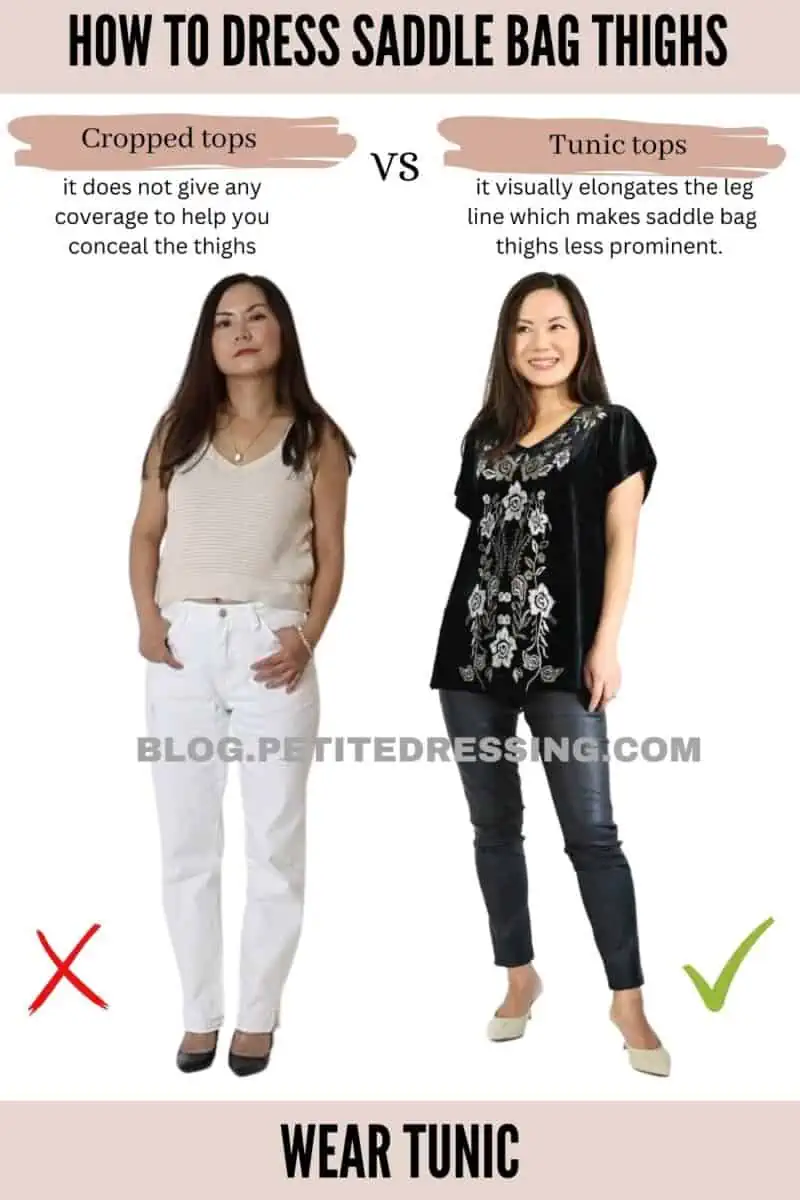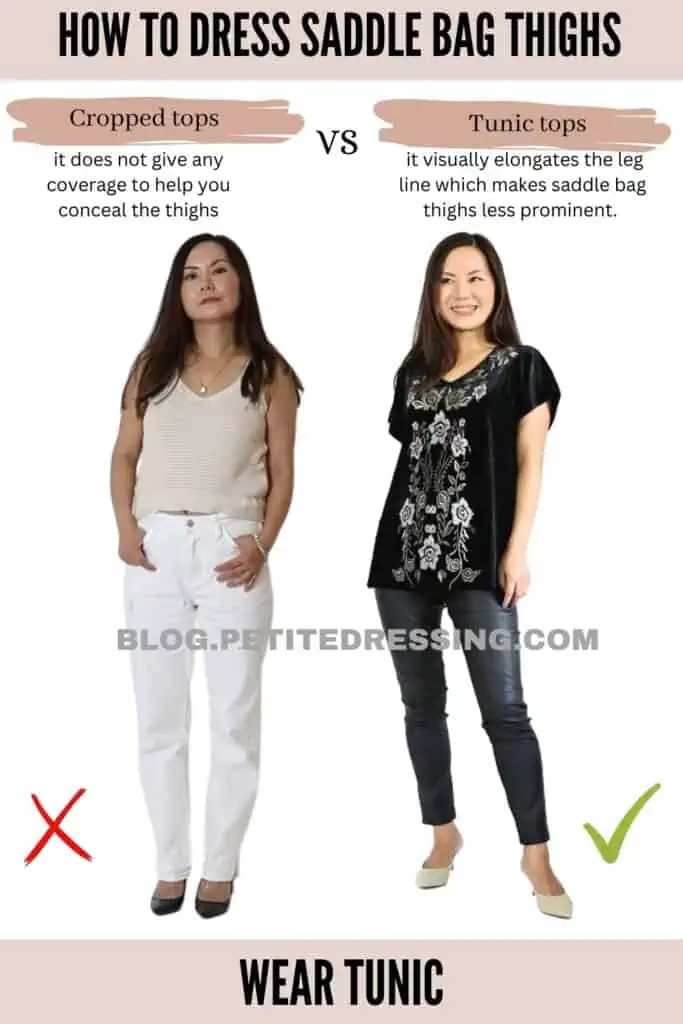 Similar to the concept of longer cardigan, a tunic can also disguise the saddle bags easily because of the length. Tunics are normally not too tight, so they are a wonderful choice to cover up your wide thighs without drawing any attention to them.
You can opt for tunic shirt with jeans in spring and summer, or tunic sweater with leggings and booties in the winter. Women with saddle bag thighs should make tunic style garment a cornerstone of your closet and have something to wear throughout the year in different temperature.
Wear wide leg pants
Flatter wide thighs with wide leg pants. Wearing pants that have a wider fit, where the pants go straight down from the widest part of your thighs is the best silhouette. Because the pants lay in a straight line it visually elongates the leg line which makes saddle bag thighs less prominent.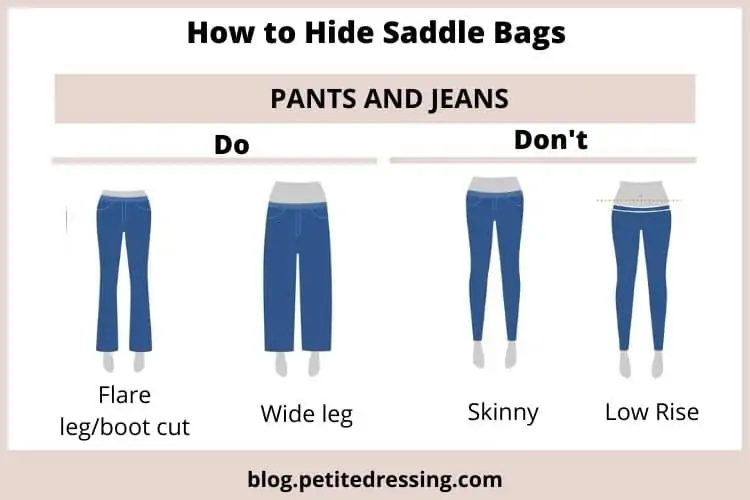 You should also take into consideration the fabrics for the pants. In general, go with thicker and heavier fabrics such as wool or wool blend and avoid the light weight fabrics such as linen. The reason is the more weight the fabrics, the better the pants will drape down your legs instead of clinging to your thighs.
Wear flare leg pants
Not just a trend, but a go-to fit for women with wide thighs. Added volume at the bottom of the pants gives the perfect amount of balance to your body shape. Make sure to wear pants with a mid or high rise. Low rise tends to draw even more attention to saddle bag thighs.
Avoid bias cut anything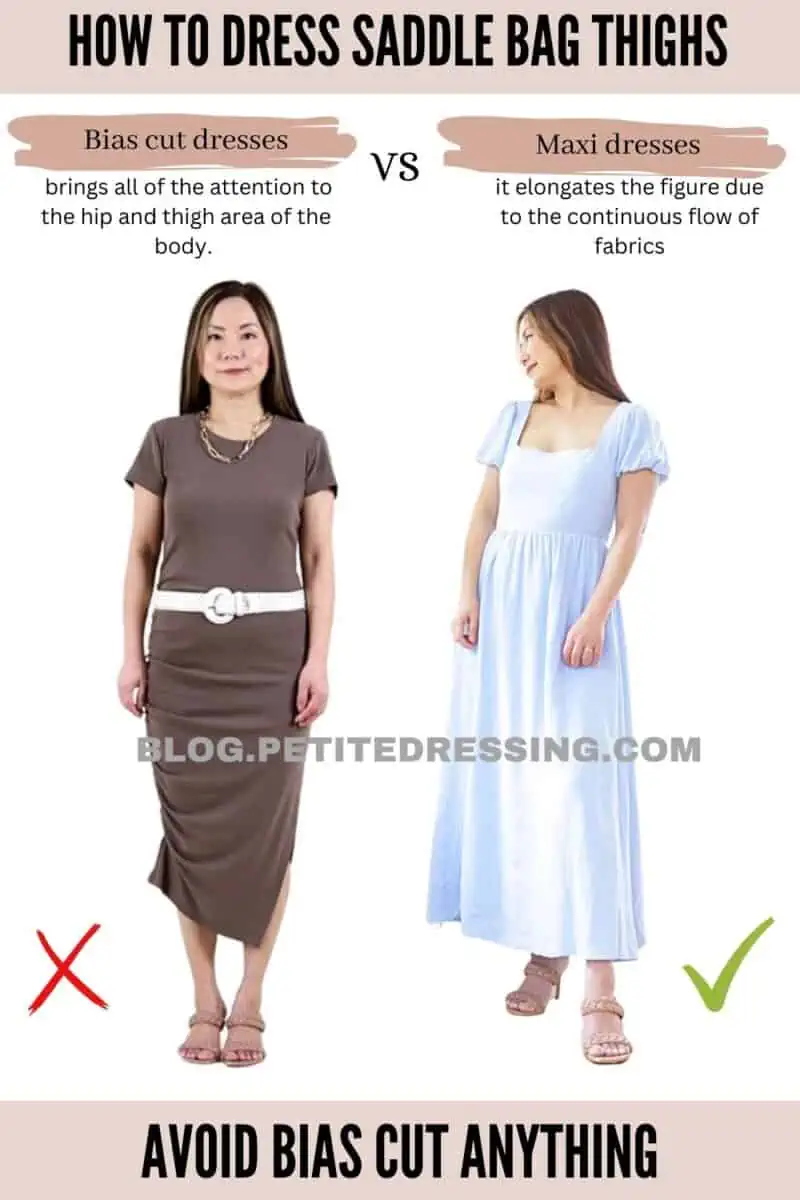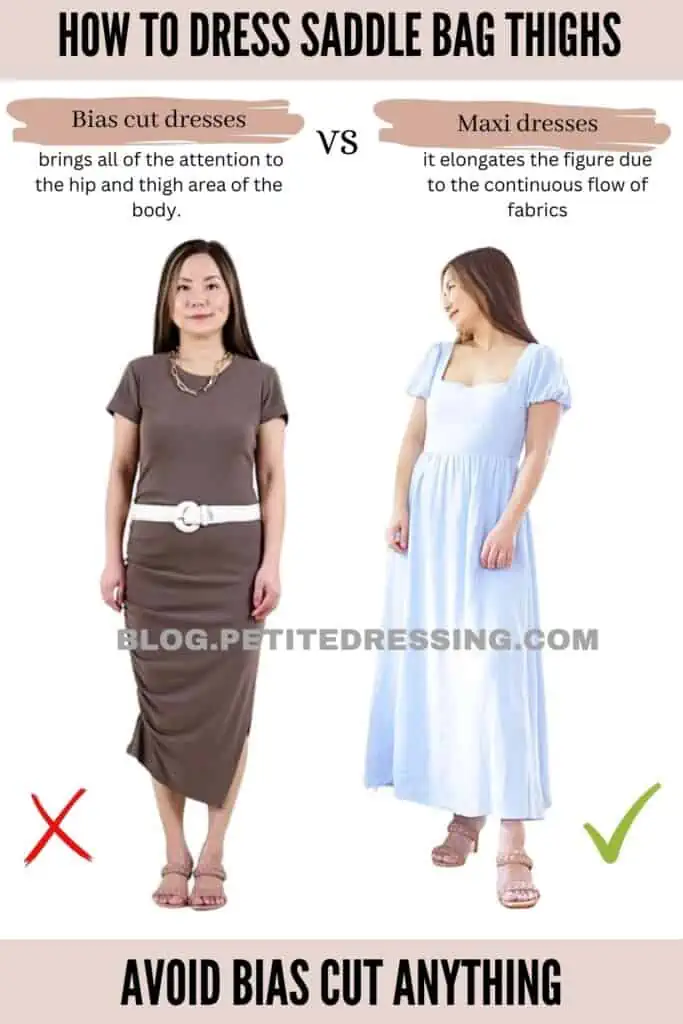 The bias cut is gaining spotlight in fashion again in recent years. It is different than the traditional way of cutting the fabrics according to its waves, instead, it is cut at a 45 degree angle. Because of the angled cut, it is supposed to be flattering to many women because they highlight the curves of our body.
However, the bias cut can be a nightmare on anyone who is concerned about saddle bags. The reason is the diagonal angle of bias cut brings all of the attention to the hip and thigh area of the body.
This applies to not just bias cut skirts, which are extremely popular right now. This also applies to any bias cut dresses, because generally, the placement of the diagonal lines point directly to your problem area.
No matter how popular they are, for anyone who do not wish their big thighs to become the focus of the outfit should stay away from the bias cut trend and go with the conventional cut dresses and skirts.
Avoid mini skirts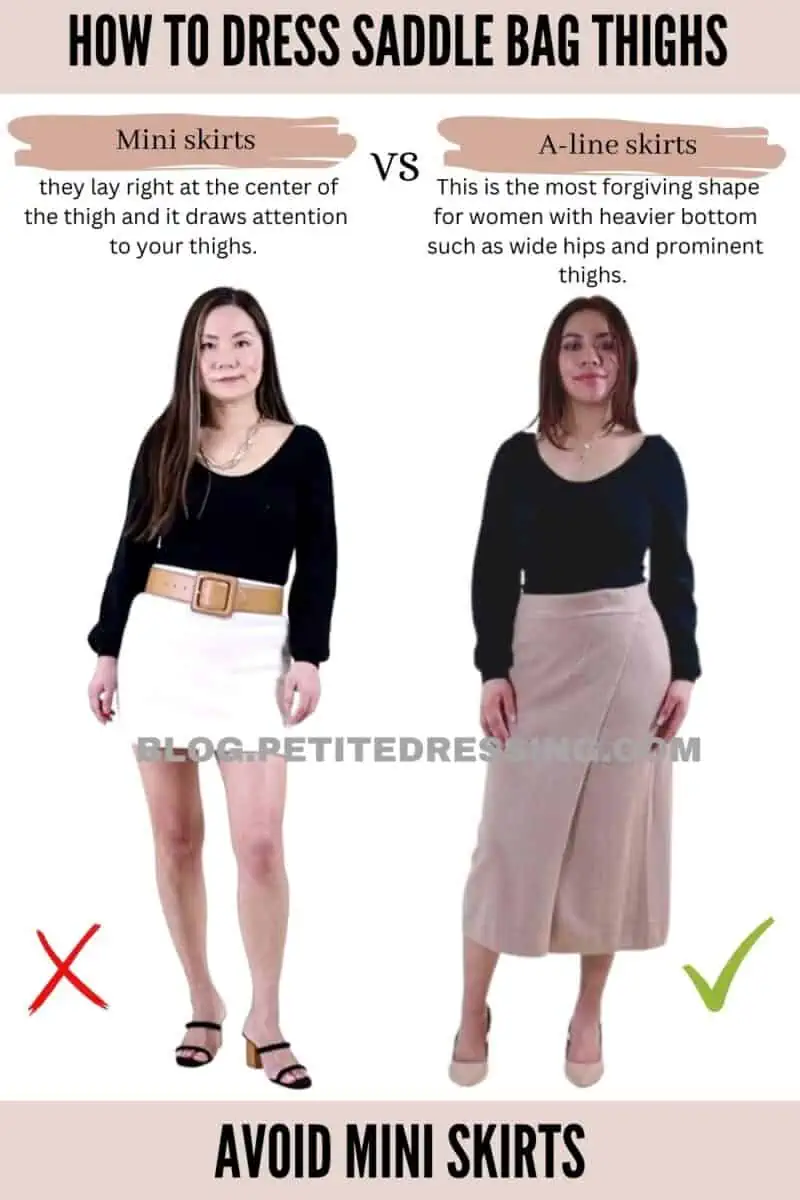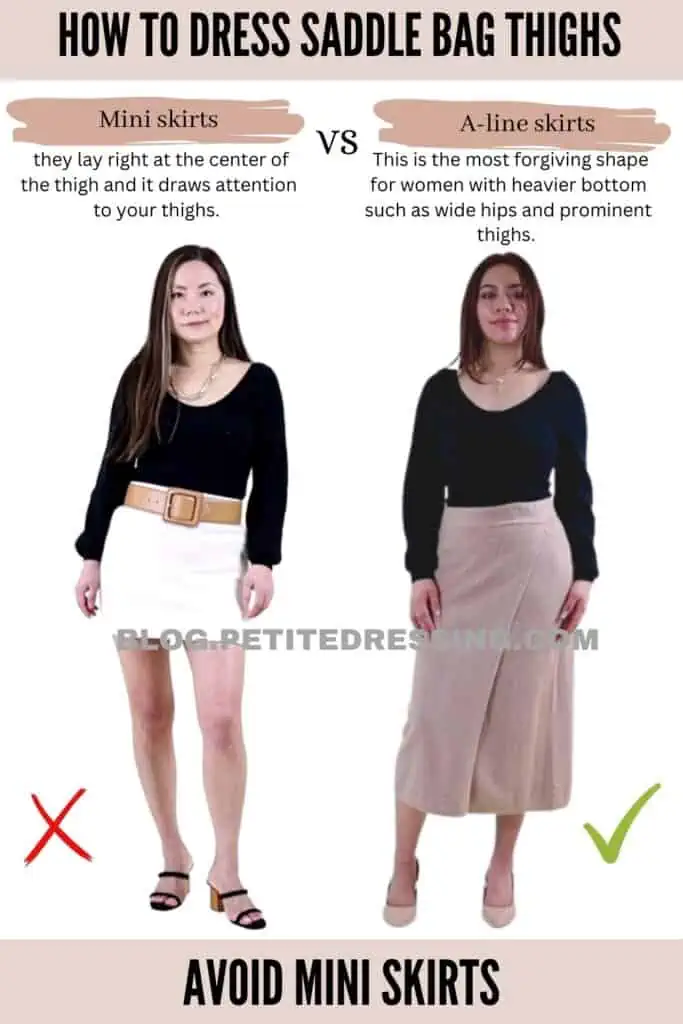 For women with saddle bags, any bottoms that are too short can be problematic, because they do not serve any function of hiding your thighs.
By nature, mini skirts highlight thighs when worn because of the short length and the fact that they lay right at the center of the thigh. If you have saddle bags, you should stay away from any skirt that is too short in order to avoid drawing attention to your thighs.
Instead of mini skirts, stick to skirts that lay just below your thighs to hide saddle bags and add length.
Avoid tapered pants
While tapered pants have been trending this year, they don't flatter saddle bag thighs. In fact, they often make thighs appear wider because of the silhouette. Straight leg pants are a much better option.
Avoid skinny jeans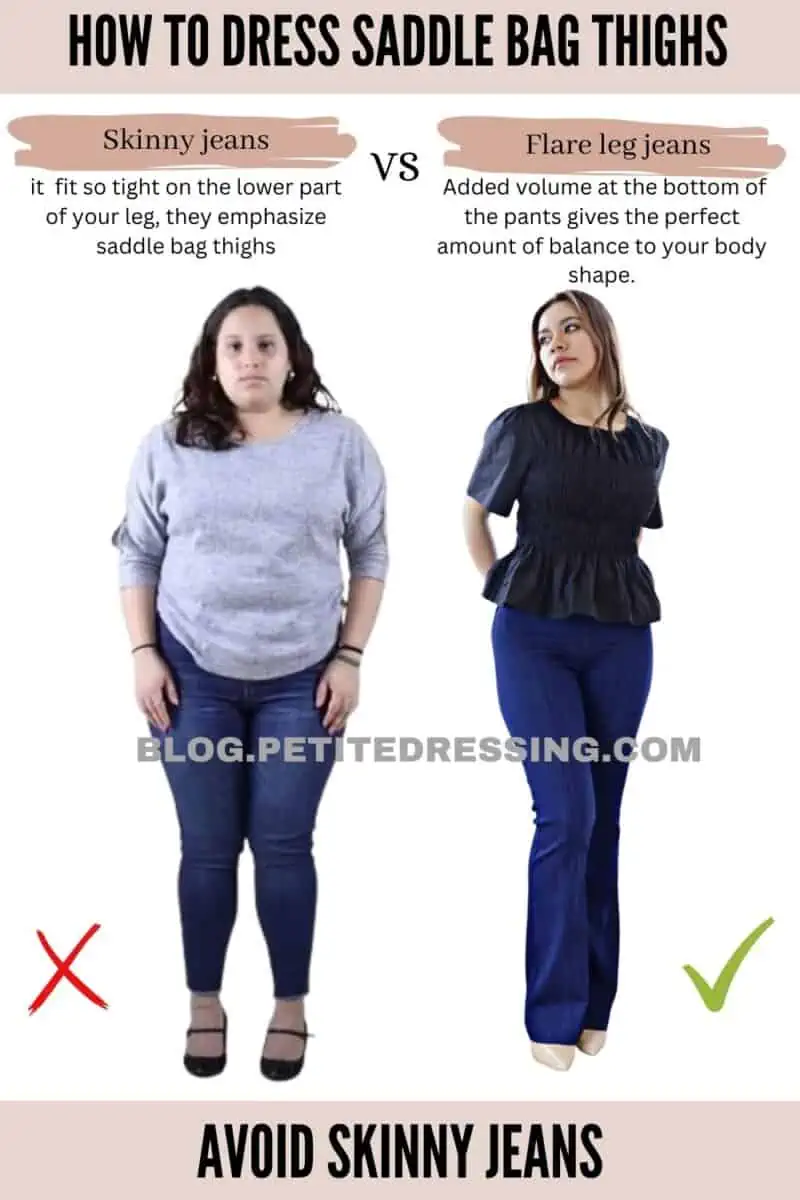 Skinny jeans is the favorite of many women, but they are the least flattering to women with big thighs and wish to camouflage them.
Because skinny jeans fit so tight on the lower part of your leg, they emphasize saddle bag thighs. Clothing that's tight on the bottom half of your body is going to do so. Stick to wide leg jeans that add more volume to your leg to balance wide thighs.
If you already own skinny jeans in your closet, instead of throwing them out all together, you can still wear them with a longer top such as long cardigan or tunic as I mentioned earlier.
Avoid short shorts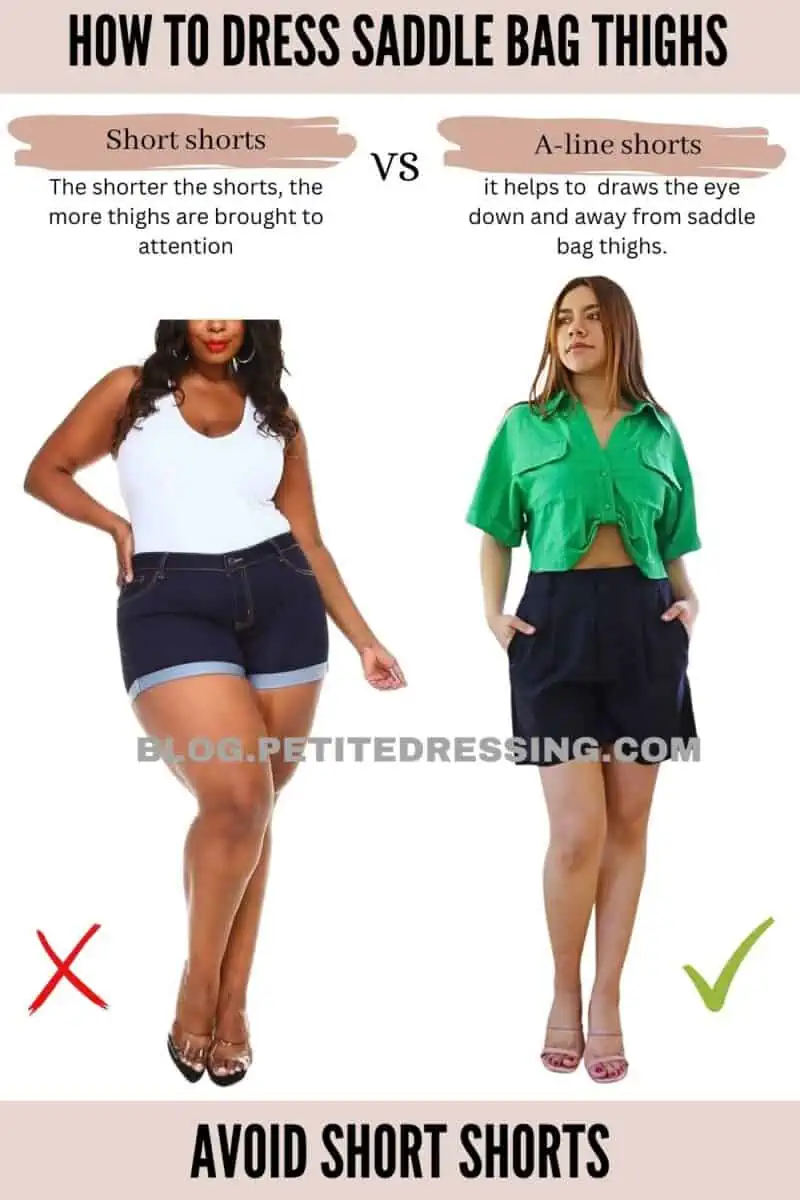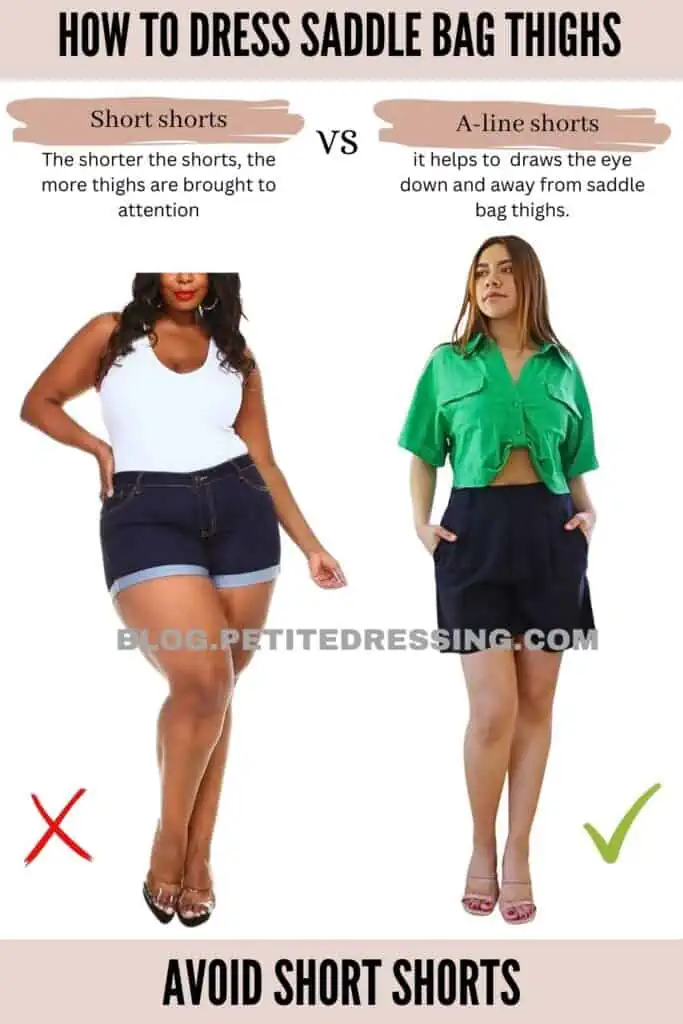 Shorts for saddle bag thighs can be a real challenge, so you need to be very strategic with the shape and in particular the length of the shorts you choose.
The shorter the shorts, the more thighs are brought to attention. This doesn't mean you can't wear shorts at all, simply stick to shorts that lay just below the widest part of your thigh. A slightly longer length draws the eye down and away from saddle bag thighs.
You also want to avoid the fabrics that cling to your thighs. Instead, go with a structured fabric such as thicker cotton or cotton blend to keep it stay in shape and avoid looking too tight on your thighs.