Denim is already popular but skinny jeans in particular are some of the most worn denim pieces by women everywhere in the world. They're versatile and can literally be worn with anything you can think of from tanks, t-shirts, kimonos, dusters, blazers, button-down shirts.
With each of the items in your closet, skinny jeans can, and should be, styled with different kinds of shoes to achieve different looks. Here are some ideas of best shoes to wear with skinny jeans to create the outfits that can easily take you from the office, the stadium to a date night.
Over-the-knee boots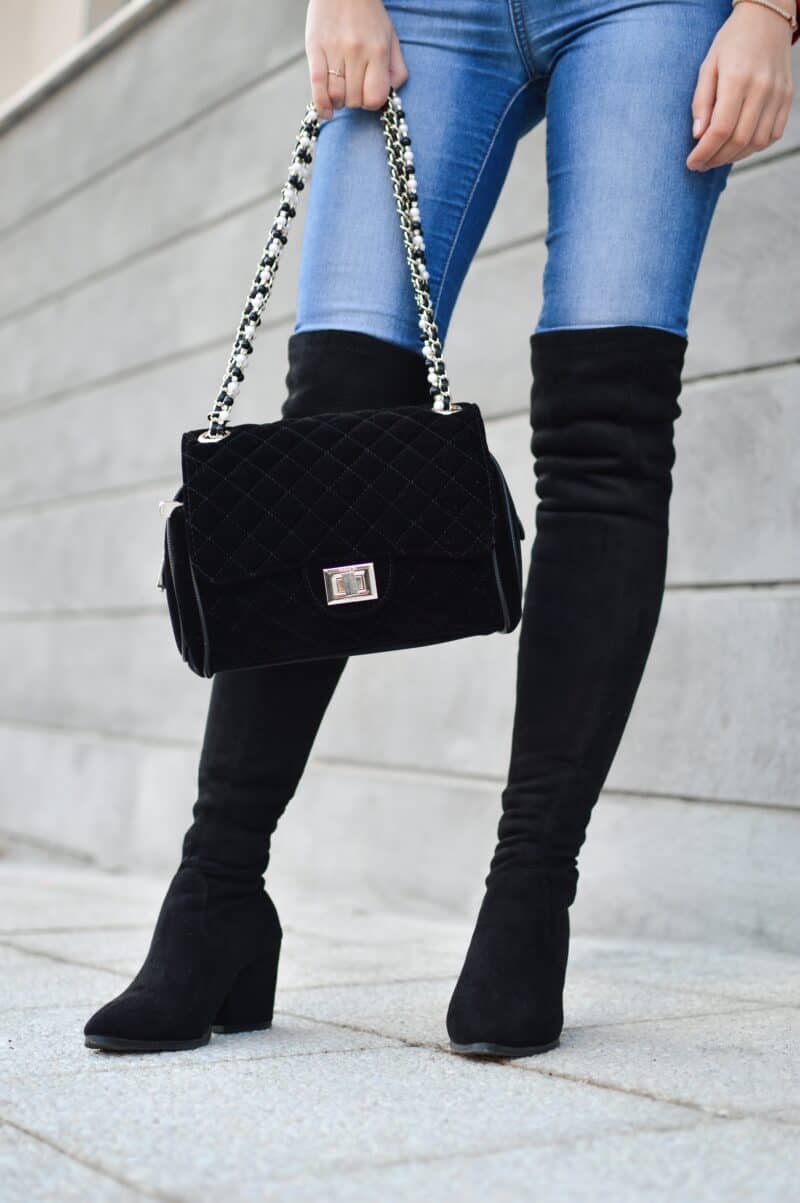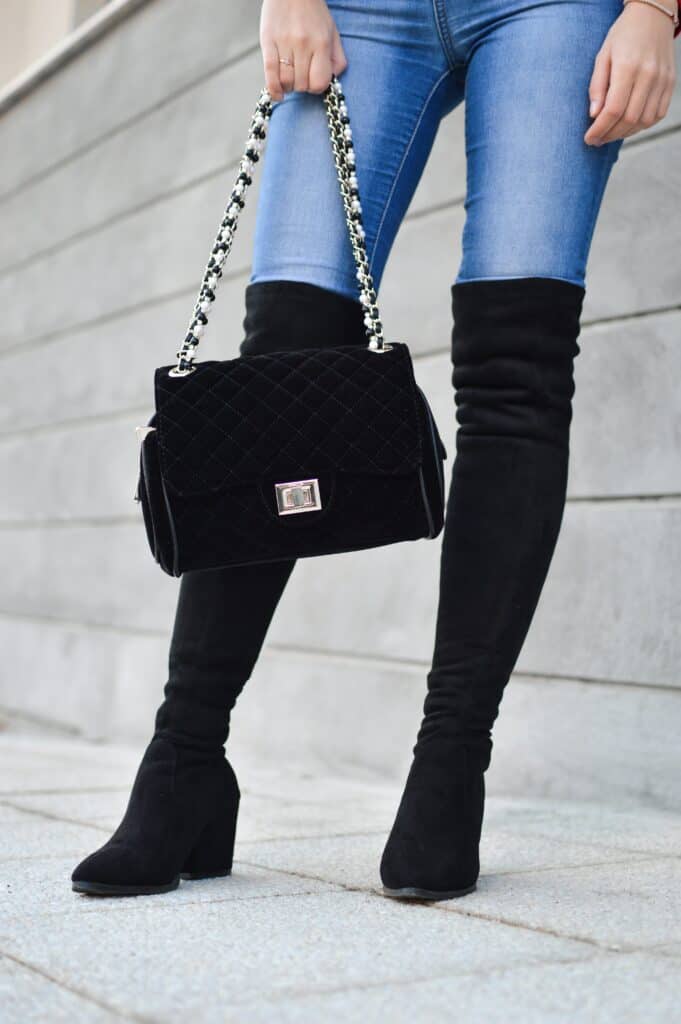 Over-the-knee boots can be very attractive especially since they follow the pattern of your legs but cover them up so what's unseen leaves a lot to the imagination. They go particularly well with skinny jeans because over-the-knee boots are supposed to be fitting.
Skinny jeans with OTK boots look great whether you choose leather, velvet ones, or any other type of material for the boots. Since skinny jeans also hug your body, they make wearing over-the-knee boots easy unlike many other pants since with skinny jeans it's almost like wearing them over your bare legs, except with some extra fabric.
Wearing dark over-the-knee boots with darker colored (like black)skinny jeans that almost match the color of your boots give the illusion of longer legs. Alternatively, you can go for lighter colored skinny jeans for that amazing contrast. Remember, you can choose high heeled over-the-knee boots if you like the idea of some extra height but they're also available in lower heels or flats.
You can wear ripped skinny jeans, which are actually a great option if you think normal ones are too plain with a pair of black suede over-the-knee boots. The blue color of the jeans and the black boots are minimalist allowing her to wear a top that's more interesting to balance out her look.
Combat boots
Normally, bulky footwear does not look flattering when paired with skinny jeans. They are mostly a faux pas but in case you're that into bulky shoes, not all is lost. You have the option of going for combat boots. Combat boots are classic so they never go out of style. They're also versatile so they go with most pieces of clothing including skinny jeans.
They're great for the fall and winter seasons and are an easy way to toughen up your skinny jeans outfit. Wearing them with your skinny jeans will give you an edgy look especially if you're going to throw on a leather jacket. They are also the easiest way to achieve that 90s grunge ensemble especially if you'll be wearing something plaid too. Combat boots paired with skinny jeans also give you a youthful look.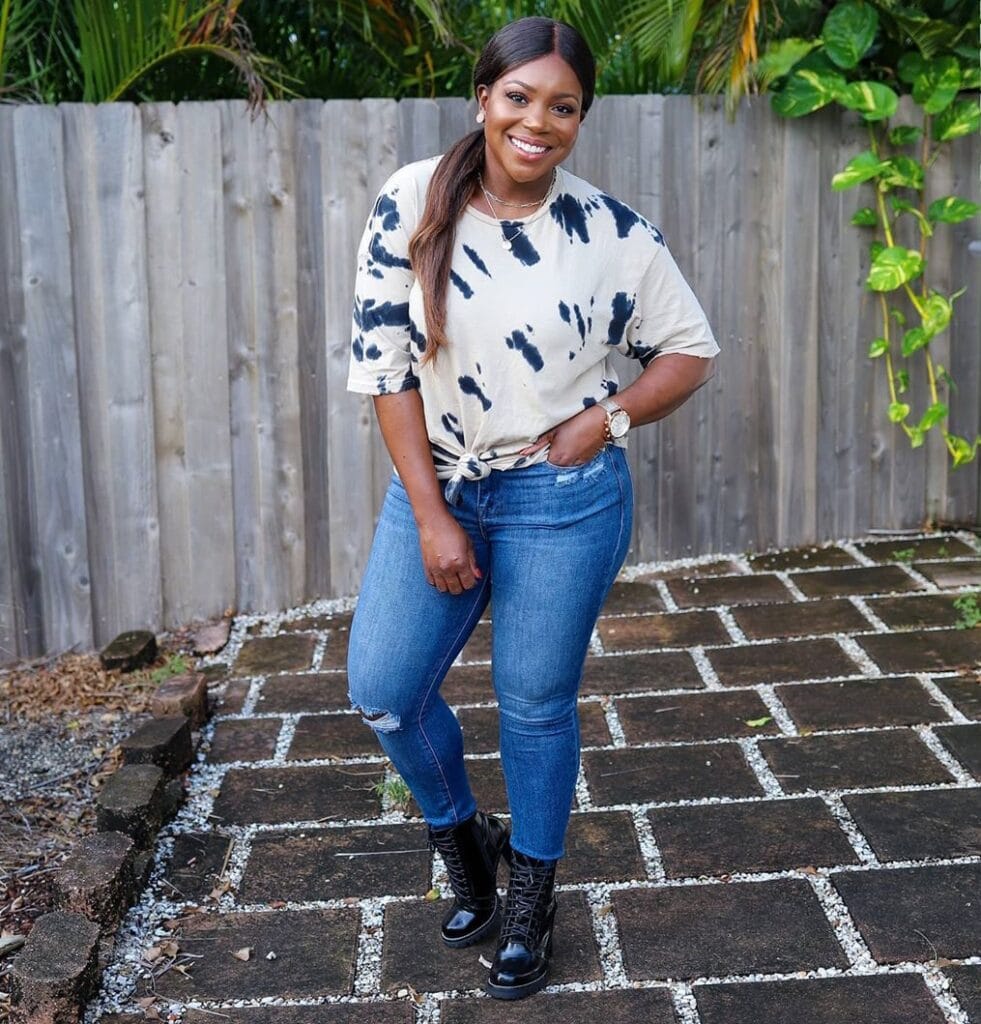 Kiki (above) styled her blue jeans with a versatile pair of combat boots. Her combat boots are actually heeled which is an interesting twist as most of the time combat boots are flat. The skinny jeans are also slightly ripped and you can also go with an oversize t-shirt slightly knotted at the front to tie the look better.
With booties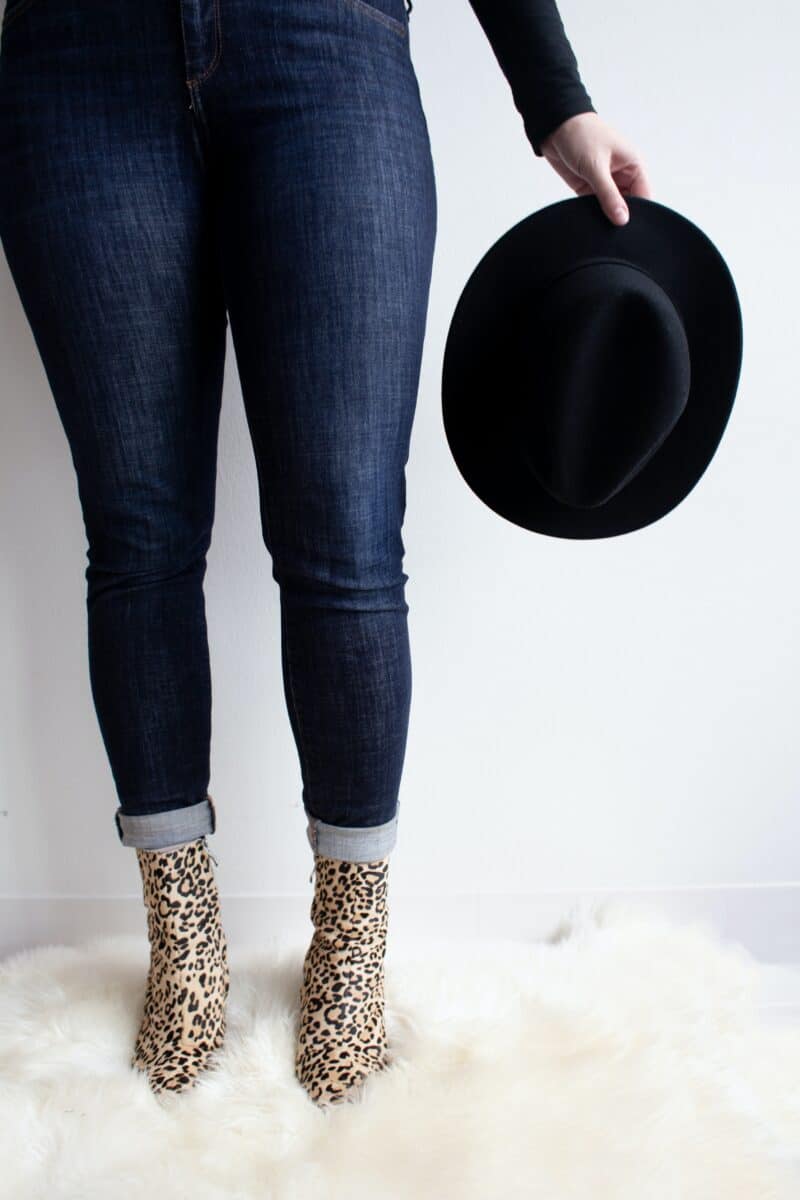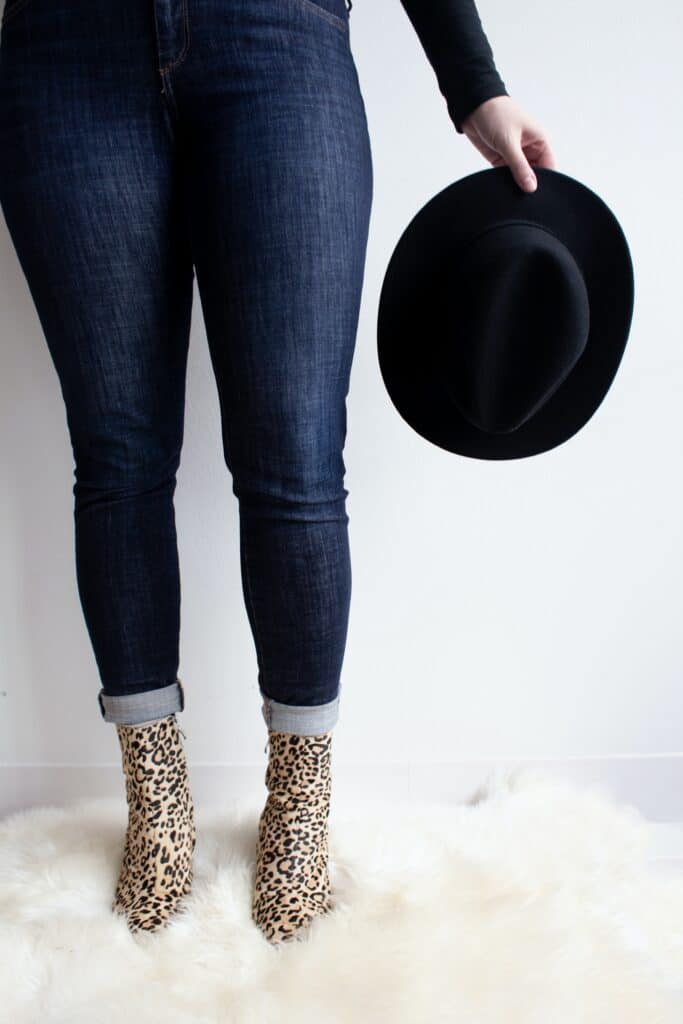 Still on boots, wearing your skinny jeans with booties or ankle boots is a great idea especially if you're not a big fan of longer boots but still want to keep warm, look edgy, and to have that elongated look for your legs. A great way to wear skinny jeans with ankle boots is to roll the jeans up nicely in case your jeans are slightly longer.
Keep the rolls nice and smooth. If you won't be rolling up your jeans then ankle-grazing skinny jeans are the best for this because going for a longer pair means that the extra material will bunch awkwardly yet you want to keep your silhouette as streamlined as possible.
You can wear skinny jeans with an animal print pair of ankle boots which are really great for fall.
The booties went well with skinny jeans considering they are dark-colored and she added a brighter sweater and a hat. It's a great way to look fun even when the weather is getting cooler or when it's literally already cold outdoors.
With stilettos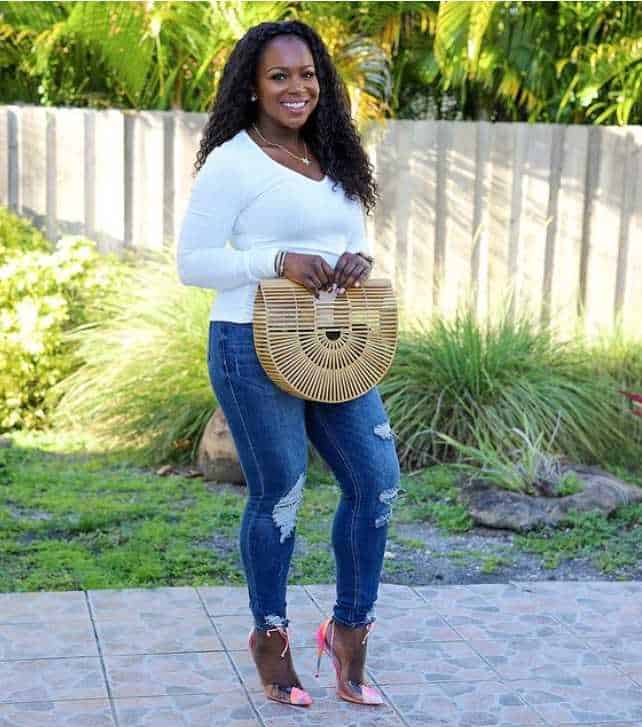 Stilettos are a great way to go if you're looking to not only elongate your body but also your confidence. They're undeniably elegant since they're made fancy and compliment your figure, especially when paired with your skinny jeans. Wearing your skinny jeans with stilettos is quite modern and timeless at the same time and it's a combination that gives you an appeal you can easily take to the office, to a party, a date, or brunch.
The best part about this pairing is that you don't need to plan or think too much as long as you maintain a consistent color scheme. Once you have your skinny jeans and t-shirt or tank on, throw on those stilettos for that extra touch of glamour.
You can wear skinny jeans neatly rolled up with a pair of snake print stilettos. Since the stilettos already make such a statement, the simple blue color of the jeans and the black tank balances the outfit. Going for a printed top would have been a bit too much because snake print is a strong print already.
With strappy heels
Should you feel like you're tired of closed stiletto pumps and could use a change, how about wearing your skinny jeans with strappy heels instead? Strappy heels are especially great during warmer months and have in some cases been referred to as the "it shoe" of summertime. Strappy heels are popular and you probably have a pair or two in your closet already. While they're mostly part of fancier looks, just like stilettos they add glamour and elegance to a skinny jeans outfit.
They're great for all body types and specifically, most foot types. Just make sure you get a nice pedicure so that your toenails look great with the shoes and ensure you get the right fit of heels so that they're not wobbly. While you can wear longer skinny jeans with them, they look much better with skinny jeans that slightly hit the ankles. If the jeans are too long, you could always roll them up neatly so that your strappy heels can be seen completely.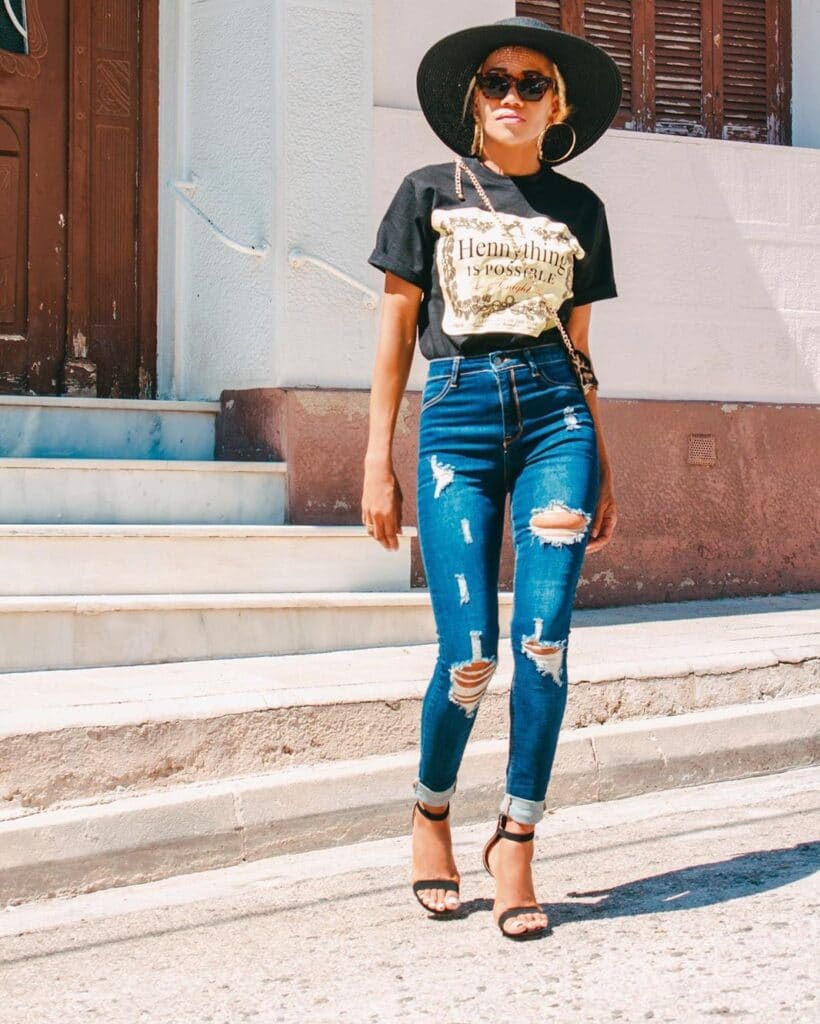 Charlotte (above) made her otherwise very casual look dressy by wearing a black pair of strappy heels. Wearing a graphic t-shirt and neatly tucked it into the jeans is a chic and easy outfit. Tucking it in was a great idea since the jeans are already rugged so the two pieces are already bold. You can also neatly rolled up your jeans, add a hat and sunnies which can give you that casual chic ensemble.
With sneakers
It's hard to recommend shoes to wear with any piece of clothing without recommending sneakers. They are the most comfortable footwear out there and can also be worn with just about anything and well skinny jeans are not an exception.
You can wear your skinny jeans with chunky sneakers for that cool look or you can go for slimmer sneakers or converse if you'd like a look that's sleek instead. They're tough and durable so you can wear them all day on many days. Sneakers with jeans will give you that casual, athletic, and relaxed look. However, you can make the sneaker-skinny jeans look chicer by throwing on a fancy coat, structured blazer, or duster.
Skinny jean-sneakers outfit is everything casual chic. The grey blazer, layered necklace, and structured bag make this otherwise sporty look very chic. The look is so well put together and would work for a date, casual Friday, or brunch.
With loafers
Wearing your skinny jeans with loafers gives you a nice casual look when the jeans are paired with casual pieces like graphic tees, denim jackets, and the likes.
Loafers are worn mostly by men however, they are a unisex type of shoes. They are not only comfortable but also stylish when worn right which is something that can be agreed on by both men and women. They don't require any tying so they're easy to get into and out of and are a great option if you find normal, closed flats too simple.
They can also give you a preppy look if you're wearing your skinny jeans with a nice shirt and sweater or cardigan. These loafers come in different colors and materials from leather to velvet, suede among many others so you have options.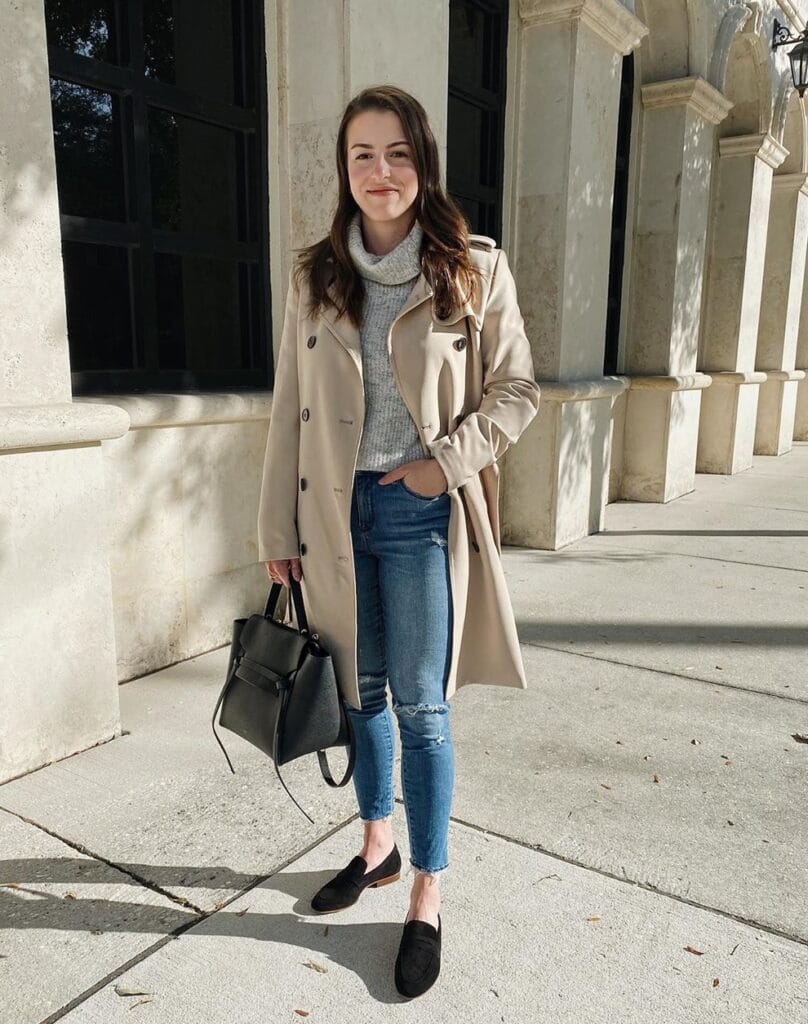 Jenna (above) wore her ankle-grazing skinny jeans with her simple loafers. This would have been a very simple look except she wore a turtleneck knit and threw a duster coat over it giving the look a classier feel.
With sandals
Skinny jeans are great all year round meaning you can wear them even during summertime. When it's that hot outside, the most practical type of shoes to go for would be a pair of sandals. Aside from the fact that they're comfortable and don't put too much pressure on your heels, they are also airy so you're feet will not be sweating in them.
Sandals are also generally great for people who are not the biggest fans of heels and go great with a nice pair of figure-hugging skinny jeans. You can go for a simple pair but if you feel like you still want to give your skinny jeans a more stylish look with flats, you could choose a flat gladiator sandal. When wearing gladiator sandals, just like with ankle boots, make sure you go for ankle-grazing skinny jeans or roll the jeans up a bit if they're longer.
With mules
Mules are those shoes that have no back or those that lack a constraint around the ankles and because of this, some people might have a hard time walking in them. However, they are a great option to pair with skinny jeans especially because they take the shape of your foot while the jeans take the shape of your body.
You can get flat mules or go for mules with heels. Whichever you pick, they are flattering. Flat mules are great for a laid back day while those with heels are great if you'd like to look fancy in your skinny jeans. You can get them in different colors too. Remember that your mules should have a snuggly fit so that they don't slide off. Make sure they're not too tight either as this could end up giving you blisters.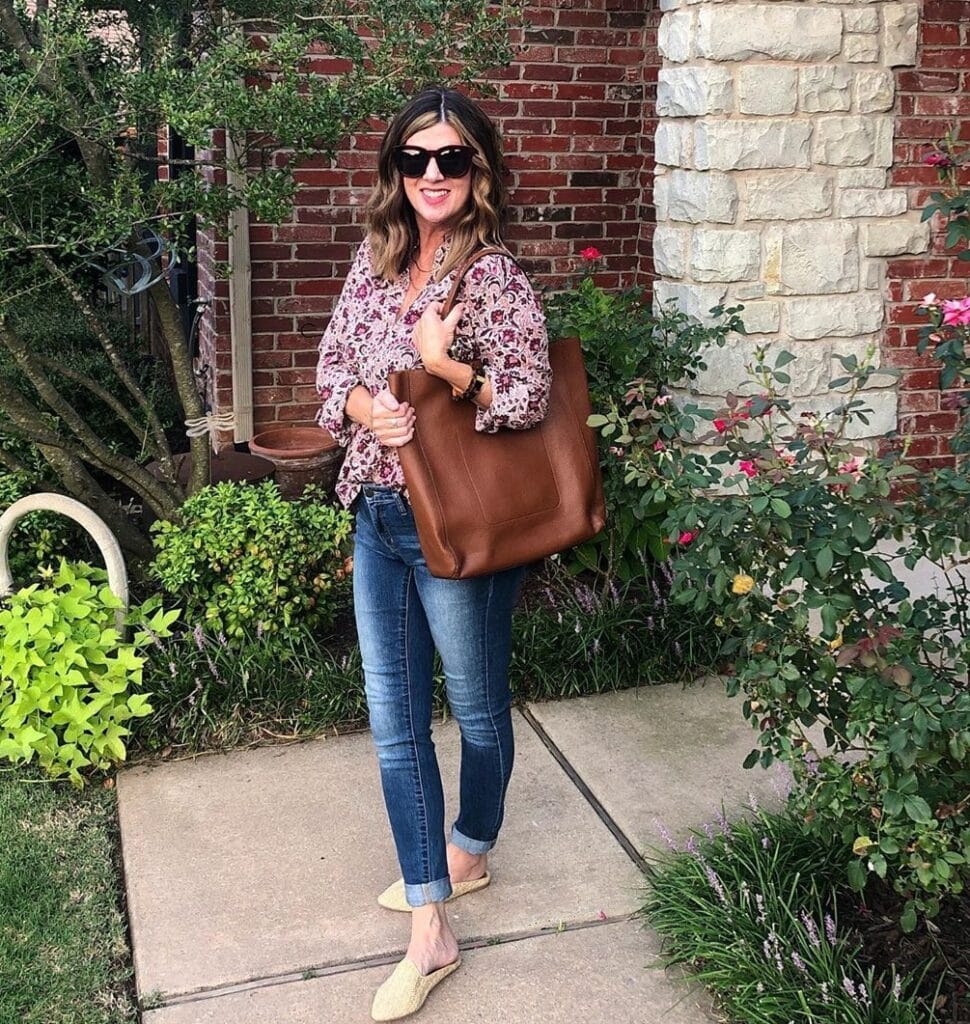 Karen (above) wore her blue skinny jeans rolled up with a pair of simple bright mules and a printed top.
With ballet flats
Ballet flats are a great way to go if you're looking to give your feet a rest or if you simply can't stand the idea of wearing high heels. Best part is, they go well with your skinny jeans whether you like to wear longer skinny jeans or those that graze your ankles just a bit.
They're a minimalist shoe meaning they will work with anything else you choose to wear your skinny jeans with be it something over-the-top or something a bit more muted. The best thing about flats though is that they're not chunky meaning even if you have to wear your skinny jeans with heels for the better part of the day, you can always stack a pair of ballet flats in your bag, change into them later and still look great.
You can choose a longer pair of skinny jeans for this look and an oversize self-tie knit. Just like hers, the ballet flats you go for don't always have to be completely black.
With Trainers
You can also pair your skinny jeans with a pair of trainers. These are one of the most comfortable shoe options out there, you can look quite chic while still being able to walk long distance. There are many different styles of trainers, all of which are designed for activities.
Depending on the season, you can wear your skinny jeans with trainers of different colors. Anything neutral such as nude or white are most versatile, because they go with skinny jeans of any color. Lighter color such as beige are must-haves for the spring and summer, when you wear lighter weight tops with your jeans. In the fall and winter, you can also go with a pair of black or grey trainers and wear them with dark washed jeans.
The options are endless when it comes to different shoes you can wear with your skinny jeans. The trick is to always make sure the colors, prints, patterns, and proportions go well together. Your shoes can significantly transform your skinny jeans look so choose wisely.