What to wear with sweatpants? If you are wondering how to look good in sweatpants, you are at the right place!
Sweatpants are essential when we are at staying at home, or work from home, especially during the extended time of quarantine during Covid 19. When we talk about sweatpants, the first thing that comes to mind is probably loungewear. It's true that most of us wear sweatpants to lounge, feeling relaxed and comfortable. That is all normal, but did you know you can have so many sweatpants outfits besides loungewear?
"Sweatpants are a sign of defeat. You lost control of your life so you bought some sweatpants", said Carl Lagerfeld.
Well, Carl probably did not foresee this scenario when we all have to stay at home and work from home for such an extended period, when sweatpants become the "go-to" outfit for most people.
The good news is as long as you use your creativity, you CAN come up with cute sweatpants outfits. So, sweatpants for sure is not a sign of defeat under this circumstance.
So, what are the best sweatpants outfit? How to choose the sweatpants for a casual but chic outfit? Let's dive right in.
Flare Leg Sweatpants
When we talk about sweatpants, most people are thinking about the track pants style. That is, sweatpants are mostly narrow leg, or tapered leg.
Well, they don't have to be!
I have found the most flattering sweatpants are the flare leg pants, especially if you are looking for cute sweatpants.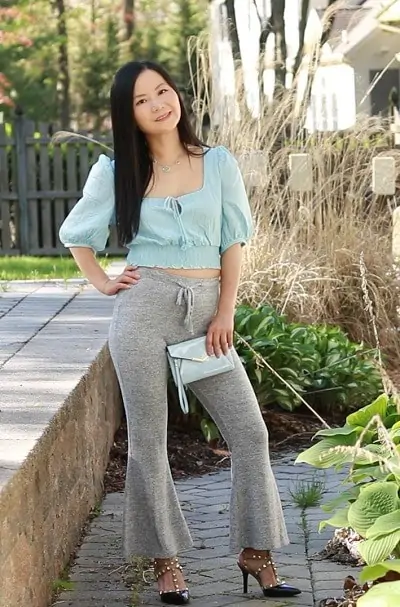 There are so many reasons that you should go with the flare leg. In this outfit, I am wearing the flare leg sweatpants and crop top, both from ASOS.
This post may contain affiliate links, which means we earn a small commission (at no cost to you) if you follow the links and make a qualified purchase, which enables us to keep creating amazing free content for you. Thanks! Click here to learn more.
For starters, if you are wondering how to make sweatpants look less baggy, you definitely need a pair of flare leg. The shape is very different than the traditional tapered leg sweatpants. These have a tailored and fitted look.
Second, these make your legs look super long! Like any other flare leg pants, the shape is tailored to be well fitted on your thighs and flare out under your knees. The design itself will make your legs look longer and leaner.
Well, you might be wondering, should you even worry about that, since you are at home anyways?
I certainly do! Even when I am at home, looking stylish makes me feel energized and I feel empowered. Fashion gives us confidence, and being at home or being in front of people does not change that.
Finally, flare leg sweatpants are very easy to style. You will notice that they go with almost anything.
High Waisted Sweatpants
Talking about how to look good in sweatpants, high waisted sweatpants are my number one choice. There are several reasons.
First, high waisted sweatpants are really trendy, especially those with a paper bag waist. So, if you are looking for a cool outfit with sweatpants, you should definitely try the high waist style.
Second, high waisted style is the number one choice for petites. I am 5'2″, so I basically live in high waisted pants. I mean, ANY pants, not just sweatpants. Because the high waisted pants extend above your natural waist, they can immediately make your legs look extended. (If you are petite, I highly recommend you also read my article on "Where to Find Petite Sweatpants")
Thirdly, if you have muffin top concerns, high waisted style is always better for you because it can cover your midriffs without you having to worry about spill over. As an apple body shape myself, I certainly understand how that feels.
Last but not the least, high waisted pants are the most comfortable sweatpants. That is critical when you have to sit down for a long time, like now. When you are working from home, you want to feel comfortable and relaxed. Nothing feels better than the high waist.
Wear a Crop Top
For a cute sweatpants outfit, a crop top is a must. When you wear a crop top, it gives you a feel of street chic. You probably have seen a lot of bloggers sharing photos like this on their instagram.
More importantly, when you wear a crop top, your proportion instantly looks better. Because the crop length divides your body into the right ratio of 1/3 on top and 2/3 at the bottom, your proportion looks ideal,
That is the Rule of Thirds. I talk about it in-depth at my new book "Petite Style Bible". In a nutshell, whenever our body is divided into thirds (as opposed to halves, or quarters), it looks most pleasant to the eye.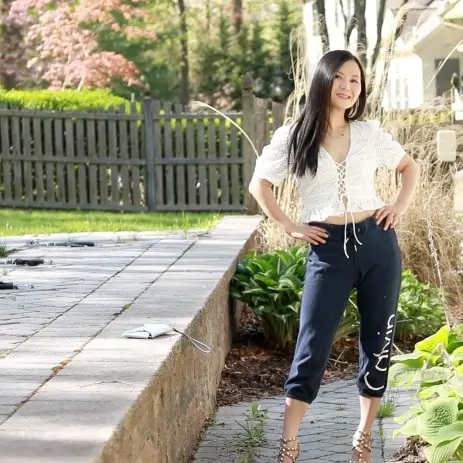 With a crop top, it does the proportion right effortlessly for you. I was wearing this crop top from ASOS in this picture.
The best sweatpants to wear with a crop top is the high waisted sweatpants. When you combine the two, you have a powerful duo that is guaranteed to make your torso look shorter and your legs look longer!
Caution, however, if you happen to be the short torso body type. The reason is the crop top can make your torso look even shorter.
Wear with Off-the-shoulder Top
Want to look feminine and stylish in sweatpant outfit? You need to try it with an off-the-shoulder knit top!
This is my personal go-to outfit for working from home.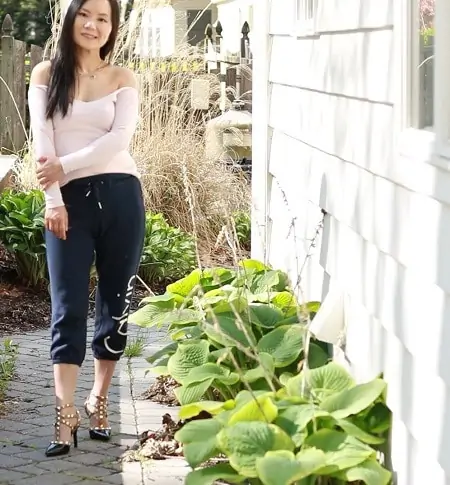 The off-the-shoulder sweater is comfortable and soft, and the best part is it looks very feminine, making the sweatpants look so much more in style.
Off-the-shoulder especially works the best in the Spring and the Summer. You can wear what you already have in your closet, if you have an off-the-shoulder knit top, or a blouse.
If you are looking to add an off-the-shoulder loungewear to your closet, then you can check out Nordstrom and ASOS.
Black Sweatpants are Must Have
Sweatpants come in many different colors. In my closet, I have cream, white, navy, black. You name it. We need different sweatpants to suit different mood and create different outfits. However, if there is only one pair of sweatpants you can have, then you probably should get a pair of black sweatpants.
The reason is they are the most versatile and functional sweatpants all around.
First, they go with anything, literally. Whatever your top is, you can throw it on and they'd look alright with a pair of black sweatpants.
Second, black is the most slimming color. That applies to black sweatpants too. Because sweatpants naturally tend to be baggy (unless you are wearing the flare leg sweatpants I mentioned earlier), the black color can tone down some of that volume.
That is especially good news for petite women, because if you are short, you never want to be expanded horizontally.
They are also great for women with bigger bottom, such as the pear shaped women. If you have the pear shaped body, you always want your bottom to be the darkest shade of your outfit.
Finally, black sweatpants can look less like sweatpants, if you know what I mean. Black sweatpants is the easiest to dress up, without making people even realizing you are wearing sweatpants.
So, what do you wear with black sweatpants? Basically, everything I mention in this article, you can pretty much with black sweatpants.
Layer Wisely
If you want to look cute in sweatpants, layering is a great way to achieve it. In fact, different outerwear can give you totally different look and feel of the sweatpants outfit.
The most popular jacket to wear with sweatpants is the denim jacket. Since both are casual, they go together seamlessly. You can combine the tips I shared earlier in this article, i.e. go with a cropped length jacket and wear it with a high waisted sweat pants.
Second, you can also wear sweatpants with any sweaters to create different looks. For instance, I was wearing a wrap sweater with sweatpants. The wrap style gives it a feminine touch and makes it more chic.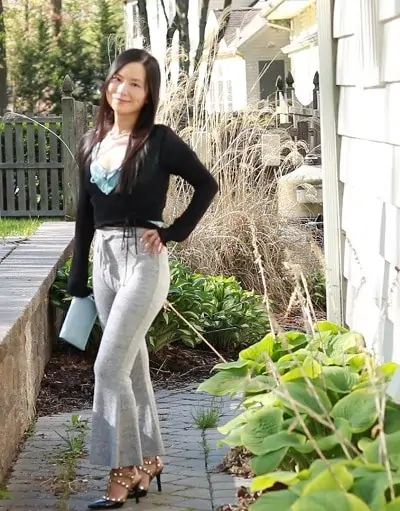 You can also wear it with a cardigan. When the weather gets a little colder, adding a cardigan to the sweatpant outfit is a great way to stay warm and comfortable. Even in the summer, if you feel a bit chilled in the air conditioned room, have your favorite cardigan can totally do the trick and gives you a different look of the sweatpants.
Be as creative as you can with the jacket or sweater you wear with the sweatpants- that is the easiest way to give your sweatpants outfit a new look!
Create Different Looks with Heels
Now, let's talk about shoes. These are critical when it comes to cute sweatpants outfit. In fact, what shoes you wear with the sweatpants set the tone for the entire outfit!
Most naturally, we tend to wear sweatpants with sneakers and flats. That is very understandable. After all, our number one goal with the sweats is still to feel comfortable and cozy.
If you need to get out of the door and run some quick errands, what shoes should you wear with sweapants? For instance, if you need to go to the grocery market real quick, you probably want to quickly switch your sweatpant outfit into something you wont' feel embarrassed about, if you happen to run into your neighbor.
Can you wear sweatpants with heels? That might sound a bit surprising to you at first, but once you try it, you will see how good they make your sweatpants look and you will not stop.
So, throw on a pair of heels, and you will notice the feel of the entire look switch instantly!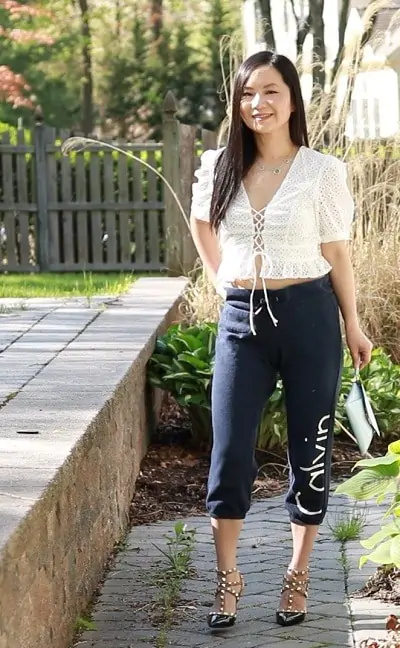 Well, you don't have to wear stilettos, if you are just going to run some errands. But you can consider wedges, or kitten heels, for a chic outfit. These shoes look great with sweatpants, but they are still very comfortable to walk in. Double win!
When you add a pair of heels to the sweatpants outfit, you are ready to go anywhere. Not just the grocery stores. Celebrities even wear them to formal parties, so you can definitely wear them to different occasions, too.
Accessorize it
Last but not the least, how you accessorize the sweatpants outfit can completely change the whole look of yours.
I am talking about jewelries, belts, hats, bags, and any accessories you can think of.
If you are ever wondering "should I even bother with accessories? They are just sweatpants…" I am not surprised, if that is how you think. Because that is how most of us think!
However, once you try to accessorize it a few times, you will be able to see how your outfit can instantly change when you add the right accessories.
Feel free to put on your necklace. Something that is good for a causal look, and not too formal. Think choker, for instance. A necklace or earrings will finish the outfit with an elegant touch.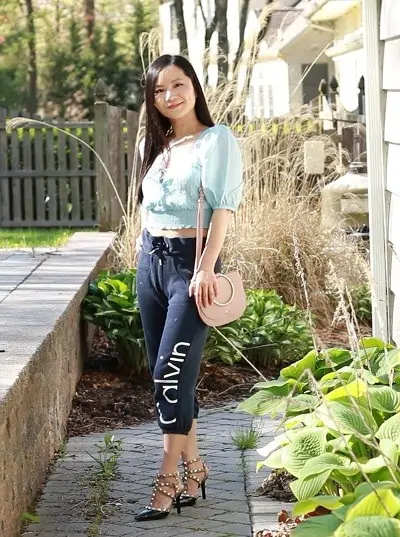 I was carrying a small purse, something the size of a change purse that I can bring if I go the grocery shop. The size and look of the purse is fashionable, and that gives the sweatpants outfit a very feminine and chic look.
You can also try any of your cute straw bags, cross body bags, etc, with your sweatpants. Don't be afraid to use bold colors for your bags, because those can definitely make sure your sweatpant oufits are not plain by making them much more interesting.
Avoid Sweats Combo
Finally, I want you to use caution, if your go-to outfit is a sweatshirt with sweatpants.
First, I want to make sure you understand I am not against you wearing sweat pant with sweatshirt. After all, that's probably most of us wear, especially if we are just staying home and not going anywhere.
What I mean is if you wear sweatshirt with a sweatpants, that is the look for the college dorm, or a gym outfit, at most. Nothing wrong with that, but it's just a bit…blank.
If you are looking for a more sophisticated sweatpant outfit, then avoid wearing the them together. Instead, wear the sweatpants with a cute top (cropped top or off-the-shoulder knit top, or any other top you like), like I mentioned earlier.
With all of these tips and outfit ideas I shared in this post, now you know exactly what to wear with sweatpants and create so many different looks!