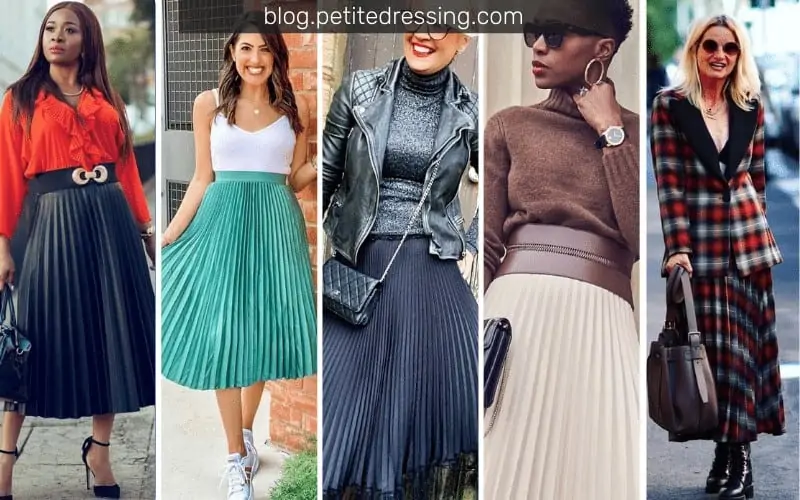 Pleated skirts are one of the hottest trends that has been in the center stage of fashion trends in recent years. If you're looking to step out looking all feminine, this is one of the best options. They are classic pieces that suits women of all age and body type.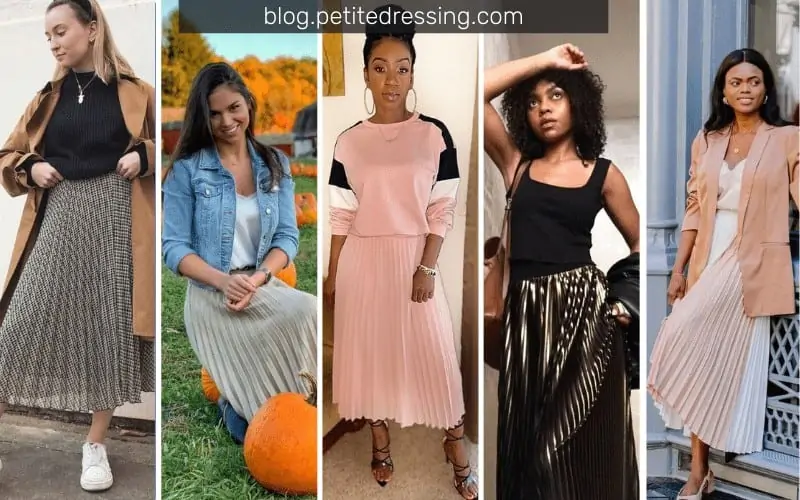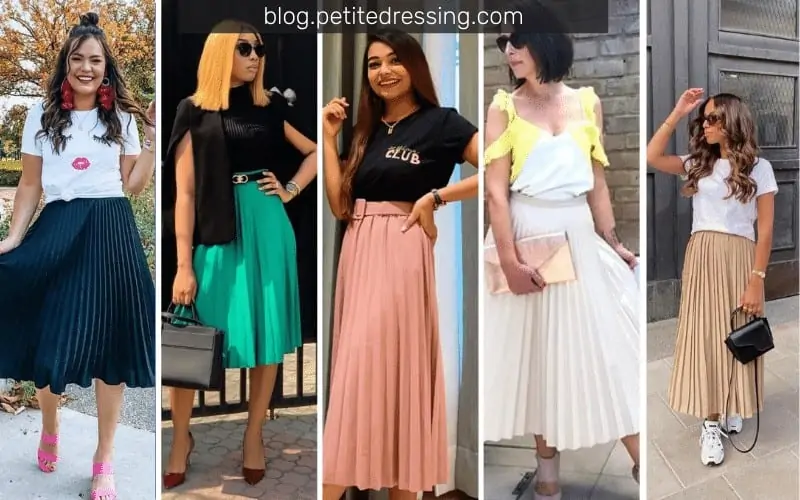 You can style them in a variety of ways which makes them versatile. Here's some of the best outfit ideas on what to wear with a pleated skirt: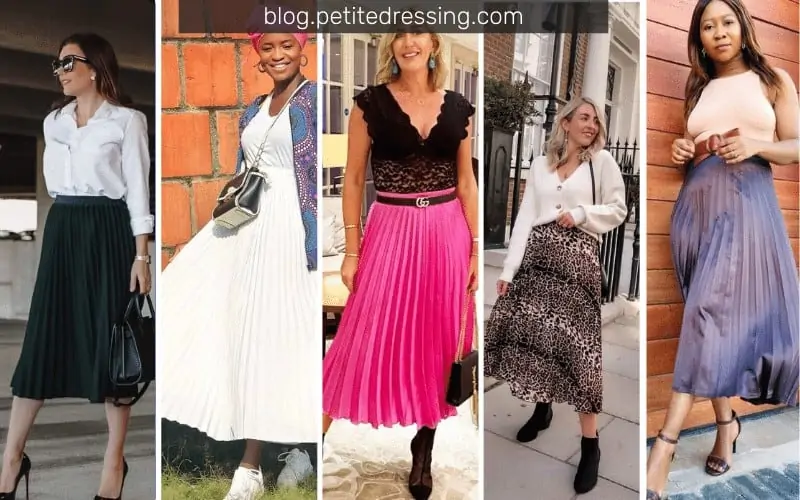 With a leather jacket
Leather jackets, especially cropped ones, go really well with pleated skirts.
Leather jackets are classic pieces that have been and will be around for years. They instantly elevate any outfit, whether formal or casual.
If you love a monochromatic look, then the easy outfit is to wear a black leather jacket with a black pleated skirt. This look is leg elongating, great outfit for anyone who wants to look taller and leaner.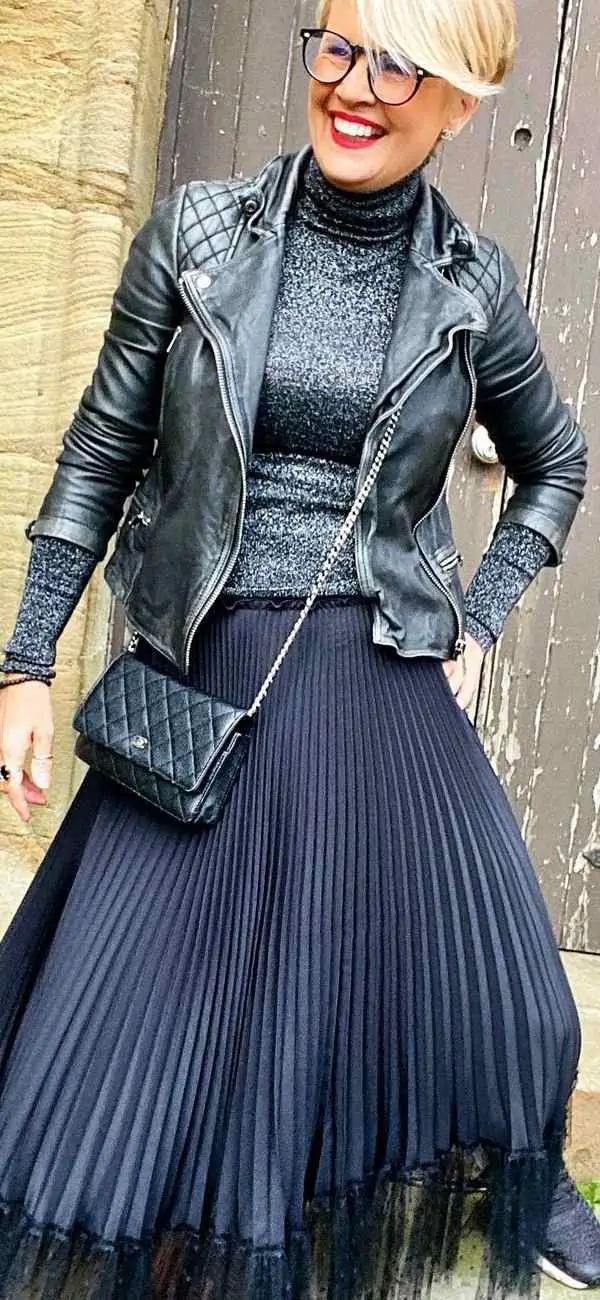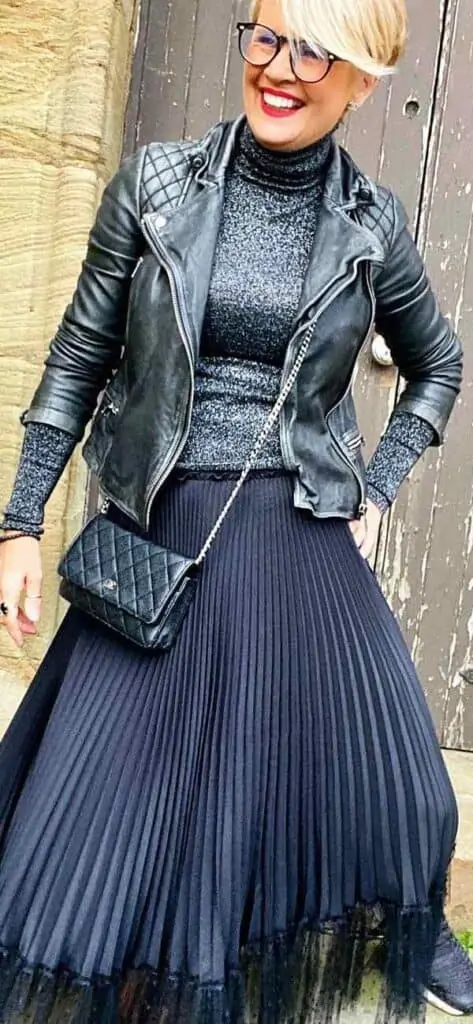 Marie (above) styled her pleated skirt with a black top and leather jacket, but you can always play around with different colors.
While she completed this look with some sneakers, you could always finish yours off with strappy sandals or heels, for a more polished look
With a pullover
Wearing a pleated skirt with a simple pullover is a minimalist and classy outfit suitable for women of any age and body shape.
Pullovers make great outfits for work, school or literally any occasion. A pullover can be styled with a number of items in your closet, for example a pleated skirt. Not only is this outfit instantly chic, it is also warm, perfect for colder weather.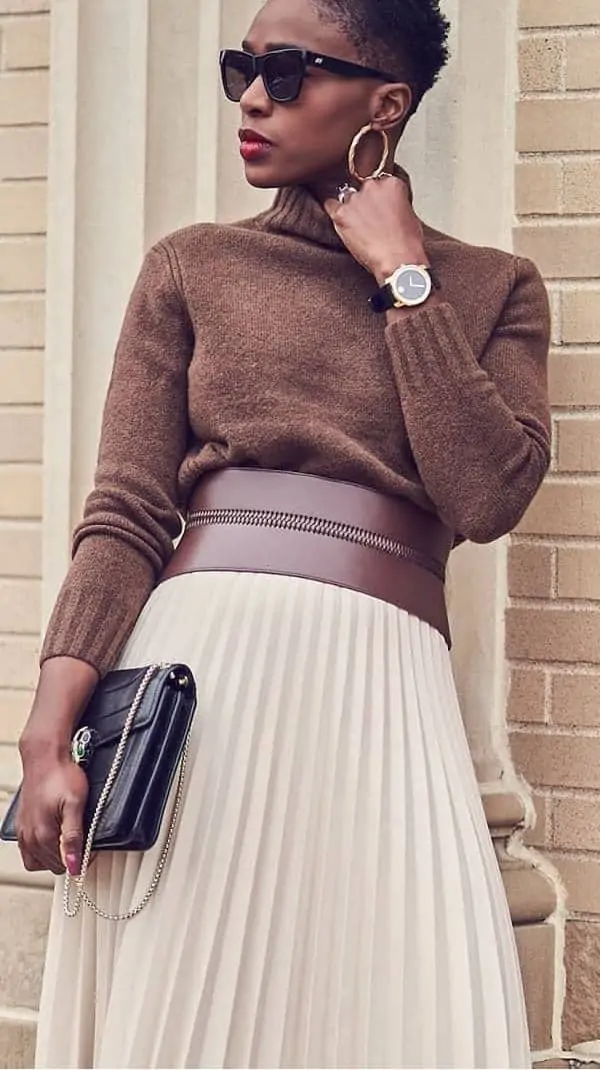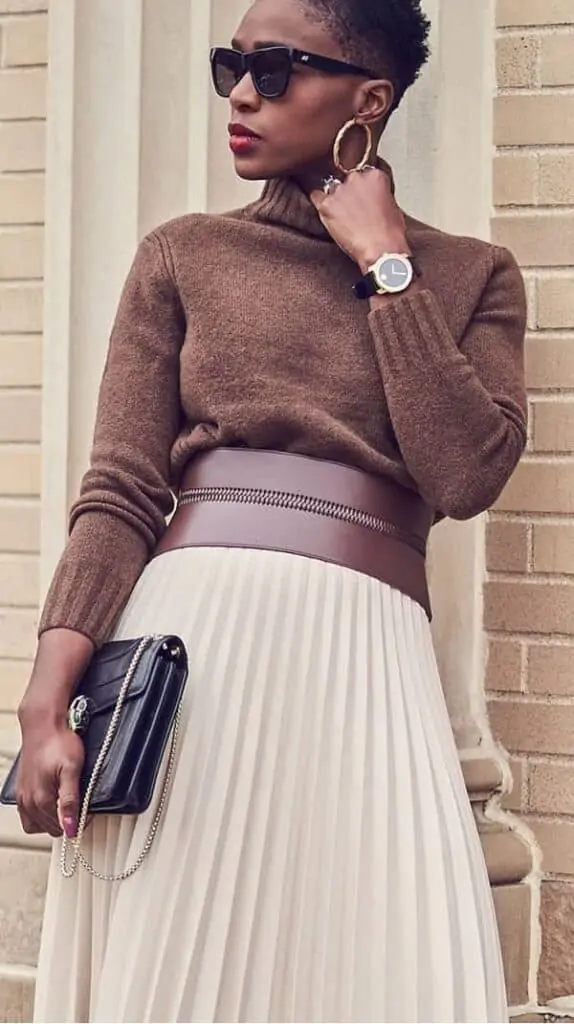 Farotelle (above) styled a brown pullover with an off-white pleated skirt for that office chic look. You can always tie a belt for this combination, whether a waist belt or a skinny one.
With a bodysuit
Wearing pleated skirt with a bodysuit is one of the best ways to rock two trendy pieces which are both ultra feminine.
The best thing about a bodysuit is that it does not untuck when you sit or stand, making it an amazing piece for a clean look. They are highly versatile and comfortable, available in different styles and sizes. One of the bottoms you could style your bodysuits with include a pleated skirt.
Since bodysuit is always tucked in, it gives you a lot of freedom to choose the length of the skirt. Literally pleated skirt of any length could work with this look. Whether your skirt is knee length, below the knee, above your ankle or even maxi length, they will look nice and chic once you wear them with a bodysuit.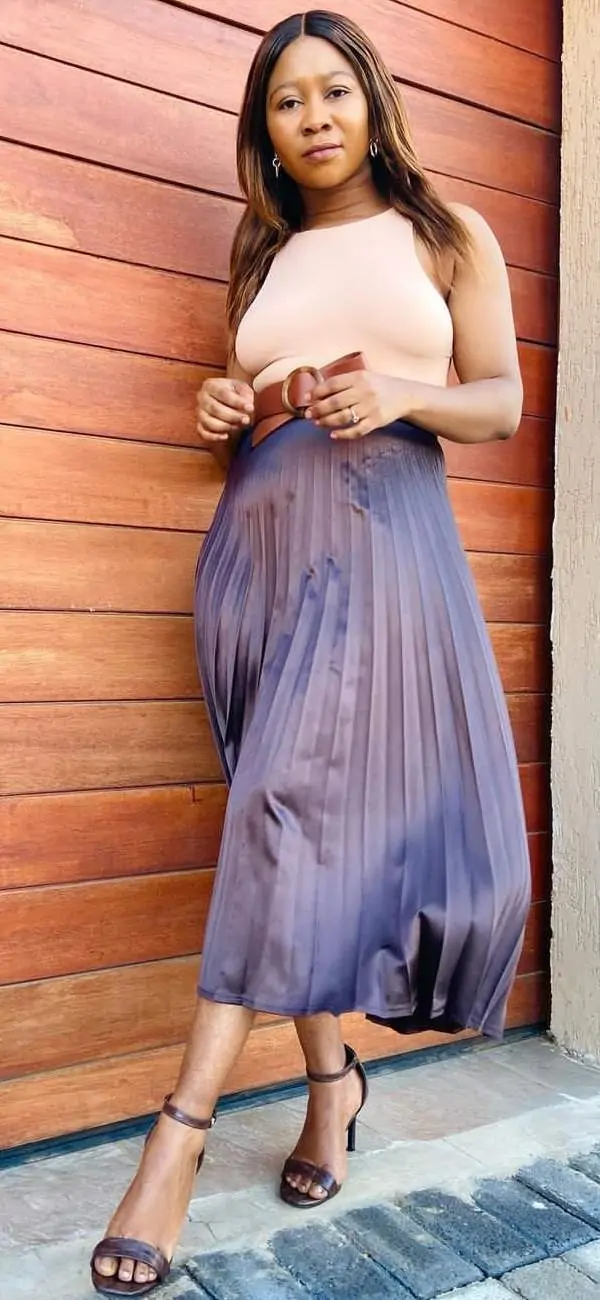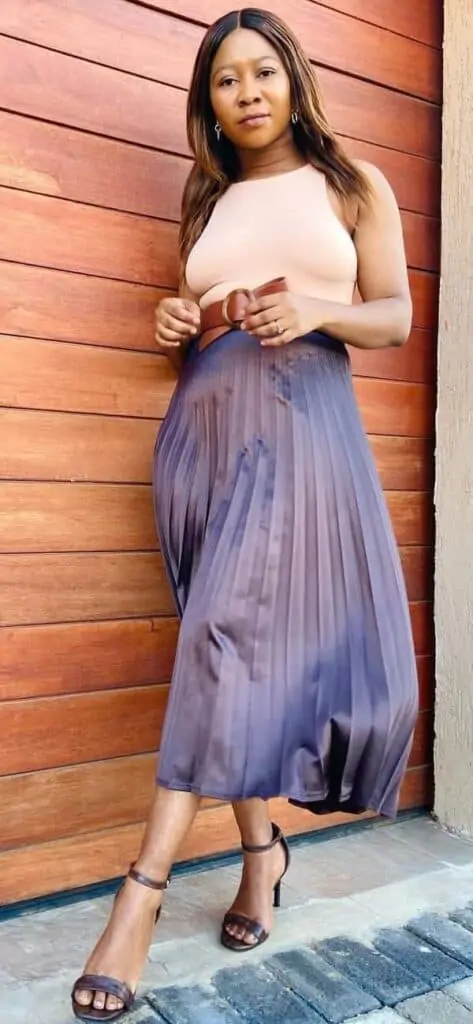 Lola (above) styled her halter neck bodysuit with a pleated skirt and a pair of strappy heels. She accessorize the look with a belt.
With a denim jacket
Wearing a denim jacket with a pleated skirt is a nice way to have your pleated skirt looking more casual.
Denim jackets are not only easy to wear, but they are also very versatile. They can be worn literally throughout every season of the year. If you don't own a few pieces already, you should get a couple in different denim wash, because you will get a lot of use out of these.
You can wear denim jacket with a pleated skirt, a cami and some ankle boots. This combination is a great blend of both edgy and more feminine pieces.
With a white button-down
Button-down shirts look amazing with pleated skirts for that effortlessly chic Audrey Hepburn vibe.
A white button-down is really a must-have, and is that one piece that can dress up any kind of bottom. They can be worn casually or can be part of a more dressed up look.
This combination allows you to play around with different shoe styles. If you put on a pair of kitten heels, you are ready for work. For a formal event or a date night, just switch to a pair of stilettos and you will instantly get a boost for your height and style.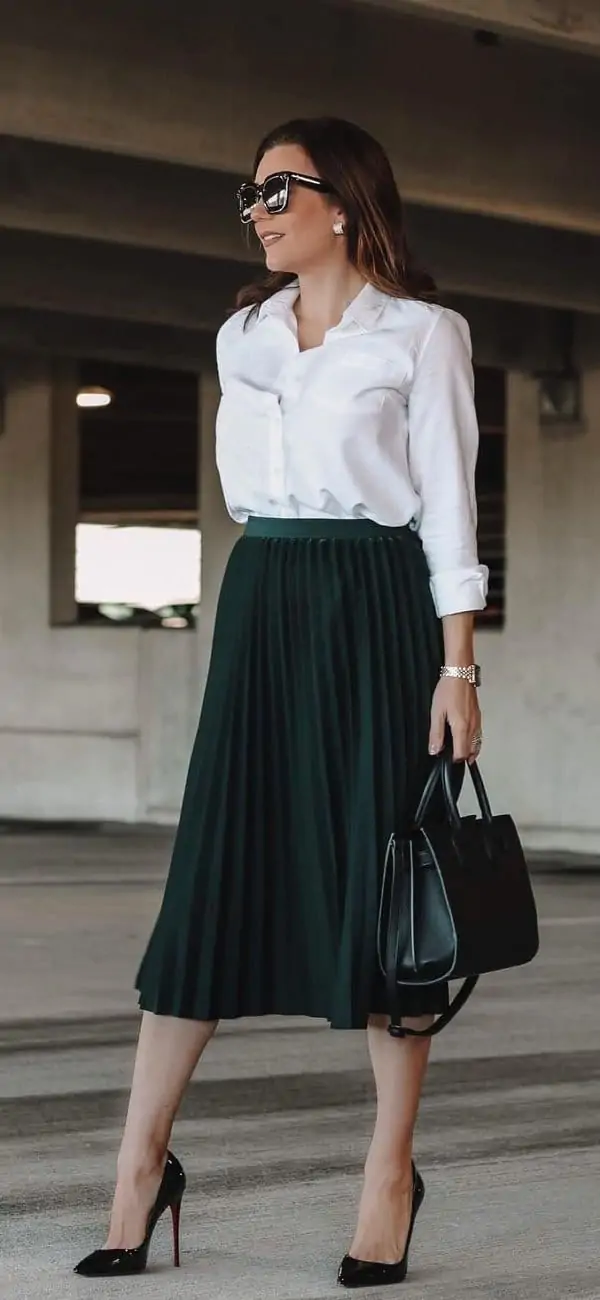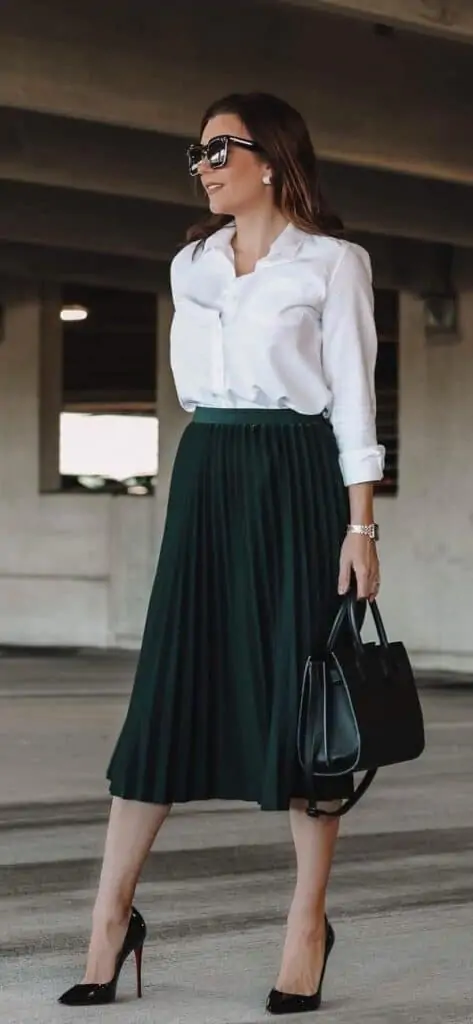 Nicole (above) wore her white button-down shirt with a pleated skirt and a pair of stilettos.  
With a cami
Camis actually make wearing pleated skirts so easy because they are minimal in style.
Camis are great feminine pieces to wear outdoors, especially if it's hot outside. They are also easy to layer, because you can also wear them underneath any outerwear if it's cold. They can be worn with a variety of things that you might already own in your closet, including a pleated skirt.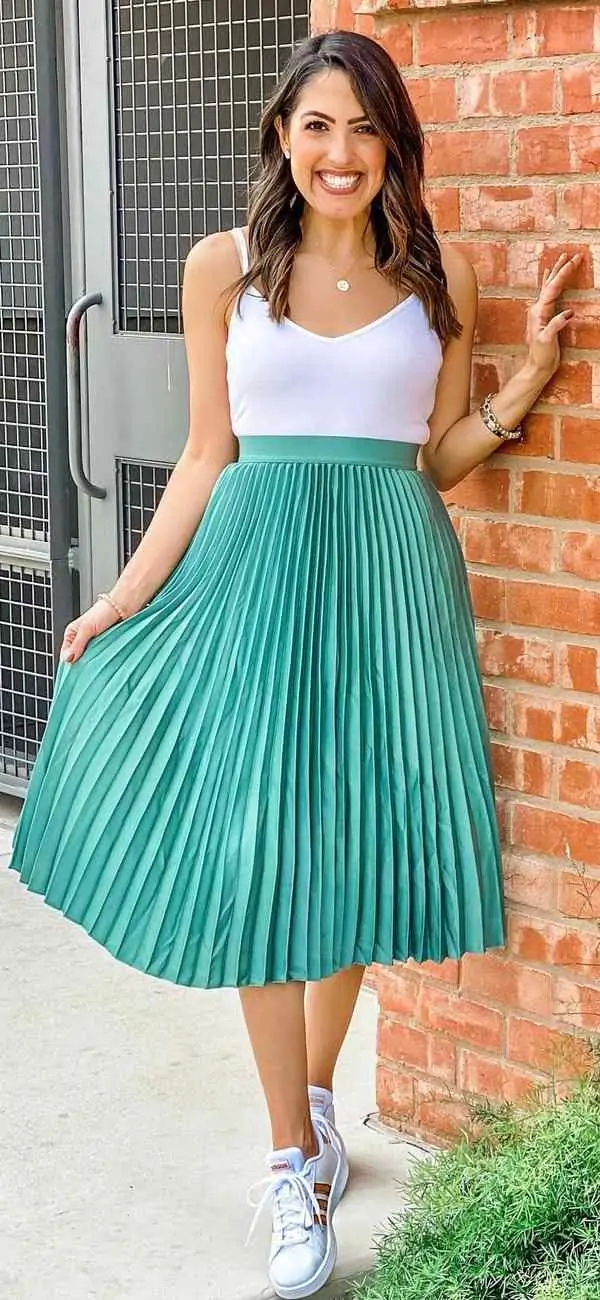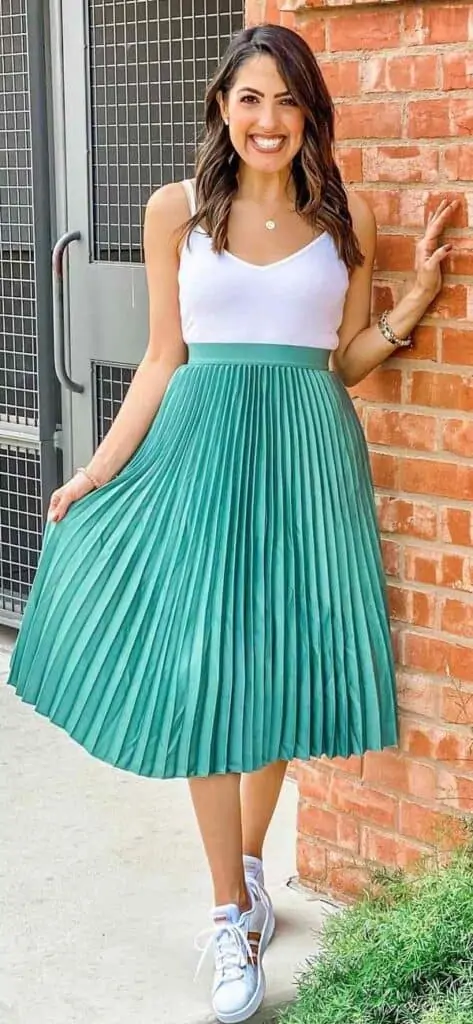 Sasha (above) styled her white cami with a pleated skirt and a pair pof sneakers. It's a simple look that can be dressed up by switching the sneakers with some strappy heels or some closed high heels.
With a graphic t-shirt
Graphic t-shirts are often bold and make you stand out from the crowd. They are a method of self expression through art on clothes. You might be used to seeing graphic t-shirt worn with jeans or pants, but these t-shirts can be styled with pleated skirts too for a dressier look.
Since the top is mostly casual while the skirt is innately feminine, your shoes can determine which direction to go. i.e. this outfit allows you to have fun with different shoes for different looks. Want a casual and laid back look, sneakers will work. For a polished and dressed up look, strappy sandals are perfect.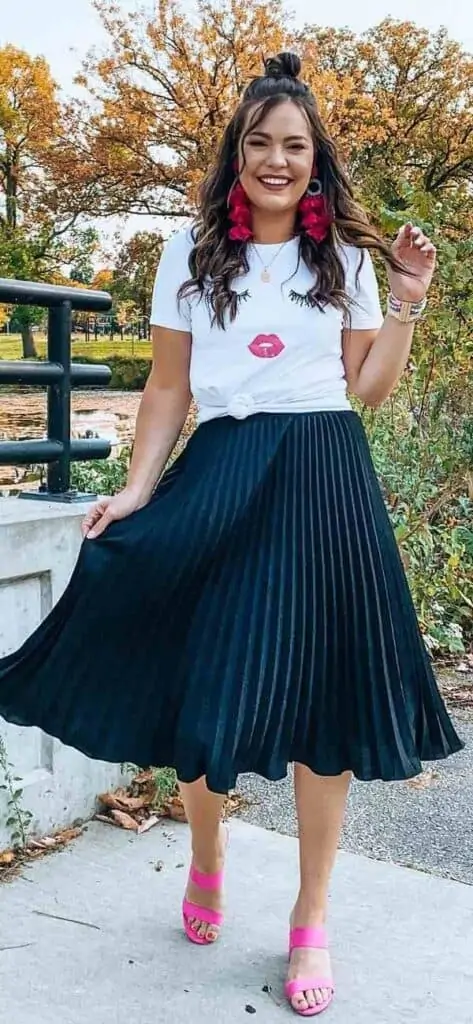 Kelsie (above) styled her pleated skirt with a white graphic t-shirt and a pair of strappy heels. She chose the classic colors black and white for her pairing, but you can go for other well-coordinated colors.  
With a coat
When you top your pleated skirt outfit with a coat, that adds the lady-like finished touch instantly.
Coats are known to make one look chic. Available in a variety of colors and fabrics, coats are also functional in colder weather. Luckily, with so many great coat designs that exist, you won't have to worry about them hiding your perfectly created outfit of the day.
For such a look, it's worth ensuring that you get a coat that goes well with the colors you're wearing underneath it. If your skirt is long, you should wear a longer coat that covers most of your skirt.
Your choice of shoes should be coordinated with your choice of the coat. If you are wearing a well fitted wool coat that is quite structured, then your best option is to wear a pair of pumps or ankle boots. If your coat is relaxed fit, then casual footwear like the sneakers or flats work wonderfully.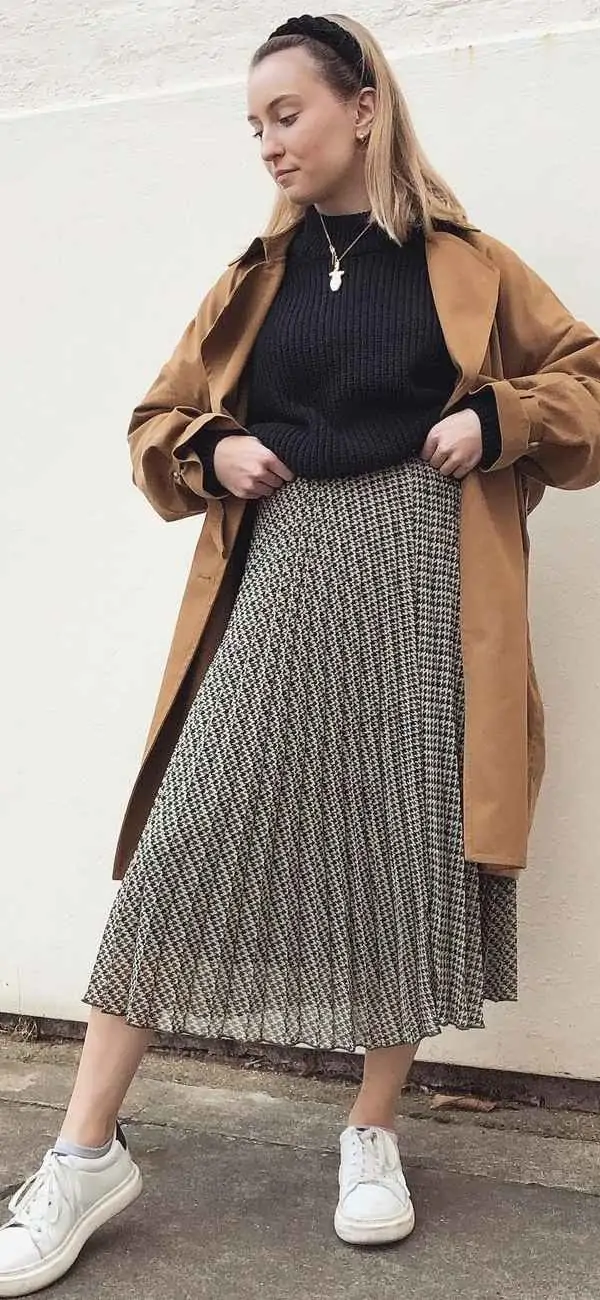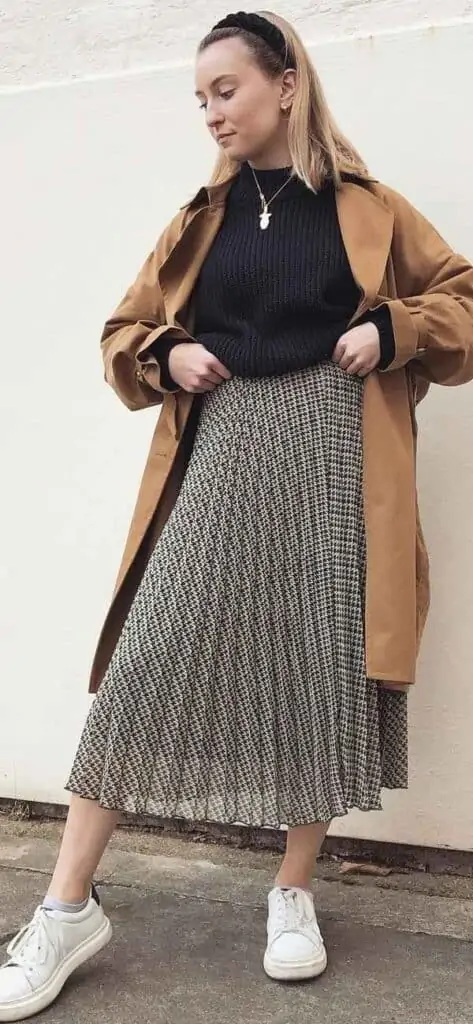 Alice (above) styled her coat with a printed pleated skirt, a simple top and some sneakers.
With a message t-shirt
You can wear pleated skirt with a message t-shirt for that fashion forward look.
A message t-shirt, just like a graphic t-shirt allows you to express yourself, and your thoughts, but through words this time. They are comfortable just like any other t-shirt, as long as you're careful with the colors you pick.
If you're going for a message t-shirt to pair with your pleated skirt, blacks and whites are particularly easy to style, as they just blend with everything.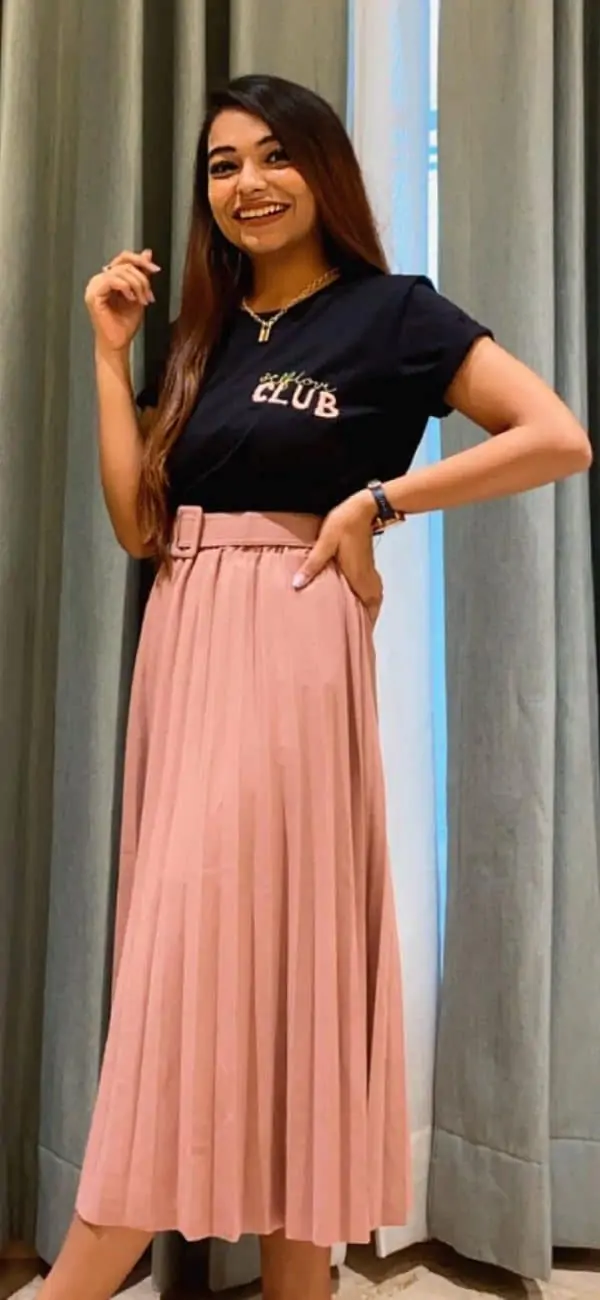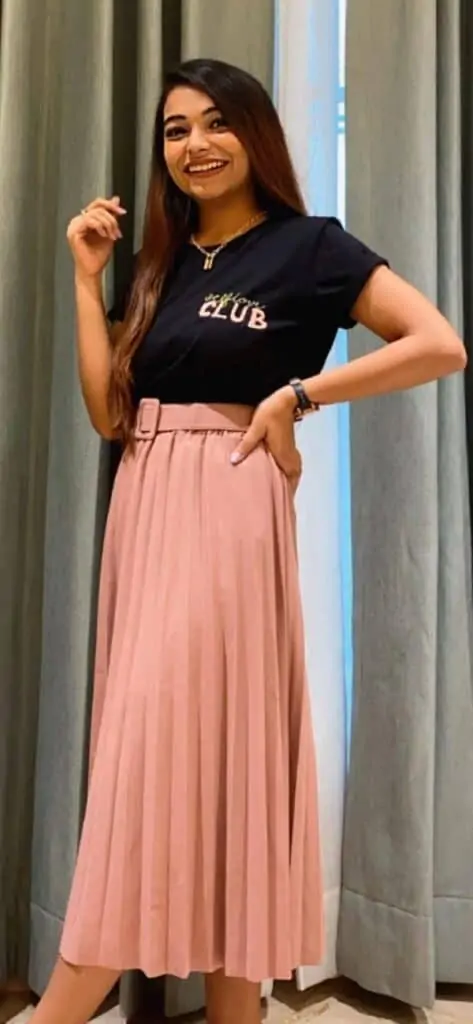 Shivani (above) styled a black message t-shirt with a pink pleated skirt.
With a blazer
The surest way to look classy or office-ready might just be by wearing a blazer with your pleated skirt outfit. These wardrobe pieces are meant for any woman regardless of their age, shape or size and can be worn with different items such as a pleated skirt.
You can always leave your blazer unbuttoned or instead, button it up and belt it to cinch your waist further.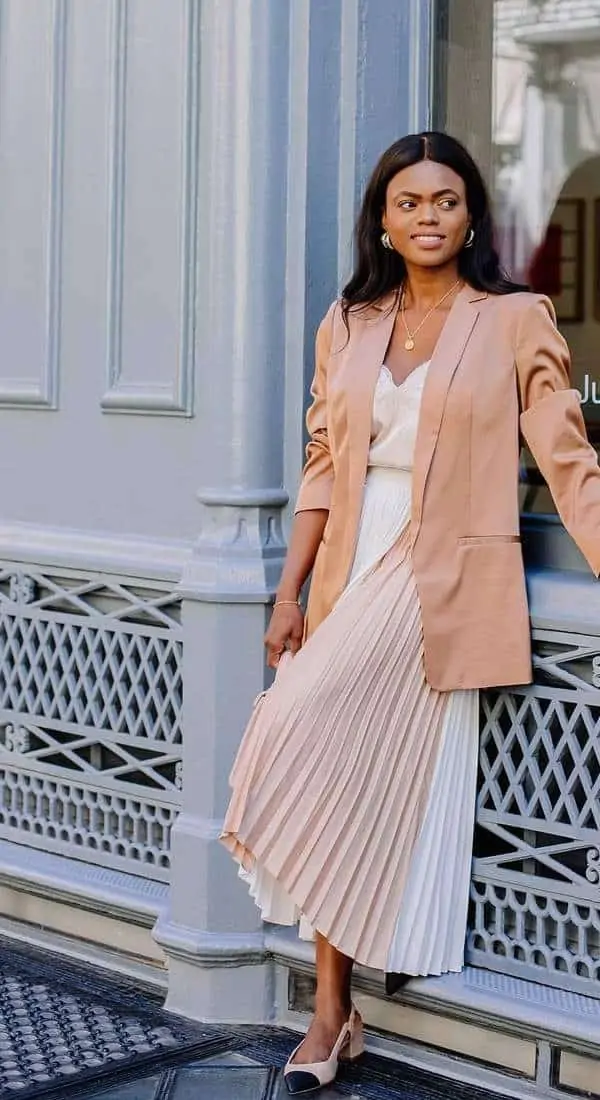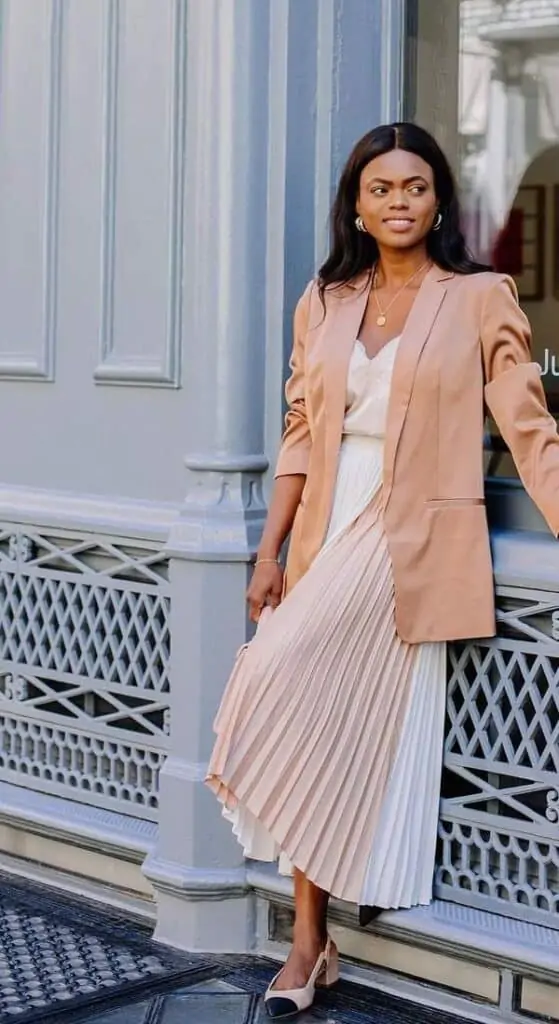 Rose (above) styled her blazer with a cami and a pleated skirt for that chic look.
With a blouse
Wearing blouse with pleated skirt is a classy combination that can never go wrong for any occasion you need to feel a bit dressed up.
A blouse is great, whether you're after a feminine look that can take you to the office, or if you just want to style up a casual outfit. It can be a statement blouse or one that's simpler. You can also choose a blouse in different fabrics such as silk or cotton.
When you throw on a pair of heels, this is a look that works for an office setting, client meeting, date night or any other formal gathering.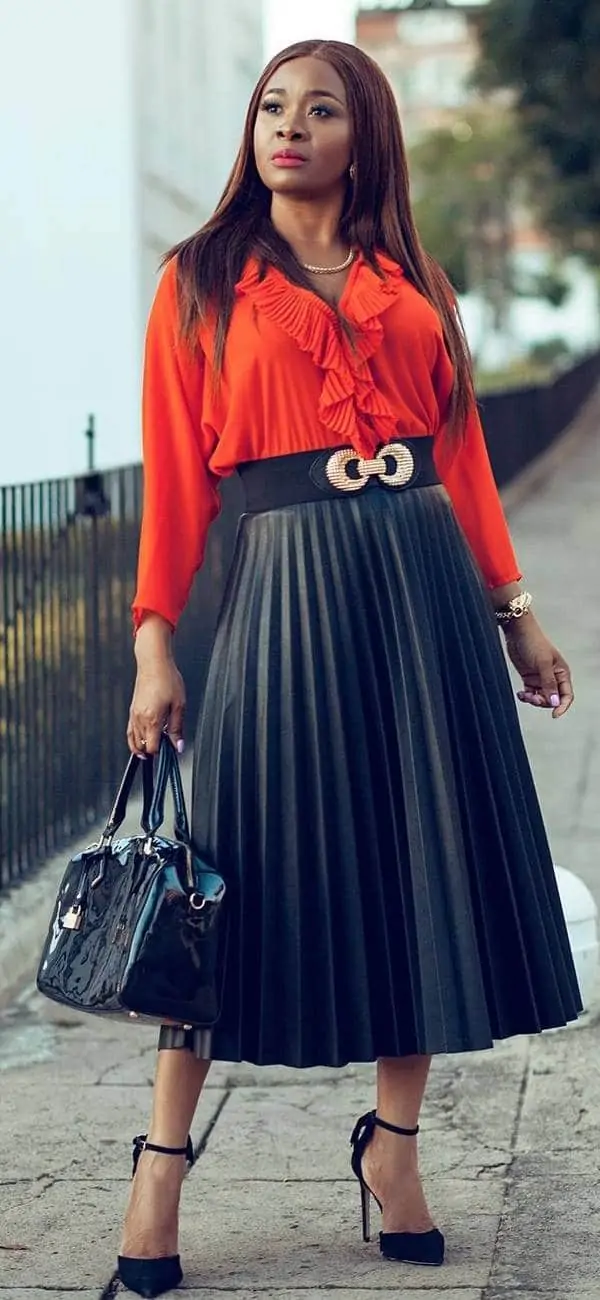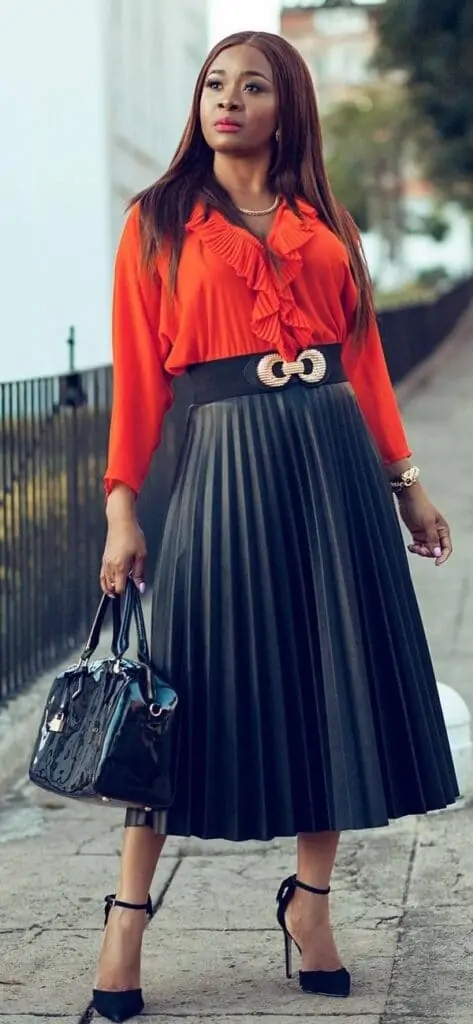 Mariza (above) looks very chic in her ruffled blouse and black pleated skirt and then wore a pair of ankle strap shoes.
A cardigan
Wearing cardigan with a pleated skirt is a classic staple for the transitioning weather in the spring or the fall, when the temperature is somewhere in between hot and cold.
Cardigans, aside from being very feminine and cozy, can be very stylish. Besides, they come in a variety of lengths from knee length to short ones. They can be worn buttoned down or unbuttoned with your pleated skirt to give you warmth and style at the same time.
The other great thing about this pairing is that it looks great with any type of footwear you can think of, especially if the footwear is by no means chunky.
A white t-shirt
You can wear a white t-shirt with a pleated skirt for a casual chic outfit.
White t-shirts are a must-have because they can save you on any day. They look good with anything and you can never go wrong with a clean and crisp white t-shirt.
It's a simple casual chic combination and remember, as long as your white t-shirt is plain, you can literally wear any type of pleated skirt out there in different colors too because white is neutral.
With a matching jacket
If you love the idea of a suit, then it's worth getting a pleated skirt with a matching jacket to go with it.
It's a simple pairing, considering you don't have to think much about what to style it. This is an outfit that goes a long way in making you look rich and classy.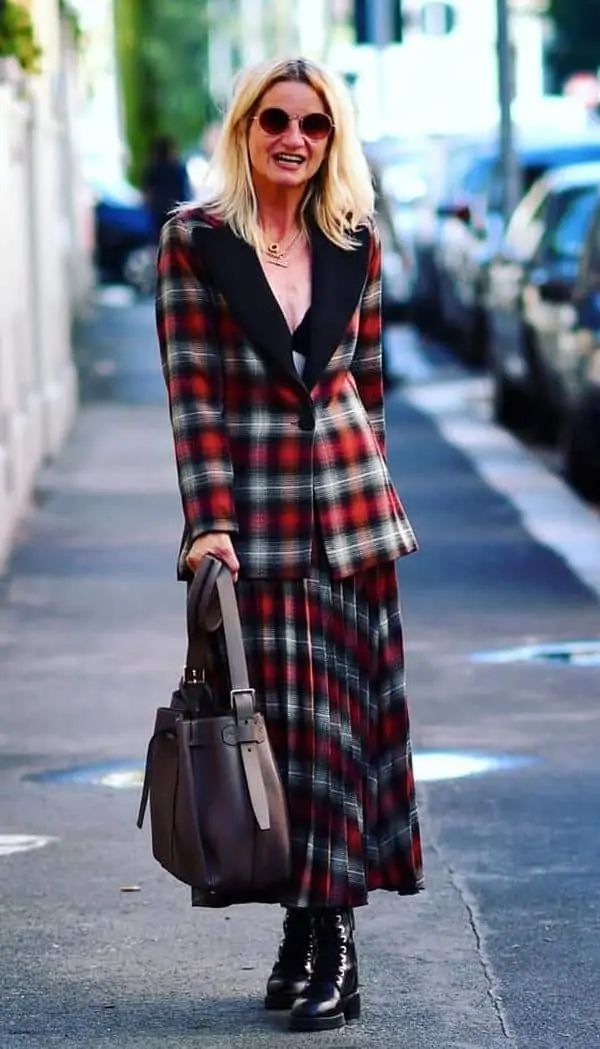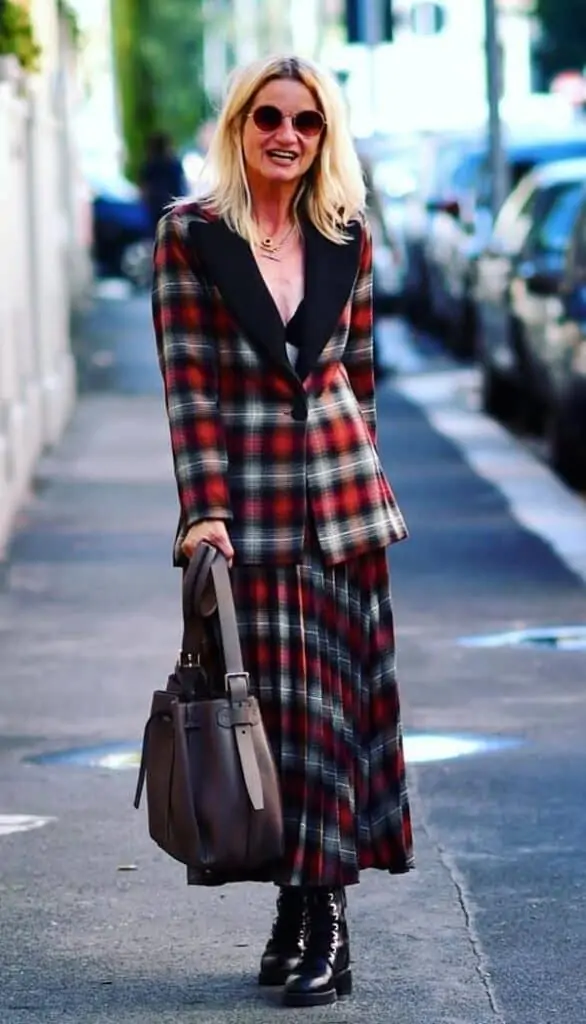 Yvonne (above) styled her plaid pleated skirt with a matching blazer and then went for a white blouse underneath.
When you go for this pairing, you don't have to wear such a long pleated skirt, as a shorter one will do as well.
With a cape
If you love blazers, then you most likely also love capes. Capes are not only chic and stylish, but also allow you to wear both long and short sleeve tops underneath. They can actually make your pleated skirt look event ready, especially if you pick a black cape.
With a tank top
A tank top is another easy-to-wear piece that can go with everything you own. They go well with pleated skirts, particularly if you wear colors that blend well together.
The key is to choose a tank top that is well fitted. Anything baggy will not fit the feminine vibe of the skirt.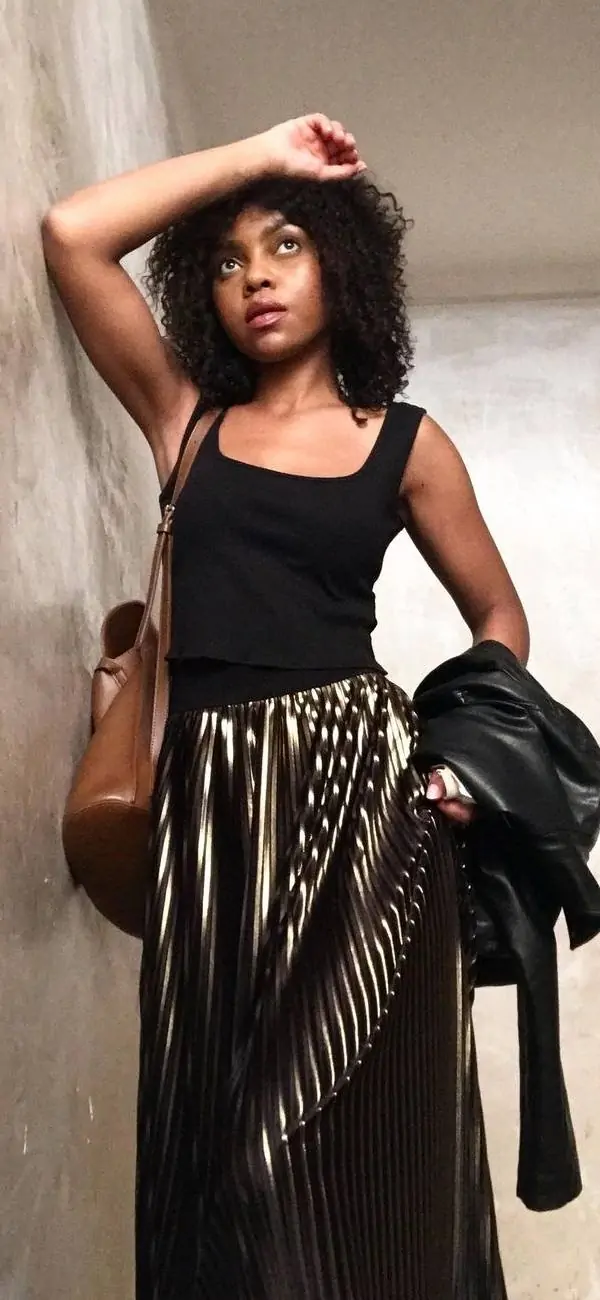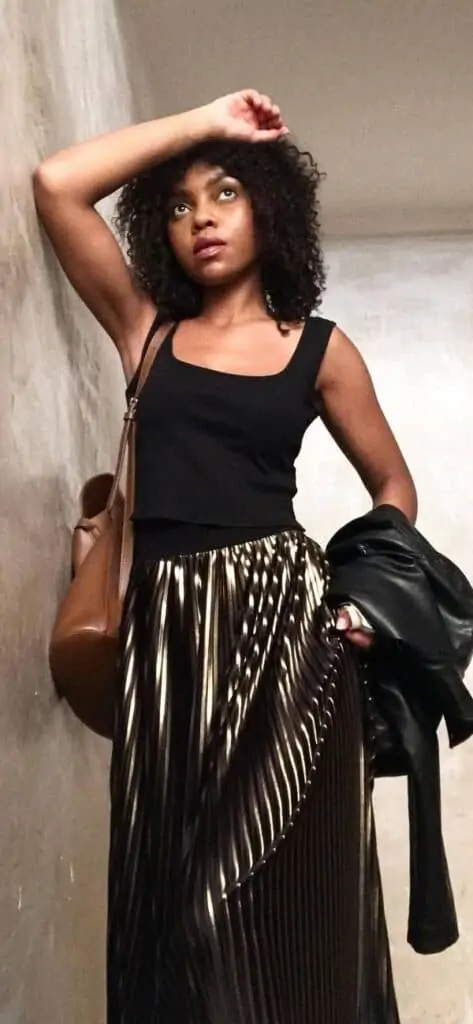 Florence (above) styled her tank top with a pleated skirt. Seeing how simple and well fitted tank tops usually are, a pleated skirt of any length will work with it.
With a sweatshirt
If you want to get more creative with your pleated skirt outfit, sweatshirt is a great option to venture out.
While sweatshirts were initially meant to be worn as loungewear or just for sporting activities, they can be styled with different skirts just like pleated ones to give you a more girly or feminine look that you can step out in.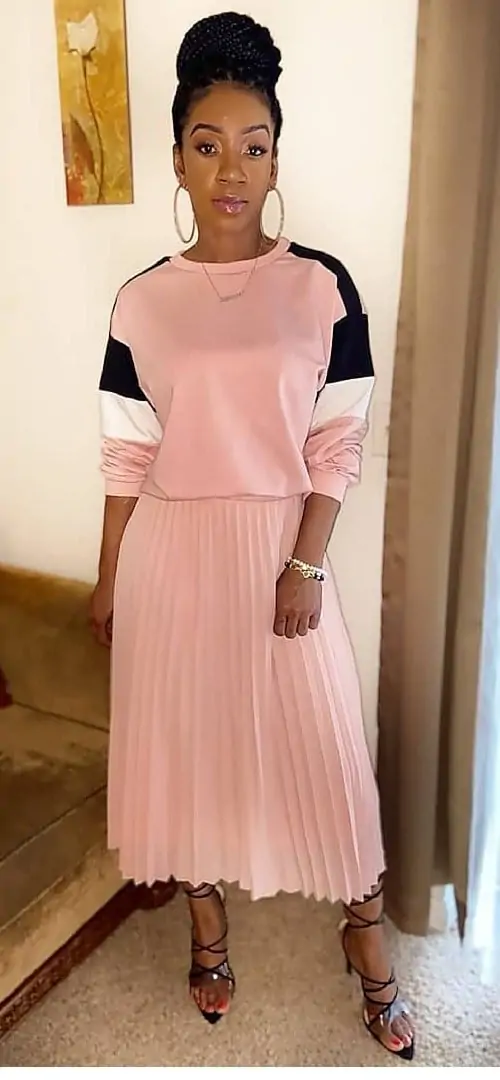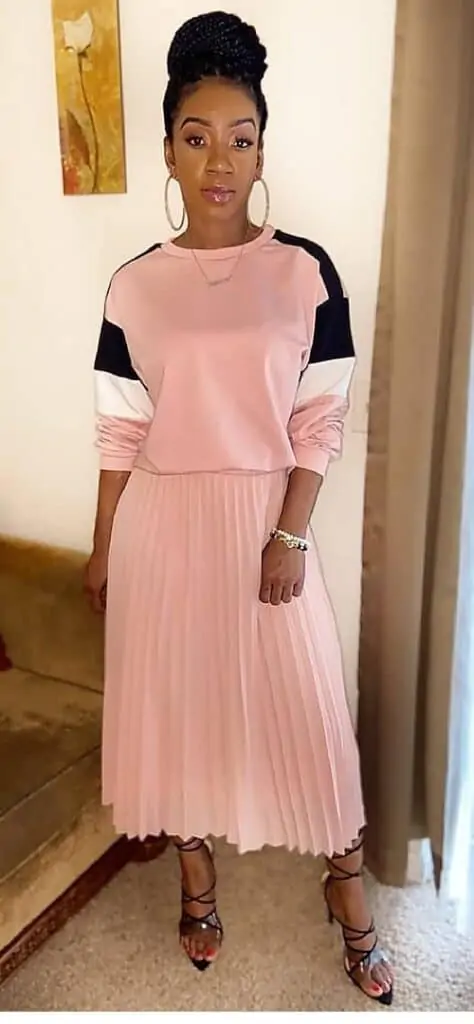 Kerry (above) styled a pink sweatshirt with a pink pleated skirt and some open shoes. It's a very feminine combination that allows you to wear sandals, sneakers or any other pair of shoes you feel comfortable in most.
With a bomber jacket
Bomber jackets are great casual pieces that work for any woman who just wants a fun, young look. They come in different fun colors and sizes. While they're often styled with pants, you can actually wear your bomber jacket with a pleated skirt for an unexpected look.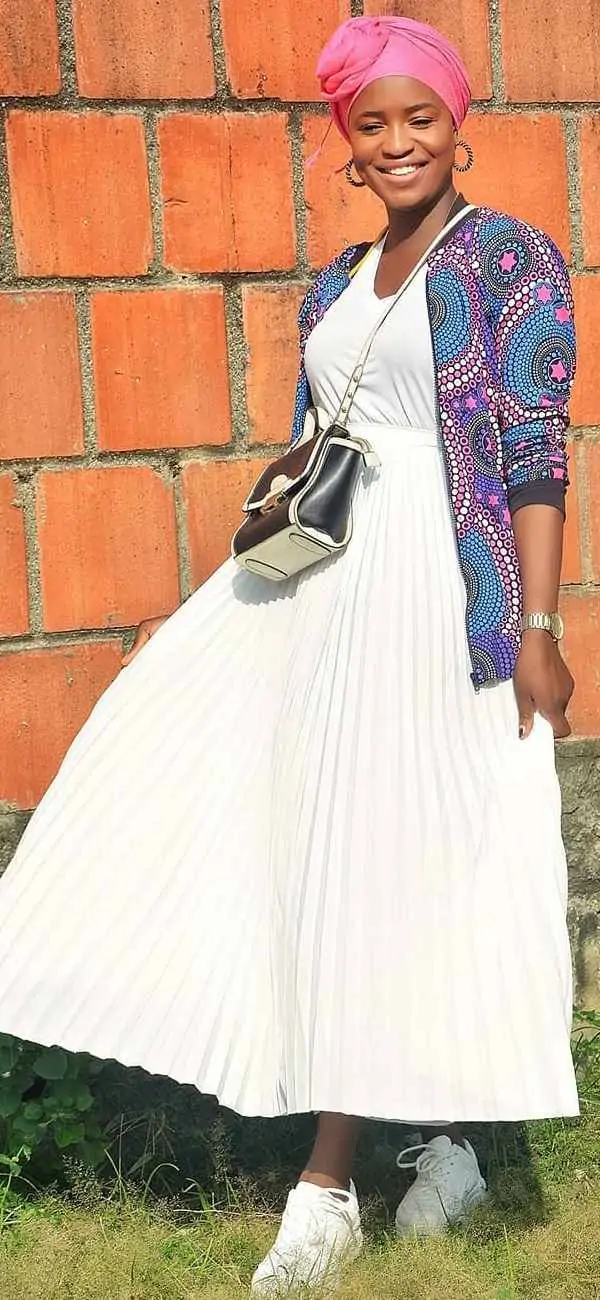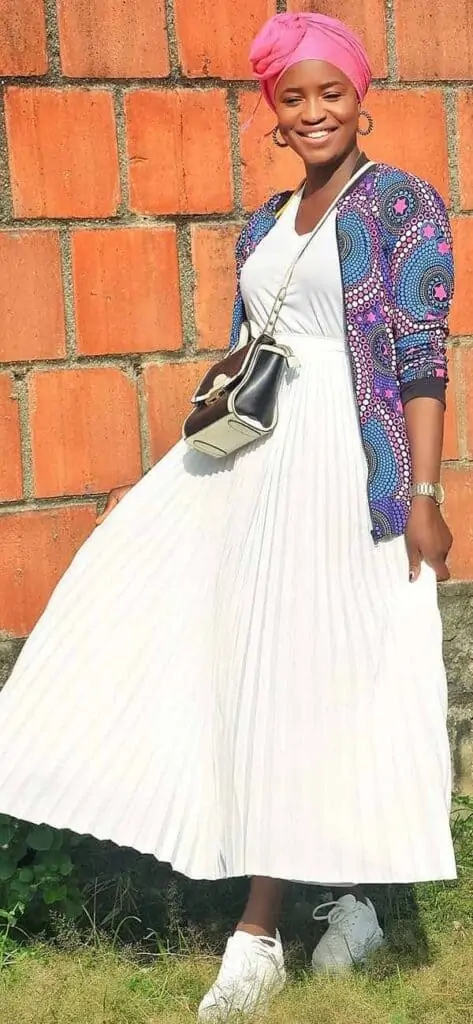 Khadi (above) wore a white top with a white pleated skirt and then went for a colorful bomber jacket and sneakers. You can still wear some heels if you want to look casual chic.
With a lace top
There's something about lace that just elevates even the most casual looks. Wearing a lace top with pleated skirt will make women of any age feel feminine.
Lace is delicate and stylish, classic and timeless, whether you go for a long sleeved lace top or a short sleeved one. Blacks are the easiest to style, not to mention they just make you stand out.
The best thing about lace is that it also lets you layer outerwear on it when it's cold, but still peeks through in a classy way.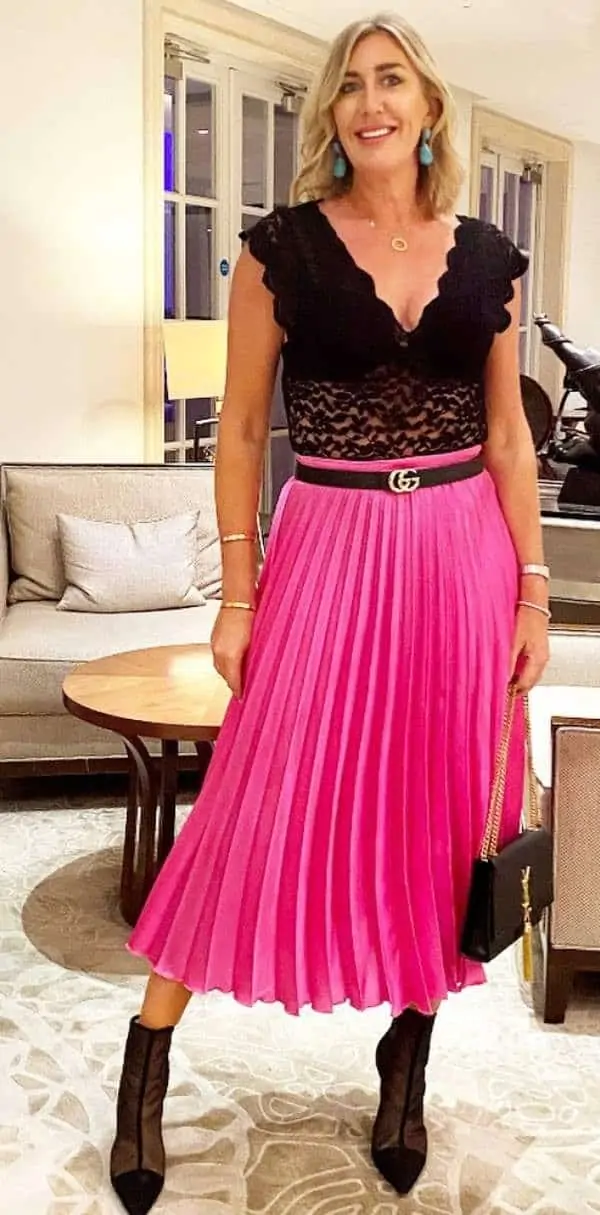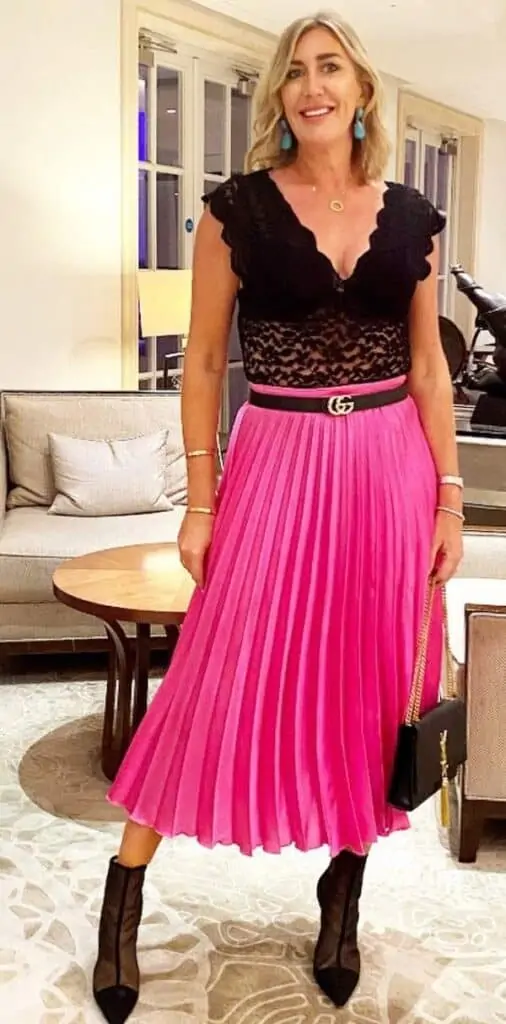 Ser (above) styled her lace top with a pink pleated skirt for that classy look that can take you from a date to an event or a brunch with the girls. Instead of booties, you could wear heels.
With a trendy top
Of course it's a great idea to have a couple of trendy tops in your closet, for example off-shoulders, cold shoulders and the likes. They not only make you look great, but also allow you to feel like you're not left behind on what's good. You can tuck these tops into your nice pleated skirt for a dressy look.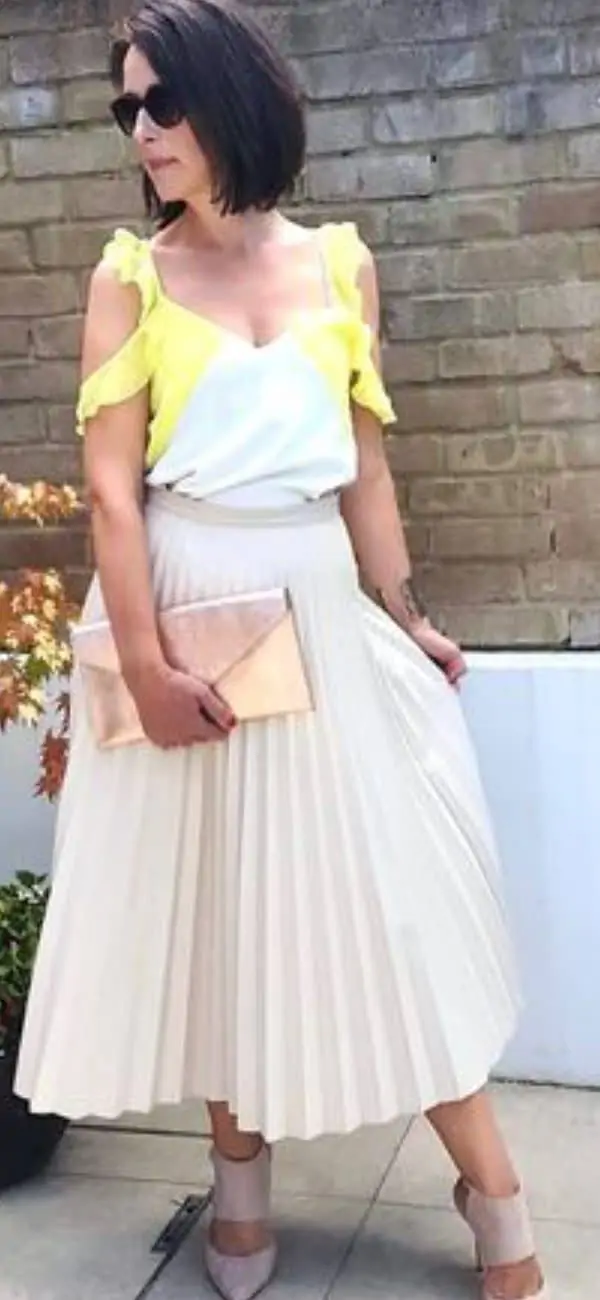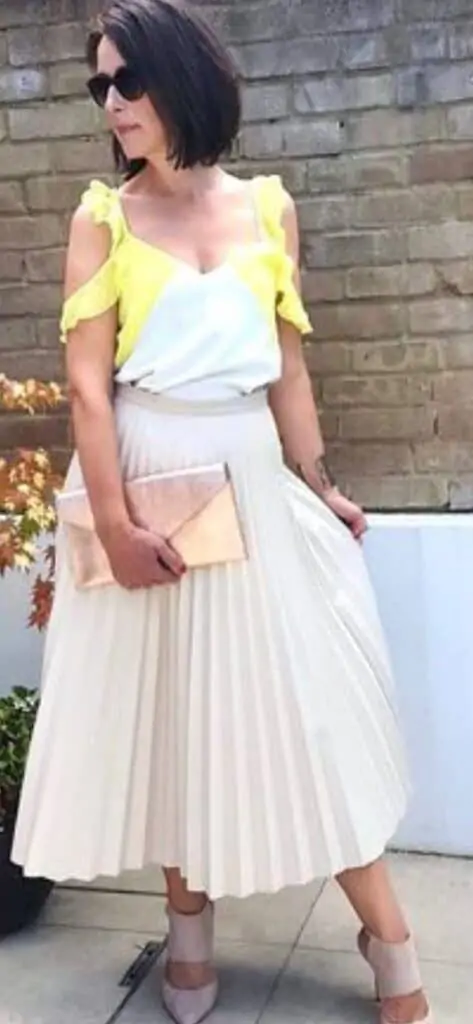 Megan (above) styled her cold shoulder top with a white pleated skirt and some heels. A clutch bag always makes this combination look great but you can also go for other structured bags.
As you can see, the options are endless when it comes to what you can wear with a pleated skirt.