Velvet is ever so chic and classy. Getting a pair of velvet pants allows you to either dress up or dress down. Velvet is a fabric mostly preferred during fall and winter months. This is because it's both warm and cozy, thick enough to ensure you're comfortable when it's freezing.
Velvet pants offer versatility and you can wear these pants with different shoes, tops and outerwear. It's a high fashion material highly loved by celebrities and different trendsetters, and will usually make an appearance during high fashion events. If you're wondering what to style them with, here are 10 best outfit ideas on what to wear with your velvet pants:
With a sequin top
Sequins are great, especially during the festive season. A sequin top, in particular, will allow you to stand out just enough in a crowd. You can pair it with something more muted like a pair of velvet pants to balance out the sparkle.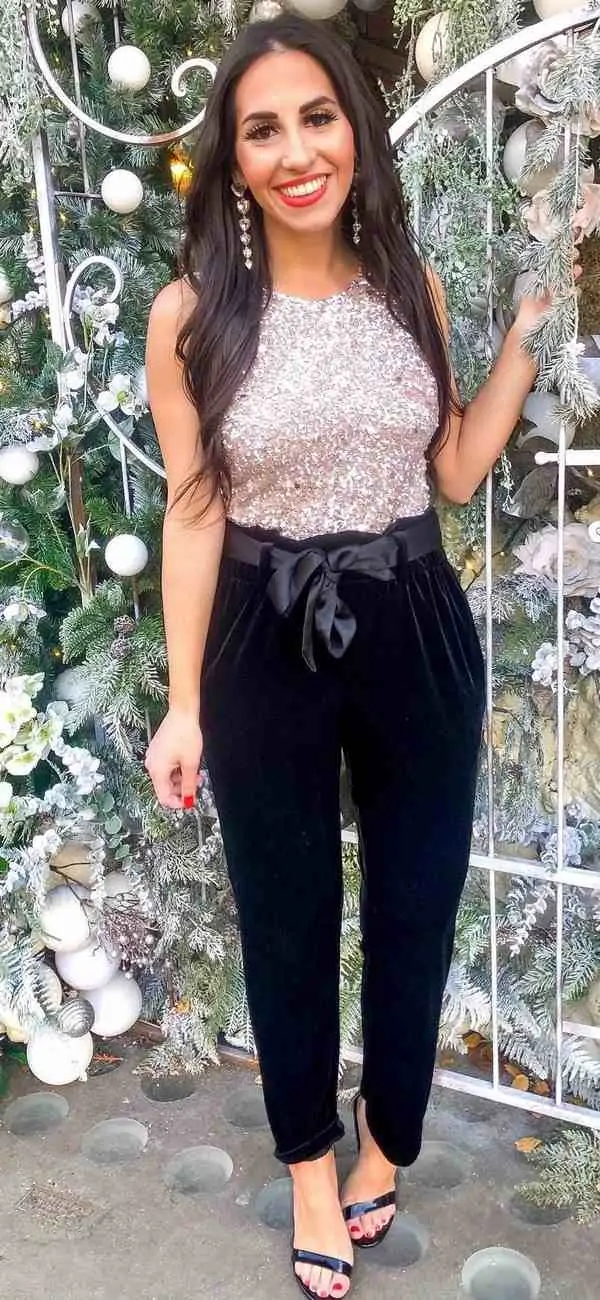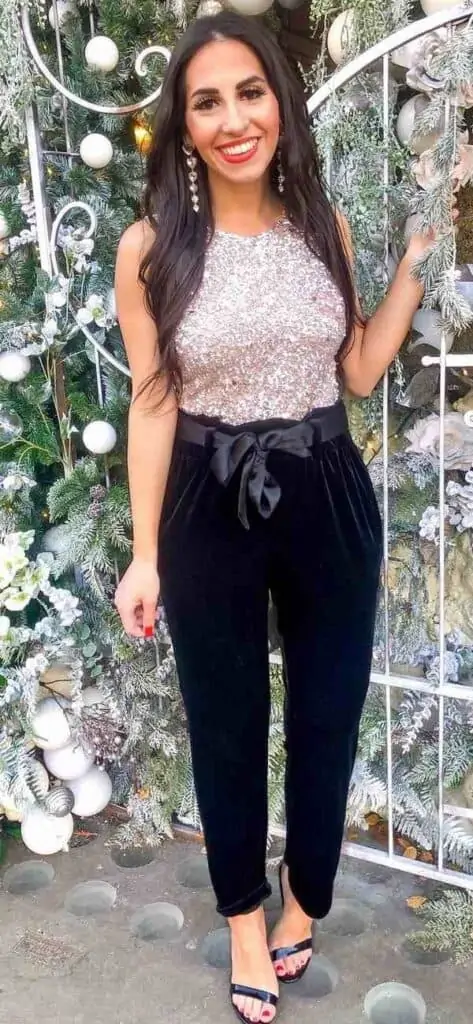 Rania (above) wore a sequin top with black velvet pants and a pair of heels. The velvet fabric of the pants makes the outfit classier and more feminine. High waisted pants are best for this and you can pick them in a flared, or straight design, among others. However, there are some very flattering low-waist pants too.
With a denim jacket
During fall, you can wear your denim jacket with a pair of velvet pants for a casual outfit of the day.
Denim jackets are ever so comfortable. With them, you don't have to worry about what to wear as they go easily with most bottoms. It suits women of different ages, body shapes, and sizes. Another great thing about a denim jacket is that it's a layering piece that can be worn throughout the year regardless of the season.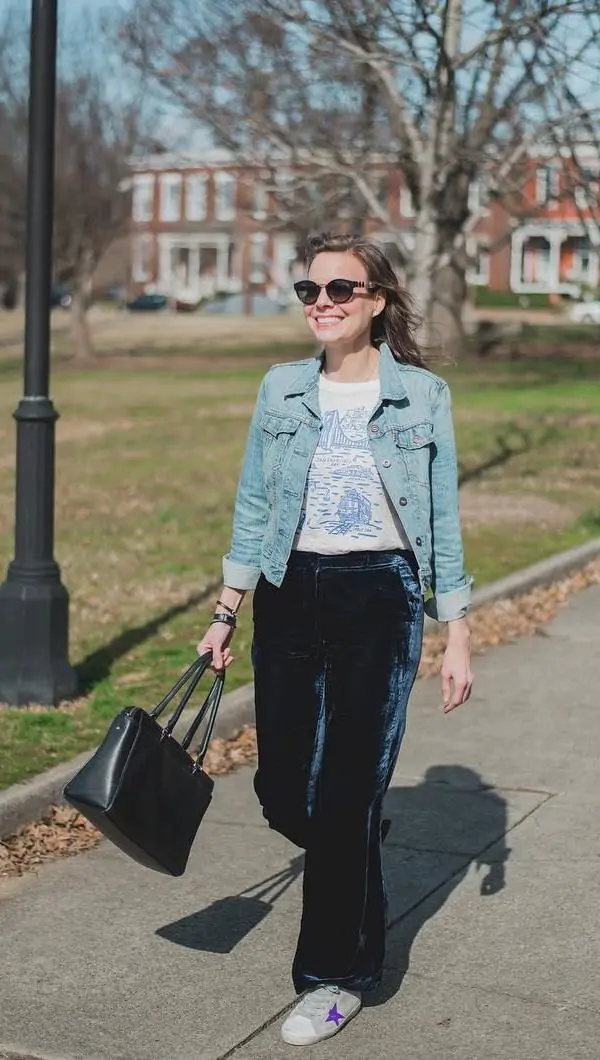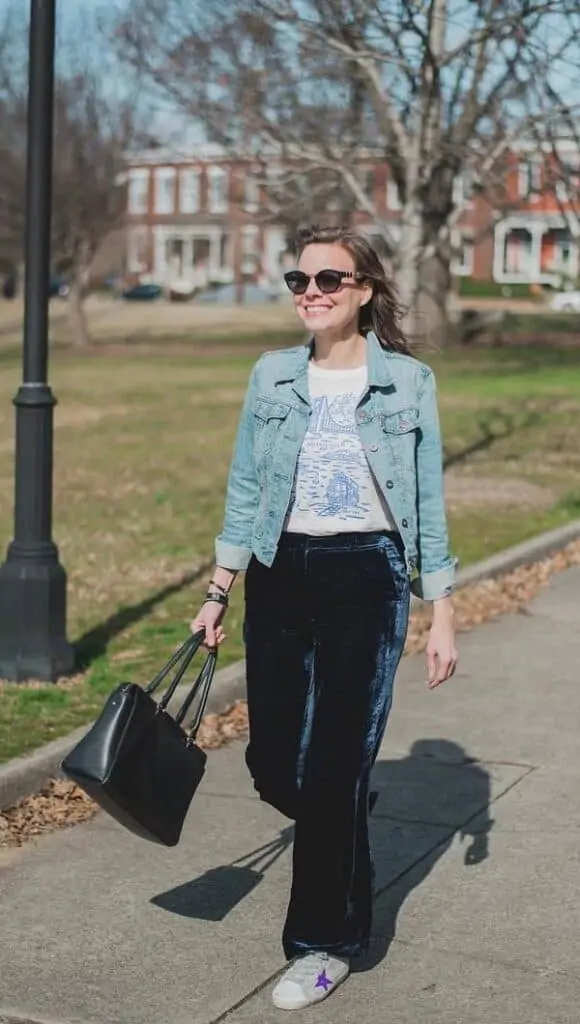 Joanna (above) styled her velvet pants with a graphic t-shirt and a denim jacket, and then went for a pair of sneakers and a black bag. This is a comfortable casual combination, considering just how soft a pair of velvet pants feels on your skin, and how laid back denim jackets are.
With a white blazer
If you're not one to wear a complete suit, then you might consider wearing your velvet pants with a blazer in different fabrics, color and style. A white blazer in particular adds a clean and sleek look to the velvet pants outfit.
The thing with blazers is that they add structure to any outfit, which will make your velvet pants look more sophisticated. You will look dressed up in such an effortless way, and that is why it's worth stocking up on differently designed and colored blazers. You can never have too many blazers, given how stylish they are.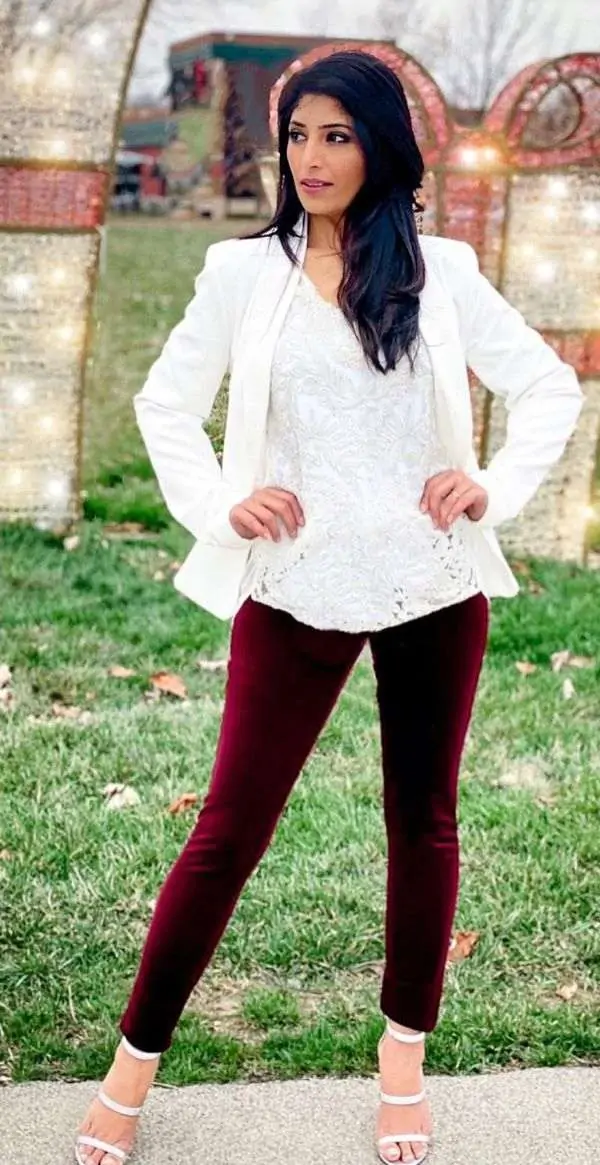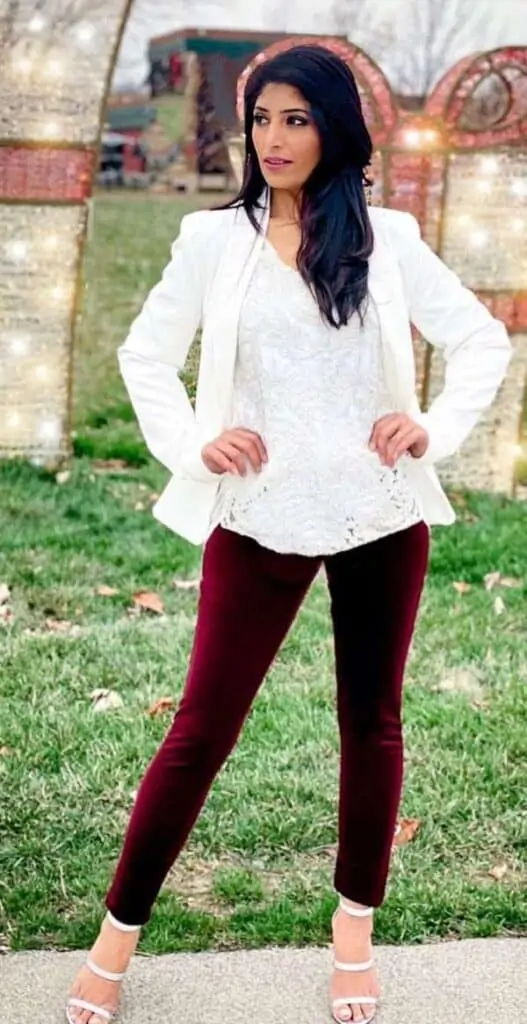 Aarti (above) styled her burgundy velvet pants with a blazer and a lace top. She finished the look with a pair of strappy heels. You can also get a sporty chic look by wearing sneakers instead of a pair of edgy boots for this combination.
With a camisole
Wearing a camisole with the velvet pants is one of the easiest ways to dress up for a feminine and polished look. When you choose the right color combination for your top and pants, this outfit never goes out of style.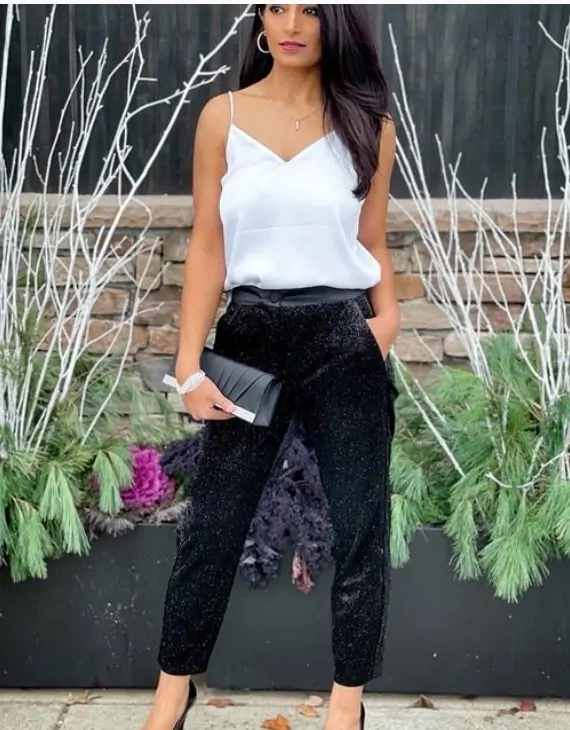 Aarti (above) styled her velvet pants with a satin cami, a classic color combination that is suitable for any celebrative occasions.
With a matching blazer
A suit is ever so stylish. A velvet suit in particular always gives you that chic look, especially in colder times, since velvet is warm. Every time you wear a velvet item, be it a blazer, a skirt, a suit or even a pair of pants, you will look more expensive.
With a matching blazer for your velvet pants, you can be sure of a look that works for the office or an event. When paired with more casual shoes, you will be able to dress down the outfit.
You can style velvet pants with a matching blazer to form a suit. If you want to look dressed up even more, you can wear a lace cami in black underneath.
The flared pants adds a vintage touch to this look, but of course you can pick more straight-leg styles of pants too.
With a pullover
Velvet pants are warm, great for colder days. You can wear them with a pullover for that extra coziness, considering just how snuggly pullovers are. They come in a variety of designs and colors, so all you have to do is pick the one that best coordinates with your velvet pants.
You can style a white pullover with a pair of skinny velvet pants and some heels. Wearing skinny velvet pants allows you to wear both slimmer and oversize pullovers, as there is always a balance with the proportions.
If you choose to wear wider legged velvet pants, it's best to stick to fitting sweaters. Should you prefer slightly oversize ones, you can always tuck the pullover into your pants for a cleaner look.
With a coat
One of the easiest ways to make your look chicer is by layering a coat over it. Adding a coat to any of your outfits could make your look pop even more during cold weather. A pair of velvet pants will look great with that stylish coat you pick, especially if you pick a darker colored pair of velvet pants.
You can wear a pair of dark velvet pants with a simple top, some boots and a coat. You can get great long coats, or go with a shorter length, depending on the type of pants you pick. Longer coats look chic with most designs.
With a cardigan
Cardigans, just like pullovers, are cozy and functional, but they can also transform an outfit. They can be either long or short, and you can often wear them either buttoned or unbuttoned. A cardigan looks great with skirts and pants, for example velvet ones.
You can style a velvet jogger style pants with a t-shirt and some slip-ons, then threw on a cardigan.  It's a simple casual combination. You can wear a shorter cardigan and button it up at the front, then tuck it into your velvet pants for a different look.
With a white button-down
White button down shirt is ageless, suitable for any women whether you are over 50 or in your 20s.
A white button-down shirt is a closet staple, considering you can wear it with literally everything you own, from skirts to dresses, shorts to shoes. They give you that smart, clean look, but can easily be dressed down, depending on what you plan on wearing them with. One of the pieces you can style with a white button-down is a pair of velvet pants.
You can style white button-down shirt with a pair of black velvet pants and some heels. When it comes to a white button-down pairing, black is best for whatever you choose to wear it with. However, you can wear your white shirt with any other color of velvet pants.
With a leather jacket
A leather jacket can be styled with some velvet pants.
If you like investing in pieces that never go out of style, then you will love a leather jacket. Leather jackets are both classic and timeless, and go with different outfit styles.
You can style velvet pants with a button-down and a leather jacket. She finished the look off with a pair of sneakers. An alternative for a more formal or work-appropriate look with this combination would be to switch the sneakers for a pair of heels.
With faux fur
A pair of velvet pants styled with your faux fur coat or vest will give you a highly fashionable outfit of the day.
A faux fur coat or vest is one of the chicest pieces of clothing you can own and wear out when it's cold. The faux fur goes so well with most other materials you can think of wearing.
You can style a faux fur vest over a white shirt tucked into a pair of velvet pants, and then complete the look by opting for some leopard print boots.
Picking a faux fur vest or coat that matches your velvet pants makes dressing up in this combination easier. It is better to wear slimmer pants because faux fur can be a bit chunky in most cases. Slimmer velvet pants are safer and easier to wear with whichever style of shoes you pick for this outfit combination.
As you can see, velvet pants look great on women of different figures, sizes, and ages and you can have so much fun styling your different pants. Only 10 looks have been highlighted just to give you inspiration to get yourself a pair of these pants, but you can still try them out with more pieces you own as with time, you'll grow more confident when it comes to styling them.
Remember, just because it's getting colder doesn't mean you have an excuse to step out looking shabby. Get yourself a pair of velvet pants for more fashion-forward fall and winter looks.