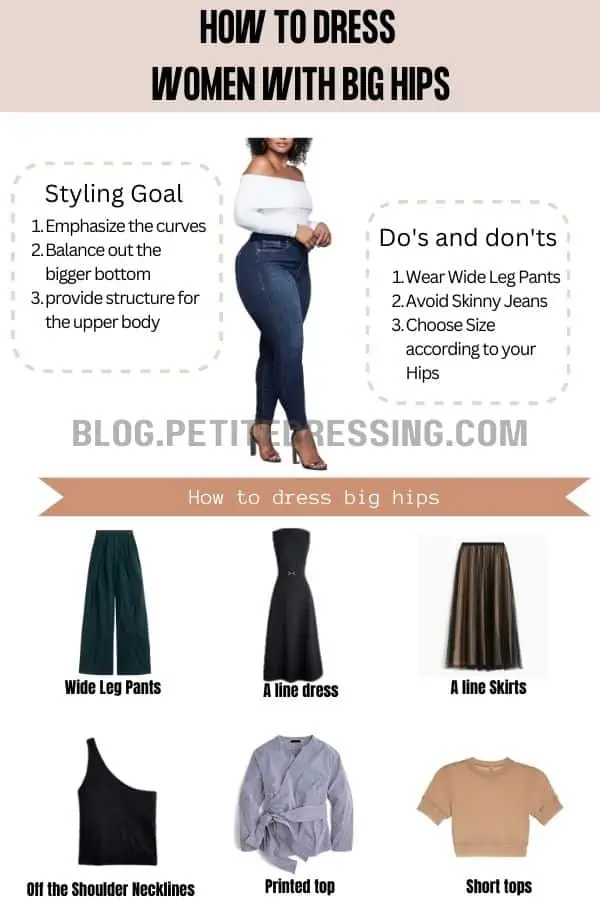 If you have big hips, you may consider that an asset in fashion, because many find that attractive and feminine. While having a big bum can occur with women of any body type, pear shaped women typically tend to have prominent butt and thighs.
Since I have a petite clothing line, I hear feedback from thousands of my customers of all body types and sizes, many of who have a bigger butt and mentioned they prefer to look more balanced.
I've put together this detailed guide to help you find the most flattering styles for your shape.
Wear Wide Leg Pants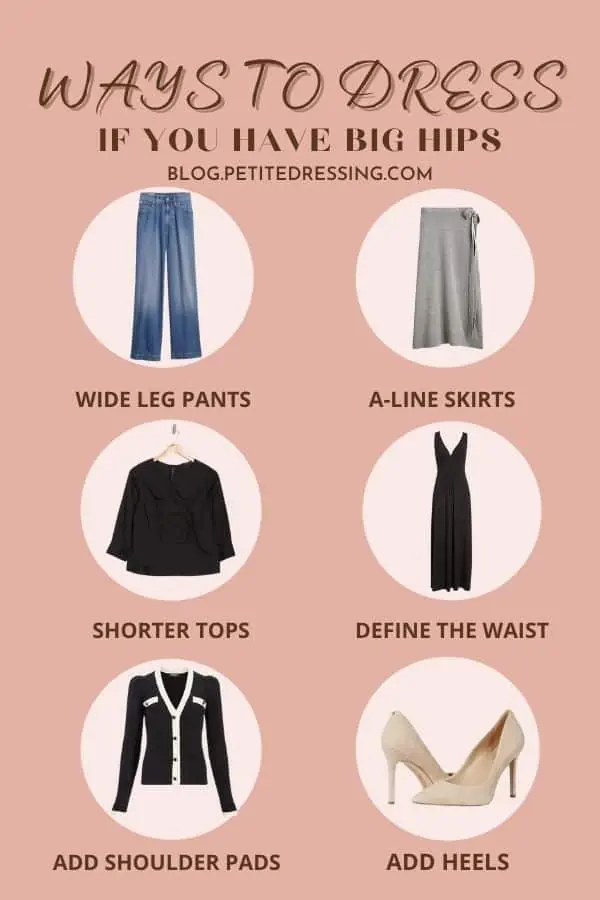 If you have a big bum, wide-leg pants are the most flatting pants for you. The reason is they drape down straight from your but, achieving a visual balance.
Palazzo pants are a wonderful option for women with big hips in the summer, because of the flowy fabrics. You can also find wide leg jeans and pants for the fall and winter.You should make this a cornerstone of your wardrobe and have wide-leg pants in different fabrics for different seasons.
The more drapery the wide-leg pants are, the more flattering they will look on women with big tums.
Avoid Skinny Jeans
This is the opposite of the wide-leg silhouette. Wearing skinny fit on the bottom half of your body will often lead to wide hips being accentuated, and can make them appear wider and legs shorter.
If your goal is to emphasize your big butt, then wearing skinny will achieve that purpose. You will see many celebrities with big bottoms such as Kim Kardashian and Jennifer Lopez wearing skinny fits all the time.
However, if you do not want your hips to look wide, then your best choice is to avoid skinny jeans. Instead, work with your body by opting for pants that are straight, boot cut or flare leg. These styles make your legs appear longer, giving wide hips a much more flattering appearance.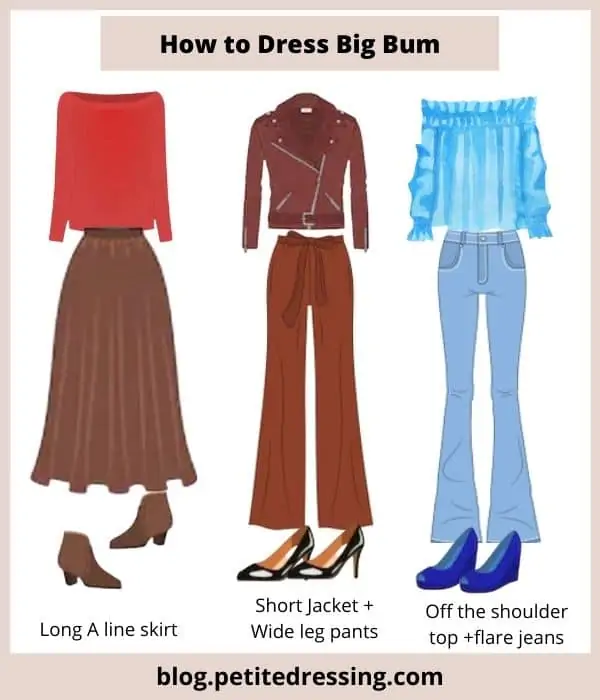 Avoid Side Pockets
Anything that expands you on your hips will not look flattering on women already have big butt.
Side pockets is one of those designs because they further stretch out your wide hips and create the illusion of a horizontal line right at your hips.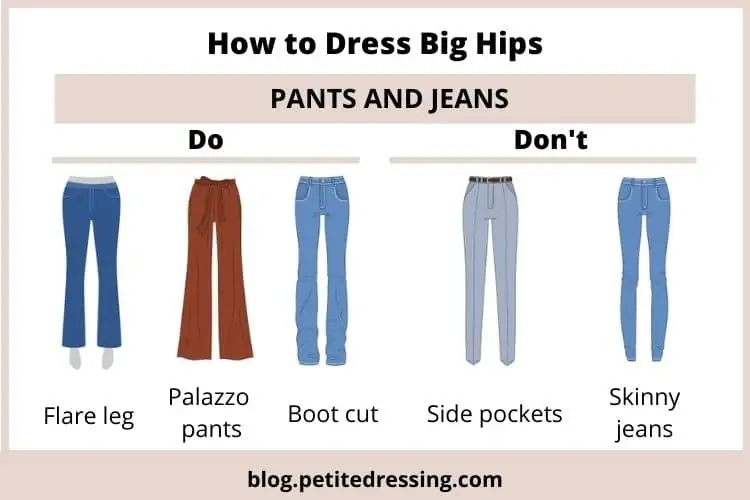 Choose Size according to your Hips
One of the biggest challenges of having big a bum is to find anything that fits your hips without looking too loose elsewhere. If you are looking for jeans or pants, it is very likely what fits your hips will turn out to be too loose on your waist.
Vice versa, what fits your waist is probably going to be too tight for your butt.In that case, your best bet is to look for pants or jeans according to the size of your hips, and then take it to the tailor to take in the waist.
Wear A-Line Dresses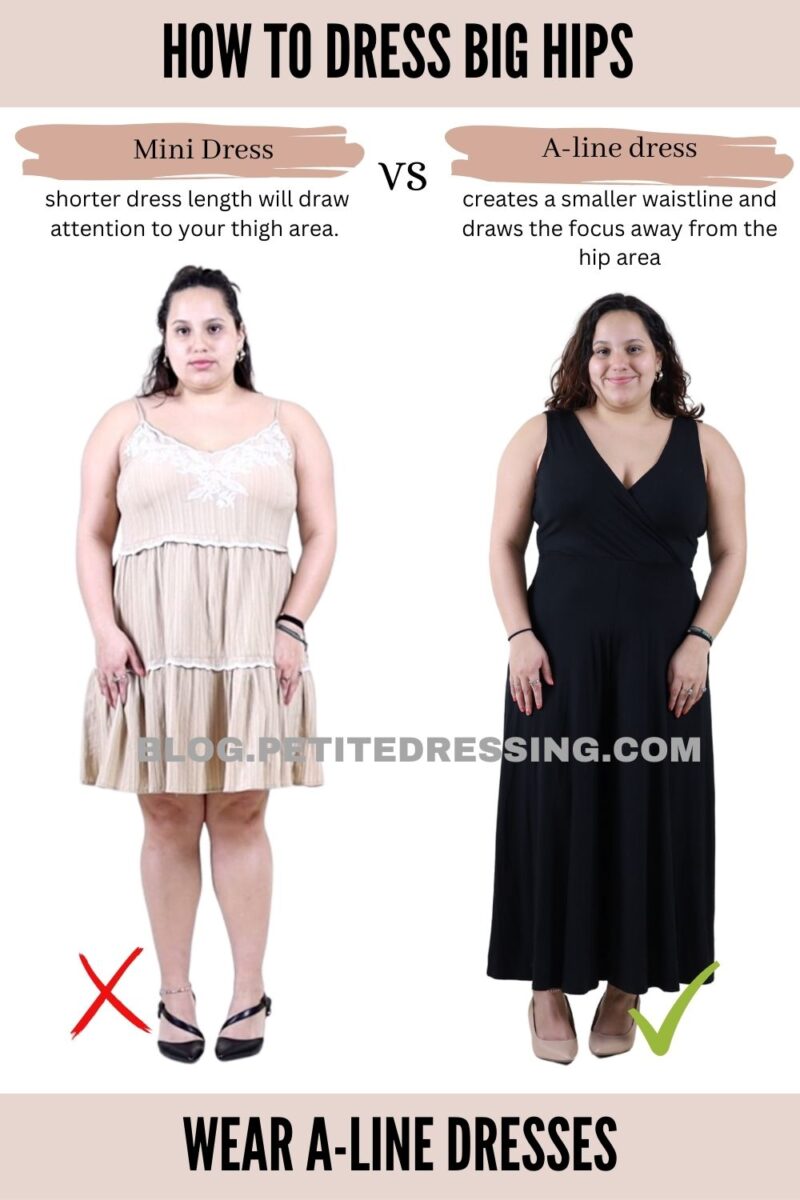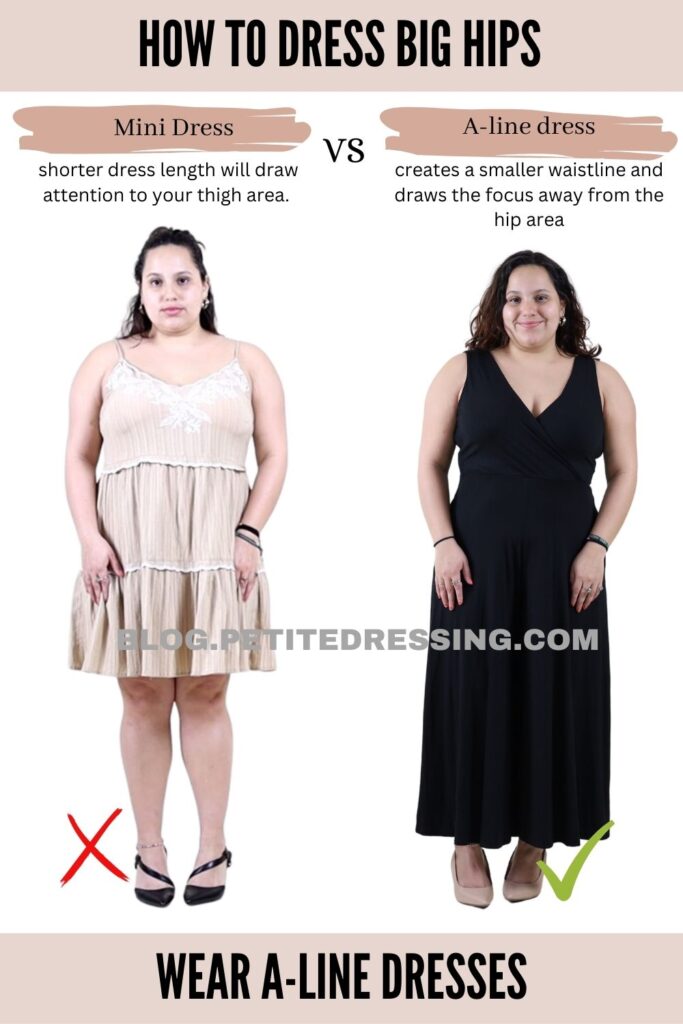 While a-line is universally flattering, it's particularly flattering when dressing a pear shaped figure.
Because of the silhouette, the a-line creates a smaller waistline and draws the focus away from the hip area. Wrap dresses are always a good a-line option.
If you have a bigger bum, then go with a longer A-line dress because a shorter dress length will draw attention to your thigh area.
Since most women with big hips also tend to have big thighs, a longer length is more flattering to avoid emphasizing your hips and thighs.
Avoid Sheath Dress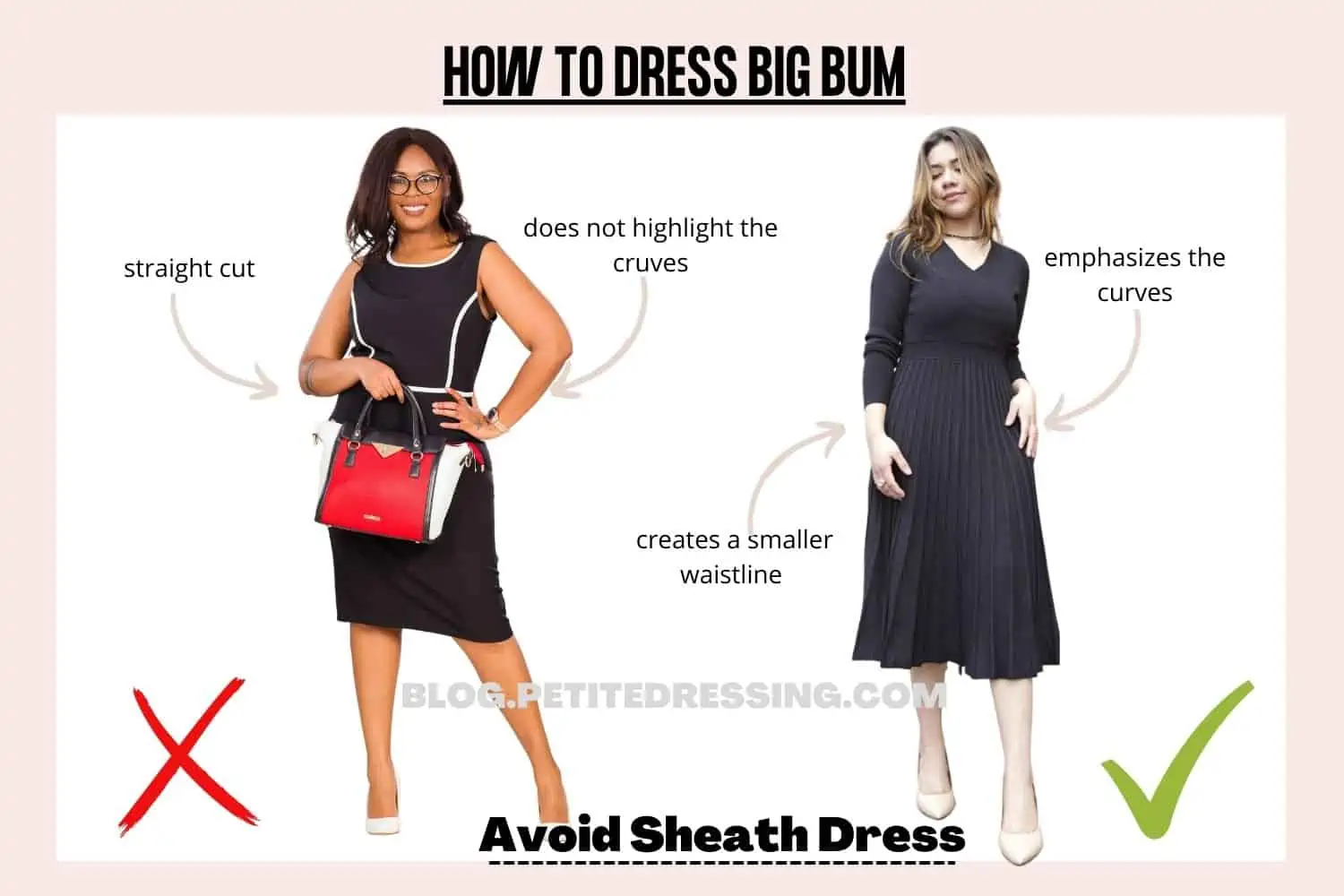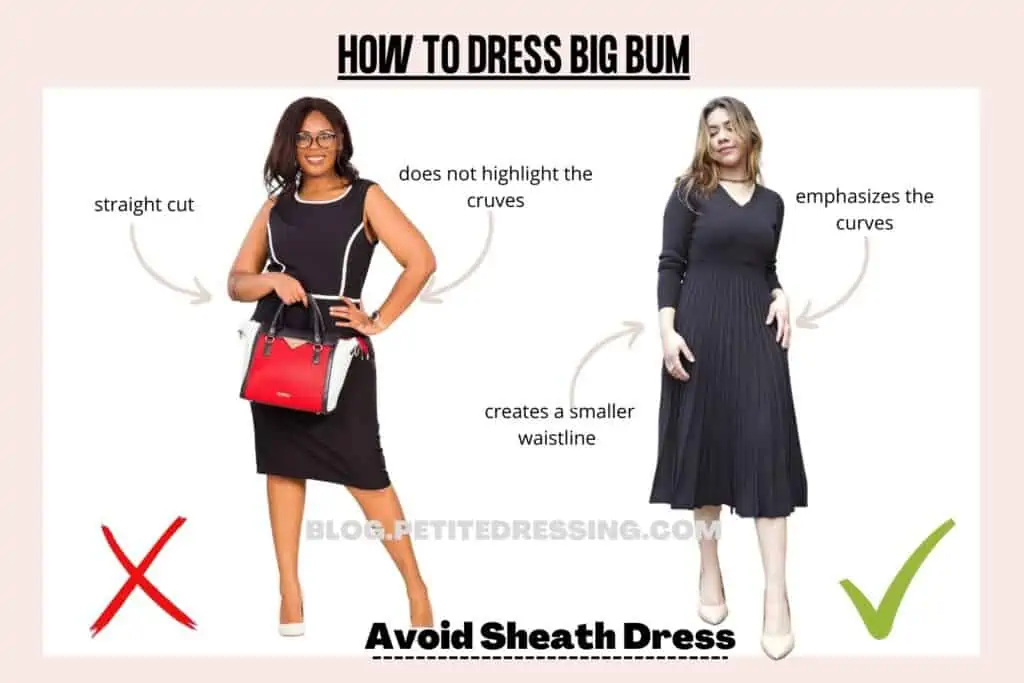 Sheath dress can be a challenge for women with big butts because of their straight cut.
Since your hips are much bigger than your waist, it will be very hard for you to find a sheath dress that fits you well.
Caution with Pencil Skirts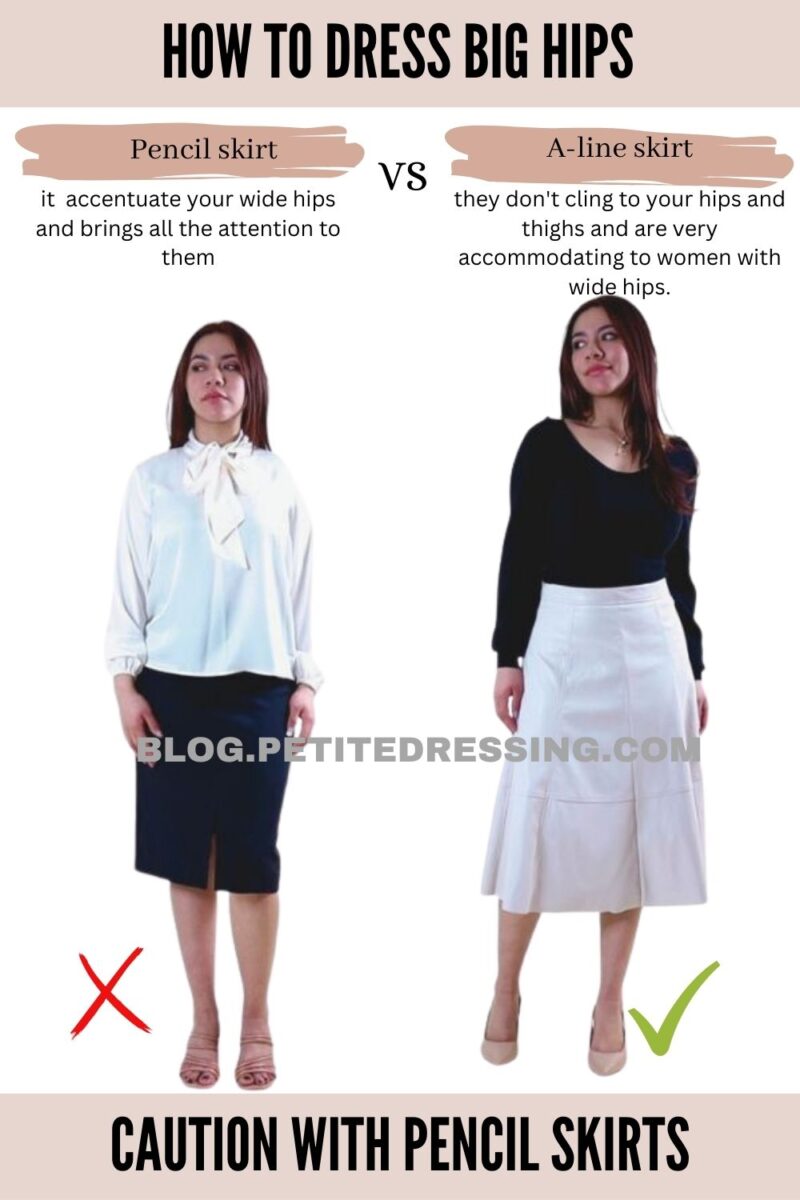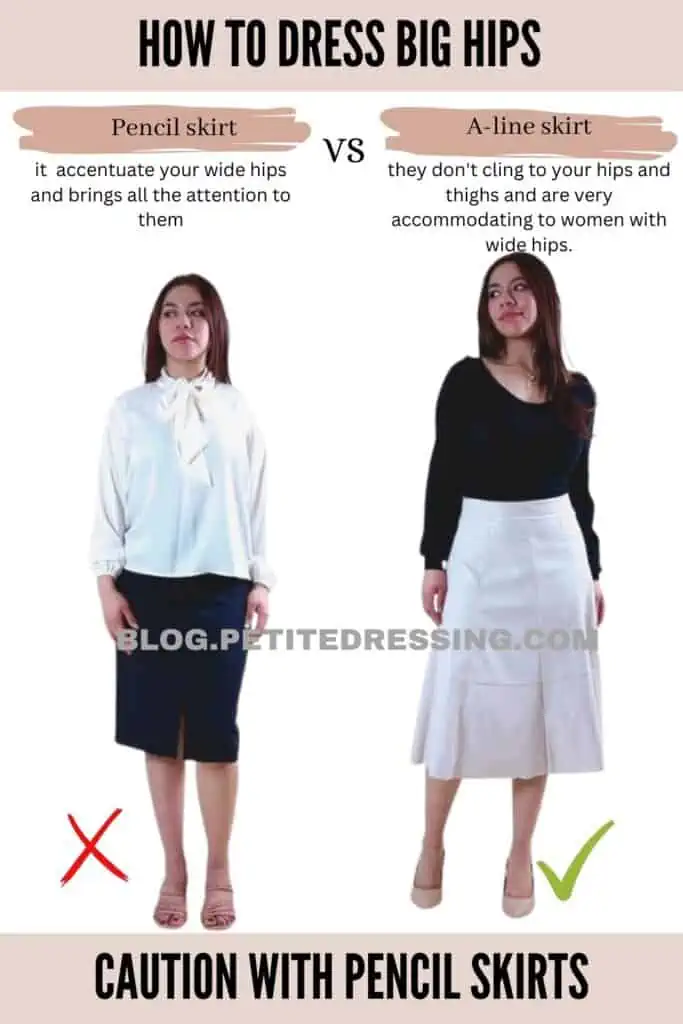 A pencil skirt is the kind of style that emphasizes every curve of your bottom half.
If you have big hips, then wearing pencil skirts will bring all the attention to them.
Once again, this can be a personal preference thing, and it is up to you if you want to emphasize them.
You will see this as one of the signature looks of celebrities with big butt such as Kim Kardashian.
If you do not want to accentuate your wide hips, then you should avoid pencil skirts and go with other silhouettes that offer more space for your butt.
Wear A-line Skirts
Like the A-line dress, the A-line skirts are also very flattering to women with bigger hips.
Since they don't cling to your hips and thighs like the pencil skirts, they are very accommodating to women with wide hips.
Wear Off the Shoulder Necklines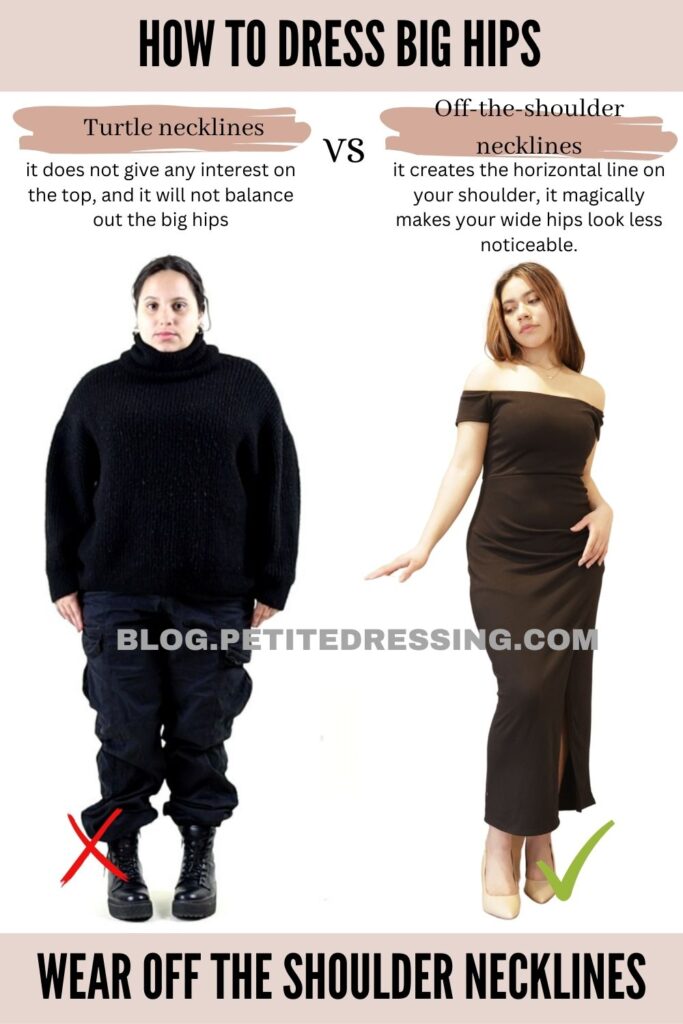 Lucky enough, there are many necklines that can be worn when flattering women with big bums.
Anytime you wear something that draws the focus up towards your top half, it automatically enhances that part of the body to minimize the appearance of wide hips.
The best neckline for women with a big butt is those that go horizontal on your shoulders because they will create visual balance for your wider hips.
The best one is the off-the-shoulder neckline. Because it creates the horizontal line on your shoulder, it magically makes your wide hips look less noticeable.
Wear Colors and Prints on Top
Create the illusion of balance to your shape, with colors and prints on the top.
Pair them with dark and neutral hues on the bottom. This shifts the focus from wide hips, up towards the top half.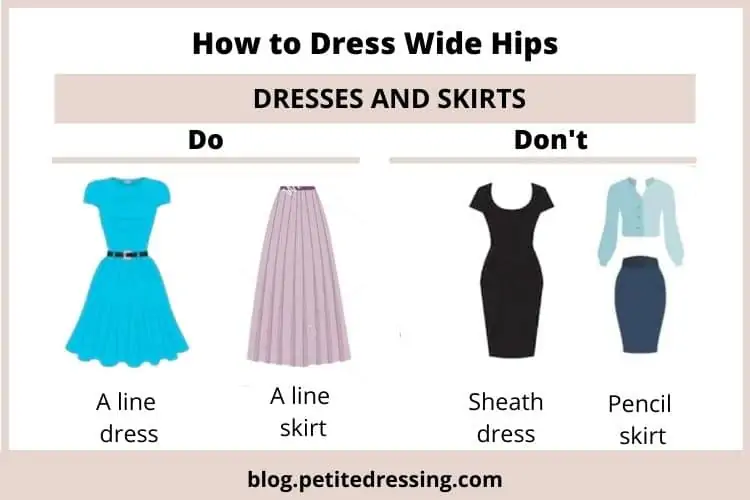 Wear Shorter Tops
Contrary to the popular belief, shorter tops are actually flattering to women with wide hips.
Your top should lay just above, or be shorter than, the widest part of your hips.
A shorter jacket or blazer at this length will provide the structure for your upper body to balance out your bigger bottom.
Wearing tops that hit the body at the widest part of the hip will emphasize that area, which often leads to hips having an even wider look.
Therefore, you should never wear anything that ends right on the widest part of your bum, whether it is a blouse, cardigan, or jacket.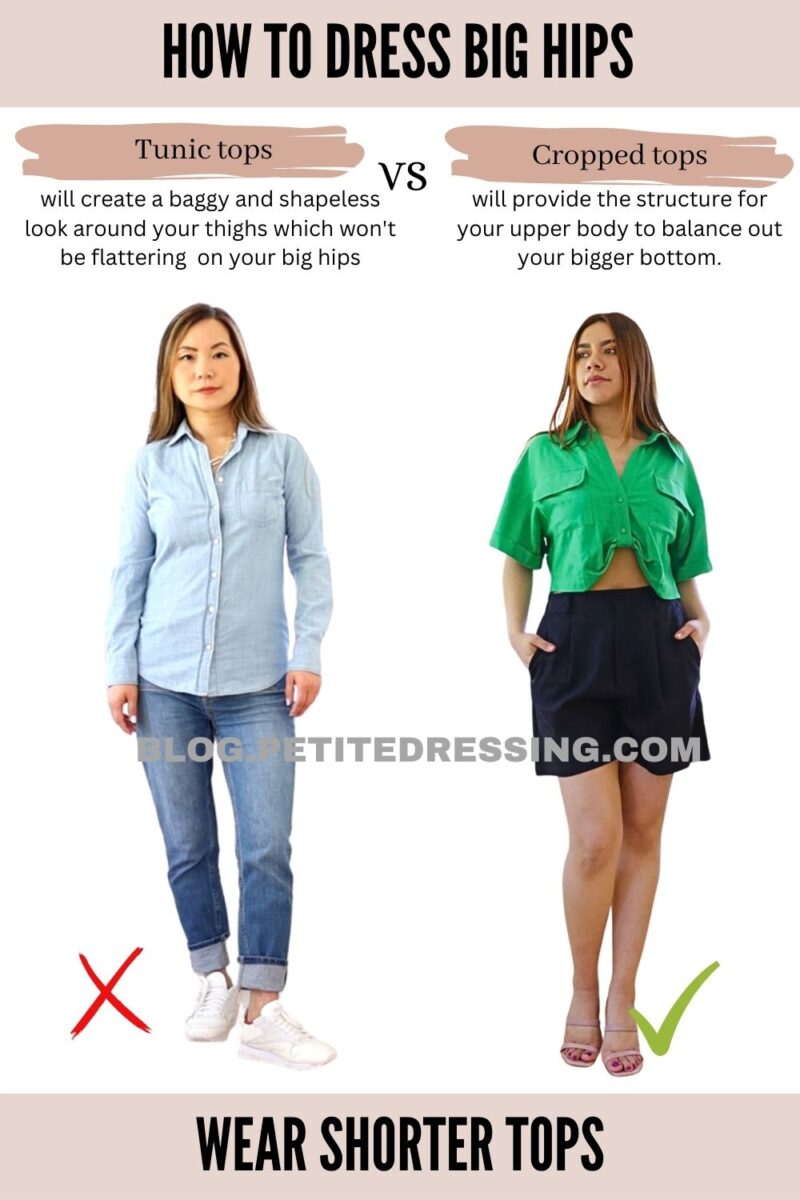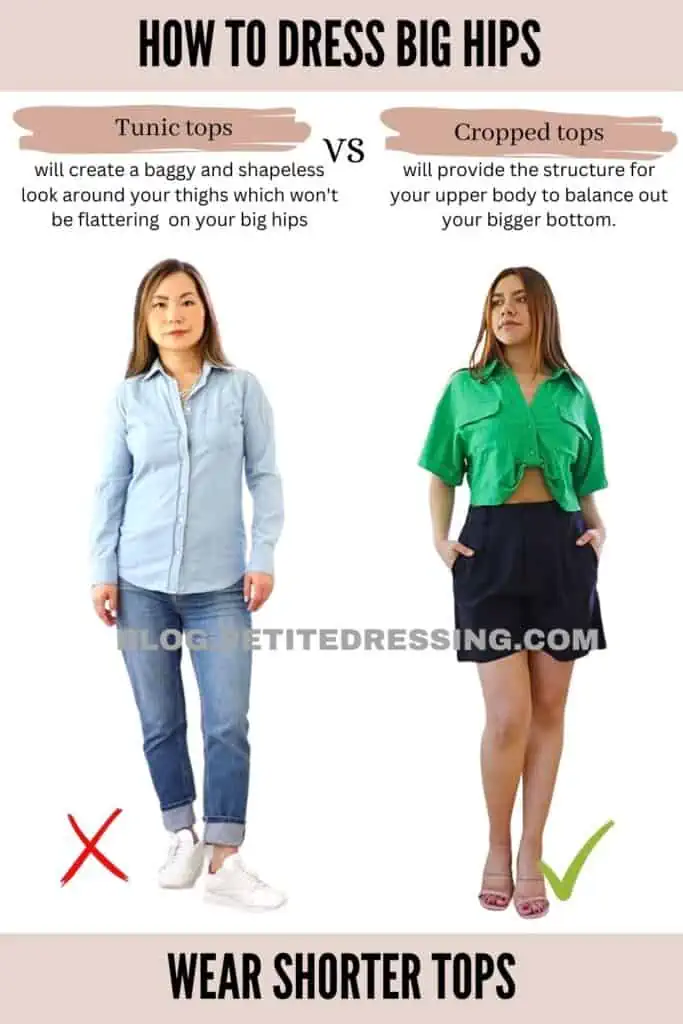 Define the Waist
Give your shape a slimming effect by wearing clothing that defines the waistline.This can be accomplished by wearing a belt, a shirt with built-in waist definition like a peplum, etc. It slims your shape and flatters pear shape by making the smallest part of the waist the focal point of the outfit.
Style Maxi Length Dresses
Give your body a long, leaner appearance with maxi-length dresses.
Thanks to one solid piece that lays on the body from shoulder to ankle, it enhances pear shape by giving the illusion of one long line down the body.
Just make sure the skirt portion of a maxi isn't too voluminous around the hip area.
Add Heels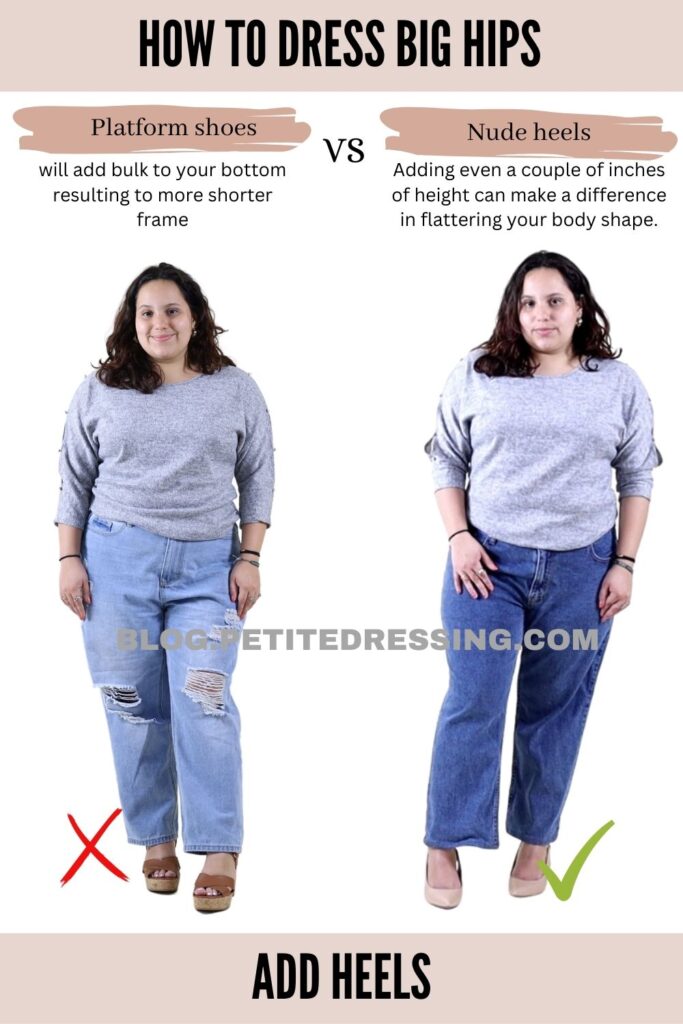 Another easy way to add length to your legs, to flatter your wide hips, is by wearing heels.
Adding even a couple of inches of height can make a difference in flattering your body shape.
Add Shoulder Pads
Give your top half a touch of volume to compliment your wide hips with shoulder pads.
Get the look with a shirt or blazer with built-in shoulder pads.
Take some of your favorite pieces to a tailor to have shoulder pads added to just about anything.
Find a Good Tailor
Women with big hips often find it a challenge to find anything that fits them off the shelf from department stores. This is especially true with women who have a waist significantly smaller than their hips. This applies to not just jeans and pants which I mentioned earlier but also dresses.
Therefore, if you don't want your options too limited, you should consider tailoring. It is worth spending the extra bucks on a good tailor to make everything look perfect for your body.
The better your clothes fit you, the more expensive they will look.