Ankle boots can really be worn by anyone, which would explain why they are so popular. When the time comes for you to transition your wardrobe from the summer months to fall, one of the staples you should have is the ever so versatile ankle boots. It's the perfect boot to own considering just how many variations there are of them. Whether the booties are pointed toe or round toe, block heel or stiletto heel, tall shaft or short shaft, leather or suede, in this post we will look at how to wear them for the best ankle boot outfits.
With jeans
Since everyone has at least a pair of jeans in their closet, pairing them with ankle boots is the easiest outfit for your everyday wear.
Jeans are probably the most popular wardrobe item for women of any age and body shape. Aside from the fact that they are the easiest pieces of clothing to wear, they are also versatile because you can wear them with a lot of pieces you own. You can dress them up or down and pair them with different types of shoes. Ankle boots with jeans can add the polished vibe to the laid back look of the denim.
For this combination, you could choose a pair of black jeans with black ankle boots, which is basic but also most classic.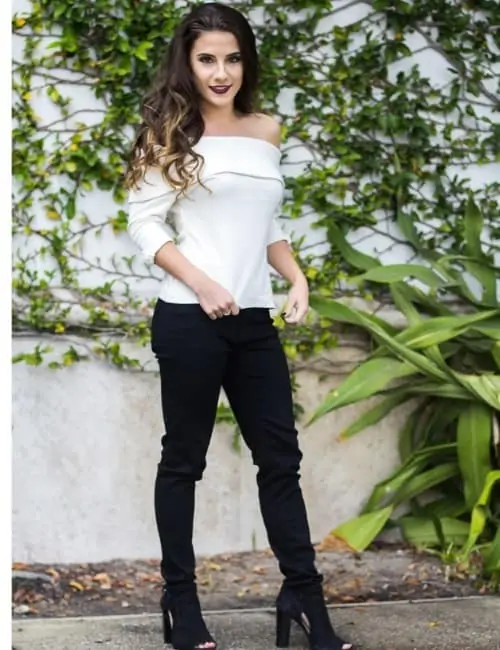 If you are petite, like Sammie (above), black jeans with black ankle boots can create the illusion of longer legs, and make you look taller.
Depending on the occasions you are dressing for, you can also also choose the denim wash of your preference, and play with the different colors and varieties of booties to create the most flattering outfit.
For this pairing, you can choose different types of jeans from mom jeans to skinny fit ones.
With a motor jacket
Motor jacket is a staple for the fall, for women of any age and body type. Wearing booties with motor jacket outfit adds that finishing touch to make this a perfect look when the weather starts to get chilly. The key to make this outfit look good is to choose the right color for the ankle boots.
If you are wearing a skirt or dress under the motor jacket with bare legs, then it's best to wear them with nude or tan color booties. If you have darker skin color, then choose the color of ankle boots that are closest to the color of your legs. That is the best way to elongate your legs and create the coordinated look.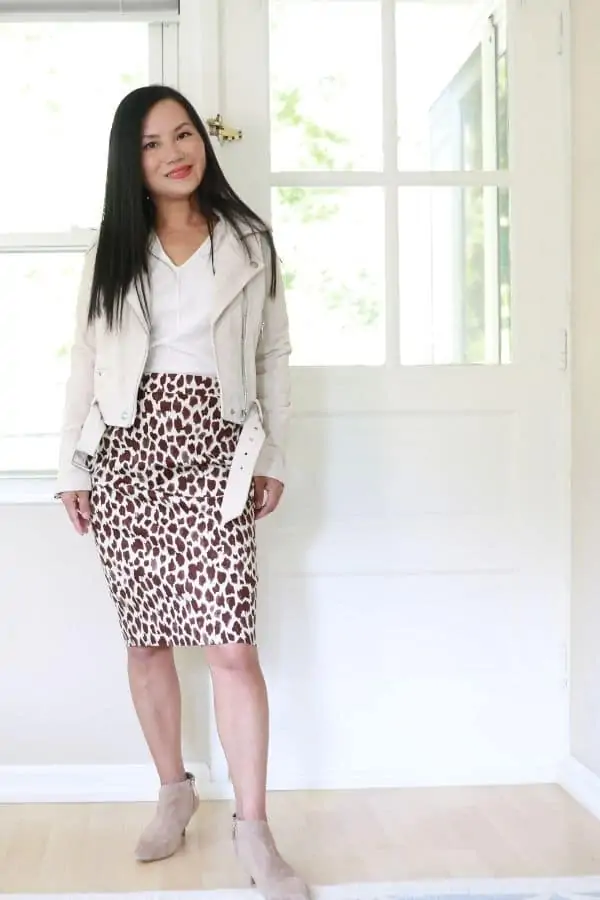 If you want to wear tights with the skirt or dress, then your best choice to match the color of your ankle boots with the tights. That will make sure your legs will not look cut-off by the bootie.
With a shift dress
You can wear your shift dresses with a pair of ankle boots too. A shift dress is ever so comfortable and suits just about every woman out there, considering it intentionally doesn't hug any part of your body, allowing you to hide those bulges that you are not particularly a fan of. It's also great that they come in a variety of colors, styles, and lengths allowing you to wear them differently.
Since a shift dress often has a more relaxed feel, the ankle boots instantly elevate the dress and will make it look even more fun.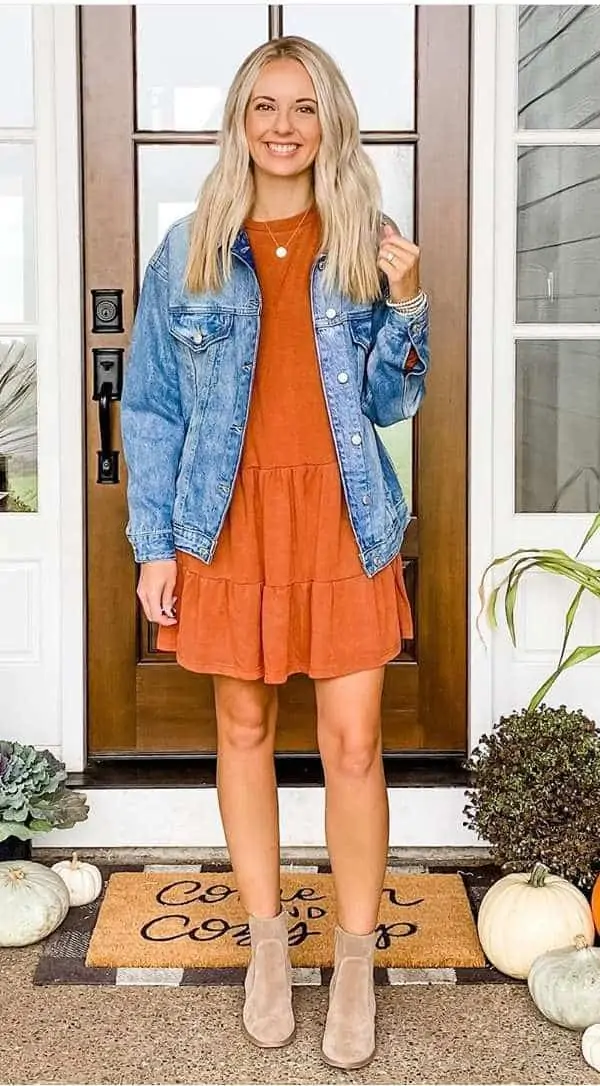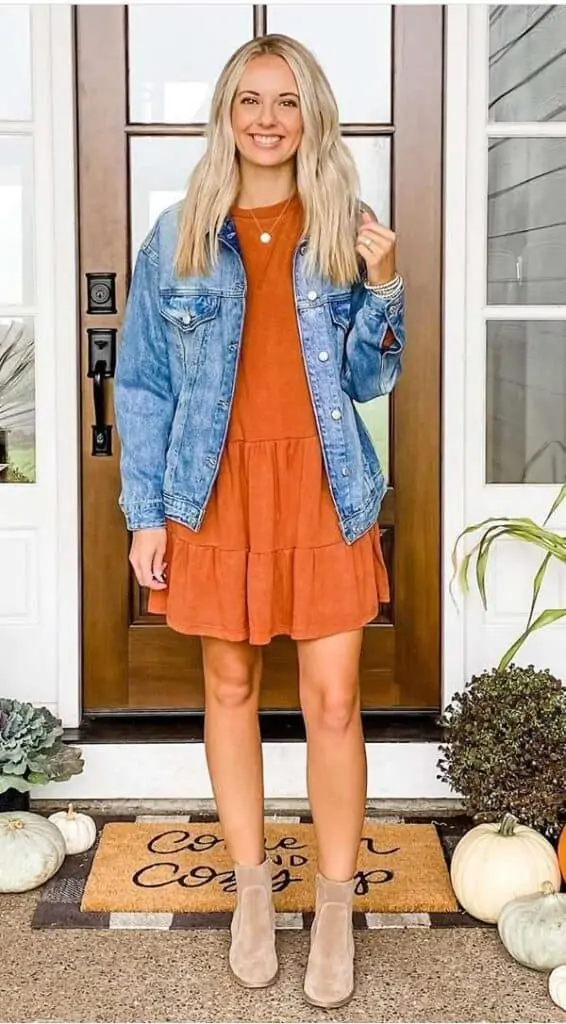 Megan (above) wore her brown shift dress with a contrasting denim jacket and a pair of flat suede ankle boots. With this pairing, you can choose different shift dress lengths although a shorter one makes your ankle boots stand out more.
With sweatpants
You can wear your sweatpants with a pair of ankle boots too. Sweatpants are mostly worn by people when they're lounging, exercising, or generally on those lazy weekends. However, you can also make sweatpants look great as everyday wear suitable for running errands, dates, and even work (depending on how the dress code at your office looks like) by wearing them with more polished items like a pair of booties.
For this ankle boot outfit, you can choose cropped sweatpants or go for sweatpants that go all the way to your ankles but pair them with a denim jacket, a structured blazer, or a nice shirt, all of which should go well with the boots.
You can style a cropped sweatpants with some flat ankle boots, a jumper, and a denim vest over it, accessorizing with just a studded bag. A vest and choice of boots can elevate a sweatpants look and make it edgier.
With a shirt dress
You can style your shirtdresses with so many different types of shoes including ankle boots. Shirtdresses are smart pieces of clothing that can be worn either to an office, an event, and church, while running errands and dates too. They have a way of effortlessly making you look more sophisticated.
When you add a pair of booties to this look, it elevates your shirtdress (especially if the dress is plain) and make it look more interesting or fashin forward.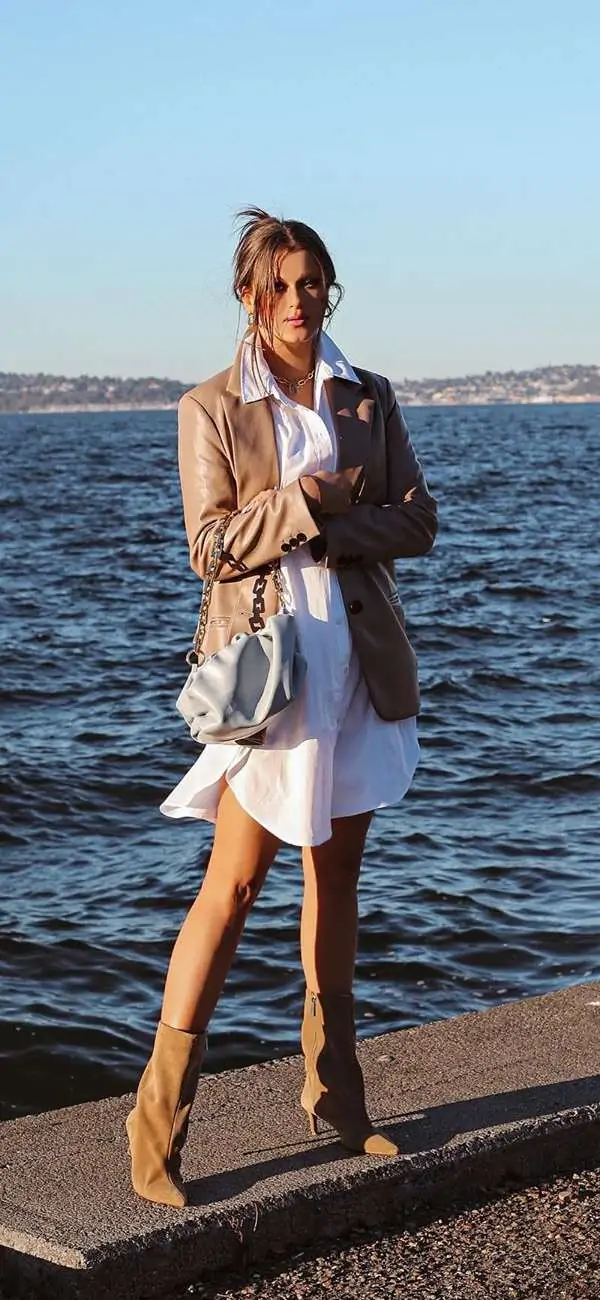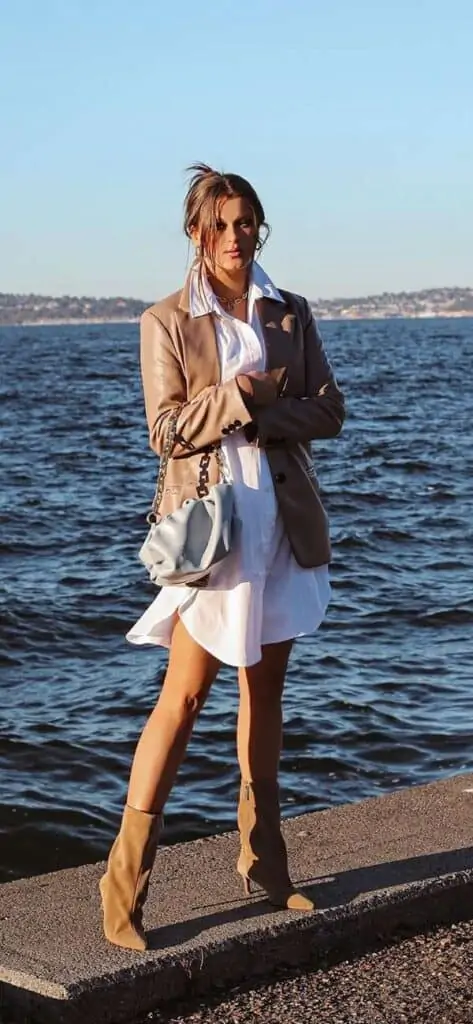 Irina (above) looked chic in her shirtdress which she paired with her brown ankle boots and a matching shade leather jacket.
Matching your ankle boots with whichever outerwear you choose to throw over your shirt dress makes the look more minimalist but still very classy.
With a midi skirt
You can style your midi skirts with a pair of ankle boots for a more Pinterest style look, especially on a cooler day.
Midi length skirts have been very on trend, and they are the most versatile because they can be worn by women of all ages and body types. Midi skirts, when worn right, can create classy and feminine outfits.
Midi skirts are a bit easier to style compared to midi dresses because they give you the option of wearing different things at the top such as a crop top, sweater and so many others.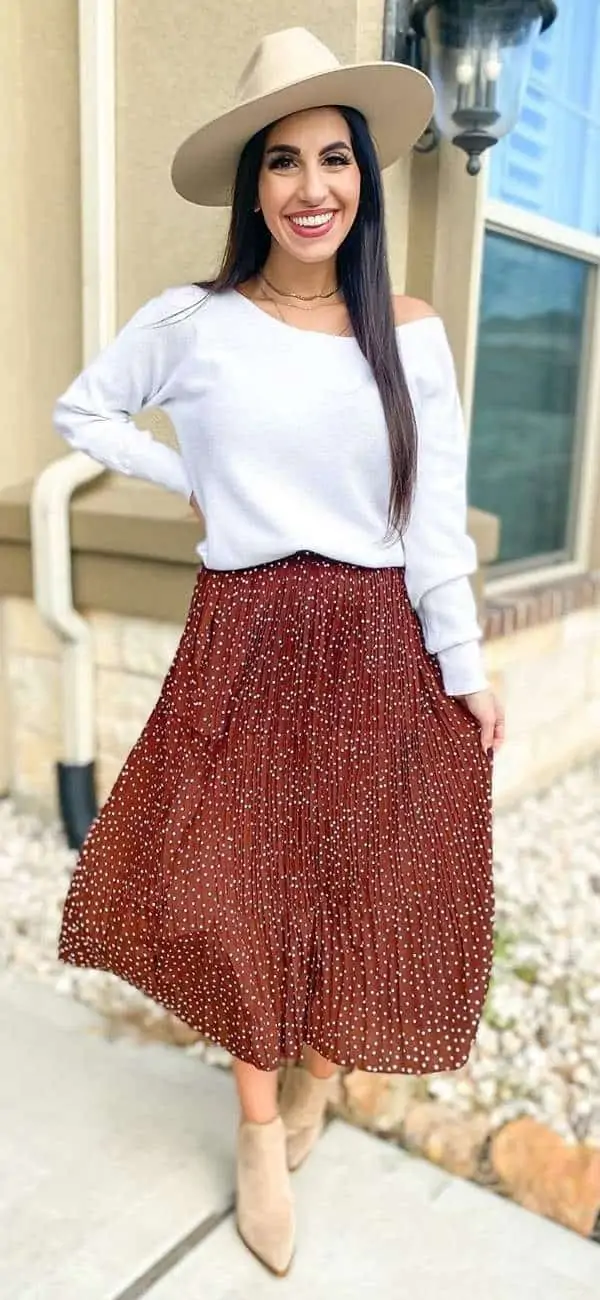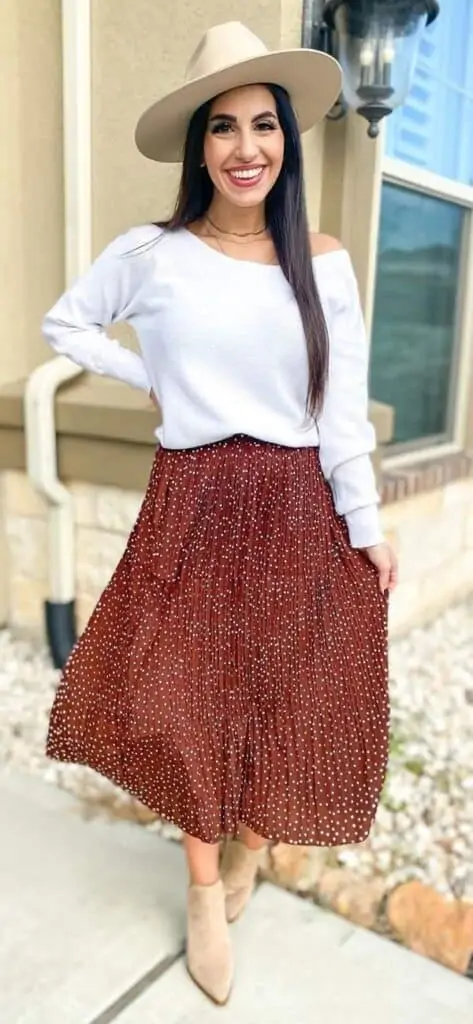 Rania (above) styled her flowy midi skirt with a white sweater top and ankle boots that match her hat.
The type of ankle boots you pick when you're wearing a midi skirt to a great extent depends on whether your skirt is in prints or solids. You should also choose your booties based on color of your skirt and the top you wear.
The key is all in the balance. Remember midi skirts is just talking about the length, and they can come in a variety of shapes such as pencil skirt or A line skirt. Depending on your body type, you can pick what works the best for your shape, whether it's a straight midi skirt or a more flared one.
With a jumpsuit
Jumpsuits can be modern and at the same time very retro, which is great if you're a person who likes to have the best of both worlds. Speaking of best of both worlds, they can be both dressy and casual and are easy to wear. Since it is one piece, you only have to think of the footwear to wear with jumpsuit, without having to worry about what is the best top to pair with the bottom.
Wearing your jumpsuit with ankle boots gives your outfit a great twist. Since a lot of people would normally choose to wear jumpsuit with heels, sandals or sneakers, jumpsuit with booties can make you stand out in the crowd. The boots make your jumpsuit look fresh since it's an out of the box pairing.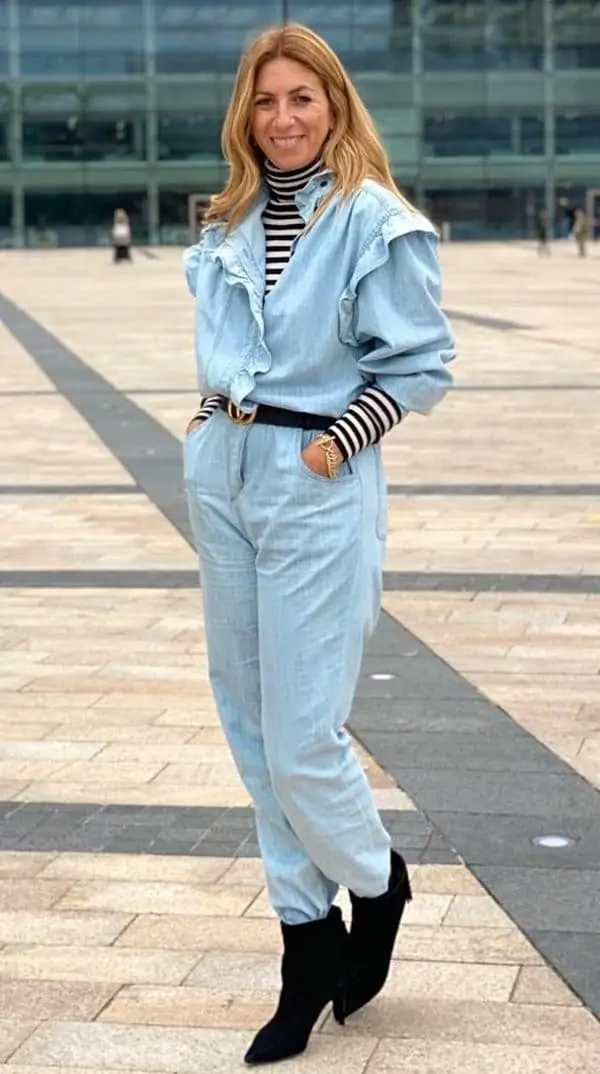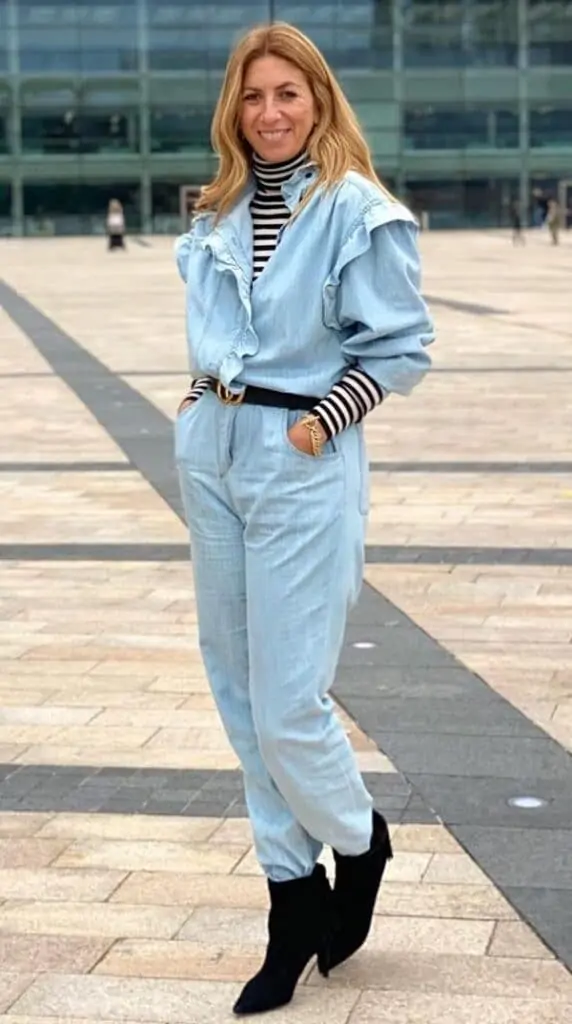 Gayle (above) styled her denim jumpsuit with a pair of black ankle boots. You can always layer something warm under your jumpsuit like she did instead of wearing something on top of it, especially if you want your jumpsuit to make a statement.
With a midi dress
Many women struggle when it comes to styling midi dresses because of their seemingly awkward length. The truth is there are many styling options for them and it just takes a few tips here and there to get it right. Once you find that midi dress you feel most confident in, you can style it with a pair of simple ankle boots.
Since midi dresses come in different silhouettes, you should look for the style that you feel flatters your body most. A line dress, or fit and flare dress, is the universally dress shape for women of any age and body type.
Be careful with how you coordinate your colors with this. Should you feel the need to layer some outerwear over your dress, the easiest way is to go with dresses in solids.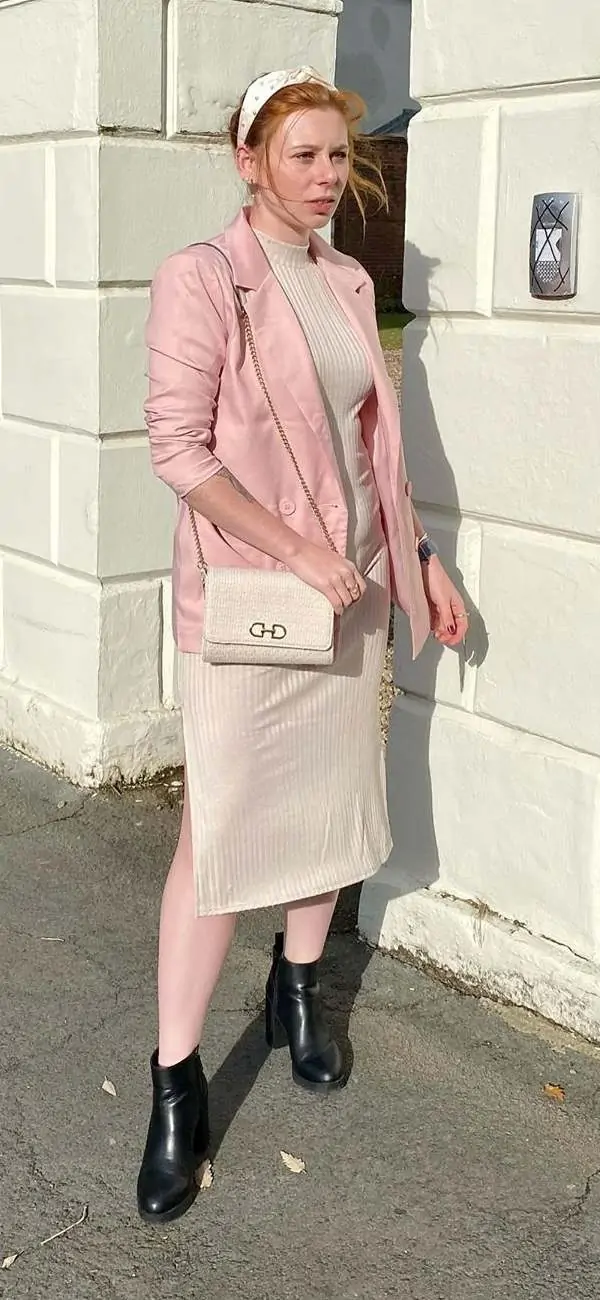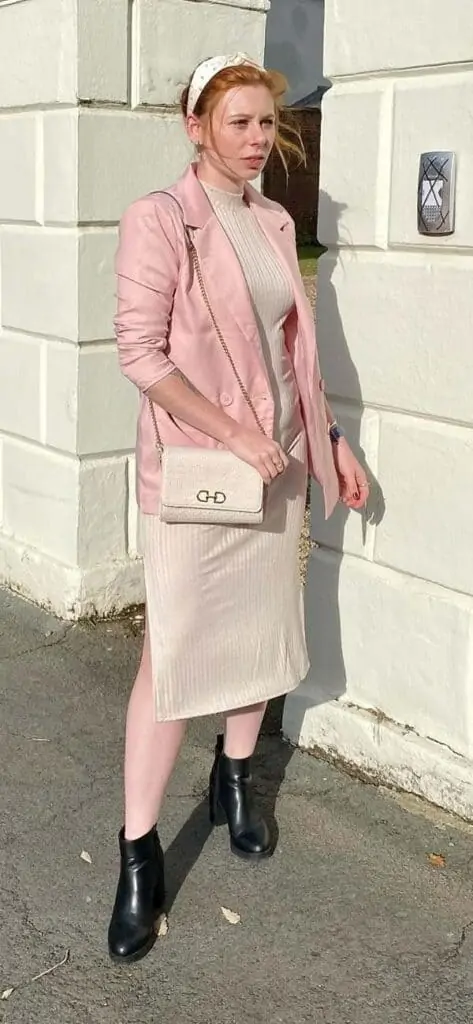 Charlotte (above) wore a simple off-white midi dress with some black ankle boots and a baby pink blazer.
The pro tip here is to go for a midi dress with side slits, if it's in a straight style. The obvious benefit is that you don't have a hard time walking in it. The best part is that side slits can make your legs appear longer, which is critical if you are petite and want to look taller.
Another thing to keep in mind is simplicity is the best way to start if you're thinking of wearing a midi dress with your ankle boots, so that you don't feel like you're overdressed.
With leather pants
Leather pants make for great fall and winter pieces, especially when styled with a pair of ankle boots.
Leather leggings or pants can simply be described as stylish but they are also timeless, considering they have been and will be around for many years. They are among those perfect pieces to wear when the weather is cooler, making a classic wardrobe staple for 50s or 60s degree weather.
If you choose a skinny pair, you get to enjoy the different style of booties around, especially if your leather pants are in black or any other solid color.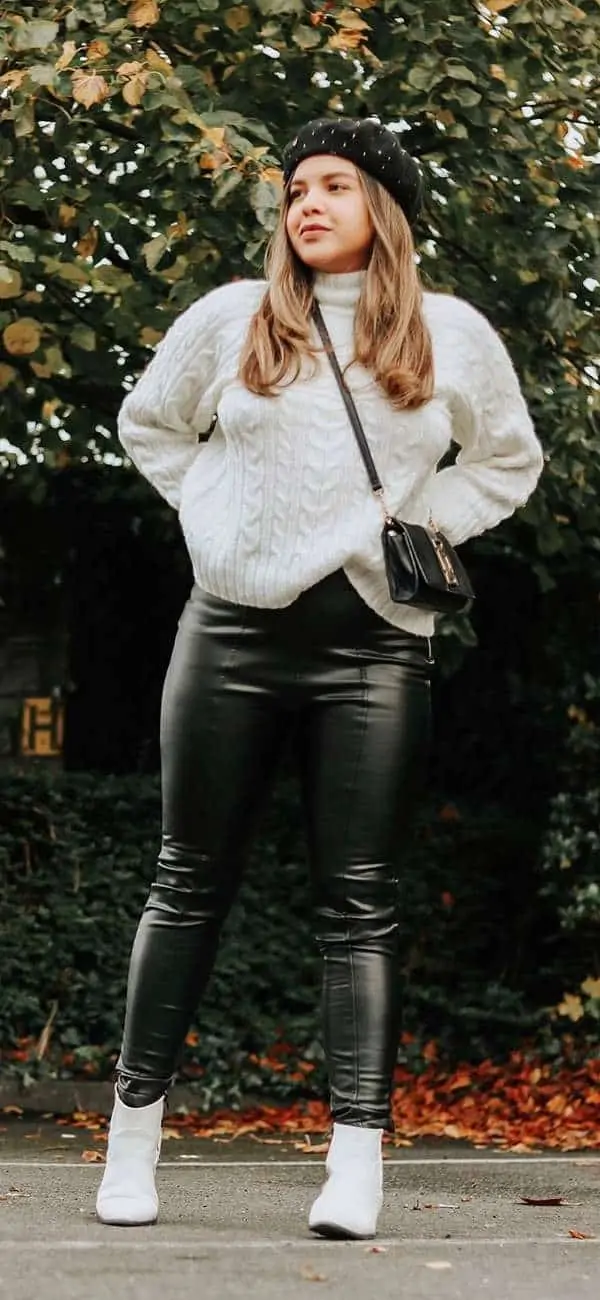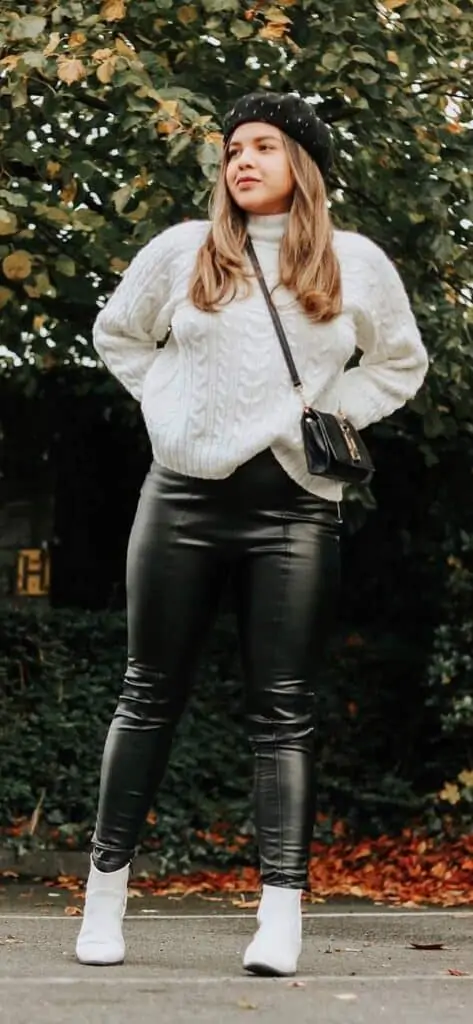 Paola (above) styled her leather leggings with a nice chunky white sweater and a pair of white ankle boots to match the sweater.
You can never go wrong with a black and white combination. Generally, picking a pair of ankle boots that contrasts well with your pants enables the pants and the shoes to both standout.
With a leather skirt
Still, on leather, leather skirts can be worn with ankle boots too and could look casual chic.
A leather skirt just always has a way of looking so chic whether longer or on the shorter side, especially if it's black. They are also great for the cooler months, just like leather pants, considering they come in a similar material anyway, with the difference being in the length and cut of course.
If you go for a graphic tee or a fun top, this is a laid back outfit. If you're more into a more classy look that is office ready, you could switch the tee or top up with a turtleneck, or a button-down, but keep the same bootie.
Going monochromatic with an ankle boot-leather skirt outfit is one of the easiest ways to look like a fashion icon (who doesn't want that)? With such a look, you can be sure you'll be turning heads wherever you go.
With a mini dress
The best thing about a fun mini dress is that you can style it with a pair of ankle boots and it will look amazing. A mini dress will look great on you especially if you pick a dress that is flattering to your body type.
It's a great way to transition from summer into fall and you can pair these two pieces before it gets too cold outside.
The combat boots definitely add a touch of toughness to the outfit. The mini dress could be in any color, print or silhouette and in case it's too girly, the ankle boots will balance out the look.
With tights
When it's colder, it's definitely a great idea to wear a pair of dark tights under your skirts, shorts or dresses then pair them with some ankle boots.
Women have been wearing tights for years, especially dark tights and nude ones. They make your legs look better, since they hide any flaws. If you go for a dark pair, tights with booties could also give you the illusion of the perfect, long, lean legs, and make your look slimmer.
It's something you can do whether you're headed to the office or a place that needs you to look casual.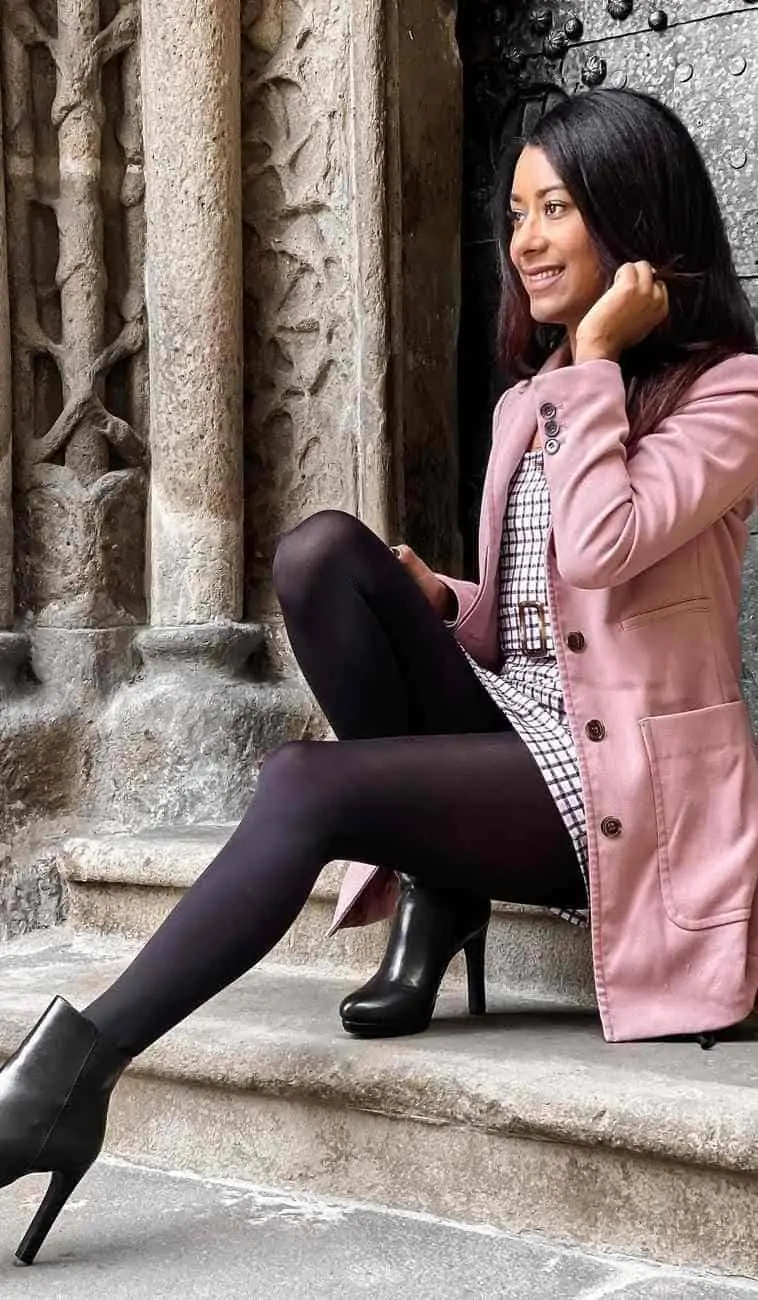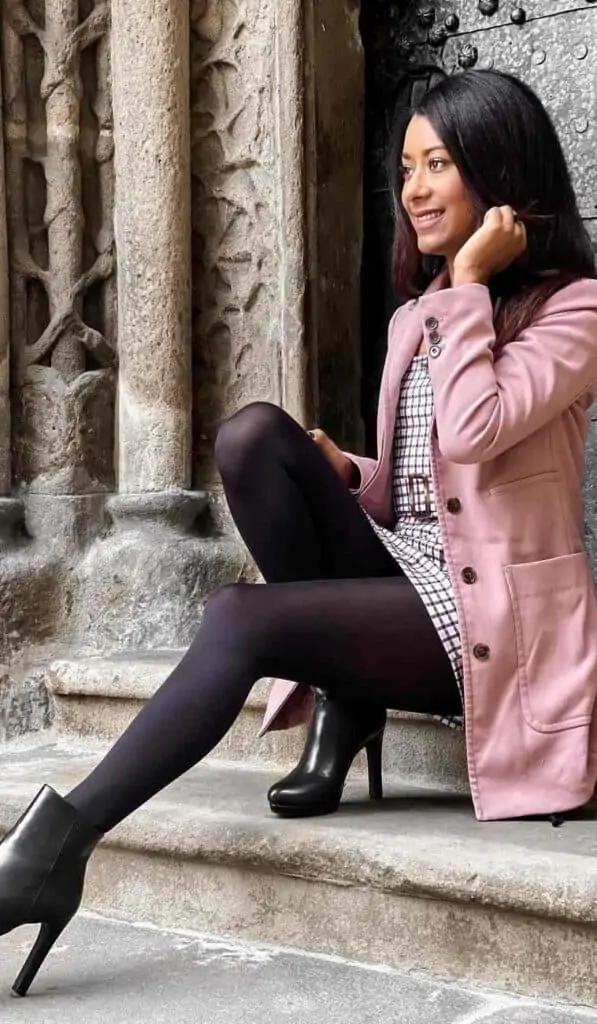 Roserlin (above) styled her dark tights with a short plaid dress, trench coat and some ankle boots. The boots and tights combination will keep you warm and stylish at the same time.
With a pencil skirt
A pencil skirt is one of the most popular silhouettes in fashion, and you can find one in your size easily with most brands. They can be worn with ankle boots, whether you pick a shorter pencil skirt or a longer one.
With a simple style pencil skirt, you can wear a pair of pointed boots, flat boots, chunky heels, you name it. The choice is yours to make.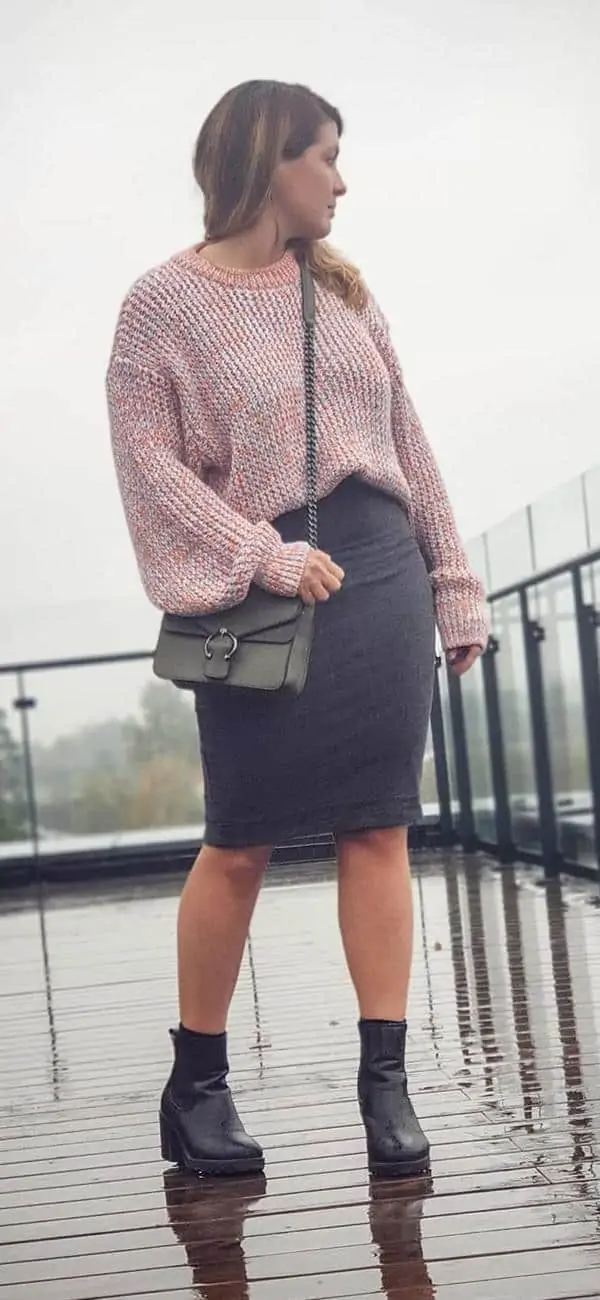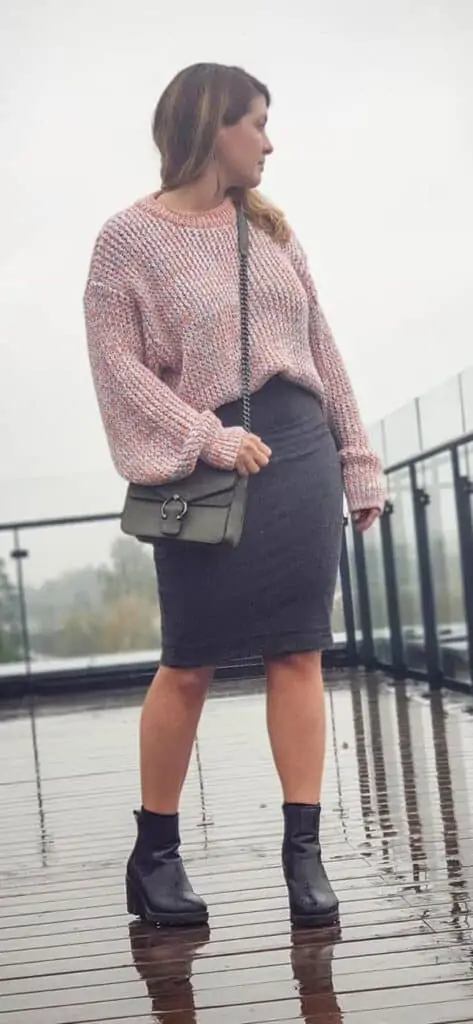 Alba (above) styled her ankle boots with a pencil skirt and a sweater. It's a simple yet classy look that anyone can pull off.
With joggers
You can also wear your joggers with a pair of ankle boots to dress up the otherwise laid back look.
Joggers, just like sweatpants, make for the best loungewear, except the difference is in the fabric. Joggers are lighter than sweatpants, which are made of heavier and tougher material, but both can also be worn outdoors.
If you want to look even more polished, add a layering piece to finish this look. It could be a duster, leather jacket, or a blazer.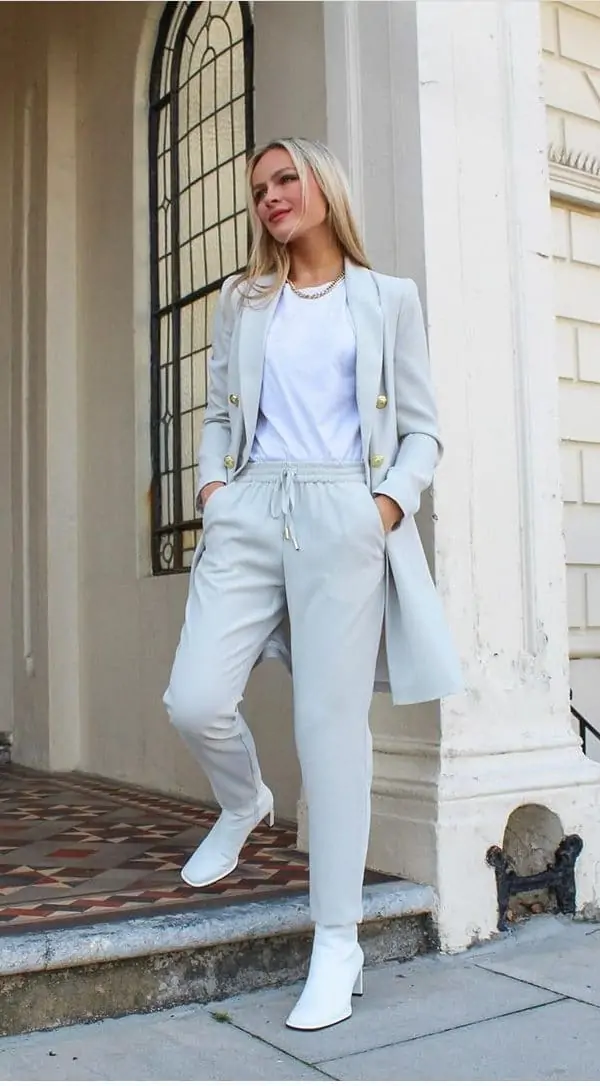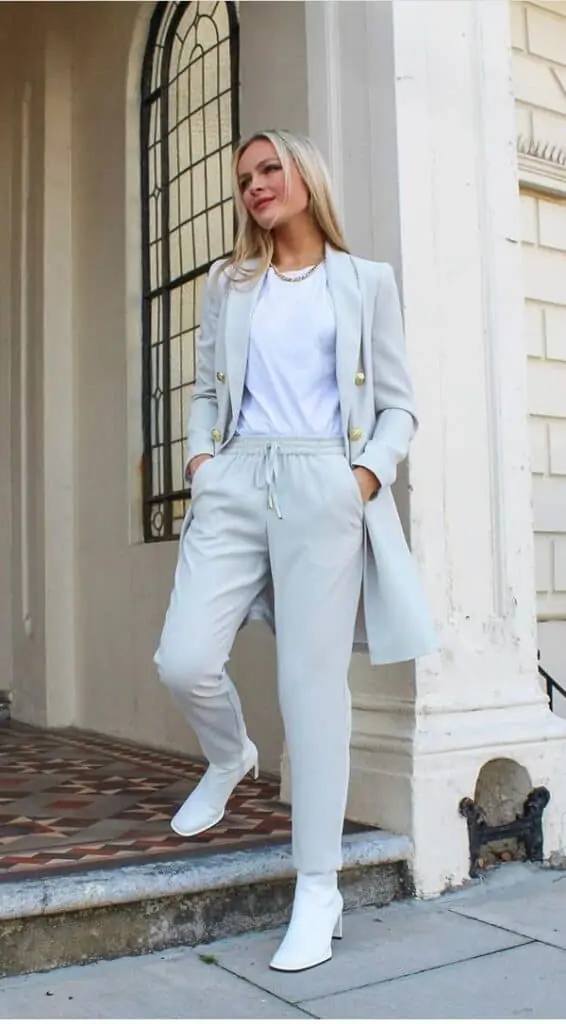 Dannie (above) dressed up her joggers by wearing them with a pair of ankle boots and a blazer over a t-shirt. This is a comfortable pairing but also a very stylish one.
With a suit
You can wear your suit with a pair of ankle boots instead of the ordinary heels.
A suit is a wardrobe staple for every woman. Whether you are a business executive or not, a suit can be a versatile piece in your closet that goes beyond just the office meeting. If you don't own at least one, you might want to change that.
Suit with booties can literally be worn anywhere, regardless of your age. Besides, this outfit always make you look classy and rich. This is the kind of combination that can make you look powerful, while you keeping warm.
Your suit and ankle boots do not always have to be in the usual black or white colors. Feel free to step out of the box sometimes.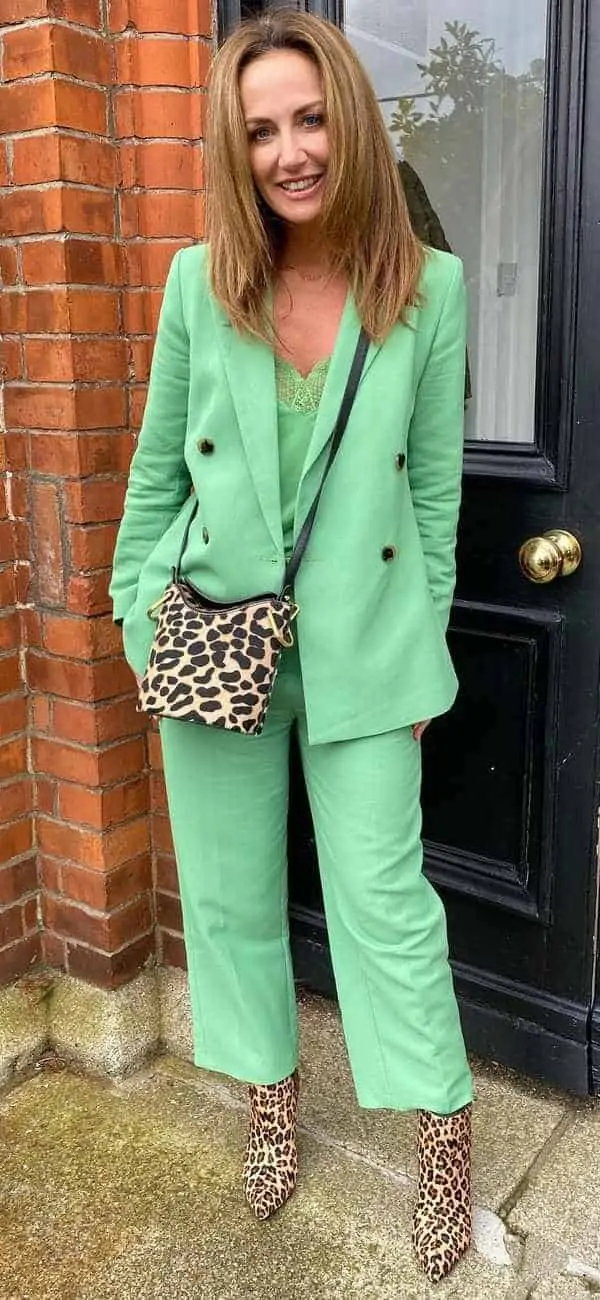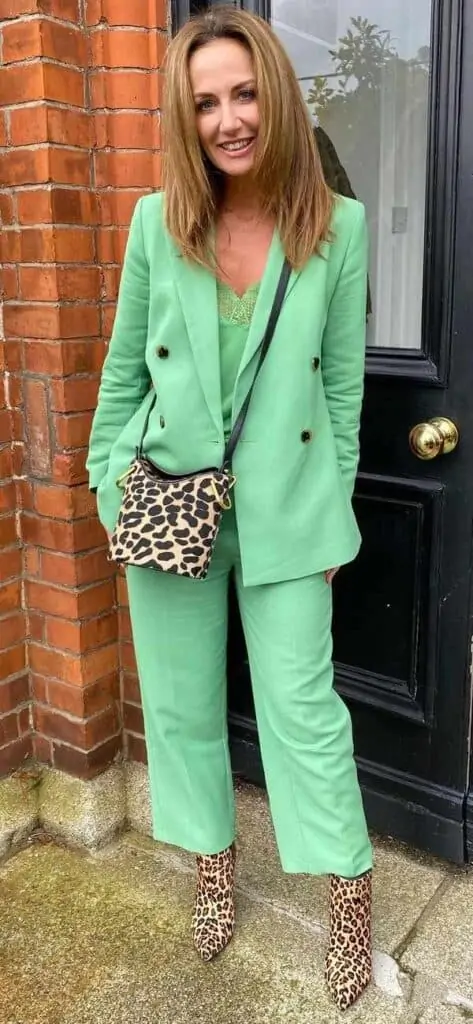 Lorraine (above) went monochromatic in a green suit and top and styled it with a contrasting pair of leopard print ankle boots.
With a tulle skirt
A tulle skirt (sometimes called ballerina skirt) is one of the most girly pieces of clothing you can own. While they are great for parties and events, you can wear them in a more dressed down way, and no, you won't look like a little girl in them just as long as the styling is right. You can make your tulle skirt edgier by wearing it with your favorite ankle boots.
These skirts mostly come in an A-line style which is already very flattering and you'll love the look.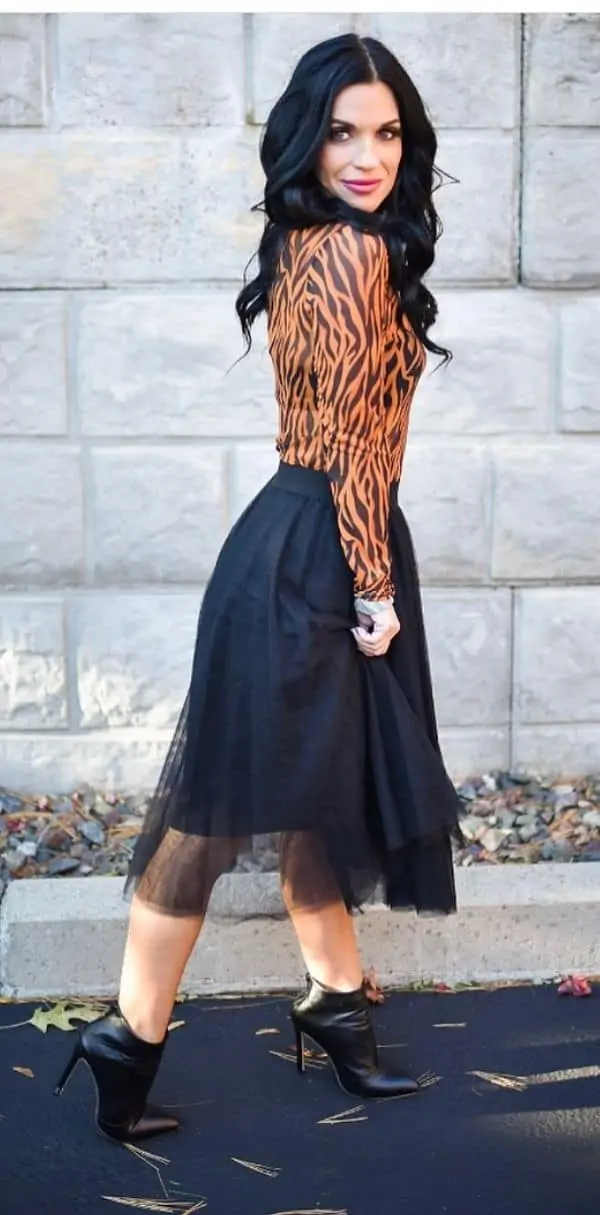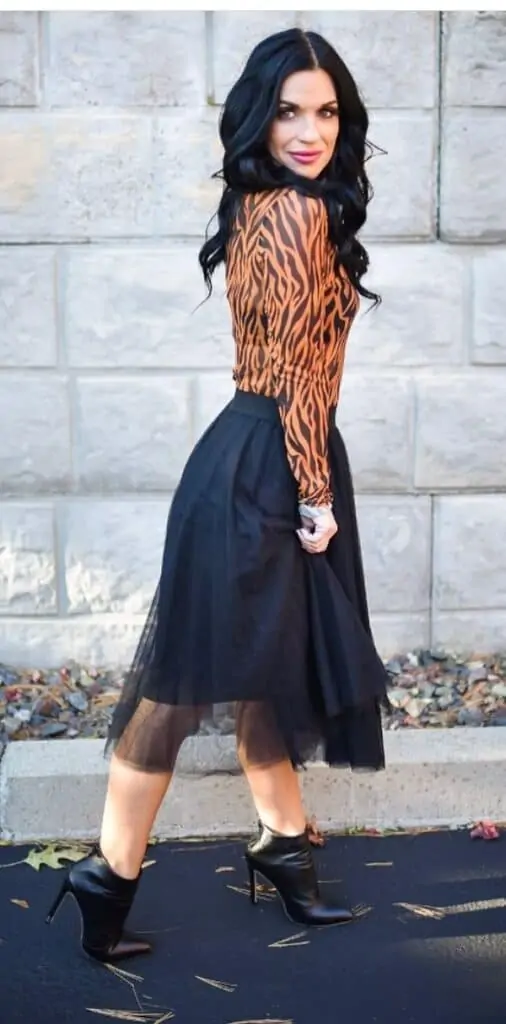 Tiffany (above) picked a sharp-pointed pair of ankle boots to wear with her black tulle skirt and animal print top. It's worth getting a tulle skirt that doesn't go all the way to your ankles so that your boots are seen.
With a maxi dress
You can transition your favorite maxi dresses into the early days of fall by wearing them with some ankle boots.
Maxi dresses are made for just about every woman out there. They're flowy and flattering, which is why a lot of people prefer to wear them during summertime.
To feel even warmer, you could throw on a blazer or a leather jacket since maxis are light. This combination makes a perfect 60 degree weather outfit.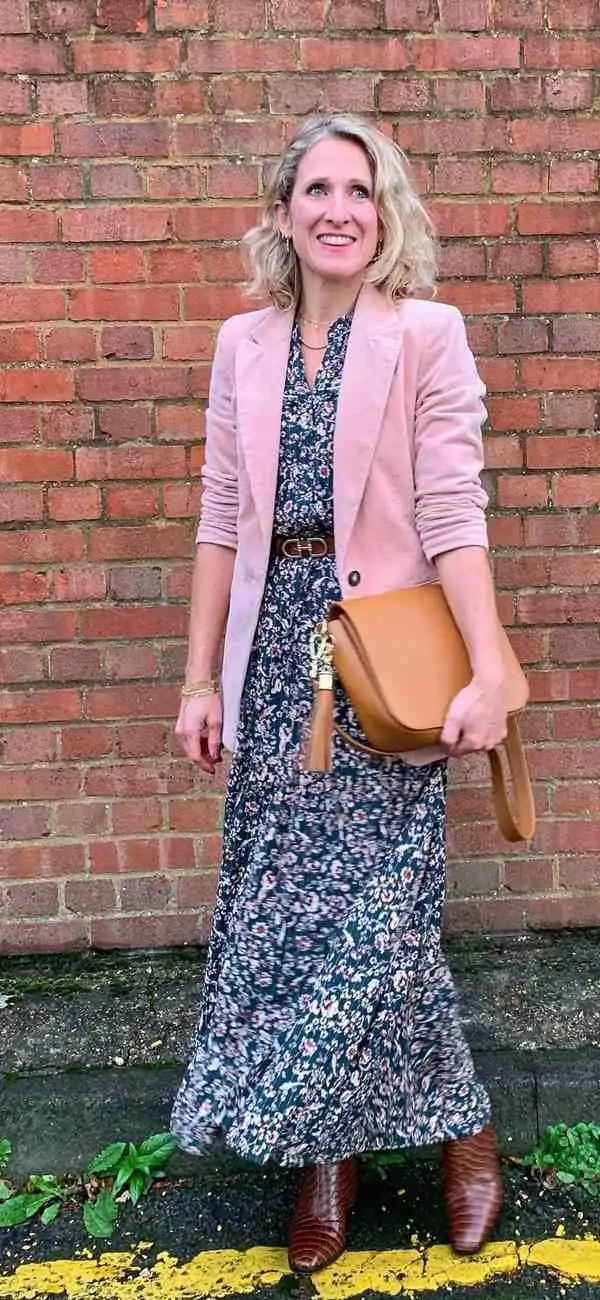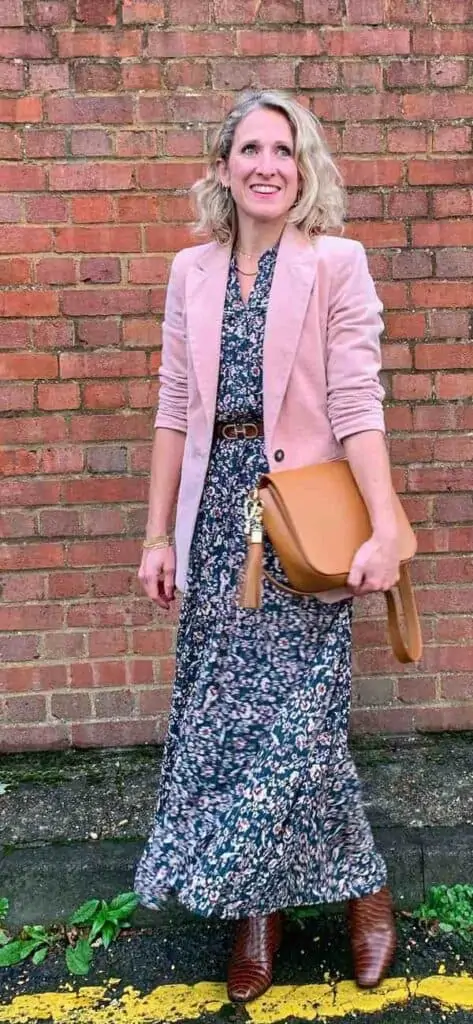 Maz (above) styled her floral maxi dress with some brown ankle boots and a pink blazer. It's the kind of outfit that gives you a nice balance between feminine and tough.
With some shorts
Shorts are a great way to show off your legs whether you pick short shorts or go for a longer option. They come in denim, leather and many other materials and you can pick whichever you're most comfortable in.
Wearing your ankle boots with some shorts will give you a great, easy look. Going for a leather pair of shorts makes you look classier while denim is more casual paired with the ankle boots.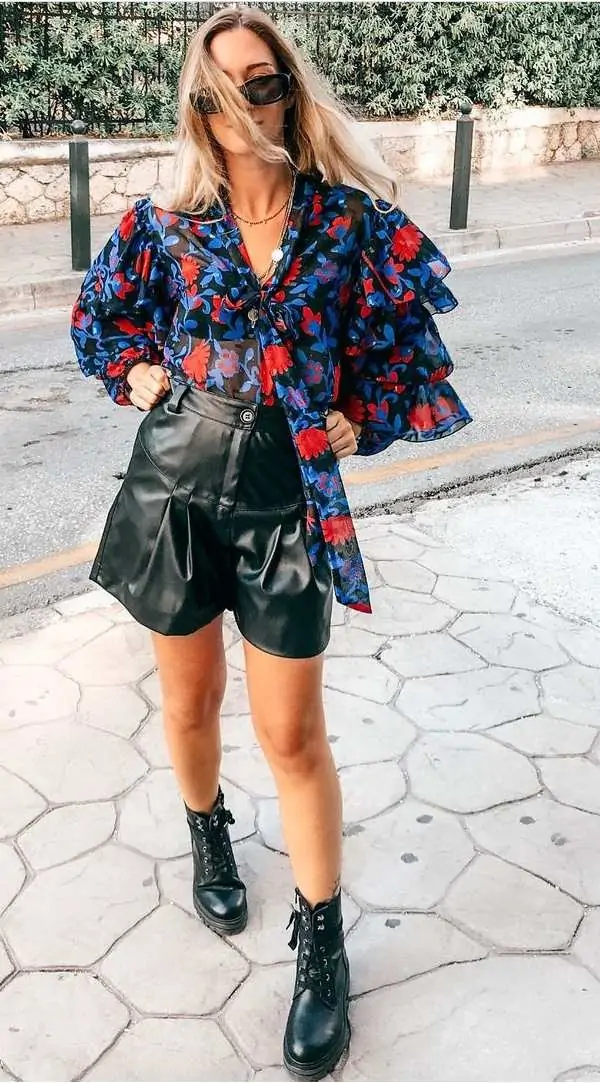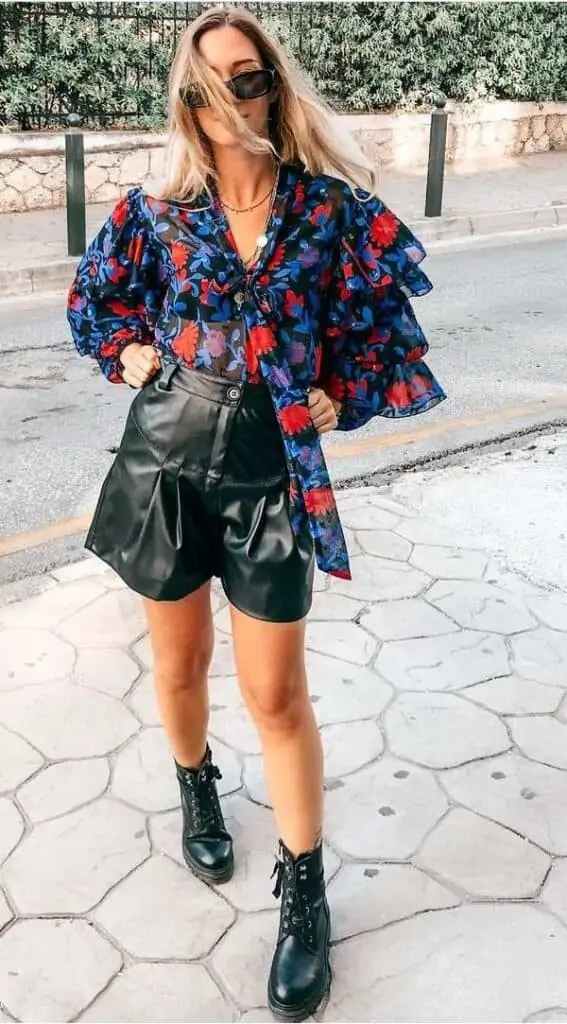 Maria (above) went for the classy style with her ankle boots pairing them with some leather shorts and a chiffon feminine sheer blouse. You can pick a t-shirt instead to make the look more laid back if you choose to go for combat boots.
With a matching set
Investing in a couple of matching sets is such a great idea because the matching sets are both easy to style and the individual pieces can also be worn with other pieces in your closet. Should you decide to wear the set pieces together, all you need to do is put on your shoes and off you go.
The shoes could very well be your favorite pair of ankle boots. Regardless of the type of set you go for be it pants, shorts or a skirt set, the boots work great.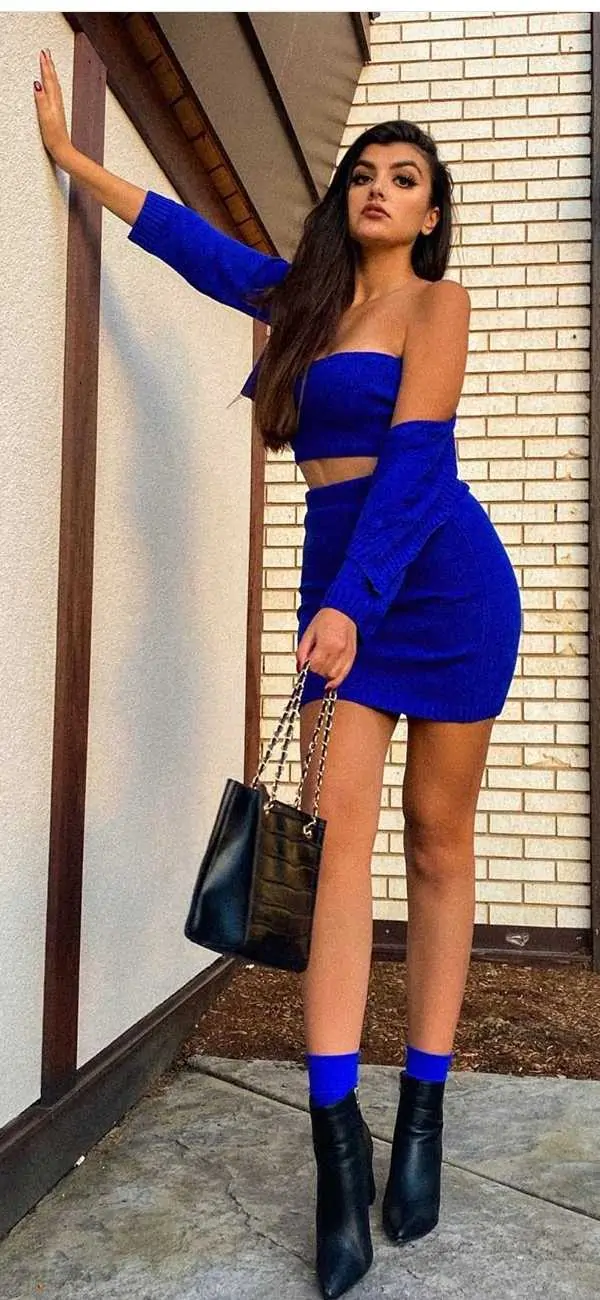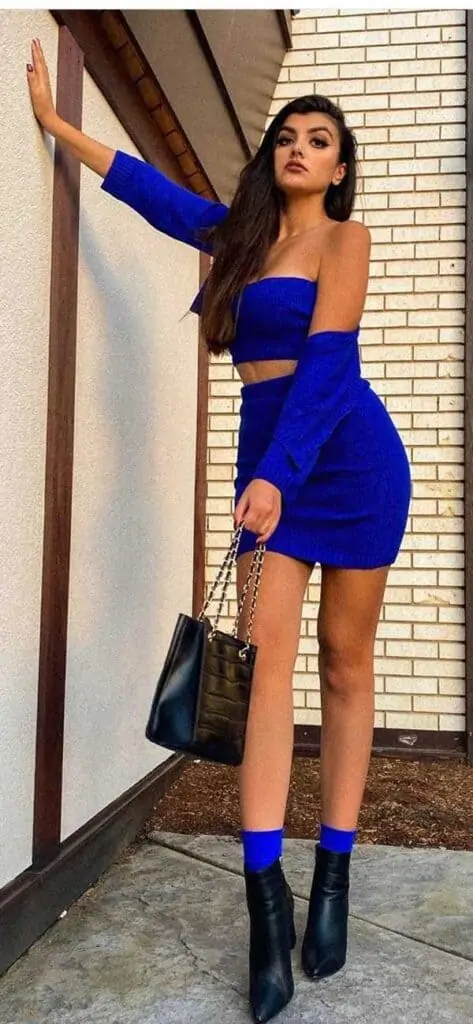 Renee (above) wore her blue co-ord set, which is a skirt and a matching crop top, with a pair of ankle boots. The co-ord set is in one color which makes the whole outfit easy on the eye. You can also style a printed co-ord set with your ankle boots.
With long socks
Ever spotted a grown up girl wearing a pair of shorts, a dress, or a skirt with some long socks? It's really not as crazy as it sounds as this has become a trend and a stylish one at that.
You can actually wear your outfit with some long socks and a pair of ankle boots. It makes you look young and trendy.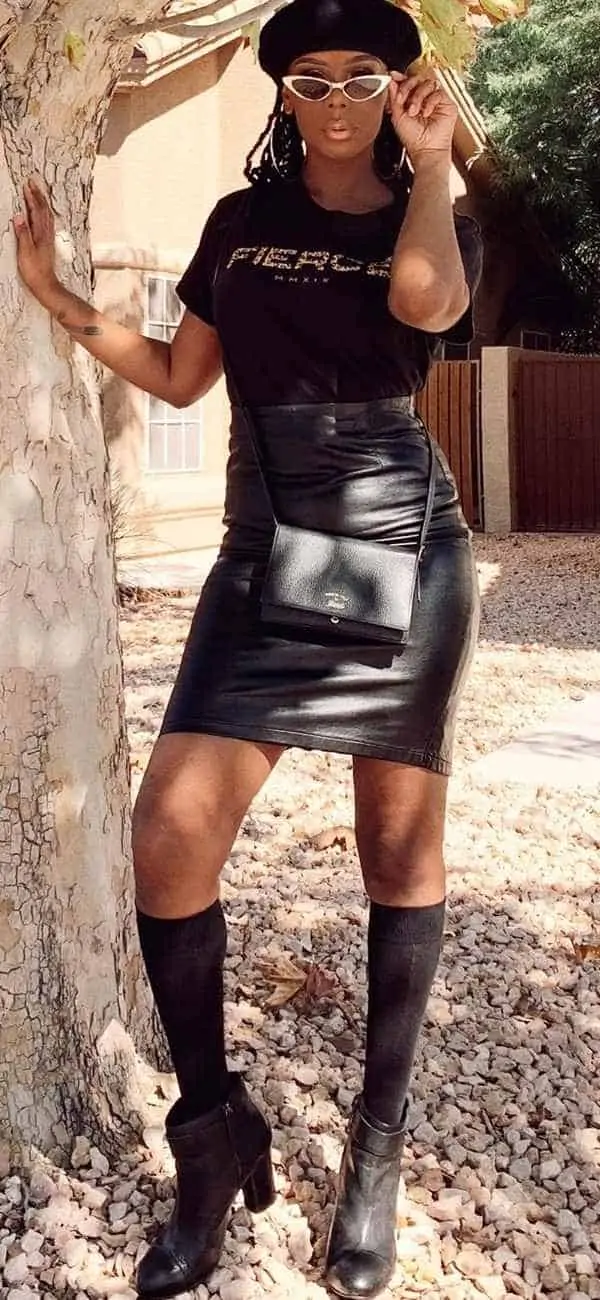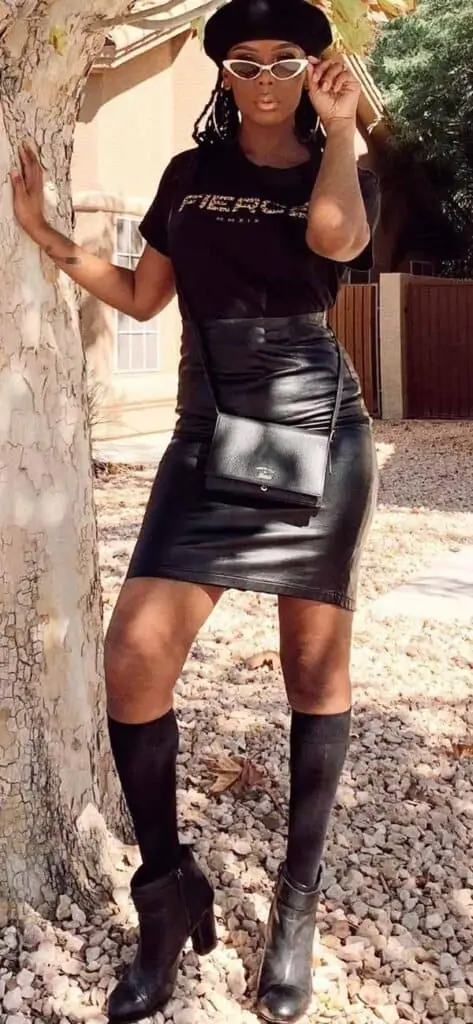 Bre (above) wore her t-shirt, pencil skirt and ankle boots with some long socks. It makes her all black outfit look less ordinary. For this pairing to work, you need your dress, skirt or shorts to be a bit shorter, above the knee.
With a mini skirt
Miniskirts are nice and fun and wearing one makes you feel even younger. They are versatile and can be worn with a variety of tops and footwear, not to mention they come in a range of designs.
Miniskirts are mostly worn during summertime, when all you want is to have your legs out nice and free. They can also be transitioned into fall by wearing them with a pair of ankle boots.
You can go for a bare leg if it's not too cold, and top it off with a cardigan, a duster or a long trench coat can give you extra warmth should you feel the need for it.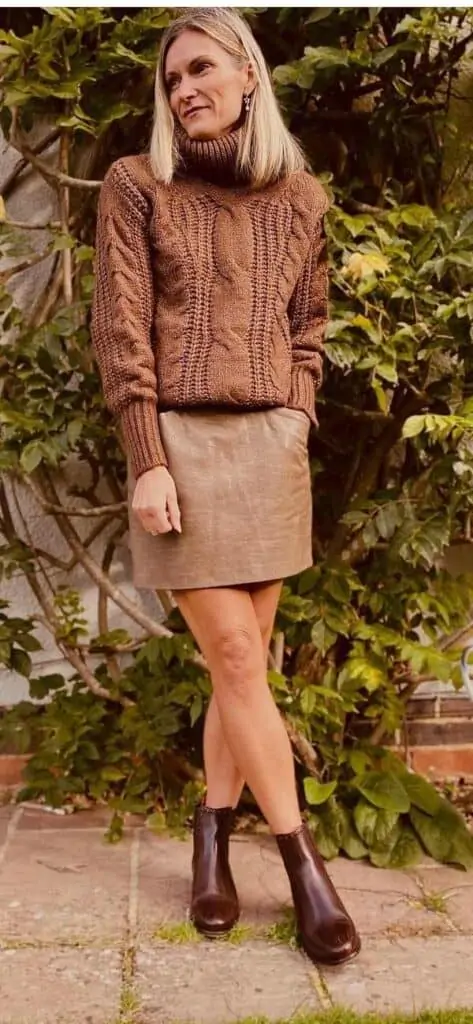 Rachel (above) wore her brown mini skirt with a brown sweater and brown ankle boots for a monochromatic look. Monochrome is minimalist but very classy.
When you choose to wear a mini skirt with heeled ankle boots, ensure you choose a comfortable pair because it's even easier to notice any discomfort around your ankles when most of your leg can be seen. Also, make sure the skirt fits you well so that it doesn't ride up considering it's already short.
With these different ways to style your ankle boots, you should be encouraged to invest in more pairs for the cooler months.