Khakis are one of the wardrobe staples in women's closet that seems basic but never goes out of style. These bottoms that mostly come in light brown, olive green, or beige were a a big trend back in the 90s but have made their way into modern fashion. Khaki pants come in different styles and have become a favorite for many people including celebrities, bloggers, influencers and other trendsetters, especially because they can pretty much do almost everything a pair of jeans can do.
There are different ways to make khaki pants feel modern and sometimes it just takes some inspiration to put them on and get it right. Here are a few ideas on what to wear with khaki pants:
With a blazer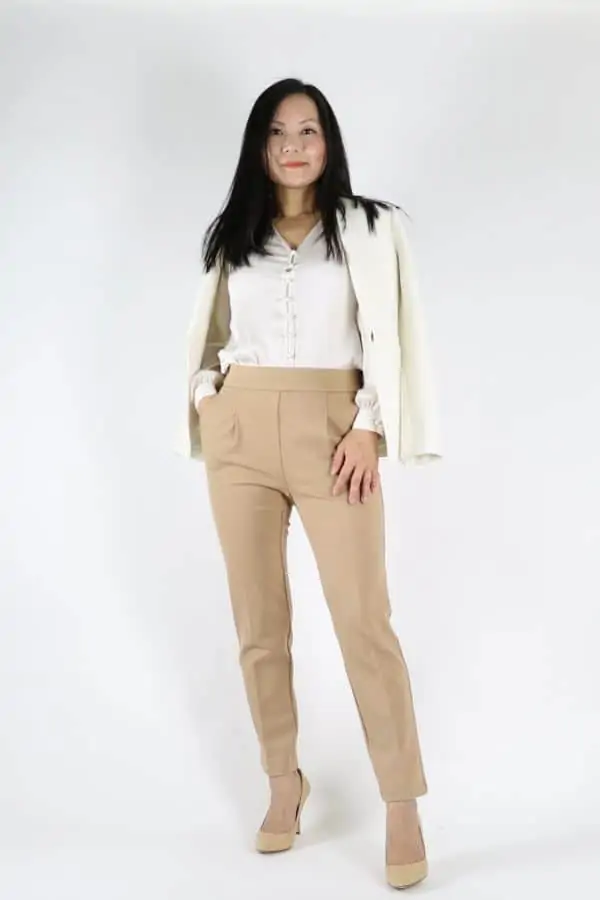 Wearing your khaki pants with a blazer gives you a more polished look, because a blazer is a quick way to add a touch of sophistication to any outfit. They come in different styles and are flattering on any body type just as long as you find one that fits you properly.
You can choose to wear the blazer over a tank or a button-down shirt to create different feel of the khakis pants outfit. This pairing is in fact great for the office or dressier occasions.
However, a blazer worn with khaki pants can also take you to the bar and works for a casual day out. While it's best to go for solid colored blazers like black or navy especially if you're new to wearing them, you also have the option of brighter ones for a pop of color. In most cases, the simpler the blazer, the better.
You can pair the pants with a v-cut tank, some slides, and a belt to cinch in her waist and finished the look with an off-white blazer. This is an example of a look that works outside the office and it would definitely work for a date or brunch.
A leather jacket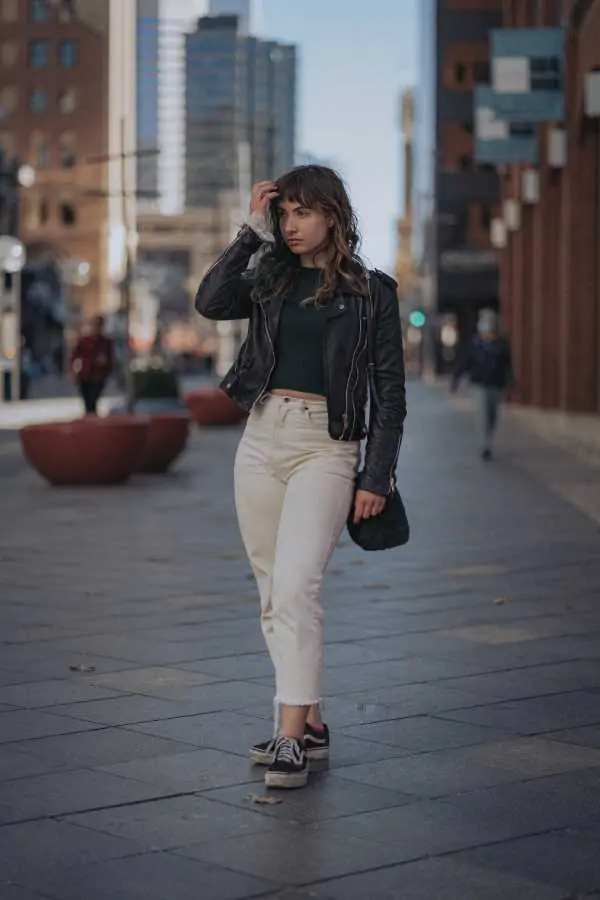 You can wear your khaki pants with a leather jacket for a cool urban look.
Leather jacket or faux leather jackets have always been a wardrobe classic. They are a must-have, especially because they not only make for great for any casual outfits, but also are really functional when the weather gets cold. A leather jacket suits anyone, regardless of their body shape or height which is why they are such a stapled.
During the early fall, you can always throw on a leather jacket with a lighter shade of khaki pants, and roll up the sleeves. In the winter, you could layer it over something warmer and wear it with a darker shade of khaki pants, so that you keep the outfit cool and functional at the same time. The contrast in the colors and fabric of the denim jacket and the khakis are what makes this combination so worth it!
If your leather jacket is cropped length, it will make the proportion look really good. . When choosing leather jackets to wear with your khakis, it's best to go for jackets that hit you right above the waist as they are more flattering.
With a cardigan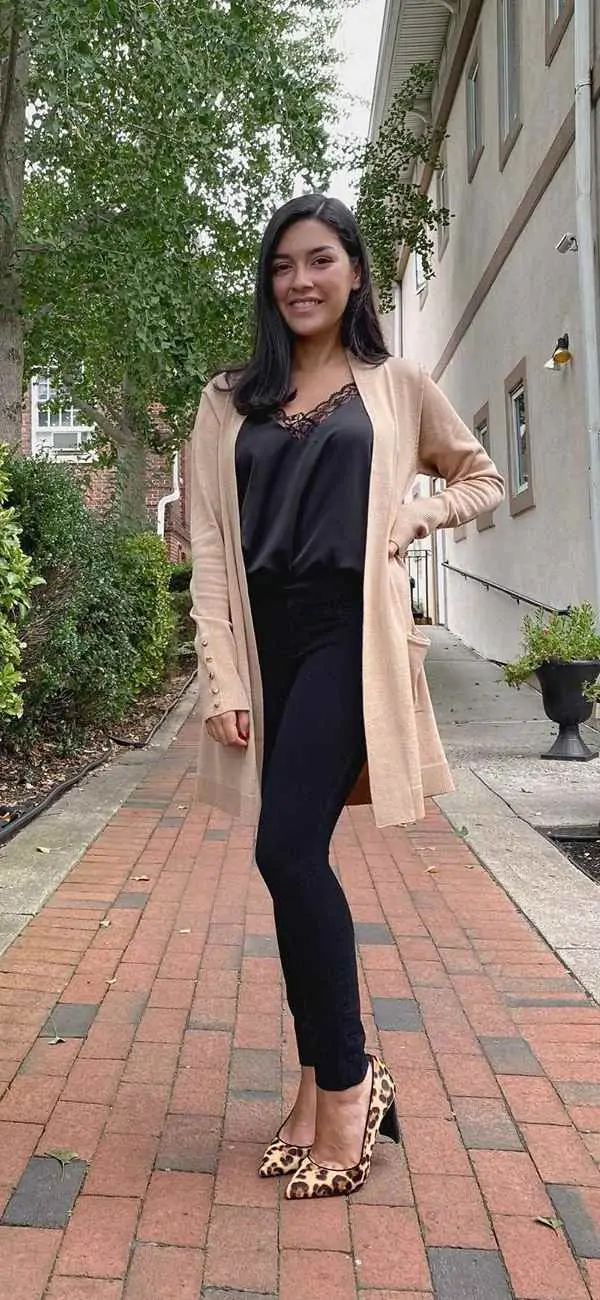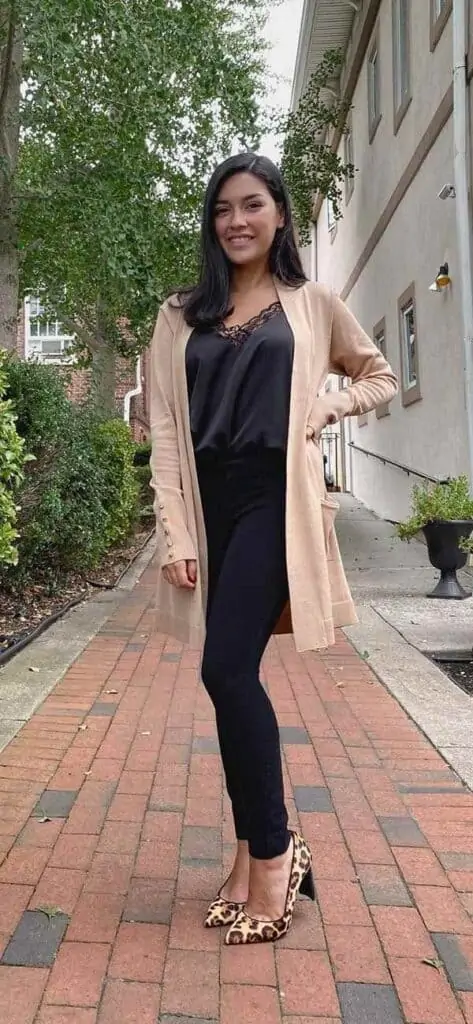 Cardigans are now looked at as stylish when worn by anyone and can be paired with different wardrobe pieces including khaki pants.
Cardigans are button-down sweaters that not only look cute on their own but also make for great layering pieces in colder weather. In the past they were looked as pieces meant for just teachers and students but not anymore.
You can wear them over your summer tanks into the fall since they make for great transitional pieces. You can tuck them into your khaki pants if they are shorter but remember, there are also longer cardigans that are nice and flowy which add an extra feminine touch to your khaki pants outfit. Keep in mind that you need to keep the colors you're wearing well coordinated since cardigans come in just about every other color out there.
Katie (above) wore her khaki pants with a silk cami and a long cardigan for an office outfit. Remember, khakis also come in blacks and navies which are best for the office.
With a coat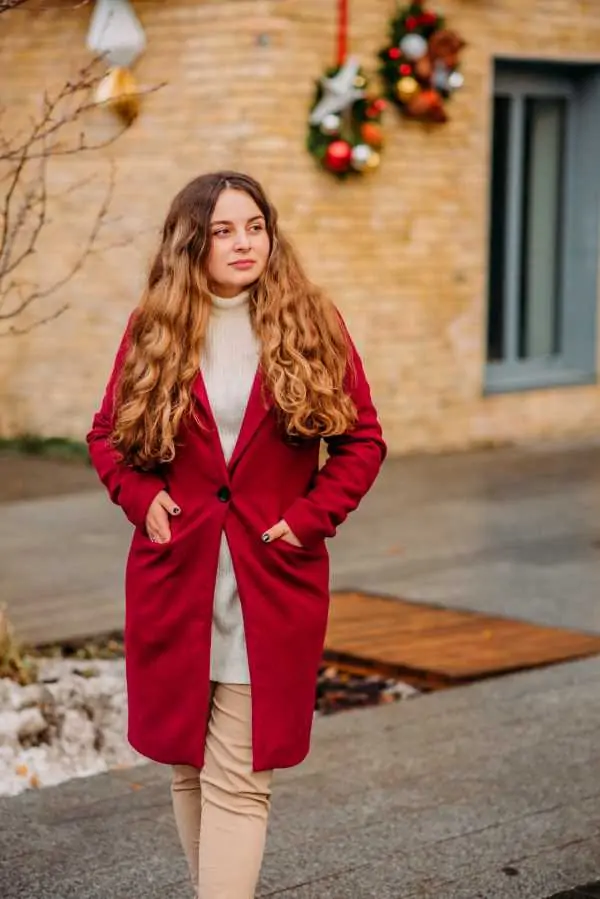 On colder days, it only makes sense to wear a coat since there's no point of freezing in the name of looking good. Luckily, you don't have to worry about your coat covering up your carefully thought about outfit since a lot of designers focus on creating high quality coats in amazing designs too.
When you go for khaki pants on a cold day, you can go for different types of coats since khakis are mostly plain. In the winter, a faux fur coat paired with your khakis will let you make a fashion statement wherever you go. In fall, when the weather is in the 60s, a lighter one like a trench coat will do. Whichever style you choose, there's no doubt that a coat adds a great deal of authority to an outfit. They are also great since they cover up a lot of flaws that women often feel insecure about.
You can wear khaki pants with a white top and threw over it a long coat. Wearing sneakers with this look gave the outfit a sporty-chic touch. A neutral coat is best when you're going to be wearing khakis and you can always choose full-length ones or go for a cropped pair of khakis such as hers.
With a camisole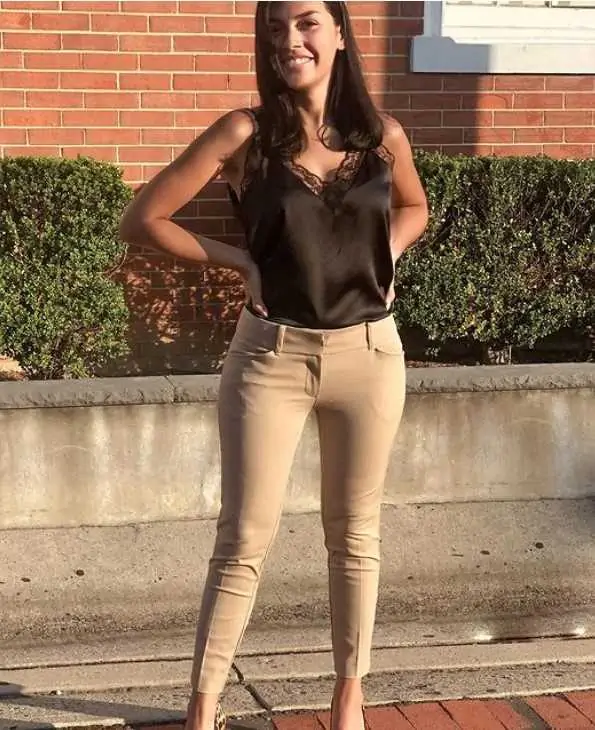 Wearing your khakis pants with a camisole is one of the easiest ways to instantly dress up your outfit. This is one of the best choices for the summer, when you don't know what to wear. Everybody has a camisole in her wardrobe, and they can immediately make your khakis pants look more feminine and make you look effortlessly chic.
With a chambray shirt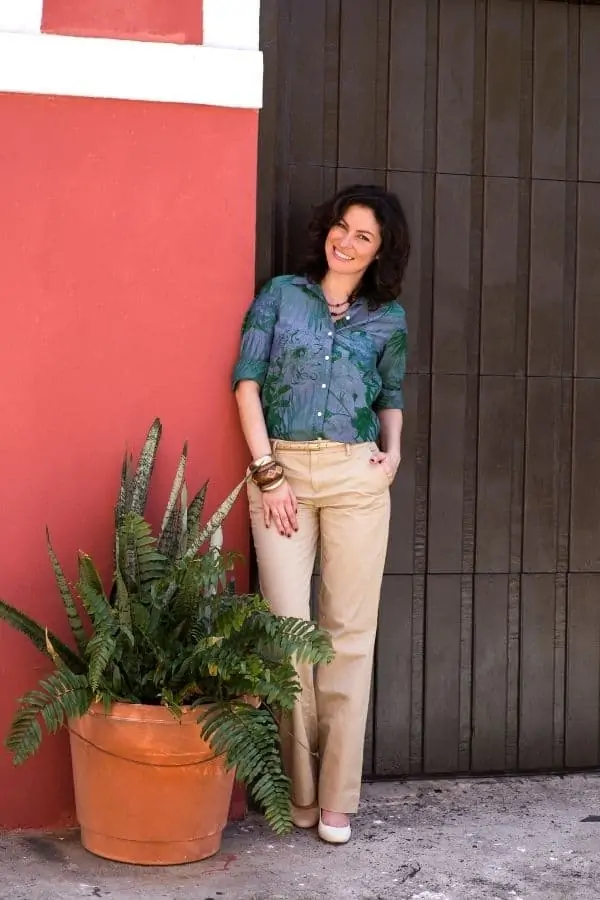 Khakis pants naturally go with anything denim, because of its casual vibe. When the weather gets hot, chambray shirt is an easy way to wear with your khakis pants that will always look good.
Traditionally chambray shirts are plain, but you can also choose one with prints (like above). Since your khakis pants are simple, they will go with shirts of any color.
With a button-down shirt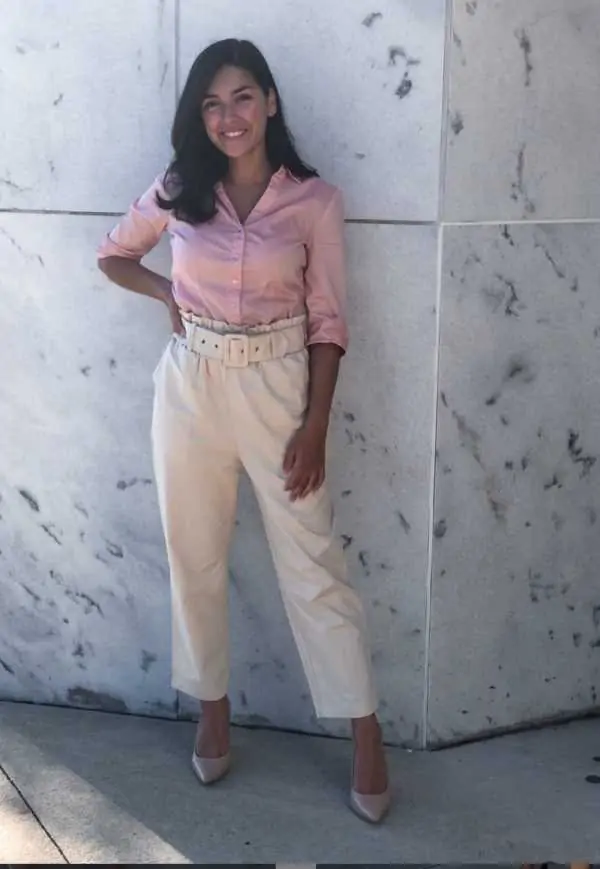 Wearing your khaki pants with a button-down shirt well tucked in is a great way to look work-ready, of course, if the khakis are in a simple design.
A plain button-down is a wardrobe staple that never fails you. Whatever color they come in, their basic nature allow you to pair one with just about all the bottoms you have or to throw them over dresses and jumpsuits regardless of the color or cut.
Wear some closed heels, you're ready to step out for the day's business. You can also wear the button-down with khaki pants in a more casual way by folding your sleeves and tying the shirt into a knot at the bottom. A high waisted design is ideal if you are going for an edgier, more-fun khaki outfit. Feel free to accessorize accordingly since the button-down is plain.
Katie (above) is balanced out the color of the button down shirt with a stone color khakis, none overpowers the other which is a great way to go if you're styling khakis for work. Wearing a belted pants when tucked in your button-down is always a good idea as it brings out your waist and makes your look smarter.
With a graphic/ message tee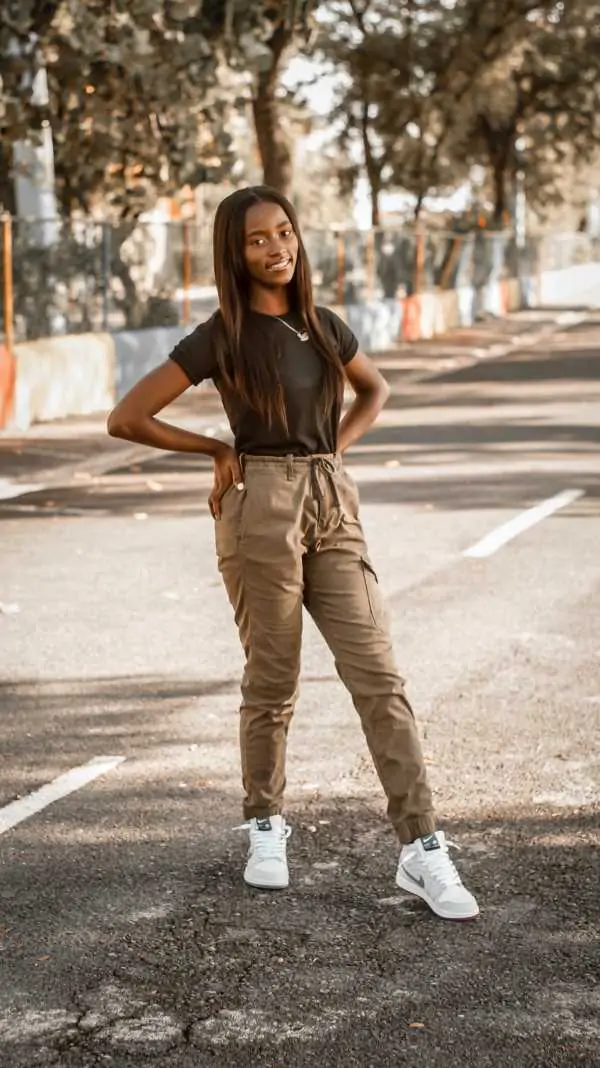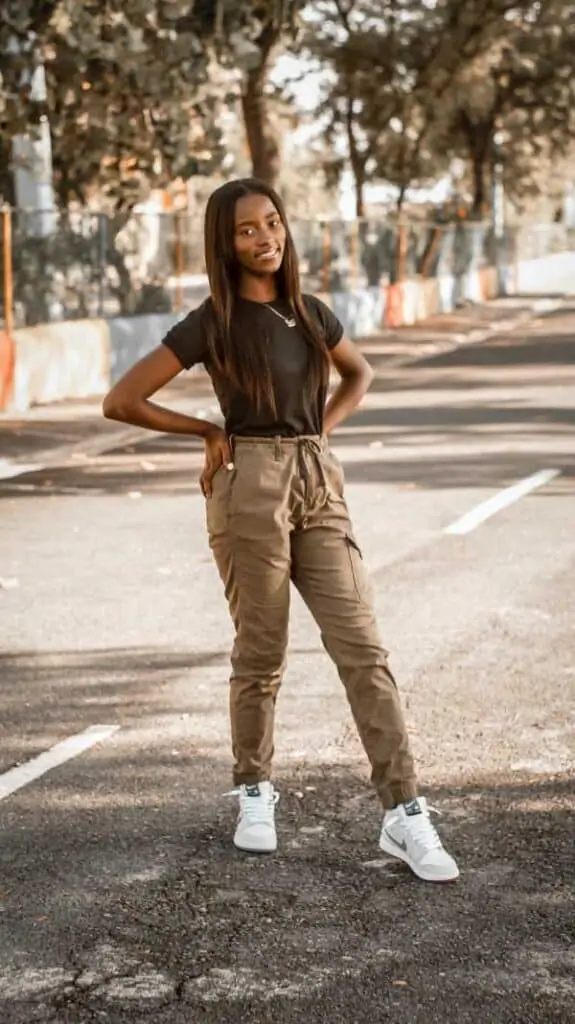 A graphic or message t-shirt can be worn with any type of khaki pants to give you a laid back or edgy look. You can go for a nice pair of sandals, some boots or some cool sneakers to complete the outfit.
A graphic or message t-shirt is an easy way for you to either express your personality, the things you believe in, and your sense of style. Wearing any of these will also make you stand out in a crowd.
However, this pairing does not have to be just casual. You can dress it up a bit with a pair of heels, wear a bright lip and go for a fancy bag if you're stepping out for a date, brunch or an event. The key is to embrace the t-shirt's aesthetic while you're doing the styling.
When you wear your khaki pants with a graphic tee, it is such a fun way for the summer when you pair them with a pair of sandals and a hat. While heels are the easiest way to dress up such a pairing, some fancy, cute sandals and a stylish bag can do the same effortlessly too.
With a plain white t-shirt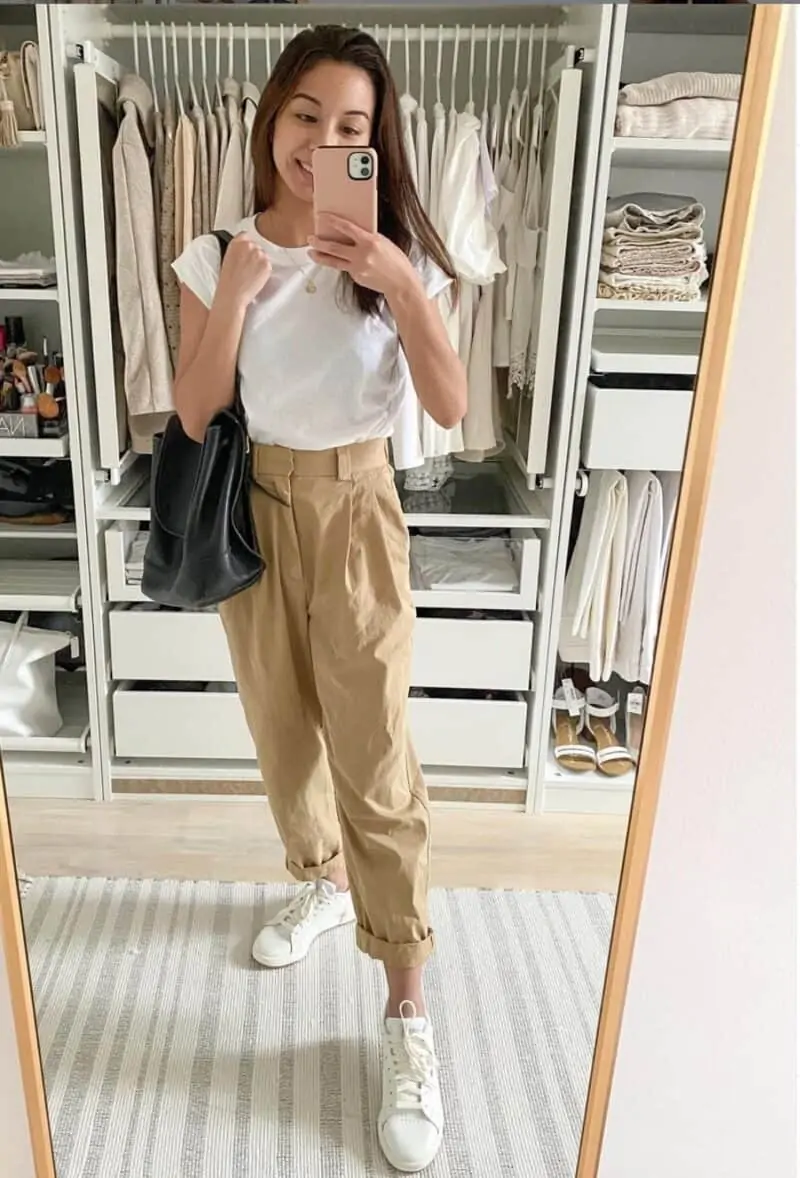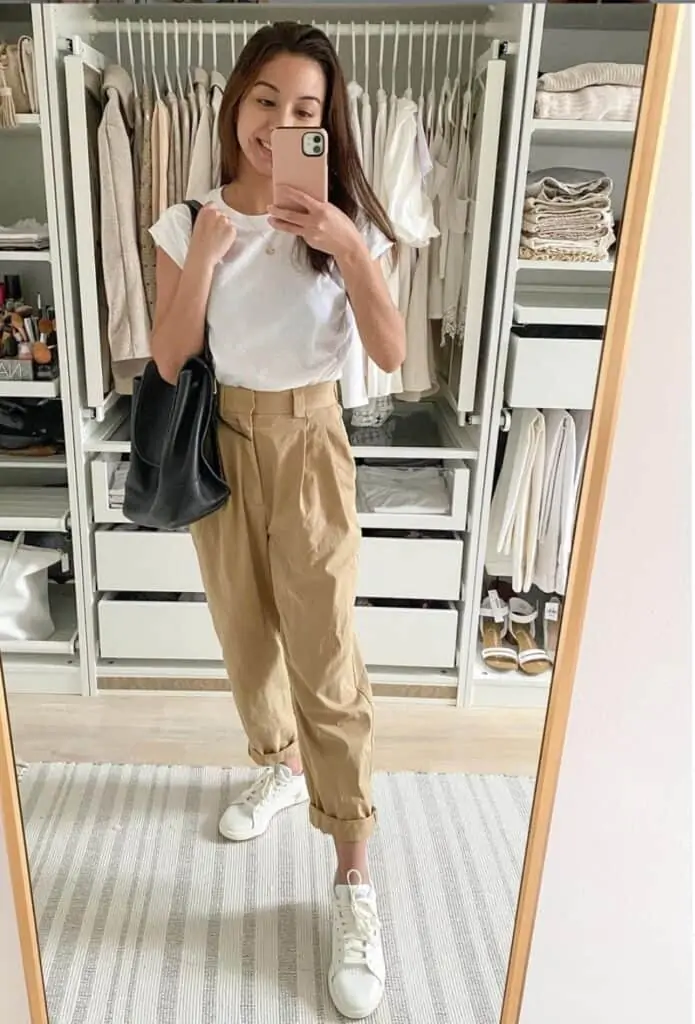 When you choose how to style your khaki pants, a basic plain white t-shirt is the easiest choice for what to wear on top, especially on a hot summer day.
A plain white one which is a classic deserves its own mention. White t-shirts are perhaps the most versatile wardrobe pieces you can own as they work in any environment and can be worn with anything else.
You can size up on the t-shirt and roll up the sleeves or you can go for a fitted one. Since white t-shirts go with anything, you're free to choose khaki pants in any color and in any design. You can layer something warm over the t-shirt if it's cold outside.
You can style khaki pants with a simple plain white tee and some mules. She also went for more muted tones in her styling. Since this white tee-khaki pants combination can look a little plain, accessories such as a belt and some layered necklaces or just a statement bag will make it look livelier.
With a crop top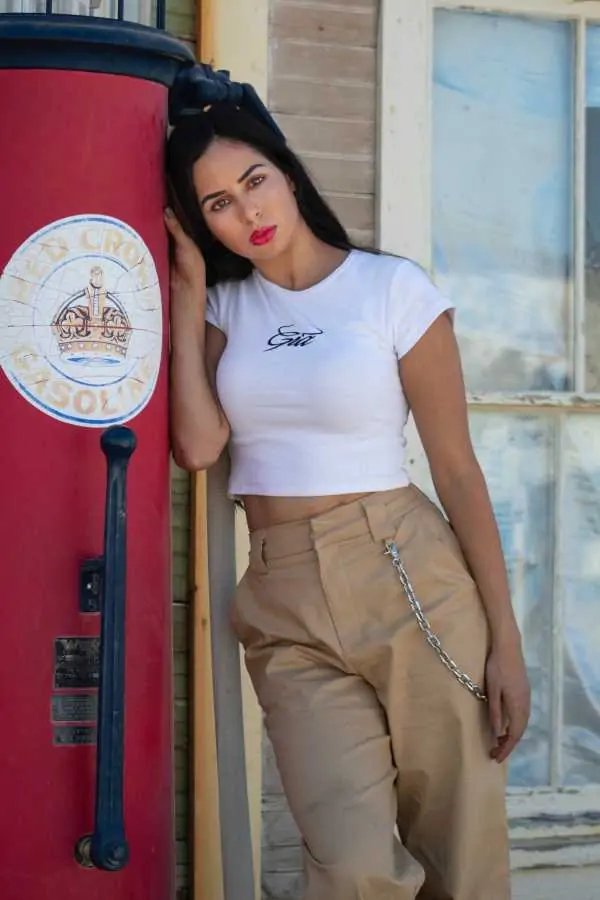 Pairing your khaki pants with a crop top is a great idea especially on hot summer days. Crop tops are trendy especially among younger women, but they can be worn by just about anyone who is confident enough to show some skin.
If you do not want much of your skin showing, the key is to choose a pair of high waisted khakis. Paper bag or other high waisted khakis, when worn with crop tops, make you look taller and will also make you feel more comfortable if you're not that used to wearing crop tops in the first place.
You can wear a simple fitted crop top or go for a flowy one. It's a great pairing for a casual look but if you want to go for a dressier version of it, you can throw a blazer over the crop top.
You can wear khaki pants with a white crop top and some lace-up heels. When wearing your khakis with a crop top, feel free to experiment with the type of khakis especially if your crop top is simple and in a neutral color.
With a tunic
While a lot of people will reach for leggings on days when they feel like wearing tunics especially, because they are mostly flowy, switching up the leggings for a pair of khaki pants will also do the trick.
A tunic is always a great solution for people in some kind of style rut. Tunics come in different styles that are all easy to wear regardless of your body shape.
It's an out-of-the box combination that gives you a dressier result. This pairing is best with a pair of heels if you want a long and lean appearance considering the length tunics come in. Remember, they're longer than your normal tops. However, there's no harm in choosing flats. You can also belt the front part of the tunic and leave the back hanging then belt your khaki pants. It's all about being creative.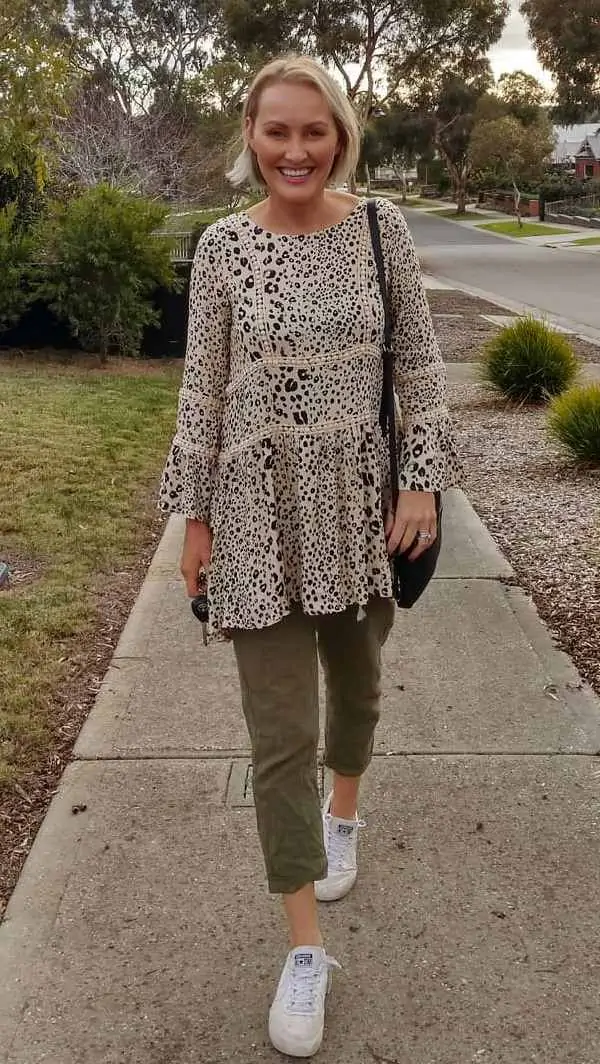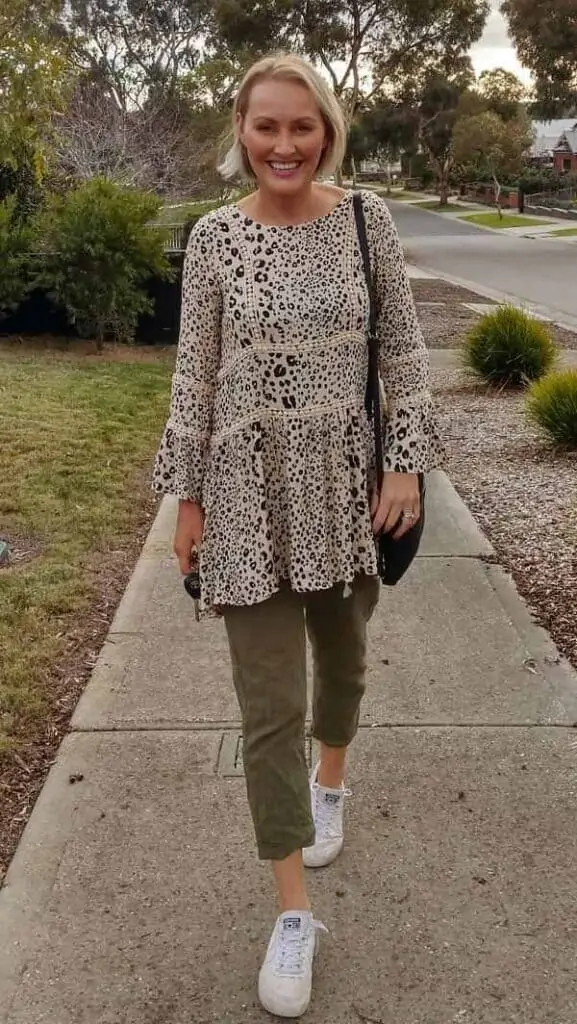 Squares of Style (above) wore her khaki pants with a printed flowy tunic and a pair of sneakers. It's a great pairing that would work for any casual environment since a tunic is dressier compared to a t-shirt but is more casual than a white button-down for example. You can go for tunics with different hemlines for this kind of pairing.
With a moto jacket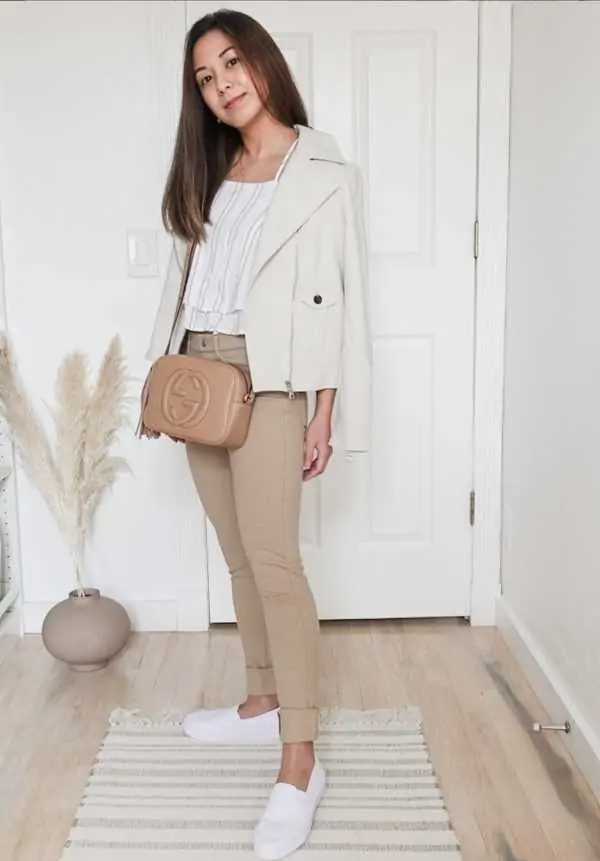 Moto jacket is one of the on-going fashion trends for the fall and winter, and they are a perfect jacket to wear with your khakis. If your moto jacket is neutral color, it will for a monochromatic look with your khakis pants, which will elongate your figure, regardless of your height.
Of course, you should feel free to venture out and try different colors for the moto jacket if you wish to, because the neutral bottom gives you all the freedom to style the top of any colors or prints.
With a cable knit sweater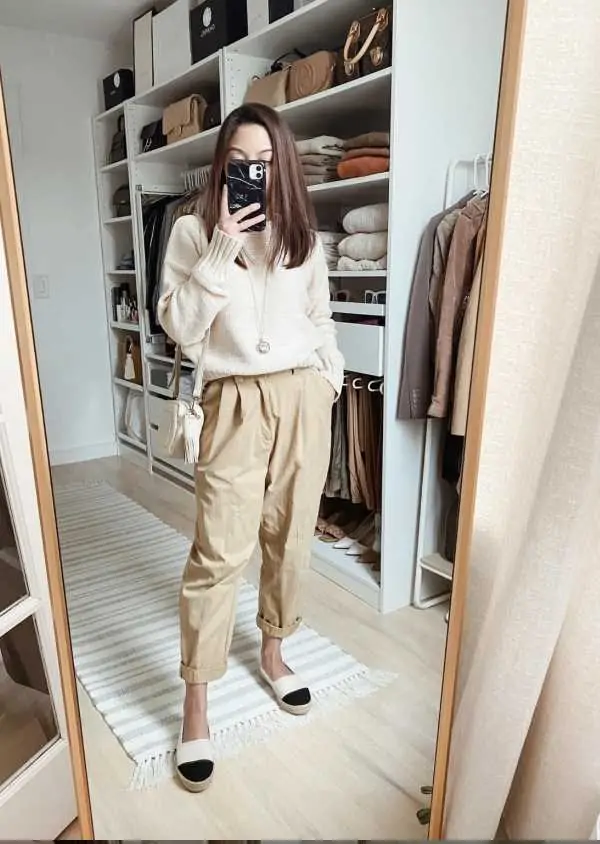 Khakis is one of the things that you can throw on year round. Since it is seasonless, you can wear it with a cable knit sweater in the spring when the weather is still chilly, or in the fall, when the weather is not too cold outside.
Since Khakis pants are mostly neutral colors such as beige or stone, it is easy to wear them with classic sweaters of any color. If you do want to go for a neutral look from head to toe, you can wear a neutral cable knit sweater for a monochromatic outfit like above.
Of course, you can also swap the cable knit sweater to something more colorful, if you are in the mood for a brighter outfit.
With a statement top
Why go plain if you can make a statement right? There are so many different types of statement tops from those with plunging necklines, with wide sleeves, ruffled ones to those that make a statement simply because they come in bold colors.
Wearing a simple pair of khaki pants with a statement top provides a much-needed balance to your outfit of the day. It's also a great way to go if you're not particularly keen on going all creative with your accessories since these types of tops need you to tone the accessories down.
You can wear your khaki pants with a black statement top. The top has ruffles and bold sleeves. Being such a voluminous top, she tucked it in and belted it up. With a statement top, you are not limited to wearing slimmer khakis. Just as long as your khaki pants are simple, the look will be fine.
So grab your khaki pants and try out these different pairings. They are enough to give you a different look every time and will help grow your love for khakis even more.