Camouflage pants are undoubtedly a bold print, considering it's often worn by the military. Initially, this dye print was made in order to disguise the soldiers who went to war, but over time, it has made its way into the ever-evolving and accommodating world of fashion, with designers coming up with different camo pants.
Camo pants are highly popular and can be worn by anyone from stylists to bloggers, celebrities, and even the girl next door. They come in different shades but green is the most popular color. Camo pants are best worn with neutral-colored tops and outerwear and are versatile in terms of what to pair them with. In case you're wondering, here are some great ideas on what to wear with camo pants.
With a polo shirt
You could wear your camo pants with a polo shirt on a nice, laid back day. A polo shirt is known to be a safe and highly reliable piece of clothing. Although mostly worn by men, polo shirts can also be worn by women on a nice casual day outdoors just as long as you pair it with the right pants or skirt.
Going for a color like black or white works best if you want your casual camo pants-polo shirt outfit to look a lot cleaner.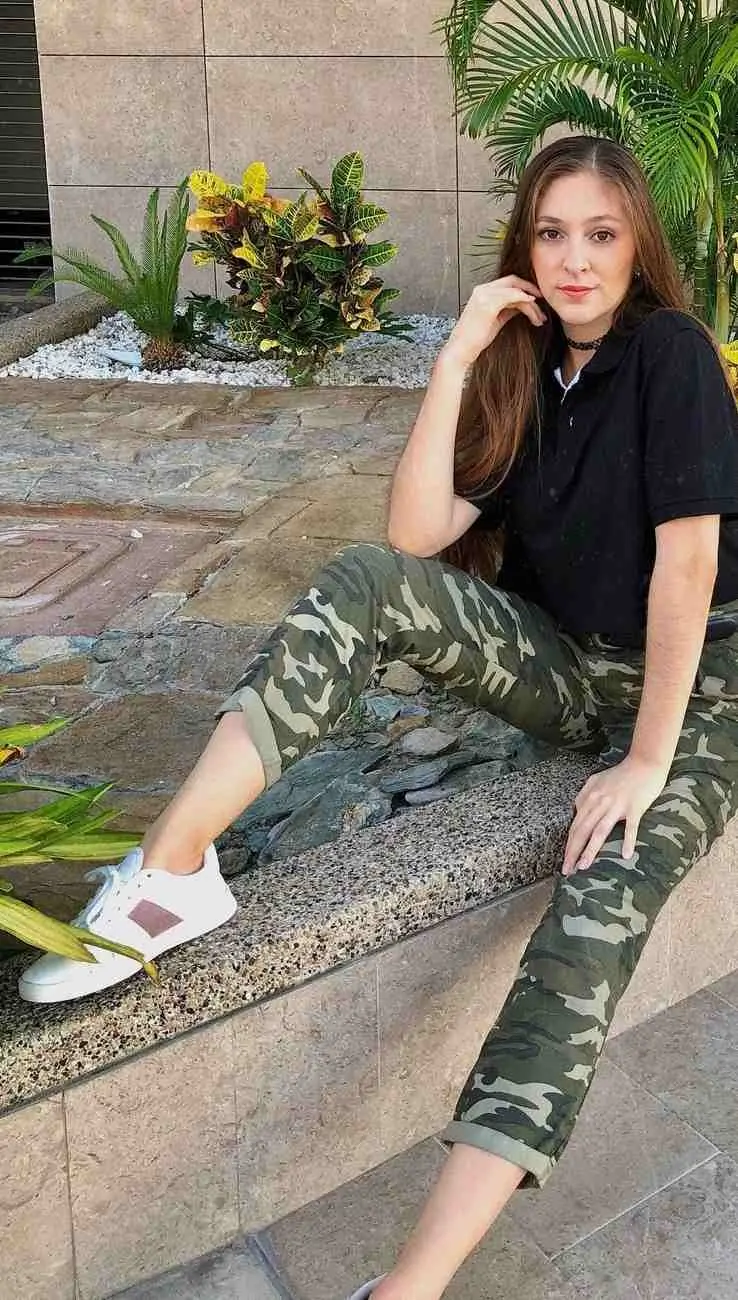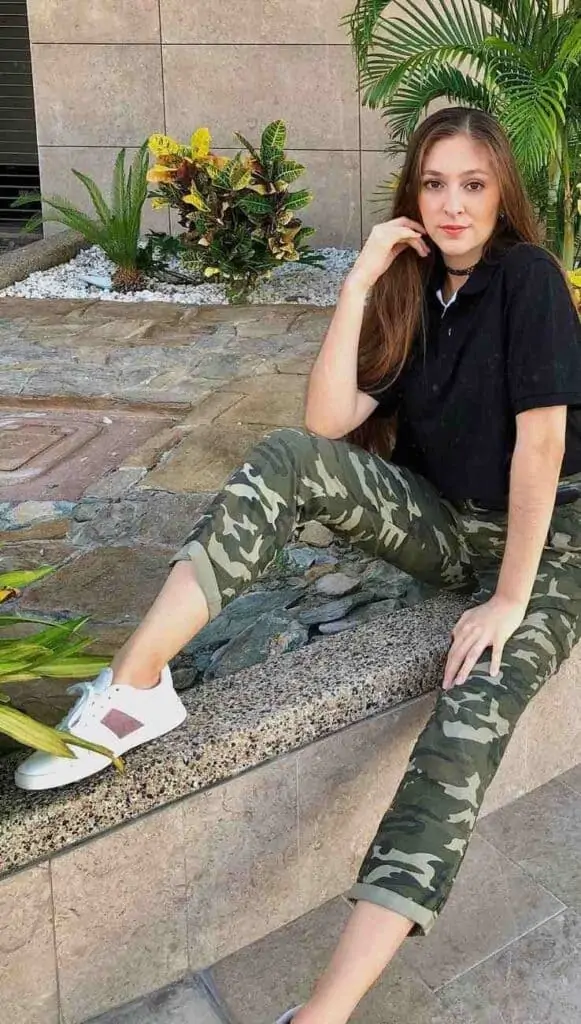 Valerie (above) styled her cropped camo pants with a black polo shirt. She also picked a pair of simple white sneakers for the look. Plain t-shirts and simple shoes allow your camouflage pants to stand out.
With a white t-shirt
Plain white t-shirts can be styled with your camo pants too. A white t-shirt is a classic wardrobe staple that comes in handy on any day, whether you're looking to step out in a casual outfit or to look all classy and dressed up. It's highly versatile and goes with just about every bottom you own in your closet.
This is best if you're after a simple outfit, but still appreciate the edgy look of the camo print.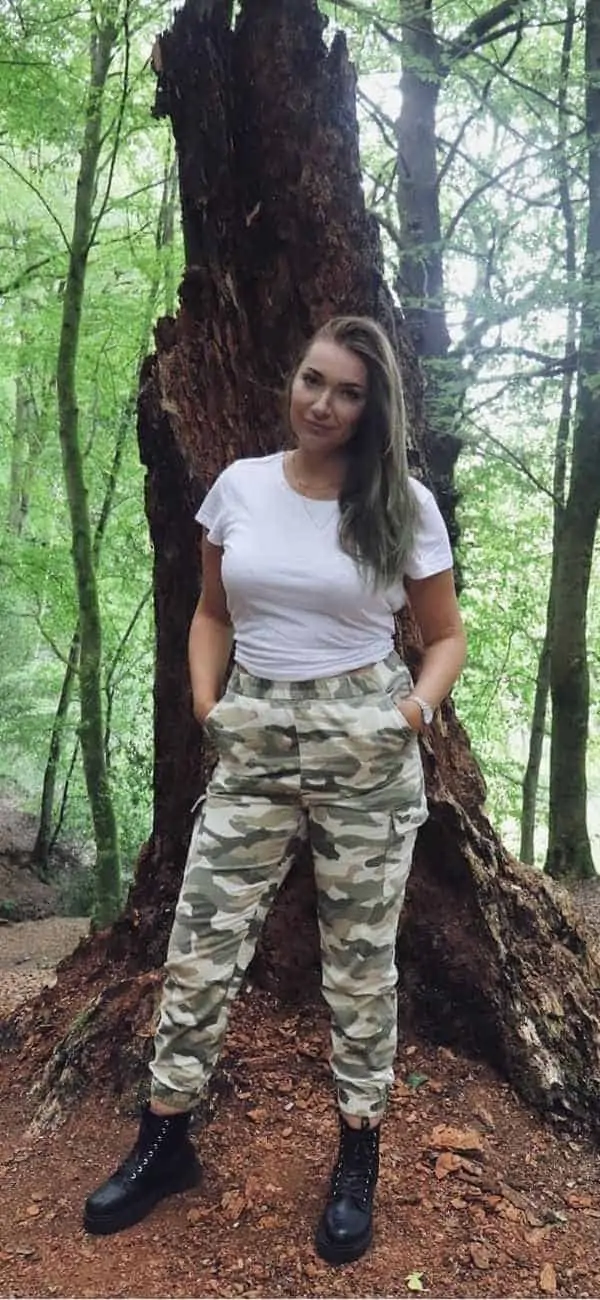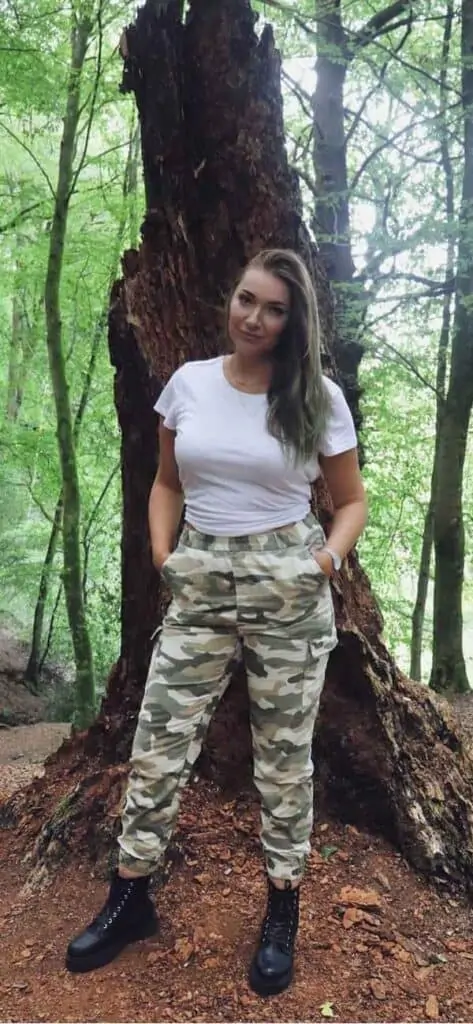 Lily (above) styled her plain white t-shirt with a pair of camo pants. She wore the pants with some black ankle boots.
You can play around with a white t-shirt by going a size up and rolling up the sleeves, going for a fitted size, you can tuck in the t-shirt, or leave it untucked especially if you choose a simple shoe.
With a denim jacket
A denim jacket gives a nice contrast to camo pants when the two are paired. This is especially so if you go for a blue denim jacket.
A denim jacket is the easiest piece of outerwear to throw on and works best if you want to step out casually dressed. It gives any outfit that laid back look and feel. Regardless of your size or body shape, you can be sure that there's something for you.
It's a great combination of casual pieces that can be worn with sneakers, sandals or boots.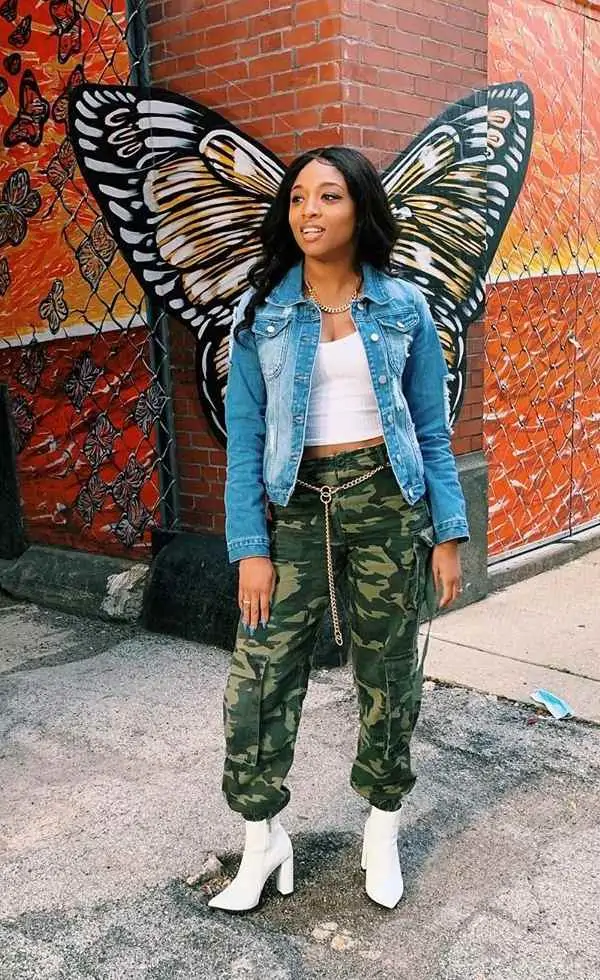 Gykisha (above) styled her camo pants with a denim jacket. She wore a white top underneath and some white ankle boots, so each individual piece of this outfit makes a statement without one overpowering the other.
You could always go for skinny camo pants or pick cargo camo pants for this look.
With a camo jacket
Wearing a camo jacket with a matching pair of camo pants is a great way to stay stylish, considering this outfit makes a co-ord set. Camo jackets, just like camo pants, make an outfit look more powerful. They come in different cuts from cropped ones to oversize ones. Regardless of the length you pick, you can always be certain that you'll stand out wherever you go.
With such sets, it's easy to pick out accessories and shoes.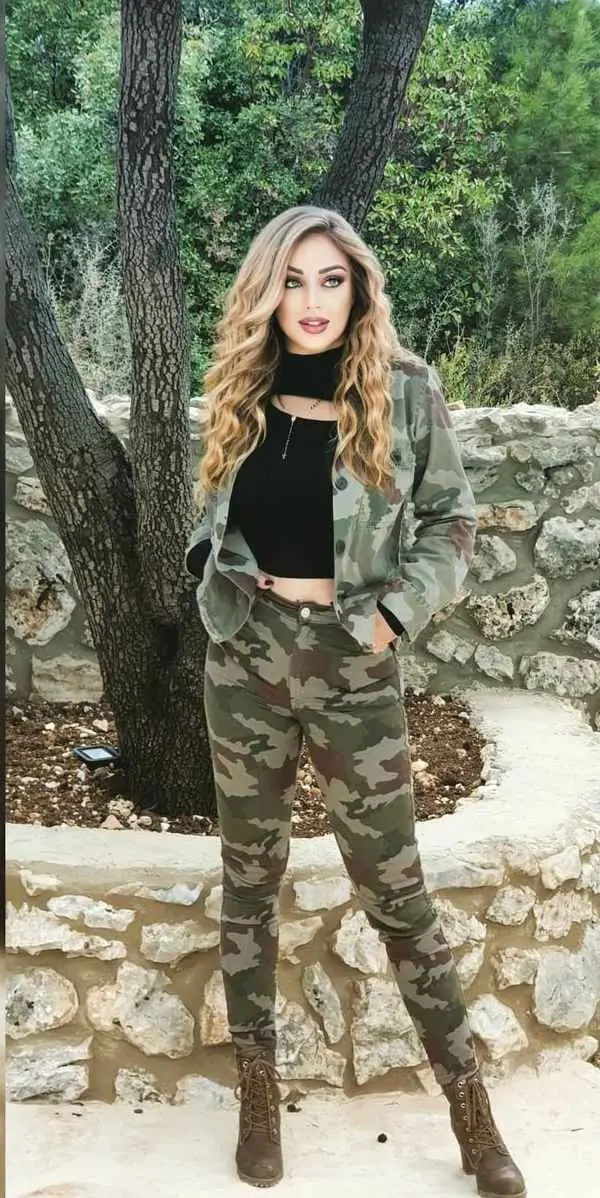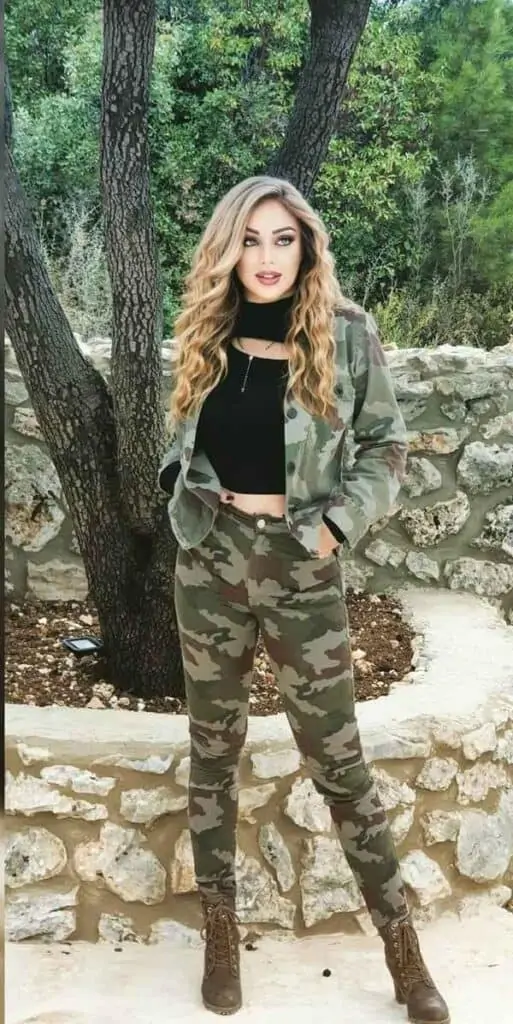 Maria (above) styled her camo pants with a camo jacket. She completed the look with a black top and a lace-up pair of boots.
With a pullover
Pullovers can also be styled with your camo pants. Pullovers are cozy and snuggly, perfect for colder days. Unlike in the past where they came very simple, today they come in more stylish designs and can make your outfit look better.
A black or white pullover in particular is a great option. You can go for an oversize type or pick a more fitting one for the look.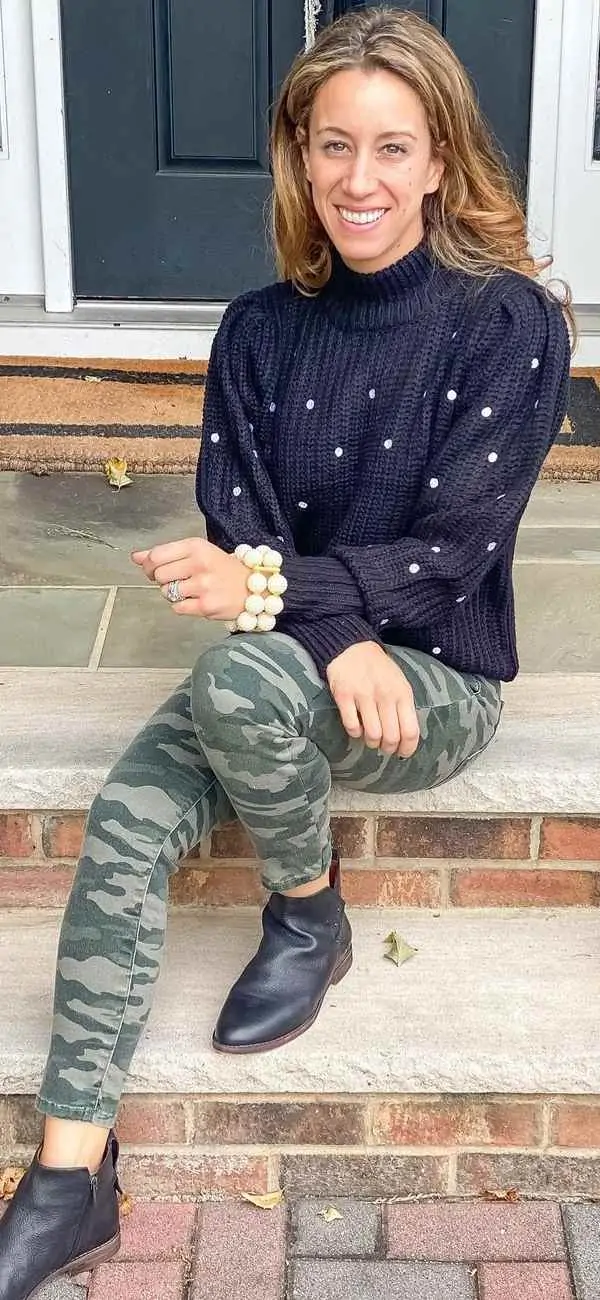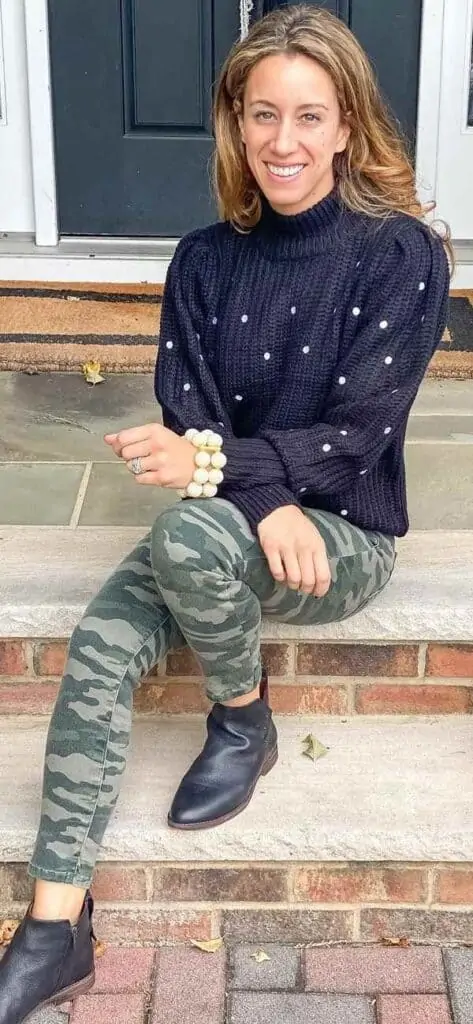 Sarah (above) styled her camo pants with a black pullover. She finished off the look with a pair of ankle boots.
Should you go for a chunky or oversize pullover, your best bet is to choose a skinny pair of camo pants for balance, especially because the pants already stand out.
With a tank top
Tank tops go well with camo pants thanks to the fact that these tops are minimalistic. Tank tops are great by themselves especially during hot weather. They can also be worn underneath jackets, dusters, blazers and other types of outerwear when you feel the need to layer your clothes.
You can wear a fancy pair of shoes such as heels to dress up this simple look. You can also go edgy with your boots, or casual with sneakers.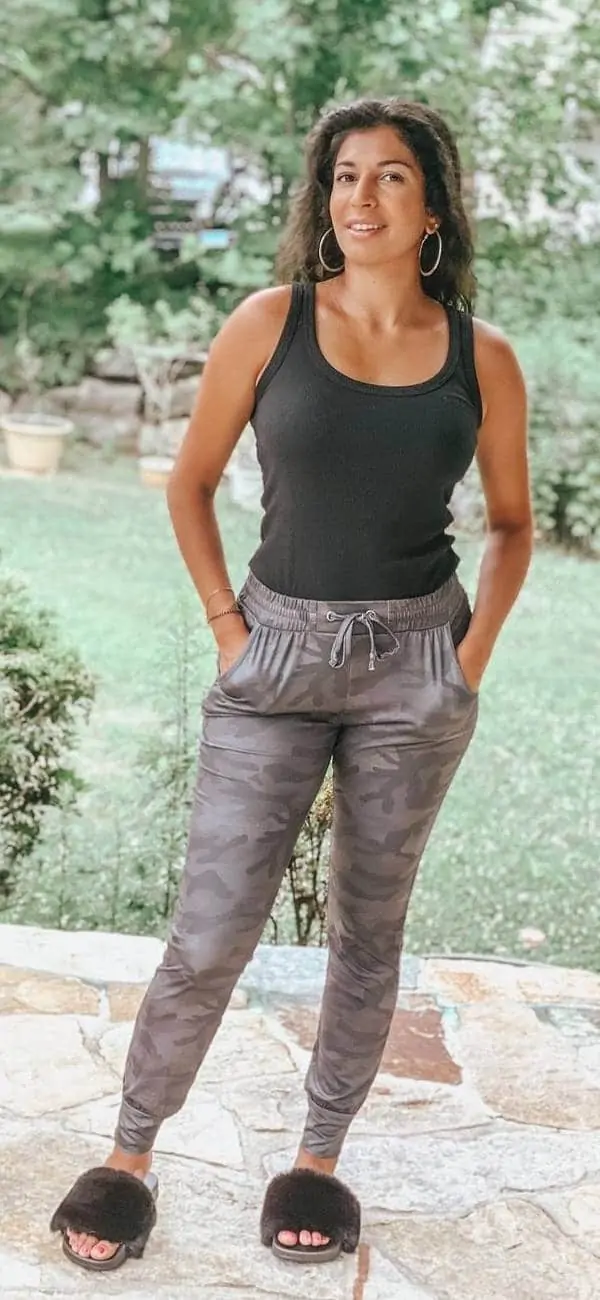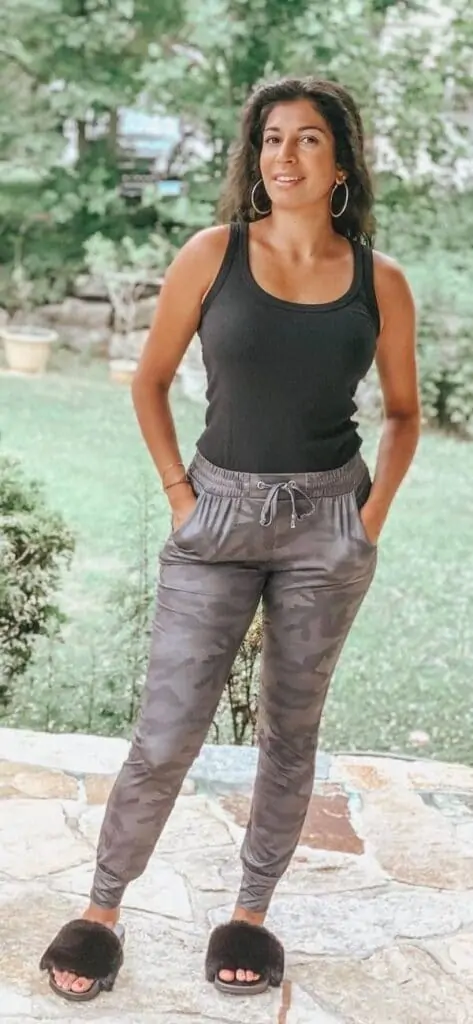 Neelab (above) styled her jogger camo pants with a tank top and some slides for that easy, laid back look.
In case you're not too into jogger pants, a tank will go with any other type of camo pants you can find. You can also swap slides with a pair of strappy sandals on a hot day.
With a white button-down
A white button-down is a great piece to go for in case you are looking to dress up a pair of camo pants. Just like a white t-shirt, a white button-down is definitely a must-have considering just how well it goes with literally anything you can think of wearing. They can be worn in a casual way, a more formal or corporate manner.
You can go further and pick a pair of stilettos, strappy heels, or fancy ankle boots for this look.
You can always tuck your shirt into your pants fully or leave it untucked as the shirt will give the look a dressed-up feel regardless.
With a graphic t-shirt
Despite the fact that a pair of camo pants is already printed, you can still pair them with nice simple graphics t-shirts for an effortless look. A graphic t-shirt, just like a plain one, is comfortable and easy to wear. They are a great method of self-expression.
This outfit is particularly great if you are looking to stand out among people in a group or even a crowd. For look, it's better to go for a neutral-colored t-shirt so that your outfit isn't all over the place.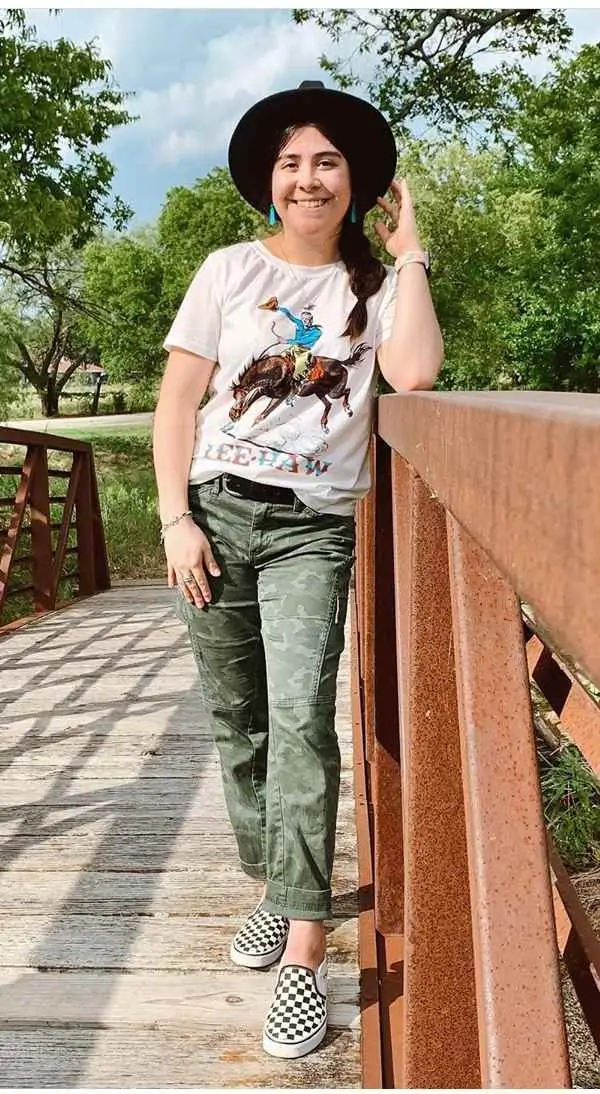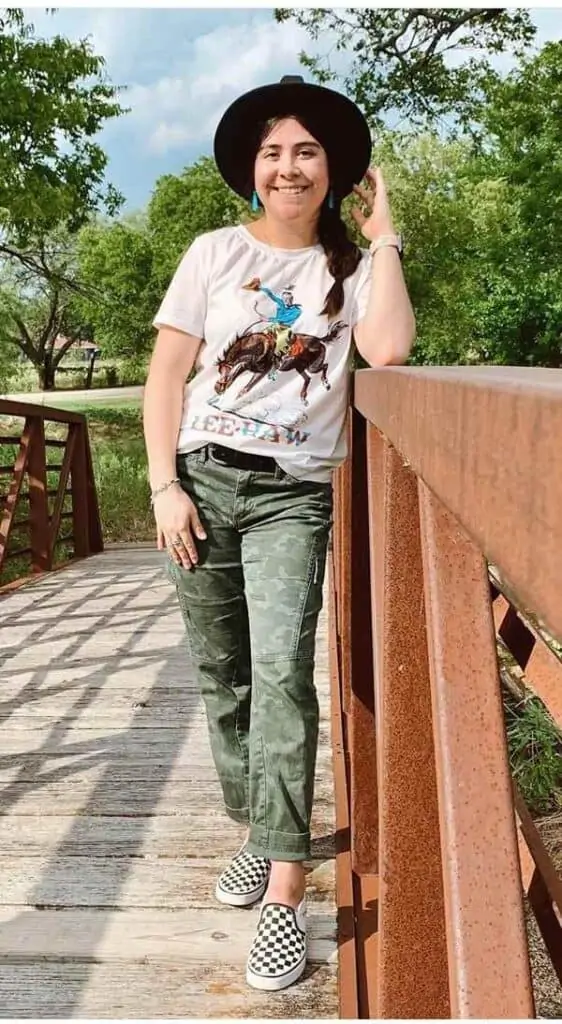 Victoria (above) styled her graphics t-shirt with a pair of camouflage pants. She finished off the look with some slip-on shoes and accessorized with a belt and a hat.
For this camo pant look, casual shoes are best. If you are in the mood of dressing up more, a pair of heels can elevate the outfit and make it a more feminine look.
With a cardigan
Wearing a cardigan with your camo pants adds a feminine touch to your cardigan outfit. A cardigan, just like a pullover, is nice and warm, a great choice for cooler weather.
You can choose a long cardigan or go for a shorter one. A long cardigan will easily hide any bulges that you may not necessarily be a fan of, for example, if you are looking for clothes to hide belly.
This look can be very feminine and are great for women of different age, shapes and sizes.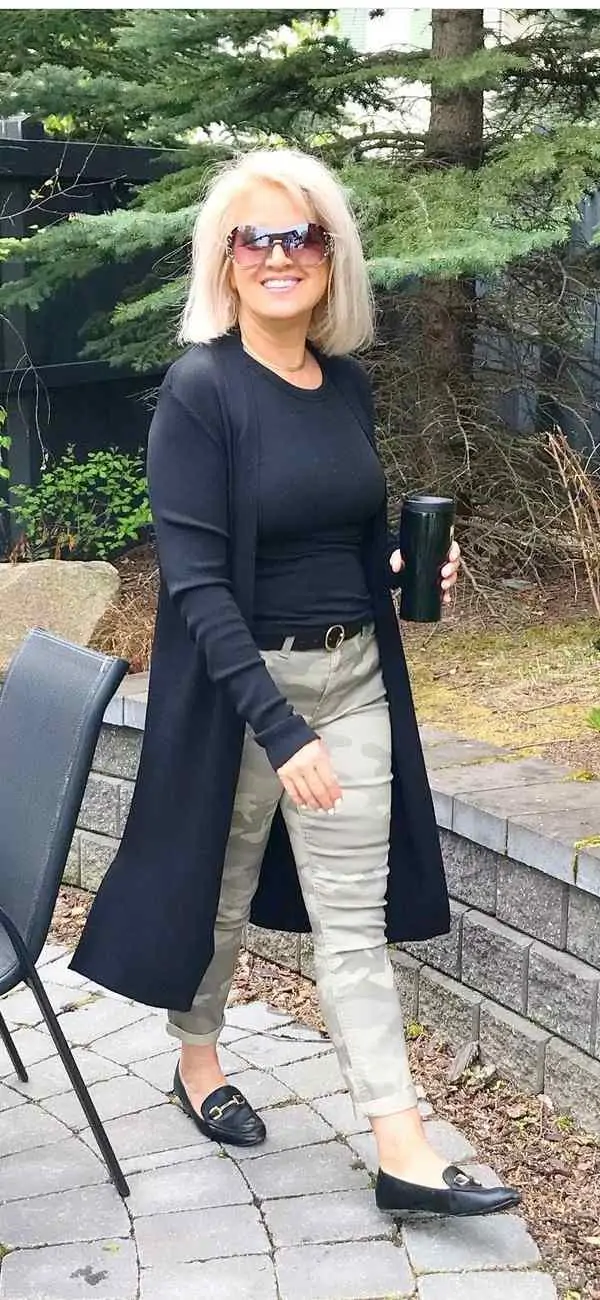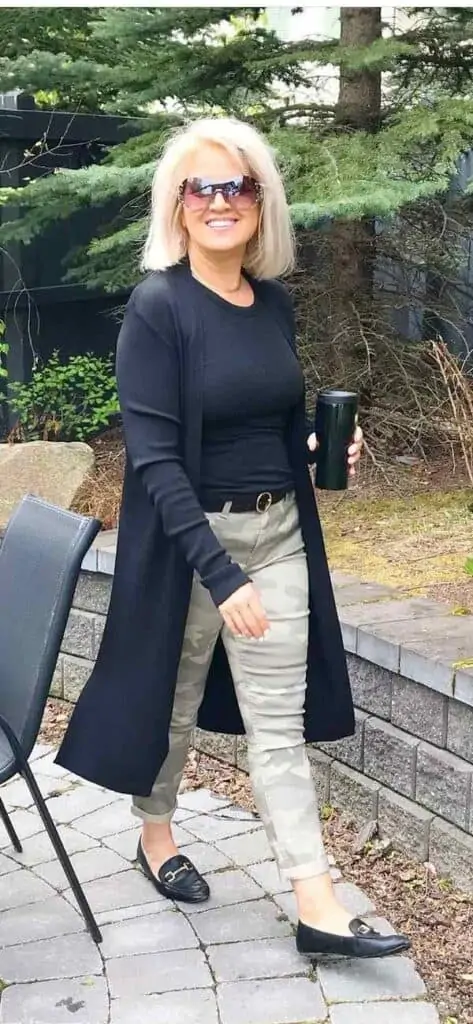 Val (above) styled her camo pants with a black t-shirt and layered a long cardigan over the t-shirt. She completed the look with a simple pair of loafers.
With this look, the key is in the balance. Should you pick a long cardigan, it's worth going for a more fitting pair of pants to be on the safe side. If you go for a shorter one, you could go baggier with your pants. You can also tuck in your cardigan if it's short because it won't have any unflattering bulges.
With a sweatshirt
If you like a sporty chic outfit or are simply trying to take things easy with your dressing, then a sweatshirt will do. Although they are more laid back in appearance, they look great on ladies too and are perfect for both lounging in the house and running errands outdoors.
You can wear your sweatshirt with a pair of comfortable camo pants for that extra casual feel. It's a look that goes well with a pair of sneakers or some boots, considering how casual it is. You can also go with a pair of chunky sandals to complete the outfit.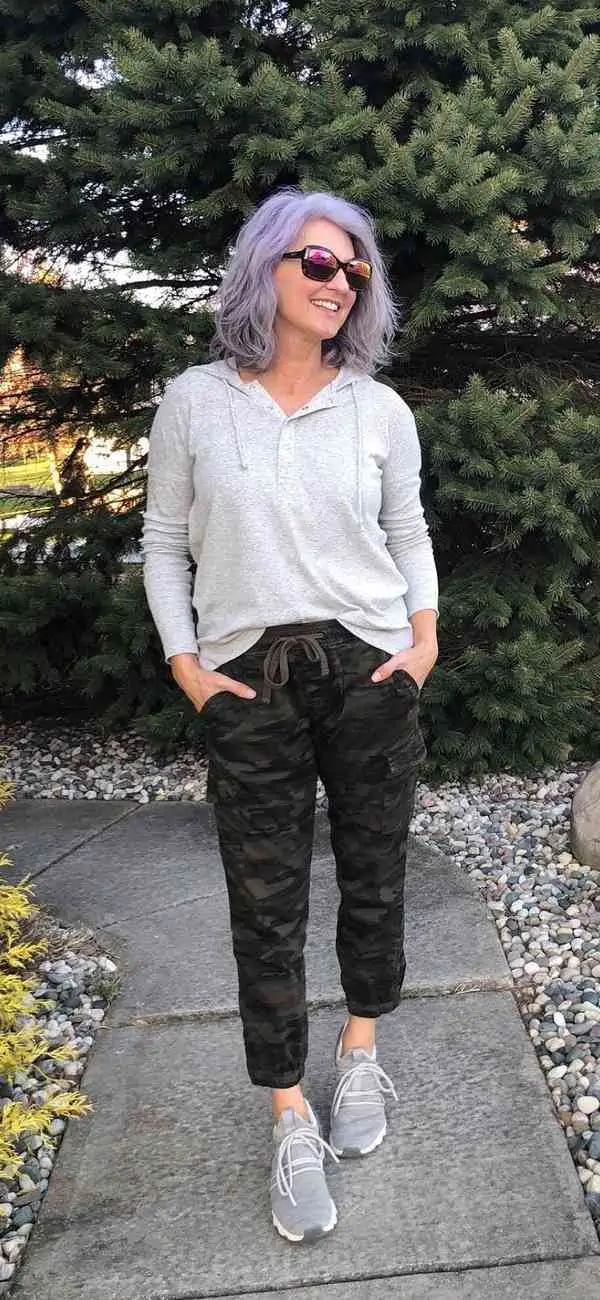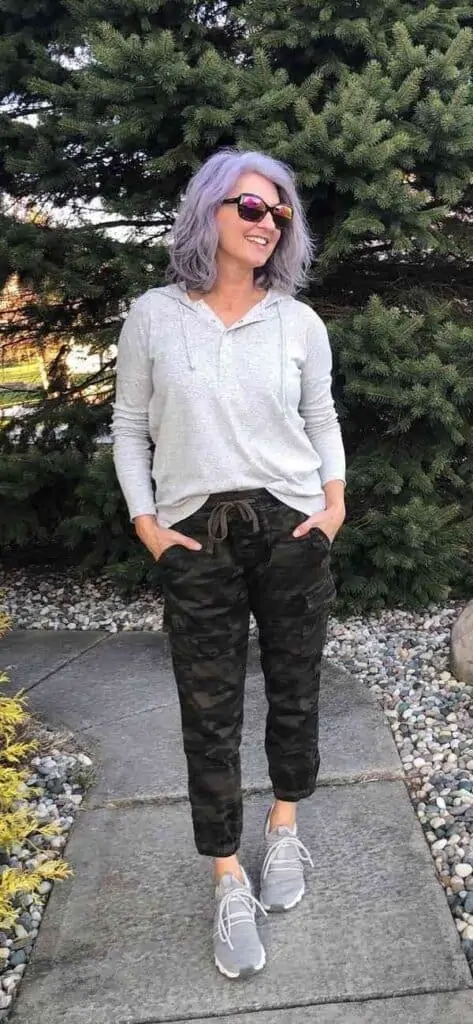 Iamterrib (above) styled her sweatshirt with a pair of cargo, jogger-style camo pants. She opted for a pair of sneakers in the neutral color gray to match her sweatshirt making the look more minimalist.
These 15 outfit ideas are great if you've been wondering how best to come up with a casual outfit with your camo pants. Try them!