Hello legging season! If you are wondering what to wear with leggings, you have come to the right place!
Ah the sweet comfort of our beloved leggings. There's really nothing quite like it, is there? I don't have to sell you on the comfort aspect of leggings, I'm sure. I do, however, want to give you some tips on what to wear WITH leggings as we venture off through the rest of the fall and winter seasons.
For many of us, leggings are a wardrobe staple during the cold weather months. Like many other wardrobe staples, it's common to get stuck in a rut and struggle figuring out stylish, updated ways to wear them. Leggings are no different – women often ask me what to wear with leggings for these very reasons.
Before we dive into what you should wear with leggings, let's chat a bit about characteristics to consider when selecting the leggings themselves.
How to Choose Leggings
First things first, you want to go with thicker leggings.
If you live in colder area, thicker leggings are a winter necessity! At least that is the case with me, because I live in New Jersey and winter could get really harsh here. I pretty much live in leggings starting from November and I wear them both both indoors and outdoors, so I always make sure I go with the thickest leggings I can find.
Secondly, if you are petite, go with high waisted leggings.
Because I am 5'2″ with longer torso, I do everything I can to make my legs look longer. That means I go all things high waisted when it comes to bottoms. Legging is not an exception either.
Also, if you have longer rise (like myself), you will naturally find high waisted leggings more comfortable. Plus, you don't have to worry about them not covering enough when you sit down- if you know what I mean!
Additionally, if you have midriff concerns, then high waisted leggings do a wonderful job to smooth out your mid section and make your stomach flatter. I am an apple shape, and that is a big reason that I prefer high rise leggings.
In terms of colors, it goes without saying that black is the most versatile, because it pretty much goes with any top. If you have enough black leggings in your closet already and feel like exploring other colors, I suggest to start with other neutrals such as navy and grey. If you feel adventurous and want something on trend, try a pair of faux leather look leggings! It is good to have different colors of leggings so that you can create different outfits.
I have another post talking in details about how to choose the right leggings, where you can find more tips on how to select the best leggings for you.
Ok, now that we've covered some of the basics you need to know when it comes to leggings themselves, we can get into some of my favorite style tips for what to wear with your leggings!
Styled Cozy: Wear Leggings with a Sweater
Now that we're beginning to welcome the colder weather, we're all going to have those days when you want to be extra cozy in your clothes. You know what I'm talking about – we ALL have those days this time of year. When you want to feel cozy but still look cute in your leggings, pair them with a relaxed fit sweater.
Relaxed fit sweaters are going to give you that extra dose of coziness to your outfit. More than that, a relaxed fit sweater gives you a nice balance to tight fitting leggings – this is key because we don't want to drowned in our clothes.
Ok, so petite ladies, we need to find a good balance with this way of wearing leggings. As you probably know, relaxed fit clothes could make you appear shorter when it's not styled properly. So, if you want to try the sweater look with leggings, just make sure you're mindful of the length of the sweater you wear. Opt for a relaxed fit sweater that's a bit shorter in length so it's not shortening your body shape, instead, it will create the illusion of longer legs, but still allows you to have that comfort of the slightly oversized style.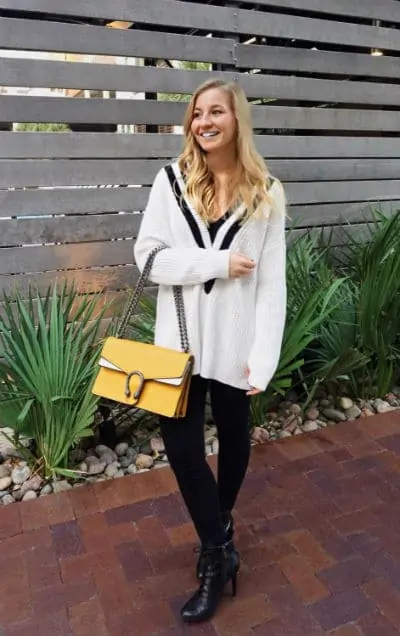 Dressed Up with a Blazer
So often when we think of wearing leggings our minds immediately go towards a causal outfit, but the great thing about leggings (as long as you've chosen the right kind of legging) is their versatility. Yes, that means you can wear leggings dressed up!
Hard to imagine? Start to think of leggings similar to a black pair of pants – shifting the way you associate the garment can help you wrap your head around styling them in different ways.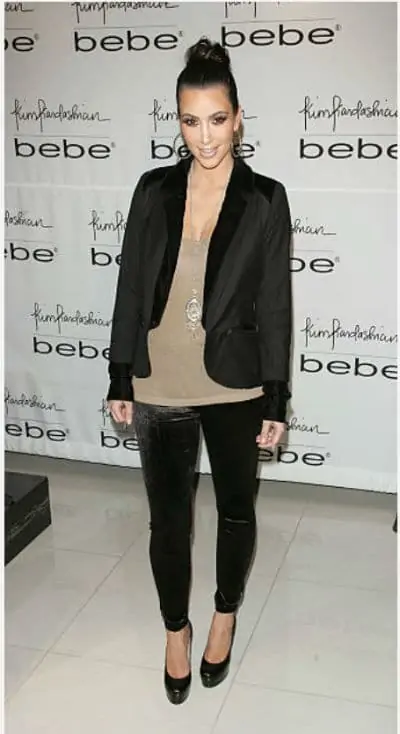 Pairing a great blazer with leggings is one of the best and easiest ways to dress up your leggings. Even if you keep the rest of the outfit simple with a solid t-shirt or tank underneath and complete the legging look with black booties or pumps you've got yourself a completed, stylish outfit. Of course, you can definitely add accessories, fun shoes, etc to bring your own style to the look.
Give Leggings a Sporty Twist
Want an easy outfit that's comfortable, chic and cute? Styling leggings with a sporty, athleisure type of vibe is a great way to go when you're running errands or just need a cute casual outfit.
You're probably wondering exactly HOW you're supposed to give your leggings a sporty vibe that isn't just throwing on a sweatshirt. My favorite way to style leggings with this sporty aesthetic is to pair them with a pair of fresh white sneakers and a bomber jacket. Just like this outfit of JLo!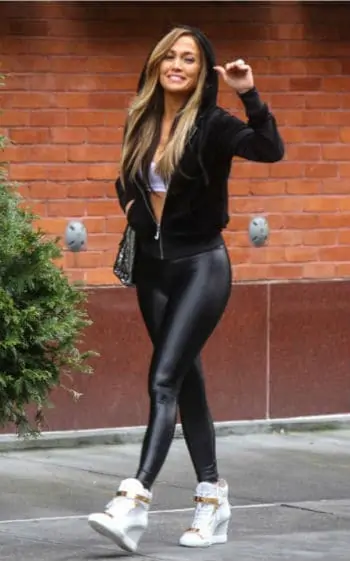 White sneakers are a win all the way around right now – you've probably noticed it's all about a great sneaker this year. Don't hesitate to throw your favorite sneakers on with your go-to leggings.
To elevate the casual outfit and feel a little less gym ready and a little more stylish adding a bomber jacket (or something similar) is going to give leggings that added style boost.
The great thing about layering a bomber (or similar) jacket with leggings is it gives leggings a more completed feel. Not to mention, it makes leggings feel more age appropriate for women over over 30!.
An Unexpected Chic Touch
A big struggle many women have when it comes to knowing what to wear with leggings is specific with shoes. Sound like you?
I've seen a lot of women feel like they're really limited in the kind of shoes they're "allowed" to wear with leggings. To be honest – you have a LOT of shoe options with leggings. In fact, a really great way to add your personality to a simple legging outfit is with shoes!
Instead of only wearing boots or sneakers (while great options) with leggings, mix in a cute loafer or printed flat. One of my favorite aspects of adding a fun, expected shoe to leggings is you can keep the rest of the outfit really simple with a solid blouse or long sleeve shirt/sweater to stay cozy. Since you've got a great shoe added to the mix you don't need a lot of other "things" going on in the outfit.
Layered Long
It's the season of wearing leggings AND layers. Ahh the essence of the fall and winter seasons. Don't be afraid of layering LONG layers over your leggings for a different look.
A few examples of long layers can be a duster length cardigan, a poncho, a long vest, trench coat…you get the picture here. You're likely familiar with wearing your leggings with simple sweatshirts and sweaters, so switching it up for a longer layer is a fun update.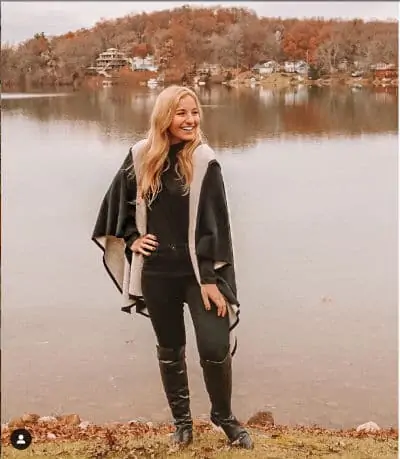 Something to keep in mind on for size, if you decide to try the long layer look, is to ensure that the long garment isn't too overwhelming for your shape and isn't completely shapeless. This is especially important for all our petite women.
While a long garment creates a long line on your body, it can also overwhelm you and make you appear shorter (and sometimes bigger) than you actually are. I know you don't want that to happen, so just make sure that the long layers you're selecting are flattering to your frame.
Key areas to pay attention to here are the waistline – it's going to be best to opt for a long layer garment that has some structure or definition at the waistline to prevent that overwhelming shapeless look.
The other area to pay close attention to when you're petite is the length. While you CAN wear a long layer you don't want it to be TOO long. I'd recommend selecting long garments that are either just above the knee or just below in length. This will be flattering and give you an elongated effect, any longer and you run the risk of the garment shortening your frame.
Pair with Boots
I know I don't have to tell you boots are a staple for just about all of us this time of year. However, I wanted to make sure you know you can rock quite a few different types of boots with leggings. Yes, I said it!
Boots are great functionally with leggings because you get that added coverage when it's cold outside. To start with the easiest, whether you wear knee high boots or over-the-knee boots, throw them on with your leggings and a stylish blouse and you've got a great outfit!
Now, you can also wear booties with leggings, but this requires more thoughts. The reason is booties have shorter shaft than tall boots, and if you show the gap between your leggings and booties, it will create a horizontal line. So, wearing booties could potentially make your legs cut off, unless you are very careful with the styling.
The key here is to make sure your leggings match the color of the booties. Plus, you want the leggings to be inside the shaft of the booties as much as possible to minimize any horizontal line. That way, it will create the illusion of a longer vertical line for your bottom, which can make your legs look longer.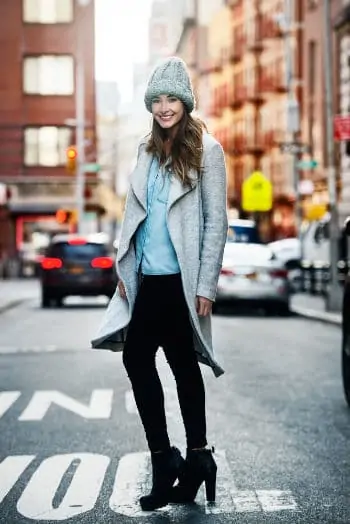 These are some of the best tips I wanted to share with you on what to wear with leggings and how to style them. What tips and tricks have you found helpful for you? I appreciate your feedback, so leave a comment below and share any thoughts with me and other readers!