Ripped jeans are edgy and fun. They're great for people who love the comfort and versatility of jeans, but at the same time like to stand out. The fact that they are ripped makes them edgy. If you are hesitant about them because of the rips, you can still embrace the trend by going with the more subtly ripped.
Here are some of the best outfit ideas on what to wear with ripped jeans:
With a coat
Coats are not only chic, but functional too. When styled with ripped jeans, they elevate the otherwise very casual look, and make the ripped jeans outfits look so fashion forward.
A coat of any type always adds a touch of class to an outfit, regardless of what you're wearing underneath.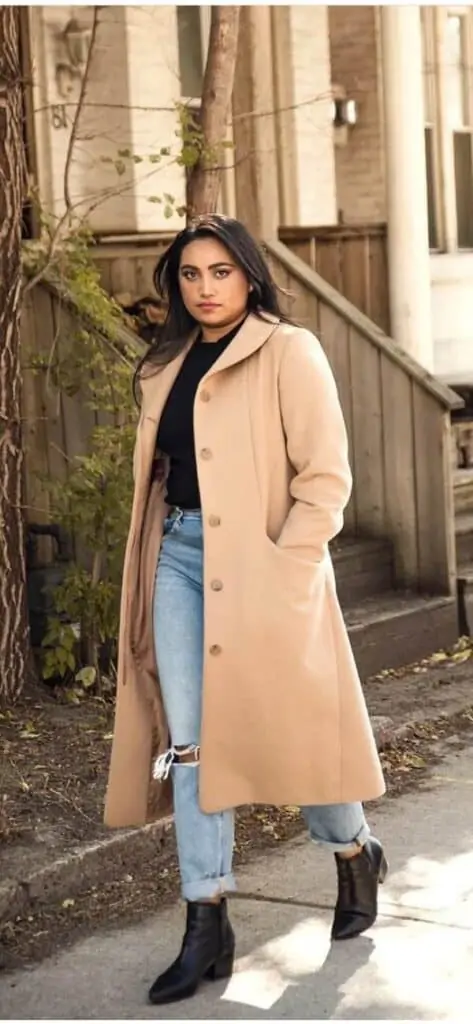 Jarin (above) styled her ripped jeans with a black top, a camel coat and some black booties.
If you want a classy and effortless look, neutrals and camel tone coat with a ripped jeans never go out of style. If you want to add more interest to this look, you can go for more colorful coats.
With a cardigan
Ripped jeans are usually so edgy but you can add a feminine touch to a ripped jeans outfit by wearing a cardigan over your top.
Cardigans are cute and cozy and aside from their functionality, they can also make for stylish pieces thanks to the fact that they now come in different, more flattering designs.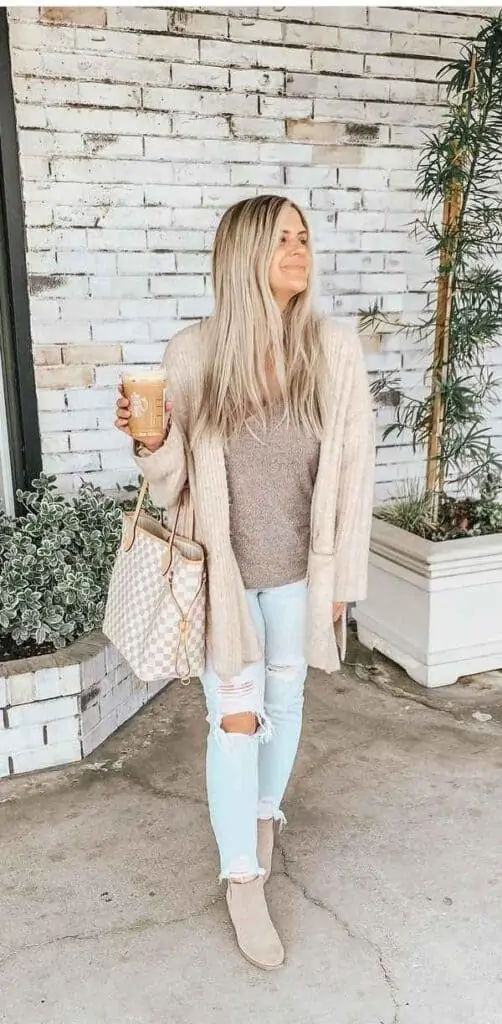 Kaitlyn (above) styled her ripped jeans with a cardigan over her top and some ankle boots. It's a simple look that's easy to pull off by anyone.
With a plain t-shirt
Wearing your ripped jeans with a plain t-shirt gives your outfit balance, since you'll have gone all out at the bottom and then subtle at the top.
A plain t-shirt is a great option if you are particularly looking to make your bottoms stand out.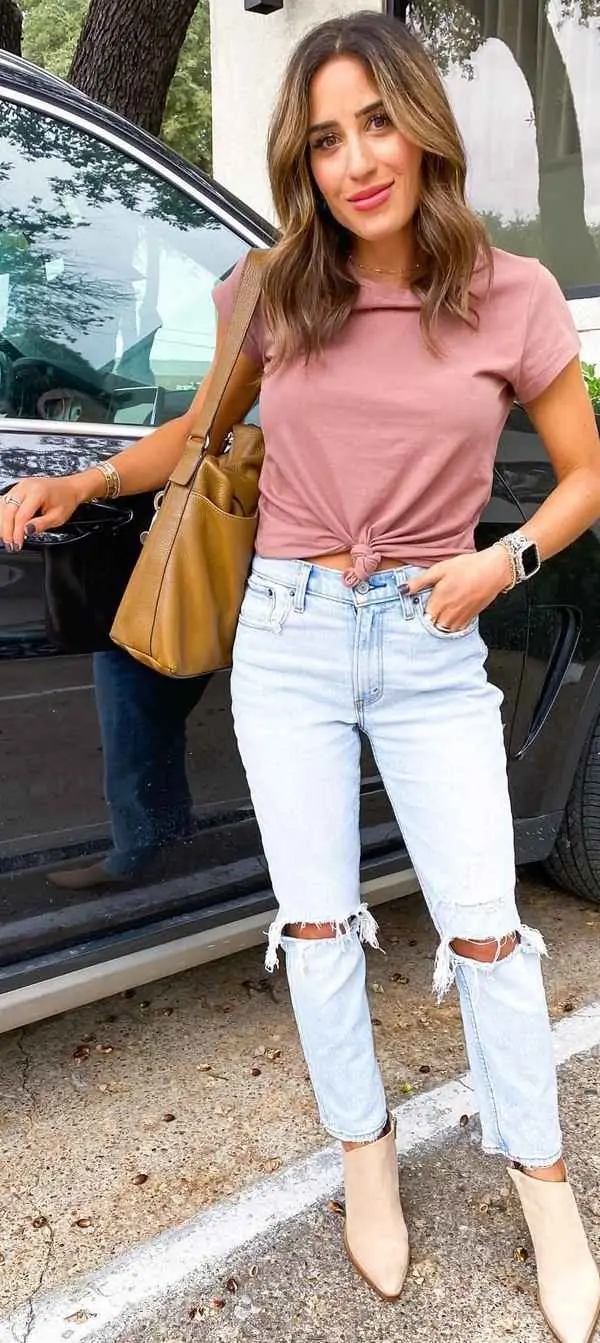 Alexis (above) wore her plain t-shirt with a pair of ripped jeans and some ankle boots. If you're not sure about the t-shirt color to go for, blacks and nudes work great.
With a graphic t-shirt
If you like a cool look, then you could pair your graphics t-shirt with your ripped jeans. A graphic t-shirt is a great way for you to express yourself simply through clothes.
You could wear sneakers with the look for the laid back look. If you want to elevate your ripped jeans outfit, ankle boots will add that polished finishing touch perfectly.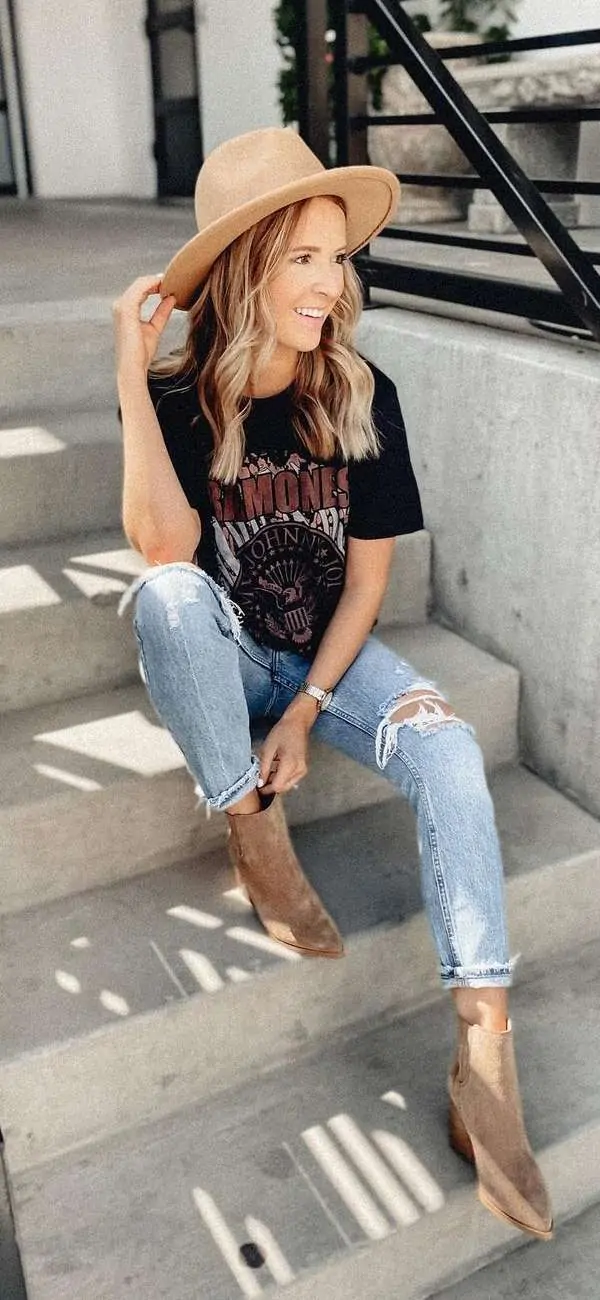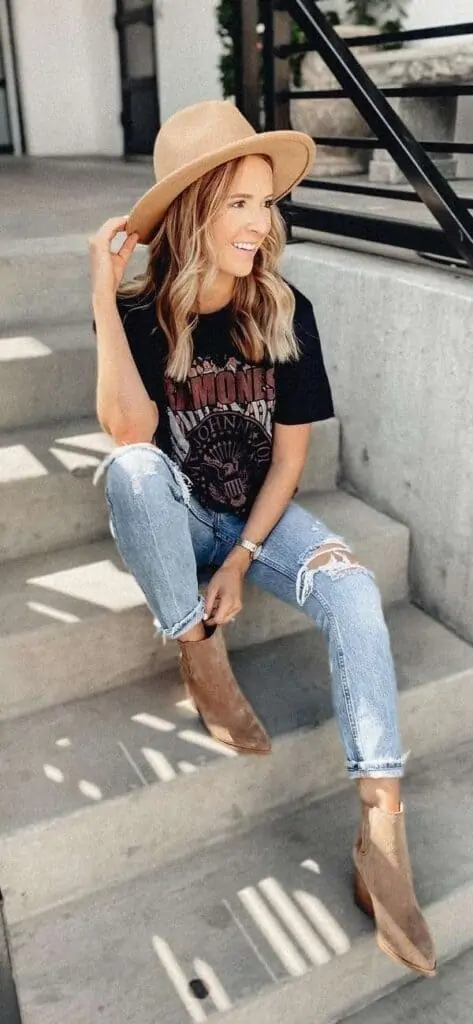 Katy (above) wore her ripped jeans with a graphic t-shirt and ankle boots. It's best to keep any other accessory or shoes you wear with this look plain and simple.
With a plain white t-shirt
Still on t-shirts, a plain one deserves a mention of its own considering it can be worn with everything you own.
Wearing your ripped jeans with a plain white tee is the surest way to look great with your ripped jeans, whether they're just slightly ripped or the rips are more noticeable.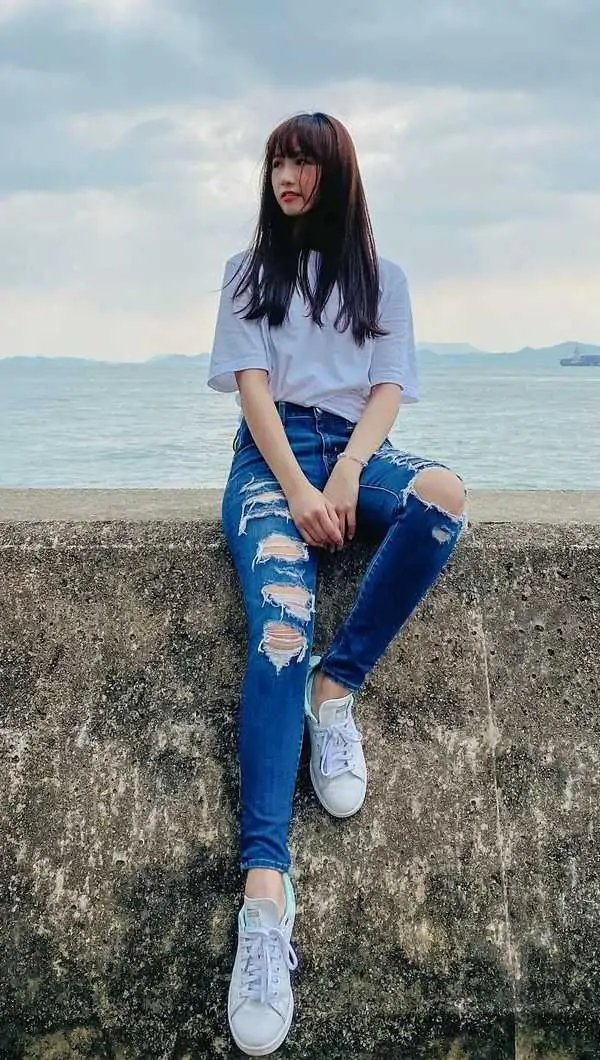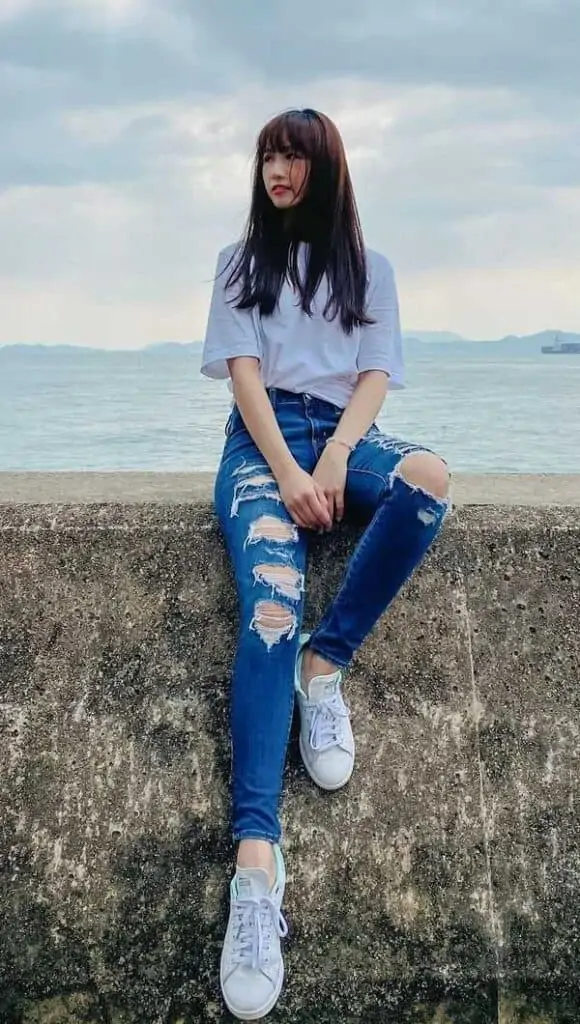 Karen (above) wore her plain white t-shirt with a pair of blue ripped jeans and some white sneakers.
For such an outfit, it's the simplicity of the rest of the pieces that makes you look so stylish and even chic. Instead of sneakers, you could also go for simple heels or sandals.
With a blouse
Every lady needs a couple of blouses in her closet to wear on days when she wants to look fancier as the name suggests. Those days when a t-shirt just won't do the trick.
You can style your ripped jeans with a blouse, which feels more girly than a causal top like the T-shirts. This outfit can be very flexible with your choice of the top.
You can expand your options from a blouse to any fancy top with an off-shoulder, cold-shoulder, a ruffled top, or any other outstanding design,
When you put together this outfit, the key is to pay attention to how ripped your jeans are first. That is important so that you choose a stylish top that is not so over-the-top, because you don't want your outfit to become overwhelming.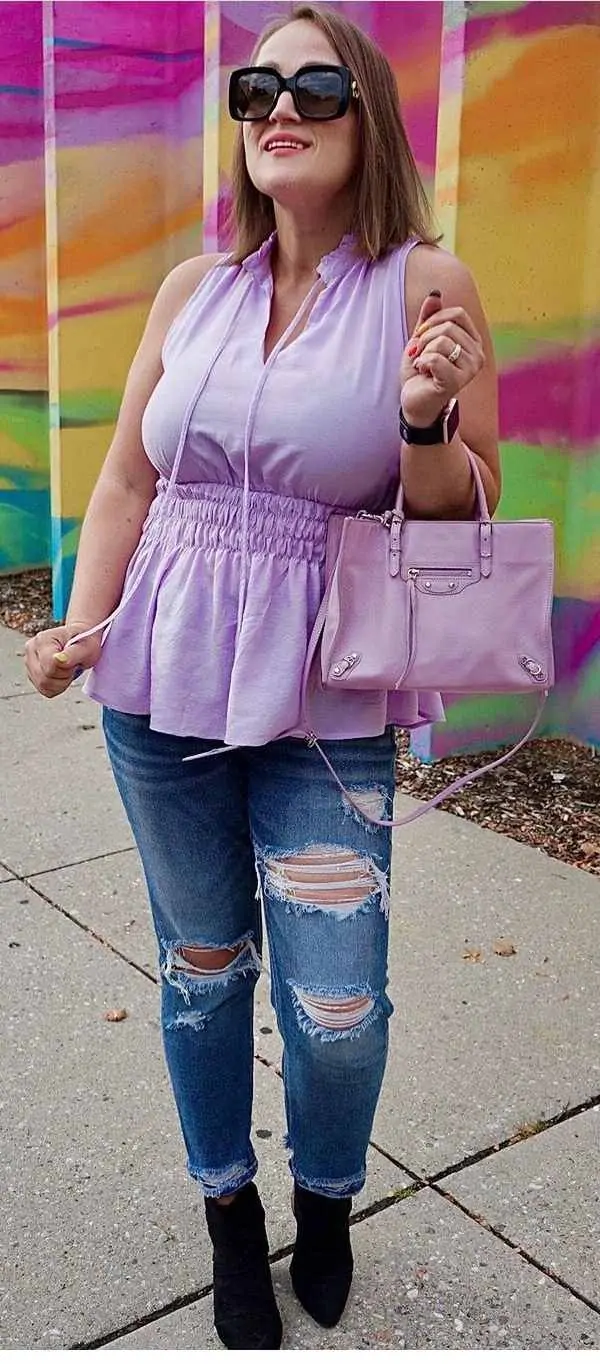 Dana (above) styled her purple top with a pair of rugged jeans and ankle boots.
With a knit top
Another great item to wear with a ripped jeans is the knit top. It can be a very simple top in solid colors, but you also have the option to swap the top for any prints or patterns you like.
The key is to make sure the top is well fitted. They make you look dressy, but with them you don't risk stepping out in an overwhelming outfit.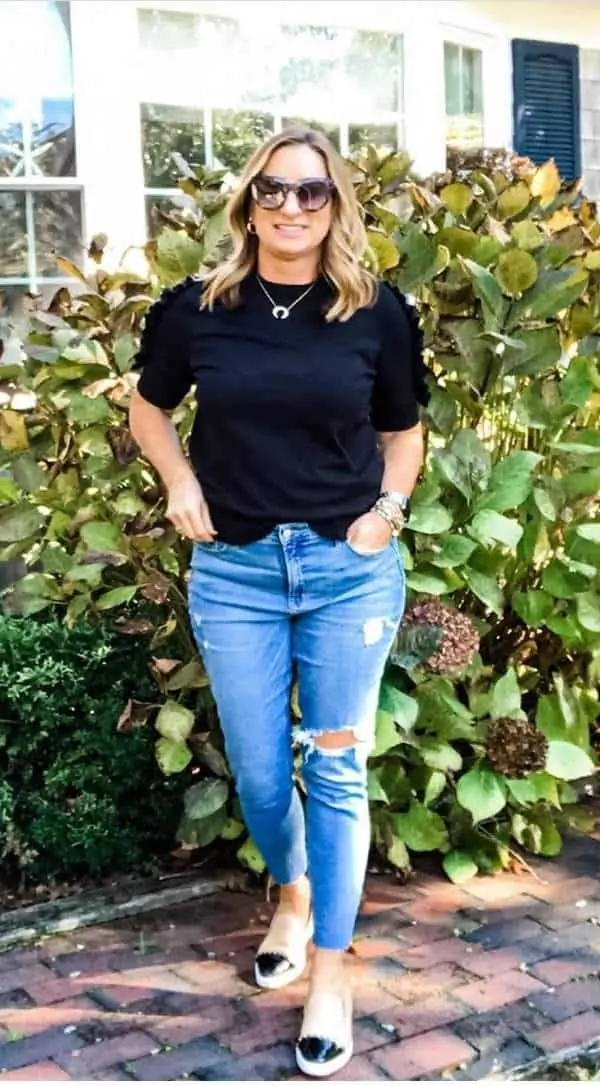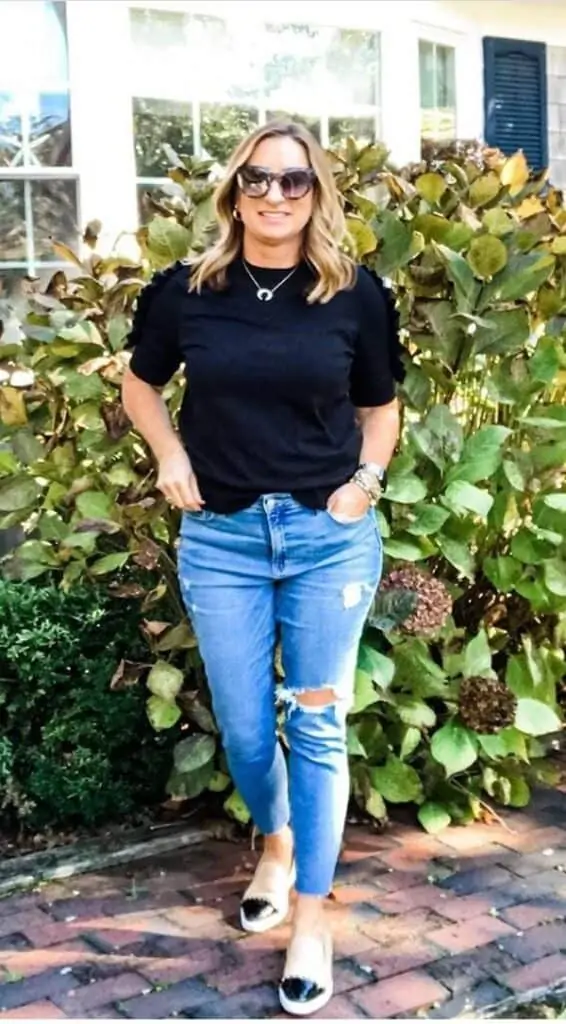 Lisa (above) went for this simple black top in a design that almost just resembles a t-shirt, but fits better and has a few embellishments on the short sleeves.
This is a safer pairing that looks very classy as it is minimalist especially if the jeans are just slightly ripped. .
With a blazer
A blazer has a way of adding a touch of sophistication to any outfit whether casual or formal.
The best part is you can wear your ripped jeans with a blazer too. If you want to look more dressed up, then a black blazer layered over a neutral top does the trick.
Depending on how ripped your jeans are, this is a pairing that could work even for the office on a casual Friday or for a formal event. Just make sure your blazer fits right.
The more structured and tailored your blazer is, the more elevated they will make the ripped jeans look.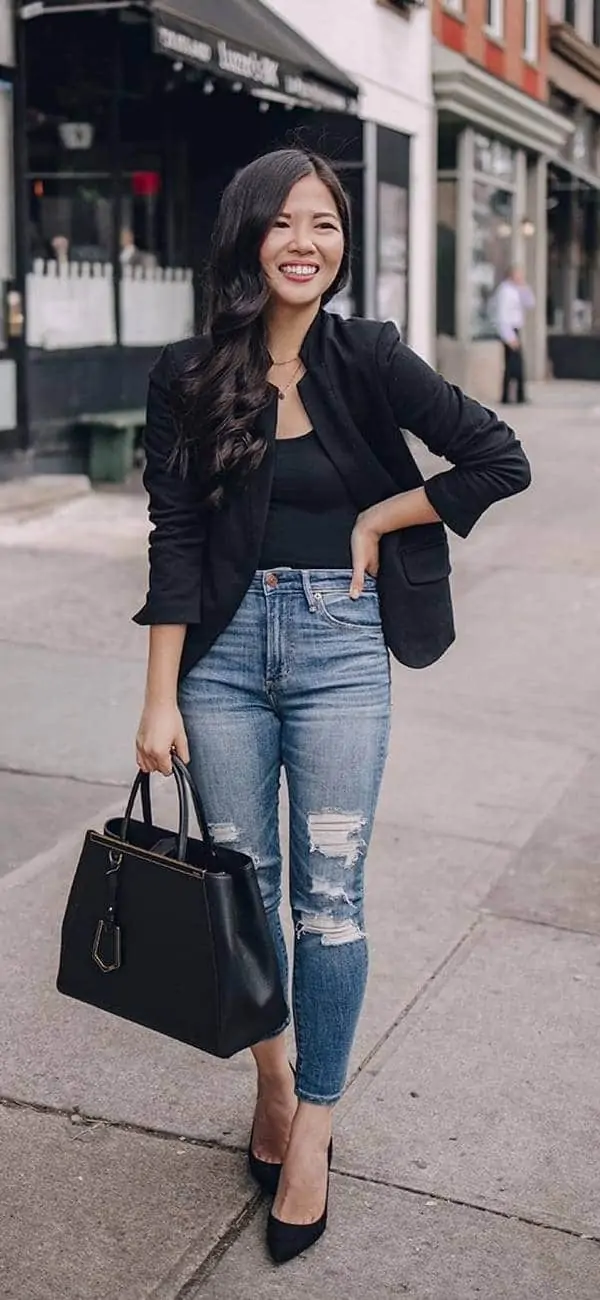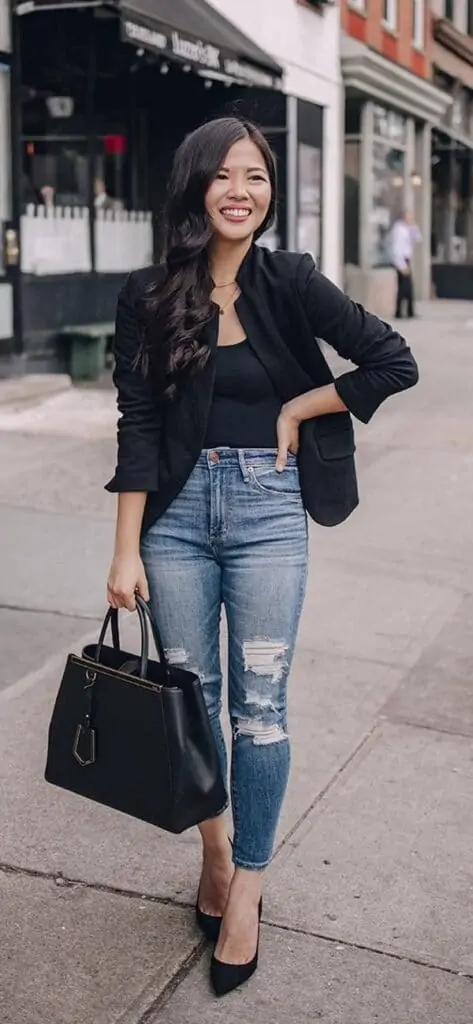 Jen (above) paired her ripped jeans with a black top and a black blazer. She also went for some closed black heels.
With a tank top
Tank tops are usually very minimalist in design, which is why wearing tank top with a pair of ripped jeans is such a great idea.
A tank top is a great piece to wear out on warmer days, but can also be layered under your outerwear if it's cold outside.
This pairing allows you to be more flexible with the type of ripped jeans you go for. Since the top is so simple, there isn't much of a risk of it being too much.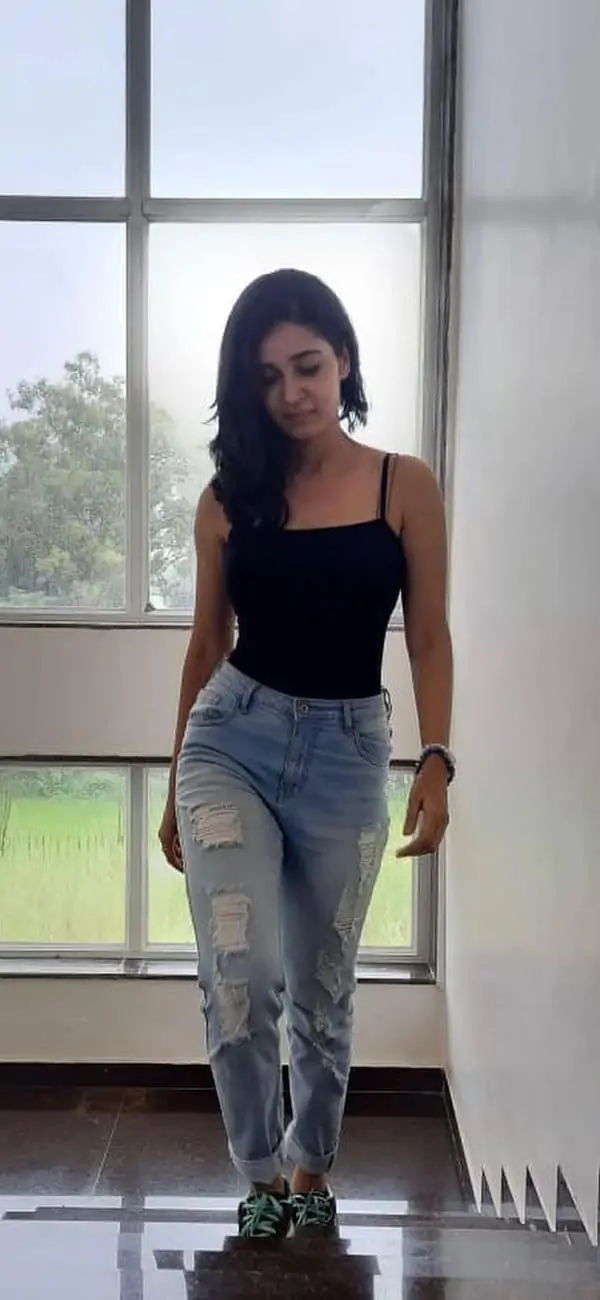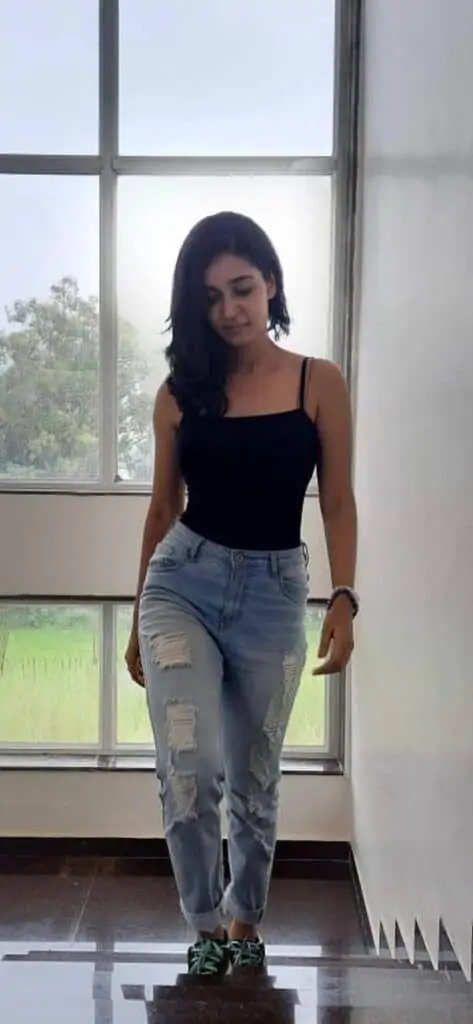 Saniya (above) styled her ripped jeans with a black tank and some converse.
Remember, your ripped jeans do not always have to be skinny. They could be mom jeans.
With a white button-down
Since a white button-down is very versatile and minimalist, it works well with a pair of ripped jeans too.
A white button-down, just like a plain t-shirt is something everyone should own. It easily dresses up or down any kind of outfit, depending on how you wear it.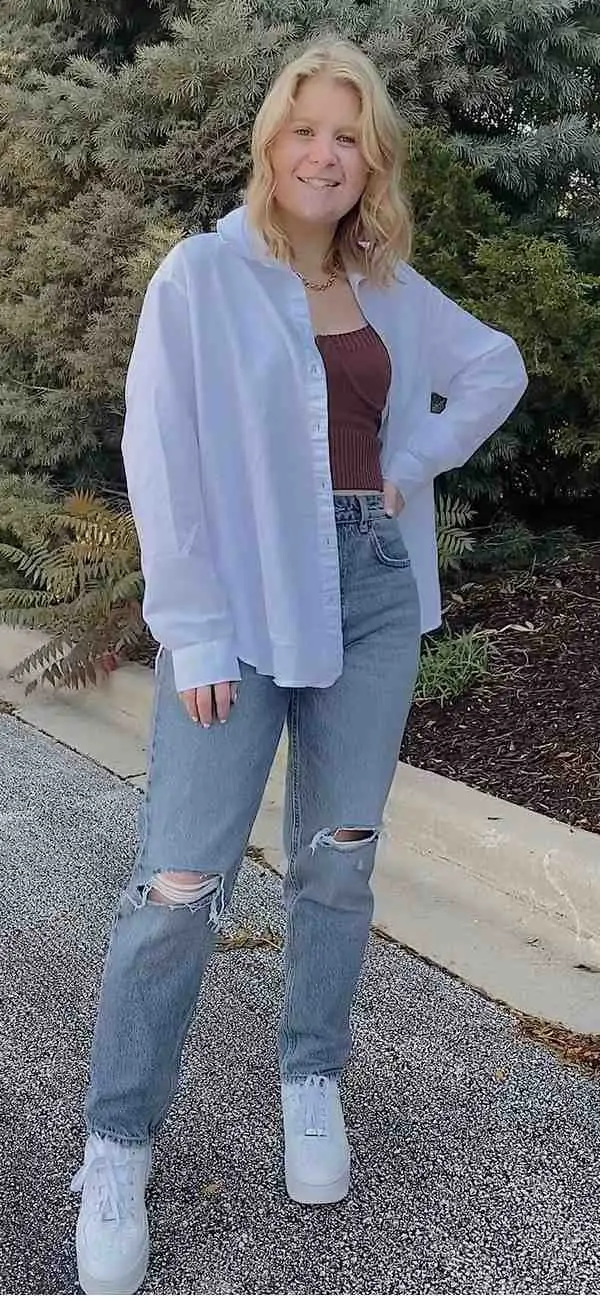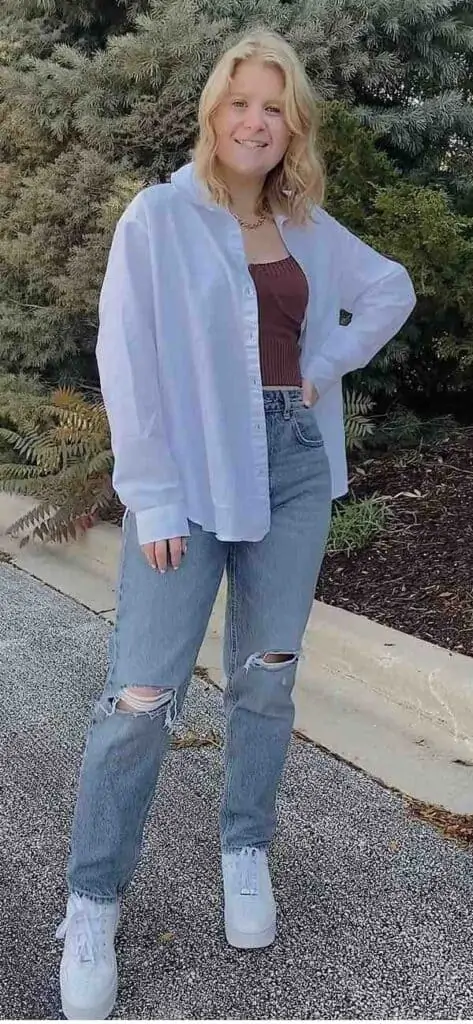 Ali (above) styled her ripped jeans with a simple top and layered a white button-down over the top.
When wearing a button-down with your ripped pants, you could leave it unbuttoned, button it all the way down or just tie the front part into a knot.
With a plaid shirt
You can style your plaid shirt with your ripped jeans. Plaid shirts are the best pieces to go for if you love to look grungy. 
Plaid, whether on plaid shirt or plaid pants, is a fun pattern suitable for women of all ages. That might explain why they are making a big come back in the world of fashion.
If you want a laid back look, go for some sneakers for a fun casual outfit.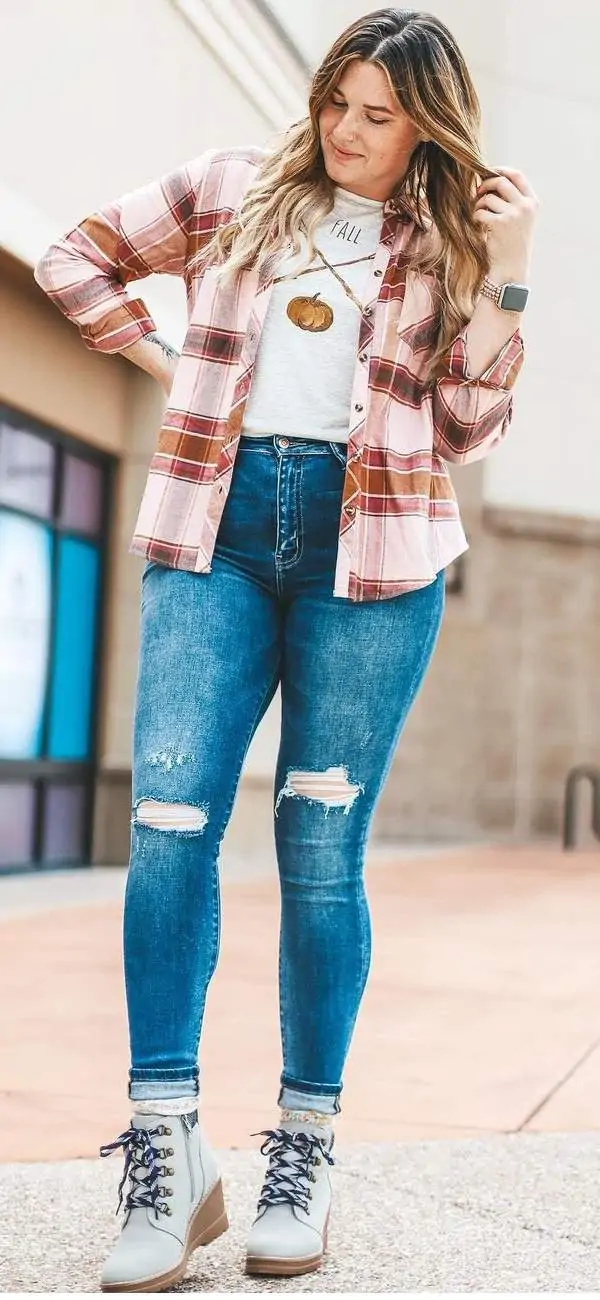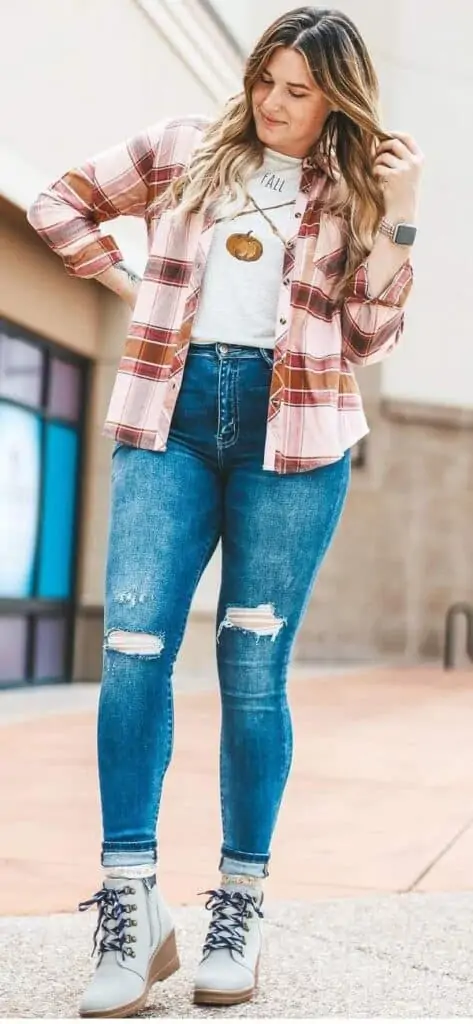 Melanie (above) styled her ripped jeans with a plaid shirt over a t-shirt. She finished off her look with some wedge lace-up ankle boots.
Remember, you don't always have to go for the common red n' black plaid shirts, as they come in different colors too.
With a vest
When you're wearing a pair of ripped jeans with a top, sweater or a shirt, you can add a vest to enhance the look even more.
Vests are a great last piece to layer on the top part of your body, and they come in different designs, so the option you go for depends on your preferences.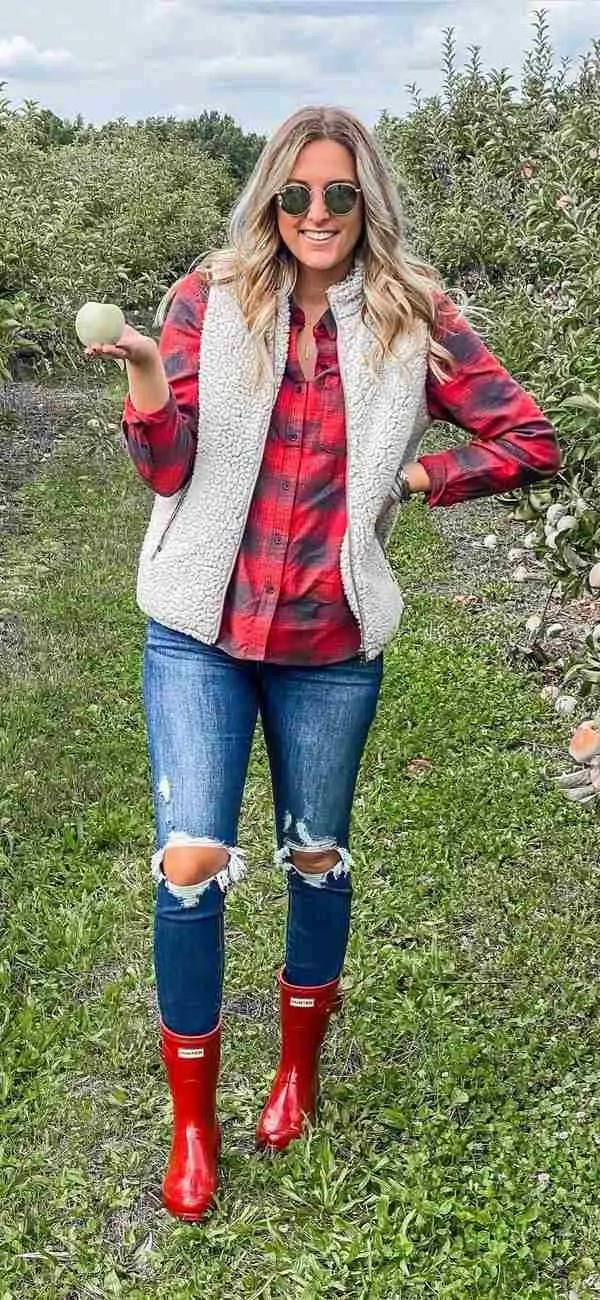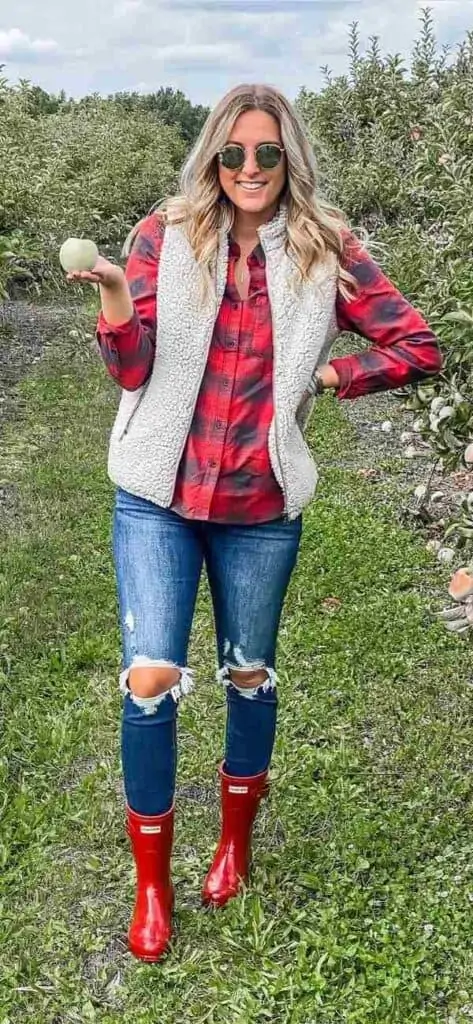 Alison (above) styled her plaid shirt with a vest and a pair of skinny ripped jeans. If your shirt is casual, it's better to go for a casual vest. If it's a dressy one, a blazer style vest will do.
With a crop top
Crop tops with ripped jeans can turn the otherwise "boyish" bottom into quite a fun and flirty look. Crop tops go with just about all bottoms, including your ripped pants.
This outfit can look either very laid back or dressed up, depending on the design of your top and the shoes you wear.
Lace and other fitting crop tops make an outfit dressier. Alternatively, there are more relaxed fit and laid back crop tops you could go for, if you want to go for a very causal look.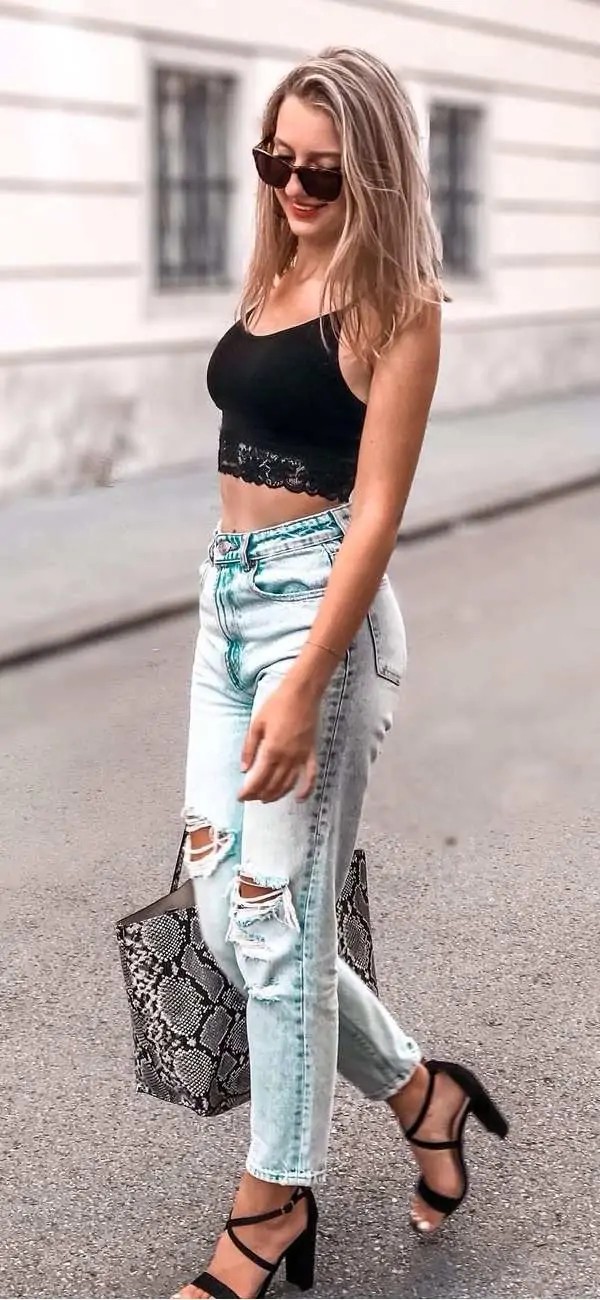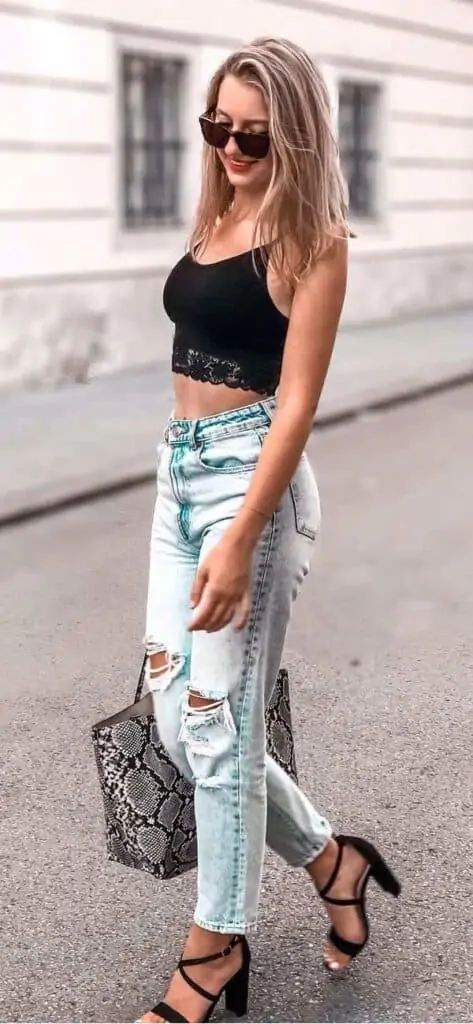 Klara (above) styled her crop top with some ripped mom jeans and some heels to dress the look up.
With a pullover
You can pair your ripped jeans with a pullover, either a fitting one or one that's slightly oversize in the fall.
Pullovers are no longer just meant for school-going kids or their teachers. In fact, they have become a must-have considering you can wear them in so many ways.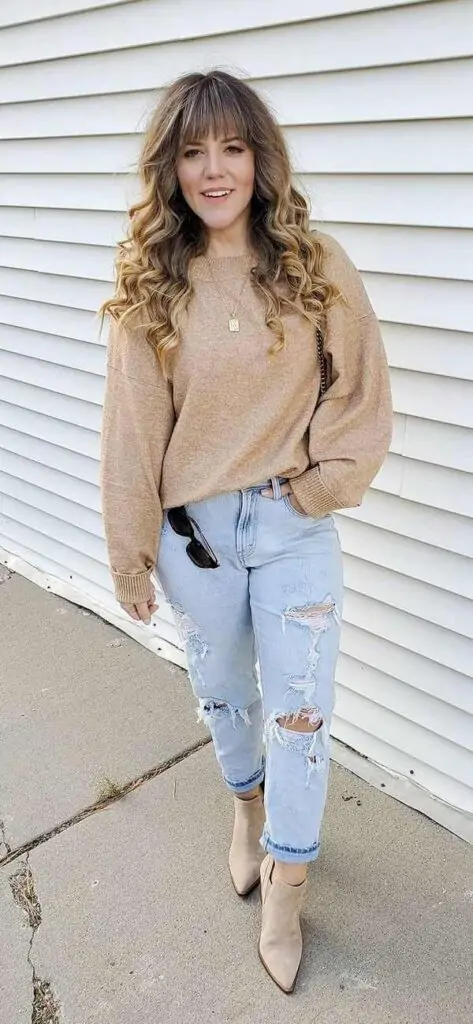 Amber (above) styled her pullover with some ripped jeans and a matching pair of boots. If you feel uncertain about the colors to go for with this ripped jeans look, going matchy-matchy is an easier way to do it.
With a leather jacket
You can wear a pair of ripped jeans with your leather jacket for the fashion-forward blogger look.
A leather jacket is a classic piece and ever so timeless. It goes well with everything you have. When worn with ripped jeans, this outfit flatters every body type, and is great especially for fall and for a night out.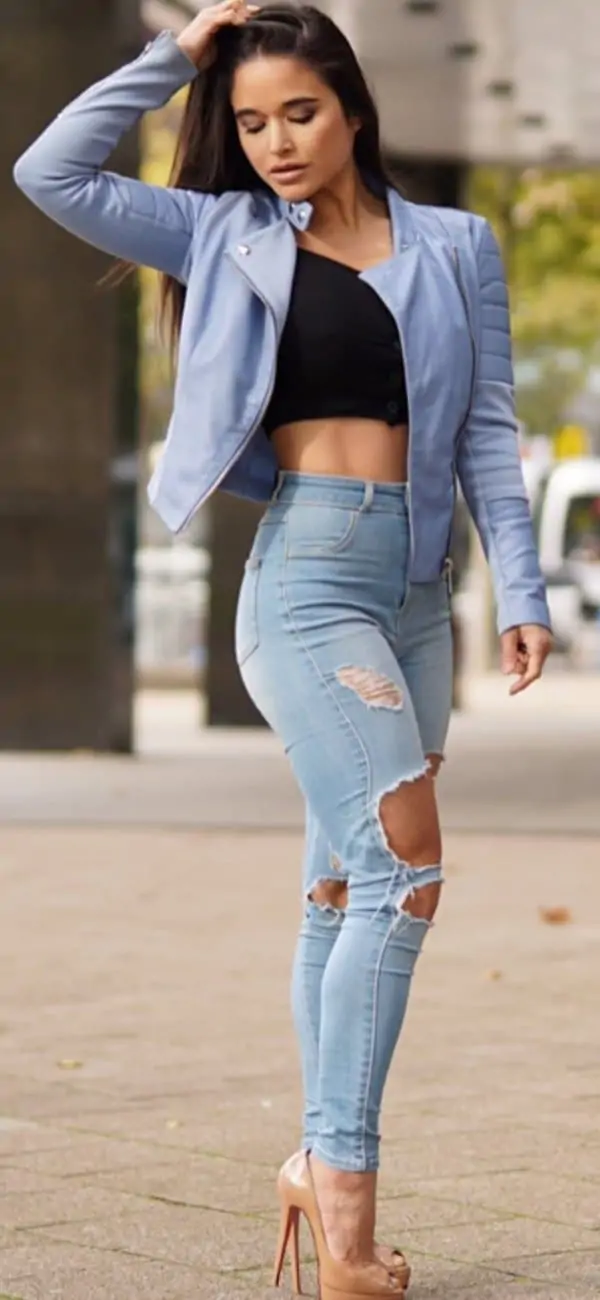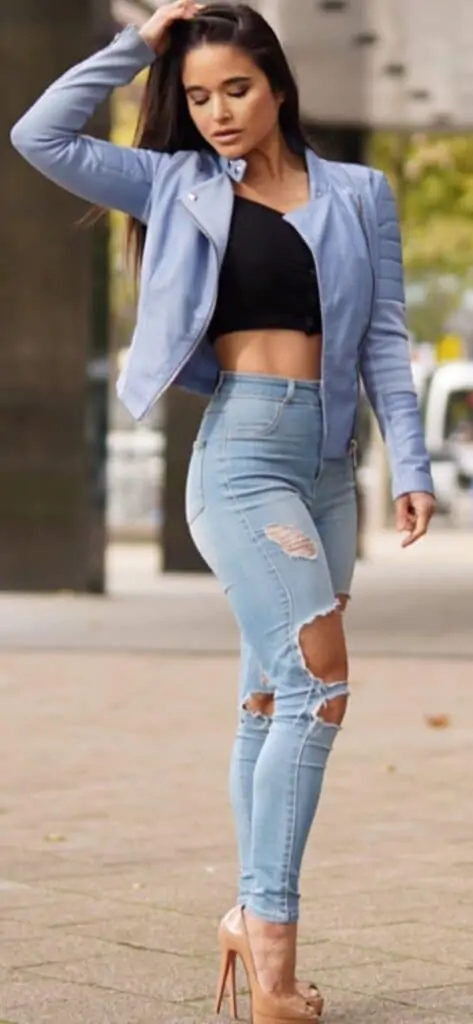 Rachelle (above) styled her ripped jeans with a black crop top, a leather jacket and stilettos.
While high heels dress up this pairing, you can also go for casual shoes.
As you can see, ripped jeans are nice and fun, great pieces to add to your closet and style.