Animal print is among the most popular prints in recent year, and leopard print shoes have also grown so much in popularity that they are becoming the classic staple of our wardrobe. Leopard print shoes can bring energy and interest to our closet, especially if you have a wardrobe full of neutral colors.
Here are some chic and feminine outfit ideas on what to wear with leopard print shoes:
With skinny jeans
Among the different types of denim, skinny jeans are not only comfortable, but they are also stylish wardrobe pieces that every woman should have in their closet. They can be either dressed up or down with different tops and shoes.
You can style your skinny jeans with leopard print shoes. It's a look that works for any woman.
The best part about styling your skinny jeans with leopard print shoes is that regardless of how simple your outfit is, the shoes will make them stand out.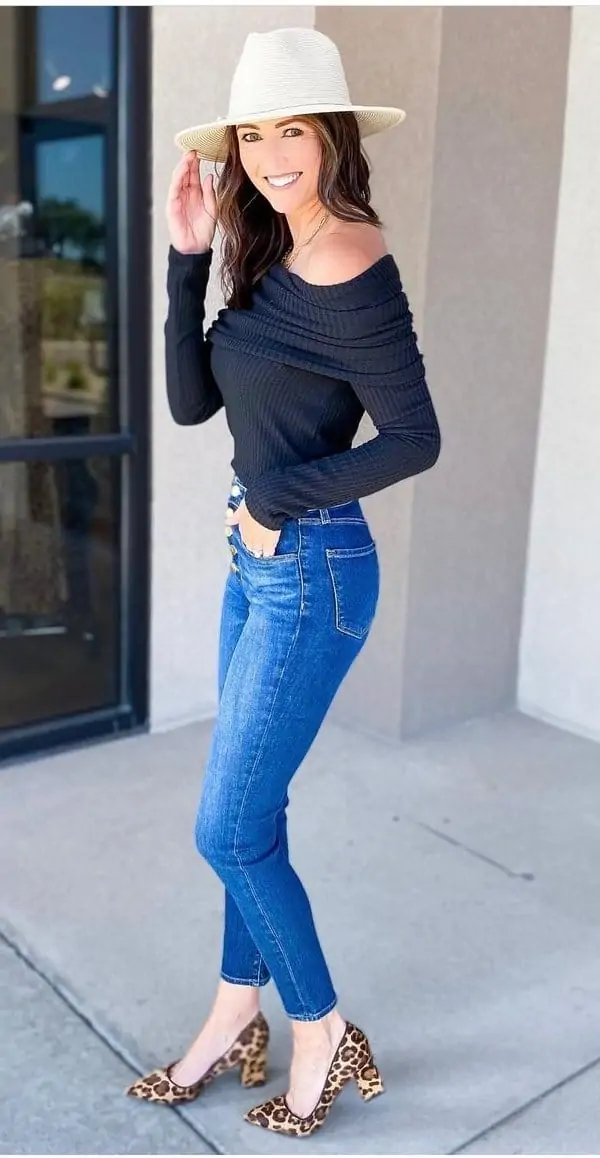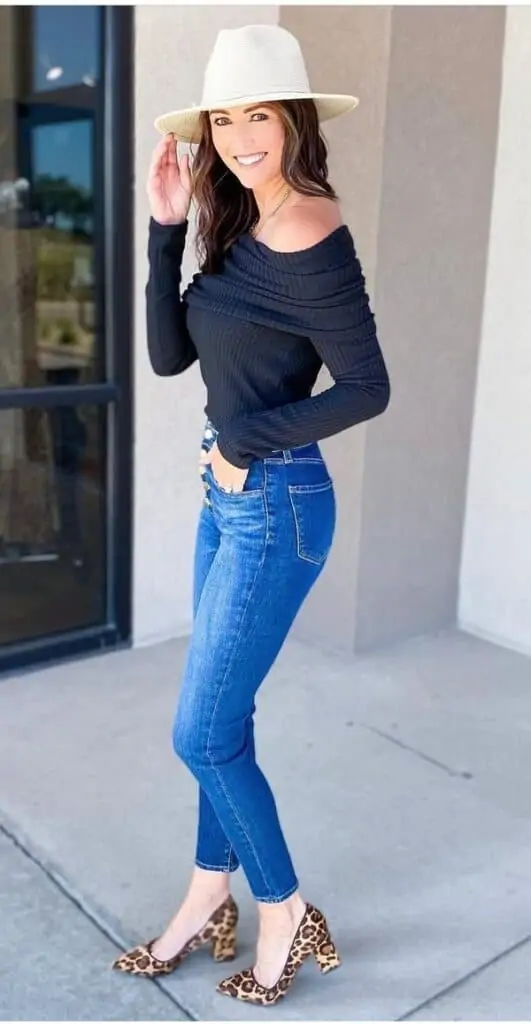 Maren (above) styled her blue skinny jeans with a black top and leopard print shoes.
With tailored pants
Tailored pants are one of the surest ways to look smart. They are flattering for different body shapes, just as long as you get the fit right.
You can style your tailored pants with some leopard print shoes to add some fun to the look. This is especially great, considering tailored pants are often made simple and minimalist.
Not only is this leopard shoes outfit perfect for office settings, they can also be worn to casual occasions when you feel like looking polished, such as a first date.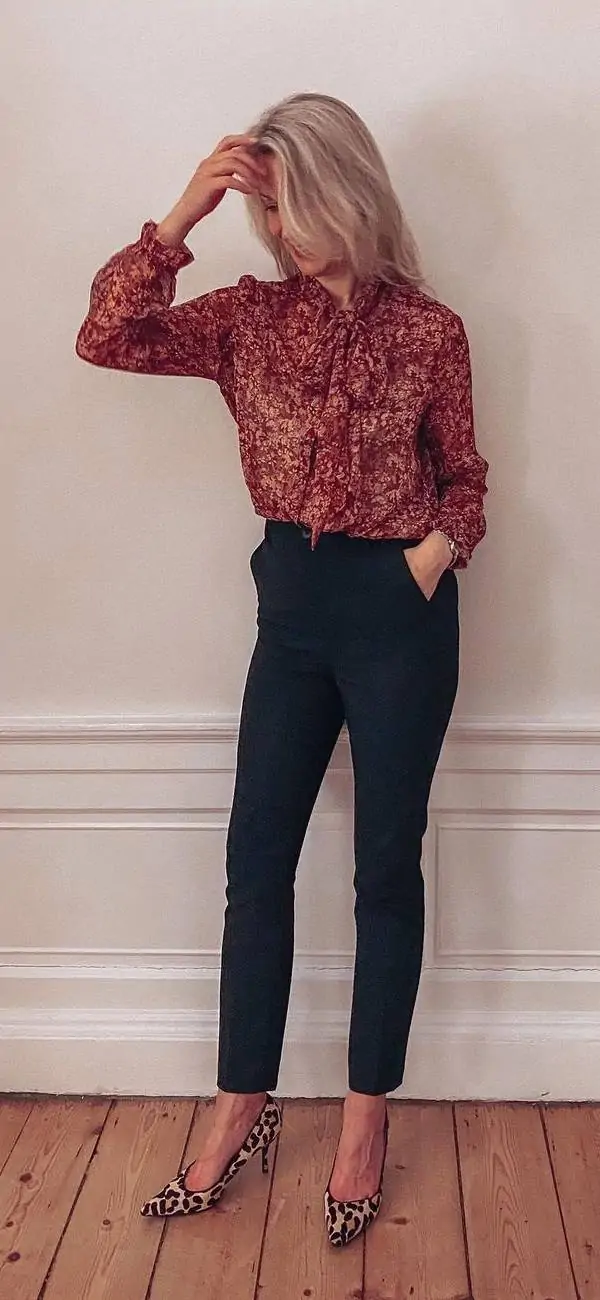 Sarah (above) styled her black tailored pants with a blouse and some closed heel leopard print shoes.
If your pants is solid neutrals like black, grey or navy, wearing a printed top or blouse can balance out the bottom. Just make sure to choose a subtle print that goes with the leopard print on the shoes.
With culottes
Culottes are great, if you value comfort but still love to look stylish while you stay comfy in your clothes. They are a great alternative to pants but work just the same.
You can style them with a pair of simple leopard print shoes, considering their wide leg style already stands out.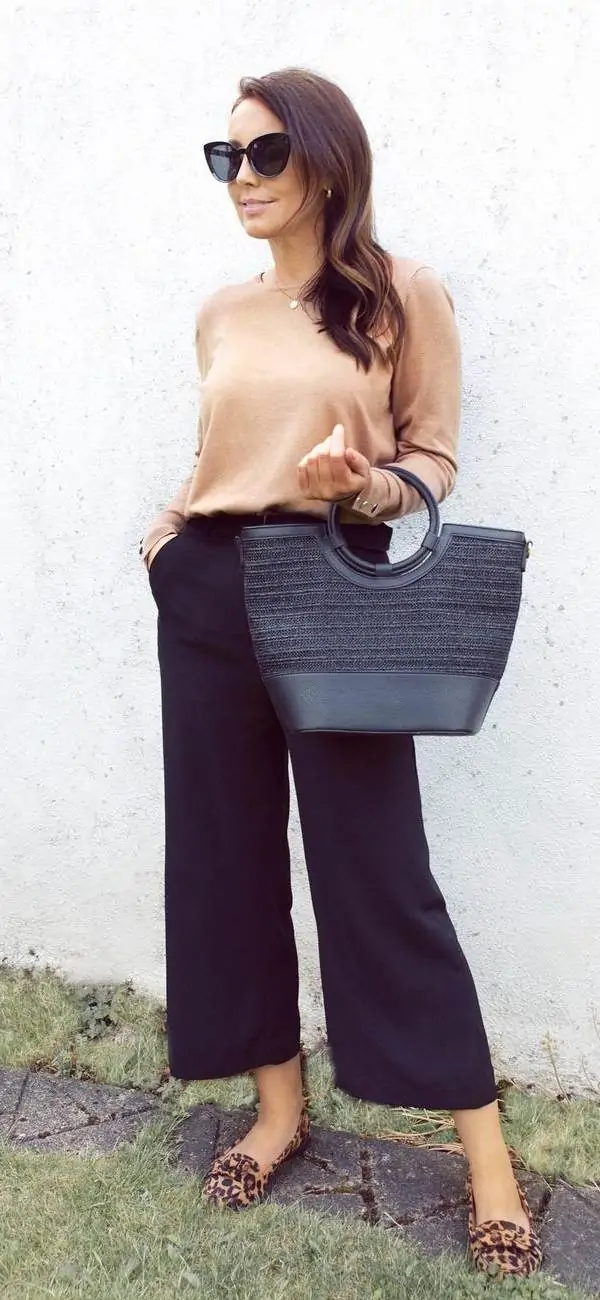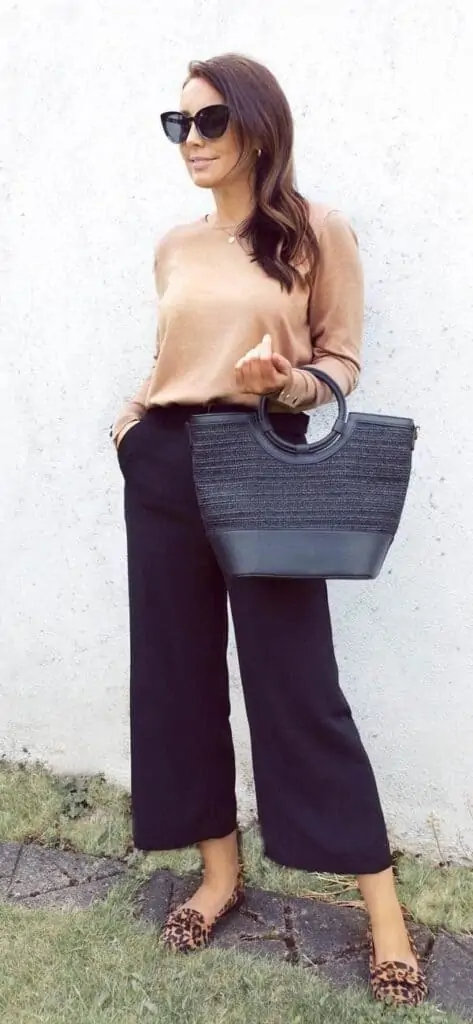 Bridget (above) styled her culottes with a simple top and leopard print loafers. Going for a black or white pair of culottes makes your shoes stand out more.
If you happen to be petite (under 5'4″), then it is wise to go with longer length for the wide leg pants in order to create the illusion of longer legs and look taller.
With khaki pants
Since khaki pants mostly come plain and in browns, adding a pair of leopard print shoes will elevate the outfit.
Khaki pants have the both of two worlds, given how versatile they are. They are easily an alternative to jeans or tailored pants, when you want to look either casual or office-ready respectively.
This leopard print shoes, either casual style or a dressier pair, is a great idea for people who might find the look just a bit boring, or rather too plain.
You can style brown khaki pants with a black cami. It's a minimalist look that you can complete with a pair of leopard print closed heels.
It's best to choose khaki pants that just touch your ankle as this is the best length to allow your shoes to show.
With leather pants
Leather is both classic and timeless. While they already make a statement, pairing your leather pants with some leopard print shoes will have you looking fashion event-ready.
A great pair of leather pants or leather leggings will have you looking sophisticated and will make your outfit look chic in an instant.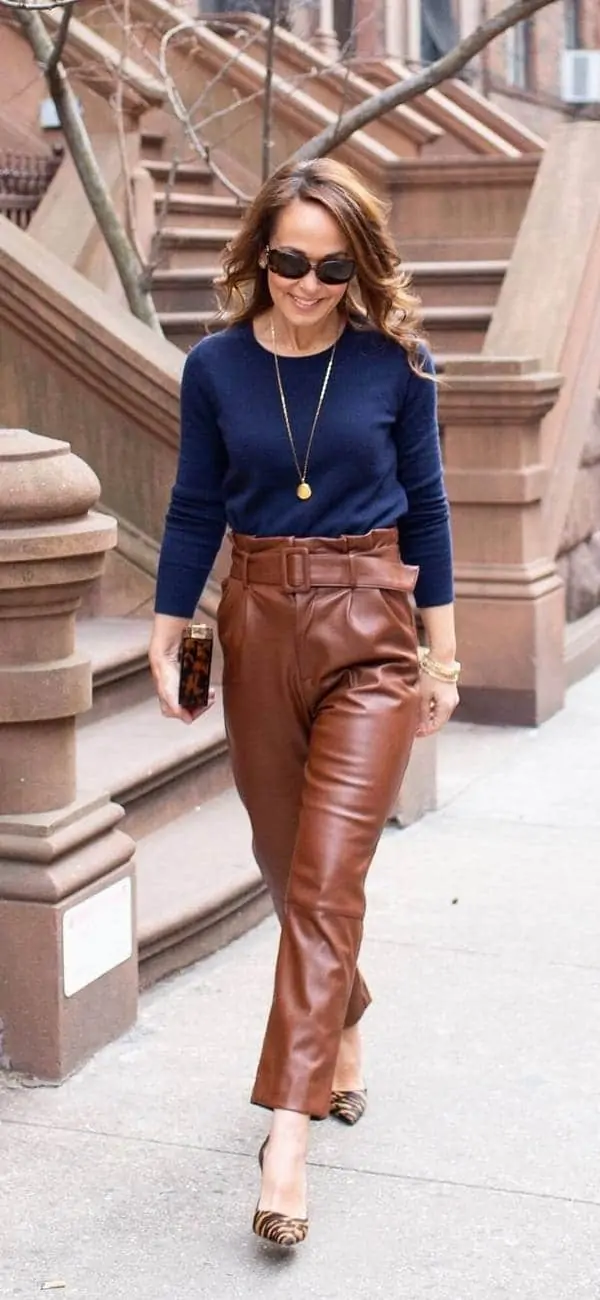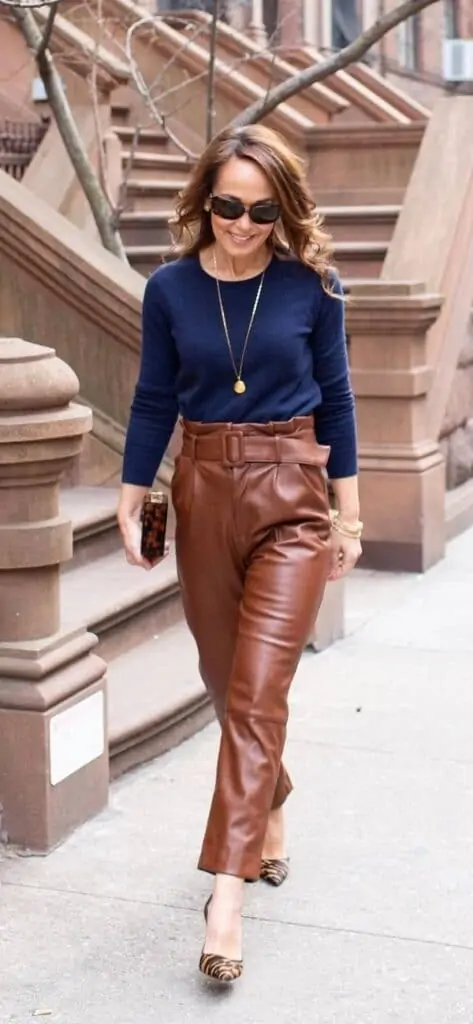 Jennifer (above) wore her navy top with a pair of brown leather pants and simple leopard print heels.
Your leather pants do not always have to be black. A color like brown and any other that goes with your shoes will do.
With a midi dress
Midi dresses are not only quite on trend, but also suitable to any age group and for any occasions. Wearing a midi dress with some simple leopard-print footwear can give you that instant feel of effortless chic.
Midi dresses might not be the easiest for a lot of women to style because of their length, but they can definitely look classy when styled right. To avoid being aged by the midi dress, you can get midi dresses in different interesting designs including button-downs, sweater-style midi dresses and so many more.
If you are petite, midi could be an awkward length because it risk making your legs look cut-off. The best midi dress for shorter girls is those with slits.
A midi dress with slits will also work with different types of leopard-print footwear as it can be casual or dressy at the same time.
With a midi skirt
Just like midi dresses, midi skirts are also great pieces to have in your closet, if you want to look effortlessly classy.
Whether you choose an A-line one or a straight midi skirt, a leopard print pair of shoes will spruce it up.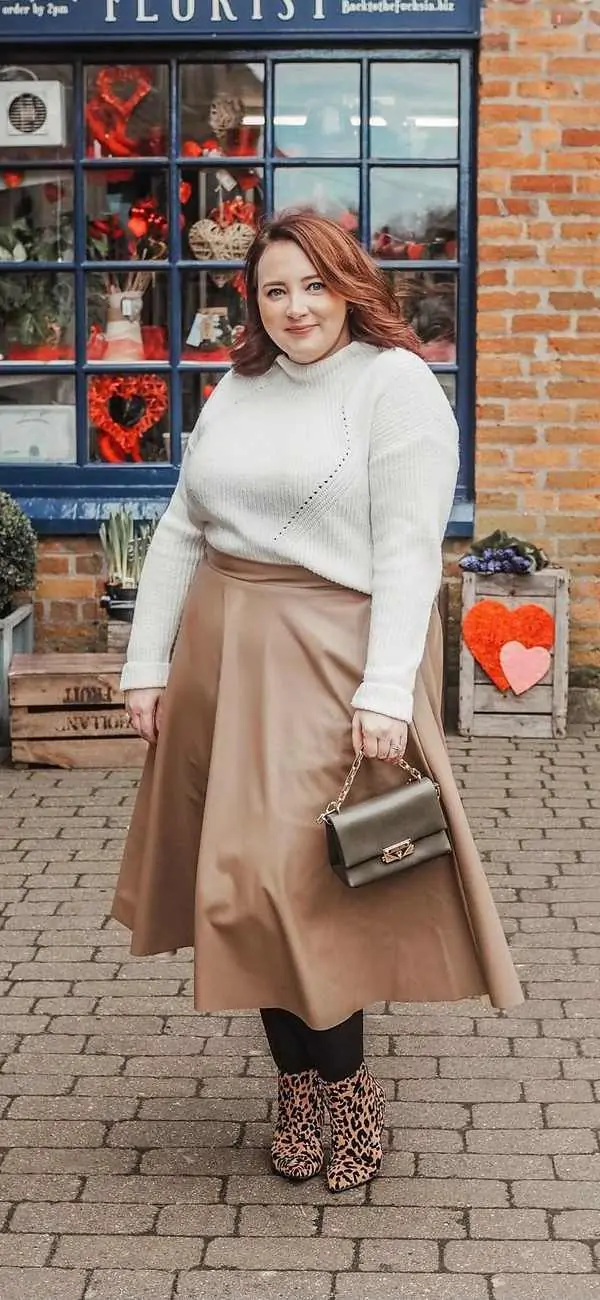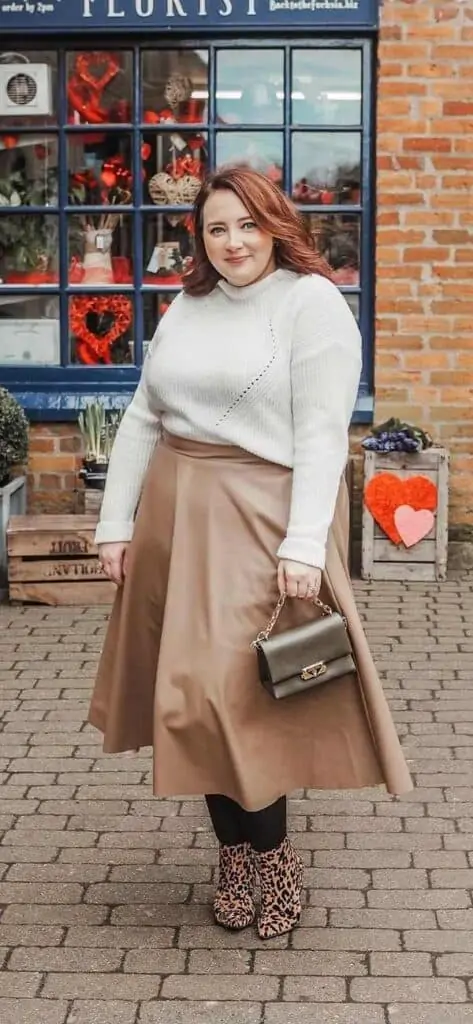 Haylie (above) styled her leather midi skirt with a sweater and a pair of leopard print booties.
Leopard-print ankle boots are great especially for fall, and can be worn with black tights too under the midi skirt, which can make them stand out more.
With a shift dress
Shift dresses come in different prints, patterns and colors and go well with a pair of leopard print shoes, especially casual ones.
For those women who particularly value comfort, but still love to look girly, a shift dress is a great option as it combines both comfort and a feminine look.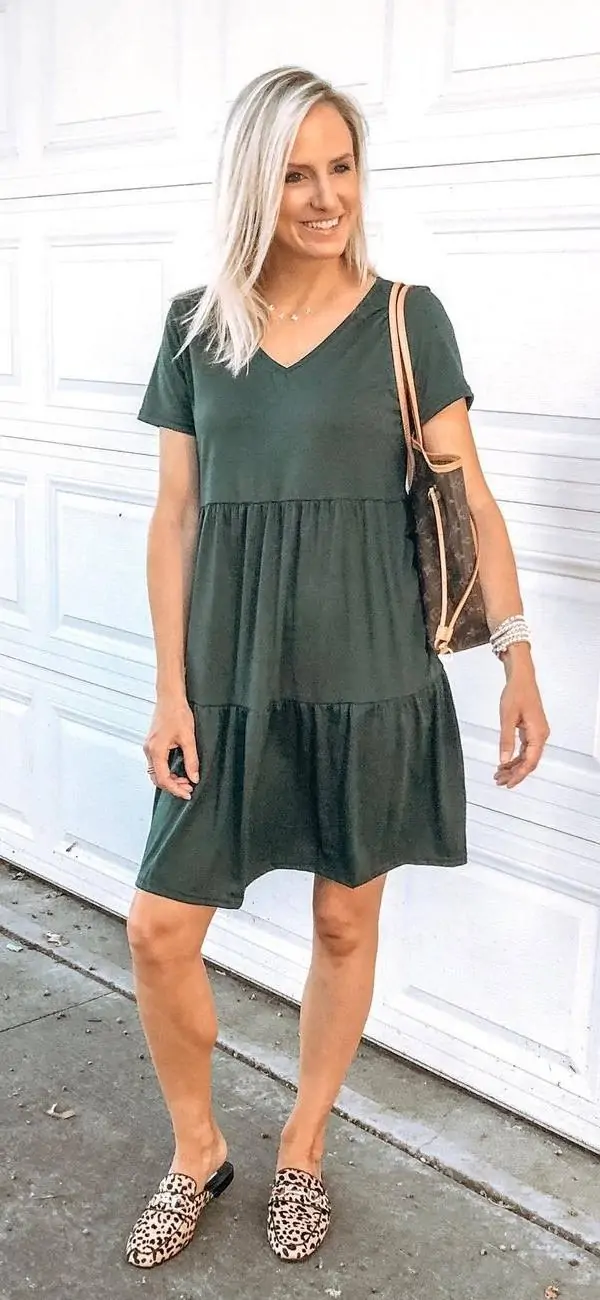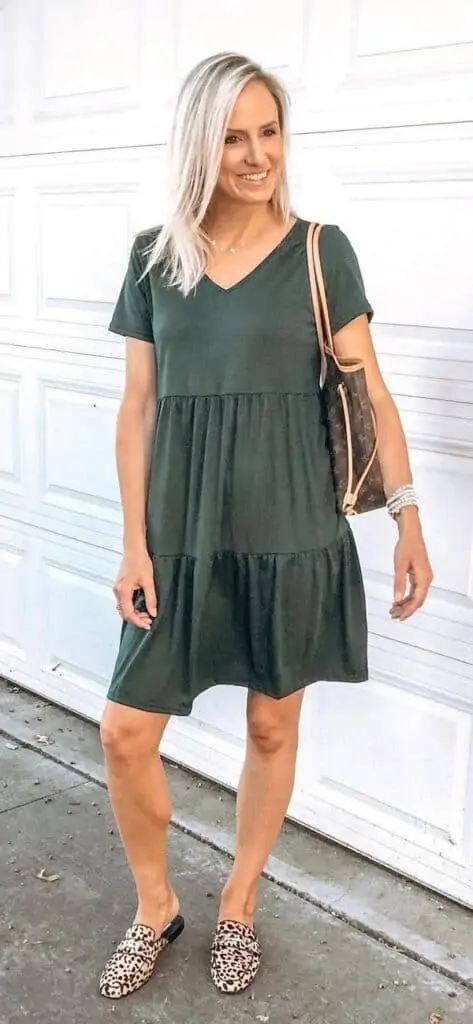 Lindsay (above) paired her green shift dress with some leopard print mules. With a shift dress outfit, it's always better to keep everything else you wear simple since the dress is very flowy.
With a knit dress
You can get knee-length dresses in A-line style, bodycon, sweater dress style, and so many others. All of them can be styled with some leopard print footwear.
A knee-length knit dress is usually comfortable, because it's not too short but also allows you to show just enough leg. The key is in making sure the colors of the dresses coordinate with the animal print of your shoes.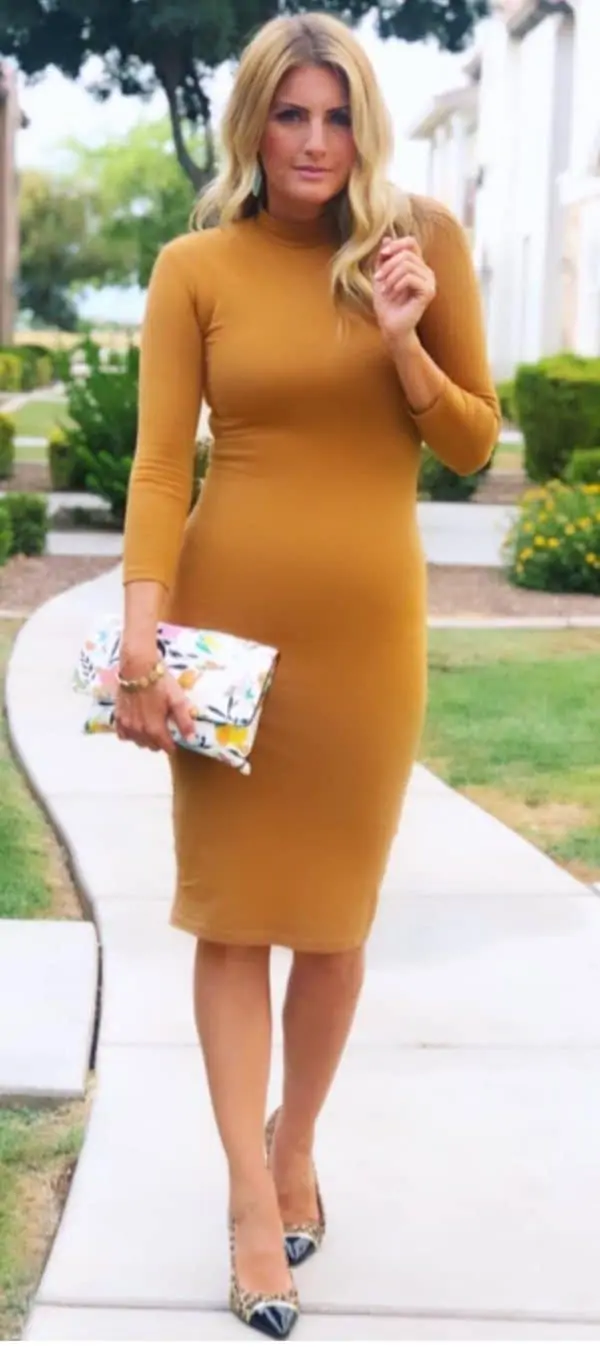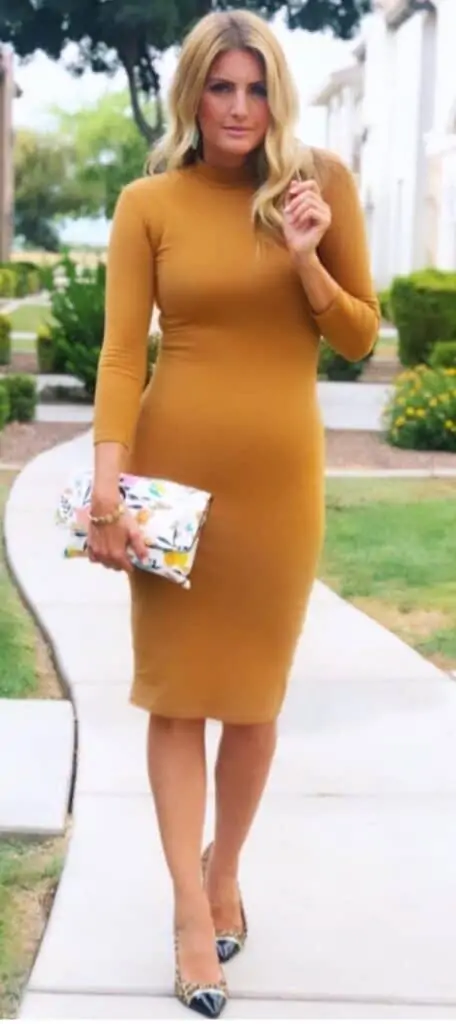 Kora (above) styled her knee-length mustard dress with a pair of closed leopard-print heels. Remember your shoes do not always have to be fully printed. Parts of them can be plain.
With shorts
Even though leopard print is often considered a fall staple, you can definitely style your shorts with a pair of leopard print shoes too.
Wearing shorts is a great way to stay comfortable, especially during the warmer or hotter months. They come in different styles and lengths, prints and fabrics so you can choose the type that works best for you.
Leopard shoes will make your summer outfit dressier, as shorts tend to look too laid back sometimes.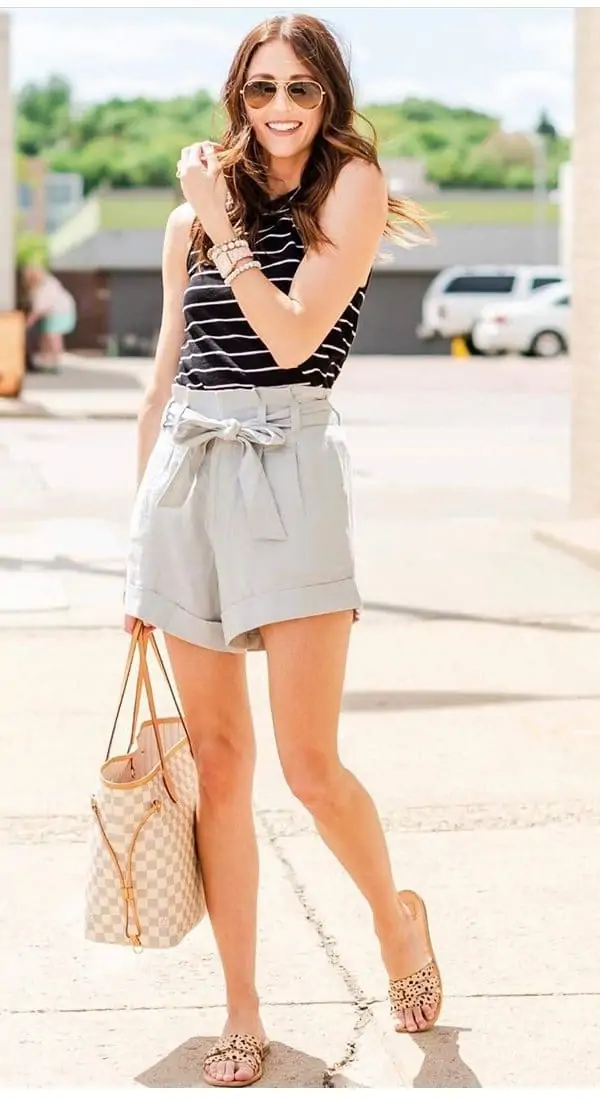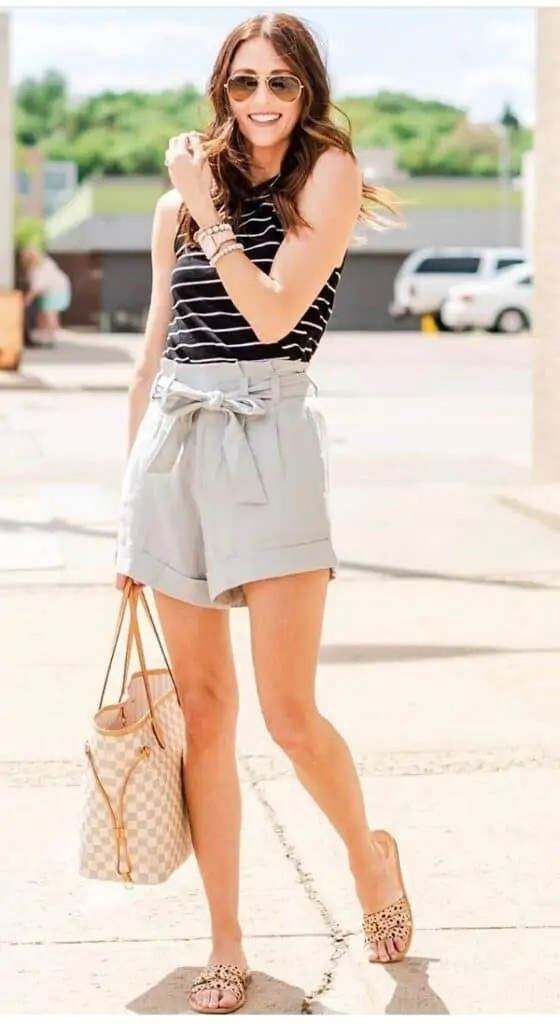 Maureen (above) styled her shorts with a simple striped top and a pair of leopard print sandals. Her bag is printed and so is her top but the outfit still balances out well.
It is important the colors of the individual pieces are simple and neutral, so they work with the subtle leopard print on the sandals.
With cargo pants
Cargo pants can also be styled with a nice pair of leopard print shoes. Cargo pants are great if you like a great casual outfit that does not include jeans.
Cargo pants are slouchy and comfortable, not to mention functional because of the pockets. The leopard print footwear can be converse, sandals, ballet flats or mules, for a nice casual day outdoors.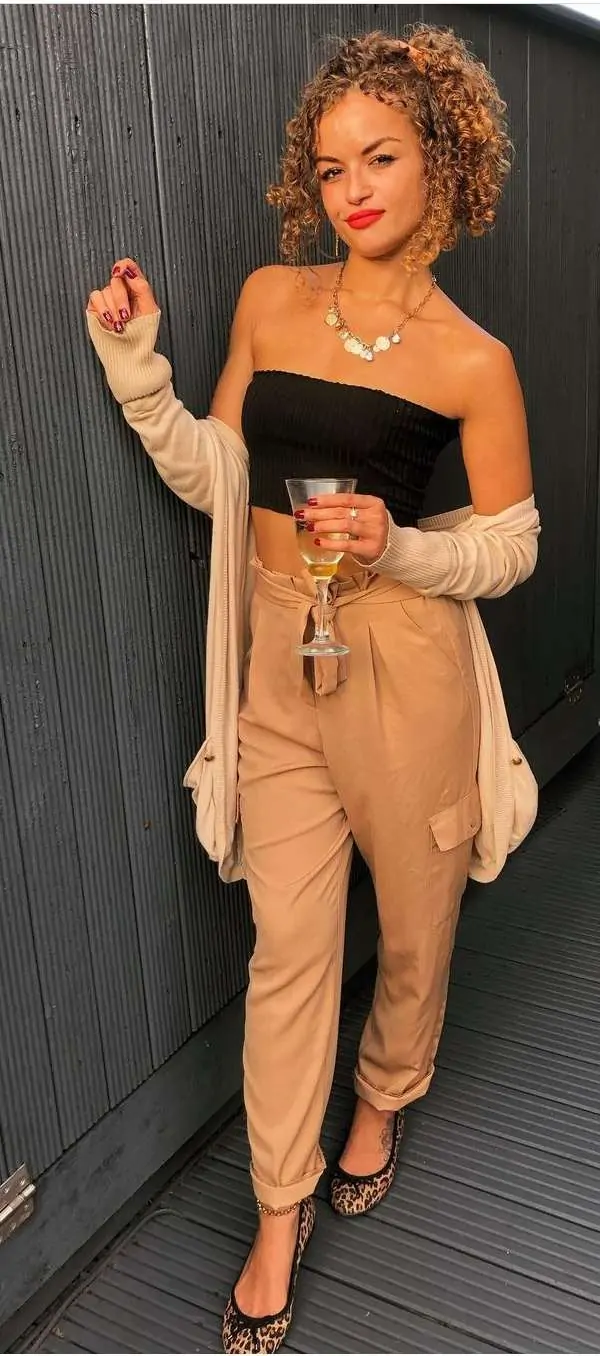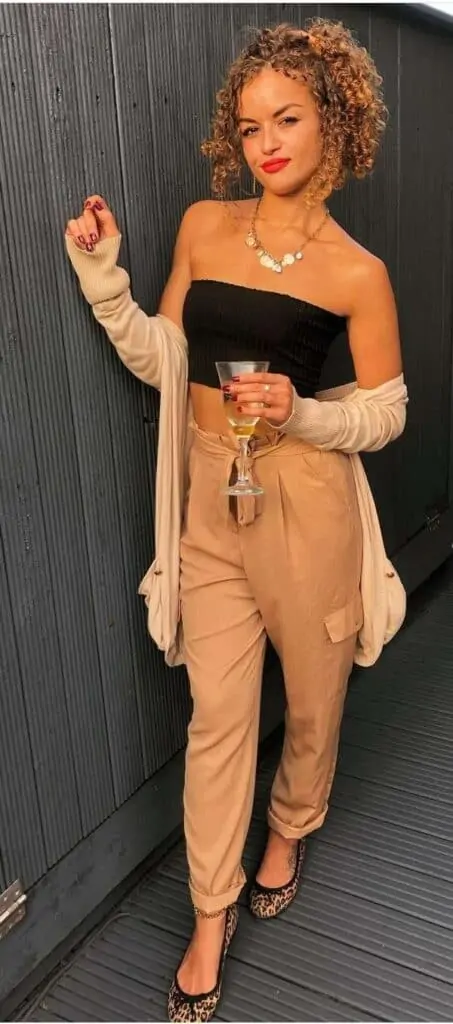 Georgia (above) styled her cargo pants with a black crop top, a cardigan and simple ballet flats in leopard print. Ballet flats are the best way to go with pants that are less simple such as cargo pants.
With sweatpants
You could make your joggers look edgier by wearing them with a pair of leopard-print shoes. Sweatpants are some of the best loungewear. Aside from being great and comfortable for wearing indoors, they can also be worn outdoors.
If you think a sweatpants outfit looks too casual to leave the house, wearing a pair of leopard print shoes will instantly upgrade the outfit.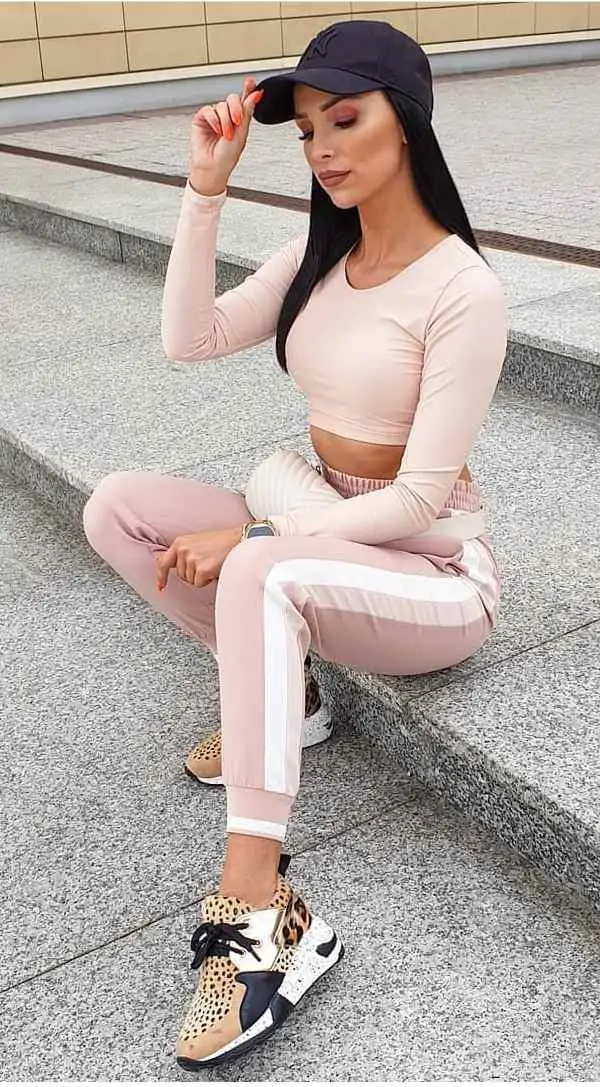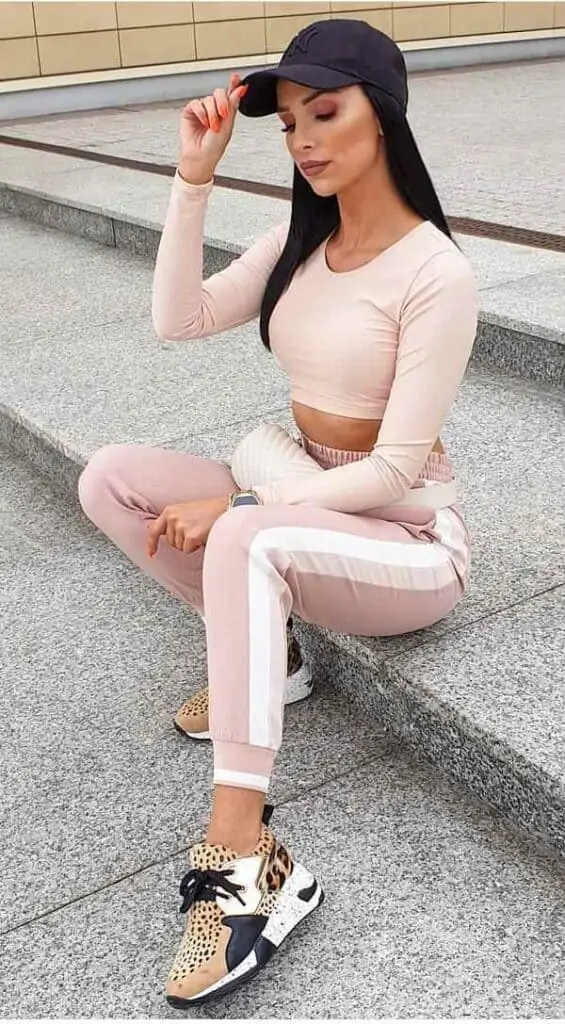 Justyna (above) styled her sweatpants with a crop top and some leopard print sneakers. If your sweatpants are in a bright color, the shoes make the look more edgy.
With a jumpsuit
You can pick a pair of leopard print shoes to wear with your jumpsuit year round. A jumpsuit, being a one-piece, is easy to wear and works for different seasons, whether it's hot outside or cold depending on how you wear it.
Since leopard print is quite eye-catchy, it's best to go with a plain jumpsuit to balance out this outfit.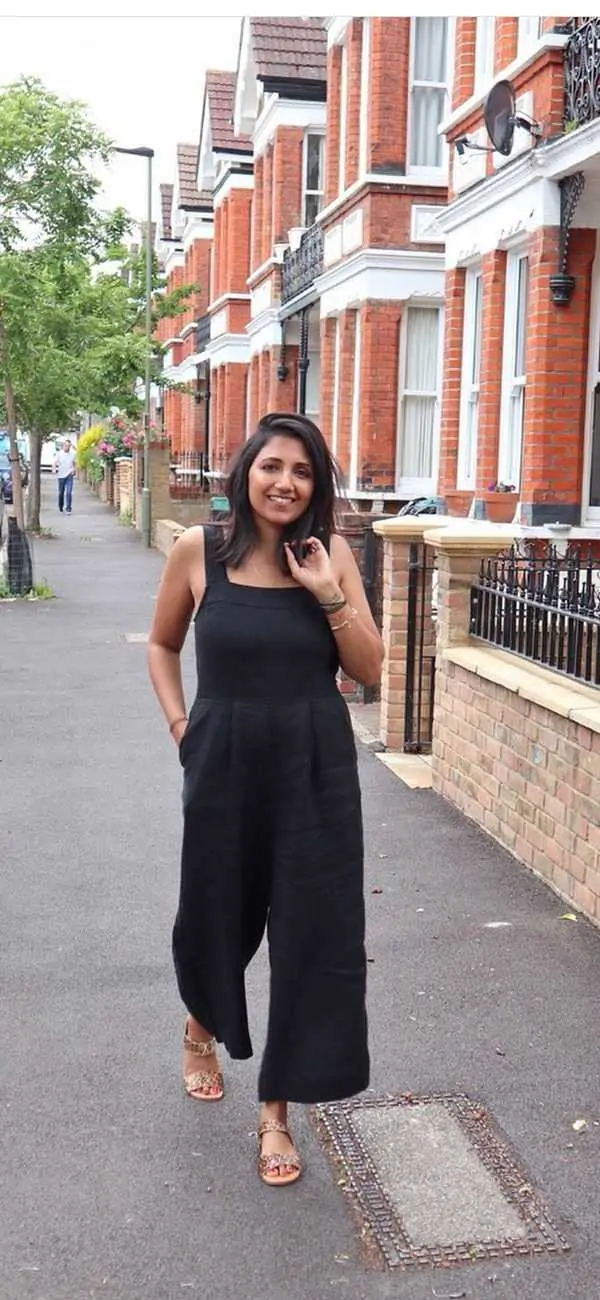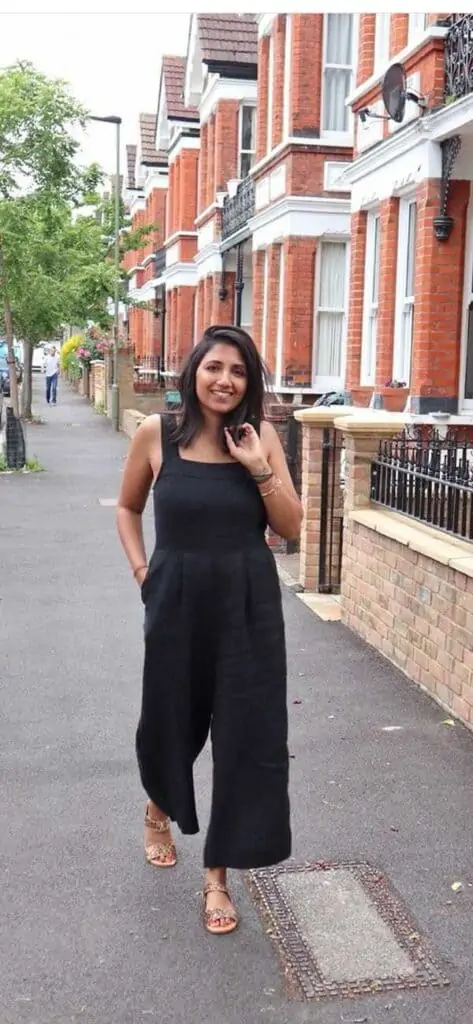 Thaarani (above) went simple in a black jumpsuit, styling it with a pair of leopard print sandals. Wearing leopard print sandals with your jumpsuit is great when it's hot outside.
With flared pants
They can be styled with leopard print shoes with a pair of leopard print shoes too. Flared pants were the norm back in the 80s, but have found their way into modern style in recent years, and are often worn by trendsetters.
For this outfit, it's advisable to balance out the volume created by the leg shape of the pants, The best is to choose either sharp-pointed closed leopard print shoes, a strappy pair of leopard print heels or sandals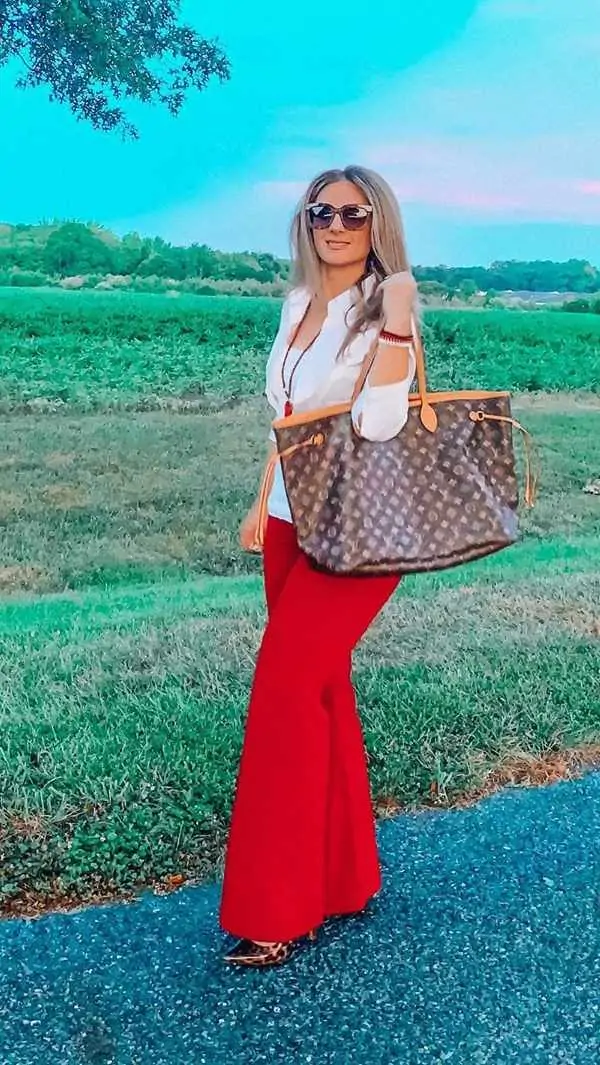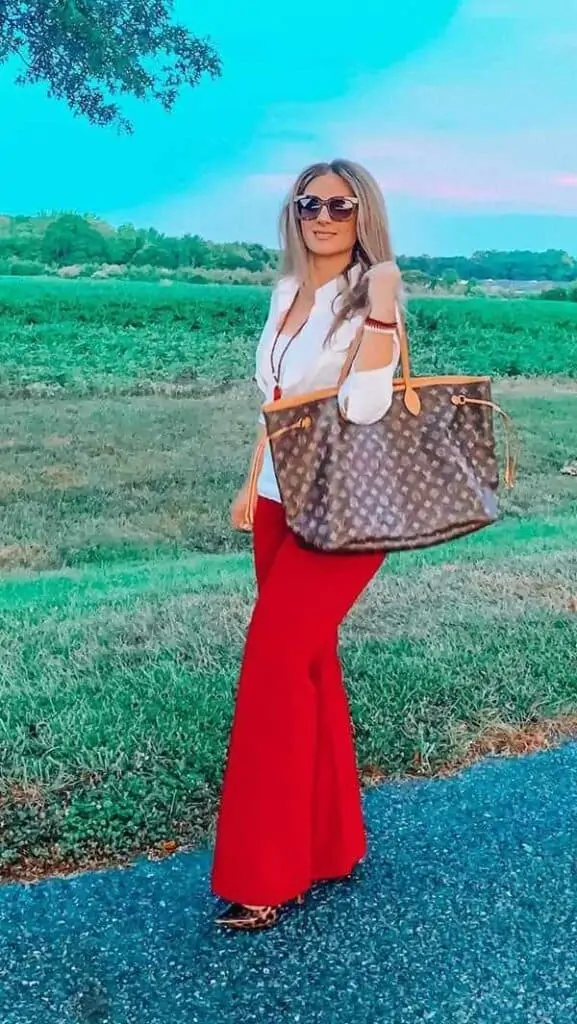 Amber (above) styled her red flared pants with a blouse and pointed toe leopard print shoes.
This leopard shoes outfit can have many variations. You can pick the flared pants in denim or other fabrics that flatter your figure.
If your goal is to look slimmer, you can go for darker colors which can make your hips and thighs look more slender.
With a shorter skirt
Another warm weather outfit idea for leopard print shoes is to style your shorter skirts with your leopard print footwear.
Just like shorts, a shorter skirt allows you to show off your legs when it's hot outside. with the skirts above the knee, you have a variety of types to pick from when it comes to the shoes.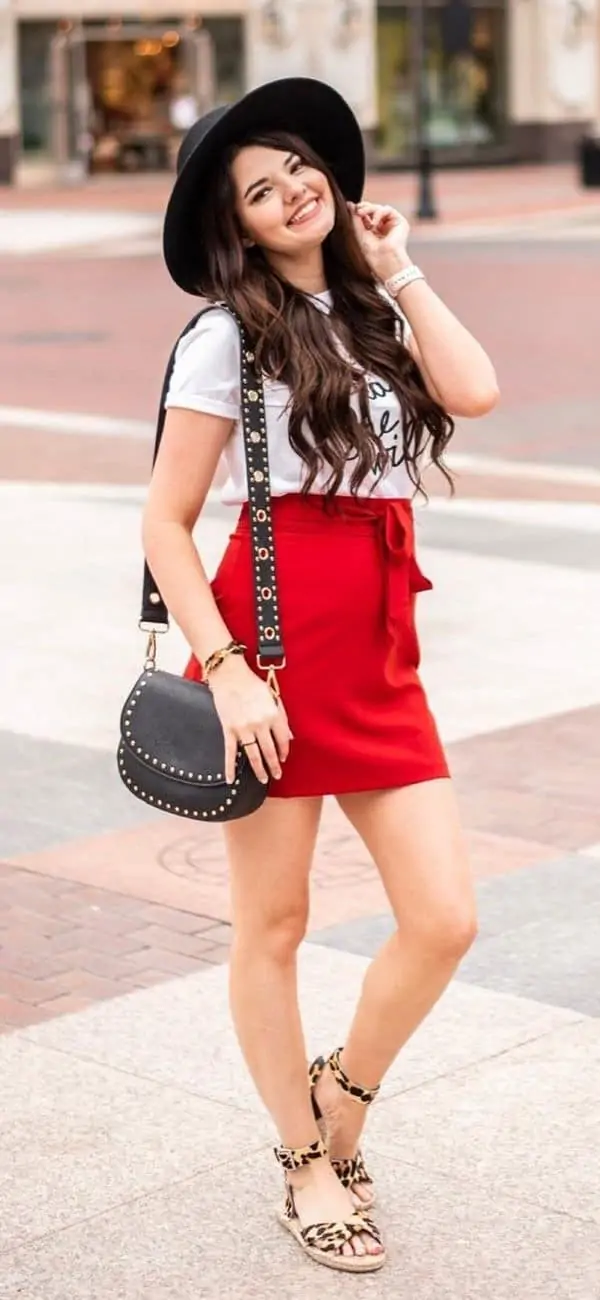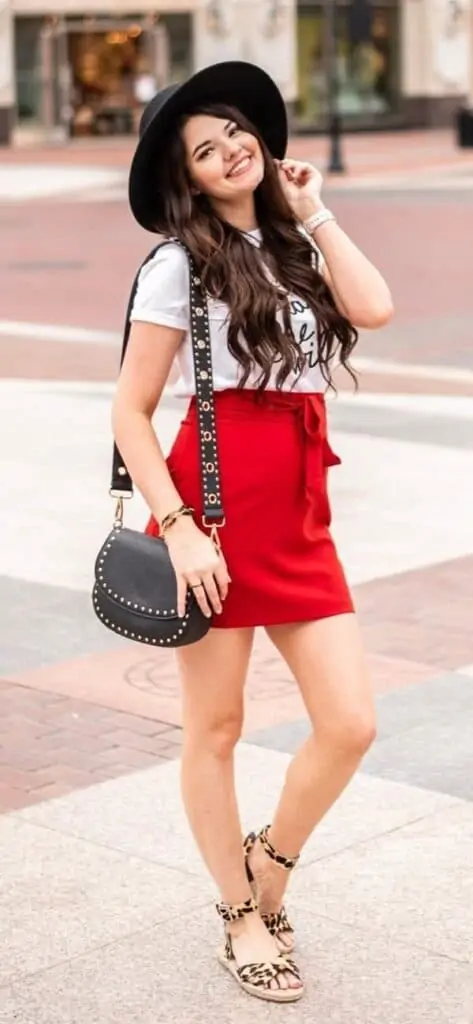 Cat (above) styled her red skirt with a white message t-shirt and a pair of leopard print sandals. It's easier to play around with color if your skirt is not too long but you still need to make sure the colors you go for with your skirt are right for the shoes.
So get yourself a pair of leopard print shoes or a number of different ones in different styles and give the outfits above a try.