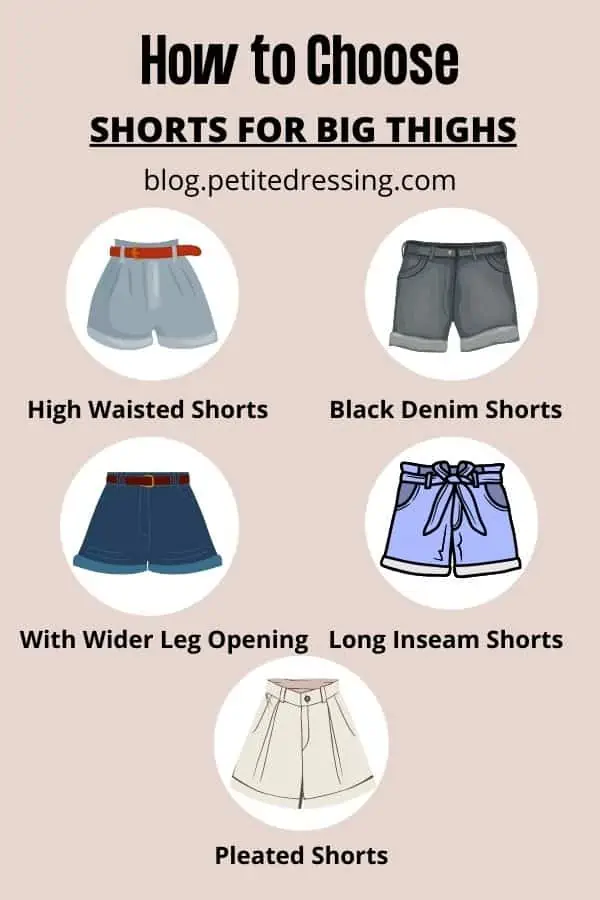 There can be challenges to shop for and wear shorts when you have thicker legs and bigger thighs.
Amongst the 5 body types, the pear shape (also known as the spoon shape) is the type that typically has prominent thighs, sometimes known as saddle bag thighs.
Since I have a petite clothing line, I hear feedback from thousands of my customers on a regular basis, many of whom have bigger thighs. Based on their feedback, I wanted to share a few of my tried and true tips on how to choose shorts for big thighs to make your experience a little smoother.
High Waisted Shorts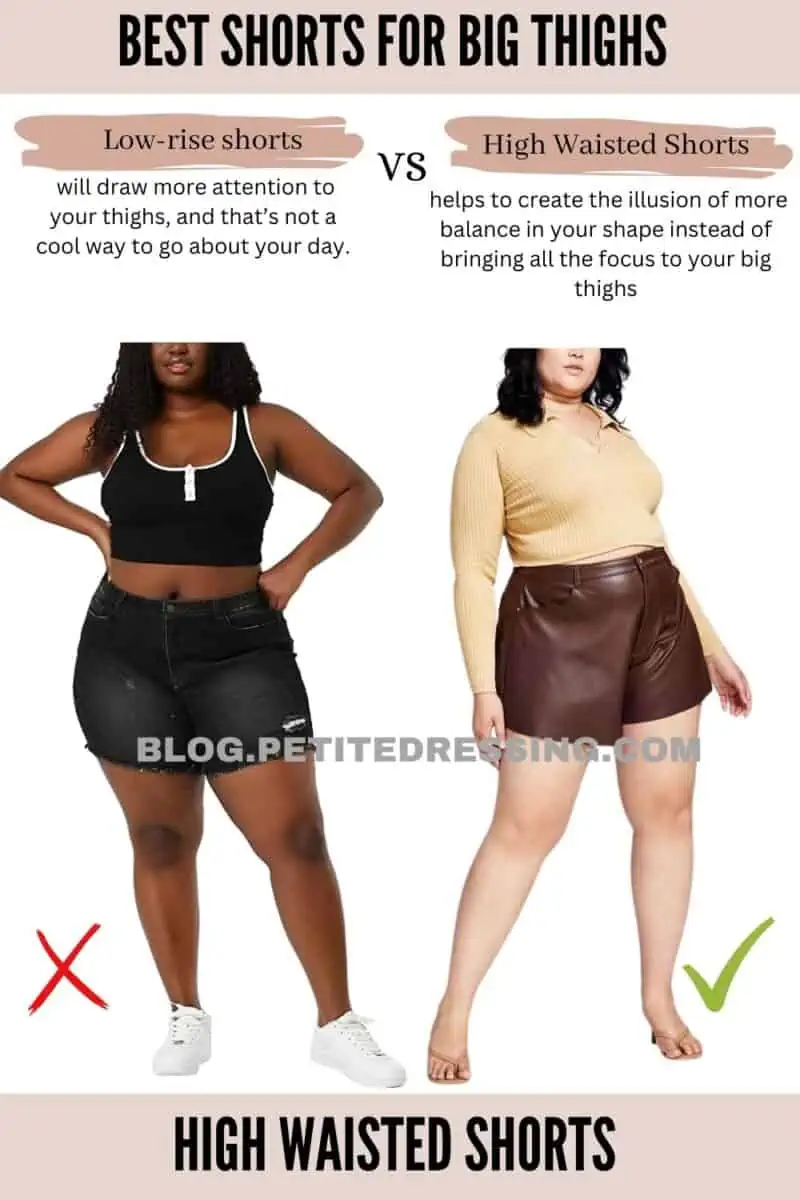 High waisted EVERYTHING is pretty much everywhere right now. High waisted shorts are perfection for a woman with big thighs. (Check out this similar shorts to recreate my look).
The high waisted fit of this style of shorts creates the most incredible figure flattery.
When you opt for a higher rise short it creates a shape and accentuates your waistline – this helps to create the illusion of more balance in your shape instead of bringing all the focus to your big thighs AND it makes your legs look longer and leaner. What's not to love about longer, leaner looking legs – right?
For petite women in particular, what high waist design does is it elevates your natural waistline, making your legs instantly look a lot longer.
Not to mention, high waisted shorts are overall a whole lot more comfortable.
Black denim shorts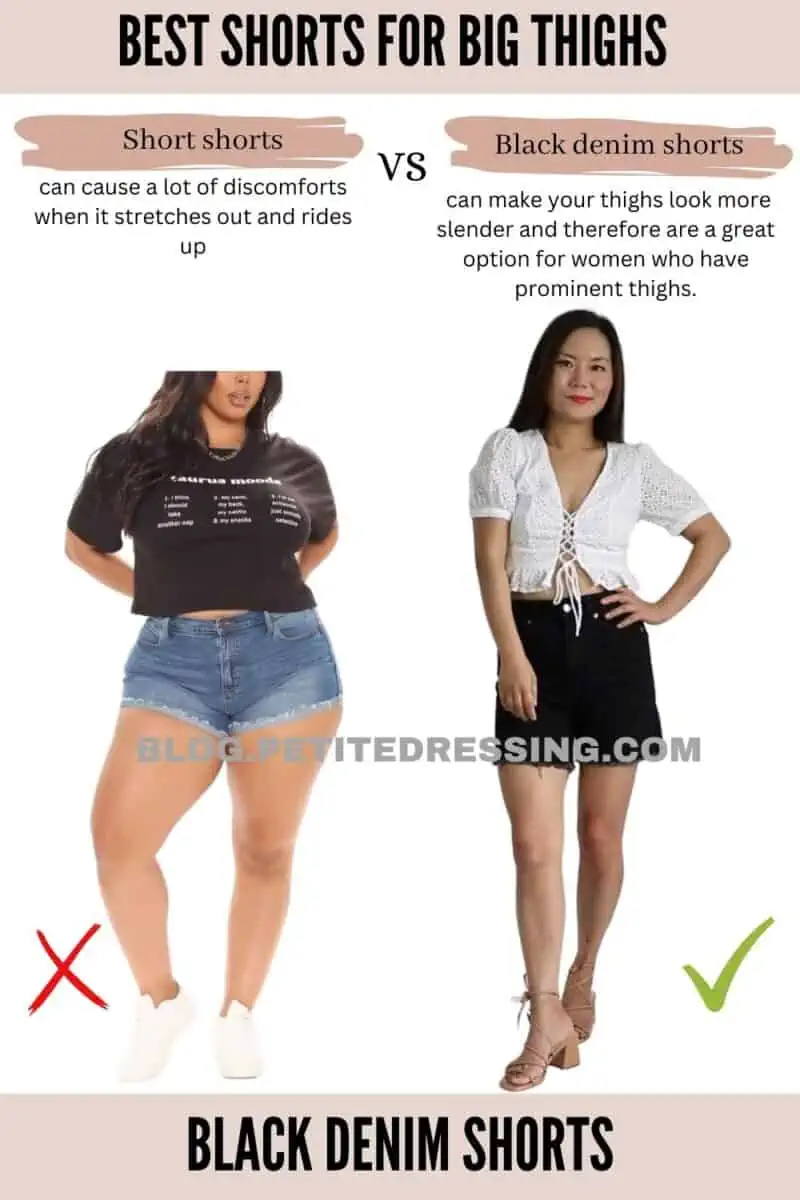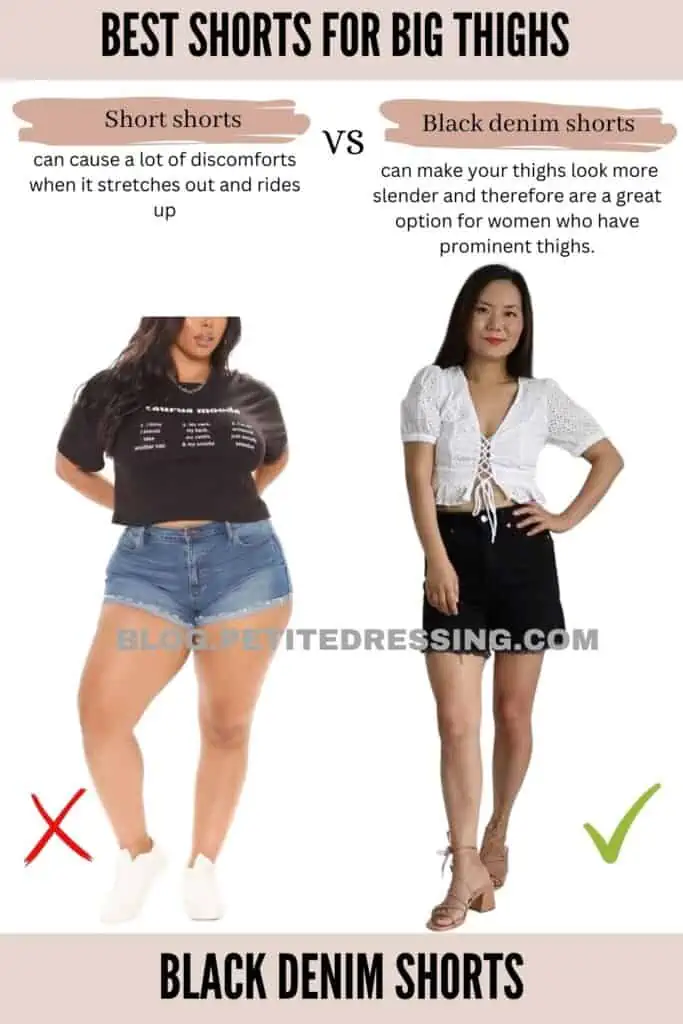 Denim shorts in general are quite comfortable, and black denim shorts are especially flattering if you have generous thighs. (Check out this similar shorts to recreate my look).
I don't have to tell you that black is generally the more slimming color, no matter what garment we are talking about.
It's not surprising that black denim shorts can make your thighs look more slender and therefore are a great option for women who have prominent thighs.
Shorts with a wider leg opening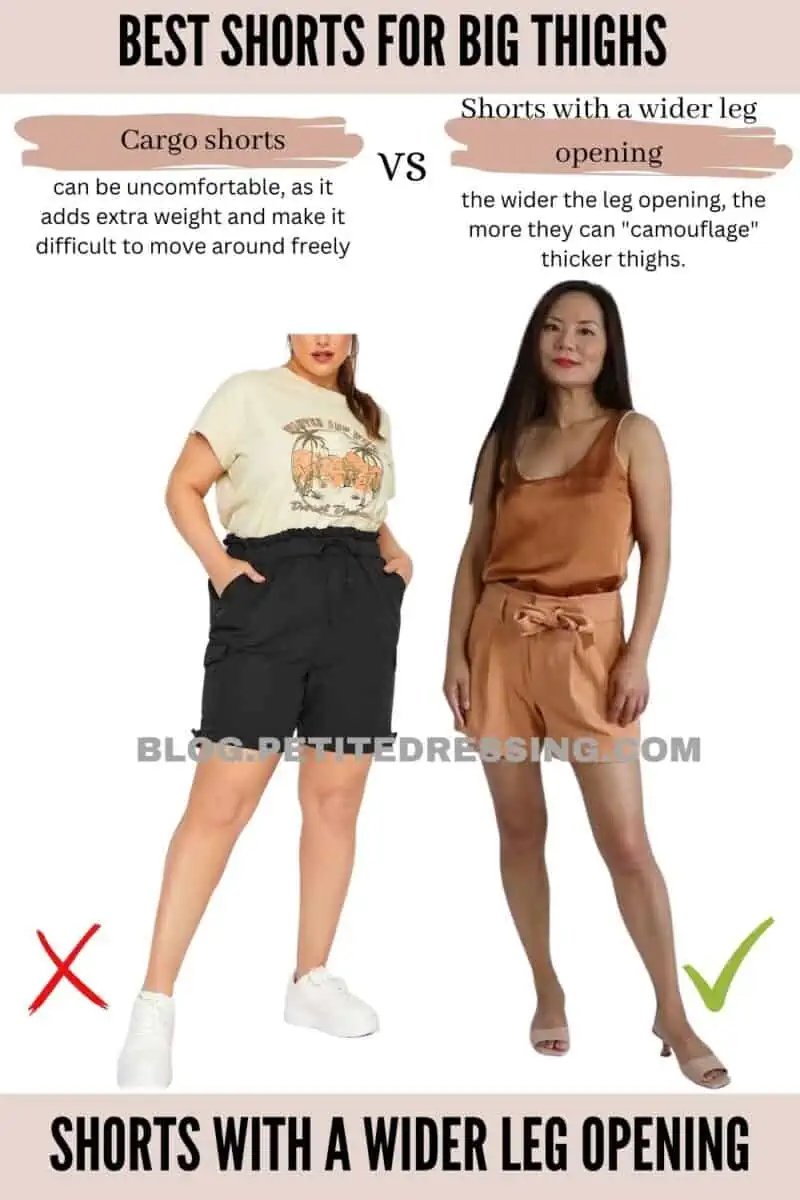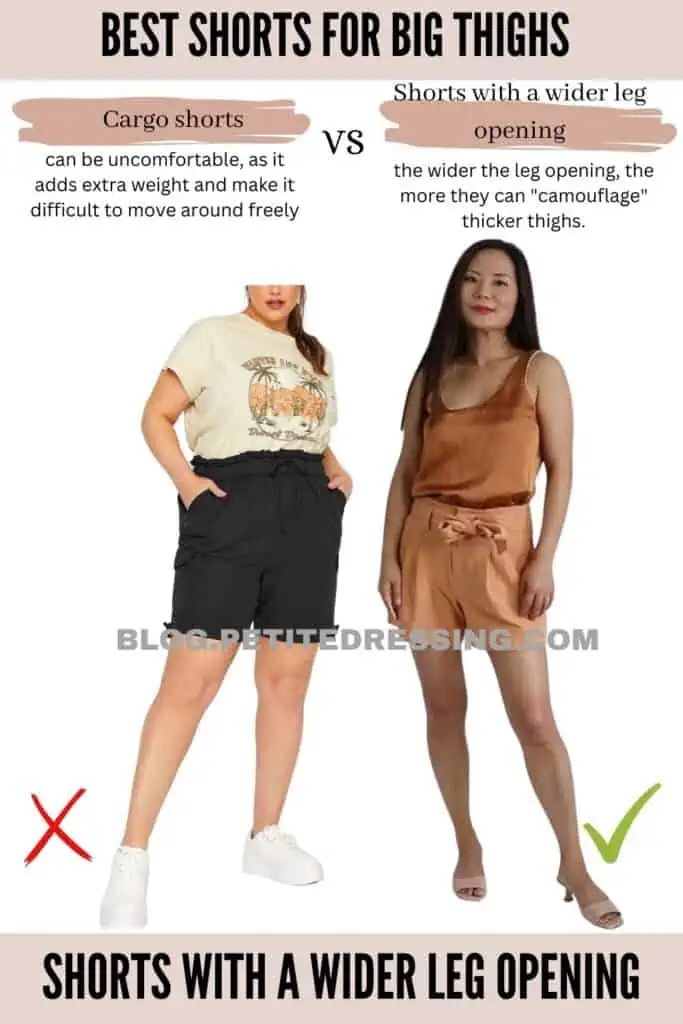 If you have thicker thighs, one of the main things to pay attention to when choosing shorts, is the leg opening. (Check out these similar shorts to recreate my look).
This may sound surprising to you, but, the wider the leg opening, the more they can "camouflage" thicker thighs.
This is one of the "pro-tricks" used often by stylists.
That is if you want to make something less obvious, then create space around it.
Not to mention, wider leg opening just feels so much more comfortable when your thighs are bigger, because of all that extra space.
Long inseam shorts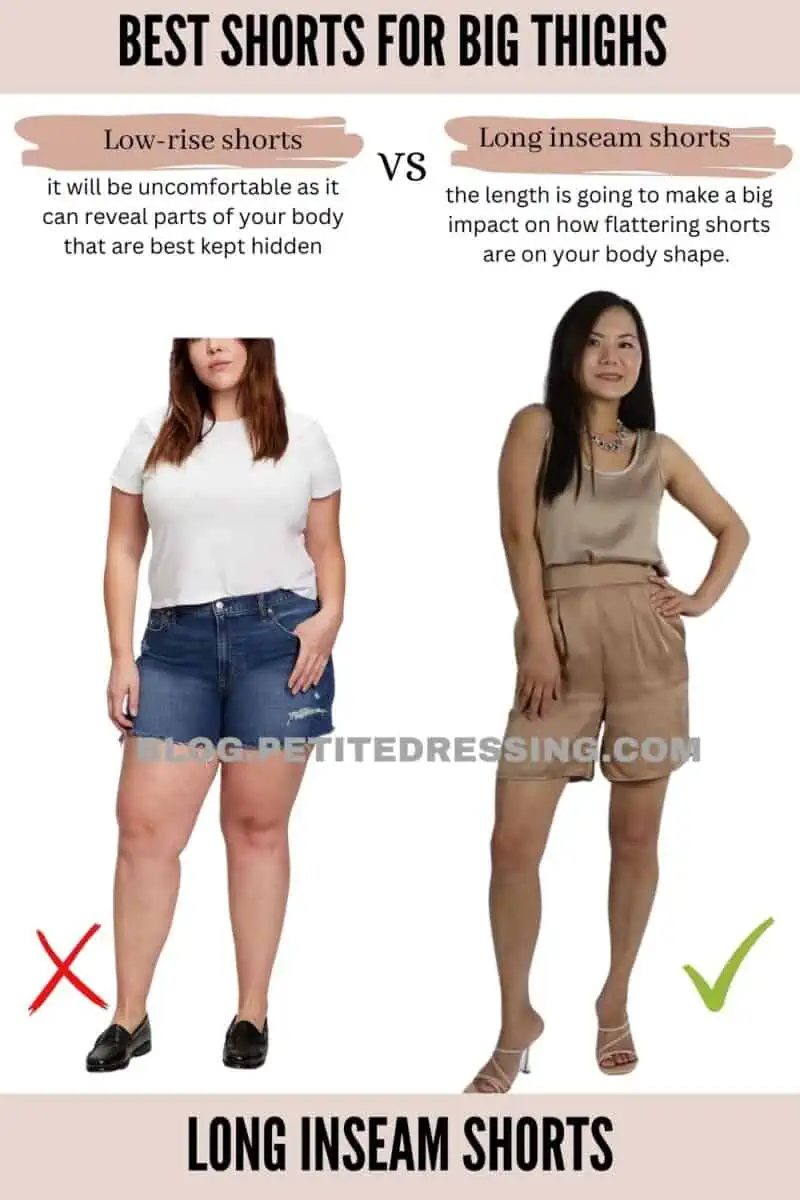 Similar to jeans, shorts can also come in different inseam length. (Check out this similar shorts to recreate my look).
Length of shorts tends to get overlooked because most of us just assume they're already short…
So why worry about the length any further?!
Since you're a woman with big thighs, the length is going to make a big impact on how flattering shorts are on your body shape.
This year there are a ton of different shorts trends around, varying lengths being one of them. You're going to be seeing shorts that are long in length and very short in length, and everything in between.
When you have big thighs, you should focus on shorts that rest below the widest part of your thigh, like these two from Revolve.
Pleated shorts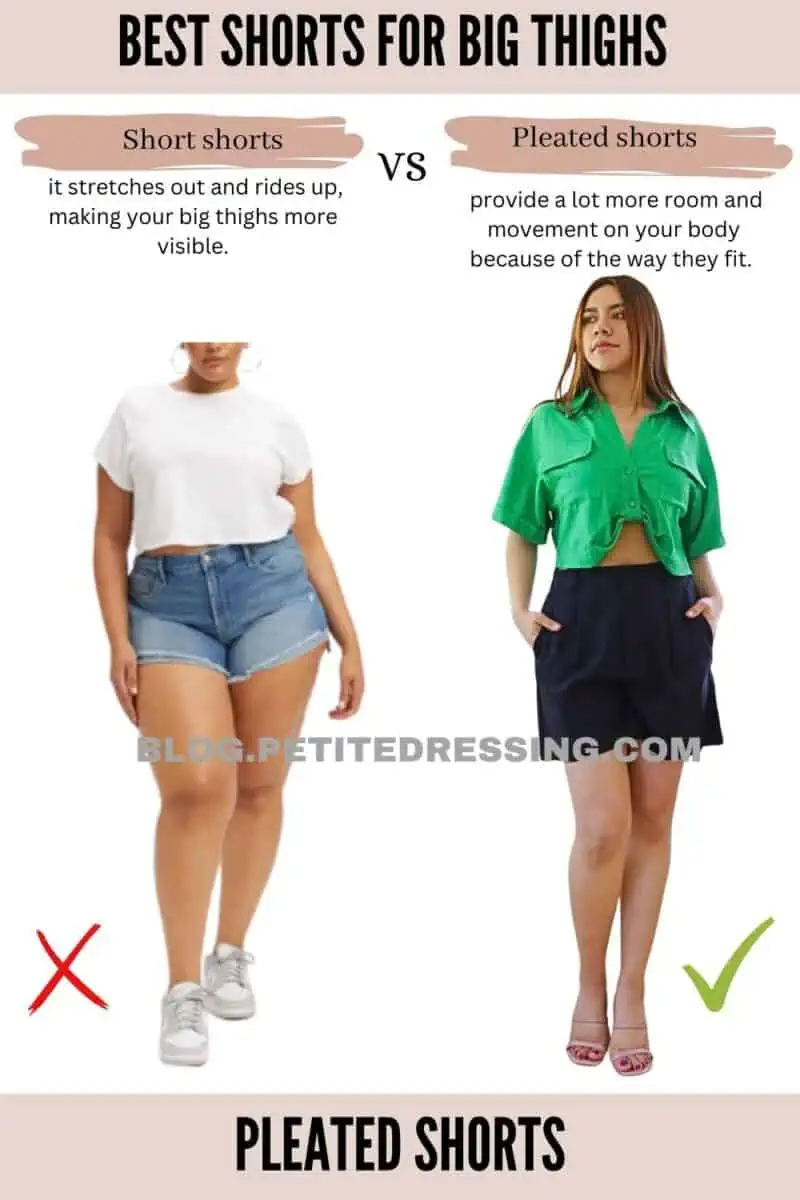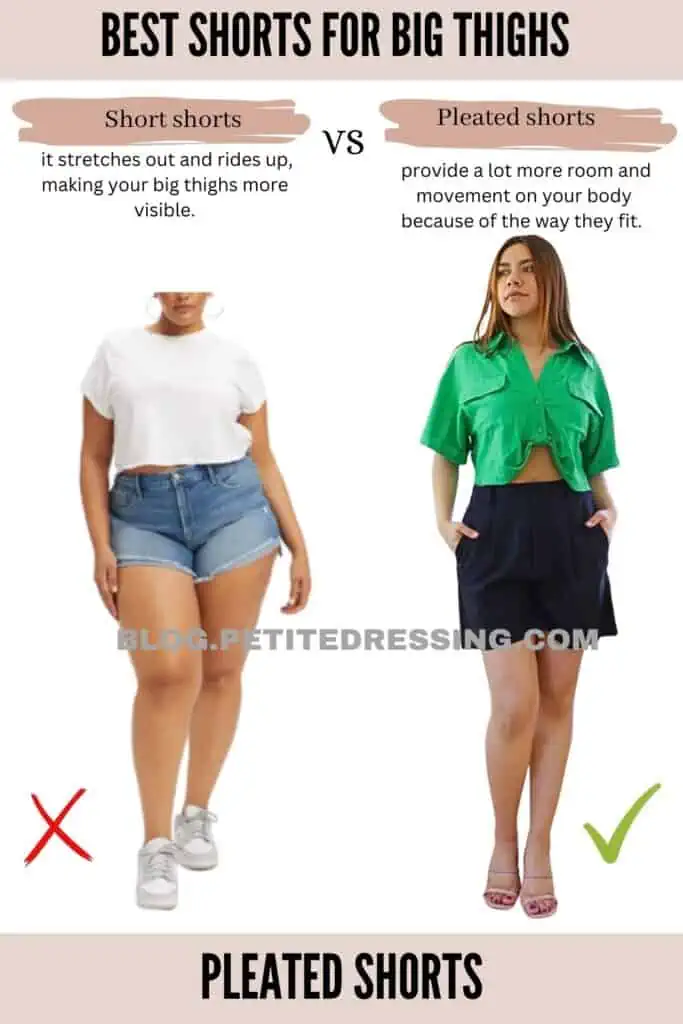 Pleated shorts?!
Yes.
Before you think I'm crazy, let me explain.
Pleated shorts are a big thigh woman's DREAM.
The reason is pleats, by default, provide a lot more room and movement on your body because of the way they fit.
Basically, pleats allow your shorts to work with your body instead of working against it. Something we all want from a great pair of shorts for the summertime. (Check out this similar shorts to recreate my look).
If you're thinking pleated shorts aren't 'on trend', think again. Pleated shorts are all around the stores this spring/summer season. Seriously, you will be shocked how many pleated shorts you stumble upon while you're out shopping. Not to mention, when you have a pair of shorts that flatter your big thighs, those shorts are classics for you.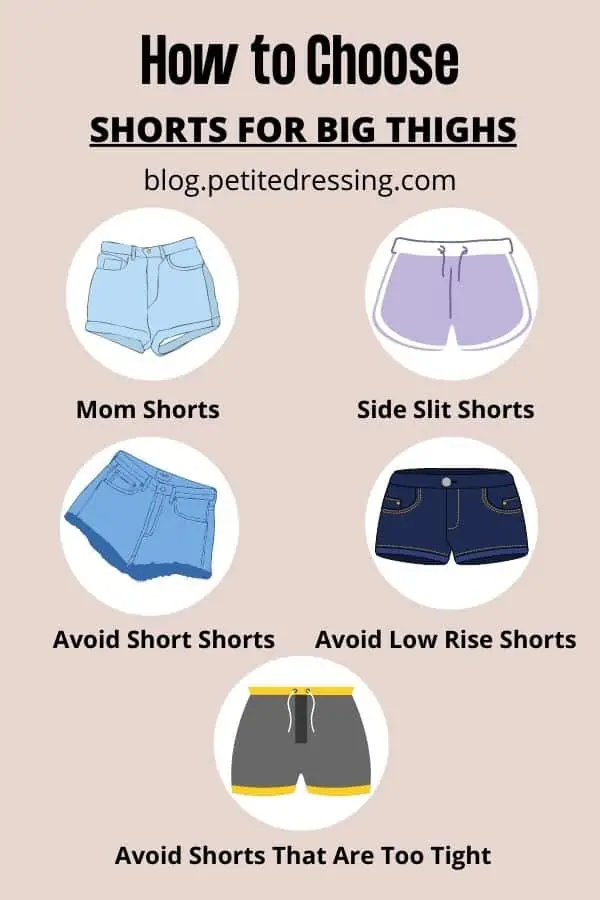 Mom shorts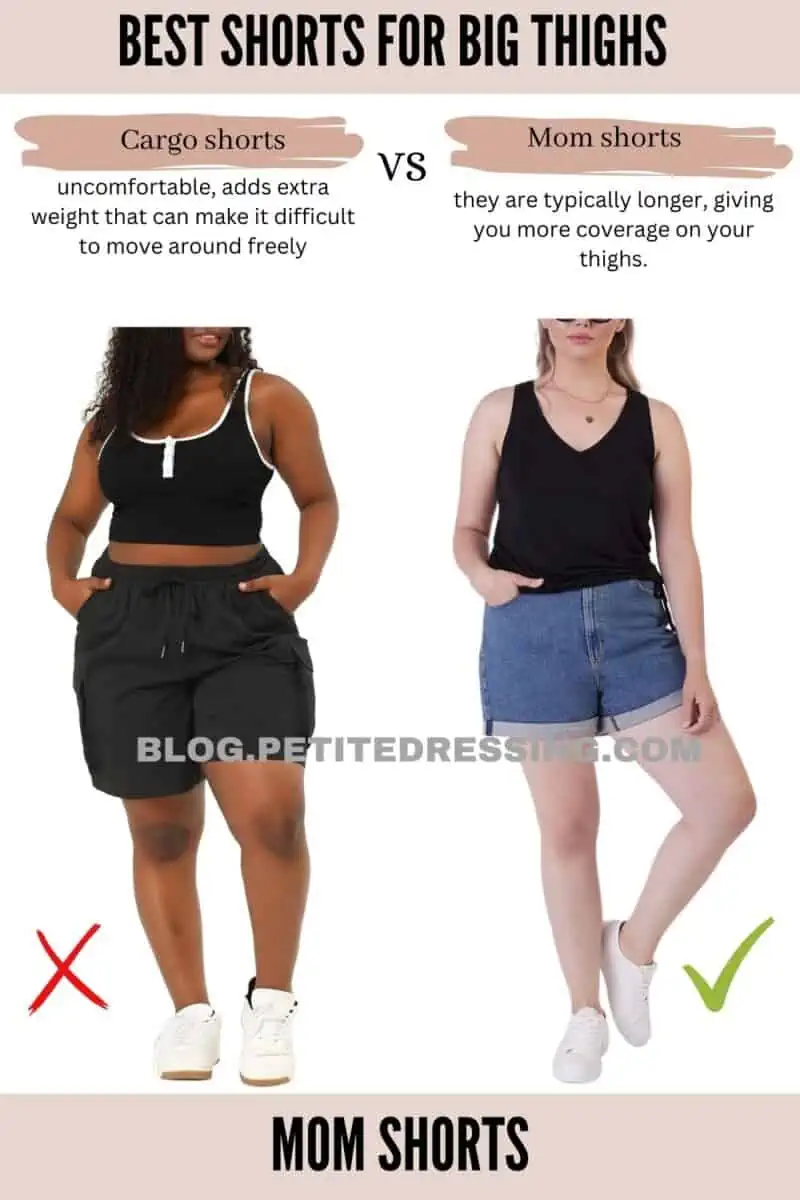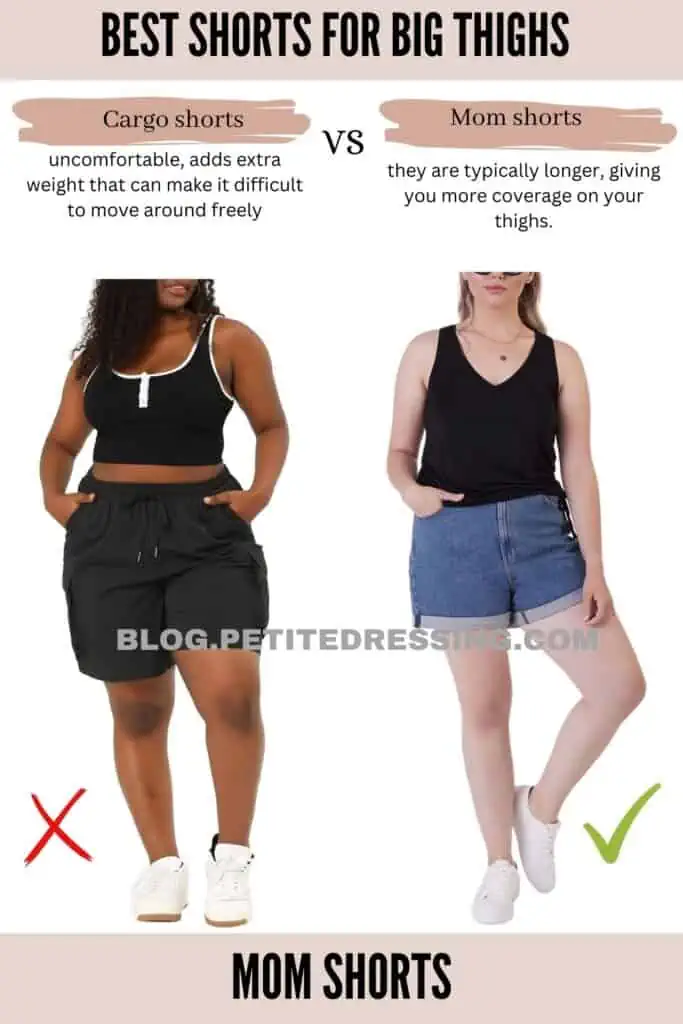 Mom shorts are a particular type of denim shorts that are designed with a higher waist and wider leg opening, just like the Mom jeans. (Check out this similar shorts to recreate the look).
The reason Mom shorts are so flattering for women with thicker thighs is that they are typically longer, giving you more coverage on your thighs.
In the meantime, since they all have a high rise, they also give you the benefit of making your legs appear longer.
Side slit shorts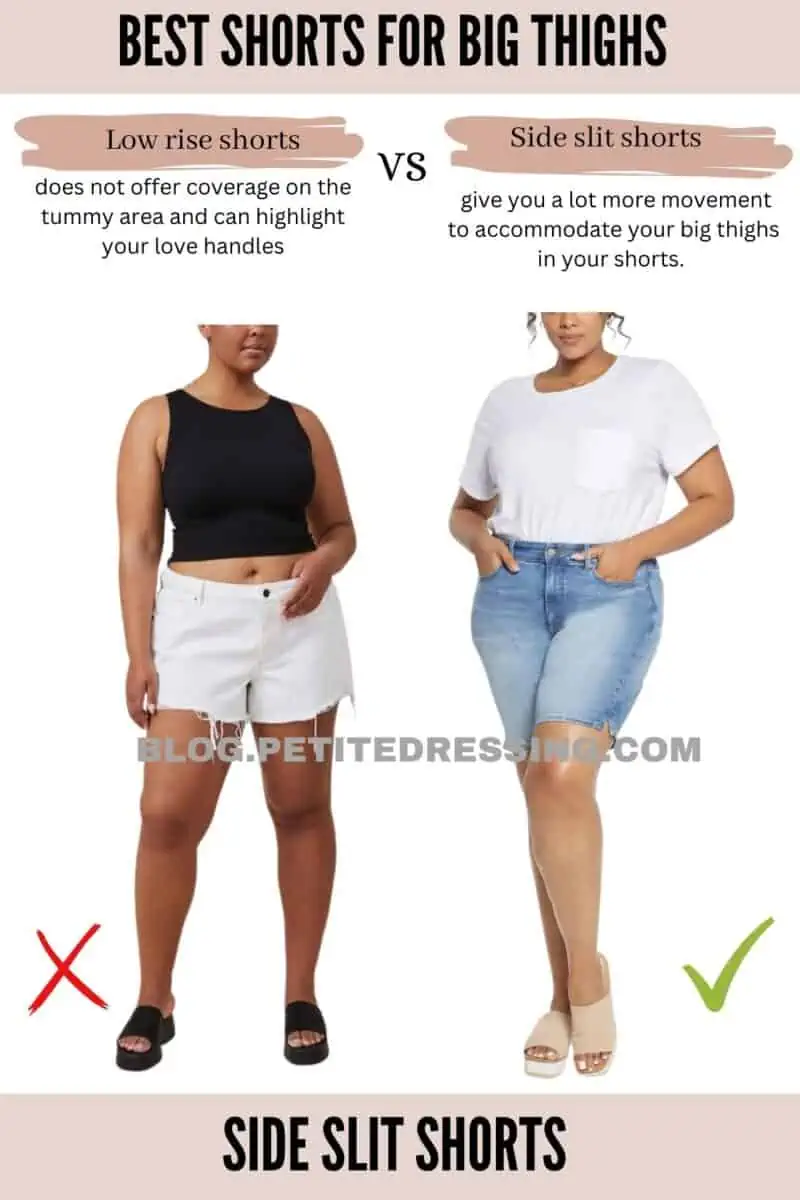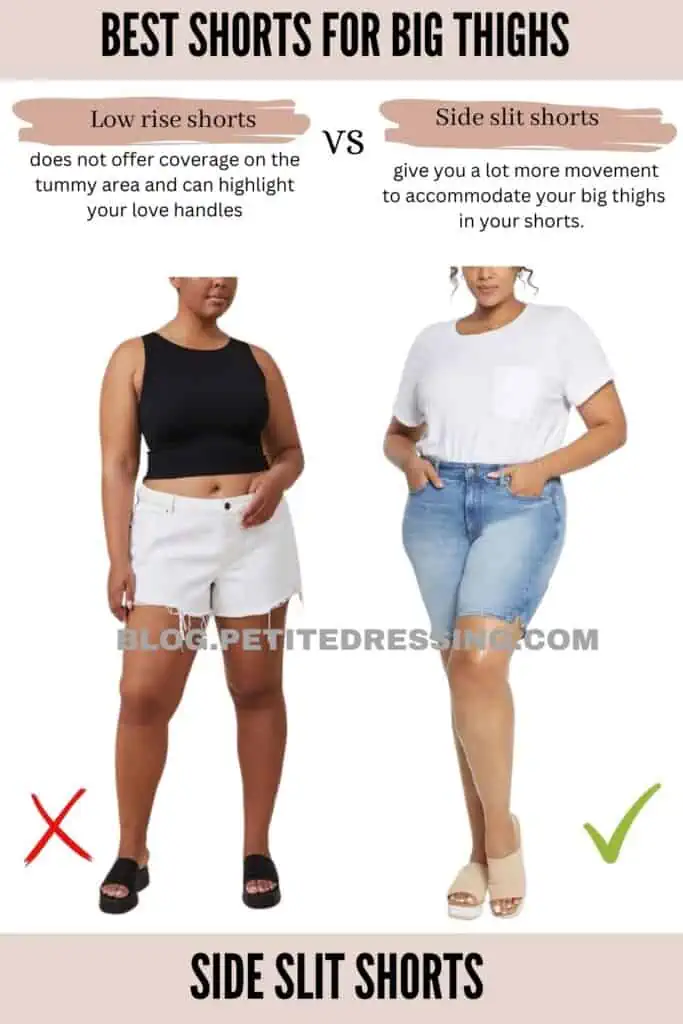 Shorts are smaller garments, there's less material than a traditional pair of pants (obviously), which is why even the slightest of details can make a difference in the way they fit and flatter your body.
I'm sure you've tried on countless of different shorts, desperate to find a pair to flatter your big thighs at this point.
Don't underestimate the power of a seemingly TINY detail.
When you have big thighs I highly suggest opting for shorts that have side slits (like this one).
You may be thinking "what exactly is a side slit?"
Well, you've probably seen some shorts that have tiny little slits on the side of the shorts.
Well, those tiny little slits are your new BFF.
Why? Because they're going to give you a lot more movement to accommodate your big thighs in your shorts. The great thing about side slit shorts is it is a very small detail that won't drastically change the aesthetic of your entire outfit or the look of the shorts overall.
Avoid short shorts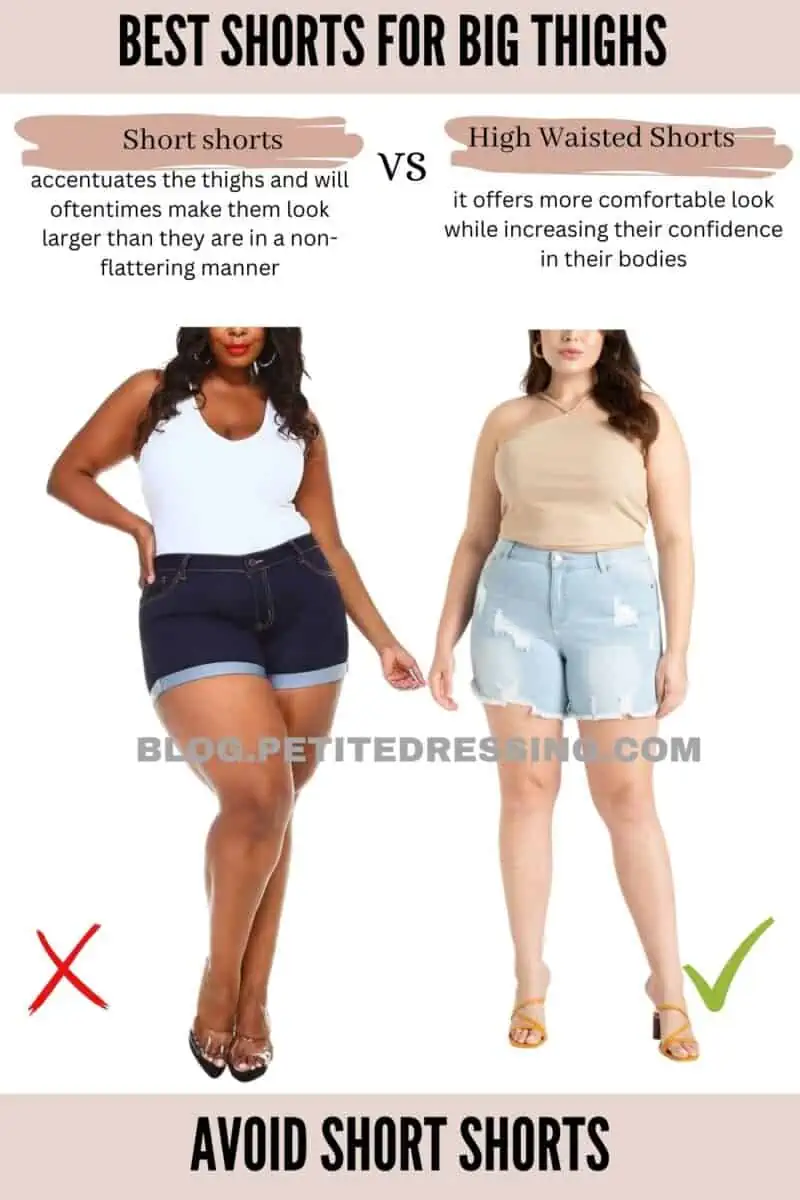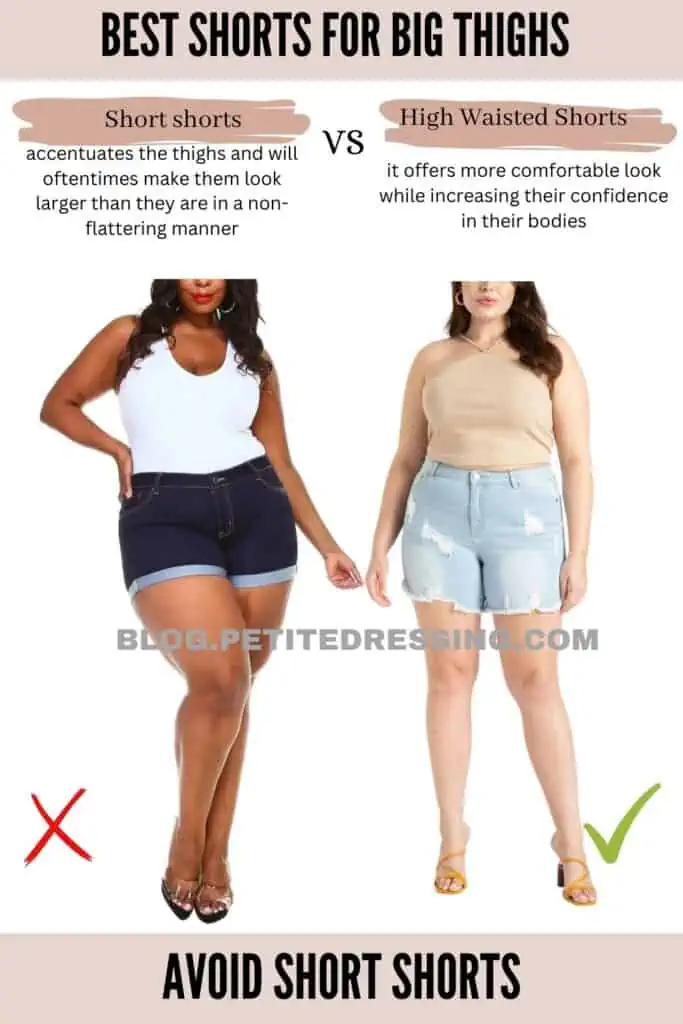 I talked about why you don't want the shorts you are wearing to rest at the largest part of your thigh, so going longer typically works better for women with prominent thighs.
That also means you should stay away from very short shorts, especially those that happen to end on the widest part of your thighs.
When you do wear shorts that rest at the largest part of your thigh, they accentuate that area of your body and will oftentimes make them look larger than they are in a non-flattering manner.
Since you want to flatter your big thighs and work with what you've got, choose the length of your shorts accordingly! Your shorts don't have to be significantly above or below the largest part of your thighs, just a tad will do.
Avoid low-rise shorts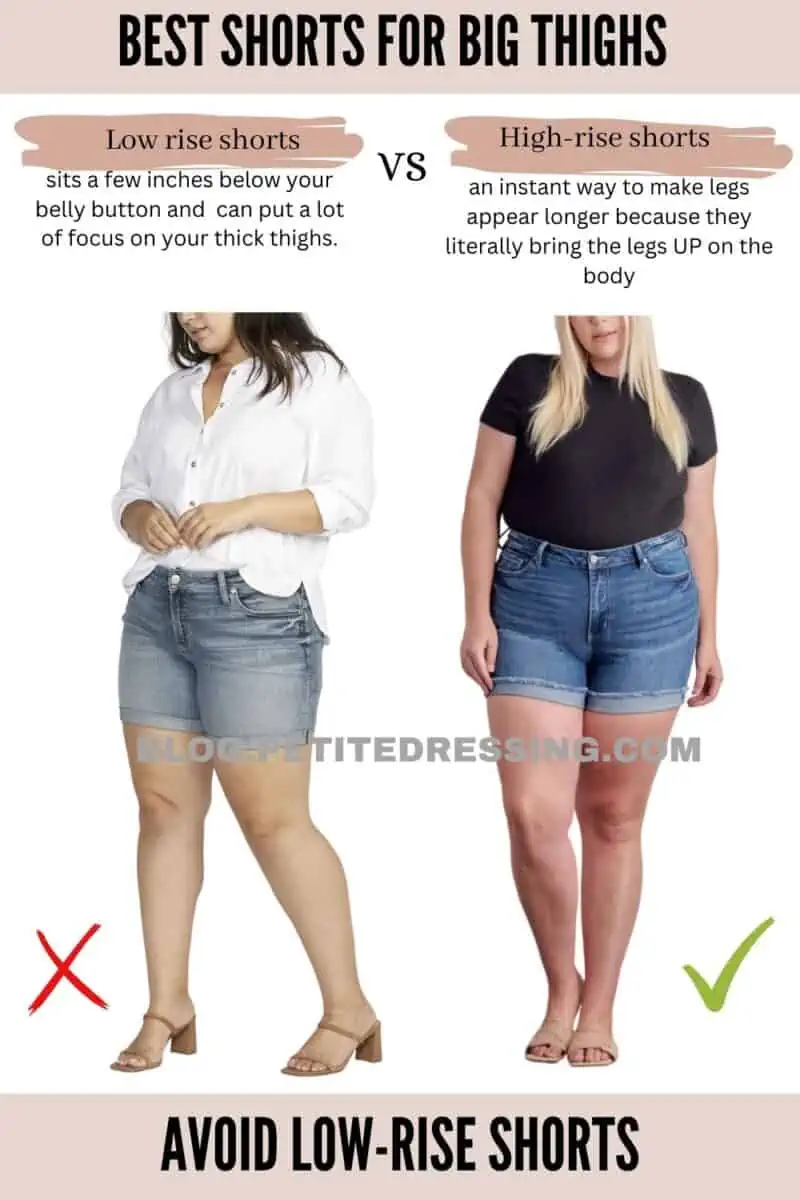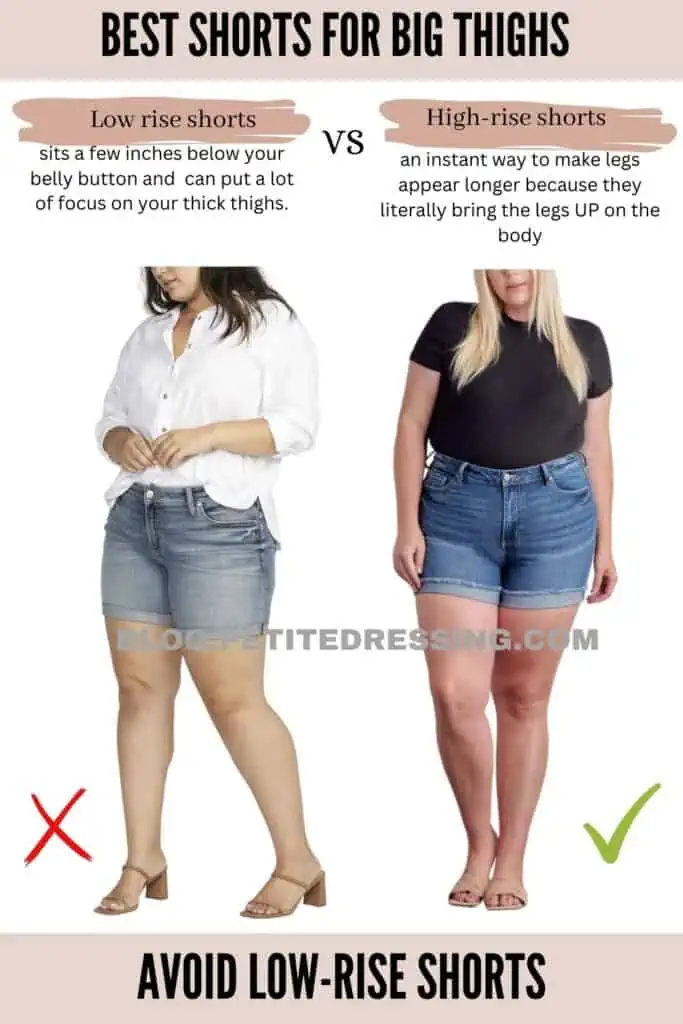 Fashion goes in circles.
Now that the high rise style has had many years of spotlight, low rise is making a big come back. Low rise jeans and low rise shorts are gaining more and more popularity in this season.
If you have thick thighs, low rise shorts are not a good move for you.
The reason is obvious, with the lower rise shorts sitting a few inches below your belly button, the shorts can put a lot of focus on your thick thighs.
That is exactly the opposite of what you want.
Do yourself a favor and stick to a mid-high-rise shorts silhouette to flatter your big thighs.
Avoid shorts that are too tight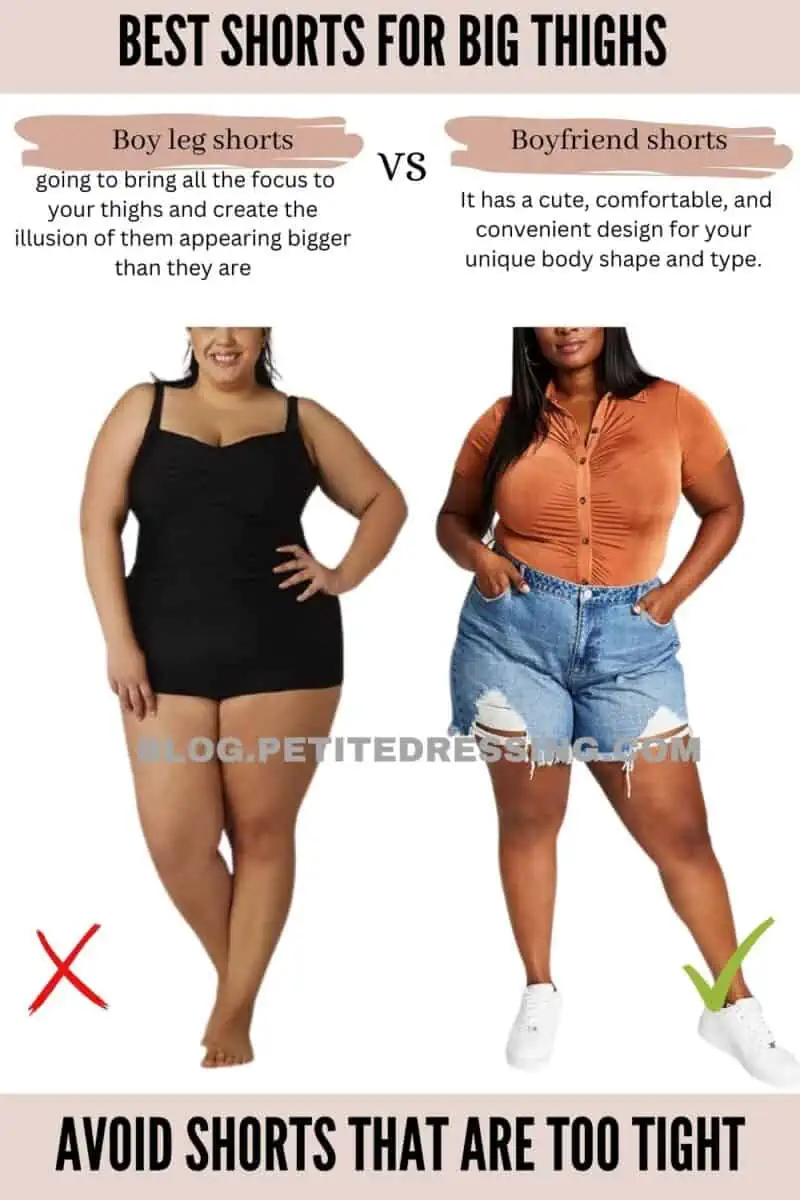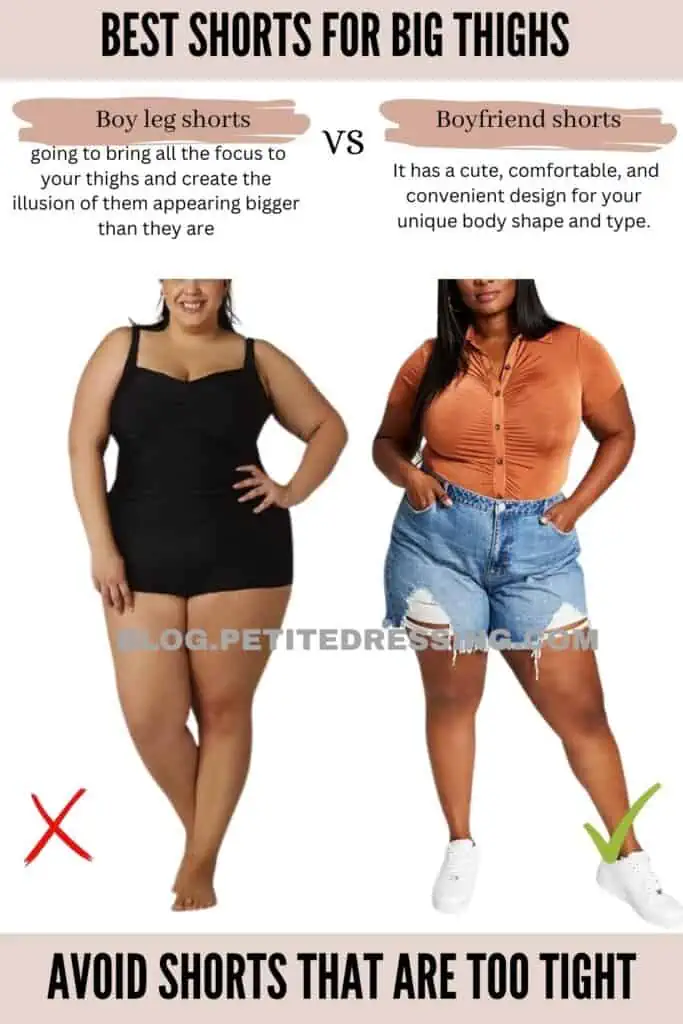 Ok, here's the deal ladies…when you have big thighs, wearing shorts that are SUPER tight isn't going to be the most flattering option for you. I know, I know…it seems like skin tight shorts are everywhere but trust me on this.
Not only will you feel so much more comfortable wearing shorts that have some room in the thigh area (aka aren't intending into your skin) but they will also be a whole lot more figure flattering.
The problem with wearing super tight shorts is they are going to bring all the focus to your thighs and create the illusion of them appearing bigger than they are. Instead, make sure you're sticking to shorts that have some room between the shorts and your actual thigh. You don't need incredibly loose fitting shorts but somewhere in the middle is perfect.
Even though having prominent thighs does not necessarily mean you must be a pear shape, but it is one of the most distinctive features of the pear, especially if your thighs are still noticeably wider even when you are thin over all.