Olive green pants can be quite flattering when styled right. Whether you are over 50s or just in your 30s, you can find an olive green pant outfit that will make you look great, regardless of your skin tone, age or body shape.
If you've been wondering about what to wear with olive green pants, you'll be surprised at just how many options you have. They can be worn with different pieces you already have in your closet to create looks that are casual or dressy.
With a vest
Wearing a vest with your pair of olive green pants will give you a look that's anything but basic. Olive pants with a vest is a chic way to layer when the weather gets chilly like in the 60 degree.
A good vest can either dress up a look or make it edgier depending on the style you go for. They are available in a variety of styles including fur vests, denim vests, tuxedo vests, fringed, hooded, just to mention a few.
The most important thing to keep in mind when choosing your vest is the type or style of the olive pants you're wearing. Ensure there is a balance so that you don't end up looking either overdressed or tacky.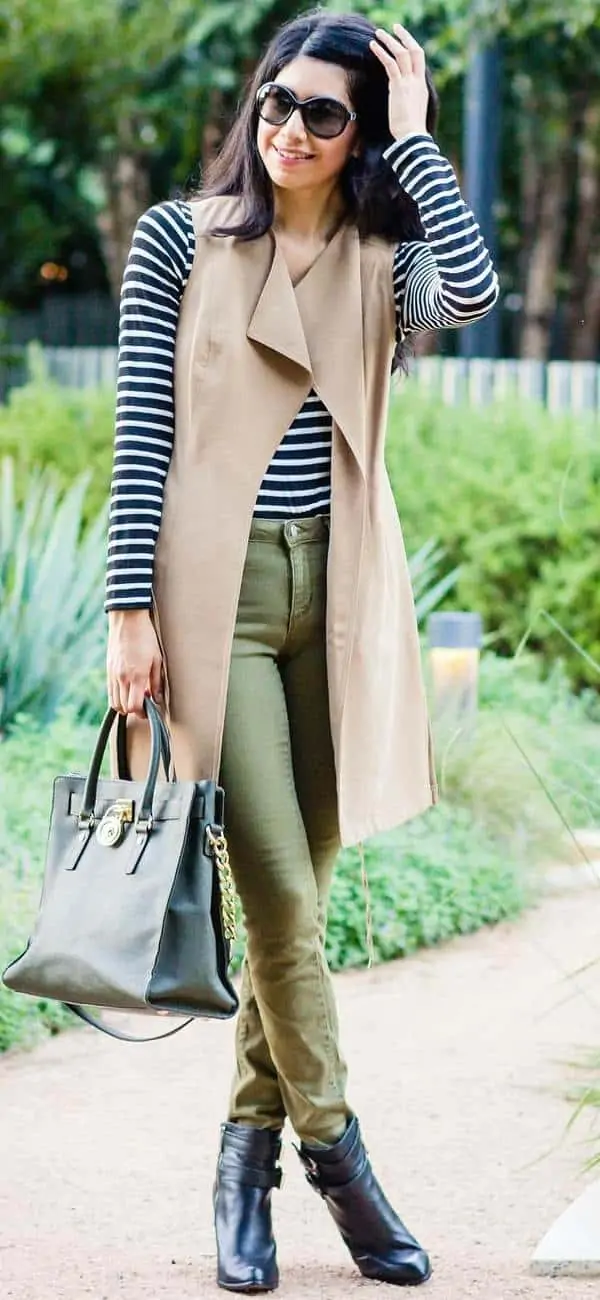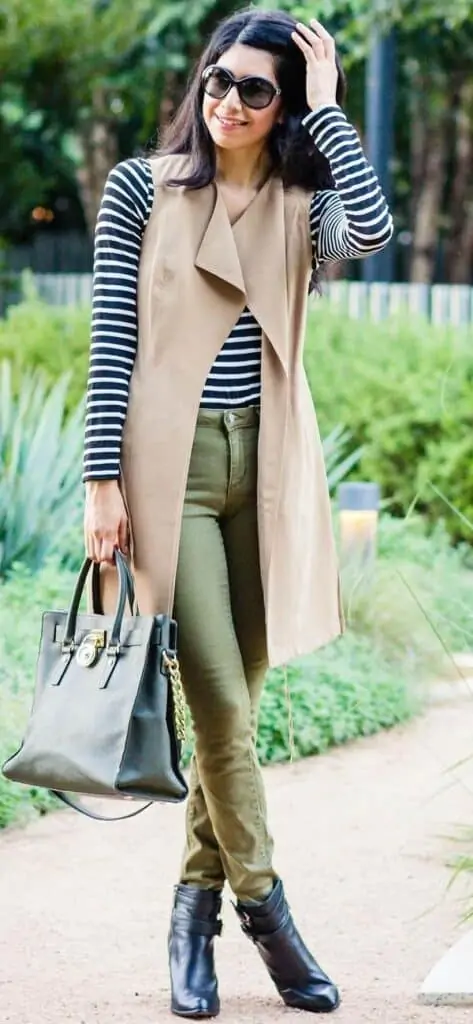 Vanessa (above) wore her olive green pants with a striped top and a long vest. A longer vest balances out with skinnier olive green pants better and it's also worth going for a contrasting vest color but keep everything else simple.
With a crop top
You can style your olive green pants with a crop top for the chic and casual vibe. A crop top is a fun style top to go for, if you're after a laid back casual look, or if you just want to show off those attractive abs if you have them.
Playing with colors is what makes this combination more fun. A black crop top comes highly recommended, because they are the safest bet that will go with your olive pants no matter what shade of green they are. With a black top, you can also go for any style of olive green pants, as long as the crop top is simple.
Of course you can also explore other colors for your top. If you choose a fancier crop top, it's best to go for plain pants. The key is to balance everything out so that you achieve a seamless look.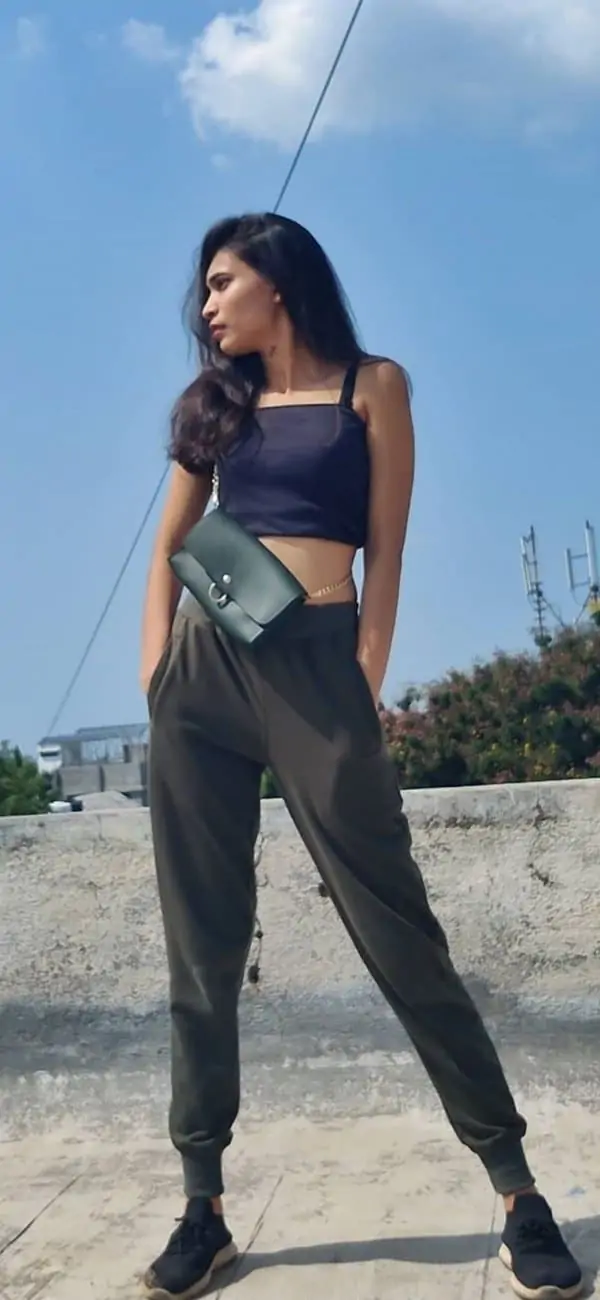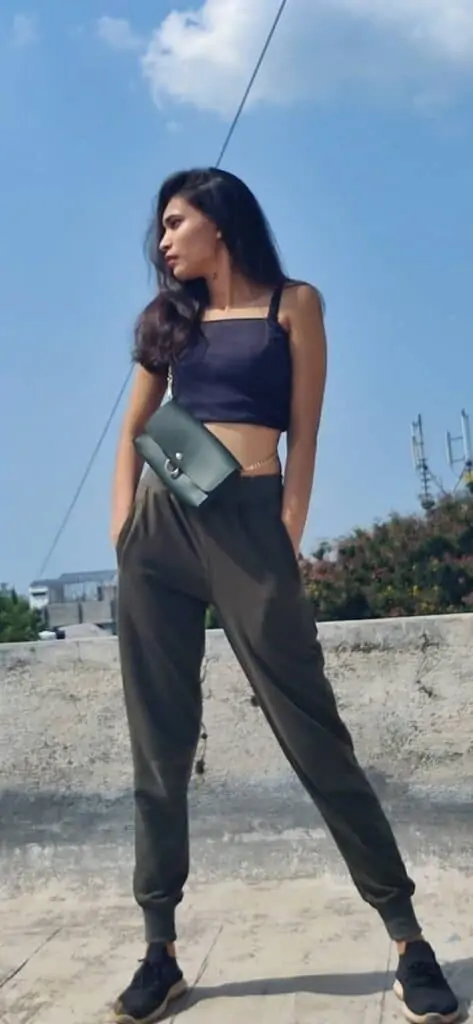 Nik (above) wore her olive green pants with a black crop top and some sneakers. High waist pants when paired with a crop top make you look taller.
Since crop tops don't work for just any environment, you need to have a good idea of where you are going before you wear one to make sure you are properly dressed for the occasion.
With a graphic t-shirt
Wearing plain olive green pants with a message t-shirt is a great way to look trendy while you pass a message across. Rarely will people wear a message t-shirt that says something they do not believe in, which is what makes them such great wardrobe pieces. These t-shirts are a subtle way of self expression and can be worn with different bottoms.
Plain pants allow you to go as big as you want with the font or to choose message t-shirts with smaller fonts. If you're not too sure about the colors to go for when it comes to the t-shirt and the font used in the message on it, go for yellows, blacks, whites, or grays for both as these are colors that generally go well with olive green.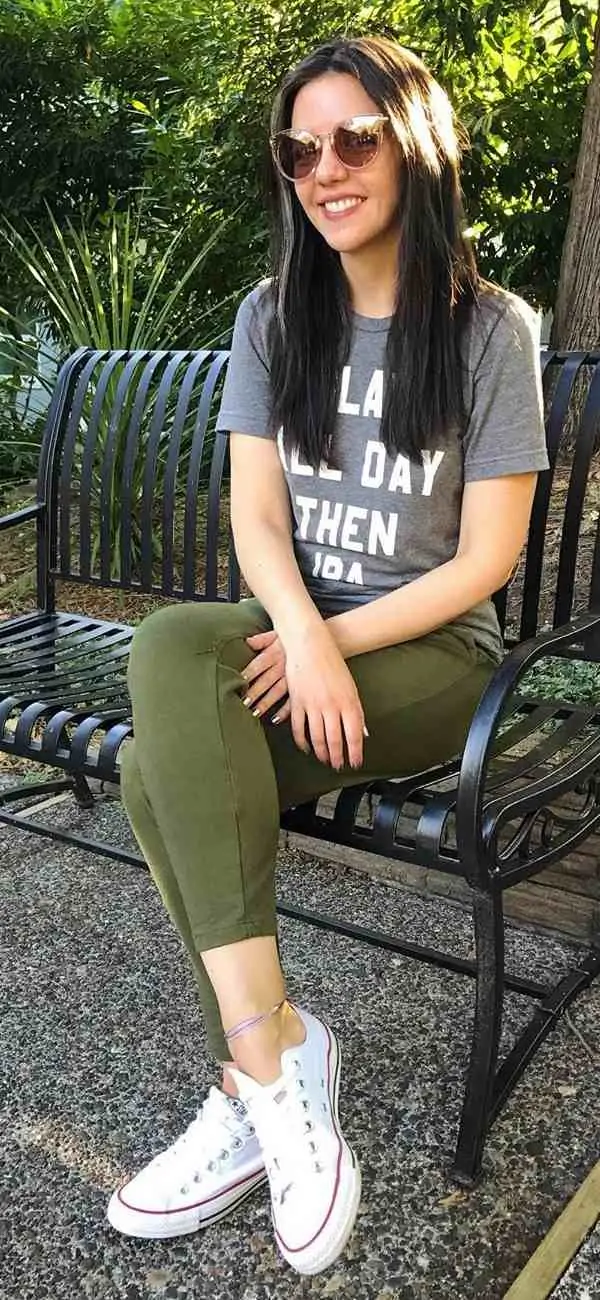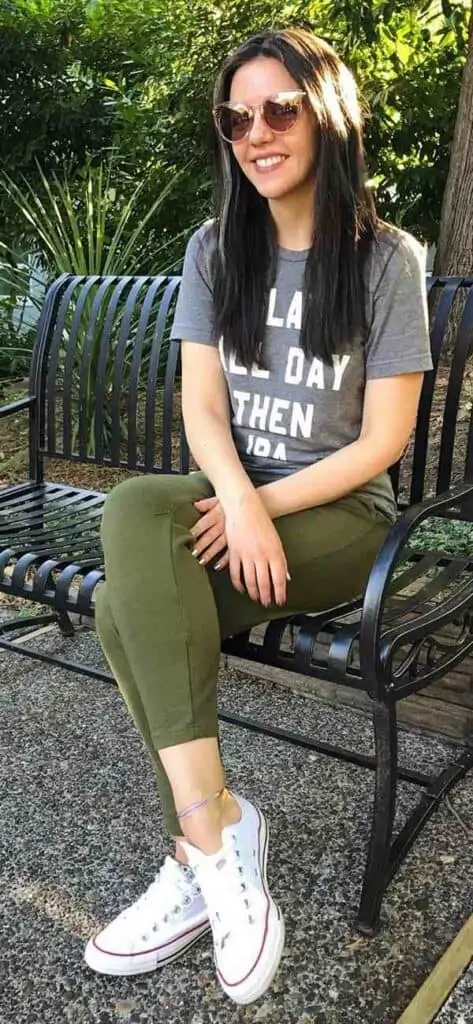 Anna (above) wore a grey message t-shirt with her olive green pants. It's always better to pick the simpler olive green pants if you're uncertain about pairing them with a message tee as this always works.
With a tank top
You should consider pairing your olive green pants with a tank top since the tank top is minimalist and will enable you to go for any style of olive green pants.
Tank tops are your best bet for a casual look on a hot summer day, since they cover just enough of your body's top half for you not to sweat excessively and only come with narrow straps for the extra support. They are also great layering pieces as they can be worn underneath any type of outerwear or a shirt.
The chances of going wrong with this pairing are almost zero as long as you pick the correct color for your tank top.
With a blouse
Every woman should own a number of tops that give them a break from their normal go-to outfits like laid back t-shirts or the formal looking button-down shirts. After all, you need something different to wear to a date or a place that requires you to be dressed up. That is why blouse and olive pants can be a great outfit.
When you choose to wear your olive green pants with a fancy top like a feminine blouse, the best option is to pick a simpler pair of pants since the top will already make the statement for you.
You can also get more creative with the blouse. It could be an off-shoulder top, a ruffled one, a halter neck top, a chiffon one, just to mention a few. Whichever you pick, it will give the pants a more feminine look.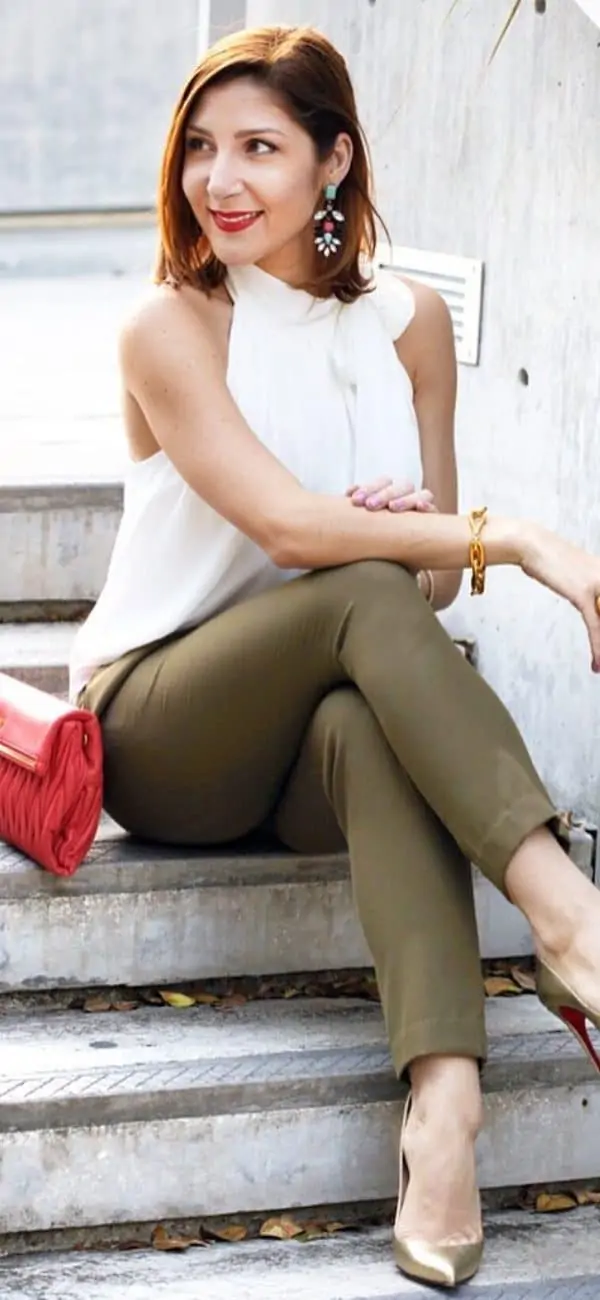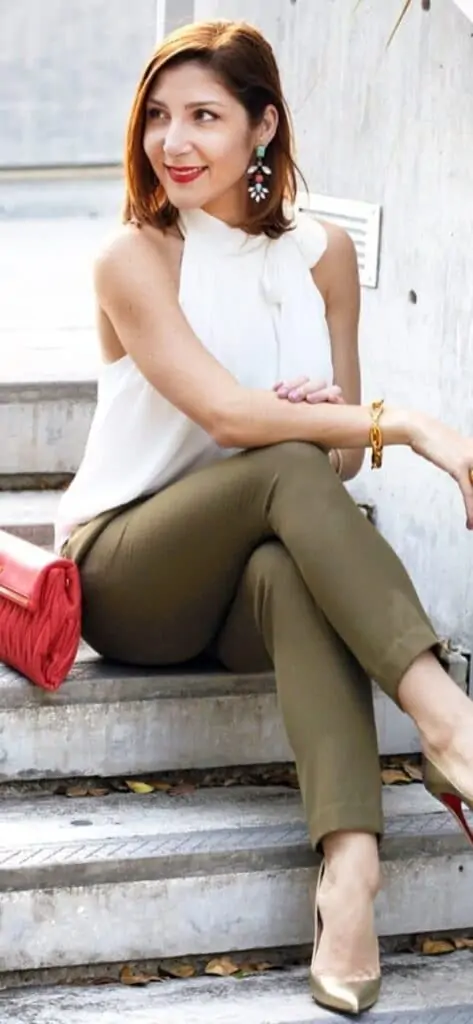 Mei (above) wore her olive green pants with a white fancy top. When you choose colors such as white or black, you can add a pop of color to the look. Perhaps a bright pair of shoes, bag, or experiment with brighter accessories for the extra color pop.
With a print top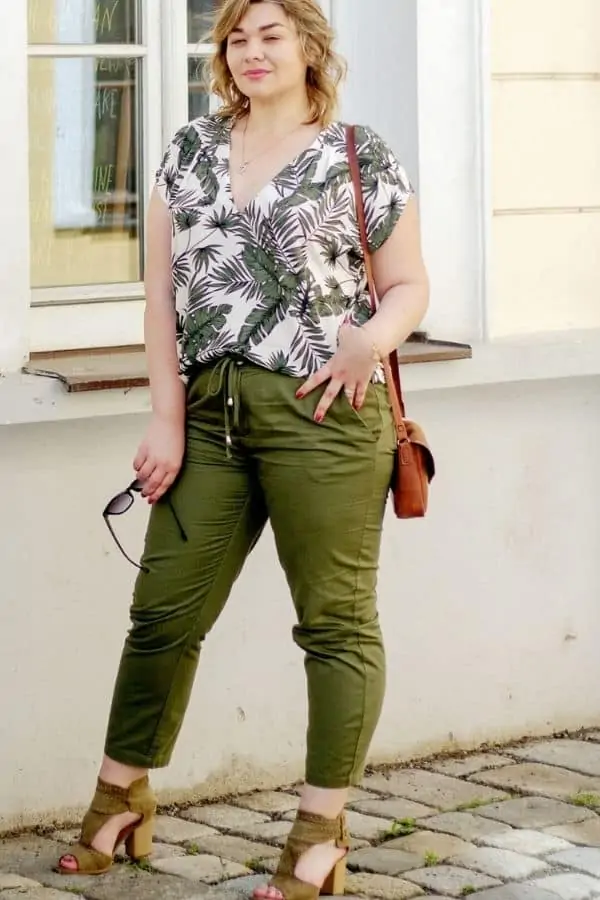 Wearing a printed top with your green pants is an easy way to add some interest to your outfit. Since your pants are green, the best way to go about this outfit is to pick a prints with some hues of green in it. That will give you a harmonious look from top to bottom.
You can also wear a pair of shoes with green shade (like above), to go for a head to toe monochromatic look. This is one of the best ways to flatter women of any height, because the outfit makes you look longer and leaner all around.
With a hoodie
Hoodies naturally go with the casual style of olive green pants, because both are the staples of laid back outfits, especially on the weekend.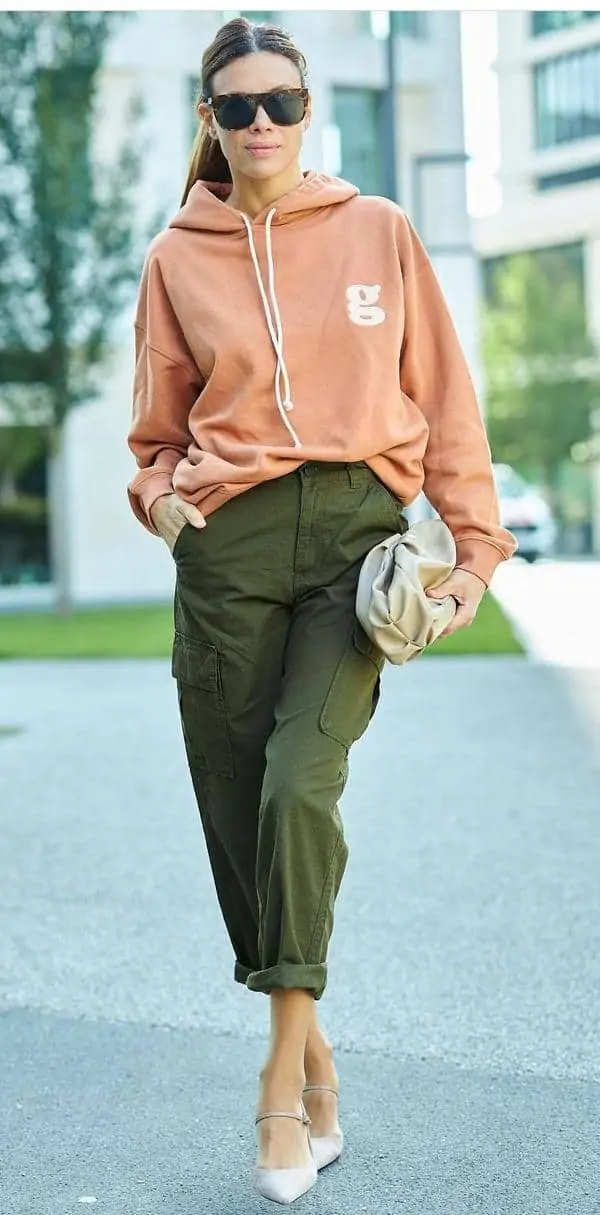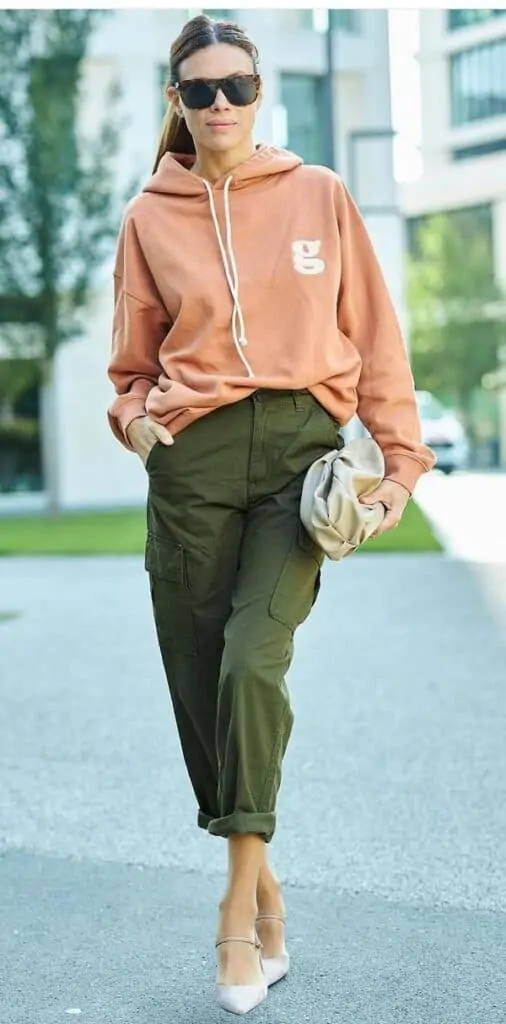 Traditionally you would be wearing the hoodie outfits with casual shoes such as sneakers or flats. However, if you want to dress up this look, just throw on a pair of heels like Anna (above)! This will immediately add a feminine touch to your casual look!
With a denim jacket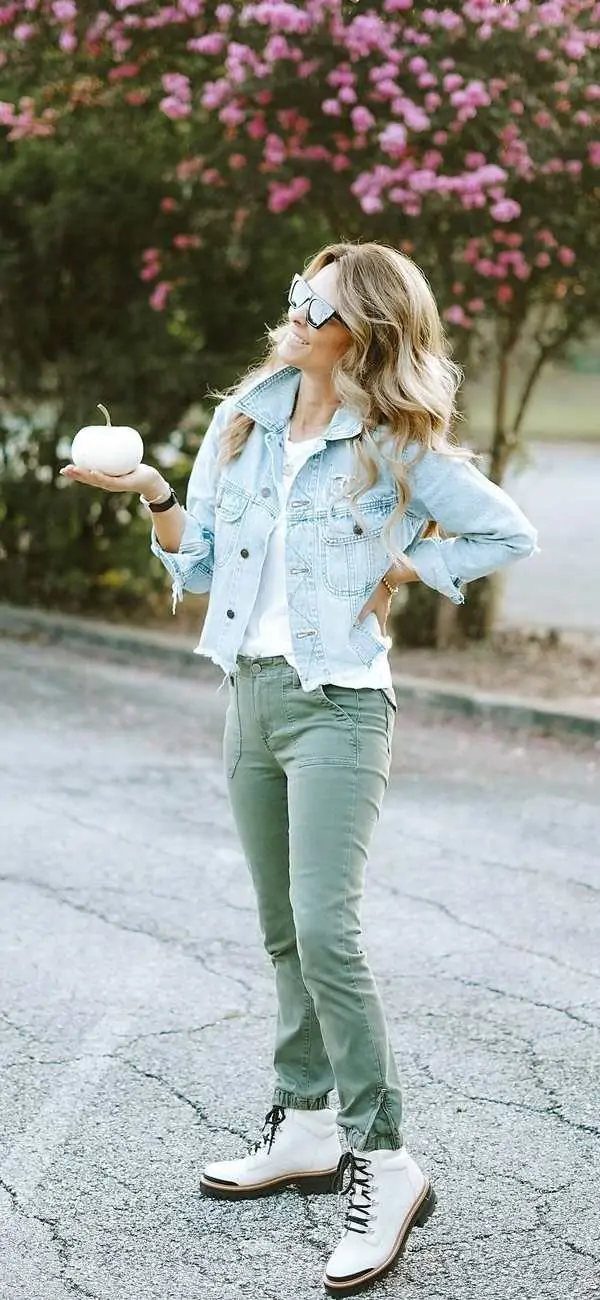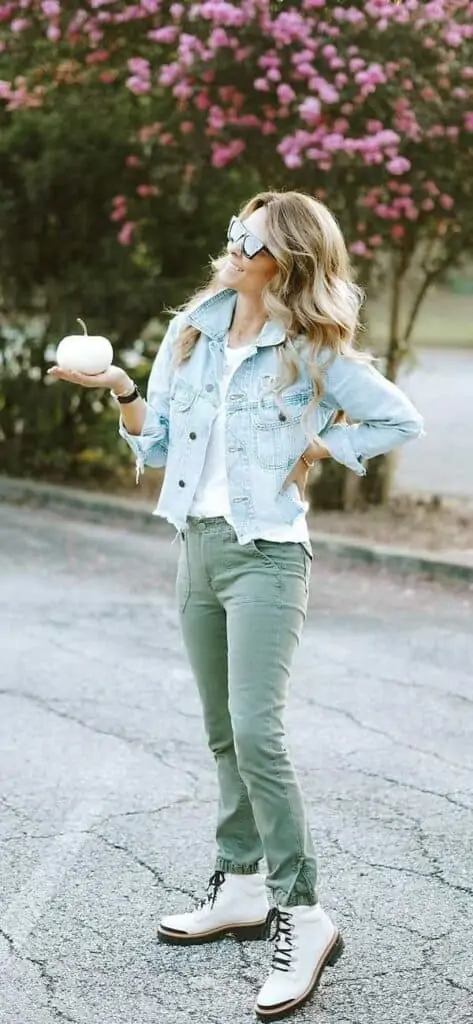 Denim jackets are the coolest outerwear pieces out there. They are also the easiest to wear whether you're thinking of stepping out in a dress, a jumpsuit, pants or shorts. The contrast between a blue denim jacket and olive green pants is exactly what makes this pairing worth a try.
The coolest thing about it is that you're free to pick whichever style of pants you like best. You could also go for a more embellished denim jacket, perhaps one with studs. The choice is yours but all in all, you can be sure that these two combined make one great outfit.
You can pick a printed top with this pairing as it makes the look more interesting, but a plain top underneath also works.
With a pullover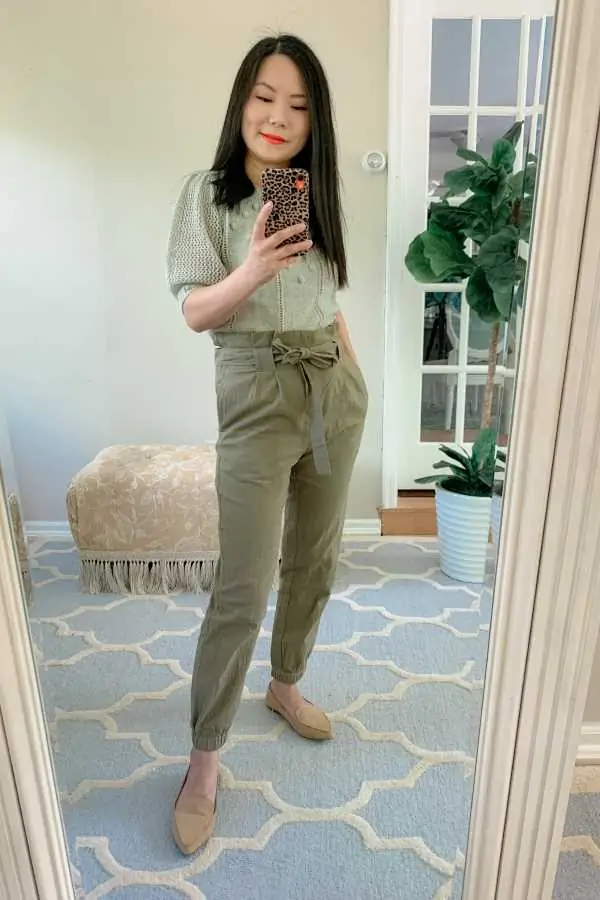 We've talked about a cardigan outfit, you can style your olive green pants with pullovers as well.
The difference between a pullover and a cardigan is that one is open all the ways down and could have buttons while the other has to be worn over one's head down the neck. They both can look good in olive pants.
You can choose different neckline of the pull over sweater to create totally different looks with the olive pants. A modest V neck pullover can give you the "prep school" look, which is quite on trend.
If you happen to have bigger chest, a lower neckline such as a U neck or deep V neck can actually balance out your bust and also create a more sophisticated and dressier olive pant outfit.
A white t-shirt
Olive green pants are available in different styles and wearing them with your white t-shirt is a great way. When in doubt, wear a white t-shirt. This is literally the one piece that goes with every single color you can think of out there and any style of bottoms.
Olive green pants with white T-shirt is the combination you can be certain that you don't in any way look like you're trying too hard in your styling. The white tee gives you a minimalist look that will make your pants stand out in the right way instantly. Knowing how minimalist and flattering a white t-shirt is, you'll also feel confident walking around in your outfit.
It's always easier to accessorize when you go for a white t-shirt so a scarf, a statement necklace, or earrings will do if you find the look too plain.
With a cardigan
Cardigans in the past were seen as clothing meant for schools, but not anymore. Today, you can spot your favorite fashion bloggers or other trendsetters rocking cardigans in different ways as they are comfortable pieces that keep you warm especially in cooler months. Since they go with different bottoms, your olive green pants are not an exception.
You can wear your olive green pants with either a long cardigan or a shorter one. With the shorter cardigan, you can always button it up and tuck it in or wear it unbuttoned as a layering piece just as you would with a longer one.
A grey colored sweater looks great with olive green, especially during fall. It's also an unexpected color for a long cardigan-olive green pants pairing since most people would go for black or white.
With a blazer
You can style your olive green pants with a blazer for a classier look that will take you from an office meeting, to lunch out then to an event. A blazer easily instantly adds a touch of class to an outfit, whether you're wearing pants, leggings, a dress or a jumpsuit.
The key is to get the right fit when it comes to your blazer and make sure the length of the blazer balances well with your olive green pants. Shorter blazers will look good with loose-fitting olive green pants while skinnier ones can work with both longer and shorter ones.