This is a complete guide of the 20 most common types of coats for women and how you should choose the best winter coats according to your body type, your height and the occasions, as well as how much to spend on a winter coat and when is the best timing to purchase your winter coats.
Watch this video if you want to know how to choose coats according to your body shape.
Types of Women's Coats
Overcoat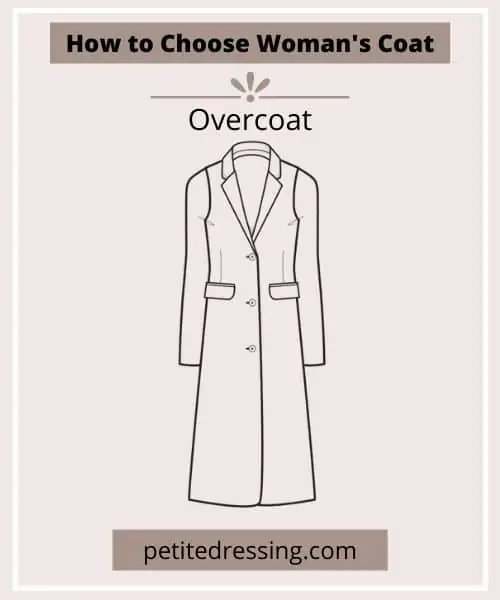 Trench coat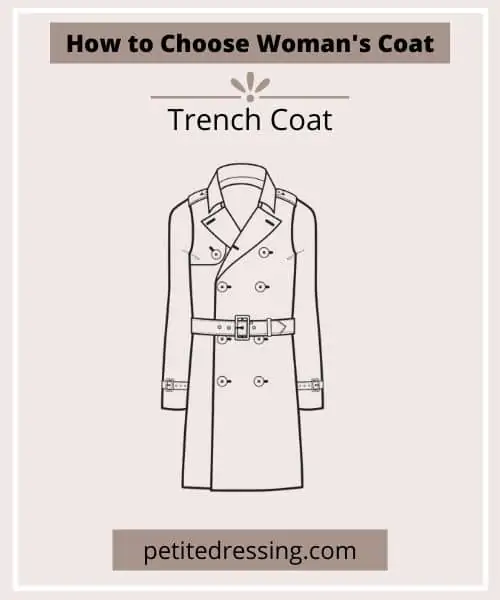 Trench coat is made of waterproof heavy-duty cotton gabardine, drill, leather, or poplin. It generally has a removable insulated lining, raglan sleeves, and the classic versions come in various lengths ranging from just above the ankles (the longest) to above the knee (the shortest). The trench coat was designed to protect from wind and rain.
Waterfall coat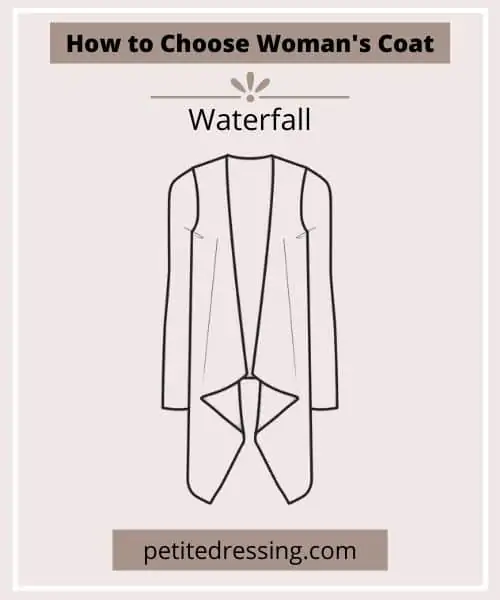 Waterfall coats have a front panel that is cut with extra fabric to produce a cascading effect.
Cape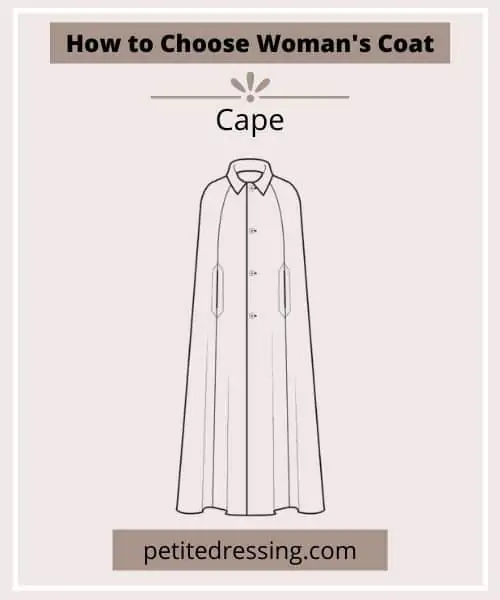 A cape is a sleeveless outerwear that covers the shoulders and has slits for the arms. It has a front opening and is usually long.
Capelet
A capelet is a short version of a cape that is waist length or shorter.
Duster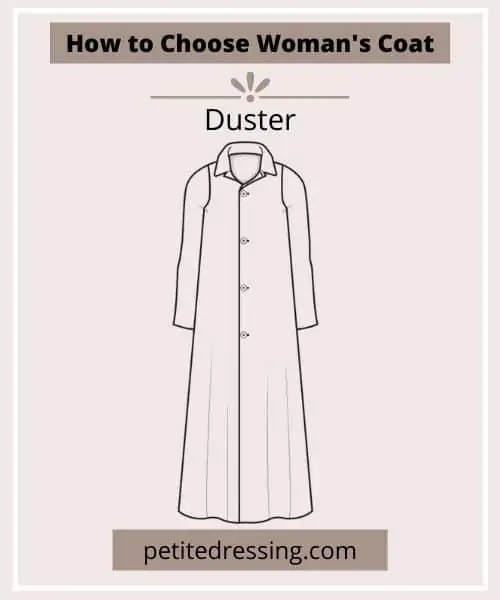 A duster is a light, loose-fitting long coat.
Parka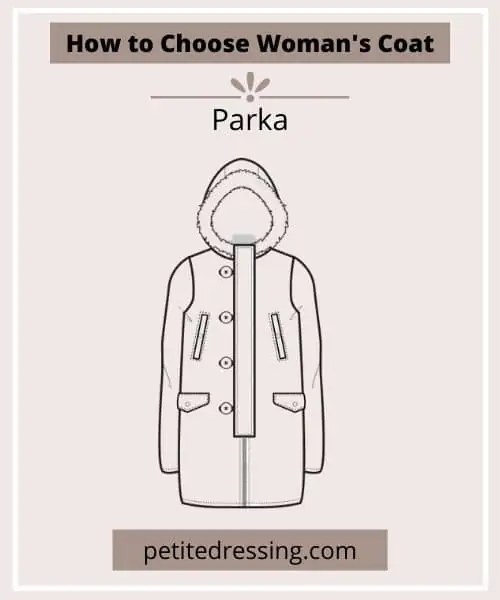 A parka is a type of coat with a fur trimmed hood and a front zipper that is usually covered with a button and a loop placket.
Pea coat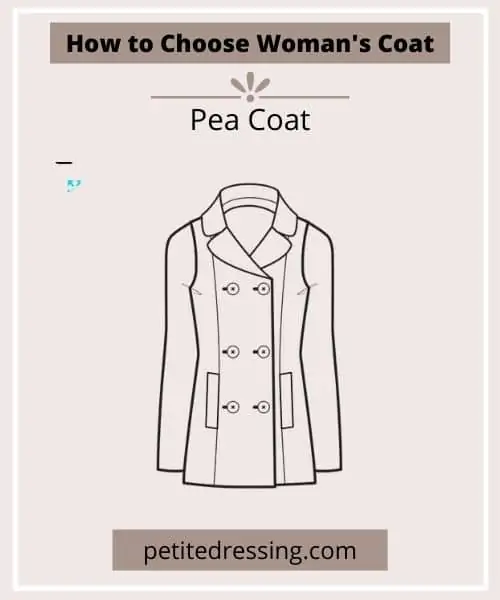 Pea coat is an outer coat, generally of a navy-colored heavy wool. Pea coats are characterized by short length, broad lapels, double-breasted fronts, often large wooden, metal or plastic buttons, and vertical or slash pockets.
Cocoon coat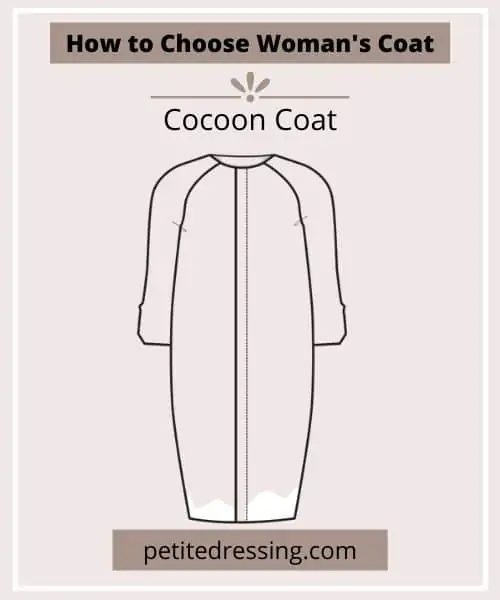 Cocoon coat s an oversized coat with 3/4 length sleeves and a hem that falls just above the knee and tapers slightly.
Duffle coat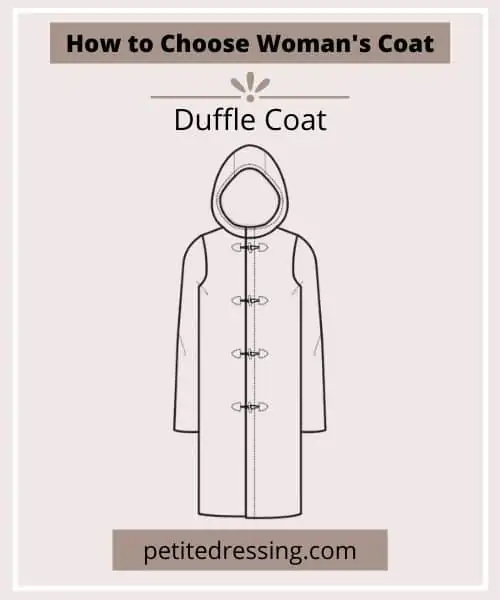 Duffle is a hooded coat with a toggle closure, which is 3/4 length (typically reaching between mid thighs to above the knees).
Puffer coat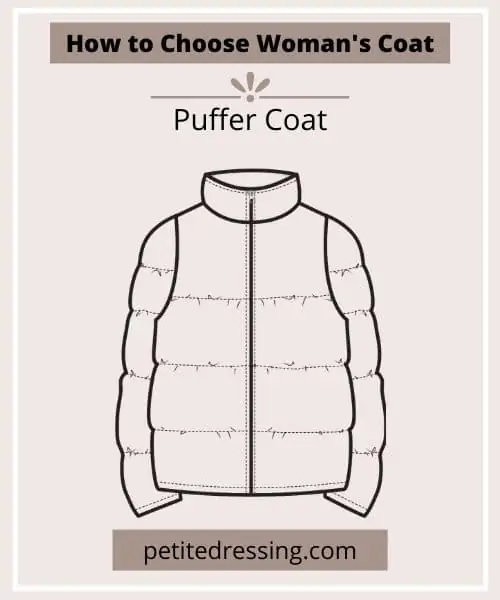 Puffer coat (down jacket) is a quilted, padded jacket filled with down feathers. This material is usually used to insulate an outer layer which is usually some synthetic fiber such as nylon or polyester.
Stadium coat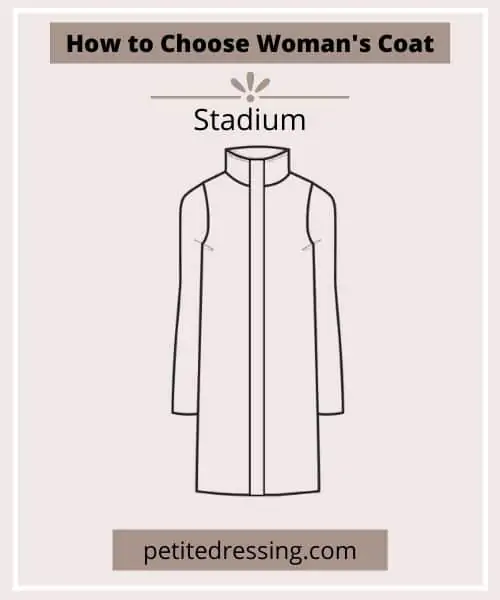 Stadium coat is a casual and mid thigh to knee length coat that is made of warm fabrics.
Swing coat
Swing coat is fitted at the top and then flares at the hem.
Poncho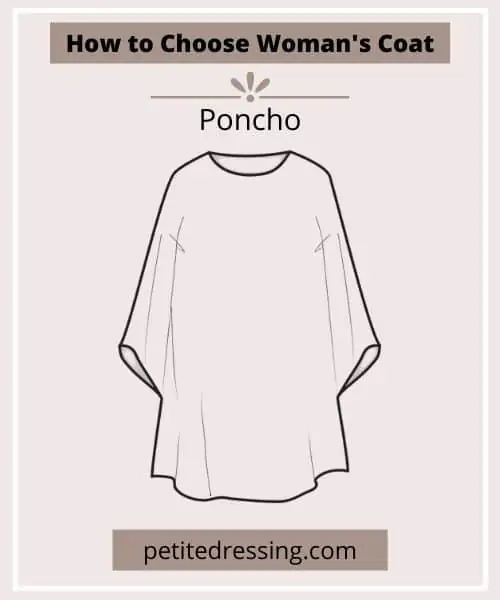 Poncho is a geometrical shaped piece of fabric with an opening cut for the head. It is usually hip length.
Polo coat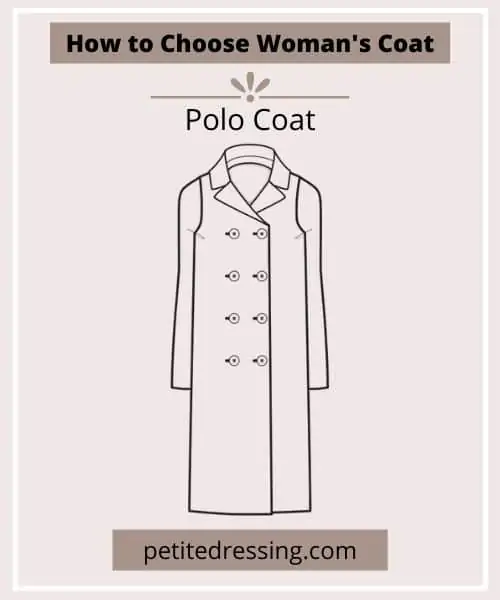 Polo coat is long and double breasted coat that is typically boxy. They are made of camel hair or similar fabrics. They can have a belt or half a belt in the back, and traditionally they are tan color.
Shearling coat
Shearling coats are made from processed lambskin, sheepskin, or pelt. The name "shearing" refers to the process that creates a uniform depth of the wool fibers for a uniform feel and look.
Wrap coat
Wrap coats have two overlapping panels and do not have button closures, instead, the coat is secured with a soft belt. This type of coat has a very feminine look.
Maxi coat
These are long coats that typically reach the ankle or right above the ankle. They can be made in different fabrics. Maxi coats are designed to be worn in severely cold winters, so wool, wool blend, cashmere or down are commonly used to make maxi coats .
Leather coat
Leather coats are made of genuine cow leather and they come in a range of length. A leather jacket can be hip length, while a leather coat can be hip length, thigh length or full length.
How to Choose Women's Coats
You should choose the coats according to your body type, your height, your lifestyle and the temperature.
Winter coats for petites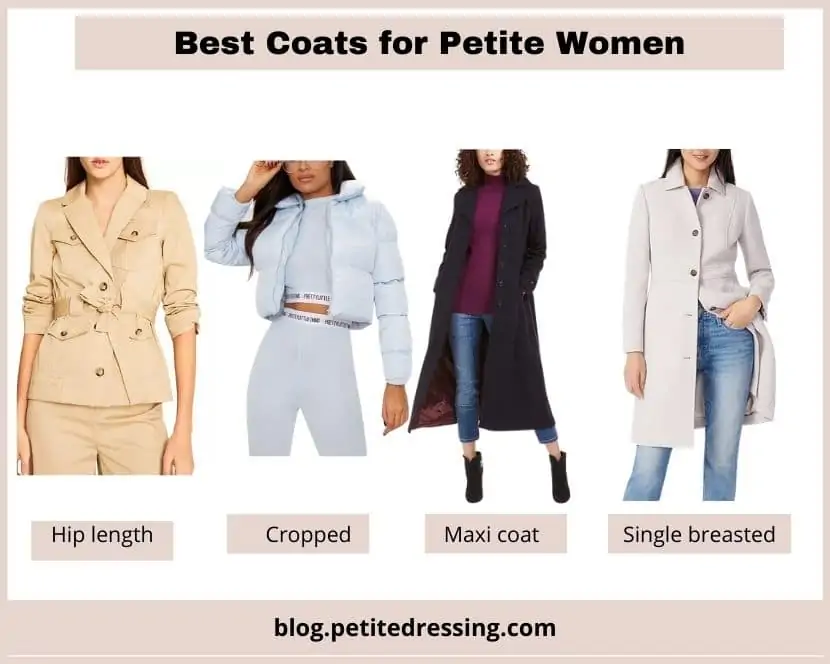 Because winter coat covers such a large area of your body, it is important to choose the coats according to your height. If you are petite, you should consider the following to choose the best coats for shorter women.
Length
The most flattering coats for petite women are either the short coats (or denim jacket) or the really long coats such as the maxi coats.
The short coats that are cropped length (above the hips) or the hip length are the best to pair with jeans, skirts or pants. These coats are the best to elongate petite women's legs and make a short woman appear taller and leaner.
In colder weather, if you need a longer coat to keep you warm, then go with the really long coats at the ankle length (i.e. the maxi length coats).
The reason the maxi coats are flattering to petite women is because they form an unbroken vertical line, which creates the illusion of a longer figure.
Any coats in between the short and the maxi length may still work for petite women, but these two are the best length in order to achieve the elongating/flattering effect on a short woman.
It is important that when you wear a coat over a skirt outfit or dress, you should make sure the coat is long enough to cover most of the skirt or the dress. Otherwise, the uncovered portion poking under the coat will form a horizontal line, which does not look good on any women and they are especially not flattering for petite women.
You should keep this in mind especially when you are shopping for a trench coat or a coat that is the knee length or above the knee. Always consider the body proportion of the coats when you are looking for the best outerwear for petite women.
Style
Petite women should always choose coats that are well fitted and avoid any coats that are oversized or shapeless.
In order to flatter a petite girl, the coat should be well constructed, i.e. with shoulder definition and waist definition. Good examples are pea coats, trench coats, stadium coats, etc.
That does not mean you need to go with a tightly fitted coat. But the coat need to have a structure and be made of fabrics that have enough weight to hold its shape.
Because petite women have a shorter frame, anything that is bulky or unstructured will potentially overwhelm your short figure and make you look like swamped.
Popular trends of the loosely fitted outerwear are not flattering for petites because they can easily make you look like you are swimming in the coats.
If you live in an area with sever winter and therefore need to wear puffy coats such as the down/puffer coat to keep you warm in the cold weather, then choose a dark color to keep the volume of the coat in check. You should pair them with a slim fitted bottom like a skinny jeans to counterbalance the volume and bulkiness created by your outerwear to prevent yourself from looking "worn by the coat".
Size
Petite women should get coats from petite department. It is important to choose a petite size to ensure the fit is proper on your shoulders, sleeves and the body of the coat.
Because petite size coats are made according to the measurements of petite models who are typically around 5'3″ or 5'4″, any petites shorter than that may find even the petite coats are not the perfect fit.
So, even if you get a coat in a petite size, you should still make sure everything fits just right and consider alteration by a tailor if otherwise. It is not uncommon for petite women to find that sleeves are still too long with a petite sized coat, and in that case you should take it to the tailor to ensure the best fit.
Winter coats for each body type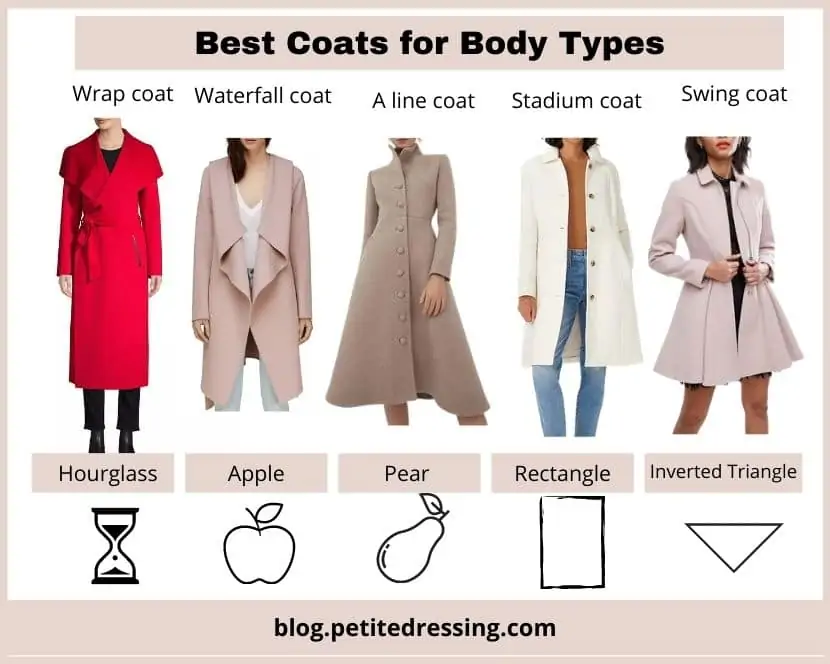 Choose the best winter coats according to your body shape is important to accentuate your assets and camouflage your weaknesses, which is the case with every body type.
Hourglass shape
In order to accentuate your hourglass figure, the coats that clench the waist or have an adjustable belt are the best.
Wrap coats are universally flattering, and it works to perfection on an hourglass shaped woman.
Additionally, the open front coats will always give you plenty of space in the chest area.
Pear shape:
Since pear shaped are wider in the hip area, the A shape coats flow very naturally with your curve, thus making it easy for you to move.
Pear shape women have amazingly slender waist, fit and flare coats with a belt tied at the waist place an emphasis on your slim waist and draw most attention to your best asset.
If you are self conscious about the prominent thigh area, coats that flare out like a skirt and camouflage your thighs to perfection.
Apple shape
Apple shape women leave the impression of "round" overall. The best coat to balance out the roundness of apple shape is to wear a coat in a H shape, which could be pea coat, polo coat, or any other overcoat in a H shape.
H shape creates vertical lines which changes the overall round shape of an apple, and it draws less attention to the midriff area, where most of the weight is distributed.
The cocoon shape coats create an round/oval shape in general, which enhances, not balances, the "roundness" of the apple body shape. If that is not what you want, then skip the cocoon coat.
Rectangle body type
The rectangle body type have a straight up and down shape. H shape coats go with the natural shape of your body, so they typically fit you quite well. On the other hand, because of your straight up and down "boyish" figure, it will be flattering to wear coats with details such as glossy buttons.
If you want to create more of the illusion of curves, then go with either a fit and flare coat or a swing coat. Because they flare out at the bottom, fit and flare coats give the illusion of wider butt.
Inverted triangle shape
The coats that work with your inverted triangle body type should draw attention away to your broad shoulders. A well fitted long coat like a maxi coat or a duster is able to draw eyes up and down and thus distract people from your prominent shoulders.
A swing coat has a triangle shape, which is the opposite of the inverted triangle body and therefore can balance out your shape.
Raglan sleeve coats do not have a defined shoulder seam, so they can make your shoulders less noticeable if you are self conscious about having broad shoulders.
Choose winter coat for occasions
You should choose winter coats according to your life style as well.
If you are looking for a coat to wear over a dress or skirt outfits in the fall and winter, then you can choose any of the well tailored coats:
Trench coat
Overcoat
Maxi coat
Cape
Polo coat
Duster
If you are looking for a coat to wear with sweaters and jeans for the everyday wear, then the causal coats are good options:
Waterfall coat
Duffle coat
Parka
Wrap coat
If you are looking for a coat best for the office and professional meetings, then choose a tailored coat
Stadium coat
Polo coat
Over coat
Choose coat according to temperature
When purchasing winter coats, you should also consider the temperature and your activities.
When the weather is in the 60s, the best coats are:
Wool blend coats
Leather jacket
When the weather is in the 50s, the best coats are
100% Wool coats
Wool blend coats
Cashmere blend coats
Short puffer coat
When the weather is in the 40s and under, the best coats are
Long leather coats
Maxi length down coats
Fur coats
How should Winter Coat fit a Woman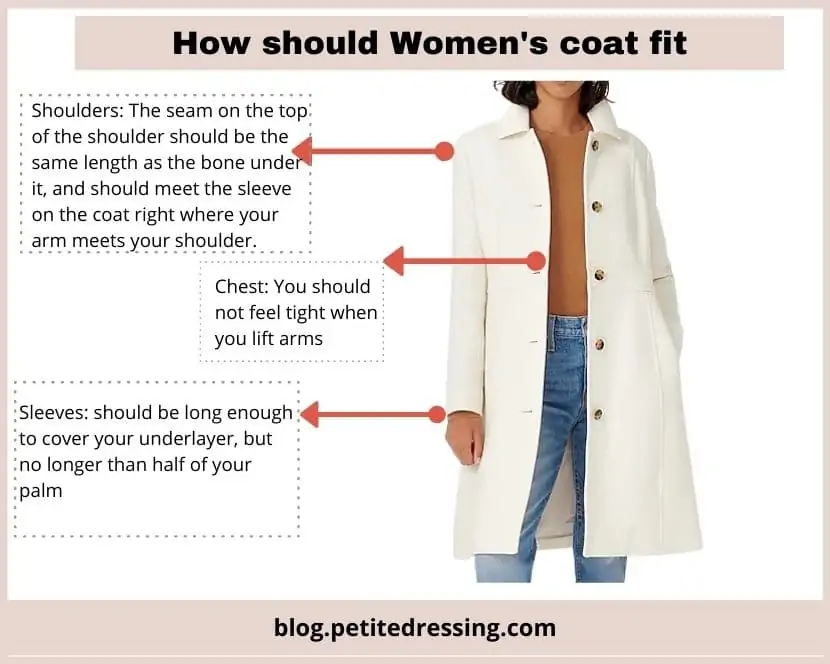 Since all the coats are designed to be the outer layer, they should not fit too snug anywhere, so that you have enough space to wear an underlayer with them. However, for the highly tailored coats such as the trench coats or pea coats, they should not be loose either in order to keep the well-fitted silhouette.
Shoulders
General guideline
A well fitted shoulder lies flat. The seam on the top of the shoulder should be the same length as the bone under it, and should meet the sleeve on the coat right where your arm meets your shoulder.
If the seam that connects the sleeve to the jacket is hiked up along your shoulder bone, or dangling down on your upper bisep, you will see the ripple effects that create lumps or wrinkles on the sleeves and the top of the jacket.
Fit by coat type
For a coat with structured shoulders such as a trench coat, stadium coat, pea coat, duffle coat, you want to make sure the shoulder seams are sitting on your shoulders.
For a tailored coat, if you are planning on wearing a suit or blazer underneath, you want to make sure the shoulders are not too snug. Ideally they should be 0.5″ to 1″ over the suit or blazer you wear under.
For a cape, caplet, cocoon coat, waterfall coat or poncho, which do not have a structured shoulder seam, then you can be flexible with how the shoulders fit. Since these types of coats are typically designed to wear with sweaters or dresses under as opposed to a blazer or suit, they tend to have a relaxed fit at the shoulders.
For cocoon coats, they have different seam than traditional tailored coats so it is hard to gauge with this principal.
Sleeves
The sleeve length for the coats also depend largely on the type of coats for women, whether they are a relaxed fit coat or a well fitted coat.
Overall, you do not want the coat sleeves to be either too short or too long. The coat sleeve should be just enough to cover what you are wearing underneath, be it a sweater, dress or even a suit.
The ideal length for the sleeves should be about 1″ longer than your under layer, so that nothing is poking out underneath.
On the other hand, you do not want the sleeves to be so long as to cover half of your palm.
Body
Depending on the type of women's coats, the body can be well fitted or relaxed. Since the coat is the outer layer and you will wear a sweater or even a suit underneath, you want to make sure the body fit is not too snug.
A good test is to try on the coat with the underlayer you plan on wearing and then raise your arms. If you feel it's too tight in your upper arms, that is a sign the coat is too tight.
Length
Different type of coats come in a certain range of "standard length", but choosing the right length for your winter coats is largely a matter of personal preference. Below is the typical length for most coats:
Trench coat: short length, medium length or full length
Cape: usually long, reaching mid calf to ankle.
Capelet: usually short, waist length or shorter
Pea coat: usually hip length
Poncho: usually hip length
Stadium coat: mdi thigh to knee length
Duffle coat: 3/4 length, typically mid thigh to knee length
Parka: knee length or longer
Swing coat: under the knee to mid calf
Cocoon coat: usually knee length or longer
Maxi coat: usually ankle length
Trench coat fit guide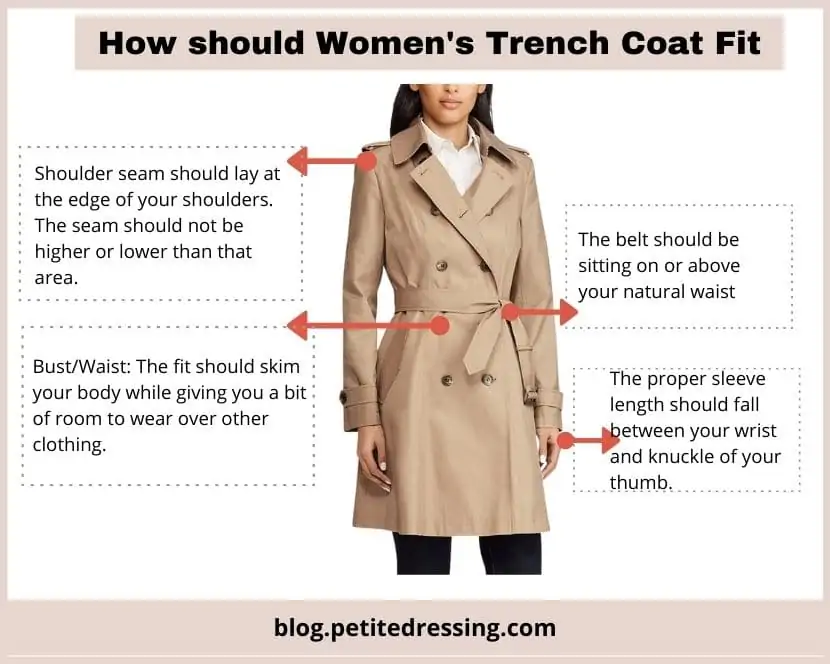 Traditionally, trench coats are designed to be the outer layer worn over a suit, so the fit should not be too tight on the shoulders in order to accommodate a suit underneath.
The sleeves for women's trench coats should be long enough to cover any blazer or suit sleeves you wear with them.
Many women wear trench coats over a sweater outfit or dresses, in that case the trench coat can fit slightly more tight on the shoulders, but the sleeves should still be long enough to cover the sweater or dress sleeeve.
Modern trench coats come in three different lengths, short length, medium length and full length. Choose the right length for the trench coats according to what you plan on wearing underneath.
Short trench coats are typically hip length. If you are looking to wear pants or skirt outfits with a trench coat, you can go with a short trench coat.
Medium length trench coats have a wider range. They can be mid thigh, at the knee or under the knee. This is the most versatile length that can go with outfits of different combinations such as pants, dresses and skirt outfits. If you are wearing a dress or skirt under the trench coat, you should makes sure the trench coat covers the majority of your dress or the skirt, and only leave a small portion uncovered. This is the best way to achieve the optimal body proportion for your body.
Full length trench coats are typically at least the mid calf length and sometimes they can be ankle length. If you are mostly wearing long skirts or long dresses under the coat, then you should choose a full length trench coat. The full length can also keep you warm if you are in a cold area.
Puffer coat fit guide
Puffer coats are designed for a relaxed fit, so you do not need to worry much about the shoulder seam exactly sitting on your shoulders.
You do want to make sure the sleeve length fits your arms, because it is very difficult to hem the sleeve for a puffer coat at a regular tailor.
Puffer coat comes in different lengths of a wide range. The popular designs can be cropped length, hip length or maxi length (full length).
A cropped length puffer coat is the best option for someone who is petite, or for anyone to wear in the early winter when weather is not too cold. If you are looking to wear winter skirt outfits or dress with a puffer coat, then go with the cropped length because they go with every skirt or dress length.
A hip length puffer coat is a warmer option and they are best worn with pants or jeans.
A full length (maxi length) puffer coat are the most functional winter coat if you live in an area with harsh winter temperatures. These are the best to wear with anything, from pants, jeans to skirts and any dresses. They are the easiest length to wear because they are long enough to cover any outfits underneath and keep you warm.
Should you size up winter coat
Generally, you should not size up winter coat. Ideally, you should choose the winter coat that is true to your size. If the coats are made according to the standard size mentioned above, they should be the right size to accommodate the sweater, dress or even blazer you are looking to wear underneath the trench coat.
If you feel like a winter coat is too tight in the body and you cannot fit in the underlayer you are planning on wearing, then you can try one size up. However, you need to be very careful with sizing up and make sure the fit is still right in the shoulders and sleeves. This is especially true for the winter coats that are designed for a well fitted look such as the trench coat, duffle coat, etc.
Typically when you size up on the coat, you will end up having a coat that might fit your body better but the shoulders might be too wide or the sleeves might be too long.
If the shoulders are too wide, then you should not go with the bigger size. The reason is shoulders are very difficult (if possible at all) to alter. Instead, try a different brand or a different coat style.
On the other hand, if you find the shoulders fit better but the sleeves are too long, then you should go with this size but make sure to take it to the tailor to hem the sleeves to the proper length for your arms.
How Much Should you invest in Winter Coat
Price range of women's winter coats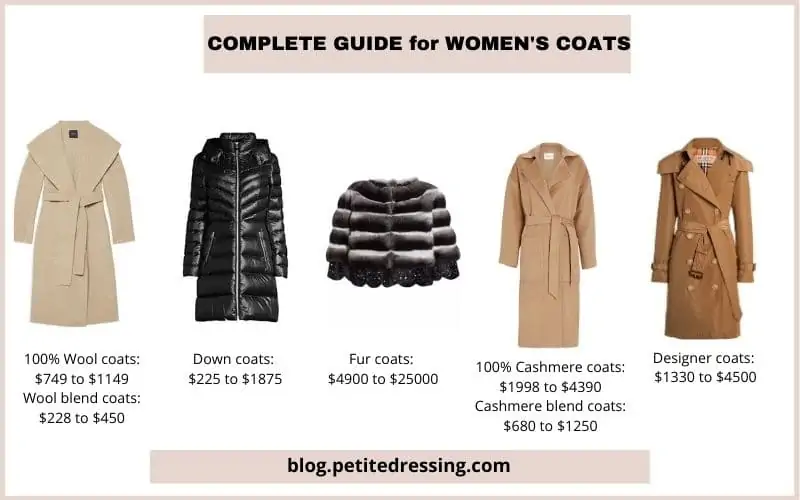 Most brands on the market could cost anywhere from 200 dollars to up to 600 dollars, depending on the designer and type of coat you are looking to buy. The top tier designer labels in the Max Maras and Escadas of the world, or those made of luxury fabrics such as cashmere, could cost even more.
Here is the typical price range from major department stores Macy's, Nordstrom, Bloomingdales and Saks Fifth Avenue.
100% Wool coats: $749 to $1149
Wool blend coats: $228 to $450
100% Cashmere coats: $1998 to $4390
Cashmere blend coats: $680 to $1250
Down coats: $225 to $1875
Trench coats: $99 to $250
Leather coats: $460 to $650
Designer coats: $1330 to $4500
Fur coats: $4900 to $25000
How much should you spend
Since winter coats could be a high ticketed item, buying it should be treated like an investment decision.
When you are thinking how much you should spend on the winter coat, have the mindset of investment vs expense. The mindset of investment means you buy what is the best value from the long term perspective, whereas the mindset of expense will lead you to jump on the lowest price for what is trendy this season.
If you live in a cold area like Canada or Northeast US, it is wise to spend $300 to up to $1000 on a high quality wool blend or cashmere blend winter coats or down coats, because you will be getting a lot of use out of the coats.
Typically these areas have almost 6 months of winter, suppose the coat you are buying will be worn at least twice a week through out the winter, that means you will be wearing 50 times or more for each winter.
If you are getting a well tailored wool coat in a classy silhouette that will last you a minimum of 5 years, then that means you will get to use it minimum of 250 times before you retire it. That implies a 500 dollar coat would cost you only 2 dollars for each time you wear it. The reality is most of us keep a good quality winter coat for well over 5 years, and sometimes up to 10 years.
If you live in a warmer area and you expect to wear the winter coats only 3 months every year, then you can spend $150 to $300 on the coats and have them in different colors, lengths and styles to fit different outfits.
Once you have the mindset of investing when looking for the winter coats, you will make a wise decision and value quality over quantity.
The Best Time to Buy Winter Coats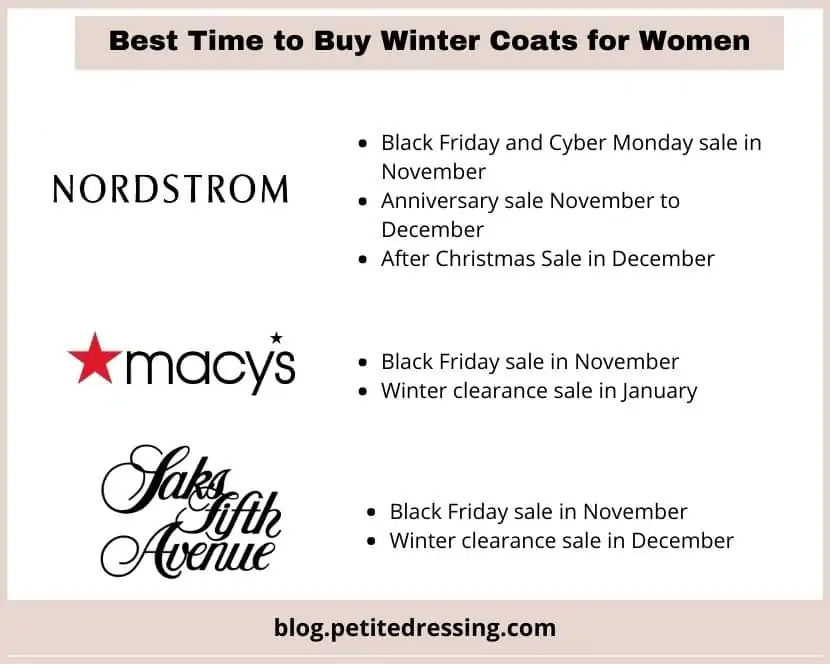 The best time to purchase coats are from late November to January every year, when all the major retailers and department stores have their largest sale event of the year for winter clothing.
Here is the timetable for the winter seasonal sales at major department stores and other retailers, the best times to purchase winter coats at a discount.
Macys: Black Friday sale in November and winter clearance sale in January
Nordstrom: Black Friday and Cyber Monday sale in November, Anniversary sale November to December, After Christmas Sale in December
Sakes Fifth Avenue: Black Friday sale in November and winter clearance sale in January
Most retailers and department stores start to discount women's winter coats in late November. If you need a coat to wear for the current season, November is the best time to buy the winter coats, because you will probably find your size and the price is already discounted.
If you are a petite woman, it is wise to start buying winter coats in November when the prices are first coming down. The reason is petite size winter coats are harder to find, and typically designers have a smaller inventory of petite size coats compared with regular size coats or even plus sizes. If you do not want your size to be sold out, then November is a good time to buy the coats.
Whether you wear regular size, petite size or plus size, the longer you wait, the more likely your size will be sold out.
If you want to get the deepest discount for the winter coats, then you can wait till January for the largest coat sale of the year. This is the best time you will get the most value for your money. It is typical for retailers to discount women's coats to 60% off or even more in the clearance sale.