Peacoats are stylish pieces that can be worn with different closet staples, as they are highly versatile in colder months. They come in different colors and thanks to their military-style, they add a touch of class to any outfit you can think of wearing. Whether you like being casual or looking all dressy, there's definitely a peacoat out there for you.
Here are some best outfit ideas on how to style peacoats:
With leather joggers
Leather joggers are quite on trend, suitable for either staying in or going out. Traditionally joggers are great for lounging around, as they are ever so cozy. While they may be a great alternative to your pajamas, those made of faux leather or real leather can also be worn outdoors.
On days when you want a great casual chic look, you can easily dress them up without too much effort. A peacoat is one of the items you could wear with your leather joggers to dress it up.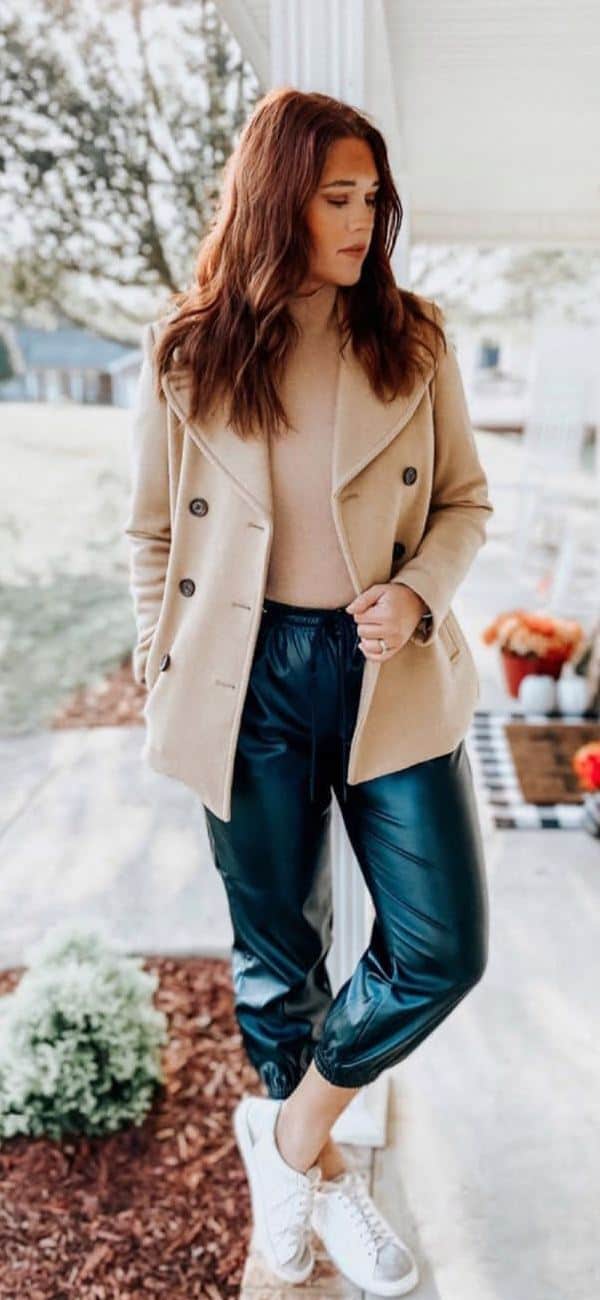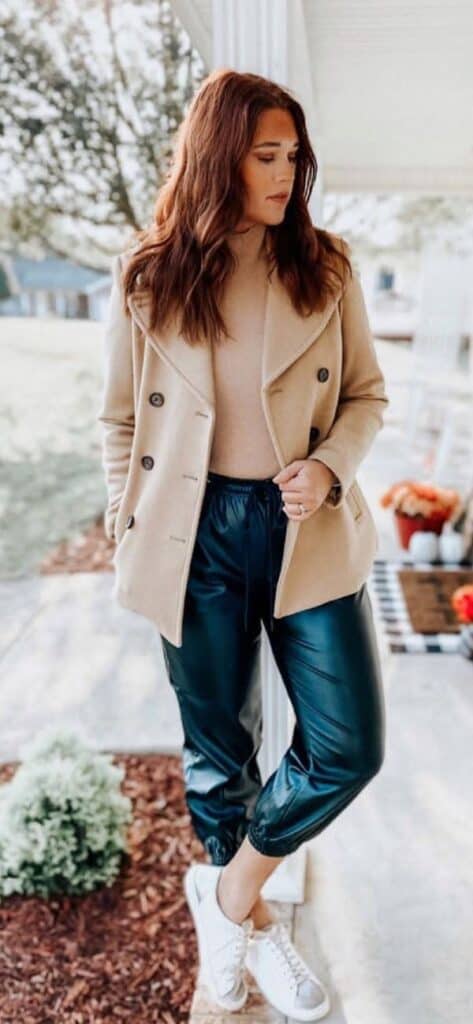 Chauncey (above) wore her black leather joggers with a nude top, white sneakers and a peacoat. Going with neutral colors is the best way to look effortlessly casual chic in this combination on a cold day.
With leggings
Leggings are always so comfortable. Not only wearing a pair is a great alternative to your pajamas, you can also style your leggings well and wear them outdoors. An example of pieces you can style your leggings with is a peacoat.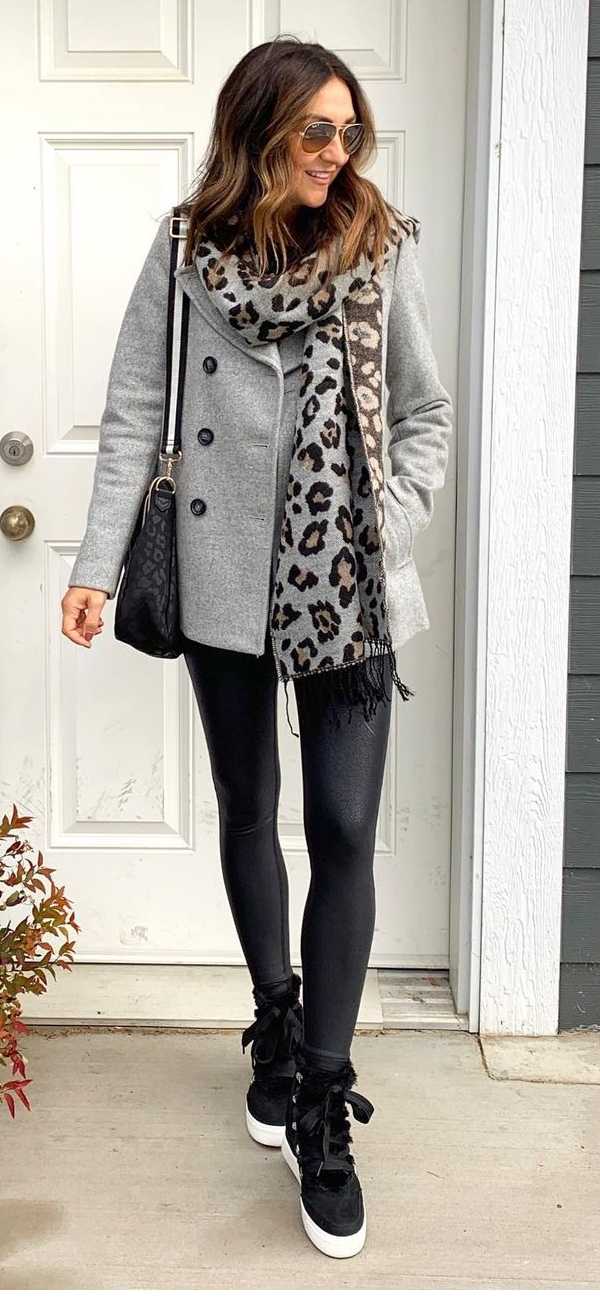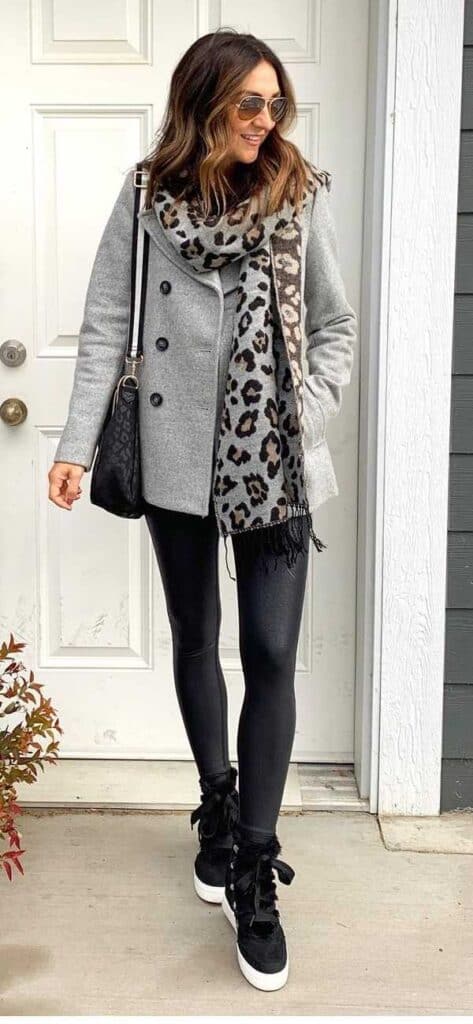 CB (above) styled her black leggings with a grey peacoat. The best thing about a peacoat is that it goes up until just below the crotch, so you will feel well covered, considering leggings are lighter compared to jeans and follow the shape of your body.
With a midi skirt
The midi skirt is not only a trend, but also a staple for every classy woman. Midi skirts might not be the easiest to style, thanks to their length, but they are undeniably chic. That said, with the right pieces around, styling a midi skirt doesn't have to be such a task. A great example of outerwear that looks great when paired with midi skirts is a peacoat.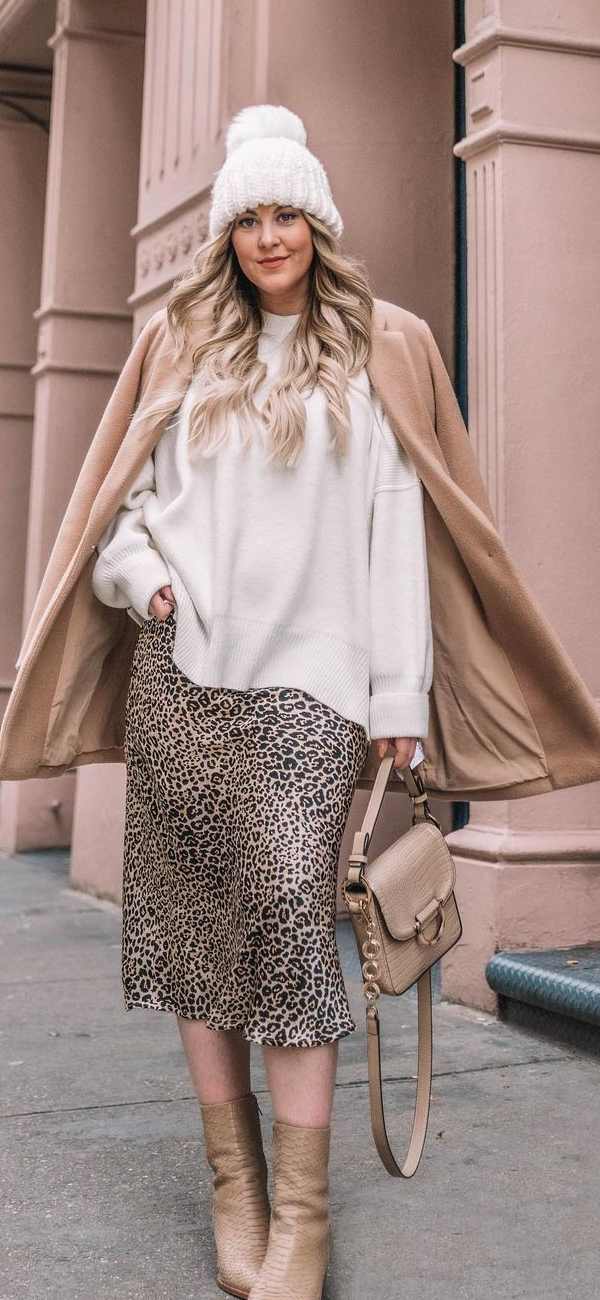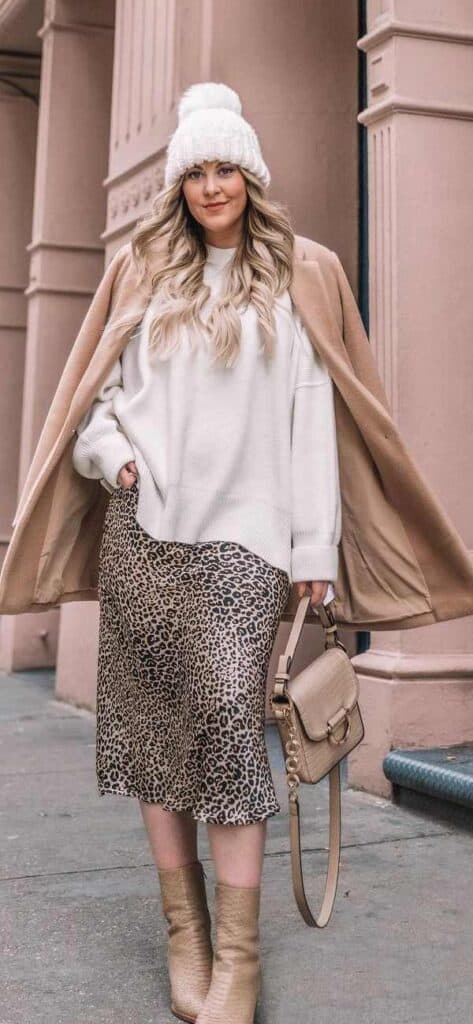 Danielle (above) styled a leopard print silk midi skirt with a sweater and some boots, then layered a peacoat over the look. While you can wear it, another option is to just drape the peacoat over your shoulders.
With wide-leg pants
If you're going to be styling your wide-leg pants in colder months, then you should try wearing them with a peacoat.
Wide-leg pants are very comfortable, understandably because of the fact that they do not cling to your body. They can also be worn throughout the different seasons of the year.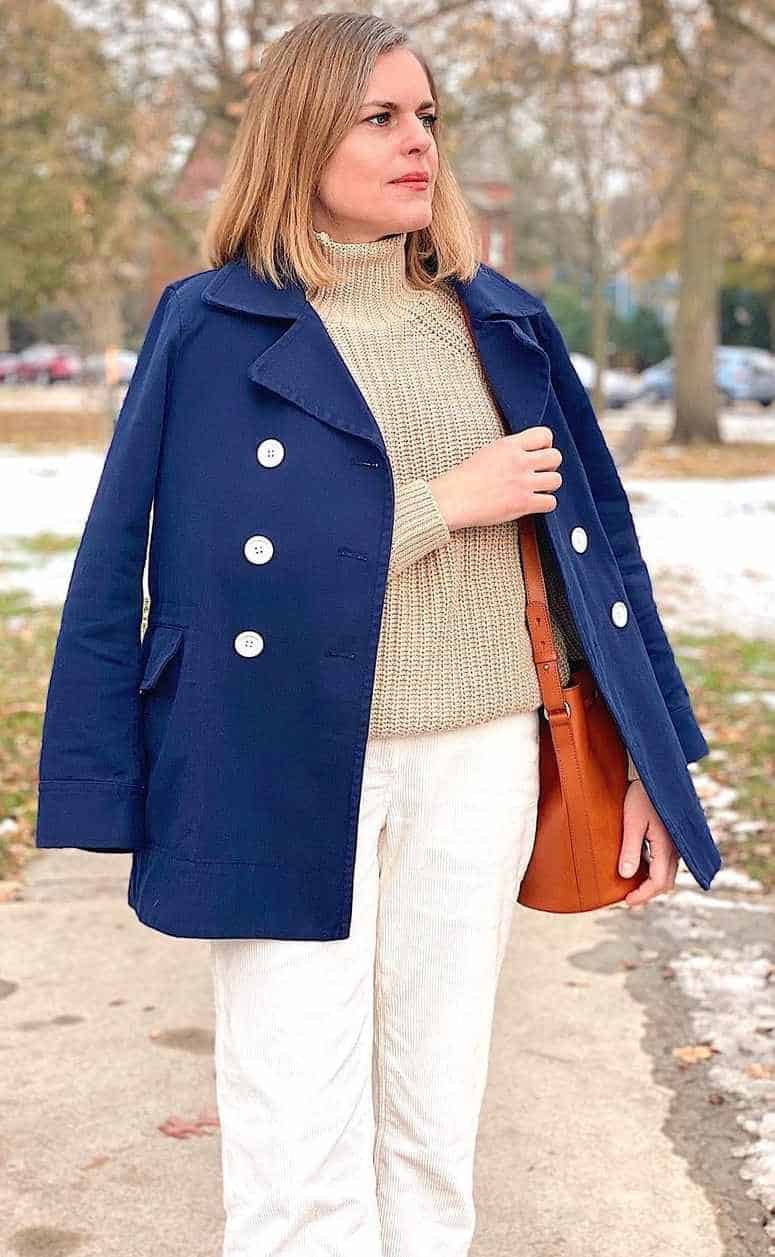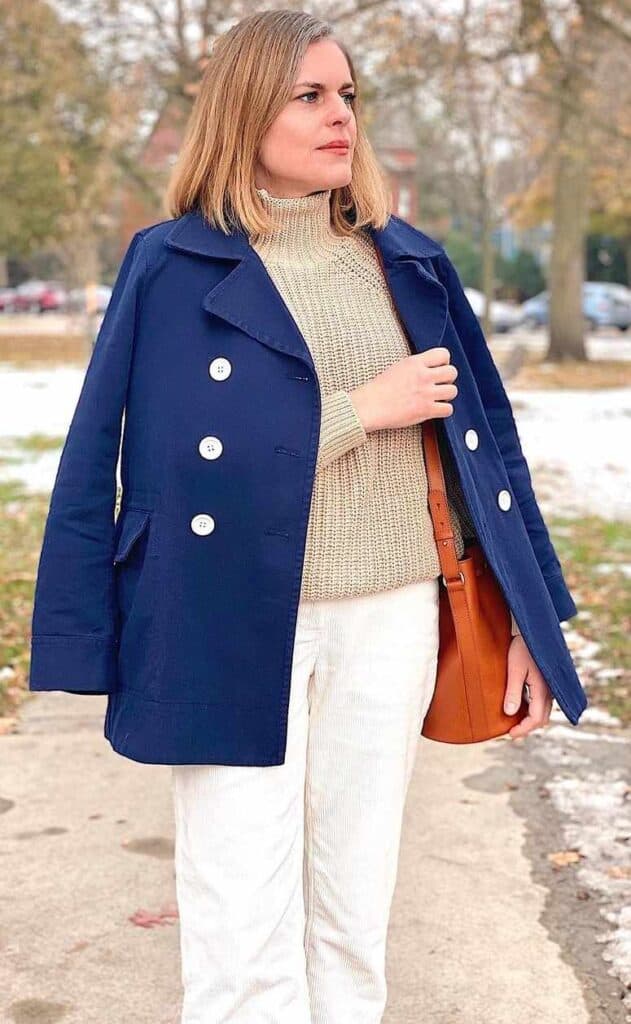 Patricia (above) wore her white wide-leg pants with a sweater and then layered a blue peacoat over the look. The length of the peacoat makes it ideal to wear with the pants as it gives you an even cleaner look during colder months.
With a jumpsuit
In colder months you could layer a peacoat over your jumpsuit.
A jumpsuit is an easy piece to wear, considering it runs from top to bottom. They are very stylish pieces that will flatter your body, as long as you get one that fits right and suits your body shape.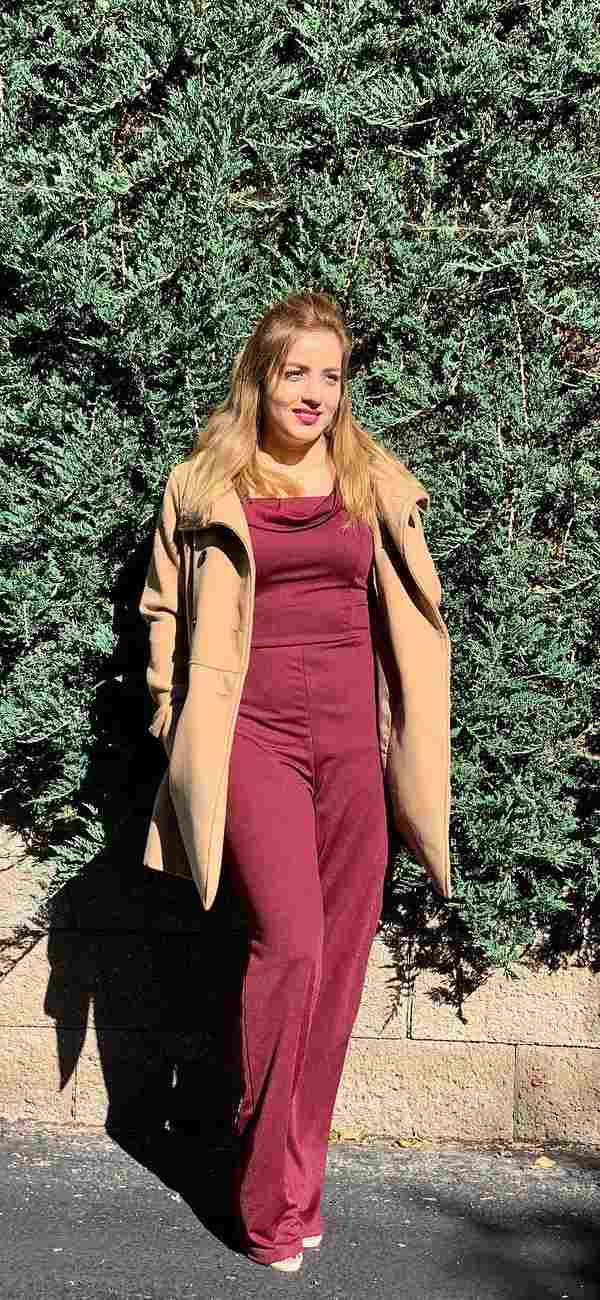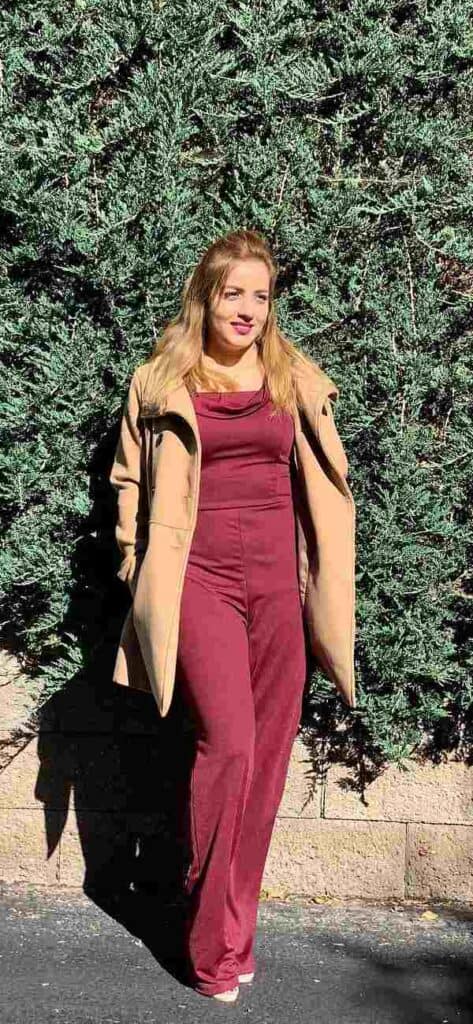 Ketki (above) styled her jumpsuit with a peacoat. This is a look that can be pulled off by anyone regardless of their age or body shape, as a peacoat always looks great on a cold day.
With ripped jeans
Ripped jeans easily look great with a peacoat.
Wearing ripped jeans is a great way of showing your edgy side. They are usually available in different styles, so you can go for a highly ripped one or choose one that's slightly ripped.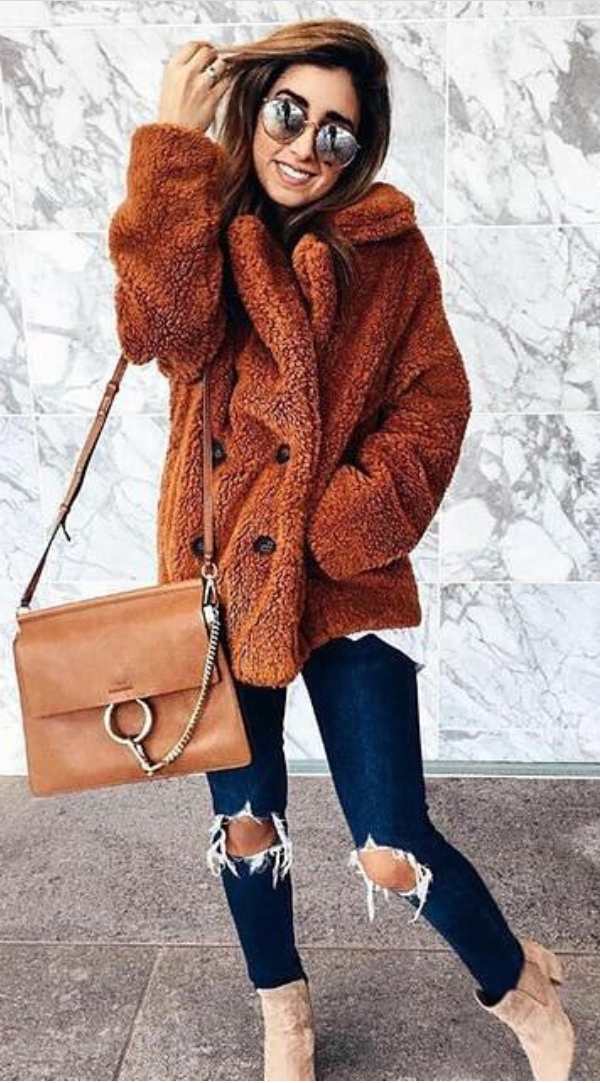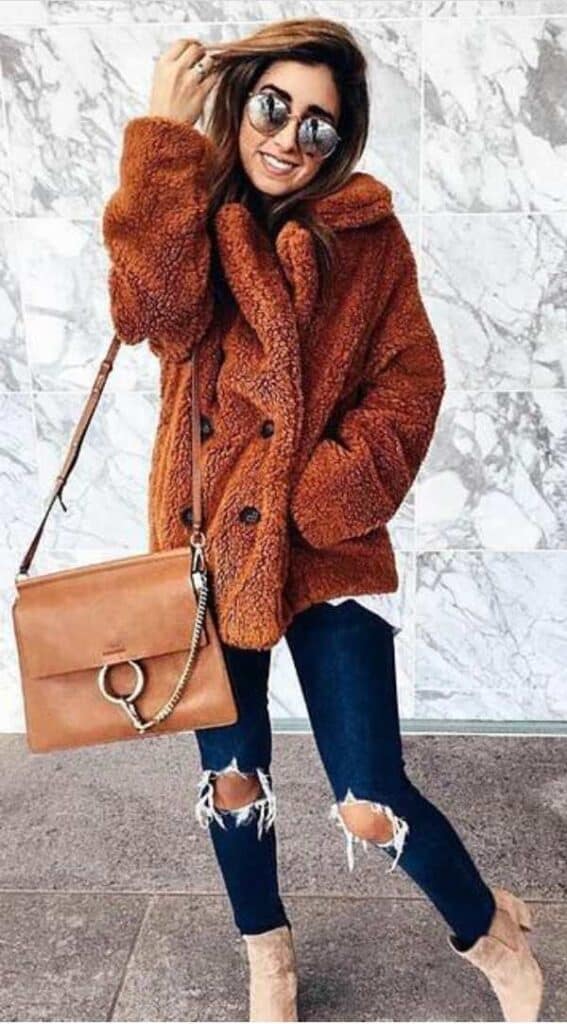 Peaceblossom (above) styled her peacoat with a pair of slightly ripped jeans. it's a fleece peacoat. Going for jeans that are ripped  only around the knees is great if you want a subtle rip.
With khaki pants
Khakis are a great alternative to jeans, since they can be worn with literally everything you have in your closet. They are simple, allowing you play around with them in terms of pairings. For colder days, you can style them with a peacoat.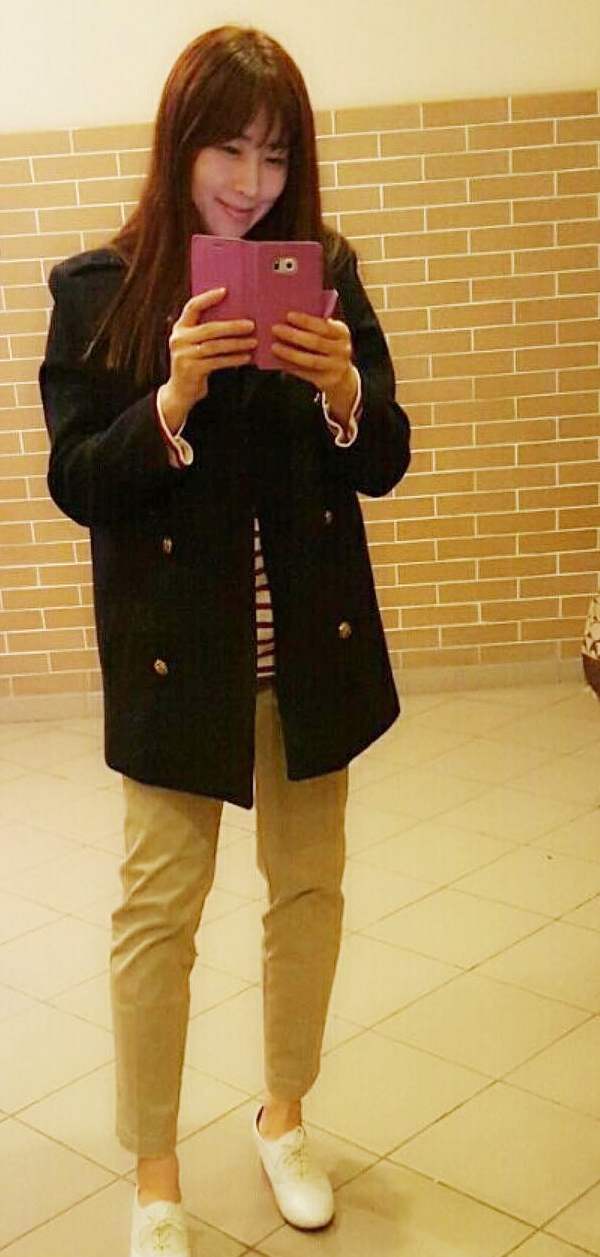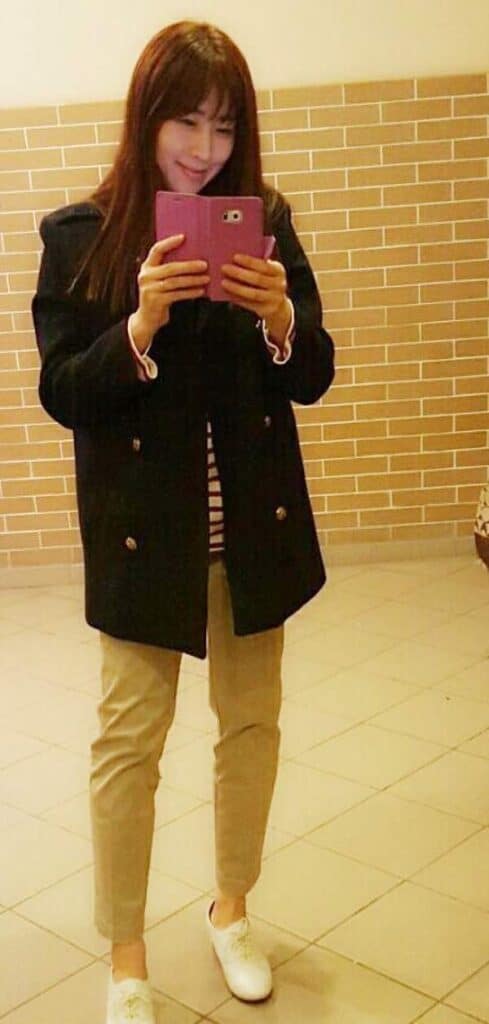 Repetto (above) styled her khaki pants with a striped top and simple shoes then threw on a peacoat. This is a great casual combination, but you can easily flip it and make it suitable for the office by wearing a button-down underneath instead.
With skinny jeans
A pair of skinny jeans is definitely a go-to, when you can't quite figure out what to wear or when you just want a laid back outfit. They are versatile and flattering on women of all age. One of the pieces that go really well with a pair of skinny jeans is a peacoat.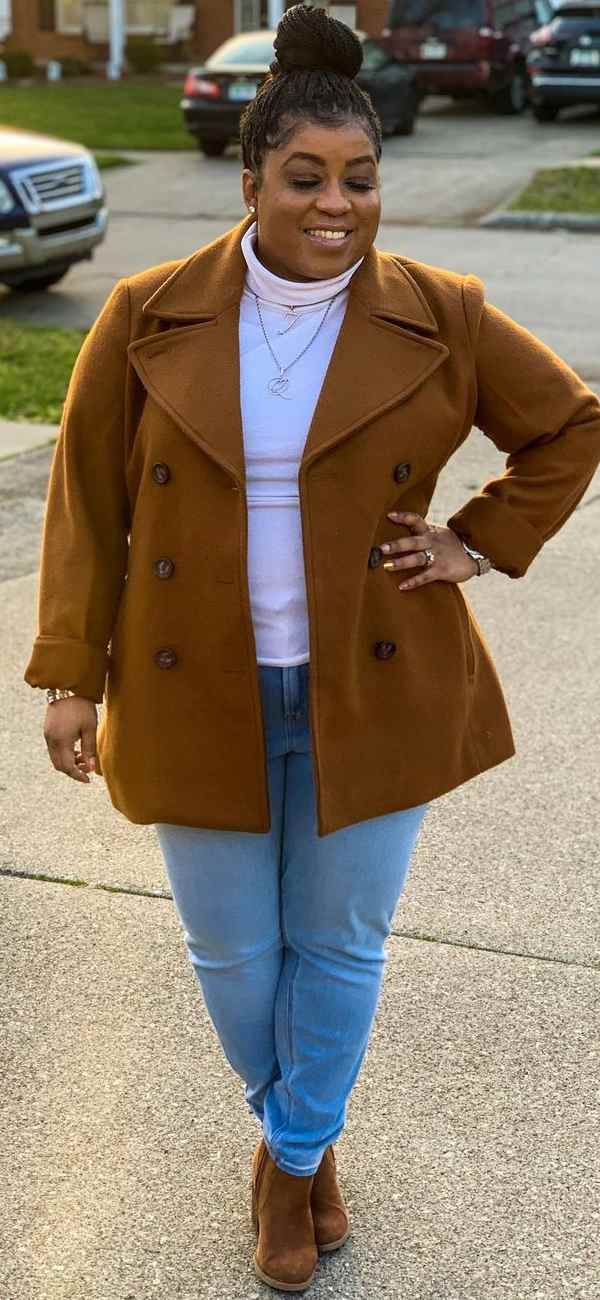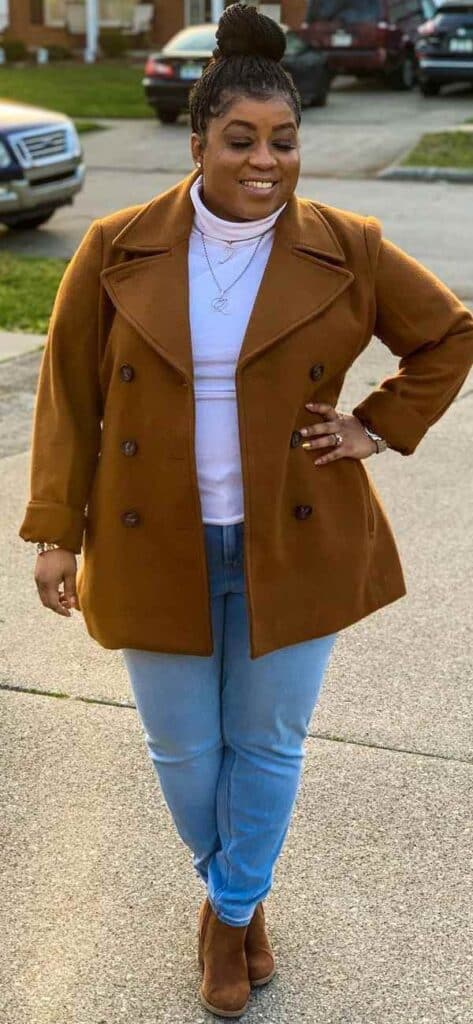 Zuzu (above) styled her blue skinny jeans with a turtleneck and a peacoat. She went for a pair of booties in an almost similar color as her peacoat. For this combination, a peacoat dresses up the otherwise very casual look.
With a short skirt
A short skirt can be worn with a peacoat for a smart and stylish look.
Undoubtedly, shorter skirts are some of the most flattering skirts for women who would like to show off great legs, especially if you are petite and want to look taller.  If you go with a knee length in a straight cut, they work best not only for the office but can also be worn to other formal places. If you decide to dress one down, pairing yours with some casual pieces and footwear will also work very well.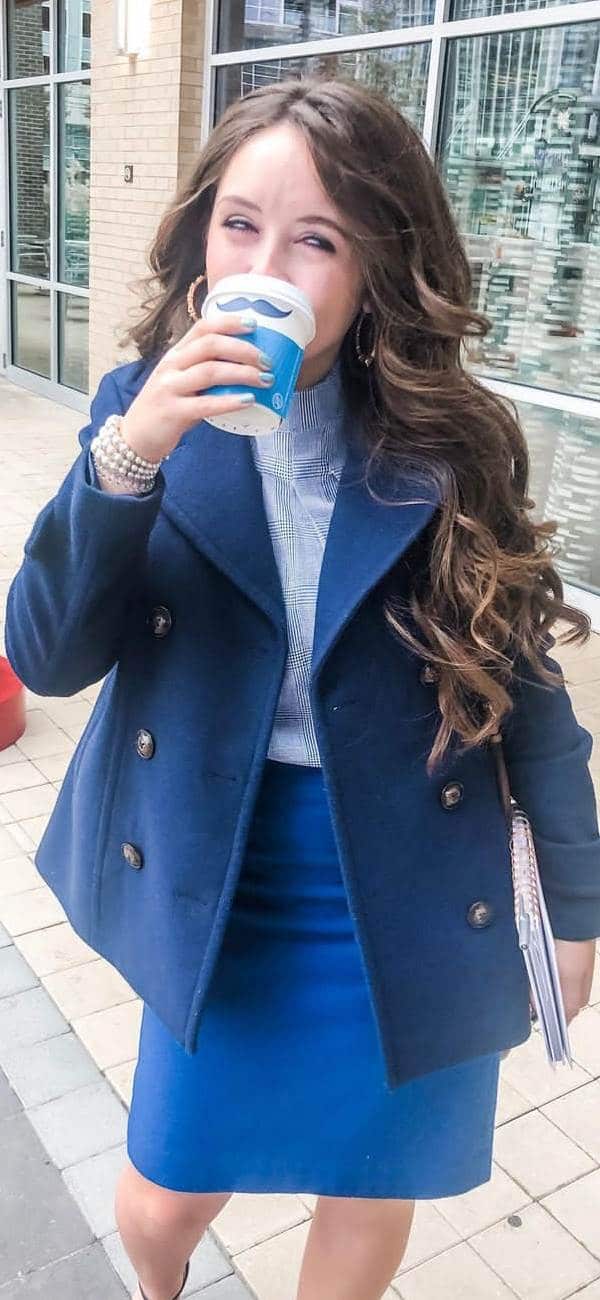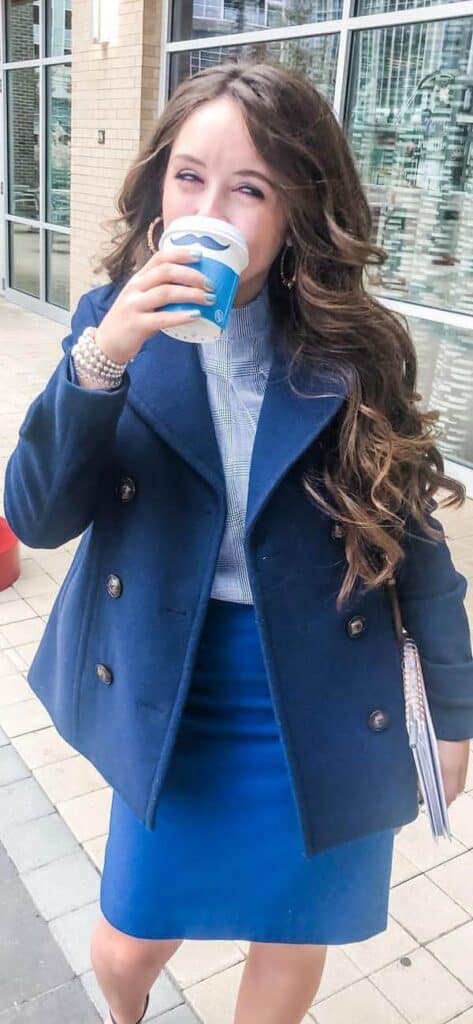 Emma (above) styled her blue pencil skirt with a turtleneck and navy peacoat for a cold day. This combination will easily work for different ages, as it combines age-appropriate pieces that are classic and timeless.
With printed pants
Printed pants are great as they make your outfit more interesting. There are several types of prints out there, and all you need to do is stock up a few favorites from your favorite brands. A great way to style your printed pants is with a peacoat.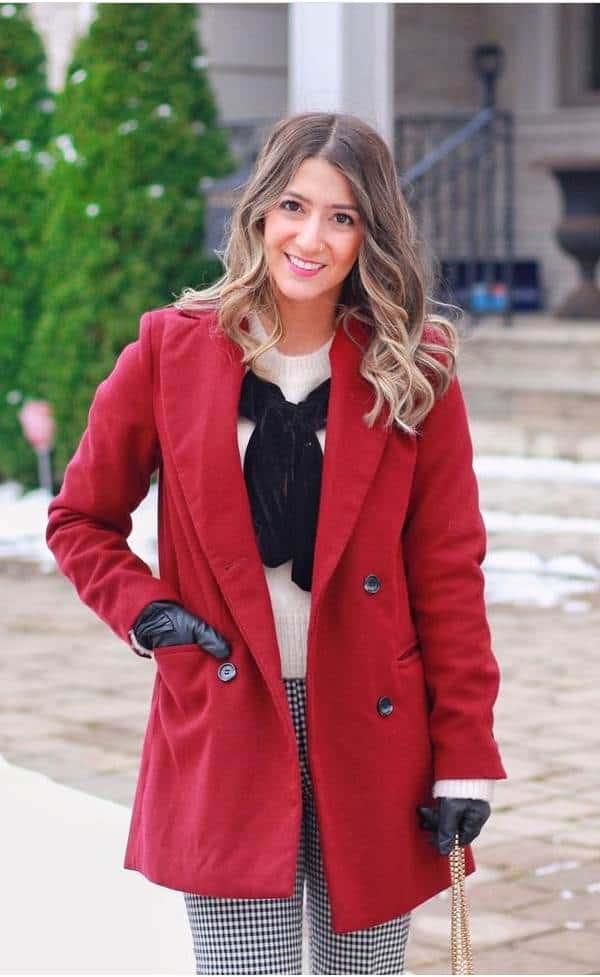 Niki (above) styled her printed pants with a peacoat and a white top.
It's easier to style printed pants if the print is in black and white, as you can choose a colored peacoat. Alternatively, you might want to stick with a neutral colored peacoat or one whose color can be found on your print.
With straight-leg jeans
Straight-leg jeans flatter just about everyone, as their silhouette is forgiving. This is especially the case if you have a pear shape, because it gives you a great balance. They also look great when styled with peacoats.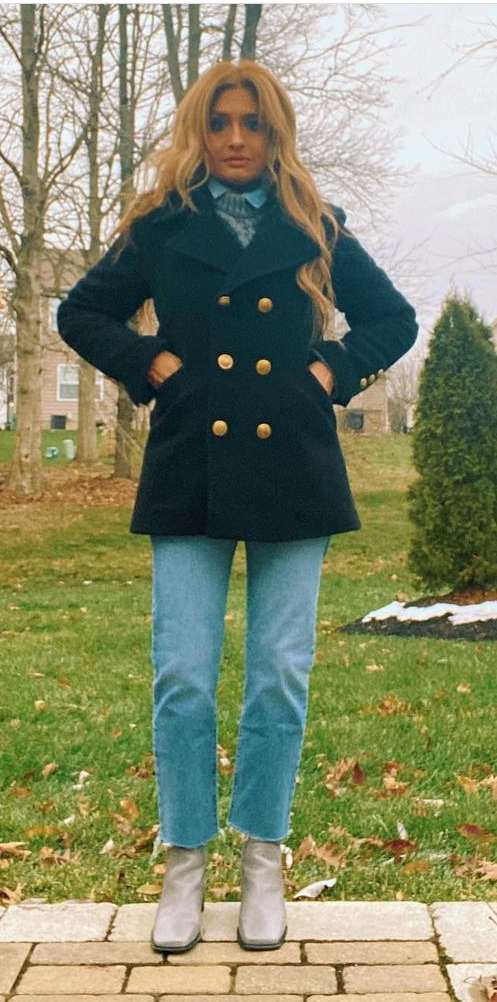 Cheena (above) wore a pair of straight-leg jeans with a button-down, a sweater and a navy peacoat. The peacoat makes your straight-leg jeans outfit stand out even more, as it makes an otherwise super casual outfit chicer.
With an army skirt
An army skirt is a great piece to have, if you like mixing something tough with something more feminine. You can style one with a peacoat, which combines both to give you an interesting look.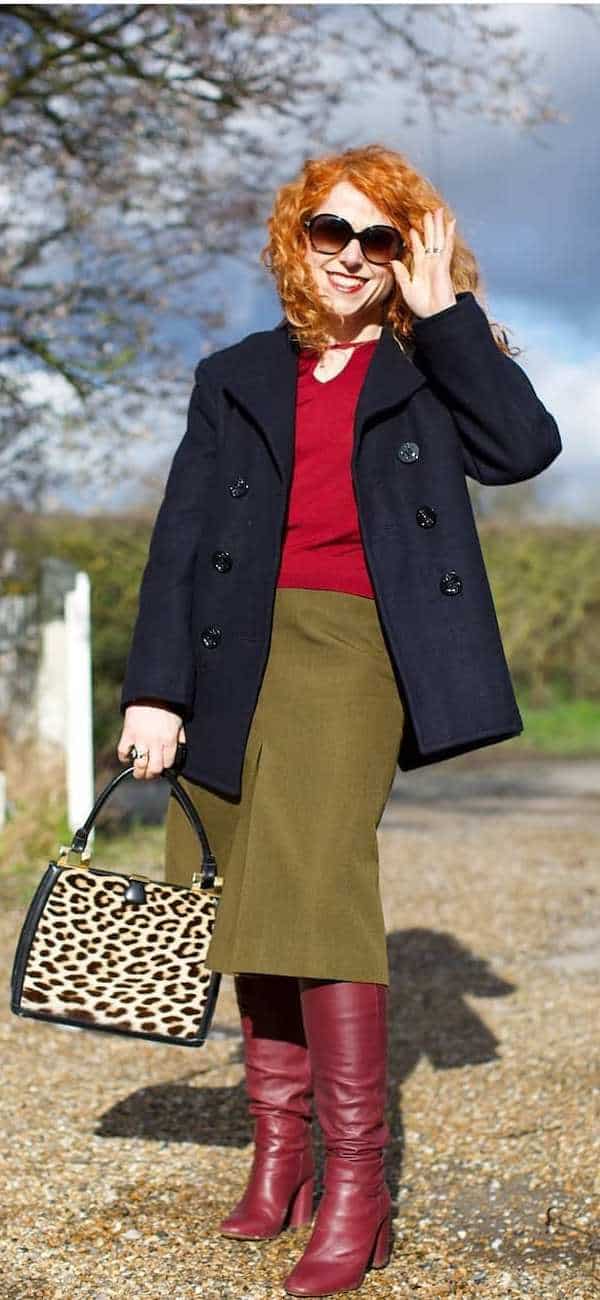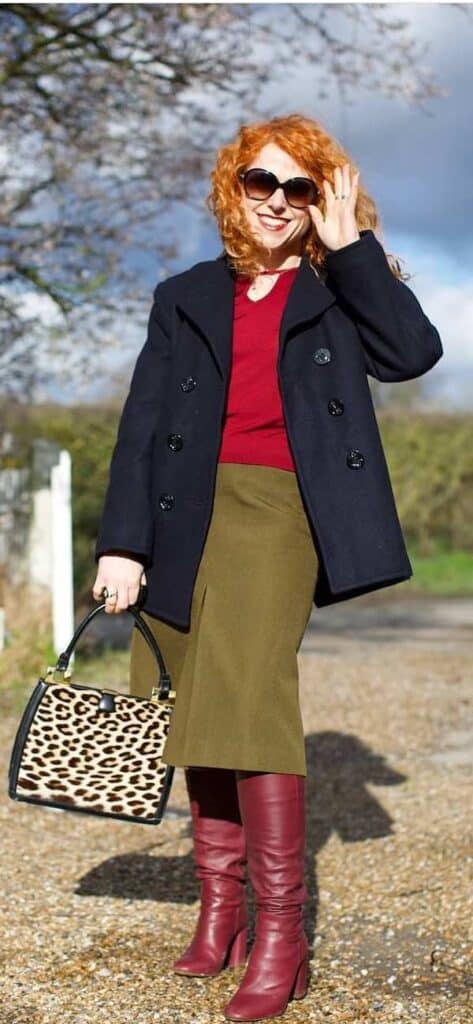 Charlotte (above) styled an army coat with a red top and layered a peacoat over the look. It's a combination that will make you look tough but will still have you looking like a lady.
With an A-line skirt
A-line skirts are femine and are very forgiving, as they cinch you around the waist and then flare out. They give an illusion of a smaller waist as a result, which is something everyone wants. They also look great when styled with peacoats.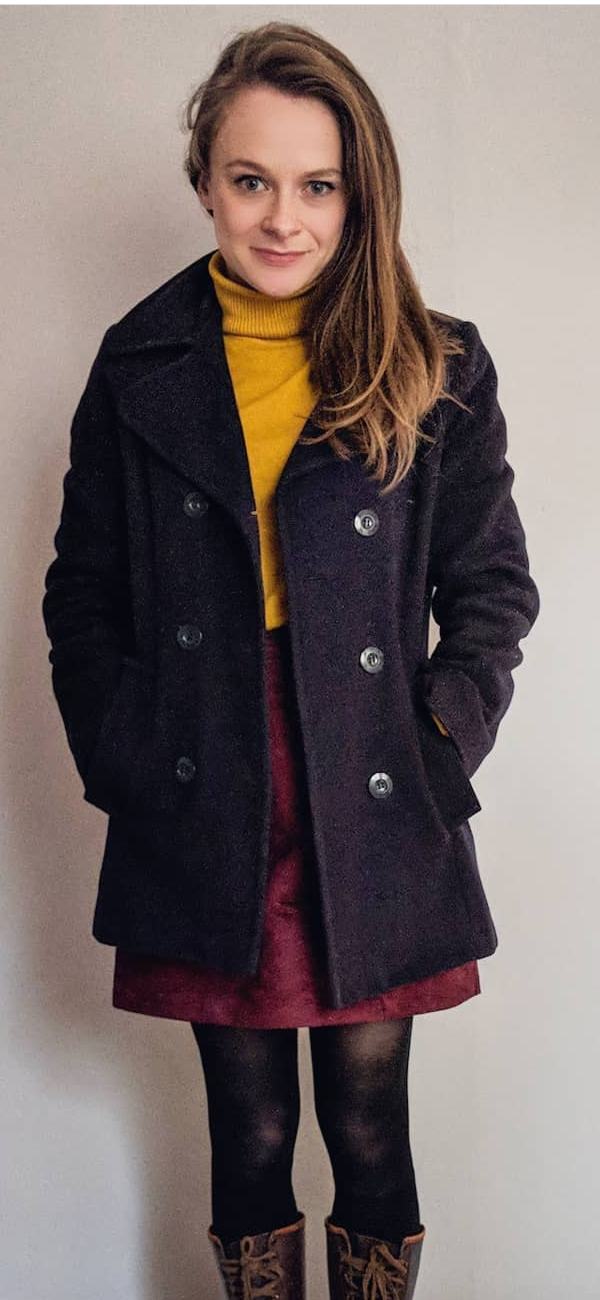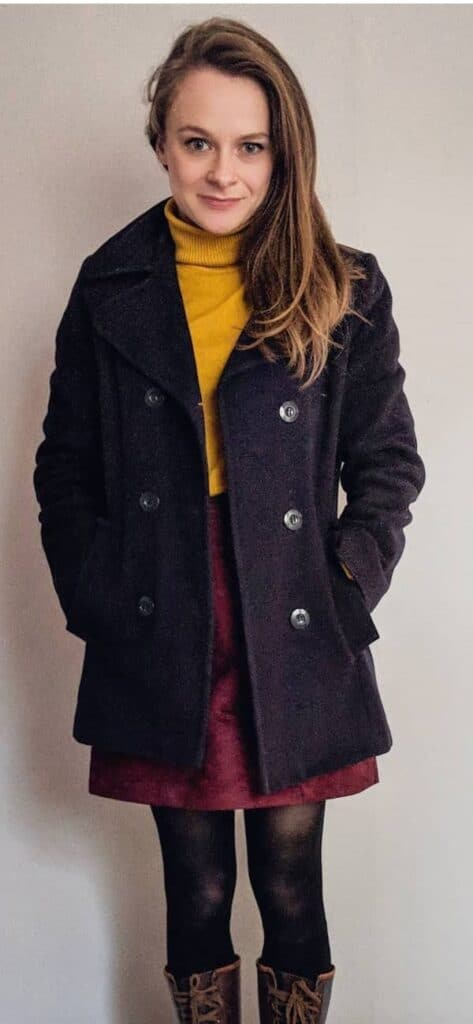 Mackenzie (above) wore her A-line skirt with some tights and a turtleneck then finished her look off with a peacoat and some boots. With this combination, you can see that it's possible to look cute even while keeping warm.
With a pair of shorts
Shorts are great for those warm days when you want to show off your nice toned legs. They can also be worn in early fall days when it's not too cold. All you have to do is layer a peacoat over your shorts outfit and you're good to go.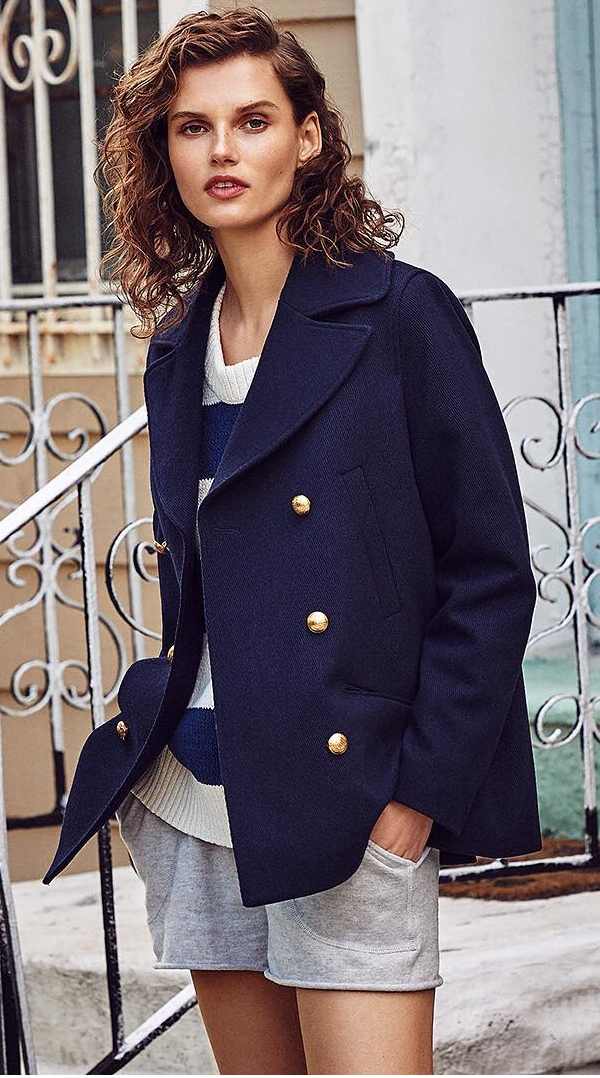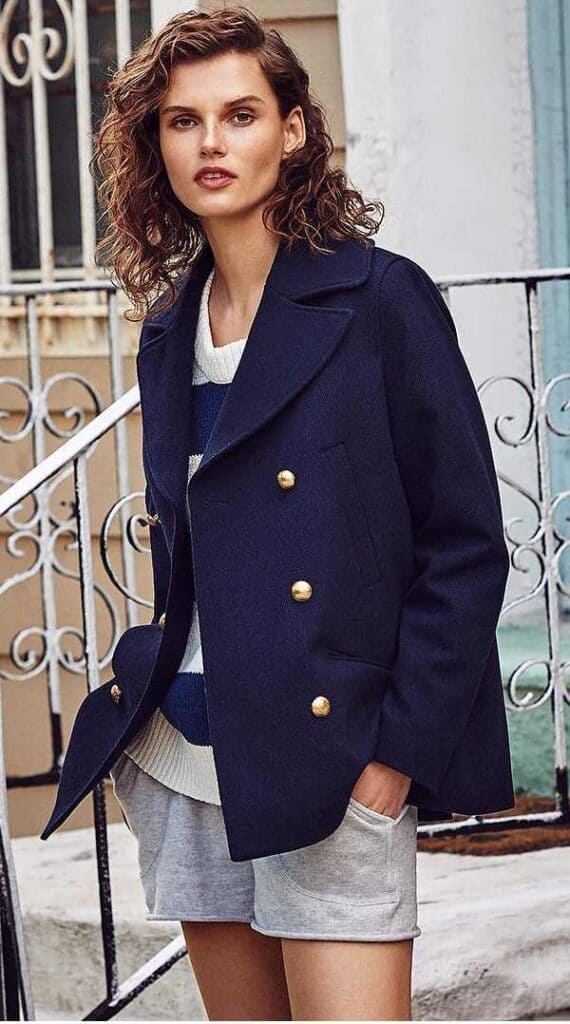 Lexingtoncompany (above) shows how to style your pair of shorts with a t-shirt and a peacoat.  In case it's colder, you can go for a longer pair of shorts, as these will keep you warmer and will still look stylish when worn with your peacoat.
With a plaid skirt
A plaid skirt has a way of giving you a youthful look, as it subtly reminds one of the sassy preppy look you might have loved in your yester years. This is especially the case if the plaid skirt is shorter. You can wear them with peacoats to make your outfit look more sophisticated.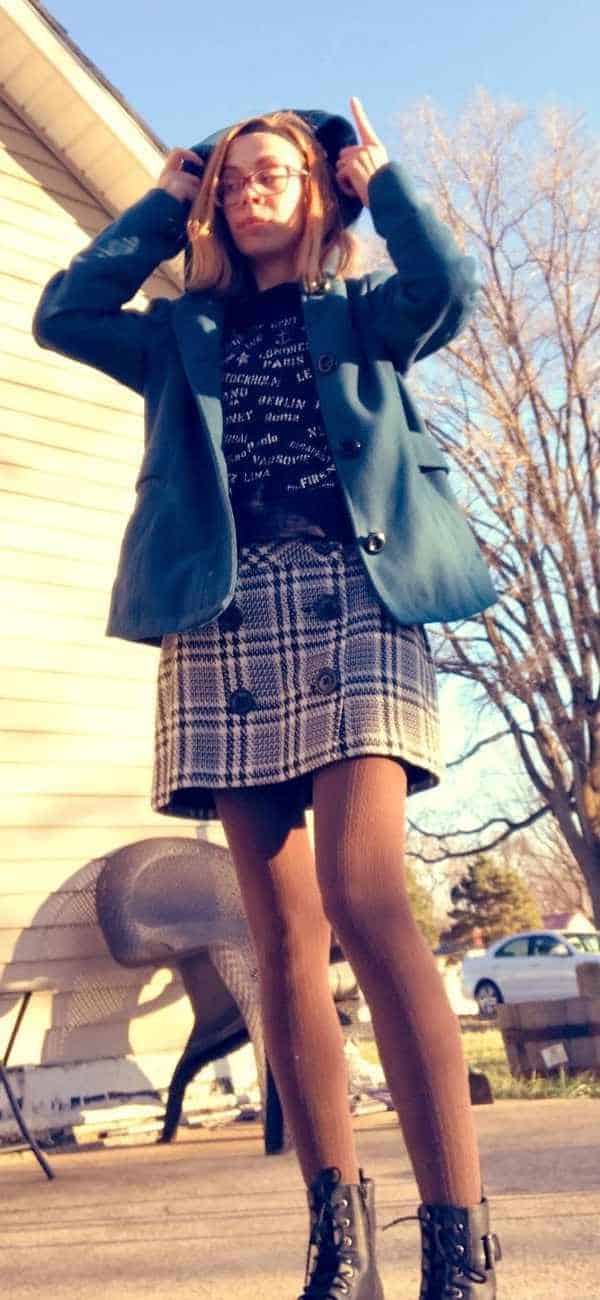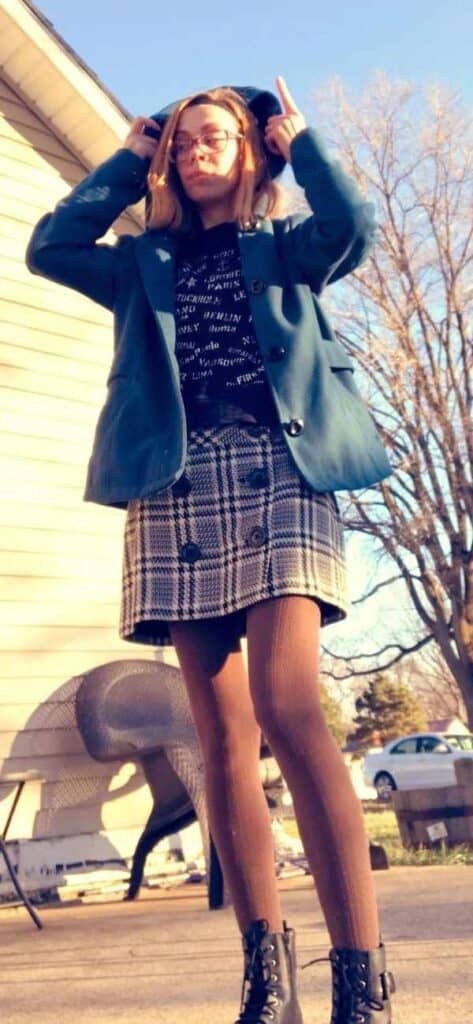 Tiffany (above) styled her plaid skirt with a graphic sweater and then layered a blue peacoat over the outfit. It's always easier to go for a black or a white peacoat, in case you're not sure about which color goes best with the plaid skirt you're wearing. Remember, it may have a preppy feel but you still want to look mature in the outfit.
With a denim skirt
Denim is always fun, laid back and most of all easy to wear, regardless of your age. That is why it's a great idea to add a denim skirt to your closet. These will give you a nice casual look, but you can dress up your denim skirt if you want a more ladylike look. One of the best ways to dress one up during the cold weather is by wearing it with a peacoat.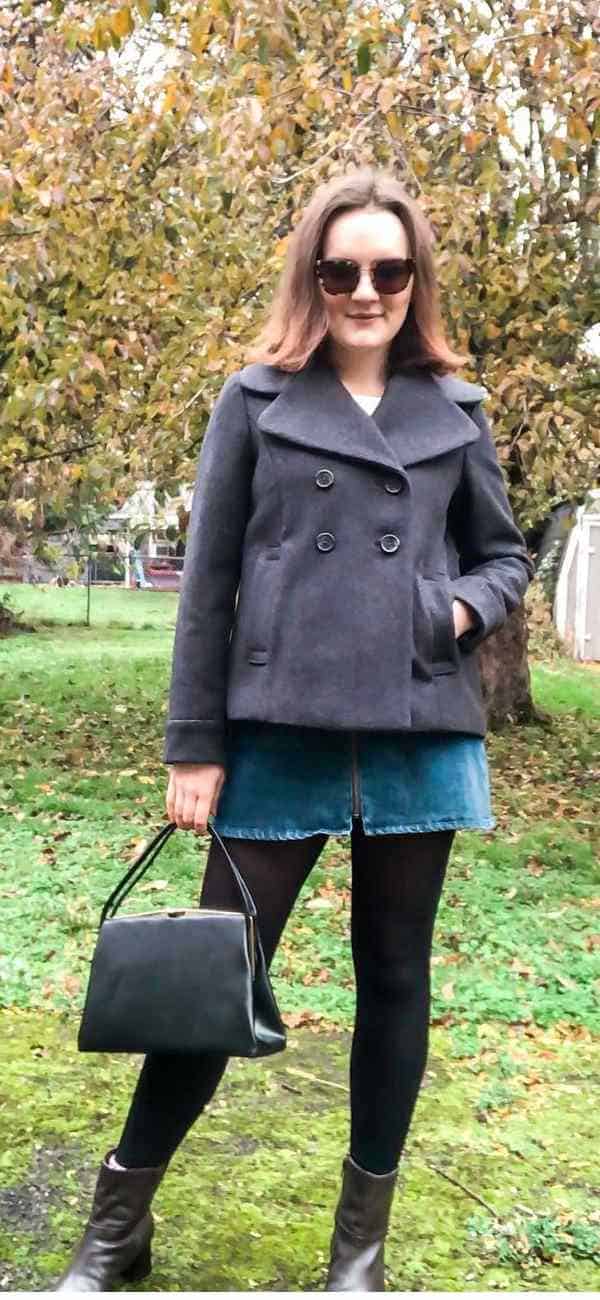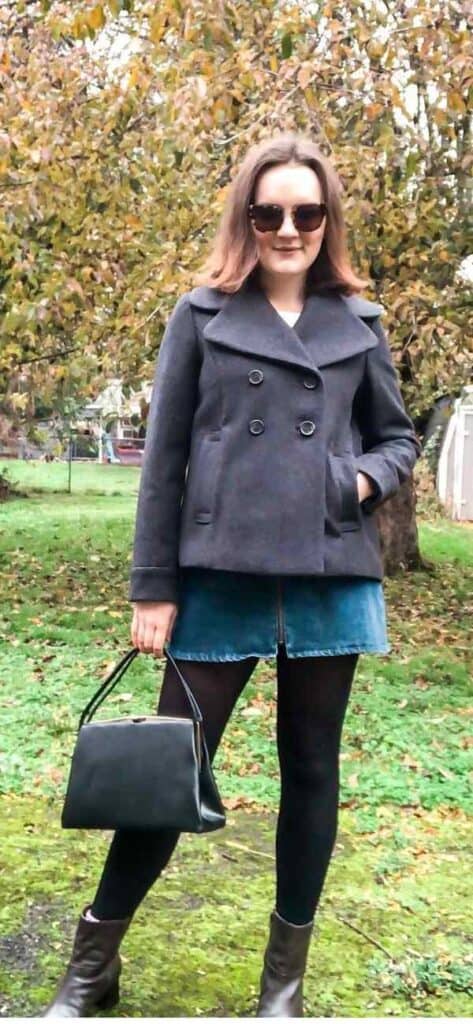 Sara (above) styled her denim skirt with a peacoat for a simple look. In case your denim skirt is short, you could wear it with a pair of tights and some booties. The tights give you more coverage and keep you warmer on a colder day.
With a pencil skirt
Pencil skirts are classic skirts that have been around for years. They flatter women of any height and age, just as long as you get it in your size. While many prefer to wear them to the office, they can be styled casually as well. Whichever way you choose to go with your pencil skirt, a peacoat is a great choice of outerwear for it.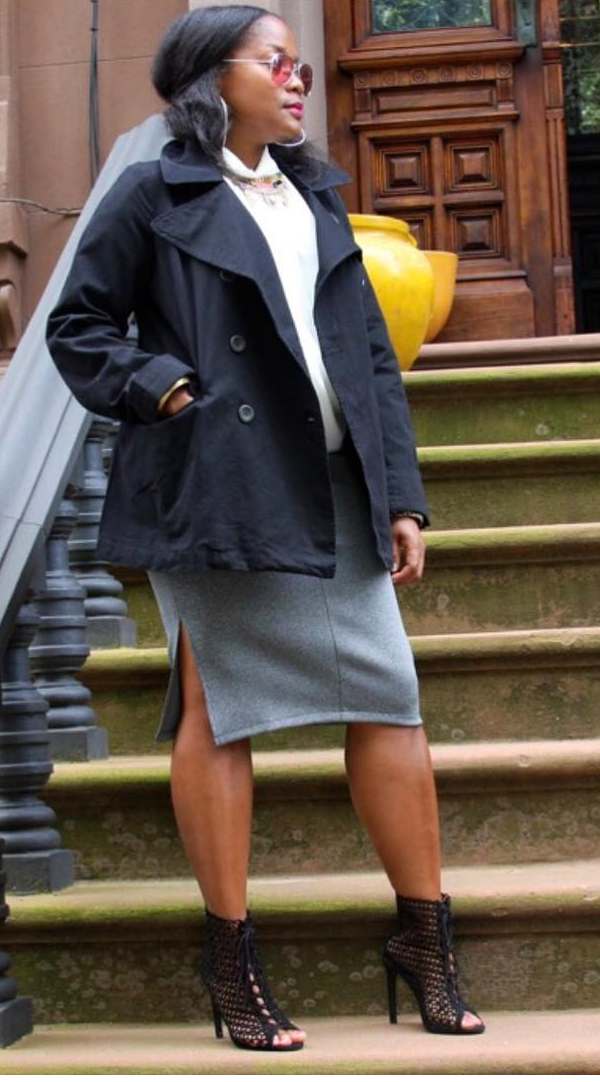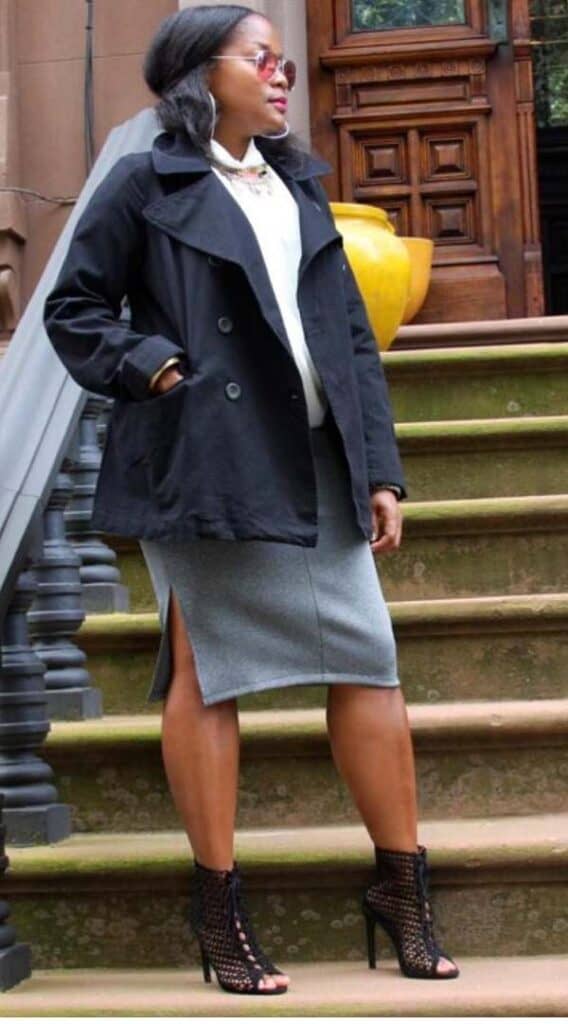 Tracy (above) styled her grey pencil skirt with a jumper and a peacoat. She finished the look off with a pair of gladiator heels. This is a combination that would work for a variety of places, which is why it's definitely something worth trying.
With flared pants
Flared pants are back on trend in recent years. They are great stylish pieces, whether you pick them in jeans or any other material out there. They can also be styled with your peacoats.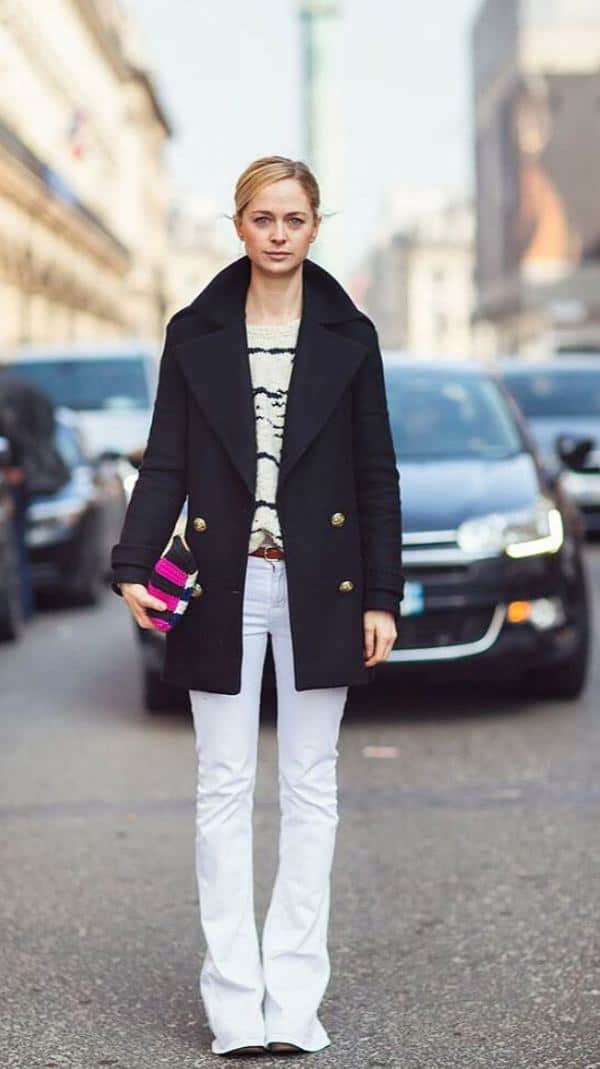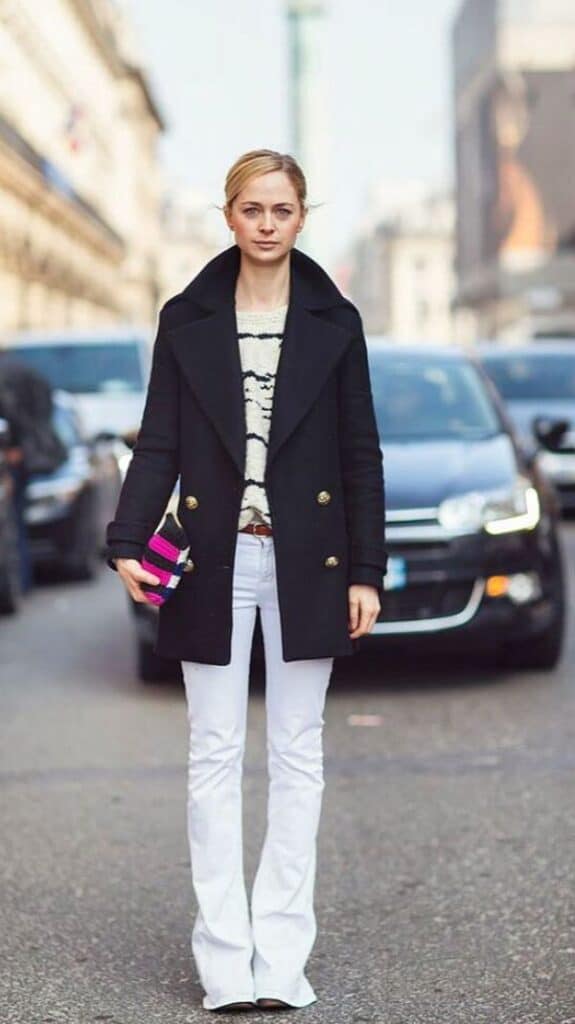 Polina (above) styled her flare pants with a t-shirt and a peacoat. You can go for different lengths of flared jeans. For a classier look, it's best to go for those that slightly cover your shoes.
With wide-leg jeans
Wearing a peacoat with wide-leg pants gives you a nice dressed up look. You could switch it to casual by picking a pair of wide-leg jeans instead. They are also comfortable and easy to style as well. You can wear them with peacoats as they add a touch of classiness to your look.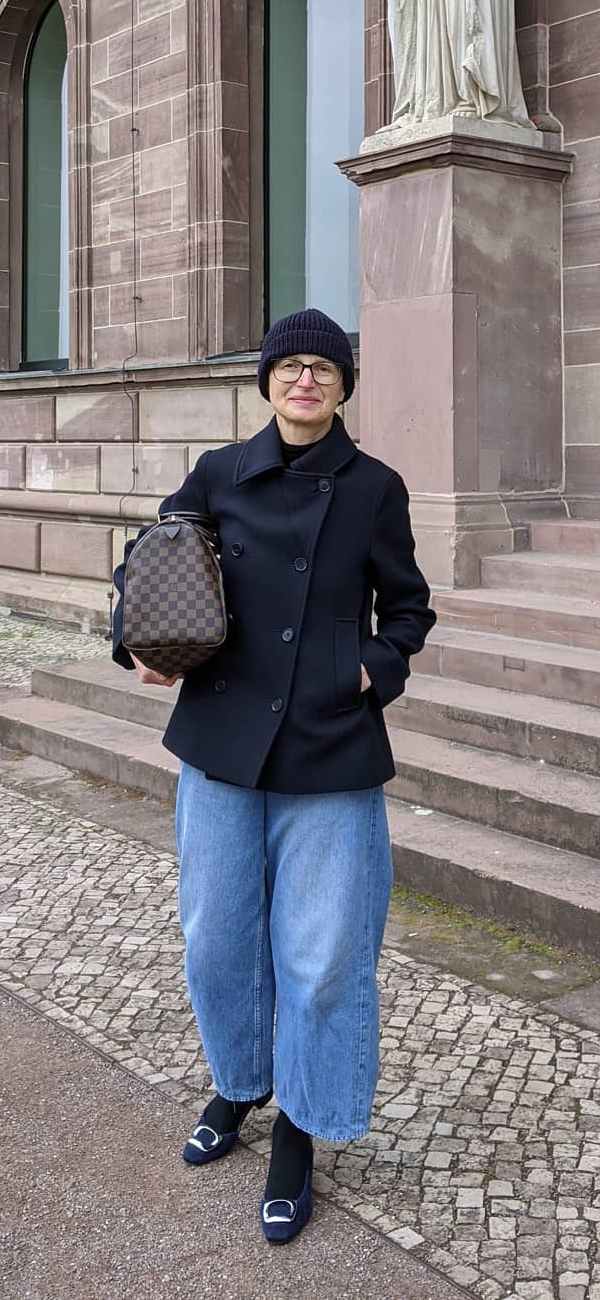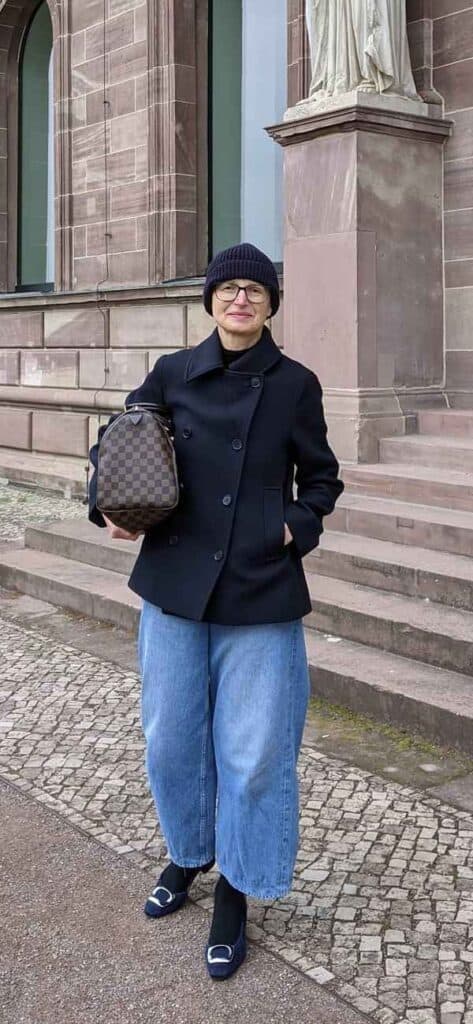 Ursula (above) styled a navy peacoat with some wide-leg jeans and flats. If you go for a blue wash pair of wide-leg jeans, you will find it even easier to style your jeans.
With a fringed skirt
A fringed piece of clothing is always so playful and fun, but can be dressed up in different ways with a button-down or a fancy sweater. When it's cold enough to warrant a coat, then a peacoat will do. The peacoat will give your outfit a great balance.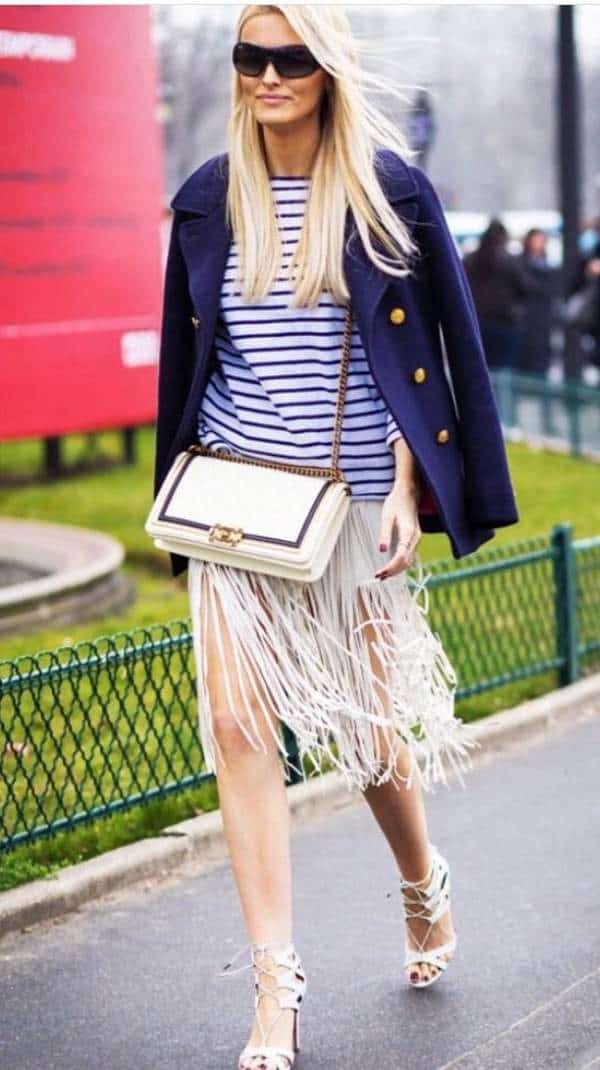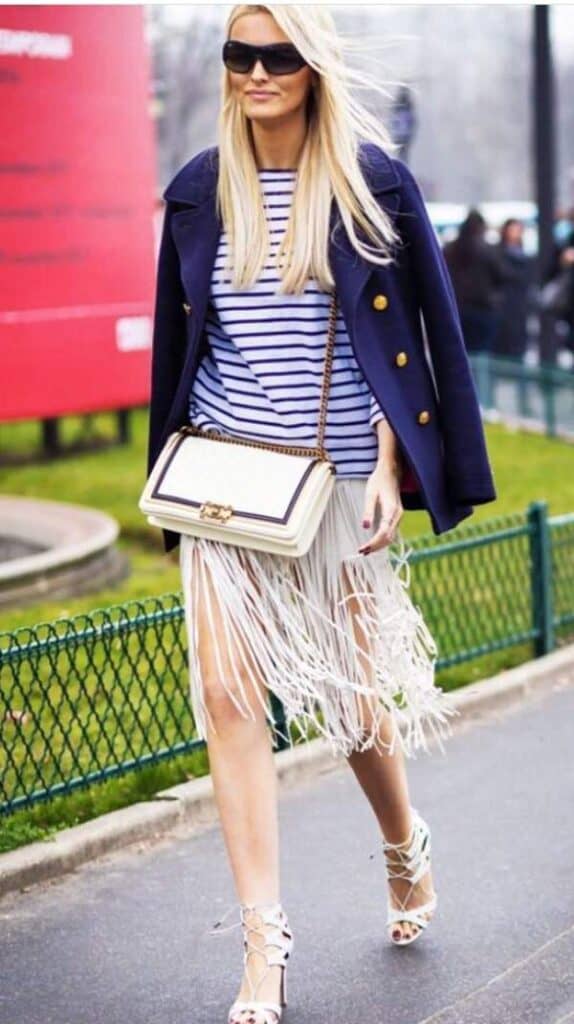 Polinastyle (above) wore a white fringed skirt with a striped top, some heels and then layered a peacoat over the look. It's a very fashion-forward look that will have you event-ready. You can also wear this combination to a brunch date.
With tailored pants
Tailored pants are great if you like to look smart and sharp. They come plain or subtly printed and are highly flattering, especially if you will be wearing them to the office. They are also easy to style with peacoats.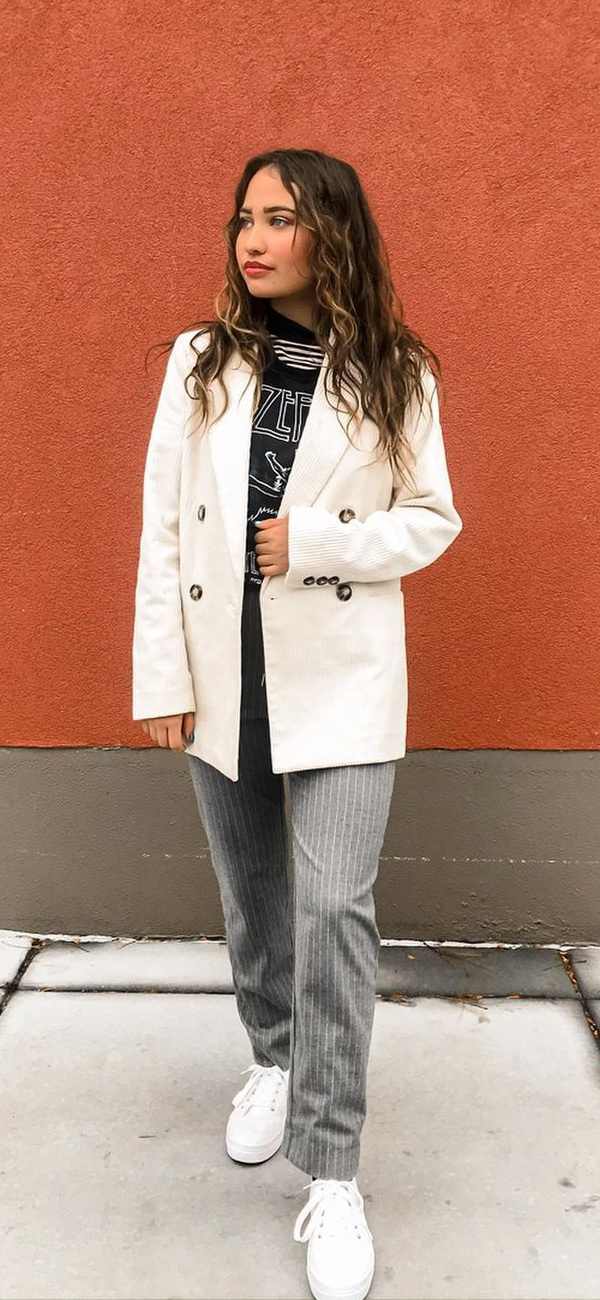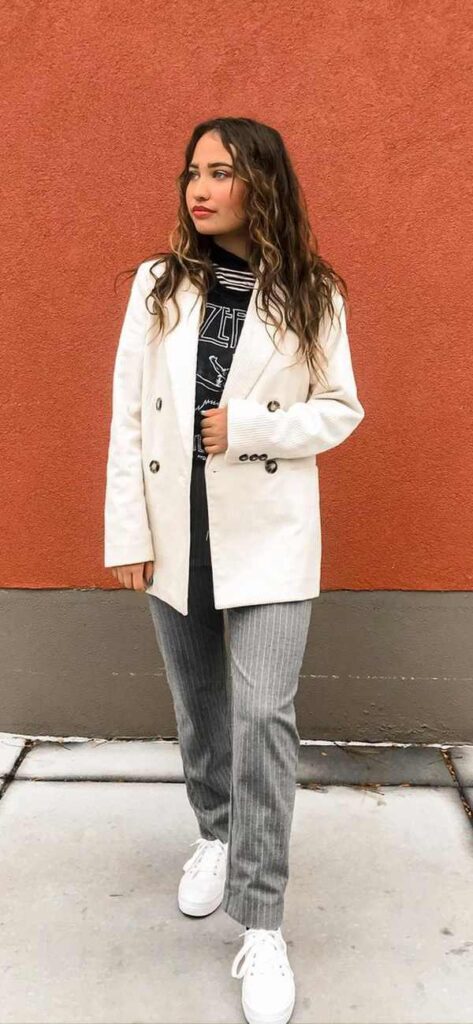 Maiyah (above) styled her grey tailored pants with a graphic t-shirt and a white peacoat. She finished the look off with a pair of sneakers. It's a casual look that can easily be made official by wearing a pair of heels and a plain t-shirt or top.
With these outfit ideas, you should be able to style peacoats as often as you wish to. They make style even better when it's cold, rainy, or snowy outside. You can also pick a fleece one or just any heavier material in winter but have the option of going for a slightly lighter one when it's not yet that cold. As long as you pick outfit colors that coordinate with your peacoat, you are sure of stepping out in a structured and highly fashionable look. So give it a try sometime.