A bodysuit is one of those popular wardrobe pieces that you can find, understandably because of its versatility and the feminine look. Whether you choose to wear it with pants, skirts, shorts or leggings, you can be sure that you will maintain a neat look because bodysuits never untuck. Aside from them being great when worn with your bottoms, you can also wear them with different outerwear pieces too. They're particularly great if you prefer to leave your outerwear unzipped or unbuttoned.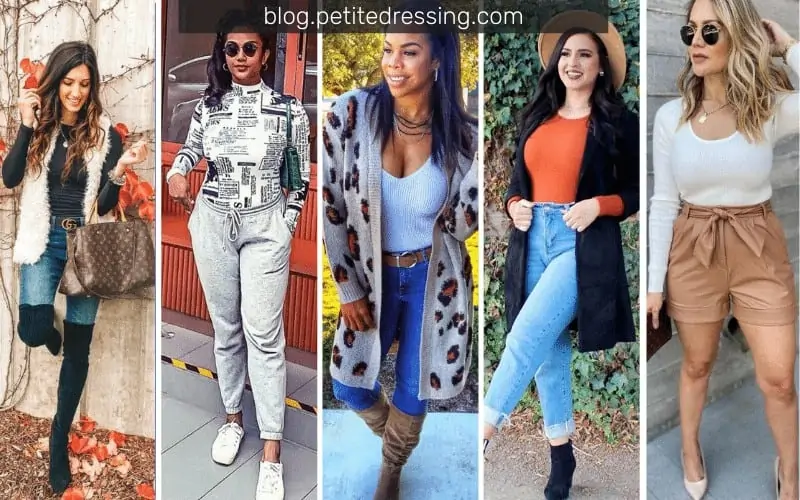 Another thing to love about bodysuits is the fact that you can get them in trendy styles such as ruffled ones, bell sleeved bodysuits, off-shoulders, t-shirt style, turtleneck style. There are so many bodysuit styles to choose from for that fashion forward. That said, here are different ideas on what to wear with a bodysuit:
With a blazer
Blazers can easily be layered over bodysuits, whether the bodysuits are simple or have some kind of unique style.
In fact, if you're looking to add a touch of class to any look, then a blazer will do the trick. Blazers are generally flattering for all types of bodies, just as long as you get the right fit. It is key to choose blazer colors that are appropriate for the place you're headed to.
With this combination, your free to go with any type of jeans (boyfriend, highwaisted or skinny jeans) for bottoms, tailored pants, skirts, you name it.
If you want a polished look, feminine shoes like a pair of strappy heels are a great addition to this outfit. If you choose to roll up your jeans, a pair of ankle boots would also go well with this look.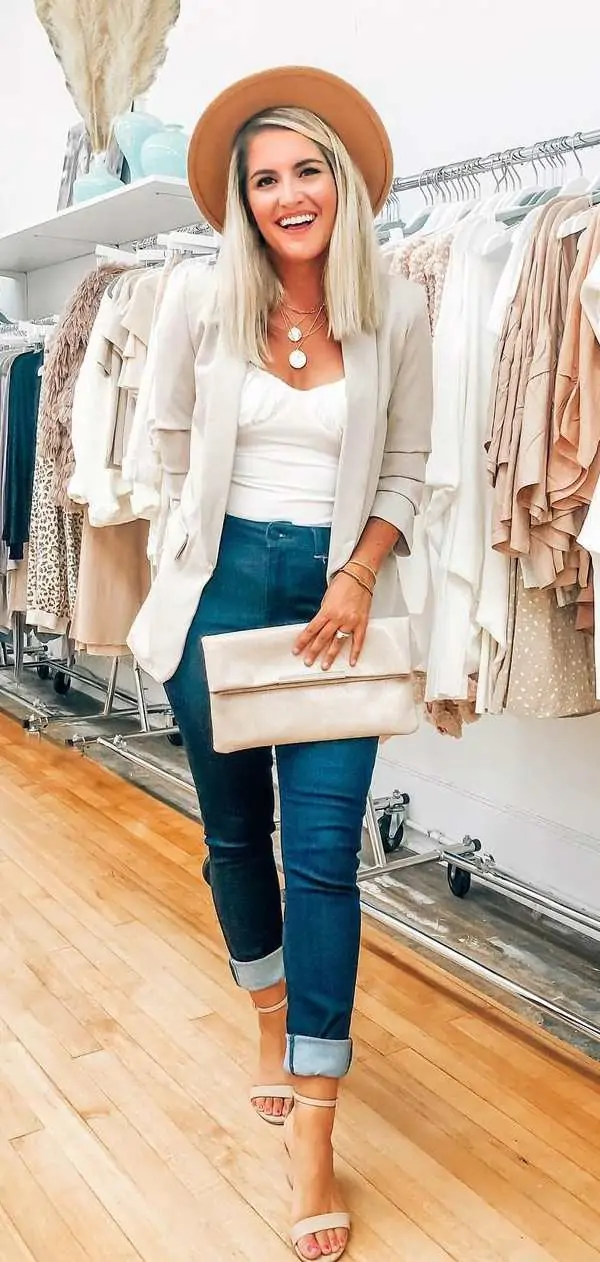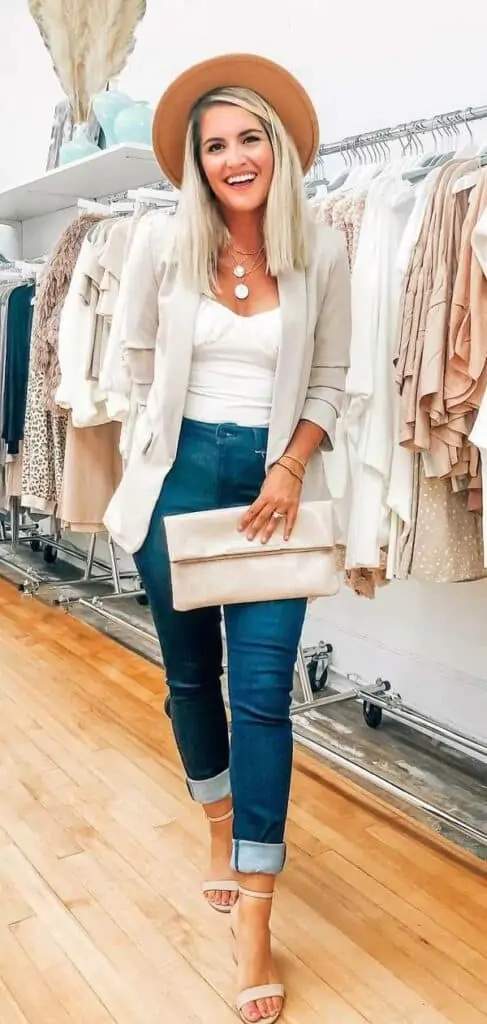 Nikki (above) styled a blazer over a white bodysuit and chose to wear some jeans at the bottom. To dress this look up, she went for a pair of strappy heels and a clutch bag.
With mom jeans
A bodysuit tucked into some mom jeans gives a clean silhouette, considering just how baggy mom jeans can be.
Mom jeans were popular back in the 90s but have grown in popularity in the fashion world in present day. They give that model-off-duty look, which would explain why lots of models are often photographed in them down the streets of fashion capitals all over the world.
You can wear a bodysuit in t-shirt style, one that looks more like a top or even in turtleneck style, the choice is yours. However, it's better to pick a fully fitted and simpler looking bodysuit. You can roll up your mom jeans to give them a more interesting look, especially if you feel like your bodysuit is too basic.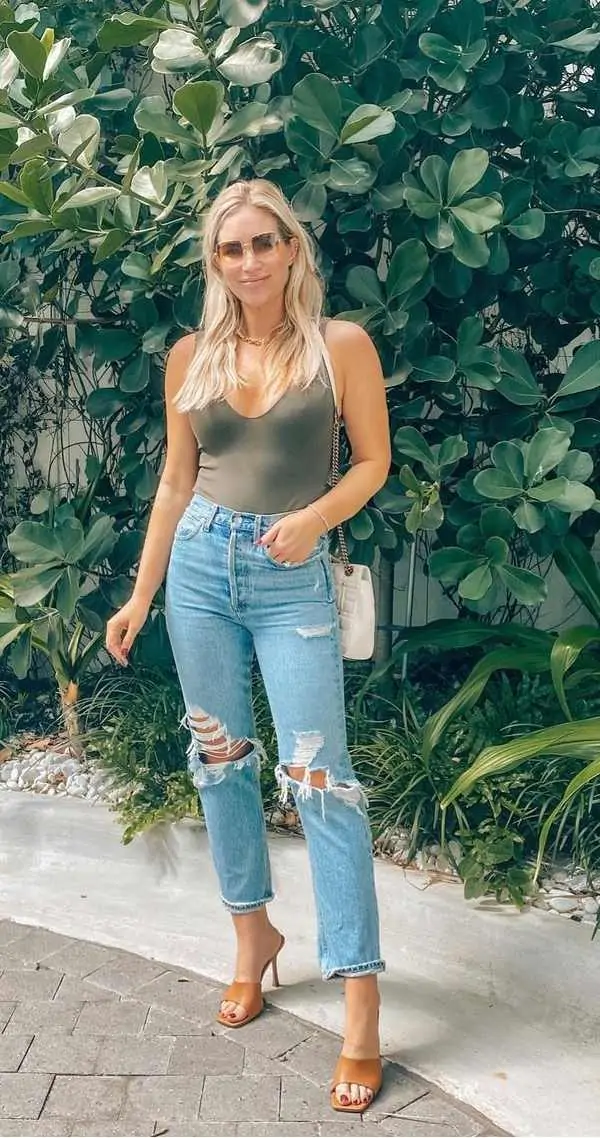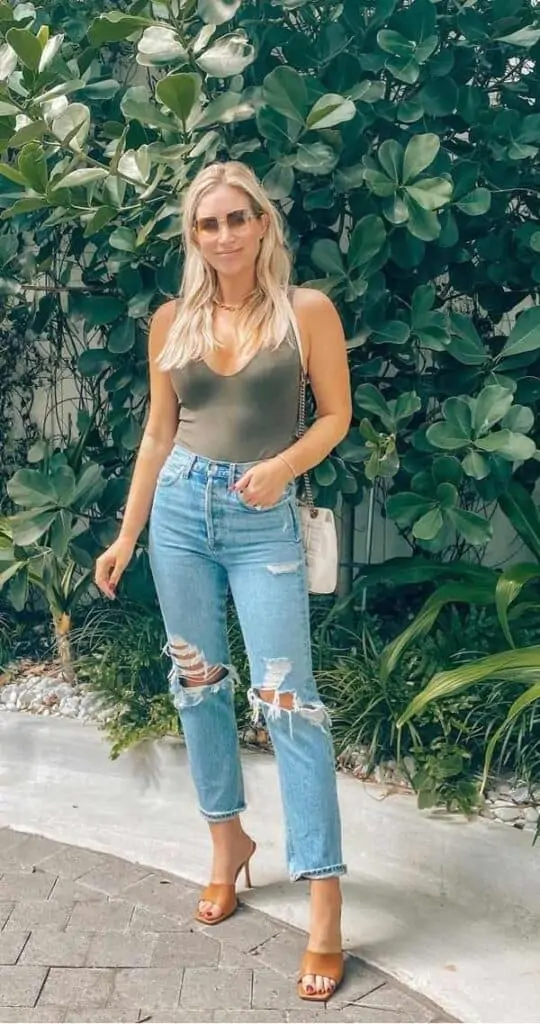 Diana above styled her bodysuit with a pair of ripped mom jeans and dressed the look up with some heels.
In case you prefer going all laid back, some sneakers would do. Boots give this combination an edgier look. You can also wear a belt as an accessory with mom jeans however, it works beltless too.
Dress pants
You can wear your tailored pants with a simple bodysuit for that polished and feminine look.
The surest way to look smart while you're going to the office is to wear some dress pants. These well tailored pants are not just restricted to the office, but are also great if you just want to look chic on any random day because of their fit.
You have a variety of options for the neckline and top design of the bodysuit, depending on the occasion you are dressing for. For an office ready look, a plain bodysuit will meet the professional dress code. If you're trying to look a bit fancier, then a ruffled one will do great,
It's the simplicity of these pants that make it easy to play around with your bodysuit. When you pick a high waist pair, your waist will look even smaller when you wear your tailored pants with a bodysuit, considering the bodysuits are mostly fitted.
Some closed heels would make this look more work-friendly, especially if you wear a blazer.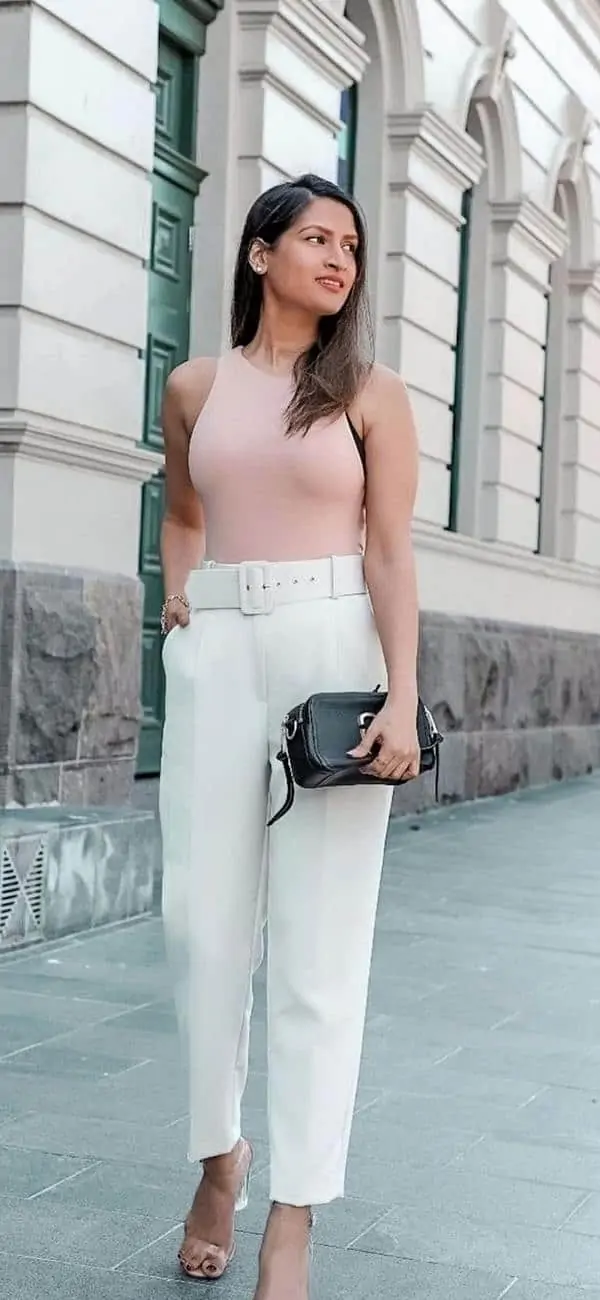 Madhu (above) styled a pair of white tailored pants with a bodysuit and some clear heels. Her tailored pants come with a belt, a great way to highlight the waist.
If yours don't come with a belt, you can always use the belts you have and not necessarily in the color of your pants.
With palazzo pants
Bodysuit is a perfect match for the wide leg pants such as the palazzo pants, because they balance out the volume of one another.
Palazzo pants are not only comfortable, but they are also flattering to several body shapes, especially the pear shape. They hug you right at the waist, which is the smallest part of your body then flare out in a fabulous flowy way. A wonderful design for those self-conscious about wider hips, saddle bag thighs or thicker calves.
Palazzo pants, being so flowy, go well with the fitting bodysuits. The fun part is that you can play around with the design of your bodysuit's neckline. Since palazzo pants are great for hot weather, you can pick them and choose the bodysuits in colors that are more summery too if you're experimental. If you're not too much into color, then neutral shades will do just fine for this combination.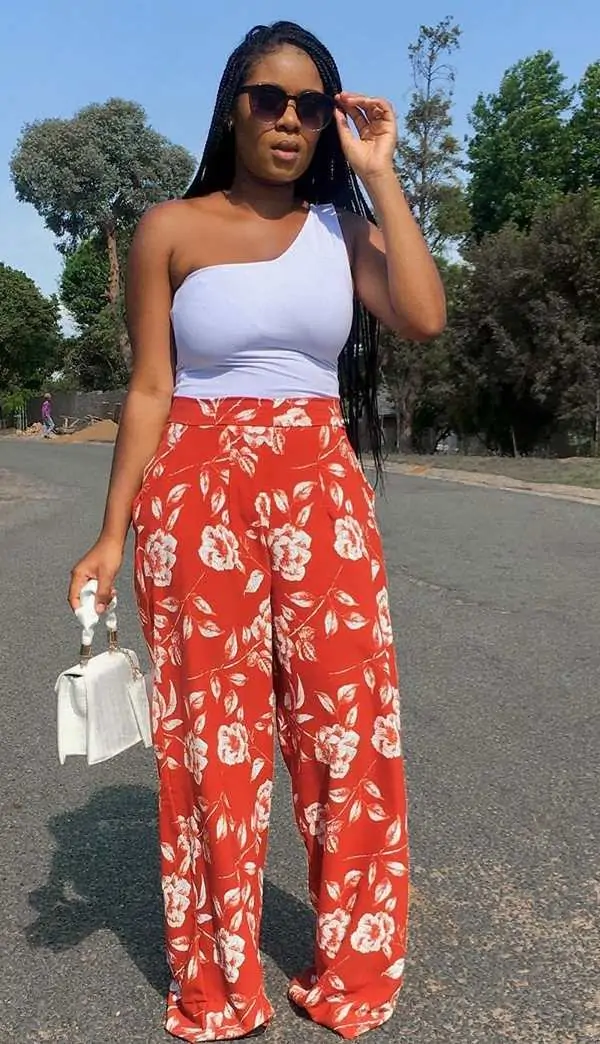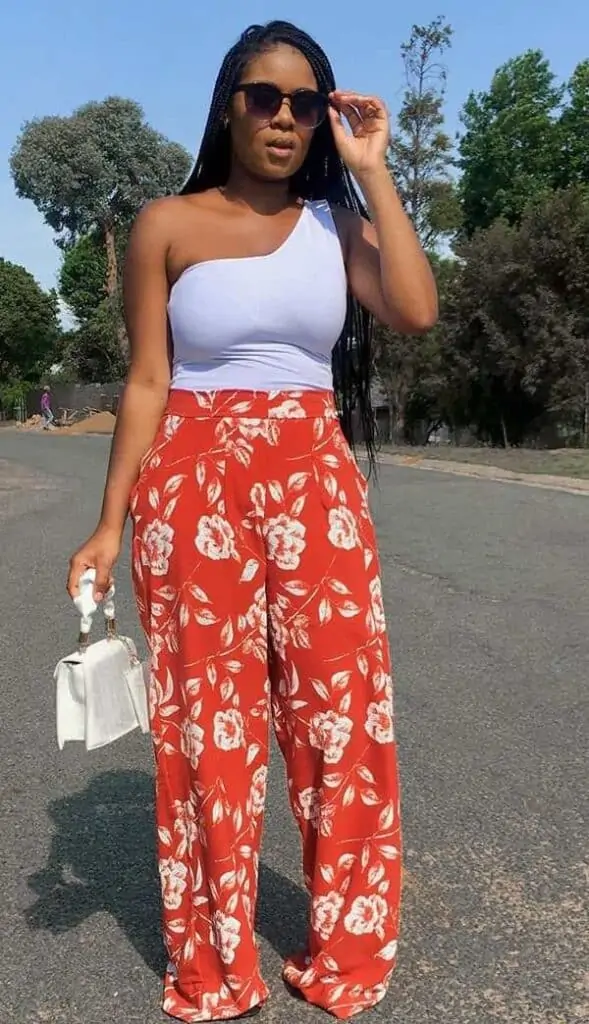 Gaelle (above) styled a pair of floral print palazzo pants with a white bodysuit. With palazzo pants, it's always great to go for floor length ones. Also, if you pick a printed one, it's best to choose a plain bodysuit and vice versa.
With an A-line skirt
You can also style an A-line skirt with a bodysuit for a girlie look.
A-line skirts, just like palazzo pants, are very flattering and make your waist look smaller. They suit women of all ages too, and are very feminine.
If you'll be wearing a bodysuit that's more revealing at the top, make sure you go for a longer A-line skirt. If you prefer to show a bit more leg, you could choose lengths that are right above your knees, but just make sure it's an appropriate length for wherever you're headed.
Depending on the fabrics and design of your bodysuit, this look can give you a lot of freedom to choose any shoes you like. If you go for boots, this will be an an edgy look. If you pick a pair of strappy sandals, then it is a classy look. You can also go for a simple bodysuit with your A-line skirt then finish the look off with some closed heels for an office-ready look.
With this combination, you can accessorize with a few pieces, if your bodysuit is plain.
With a vest
Vests are a versatile piece in the wardrobe, which is why they look great styled over a bodysuit.
A vest always has a way of making an outfit look more elevated, regardless of how simple your pairing is. They are available in different styles from blazer-like ones to duster-like, in different fabrics or materials from leather to faux fur.
Regardless of the style of vest you pick, it will always compliment a simple bodysuit, especially if the bodysuit is plain. Seeing that they are great layering pieces, they also keep you warm despite the fact that they are sleeveless.
It's a girl-next-door combination that is also super stylish and easy to pull off in cooler months. Vests can actually be worn in all seasons of the year. You just have to make sure the fabric and style of it is compatible with the weather. Faux fur styles, for example, is a perfect staple for the transitioning weather in the spring and the fall.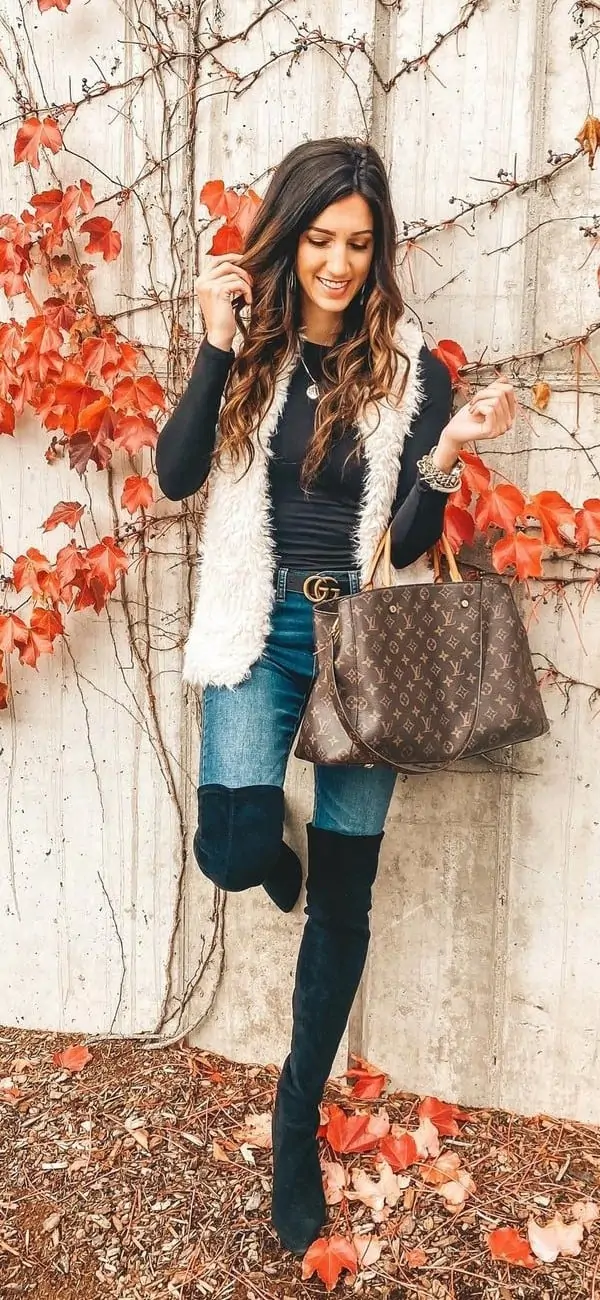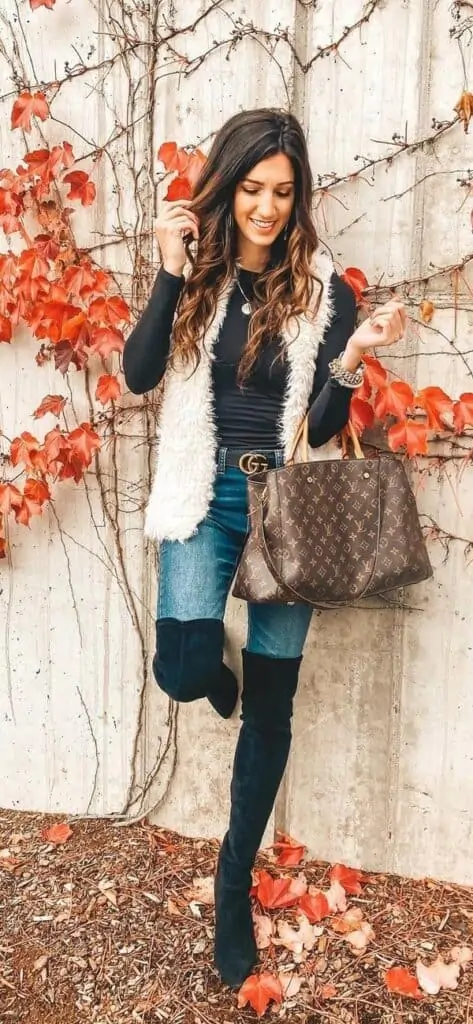 Jen (above) styled a black bodysuit with a pair of skinny jeans and a faux fur vest. She completed the look with a pair of thigh high boots.
With a cardigan
Since they are knits, it's important that you wear cardigans over something that doesn't bulge awkwardly, something like a bodysuit to allow your cardigan to flow seamlessly over your body.
Cardigans are great pieces to have around, especially on colder days or even in the slightly windy or chilly evenings. They are cute and snuggly, not to mention stylish. Because cardigans come in a variety of lengths, there is always one that can suit your outfit.
Just make sure you don't go for over-the-top styles like bell sleeved or ruffled ones with your bodysuit as they will also make your cardigan bulge at the top.
Cardigans are available in a many different prints and pattern, so you're free to pick one that suits your preference most. If you pick a printed sweater, make sure your bodysuit is plain and simple. If both pieces are plain, you can play around with colors ensuring you pick those that go well together.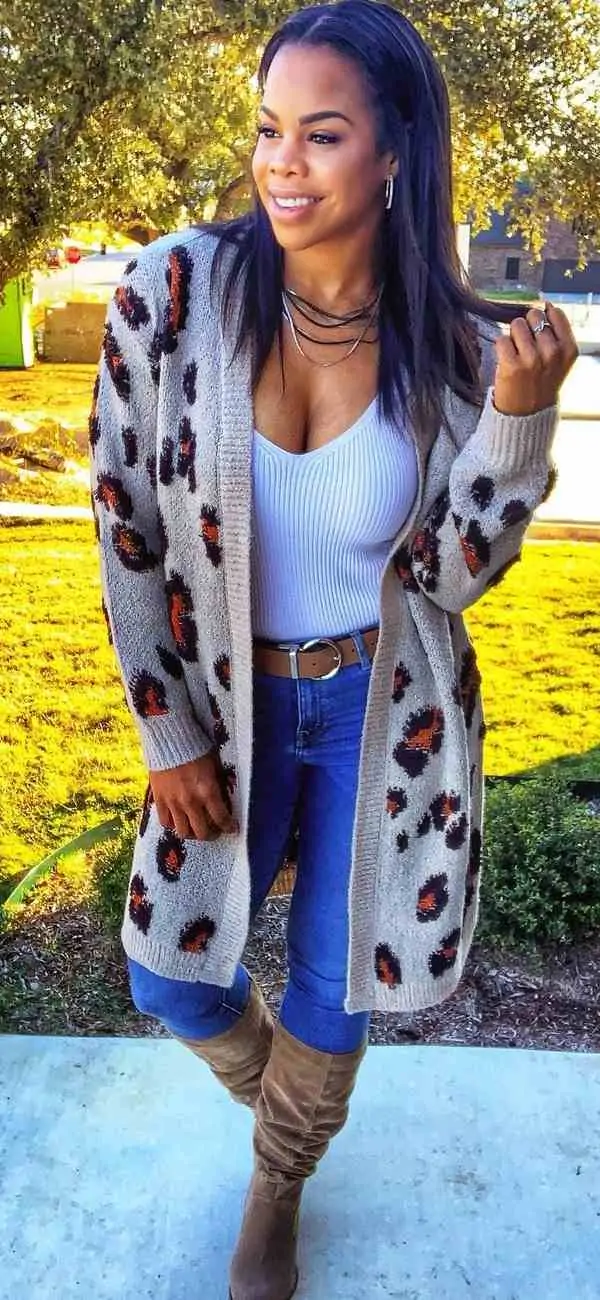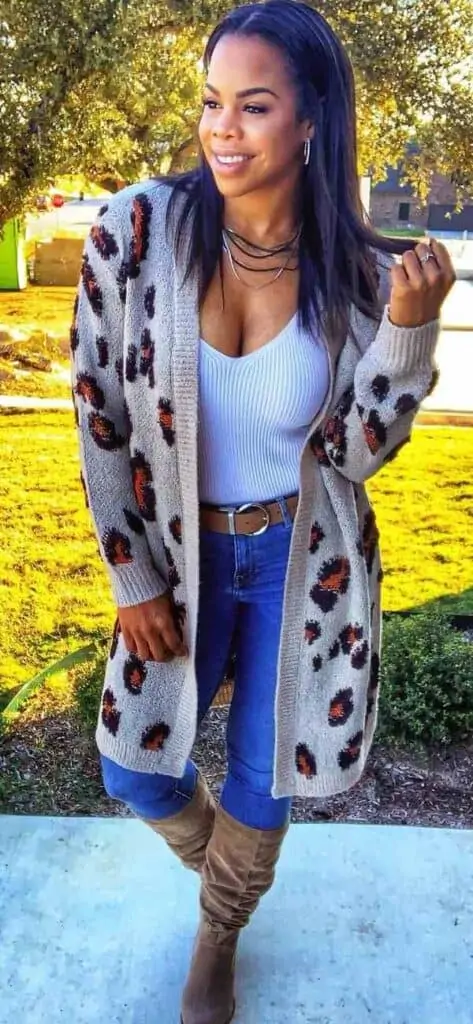 Jasmine (above) styled her long leopard print cardigan with a white bodysuit and a pair of skinny jeans. She also went for some over-the-knee boots.
With some shorts
Shorts go well with different tops and styling a pair with a bodysuit is such a great idea, especially if you'll be out and about.
Shorts are a great way for you to show some leg, especially in hot summer days. Choose the right shorts length that works the best for your needs. If you're after a more classy shorts look, then you should pick longer ones that are less fitting.
If you want an even classier look with your shorts and bodysuit, neutral colors like whites, nudes, blacks and grays are the best and you can go for a pair of heels. You can pick girly flat sandals too, if you don't feel like walking around in heels.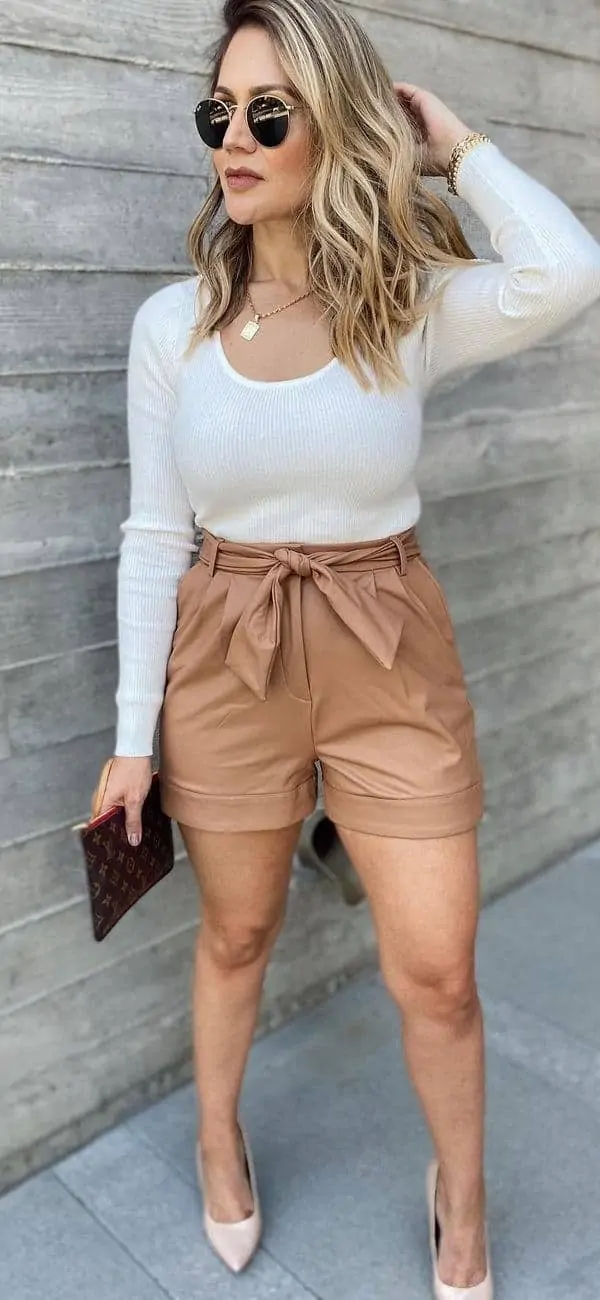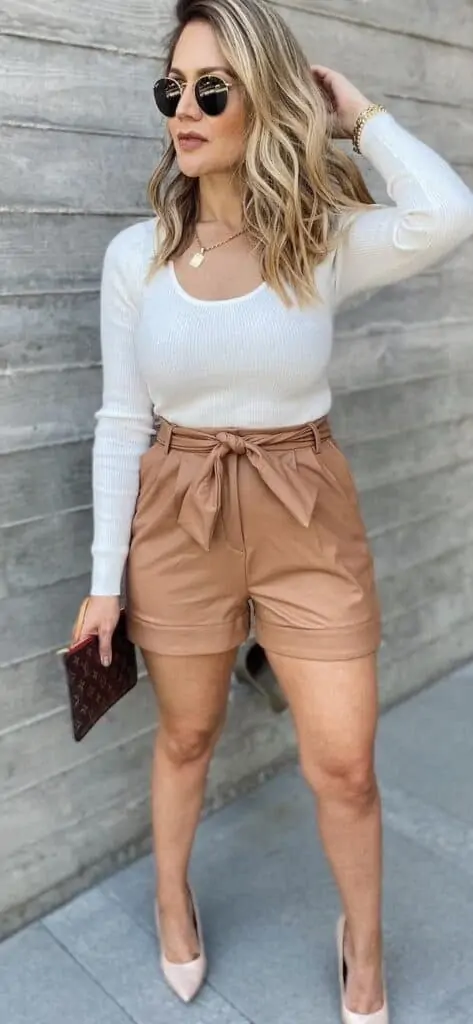 Zoila (above) wore a pair of brown shorts with a white bodysuit and some closed heels. Her shorts are self tie but in case yours are not, feel free to reach for some accessories. Even if your look is primarily made of neutral colors, you can add a pop of color with your accessories, for example a belt, a necklace, some earrings and the likes.
With a coat
You can also wear your coats over a bodysuit for that sophisticated and polished look.
Coats are those closet pieces that add an amazing final touch to any look. They are not only functional, but are also stylish to add to any outfit combinations.
You can go for different types of coats such as a trench coat, a faux fur coat and several others, and be certain that the look will work.
Leave the coat open so that your amazing bodysuit can be seen. While you can wear a plain one, you could also try more interesting bodysuits for this combination such as embellished ones, lace bodysuits, and the likes.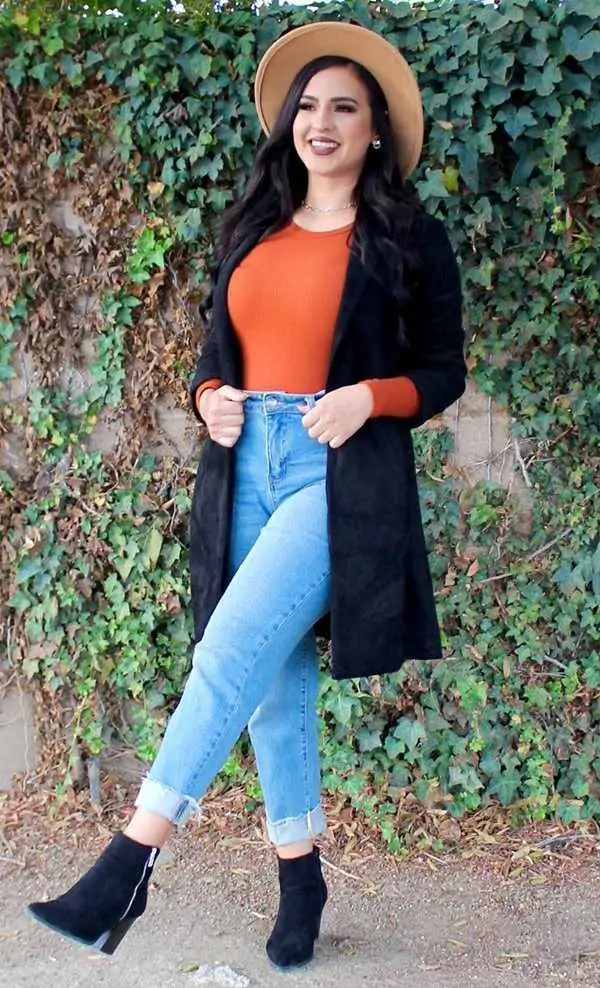 Susan (above)styled an orange bodysuit with a pair of jeans and a coat. She made the look even more stylish by wearing a pair of booties and a hat.
With sweatpants
Sweatpants were initially meant for people to lounge around in. However, that is no longer the case, as these comfortable pieces of clothing can be worn outdoors as well.
The best thing about sweatpants is that they are really easy to style and go well with bodysuits, considering how well fitted these bodysuits are. They are also great if you just want to stay warm, especially if you pick a long sleeved bodysuit or better yet, a turtleneck style bodysuit.
Sneakers are the most natural choice for this outfit. It's a simple pairing that can take you from running errands to a sporting event, to a movie. In case you feel the need to dress up this look, you could switch the sneakers with a pair of heels whether closed or strappy. You can also go for a clutch bag for that chicer look.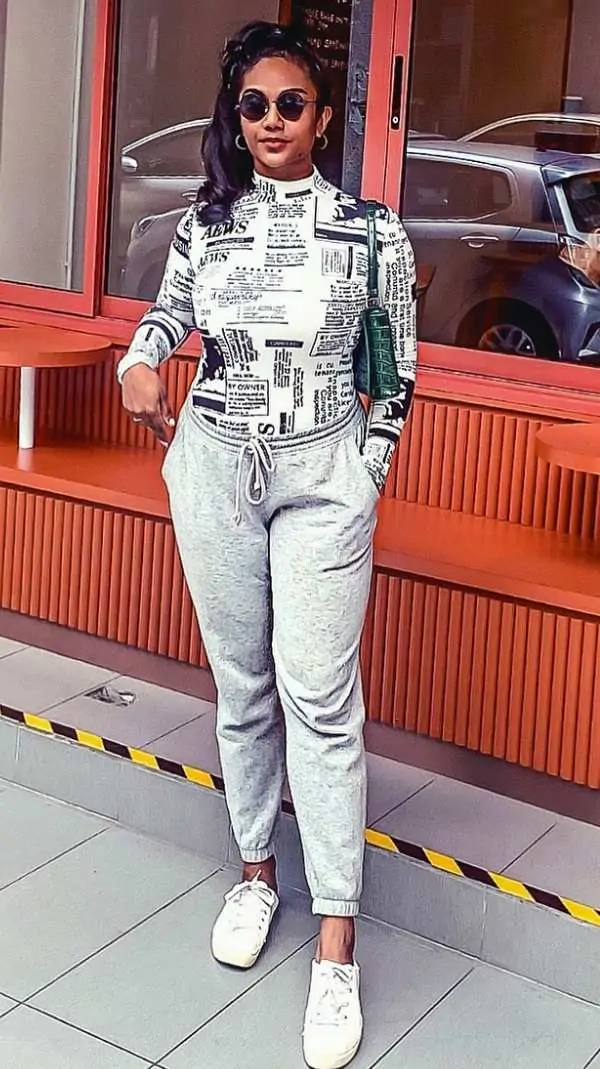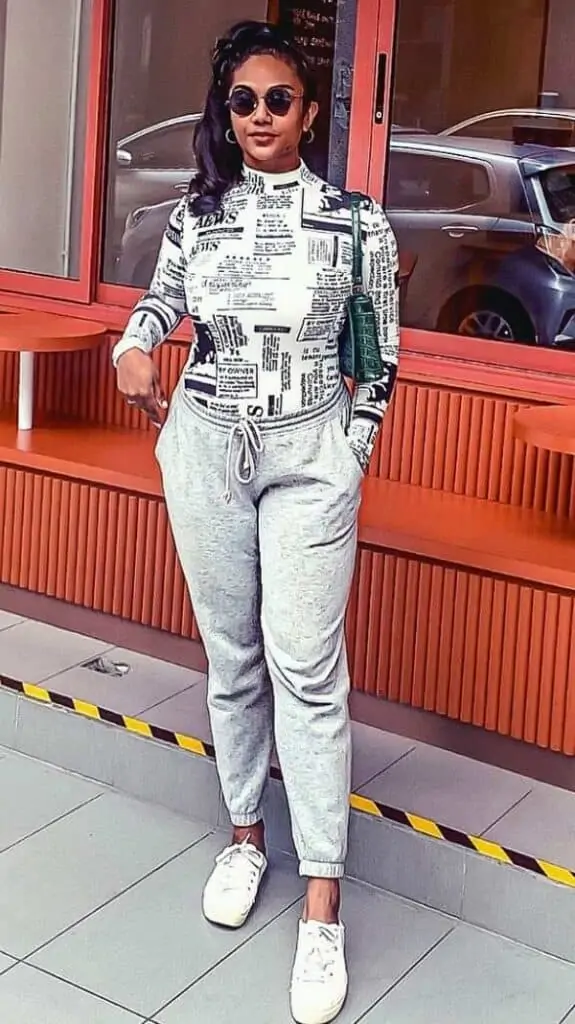 Sudhag (above) wore a turtleneck bodysuit with a pair of gray sweatpants and some sneakers.
As you can see, bodysuits are easily a must-have because they go with just about everything you can find in your closet and you can be sure that there is a bodysuit out there for all places or venues. Whether you're headed to a party, school, church or the office, the key is in looking keenly at the neckline or the neck design generally, the shoulders, and the sleeves. You should also consider the prints or patterns, but generally, bodysuits are meant for any woman regardless of their body shape or size and you'll feel comfortable in one just as long as you get the fit right.