What are the types of necklines? What neckline is most flattering? How should you choose the right neckline?
Necklines are an very important part of the clothes that are often overlooked. If the neckline suits you well, the clothes can not only make you look slimmer, but also even your body proportion will look better. If you are petite, the right neckline can also make your neck appear longer (since most petite women tend to have shorter necks) and make you appear taller and leaner.
Necklines come in a wide variety. There are so many different types of necklines is because they completely change the fit, aesthetic, and style of clothing. Some necklines are more flattering on certain body types than others, while some are universally flattering.
Knowing the difference between all the necklines found in clothes will enable you to make the right choice to flatter your specific body type. In this post, I will give you the most thorough details on the different types of necklines and how to find the right ones for you.
29 Types of Necklines
Sweetheart Neckline
Generally found in strapless dresses and tops, the sweetheart's neck is one of the most feminine designs.
The sweetheart neckline makes a shape at the top resembling a heart.
This is a neckline that flatters and enhances the natural shape of the bust.
If you have a larger chest, for instance, if you are the hourglass shape or apple body type, this neckline will balance out your full chest.
Scoop Neckline
The scoop neckline is quite classic, chances are you've seen and have worn this particular neckline quite a bit throughout your life.
Flattering for all body shapes, the scoop neckline will be found in various lengths. You may see some tops or dresses with a slight scoop, while others may have a deeper scoop showing more skin.
Halter Strap Neckline
Another classic neckline many are very familiar with. Halter strap necklines are created with straps that are tied behind the neck. While this is a classic neckline, it's not one that's universally flatter.
Generally speaking, those with very broad shoulders should avoid halter strap necklines. Because of the way this neckline ties around the neck, it often accentuates broad shoulders.
Jewel Neckline
Some refer to a jewel neckline as a crew neckline. Either way, this particular neckline consists of a simple rounded shape that rests close to the actual neck. This neckline originally got its name because it provides an opportunity to showcase a necklace beautifully.
Jewel necklines can be flattering for many body types. However, it's not always the best option for those with a larger bust. Because of the high neckline, it can cause a large bust to appear larger.
If you happen to have a smaller bust, this is an ideal neckline as it can make your chest appear fuller.
Square Neckline
Square neckline is fairly self-explanatory. This neckline, quite literally, consists of a square shape. The square shape brings more attention to the shoulder and neck area, making it flattering for those with a smaller top half.
That being said, this typically isn't the most flattering neckline if you have broad shoulders, as the sharp edges of the square shape broaden already broad shoulders.
Asymmetric Neckline
Popular in dresses and tops right now, the asymmetric neckline is created with one strap laying across the body. You may have seen this neckline referenced as 'one shoulder as well. It creates one side of the neck and shoulder area that's left completely bare.
Not all asymmetric necklines are created equal. If you are an inverted triangle body shape, you should choose asymmetric necklines carefully.
If you choose the right asymmetric neckline, they can also "break up" your broad shoulders and make them look more balanced.
This is a good example of Jennifer Gardner, who has an inverted body type. The asymmetric neckline works really well on this dress to "hide" her broad shoulders.
On the other hand, due to the focus so heavily on the shoulder area, some of them can cause your top half to look much bigger than the bottom half. So, my best advice is to try on different dresses and compare how they look on you.
Straight Across
The straight-across neckline is often called 'strapless.' While you've already seen the sweetheart neckline, there are different types of necklines that can be created with strapless tops and dresses.
The difference between the sweetheart and straight across is while the sweetheart has a curved shape at the top, this does not. Hence the name, straight across. The straight-across neckline rests right above the breasts in a straight line.
V-Neckline
One of the most universally flattering necklines around, is the v-neck. I'm sure you're very familiar with this neckline. The v-neck creates a 'v' shape, you will find this in various lengths similar to the scoop neck.
V-necklines can rest higher up around the neckline, or offer a plunging style. If you have a short torso or smaller top half a v-neck can elongate your top half.
V neck is universally flattering, and they can especially flatter women with a curvy figure, such as a plus-size woman who typically has a big bust.
Queen Anne Neckline
This is a neckline you've likely seen but didn't know the technical name for. Queen Anne necklines have two distinct features.
First, the collar at the back of the garment (dress or top) is higher and wider as it reaches around the neck area. The neckline itself is generally a v-neck or sweetheart style. The Queen Anne neckline is popular in bridal gowns, where you will see it most often, however you can definitely see it in tops and different types of dresses.
Because of the detail in this particular type of neckline, it's incredibly flattering for women with narrow shoulders and a smaller top half.
Halter Neckline
Not to be confused with a halter strap, the halter neckline covers the chest and bust (this is the main difference between the two). Instead, the neckline comes inward on the body above the bust and circles closely around the neck.
It's a gorgeous neckline if you want to bring a lot of attention to your shoulders and arms, thanks to the larger arm holes.
High Neckline
This neckline is exactly what it sounds like, it's a neckline that comes up high onto the neck.
High necklines will be found in dresses and tops with different types of fabrics and materials. It's very flattering for those with a thin, even long neck.
However, don't be confused with the turtleneck. It's common for people to confuse the two because they are quite similar. I'll talk about the turtle neck next.
Generally, I suggest staying away from a high neckline if you have a shorter neck and very wide shoulders as it tends to bring more attention to those attributes.
Also, any high neckline is likely to bring the focus to your breasts. So, think about if that's what you want before you choose the neckline.
Turtle Neckline
The difference of turtle neckline and the high neckline is a high neck is one layer of fabric that goes up onto the neck, while a turtleneck will generally be even higher on the neck and has material that rolls or folds.
Likewise, I suggest staying away from the turtle neckline if you have a shorter neck and very wide shoulders, as it tends to bring more attention to those attributes.
Additionally, just as with the high neckline, the turtle neckline draws more attention to your chest, even though it may look like it is covering the chest area. So, if you happen to be someone who wish your boobs look smaller, then you probably should not wear this neckline.
Illusion Neckline
The illusion neckline is one that's recently gained a lot of popularity in bridal fashion and has been making its appearance in casual/everyday clothing.
What makes this neckline unique is the material above the bust is made of some sort of transparent or sheer-like material (think lace, sheer, etc.), reaching up to fit close to the neck. Because of this you have the look of a high neck, while still showing a touch of skin. The fabric around the bust area typically fits straight across, which gives a look similar to a tube top. Illusion neckline is really the combination of two very different and distinct necklines.
Something to keep in mind with this particular neckline is because of the sheer material above the bust, you will generally need to wear a strapless bra. This is something that can be confusing for some, because there is still material up to the neckline. Since the illusion neckline is the combination of two different necklines, I find it to be quite flattering on almost every body type.
Off-Shoulder Neckline
Another neckline you can get a pretty good grasp of just based off of the name. The off-shoulder neckline is just that, off-the-shoulder! To better explain it, though, this is a neckline where no straps are over the shoulders. Instead, the straps of an off-shoulder neckline are across the bicep area – hence 'off' shoulder.
Chances are you've seen this specific neckline quite a bit in recent fashion. It seems to be just about everywhere from special occasion dresses to casual tops and dresses.
Off-shoulder necklines are flattering on women with a pear shape, narrow shoulders or even a straight body shape. See this example on Kim Kardashian.
The off-the-shoulder dress perfectly balances out her bottom-heavy shape, drawing attention to her shoulders. Even though Kim has prominent thighs and butt, you don't notice that when she is wearing off-the-shoulder dress. That is exactly the magic of necklines.
While other body types can certainly wear this neckline, I recommend those broad or wide shoulders and larger arms to air on the side of caution with this one. Because of the off-shoulder silhouette, it's very easy for this to cause broad shoulders to look even broader. In addition, some women with larger arms find this isn't the most comfortable neckline.
Bateau Neckline (Boat Neckline)
A more common name for the bateau neckline, that you've probably heard, is the boat neckline. Who knew there was a technical term for the boat neck?! Well, now you do.
Bateau necklines are often referred to as the boat neckline because of the shape – you will notice the shape resembles that of a boat. This is a neckline that rests fairly close to the neck, covering the bust area completely. It shows just a small portion of the decollate area.
Recently, the bateau neckline has gained some notoriety because Meghan Markle often favors it. If you scroll through some of Meghan Markle's famous outfits you will notice she wears the bateau often. Chances are she favors it because it's a fairly conservative neckline that still gives a feminine aesthetic.
Bateau necklines are flattering on most, especially for women with narrow shoulders or sloped shoulders, however, I generally recommend those with a larger bust to steer clear as it isn't the most flattering due to wearing the neckline rests on the body.
Grecian Neckline
The Grecian neckline was, quite literally, named because of the Greek style influence. If you look back at Ancient Greek fashion you will notice this neckline worn quite often. Think togas! I notice that sometimes this neckline is confused for, and referred to as, the halter strap neckline. However, they're two different necklines.
The difference is with a Grecian neckline there is material starting at the center of the bust area that is used to wrap around the neck, where with a halter strap neckline the straps are at the outer sides of the bust area and then wrapped around the neck.
This neckline is fairly common with special occasion dresses. You won't find it in casual wear quite as often, right now at least. But it's really flattering when you want to bring more attention to your neck and upper body area.
Sabrina Neckline
Sabrina neckline is, more often than not, another name for the bateau neckline. While they're extremely similar, technically there is a slight difference which is why they have two different names.
That slight difference is with a Sabrina neckline, it's not as deep of a scoop in the neckline. With a Sabrina neckline it's sits much closer to the neck itself, and goes straight across.
Because this neckline offers a lot of coverage of the body, it's favored in conservative environments and individuals. You will find the Sabrina neckline in a lot of business appropriate dresses for women. Similar to the bateau neckline, it's generally not the most flattering for women with a larger bust.
Spaghetti Strap Neckline
This is one of the better-known necklines on the list. I think every woman is pretty familiar with the spaghetti strap neckline. But to give you some of the specifics, it's a neckline that can be combined with just about any neckline 'shape,' whether it's straight across, sweetheart, you get the idea.
The distinct element of the spaghetti strap neckline is, of course, the very thin straps that go over the shoulder area. It's a great option when you want to show a bit more skin, or even highlight your shoulders and arms.
Most of the time spaghetti strap neckline straps are very thin (hence the name) which makes it difficult to wear a bra with straps – something to keep in mind as you're shopping and trying different types of necklines. Otherwise, it's a neckline that's pretty universally flattering!
Cowl Neckline
A neckline you've probably seen throughout the years, but may not have known the actual name. The cowl neckline is created with a draping effect around the neck, resting around the center of the bust area. Cowl necklines are implemented in special occasion dresses, and casual tops, and tend to be very common in sweaters.
The draped element around the neckline adds a really delicate feminine aesthetic to this particular neckline. I often recommend not wearing a necklace with a cowl neck, whether you're wearing it casual or formal, because of the draping adding a necklace can often be 'too much on the body.
Portrait Neckline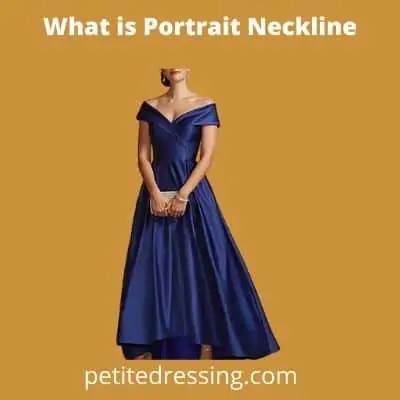 Very similar to the off-shoulder neckline, the portrait neckline has a couple subtle differences.
The first difference being the straps around the arms is slightly scooped, or angled. Often times you will see the portrait neckline and find the straps rest a bit higher on the arm than off-shoulder does. Another slight difference from off-shoulder is the portrait neckline is often paired with a slight v-neck element added into the mix – particularly with wedding dresses.
Thanks to the slight difference in the arm strap placement, portrait necklines are known for the ability to bring attention to and frame the face of the individual. So if that's your goal – definitely give this neckline a try.
Collared Neckline
I'm sure you're quite familiar with a collared neckline, but I didn't want to leave it out – this is a guide to necklines, after all. The collared neckline is created with, well…a collar at the neck. This is a really common neckline in business wear. However, it's made its way to causal fashion as well. Button-down shirts are a prime examples of the collared neckline.
The versatility of the collared neckline makes it one that's flattering on just about every body type.
Plunging Neckline
This neckline style may be pretty self-explanatory, but I want to break it down for you so you know ALL the details. The plunging neckline is referenced more often in bridal fashion than anywhere else, even though you will definitely find this neckline in nonbridal wear.
The plunging neckline can be paired with different sleeve types, what makes it 'plunging' is how low the neckline rests on the body. Naturally, you will find it in various dimensions but most often a garment is considered plunging when it begins to show cleavage.
Chances are you've seen some of your favorite celebrities wearing a plunging neckline on the red carpet. JLo went for the ultimate plunging neckline in her infamous green Versace dress, that's a pretty dramatic version of the neckline though. The typical 'plunging' neckline rests right around the bust area.
Cold Shoulder Neckline
The cold shoulder is one of the most popular necklines in recent years. This is similar to the off-should neckline in the sense it is off the shoulder. The difference is cold shoulder neckline has straps in addition to the off-the-neck.
Mock Neck
You can tell that the mock neck belongs to the family of the high neckline. It is much shorter than the turtle neckline, and only goes up to just below the Adam's Apple. It fits snugly around the neck. The mock neck can be in on a sweater or a shirt or a dress.
Best Necklines for Broad Shoulders
The most flattering necklines for broad shoulders should have the following characters:
Partially cover the shoulder and therefore visually reduce the "width" of broad shoulders
Irregular shape, so that it distracts from the the shoulders
Should not create a horizontal line, which will in turn accentuate the broad shoulders
Based on above styling goals for broad shoulders, the following are the 8 best types of necklines
Halter
Plunging
Scoop
Square
Jewel
V neck
One shoulder
Collared
Best Necklines for Large Bust
The best necklines for women with large bust should be
Create space in your chest
Avoid too much fabrics on your chest
Generally lower in order to have the sliming effect
Based on the above styling goals, the following are the 7 best types of necklines for women with a full bust
V neck
Scoop
Square
Sweetheart
Off the shoulder
Straight across
Boat neck
Best Necklines for Small Bust
The best necklines for women with smaller bust should
Not be too low as to bring more focus to the chest
create the illusion of volume in front of the chest
Based on these styling goals, the following are the best types of necklines for women with a flat chest
Turtle neck
Grecian
Beteau
Cowl
Illusion
Jewel
One shoulder
Conclusion
I'm sharing some of the most common types of necklines to give you the reference, but this is not the exhaustive list by any means. Keep in mind, these are some of the more common necklines, so it is possible you may come across a neckline at some point that isn't mentioned here. But this should give you a great start to help build your neckline knowledge.