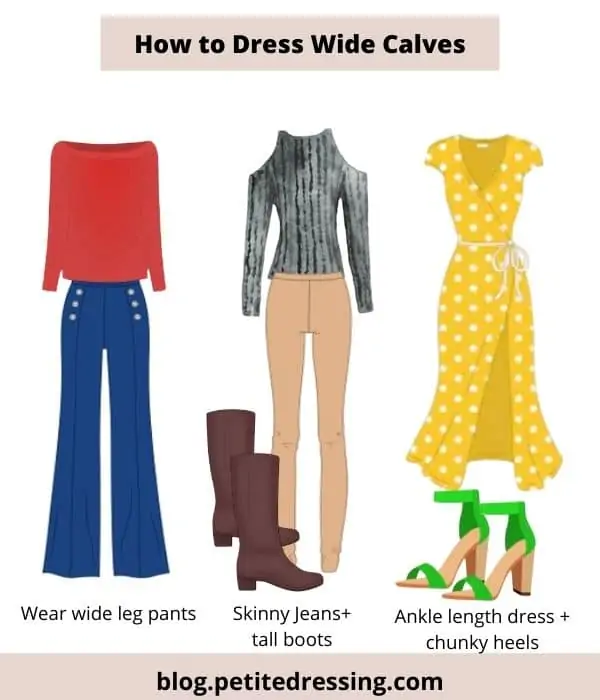 Having thicker calves can make it challenging to find the right styles that fit your legs. Since I have a petite clothing line, I hear feedback from my customers on a daily basis, many of whom have thicker calves.
Based on their feedback, I've put together this guide on the best ways to dress your thick calves to make them appear slimmer.
Avoid Tapered Legs
If you have wide calves and want to make your legs look more slender, the leg shape of your pants or jeans is critical. The right shape can camouflage your calves, while the wrong ones can make them more obvious. Tapered legs are one of those designs not flattering to women with big calves.
Tapered-leg pants or jeans are those that gradually narrows toward the ankle. According to Levis, to taper a jean means to "bring in" the leg for an inverted shape.
In other words, this shape narrows down on your calves, which means not only it emphasizes your wide calves but also you might feel restricted in the calve area.
If you have thicker calves, stay away from tapered-leg jeans or pants because you probably will not look or feel good in them.
Caution with Skinny Jeans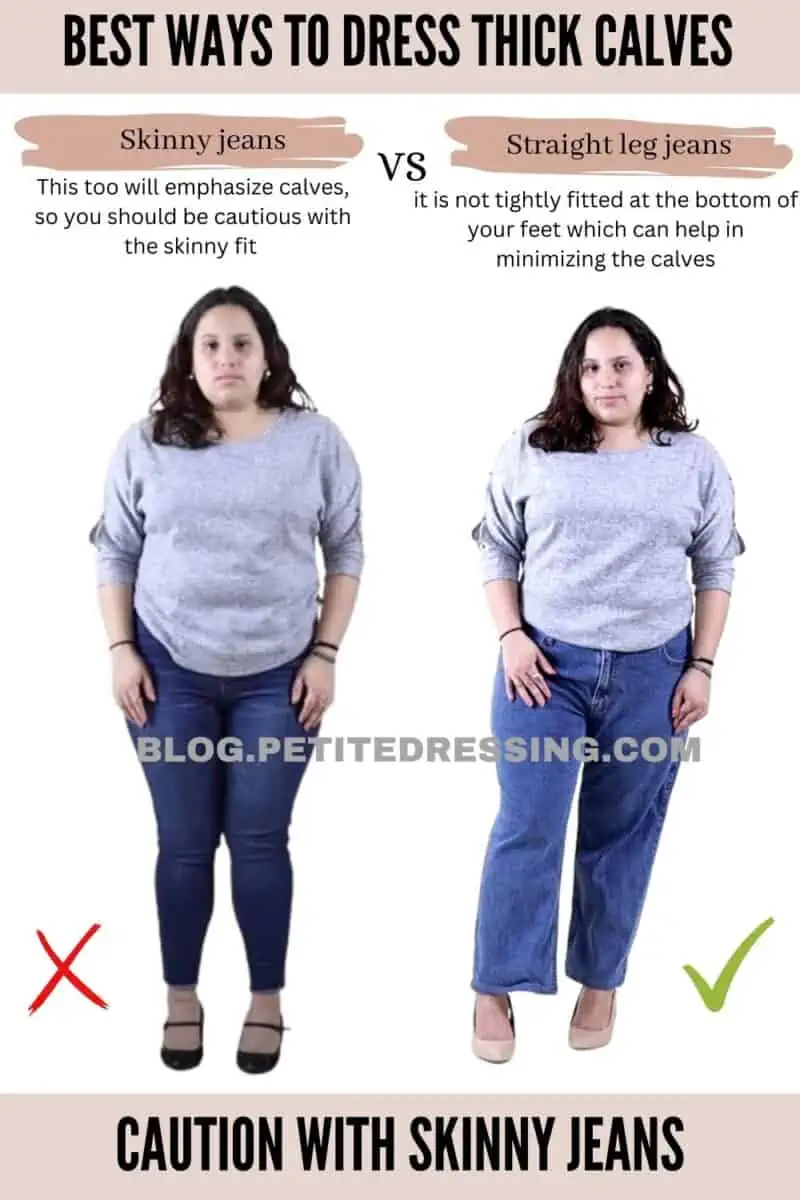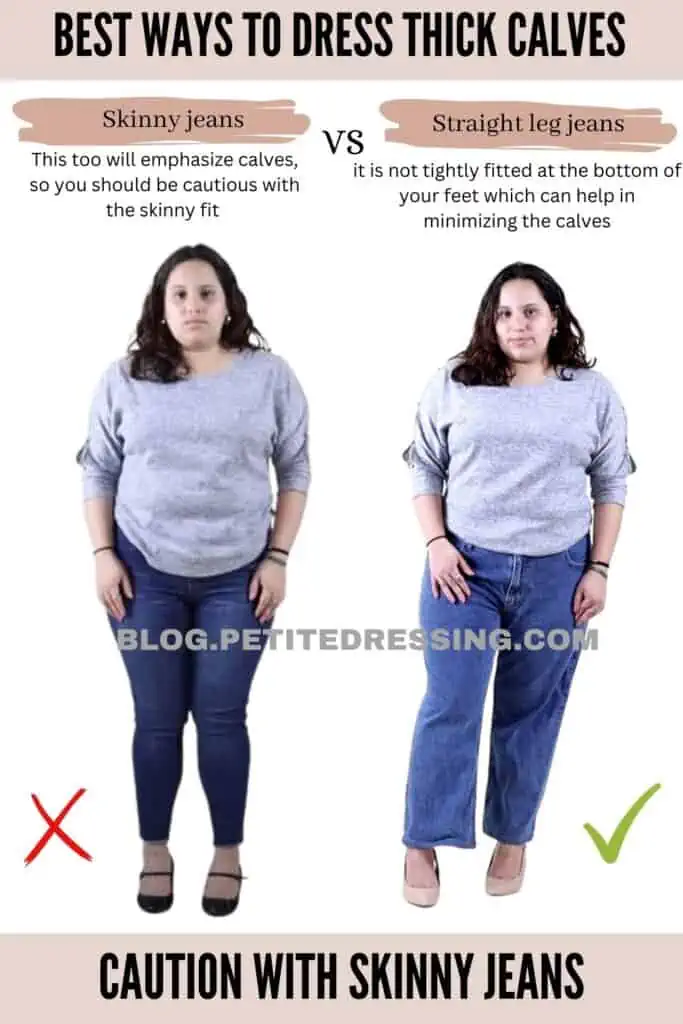 Unlike tapered legs which only narrows down towards your calves, skinny jeans are those that are slim fit from top to bottom. This too will emphasize calves, so you should be cautious with the skinny fit if you have big calves.
This isn't to say that women with bigger calves have to stay away from them. If you do like the look of skinny jeans, the best way to wear them for women with wide calves is to pair with tall boots, which I will talk about later.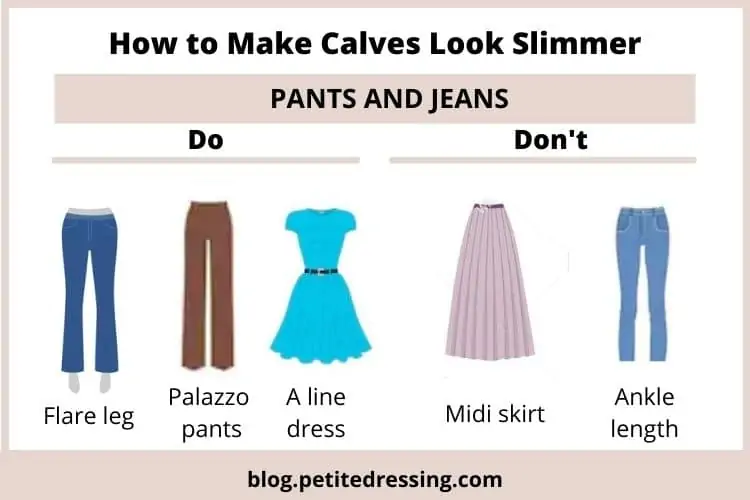 Best Pants and Jeans
Instead of skinny fit, focus on selecting pants that offer more room to the calves.
The most flattering pants silhouettes for thick calves are:
Straight leg
Flare leg
Boot Cut
Wide leg pants, also known as palazzo pants, are one of the best pants for women with thick calves. It goes without saying that you will feel much more comfortable with the wide leg design because of the extra space, and it also make your calves totally unnoticeable.
Boot cut and flare leg jeans are universally flattering leg shape, they are especially heaven sent if you have thick calves. This kind of the leg shape are well fitted on your thighs and start to gradually flare out under your knees, which is a very slimming design.
Straight leg pants or jeans can also work for you. Even though they do not have the same slimming effect as boot cut or flare leg, they do not emphasize your calves either.
Wear Dark Color Pants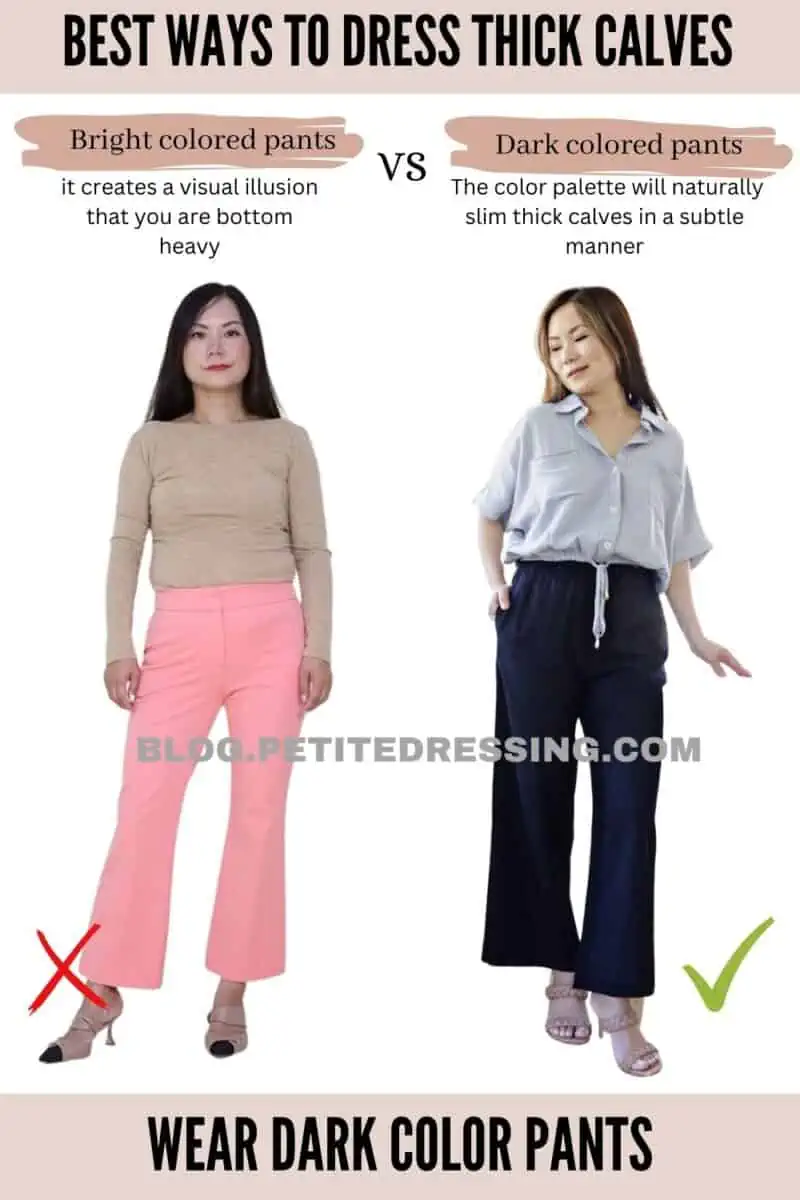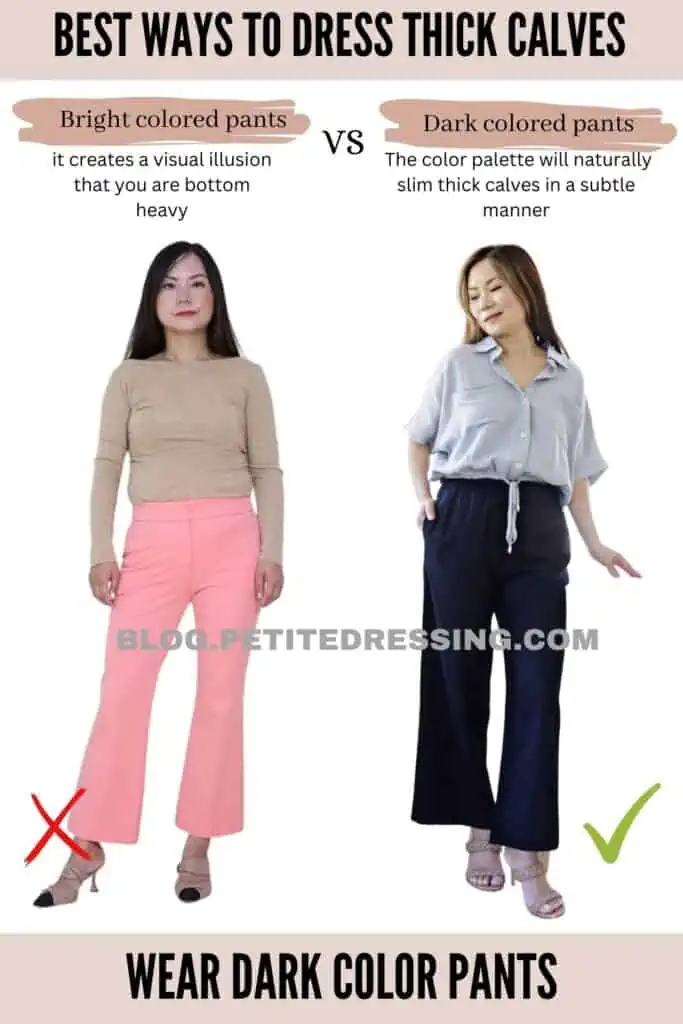 Dark colors are slimming, and that's the reason it's the ideal color scheme for pants you wear. The color palette will naturally slim thick calves in a subtle manner. Just make sure the pants don't fit very slim to the calves.
Avoid Cropped Pants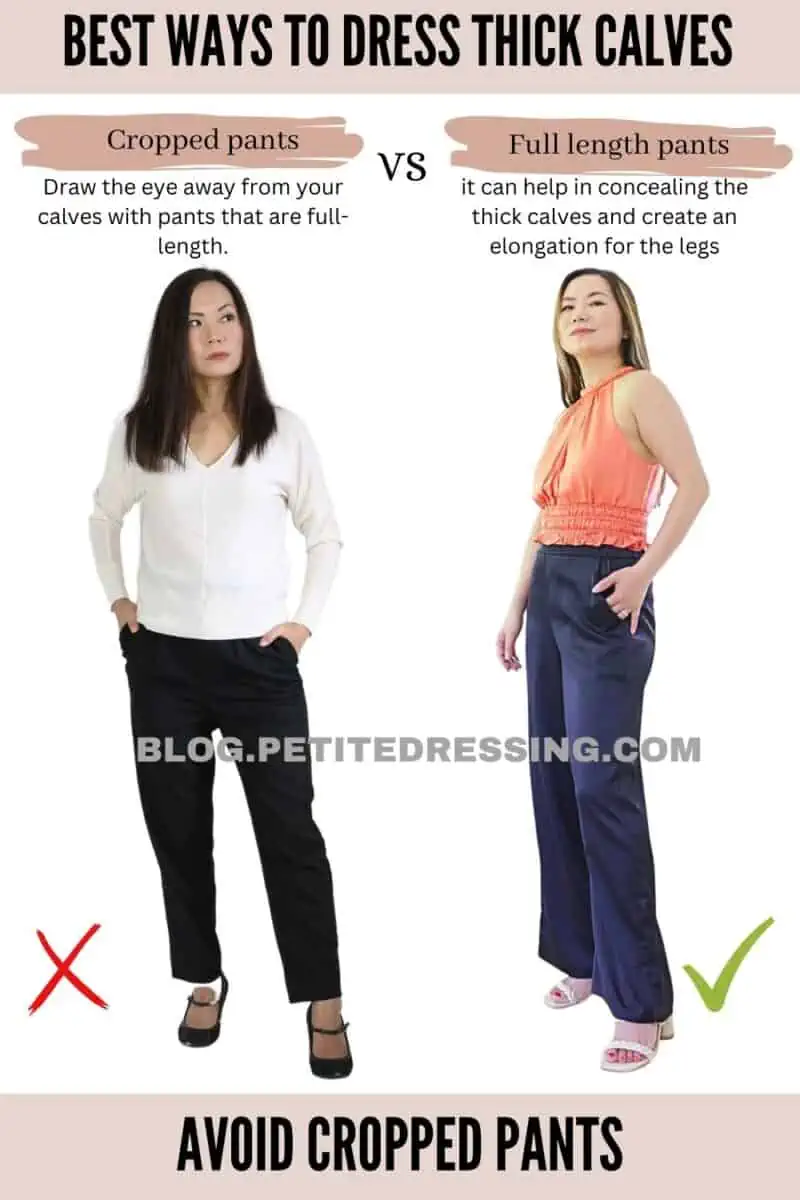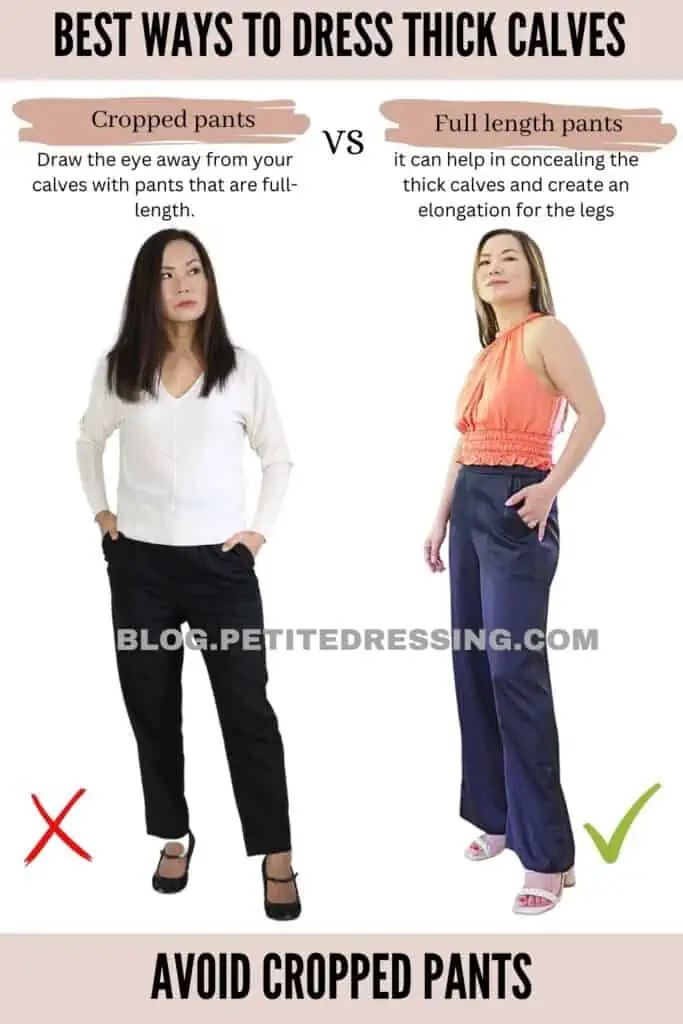 This isn't ideal for dressing thick calves it's best to avoid pants that have any sort of cropping.
Cropped pants lay at the calf area, which highlights that part of the leg. Draw the eye away from your calves with pants that are full-length.
Add Interest to Your Top Half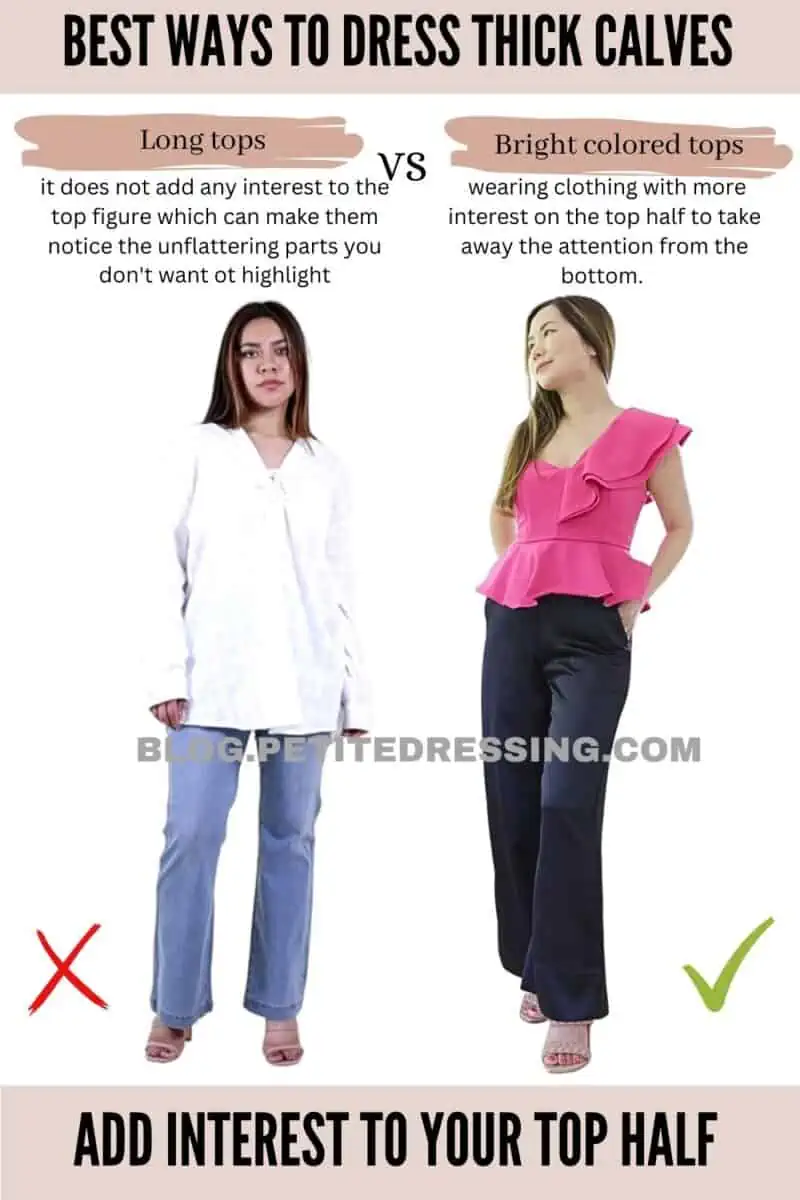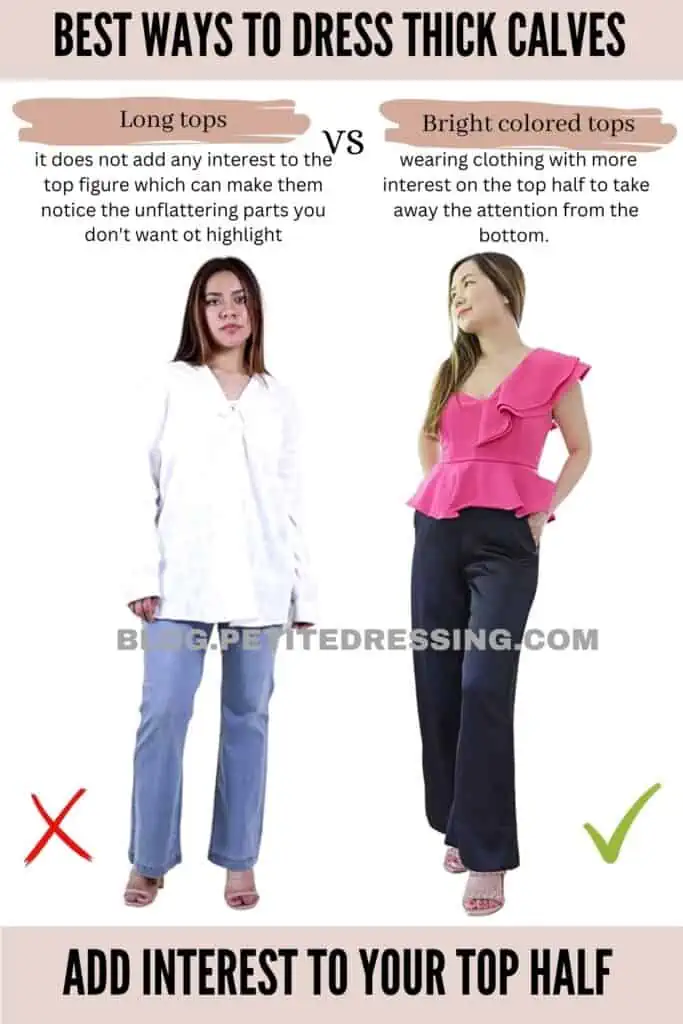 A favorite styling hack is wearing clothes to distract from the area you don't want to be the focal point. With thick calves this means wearing clothing with more interest on the top half to take away the attention from the bottom. This can be done with bright colors, interesting patterns and prints, or accessories.
Wear A-Line Silhouettes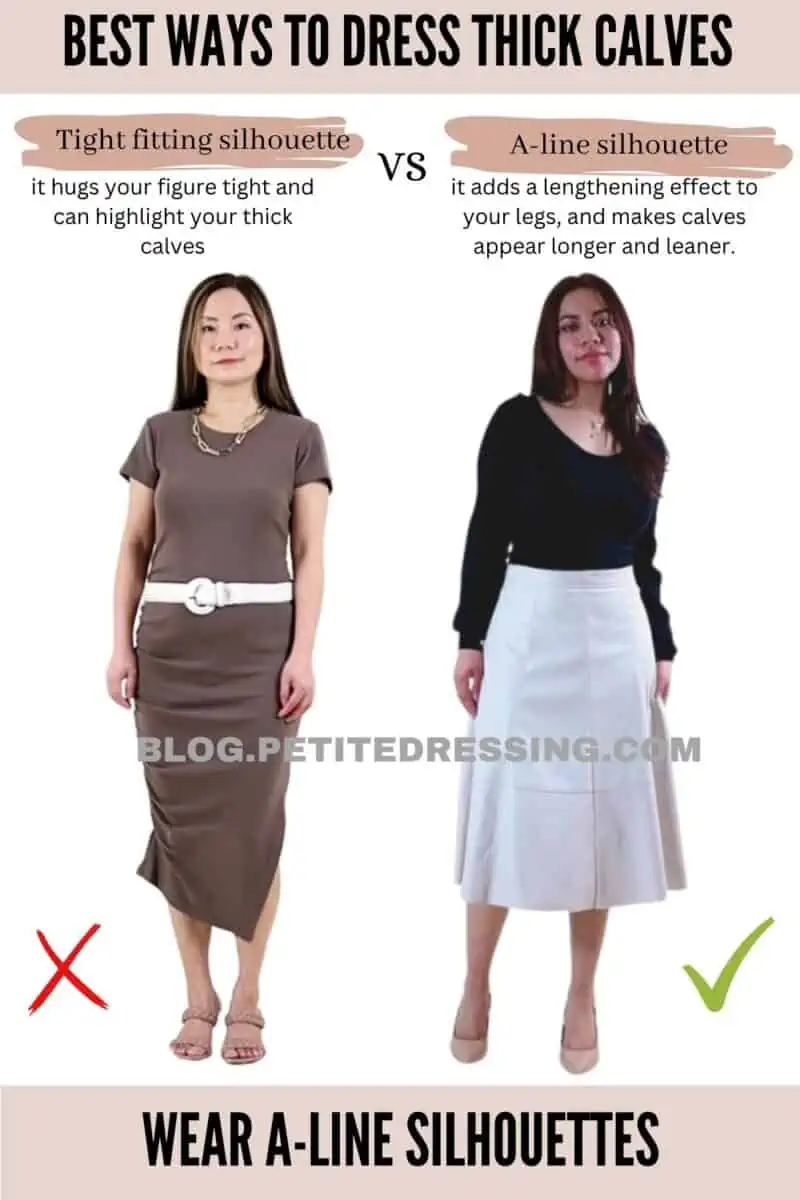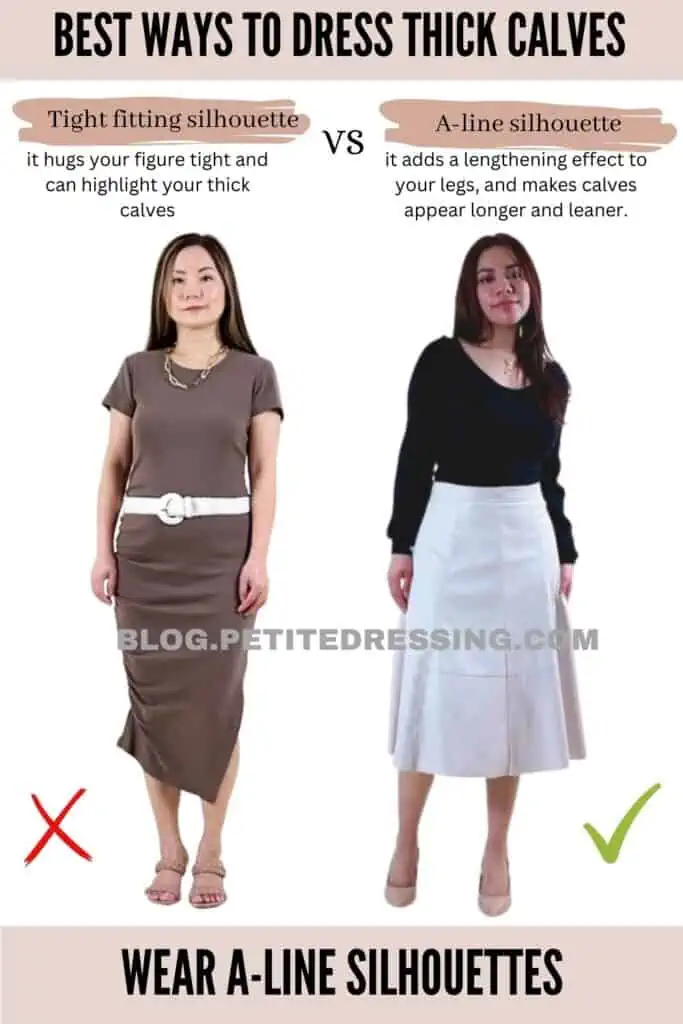 Contrary to popular belief, skirts with a touch of volume make thick calves (and legs) appear smaller.
Keep dresses and skirts right around the knee area in length to add a lengthening effect to your legs, and to make calves appear longer and leaner.
Avoid Midi Length Anything
Even though they are quite on trend, the Midi length dresses or skirts are not flattering for women with thick calves. The reason is the hem of midi dress or skirt ends awkwardly on your calves, which is going to draw full attention to your calves.
If you want your calves to look slimmer, then ditch the midi length and go longer. Wear your skirt to the ankle length will effortlessly camouflage your calves and look much more flattering for women with chunky calves.
Wear Pointed Toe Shoes
Give your legs an elongated effect with pointed-toe shoes.
The extra length this shoe style offers makes a big difference when flattering thick calves.Steer clear of rounded and squared-toe shoes as they shorten and widen the way calves appear.
Avoid Ankle Straps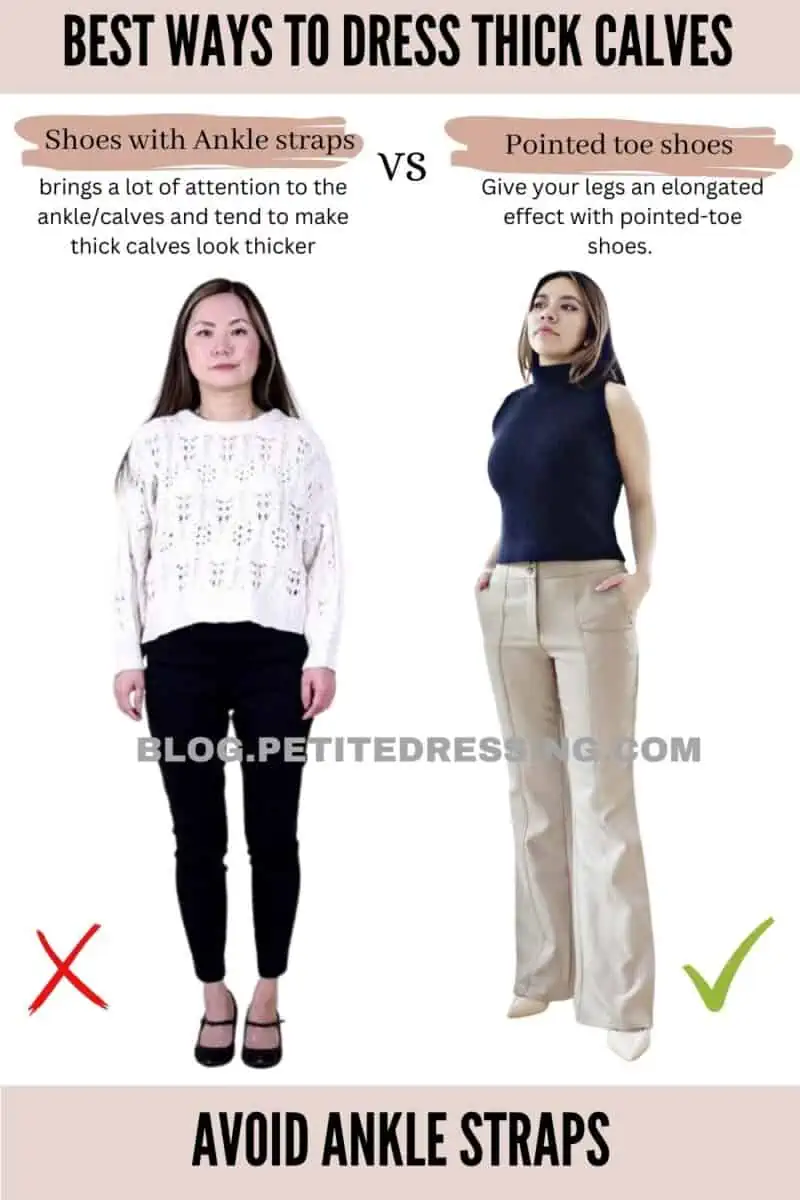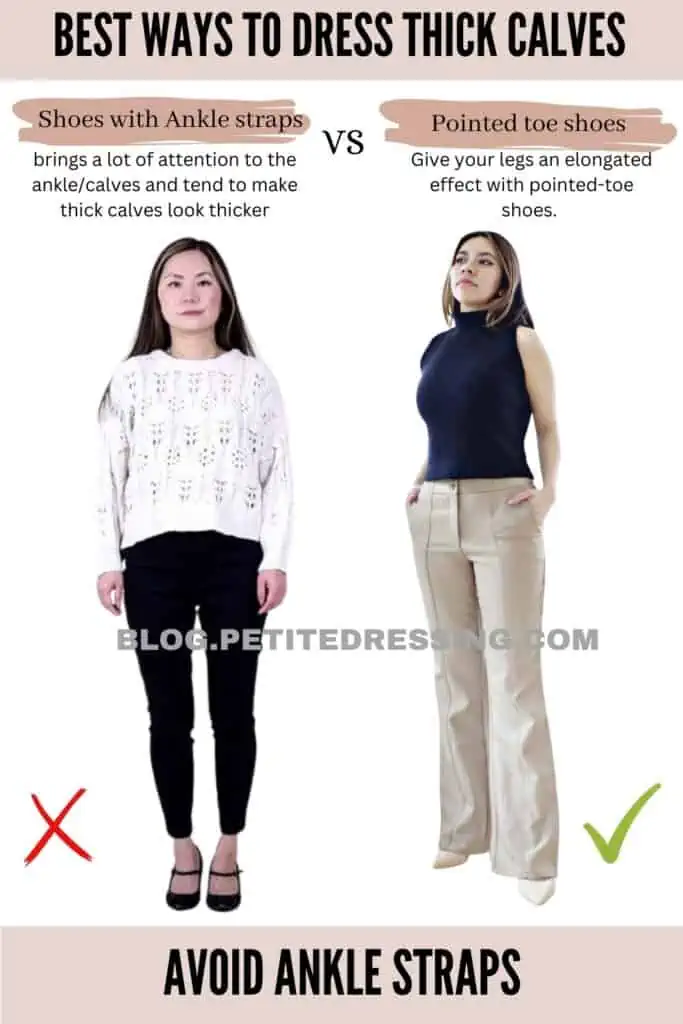 Anytime shoes have details around the ankle, they bring a lot of attention to the ankle/calves. Ankle straps, in particular, tend to make thick calves look thicker due to where they lay on the body. Keep the ankles bare with shoe selection.
Avoid Tall Gladiator Sandals
Gladiator sandals is another trend you should skip if you have big calves, especially those tall gladiator design that reaches your calf.
These shoes have many horizontal stripes, so they are designed to draw attention to your calves. Besides, all the horizontal lines will only make your legs look horizontally stretched. So, no matter how popular they are, women with thick calves should stay away from them.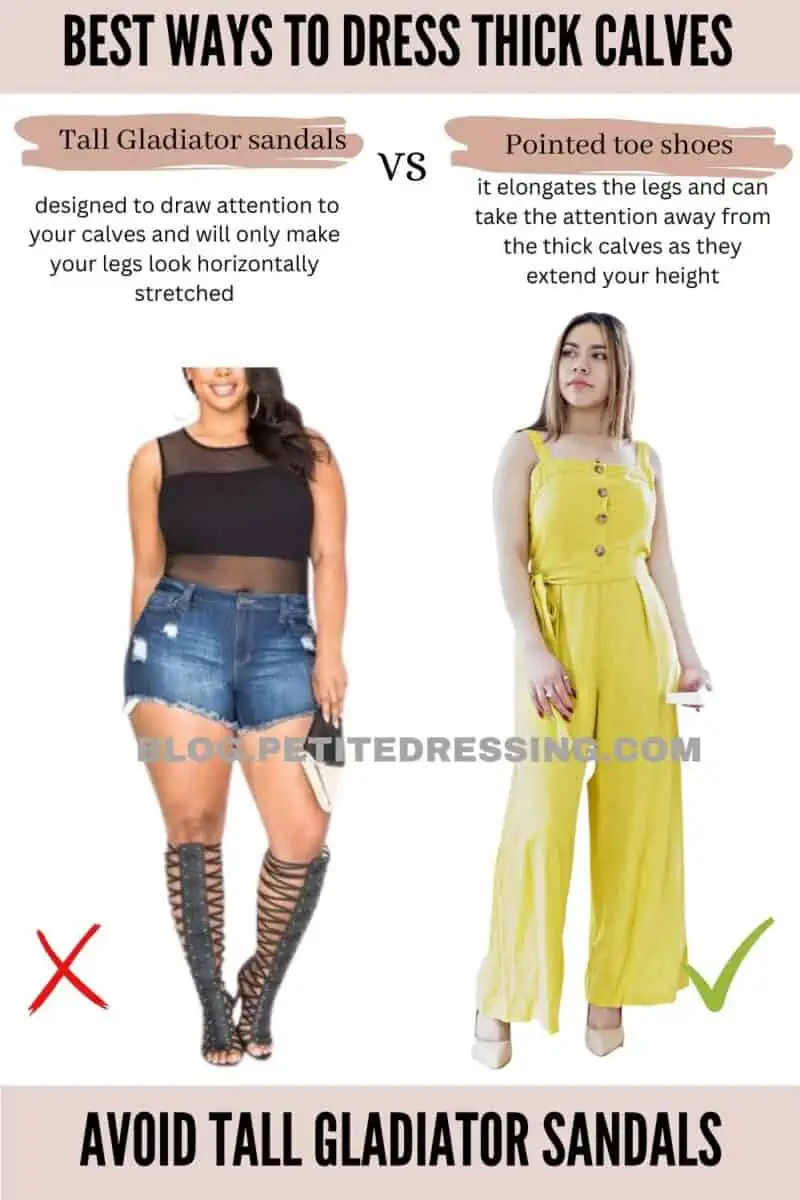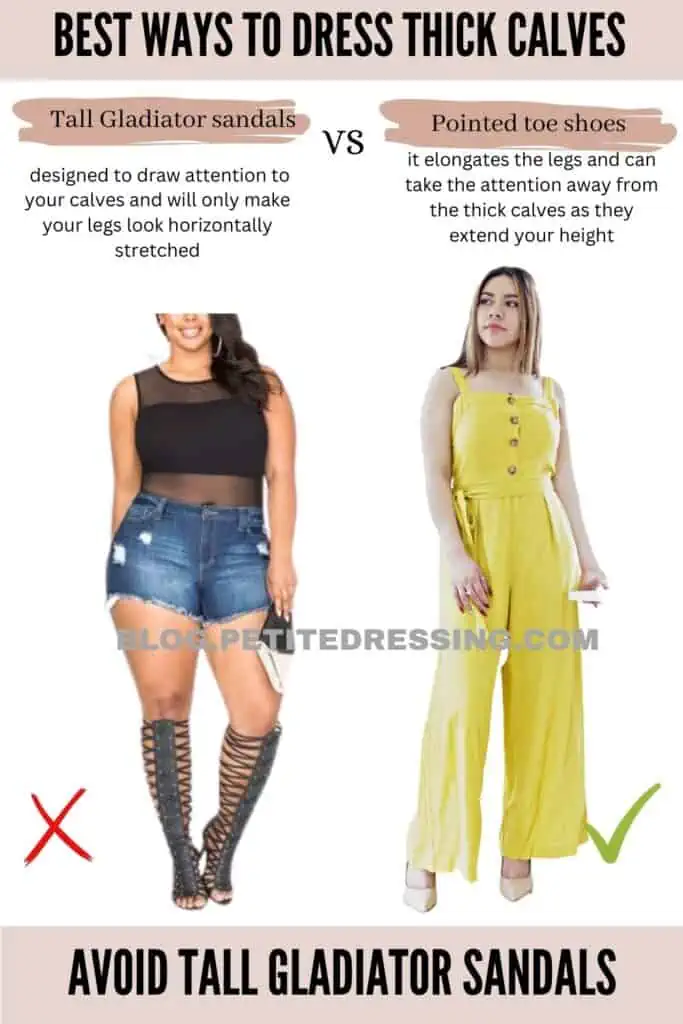 Be Cautious with Booties
Booties with jeans is one of the signature looks in the fall and winter. Even though they are considered the wardrobe staple for the fall, they are actually very challenging for any woman to wear, especially if you are self conscious about your calves.
Booties are tricky with thick calves, as they can easily cause your calves to appear larger. Because they end at an awkward point on your calves, they also make your legs look cut-off, which in turn further make your calves appear wider.
The only way to make booties look flattering to find those with the same color as your jeans. That will make the leg cut-off and your wide calves look less obvious. In addition, anytime you wear booties, make sure they rest higher than your ankle area to add a bit of length and dimension to the leg line.
Choose Knee Length Boots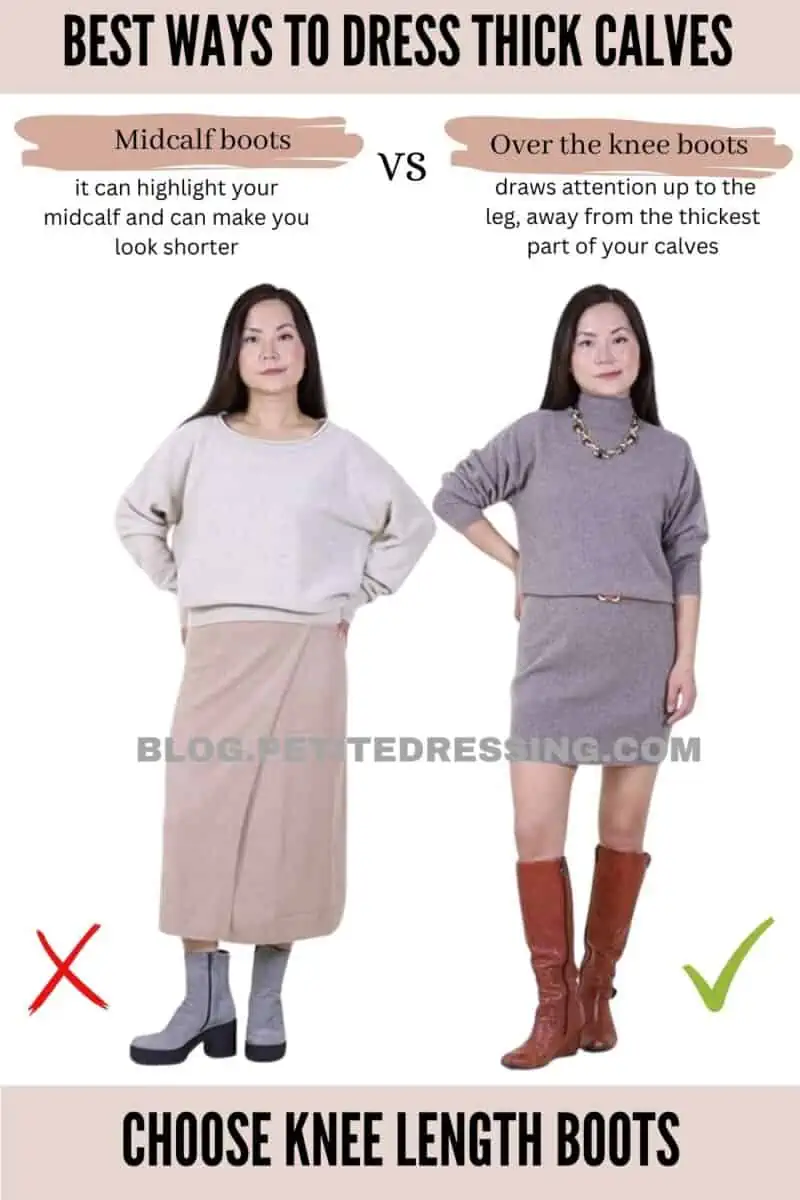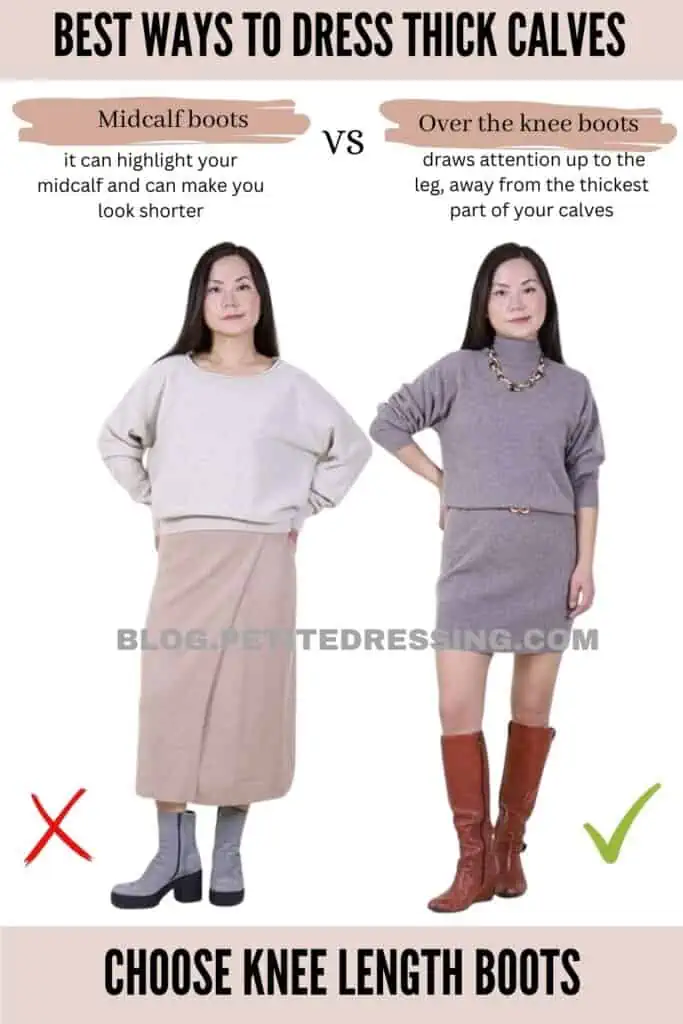 While booties can be tricky, knee-length boots are a guaranteed win for thick calves.
The added length draws attention up to the leg, away from the thickest part of your calves. Try brands and styles that offer a wide fit to accommodate your shape.
The added length draws attention up to the leg, away from the thickest part of your calves. Try brands and styles that offer a wide fit to accommodate your shape.
It is important for you to pay attention to the measurements of calf width when you shop for tall boots. Retailers like Nordstrom and Zappos typically tell you the calf width of the boots, which makes it easier for you to find those to fit your wide calves.
In addition, you need to make sure the boots are made of leather that is supple enough to stretch well so that they can accommodate your thick calves and make you feel comfortable walking in.
Wear Nude Shoes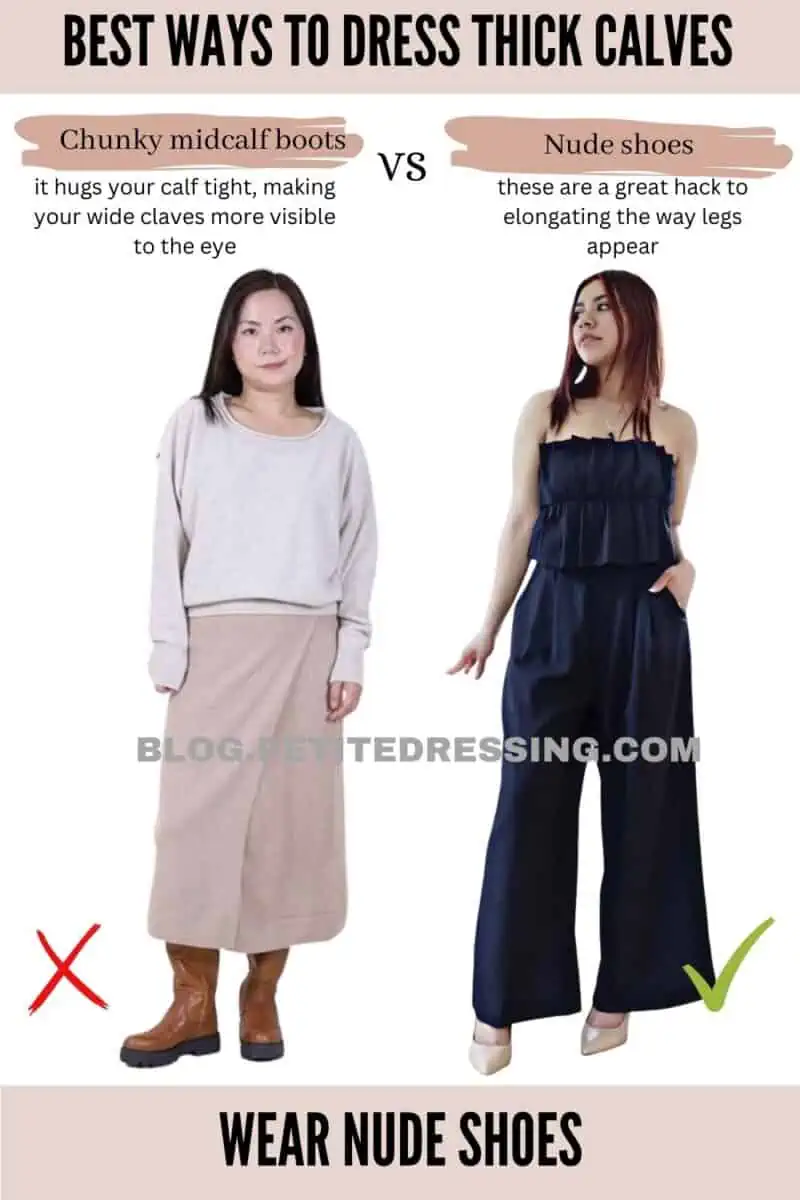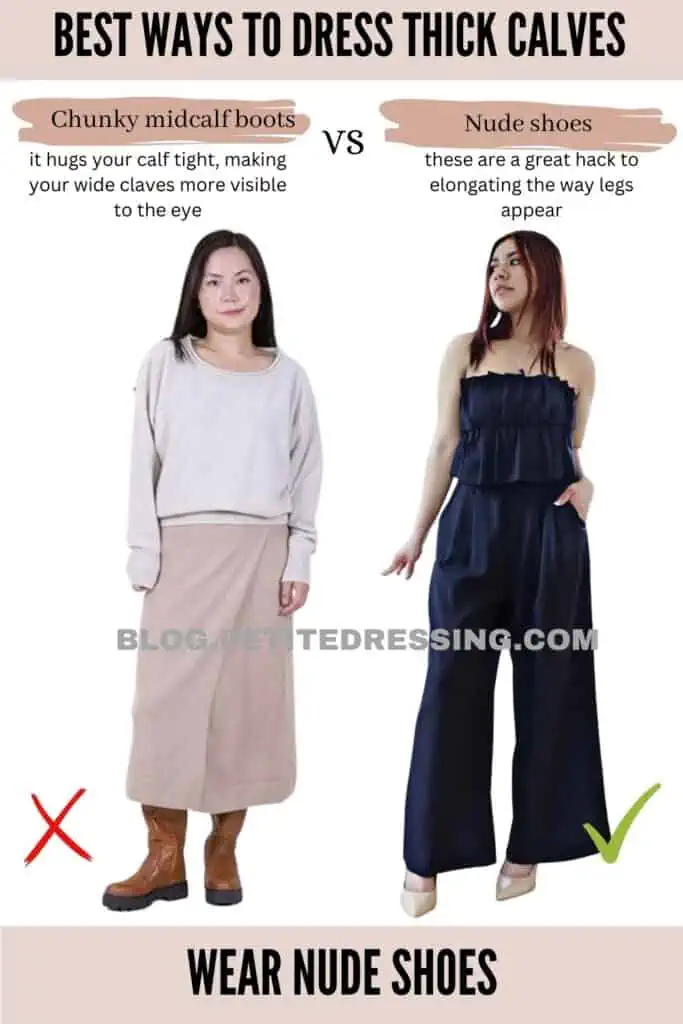 Creating the illusion of longer legs is essential to flattering thick calves. Nude shoes are a great hack to elongating the way legs appear. The key to this trick is choosing a nude shoe that matches your skin tone as close as possible.
Wear Chunky Heels
if you calves and ankles are big, then your better option is chunky heels instead of skinny heels.
Chunky heels will look more in harmony with the shape of your calves and ankles, compared with kitten heels or stilettos. Besides, they will provide extra support and therefore are much more comfortable for you to wear.