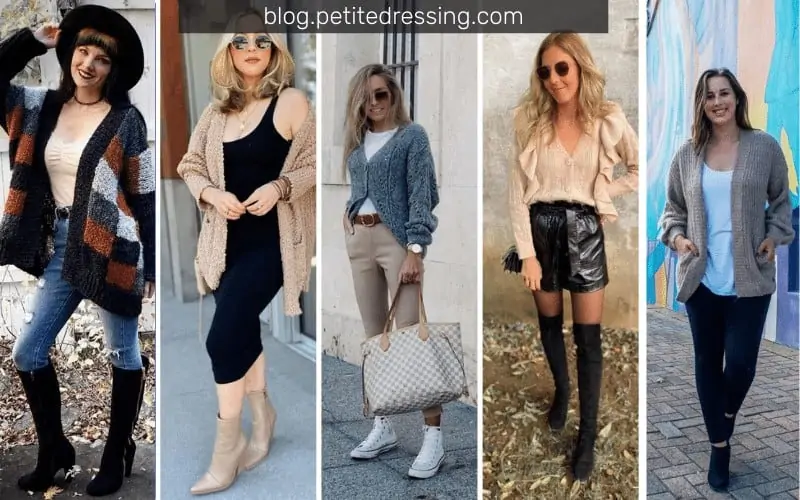 Cardigans make for great outerwear pieces, particularly in the fall and winter months, as they're nice, warm and cozy. They also come in different colors and designs, which makes them versatile. You can wear them with different pieces that you already probably own. Depending on the occasions you are dressing for, the cardigan outfits can be ether dressy or laid back.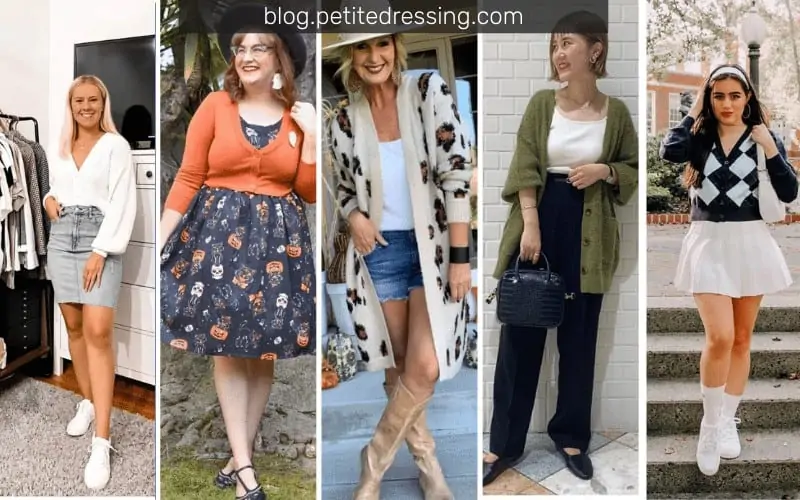 Here is some of the best ideas on what to wear with a cardigan to give you some style inspiration:
With jeans
A cardigan with jeans is a look that works for just about anyone. Jeans are perhaps the easiest pieces of clothing to wear if you're after a laid-back look. There are different types of jeans and the best part about them is that, owing to their popularity, there are jeans for every woman regardless of body size or their shape.
For a simple casual outfit, you can wear your jeans with a cardigan layered over a cute tank top, t-shirt or even a button-down. It's a cute look that goes with whatever footwear you feel comfortable with.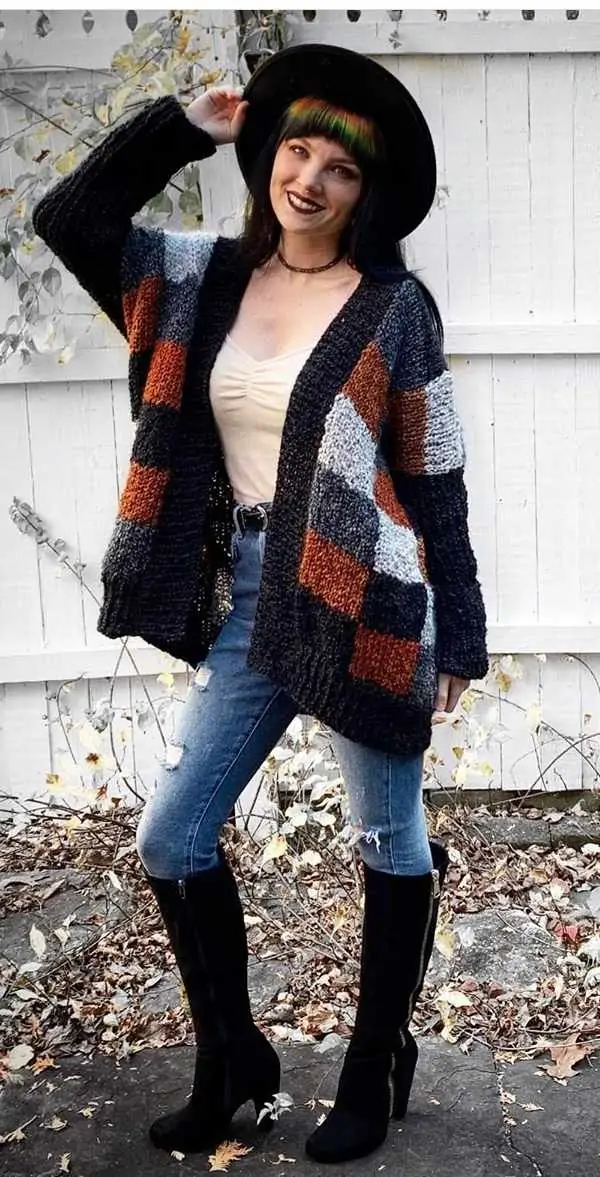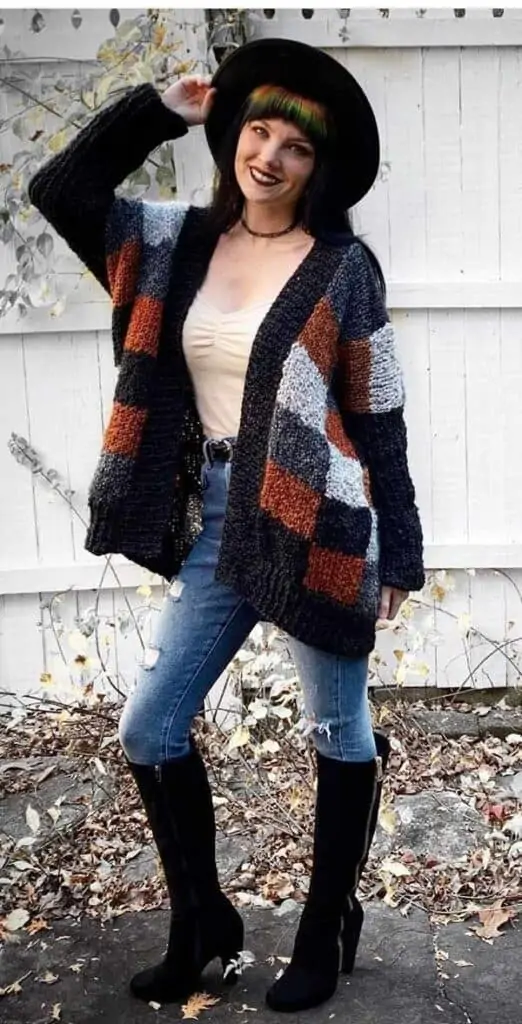 Alison (above) styled her cardigan with a pair of skinny jeans and knee-high boots. She went for a hat and accessorized simply with a choker and a black belt. You don't have to limit yourself to skinny jeans though as a cardigan will work with mom jeans, flared ones, and any other type you can think of.
With a midi dress
You can wear your cardigan with a midi dress for a polished look. A midi dress is not the easiest to style especially because of the length, since it falls between the knee and ankles. However, there are a number of ways to style midi dresses that will have you looking chic, casual or simply achieve the kind of look you want to.
It could be a bodycon midi dress or a flowy one but this kind of pairing makes you look more feminine. Cardigans are generally very girly but with the dress, the length makes it all the more feminine. You can wear this combination to brunch, to tea with the ladies, church and a number of different places.
Another benefit of this look is it can cover up your midsection. If you happen to have a midriff concern, a long cardigan over a tighter dress will perfectly camouflage the love handles you do not want anyone to notice.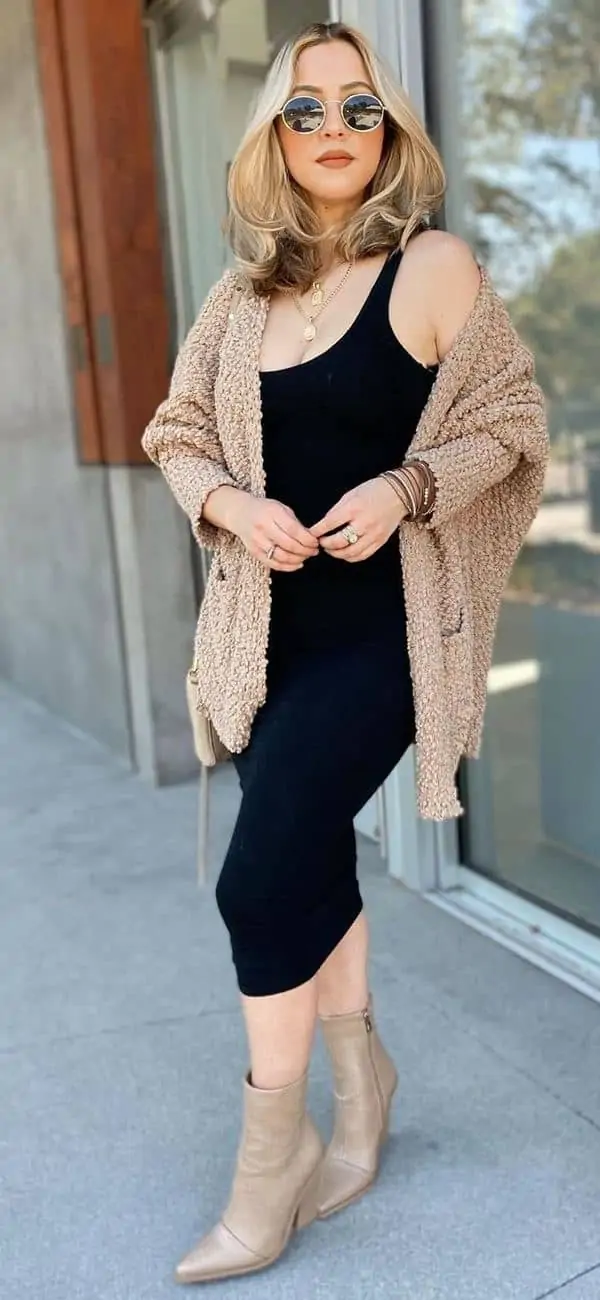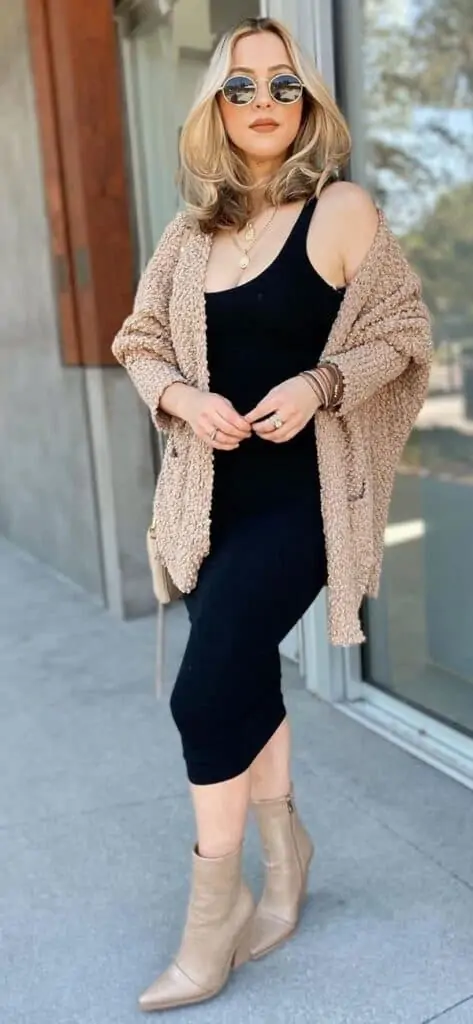 Lola (above) looks chic in this black midi dress that she paired with a nude color cardigan and matching boots. To make the cardigan-midi dress outfit look classier, you could let one side of your cardigan drape down to reveal your shoulder. It's also worth accessorizing if you're wearing a plain midi that's simple in style.
With khaki pants
While many people prefer jeans because they are easy to wear, khaki pants have also grown in popularity. Just like jeans, khaki pants can be worn by anyone and with just about everything. They just look a lot dressier than your denim pants which would explain why the chicest fashion icons are running for them. A cardigan paired with khaki pants looks very put together.
The best way to style this look is to tuck in whatever top or tee you're wearing underneath the cardigan. From there, regardless of the shoes you choose to wear, you'll look like you put in that extra effort into dressing up before you left your home.
You can accessorized with a bag, belt, and sunglasses and opted for converse shoes. When you're wearing khakis and a cardigan, feel free to play around with different shades or colors. You can also switch up the shoes in such a pairing with more feminine ones such as stilettos, closed-toe pumps, or strappy heels.
With leather shorts
Leather is classic and timeless meaning it's going to be around for a long time. Leather adds a touch of power to any look regardless of whether it's a leather skirt, dress, pants, leggings, or shorts.
While the most obvious way to wear your cardigan with leather is to go for a leather skirt, you can actually switch things up a bit and opt for leather shorts instead. These are two great pieces for fall and the shorts are a great option especially if it isn't that cold yet.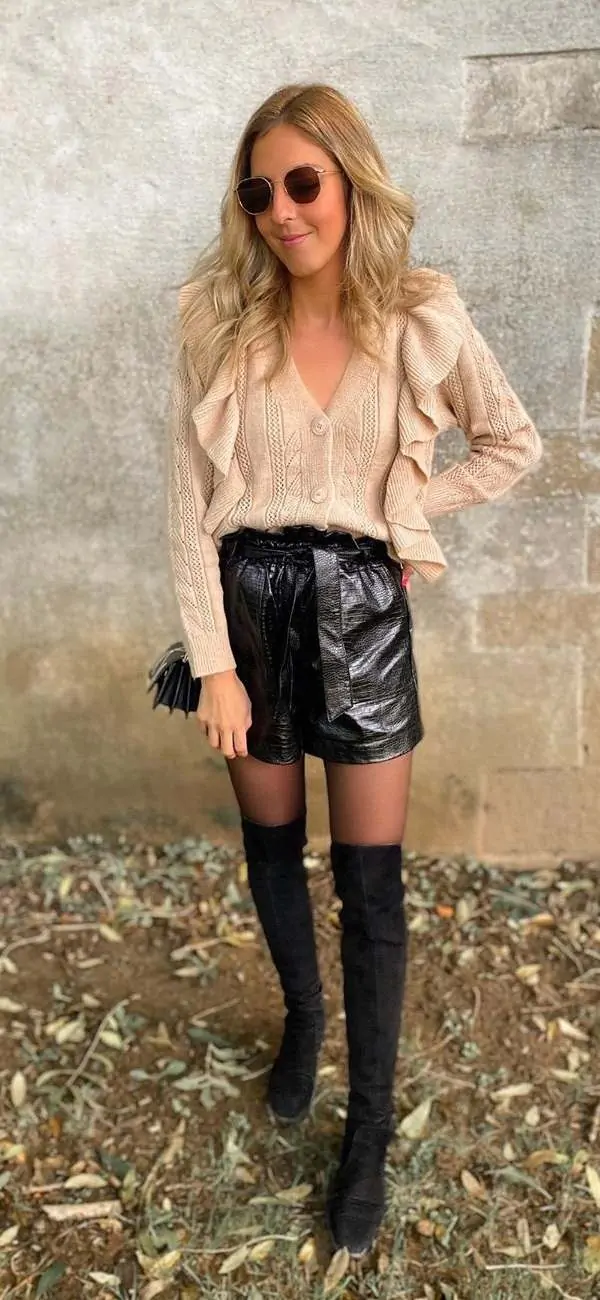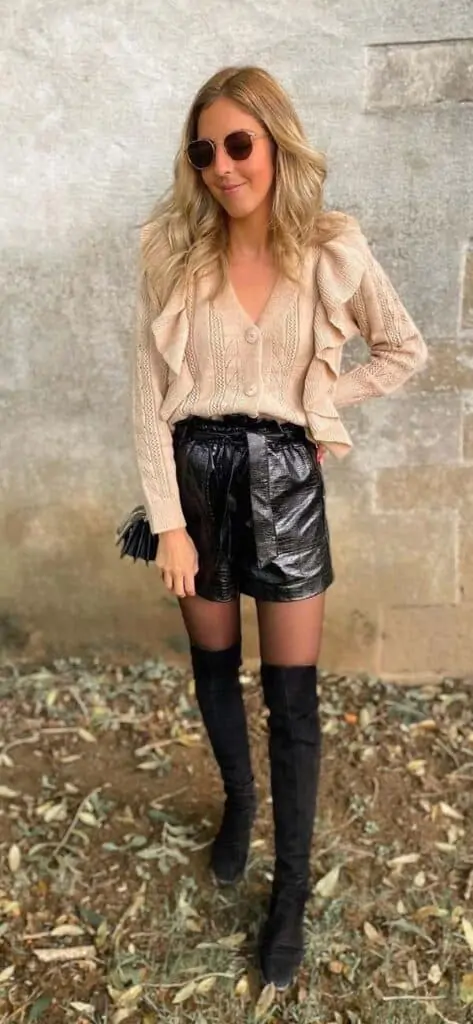 Yasmina (above) styled her brown cardigan with some leather shorts and over-the-knee boots. For this outfit, she went for boots in a different material. While many will feel the need to wear their leather shorts with leather boots, you don't have to as other materials such as suede or velvet can do the job just right too.
With leggings
Wearing your cardigan with leggings means you get a look that's not only simple but also cozy.
If you're all about comfort, then you probably have a number of leggings in your closet. They work great whether you want to stay indoors or to go out and run errands, but they can also be dressed up for more formal or official settings depending on the ones you get.
However, you can also look chic in this pairing. All you have to do is to choose a long cardigan instead of a short one and then opt for booties, heels or even tall boots to look dressier.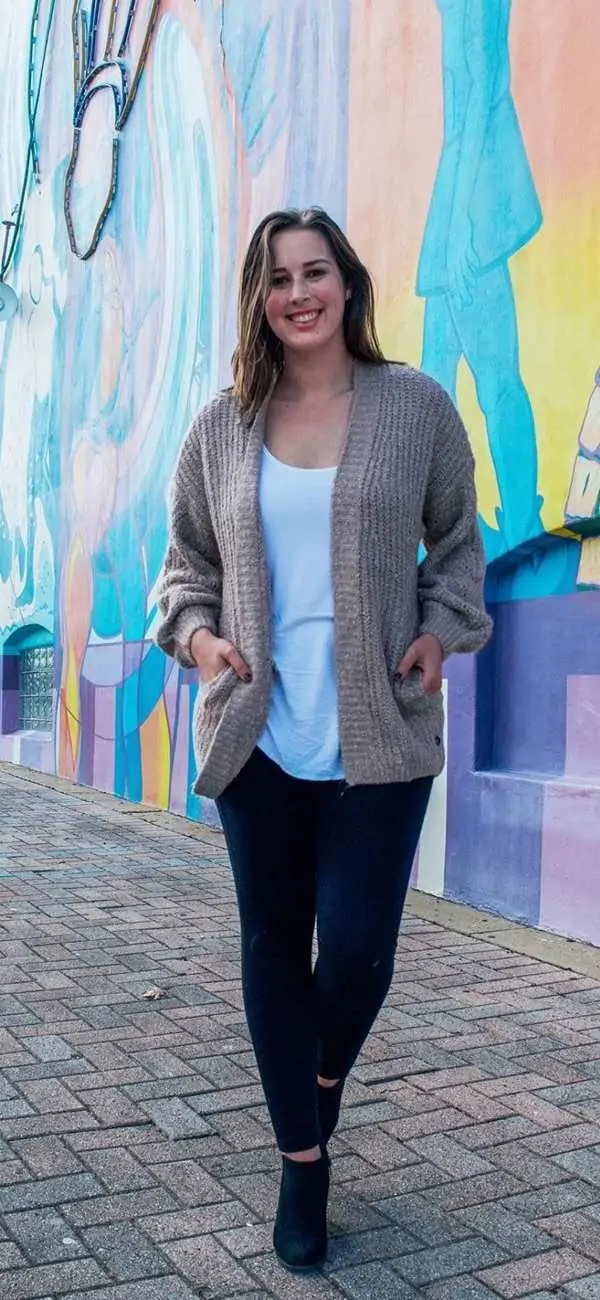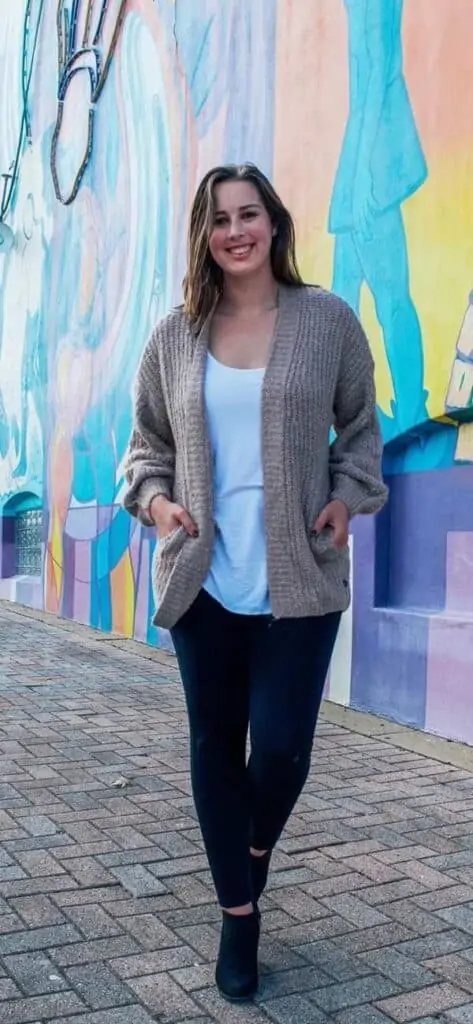 Melissa (above) shows how to pull off this pairing with just a black pair of leggings, a white top, a brown long cardigan, and a pair of suede ankle boots.
You can either leave your top or tee untucked or tuck them in for a cleaner look. Going for black leggings makes it easier for you to choose different colored cardigans. If you are petite or want to look taller, then pairing black booties with black leggings is a great way to elongate your legs.
With a denim skirt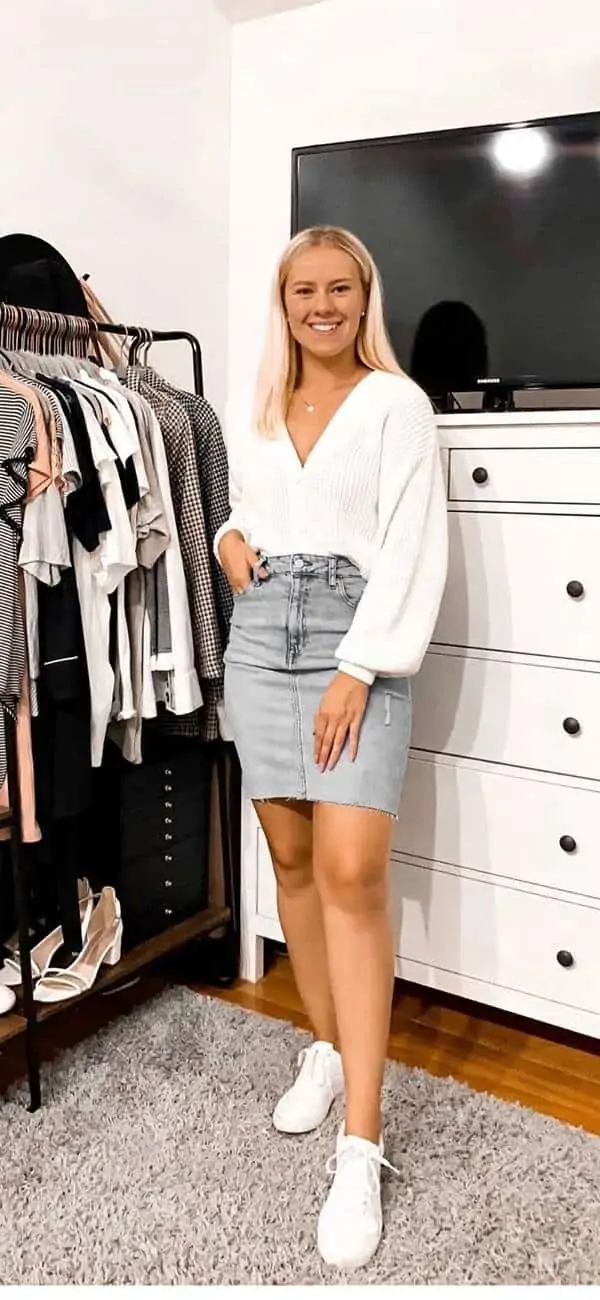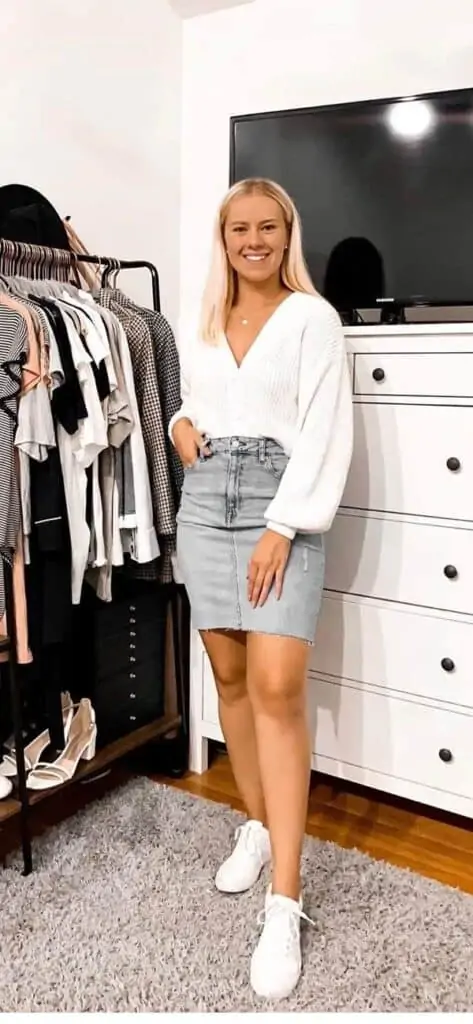 Jessika (above) wore her white cardigan tucked into her denim skirt and completed the look with some white sneakers.
Denim skirts come in knee-length, midi, or shorter. Choose the right length according to your height and personal preference. Jeans skirts, no matter what length, generally look great with cardigans.
With a pencil skirt
You can wear a cardigan with your pencil skirt too. Pencil skirts are great timeless pieces to wear, especially to the office setting, because they give a flattering and lady-like silhouette. When worn right, they suit just about any figure out there but note that wearing them is not limited to the office environment.
The best part is that because of how the pencil skirt follows the shape of your body, any type of cardigan will work. You could choose a fitted one or a loose-fitting cardigan. You can also go for a longer or shorter cardigan and whether you choose to button it up or leave it unbuttoned, you're sure that your outfit will still look clean.
With denim shorts
You can wear your denim shorts with a cardigan for that everyday girl-next-door look.
Denim shorts can be looked at as the sister or cousin to your favorite pair of jeans, except they're more effortless and allow you to show off your legs. They also come either high waisted or in a low-waist design and your choice depends on your preference.
This look is mostly preferred for concerts or a night out, and can also be worn on the beach or at summer festivals, Plus, this cardigan outfit is great for those transitional months when it's just about to get cooler outside when the weather gets in the 60s.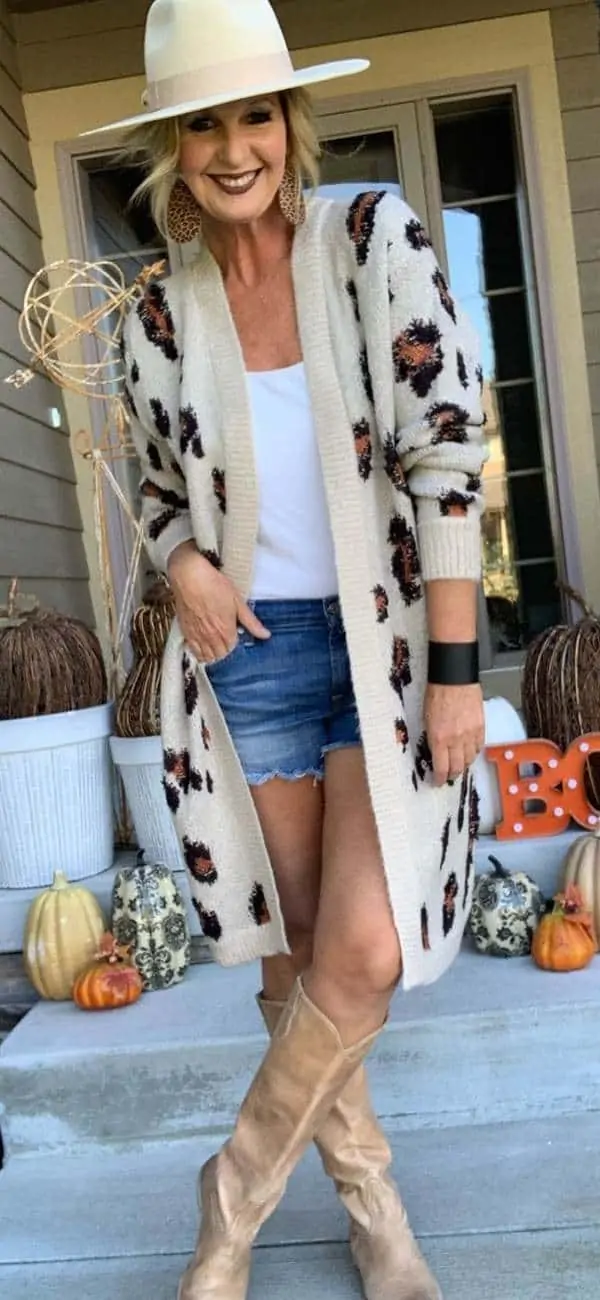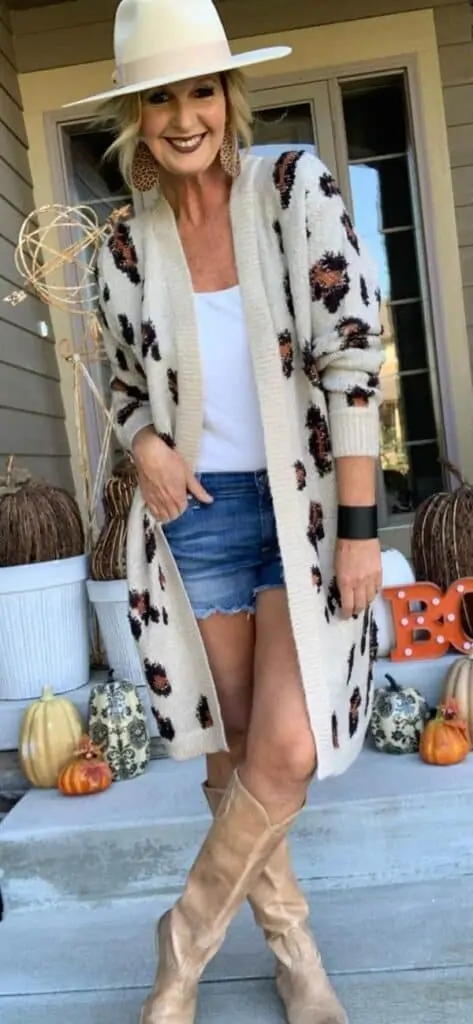 Melanie (above) wore her cardigan with denim shorts, a pair of knee-high boots, a white tee, and a hat. This makes for a great fall outfit particularly because she chose a longer cardigan for it. The longer cardigan keeps you warm but if you need even more warmth with the same look, a pair of dark or nude tights worn underneath your shorts will help.
With a skater dress
You can layer your cardigan over a skater dress when it's colder outside.
Skater dresses are girly and flattering since they bring attention to the smallest part of a woman's body, the waist. They also give the illusion of a nice hourglass figure regardless of your size and the best part is, you can wear them anywhere.
This is a great 60 degree weather outfit, or you can also look at it as a way of making your dress look a bit different, especially if you're used to wearing it as it is. Remember, plain dresses can be very simple since they come as just one piece and a colorful or even muted cardigan can elevate them.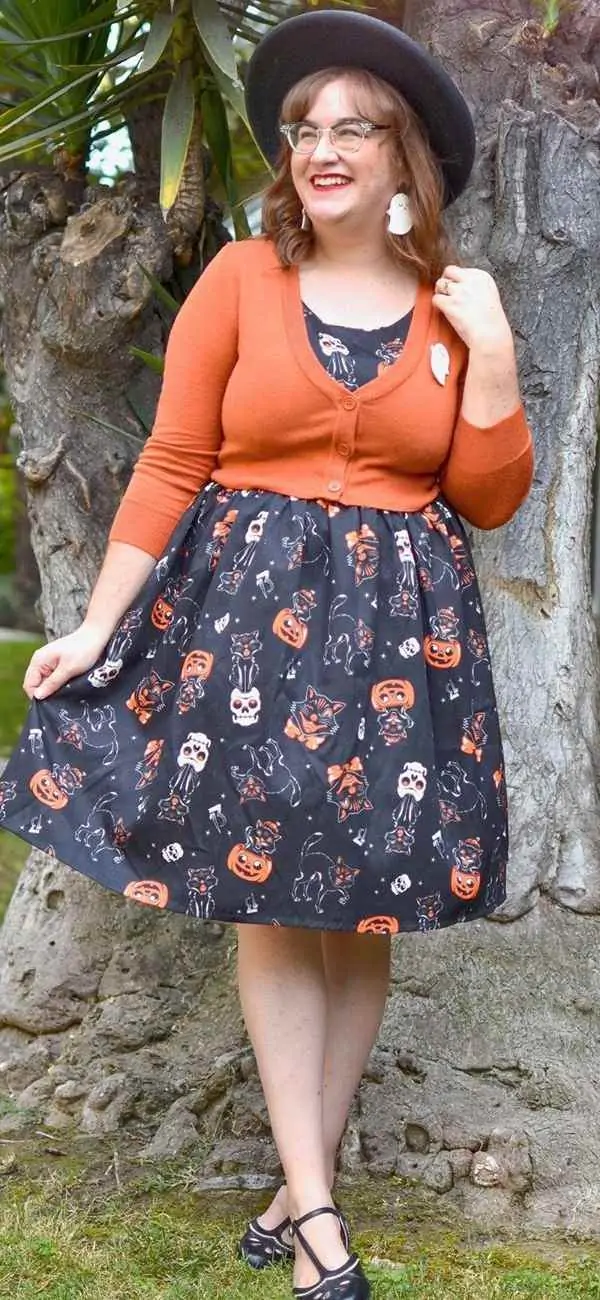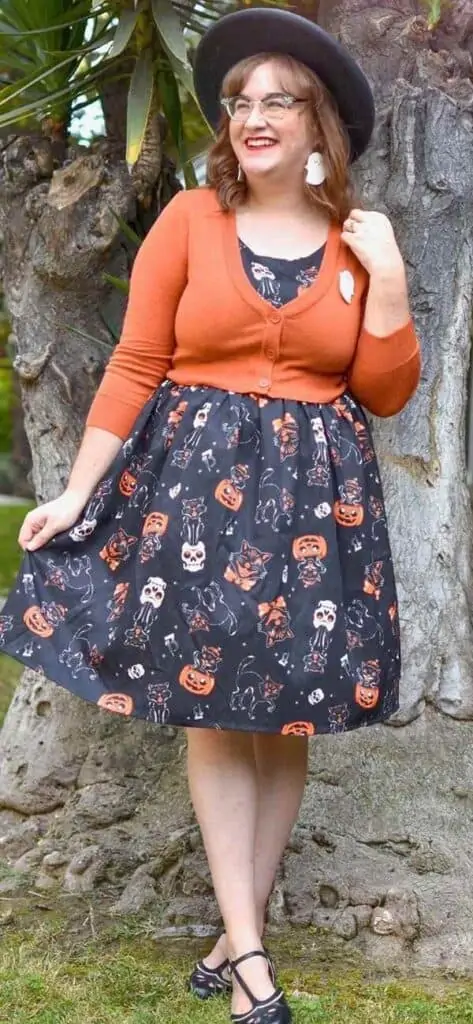 Elana (above) styled her printed skater dress with a cropped cardigan and a pair of simple shoes. If your dress has more than one color, pick either a black or white sweater. You can also go for a sweater whose color is also in your dress.
With tailored pants
You can wear your tailored pants with a lot of wardrobe pieces such as a button-down or a plain tee and then layer a cardigan over the look.
Tailored pants are a seamless way to look chic and smart which would explain why a lot of women will wear them to the office environment.
The cardigan serves as that third wardrobe piece that elevates the look.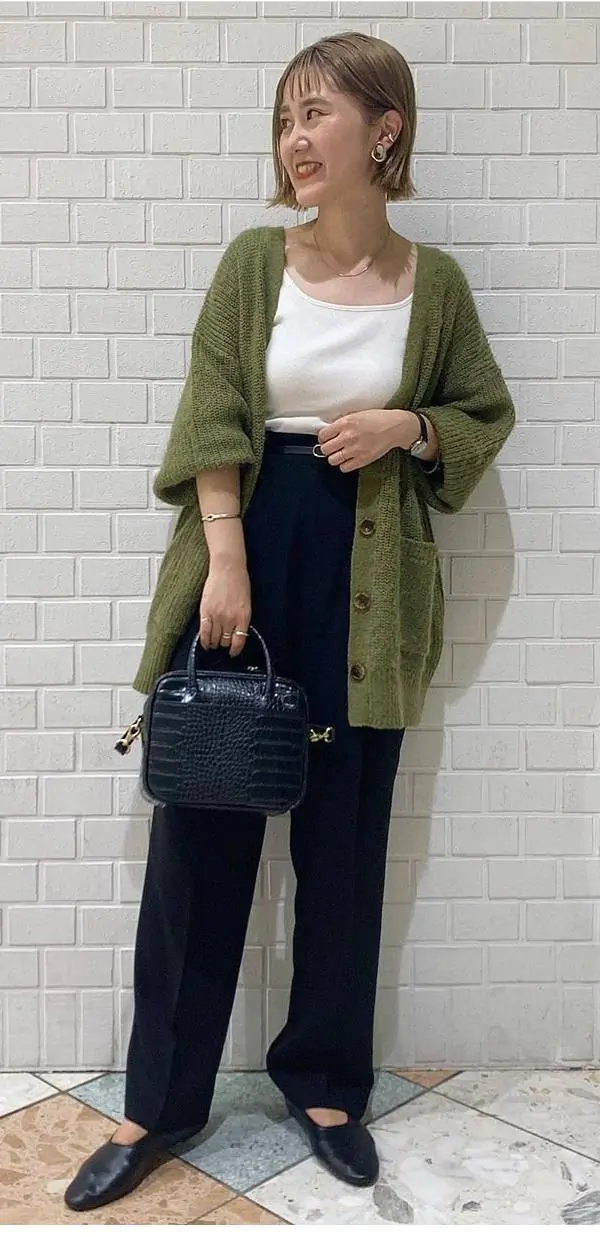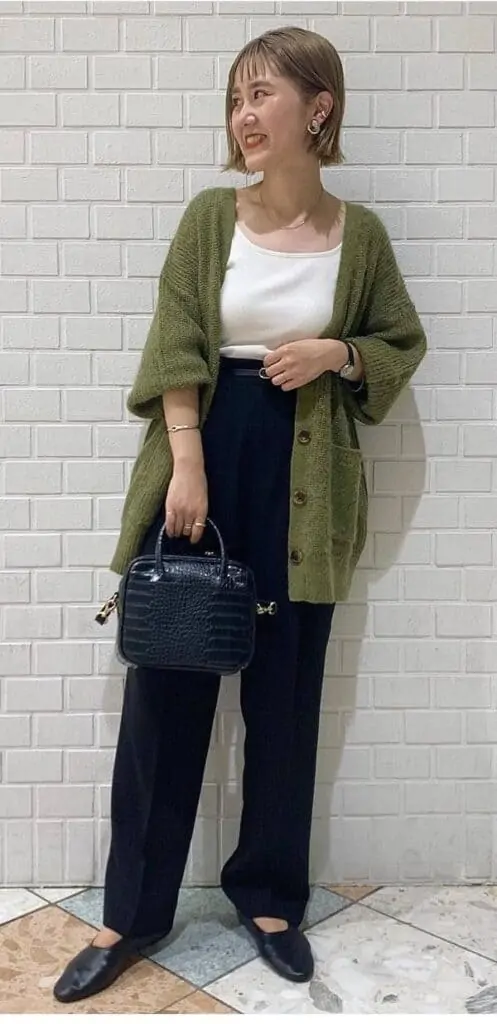 Lisa (above) styled her tailored pants with a white top and a long cardigan. A cardigan is a great alternative to a coat, a duster, or a blazer which are often chosen when people wear tailored pants.
With an A-line skirt
Wearing a cardigan with an A-line skirt is another great choice for a preppy outfit or if you just want to look youthful and girly.
An A-line skirt is shaped exactly as the name suggests, like an A. It hugs you at the waist and flares out downwards which is what makes it so flattering.
You can go for a shorter or a longer skirt in different fabrics.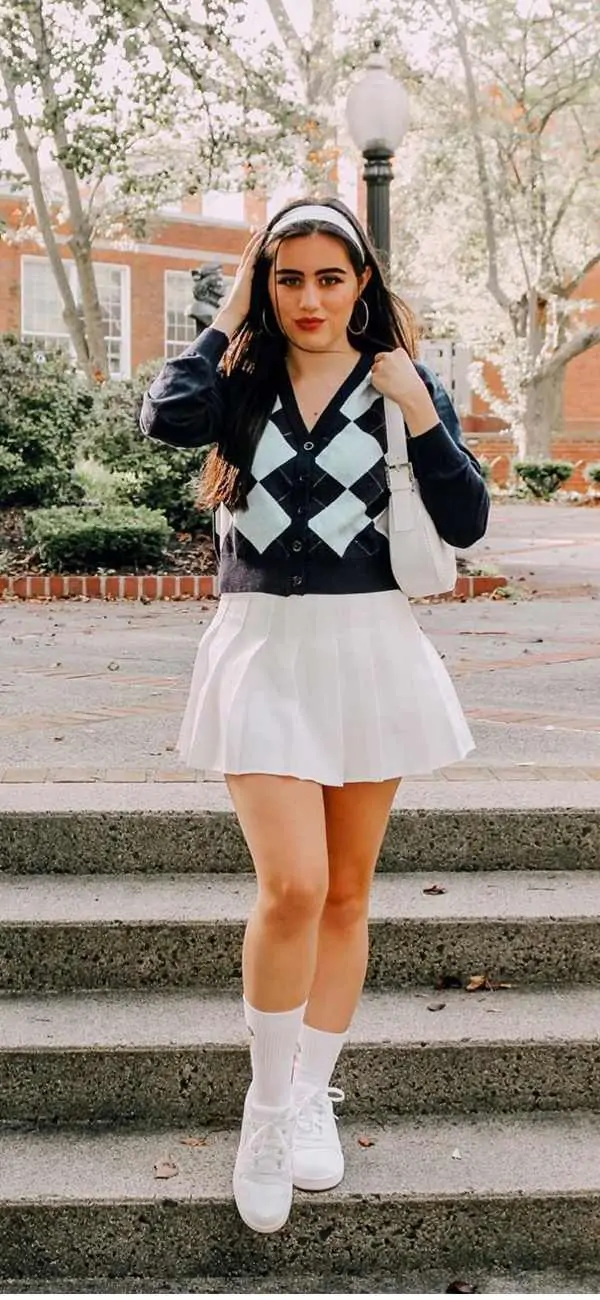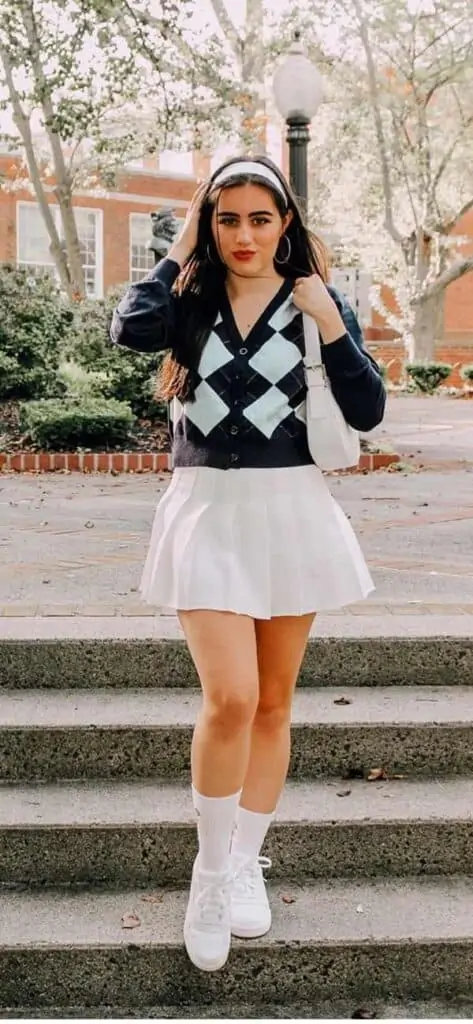 Nicolette (above) styled her short A-line skirt with a cardigan all buttoned at the front. Completing this kind of look with some sneakers gives it a sporty vibe while going for ankle boots makes your outfit edgier.
Cardigans were previously seen as pieces of clothing meant for teachers and students. This would explain why often, when you think of a preppy outfit, they're the first pieces that will come to mind. However, this is no longer the case as cardigans have found their way out of the confines of the school environment to the fashion streets.
Today, top designers, fashion bloggers, stylists, and other trendsetters have come up with fashionable ways of wearing cardigans, and they have as a result turned into closet must-haves.
From these ten suggestions, you can see that cardigans are very versatile and make for great wardrobe pieces that will have you stand out in different places that don't have to be a school.