Mom jeans are one of the easiest pieces of clothing to wear.
They're versatile and when styled right, they can take you from a daytime look to one suitable for the evening or simply from a casual to a dressy look. If you're a big fan of jeans then you probably own them in different types, including mom jeans.  Normally, Mom jeans are cinched up at your waist then have baggy legs making them flattering and worthy of being in any woman's closet.
They were mostly worn back in the 90s but made a comeback to the fashion world in recent years. Safe to say mom jeans are here to stay considering the many different ways that you can style them regardless of the season.
If you're looking for more ways to style your mom jeans or wondering what to wear with them altogether, here are some ideas to get you started:
With a basic white tee
The easiest mom jeans outfit is to wear it with a basic white tee, because white tee is a must-have for any woman. First, t-shirts are generally comfortable whether you'll be wearing them out to a catch-up date with friends or to the office. A white one in particular never goes out of style. A white tee is versatile so you can wear it with anything including mom jeans.
Since mom jeans are already baggy, you could go for a well fitted white tee for a cleaner, more balanced look. With a fitted one, you'll look dressier and chic depending on the footwear you go for and your accessories.
However, if you like that super casual look, you could size up on the white tee you'll be pairing with your mom jeans. After all, the jeans are cinched around the waist so you won't lose it in all the fabric. Tuck the white tee in and roll up the sleeves for that extra fun look.
Clarita (above) shows us just how well a plain white tee can look with some simple mom jeans and some sneakers. She's sized up on the shirt a bit and has rolled up her sleeves. Rolling the sleeves gives the tee a more interesting look especially considering the t-shirt is not fitting.
With a graphics or message tee
Still on the Mom jeans outfits with T-shirts, and graphics or message tees are always so visually appealing and are a great way of bringing out your personality and taste. They're the best option to go for if you'd like to capture the attention of people around you effortlessly. Pairing one that has an attractive image on it with your mom jeans quickly makes you stand out from everyone else around you. Pairing a message tee with your mom jeans ensures you express yourself while looking cool and casual without having to speak.
Since both mom jeans and message or graphic tees already make a statement individually, it's important to get the proportions right so that the overall look is nice and flattering.
Serena (above) wore her mom jeans with a graphics tee but added a grungy twist to the look by tying a flannel around her waist. She went for a more relaxed look with a pair of slides and a hat to accessorize.
With knits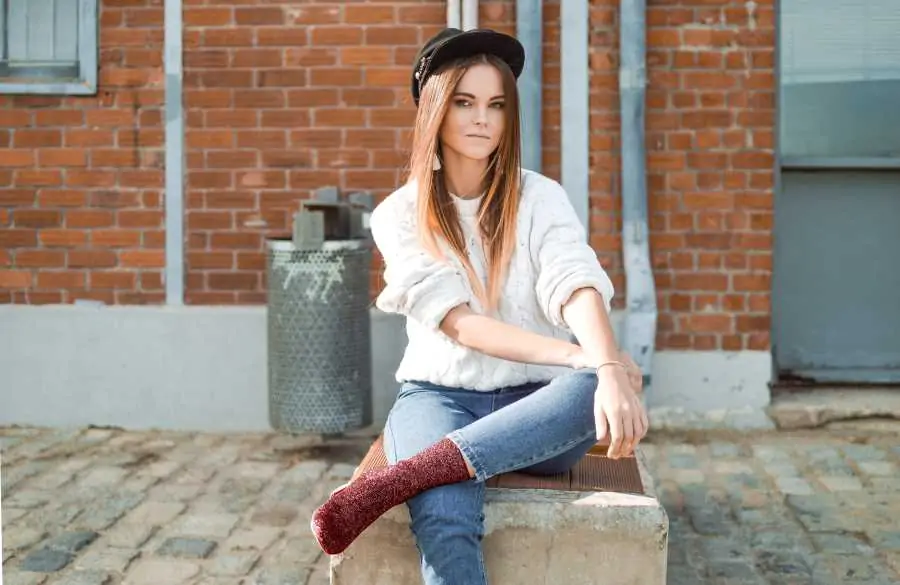 On slightly warmer days you could wear lighter knits with your mom jeans but if it's colder, you can switch up the lighter ones with chunkier knits. Find one that isn't too long that way you have an easier time tucking it into your mom jeans. You don't want to have your jeans bulging as this could be rather unflattering.
The best part about wearing knits with your mom jeans is that you will feel comfortable. After all, knits are made to give you that feeling of ease, and that alongside the baggy fit of the jeans should have you moving around feeling stylish but in the most effortless way. This is the kind of pairing you want to go for if you're going to be running errands all day, if you're going on a road trip or better yet to the airport like many of your favorite celebrities like to do. It does get cold up in the skies most of the time so this pairing comes in handy.
You can make your look classier by going for a minimalist pair of heels, a pouch, Gucci belt and some simple aviator sunnies.
With a leather jacket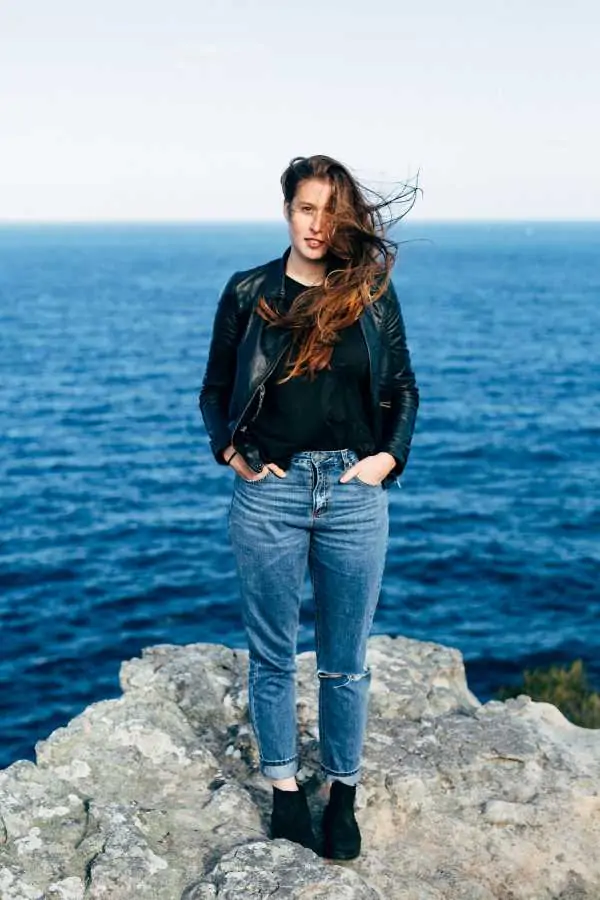 If you're all for an edgy look especially during cooler months then why not pair your mom jeans with a leather jacket!
First, leather jackets have been around for decades and that alone goes to show that they will never go out of style. A black one is a must-have although you can also get a great leather jacket in other different colors. They are also versatile pieces that can easily make the difference between you looking very simple and you looking like you put in some effort into your outfit of the day. Besides, there's something about a mom jeans-leather jacket combination that loudly screams Kendall Jenner and model off duty! Who doesn't love to look like a model every once in a while?
They go great with mom jeans especially if you pick the slightly cropped leather jackets. You can add a choker to the look and throw on a pair of booties to make the outfit even edgier.
You can wear mom jeans with a white top and added a black leather jacket to the mom jeans look. Her choice of patent black booties makes for the perfect completion to her super edgy casual outfit.
With a blazer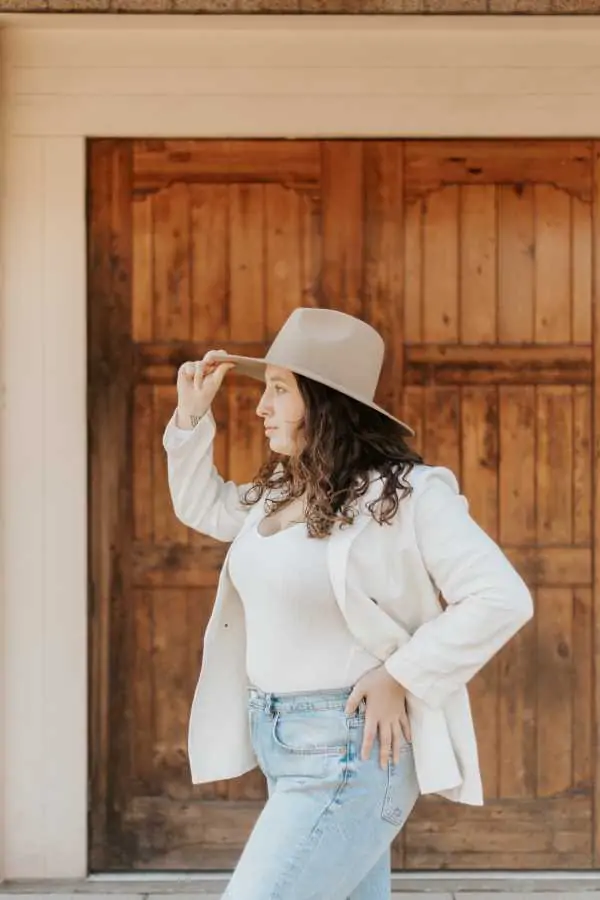 Adding a blazer to your mom jeans outfit not only keeps you warm but also adds a level of sophistication to the entire outfit. A blazer and jeans is an evergreen combination that's not just for a casual look but also fits different occasions.
A structured blazer combined with mom jeans also gives you a 90s look that never fails. This combination is great for a brunch, date night and even casual Fridays in the office. If you'd like to make the look dressier, add a pair of heels to the outfit. If you prefer a more laid back feel, a pair of sneakers will do and boots work great if you are more into the grungy style.
You can wear your Mom jeans with a black blazer thrown over a black tee and then add a golden necklace with a pair of sneakers for a sporty chic look.
With a denim jacket
Ever heard of the Canadian tuxedo? Well, it's simply a combination of denim and denim. While it's a fun style to go for especially if you just want to feel and look laid back, it can be tricky and you could end up getting it wrong. You can wear your mom jeans with a denim jacket but play around with some color. Wear that nice colorful top underneath or a color different from your denim pieces. Also, stay away from denim accessories as adding those will be too much.
Make sure you go for denim shades that flatter your body most. Remember, going for a lighter shade of the denims will draw more attention to the specific body parts your mom jeans and jacket are covering while darker shades have a more slimming effect.
Dikshita (above) is wearing her denim jacket with some ripped mom jeans. She went for a red top to brighten up an otherwise boring look. Notice how the rolled up sleeves make the look edgier.
With a Cape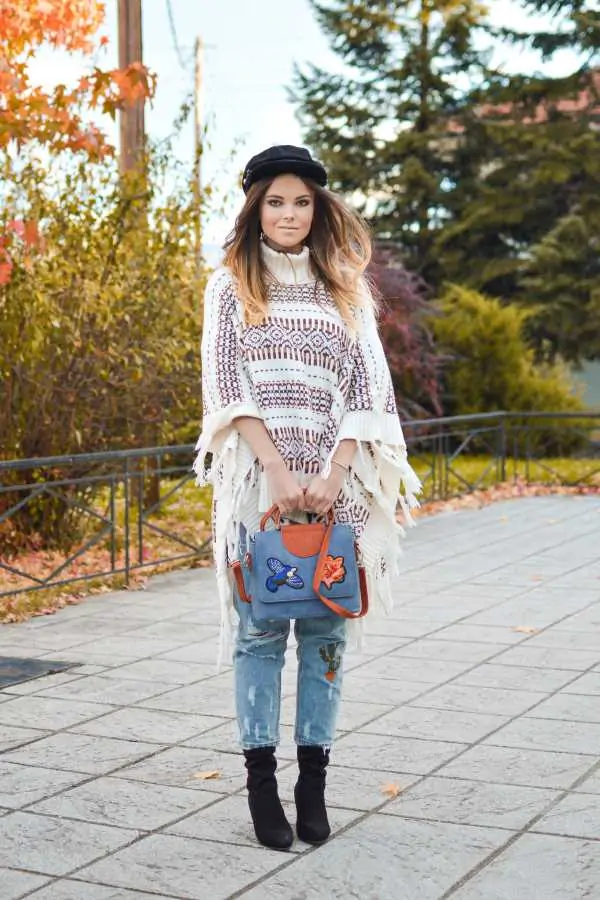 When the weather is a little chilly in the spring and the fall, one of the best Mom jeans outfits is to top off anything you wear with a cape.
Wear with a blouse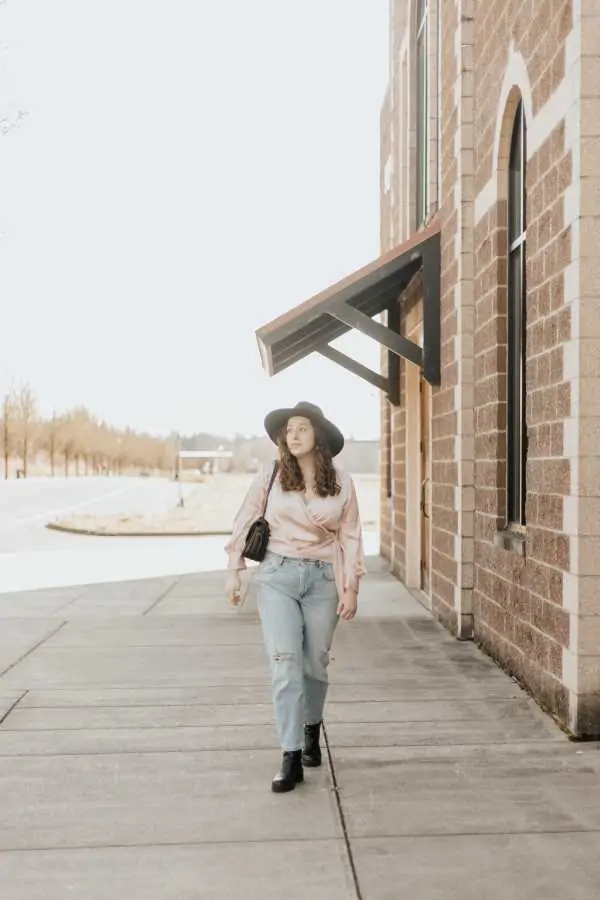 Similar to a shirt, wear a blouse with mom jeans and heels will make a dressy outfit. You can always add a scarf and a hat for a Parisian chic look. You can switch up the heels with some sneakers, boots or sandals to keep things more casual.
This list of possible pairings should have you well on your way to the mall to pick up a new pair of mom jeans or a couple of them considering their versatility. In case you already had a few pairs lying around, how about shopping your closet for the pieces above so that you come up with some amazing mom jeans outfits for the next few times you decide to step out wearing them. It's totally worth it and these pairings will give you those much-desired Instagram and Pinterest-worthy or blogger looks.
With a kimono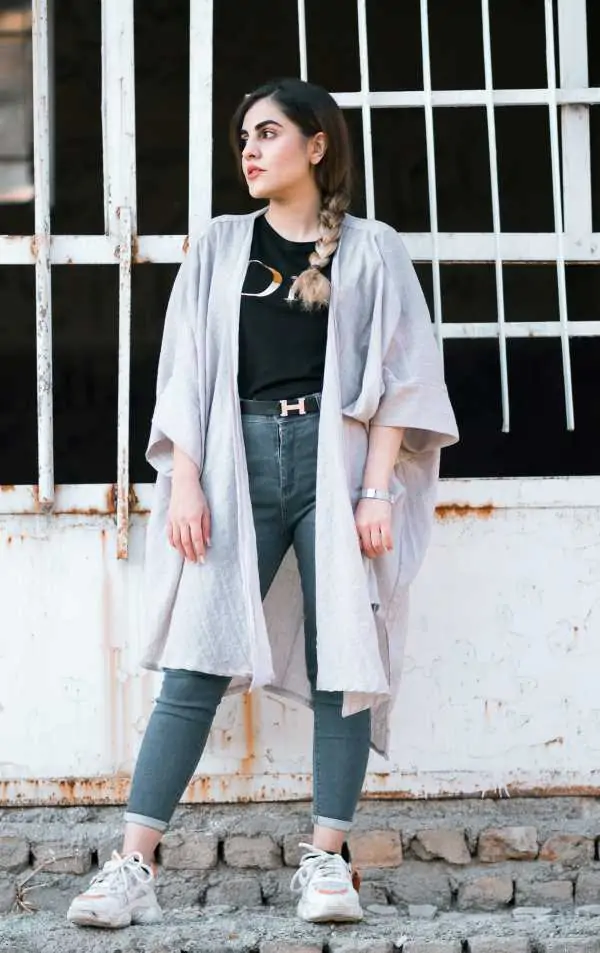 Just like a duster, a kimono is often long and flowy although there are shorter options available. They're great for summery months since they're light and airy and when worn right, they give you that chic, fun and unique look. The kimono-jeans look is not new to the fashion world and you've probably already seen celebrities and bloggers wearing this combination around.
Skinny jeans are the most common type to wear with kimonos but you can also pair your kimono with your mom jeans. You could go for a pair of sandals for that relaxed look or a pair of heels to take it from super casual to dressy. Alternatively, you could edge up your kimono outfit with a pair of boots. It's an unexpected pairing but it works great especially during the transitional months.
It gives you that interesting look and here, she went for a feminine kimono with a tougher style of boots.
With a bodysuit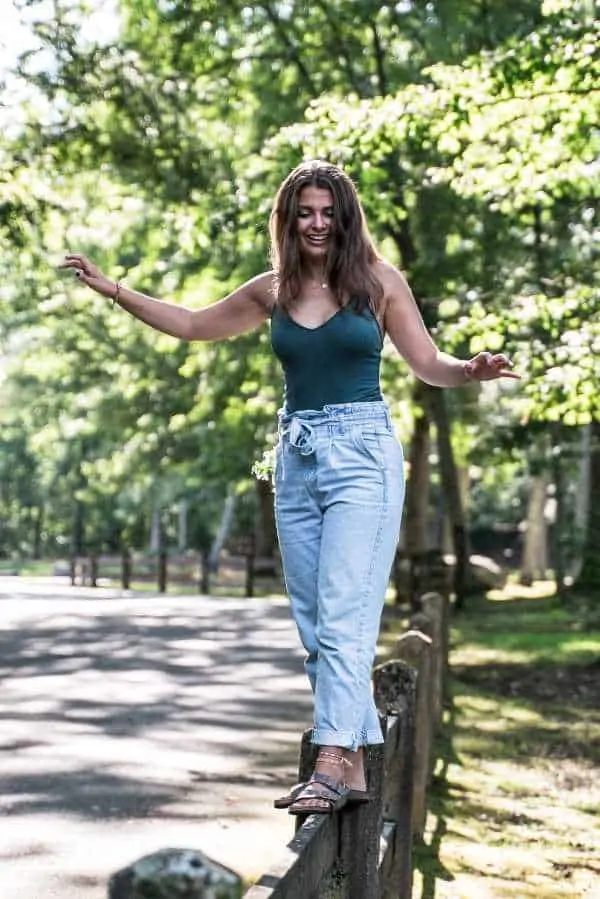 Tank tops can easily be worn with just about everything you own in your closet and mom jeans are no exception. Tucking in your tank top when you choose to wear it with mom jeans brings the focus to your waist, which is the smallest part of your body and gives you that illusion of the perfect hourglass figure. That's because the jeans, as we already mentioned cinch your waist then widen around the hips. They also give you an illusion of a smaller waist.
It's a simple look but so stylish at the same time.
With a bottom down shirt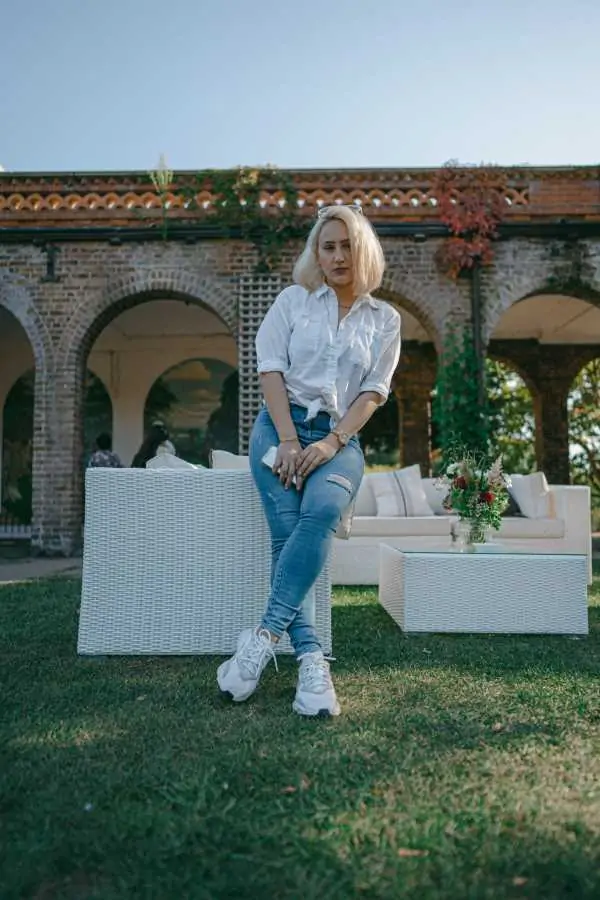 The list of what to wear with mom jeans cannot be complete without a good ol' bottom down shirt. Bottom down shirts whether fitting or oversize are timeless and comfortable to wear. They are also versatile especially if you go for whites, blacks or nude colors. They are as easy to pair with your mom jeans as t-shirts are.
You can also use an accessory like a hat to make this look fun and perfect for the weekend.
With a duster
Wearing your mom jeans with a duster might seem scary since both mom jeans and dusters have that oversized cut. It's easy to feel like you'll be overwhelmed by such a look, however, no need to. Dusters look great when worn with your mom jeans. First, they are a great third piece to add to your mom jeans and top outfit to make the look more cohesive.
Dusters also soften an edgy mom jeans look on any day since they're light and flowy. They add a relaxed element to the look. Dusters also make for great transitional pieces moving from warmer to cooler months and ensure that you stay chic in between. You can get them in neutral colors or brighter ones if you're going for a more vibrant look.
You can wear a duster cardigan with her mom jeans and a t-shirt underneath the duster. She accessorized with a golden chain and opted for kitten heels to make this look chic.
With a tank
A bodysuit will give you the same effect. The advantage of a bodysuit over a regular tank is that you don't have to worry about it untucking. They always give a neat look.