Having a short hourglass figure is somewhat tricky to style because you have to work on your full bust, well-defined waist, and wide hips in such a petite frame. Being 5'2 myself and having styled petite hourglass shaped models like Wendy (5'2″) for my petite clothing line, I completely understand how balancing a short girl's figure is very important to create a visually flattering silhouette.
It is true that the hourglass body shape is one of the most coveted frames out there as it somehow epitomizes the feminine shape. However, this gets a tad complicated when you have an hourglass body and a short height.
It's because your full curves would require more space on your body but since you're short, it restricts your curves and makes them seem "heavy". But don't worry, there are ways to work around this, and today, I'll share my styling experiences with working with models of all shapes for my petite clothing line – including short hourglass frames.
Styling Goal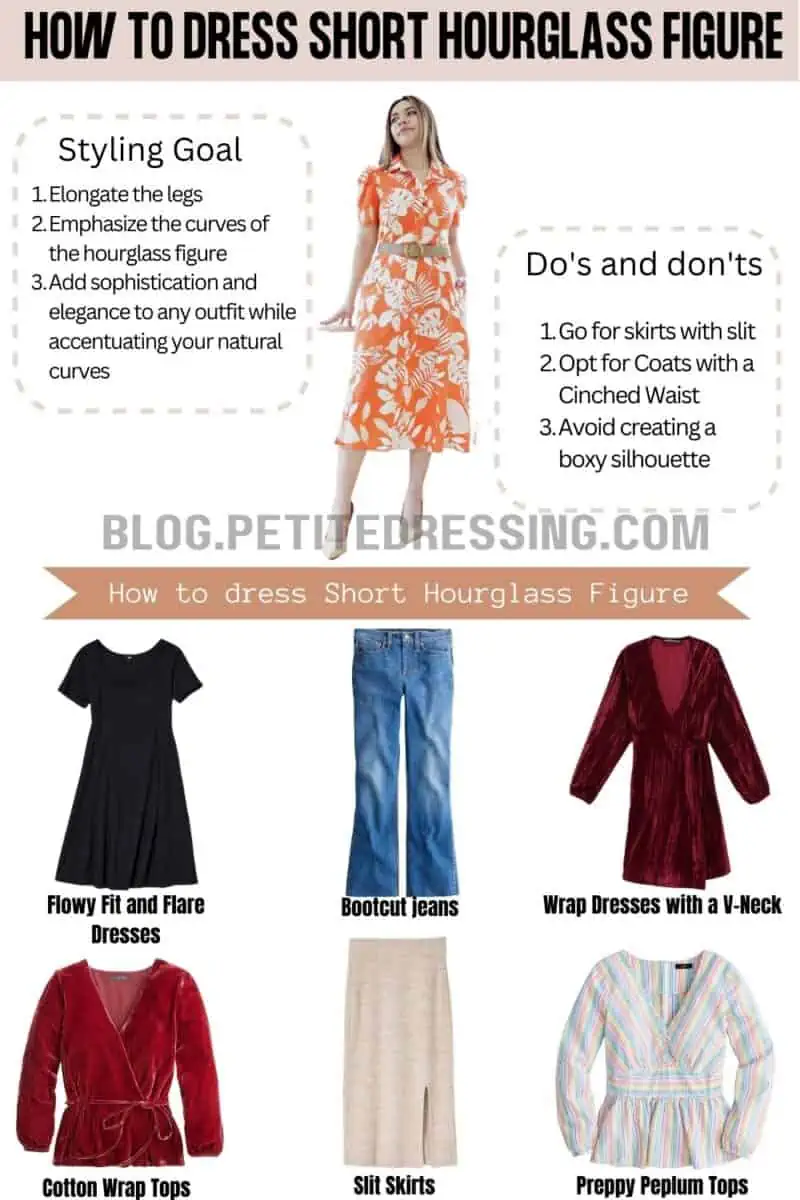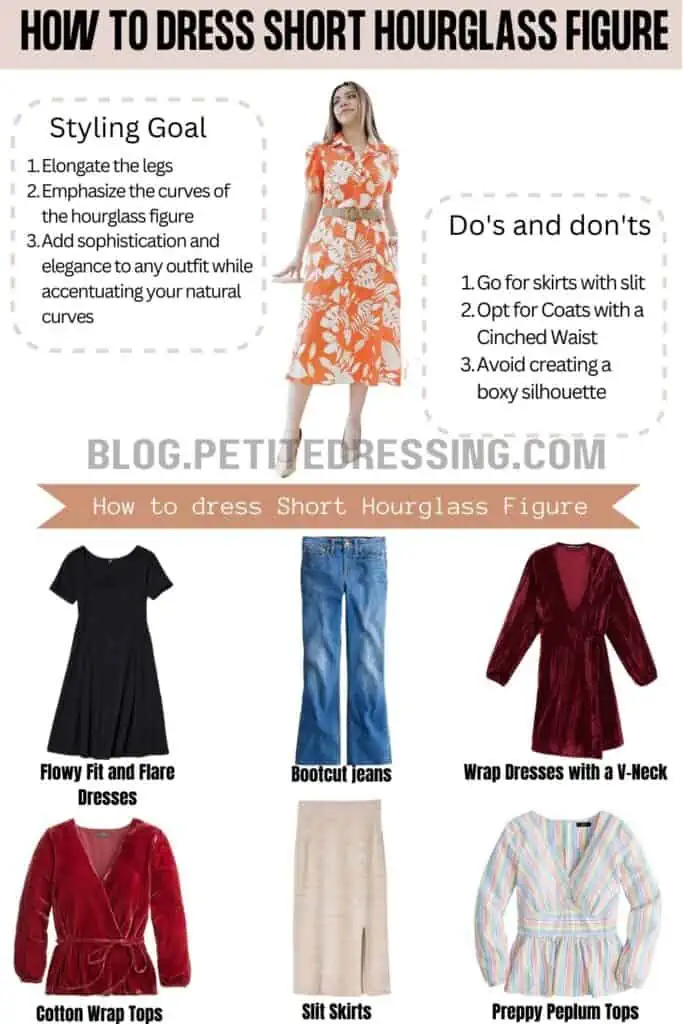 The enhancement of your silhouette should always be your priority. As someone with an hourglass figure, note that your curvy and very defined silhouette is your best feature so you always need to let them take the spotlight.
Always go for patterns, designs, and structures that elongate your figure. Patterns such as vertical stripes or single-lined buttons are just some of the samples of details that make you appear taller.
The right fit will make a world of difference so make sure that your clothes are not too loose or too tight. If you don't keep the proper fit in mind, the natural beauty of your figure may suffer.
Tone down voluminous details and embellishments especially on the areas where your curves are prominent (bust and hips). Dramatic details such as heavily cascading ruffles will definitely overwhelm your figure.
Now let's start sorting your wardrobe ensembles by category and see how each can be perfectly styled according to your petite hourglass frame.
DRESSES
Dresses for short hourglass frames should mainly be about cinching the waist. Doing so will help emphasize your bust and hips, as well as balance them out with your narrow waist.
Flowy Fit and Flare Dresses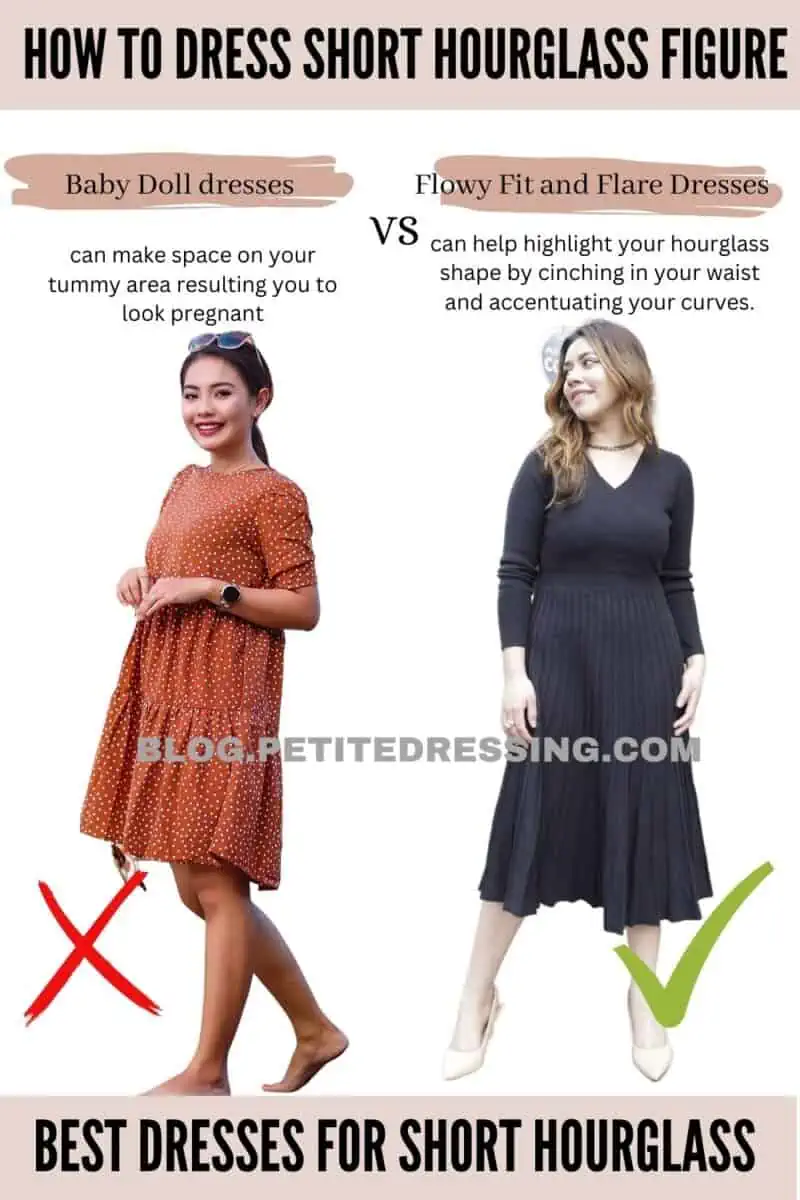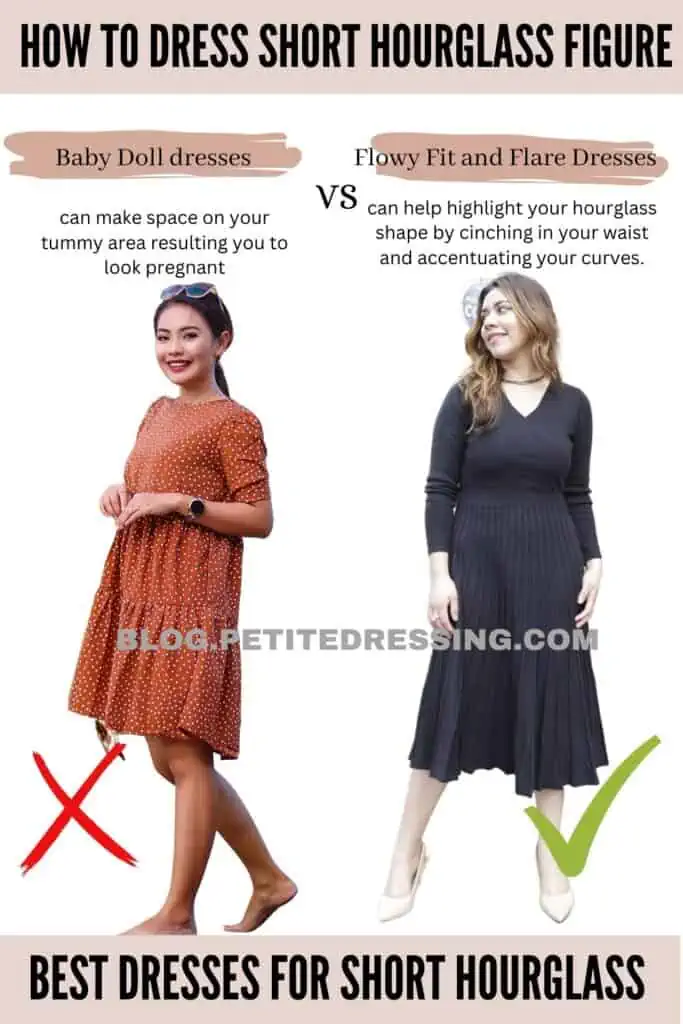 If you're a short woman, flowy fabrics can be quite flattering as they create the illusion of movement, which can make you look taller than you actually are. This is why dresses with draped, fit, and flare designs are particularly great since they elongate your frame and enhance your figure.
Moreover, fit and flare dresses can help highlight your hourglass shape by cinching in your waist and accentuating your curves.
Form-fitting Dresses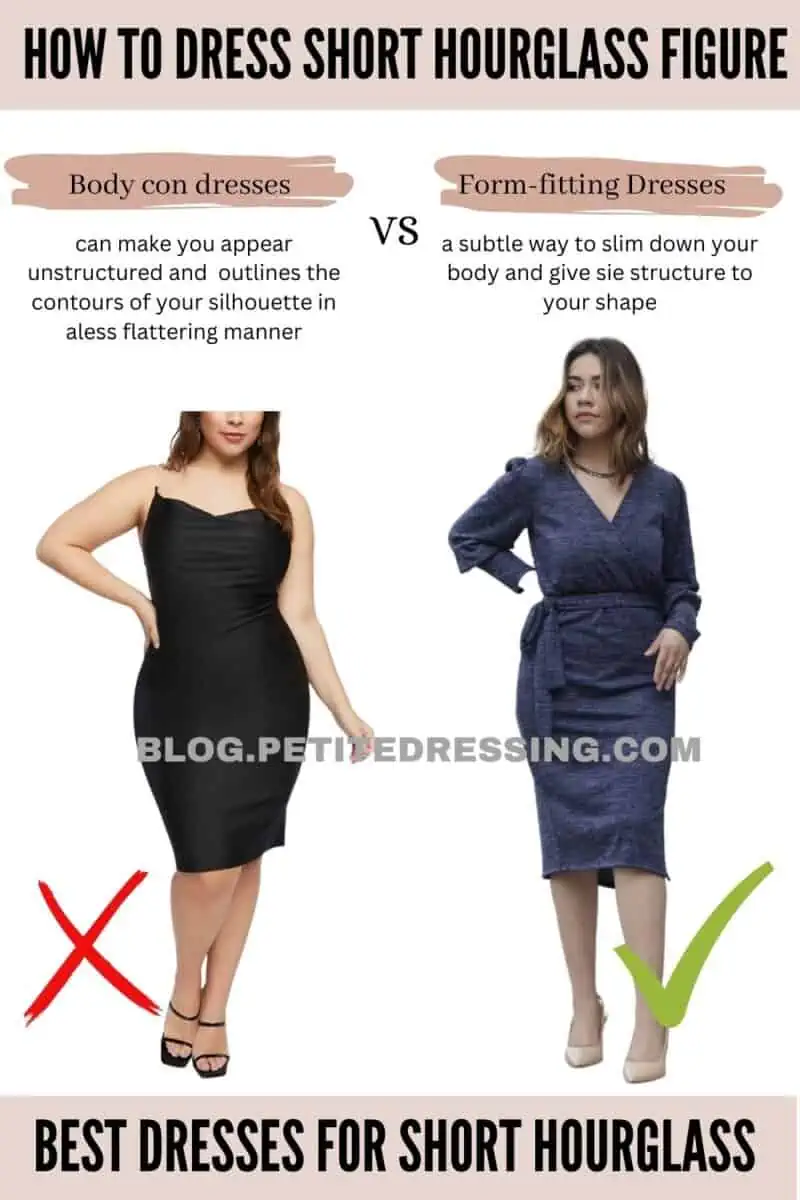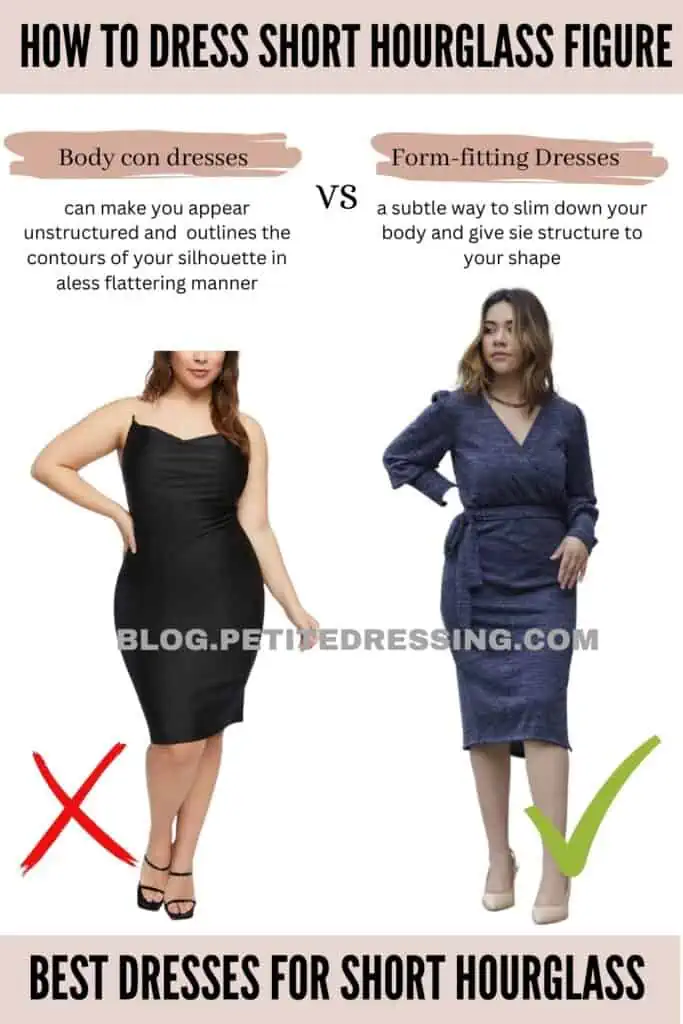 Form-fitting dresses are good for short hourglass bodies because they accentuate the curves of the waistline and enhance the natural silhouette of the body. This dress style follows the contours of the body, creating a smooth and flattering look.
This can be especially beneficial for short women with hourglass figures because it can help elongate their appearance by balancing out the proportions of the torso and legs. It's important to take note that form-fitting dresses shouldn't be too tight, otherwise it can make you look heavier and wider.
Wrap Dresses with a V-Neck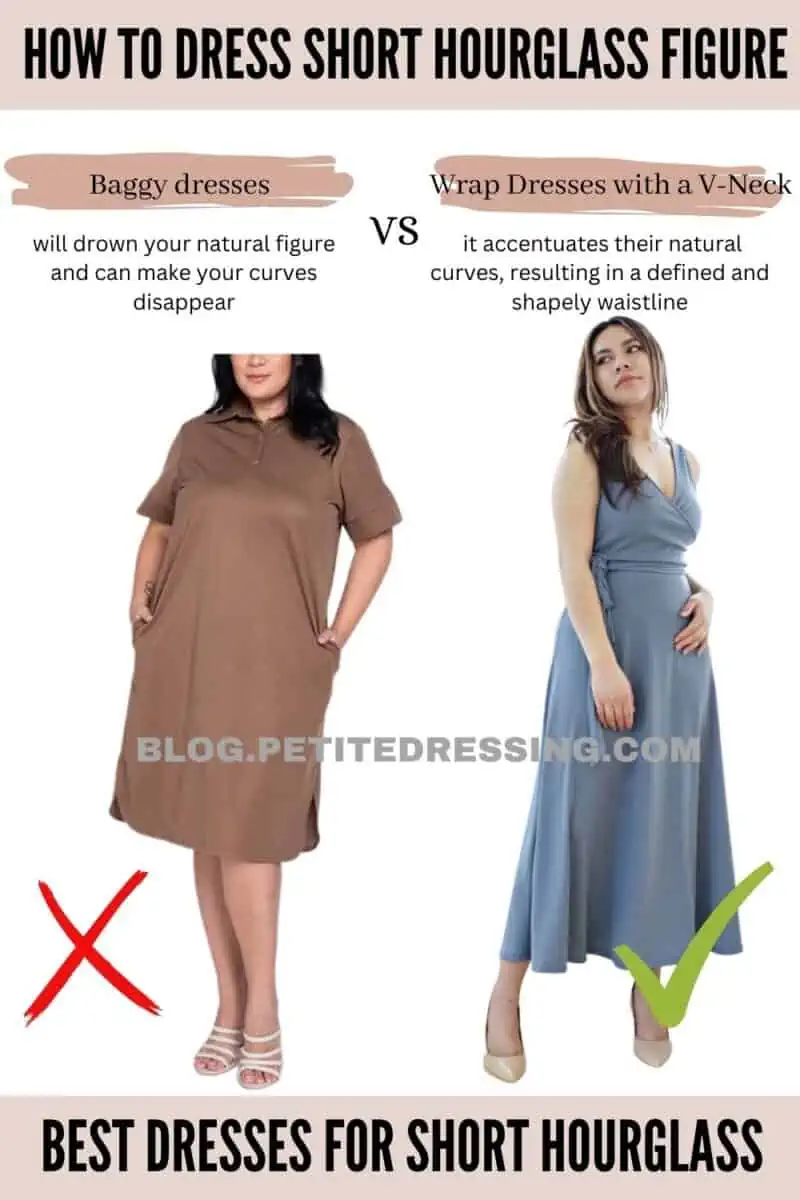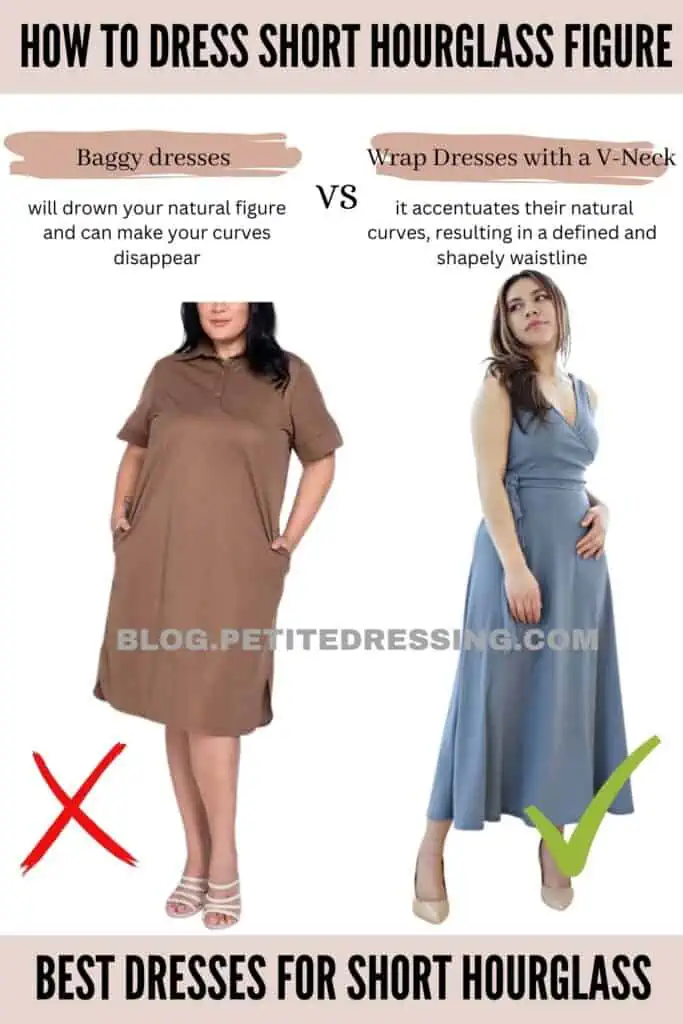 For those with petite hourglass frames, a wrap dress featuring a V-neck is a match made in heaven, as it boasts both figure-enhancing and elongating qualities. The beauty of wrap dresses lies in their versatile structure, which flatters a range of body types.
The waist-cinching design of a wrap dress is particularly appealing for those with an hourglass figure, as it accentuates their natural curves, resulting in a defined and shapely waistline – a key feature of the hourglass shape.
Moreover, a V-neckline can elongate the neck and create a longer, leaner silhouette. This type of neckline draws the eye up and down, creating a vertical line that can make one appear taller, especially for those with a shorter height and an hourglass body shape.
TOPS
Tops shouldn't be boxy and shapeless. Instead, you should go for top designs that show off the neckline and smoothly hug your natural curves.
Cotton Wrap Tops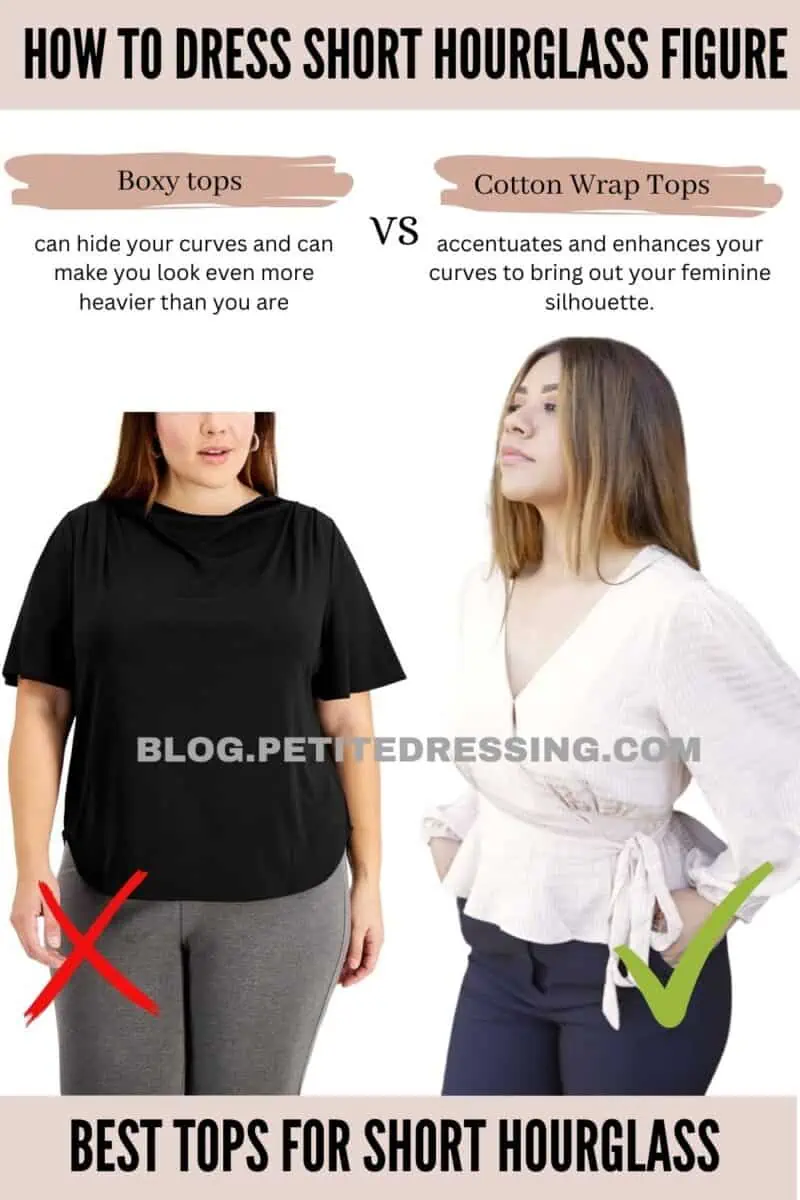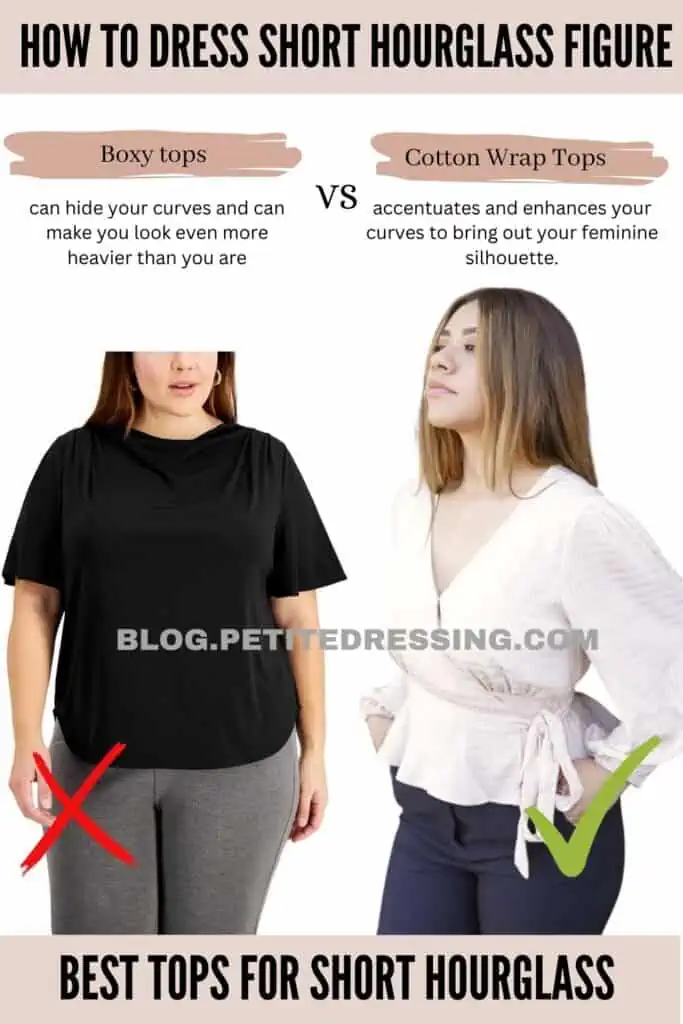 Wrap tops will always be a quick go-to top for your petite hourglass frame. These tops usually come with a tie or knot at the waist that accentuates the narrowest part of your hourglass figure and therefore enhances your curves to bring out your feminine silhouette.
The adjustable waist tie is one of the key factors that makes wrap tops an ideal choice for short hourglass body shapes. You can easily customize the fit to create a snug and flattering look that emphasizes your bust and waist.
Structured Belted Tops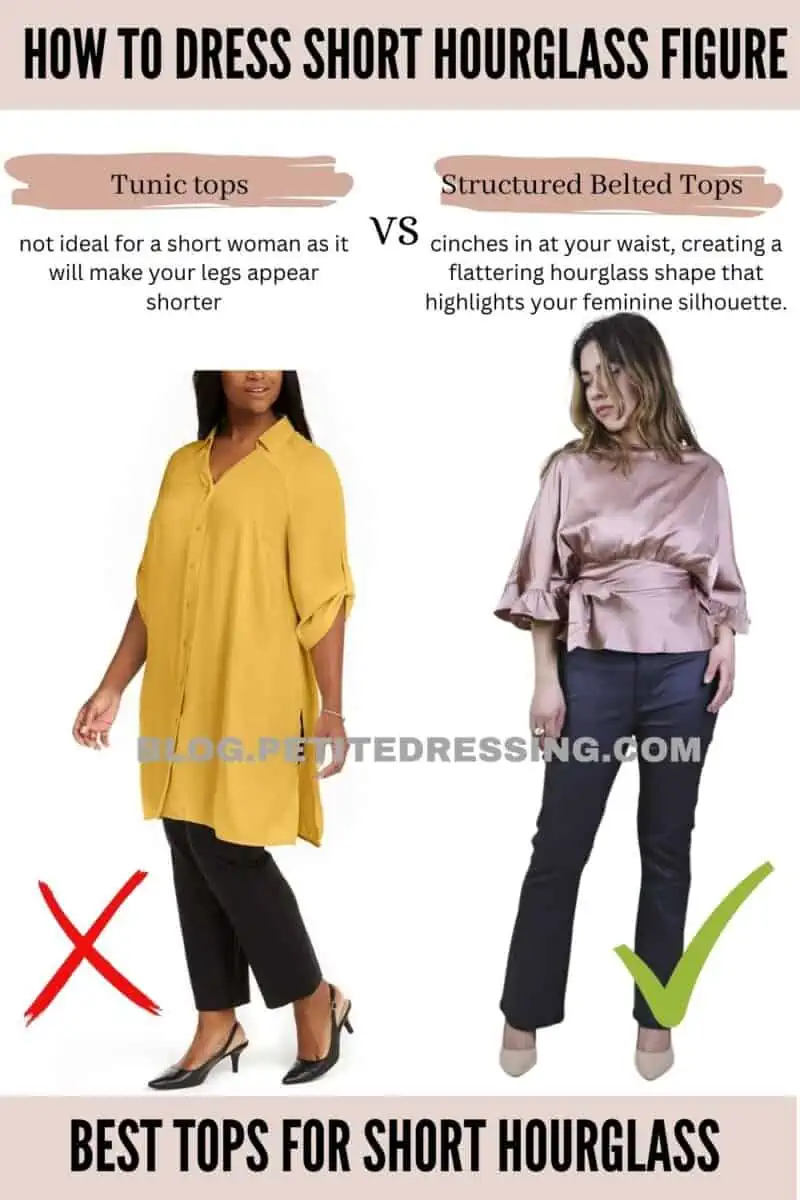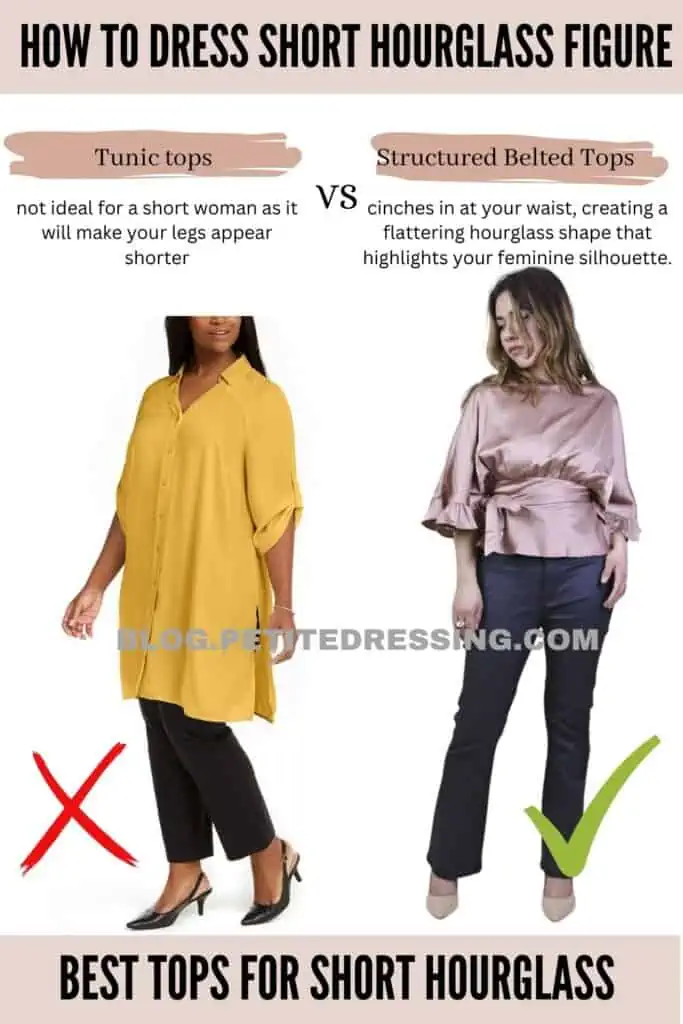 Belted tops are like magic wands for short hourglass body shapes as they have the power to enhance your curves and make you look like a total fashionista in an instant. The belted design cinches in at your waist, creating a flattering hourglass shape that highlights your feminine silhouette.
Not only do belted tops emphasize your narrow waistline, but they also have the ability to create a more proportionate look. By balancing out your upper and lower body, belted tops can help elongate your frame and make you appear taller than you are.
Preppy Peplum Tops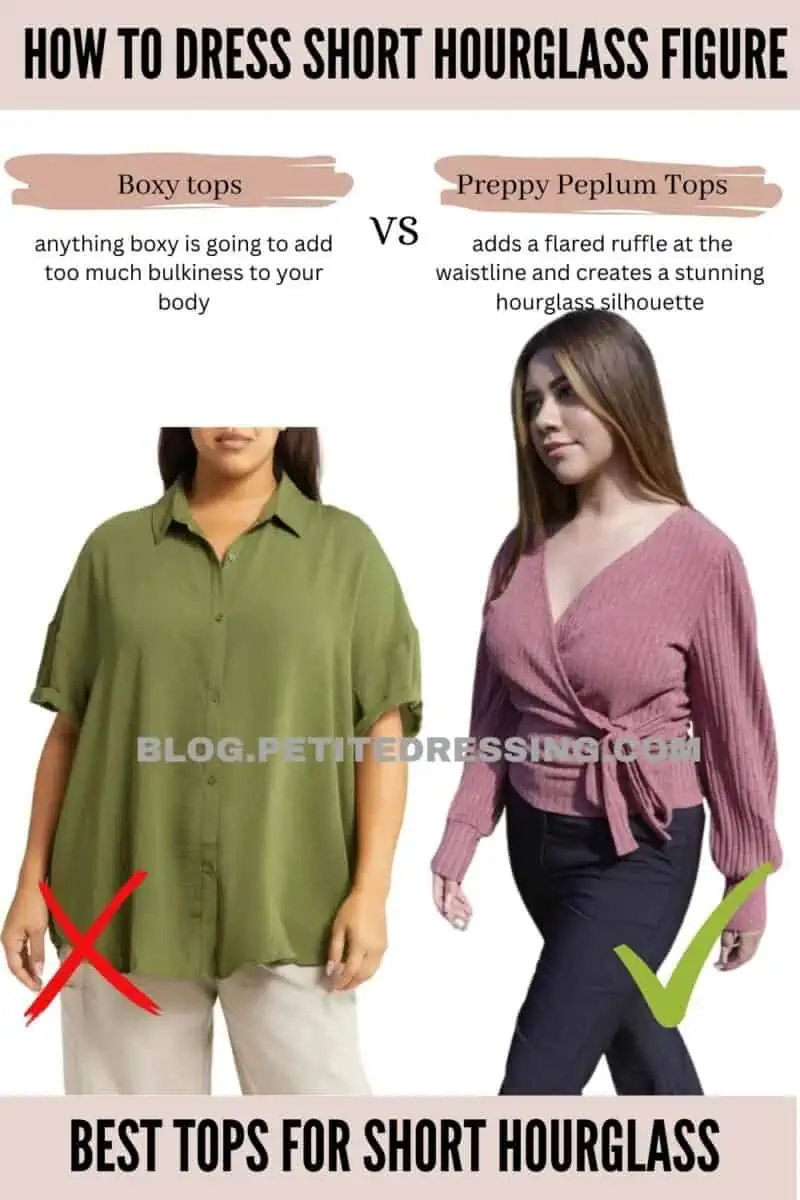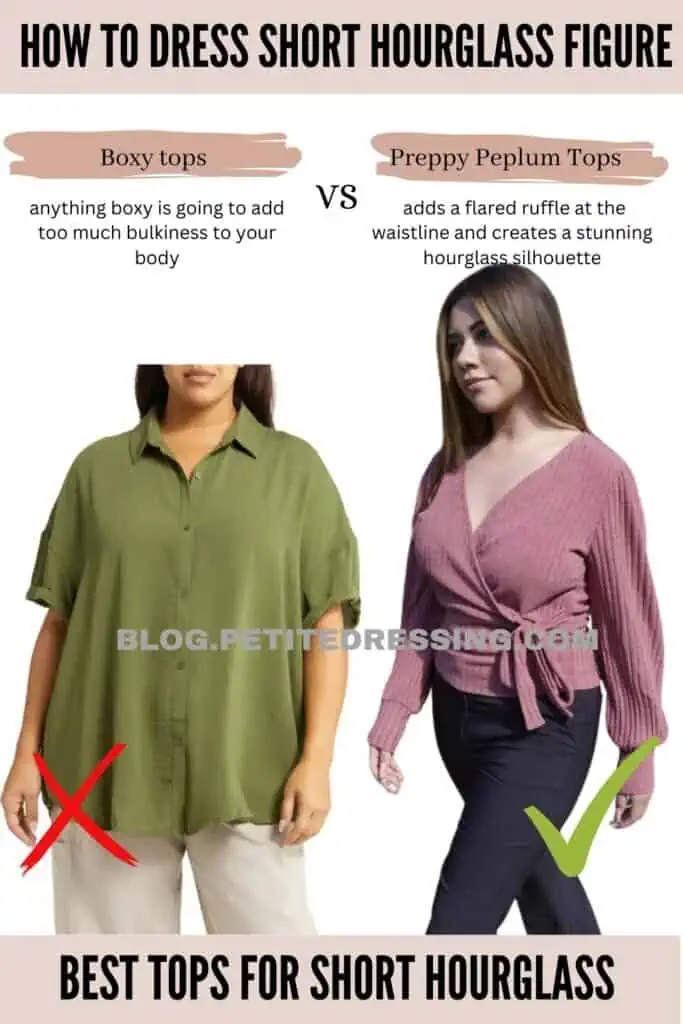 Peplum tops feature a very flattering structure that your petite hourglass body will surely fall in love with! The peplum design adds a flared ruffle at the waistline, drawing attention to your narrowest point and creating a stunning hourglass silhouette that's guaranteed to make heads turn.
They also provide a playful and feminine touch to any outfit as they efficiently accentuate the curves from your bust line to your waist and hips. The flared ruffle adds movement and flows to your look, creating a fun and flirty vibe that's perfect for any occasion.
JEANS
No casualwear is ever complete without a nice pair of jeans! For short hourglass figures, there are certain types of jeans that bring your highly-coveted frame to perfection.
Casual Straight-leg jeans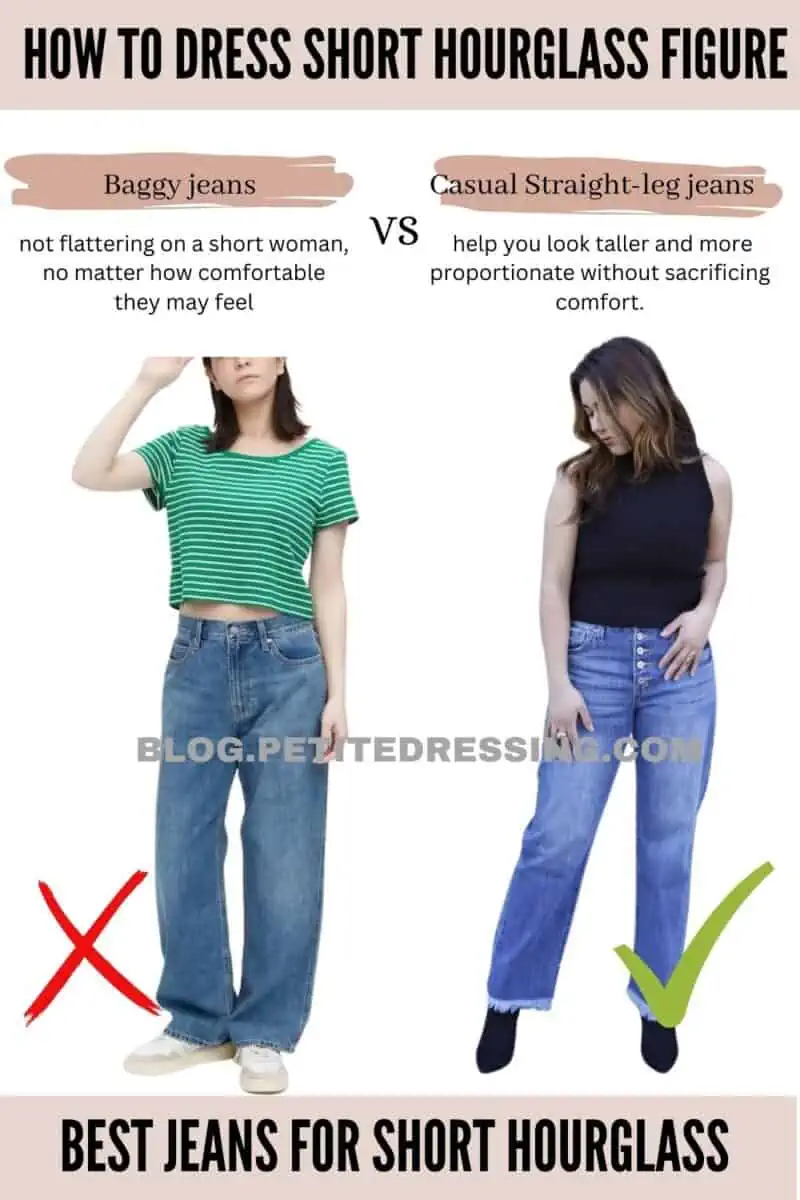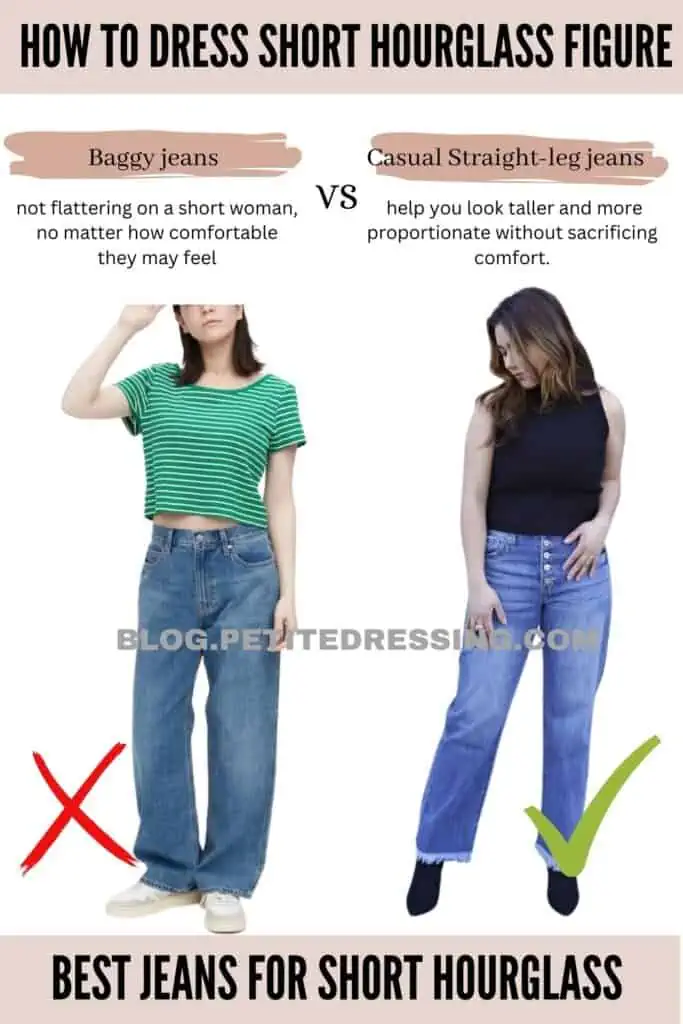 If you're searching for a wardrobe staple that will never go out of style, look no further than straight-leg jeans. These jeans are universally flattering and a must-have for petite hourglass ladies who want to enhance the natural visual balance of their frames.
Straight-leg jeans also work wonders in elongating the appearance of your legs. With a streamlined silhouette that doesn't flare too much at the bottom, these jeans help you look taller and more proportionate without sacrificing comfort.
Bootcut jeans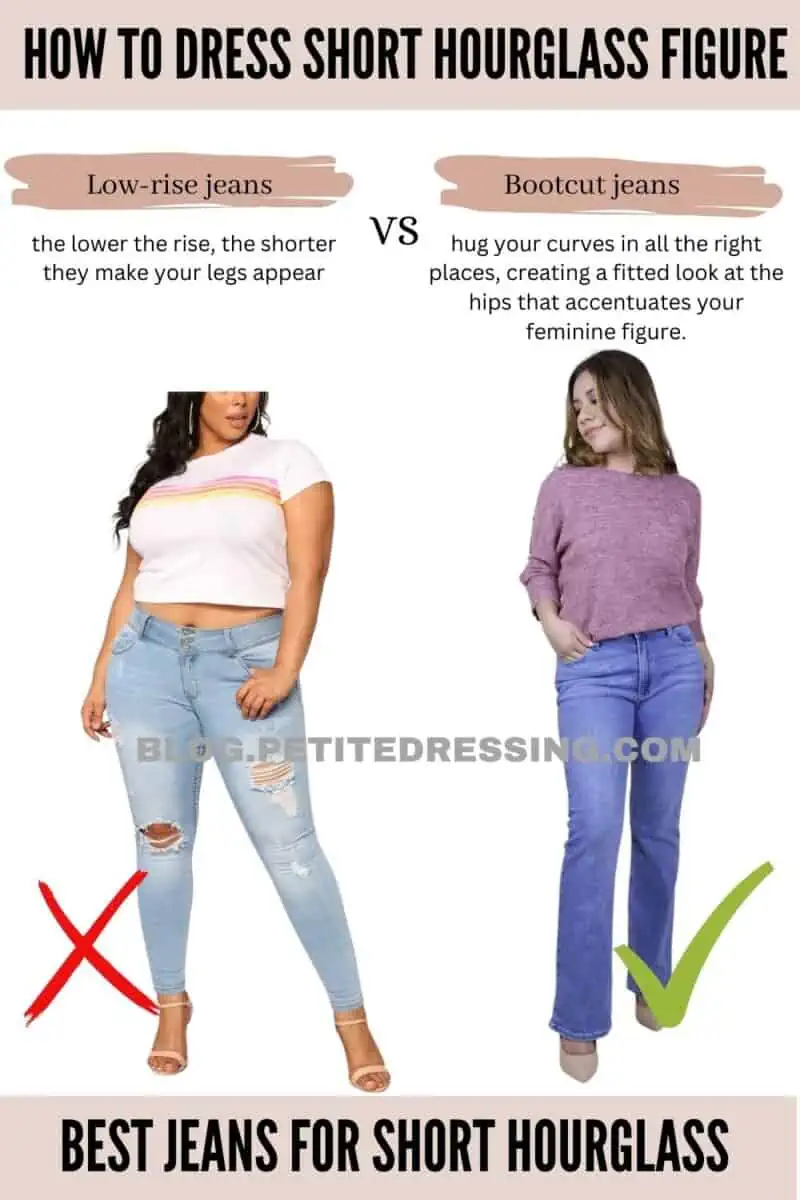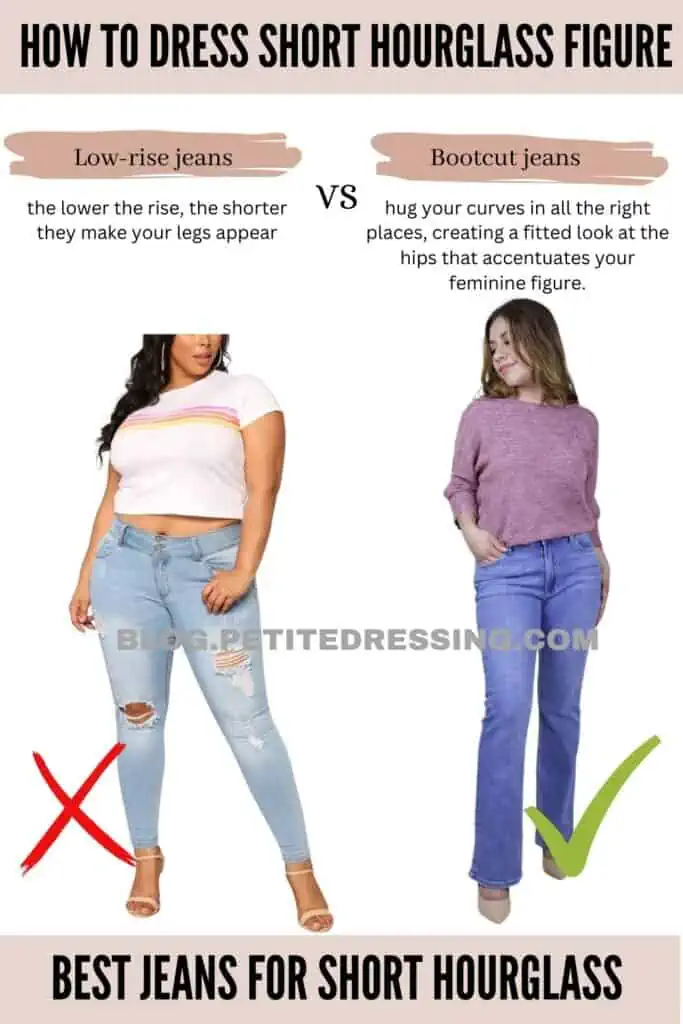 Bootcut jeans are the ultimate secret weapon for petite hourglass ladies looking to draw attention to their voluptuous curves These jeans hug your curves in all the right places, creating a fitted look at the hips that accentuates your feminine figure.
But that's not all – the slight flare at the bottom of bootcut jeans is just enough to balance out your lower body and create a more proportional silhouette overall. It's like magic – suddenly, you've got long legs and a stunning hourglass shape that will turn heads everywhere you go.
Classic Dark-wash jeans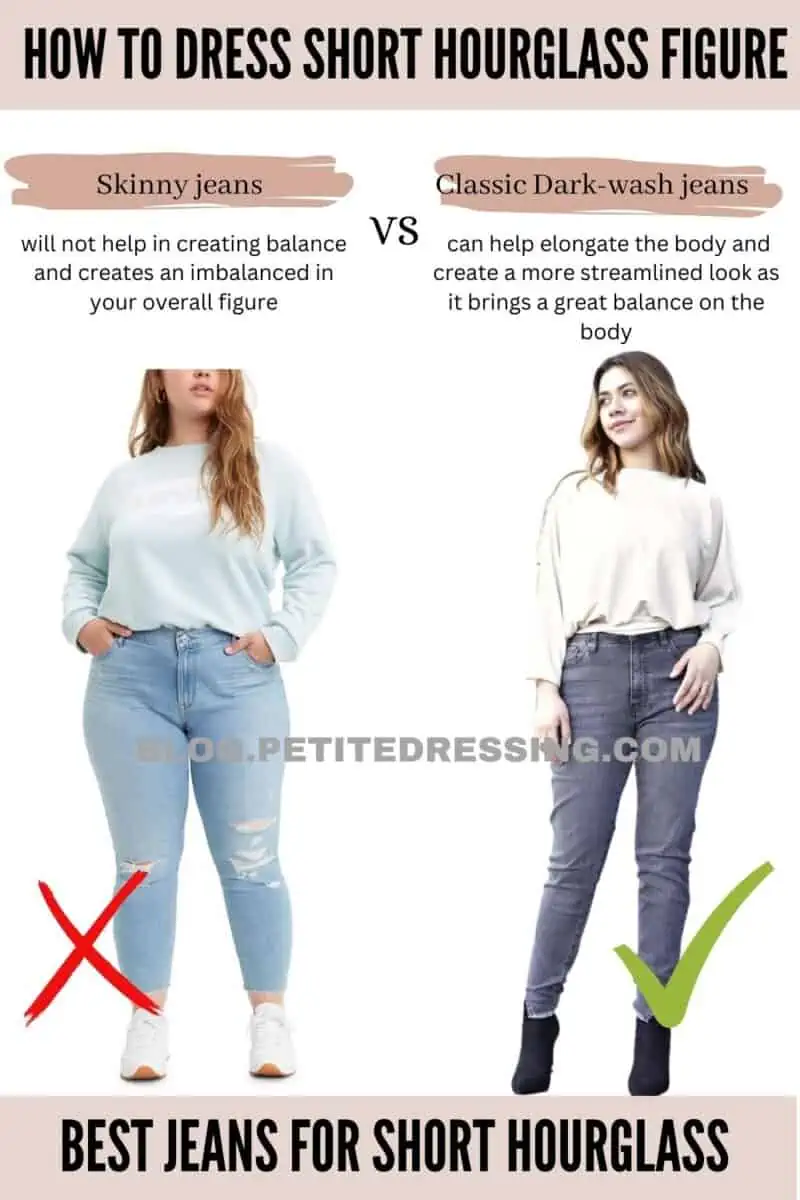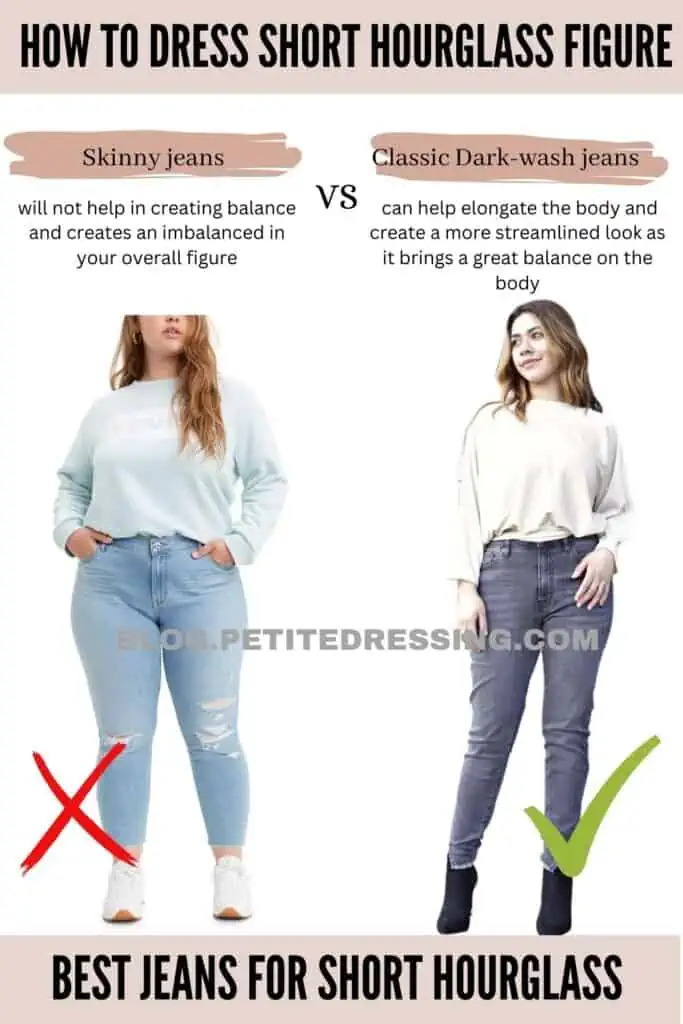 The dark color of the denim can create a slimming effect as it absorbs light and minimizes the appearance of shadows that usually gives the effect of a bigger frame. Dark-wash jeans can help elongate the body and create a more streamlined look as it brings a great balance between your upper and lower body.
When it comes to hourglass figures, a well-fitted pair of dark wash jeans can accentuate curves and provide a balanced and flattering silhouette to create a sleek, sophisticated appearance.
COATS
Keep yourself warm and cozy with coats without compromising the beauty of your petite hourglass body shape! Keep things minimal and silhouette-oriented to ensure that your body frame isn't being overwhelmed.
Tailored Single-breasted Coats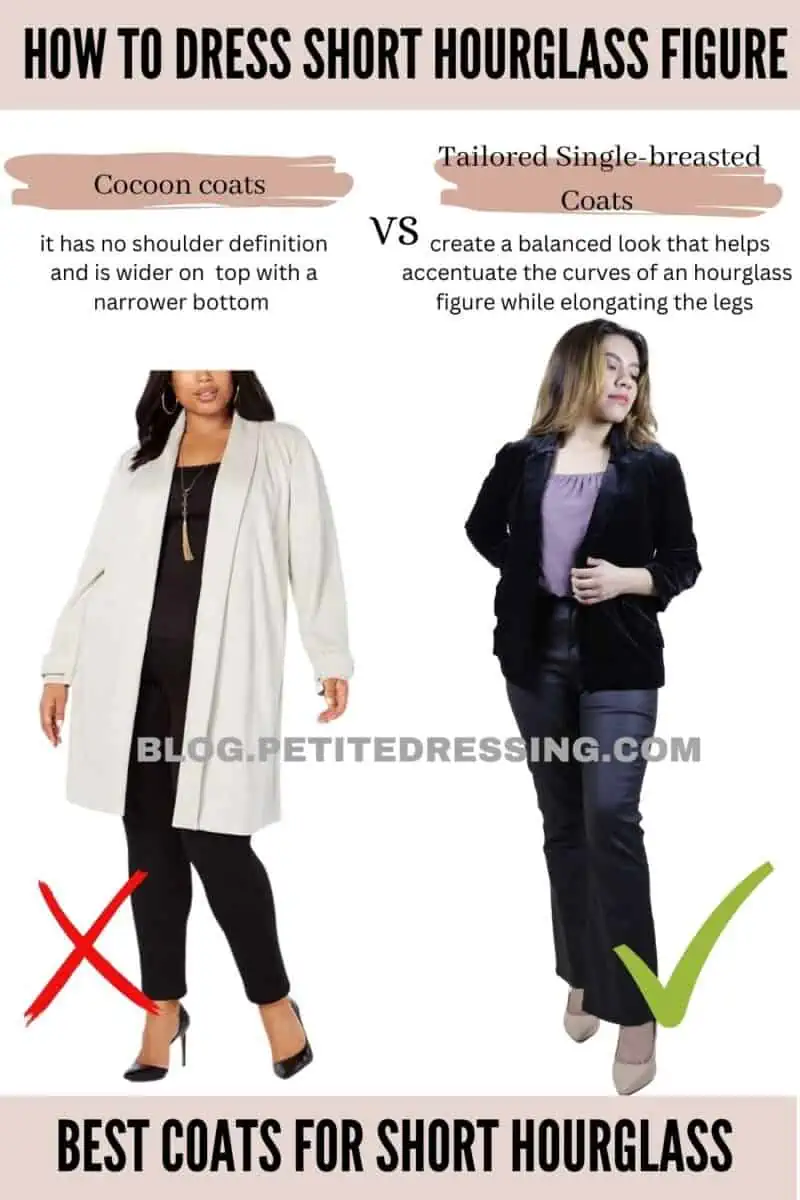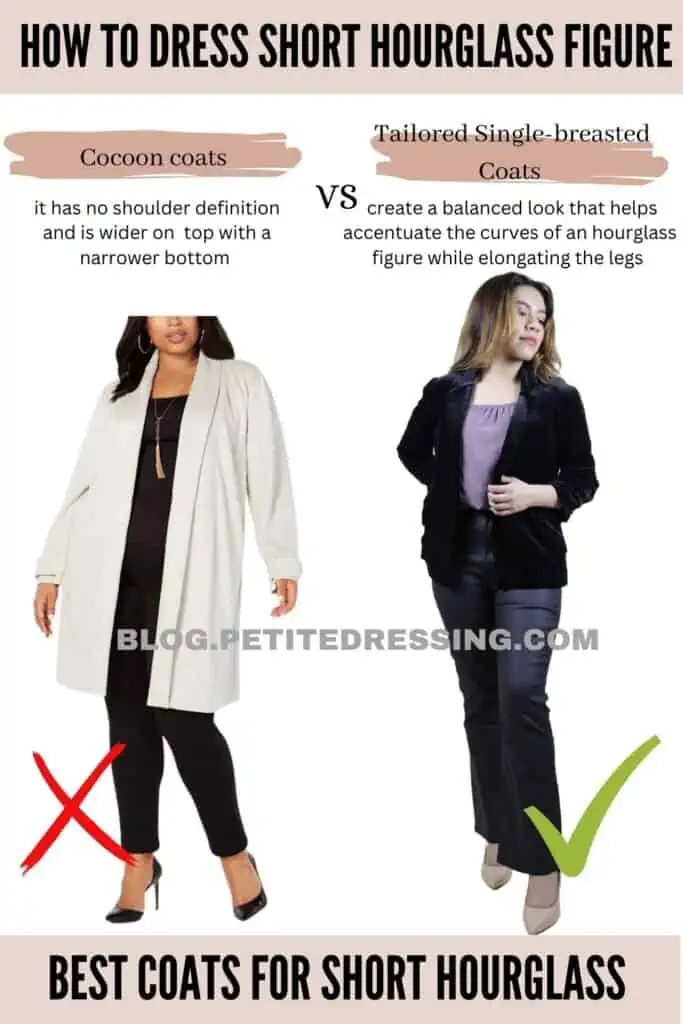 When it comes to outerwear, single-breasted coats are a classic choice that can flatter a variety of body types. Well true enough, this style of coat can be particularly stunning for short hourglass women because of its simple characteristics.
The single-breasted coat's fitted waist and flared hem create a balanced look that helps accentuate the curves of an hourglass figure while elongating the appearance of the legs. This means that this type of coat can create a well-proportioned silhouette that is both flattering and stylish.
Neutral-colored Wrap Coats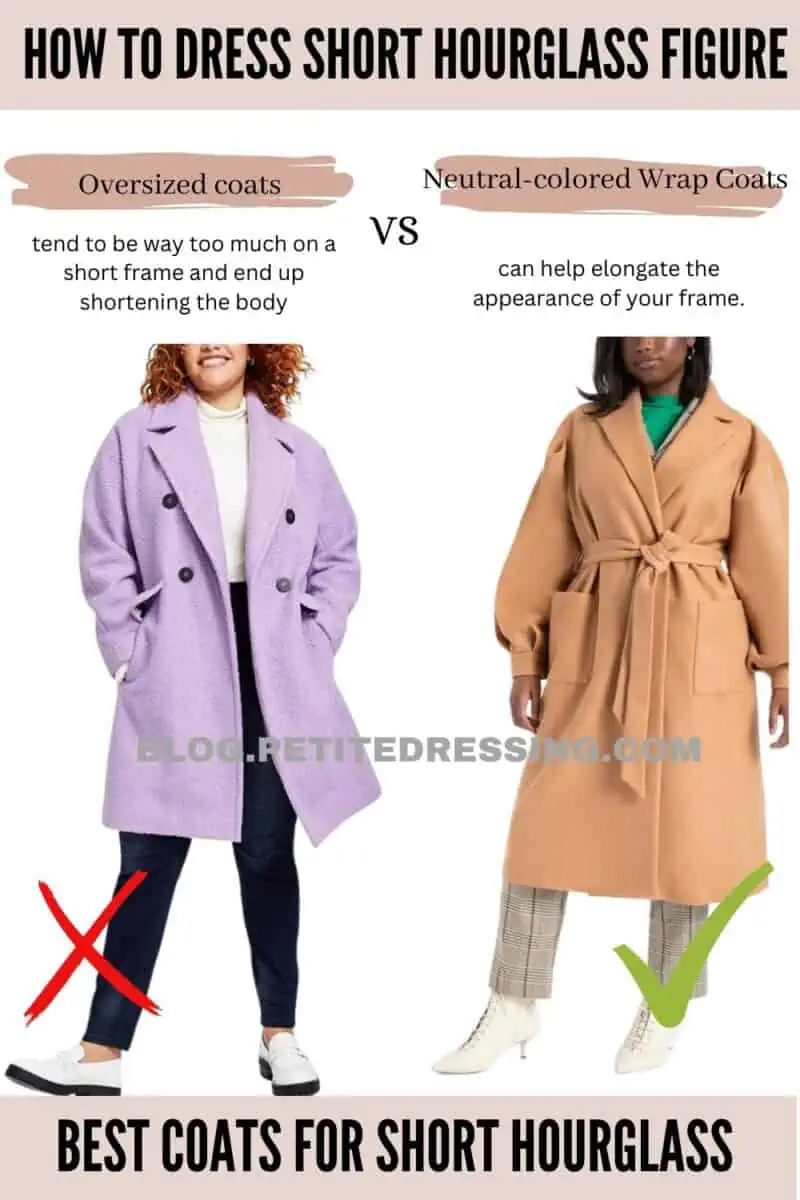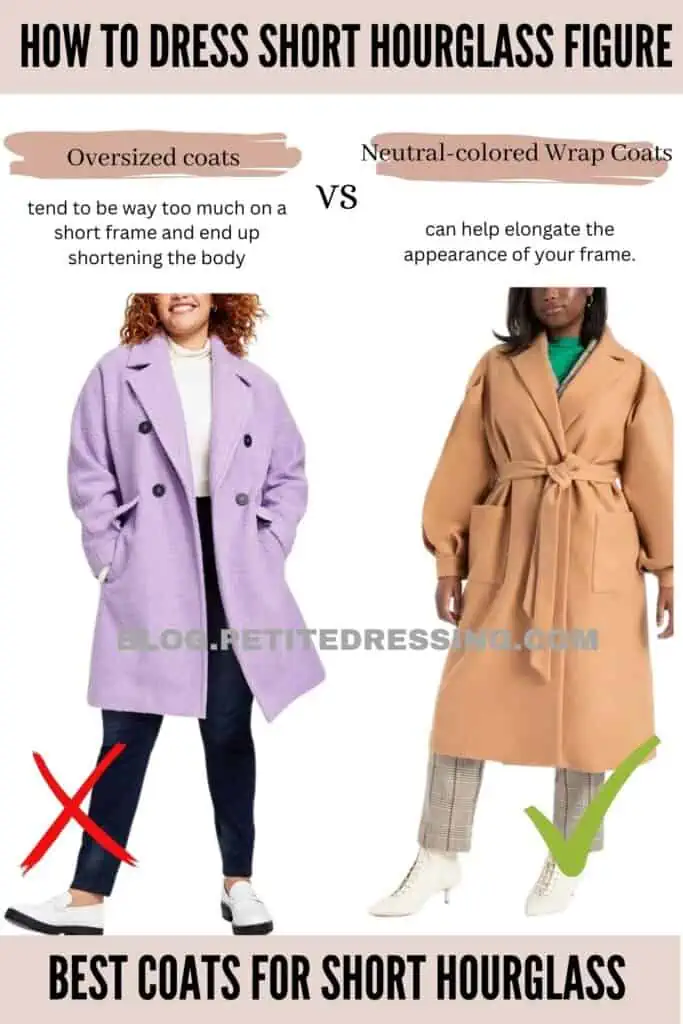 Wrap coats are a must-have in any petite hourglass woman's wardrobe. These coats are a perfect combination of femininity, comfort, and style.
They are tailored to cinch in at the waist, accentuating the narrowest part of the hourglass figure, and providing a beautiful shape to your silhouette. Additionally, wrap coats come in various styles, and the ones that come in neutral colors are the most effortless to style.
They are designed to flatter any figure, and with a shorter stature, a wrap coat can help elongate the appearance of your frame.
Coats with a Cinched Waist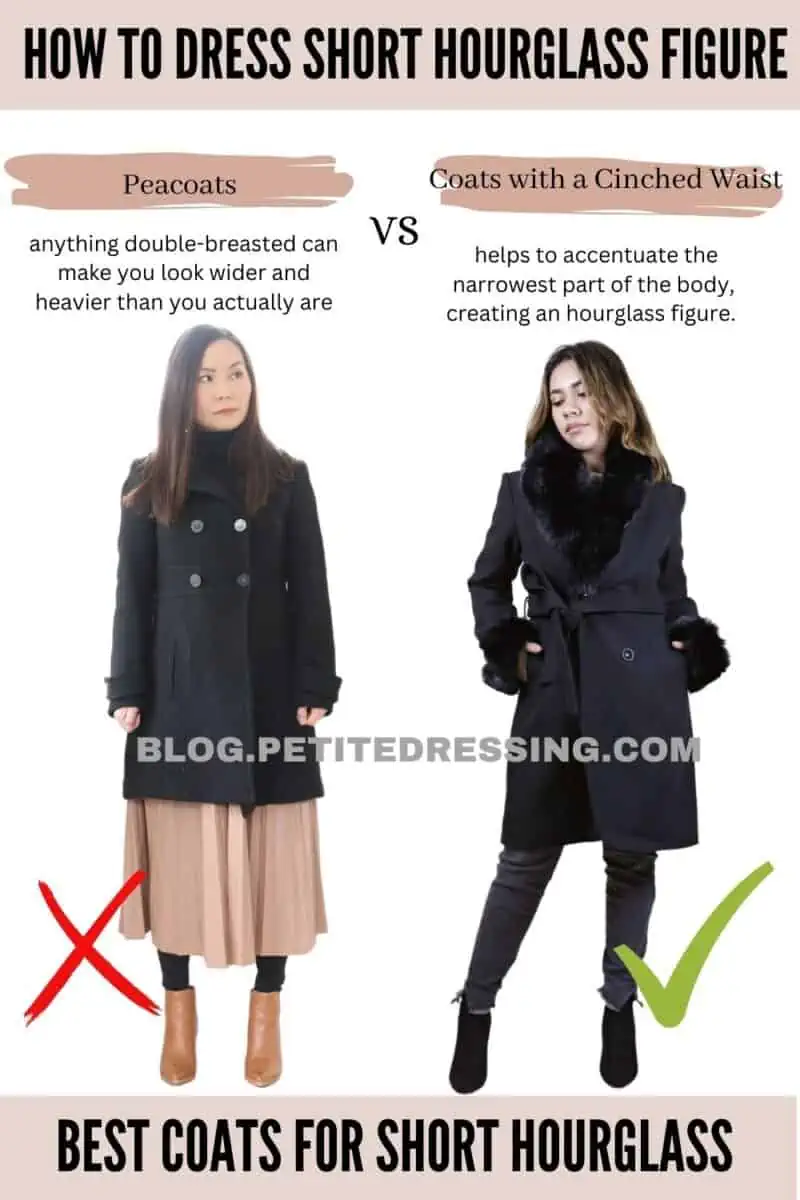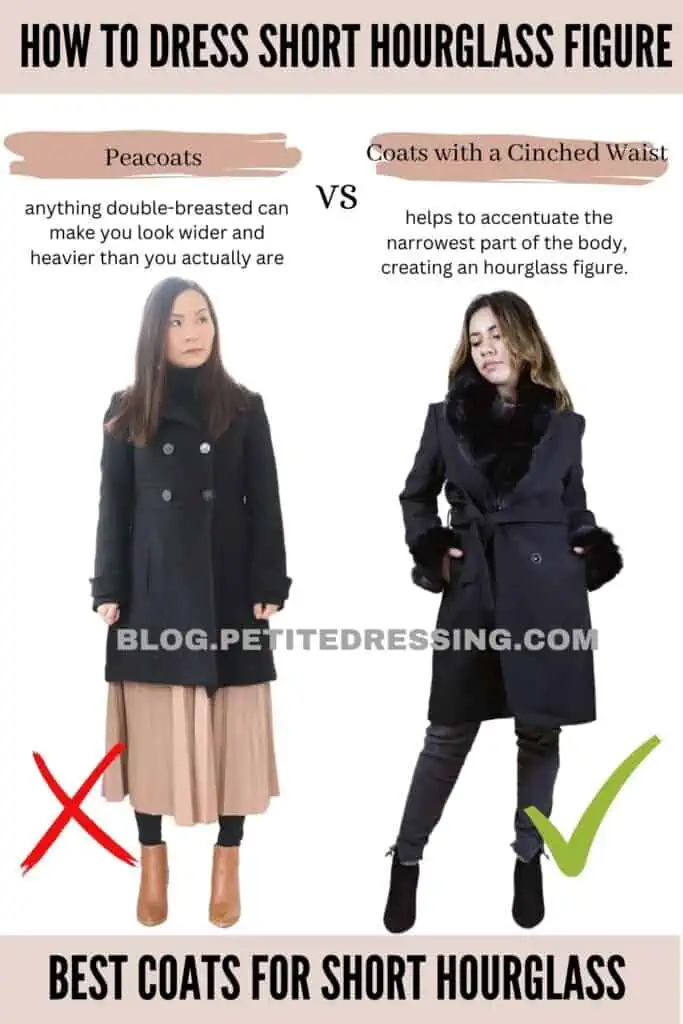 Coats with cinched waists are a great choice for those with a short hourglass body shape. The cinched waist is a key feature of these coats that helps to accentuate the narrowest part of the body, creating an hourglass figure.
This style of coat draws attention to the waistline, creating a flattering silhouette that highlights the curves of the body. By emphasizing the waist, it creates the illusion of longer legs and a longer torso, helping to create a more proportionate appearance.
SKIRTS
Looking for the right skirt to complete your ensemble? Here are some styles that will surely flatter your petite hourglass frame.
Slit Skirts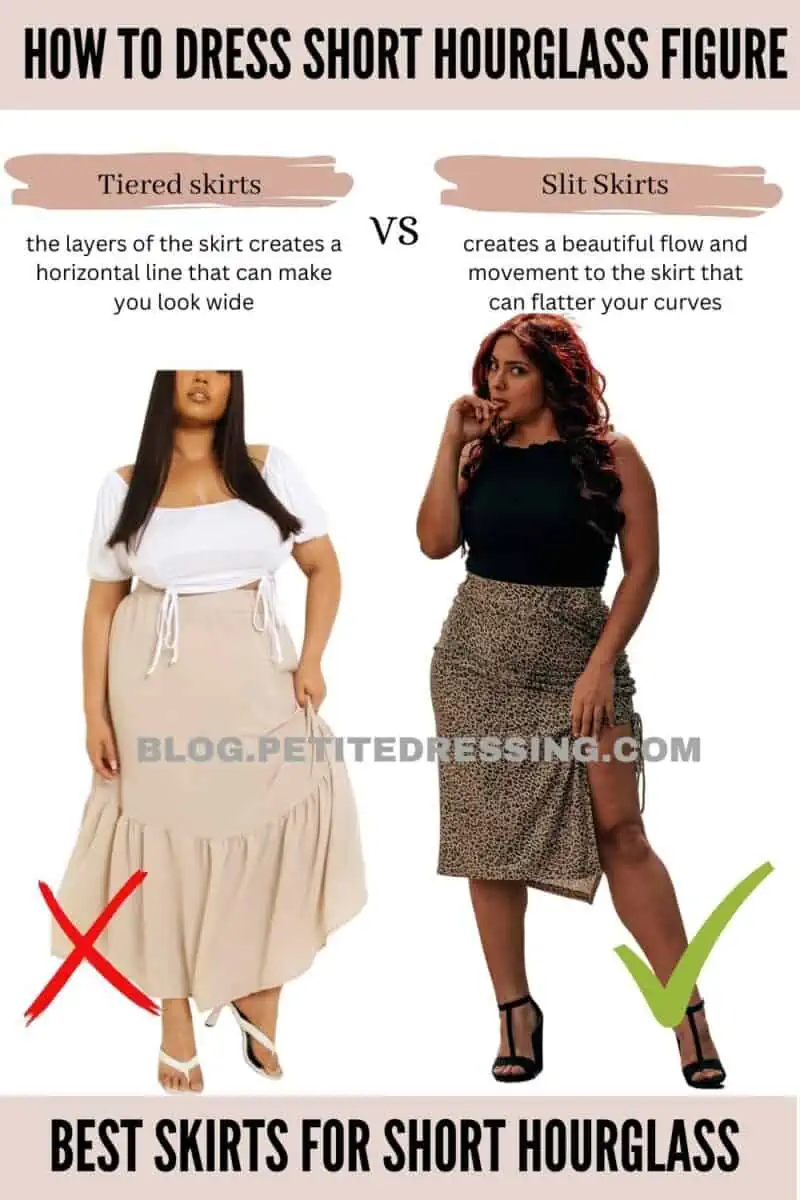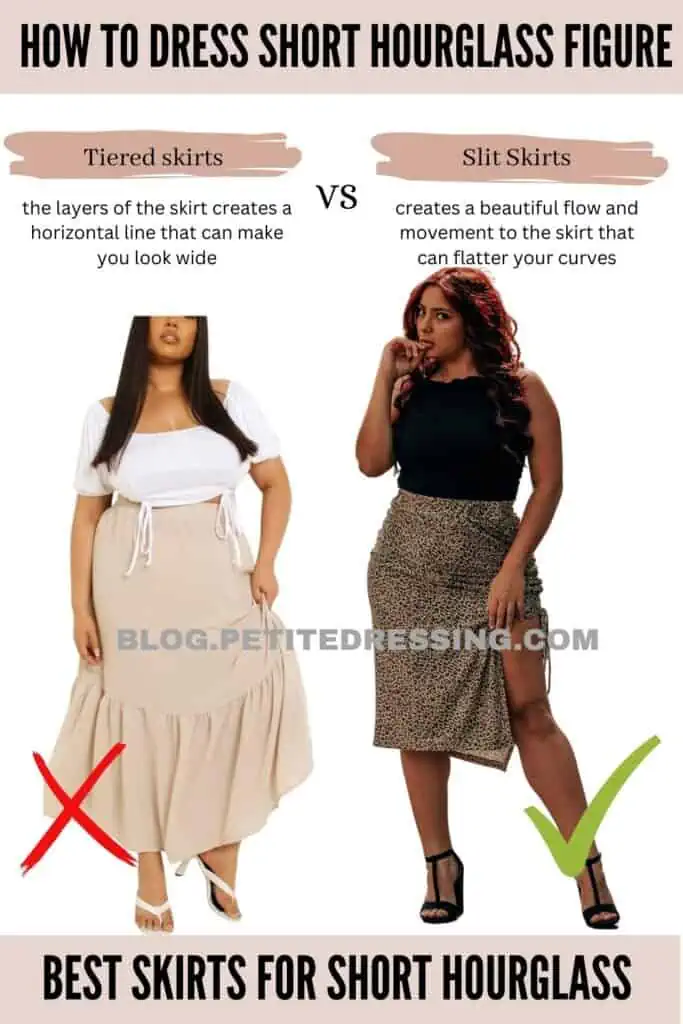 Slit skirts, oh how they can work wonders for hourglass figures! The sultry yet sophisticated slit detail, which is strategically placed on the side or front of the skirt, can help bring out your feminine curves and showcase your legs in all their glory.
For short hourglass beauties, the slit detail can be especially helpful in creating the illusion of longer legs by creating a straight visual line from the waist to the hem. The slit not only adds a touch of sexiness but also creates a beautiful flow and movement to the skirt that can flatter your curves and bring out the best in your figure.
Form-fitting Pencil Skirts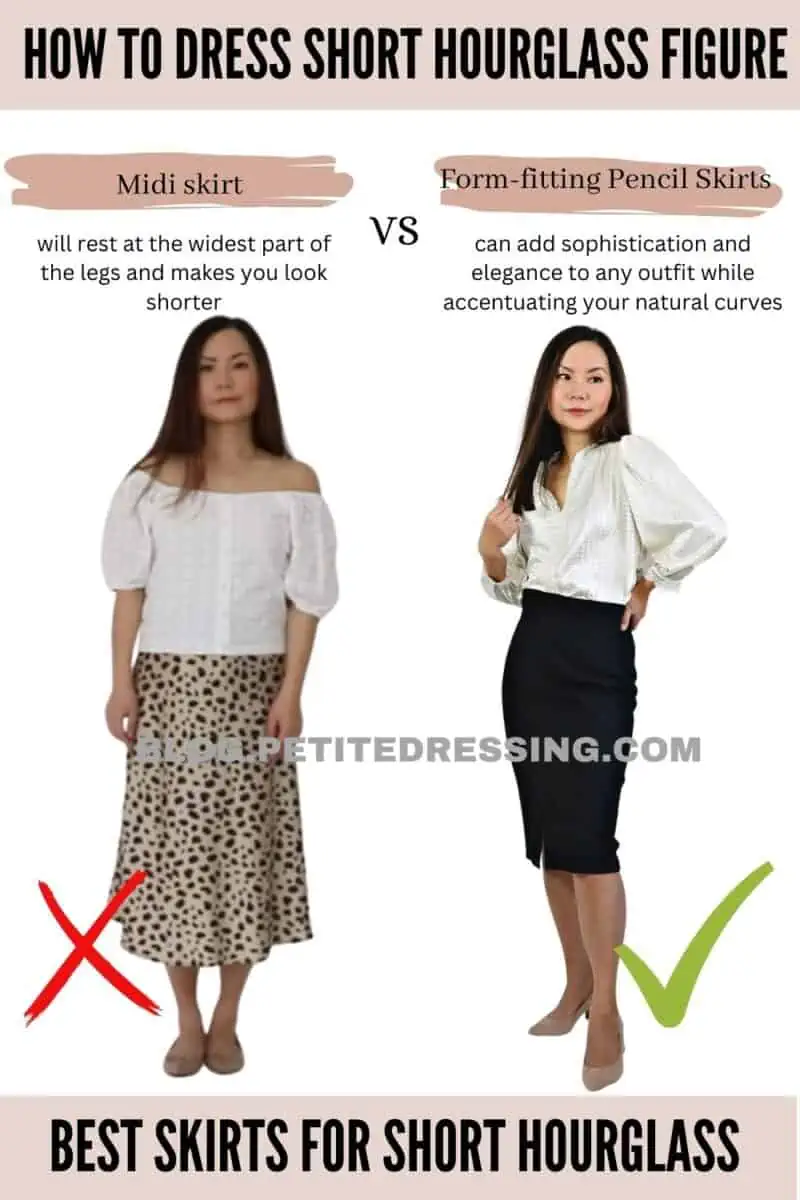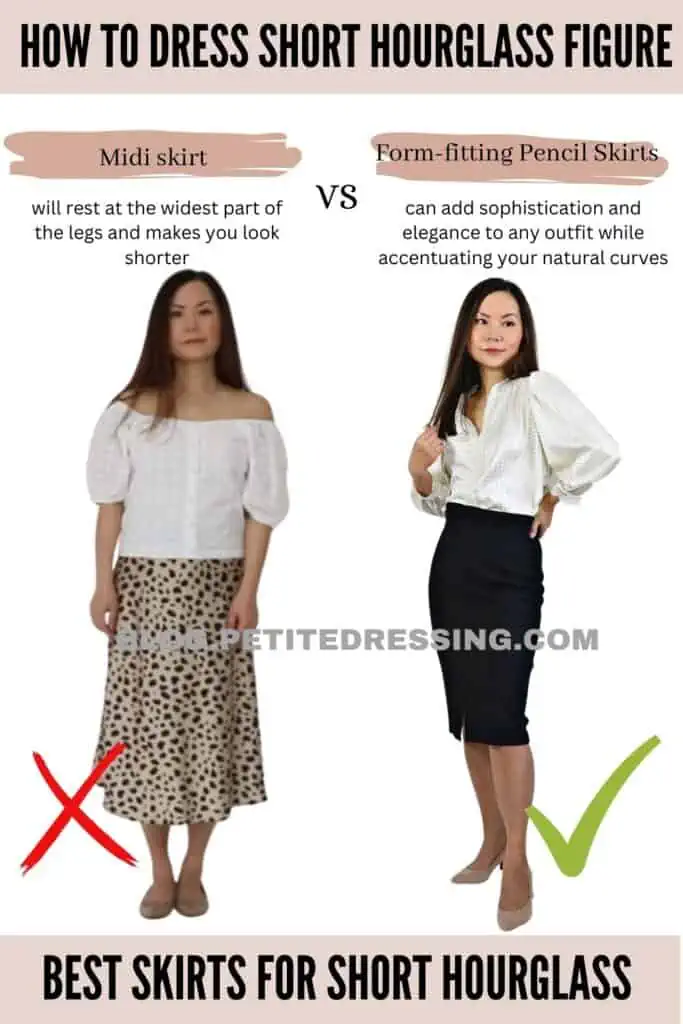 Pencil skirts have been a fashion staple for decades, and for good reason – they are incredibly flattering, especially on hourglass body shapes. A pencil skirt is a classic and timeless piece that can add sophistication and elegance to any outfit while accentuating and celebrating the natural curves of an hourglass figure.
The narrow and fitted silhouette of a pencil skirt emphasizes the waistline, which is one of the key features of an hourglass body shape. It hugs the curves of the hips and thighs, while also elongating the legs to create a tall and slender appearance.
Mermaid Skirts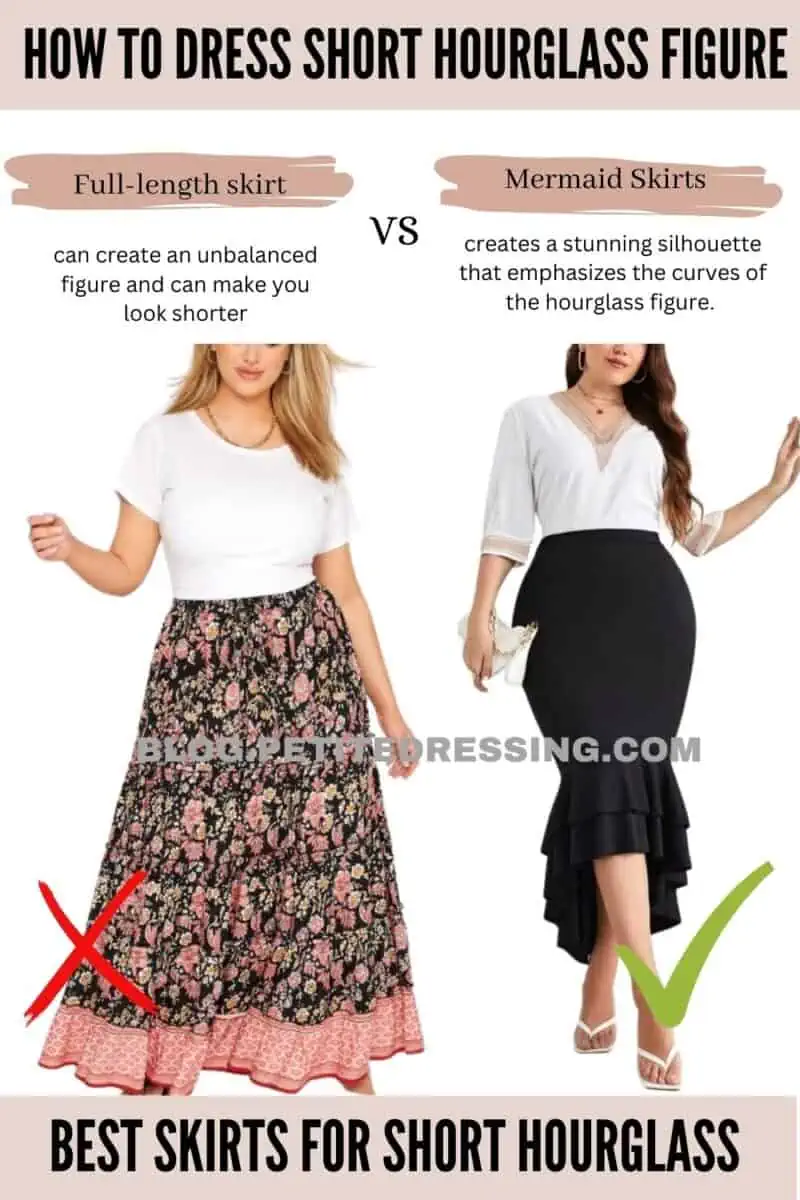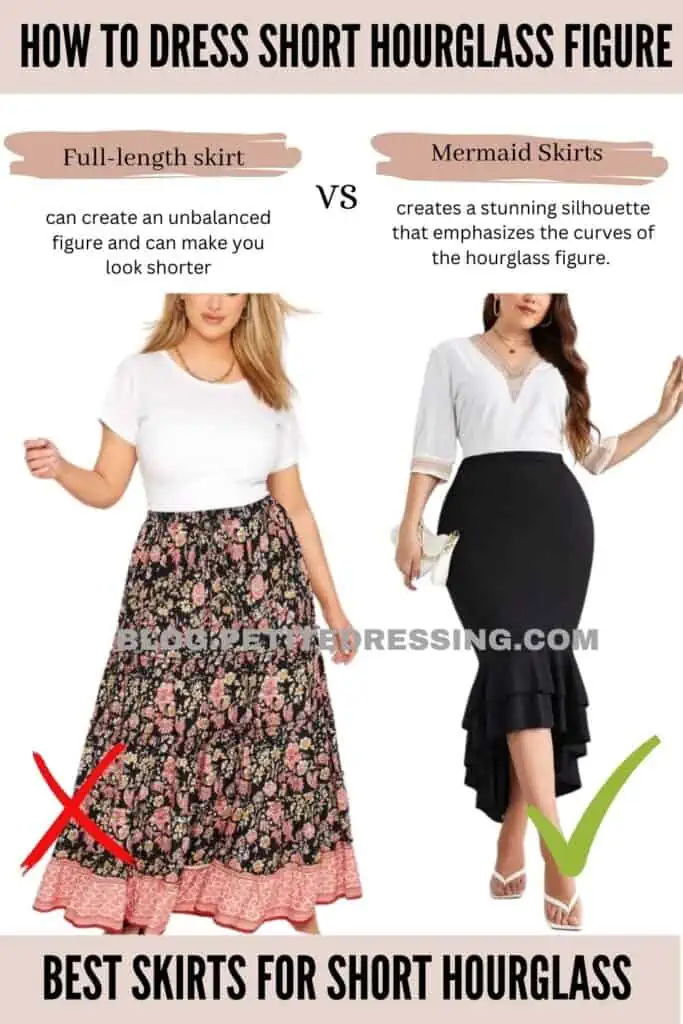 Mermaid skirts have become a popular fashion trend in recent years, and it's not hard to see why! This style of skirt is particularly flattering for those with an hourglass body shape because of its fancy structure.
The mermaid skirt is designed to hug the body from the waist to the knees, before flaring out dramatically at the hemline. This creates a stunning silhouette that emphasizes the curves of the hourglass figure.
The fitted top of the skirt showcases the narrow waist of the hourglass body shape, while the flared hem adds balance to the hips and creates a proper frame ratio on your body overall.
SHOES
Pointy toe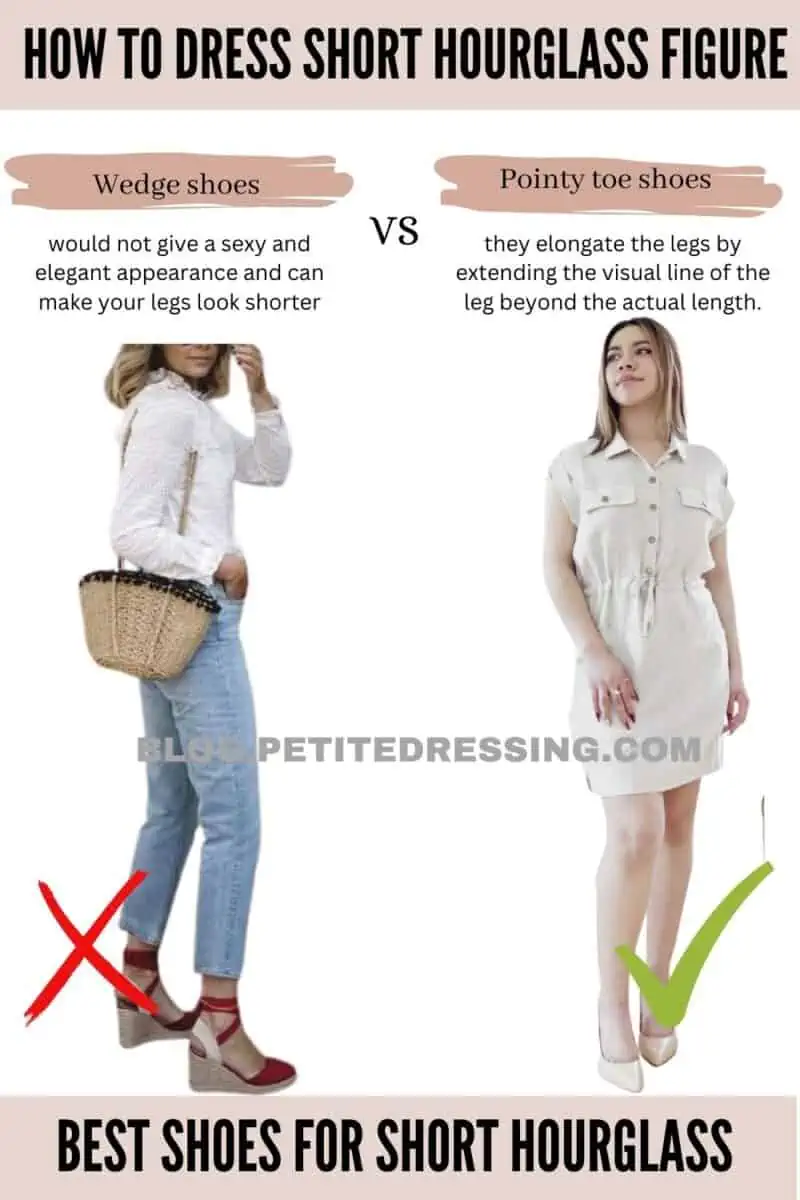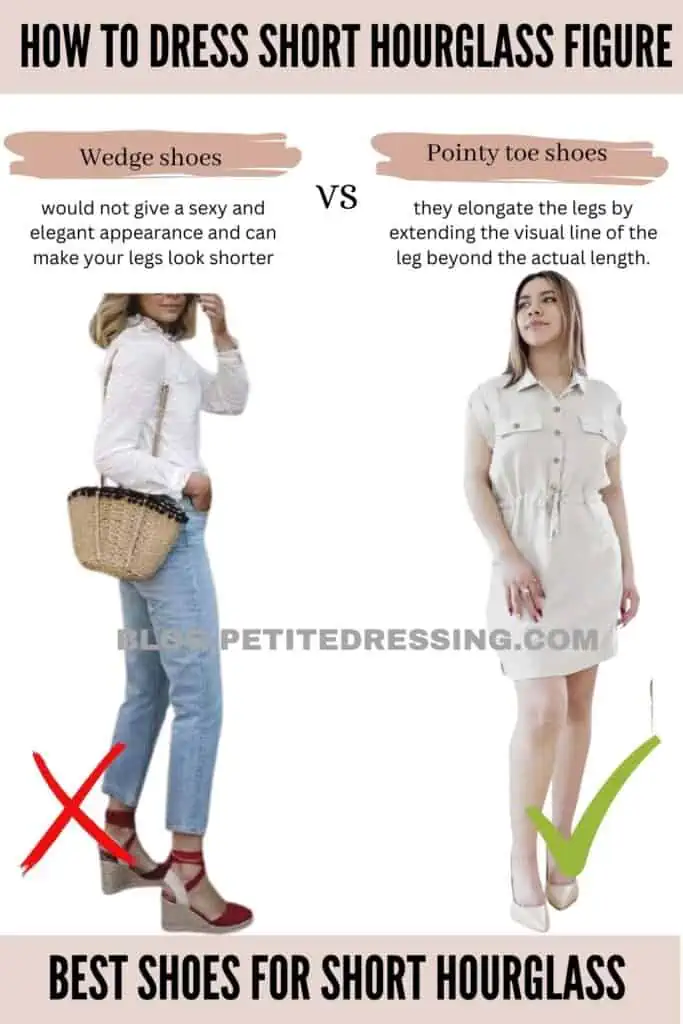 Pointy-toe shoes can be flattering for petite hourglass figures because they elongate the legs by extending the visual line of the leg beyond the actual length.
Hourglass figures typically have a well-defined waistline and curvy hips and busts, which can make them appear bottom-heavy. Pointy-toe shoes can help balance out these proportions by drawing the eye down to the feet, creating a more harmonious overall look.