Short and curvy women are one of a kind with their hourglass figures that are sometimes the envy of many women. However, it can sometimes be difficult to find jumpsuits that fit just right on this figure without making you look stumpy or shorter than you actually are.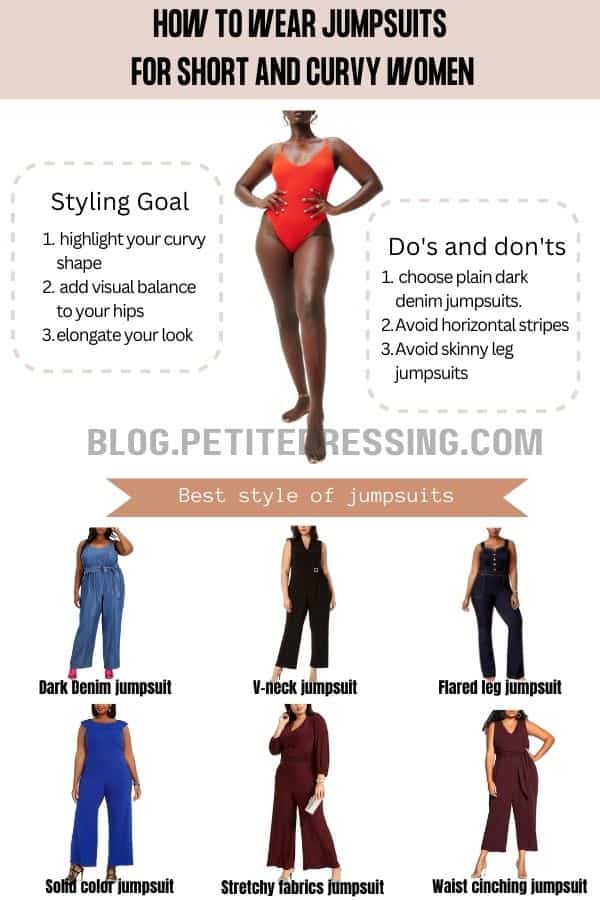 Well, this guide is a great place to start on your search for jumpsuits that look good on short and curvy women. Read through for ten amazing jumpsuit styles that will flatter your figure in ways that make you step out more confidently.
Dark Denim jumpsuit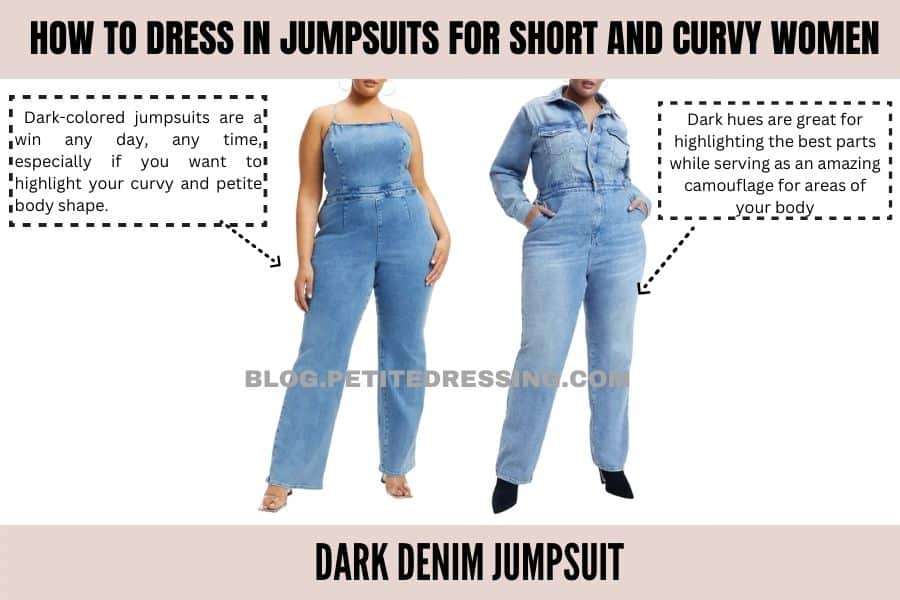 For short and curvy women, black is your best friend. Dark-colored jumpsuits are a win any day, any time, especially if you want to highlight your curvy and petite body shape. One of the best features of dark colors is how they have a slimming effect.
With a dark denim jumpsuit in your wardrobe, you have modern wear to turn to anytime you wish to step out looking leaner yet still more beautiful than ever. It's always a good idea to choose plain dark denim jumpsuits.
The best thing about denim is that regardless of your body shape or age group, this is a gorgeous fit for all ladies. So, if you want a jumpsuit that flatters your boy without emphasizing your petite body shape, a super-flattering denim jumpsuit in mature ark hues is a perfect choice.
Dark hues are great for highlighting the best parts while serving as an amazing camouflage for areas of your body that you want to draw attention away from. Feel free to choose dark denim jumpsuits with long hem lengths and collar designs.
V-neck jumpsuit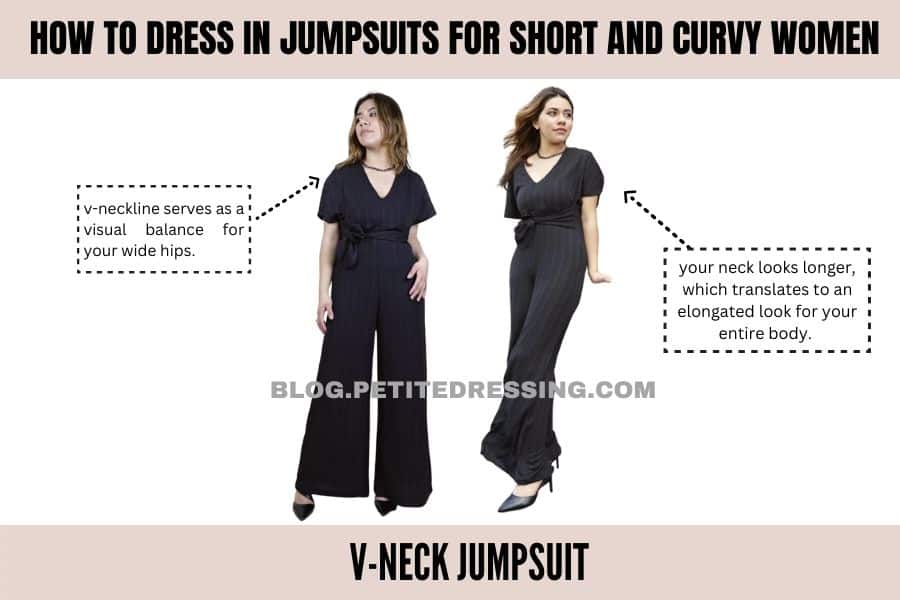 Most times, choosing the right neckline for your jumpsuit can make all the difference. For short and curvy women, v-neck jumpsuits come highly recommended, even if you've never been a fan of jumpsuits since day one.
It's so easy to fall in love with how the v-neckline serves as a visual balance for your wide hips. Of course, it doesn't hurt that you also get to show off your toned figure, as you should opt for a perfectly sized jumpsuit that fits you like a second skin.
You don't have to hide your hourglass figure under baggy jumpsuits. A v-neck jumpsuit is perfect for anyone who wants to highlight their body shape while still rocking a casually flirty show of your neck.
Even better, this neckline is an amazing choice because it makes you look taller. How? Well, your neck looks longer, which translates to an elongated look for your entire body. If you're also rocking a big bust, a v-neckline has slimming qualities you will love.
Flared leg jumpsuit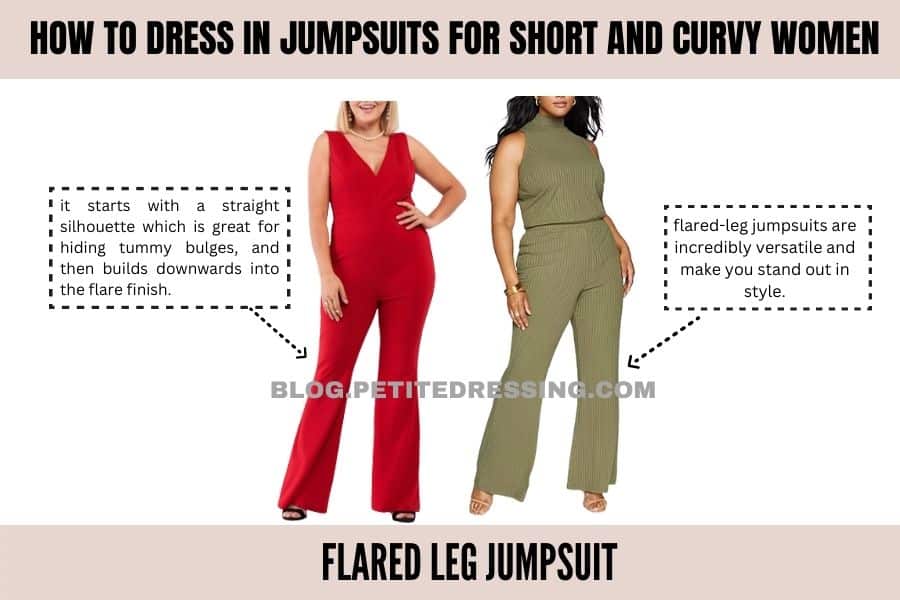 Most of the time, petite and curvy women would want to dress in wears that give them a leaner frame or at least don't make them look bigger than they actually do. One style of clothing that can do this flawlessly is the flared-leg jumpsuit.
This jumpsuit is so unique that it starts with a straight silhouette which is great for hiding tummy bulges, and then builds downwards into the flare finish. Whether it's palazzo or split-leg style, flared-leg jumpsuits are incredibly versatile and make you stand out in style.
Sure, it may look like the 70s style that has become too old-fashioned for today's modern world, but you'll be surprised at how this is still an excellent trend to rock in the 21st century.
So, we suggest you check out flared-leg jumpsuits with minimalist accessories, a v-neckline, and breathtaking heels.
Solid color jumpsuit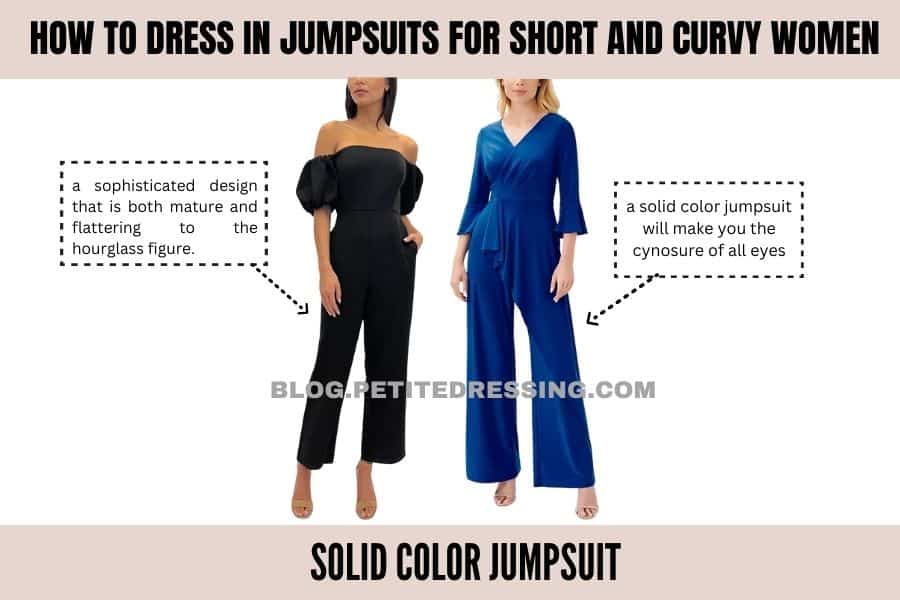 Sometimes, all it takes to make your petite and curvy look stand out elegantly is to let go of patterns and stick with solid color jumpsuits instead. This is a sophisticated design that is both mature and flattering to the hourglass figure.
So, feel free to opt for overall jumpsuits in solid bold colors like blue or red paired with trendy sneakers. You can style them with cotton shirts which provide a clever contrast.
Whether you just want to hang out with your BFF or would like to party all night outdoors, a solid color jumpsuit will make you the cynosure of all eyes. Take the versatility of jumpsuits up a notch by switching between solid-color denim jumpsuits and those in soft cotton material.
Stretchy fabrics jumpsuit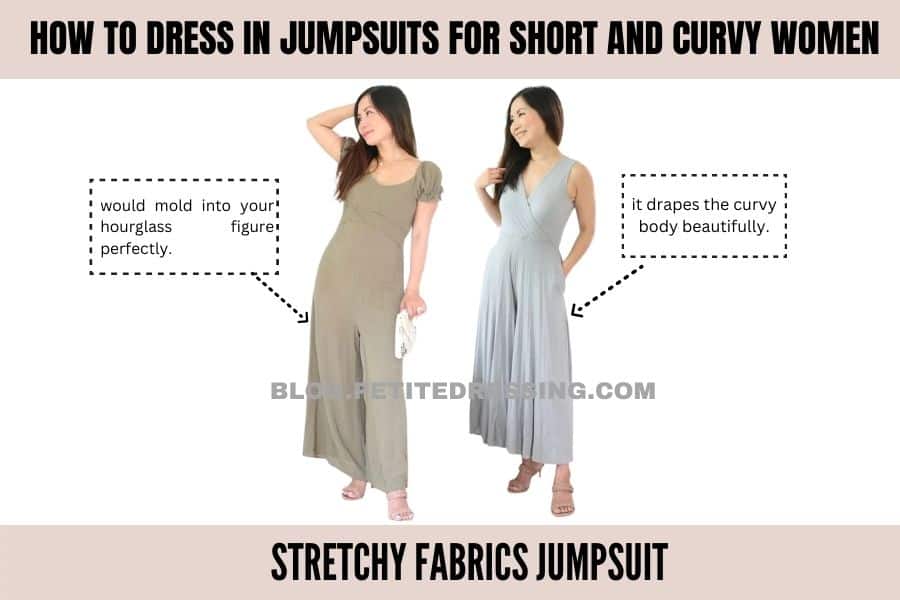 What makes stretchy fabric jumpsuits so special for short and curvy women? Well, you would want to rock jumpsuits that not only highlight your figure but ensure that you don't feel like you're putting on a sack.
The best way to ensure this is to go for a stretchy fabric jumpsuit that would mold into your hourglass figure perfectly. The aim here is to highlight your curves smoothly, and the results are magnificent, especially when paired with a pair of stylish heels.
We recommend going for long sleeve stretchy fabrics jumpsuit. The advantage of stretchy fabrics is that they don't add bulk to your body as crisp fabrics would. So, step out there with this jumpsuit style that drapes the curvy body beautifully.
Waist cinching jumpsuit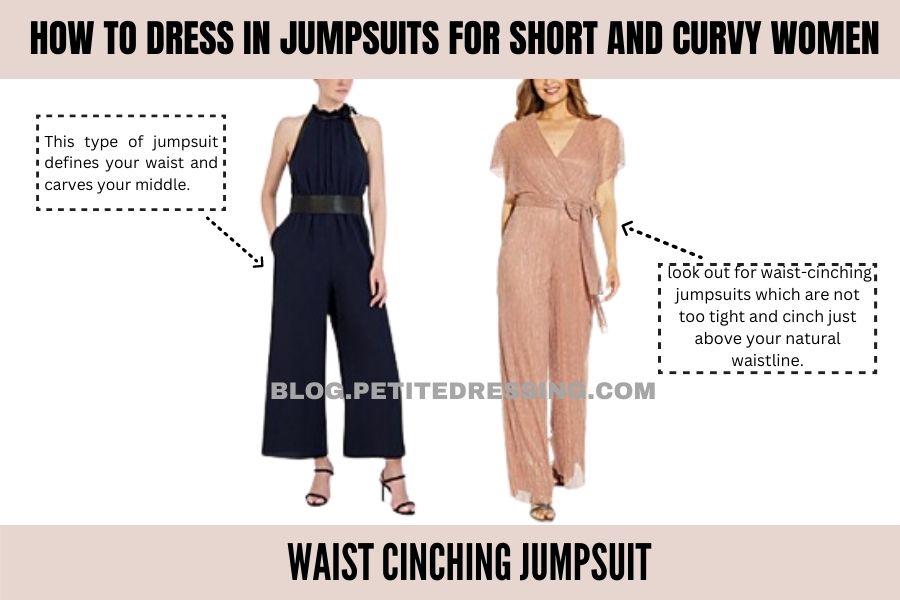 Raise your hands if you want to look like you're wearing a huge garbage bag. We'll like to believe that nobody wants to look like this. So, if you're a short and curvy woman who wants to wear a jumpsuit that will make you stand out elegantly, the key is to go for waist-cinching jumpsuits.
This type of jumpsuit defines your waist and carves your middle, which doubles as a great way to hide muffin tops. So, be sure to look out for waist-cinching jumpsuits which are not too tight and cinch just above your natural waistline.
Straight leg jumpsuit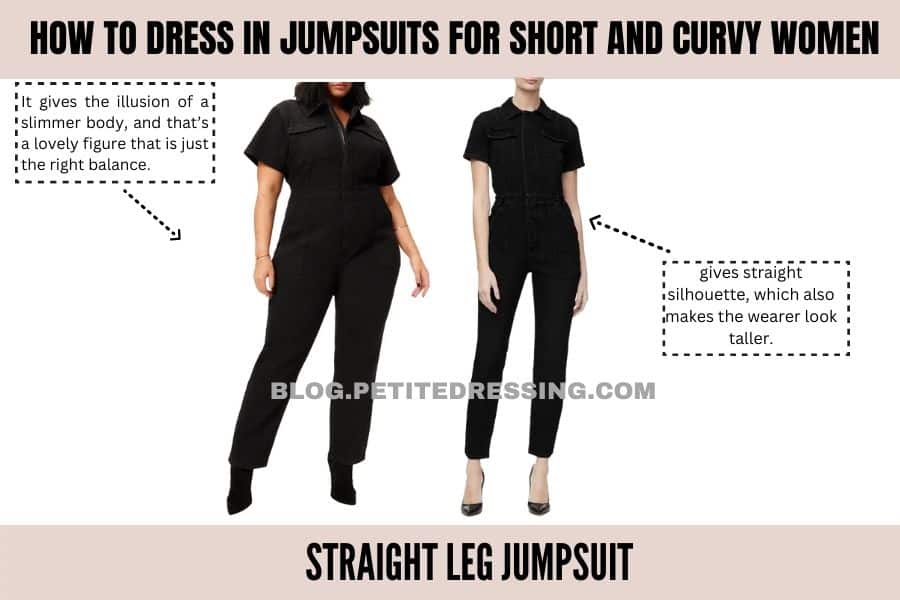 Short and curvy women look exceptionally good in straight-leg jumpsuits, and best believe that we're not exaggerating. It gives the illusion of a slimmer body, and that's a lovely figure that is just the right balance.
The straight-leg jumpsuit is unique due to its straight silhouette, which also makes the wearer look taller. So, for short women who want to appear slightly elongated, straight-leg jumpsuits are the way to go.
The straight silhouette also works great for hiding tummy bulges. So, if you've got some love handles to hide without making it seem so obvious, straight leg jumpsuits can be of great help.
Feel free to experiment with various designs of collars and lengths of sleeves to see which one works best for you. While we recommend this style, comfort is a priority, and you should pay attention to your preference.
Belted jumpsuit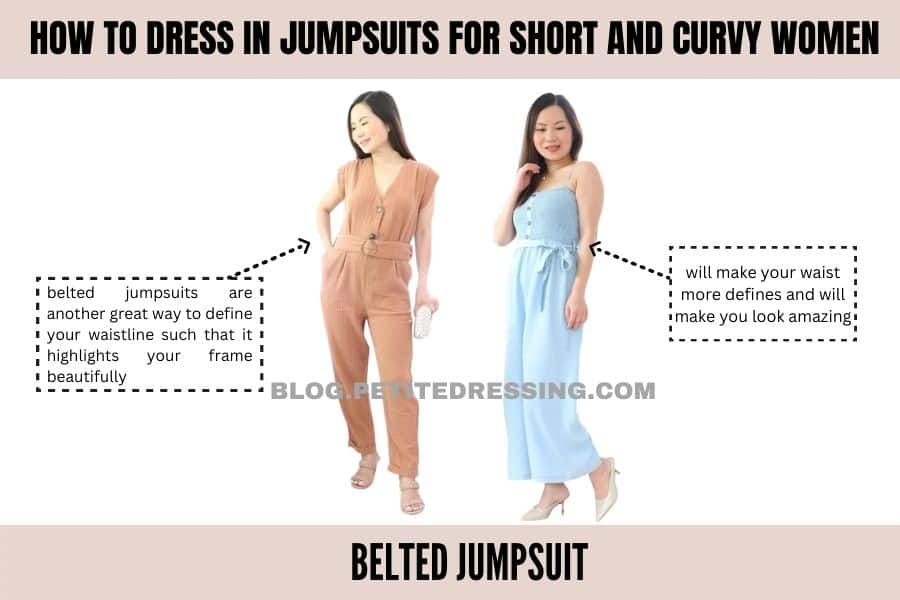 Just like waist-cinching jumpsuits, belted jumpsuits are another great way to define your waistline such that it highlights your frame beautifully. There are several ways to style this, but we will recommend two great ones.
One is the slim leather belt that goes through a belt hole on your jumpsuit. This makes you look chic and can easily pass for official wear for meetings. Another option is jumpsuits with rope-like belts that are already stitched on the cloth.
So, all you have to do is knot them in different forms, and you have a belted jumpsuit that sits just right above your waistline. You will look amazing when you pair the belted jumpsuit with black ankle boots.
Striped print jumpsuit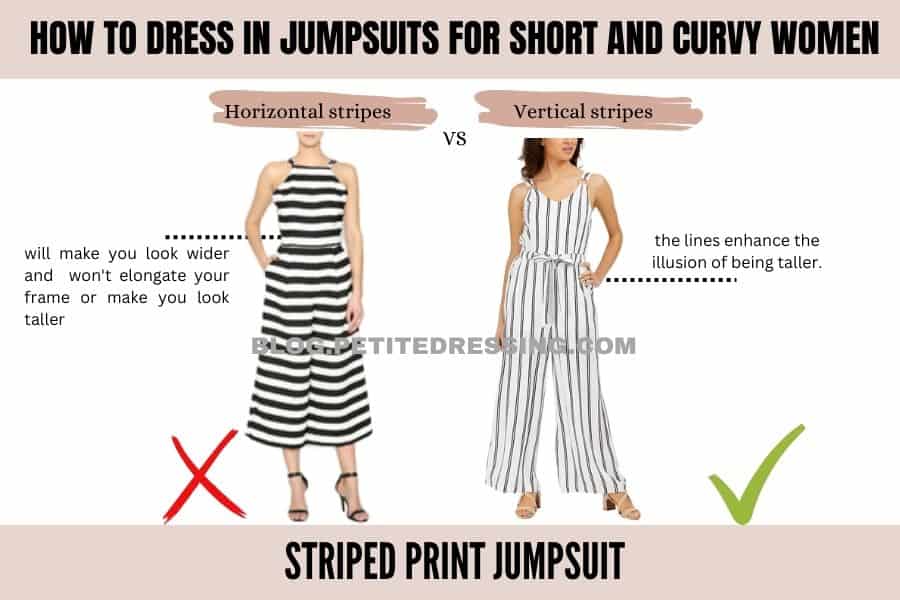 The major reason why we would recommend striped print jumpsuits for short and curvy women is that the lines enhance the illusion of being taller. Jumpsuits are flattering on women with hourglass figures who have shorter legs and longer waists.
With this, the jumpsuits can give an illusion of longer legs, so the wearer doesn't appear short. Striped print jumpsuits are perfect for this. The unbroken vertical line will lengthen your boy frame, serving as a flattering piece in your wardrobe.
It can also serve as the perfect belly camouflage for anyone that has more tummy than they would like. So, elongate your frame with striped print jumpsuits. However, don't wear horizontal striped print jumpsuits as these will have a completely opposite effect on your body frame.
Horizontal stripes won't elongate your frame or make you look taller. Therefore, it's not a great fashion idea for short and curvy women.
Wide leg jumpsuit worn with heels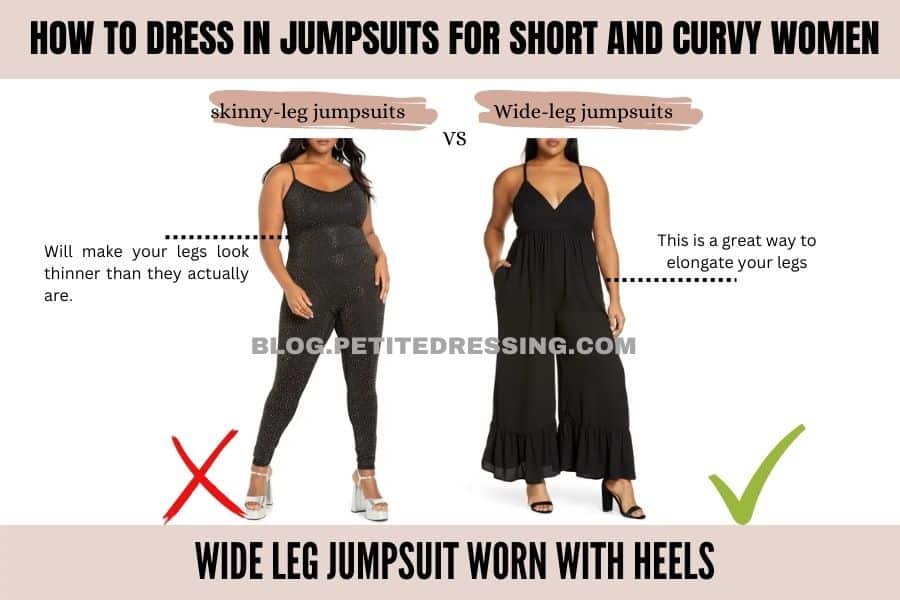 It can be very tempting to wear extremely tight skinny-leg jumpsuits, but it's best to avoid them as a short and curvy woman. Instead, wear wide-leg jumpsuits with stiletto heels. To make this an awesome clothing style, make sure the wide leg area of your jumpsuit completely covers your legs.
Pair this with heels, and people will have a hard time knowing where your legs start from. This is a great way to elongate your legs, making you look much taller than you actually are. It's also great for emphasizing your hourglass shape so you look tall and slender.
These styles of jumpsuits have been carefully selected for short and curvy women who want to rock jumpsuits that are incredibly fashion-forward and ensure they step out looking like a million bucks. Give your wardrobe that much-needed boost with any selection of jumpsuits on this list.