When it comes to jeans, there are so many varieties in terms of leg shape, rise and styles. Different jeans can give you totally different look, and some jeans have a better slimming effect than others.
Since I have a petite clothing line, I get questions as well as feedback from numerous customers on a daily basis. Based on their feedback, I've put together this guide to help you.
If your goal is to look thinner in your jeans, here are the best options when you are searching for your next pair.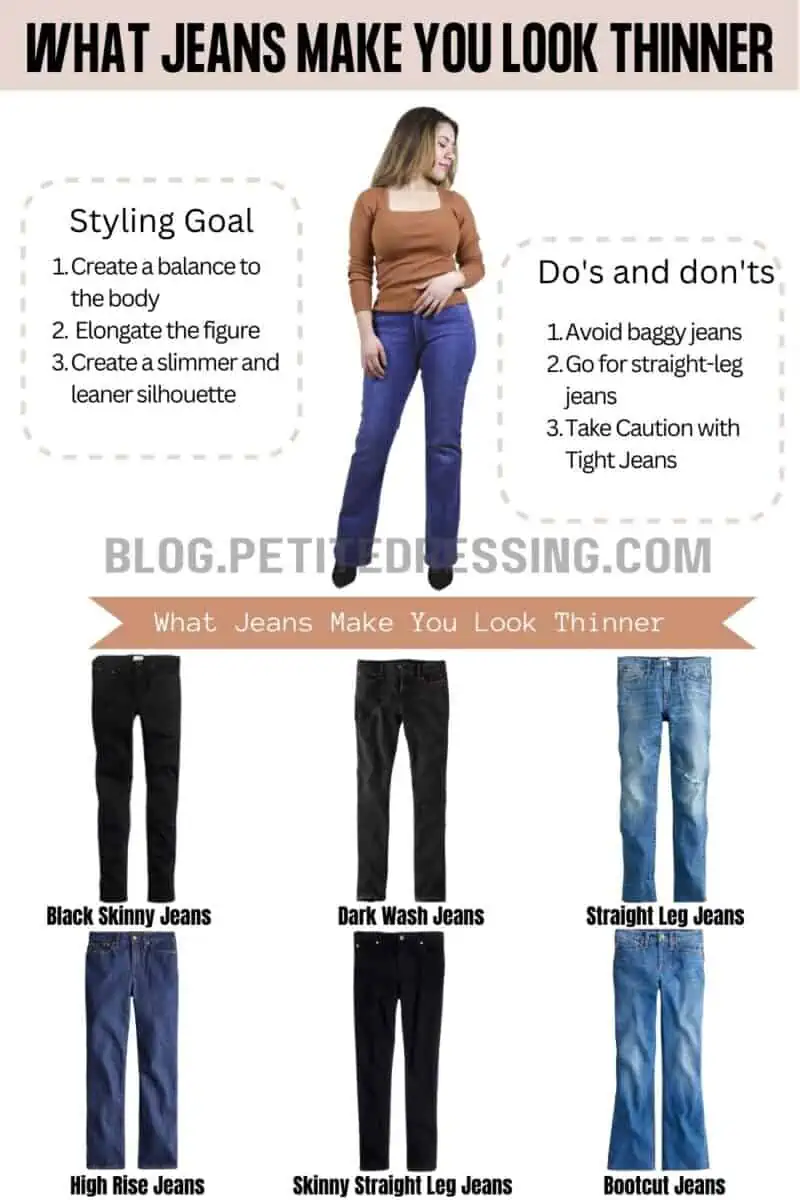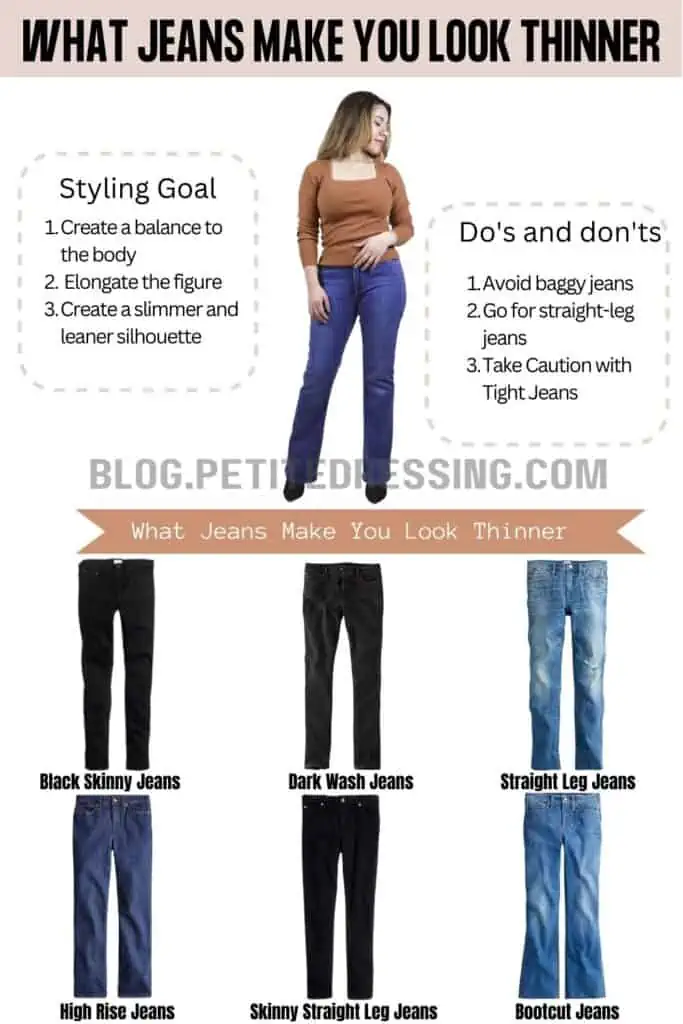 Black Skinny Jeans
Skinny jeans got a bit of a bad rap from TikTok last year, but they still hold the spot as one of the more wearable, classic styles of denim available to us. Regardless of what the TikTokers are saying, skinny jeans- more specifically black skinny jeans – can make you look thinner with ease.
To obtain the maximum slimming effect, get a pair of black skinny.
It's no secret black has always been known as a color that's slimming when worn – that's no different when applied to jeans.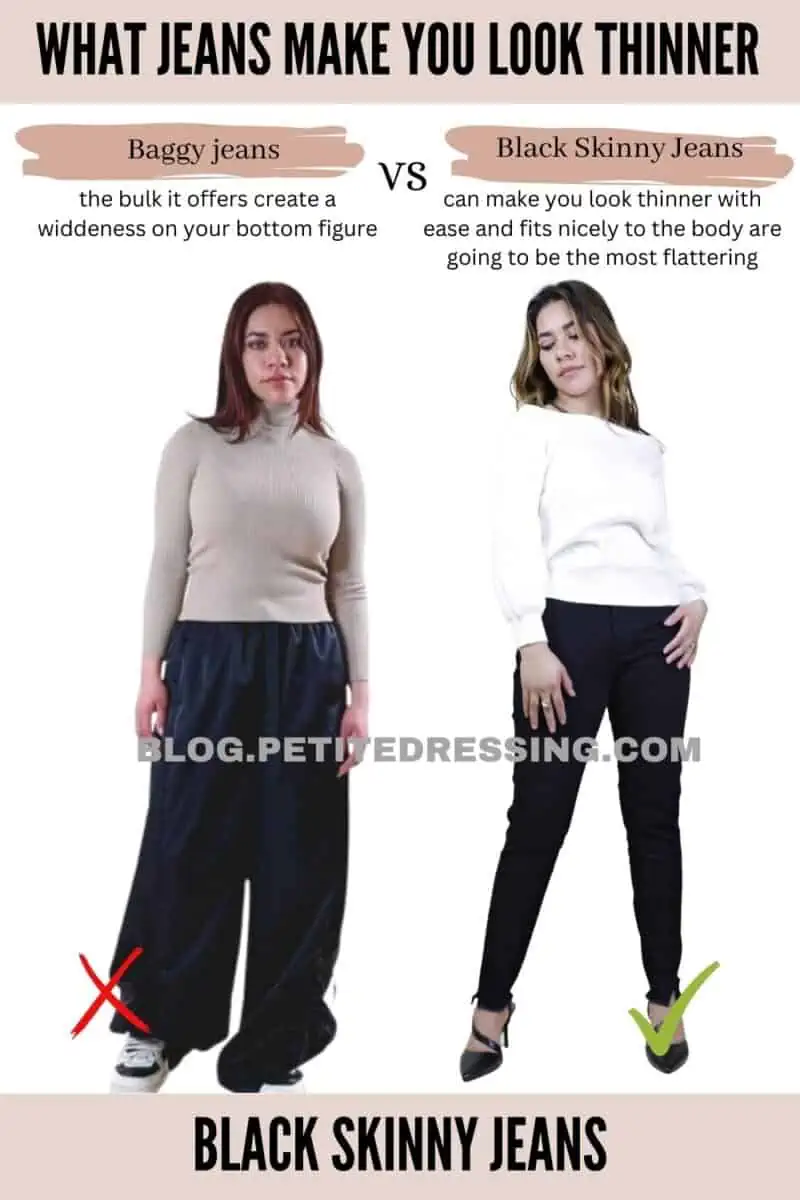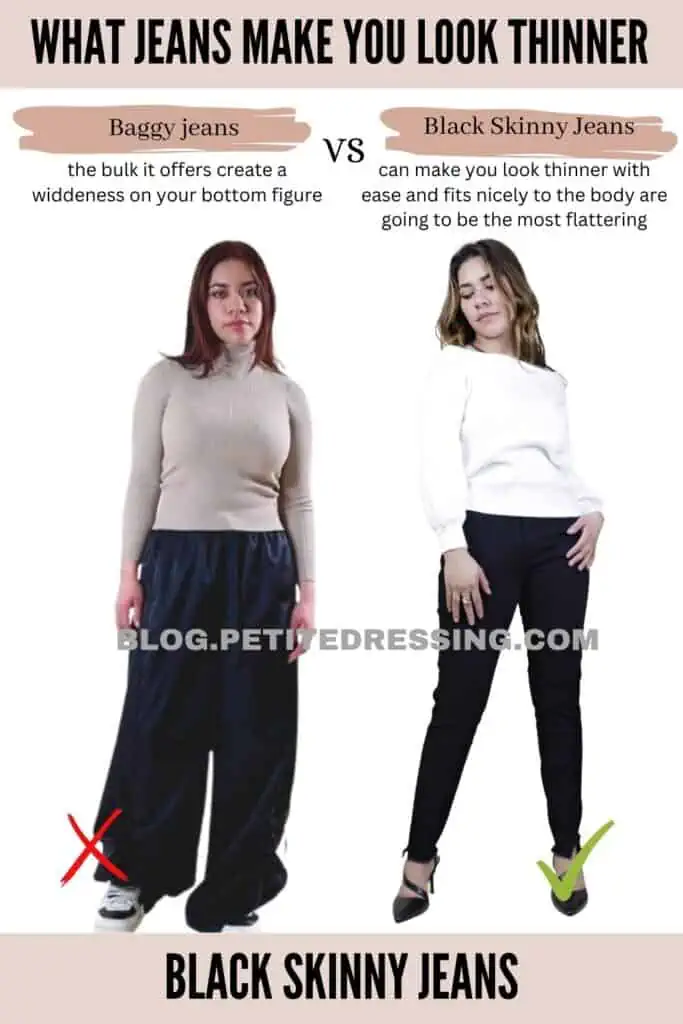 Typically, skinny jeans that offer some stretch and fit nicely to the body are going to be the most flattering. Avoid any fits that are TOO snug or bunch in any unflattering areas of the body.
Dark Wash Jeans
If black jeans aren't really for you, or you just want some additional variety.
No matter what leg shape you go for, dark wash denim is always one of the most slimming options for women of any body shape.
Choosing super dark wash denim will give you a similar look and keep you in more of a traditional denim color family.
Whiskering on jeans, i.e. the fading, usually around your crotch, can add dimension to your legs, but they can also make your legs look thicker.
For the most sliming result, choose no whiskering, or fading that is not very obvious.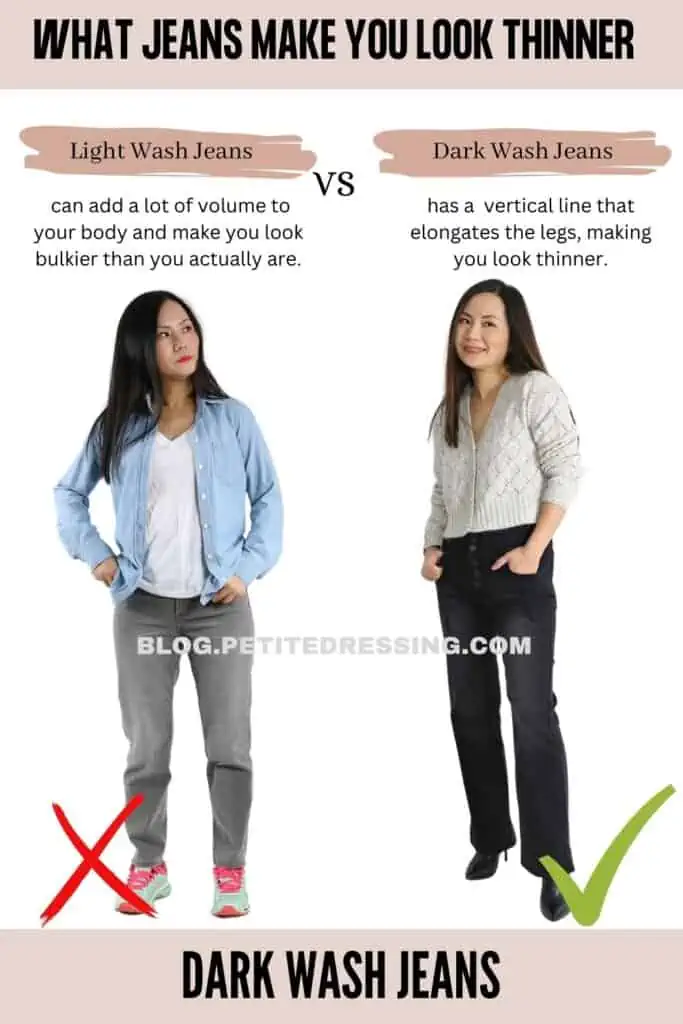 Straight Leg Jeans
Straight-leg jeans were pushed to the side for quite some time in the fashion world but have been making a huge comeback. Fortunately, they're not only trendy but they can make you look thinner.
The main reason straight-leg jeans are so slimming is simply because of the, well…straight line that's established down the leg.
Because a straight leg doesn't have any flaring or tapering within the leg, it's one solid vertical line. This vertical line elongates the legs, making you look thinner.
A good rule of thumb to make the most of straight-leg jeans, when you want to look thinner, is to always stick to either a mid or high-rise waistband. Both of these are going to add a little extra length to the body.
Many women really love utilizing straight-leg jeans for their slimming effect because they offer a bit more of a roomier fit compared to skinny jean.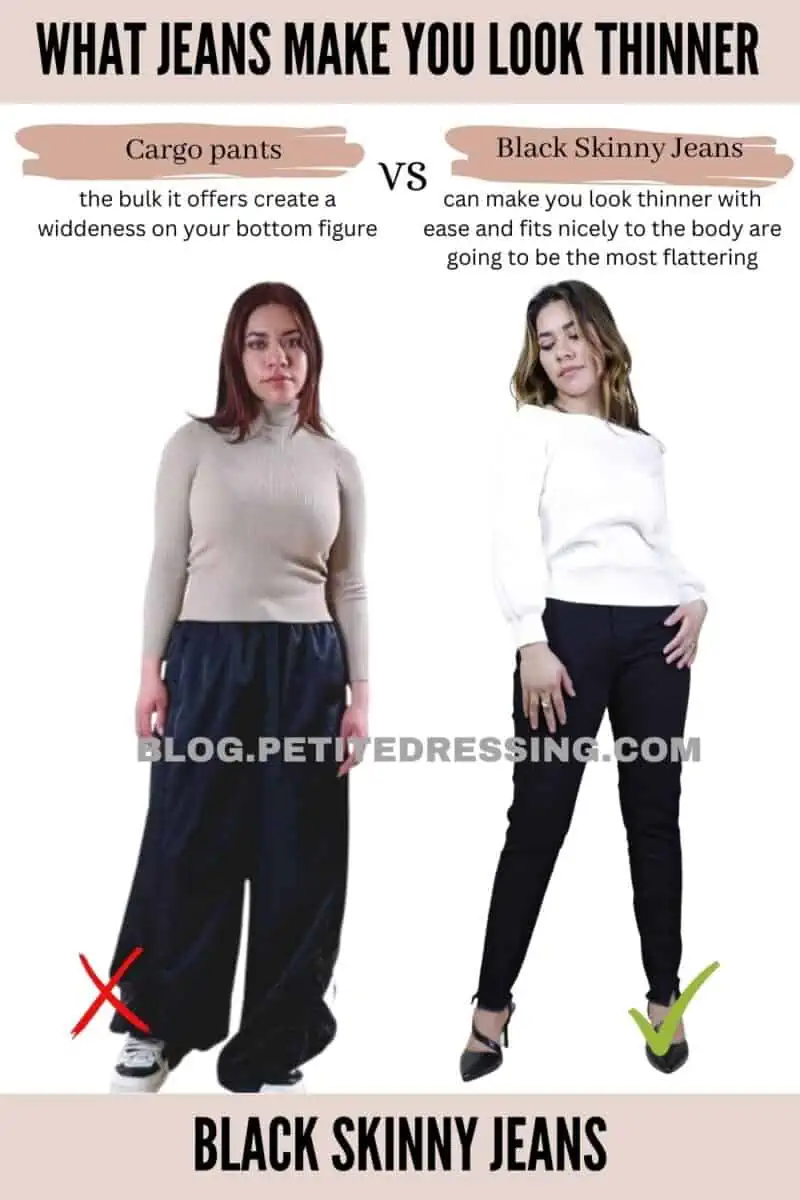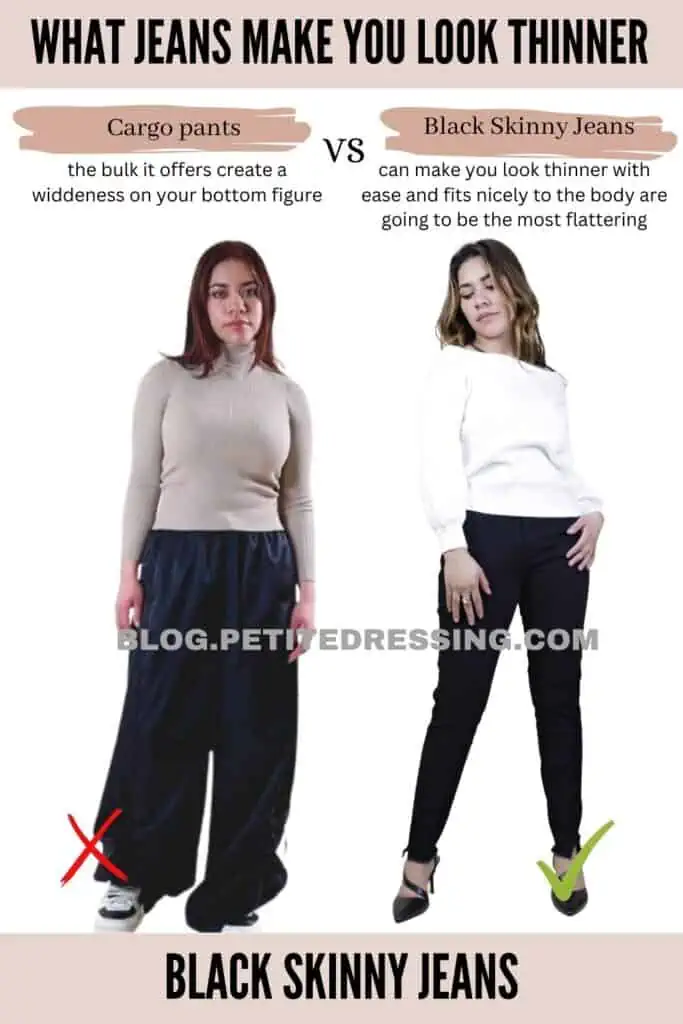 So, if skinny jeans aren't for you, straight leg may be a better option. Particularly if you have a curvier figure.
Because straight leg jeans are easy to wear and so flattering in their fit, you can really wear any wash of your liking and you'll achieve a slimmed appearance.
Just be sure, as with any pair of jeans, the fit is right! Nothing that's too baggy or too snug.
High Rise Jeans
If you want to look more slender, opt for a high rise jeans.
The reason high-waisted jeans are one of the best jeans to make you look slender is they typically reach the smallest part of your torso, which can create the illusion of a smaller waist.
So, if you happen to have a mid-section concern (i.e. muffin top), high-waisted jeans is not only one of the best options to accommodate the budging stomach, but also can make you look slimmer.
Besides, the high rise will create a lifted effect to the legs, making them look longer.
When your legs look longer you appear taller and thinner – it's a great by-product no matter what kind of jeans you go with!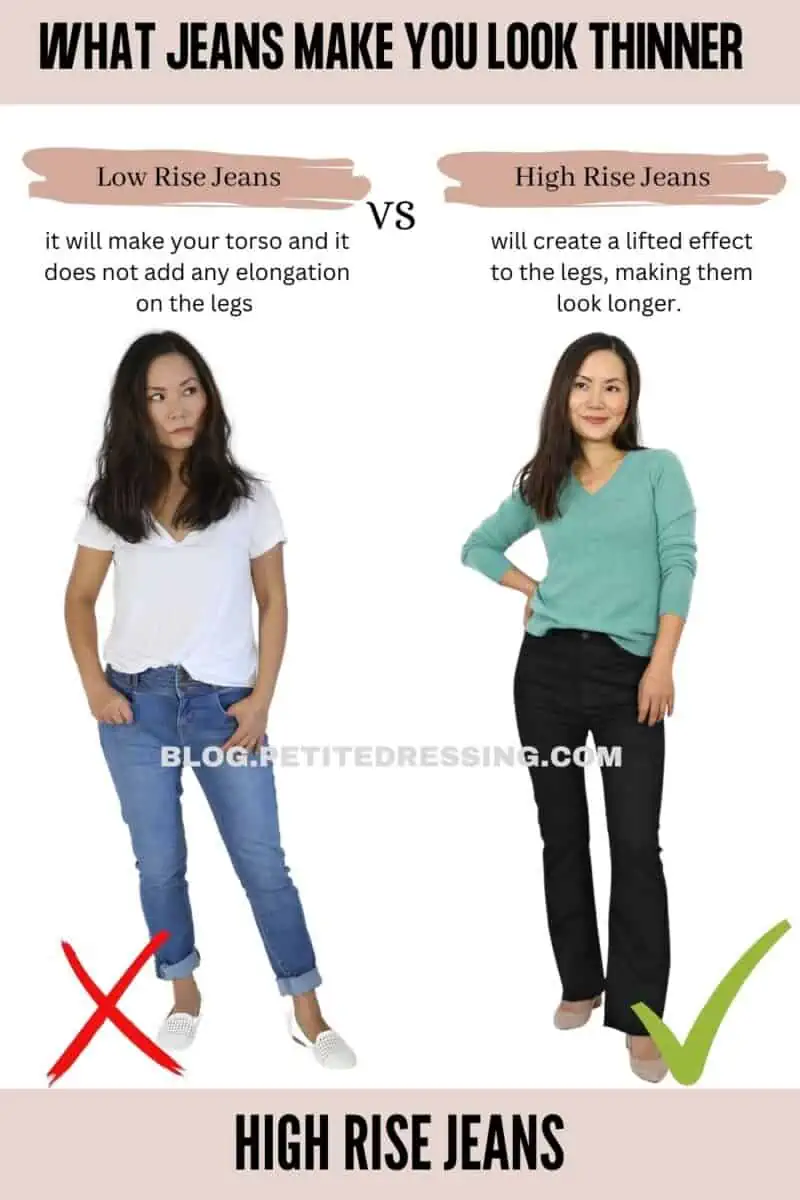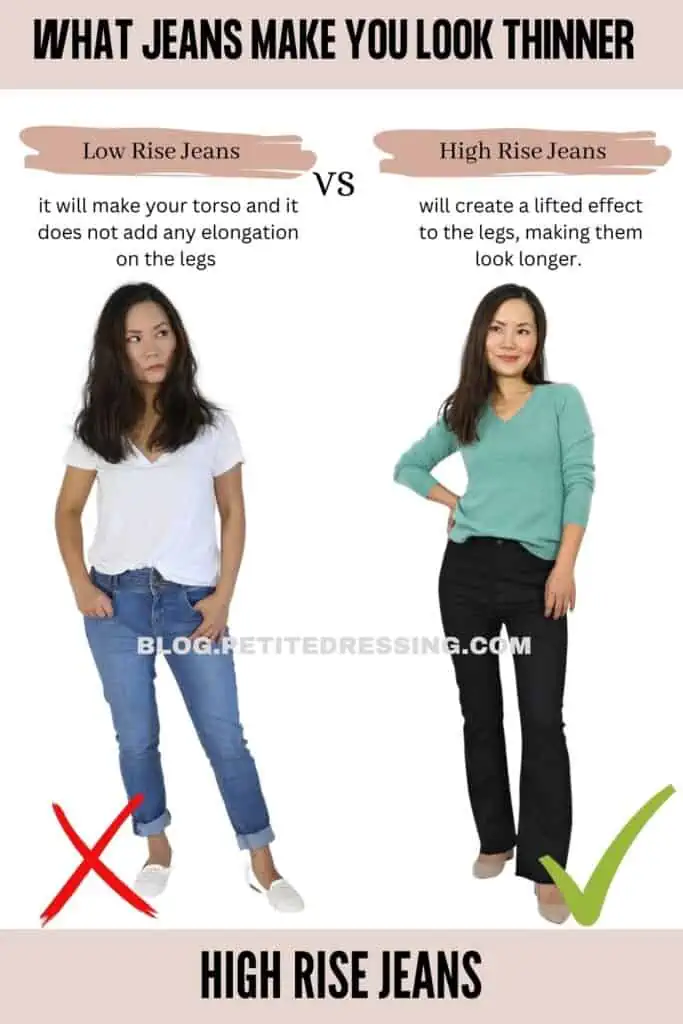 Skinny Straight Leg Jeans
The skinny straight-leg jean has been gaining a lot of popularity recently because it's the perfect hybrid between a straight and skinny pair of jeans, all wrapped up into one. Since both of those styles individually are flattering you can trust that they're going to do wonders when combined.
Most often you will find skinny straight-leg jeans fit more like skinny jeans around the waist and thigh area until around the knee, after the knee instead of tapering in like traditional skinny jeans they have a slightly straighter fit. This straighter fit gives a more relaxed feel to the jeans.
Because skinny straight legs don't taper in, this is where you're getting even more of thinner appearance from them. The tapered leg of true skinny jeans is what can sometimes shorten the leg line.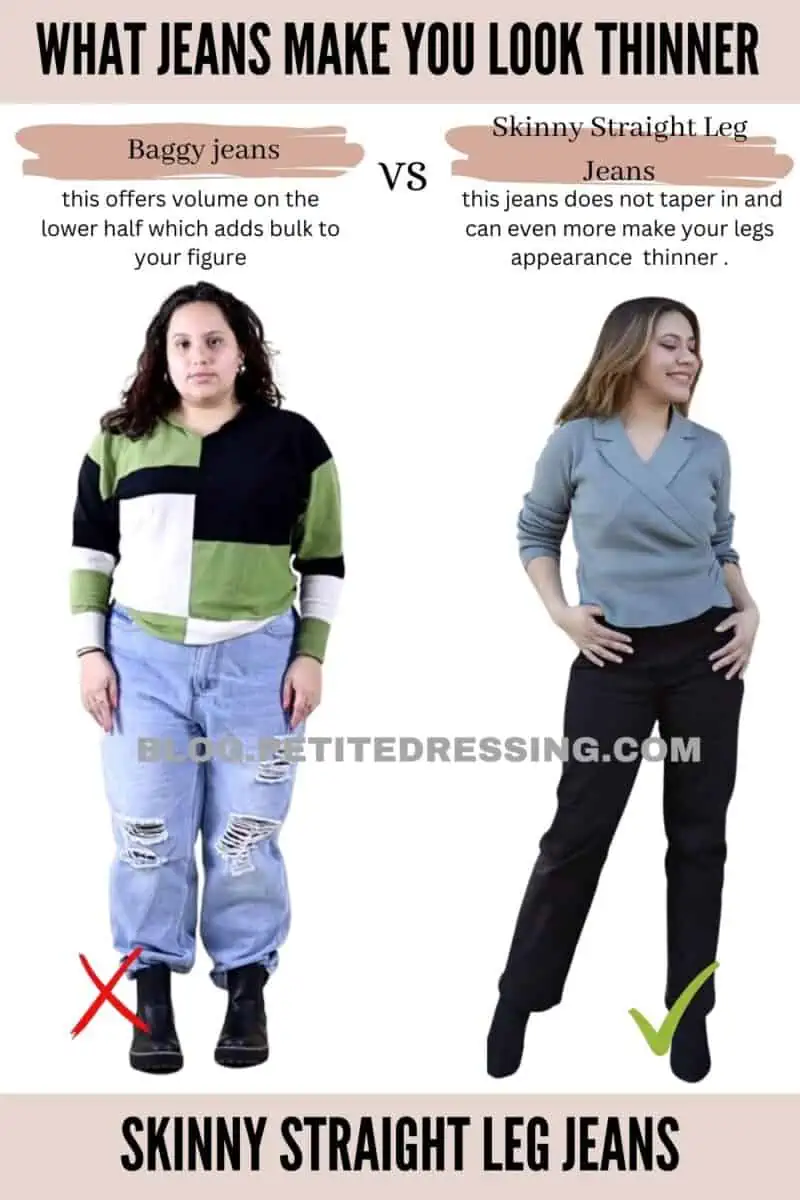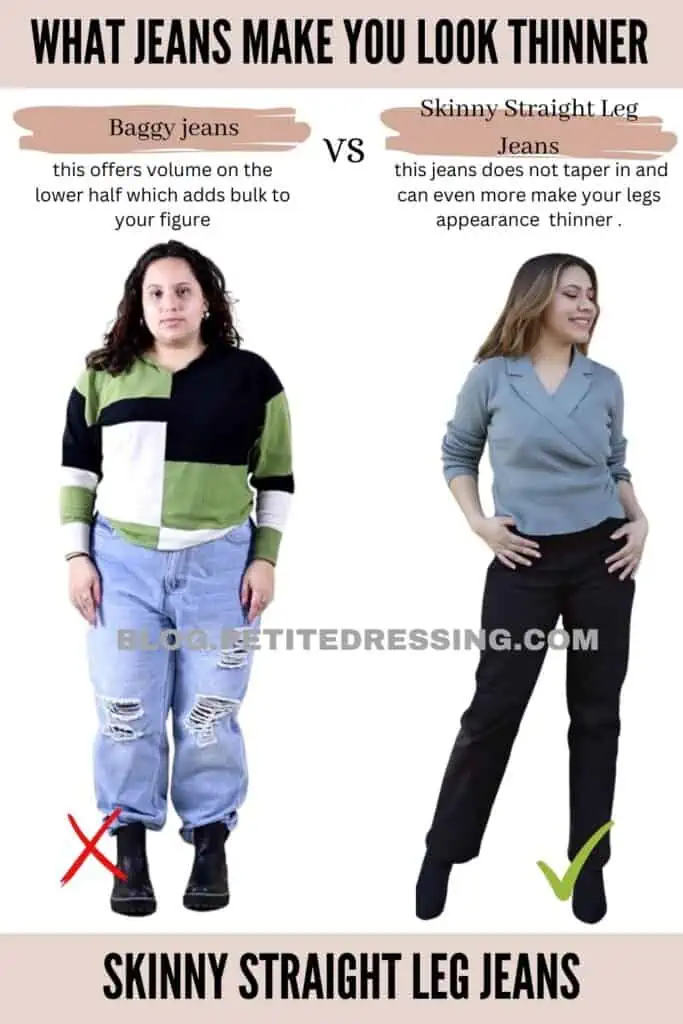 One of the most common mistakes women make with this particular style of jean is not paying close enough attention to the length. A skinny straight leg pair of jeans shouldn't be bunching and scrunching around the ankle. If they are – get them hemmed a bit!
When jeans lay flat, as intended, they will be much more flattering. When they do bunch and are too long in length they will typically shorten and widen the appearance of the body. Be sure to pay close attention to the length. Especially if you're petite.
Bootcut Jeans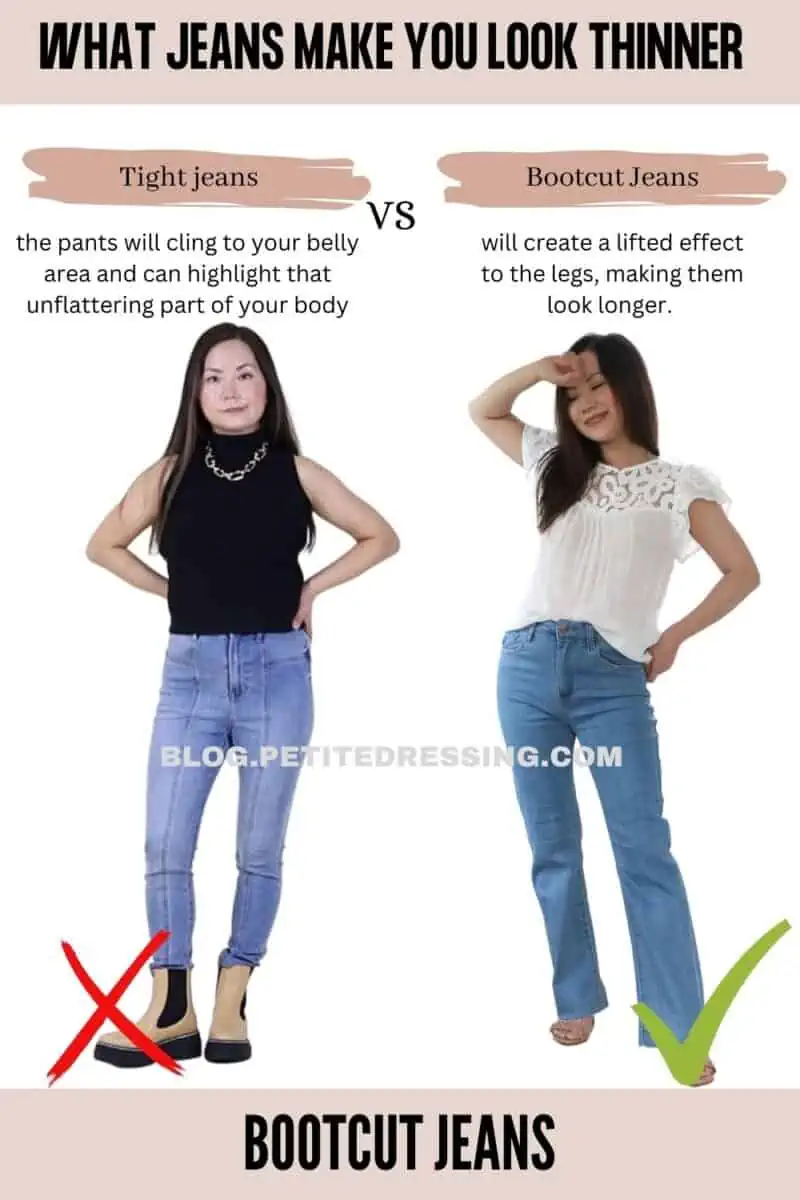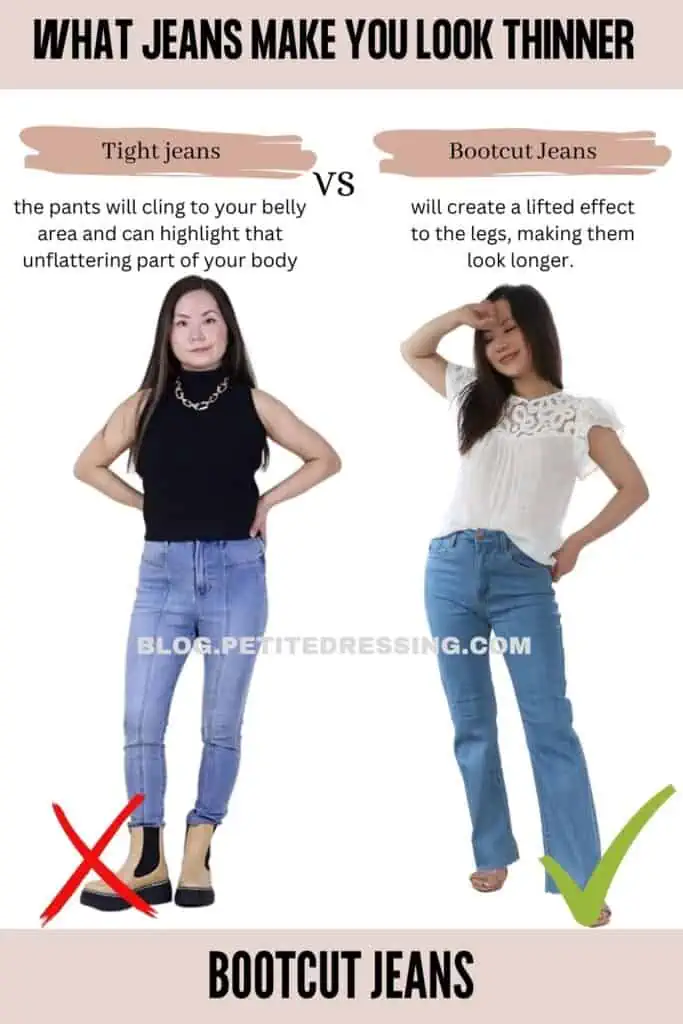 The final go-to style of jeans when you want to look thinner is the ever-classic bootcut denim.
This is a style that's always come and go in the trend area, but it remains a classic.
Bootcut jeans are a great choice when you want to look thinner, primarily because of the subtle flare at the bottom of the jeans (from the knee down).
Dark wash with a mid to high-rise fit are typically going to be the most flattering options to select with bootcut jeans.
These details can really help you to make the most of the style and ensure you're achieving the slimming effect to the max potential.
Wear your bootcut jeans with high heels for an additional boost – of course, this isn't mandatory. But it is strongly advised to double-check the length.
This silhouette lengthens legs immensely which, as mentioned previously, makes you look taller and thinner.
Caution with Tight Jeans
If you want to look slimmer, you want to use caution when it comes to jeans that fit tightly to your body.
The reason is tighter jeans, actually tighter anything, can draw more attention to the area which you consider less flattering, therefore making you more self-conscious.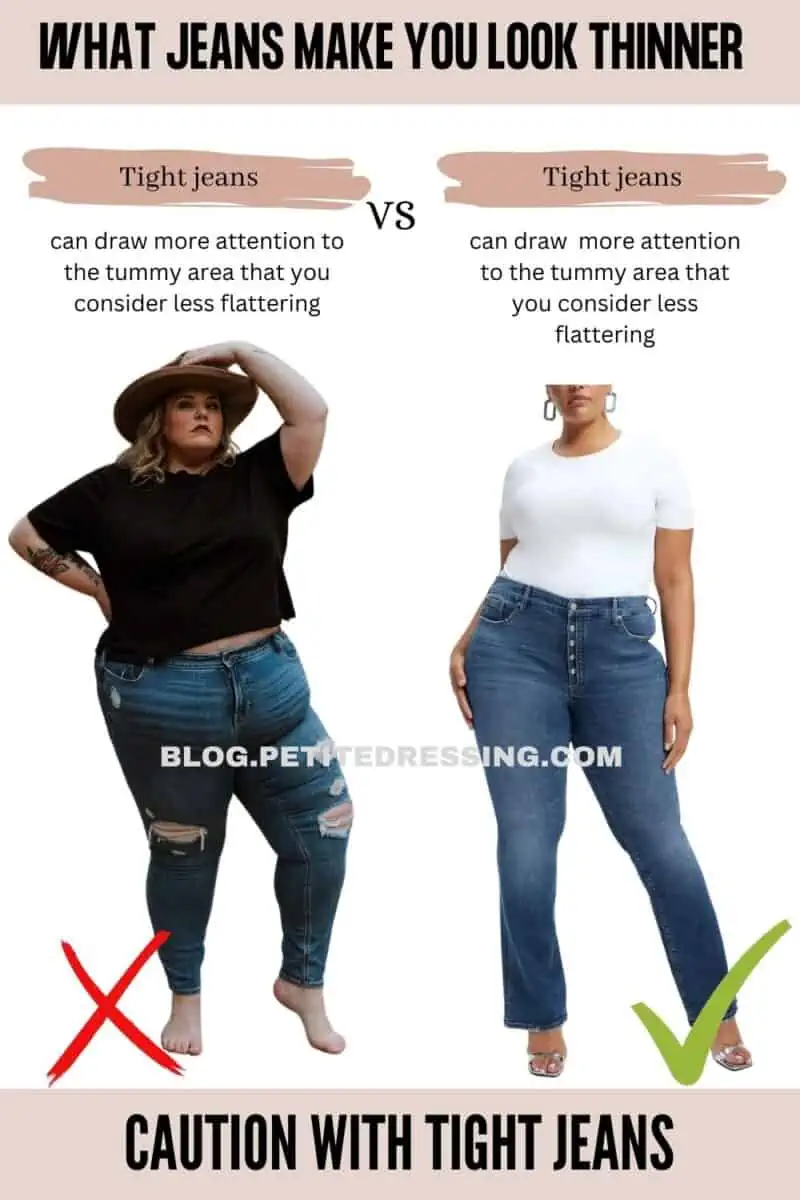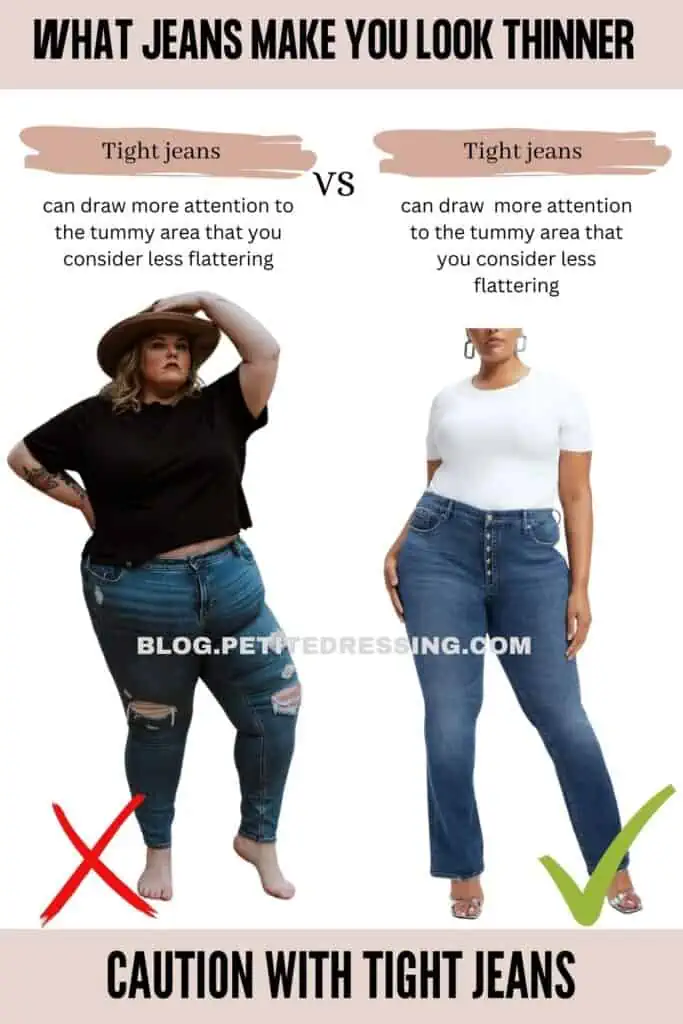 This is not to say you should not wear skinny fit altogether, but this means you want to be thoughtful about how to style them.
If your goal is to have a smaller tummy, then make sure your top is long enough to cover your stomach area, which is critical when you wear skinny jeans.
If your goal is to look slimmer in the hips and thighs, then opt for jeans that is not clinging to your hips and thighs.
Avoid Baggy Jeans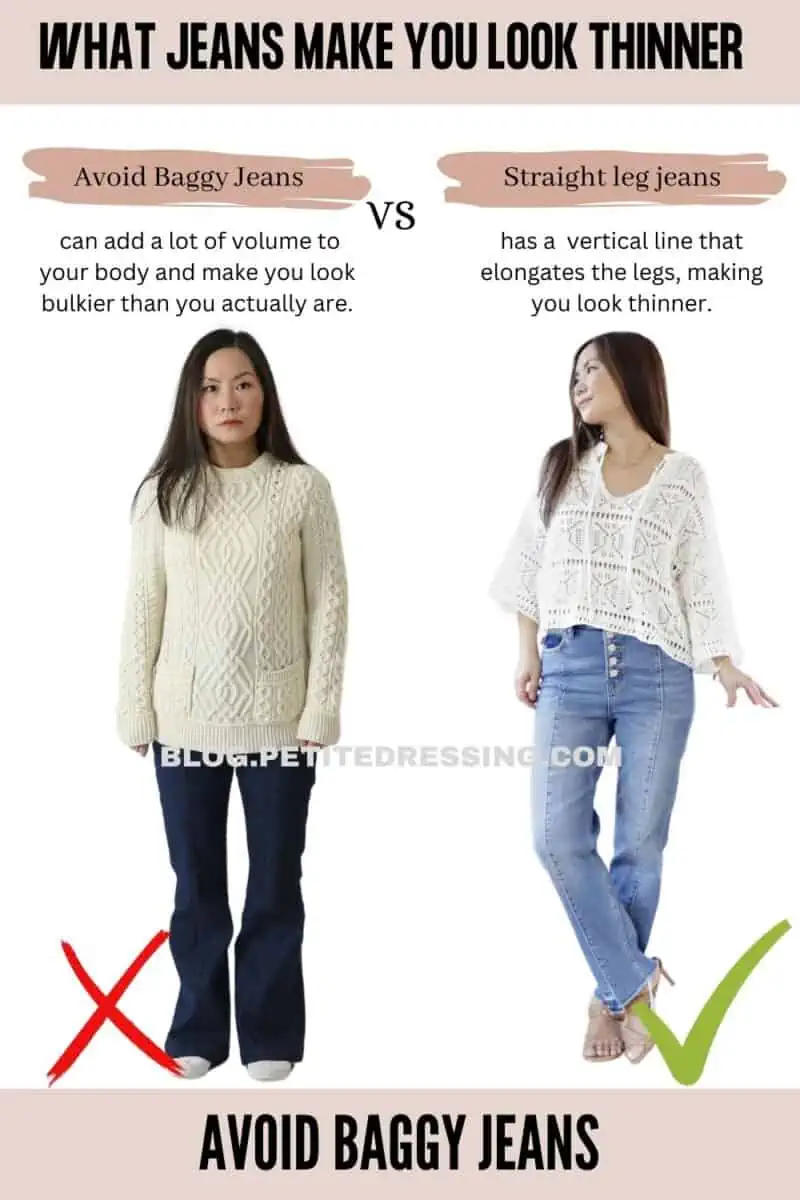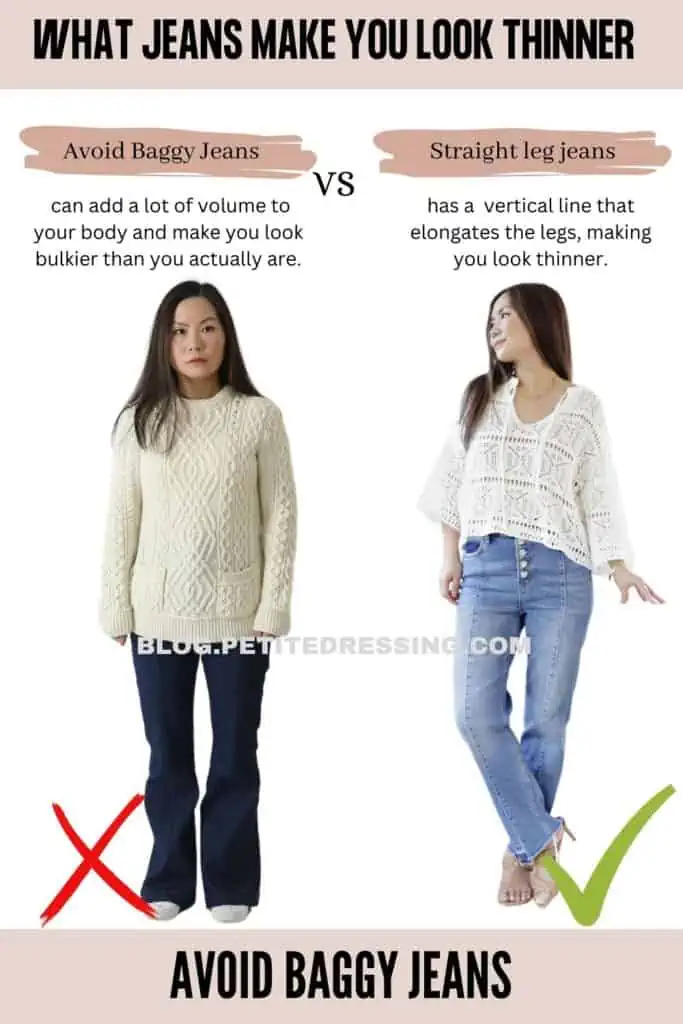 If your goal is to look thinner, you should avoid baggy jeans.
This is a common mistake we see in many curvy women, especially plus size women.
While skin-tight jeans can "expose" certain parts of your body, baggy jeans are not particularly flattering for women who want to look more slender.
While it's tempting to think baggy clothing can "hide" your figure, it can also add a lot of volume to your body and make you look bulkier than you actually are.