If you are short and overweight, dressing your shape can be a challenge. The reason is finding clothes that fit you can be hard, as the clothing industry give us very limited options for someone who is either petite size (under 5'4″) or plus size, letting alone someone who is in both categories.
That means if you are a short and curvy girl, you should be even more selective with anything you wear and pay attention to the details from neckline to silhouette. It is still possible to dress well if you are petite plus size, and here's how.
Avoid Shapeless Clothing
This is an important rule that applies to any short women, regardless of your weight.
Something that many overweight women have been made to believe throughout their lives is that they need to wear clothing that "hides" their bodies.
Here is the truth:
You don't need to hide behind loose, baggy or shapeless clothing- these only make you look heavier than you are!
In fact, you shouldn't wear anything shapeless.
While you might be overweight, you still have a body shape, and that's why it's so important to avoid clothing that doesn't provide shape to your body.
Rather than hiding behind clothing, embracing and truly celebrating your body shape is so much more flattering – not to mention it's a powerful way to feel more confident in your body.
To make one thing very clear- clothing doesn't need to be super slim fit, just ensure that the clothing shows YOUR shape and creates balance to your body, like these Plus Size Petite Dress Coat ($199.99).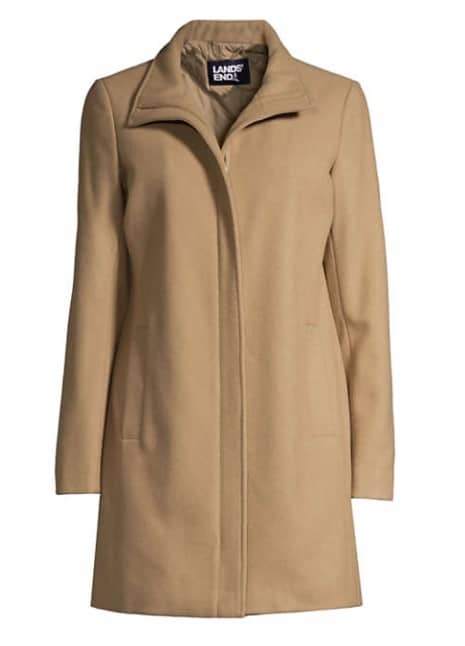 You can also try this Plus Size Petite Ultra Lightweight Coat with Hood ($154.99).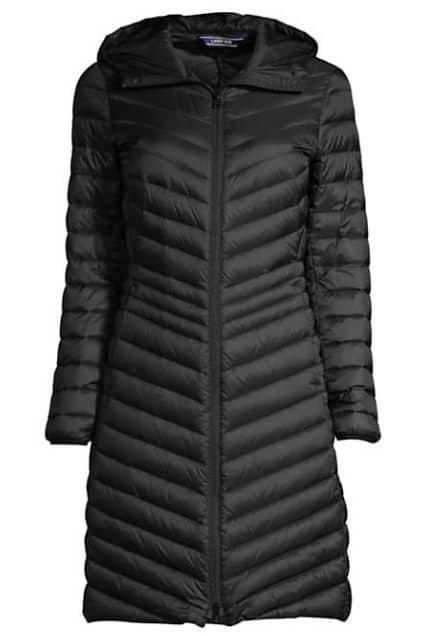 Wear Slimming Colors
A lot of overweight women default their outfits to all black, because, well, we have all been told that black is the most slimming color.
I agree that black is slimming, but it is not the only color that can make you look more slender.
If you genuinely enjoy wearing all black, then wear them by all means as long as they make you happy.
However, if you wear all black because you feel like you 'have' to, given you are overweight, then, listen up- all black is NOT the only option.
Short and plus size women can (and should!) wear any color(s) and prints they like.
While yes, black is known and loved for its slimming effect, you can look incredible wearing any color.
In fact, darker shades of blue, purple, and brown can all have an immediate slimming effect on you, and dark wash jeans are also a universally flattering choice for anyone who wants to make her legs look more slender, like this Signature Fit Sateen Skinny Jeans ($59.00).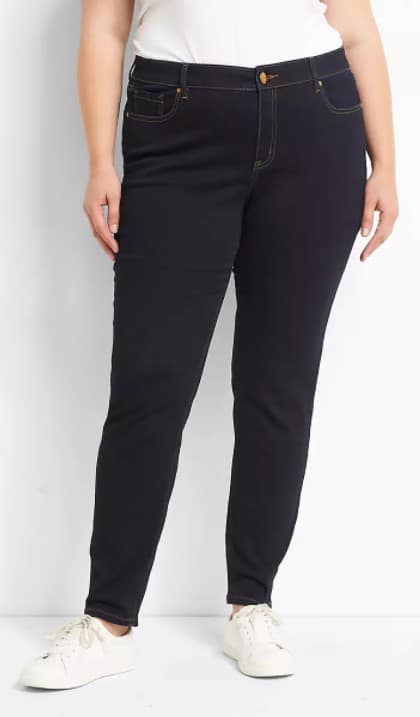 Wear Prints with Caution
You may have heard many times that if you are short or overweight, then you should stay away from prints because they can make you look bigger.
That is only true to a degree.
There are ways for you to wear prints, as long as you choose the right type of prints.
The only thing to keep in mind in regards to choosing the prints you wear is the scale of them.
Very small prints can sometimes appear disproportioned, if you are overweight.
Instead, try selecting options that are in alignment with the scale/size of your own body type.
This allows for the print to look great on you and not distract in any way.
You can try this Side-Ruched Midi Dress ($89.95).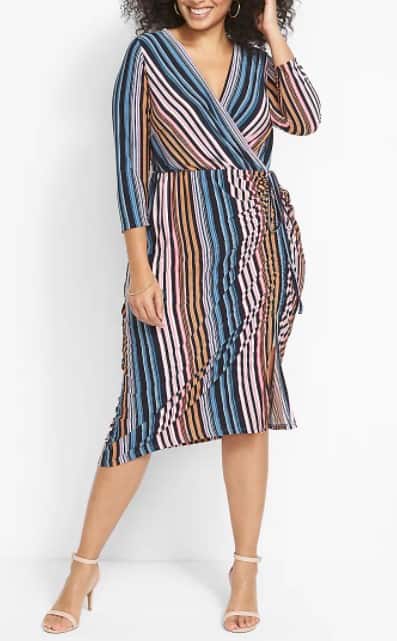 If you like pants with print, I recommend you to try these Elastic Waist Pull-On Pants ($32.99).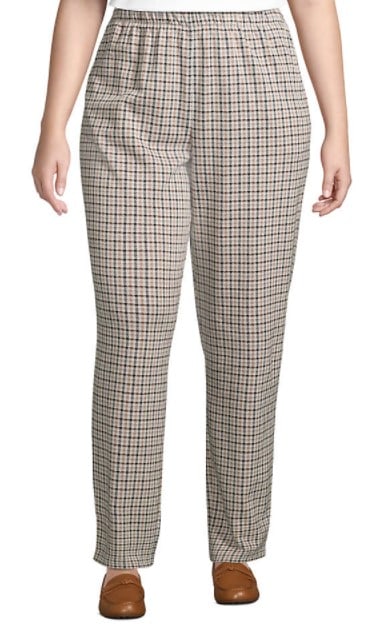 Avoid Bulky Clothing
To put it bluntly, bulky clothes add the illusion of actual bulk to the body – and this is why avoiding bulky clothing is something to strive for if you are overweight and short.
Not sure what bulky clothing really means?
Clothes can have bulk in various ways for example:
ruffles
voluminous sleeves
poufy skirts
dramatic shoulders
balloon sleeves.
Yes, these types of details can look wonderful, but keep in mind that the bulkiness of them is going to translate to the part of the body they lay on.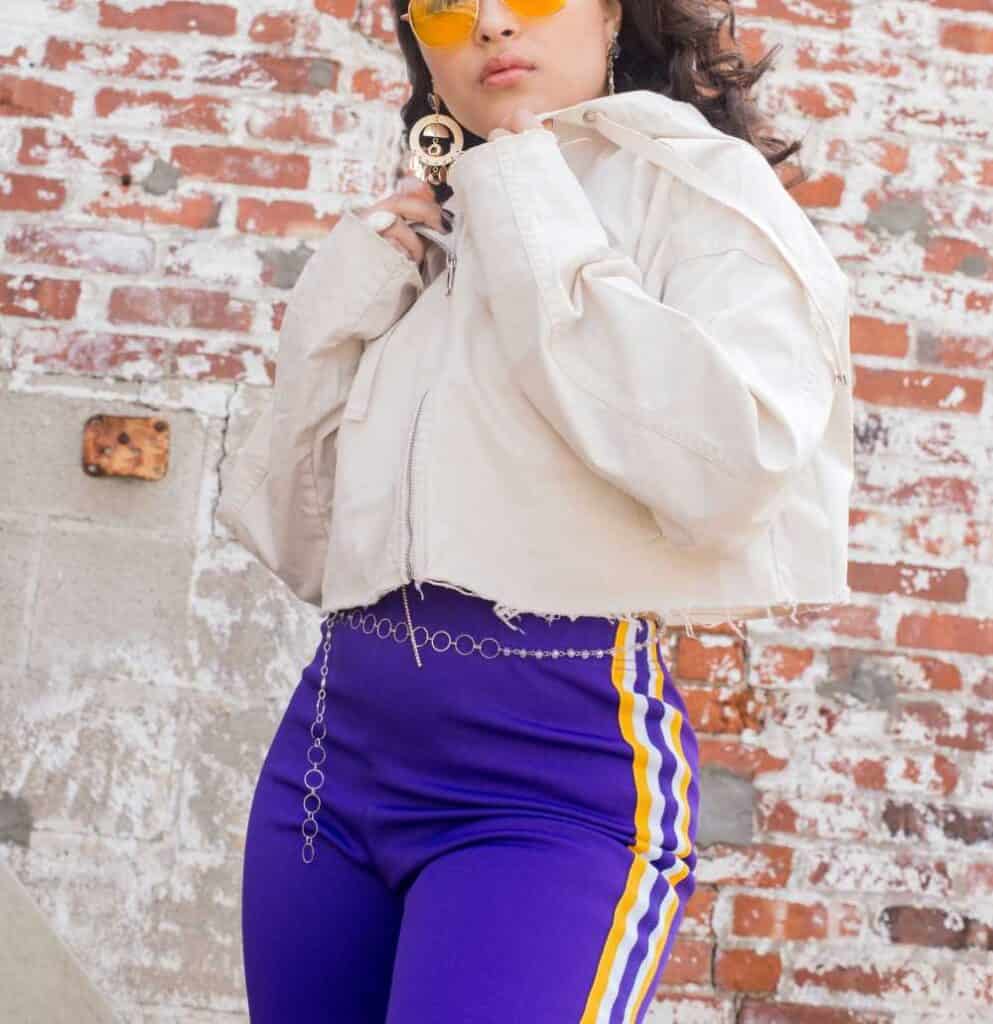 Avoid Micro Handbags
If you are short, generally speaking, large handbags are not a good idea, because they can totally overwhelm someone with a shorter frame.
However, if you are short and overweight, then mini handbags are not flattering either.
Super small handbags have been trending this year, as you may have noticed. While it's a fun trend it tends to be something that's difficult to wear as a plus-size woman.
The problem with these micro bags?
They often take away from your shape and don't offer a lot of balance to the body primarily because of the scale.
Swap out micro handbags for options that compliment your body's size and structure.
Small to medium sized handbags are a much more figure flattering option that will look great and act as an accent to your outfits.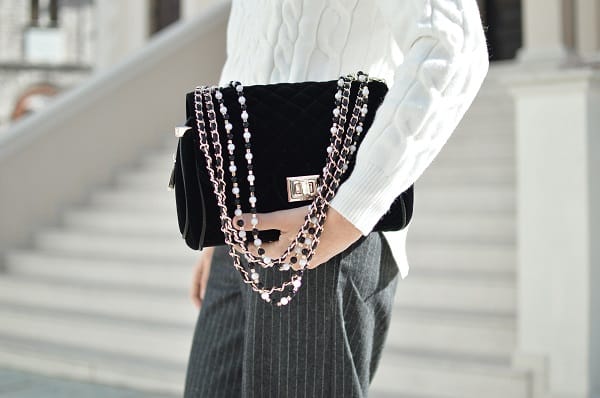 Wear the Right Undergarments
It's easy to think 'undergarments are UNDER clothes, no one will even notice if they're not the right fit.'
Right?
Well, it's time to kick this thought to the curb because it's just not true.
If you are a short and overweight woman, wearing the right undergarments in the correct sizing is an absolutely essential component of your style and wardrobe.
If it's not, it needs to be!
You can try this Lift Wear Cami ($84.00).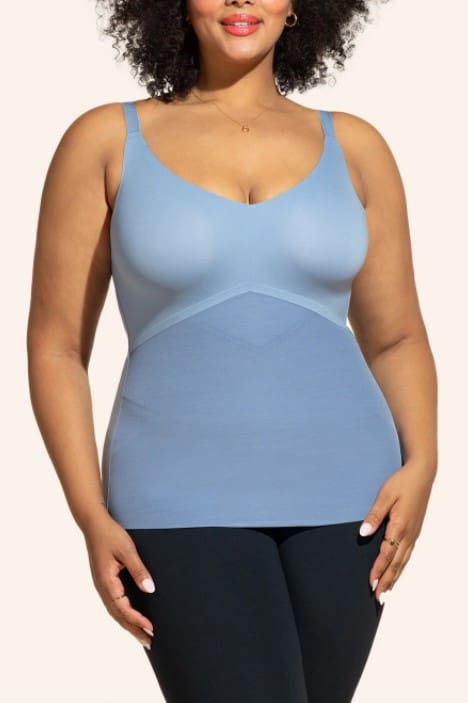 Use undergarments to your advantage. Believe it or not, they can completely shift the way clothes lay on the body, like this Retro Chic Underwire Contour Bra ($34.97).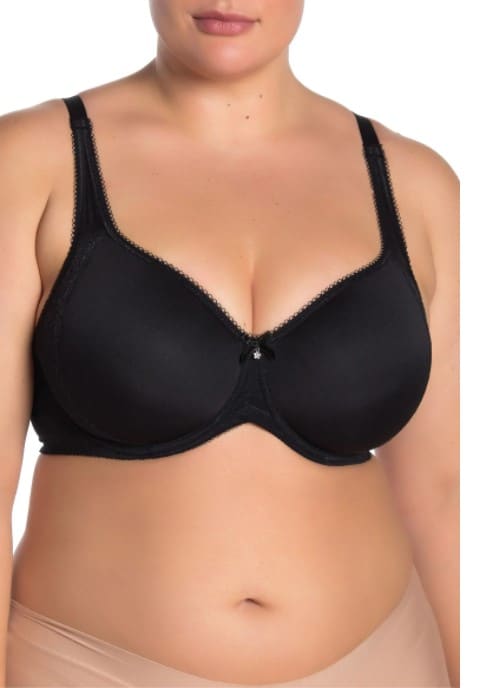 You can also try this Power Short for $19.97 that I found at Nordstrom Rack.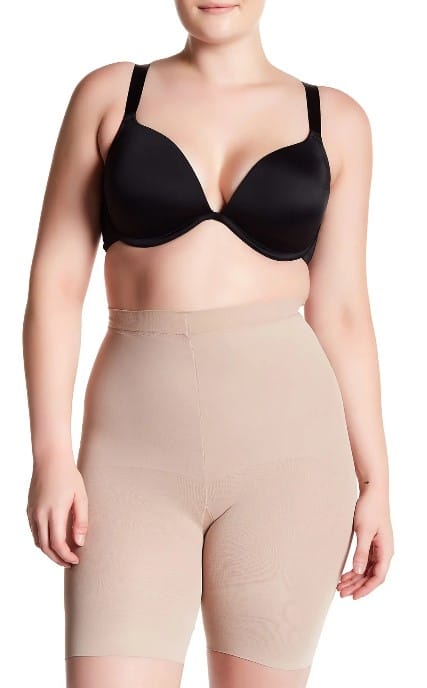 Avoid Fabric That is Too Clingy
Clingy fabrics…cling, obviously.
This wouldn't necessarily be a problem if clingy fabrics didn't cling to the body in less than flattering ways.
Pay close attention to the way the fabrics lay on your body
If they're extra clingy, especially in areas you don't want them to cling, opt for something else.
Flimsy fabrics are another element to avoid as a plus-size woman.
Wearing clothing that's made of flimsy fabrics often leads to garments not laying properly on the body and not enhancing your natural body shape – both are things that you want to steer clear from when plus size.
If you have a muffin top, clingy fabrics are only going to show everything you do not want others to notice.
Great alternatives that give you comfort and ease of wear are fabrics that offer some stretch to them, think of your cotton-elastane combination fabrics, like these Petite Plus Size Slim-Leg Pants ($59.50).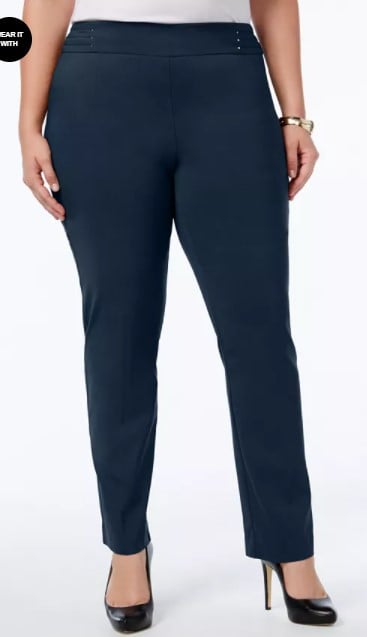 Or you can also take a look at these Fit Slim Ankle Pants for $69.95.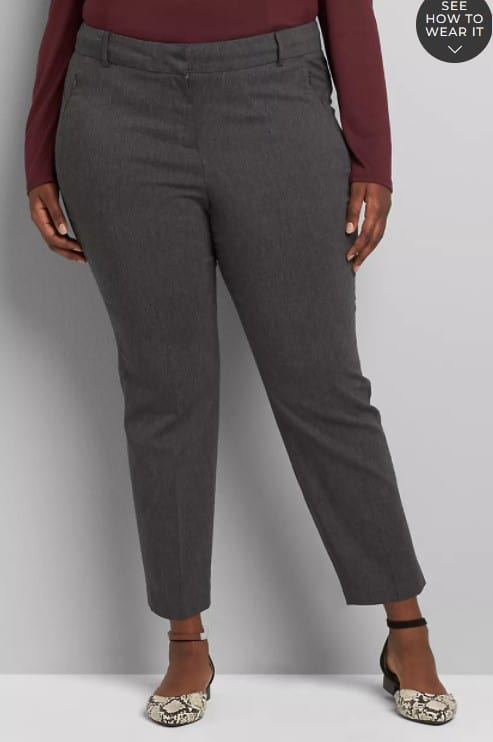 Tailor Your Clothing
If you are short and curvy, tailoring is something you should have become accustomed to utilizing to get your clothes fitting properly.
The clothing industry make "standard" size for women who are over 5'4″, which means there are not that many options to begin with if you are a short girl.
On top of that, amongst the limited brands who do make petite size clothes, even fewer of them make clothes for someone who is overweight.
Therefore, to find clothes off the shelf that fit you just right is next to impossible.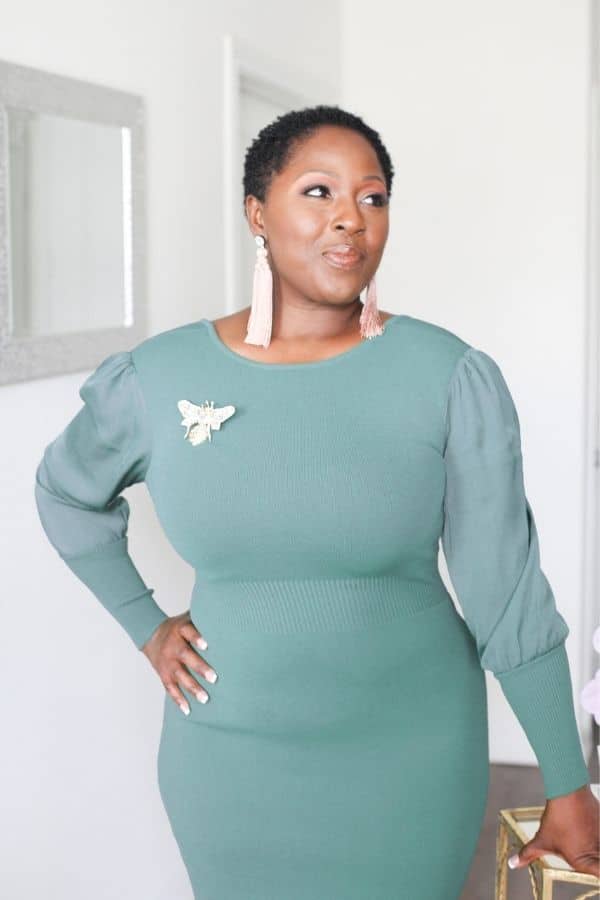 As a short and overweight woman, getting used to tailoring your clothes will make a huge difference in how you look!
Whether your pants are just slightly too long, or a dress needs to be adjusted a bit, it can make a major difference in the way your clothes look and feel on your body. Never underestimate the power of good tailoring, and make it a point to have necessary tailoring done to your clothes if and when needed.
Avoid Low Rise Bottoms
The early 2000's made low rise jeans a trend and fortunately, it's not a trend that's resurfaced (yet). Regardless of trend, though,
Low rise bottoms are something to try to avoid when you are plus size.
The main issue that comes up with low rise styles is how they cut the body, and the hip/waist area in a really odd place.
High rise everything is a much better and more flattering option.
When wearing high rise styles it adds major waist definition to the body AND it makes legs appear much longer by lifting the waistband placement on the body – both of these attributes provide a slimming and elongating effect that's perfect when you're plus size.
Keep it simple
Fashion is all about experimenting and expressing yourself and it's definitely something you should do when getting dressed.
If you're short and overweight, just make sure you're not wearing TOO many things, details, etc. at one time. Over doing it on a lot of trend or details can add bulk and weight to the body, because there's so much going on within an outfit.
As the infamous Coco Chanel said "before you leave the house take one thing off."
This is a great rule to live by for plus size women.
For example, if you're wearing statement earrings skip an over the top necklace to wear with them. Another example is wearing a statement blouse, avoid pairing it with a bold pair of pants and instead keep it on the more neutral side.
A good rule of thumb here is to choose one or two items that are your focal points (or statements) within an outfit and the rest of the items should compliment those.