Are you currently looking for dresses to add to your wardrobe? Well, if you're a lady with a short torso then it can be slightly trickier to choose a dress that will flatter you.
Although to be fair, shopping for dresses is not as difficult as shopping for coats or swimsuits when you are a girl with a short torso since there are a lot of flattering dresses out there. But just to really make the most out of your beautiful figure, we'd like to guide you out in which dresses would look best for you.
Styling Goal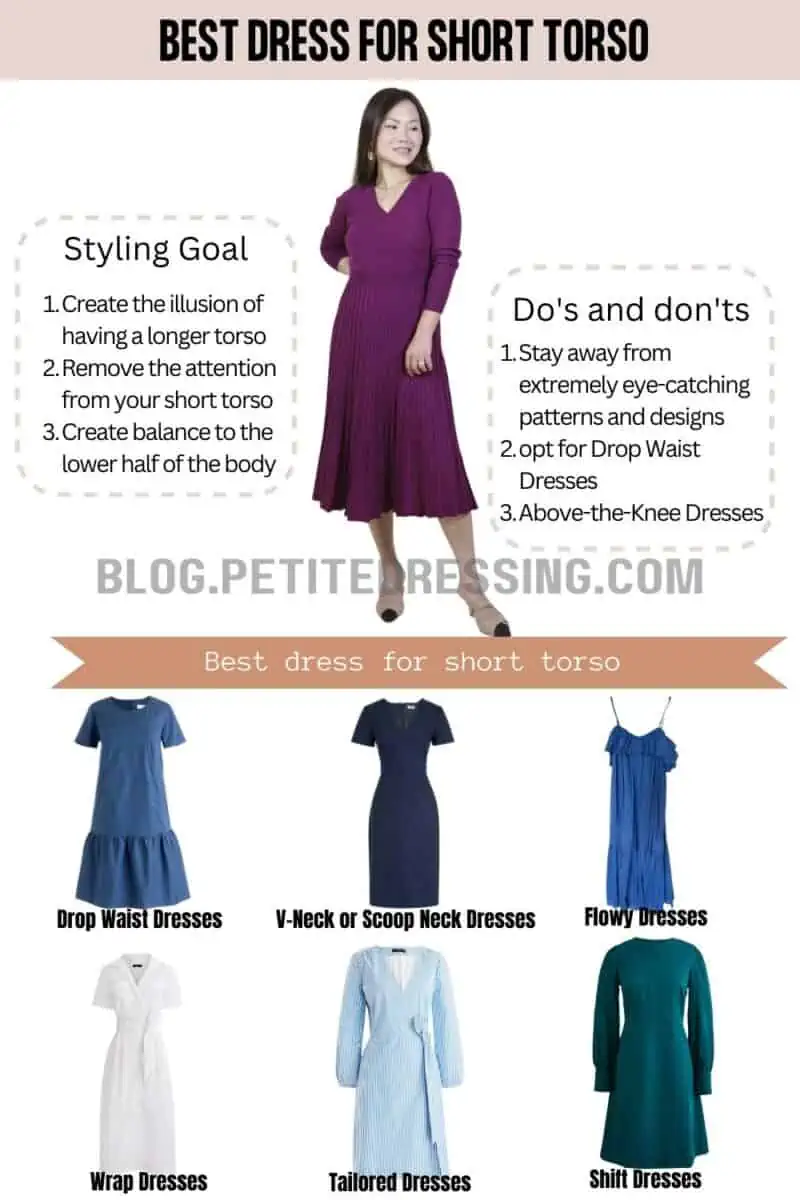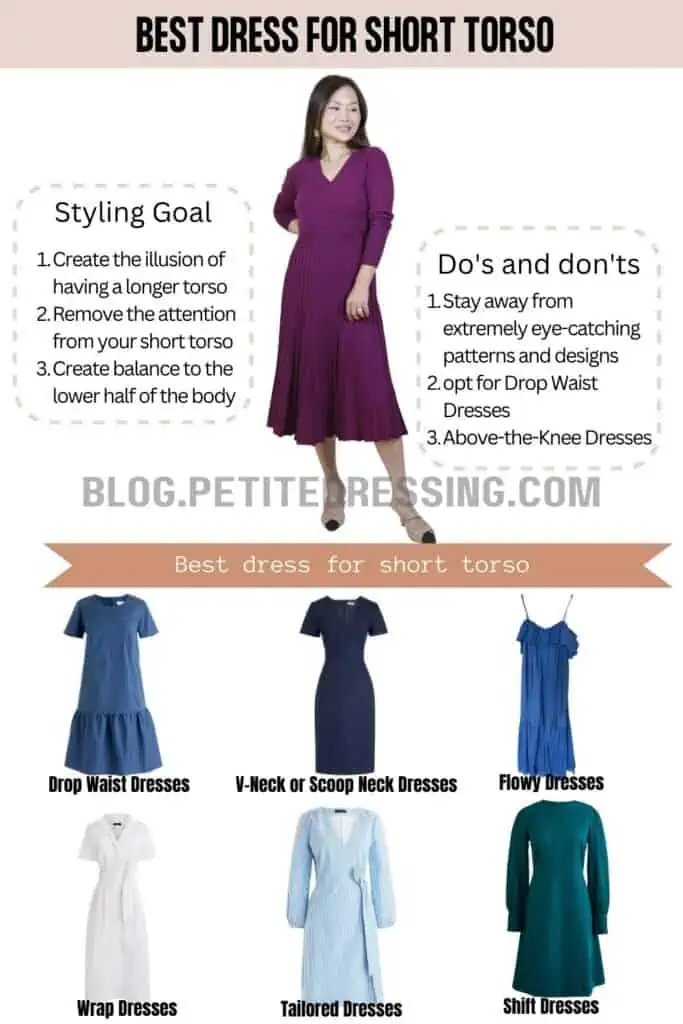 Draw the eyes up and down to give your figure a leaner frame. Silhouettes with flowy and continuous vertical patterns will be very helpful in muting the invisible horizontal line that separates your torso from your lower body. 
Work around a faux waistline by having a seam line or subtle detail by the level of your hip bone. This will create the illusion of having a longer torso to make your overall figure proportioned.
Stay away from extremely eye-catching patterns and designs that are placed on the upper part of the body. This will make your torso more distinguishable and therefore create an obvious difference in the length of your upper and lower body.
The following dress styles that we'll have in this article are basically those that embrace these styling principles.
Drop Waist Dresses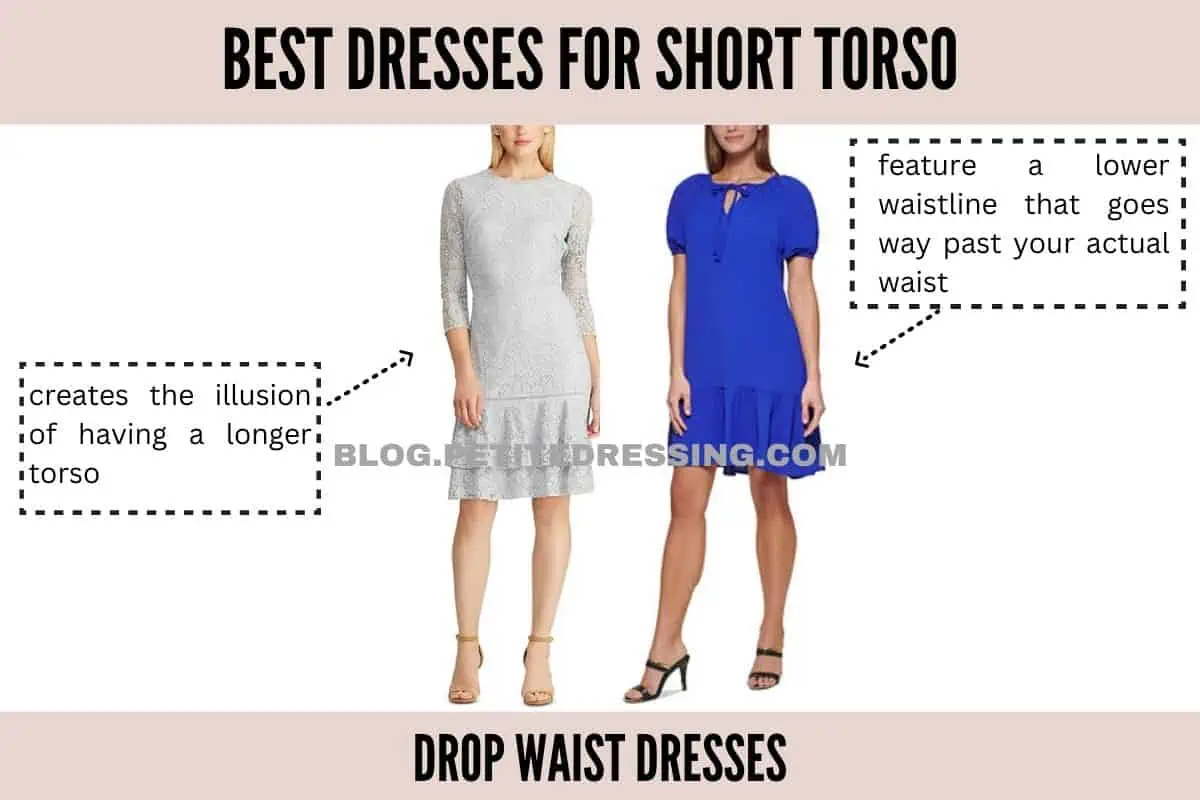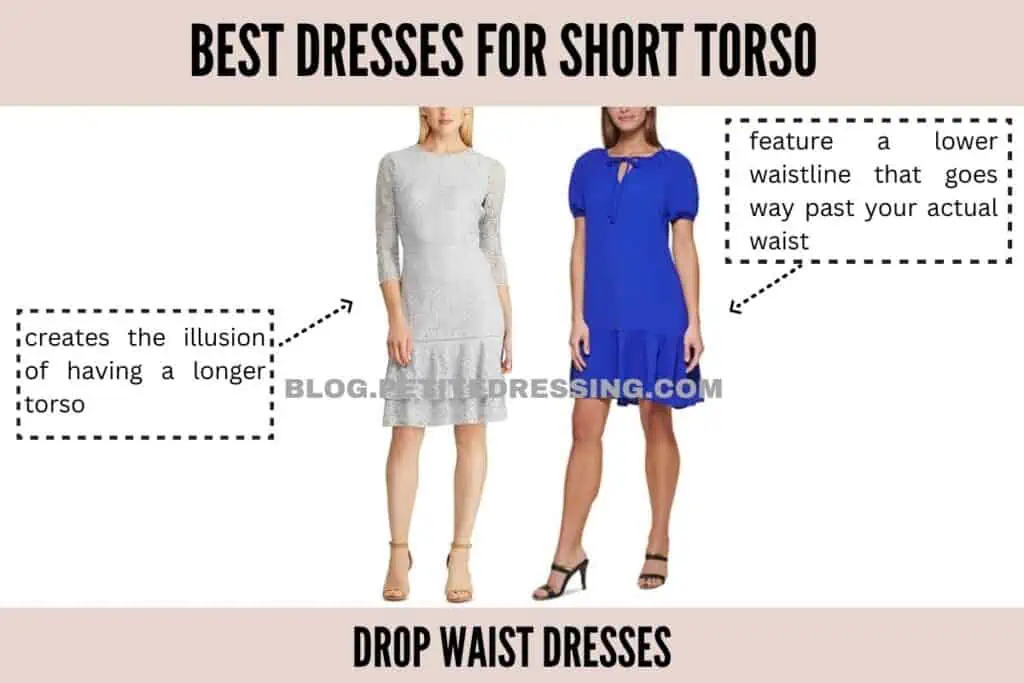 This is probably the first type of dress that one would think about when it comes to dressing women with short torsos. From the name itself, drop waist dresses feature a lower waistline that goes way past your actual waist to create the illusion of having a longer torso.
This type of dress structure balances your figure by creating a flattering ratio between your torso and legs. However, you need to be extra cautious about how low you should go because it can greatly vary from one style to another and the wrong one may even look unflattering.
The key is to see what suits your height. Drop-waist dresses that are too low will not look good on shorter girls because they can make the legs look shorter.
The ideal drop waist dress waistline seam would be just slightly beneath the hip bone. This universally flatters all girls with short torsos regardless of your height.
V-Neck or Scoop Neck Dresses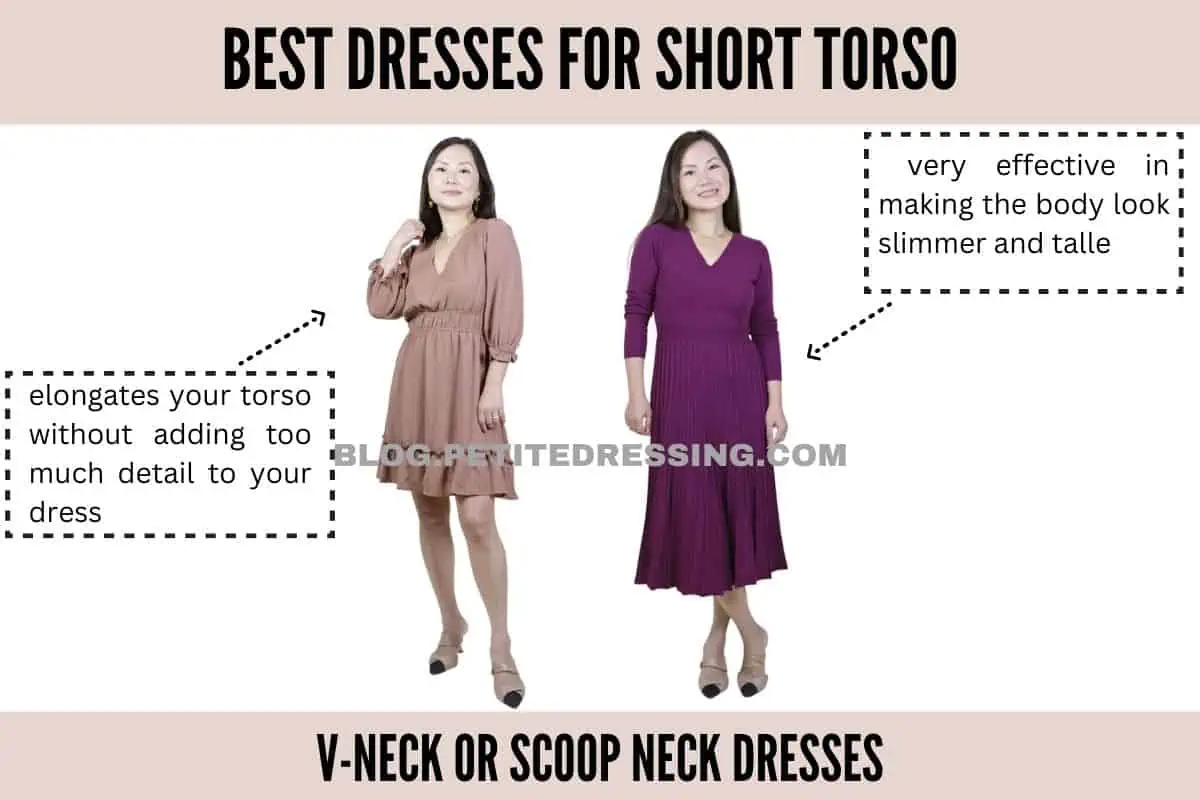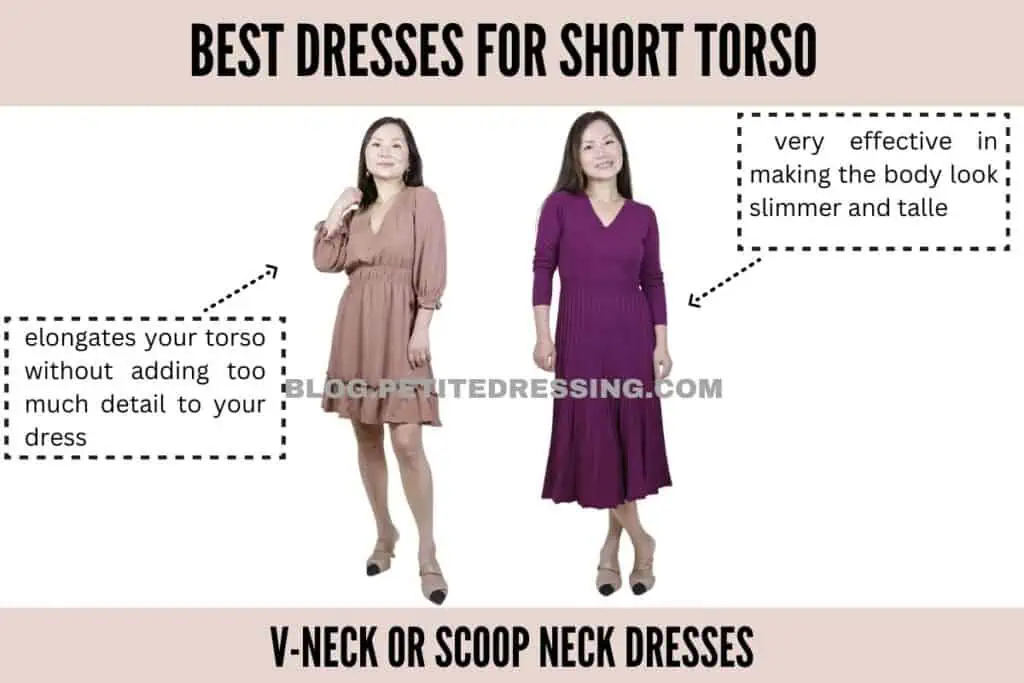 Low and spacious necklines such as the V-neck and the scoop neck are very effective in making the body look slimmer and taller. As they show off more area on your neckline, they put more emphasis on your shoulders and collarbones, as well as making the eyes look from up to down.
It's a very subtle way of elongating your torso without adding too much detail to your dress. These necklines draw an invisible line vertically from the shoulders to the hem to strategically lengthen your upper body without compromising the length of your lower body. 
Flowy Dresses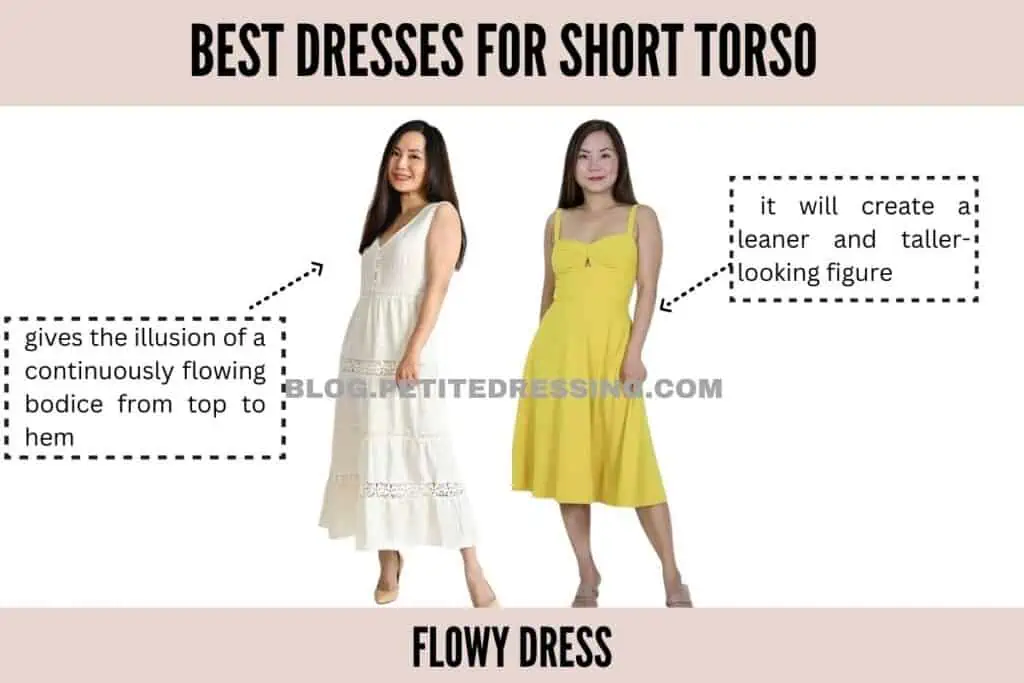 There's always magic in flowy fabrics and ladies with short torsos because these two work so well in flattering each other! Flowy fabrics will always have some sort of movement whenever you walk or whenever you move and this gives the illusion of a continuously flowing bodice from top to hem.
This trick diffuses the line that separates your short torso from your lower body so it will create a leaner and taller-looking figure. This is a really flattering choice especially if you're looking for summer or spring dresses.
Wrap Dresses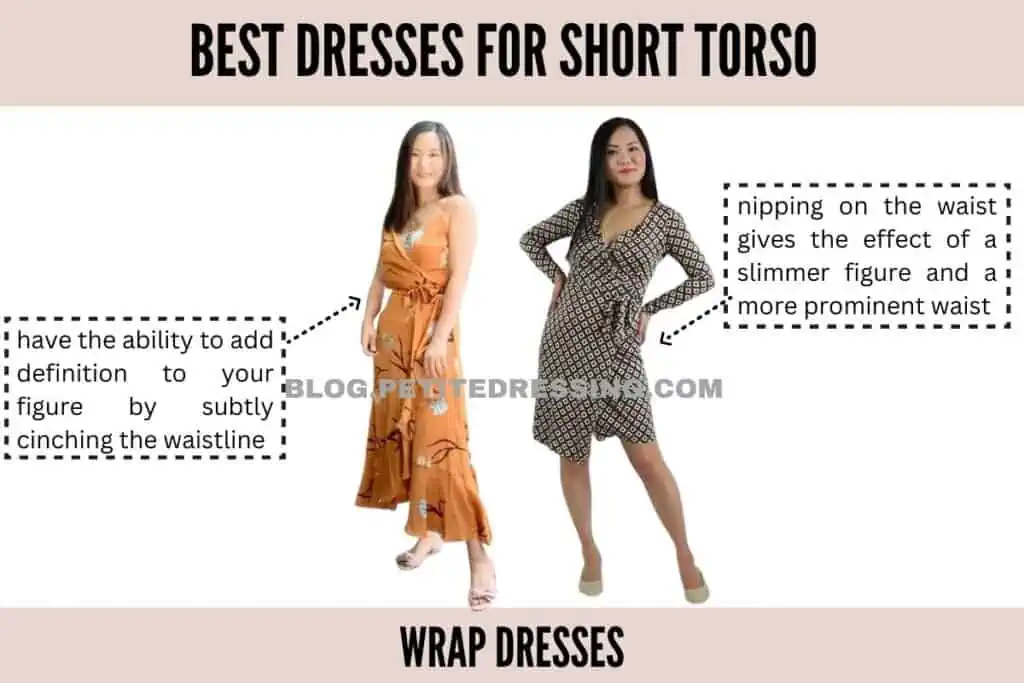 Of course, we can never miss the ever-flattering beauty of a wrap dress as it also looks gorgeous on ladies with short torsos! This is actually a very easy choice because you almost don't have to add any other detail to make it work.
Wrap dresses have the ability to add definition to your figure by subtly cinching the waistline with a waist tie. Since you're in full control of how tight you want the waist tie to be wrapped, then you can adjust it according to how you'd like your silhouette to look.
The nipping on the waist gives the effect of a slimmer figure and a more prominent waist. Since the eyes would be focused on this area, it veers the attention away from your short torso.
Tailored Dresses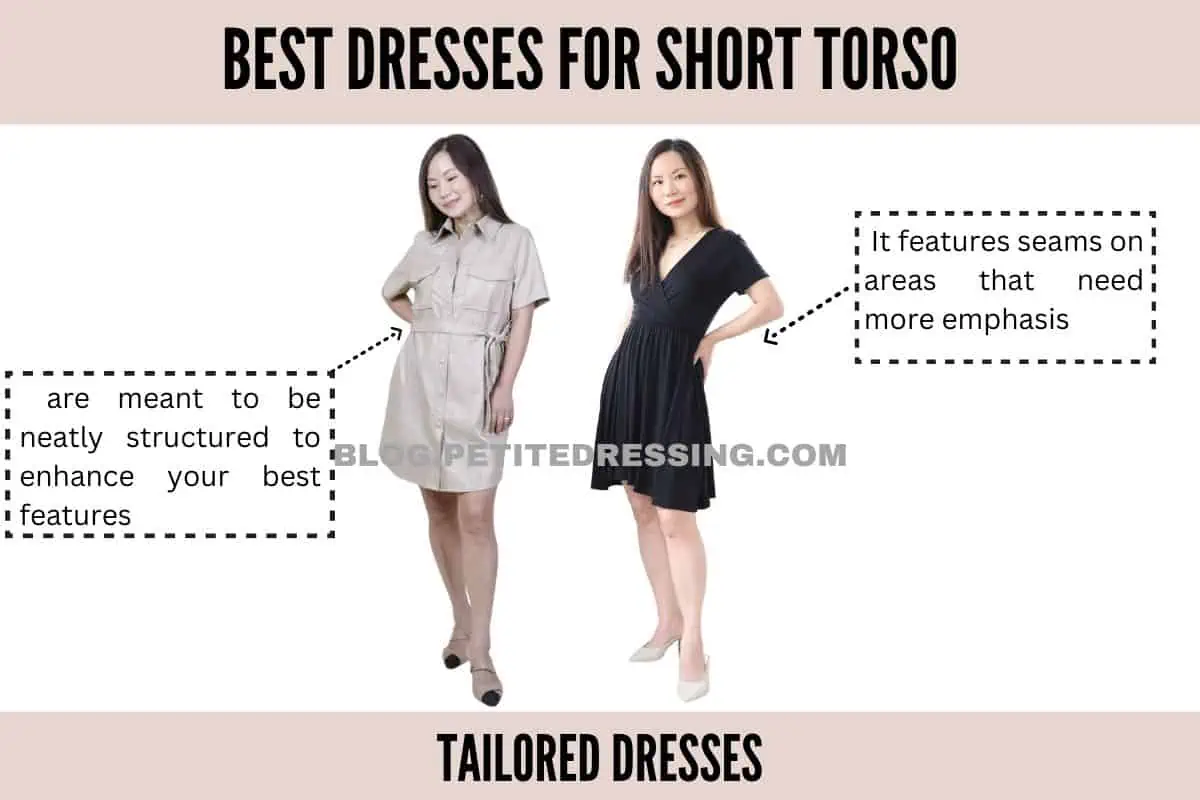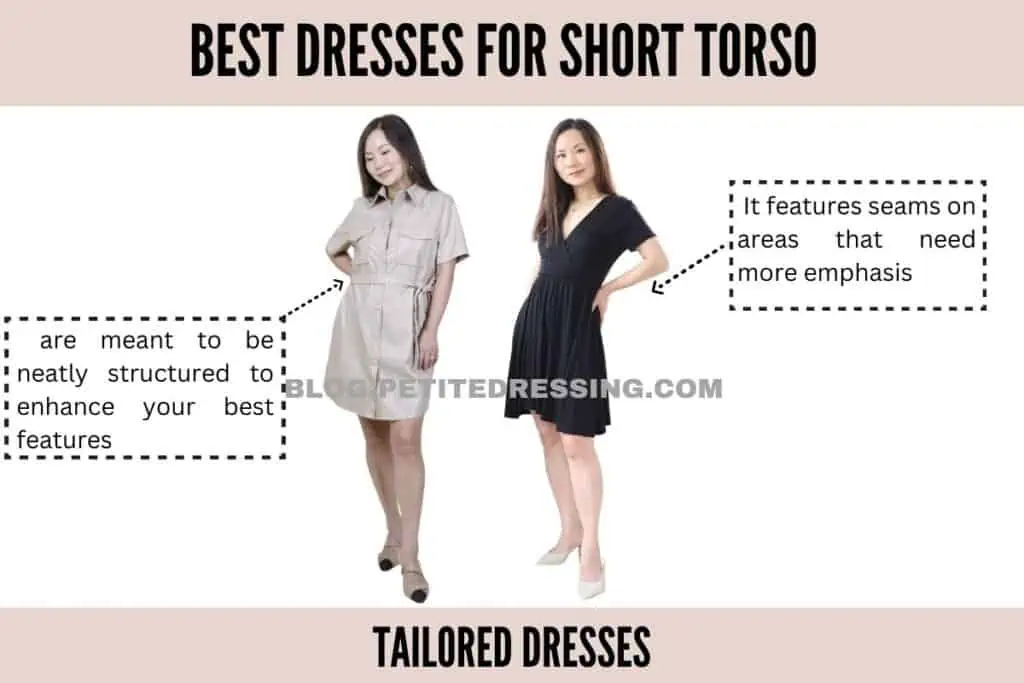 Tailored dresses are meant to be neatly structured to enhance your best features. It features seams on areas that need more emphasis such as the shoulders, waist, and hips.
With such intricate detail, this makes a great style of dress if you want to make the eyes focus on areas where your best features are at. For instance, if you've got a curvy figure then go for a tailored dress that will highlight that and this will totally remove the attention from your short torso.
Above-the-Knee Dresses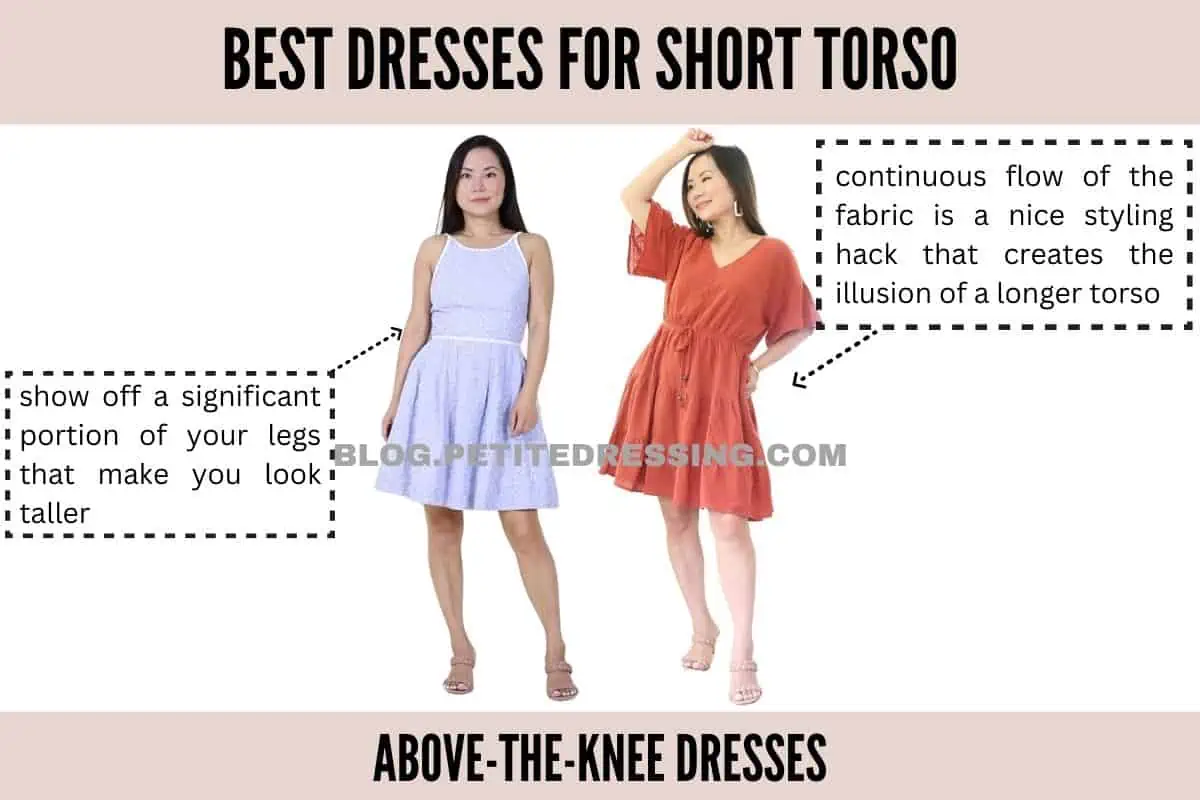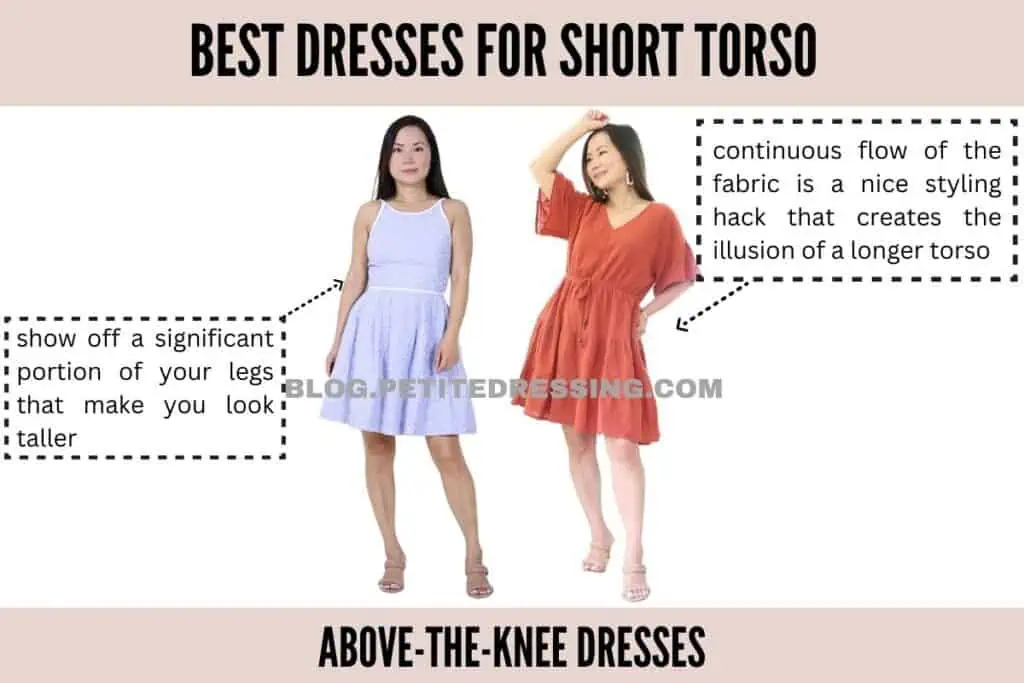 Mini dresses show off a significant portion of your legs that make you look taller and some girls with short torsos find this intimidating as it seems to risk making the upper body look shorter. However, the continuous flow of the fabric from top to hem is also a nice styling hack that creates the illusion of a longer torso.
The key is to choose a mini dress that doesn't have apparent horizontal seams or details. The goal is to have a line-free silhouette to allow a continuous vertical line to draw the eyes from up to the bottom.
Monochromatic A-Line Dresses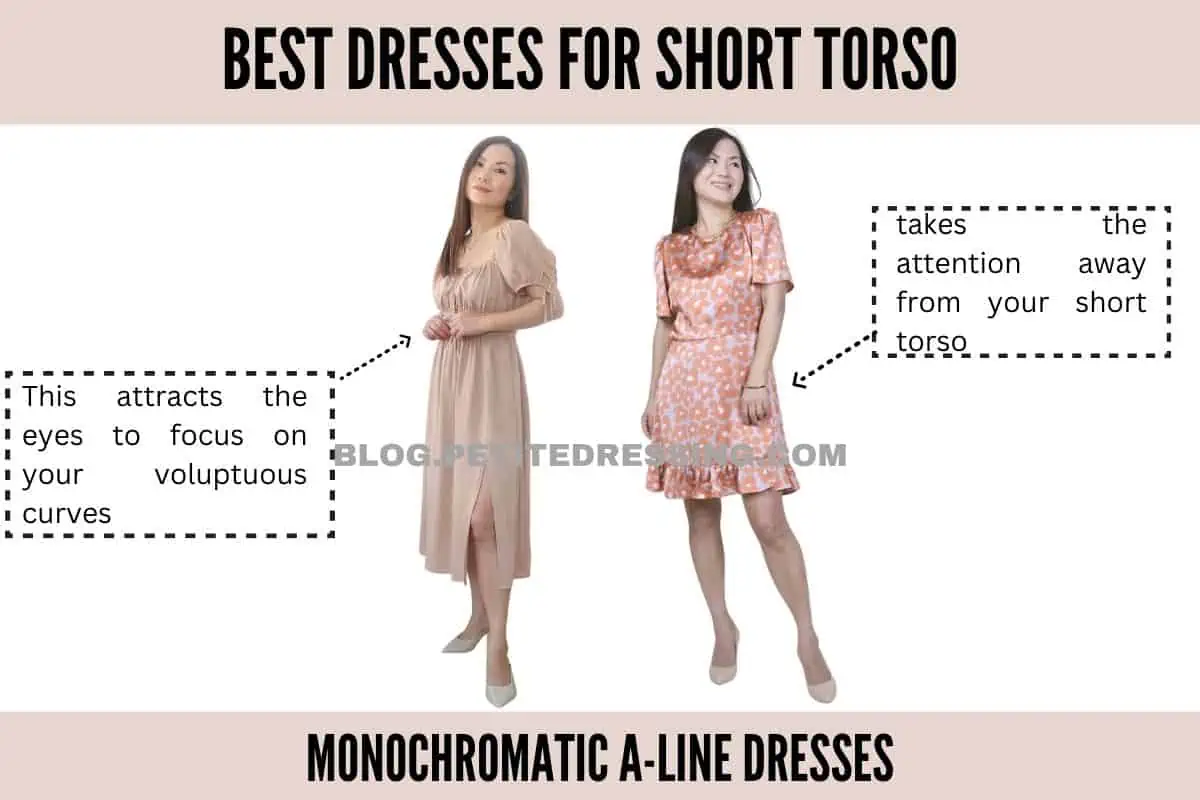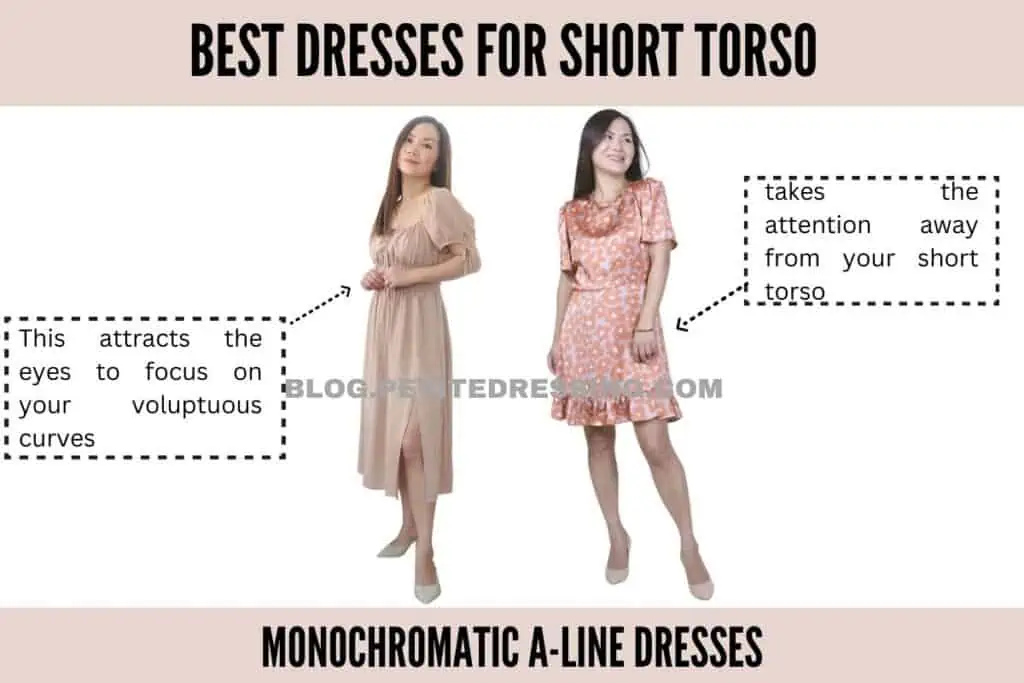 Dressing monochromatically applies not just to dresses but also to most ensembles if you are dealing with a short torso. For A-line dresses, this will work even better because it skims through your figure in a free-flowing profile from shoulders to hem.
This attracts the eyes to focus on your voluptuous curves and therefore takes the attention away from your short torso. With its monochromatic hue and snug bodice, your short torso will absolutely be unnoticeable!
Shift Dresses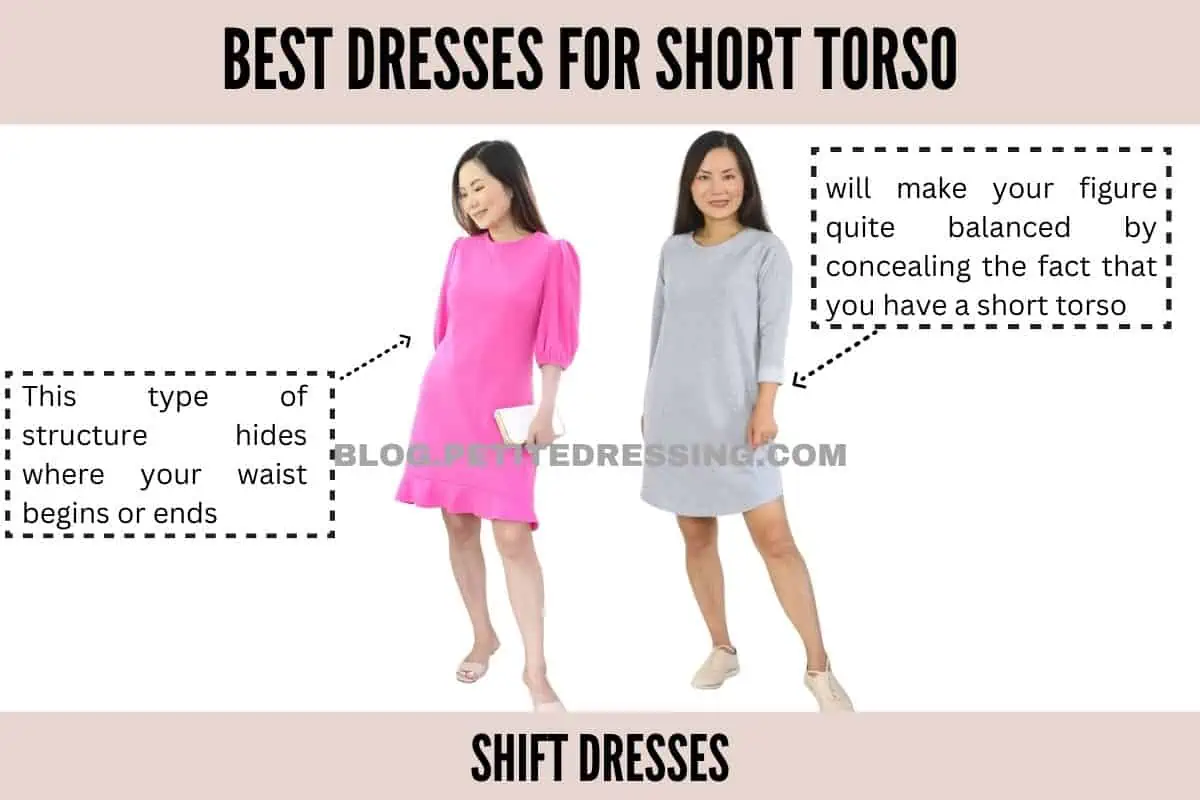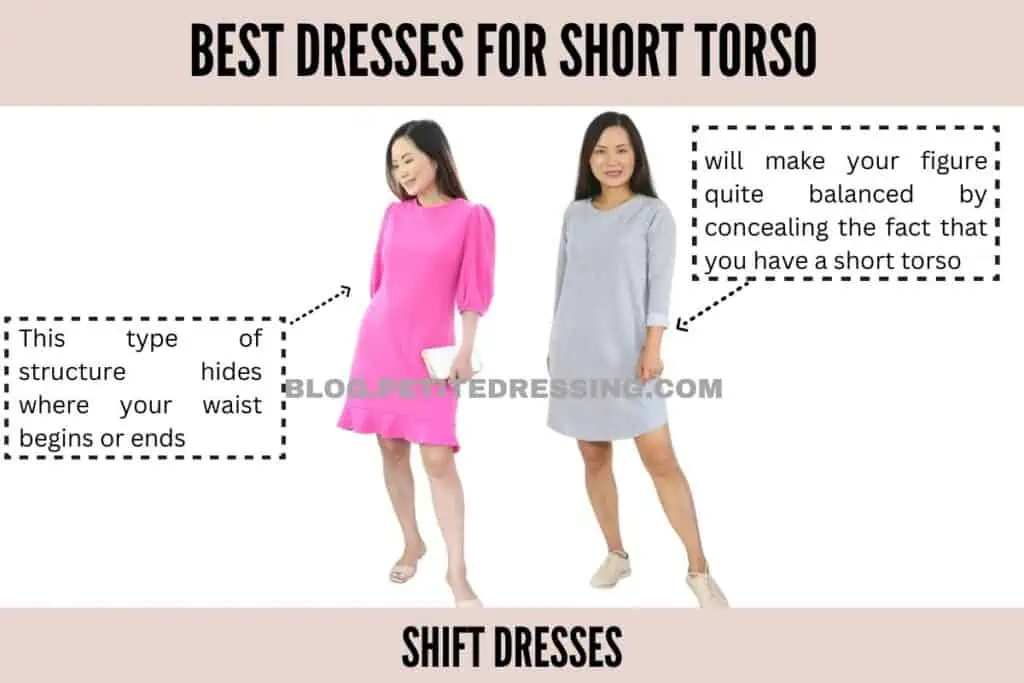 Shift dresses have a straight, fuss-free silhouette that hangs down from the shoulders up to the hem. This type of structure hides where your waist begins or ends.
Such an optical illusion trick will make your figure quite balanced by concealing the fact that you have a short torso. If you're petite, it'll be nicer to opt for shorter lengths so you can highlight and elongate your legs instead.
Faux Wrap Dresses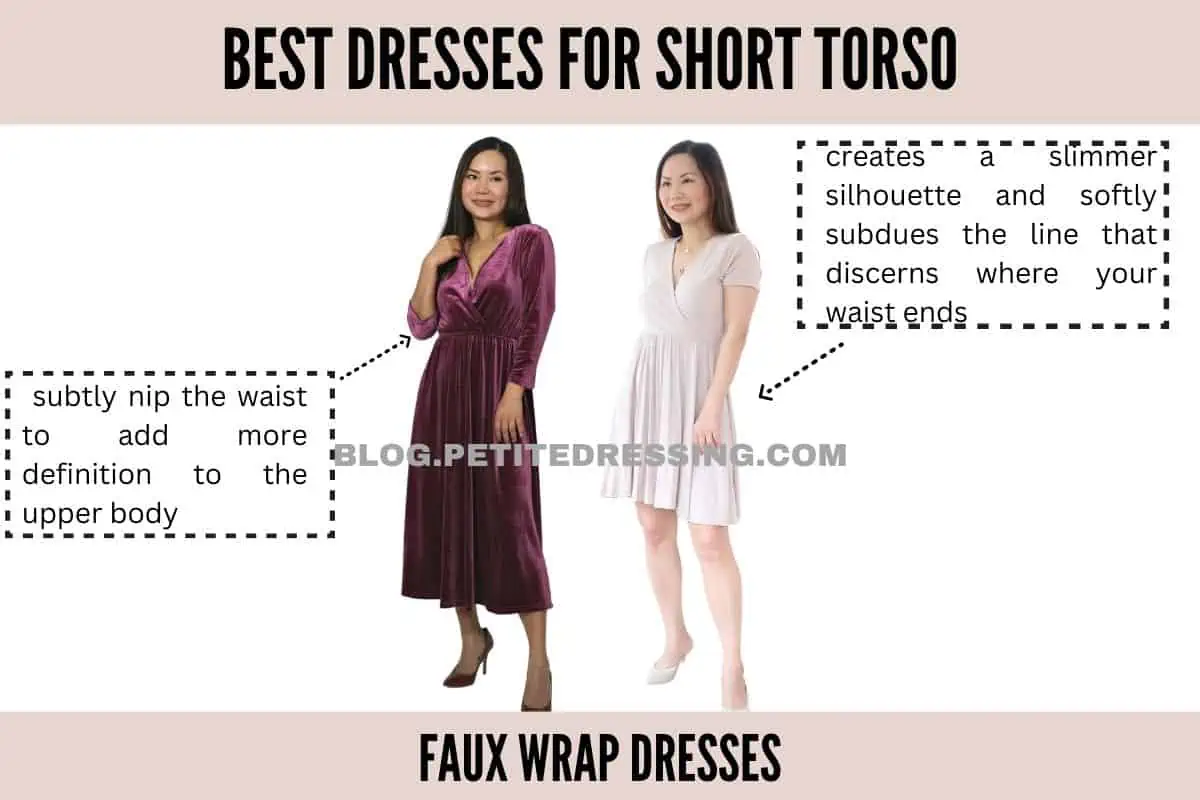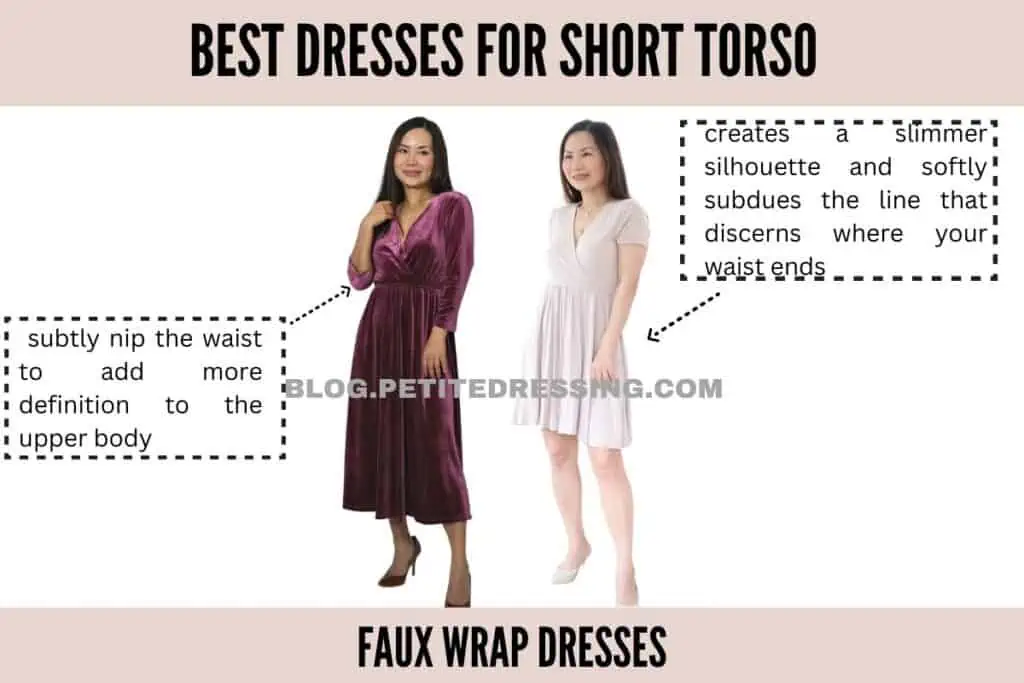 Just like wrap dresses, faux wrap dresses subtly nip the waist to add more definition to the upper body. Although instead of a waist tie to do the nipping, faux wrap dresses will feature either a ruched side or a delicate fabric gathering on the side to define the waist.
This also creates a slimmer silhouette and softly subdues the line that discerns where your waist ends. Such a trick will make your torso look longer and therefore more balanced with the natural length of your lower body.
Avoid Empire Waist Dresses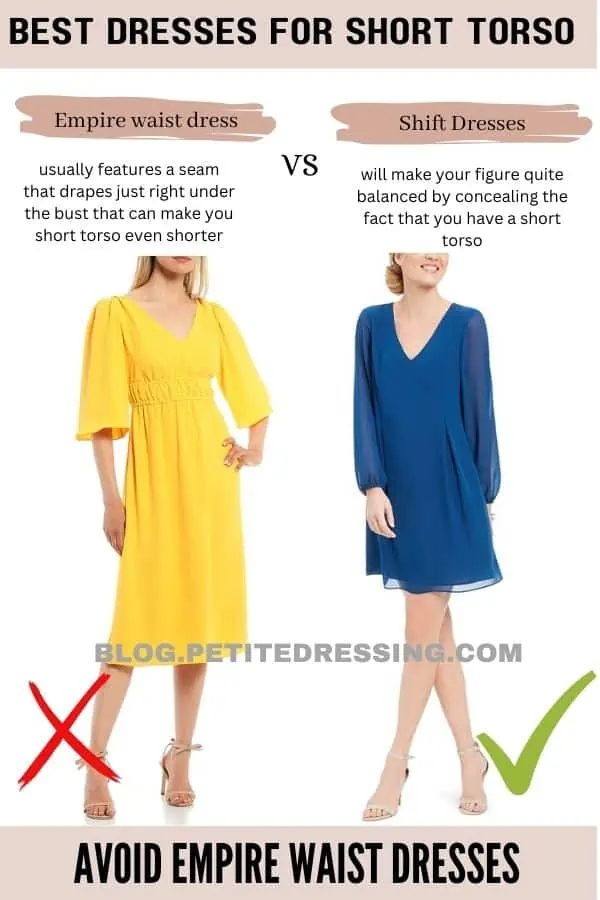 High waistlines would be something that ladies with short torsos should avoid at all costs and one of them would be the empire waist. Since this usually features a seam that drapes just right under the bust, it only makes your short torso look even shorter.
The Key Takeaway
Choosing the best dresses to flatter your short torso is basically all about proper balance. Always be mindful of your proportions and you can flaunt pretty much whatever style you want!